DIY cardstock Easter egg decor is an easy fun way to decorate your home for the upcoming Easter holiday.
I love switching up some of our home decor for different seasons. One of my favorite seasonal pieces is my white open frame in our entryway. Over the past couple of years, I've shared a few of the seasonal decorations I rotate into the open frame, including my 2017 New Year's sparkly numbers and last year's painted Easter eggs. I still love my painted eggs but was feeling like something different for this Easter. I had a bunch of cardstock eggs left over from making Easter greeting cards and decided to create DIY cardstock Easter egg decor. These eggs are so simple to make; you'll have your new Easter decor put together in no time.
A hanging display like I've created with my open frame is perfect for your DIY cardstock Easter egg decor. However, you shouldn't feel limited to this option. The eggs are so versatile and work well for a garland or as part of a tabletop, mantel, or countertop display. Feel free to use them however they work best in your home.
Supplies:
Cardstock, two colors of your choosing (I used kraft and light purple)
3/4″ lace ribbon with burlap detail (I used a Celebrate It ribbon from Michaels)
1/2″ or narrower ribbon in assorted colors
1/8″ ribbon in assorted colors
Scotch scrapbook glue or another good paper glue
Paper and fabric scissors (I keep separate pairs, so my fabric scissors stay nice and sharp)
Download the Easter egg template. Print the Easter eggs on the cardstock of your choosing. Again, I had eggs leftover from my greeting card making, so I didn't start with full 8.5″ x 11″ sheets.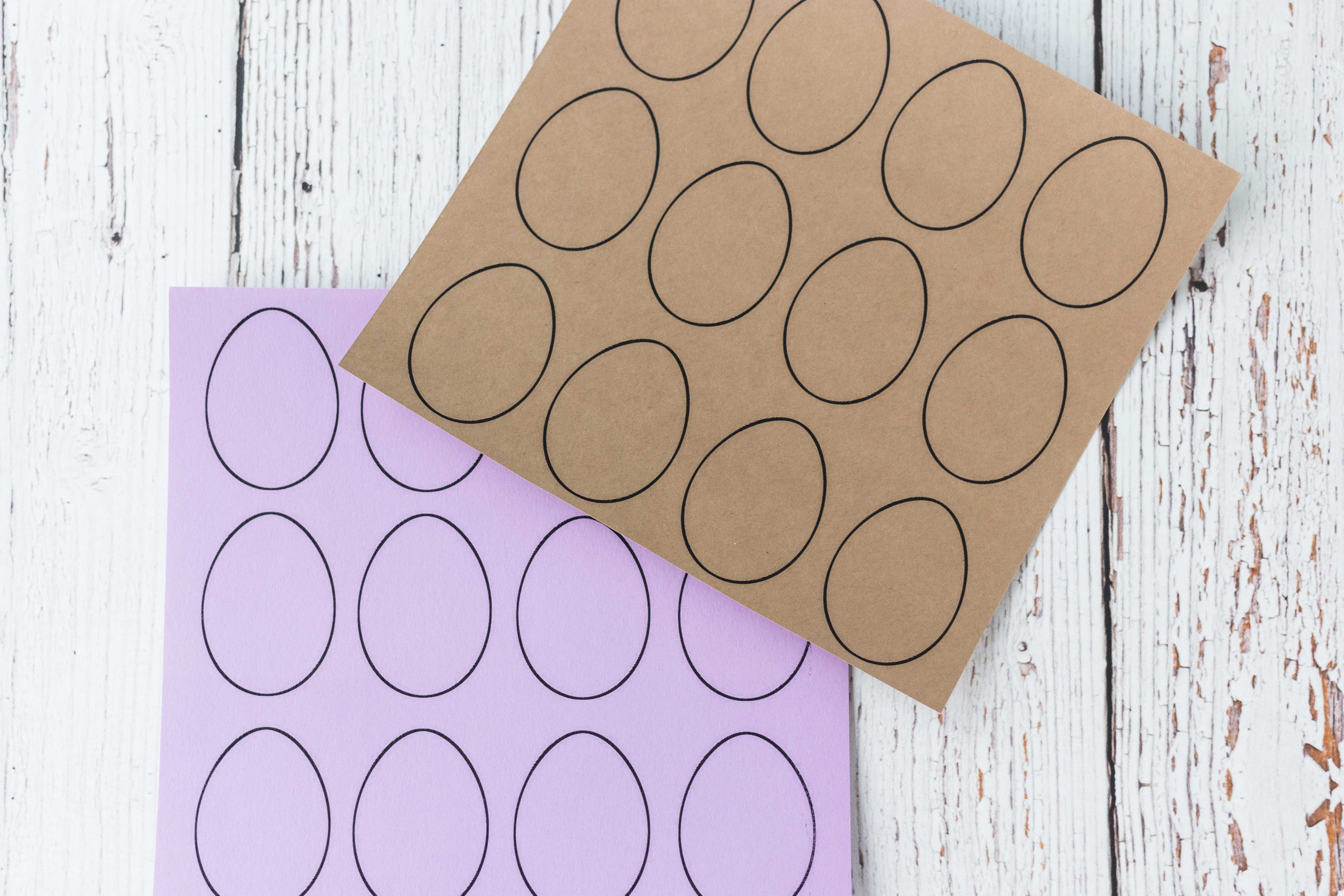 Cut out the eggs. You can cut off the black outline completely or flip the eggs over after you cut them out, so the outline doesn't show.
Cut the varying ribbons to length for the Easter eggs. I like to cut the ribbon a little longer than I need and then trim it down after I've glued it to create clean edges. I decorated my purple eggs with the lace burlap ribbon, layered with a narrow pastel ribbon, and the kraft eggs with assorted purple and green ribbon.
Glue the ribbon. Allow it to dry completely. If you choose to layer your burlap and narrow pastel ribbons like I did, allow the burlap ribbons to dry completely before adding the narrow ribbons on top.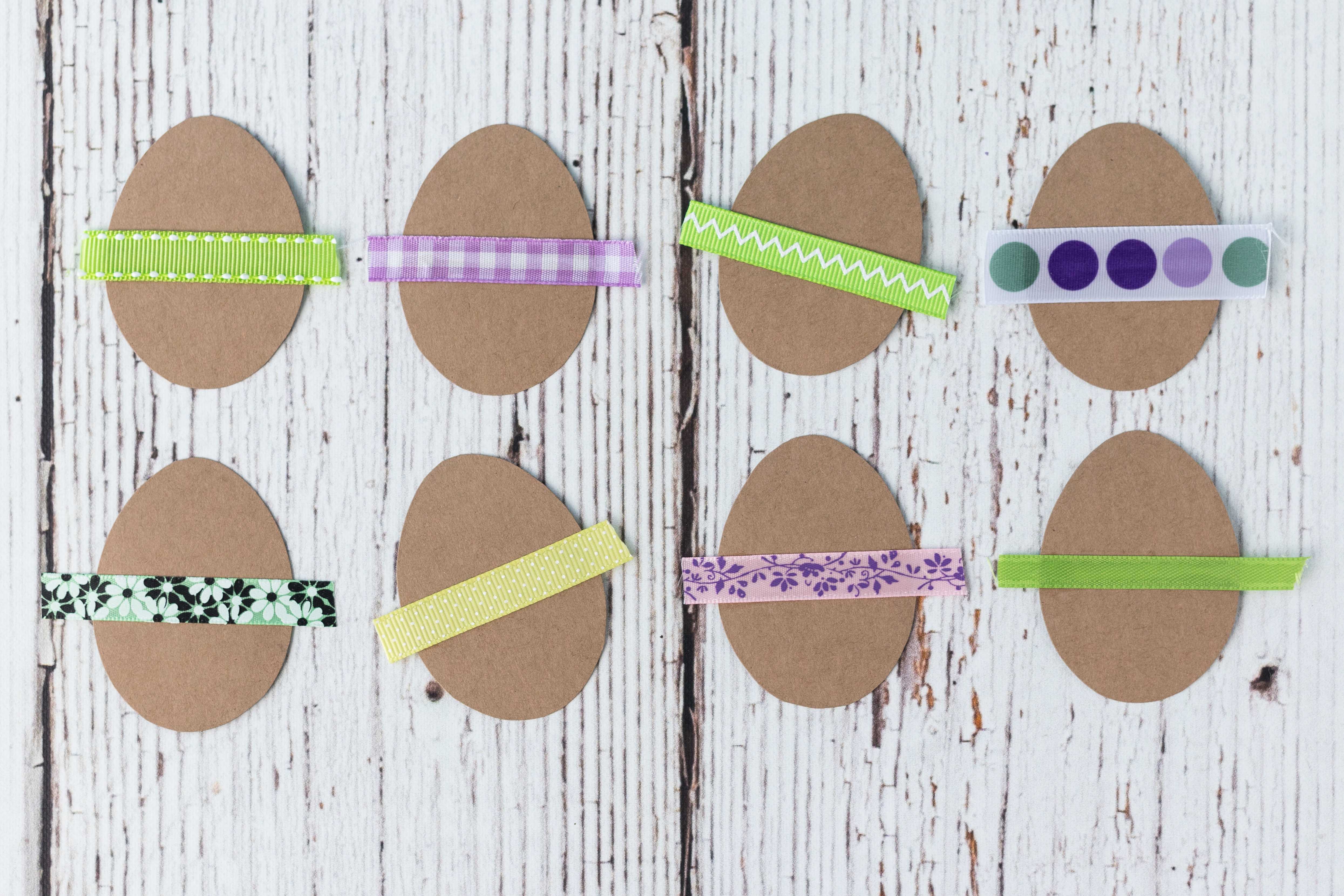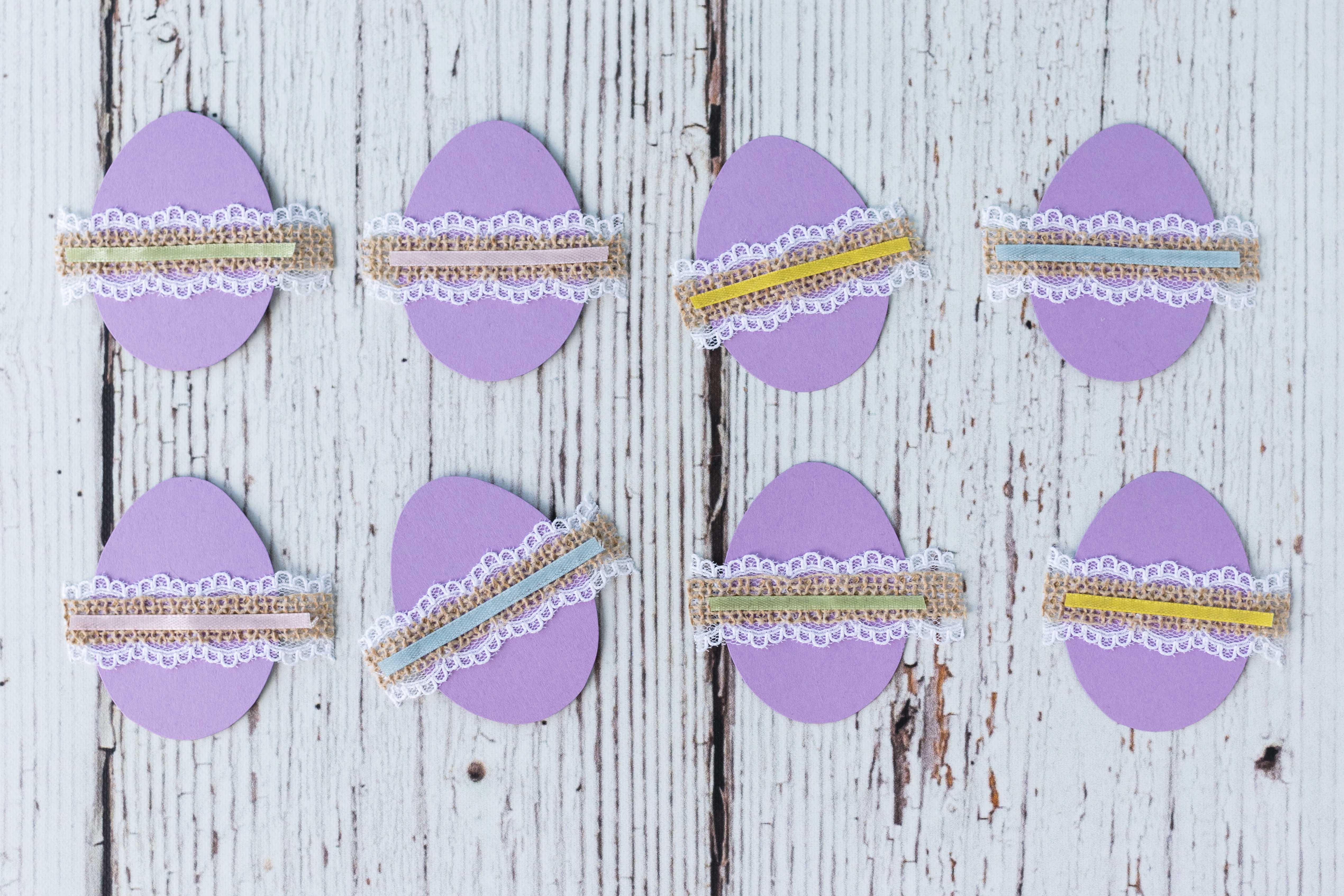 After the glue has dried, trim your ribbon edges.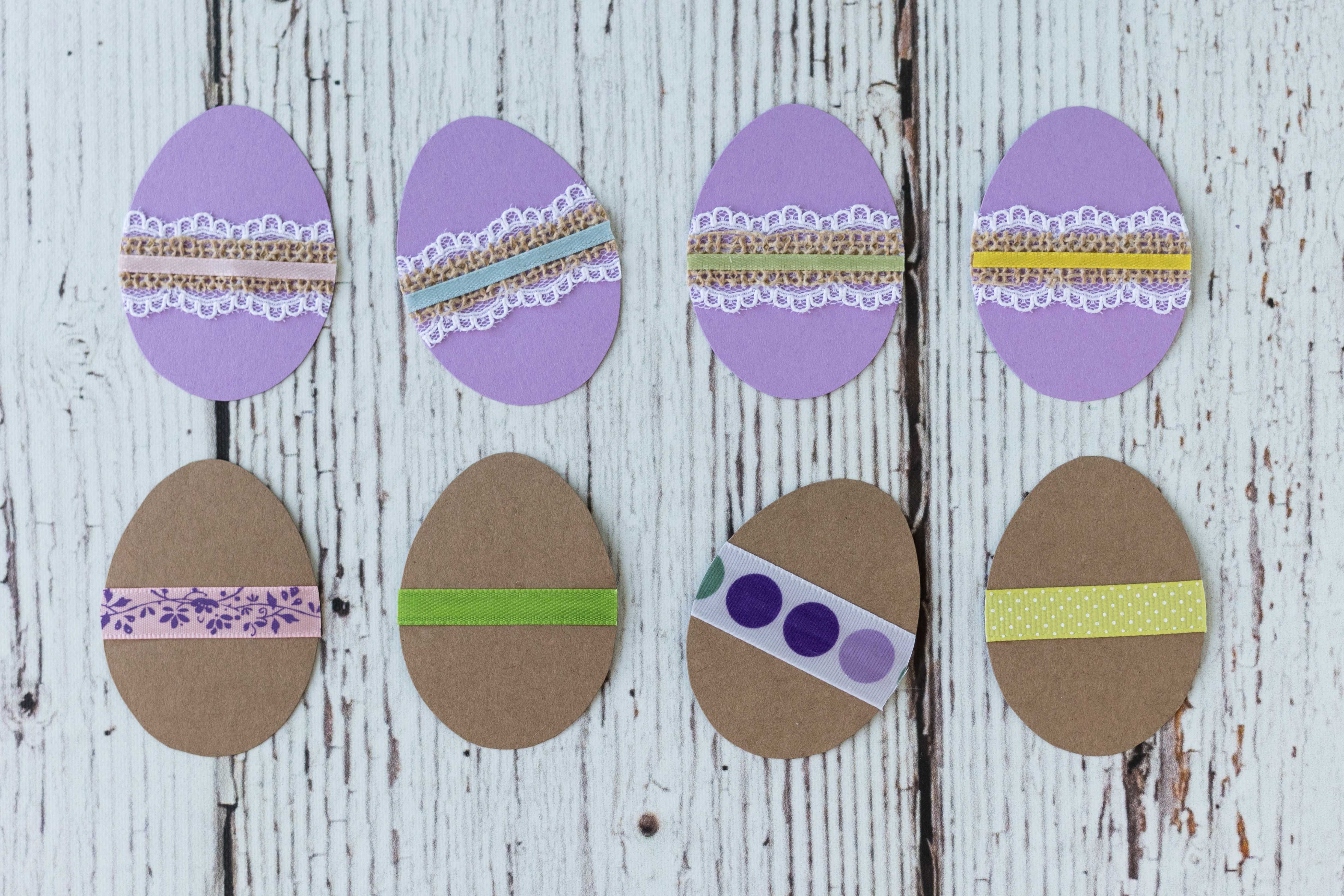 Display your new DIY cardstock Easter egg decor!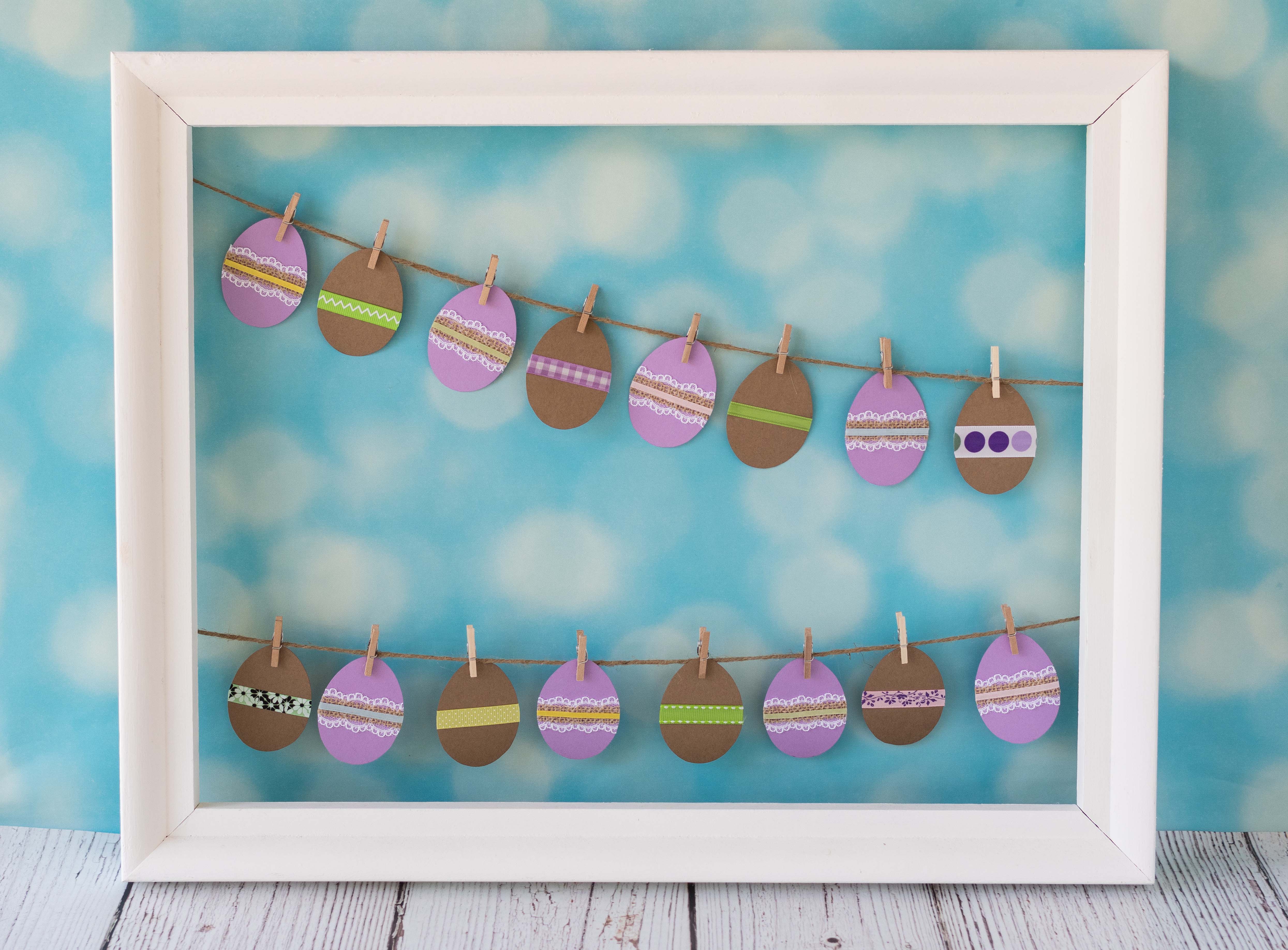 I get a lot of questions about my open white frame. I don't have a full tutorial for it (yet). But the process is so simple. I took apart a canvas picture we were gifted and I didn't want. Once I'd removed the canvas, I painted the frame white with acrylic paint. Then on the back side, I added sawtooth hardware to hang it and two nails on either side for the twine. I strung twine (from the floral section at Michaels) between the nails. You don't have to glue the twine to secure it, but I did. Finally, I added tiny clothespins to display my seasonal decor.
You can make this type of open frame with literally any wooden frame! Scout your local thrift store. Typically, Goodwill has tons of them.

[Disclaimer: There are a few affiliate product links in this post. Thanks for your support!]
Did you make the DIY cardstock Easter egg decor?

I want to see it! Tag your images #RoseClearfield on Instagram or Twitter or post a photo to my Facebook page.
Pin this post for easy access to the DIY cardstock Easter egg decor later!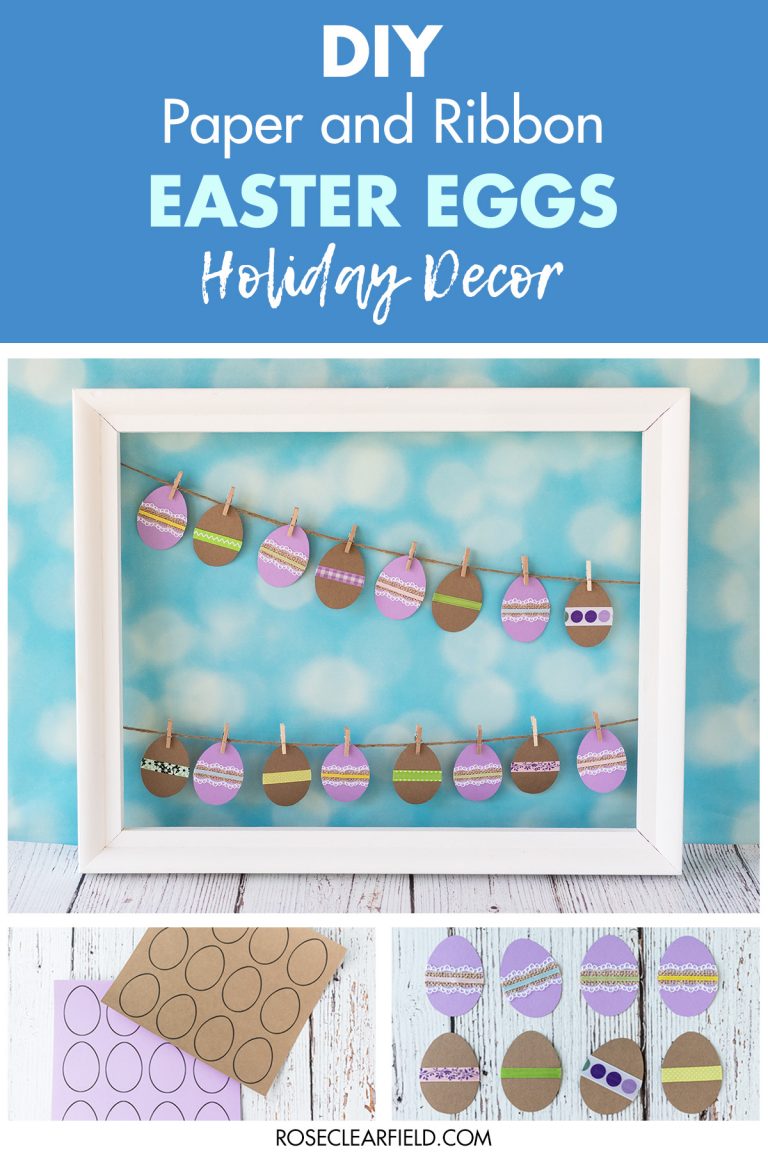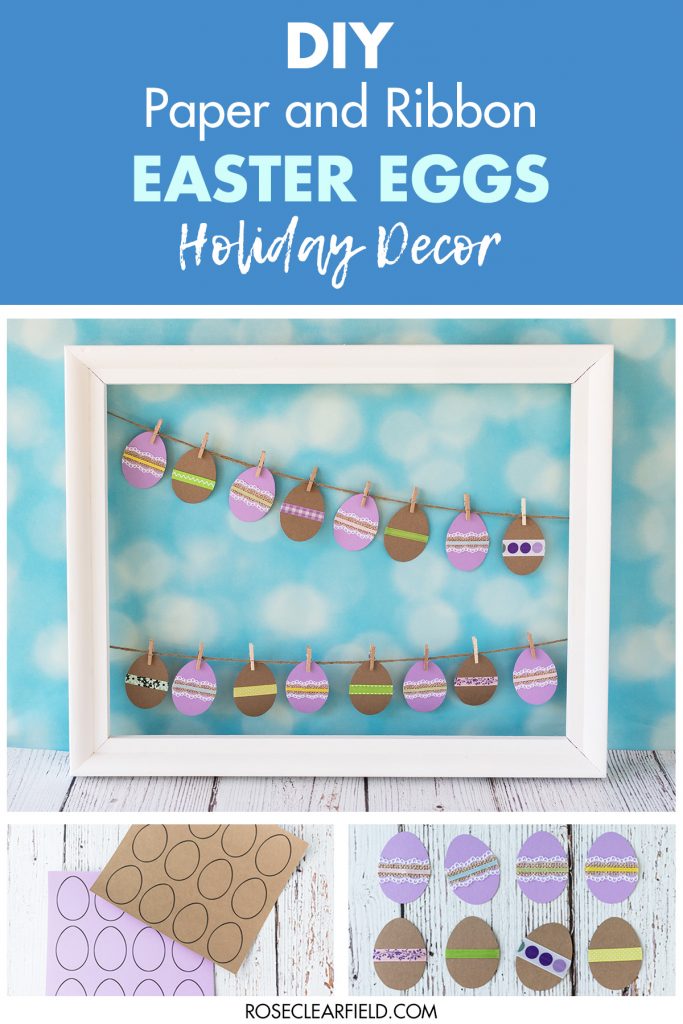 More Easter DIY projects: