Acid reflux-friendly holiday desserts make it easy to prepare Christmas treats without worrying about triggering GERD symptoms.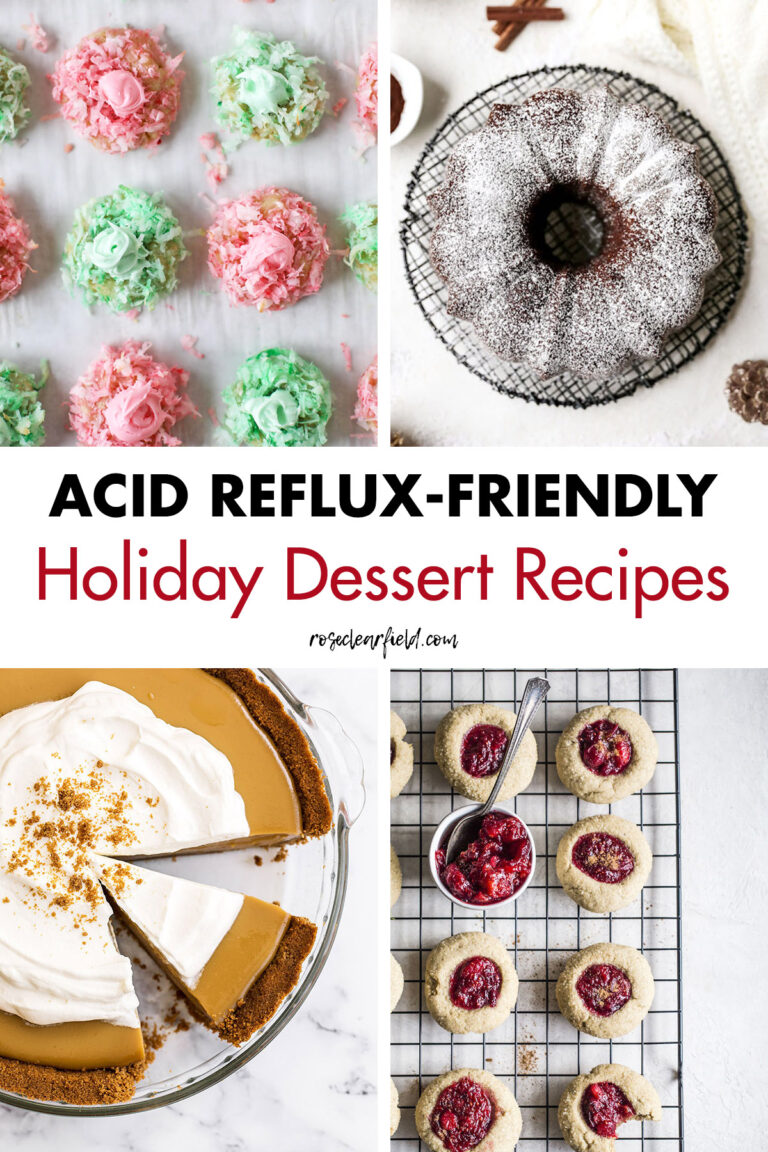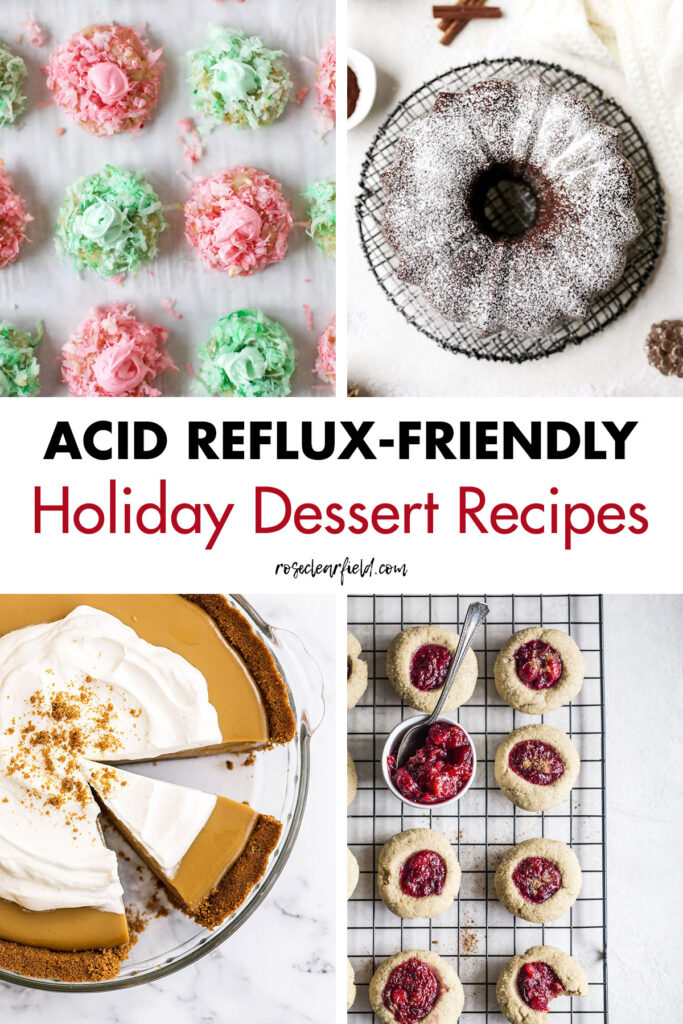 Making acid reflux-friendly holiday desserts sounds like a simple enough task. However, when you do a general search for holiday desserts on Google or Pinterest or within a specific food blog, you're flooded with recipes containing chocolate, mint, peppermint, and orange. While there are lots of great holiday dessert recipes that don't contain these ingredients, it can be hard to know where to turn when doing a general search.
So I've rounded up a fantastic selection of holiday dessert options, all of which are acid reflux-friendly. I've included cookies, pies, fudge, bread puddings, cakes, and more. You'll find conventional holiday favorites, such as thumbprint cookies and gingerbread cake, as well as more unique desserts, such as mousse parfaits and creme brulee. You're sure to find something that appeals to your personal taste preferences.
All of the recipes here are easy with simple ingredient lists and straightforward prep processes. Some recipes are more time-intensive but aren't hard. Always make sure to read the recipe in full before starting preparation, so they are no surprises, particularly when you're getting ready for a holiday party.
I know that most people searching for acid reflux-friendly holiday desserts are simply trying to avoid chocolate, mint, peppermint, and citrus fruits. You're not necessarily looking for a comprehensive resource about acid reflux diets. If you are looking for further GERD symptom resources, I encourage you to check out my acid reflux-friendly breakfast and dinner posts. In addition to a wealth of recipes, I discuss the best and worst foods for acid reflux, general tips for eating with acid reflux, and lifestyle changes to further reduce symptoms. I also offer a free printable acid reflux foods reference sheet.
[Disclaimer: I am not a physician. I'm a life-long acid reflux sufferer who has been actively treating symptoms through diet, medication, and lifestyle changes my entire adult life. The acid reflux advice I give is based off my personal experience with the condition as well as research specific to the topics I cover on this blog. If you have any questions about acid reflux diet or any other aspect of GERD treatment, please consult your doctor.]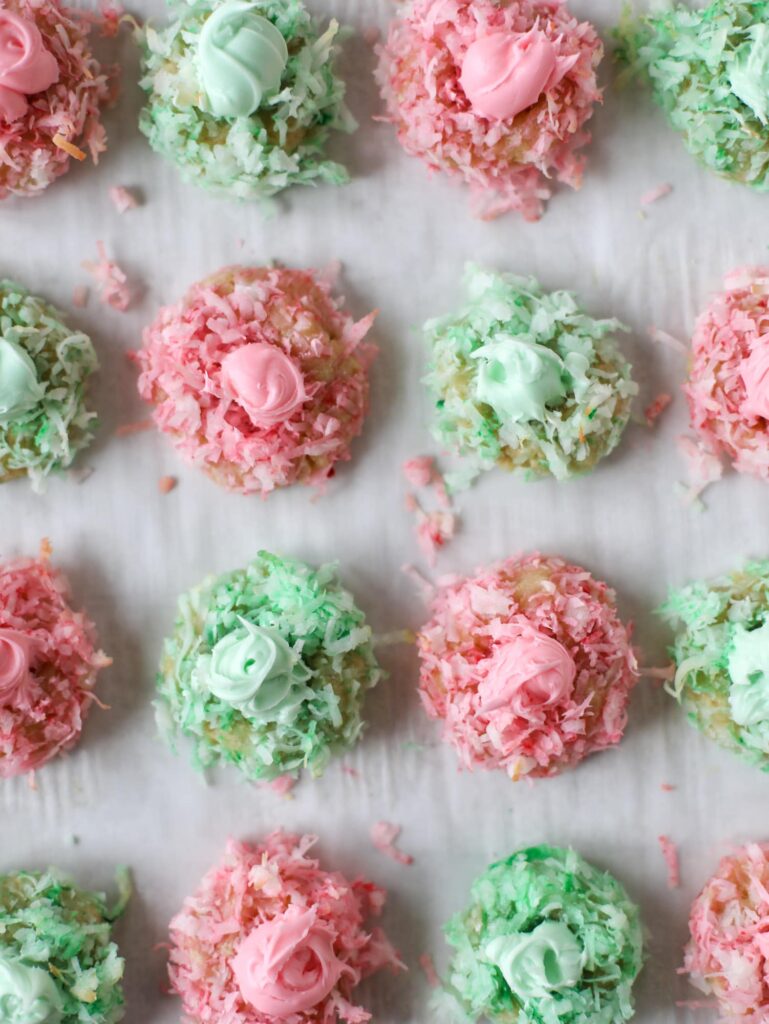 1. Thumbprint cookies
How Sweet Eat's thumbprint cookies are an old-school classic for the holiday season. They're filled with buttercream or cream cheese frosting and then rolled in pink and green coconut. Dyed canned frosting works great for this recipe.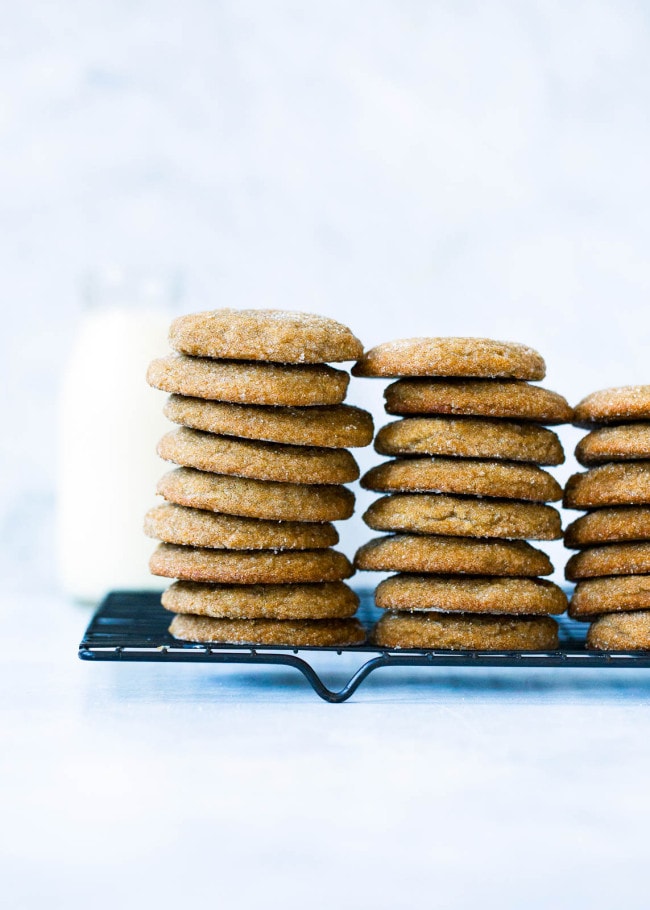 2. Soft gingersnap cookies
Two Peas and Their Pod's soft gingersnap cookies are the only cookies I want to eat at Christmastime. They're simple and exactly what you want in a chewy gingersnap cookie without anything extra.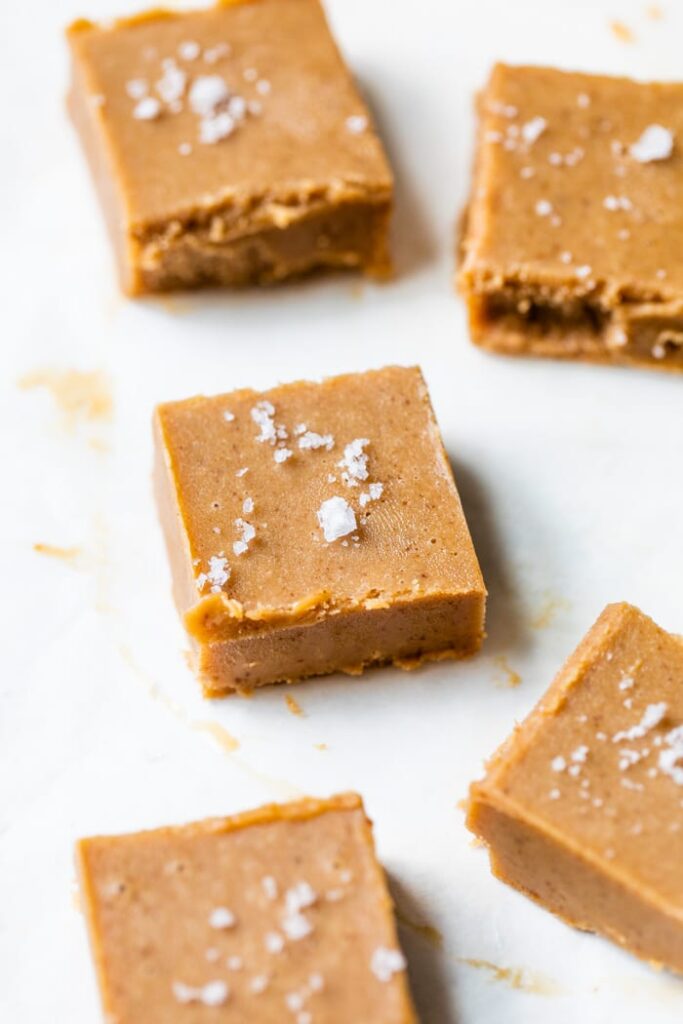 3. Peanut butter fudge
The Almond Eater's peanut butter fudge is dairy-free and contains just five ingredients. It comes together quickly and is stored in the freezer, which means you can prep it well in advance for holiday parties and then can keep enjoying it all winter long.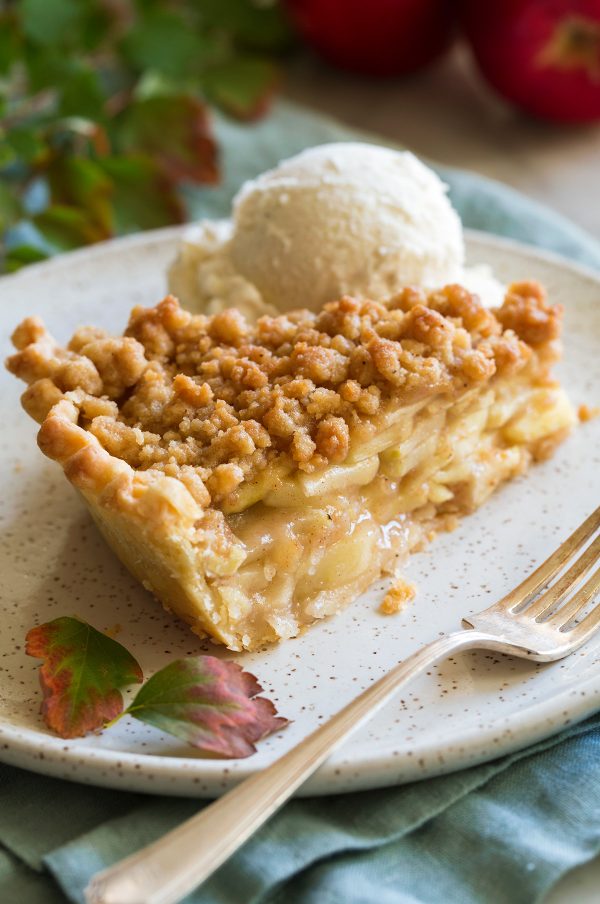 4. Dutch apple pie recipe
Dutch apple pie is a classic pie recipe that works well for just about any holiday. Cooking Classy's Dutch apple pie recipe features a homemade crust and is finished with a sweet and buttery streusel crumb topping.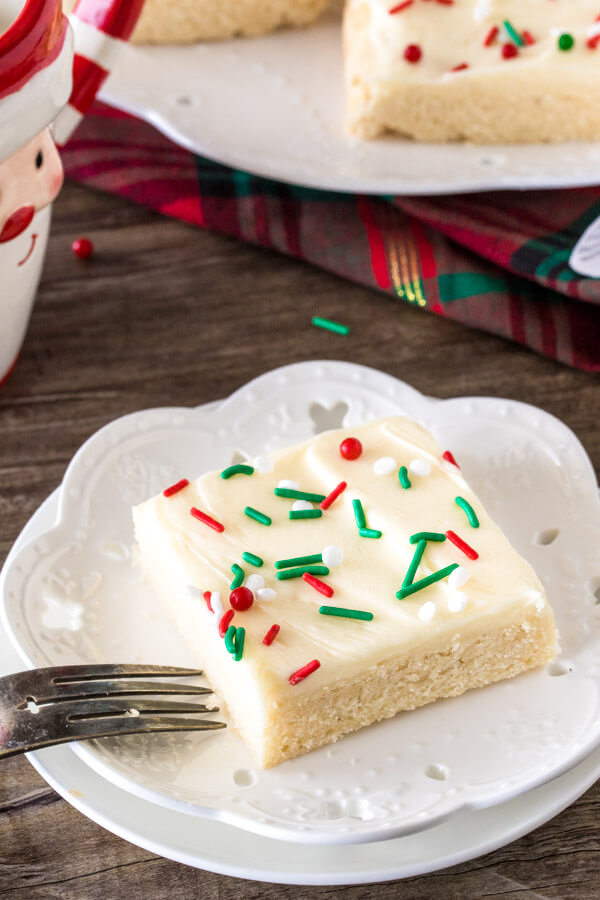 5. Christmas sugar cookie bars
Just So Tasty's Christmas sugar cookie bars are every bit as delicious and festive as regular sugar cookies but so much less work. They're extra soft with a thick layer of frosting and finished with holiday sprinkles.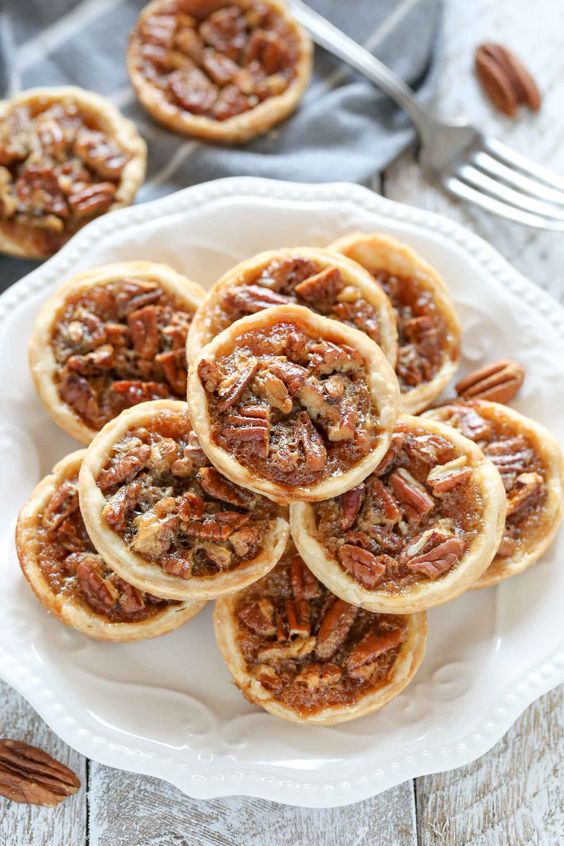 6. Mini pecan pies
Live Well Bake Often's mini pecan pies are ideal for holiday gatherings because everyone gets to try a few bites of pie without having to cut big slices. You can even make them ahead of time, which is perfect for entertaining.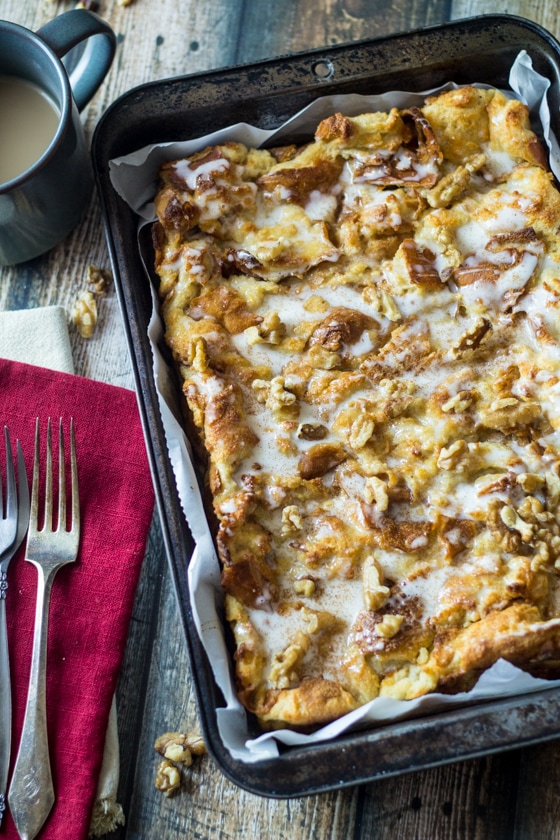 7. Hot buttered rum bread pudding
The Wanderlust Kitchen's hot buttered rum bread pudding takes bread pudding to a whole new level. Prep her hot buttered rum mix ahead of time for delicious hot buttered rum drinks all holiday season and easy bread pudding whenever you like.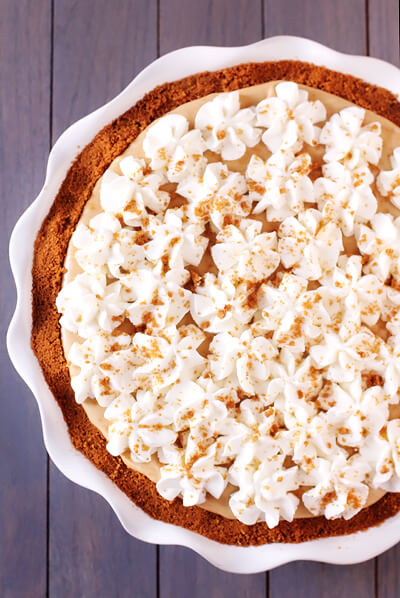 8. Biscoff pie
Gimme Some Oven's biscoff pie celebrates everything you love about biscoff cookies and spread in pie form. It involves separate steps to make the crust, filling, and topping. But none of the steps are hard, and you can make it ahead of time for stress-free entertaining.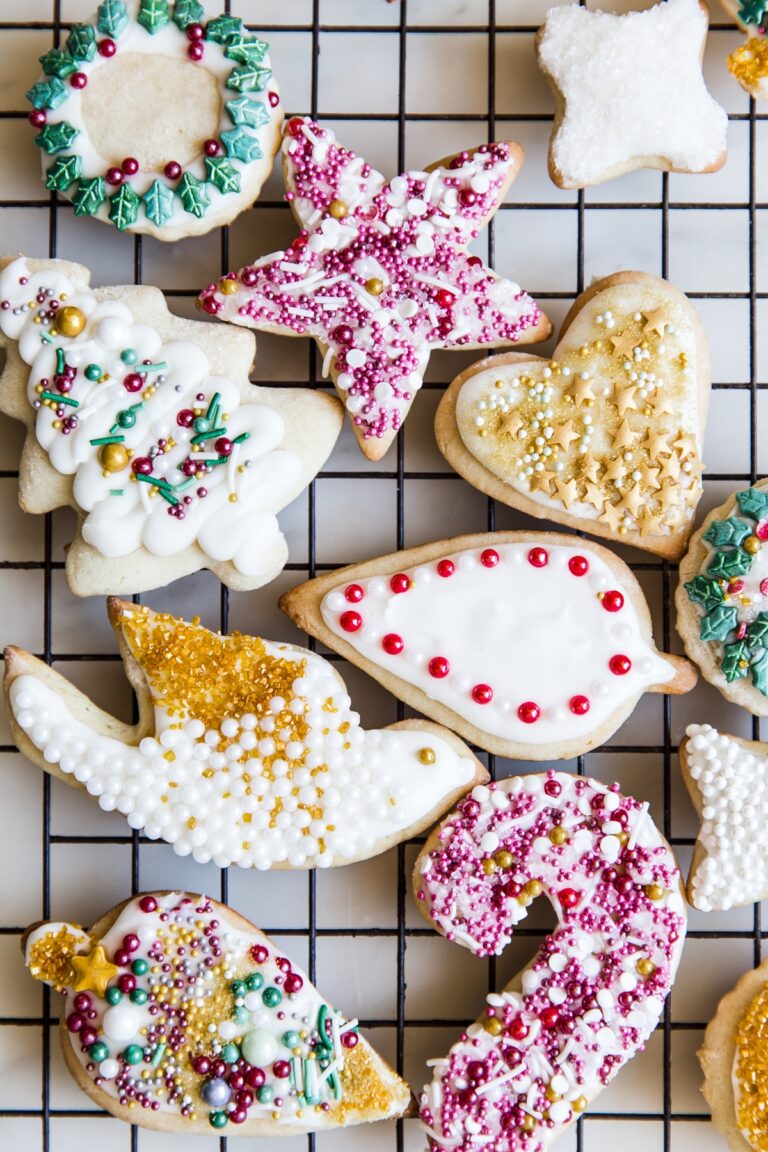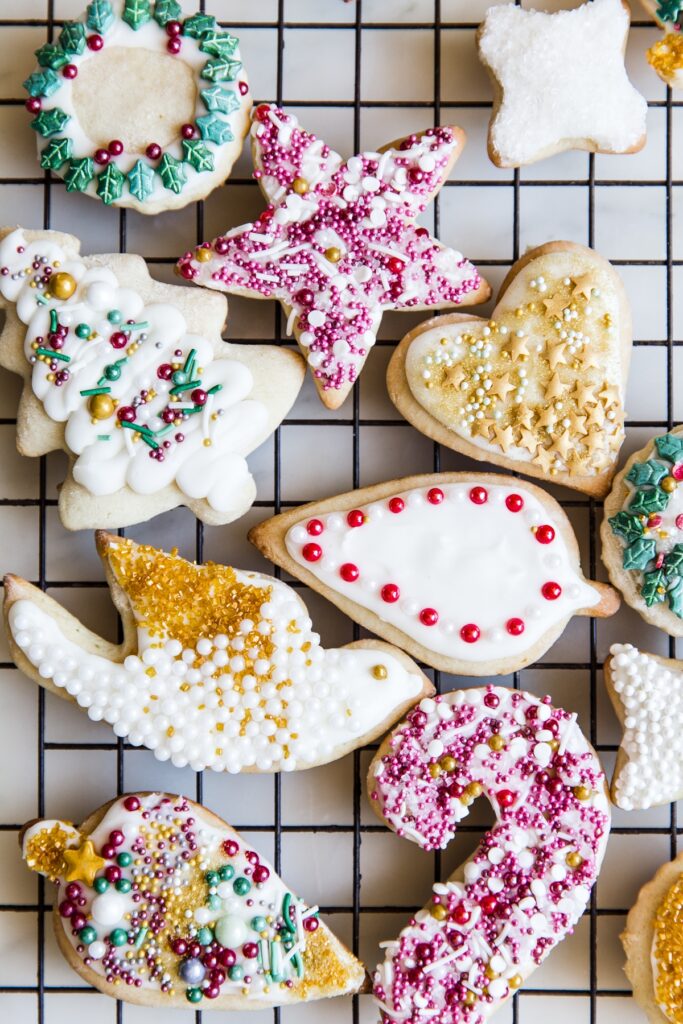 9. Sour cream sugar cookies
The Modern Proper's sour cream sugar cookies recipe seems a little old-fashioned. It's held the test of three generations, so it's well worth sticking to the recipe as written. She shares lots of tips for decorating the cookies.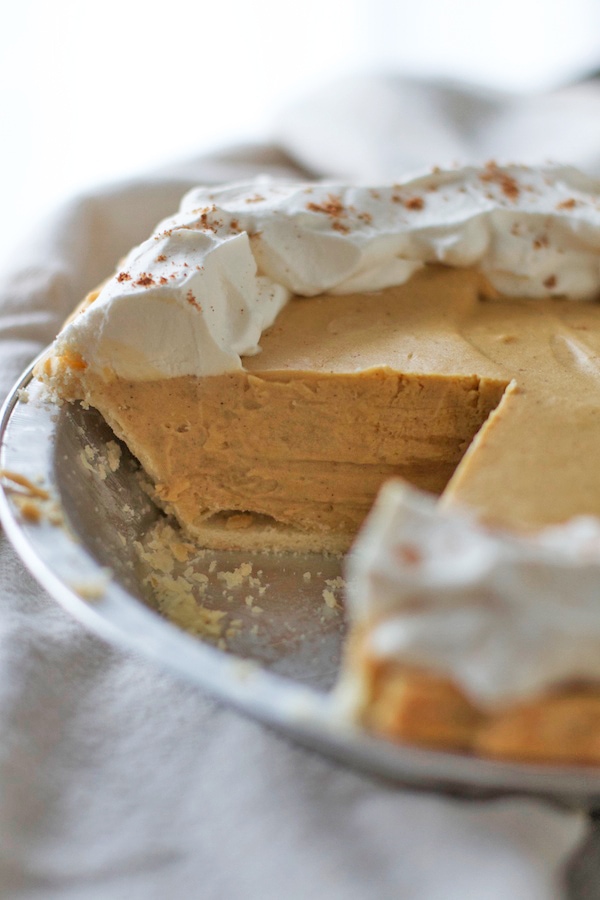 10. Gingerbread cream pie
Lauren's Latest's gingerbread cream pie is a fantastic way to enjoy gingerbread for the holidays with a recipe you haven't made dozens of times already. It's the perfect combination of sweet and slightly spicy just like your favorite gingerbread cookie. With a blind baked pie shell ready to go, the rest of the recipe comes together in just 10 minutes.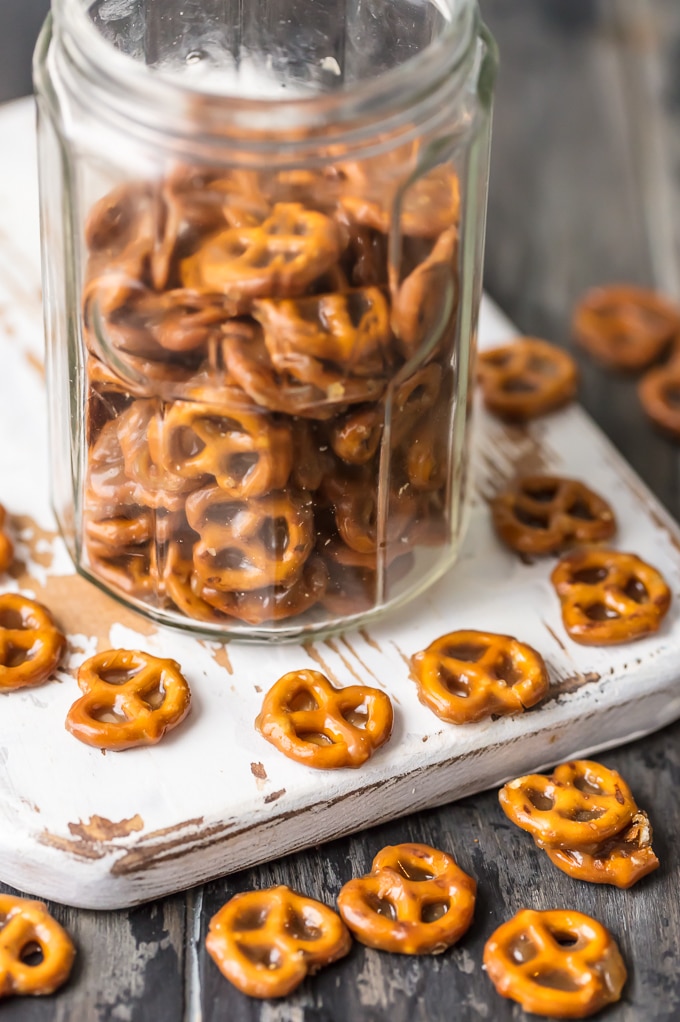 11. Butter toffee pretzels
Simply Sated's butter toffee pretzels are a highly addictive salty-sweet snack or dessert that no one will be able to stop eating. It takes a little practice to get the temperature just right, so the coating hardens without getting sticky. Then you'll be able to whip up this amazing pretzel treat in no time.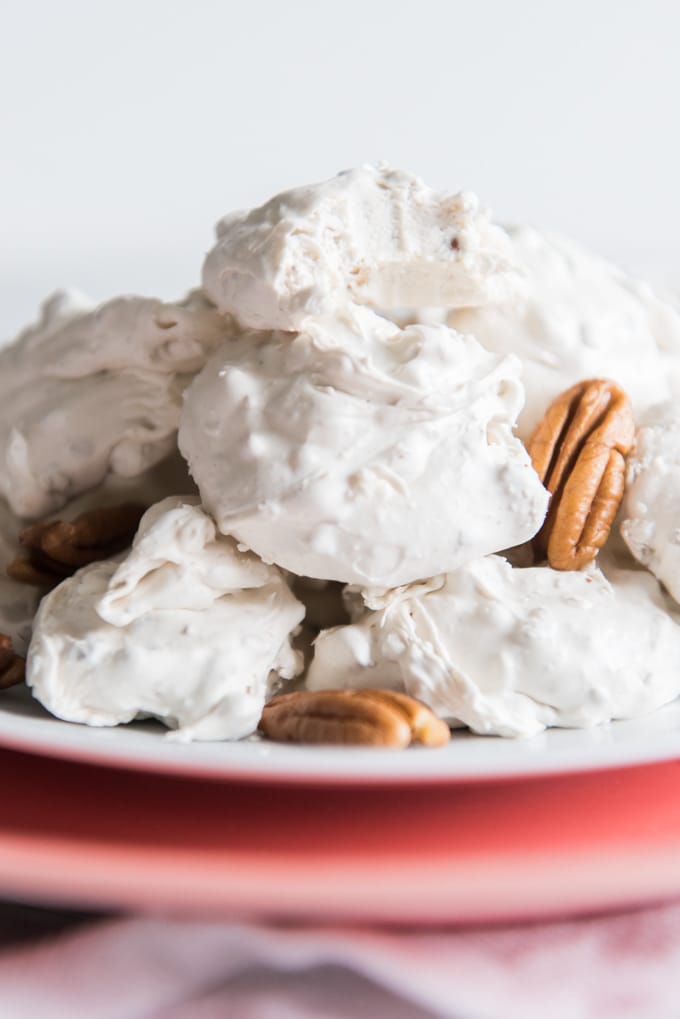 12. Divinity candy
House of Nash's old-fashioned divinity candy is a nostalgic classic that's sure to be a favorite on every holiday dessert tray. It's very sweet with just the right amount of crunch from the pecans.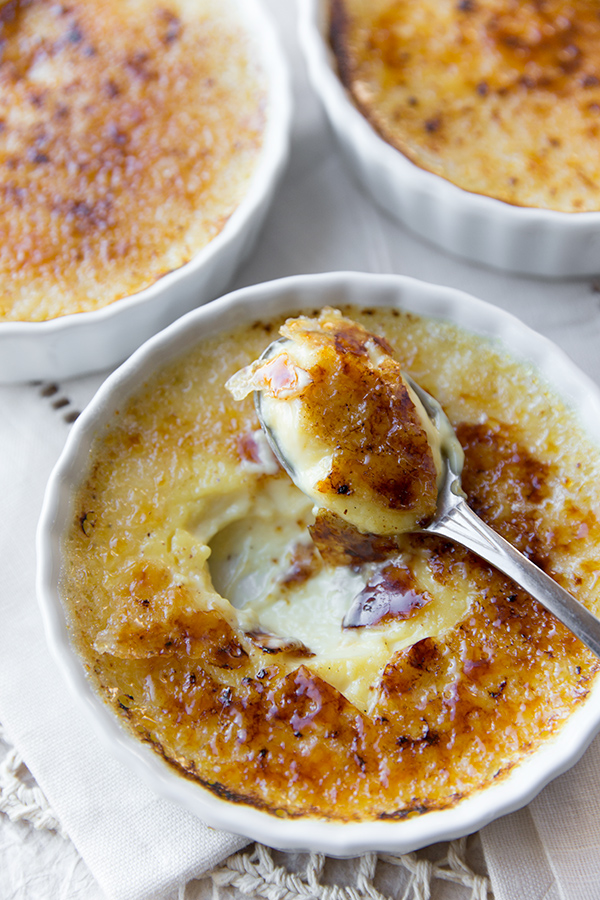 13. Vanilla rum creme brulee
Creme brulee is one of those desserts that seems complicated and intimidating. In reality, it couldn't be simpler and will wow family and friends every time. The Cozy Apron's creme brulee features vanilla bean and rum to take the flavor up a notch.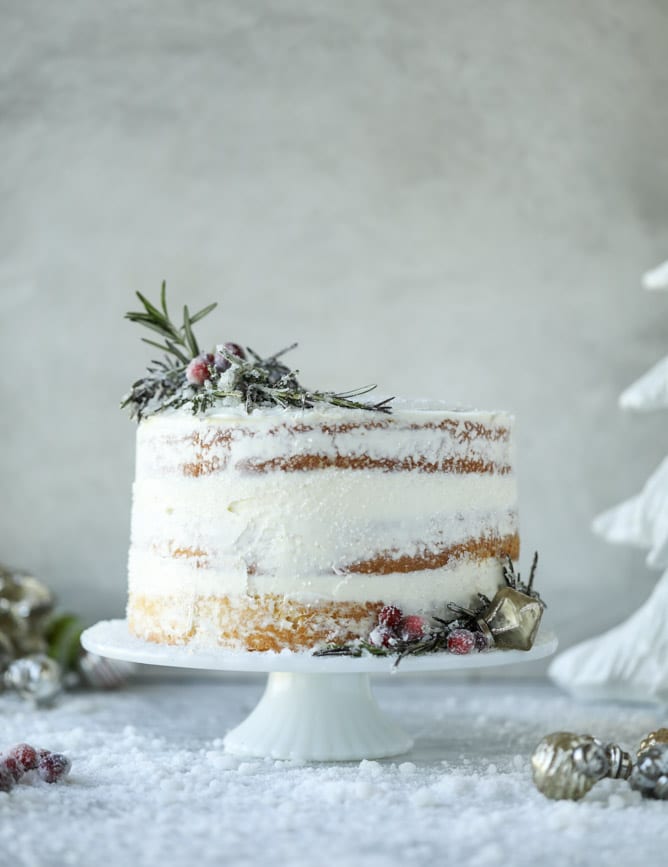 14. White Christmas sparkle cake
How Sweet Eat's white Christmas sparkle cake is absolutely stunning. You can make the cake layers from scratch or add vanilla and almond extracts to a mix. Sugared cranberries and rosemary are optional but add a beautiful touch.
15. Gingerbread popcorn
Hunger Thirst Play's gingerbread popcorn is slightly spicy, balanced out with kettlecorn-style sweetness and classic popcorn crunch. You won't be able to stop eating this addictive sweet snack all holiday season.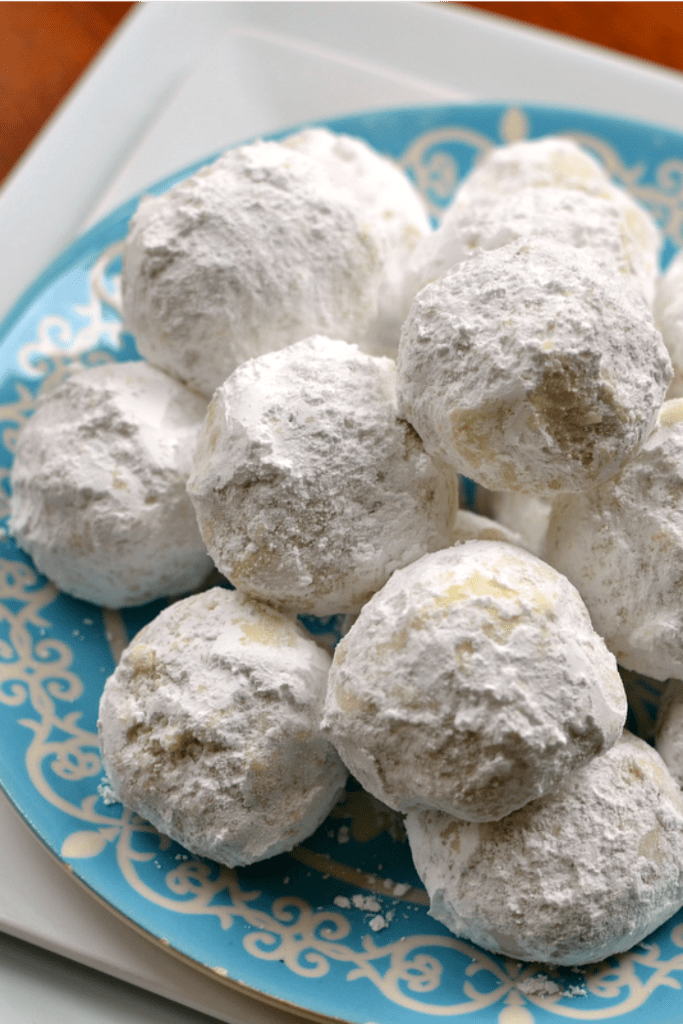 16. Buttery pecan snowball cookies
Small Town Woman's buttery pecan snowball cookies are exactly what you expect from pecan snowball Christmas cookies. Everyone looks forward to them on a holiday cookie platter or in a Christmas cookie gift basket.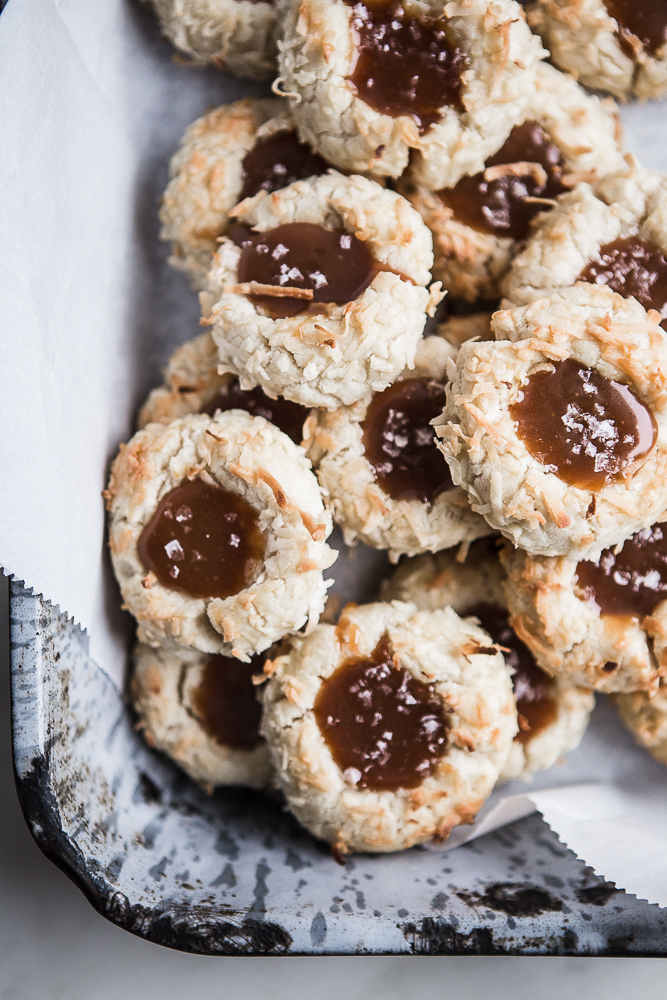 17. Coconut thumbprint cookies
If you need another thumbprint cookie recipe, The Modern Proper's coconut thumbprint cookies with salted caramel are a great option. Everyone will expect them to be filled with chocolate, making the salted caramel a nice surprise.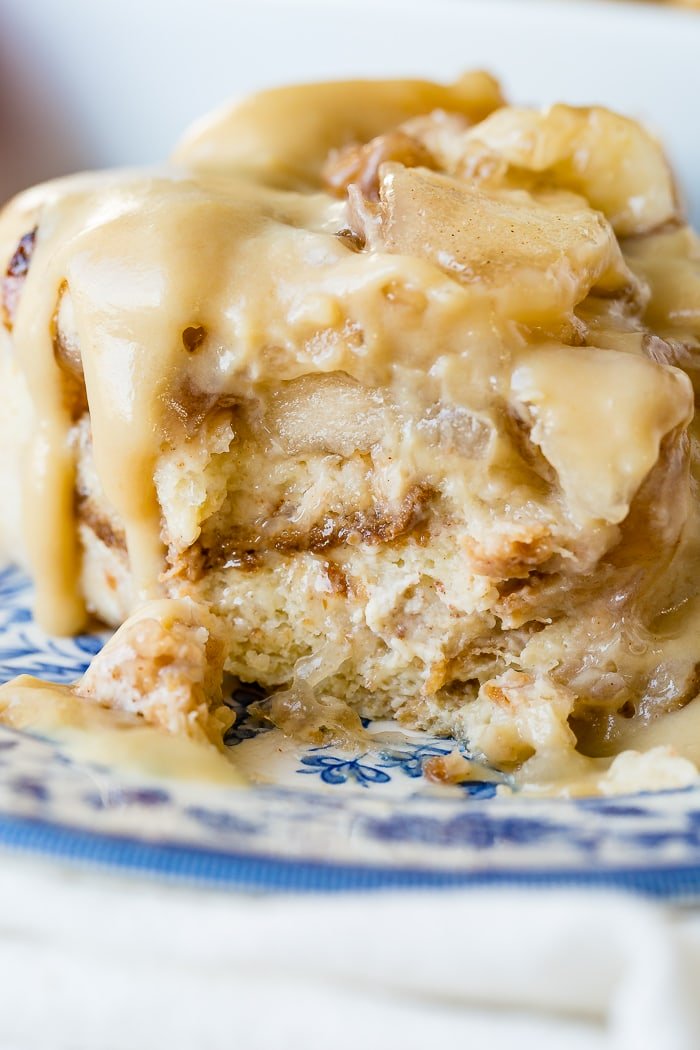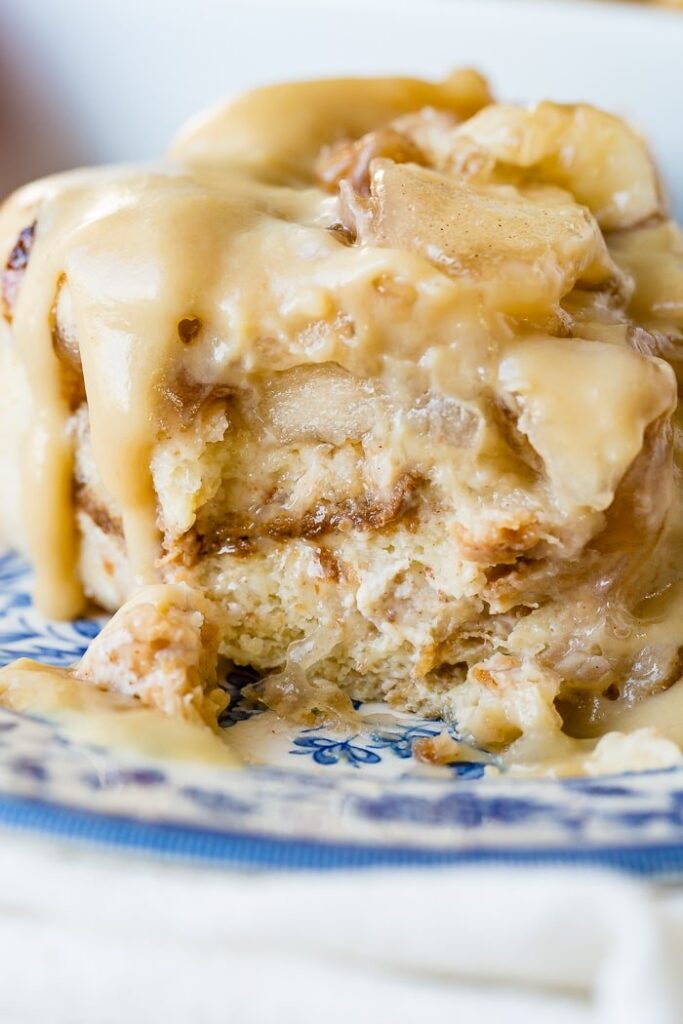 18. Apple pie bread pudding
Oh, Sweet Basil's apple pie bread pudding with vanilla sauce is an indulgent sweet bread pudding with a to-die-for vanilla sauce that's the perfect treat for holiday parties. Sweet glazed apples and walnuts give the bread pudding just the right amount of crunch and texture.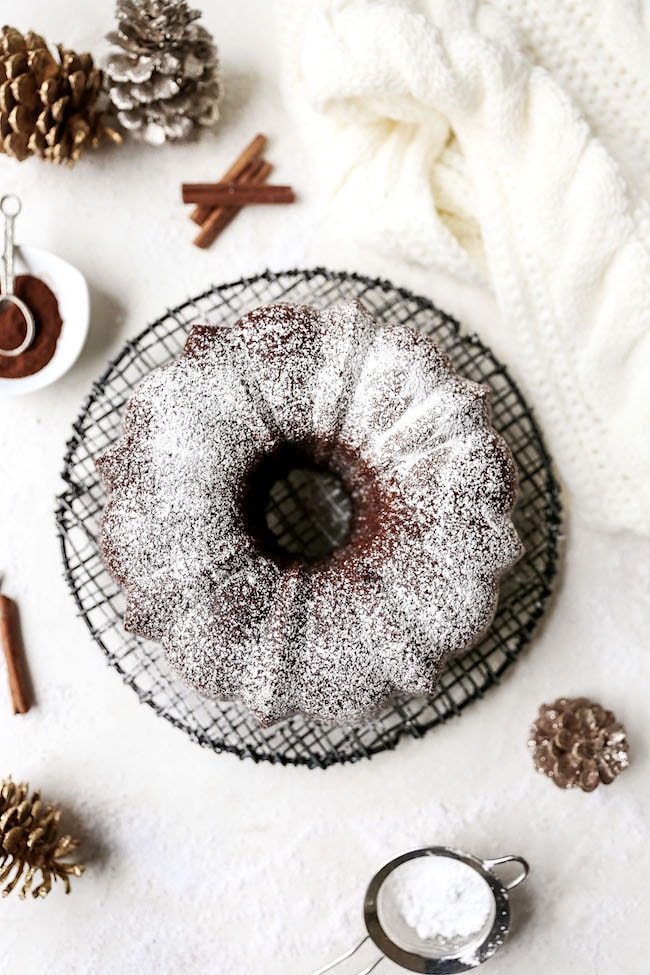 19. Gingerbread bundt cake
I'm always a sucker for a good bundt cake. Two Peas and Their Pod's gingerbread bundt cake is easy to make, super moist, and perfectly spiced. The gingerbread flavor is perfect for the holidays, the dusting of powdered sugar is so pretty, and the brown butter takes the flavor over the top.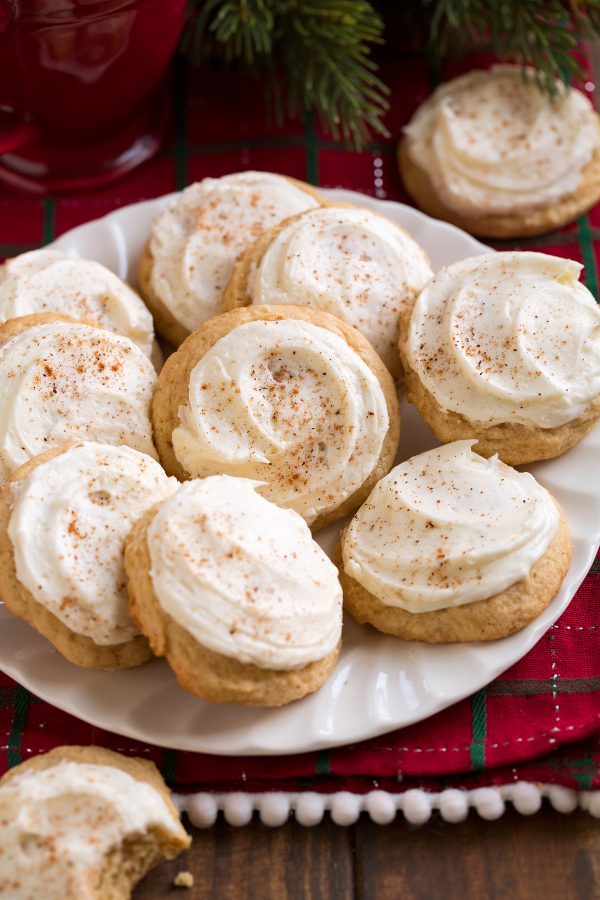 20. Eggnog cookies
I don't love to drink eggnog, but it's a great addition to holiday desserts. Cooking Classy's eggnog cookies are ridiculously soft with a fluffy, cake-like texture. They have the perfect amount of spice and are finished with a rich eggnog icing.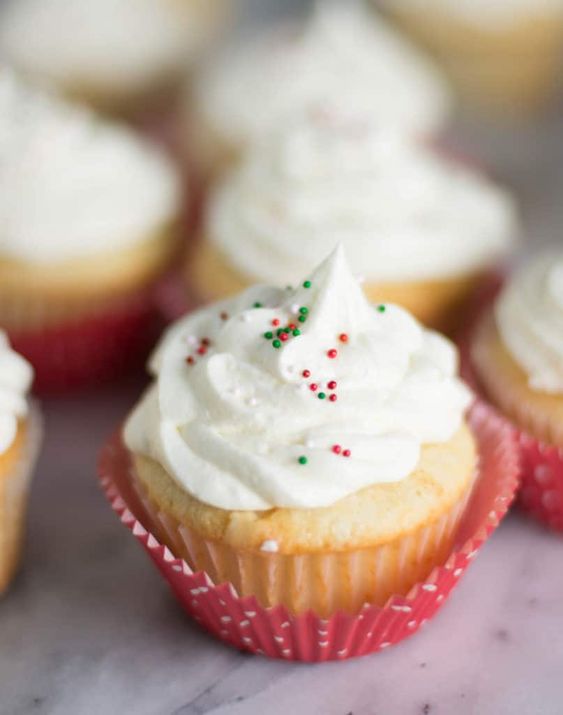 21. Vanilla rum cupcakes
The Itsy-Bitsy Kitchen's vanilla rum cupcakes with eggnog buttercream have the most amazing holiday flavor combination. Vanilla rum makes a terrific base for the cupcakes, and then the eggnog buttercream takes them over the top.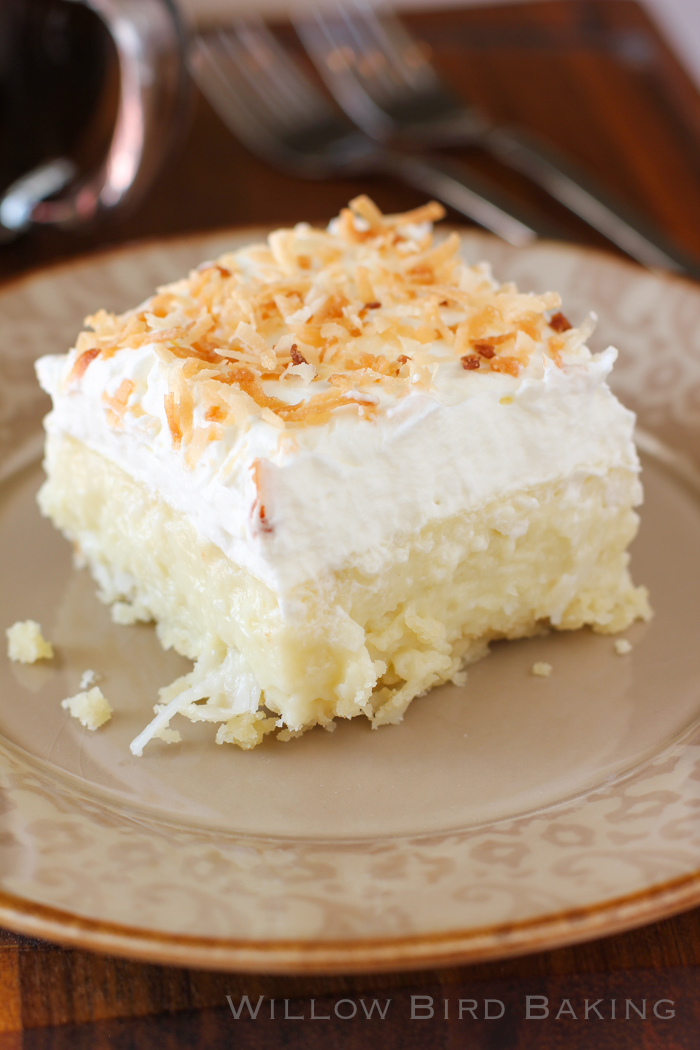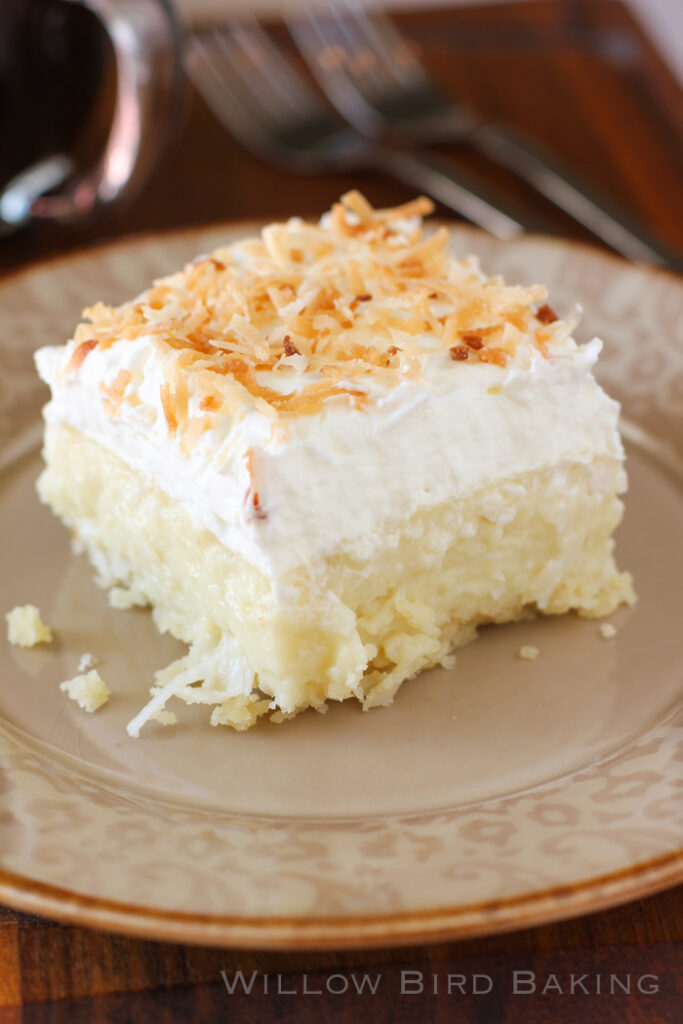 22. Coconut cream pie bars
Coconut cream pie bars are one of my all-time favorite desserts that works well for just about any holiday or special occasion, including Christmas. I know that it seems like a lot of work to make each layer of Willow Bird Baking's coconut cream pie bars from scratch. But you can do it in steps as you have time, and it's well worth the effort.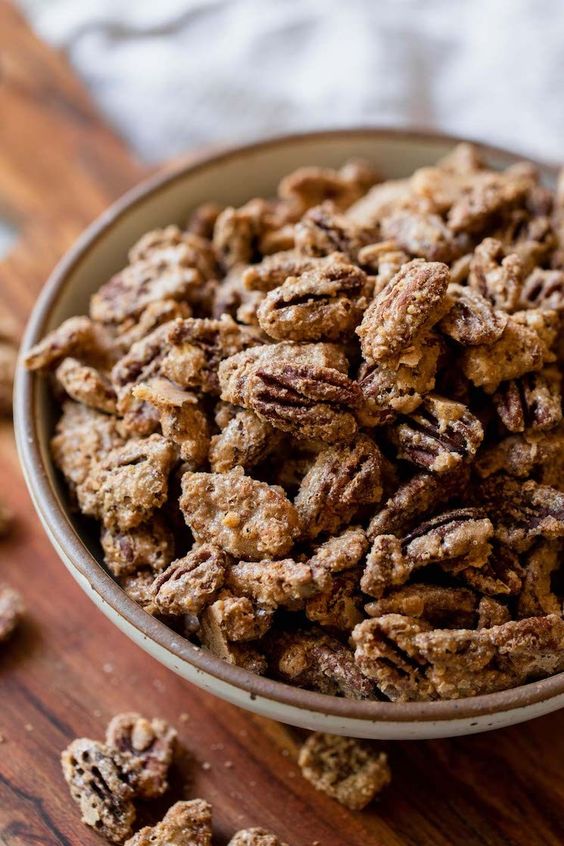 23. Candied pecans
Homemade spiced nuts are so easy and make your house smell ridiculously good. Live Well Bake Often's candied pecans can be customized with the nuts and spices of your choosing.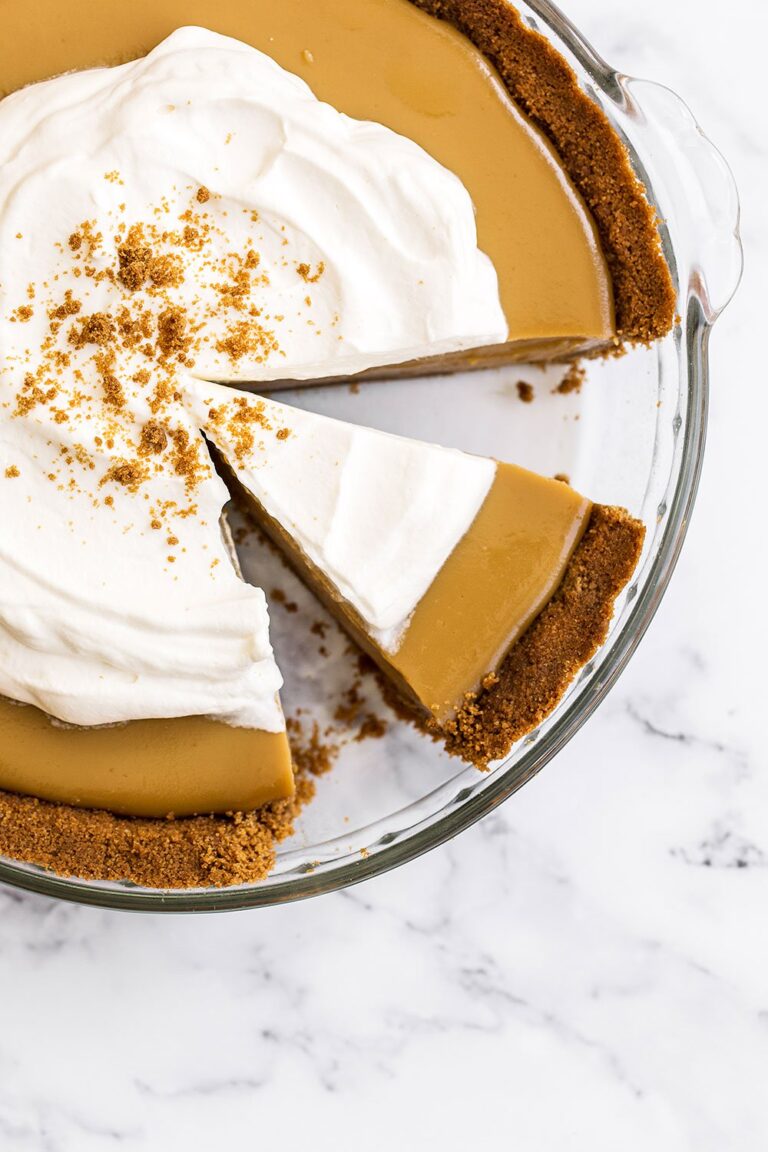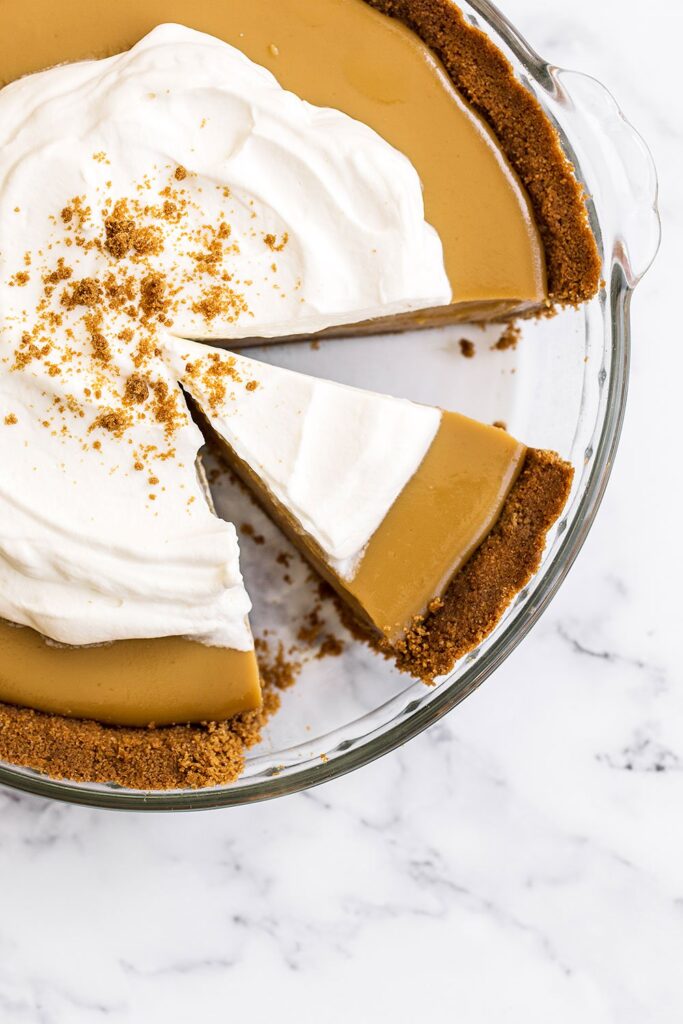 24. Butterscotch pie
When you can't take another gingerbread dessert and are over pumpkin but are trying to avoid all of the chocolate holiday desserts, Handle the Heat's butterscotch pie is a great option. It's made with a spiced Biscoff cookie crust, homemade butterscotch pudding filling, and whipped cream.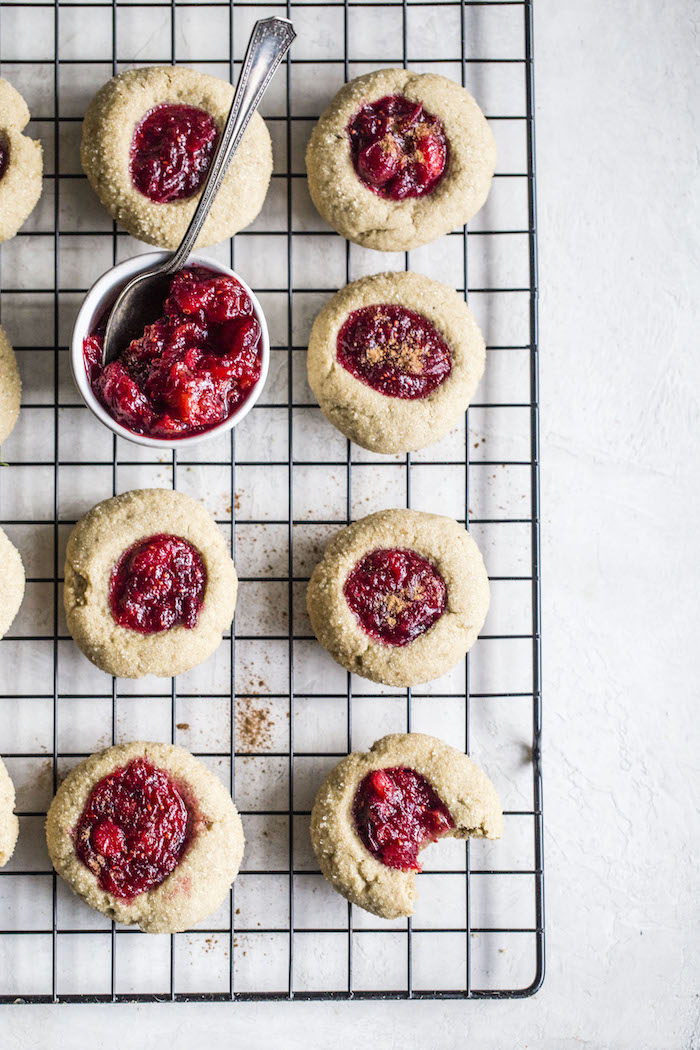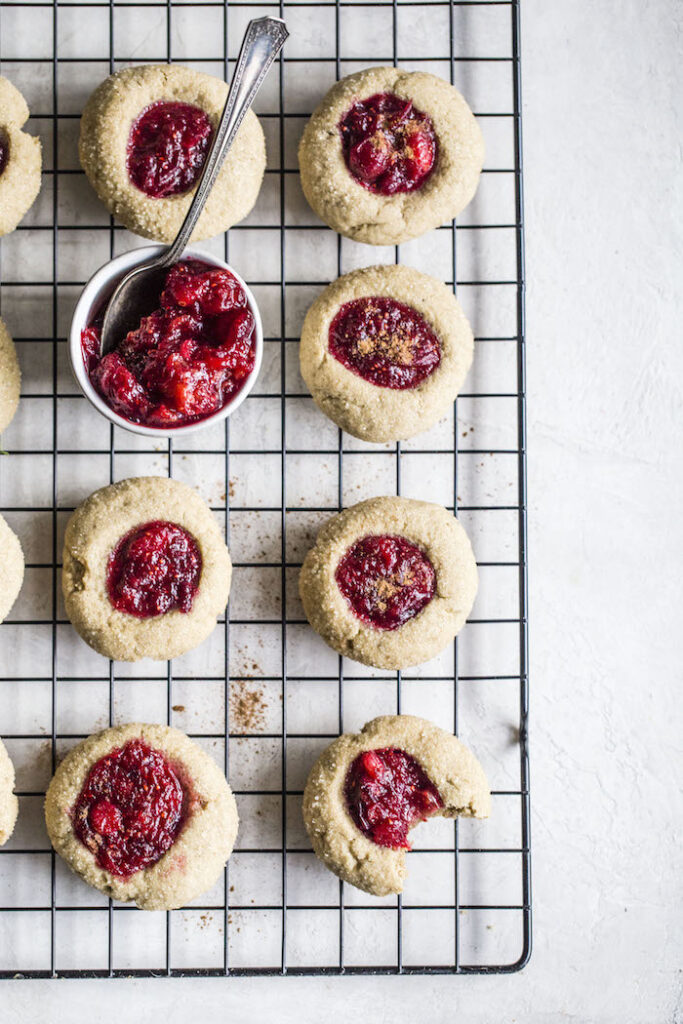 25. Cranberry chai spice thumbprint cookies
I had to include one more thumbprint cookie recipe, this time for The Almond Eater's cranberry chai spice thumbprint cookies. Cranberry chai spice is another flavor combination people won't expect for holiday thumbprint cookies but will always enjoy. Blood oranges, cranberries, and cinnamon is such an amazing combination. If oranges trigger your reflux, sub in a non-citrus fruit, such as apple or pear.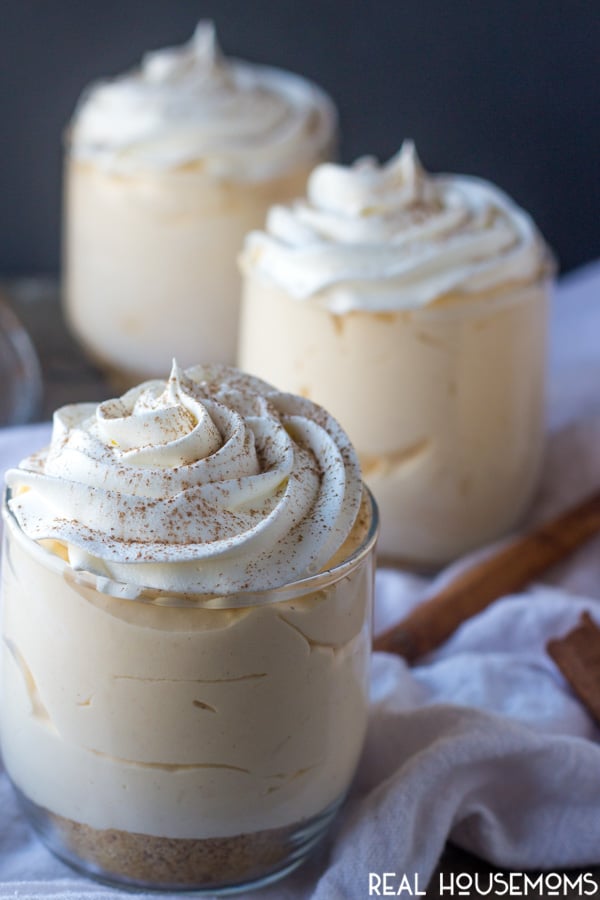 26. Eggnog mousse parfaits
Real Housemom's eggnog mousse parfaits are the perfect single-serving holiday dessert. They have a graham cracker crust, creamy eggnog mousse, and generous topping of whipped cream.
27. Gingerbread poke cake
Crafty Morning's gingerbread poke cake comes together so quickly, thanks to boxed spice cake mix, Cool Whip, and store bought gingersnap cookies. The recommended caramel ice cream topping is the perfect finish for this easy cake recipe.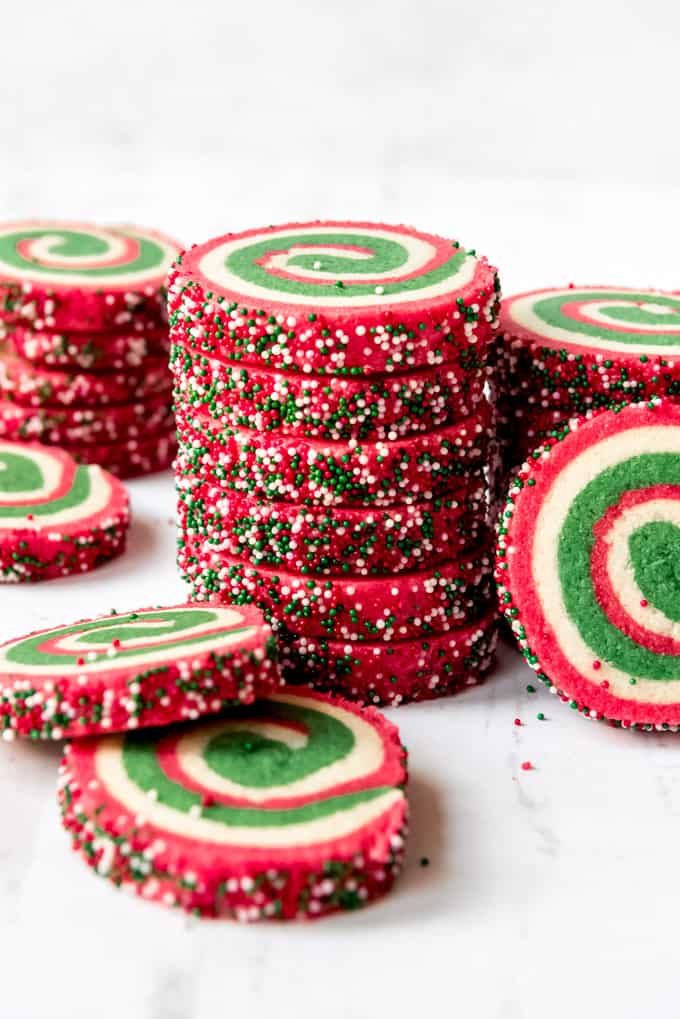 28. Christmas pinwheel cookies
How festive are House of Nash Eat's Christmas pinwheel cookies? They're a little time-consuming but not at all difficult and worth the effort for the beautiful presentation. Finish the cookies off with sprinkles on the edges.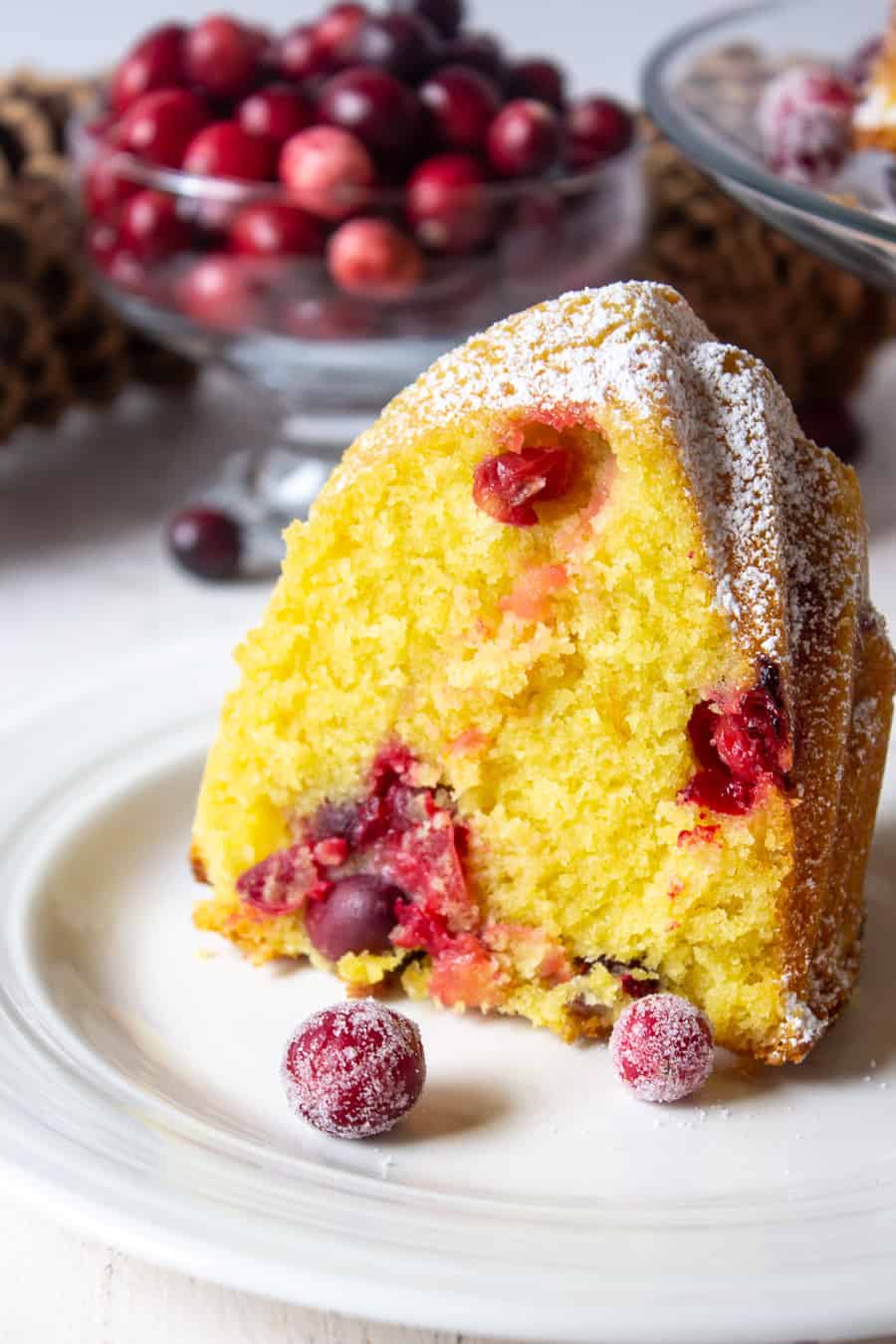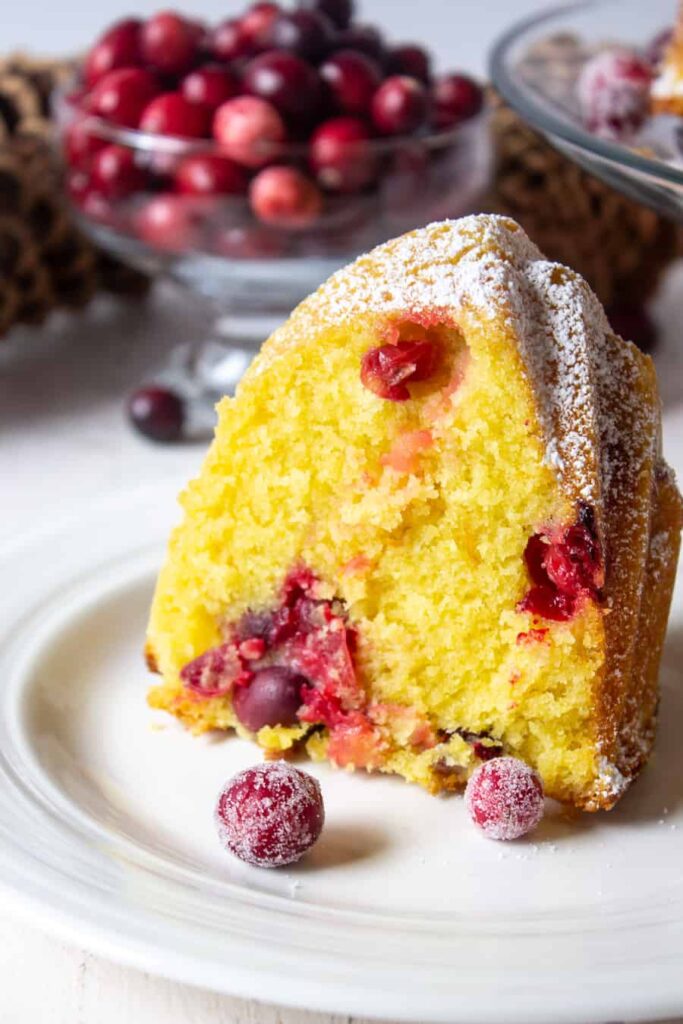 29. Cranberry bundt cake
Beyond the Chicken Coop's cranberry bundt cake is gorgeous and packed with delicious, slightly tart cranberry flavor. Save a few cranberries to sprinkle on the plate for serving, and finish the cake off with a dusting of powdered sugar.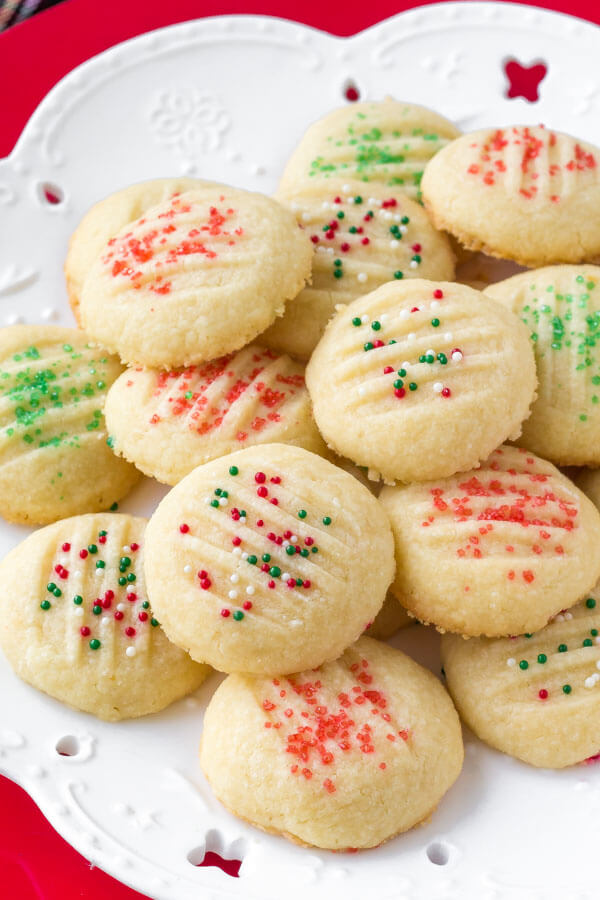 30. Whipped shortbread cookies
Just So Tasty's whipped shortbread cookies are everything you love about great buttery shortbread cookies with a festive holiday finish. I love that she makes them bite-sized, as it's ideal for holiday cookie trays.
Did you make one or more of the easy acid reflux-friendly holiday desserts?

I want to see it! Tag your images #RoseClearfield on Instagram or Twitter or post a photo to my Facebook page. Make sure to tag the recipe creators as well!
Pin this post for easy access to the holiday acid reflux-friendly desserts later!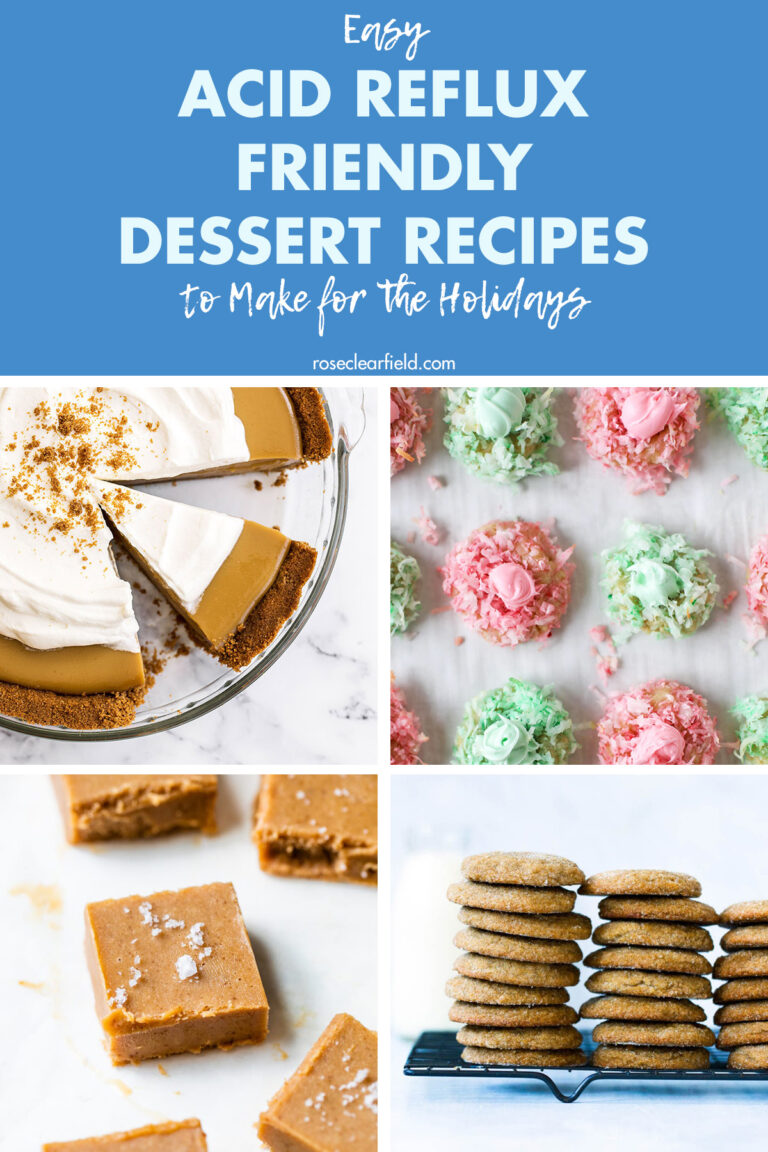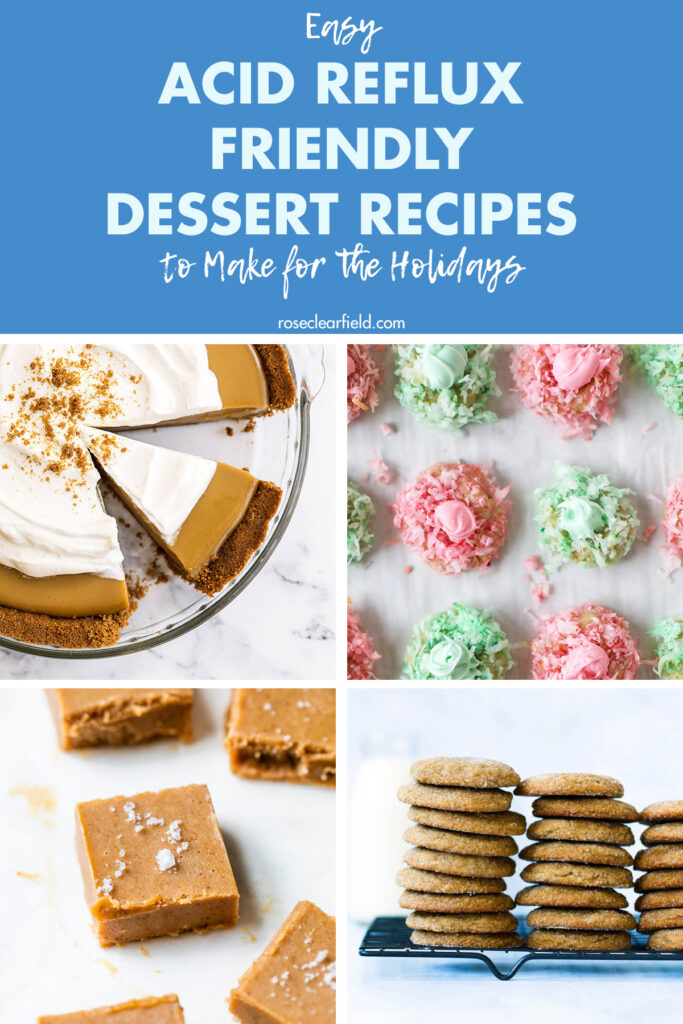 More acid-reflux friendly recipes:
More holiday menu resources: