I'm helping you put together an easy Christmas dinner menu, so you can create a delicious feast for your family without spending hours in the kitchen.
I'm all about taking my menu planning up a notch for the holidays and creating a noteworthy meal that we wouldn't have on a normal weeknight. But I'm also all about spending as much time with my loved ones as possible. I don't want to be on my feet in the kitchen all day. I know that you don't either. So I'm making this holiday meal as simple as possible with my favorite easy Christmas dinner menu ideas.
The Christmas dinner menu items I'm sharing here work well for Christmas Eve or Christmas Day. Depending on when we go to church and have plans with family, the day I make our biggest meal varies from year to year. We often have family visiting during the week after Christmas as well, so I like to have multiple go-to holiday meals I can rotate through with different groups. I'm sharing lots of options here that you can mix and match as needed.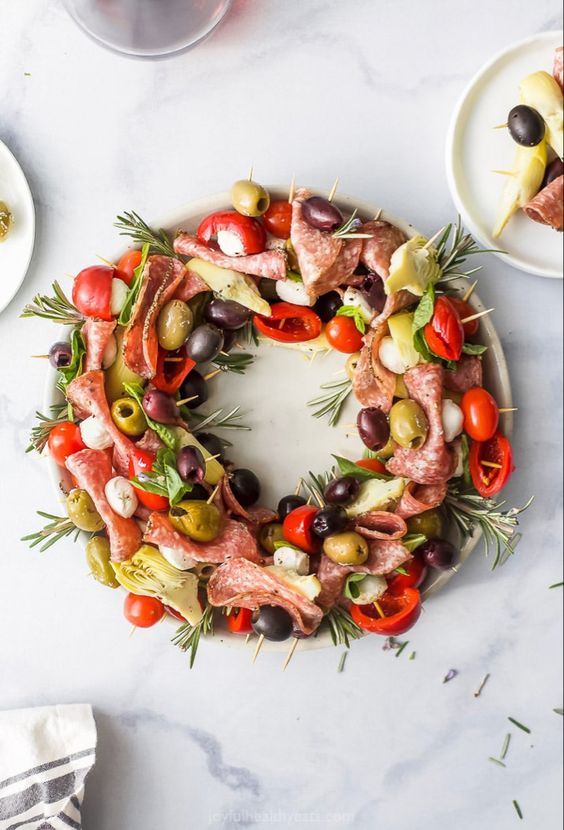 [via]
Appetizers
The easy appetizer that I come back to time and time again is hummus with raw veggies and crackers. Of course, I'll give you my white bean hummus recipe. I love the idea of doing something different for the holidays like Well and Full's carrot hummus topped with pomegranate and parsley, No Spoon Necessary's arugula and garlic white bean hummus (also topped with pomegranate), and Salt and Baker's sweet potato hummus.
My other default appetizer recipe for the colder months of the year is Tidy Mom's antipasto skewers. They do take a little time to assemble. But in keeping with the theme of this easy Christmas dinner menu, you can put them together ahead of time. Then simply pull them out when guests arrive. For the holiday season, take inspiration from Joyful Healthy Eats and transform your skewers into a Christmas wreath (pictured).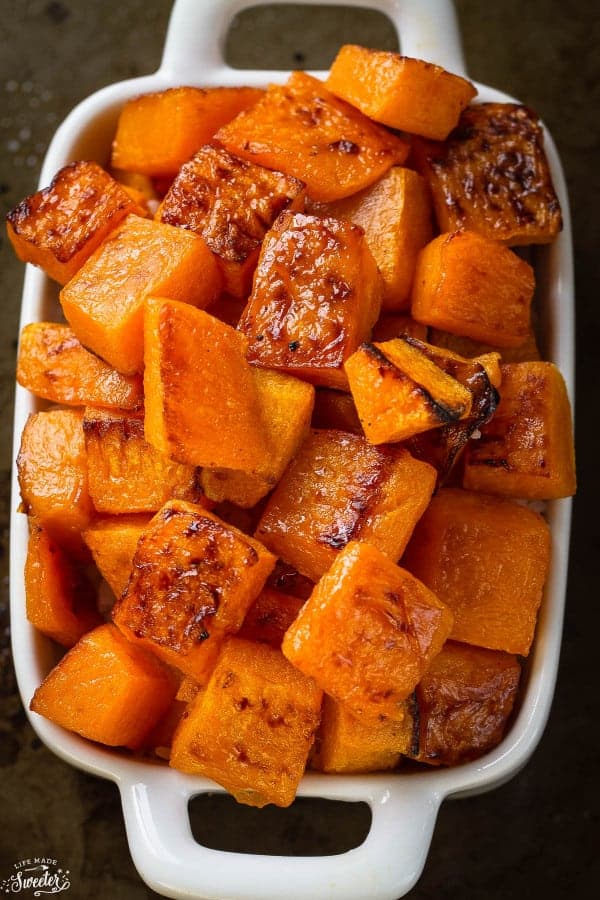 [via]
Side dishes
When I'm making a traditional meat main course (I outline a few great options in the next section!), I almost always make sweet potatoes or mashed potatoes. How Sweet Eat's lightened up sweet potato casserole is the only sweet potato recipe I make for holidays. One of the best parts about this recipe is that you can prep it ahead of time. I like to make it at least one day in advance of the big meal I'm making. For potatoes, I use Mark Bittman's mashed potatoes recipe from How to Cook Everything.
If you also want to make stuffing alongside chicken or turkey, I highly recommend Spend With Pennies' classic stuffing recipe, which is another great recipe to make in advance.
For vegetables, I'll spare you my schpeel about how much I love roasted vegetables and briefly mention that I make broccoli, cauliflower, asparagus, etc. the way that I outline in my Ramen with broccoli recipe. For Christmas, I also love Life Made Sweeter's maple cinnamon roasted butternut squash (pictured), Eazy Peazy Mealz's bacon-wrapped asparagus, and Rasa Malaysia's cauliflower with Parmesan.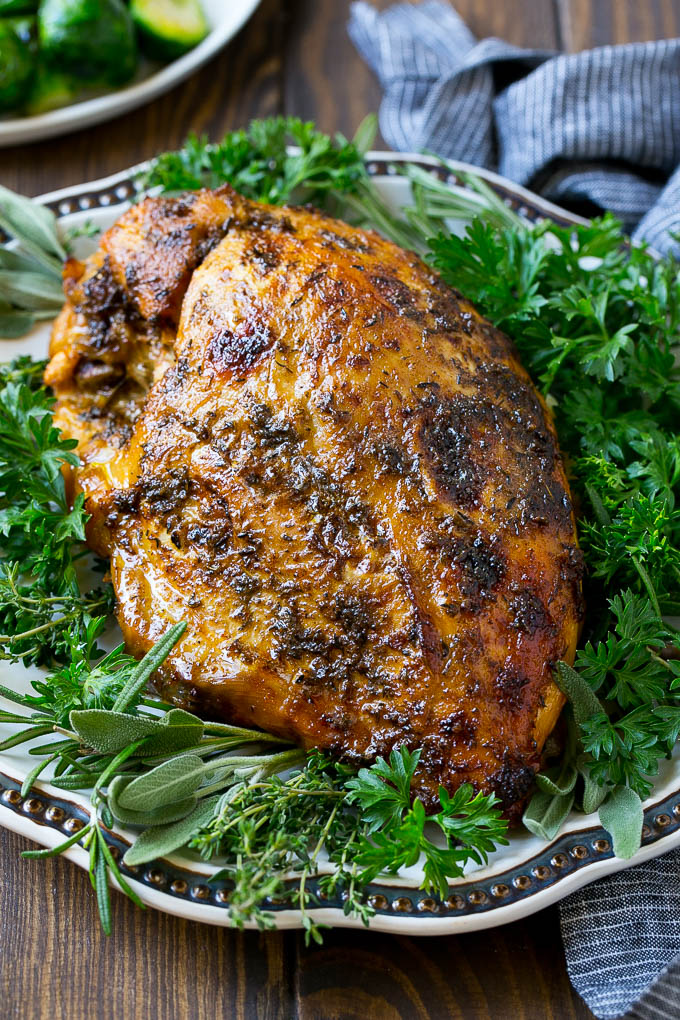 [via]
Main course
I almost always make a traditional meat dish for either Christmas Eve or Christmas Day. I have three staple recipes I use these days, all of which are so easy. For chicken or turkey, I use Dinner at the Zoo's slow cooker turkey breast recipe (pictured). It makes the moistest turkey I've ever tasted, and the chicken is to die for, too. The gravy recipe she includes in this recipe completely changed my gravy game for the better. I don't make it any other way now.
For ham, I'm a big fan of the Kitchn's honey-glazed slow cooker ham recipe. The honey glaze is amazing and comes together so quickly. Finally, I'm a huge sucker for ribs and never get tired of Cafe Delite's slow cooker barbecue ribs. Her version has completely spoiled me for ribs, and I like it better than most restaurant ribs.
No, it's not a coincidence that all of my traditional main course choices involve the slow cooker. Cooking meat in a slow cooker is a guaranteed method for cooking tender meat with very little effort. If you want a crispy finish for chicken, turkey, or ribs, simply stick them in the broiler or on high heat (around 400 degrees) for 10 minutes before serving.
For Christmas Eve or one of our other family meals right around Christmas, I almost always make How Sweet Eat's slow cooker chicken and dumplings. I actually make it once a month through most of the year, and my husband still requests it for holidays and special occasions. A few other main courses I make often for company around Christmas include slow cooker ground beef chili with corn, classic ground beef lasagna, and cheesy spinach sausage calzones.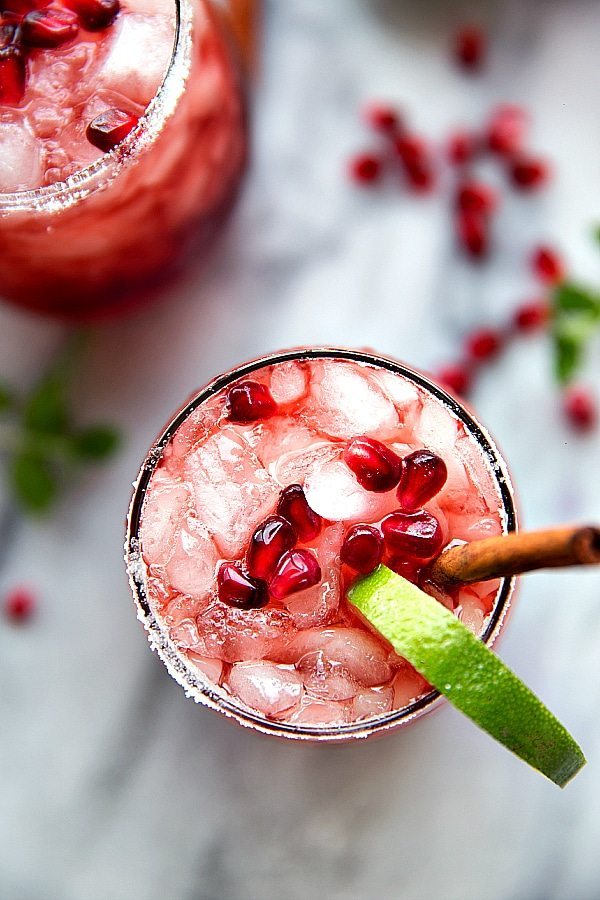 [via]
Drinks
I am the most basic person ever when it comes to serving drinks at social gatherings and usually just chill a couple of bottles of wine and a six-pack of local craft beers. For an easy Christmas dinner menu, I think that this drink selection is great. Nine times out of ten, family and friends get more excited about the local craft beers (and root beers!) than anything else I have to offer.
I'm also all about the non-alcoholic drinks. All of the drinks in my non-alcoholic drinks for Thanksgiving round-up are perfect for Christmas. (The pictured drink is the cranberry pomegranate recipe from this post.) If you do want an alcoholic drink beyond beer and wine, check out this amazing list of six two-ingredient holiday cocktail recipes. You can't make Christmas drink preparation any easier.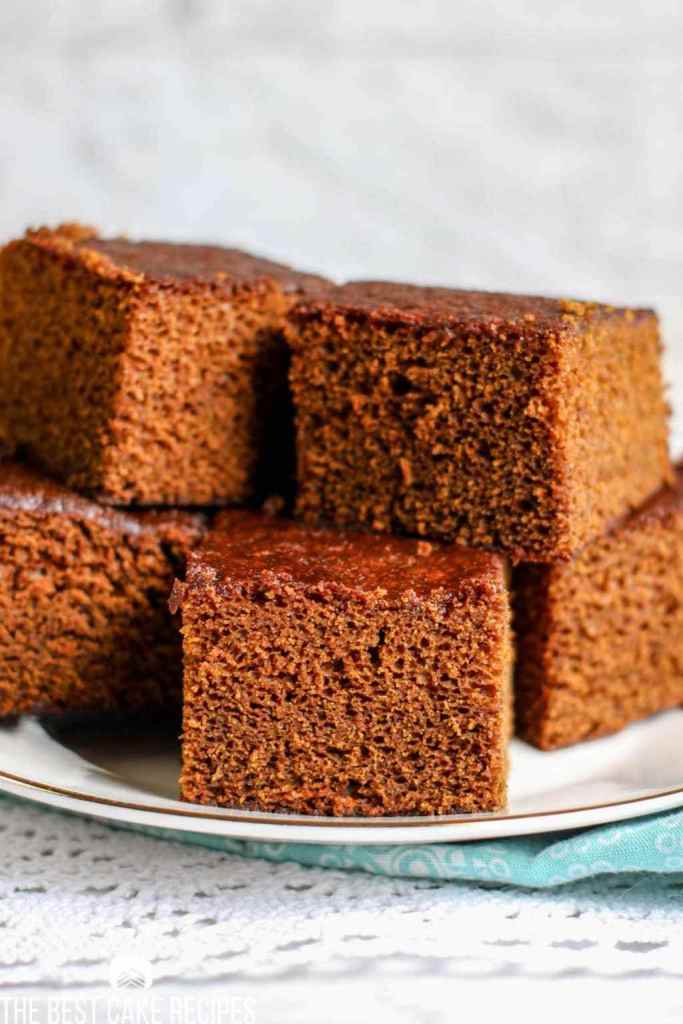 [via]
Desserts
If you've already spent weeks making Christmas cookies, you may be burned out on holiday desserts. Or you may still have enough cookies on hand that you can put together one more cookie tray for everyone. Either way, I know that you don't want to make more cookies on Christmas Eve or Christmas Day. So I'm sharing a few more festive dessert ideas that come together quickly.
My favorite ridiculously easy dessert that wows guests every time is Chatelaine's 10-minute tiramisu. You make it as a dip and serve it with ladyfingers or Nilla wafers. Don't ever apologize for making a cheater tiramisu recipe because it tastes just as good, if not better than, a complex tiramisu dish, and no one will ever know the difference.
For Christmas dessert, I also love the idea of whipping up homemade vanilla pudding from scratch. Then for a festive holiday touch, top it with eggnog whipped cream. Finish it with a sprinkling of cinnamon or cocoa powder, and you'll feel like you've just stepped into a fancy restaurant.
If you want a baked holiday dessert, I recommend The Best Cake Recipes' easy gingerbread cake (pictured). If you bake often, most likely you already have all of the ingredients for this recipe on hand. You get the gingerbread flavor you crave at the holidays in a simple cake that doesn't even need frosting (a little whipped cream might be nice, though).
[Disclaimer: There are a few affiliate links in this post. Thanks for your support!]
What dishes always make your easy Christmas dinner menu?

I want to hear about your favorite holiday foods!
Pin this post for easy access to my Christmas dinner menu later!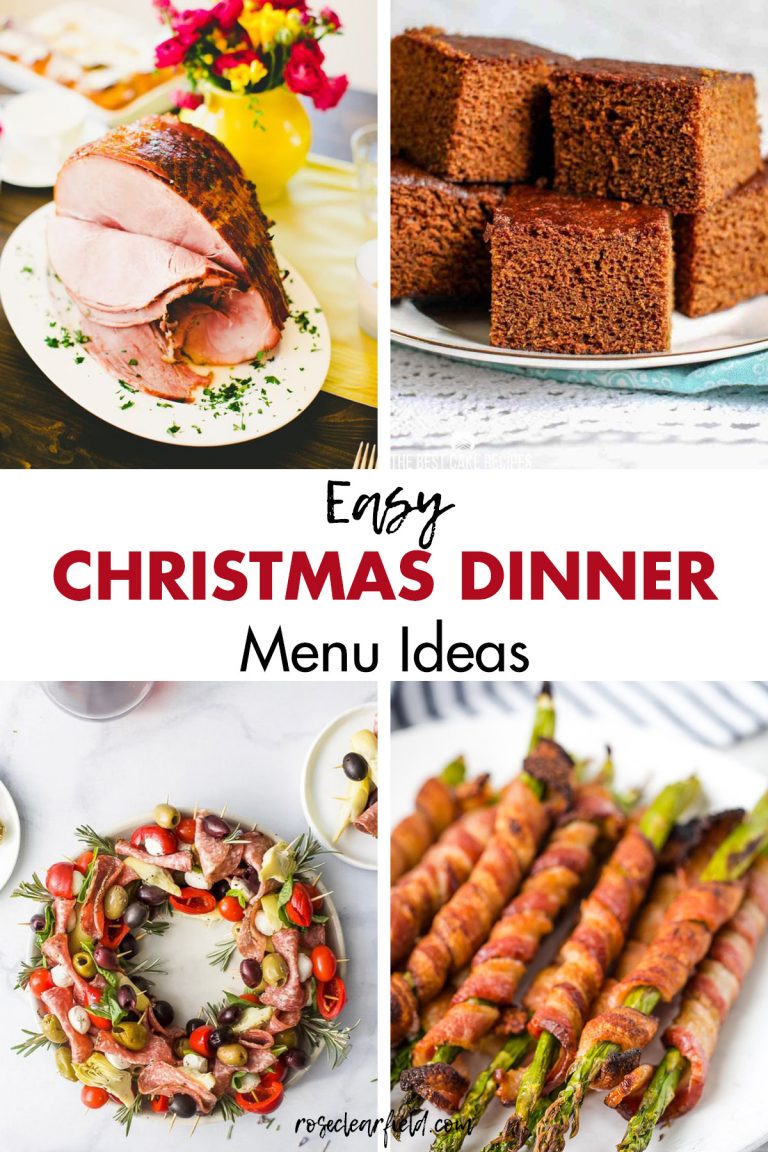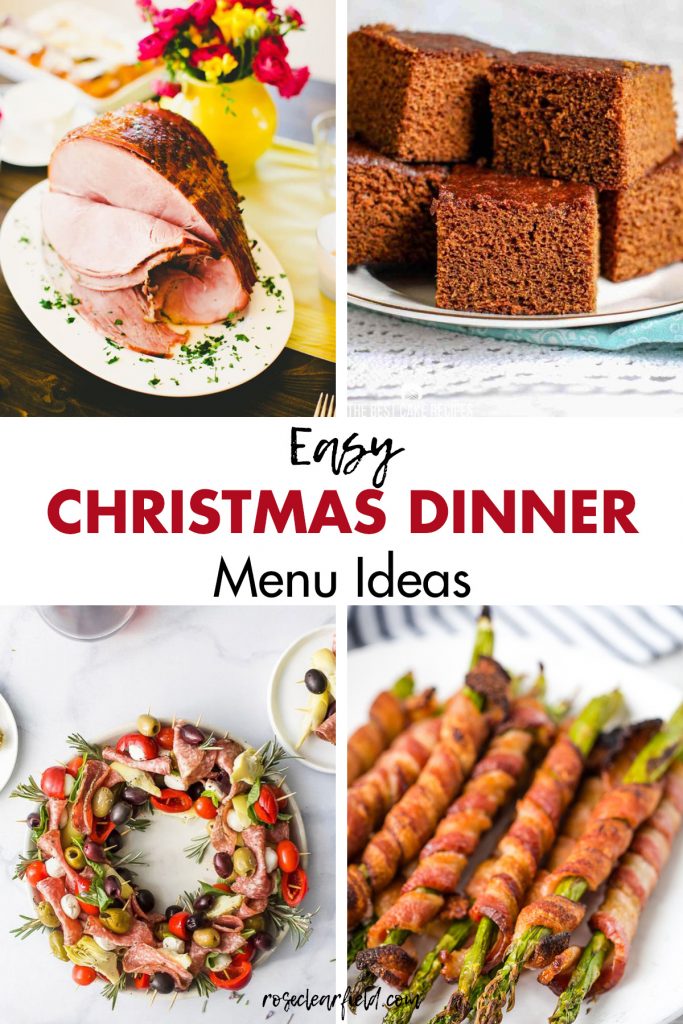 More holiday menu resources: