Library card Mark Twain quotes wall art is the perfect whimsical touch to finish the decor in any living room, home office, classroom, or library.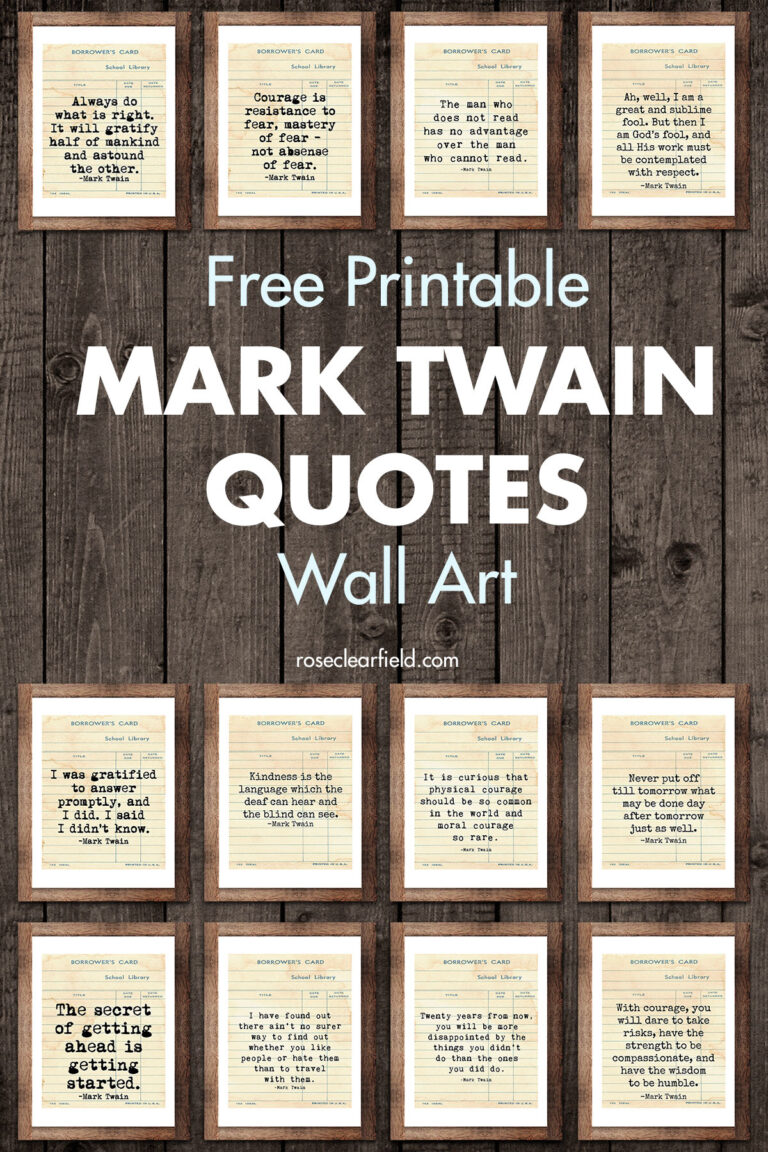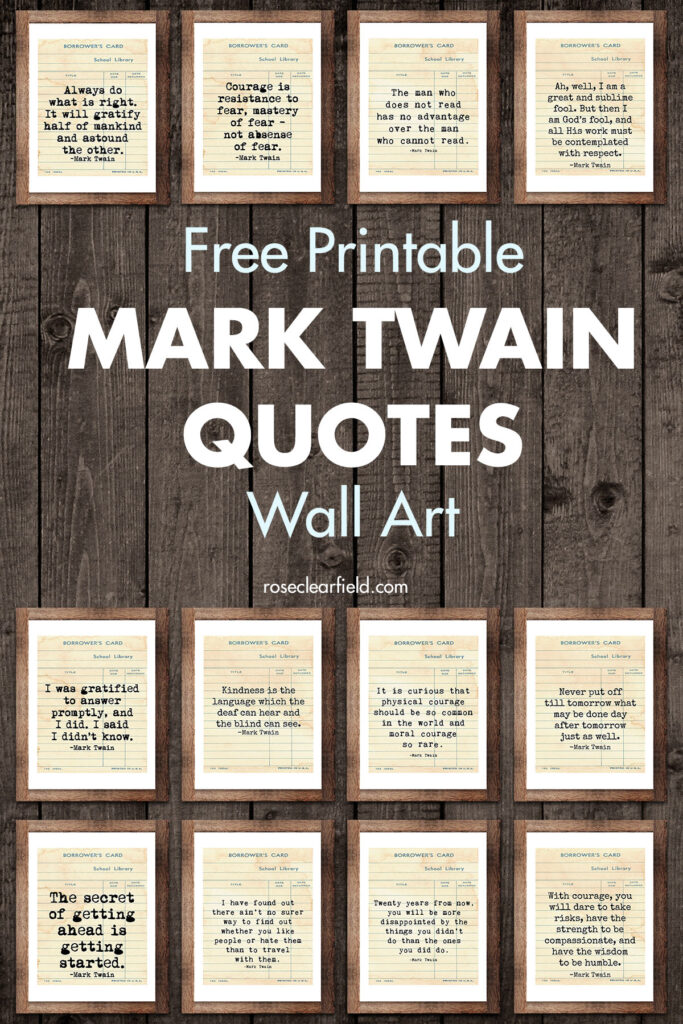 I've created a collection of 12 popular Mark Twain quotes on vintage school library cards. Anyone who is a long-time Mark Twain fan is sure to be familiar with at least a few of his most notable quotes. I chose just a dozen of my very favorite Mark Twain quotes for this wall decor collection. If you're interested in wall art featuring additional quotes, please let me know! There are many many more famous Mark Twain quotes. I'm happy to create additional printables.
All of the Mark Twain quotations are displayed in classic typewriter fonts for a simple timeless aesthetic that works beautifully with all sorts of different decor styles. You'll have no trouble finding neutral or colorful frames with or without mats that work well for your new wall art.
Free printable Mark Twain quotes wall art makes it easy and affordable to complete your home decor on any budget. Library card quote prints also make great gifts! Finish the new art pieces with frames for simple gift-giving.
I also have a collection of free printable reading quotes on library cards. I am planning to add lots more library card printables to the blog over the coming months. If there's an author, notable figure, or theme you'd like to see here, please let me know! Your input means a lot to me as I plan future posts.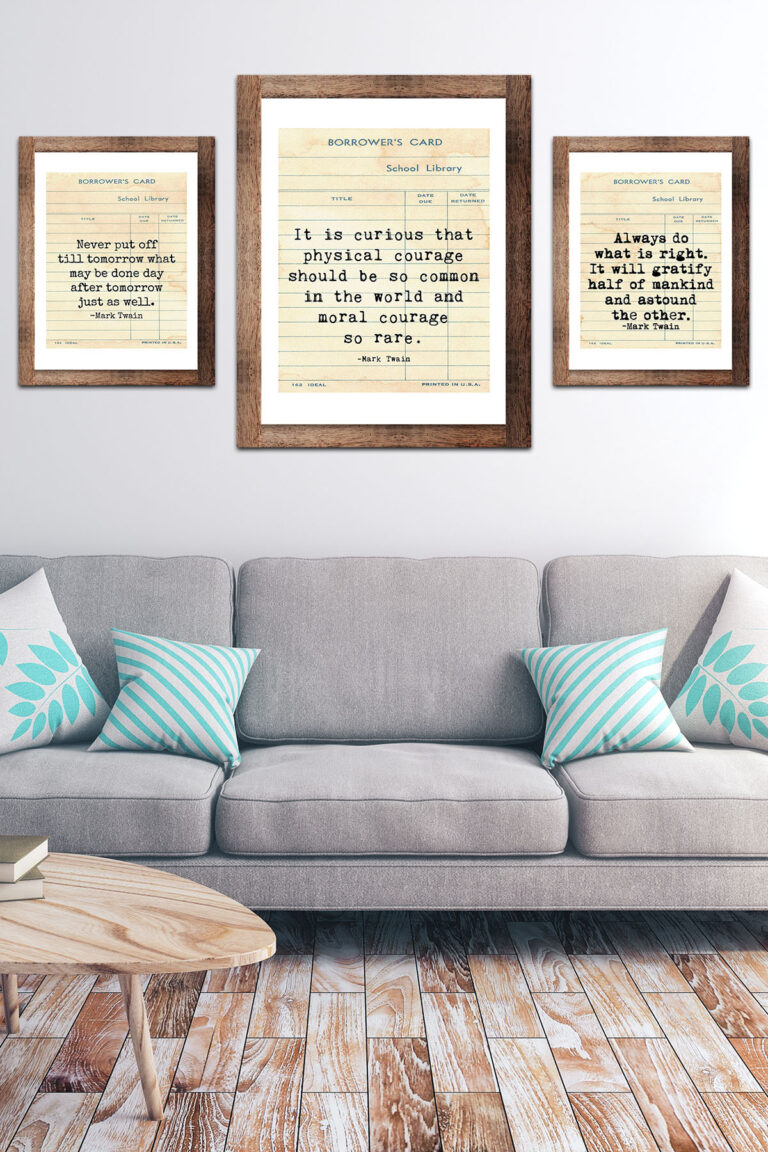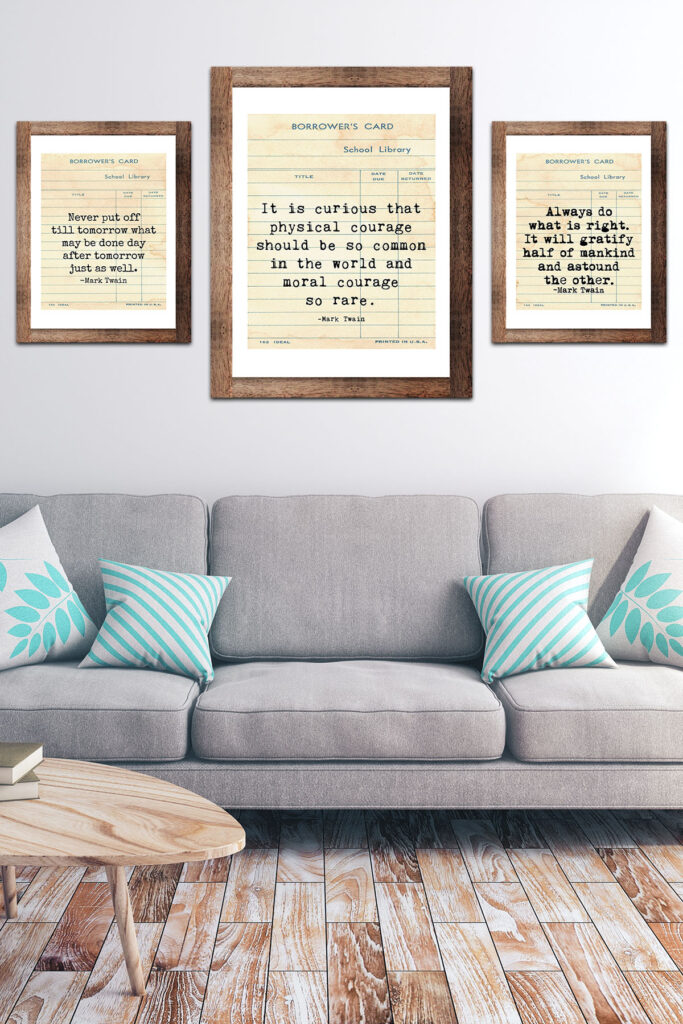 About the free printable library card Mark Twain quotes wall art
The Mark Twain quotes prints are for personal use only, which includes classroom use. You're welcome to download and print them as many times as you like for yourself and your classroom and to give as gifts. You are not authorized to sell the prints or to use them for commercial purposes. You are also not authorized to distribute the download files. If family, friends, or co-workers would like their own Mark Twain quotes prints, please send them a link to this post, where they can download their own files. Thank you!
All of the Mark Twain quotes prints are 300 dpi to ensure the highest quality printing possible. I've created two versions of each print: an 8×10 version without a border and an 8×10 version with a white border. Depending on the frame you select and the aesthetic you want to achieve, you may prefer one version over the other.
Please note: The framed preview versions in this post are low-resolution. They aren't intended for printing. Please use the download links to access the high-resolution versions.
Free printable library card Mark Twain quotes wall art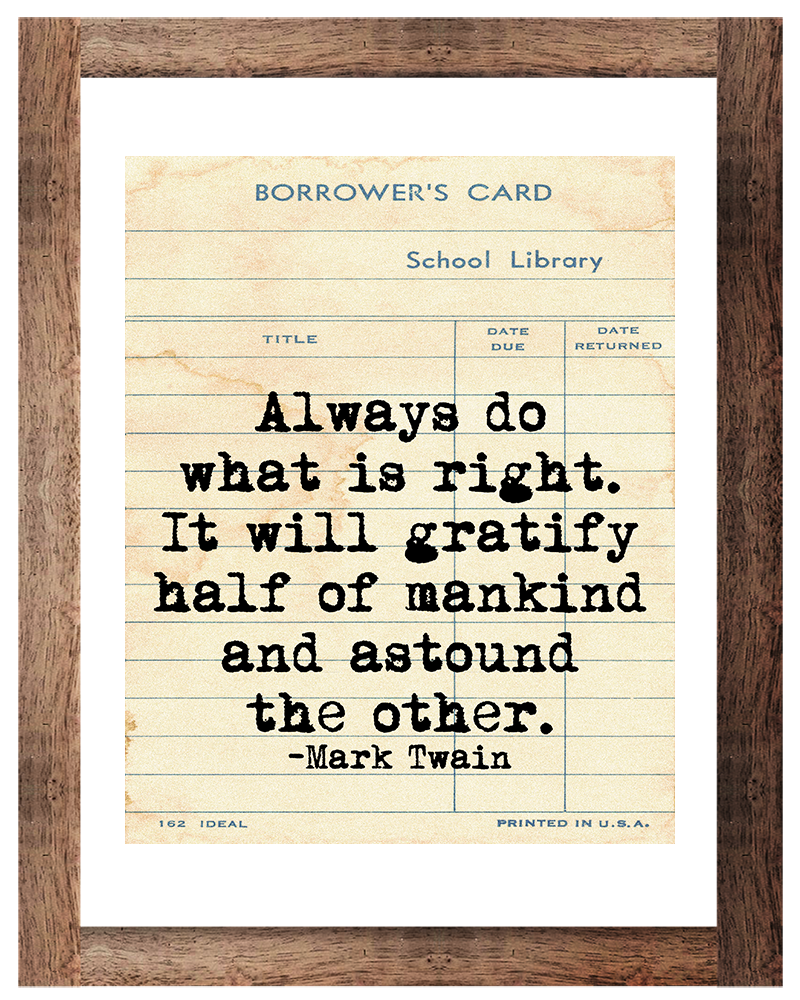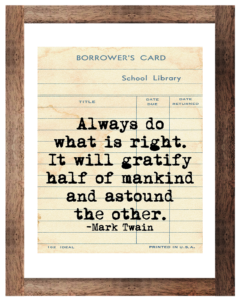 "Always do what is right. It will gratify half of mankind and astound the other."
8×10 – No Border | 8×10 – With Border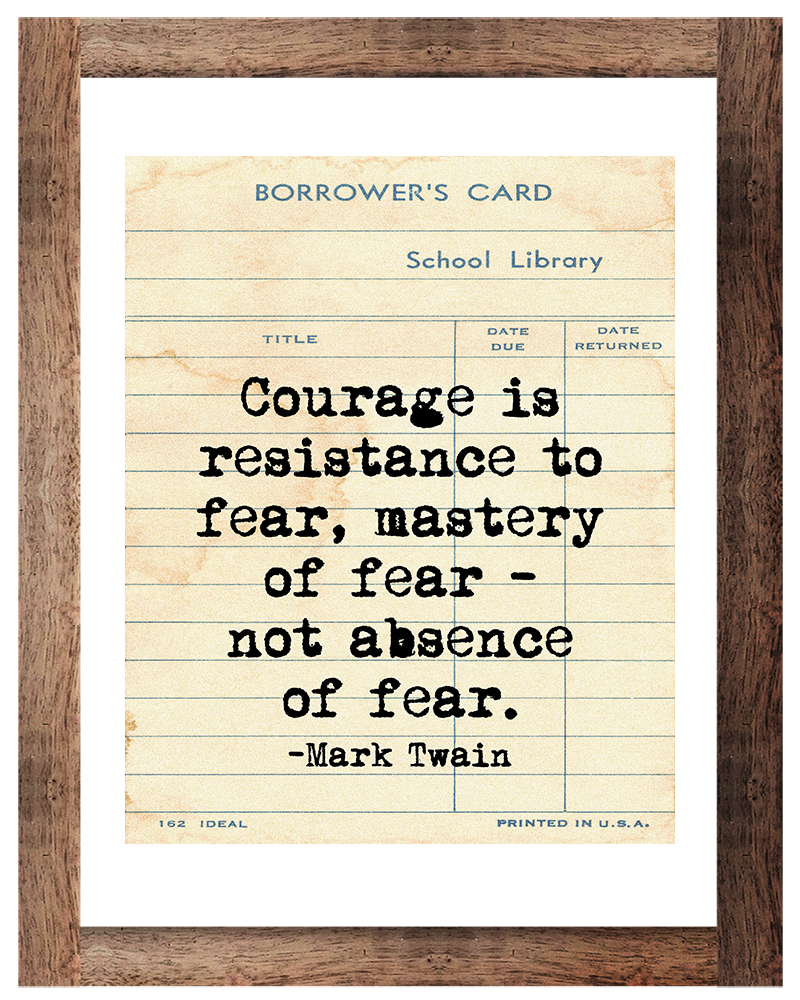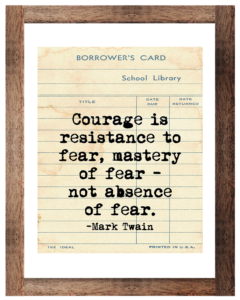 "Courage is resistance to fear, mastery of fear – not absence of fear."
8×10 – No Border | 8×10 – With Border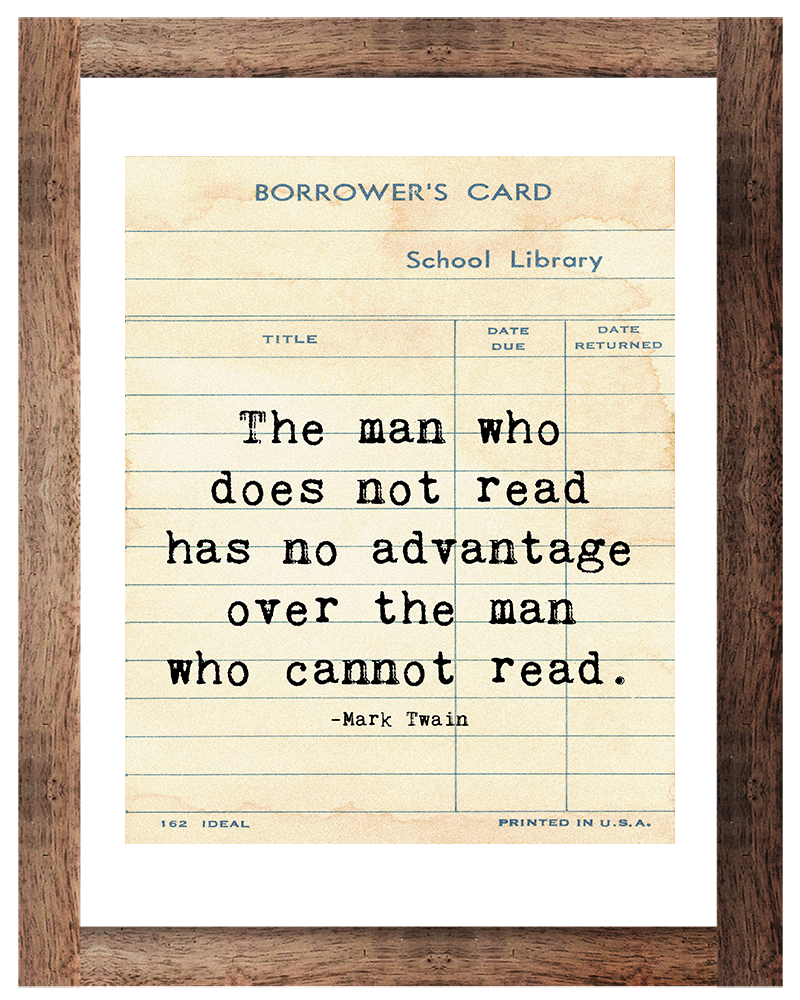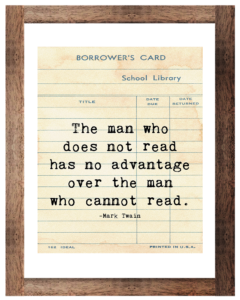 "The man who does not read has no advantage over the man who cannot read."
8×10 – No Border | 8×10 – With Border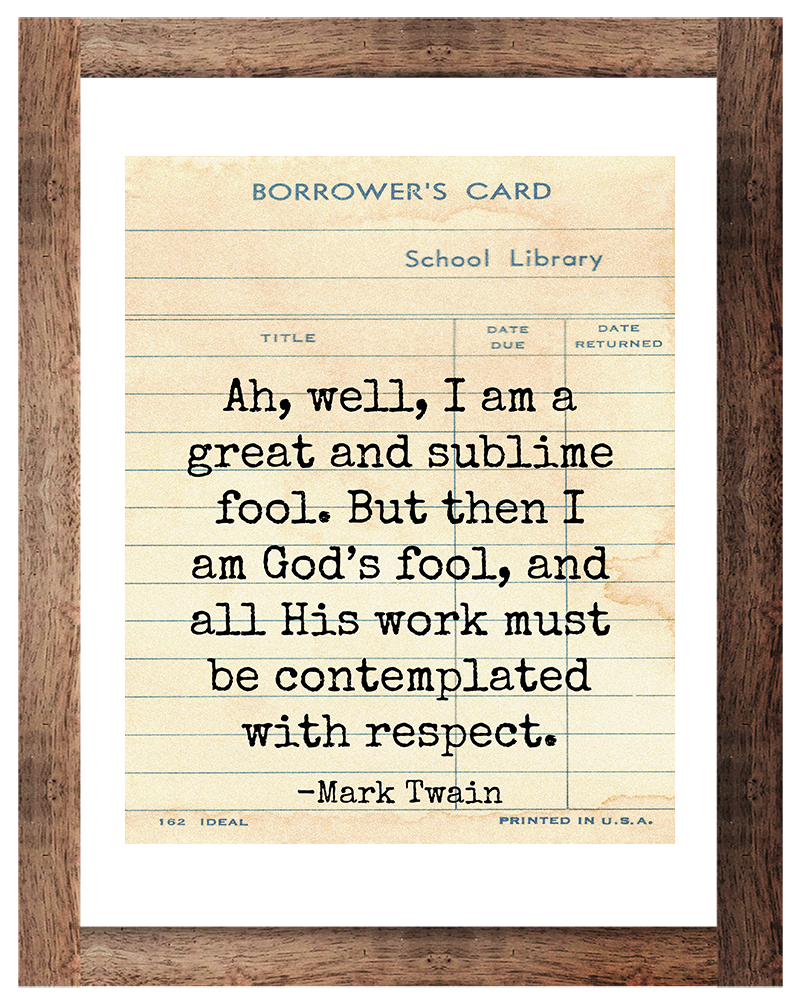 "Ah, well, I am a great and sublime fool. But then I am God's fool, and all His work must be contemplated with respect."
8×10 – No Border | 8×10 – With Border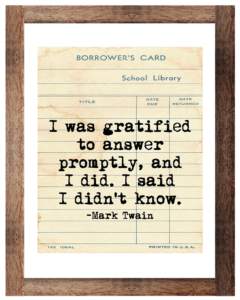 "I was gratified to answer promptly, and I did. I said I didn't know."
8×10 – No Border | 8×10 – With Border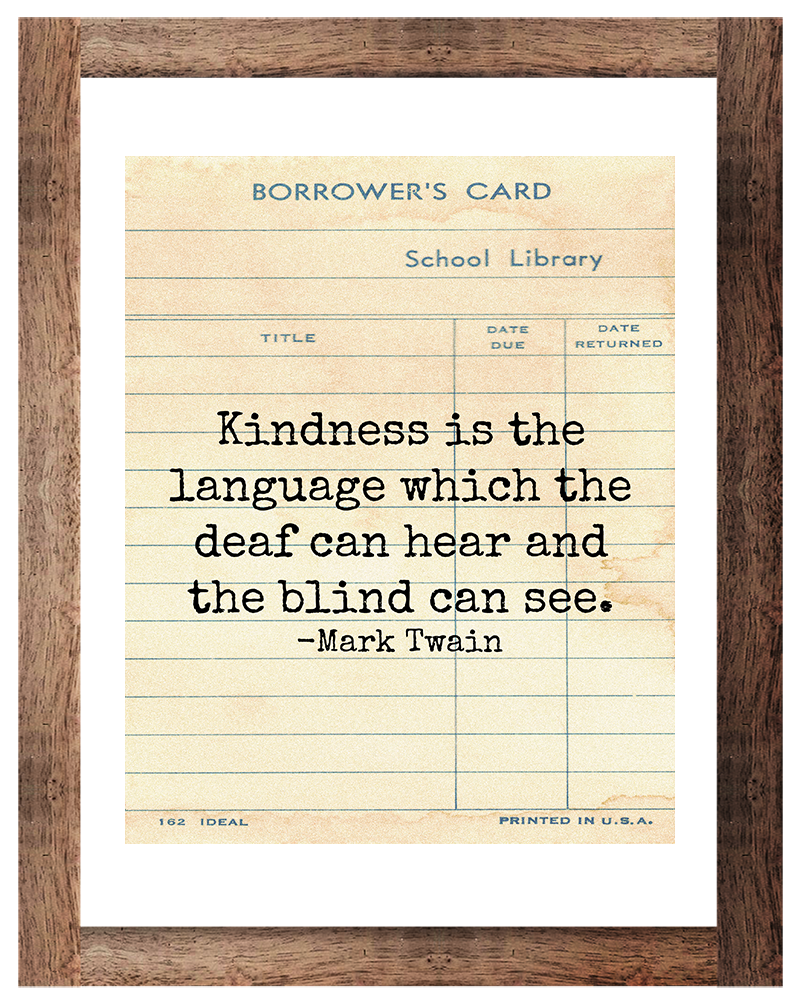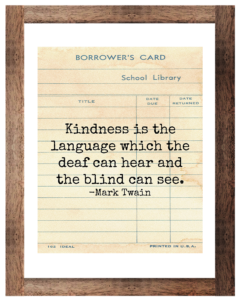 "Kindness is the language which the deaf can hear and the blind can see."
8×10 – No Border | 8×10 – With Border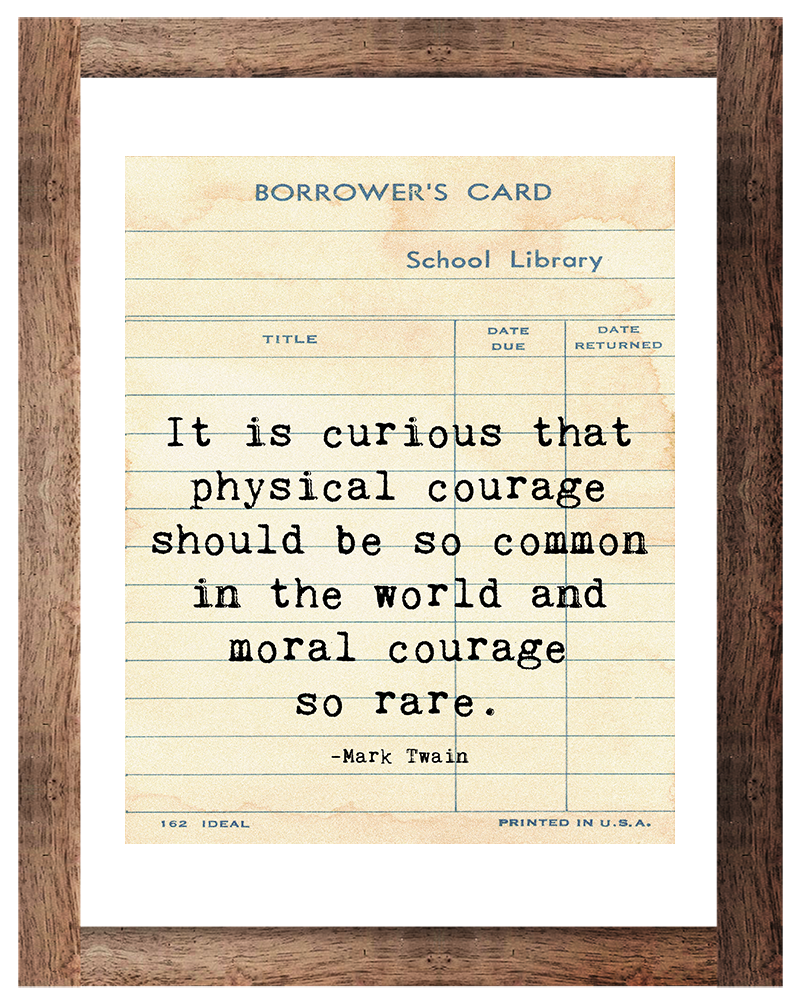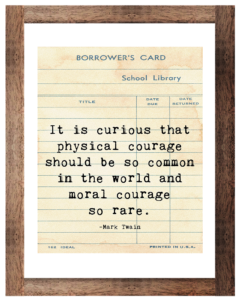 "It is curious that physical courage should be so common in the world and moral courage so rare."
8×10 – No Border | 8×10 – With Border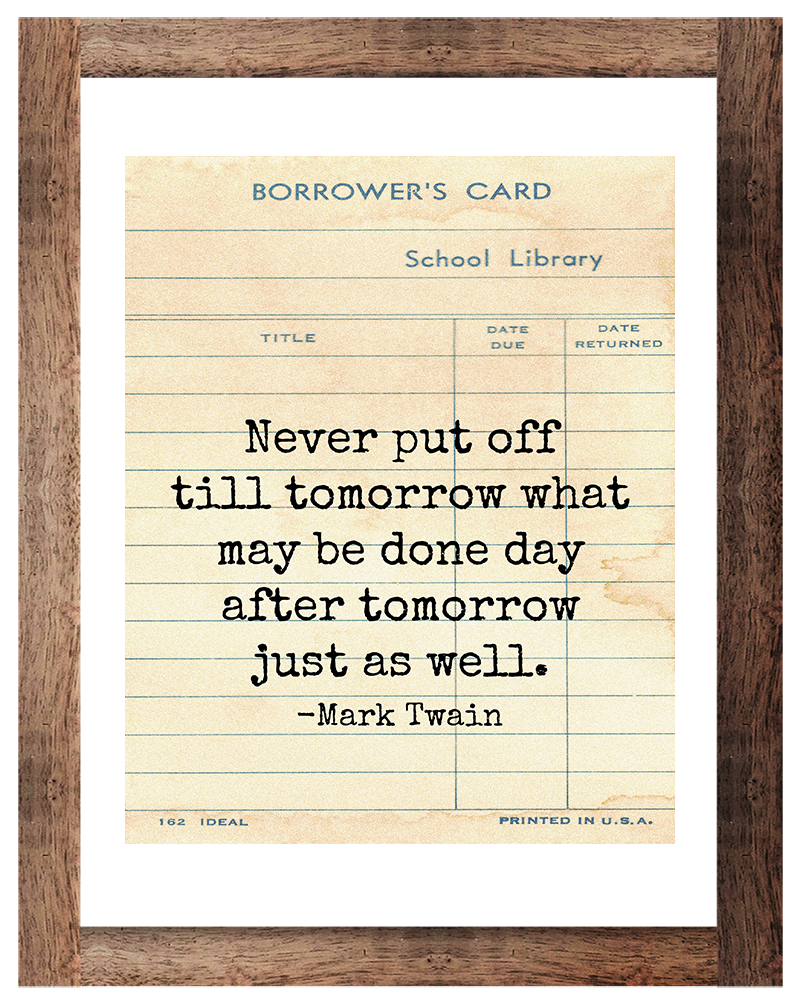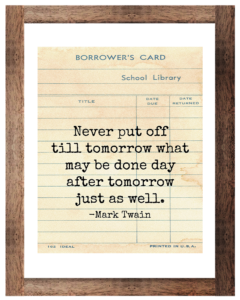 "Never put off till tomorrow what may be done day after tomorrow just as well."
8×10 – No Border | 8×10 – With Border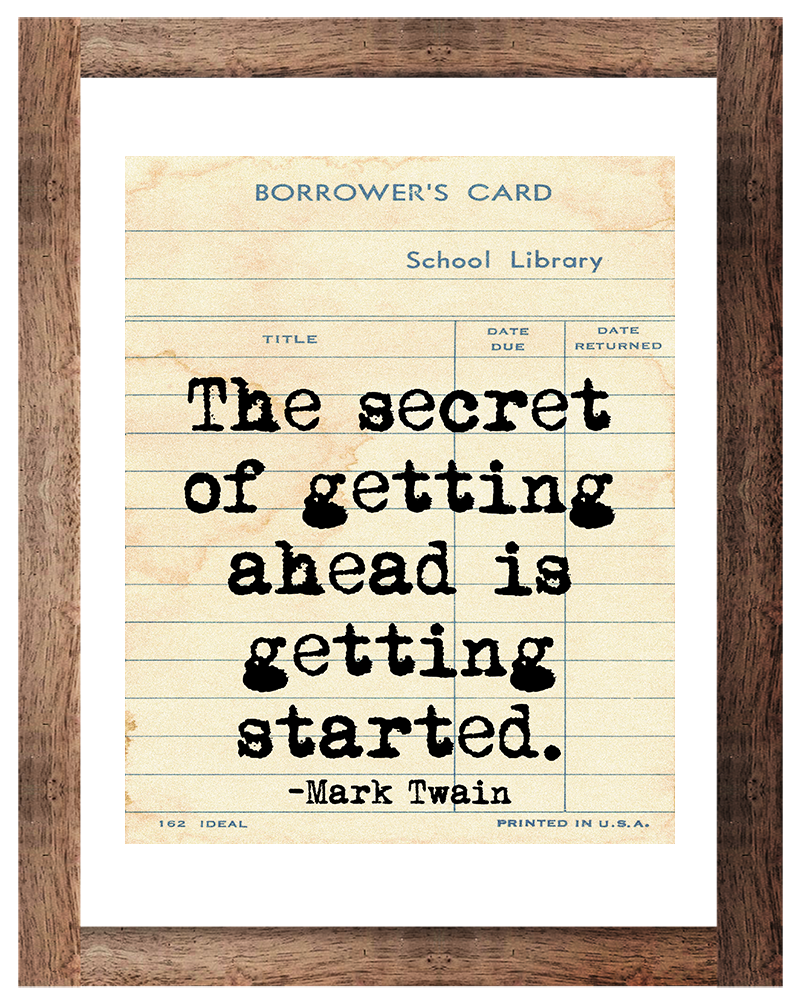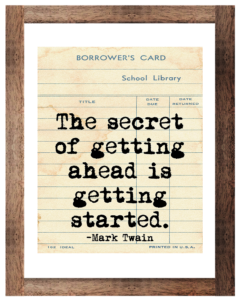 "The secret of getting ahead is getting started."
8×10 – No Border | 8×10 – With Border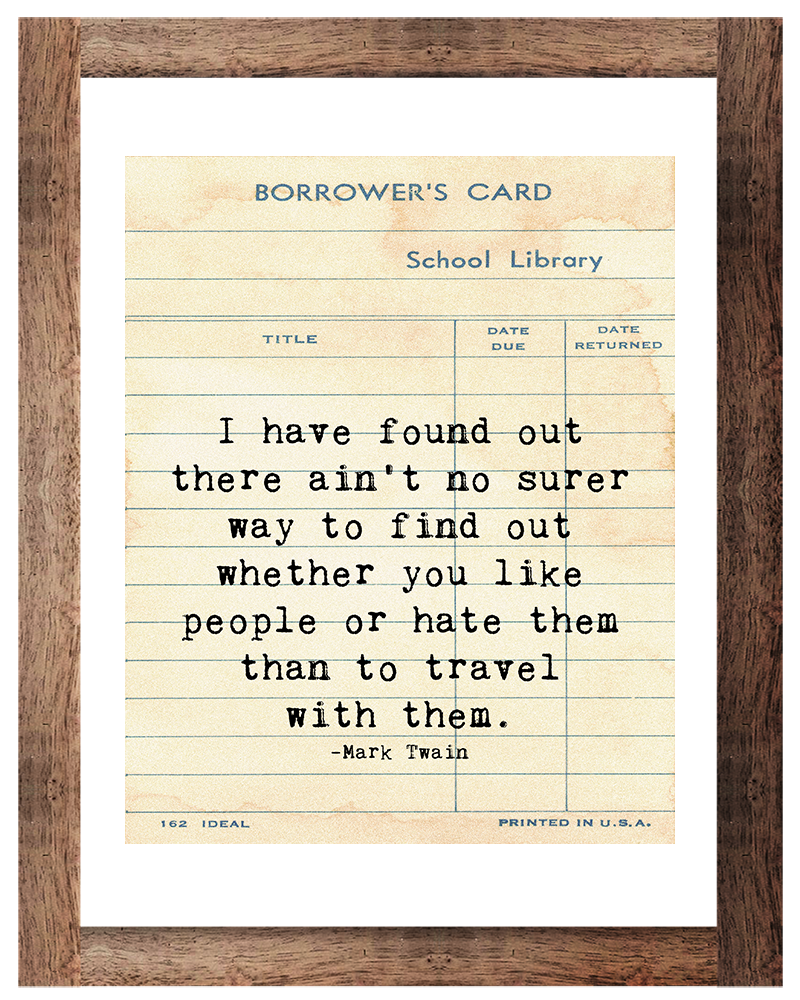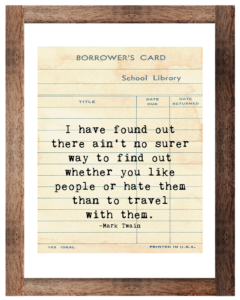 "I have found out there ain't no surer way to find out whether you like people or hate them than to travel with them."
8×10 – No Border | 8×10 – With Border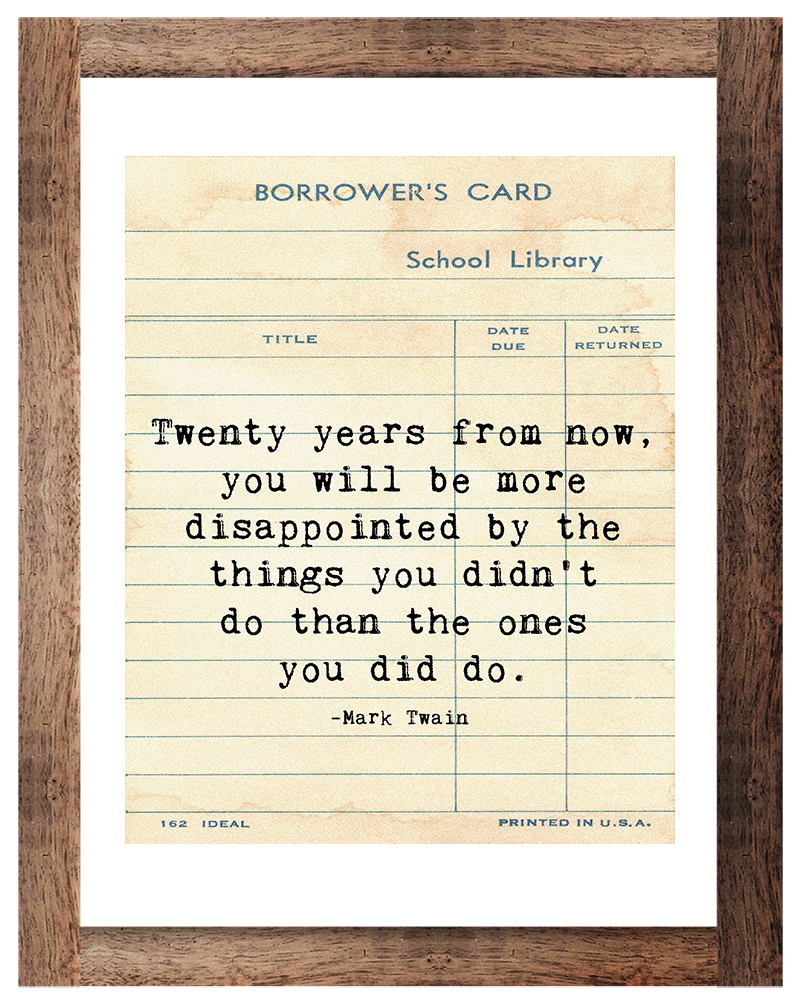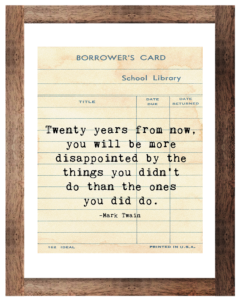 "Twenty years from now, you will be more disappointed by the things you didn't do than the ones you did do."
8×10 – No Border | 8×10 – With Border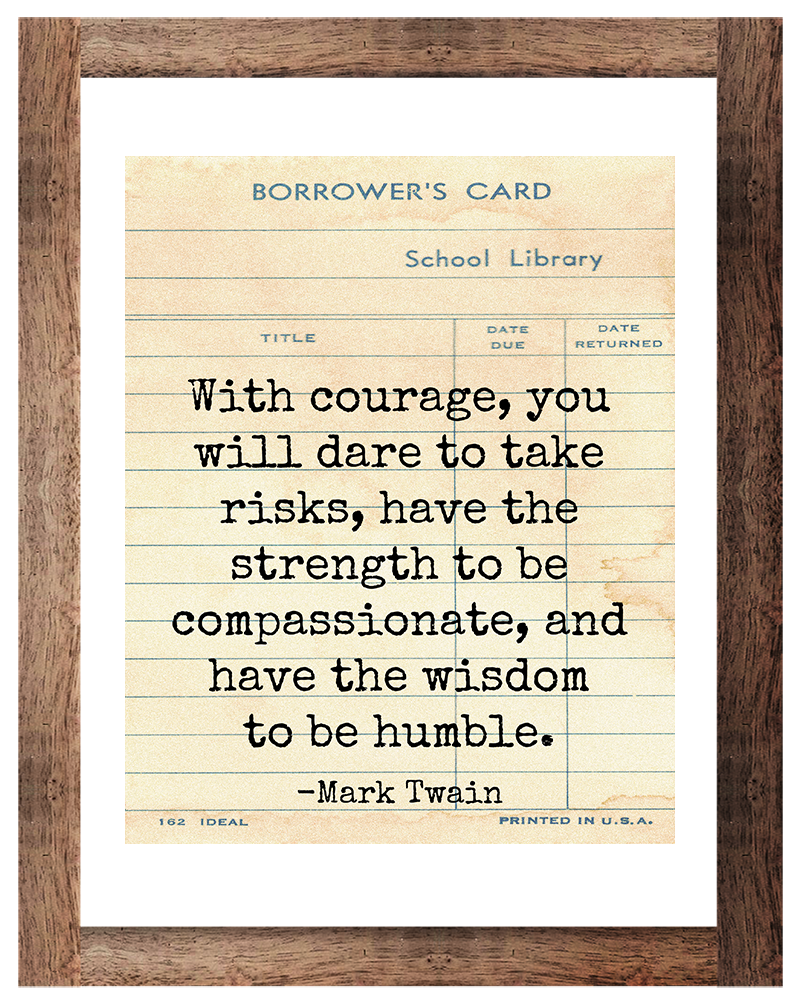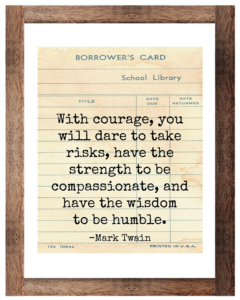 "With courage, you will dare to take risks, have the strength to be compassionate, and have the wisdom to be humble."
8×10 – No Border | 8×10 – With Border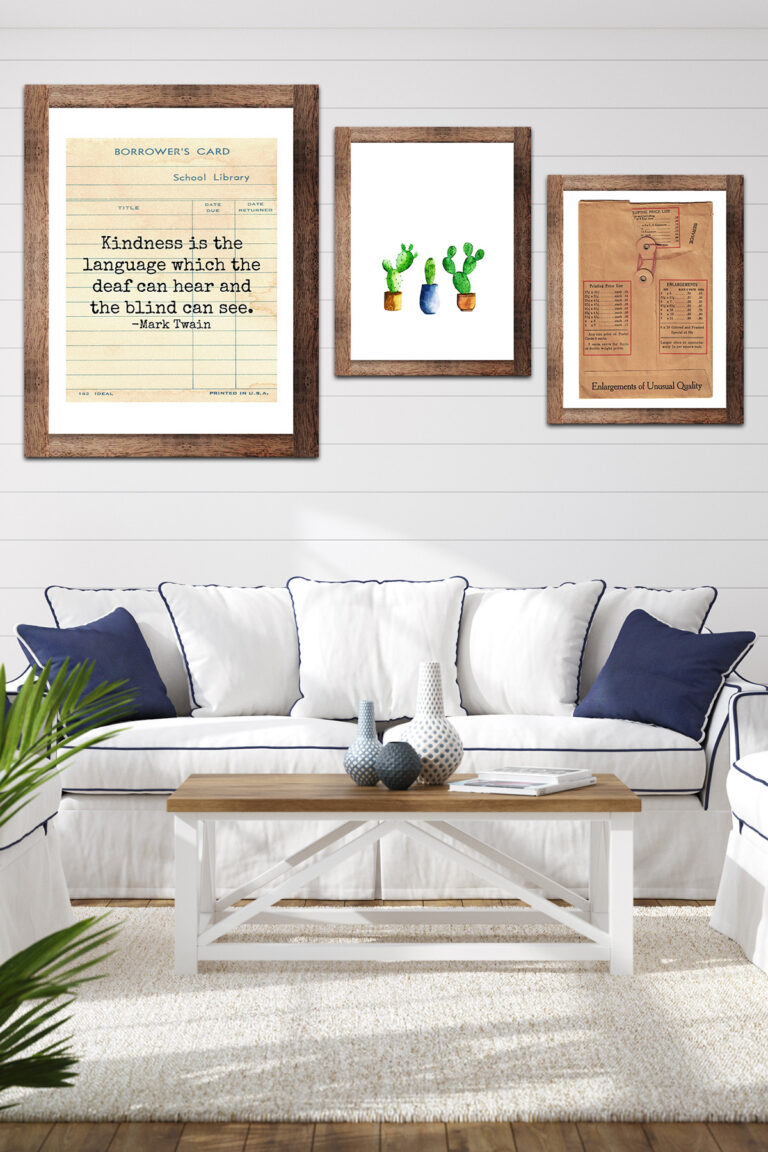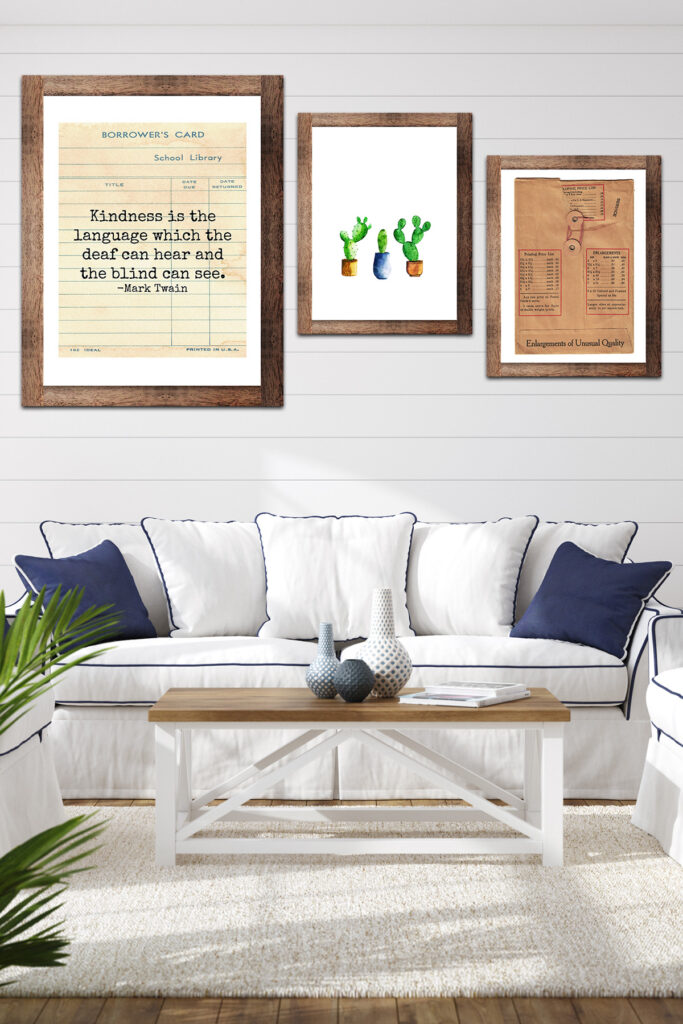 Printing the free library card Mark Twain quotes wall decor
You can print your own Mark Twain quotes or use a printing service. For at-home printing, I always use Finestra Art Paper. The acid-free, matte surface produces crisp, vibrant images and text. It's worth spending a little more to get a high-quality paper that offers a professional-level finish, producing beautiful, frame-worthy art.
You can also send your new art to a printer. I use SmugMug for the vast majority of my photos and art prints. I love their prices and quality. However, don't feel limited to this option. There are so many affordable yet high-quality printing services, such as Shutterfly, Costco, FedEx, Mpix, and Artifact Uprising.
Pick up a frame or a set of frames for your new home decor! My all-time favorite frames are the Belmont line from Michaels. We have dozens of Belmont frames displayed in our house. I've also gifted lots of photos and prints in Belmont frames. You'll be hard-pressed to find frames at this price point that offer better quality. They're available in a wide variety of sizes, colors, and finishes. Michaels runs excellent sales on Belmont frames regularly. I'm also linking a few of my top frame picks from Amazon.
[Disclaimer: There are a few affiliate links in this post. Thanks for your support!]
Are you displaying one or more of the Mark Twain quotes in your home, office, classroom, or library?

I'd love to see your new wall art! Tag your images #RoseClearfield on Instagram or Twitter or post a photo to my Facebook page.
Pin this post for easy access to the Mark Twain quotes wall art later!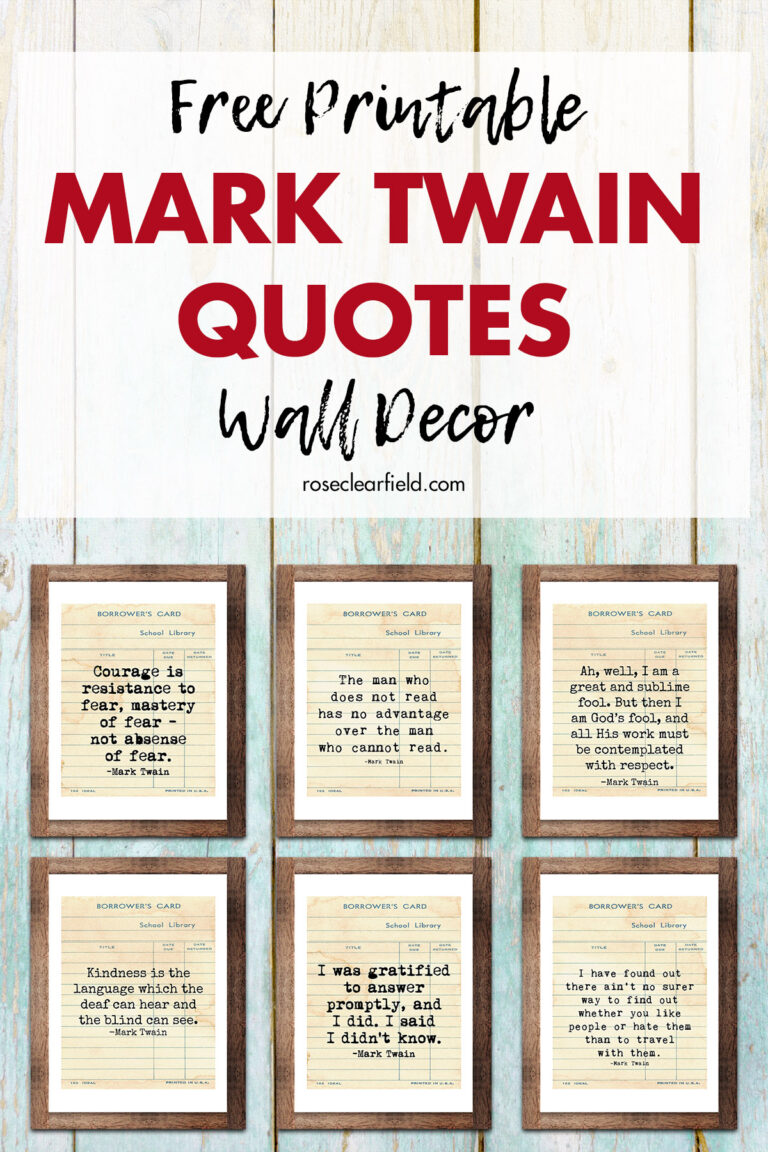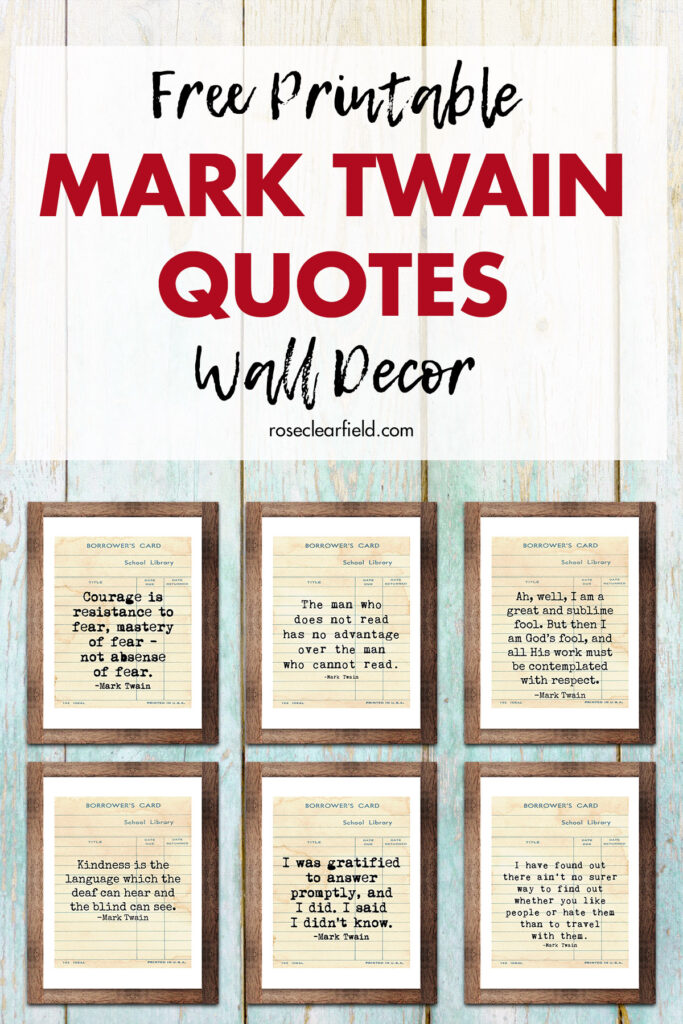 More free printable wall art:
For additional free printable wall art selections, head to the free printables section of the blog.