Memorial Day finger foods are the ideal party food for your long weekend celebrations with family and friends.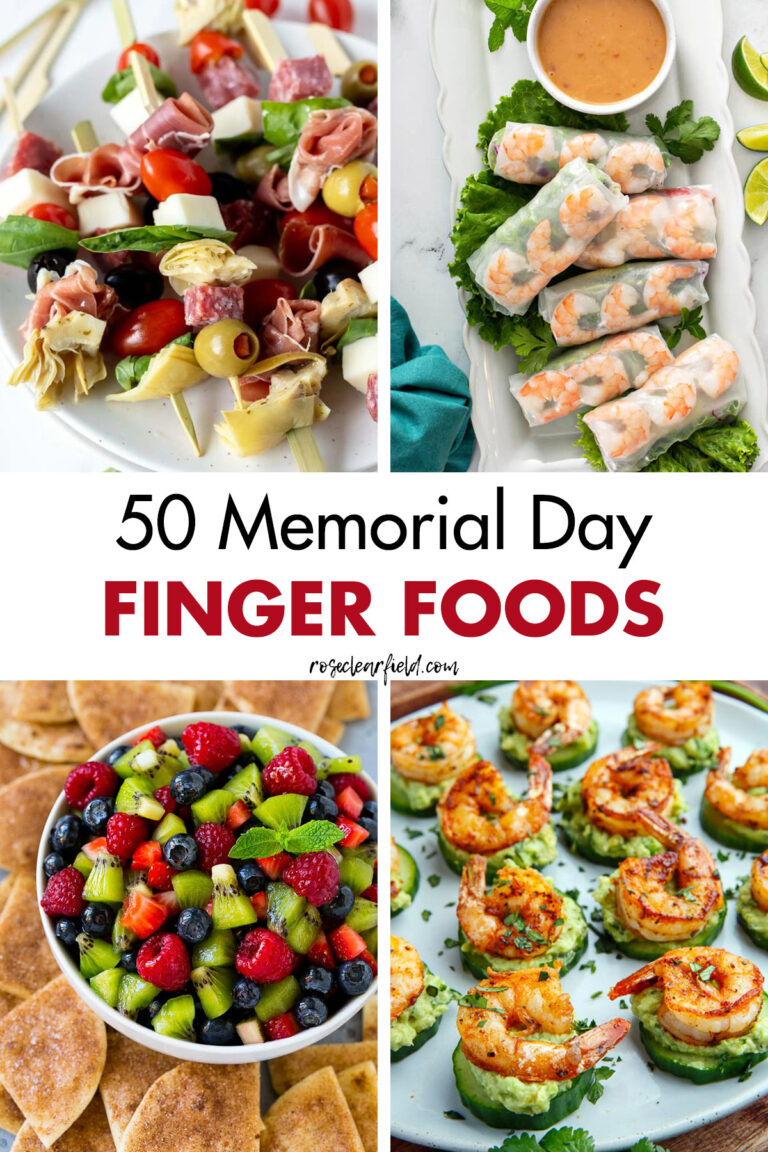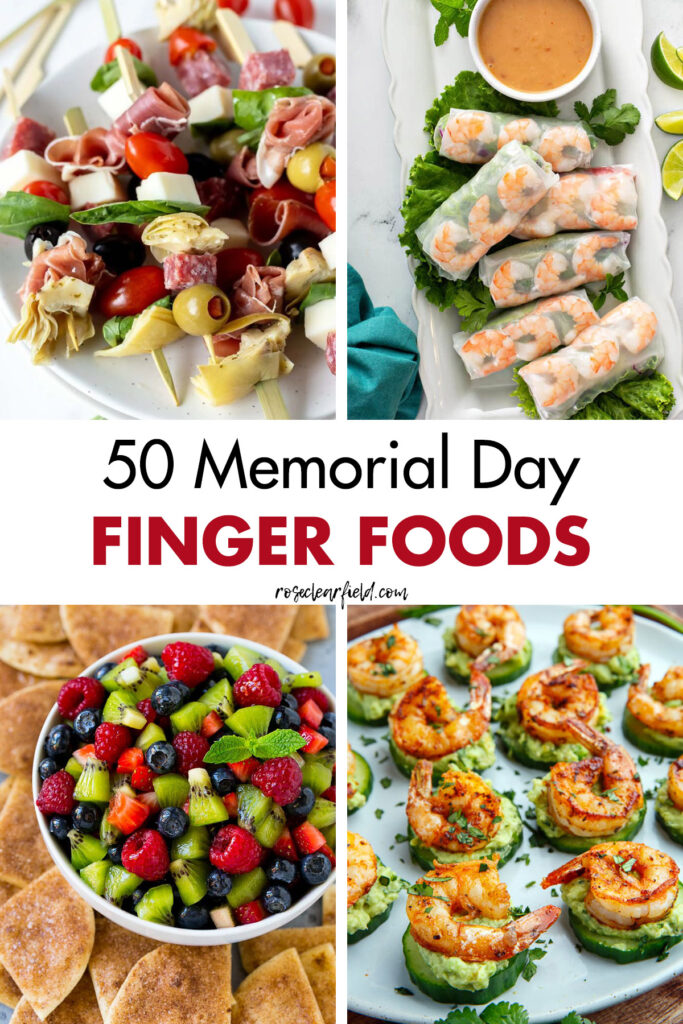 I don't think I need to spend a lot of time explaining that the long Memorial Day weekend is the perfect time to invite over all of your favorite people and whip up a few of your best summer dishes. I've rounded up all of my favorite Memorial Day finger foods recipes to make your holiday menu planning simple and stress-free.
There are classic appetizers, such as deviled eggs and jalapeno poppers, as well as more unusual recipes, such as lemon dill hummus and Mexican street corn dip. I've also included a selection of popular party foods, such as a summer cheese board and pigs in a blanket.
Finally, no Memorial Day celebration would be complete without desserts. I'm sharing some of my favorite summer desserts as well as a few fun patriotic dessert recipes, such as patriotic Rice Krispie treats and a patriotic snack mix.
Have a wonderful long holiday weekend!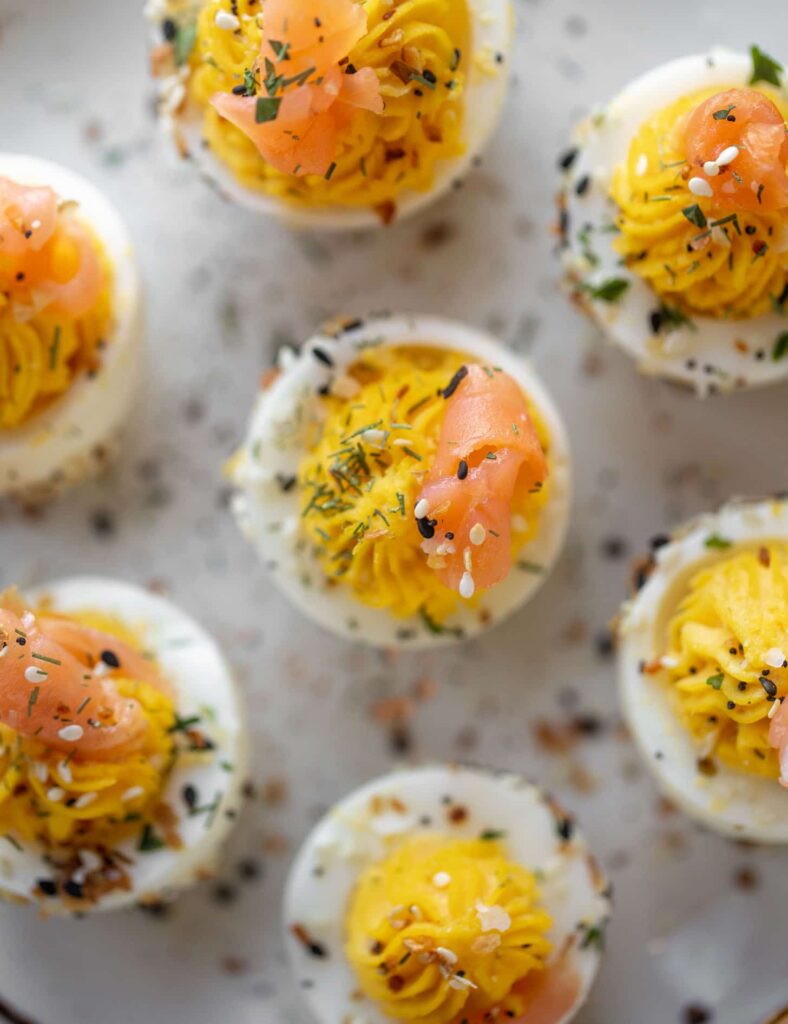 1. Deviled eggs
Sometimes you can't go wrong with the classics, and deviled eggs are no exception. When is Dinner?'s deviled egg recipe is everything that I want in deviled eggs with nothing else added. If you're looking for a fun summer deviled egg recipe, check out Damn Delicious's avocado deviled eggs, Coconut and Lime's shrimp salad deviled eggs, or How Sweet Eats' everything smoked salmon deviled eggs (pictured).
2. Patriotic Rice Krispie treats pinwheels
Hungry Happening's red, white, and blue Rice Krispie treat pinwheels are one of the cutest patriotic desserts I've ever seen. I love the rolled layers like a pumpkin roll. They are a lot more time-intensive than regular Rice Krispie treats but worth the effort for a party.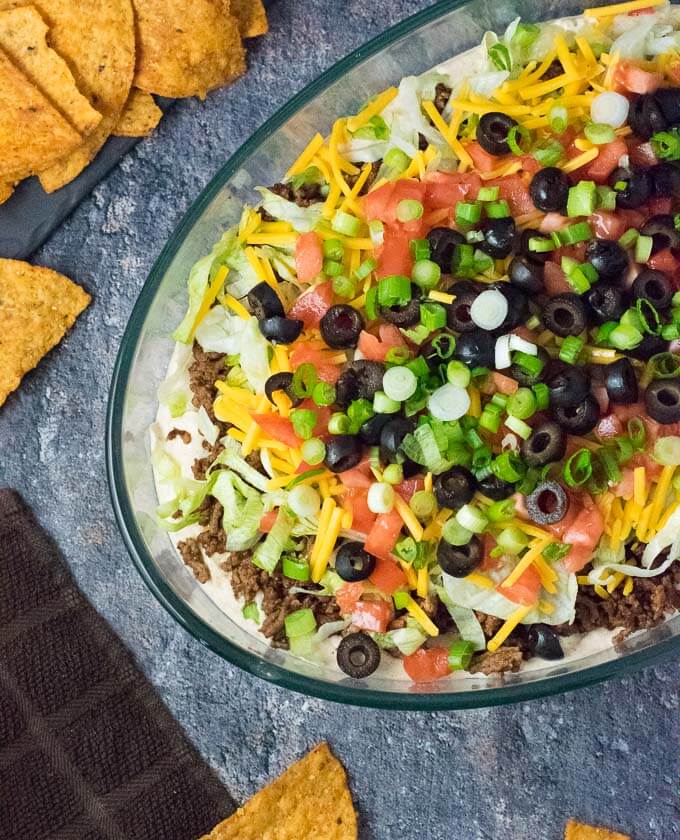 3. Taco dip
Fox Valley Foodie's taco dip with meat is a lightened-up version of the classic layered taco dip. It doesn't have a creamy base and features more fresh toppings. There are so many easy ways to customize this recipe to fit your personal tastes and preferences or simply what you have on hand.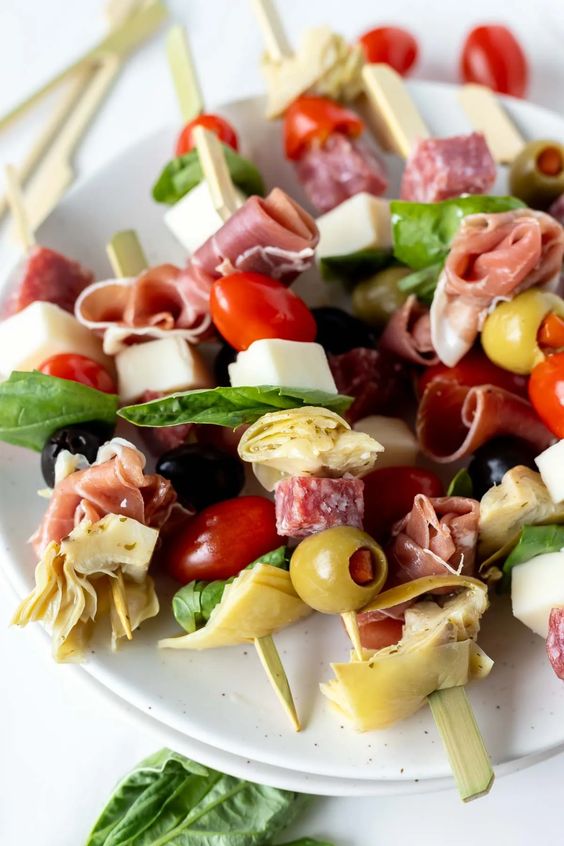 4. Antipasto skewers
I love Wonky Wonderful's antipasto skewers because they're small but you still get a bite of everything. A lot of antipasto skewer recipes include tortellini, which is a nice addition if you want to take the time for that extra step.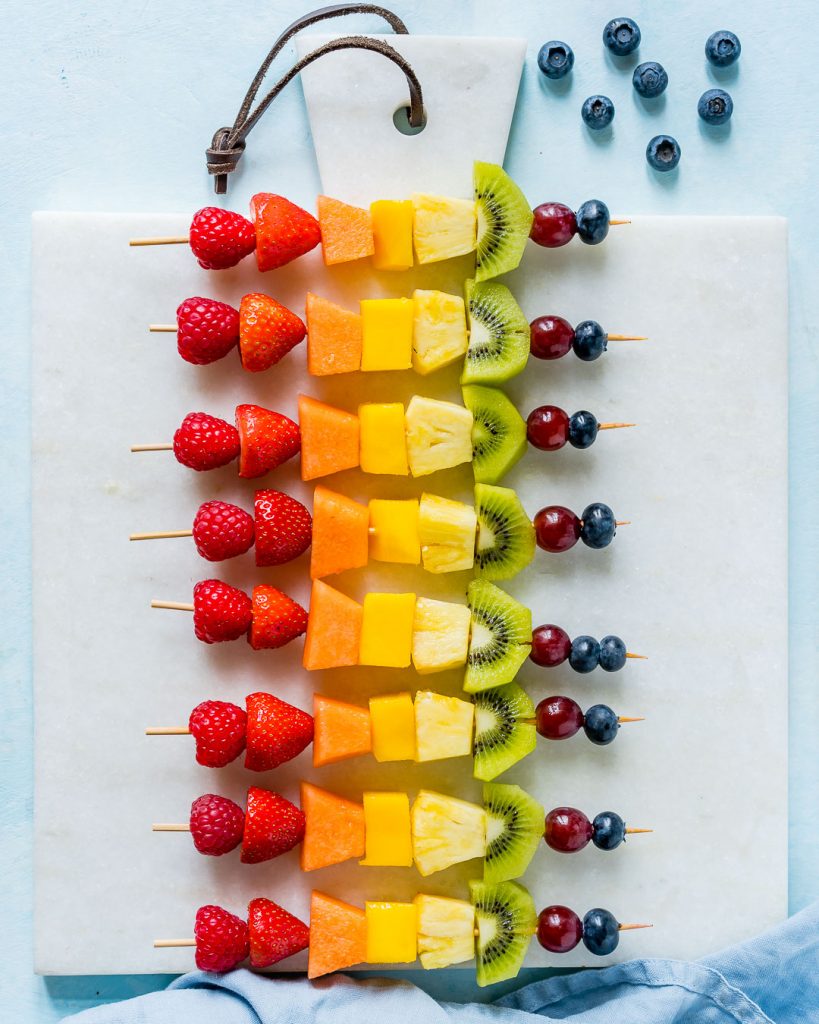 5. Fruit salad skewers
Fruit salad skewers are another perfect skewer idea for a Memorial Day gathering. I love the aesthetic of Clean Food Crush's rainbow fruit skewers, but you shouldn't feel limited to this option. Just about any fruit that isn't excessively juicy will work well.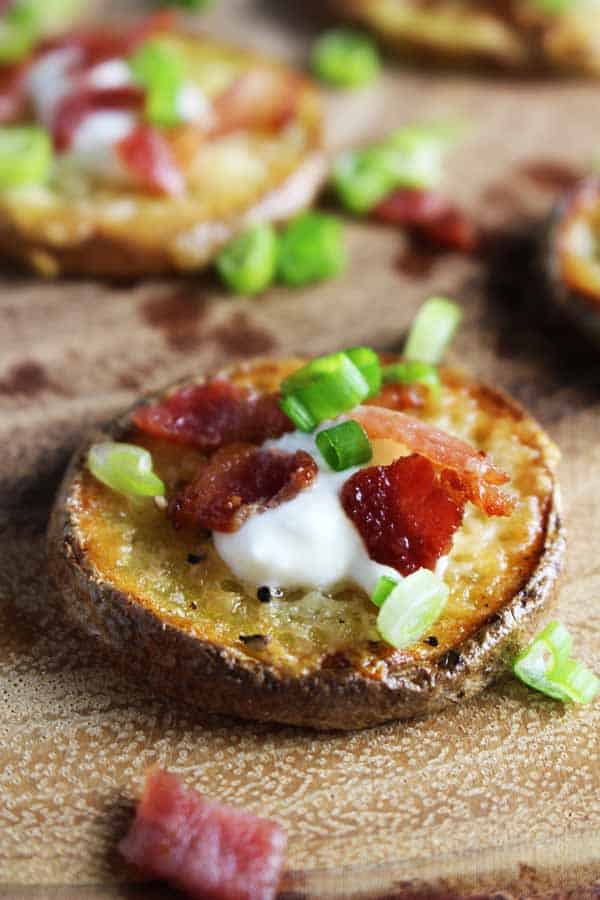 6. Potato skin bites
Our Happy Mess's easy loaded baked potato bites are ideal for a party because you get everything you love about potato skins in a small serving. As you bake the potatoes after you've sliced them, they get nice and crisp. Then you can add the toppings of your choosing.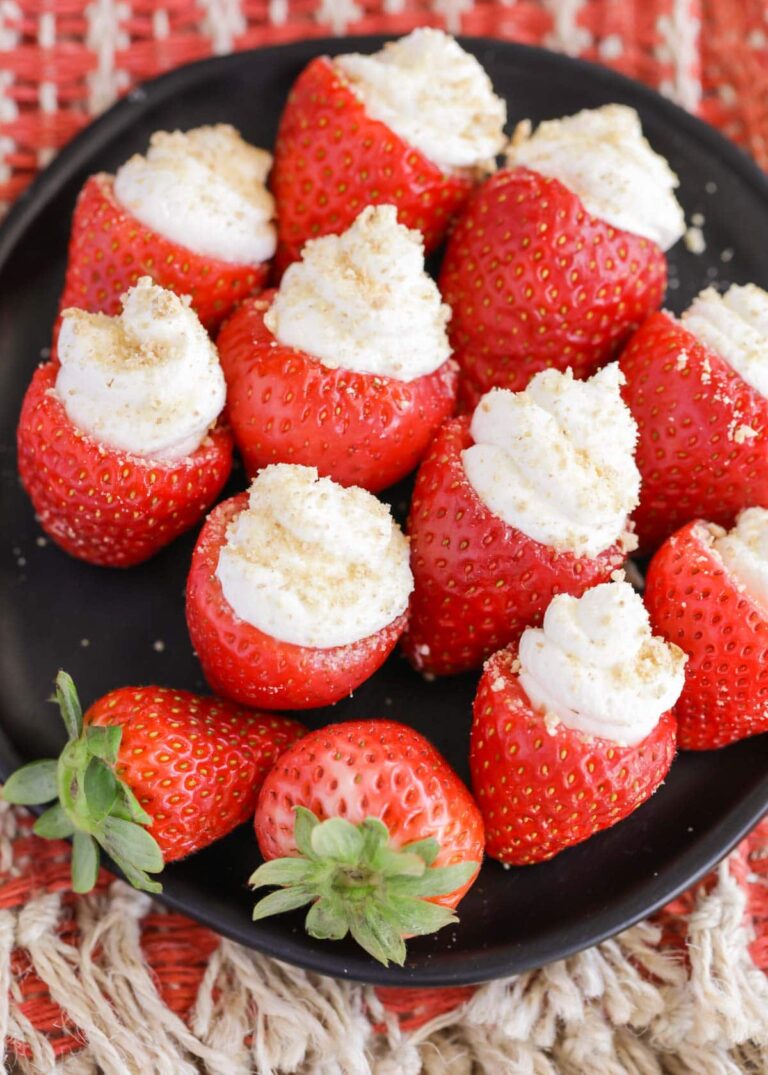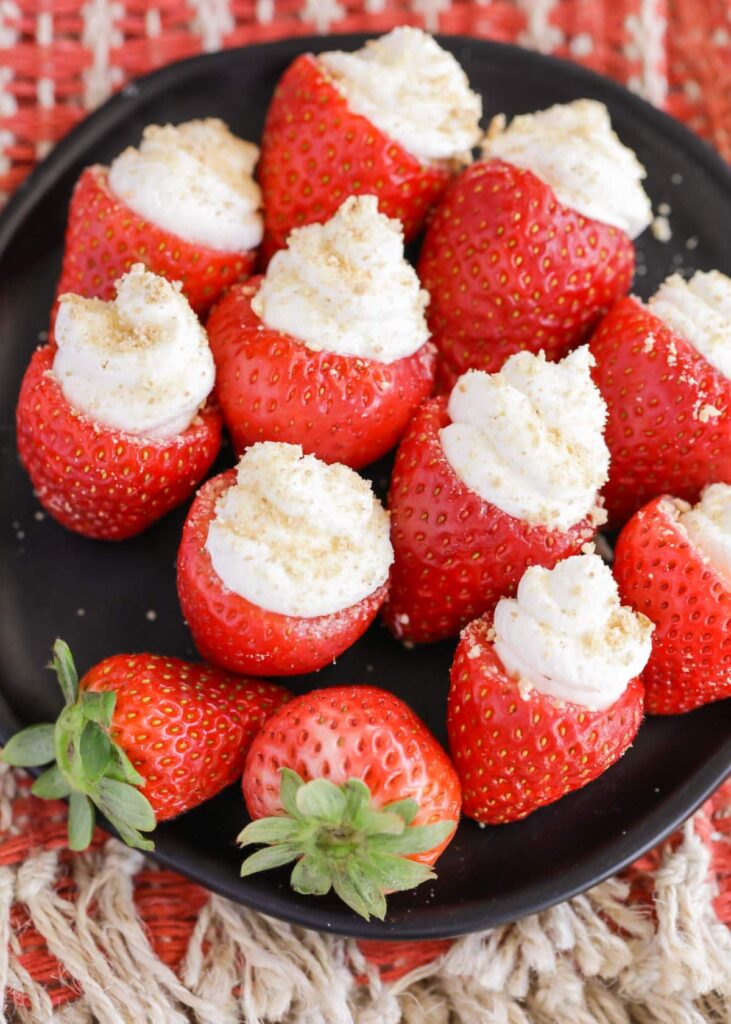 7. Strawberries with cheesecake filling
Strawberries are the perfect pairing with cheesecake, creating a nice tart/sweet balance. I find that most cheesecakes tend to be overkill anyway and am satisfied with just a few bites. Lil' Luna's cheesecake strawberries couldn't be easier and are so delicious.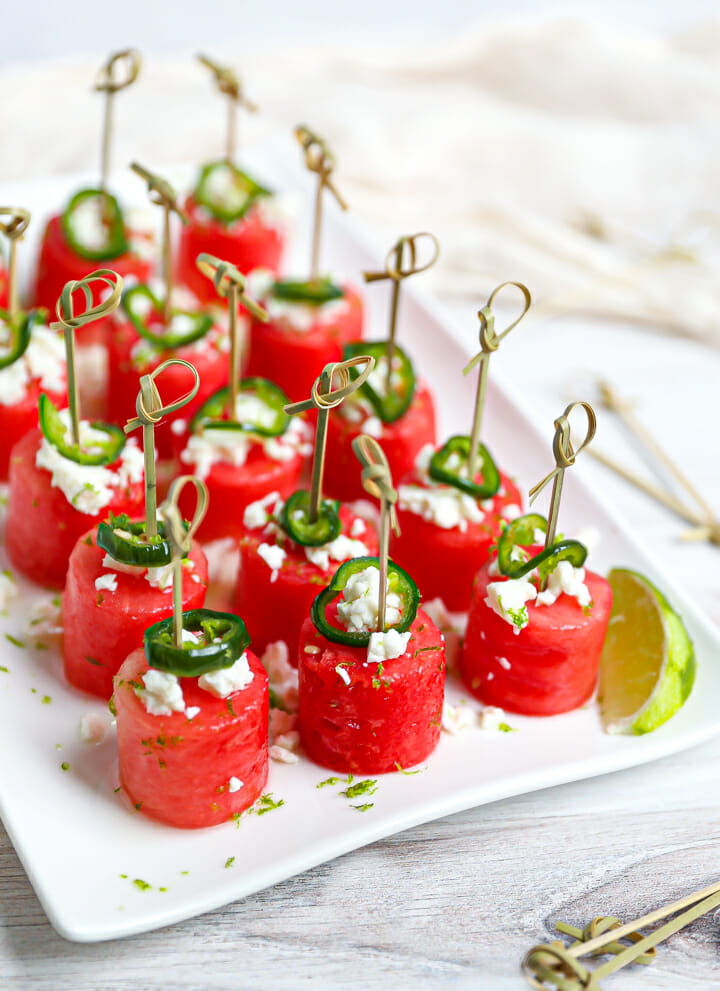 8. Watermelon bites
There are so many creative toppings for watermelon bites that are sure to wow your party guests. Just a few fun options include Floating Kitchen's watermelon feta bites with basil and hot honey, What Should I Make For's margarita watermelon bites (pictured), and Kentucky Derby's olive oil and pepper-marinated watermelon bites with halloumi.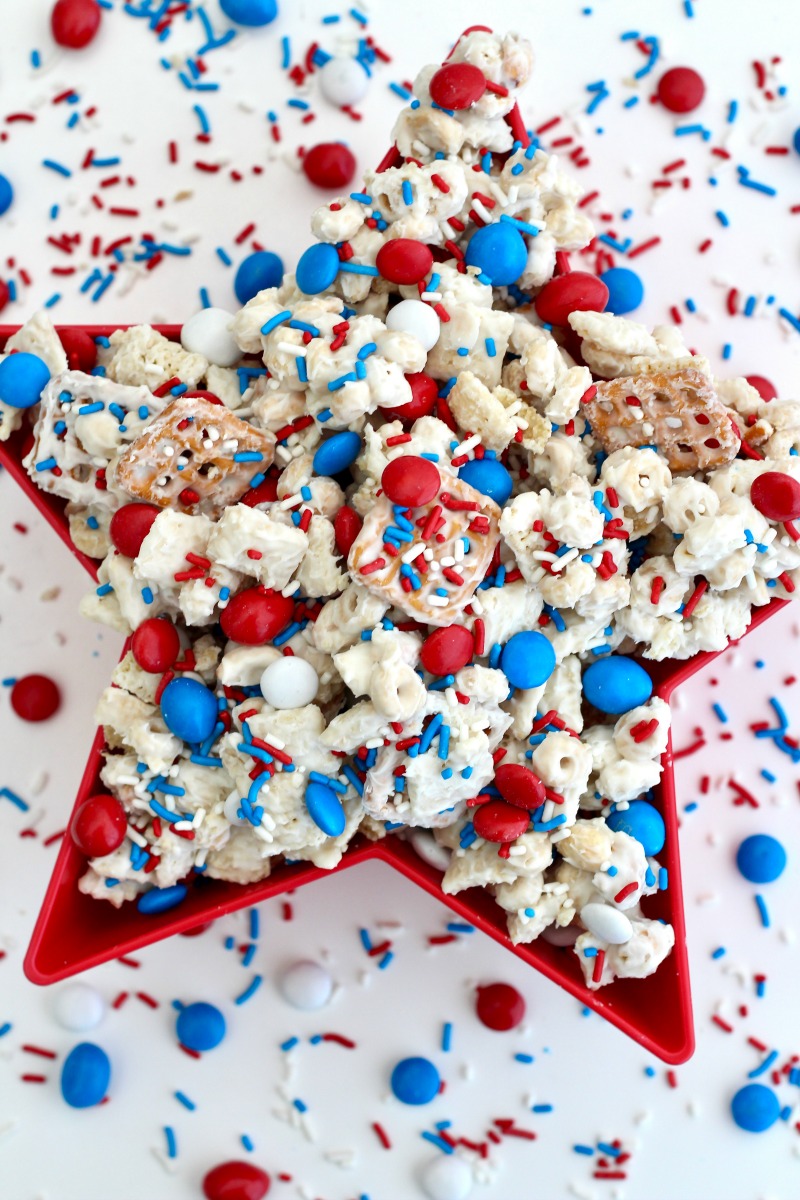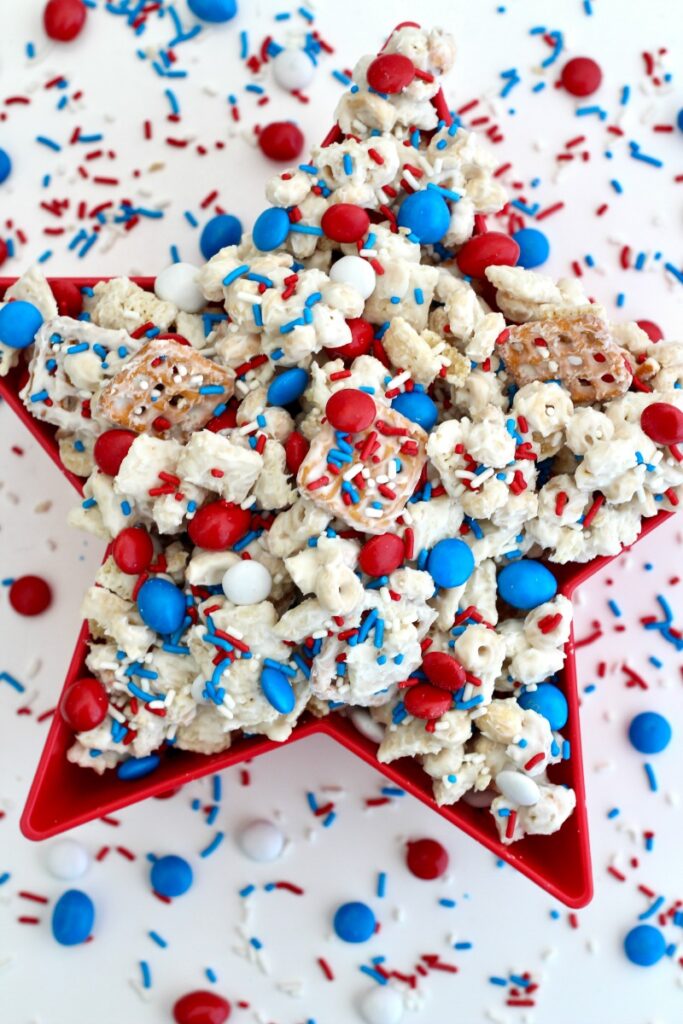 9. Patriotic snack mix
I'm always a sucker for a good sweet/salty snack mix. Memorial Day is the perfect excuse to try The Baker Mama's patriotic party mix, which has so much crunch and is so festive.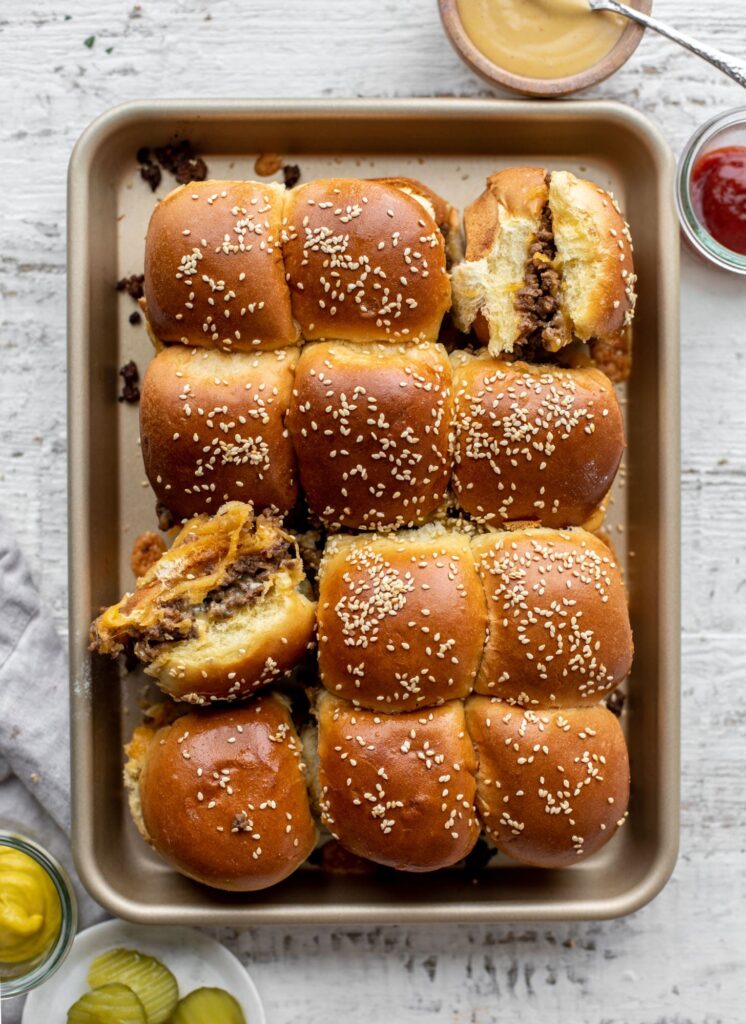 10. Burger sliders
I love sliders for a party because people can try one or two of them while still saving room for other food. How Sweet Eat's cheeseburger sliders (pictured) are insanely good. It's one of those recipes that everyone will request for their next party. If you're looking for more options, I'm also a fan of Tidy Mom's Hawaiian burgers and Simply Happening's barbecue pork burger sliders.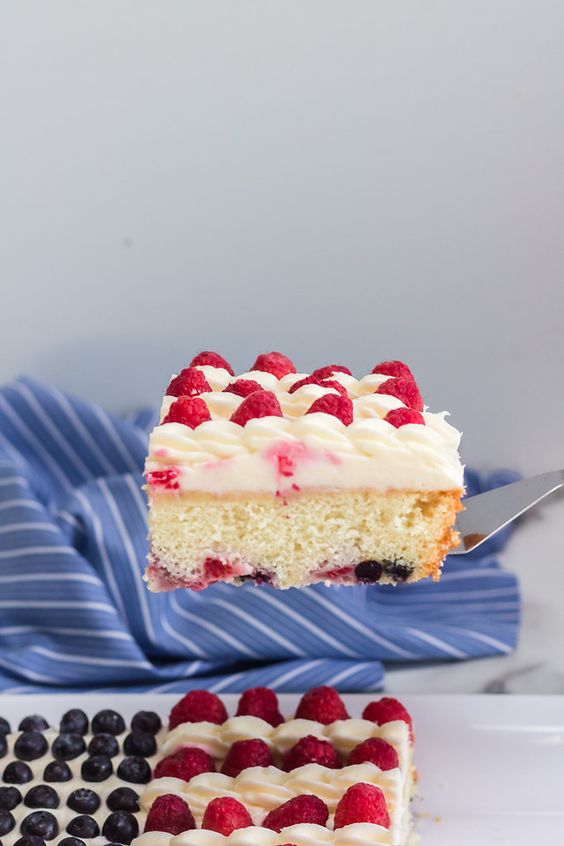 11. Flag cake
Nothing says summer quite like a flag cake. Tamara Like Camera's American flag cake is my top pick for a recipe because she adds berries to the cake batter, so every bite has berries, no matter where your slice is on the flag.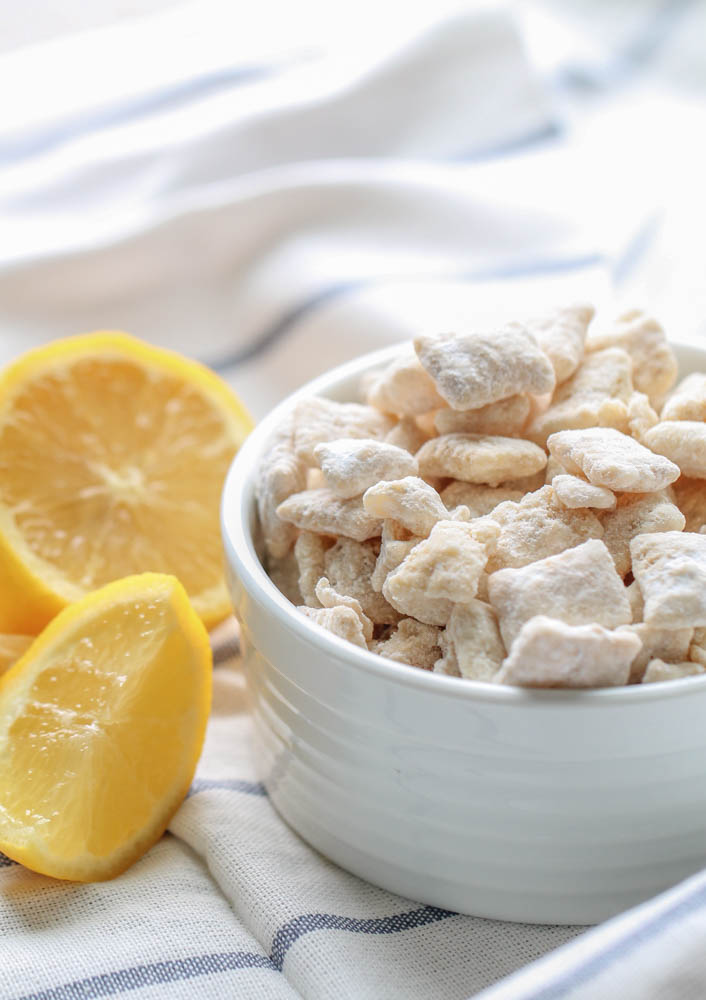 12. Lemon Chex mix
Six Sisters Stuff's lemon Chex mix is a fun variation on traditional Chex mix for summer. This recipe is a lot like muddy buddies but with lemon. No one will expect it but everyone will love it.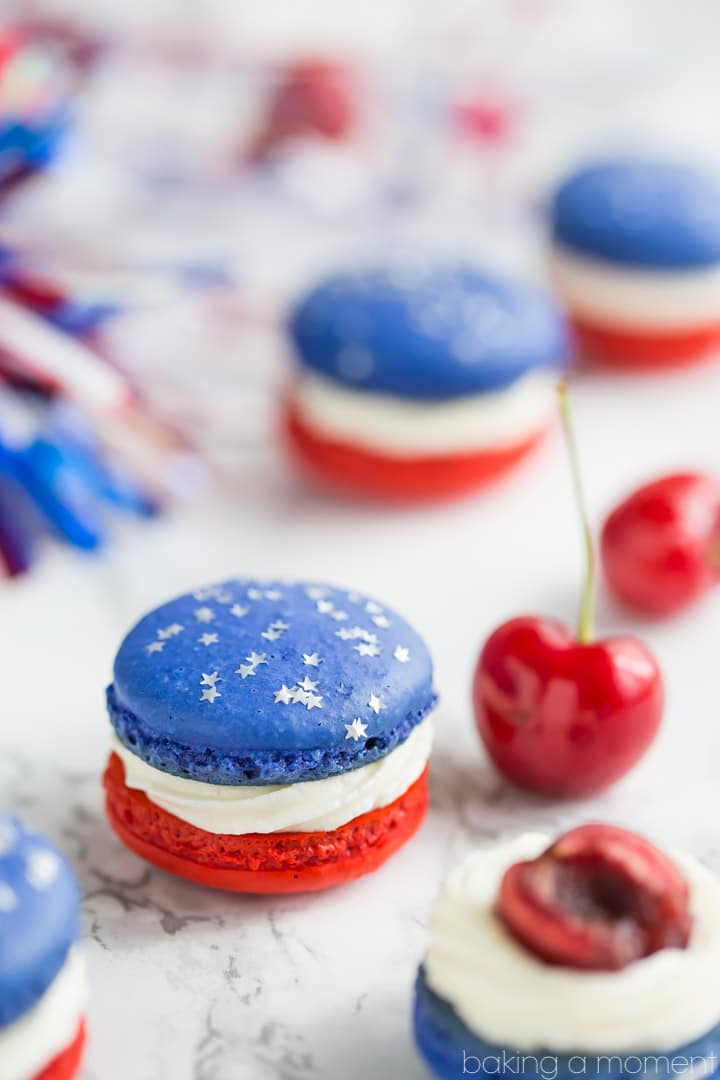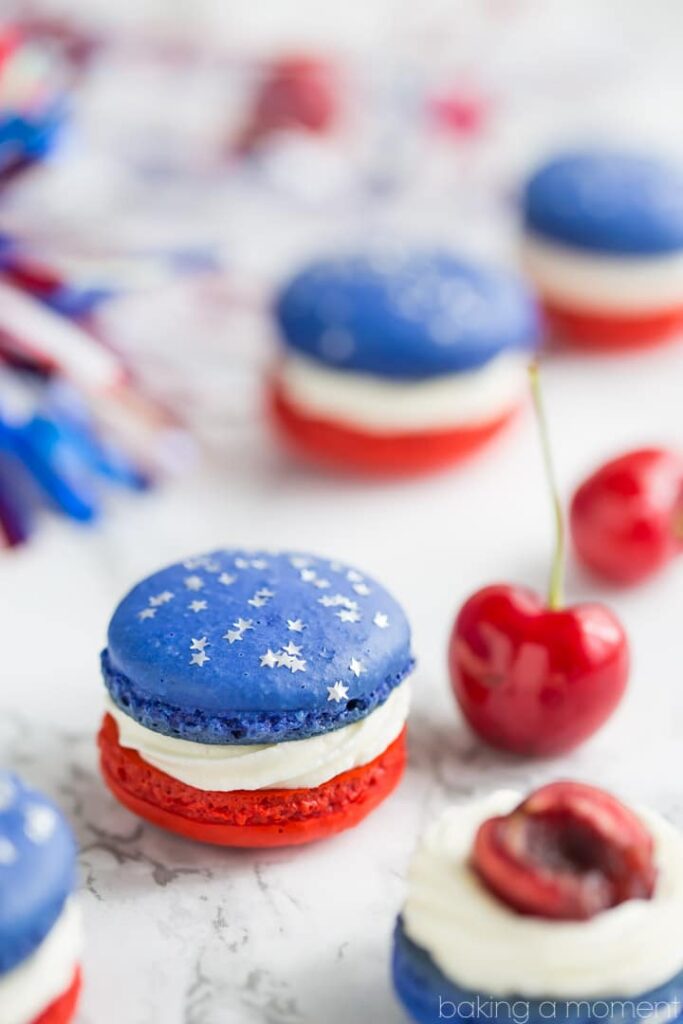 13. Patriotic macarons
Macarons are one of the more involved recipes in this round-up but one that's always worth the effort. Baking a Moment has everything that you need to make red, white, and blue cherry cheesecake macarons.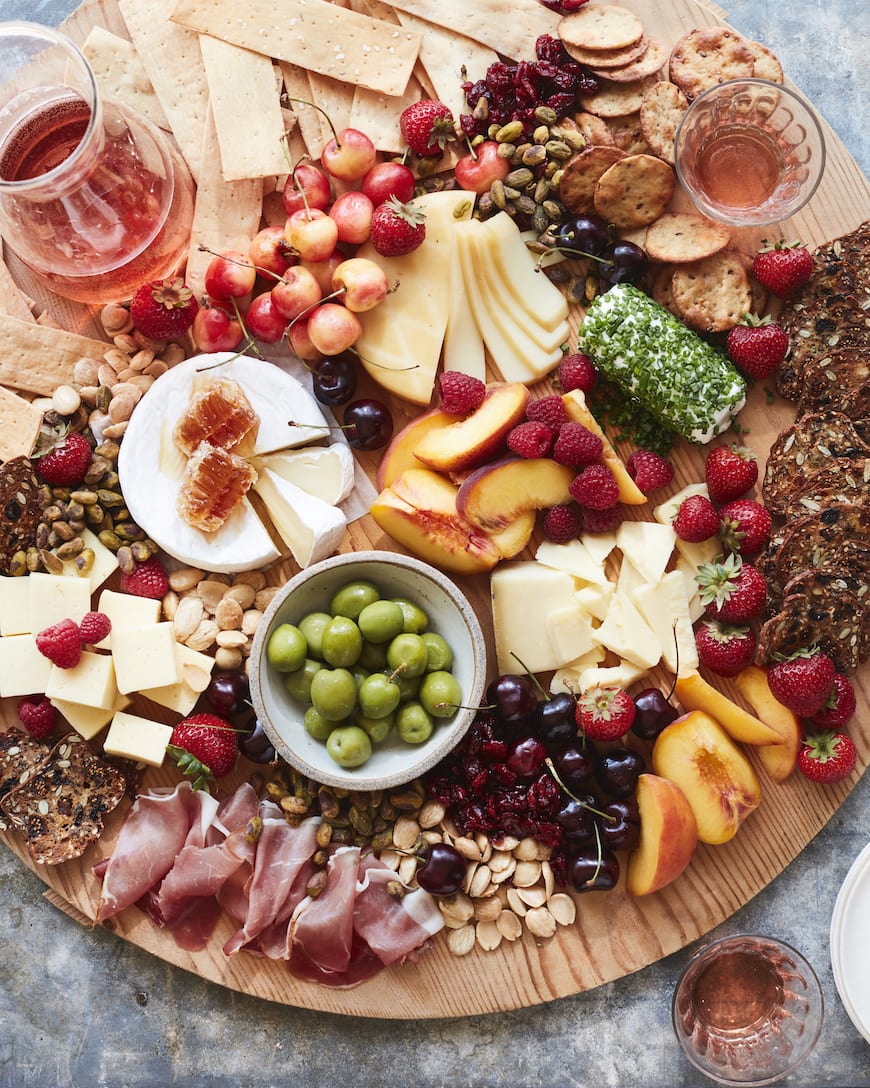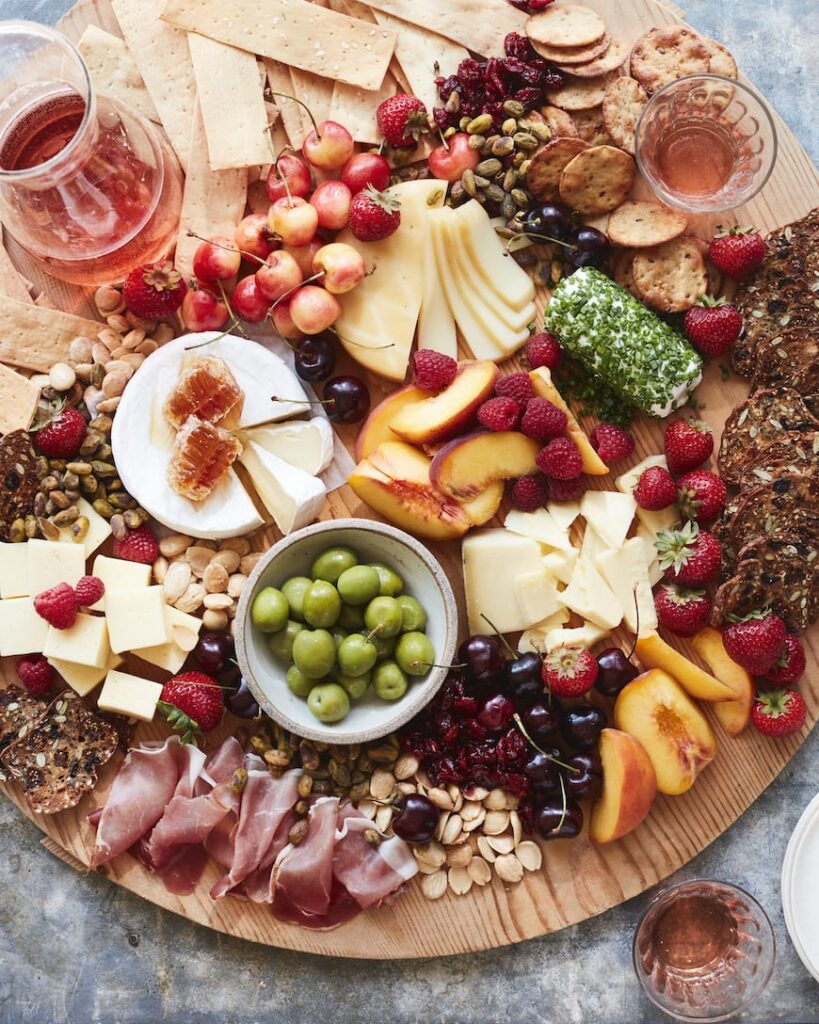 14. Summer cheeseboard
What's Gaby Cooking has the most gorgeous summer cheeseboard imaginable with a full list of everything pictured to help you build your own amazing spread. I also love How Sweet Eat's cheeseboard cheeses recommendations, so you know exactly which cheeses to look for while shopping.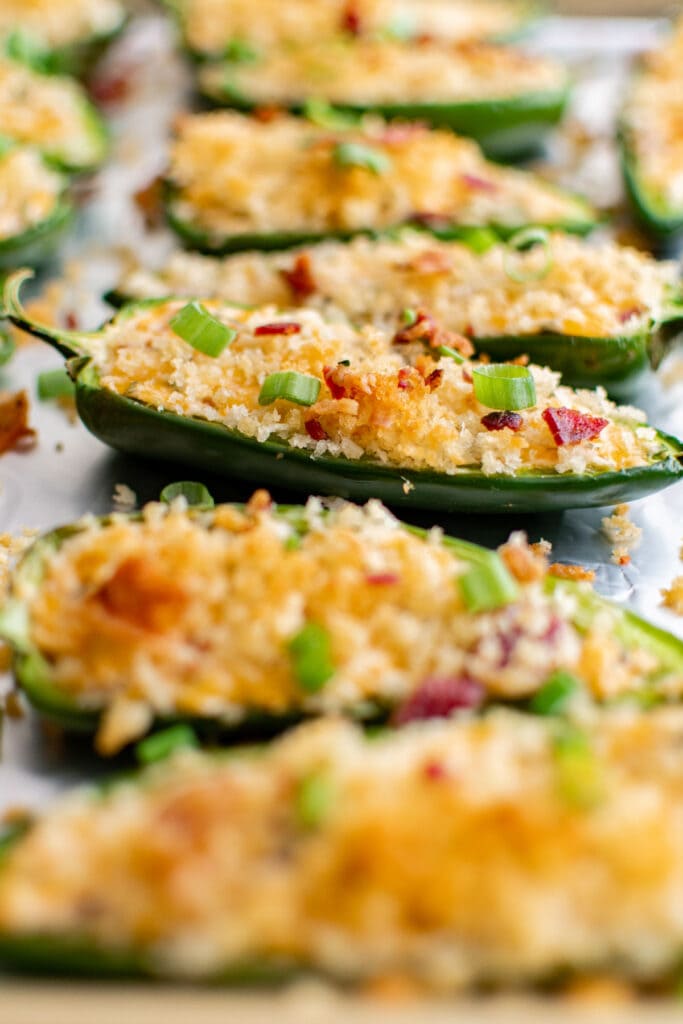 15. Jalapeno poppers
Jalapeno poppers are another classic recipe that you can't go wrong with for Memorial Day parties. Yellow Bliss Road's jalapeno poppers are stuffed with cream cheese and bacon and finished with a crispy breadcrumb topping for just the right amount of crunch.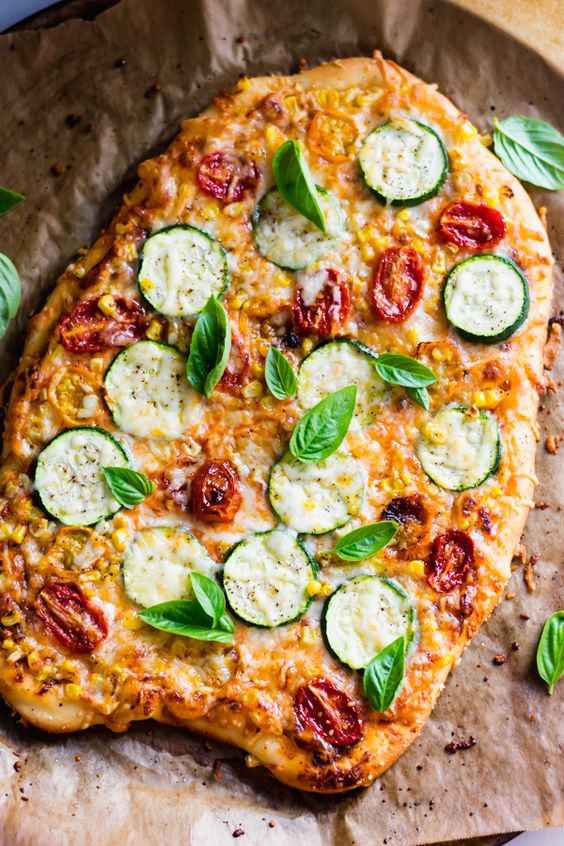 16. Flatbread
Blue Bowl's roasted tomato, corn, and zucchini flatbread has all of the flavors that you want for a summer flatbread. As the vegetables are sliced and baked in with the cheese, it isn't too messy, which is ideal for party food.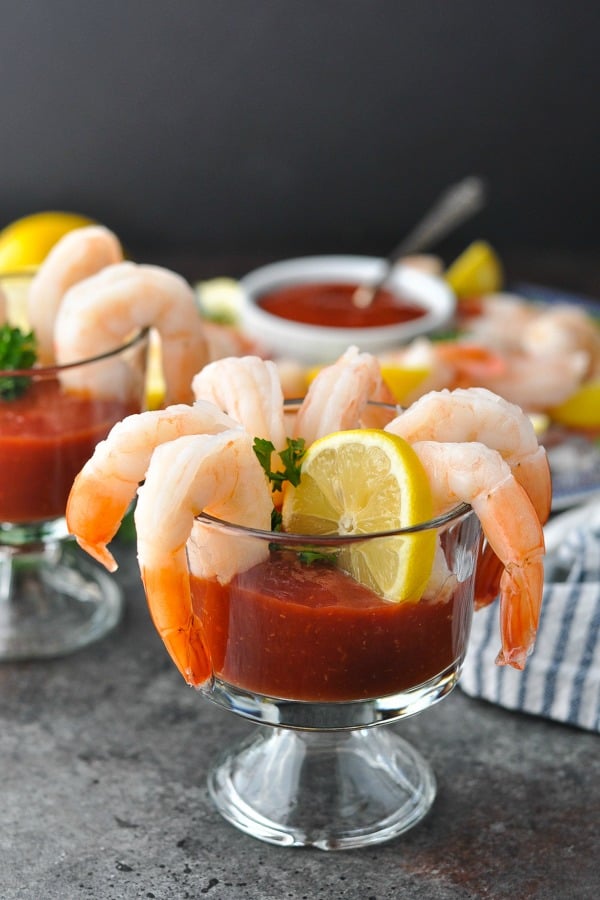 17. Individual shrimp cocktails
Moreso than ever these days, I'm a big fan of making as many party foods in individual servings as possible. Individual shrimp cocktails are especially nice because they help keep the sauce contained. The Seasoned Mom's shrimp cocktail includes an easy homemade cocktail sauce with pantry staple ingredients that will elevate the entire appetizer.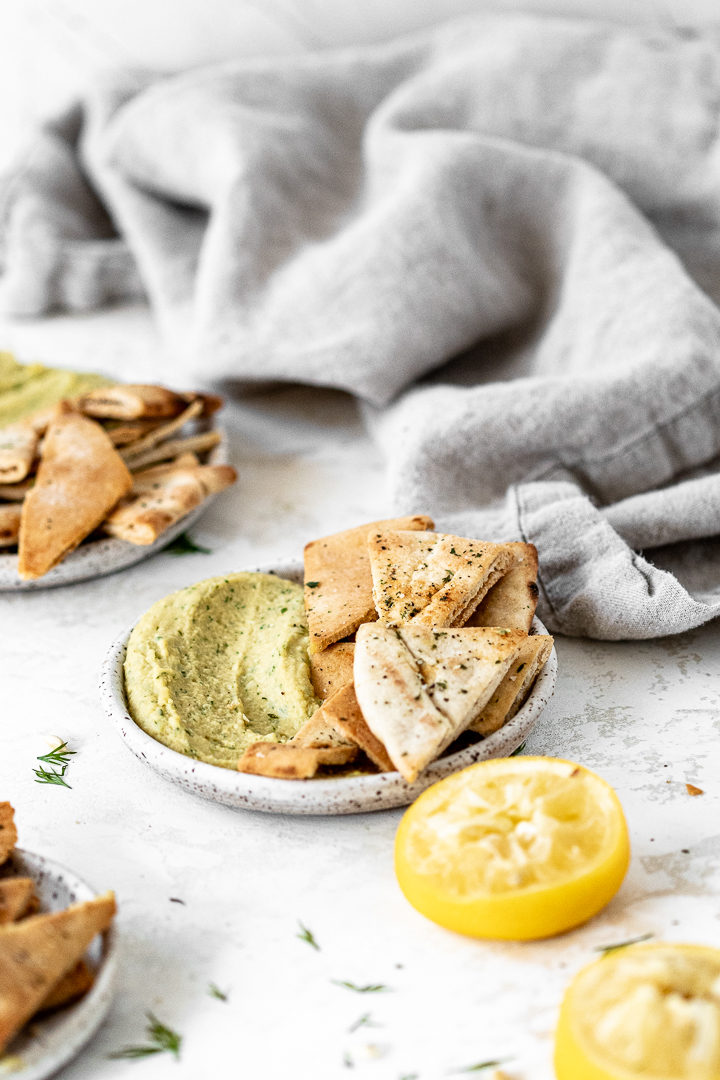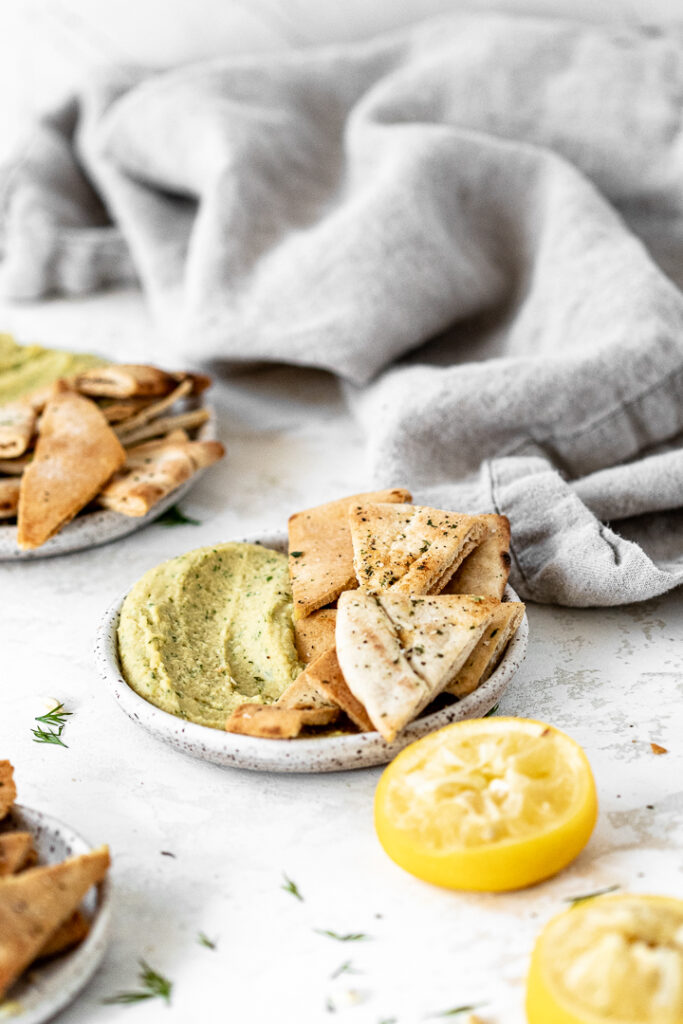 18. Lemon dill hummus
Lemon dill is a flavor pairing that people won't expect in hummus but will be well received, especially at the start of the summer. Simply Unbeetable's lemon dill hummus has just seven ingredients and creates an incredibly creamy, flavorful dip that your party guests won't be able to stop eating.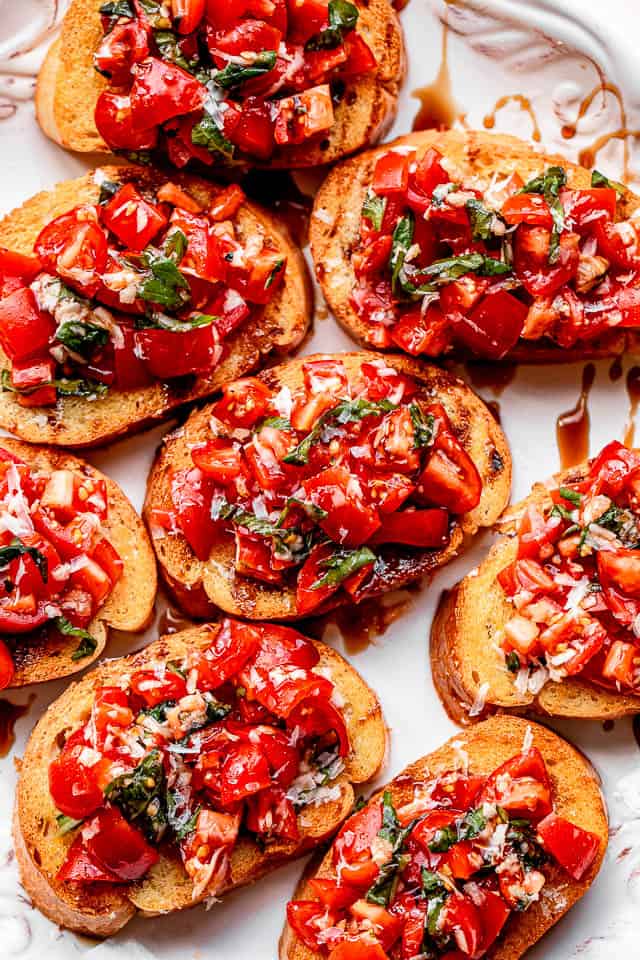 19. Bruschetta
I make Easy Weeknight Recipes' easy garlic bread bruschetta on repeat all summer long. I personally find that Roma tomatoes make the best bruschetta because they have so much flavor and aren't as watery as full-size tomatoes. Garlic is a must in bruschetta, and the balsamic glaze adds an amazing finishing touch.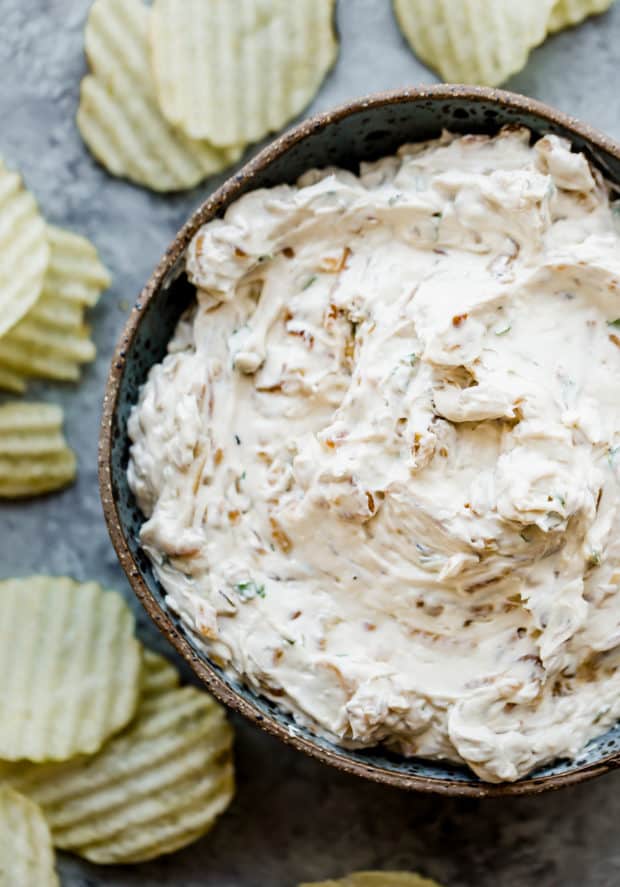 20. Caramelized onion dip
I'm not a big fan of all (okay, most) food trends. But I'm pretty sure that I'll never get tired of caramelized onions. Caramelizing onions for dip takes the old-school onion soup dip that we all love to a whole new level. Salt and Baker has a classic caramelized onion dip (pictured). The Chunky Chef's hot and cheesy caramelized onion dip and Yellow Bliss Road's caramelized onion, bacon, and goat cheese dip sound amazing, too.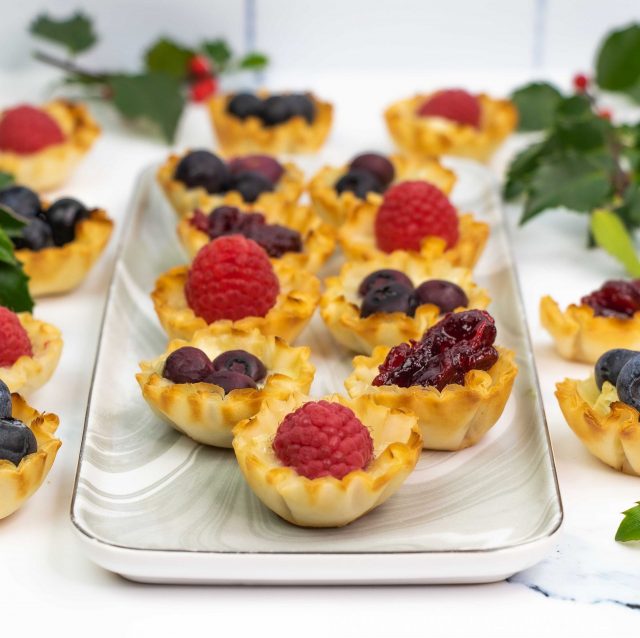 21. Brie berry bites
I love the twist of using fresh berries instead of dried cranberries for a summer appetizer. Manila Spoon's brie berry bites have just the right balance of creamy and tart in perfect single-serving portions.
22. Tortilla pinwheels
Tortilla pinwheels are always a classic party food because they're so easy to make and there are so many fun variations. For summer, I especially like Tornadough Ali's veggie pizza pinwheels (pictured), Vegan in the Freezer's sun-dried tomato pesto tortilla rollups, and Lemon Tree Dwelling's dill pickle pinwheels.
23. Cucumber bites
Sliced cucumbers are the ideal base for all sorts of savory toppings. You can't ever go wrong with salmon cucumber bites. The recipe I'm sharing is from Wholesome Yum. If you're looking for other options, think about Keto Diet Meal Idea's cucumber caprese bites and Closet Cooking's spicy tuna and avocado cucumber sushi bites and blackened shrimp avocado cucumber bites (pictured).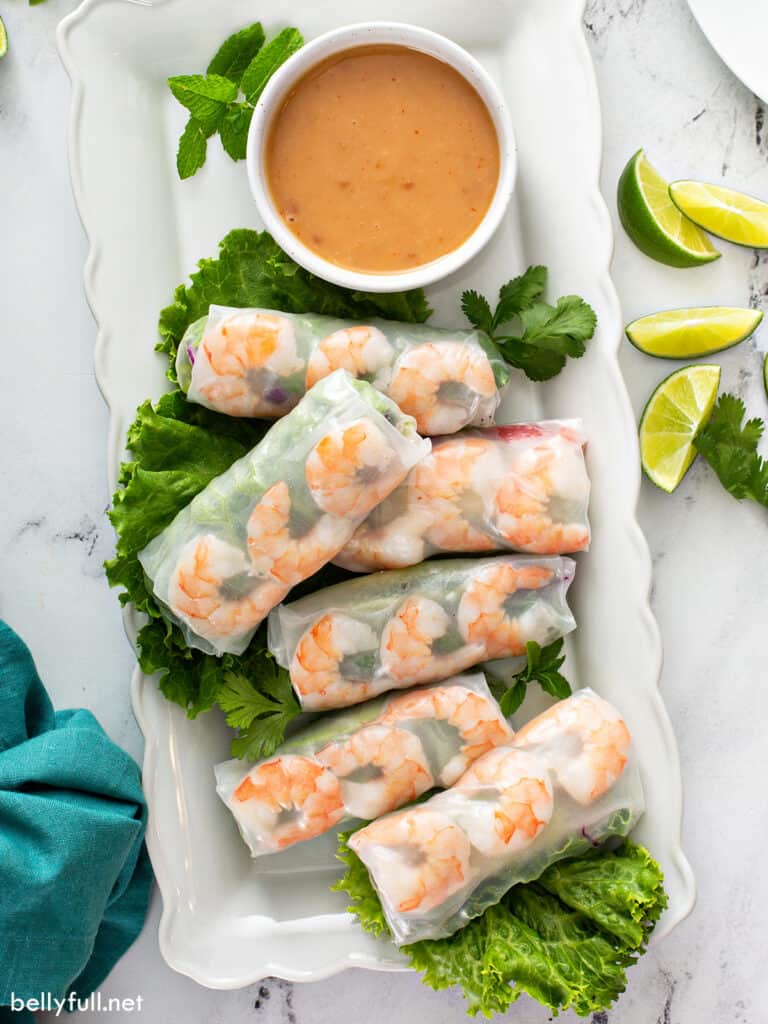 24. Spring rolls
Spring rolls are one of my favorite appetizers at Thai restaurants, especially when they're served with peanut dipping sauce. A summer party is a perfect excuse to make them at home. While you can make crispy spring rolls, which I love, too, my preference is always for cold rolls, such as Belly Full's fresh spring rolls with peanut sauce.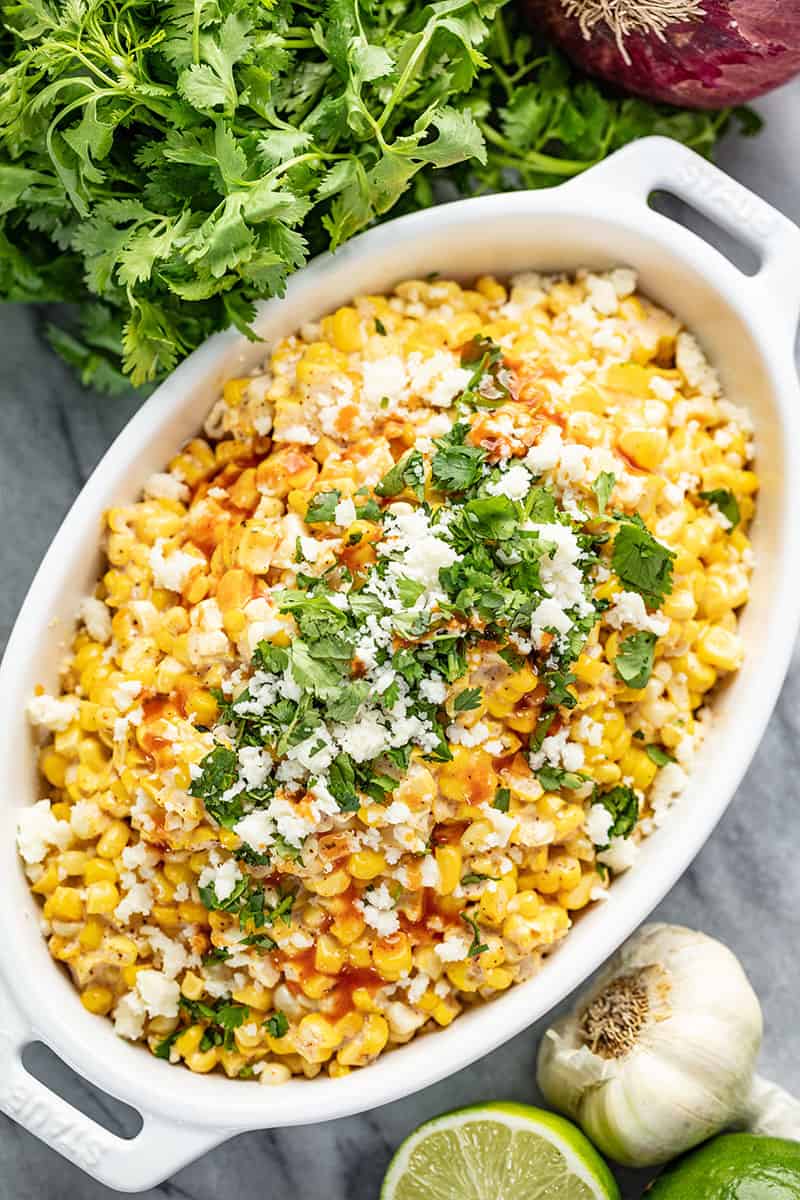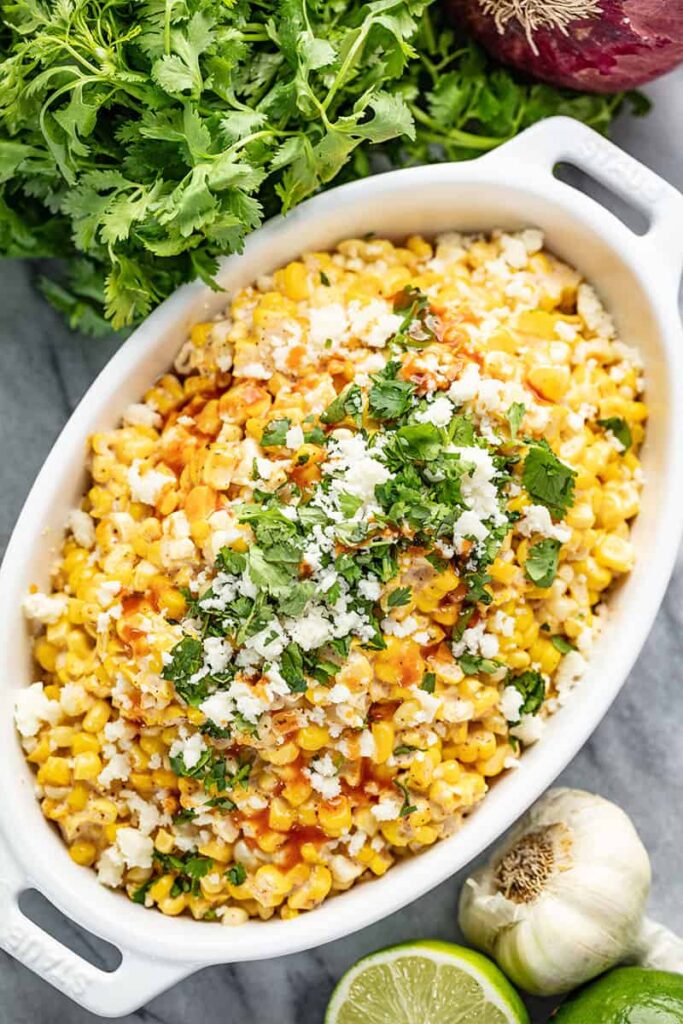 25. Mexican street corn salad or casserole
Mexican street corn dip has all of the flavor that you love of Mexican street corn with less of the mess. You'll find both cold recipes, such as The Stay at Home Chef's Mexican street corn salad (pictured), and hot recipes, such as Salt and Baker's Mexican street corn casserole. These types of dishes make great dips for chips or veggies and are perfect stand-alone side dishes. I also love How Sweet Eat's Mexican street corn nachos.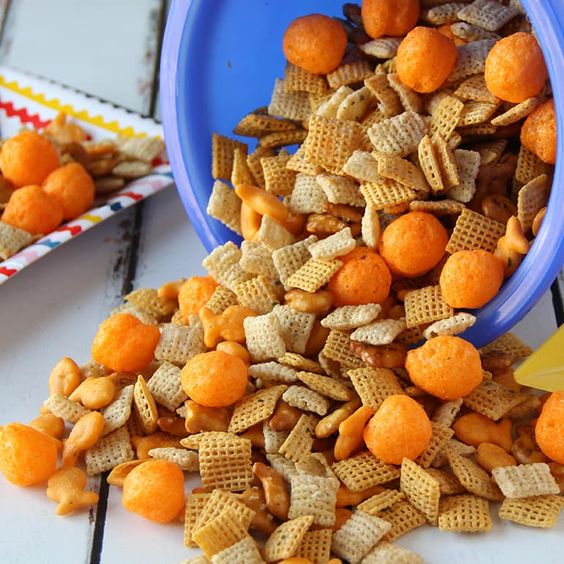 26. Beach ball Chex mix
How cute is Chex's beach ball Chex mix? It features round cheese puffs for the beach balls and also has two kinds of Chex cereal, two kinds of crackers, butter, and dry ranch mix. This is the ideal summer savory snack food.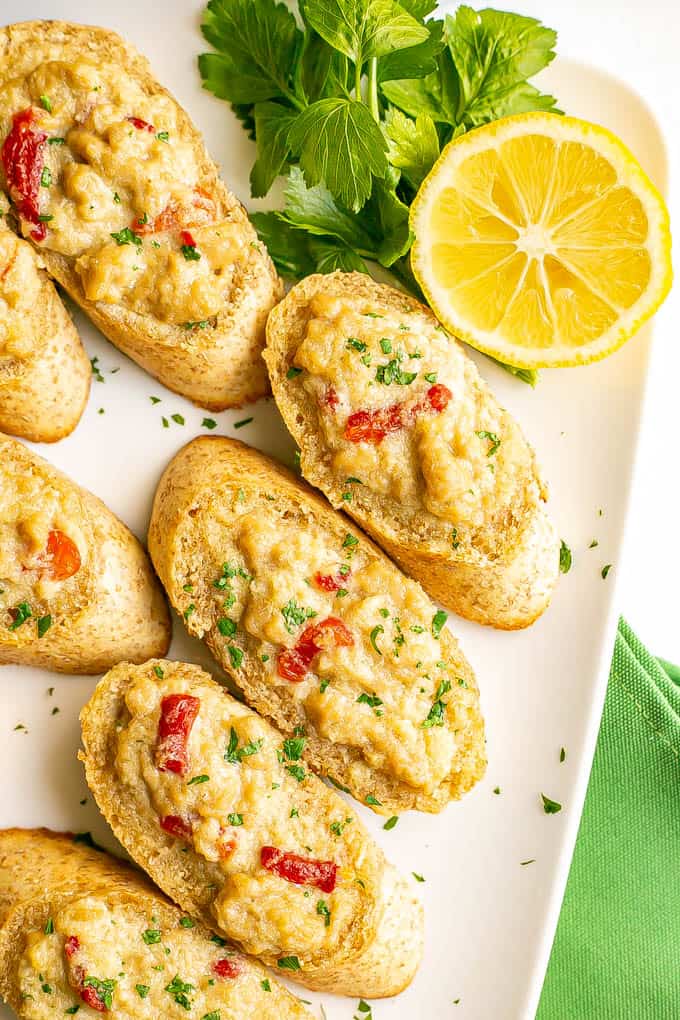 27. Crab melts
Family Food on the Table's crab melts appetizers takes everything that you love about crabcakes and puts it into a delicious cheesy appetizer on baked French bread.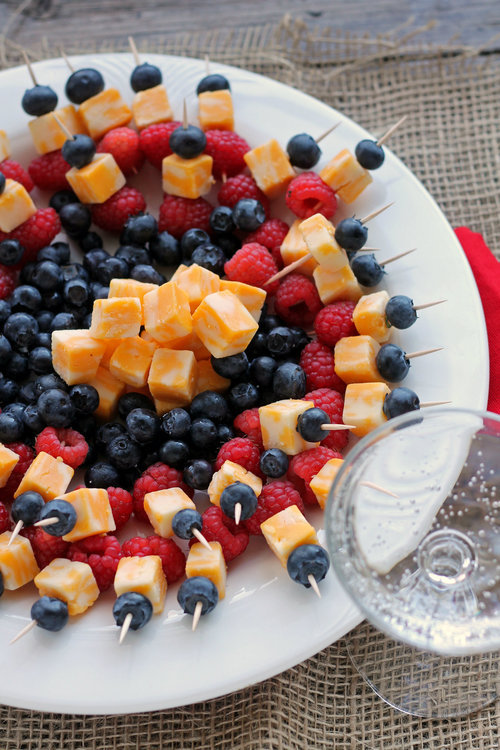 28. Fruit and cheese kabobs
A Love A Fare's mini fruit and cheese kabobs could not be simpler and make any party feel a little bit fancier. Of course, there are so many ways you can switch up the ingredients to fit your personal tastes and preferences or simply what you have on hand.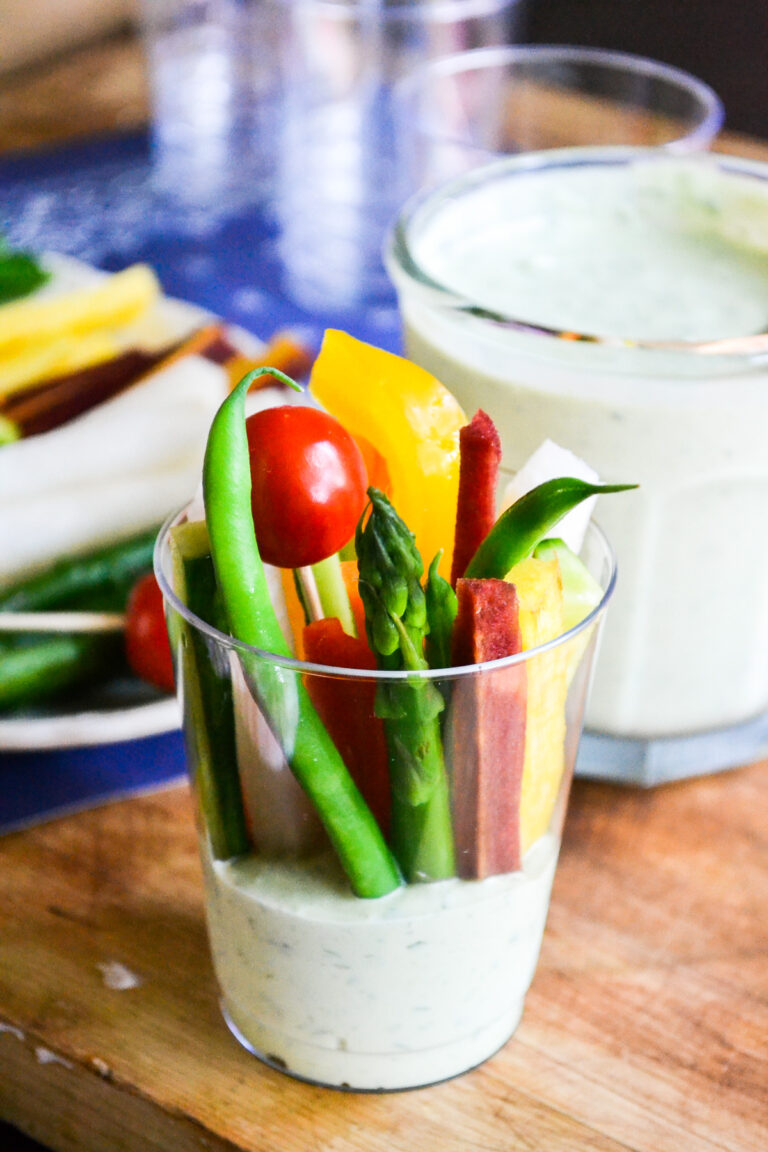 29. Individual veggie and dressing cups
Much like the individual shrimp cocktails, there's never been a better time to serve individual veggie and dressing cups at parties. Archana's Kitchen's low-fat vegetable dip recipe with herbs features a delicious homemade Ranch dressing that will always be a hit. I love switching up this appetizer idea with Studio Delicious's veggie cups with hummus or The View from Great Island's green goddess veggie dip cups (pictured).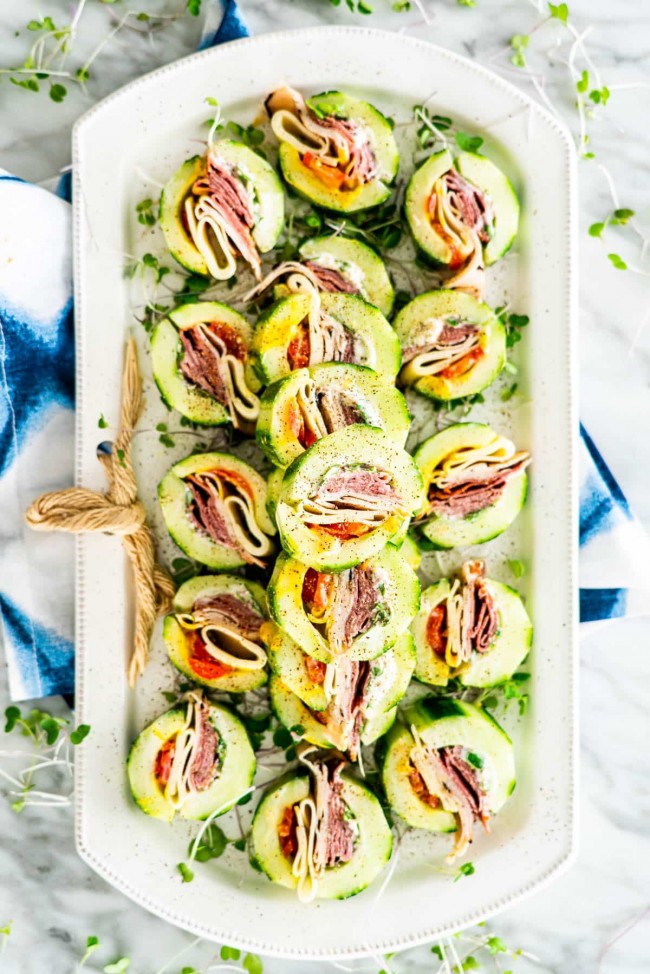 30. Cucumber sandwiches
Craving Home Cooked's cucumber sandwich bites involve using cucumbers instead of bread. They have fewer carbs and so much flavor and crunch. Wholesome Yum's cucumber subs post also has some great tips for making the best cucumber sandwiches.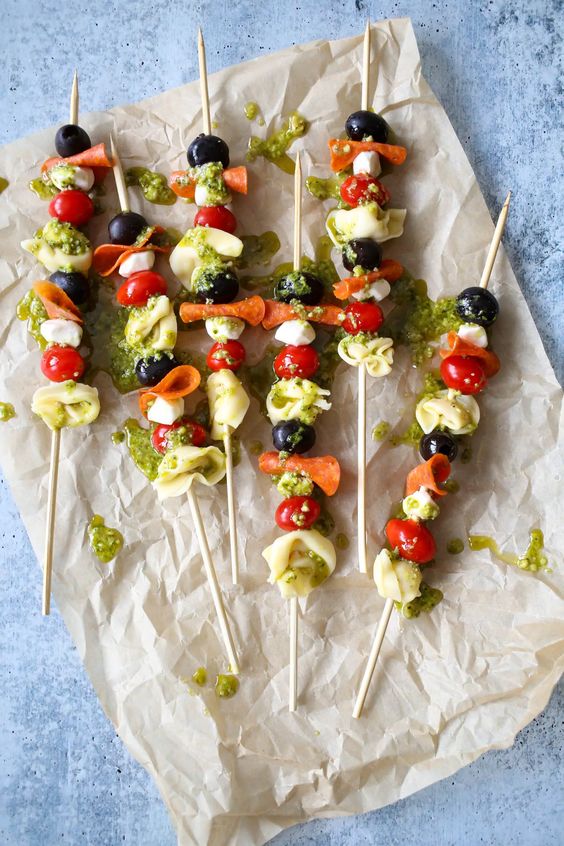 31. Pesto tortellini skewers
Pesto is such an amazing dressing for just about any type of tortellini. I opted for skewers again for the easy party food option. But you can serve this sort of tortellini dish as a salad or fill it out with chicken and make it a main dish. Our Best Bite's Italian tortellini skewers with pesto drizzle have such a nice balance of ingredients.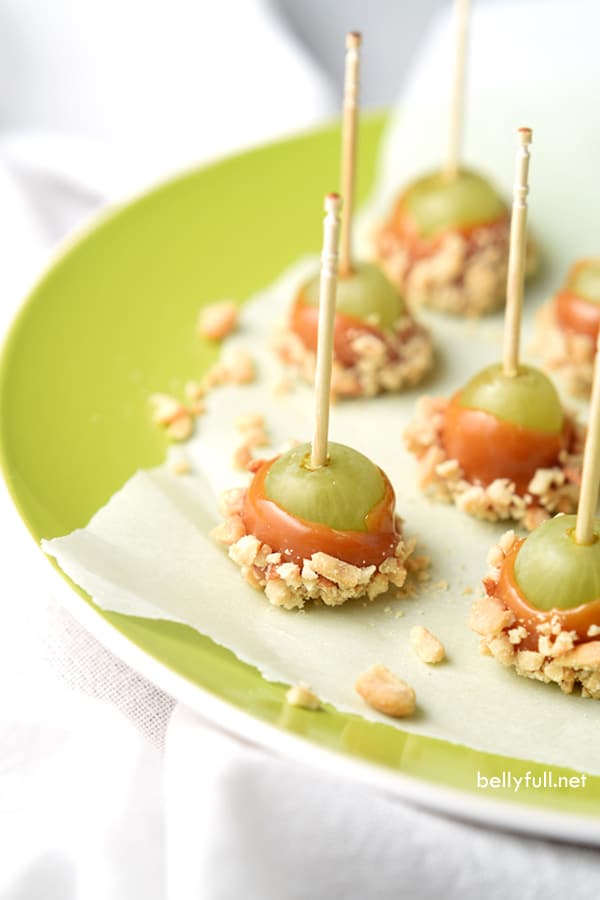 32. Caramel apple grapes
Belly Full's caramel apple grapes taste just like little bites of caramel apple. You get the caramel apple flavor you love without having to commit to a full caramel apple. Spoon and Swallow also has a boozy caramel apple grapes version with caramel vodka.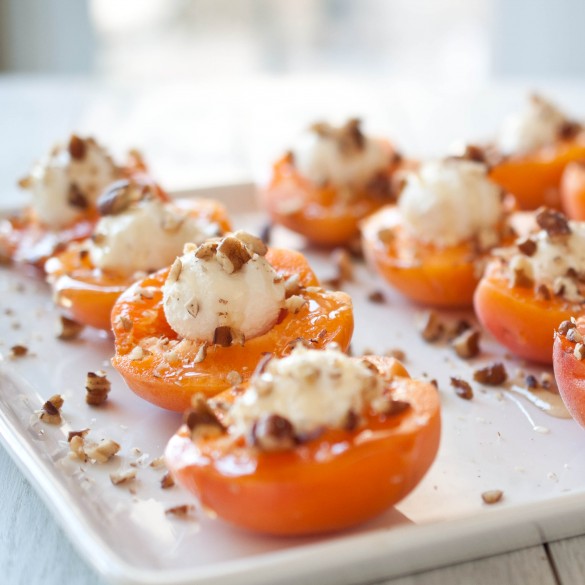 33. Apricots with goat cheese and honey
Domestic Fit's goat cheese-stuffed apricots with honey have an amazing flavor balance of creamy, sweet, and tart in perfect bite-size portions. You can switch up the apricots for the fruit of your choosing as you like.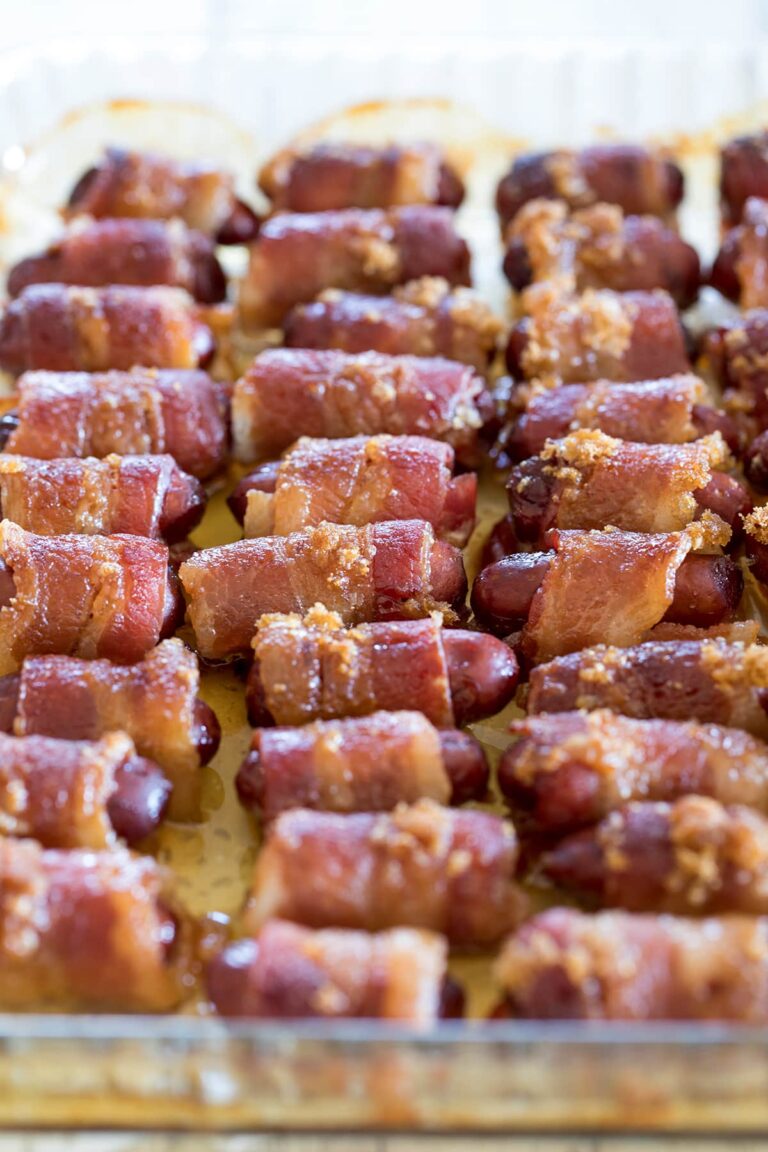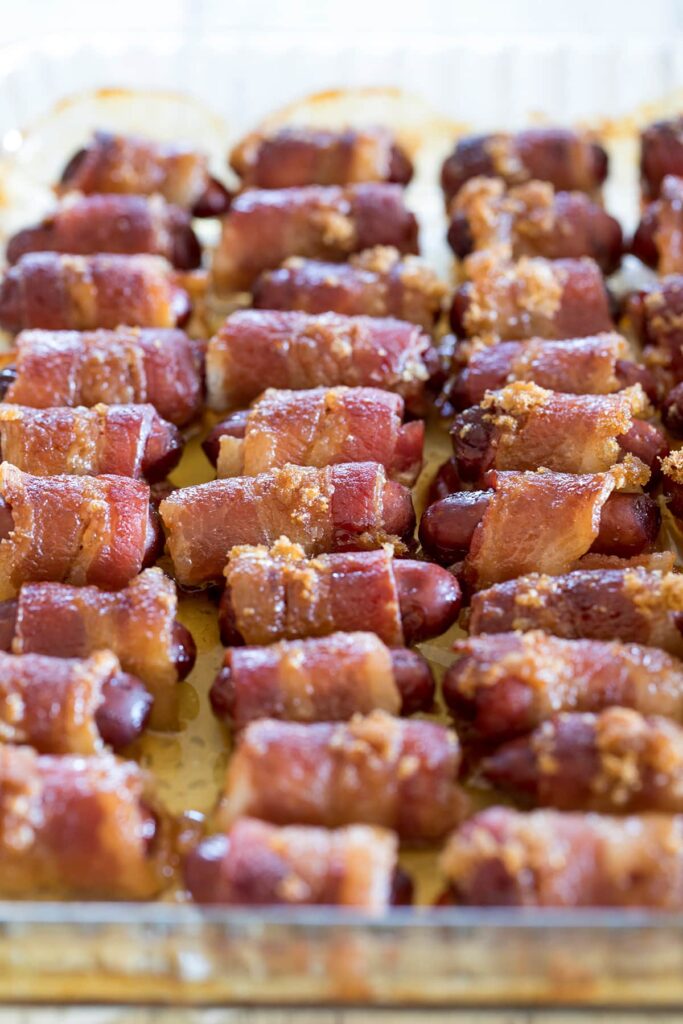 34. Bacon-wrapped smokies
Freutcake's brown sugar bacon-wrapped little smokies are the ideal party food for those of us who never get tired of sweet/savory snacks. Brown sugar adds just the right amount of sweet to balance out the saltiness of the bacon. Leah also has a super cute wreath idea for serving bacon-wrapped smokies at the holidays, so make sure to bookmark this post for future gatherings.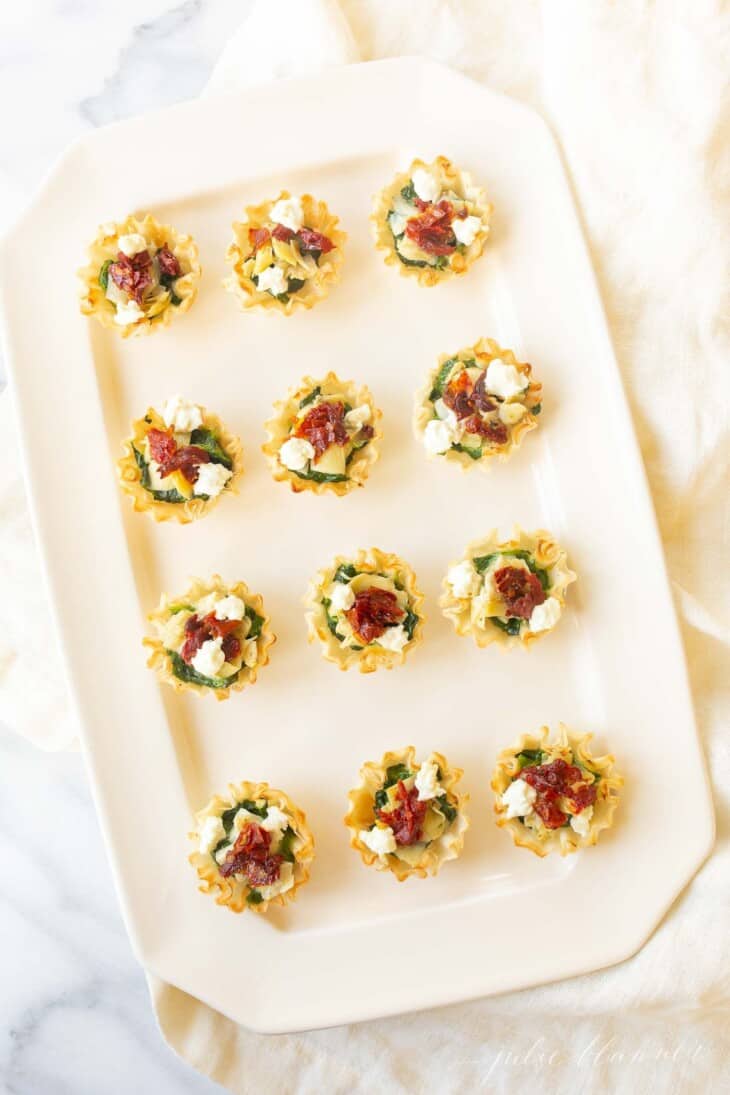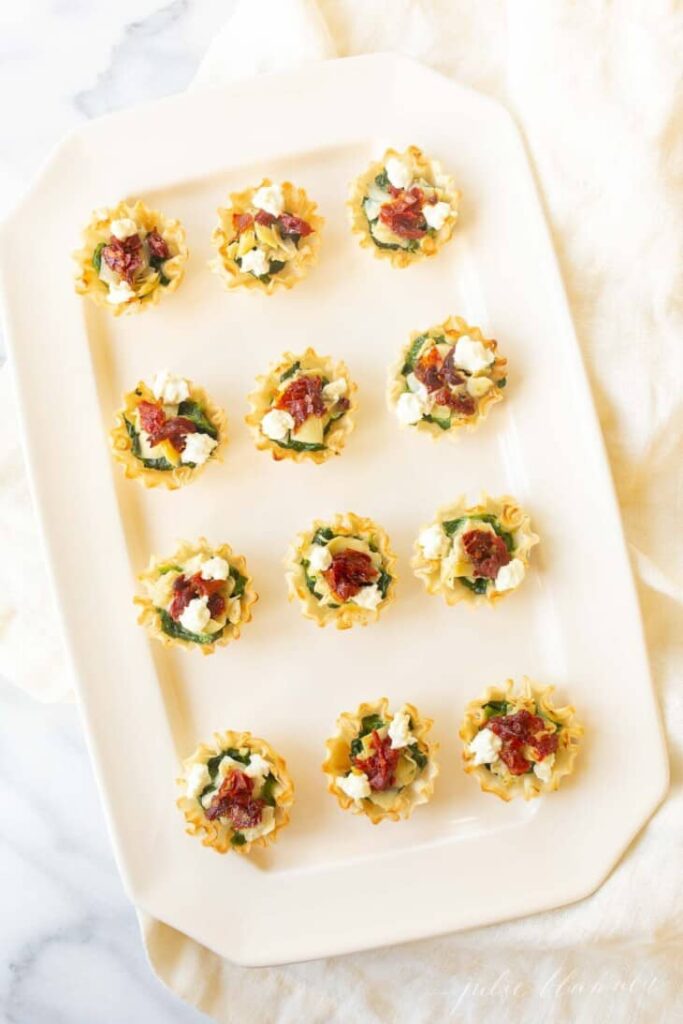 35. Spinach artichoke dip Phyllo cups
As you know from my spinach calzones recipe, I'm a huge fan of the frozen Green Giant creamed spinach. I love that Julie Blanner uses this creamed spinach for her spinach artichoke dip Phyllo cups. You get a great creamy spinach base that pairs wonderfully with cheese, tomatoes, and artichokes.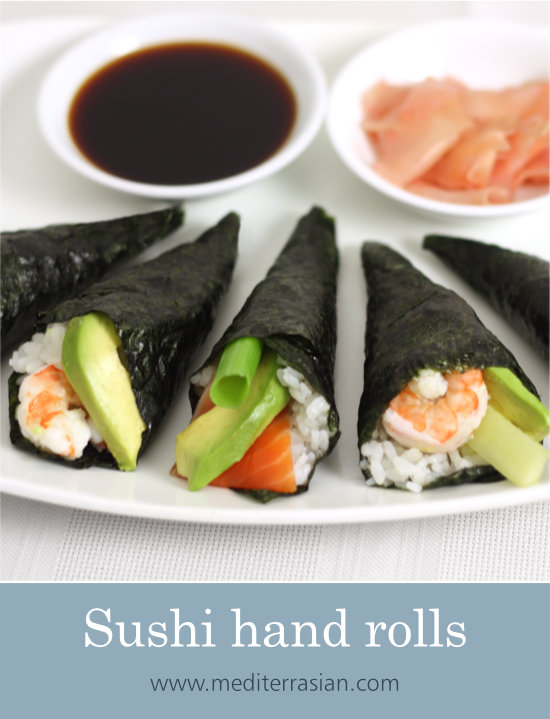 36. Sushi hand rolls
Mediterrasian's sushi hand rolls are sort of a cheater sushi. You get the flavor that you love of sushi without all of the work. She has lots of delicious ideas for fillings.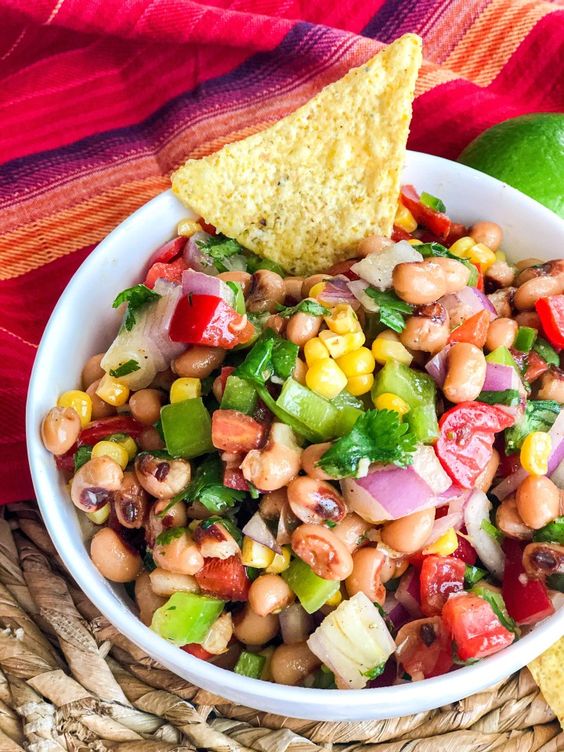 37. Texas caviar dip
Texas caviar dip has been one of my mother-in-law's entertaining staples for years. It doesn't look or sound that appetizing, but then you can't stop eating it. She always serves it with tortilla scoop chips, but don't feel limited to this option. Charlotte Shares' Texas caviar dip is classic and sure to bit a hit with everyone.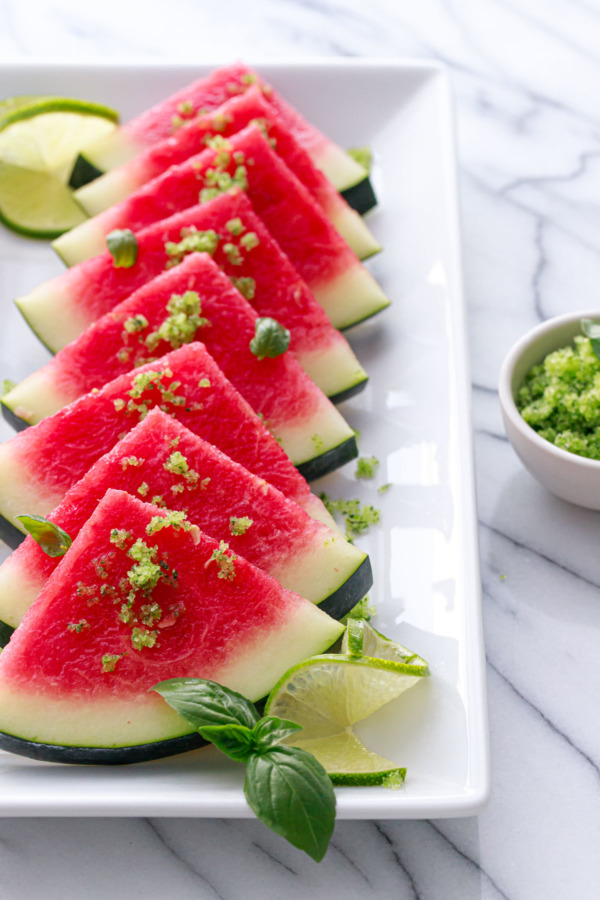 38. Flavored watermelon slices
You can infuse watermelon with all sorts of ingredients to make it take on a whole new flavor, creating a delicious, refreshing snack for summer. Love and Olive Oil's watermelon with basil lime sugar (pictured) is exactly what I want for every Memorial Day gathering. If you're looking for a boozy option, check out How Sweet Eat's mojito watermelon wedges or Creative Culinary's margarita watermelon slices.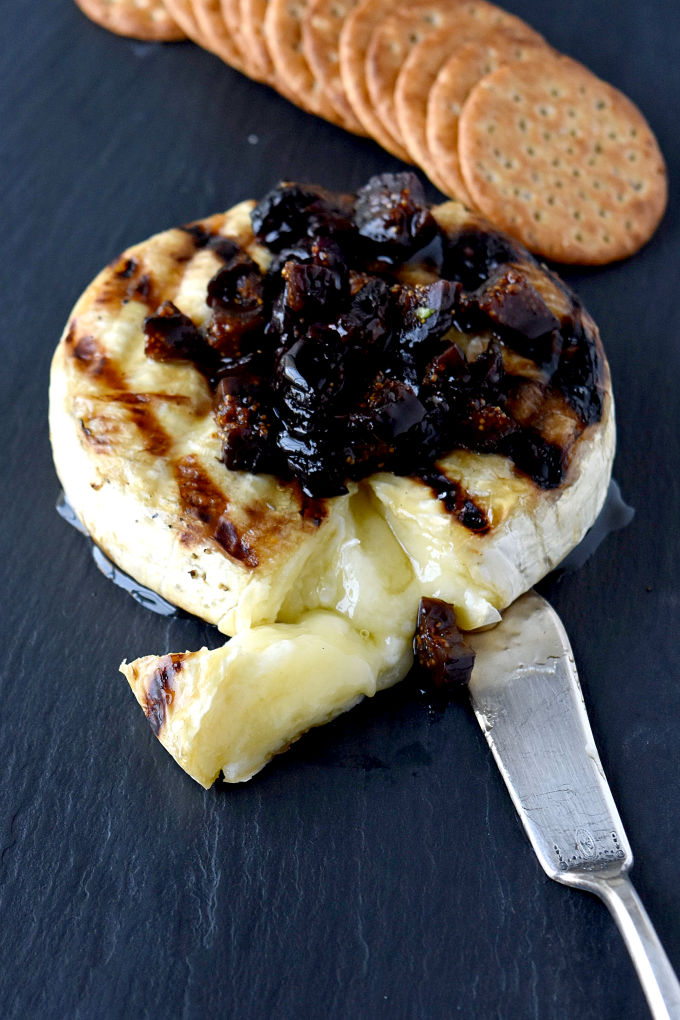 39. Barbecue brie
A Kitchen Hoor's Adventures' barbecue brie takes the concept of baked brie to a whole new level, giving it the depth of flavor that you only get with a grill. You can top it with a combination of honey, nuts, and fruit and serve it with crackers.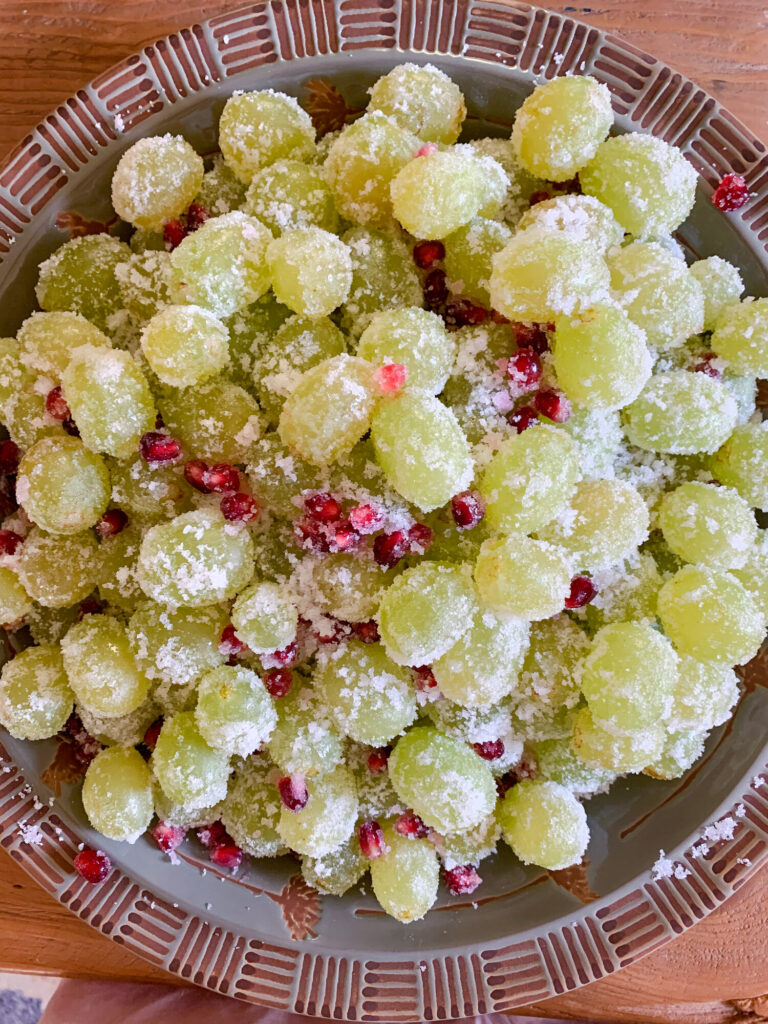 40. Prosecco grapes
Wildflowers & Fresh Food's prosecco grapes are delicious and so pretty. Make sure to start them a full 24 hours in advance, so the grapes have plenty of time to absorb the prosecco or other sparkling drink.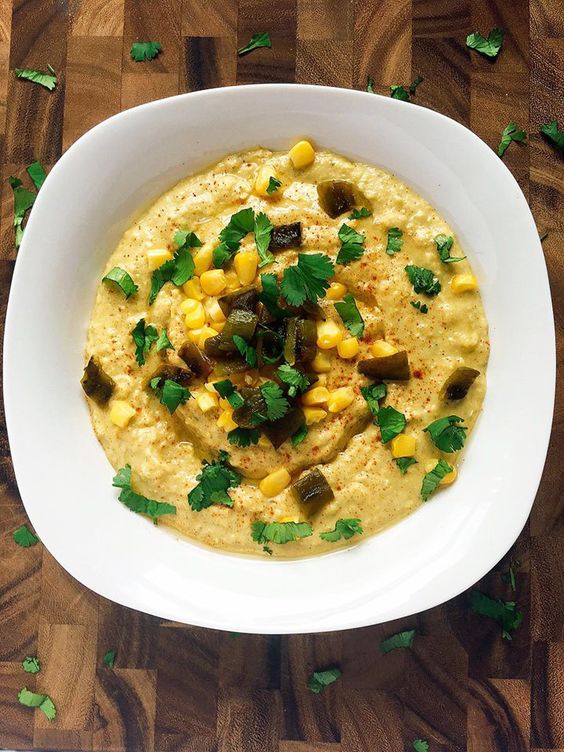 41. Sweet corn hummus
I can't believe that I never thought of putting corn in hummus. Once you've made Three Olives Branch's roasted poblano sweet corn hummus, it will be on repeat on all summer long.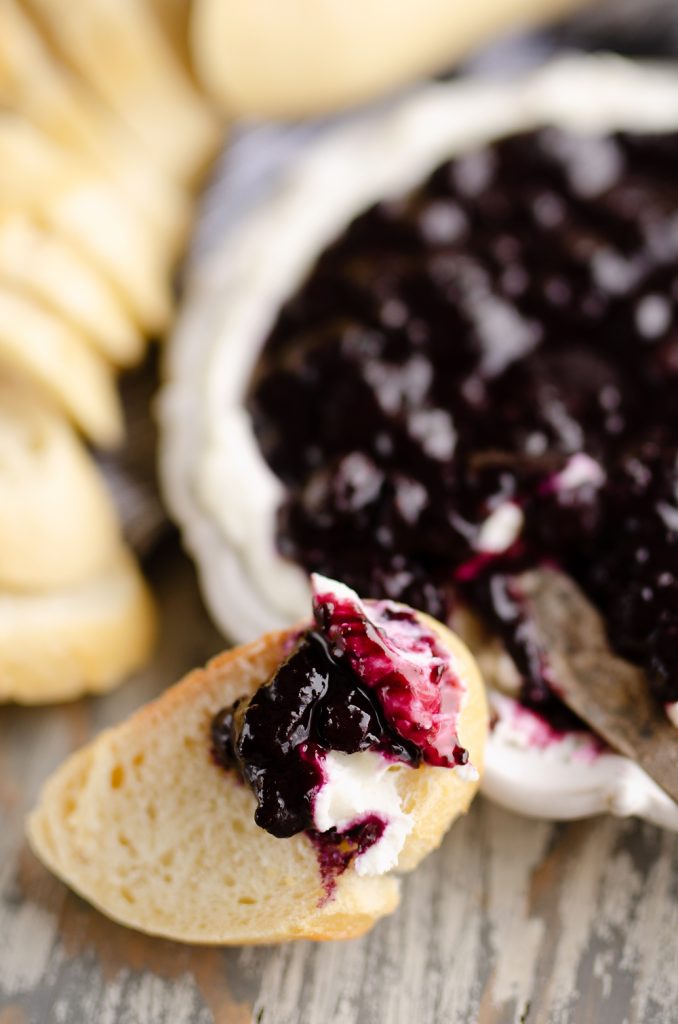 42. Blueberry balsamic goat cheese
I make salads all the time that include blueberry, balsamic vinegar, and goat cheese. This combination of ingredients makes for such a nice mix of sweet, tart, and creamy. If you're a fan of the Montchevre blueberry vanilla goat cheese, you have to try The Creative Bite's blueberry balsamic goat cheese appetizer.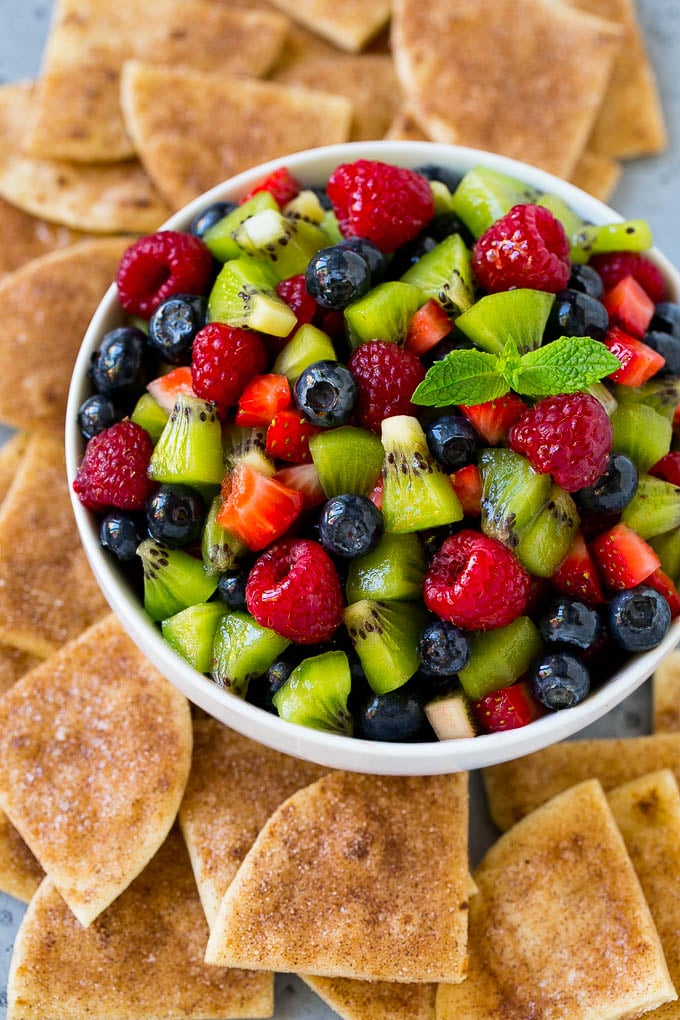 43. Fruit salsa with cinnamon chips
Dinner at the Zoo's fruit salsa with cinnamon chips is such a classic and with good reason. Make sure to chop up the fruit into small pieces for scooping up with chips and make time to prepare the cinnamon chips because they will take this dish over the top.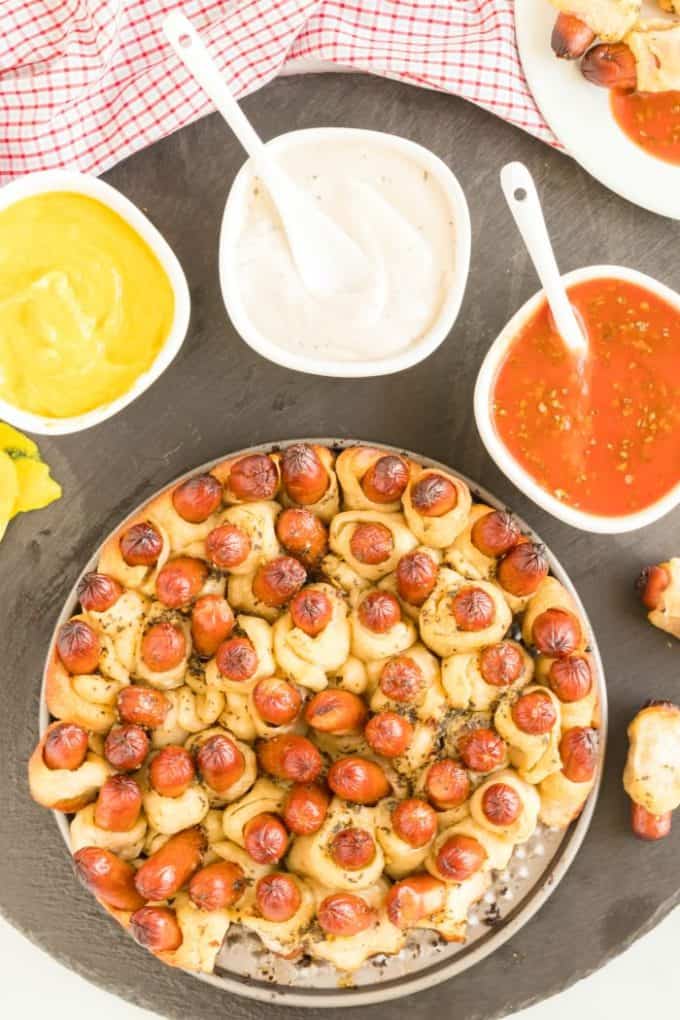 44. Pull apart pigs in a blanket
Pull apart pigs in a blanket is such a fun twist on the ever-popular pigs in a blanket. I love that the Princess Pinky Girl serves her pull-apart pigs in a blanket with three different dipping sauces – mustard, Ranch, and marinara.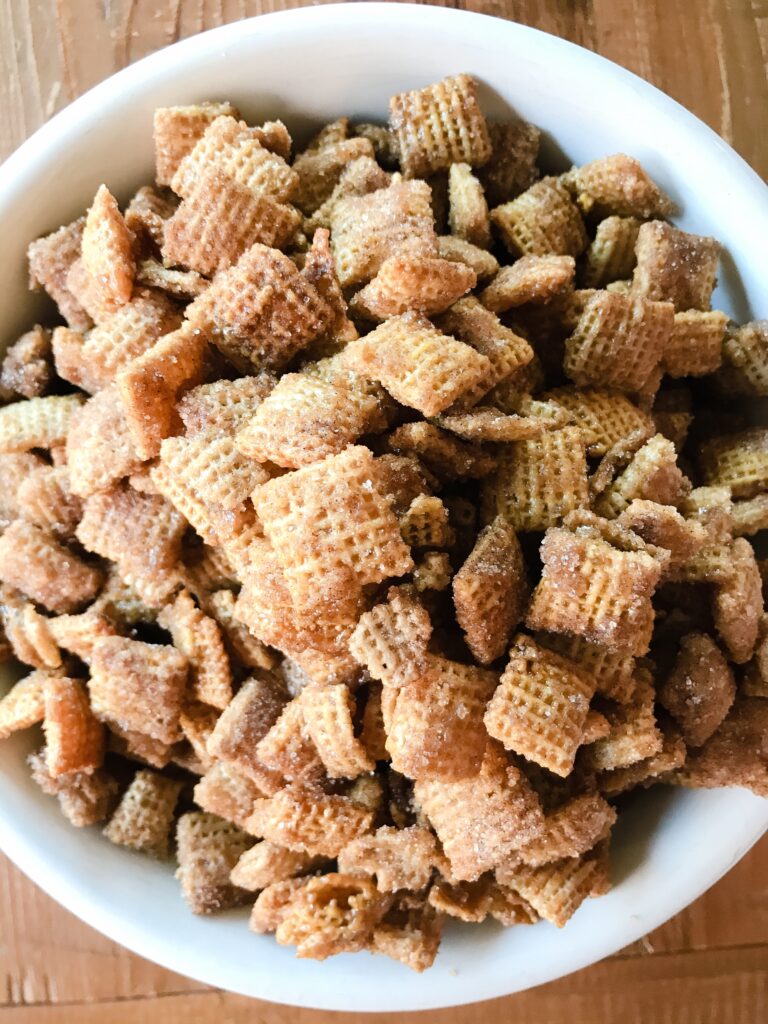 45. Churro Chex mix
Did anyone else live for going to baseball games as a kid because it meant getting a churro? Between baseball games and state fairs, I know that I'm not the only one that associates churros with summer. Family Fresh Meal's churro Chex mix is like an elevated puppy chow. Stickers and Stiletto's caramel churro Chex mix (pictured) and Something Swanky's white chocolate churro Chex mix are fabulous, too.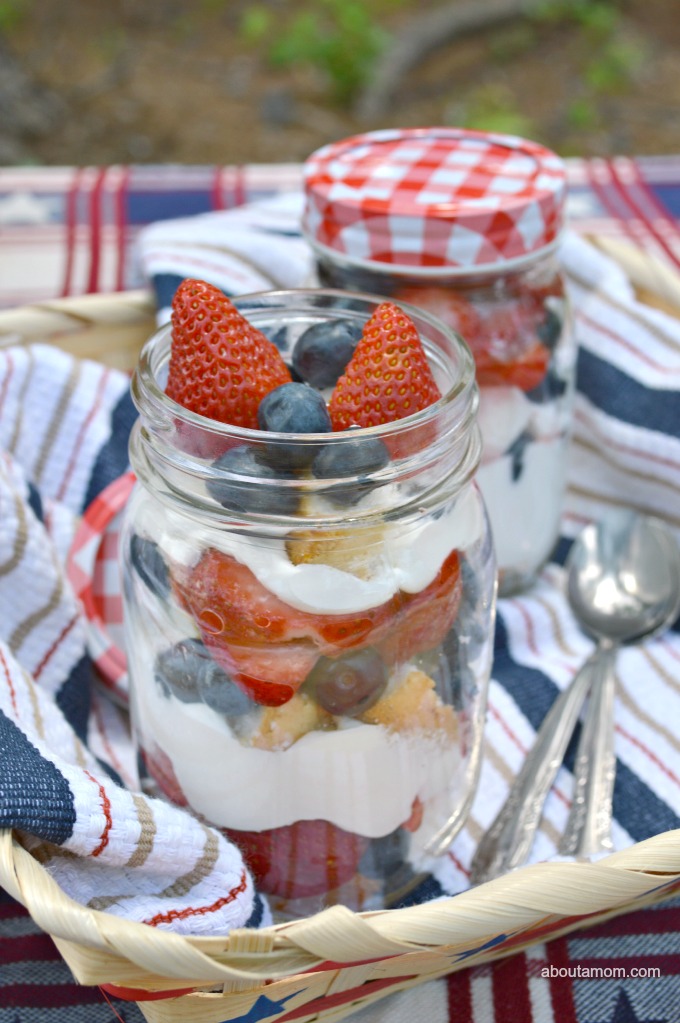 46. Individual patriotic trifles
Prepared angel food cake and Cool Whip makes About a Mom's patriotic berry trifles come together so quickly. Pound cake and whipped cream work well, too.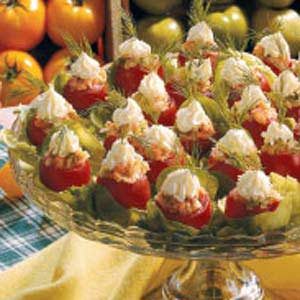 47. Smoked salmon cherry tomatoes
I have had smoked salmon bruschetta at a couple of different restaurants now, and it's one of the best things ever. Taste of Home's smoked salmon cherry tomatoes takes this concept and makes it even cuter for party platters. Of course, you can make full smoked salmon bruschetta as well.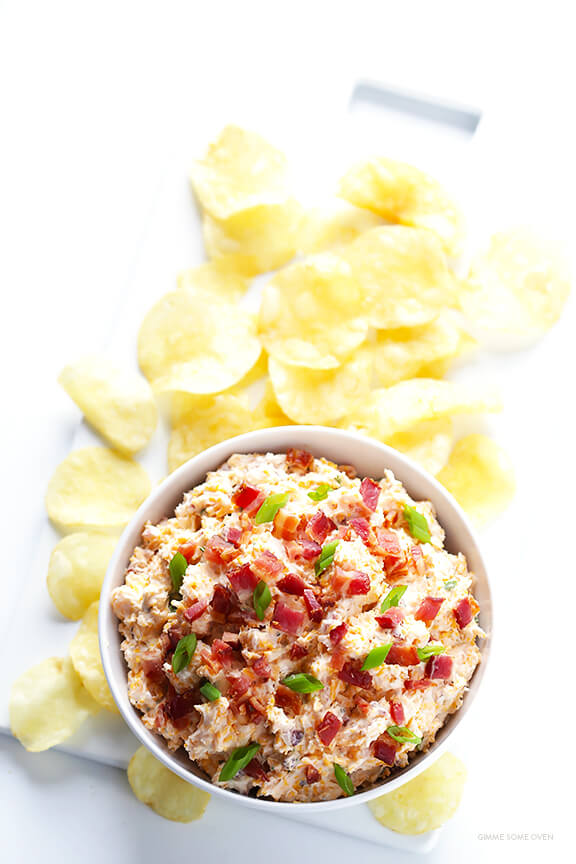 48. Cheddar bacon Ranch dip
A party is the perfect excuse to make an indulgent dish that you know you don't want to eat all by yourself. Gimme Some Oven's cheddar bacon Ranch dip fits this bill exactly. You can't go wrong with such a classic ingredient list.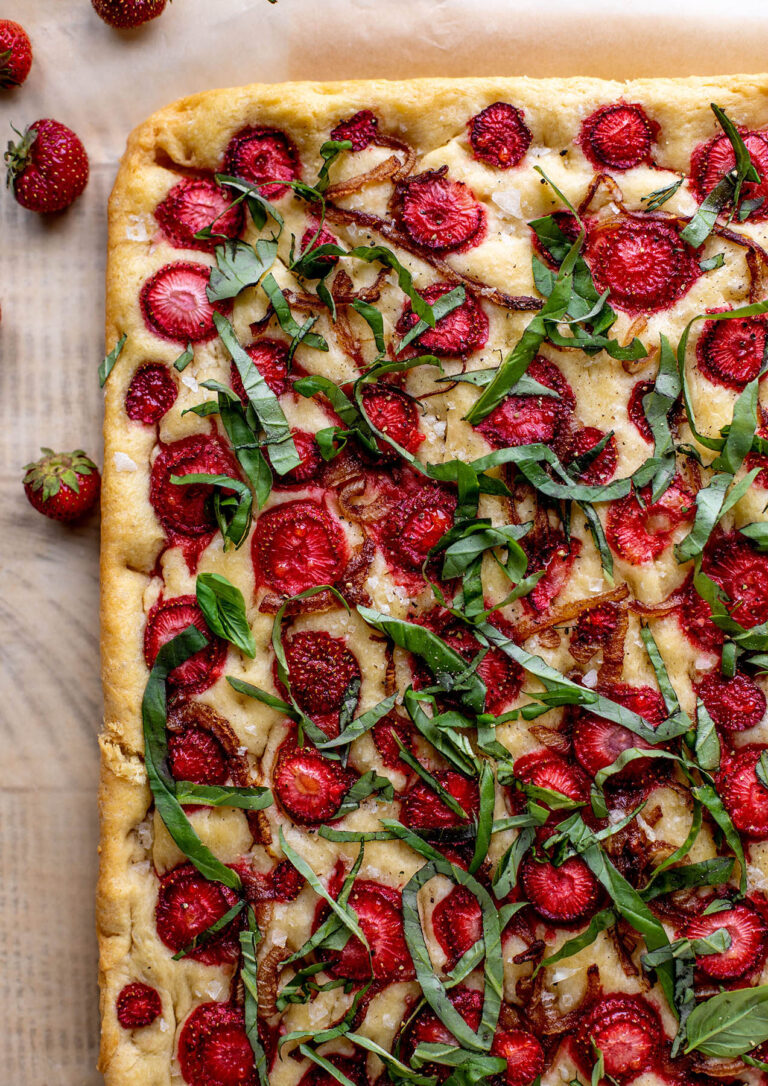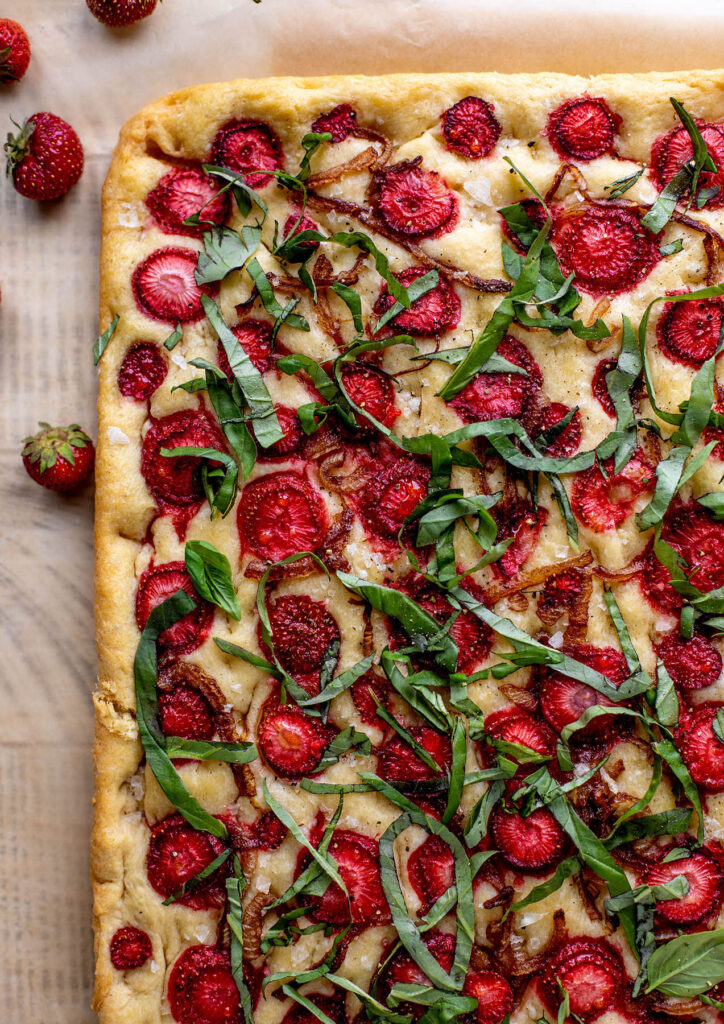 49. Strawberry basil focaccia bread
How Sweet Eats' strawberry basil focaccia bread is another recipe just made for entertaining. I don't necessarily want to eat a ton of it by myself, but people will be intrigued to try this fun summer twist on focaccia bread.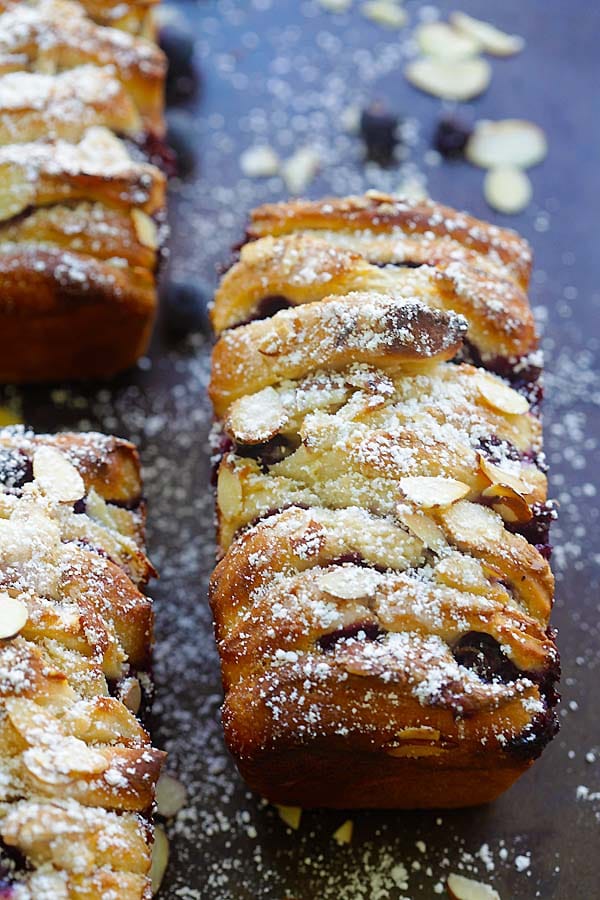 50. Blueberry cream cheese pull-apart bread
Rasa Malaysia's blueberry cream cheese pull-apart bread is perfect for pretty much anything – breakfast, brunch, snacks, desserts, etc. A lot of blueberry pull-apart bread recipes feature lemon prominently. I love that this recipe includes just a little lemon zest.
Did you make one or more of the Memorial Day finger foods recipes in this post?

I want to see it! Tag your images #RoseClearfield on Instagram or Twitter or post a photo to my Facebook page. Make sure to tag the original recipe creator as well!
Pin this post for easy access to the Memorial Day finger foods recipes later!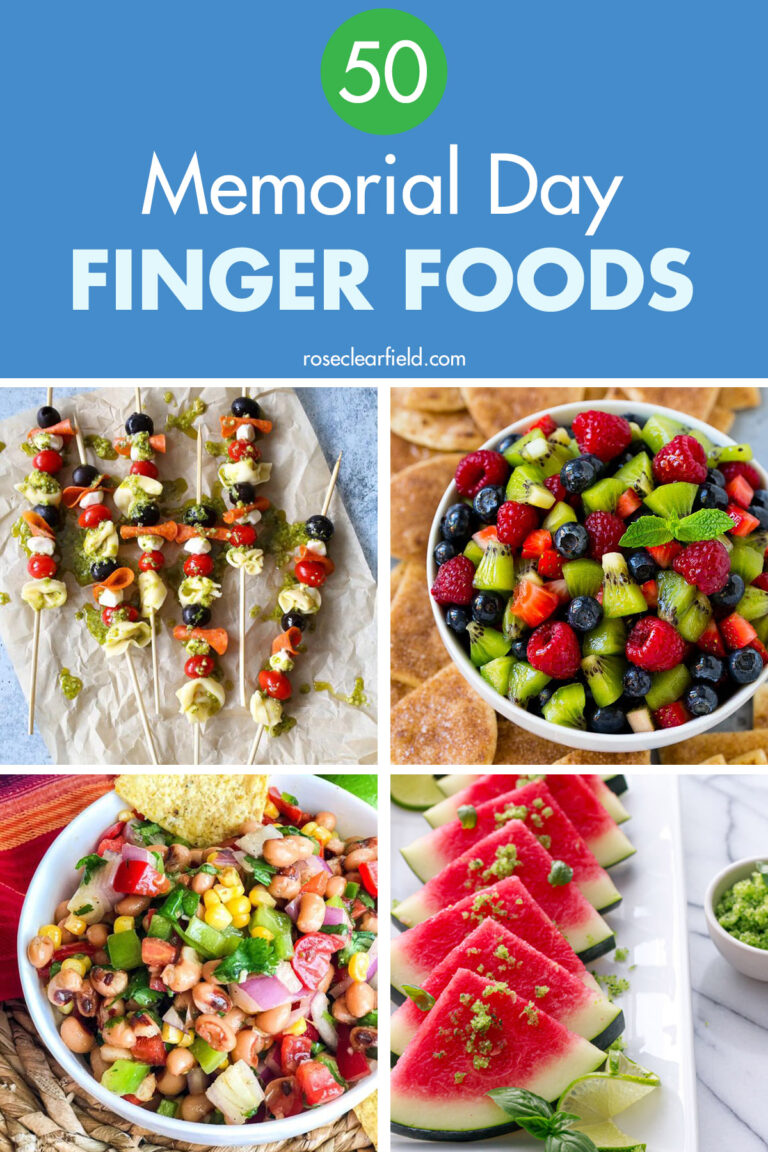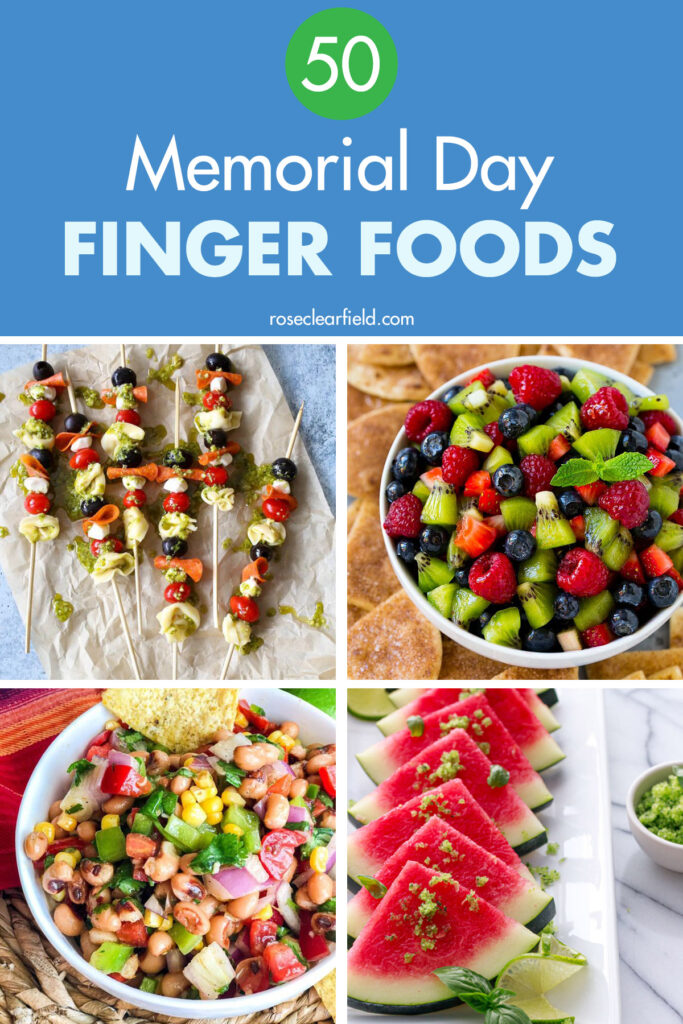 More summer recipe inspiration: