Vintage agricultural almanac pages are perfect for creating one-of-a-kind farmhouse decor wall art as well as other home decorating projects, decoupage, greeting cards, art/junk journals, scrapbooking, and much more.
It's not a secret that I love the aesthetic of vintage book pages. I've created printables of French primer book pages and algebra textbook pages. Now I'm bringing you vintage agricultural almanac pages.
I made this set of vintage agricultural almanac pages from four farmers' almanacs from the 1930s and 1940s. Using multiple almanacs allows me to pick and choose pages in the best condition and bring you a greater variety of pages. For example, not every almanac has a vegetable planting table and a fishing calendar. Enjoy!
A little background about agricultural almanacs
The earliest agricultural almanacs date back to the late 1700s. More commonly referred to as farmers' almanacs, the books offer a mix of weather predictions, fun facts, and humor as well as advice on cooking, gardening, conservation, fishing, and other related topics.
The predictions for each edition of a farmers' almanac are made up to two years in advance. There are a number of factors that go into these predictions including sunspot activity, planetary position, and tidal action.
While long-term readers of farmers' almanacs claim as high as 80-85% accuracy for the weather predictions, more scientific studies show closer to 50% accuracy.
How to use vintage book pages
Most likely, if you're looking for vintage book pages and illustrations to print, you already have a plan to create wall art, home decor, or a craft project. If you're searching for inspiration or just looking for more ideas, think about one or more of the following DIY projects.
DIY wall art. One of the most popular ways to use vintage book pages is to create unique, whimsical wall art. Agricultural almanac pages are just perfect for farmhouse decor. I think that book pages make wonderful decor all on their own for living rooms, offices, kitchens, and more. You can also overlay virtually any PNG or transparent background image onto a vintage book page to create one-of-a-kind wall decor.
Bottle cap or glass magnets, using the technique that I developed for my sheet music glass magnets. You can see examples and more details about bottle cap magnets in my Valentine's Day dictionary page magnets tutorial.
Greeting cards. Old book pages make gorgeous backgrounds for a wide range of homemade greeting cards. Hand-drawn illustrations also make neat backgrounds or decorative components.
Tile coasters, using the technique that I perfected for my vintage sheet music botanical coasters. You can leave your agricultural almanac pages as is or overlay them with images for coaster designs.
Art journals or mixed media projects. Vintage book pages are great elements to layer with paint, ink, stamps, and more for art/junk journal pages and mixed media art pieces.
Scrapbooking. Old book pages make whimsical backgrounds for both physical and digital scrapbooks. They're perfect for DIY scrapbook embellishments as well.
About the vintage agricultural almanac pages
The free vintage agricultural almanac pages are for personal use only. You may download and print them as many times as you like, including for classroom use. Please don't distribute the download files. If friends, family, or co-workers are interested in their own book pages, please direct them to this post where they can download their own files. Thank you!
I have three sizes available for each almanac page: original ratio, 8×10, and 8×10 with a white border. The original ratio pages are exactly as I scanned them. They give you the most creative control for wall art and DIY projects.
The 8×10 formats are intended for wall art. I know that most people looking for vintage book pages to hang at home or work want 8×10 size. Depending on the aesthetic you're trying to achieve and the frame you're using, you may prefer the page with or without a white border.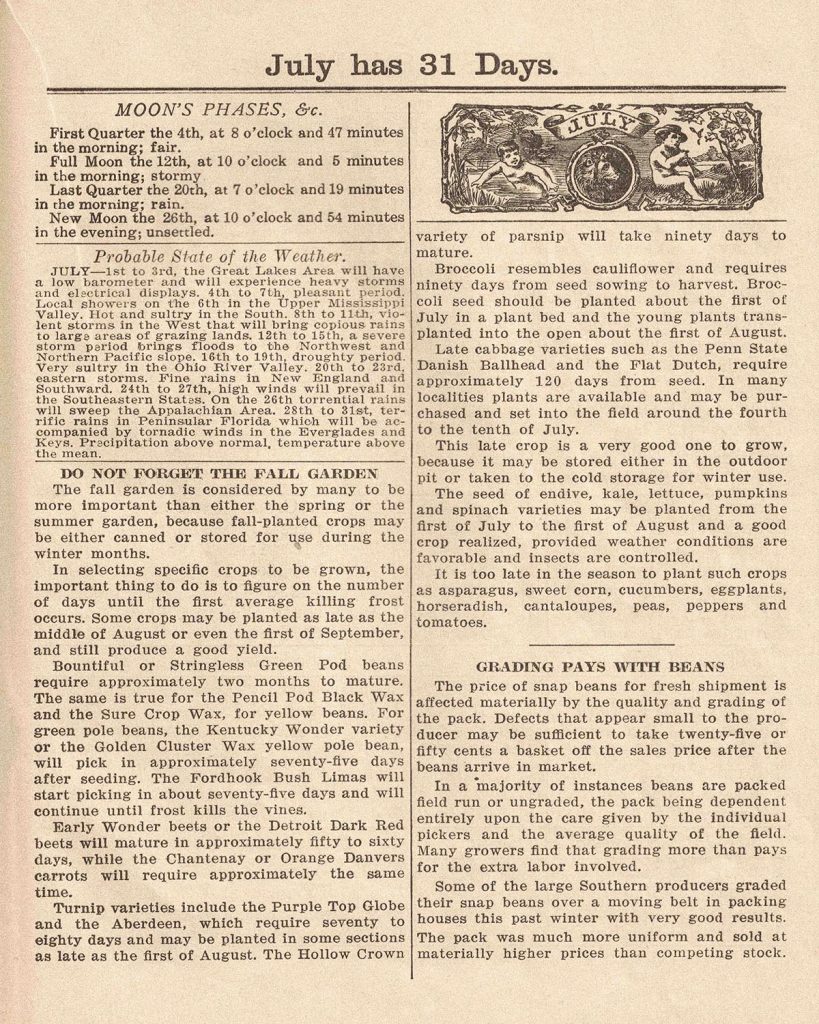 Free vintage agricultural almanac pages
Each agricultural almanac includes a full calendar section with two pages for each month. The first page has the calendar itself, broken up into weeks. It lists the day's length for each Sunday of the month. Under each day, it lists remarkable days, the sun and moon rise and set times and positions, and other notable information, such as the highest moonrise of the year.
The second calendar page (what I'm calling the "month info" page) always includes the moon's phases and often a paragraph or two about the probable state of the weather for the month. The rest of the page is devoted to seasonal information, such as planning your winter feeding, the right way to sell milk, and moving peonies in the fall.
I've included every single month for both sets of calendar pages. I know that people will want specific months for birthdays, anniversaries, etc.
One of the agricultural almanacs I used was from a leap year, so I included an extra set of February pages with the 29-day calendar.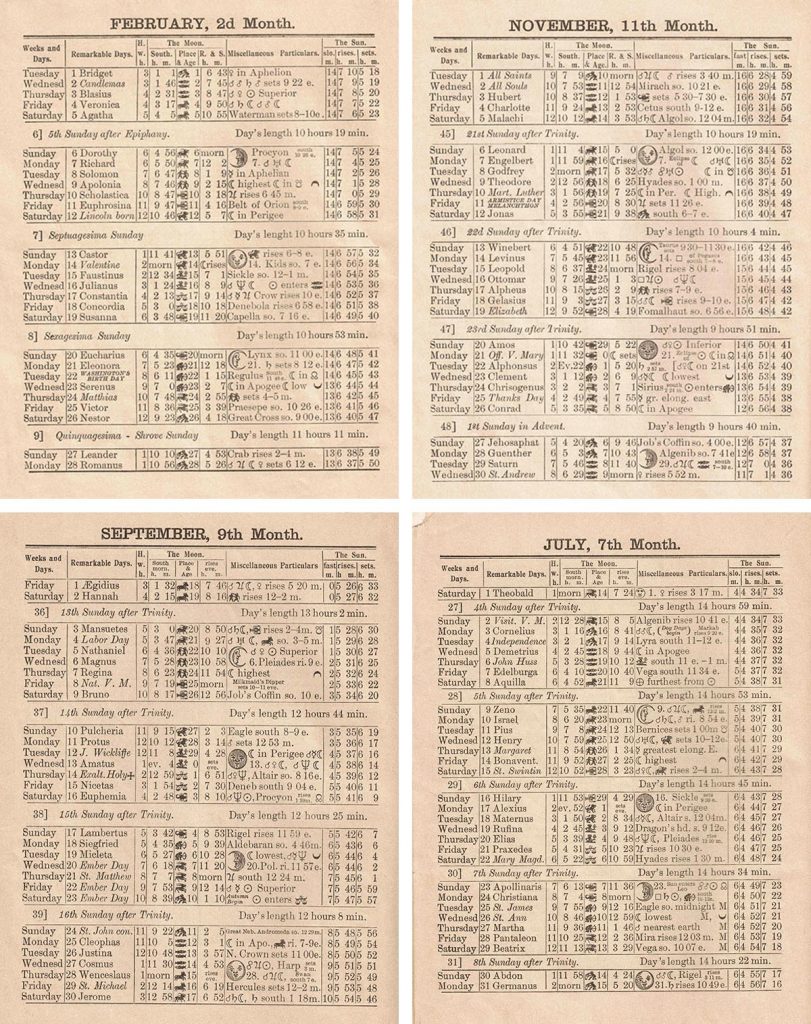 Calendar pages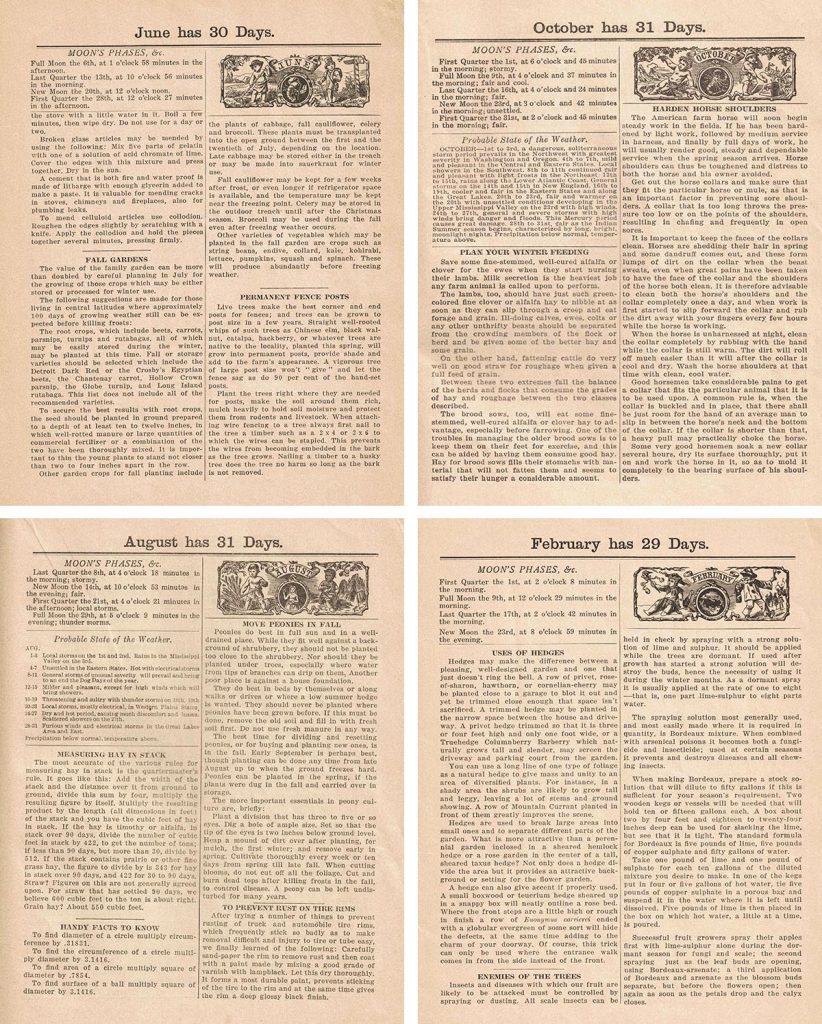 Month info pages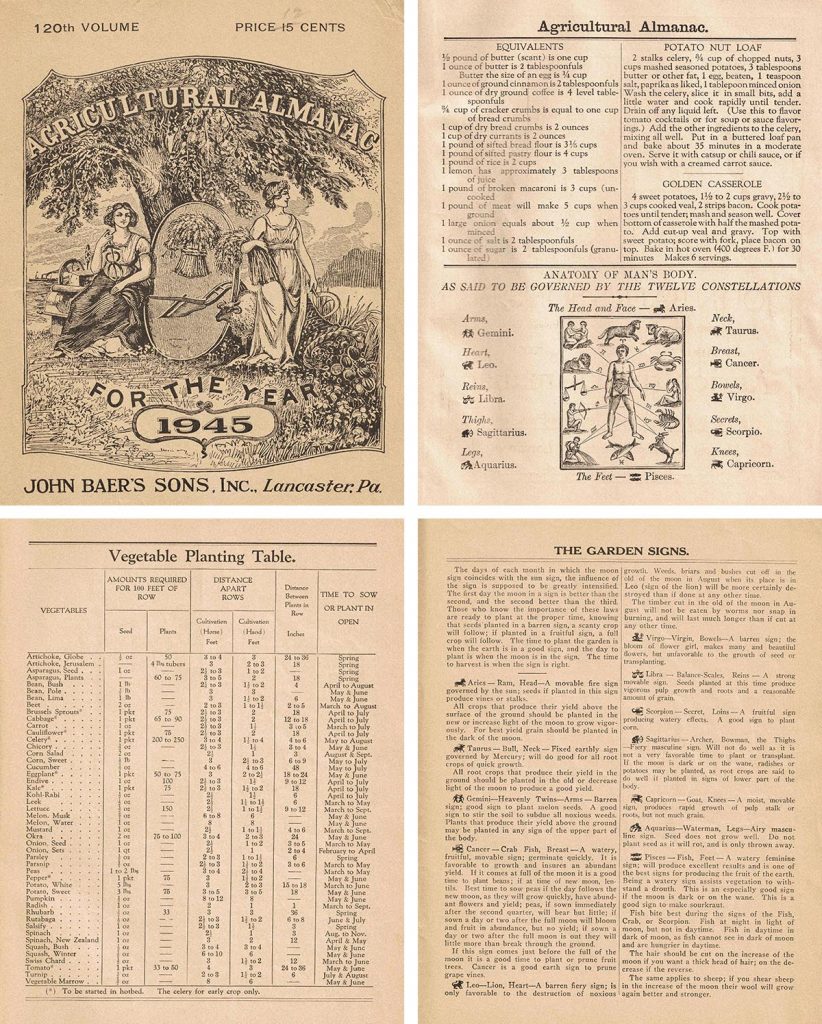 Front cover
The front cover of the almanac with a beautiful hand-drawn illustration with the title and year as well as the publication volume, price, and publisher name and location.
Original ratio | 8×10 | 8×10 with border
Inside front cover
The inside front cover of each almanac features the eclipses for the year ahead and an excerpt from the "Centennial Almanac" for that year.
Original ratio | 8×10 | 8×10 with border
Inside title page
The interior title page for the almanac, which includes a brief description of what the almanac contains and information about the almanac publisher.
Original ratio | 8×10 | 8×10 with border
How to use this almanac and understand it
A single-page guide toward the beginning of the almanac about how to use it, including what the various abbreviations used throughout the almanac mean.
Original ratio | 8×10 | 8×10 with border
Moveable feasts and chronological cycles
The moveable feasts and chronological cycles page has the dates for all of the notable days in the year that aren't on the same date from one year to the next, such as Easter and Mother's Day. The page also has sections for characters of the constellations (aka astrological signs), astronomical characters explained, and planets and aspects.
Original ratio | 8×10 | 8×10 with border
Wright's fishing calendar
Fishing condition predictions for the year ahead with a rating and optimal time of day for every single day of the year. It also includes the best average months for fishing.
Original ratio | 8×10 | 8×10 with border
Vegetable planting table
A guide for planting more than four dozen vegetables with recommendations for the quantity per row, distance between rows and between plants in rows, and best time to sow or plant.
Original ratio | 8×10 | 8×10 with border
The garden signs
Gardening advice for the year ahead based on your astrological sign.
Original ratio | 8×10 | 8×10 with border
Probable state of the weather
Probable state of the weather predictions broken into three-day segments for the entire year ahead.
Original ratio | 8×10 | 8×10 with border
Back pages
The last few pages of the agricultural almanac vary a bit from one year to the next. Among other topics, they often include recipes, jokes, and possibly, best of all, anatomy of a man's body as said to be governed by the 12 constellations, which includes a great hand-drawn illustration with all of the astrological symbols (available in back page #4).
#1 Back page – Original ratio | 8×10 | 8×10 with border
#2 Back page – Original ratio | 8×10 | 8×10 with border
#3 Back page – Original ratio | 8×10 | 8×10 with border
#4 Back page – Original ratio | 8×10 | 8×10 with border
Back cover
The back cover of the almanac features a condensed calendar for the year and information about the almanac publisher.
Original ratio | 8×10 | 8×10 with border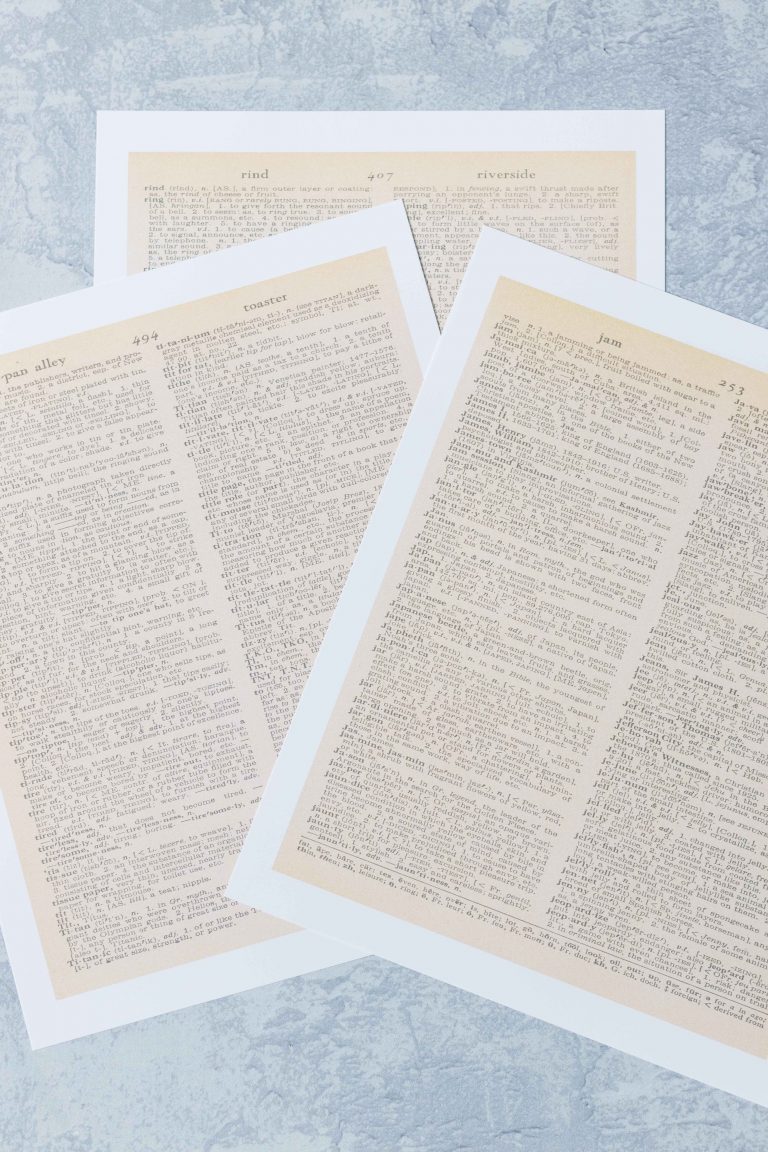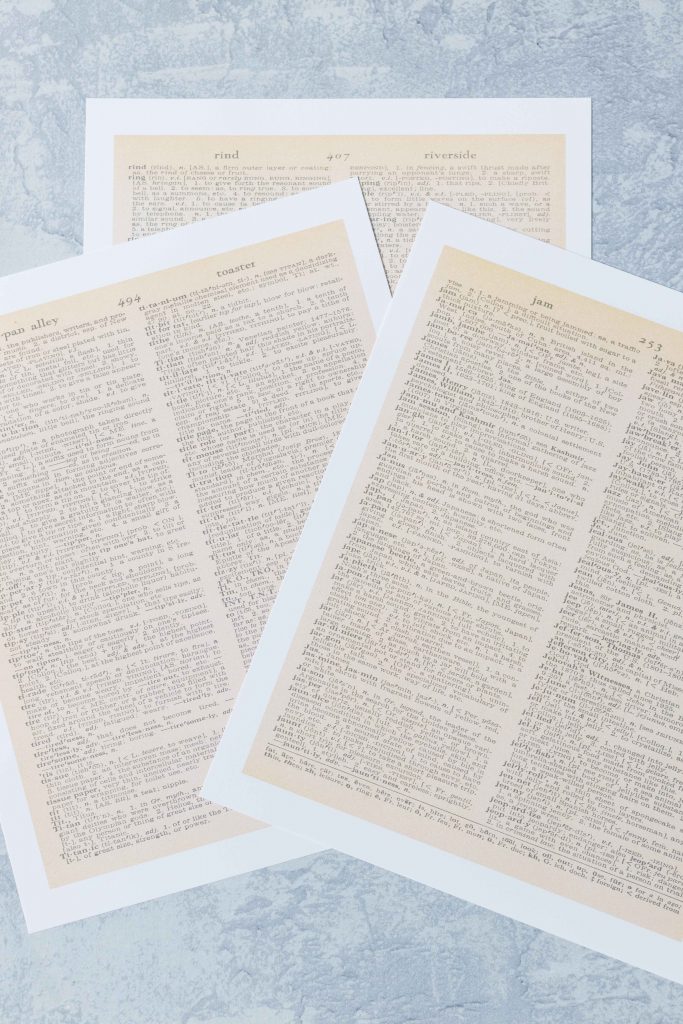 Printing vintage agricultural almanac pages
My personal paper preference for printing vintage book pages to create wall art is Finestra Art paper, which is what I used to print the vintage dictionary pages featured above. The matte, acid-free surface dries ink immediately, producing crisp, vivid prints. Regular printer paper, card stock, and presentation paper do work. However, the results they produce aren't as good. It's worth spending more money to get paper that will create frame-worthy vintage book page decor.
For all other DIY and craft projects, I use white card stock. When you're using book pages and illustrations for greeting cards, scrapbook embellishments, and mixed media art, it's not important that the pages look quite so vibrant. For magnets and tile coasters, you won't be able to tell the difference under multiple coats of Mod Podge or diamond glaze. Depending on the specific project, you may even prefer a darker, rougher aesthetic to play up the vintage look.
[Disclaimer: There are a few affiliate links in this post. Thanks for your support!]
How are you using the vintage agricultural almanac pages?

I want to see your wall art and DIY projects! Tag your images #RoseClearfield on Instagram or Twitter or post a photo to my Facebook page.
Pin this post for easy access to the vintage agricultural almanac pages later!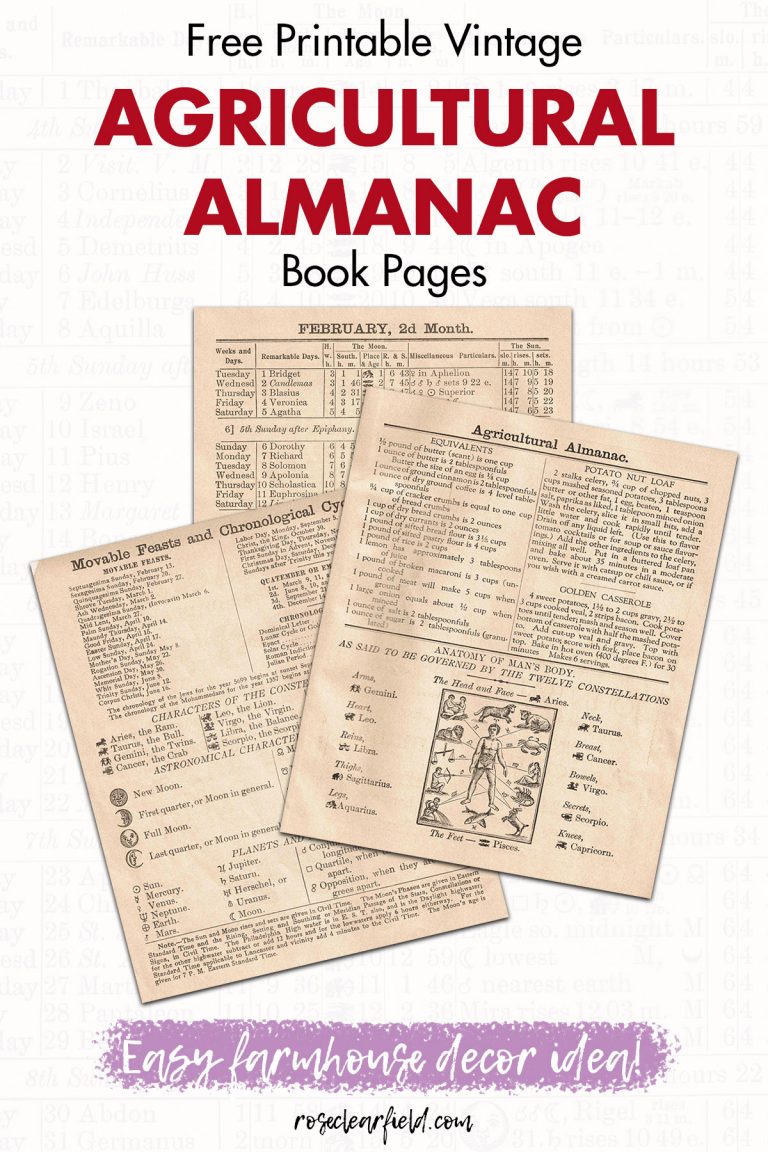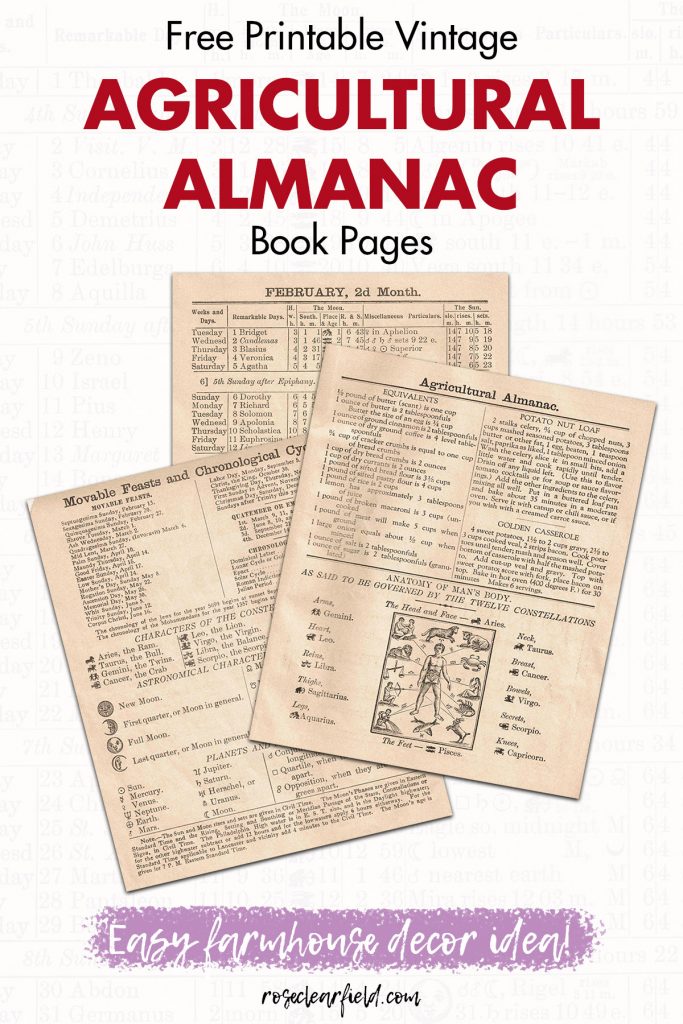 More free vintage book printables: