I've rounded up 50 healthy Thanksgiving side dishes to balance out the holiday feast and avoid piling on too many calories.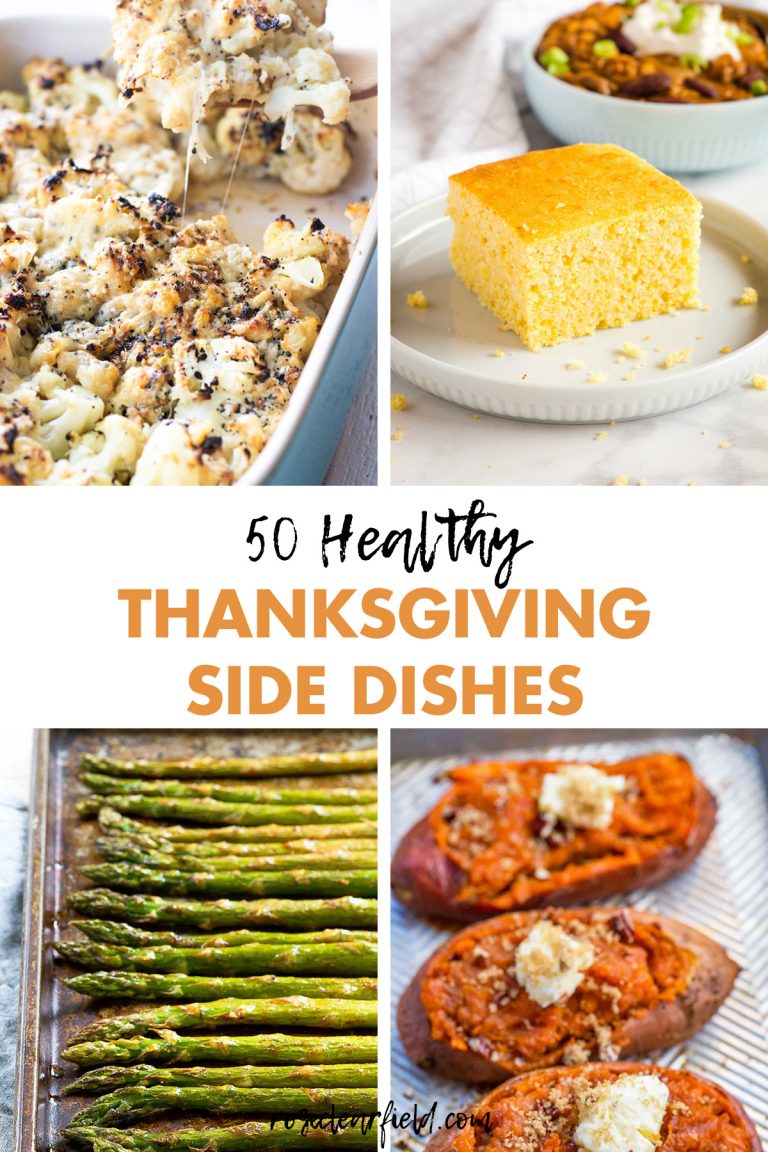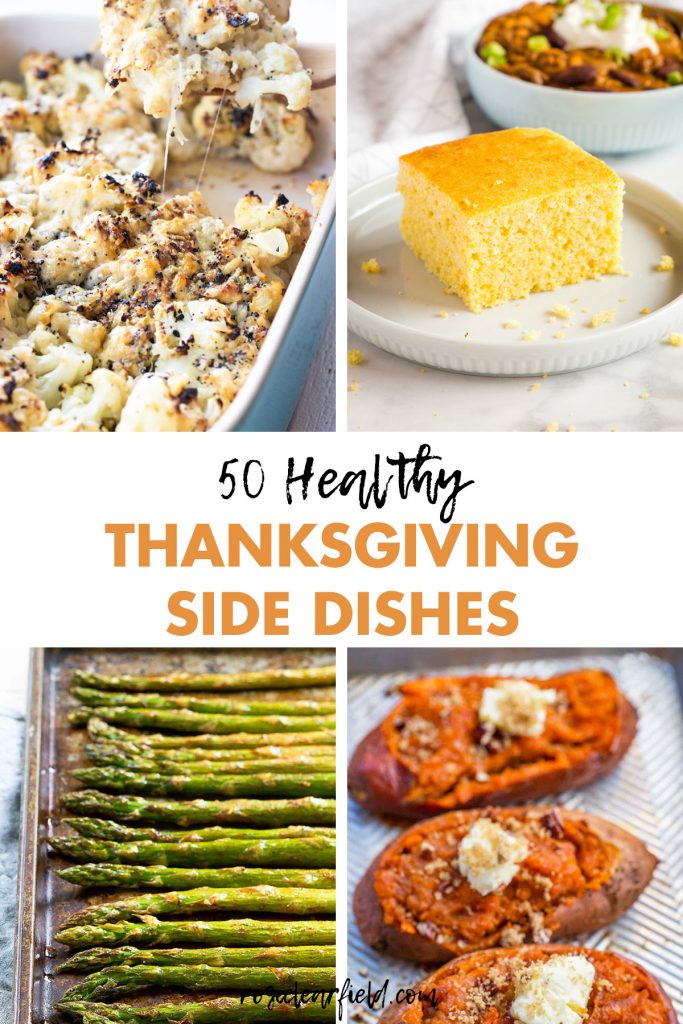 Don't get me wrong. I'm all about the 100% indulgent Thanksgiving foods and making the most of the food aspect of the holiday. We love to eat pumpkin pie for breakfast the morning after Thanksgiving.
But I'm also all about indulging where it counts the most for me (namely buttery crescent rolls and pumpkin pie) and lightening up other holiday recipes, which means making a few healthy Thanksgiving side dishes. It's all about balance, right?
I've included all of my favorite healthy Thanksgiving side dishes that I routinely make for Thanksgiving as well as other major holidays. And I've included a generous selection of additional Thanksgiving sides with something for everyone. Happy Thanksgiving!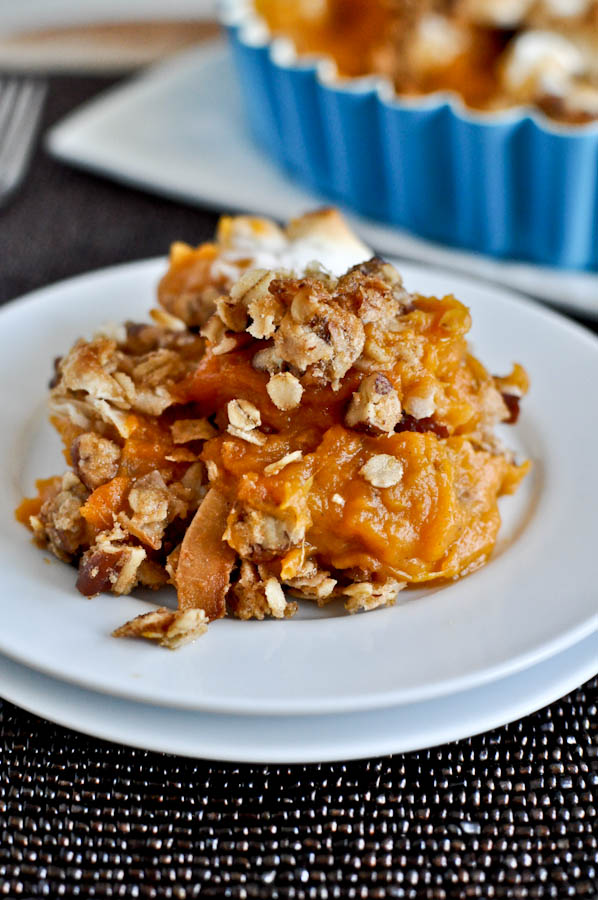 1. Lightened-up sweet potato casserole
How Sweet Eat's lightened-up sweet potato casserole is the only sweet potato recipe I make for Thanksgiving and Easter. It usually finds its way into a special menu at least one or two other times during the year as well. I'll be honest: usually, I skip the topping completely and don't miss it at all. If you want to go really healthy, ditch the marshmallows. But I reserve no judgment if you can't do without them.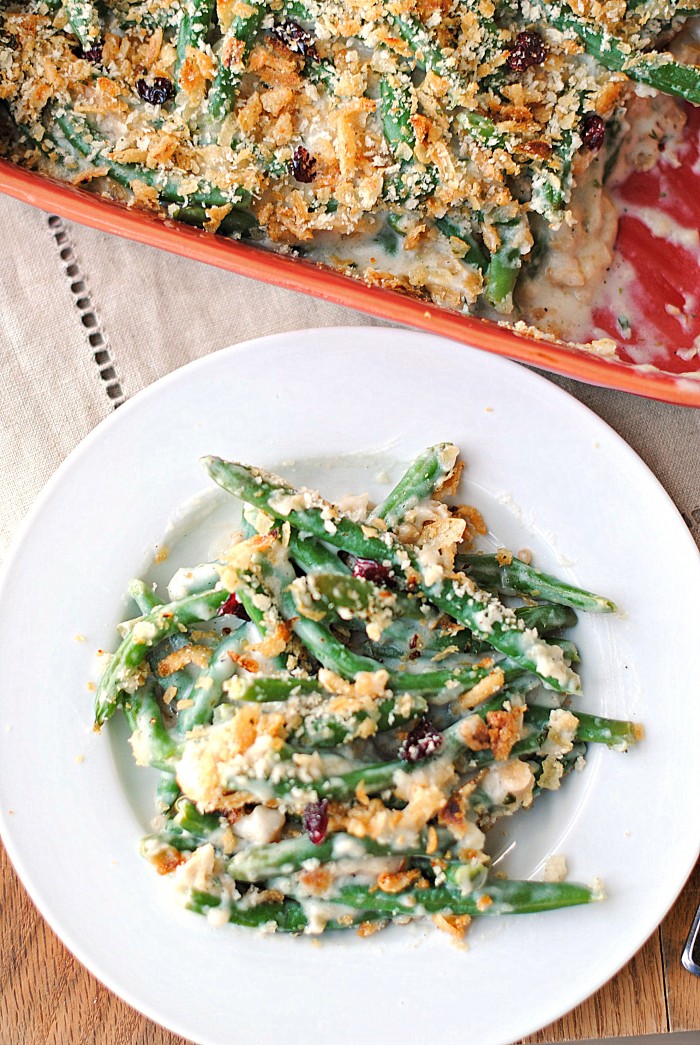 2. Lightened-up green bean casserole
Lightened-up green bean casserole may be the most highly searched healthy Thanksgiving side dish. So many people have a strong affinity for classic green bean casserole but can't justify the richness. Eat Yourself Skinny's lightened-up green bean casserole doesn't have any canned soup and includes mushrooms, and if you like, cranberries.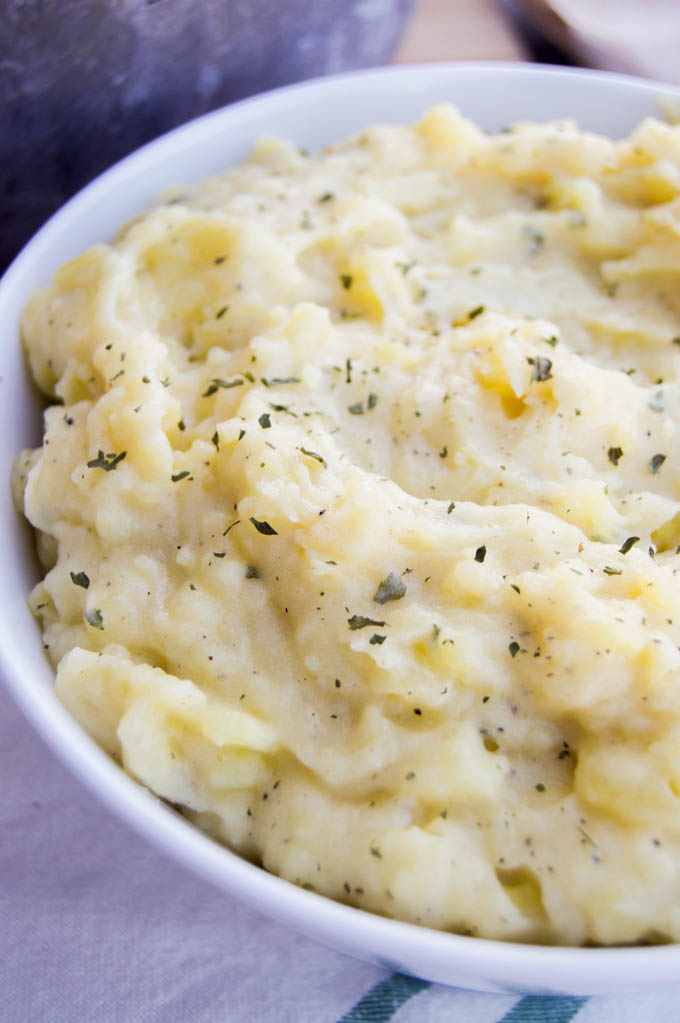 3. Healthy mashed potatoes
You can't skip mashed potatoes at Thanksgiving, even when you're striving to eat healthier. The Diary of a Real Housewife's skinny mashed potatoes get their flavor from chicken broth, Greek yogurt, and fresh or dried herbs. You won't miss the butter and sour cream at all.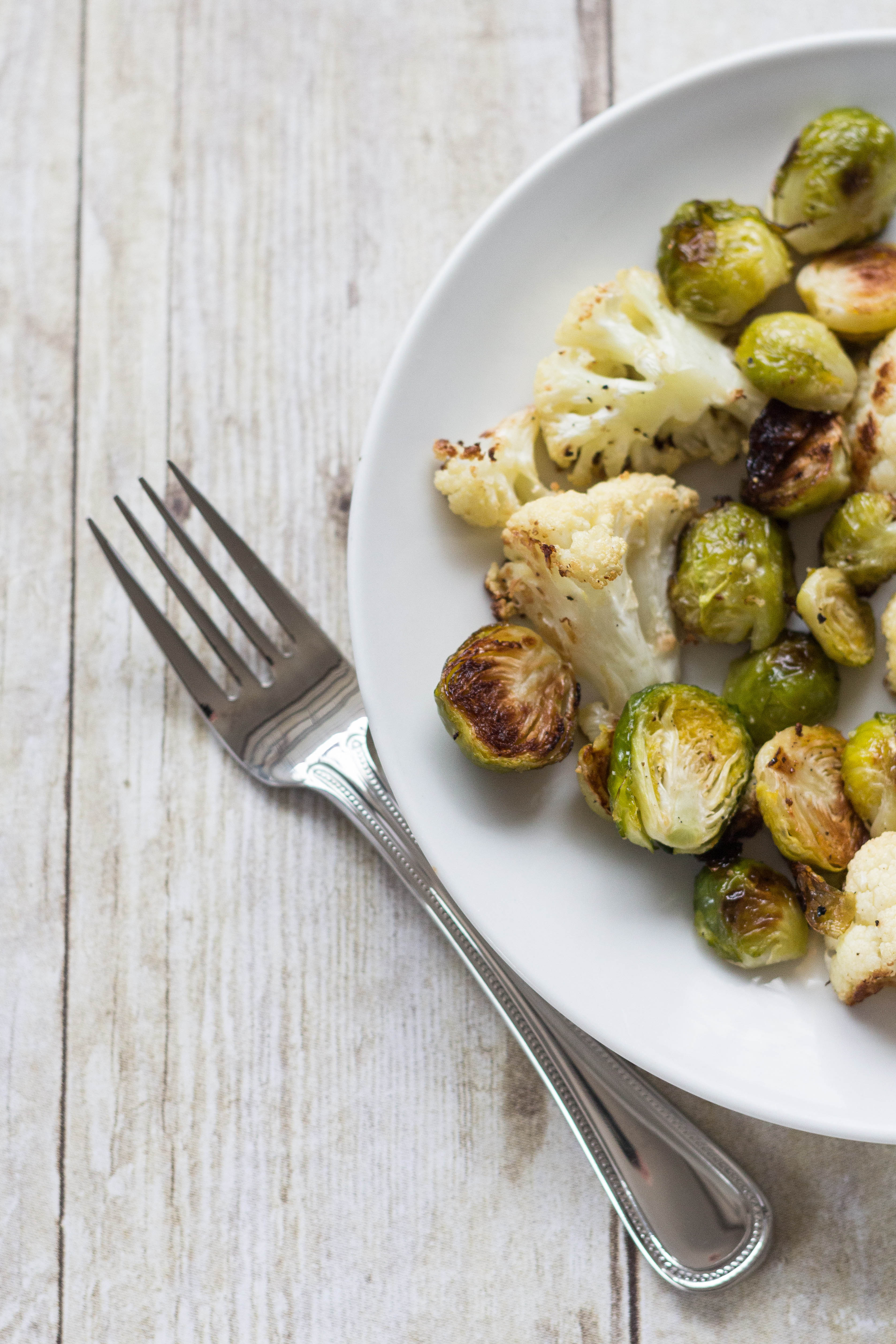 4. Roasted Brussels sprouts and cauliflower
You know that I'm all about roasted veggies. Roasted Brussels sprouts and cauliflower is the version that happened to make it on the blog as its own recipe. But you can customize this concept with other veggies, including broccoli and asparagus, which are great for Thanksgiving, too. Fresh chopped garlic and garlic powder both work well.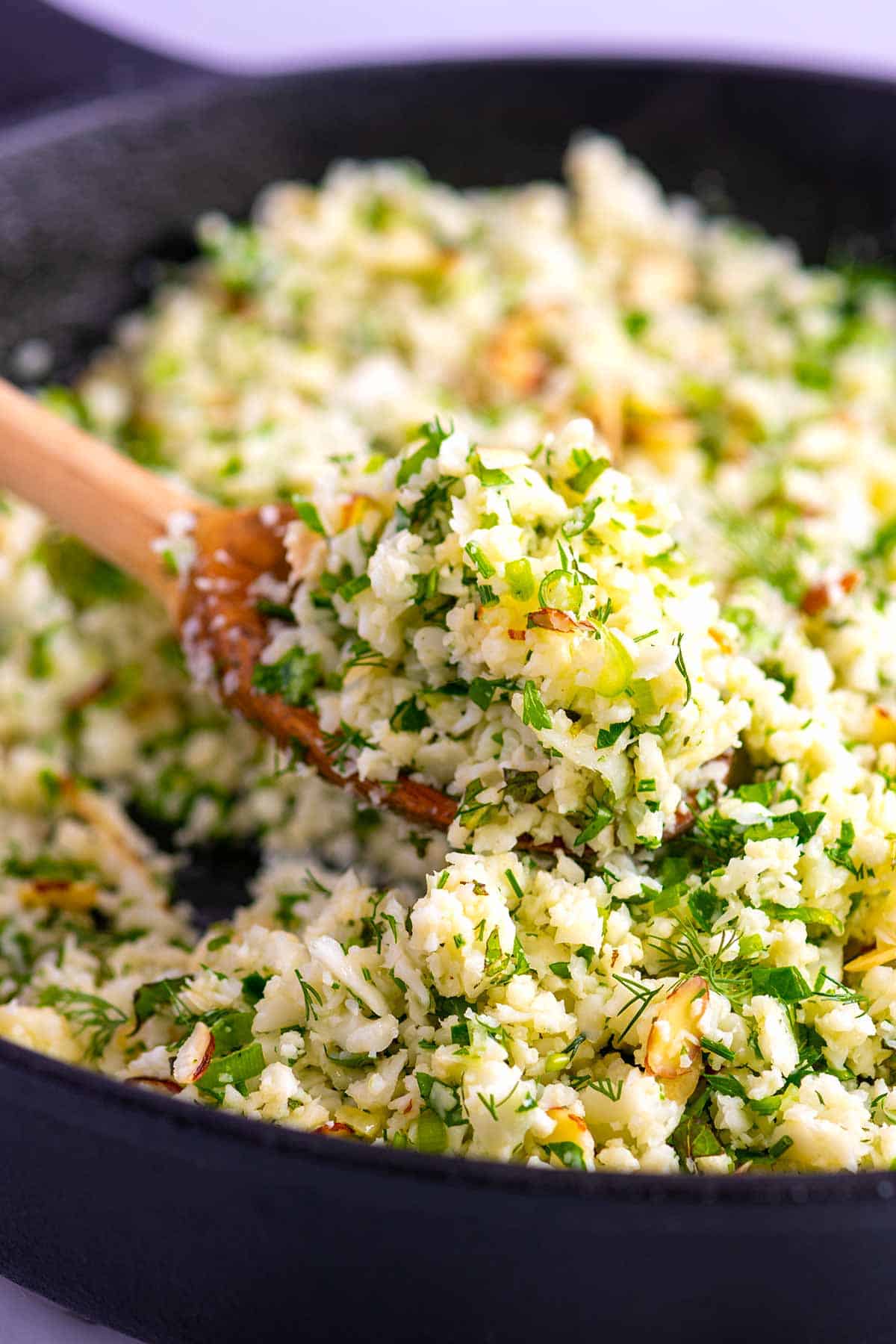 5. Garlic herb cauliflower rice
Cauliflower rice is healthy and ridiculously easy to make if you own a food processor. It's a little plain on its own, which is why you need Inspired Taste's garlic herb cauliflower rice recipe. A few simple ingredients help this recipe come together quickly and pack so much flavor.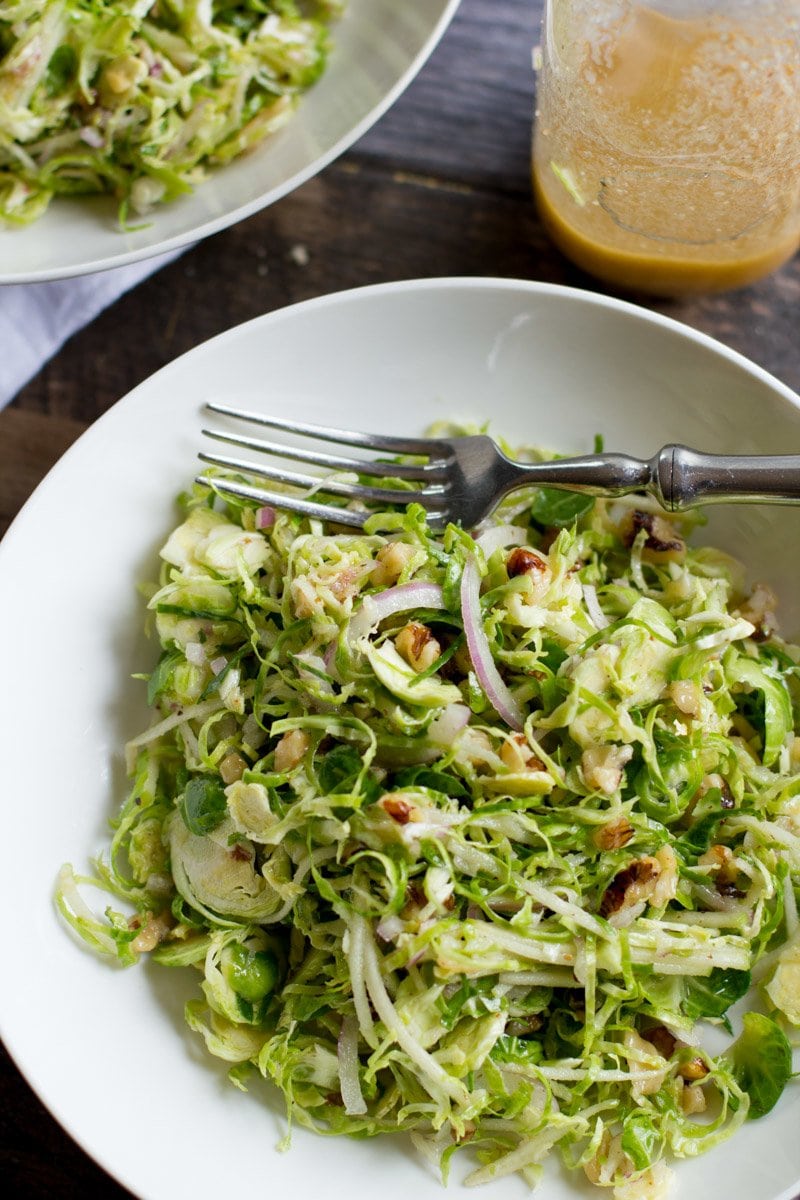 6. Brussels sprouts salad
I wanted to include a few cold healthy Thanksgiving sides. A crunchy salad makes a nice addition to a table full of warm dishes. Wholefully's shaved Brussels sprouts salad with apples and walnuts fits the bill perfectly. It's full of autumn flavor and finished with a to-die-for Dijon dressing.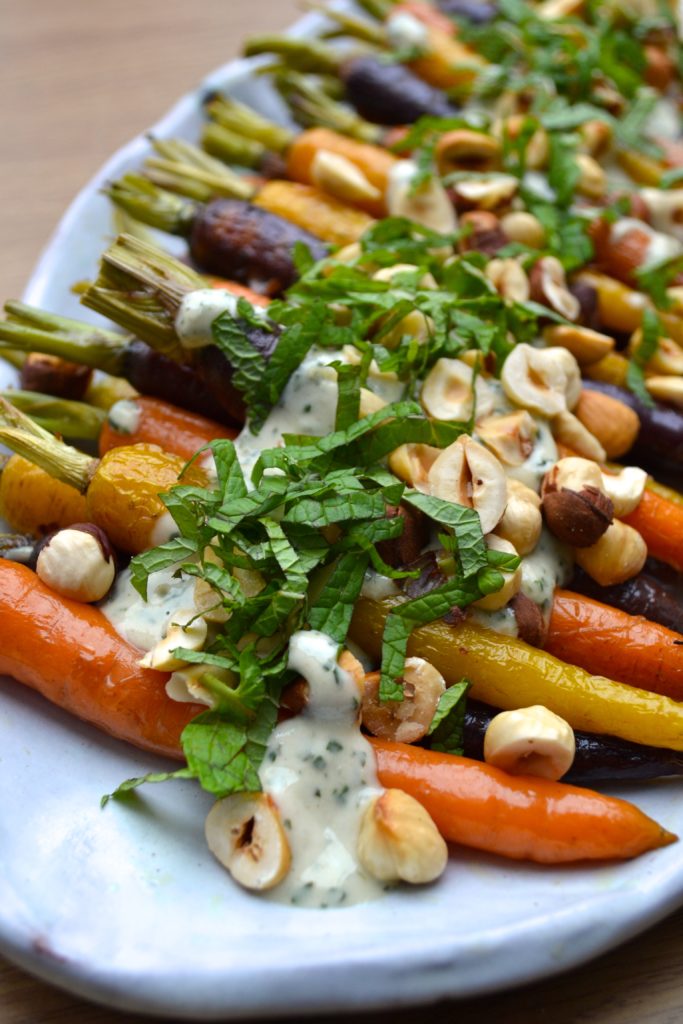 7. Roasted carrots
Roasted carrots are an easy way to mix up the roasted veggie routine with very little effort. I love Butter Your Biscuit's classic honey garlic roasted carrots and Every Last Bite's roasted carrots with mint and tahini sauce, which is what's pictured above because her presentation is beautiful. Feasting at Home's sweet and spicy roasted Moroccan carrots sound amazing, too.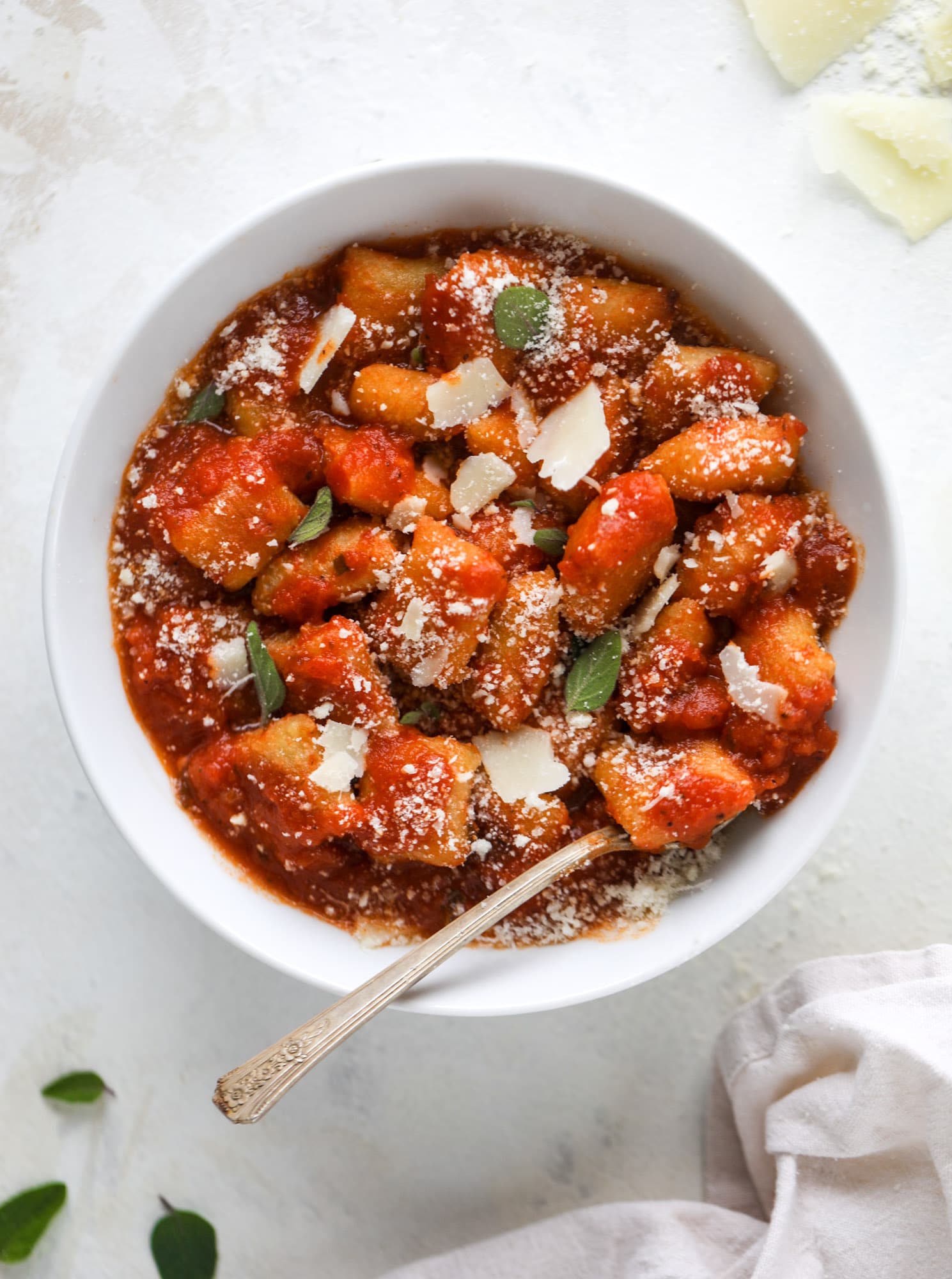 8. Cauliflower gnocchi
Yes, you can buy the Trader Joe's frozen cauliflower gnocchi. But for Thanksgiving, rise to the challenge and make gnocchi from scratch with How Sweet Eat's cauliflower gnocchi recipe. In the post, she finishes her gnocchi with tomato sauce and Parmesan, which I'm sure is delicious. But don't feel limited to that option. There are endless possibilities for serving cauliflower gnocchi.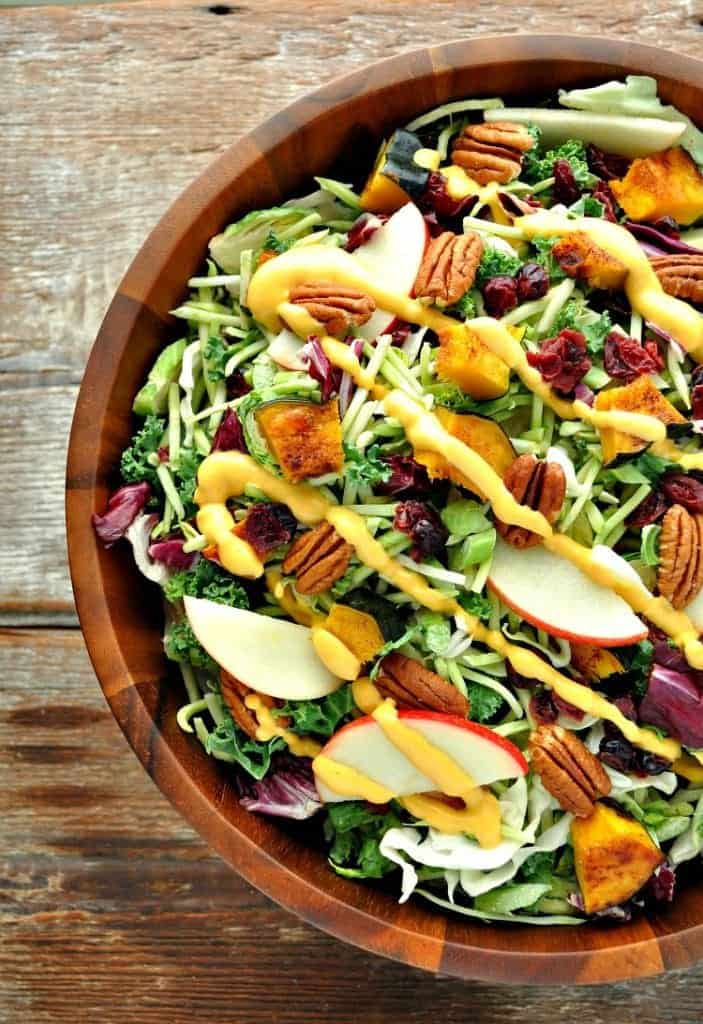 9. Fall harvest salad with pumpkin dressing
The Seasoned Mom created her fall harvest salad with pumpkin dressing specifically with Thanksgiving in mind. Acorn squash, apples, cranberries, and pecans pair perfectly with a holiday menu without weighing you down. If you're not crazy about acorn squash, you can easily swap in butternut squash or sweet potatoes.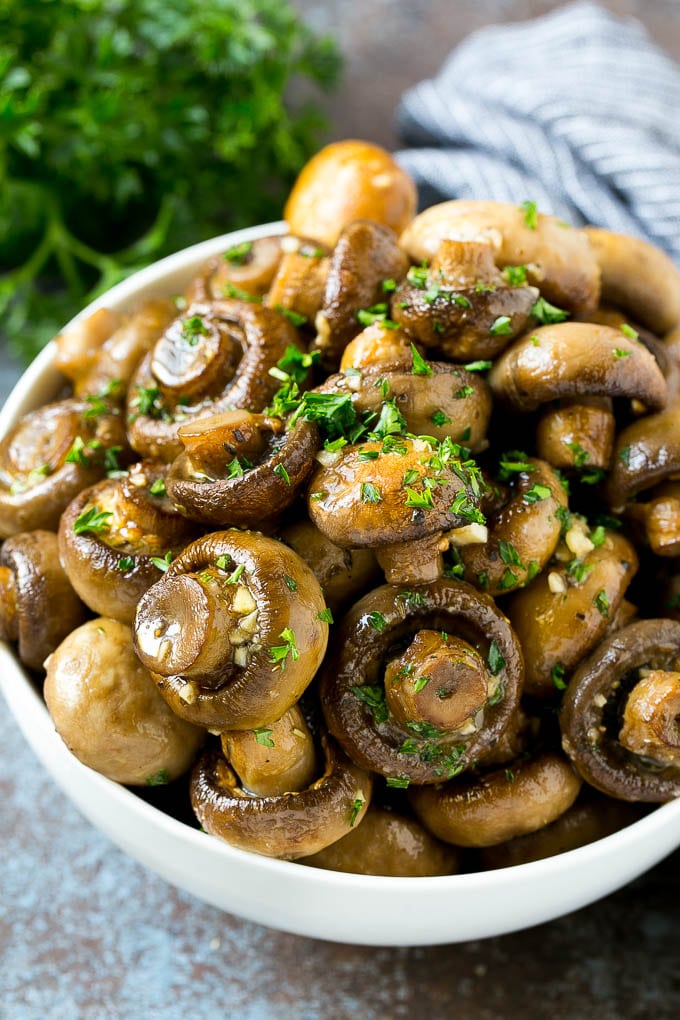 10. Roasted mushrooms
You'll notice a garlic theme in this post, especially among the roasted veggies. Freshly chopped garlic or garlic powder takes any oven-roasted vegetable recipe up a notch. Roasted mushrooms are no exception. Dinner at the Zoo makes her roasted mushrooms with Italian seasoning, fresh herbs, just a little butter, and of course, garlic. Close to Cooking's crispy buttery garlic roasted mushrooms are great, too, with a coating of breadcrumbs for the perfect crispy finish.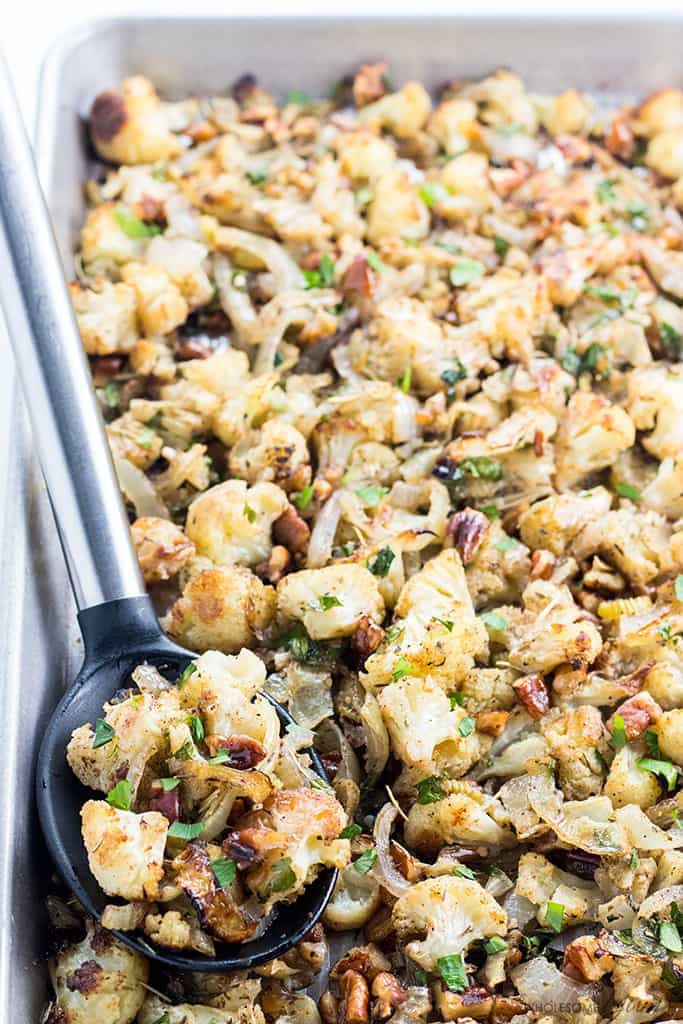 11. Cauliflower stuffing
Cauliflower is an easy substitution for bread in most stuffing recipes. The stuffing is just as flavorful, which means you won't miss the carbs at all. Wholesome Yum's cauliflower stuffing has everything that you want in a traditional stuffing recipe with the simple swap for cauliflower.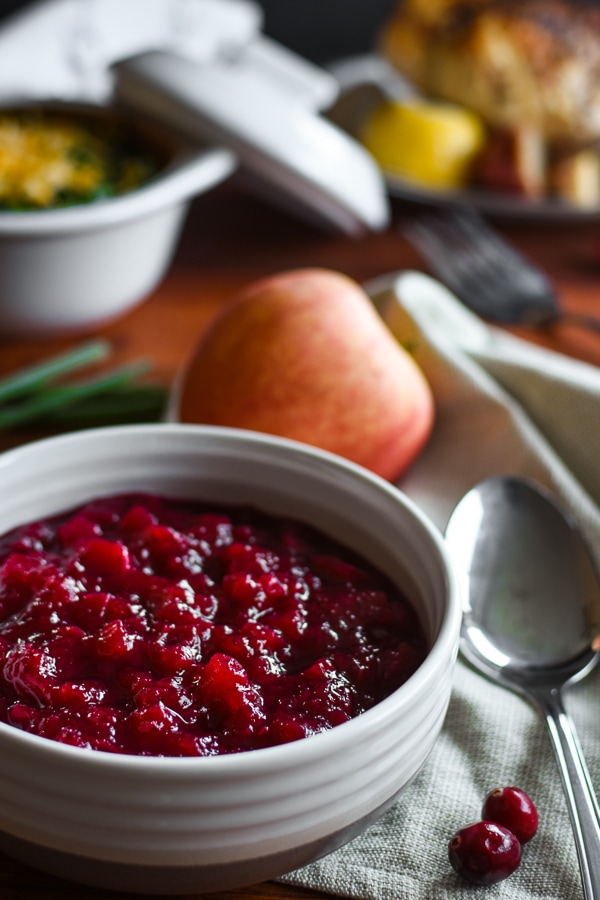 12. Low-sugar cranberry sauce
I know, I know, who wants to eat cranberries without sugar? No one, right? Obviously, you aren't going to find a sugar-free cranberry sauce recipe. But I love The Foodie and The Fix's solution to cutting down the sugar for their low-sugar apple-cranberry sauce, which is the addition of apples. Apples make the dish naturally sweet while bringing their own flavor to the mix.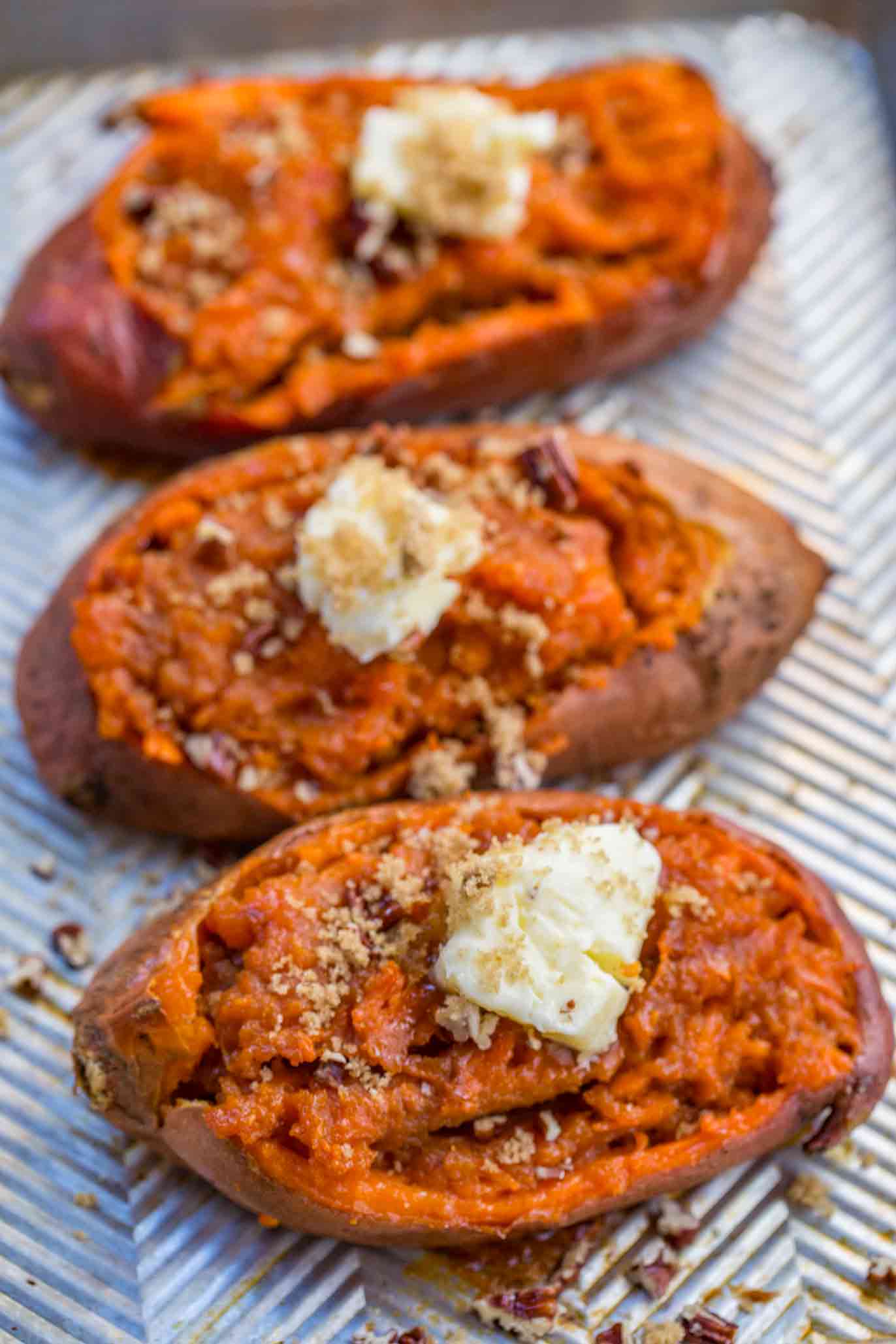 13. Healthy twice-baked sweet potatoes
If you aren't feeling the sweet potato casserole or are looking for another sweet potato recipe for your Thanksgiving table, Dinner Then Dessert's twice-baked sweet potatoes are a great option. The key to keeping it healthy is to keep it simple. All you need is a little butter, brown sugar, and spices/seasoning. For a Thanksgiving side, I also love Stacy Homemaker's twice-baked sweet potatoes with balsamic onions, goat cheese, and Parmesan cheese.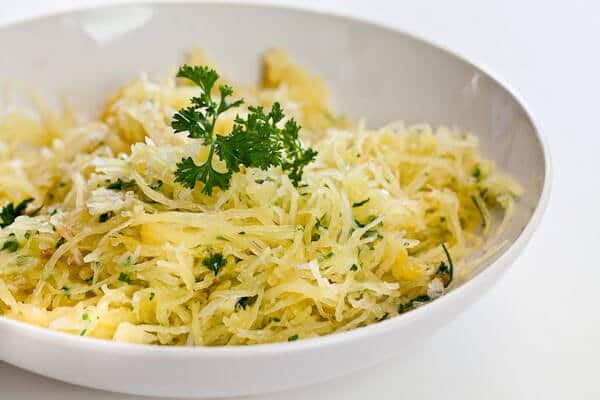 14. Parmesan basil spaghetti squash
Steamy Kitchen's Parmesan basil spaghetti squash is my absolute favorite way to eat spaghetti squash these days. It couldn't be easier to make baked spaghetti squash, and you can even prep the squash ahead of time. Then finish the recipe on the stove with the butter, cheese, garlic, and herbs in just a few minutes. She suggests parsley, but I always make the squash with basil.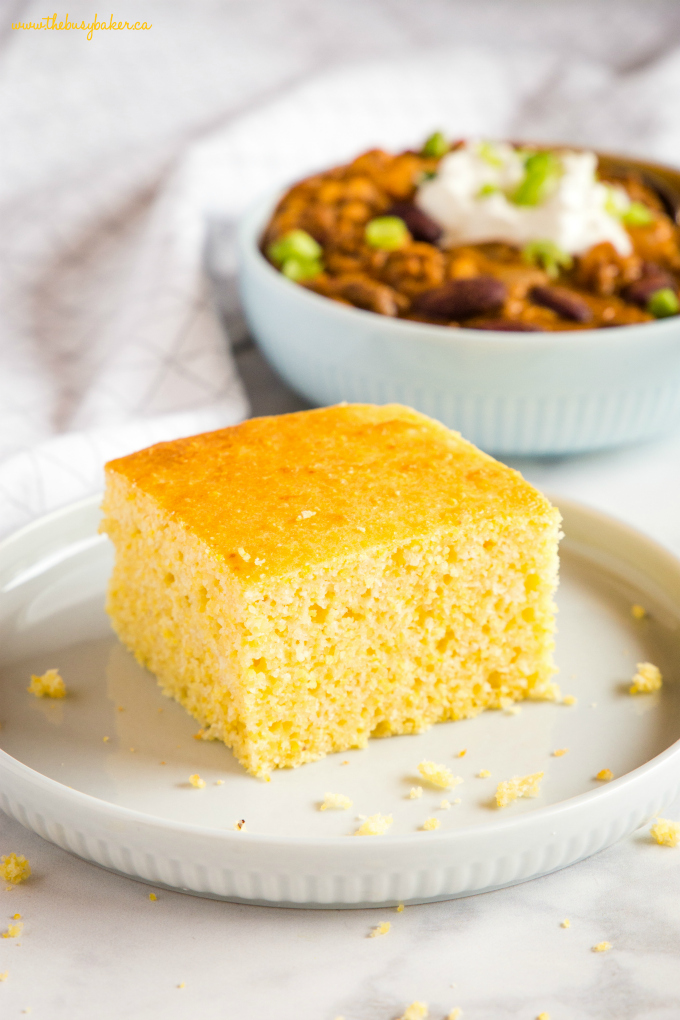 15. Lightened-up cornbread
I'm not sure that I'd go so far as to call cornbread health food. But The Busy Baker's healthier low-fat cornbread is about as close as you'll get to it. The ingredient list is simple, and the cornbread is just ever so slightly sweetened with apple sauce, creating a delicious cornbread low in calories and fat.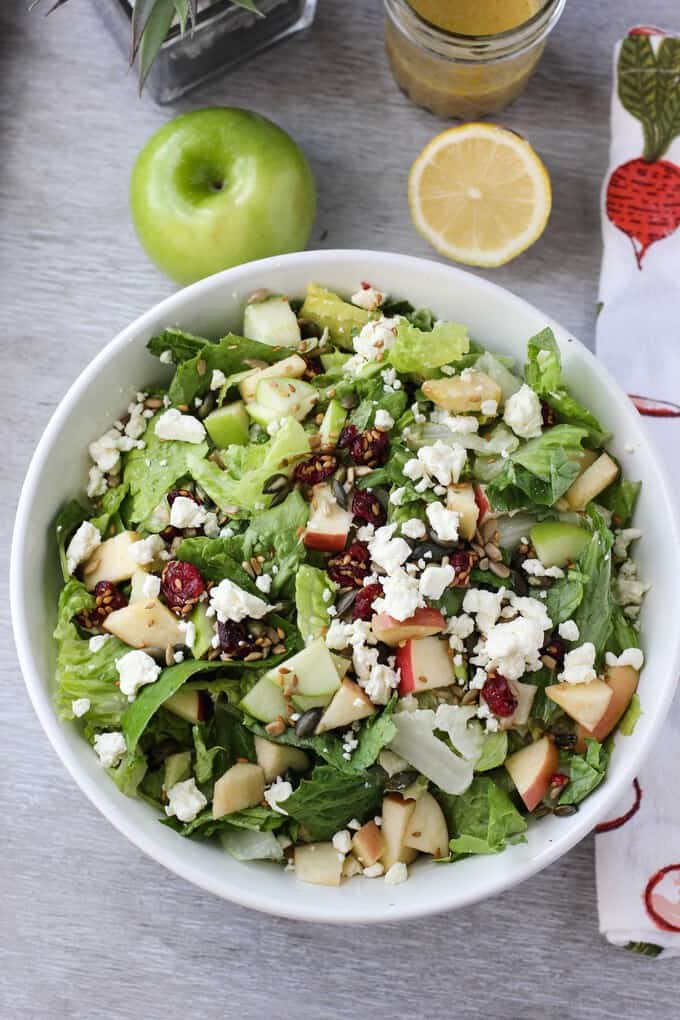 16. Chopped fall salad
I'm always a sucker for a good chopped salad. I Heart Vegetable's fall harvest chopped salad is filled with all of your favorite fall flavors and topped with an easy apple cider vinegar Dijon dressing. Apples and pumpkin seeds give the salad so much crunch, and cranberries and feta cheese add the perfect burst of flavor.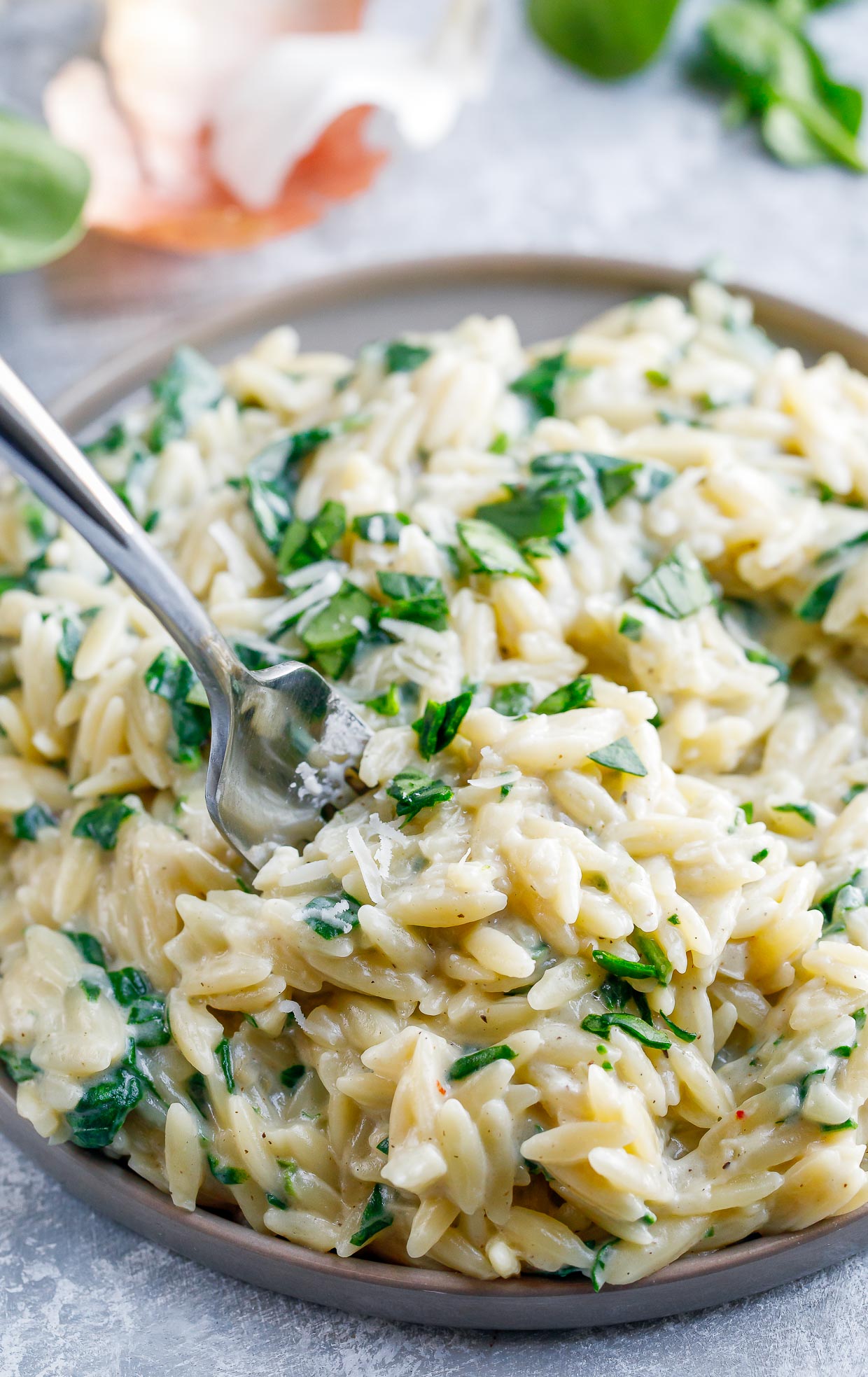 17. Garlic parmesan orzo
I make Rachael Ray's cheesy orzo (confession: with more cheese) as a side dish often, usually with pork chops or tilapia. It's so versatile and works well with just about any meat dish. I'm also linking Peas and Crayon's creamy garlic parmesan orzo, which is what's pictured above. She boosts the creamy factor here and also ups the nutrition with fresh spinach. It's like a grown-up macaroni and cheese that both kids and adults will be excited to see on the Thanksgiving table.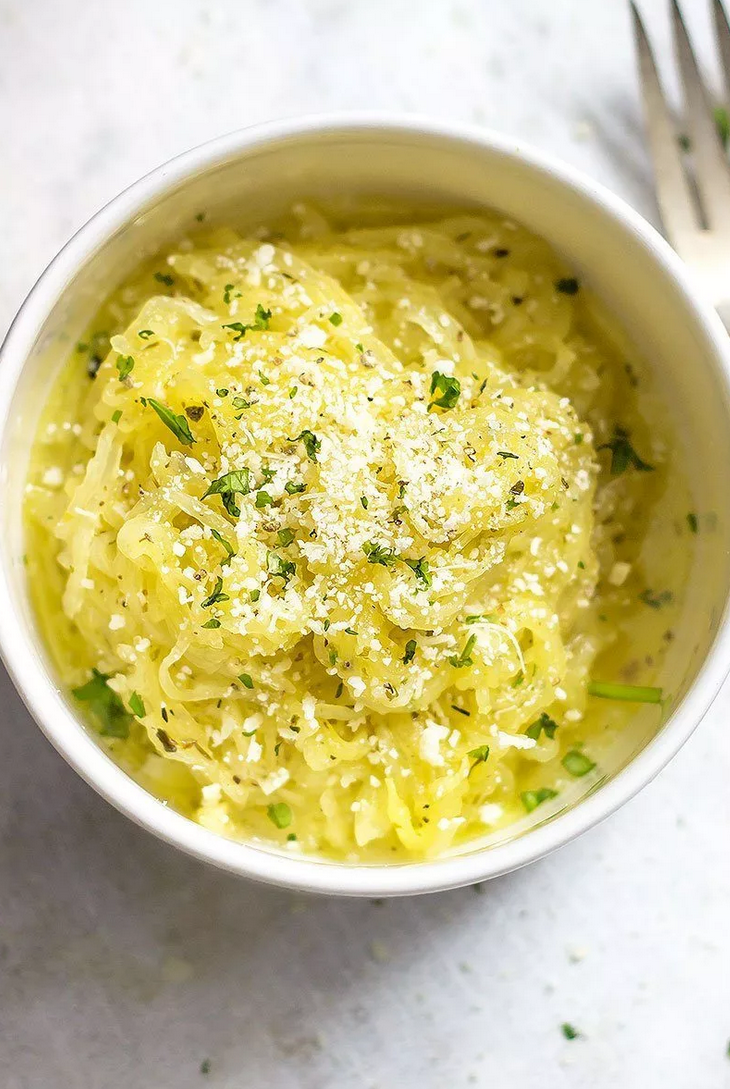 18. Lemon garlic butter spaghetti squash
Eat Well 101's lemon garlic butter spaghetti squash is another really easy, super flavorful spaghetti squash recipe that won't leave you missing the carbs. If you want to cut down on prep for your Thanksgiving meal, prepare the squash ahead of time. Then the dish will come together on the stove in just a few minutes on Thanksgiving day.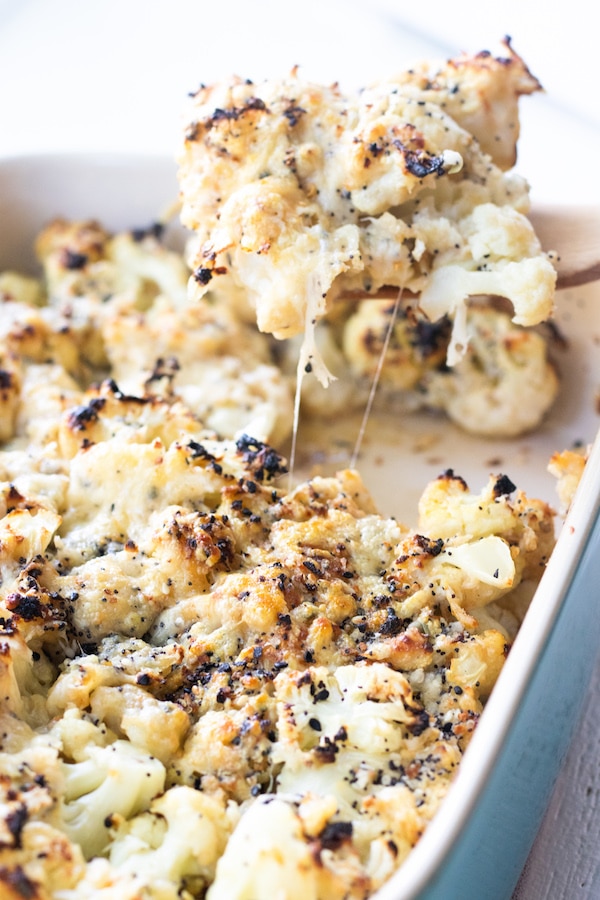 19. Everything bagel cauliflower casserole
Meals with Maggie's everything bagel cauliflower casserole is a genius idea for the ever popular everything bagel seasoning. The casserole couldn't be simpler, and the seasoning adds so much flavor with very minimal effort.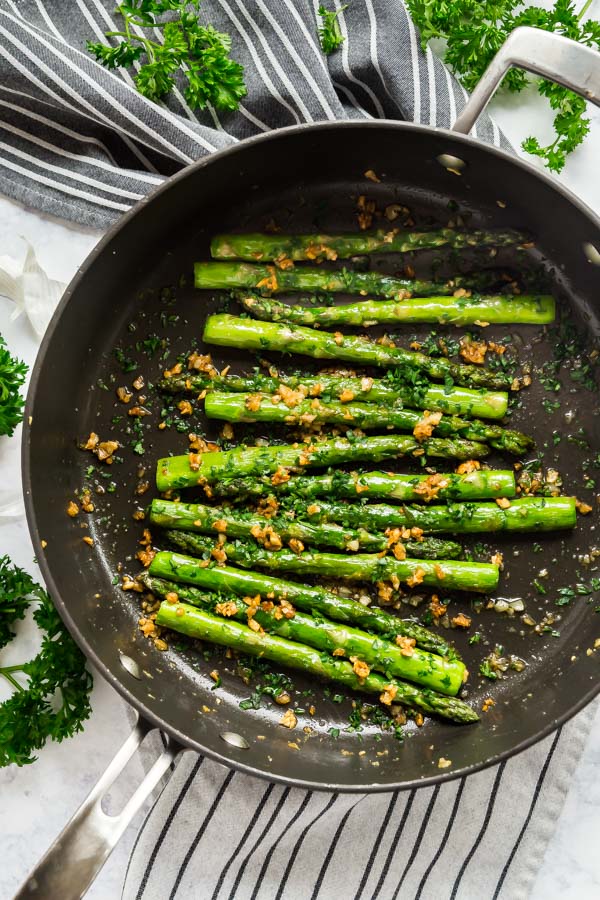 20. Garlic sauteed asparagus
Once you've started sauteeing and oven roasting asparagus, you'll never go back to steaming it. Sauteeing and roasting both produce a much better flavor and texture. The Life Jolie's garlic sauteed asparagus is an easy, delicious addition to your Thanksgiving menu.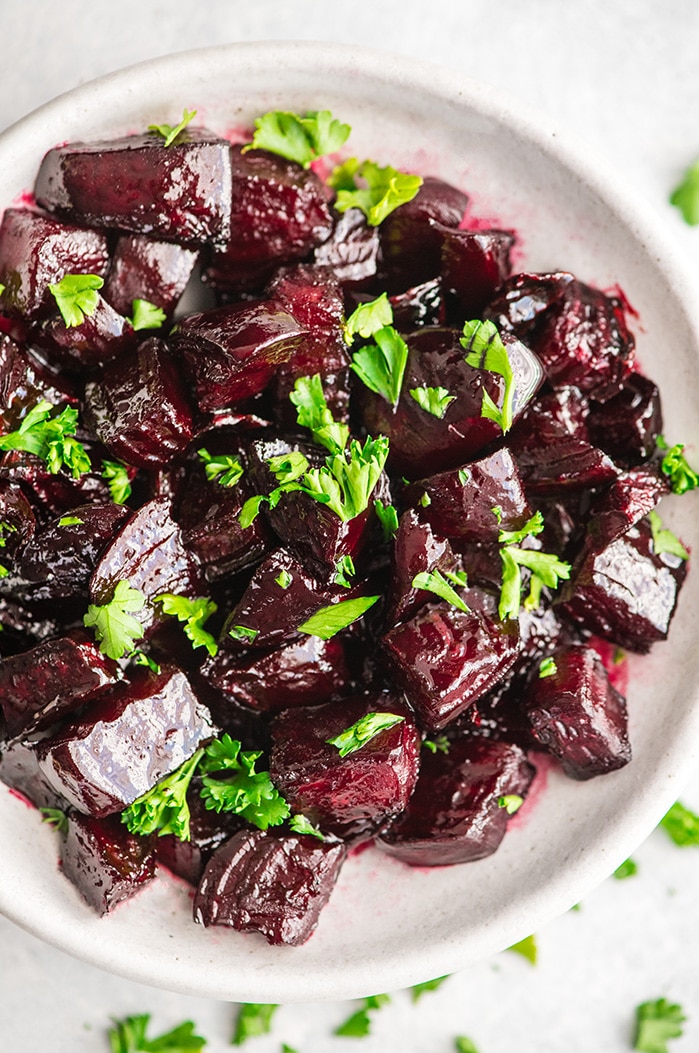 21. Balsamic roasted beets
I know, beets aren't everyone's favorite vegetables. (I'll eat them, but they definitely aren't my favorite.) I also know that readers don't just want a bunch of broccoli side dishes and nothing else. If you need a break from broccoli and cauliflower this Thanksgiving, think about Joy Food Sunshine's balsamic roasted beets. The balsamic glaze gives them a sweet, tangy flavor.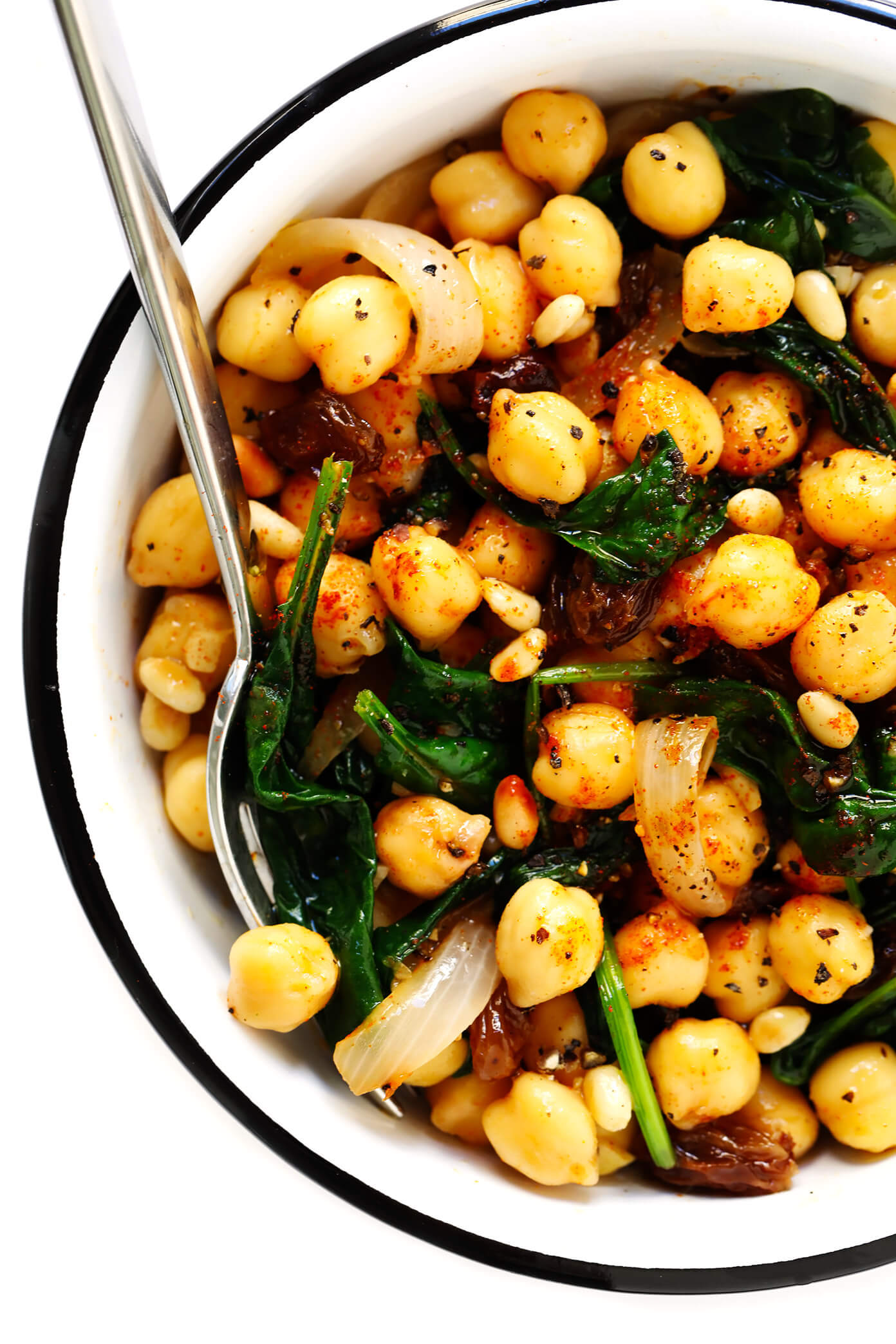 22. Catalan chickpeas and spinach
Gimme Some Oven's take on Catalan chickpeas and spinach will bring a little taste of Spanish tapas to your Thanksgiving table. Chickpeas and spinach come together with garlic, onion, pine nuts, raisins, and spices for a warm, comforting flavor.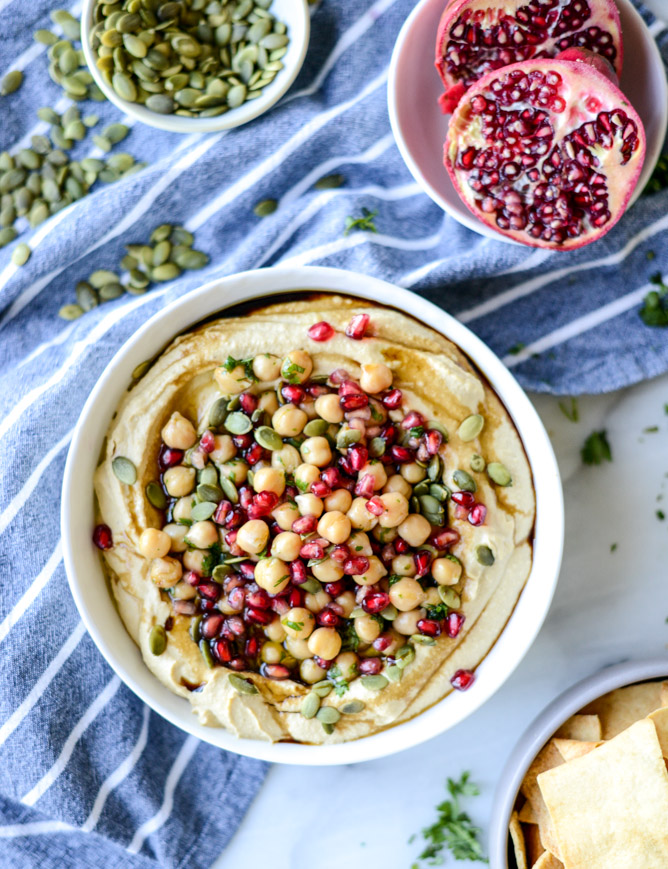 23. Butternut squash hummus
How Sweet Eat's roasted butternut squash hummus is one of my all-time favorite hummus recipes and always one that I have in rotation during the fall. It has a warm nutty flavor that people don't expect from hummus but always enjoy. Butternut squash hummus is perfect alongside raw veggies at the Thanksgiving table or with chips, pita, or crackers any time during the holiday.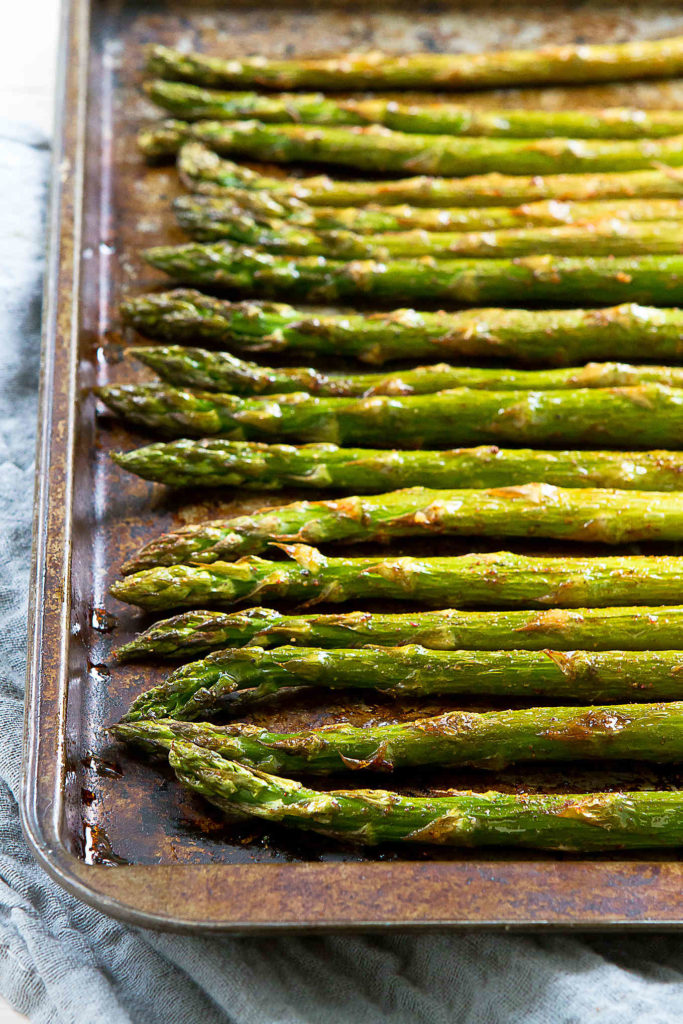 24. Smoked paprika roasted asparagus
I want to give you a few other options for roasting veggies besides garlic. Cookin Canuck's smoked paprika roasted asparagus is a great alternative. Smoked paprika adds a subtle flavor without overpowering the vegetables. She has a few other nice ideas for roasted asparagus as well.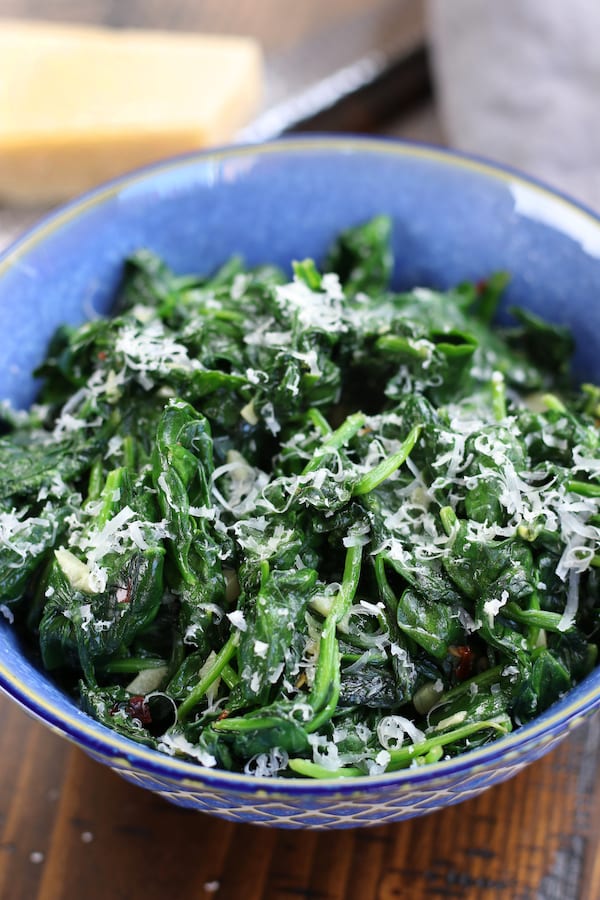 25. Italian sauteed spinach
The Fed Up Foodie's Italian sauteed baby spinach kicks up the flavor a notch with red chili pepper flakes. You get the most flavorful, perfectly wilted spinach in just 15 minutes, making for an easy, healthy, last-minute addition to the Thanksgiving table.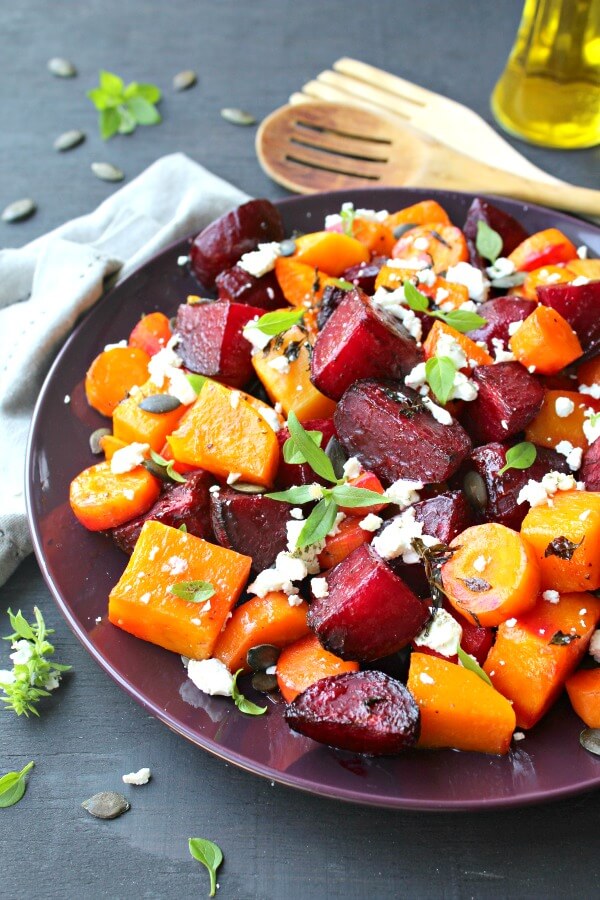 26. Beet salad
I'm giving you a few recipes for beet salad because beets are the perfect ingredient for a fall salad. For cold beet salads, I love Julia's Album's simple beet salad with goat cheese and pine nuts and Simply Happy Foodie's beet salad with goat cheese and orange vinaigrette. For a warm beet salad, you can't go wrong with Berry Sweet Life's roast beet and butternut squash salad with basil and goat cheese (pictured). The flavor combination here is unbelievable.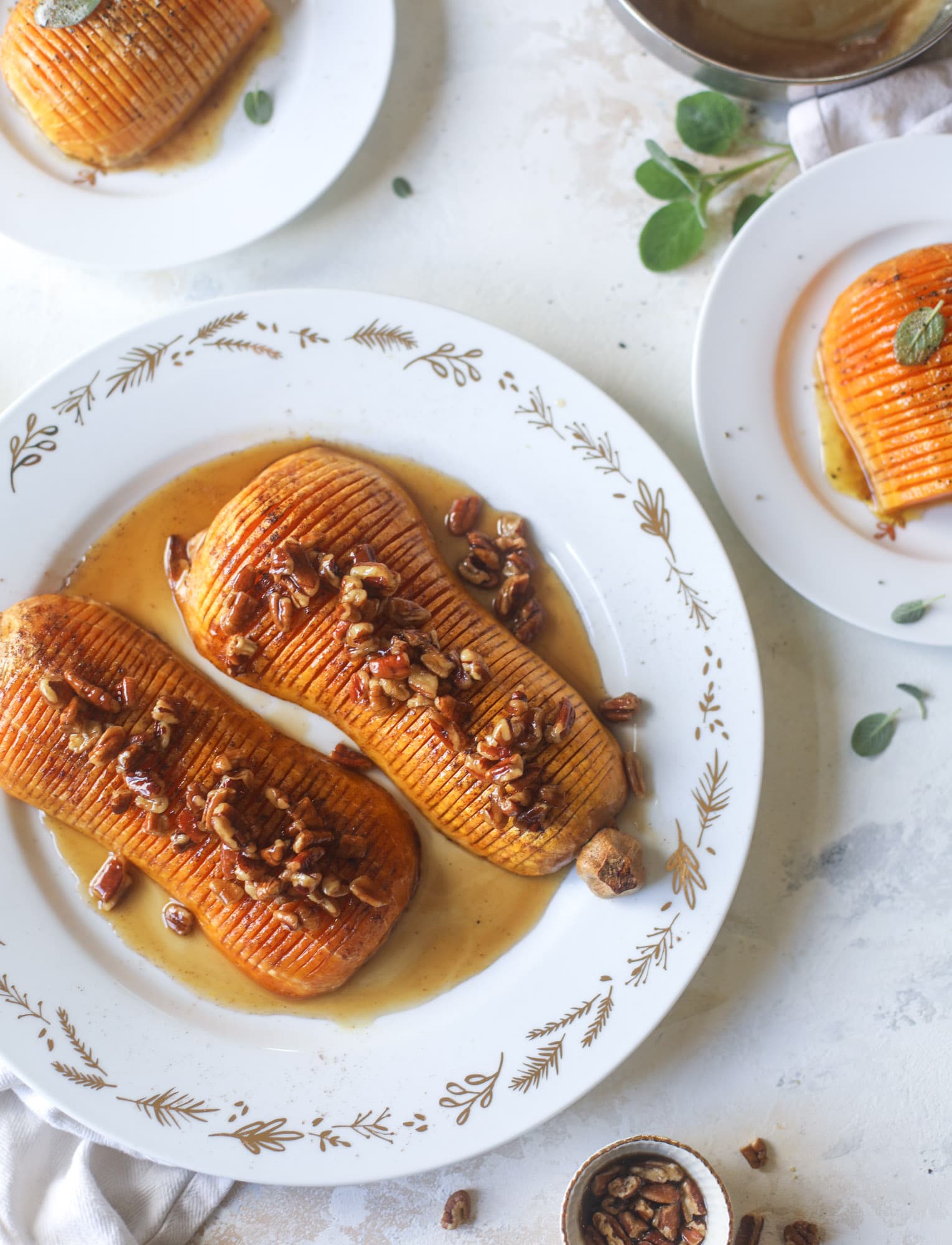 27. Hasselback butternut squash
How Sweet Eat's Hasselback butternut squash is so creative. You're sure to wow everyone at Thanksgiving dinner with Hasselback butternut squash. She shares two variations: a sweet maple pecan and a savory brown butter sage.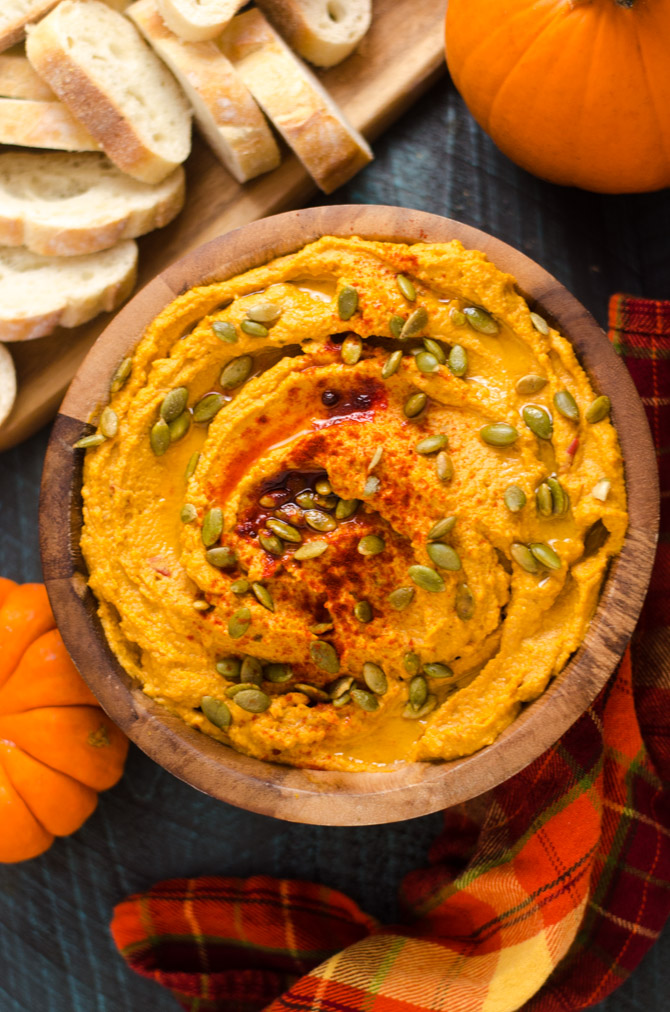 28. Smoky chipotle pumpkin hummus
Obviously, you need a few options for Thanksgiving hummus. Host the Toast's smoky chipotle pumpkin hummus is another great choice. The chipotles give the hummus just the right amount of kick, complementing the creamy pumpkin flavor perfectly.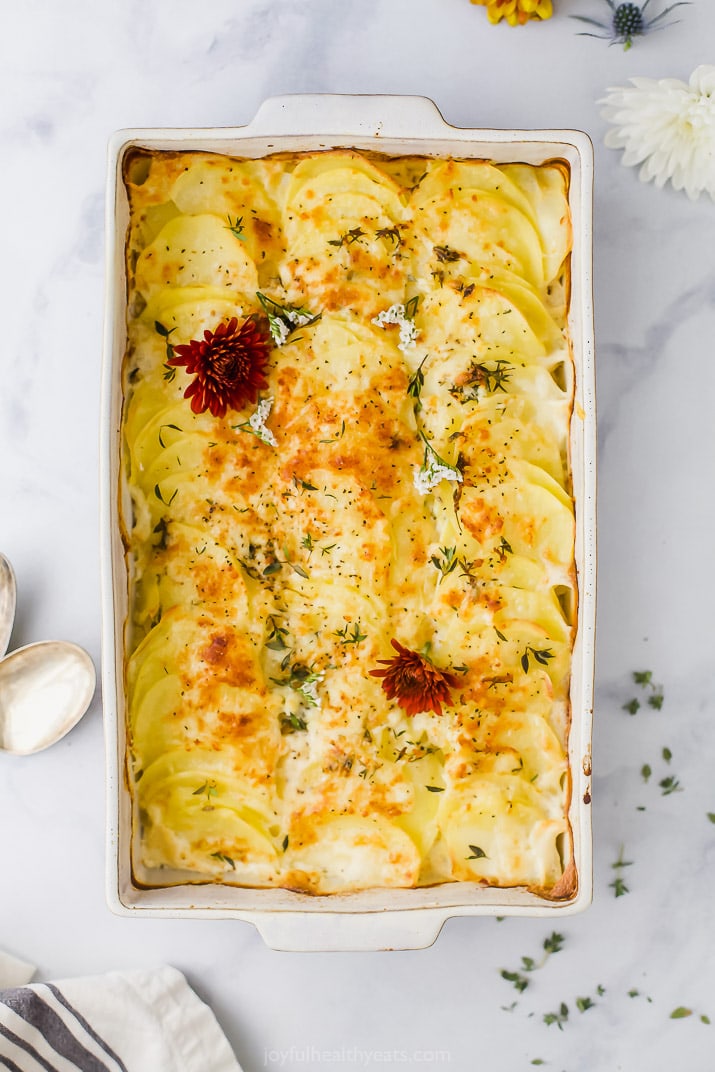 29. Lightened-up scalloped potatoes
I love scalloped potatoes but don't always love all of the calories that come with a traditional recipe. Joyful Healthy Eats has struck the right balance with her easy light scalloped potatoes. She makes her potatoes with a garlicky milk sauce that's light on the butter before covering them with cheese.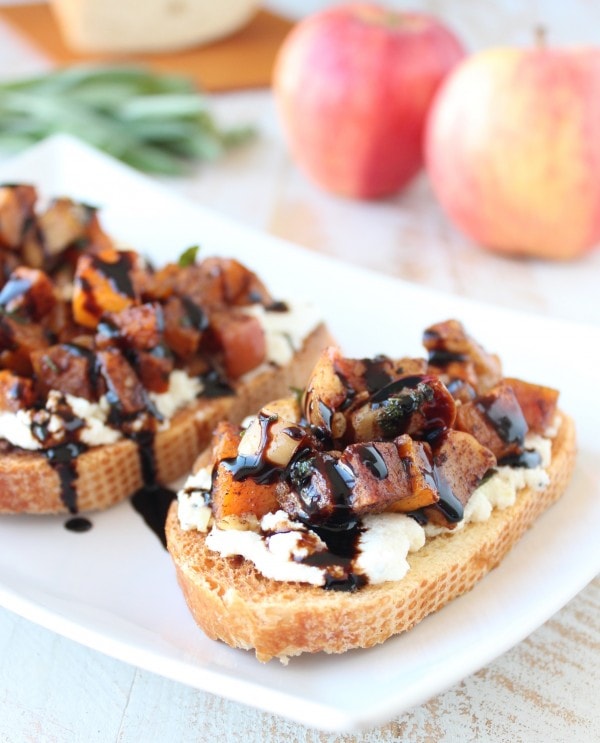 30. Fall bruschetta
Transitioning into fall doesn't mean that you have to stop making bruschetta. I love Whitney Bond's autumn take on the popular appetizer with butternut squash apple bruschetta. You get the fall flavors you love, paired with creamy cheese and topped with tangy balsamic reduction. Kendall-Jackson's pumpkin, ricotta, and argula bruschetta sounds amazing, too.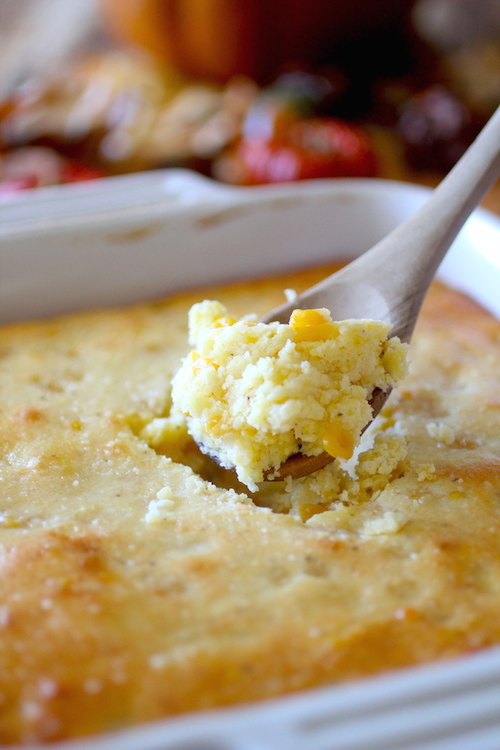 31. Skinny corn casserole
Dashing Dish's skinny corn casserole has the cornbread texture and rich corn flavor that you want in corn casserole without butter or cream. You only need a little sweetener and spices to bring the flavors together.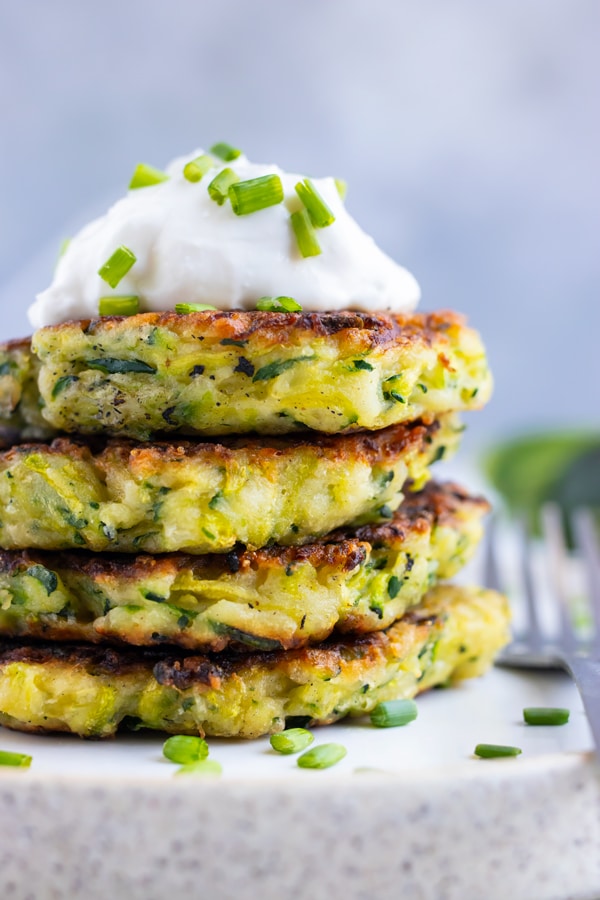 32. Zucchini fritters
When you've exhausted your regular rotation of zucchini recipes by Thanksgiving but are still using up your harvest, add zucchini fritters to the Thanksgiving menu. There are a few different ways to make zucchini fritters. You can bake them, you can fry them, or for the ultimate crispy on the outside and soft on the inside texture balance, you can fry them and then finish them in the oven.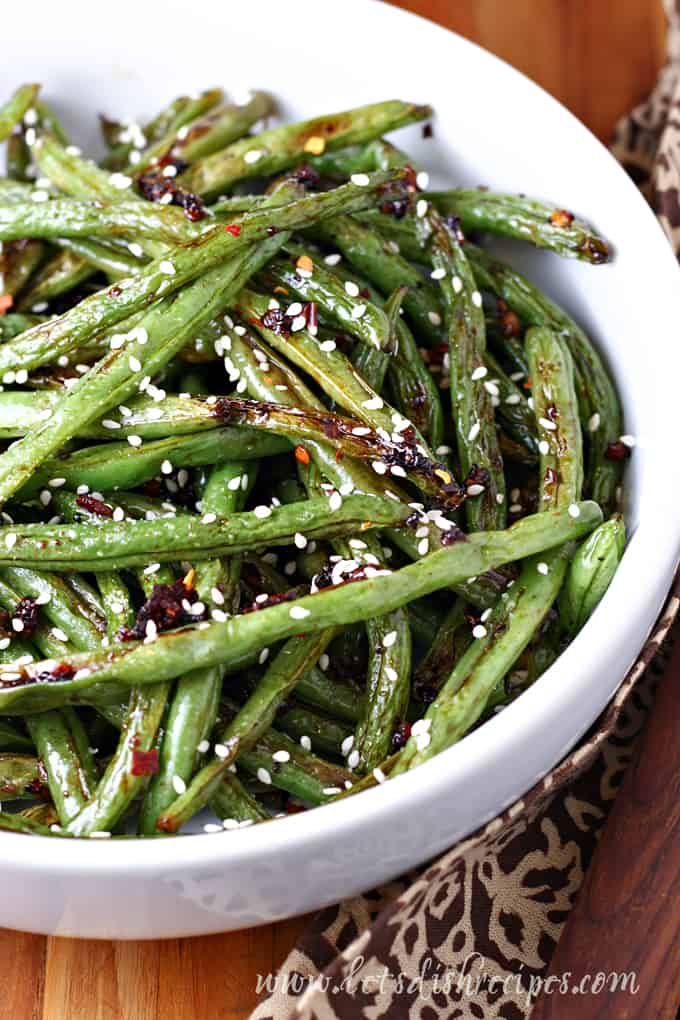 33. Spicy roasted Asian green beans
Let's Dish Recipes' spicy roasted green beans have an Asian flair with a sweet and spicy sauce, finished with a generous coating of sesame seeds. If you want the Asian flavoring without as much kick, decrease the red pepper flakes.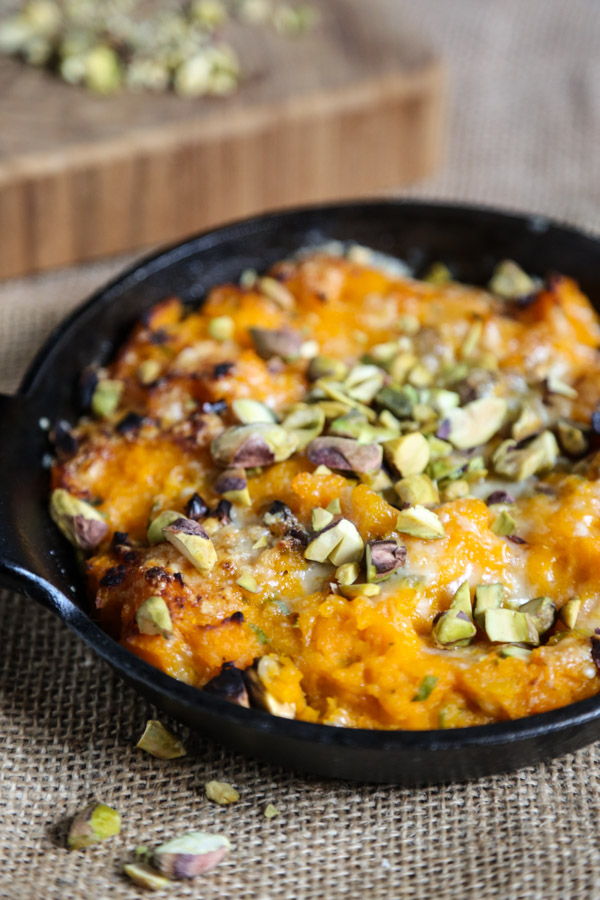 34. Warm butternut squash dip
If Feed Me Phoebe's warm butternut squash dip doesn't sound like fall comfort food at its best, I don't know what does. Oh, and it has gruyere and pistachios, so you can't go wrong here.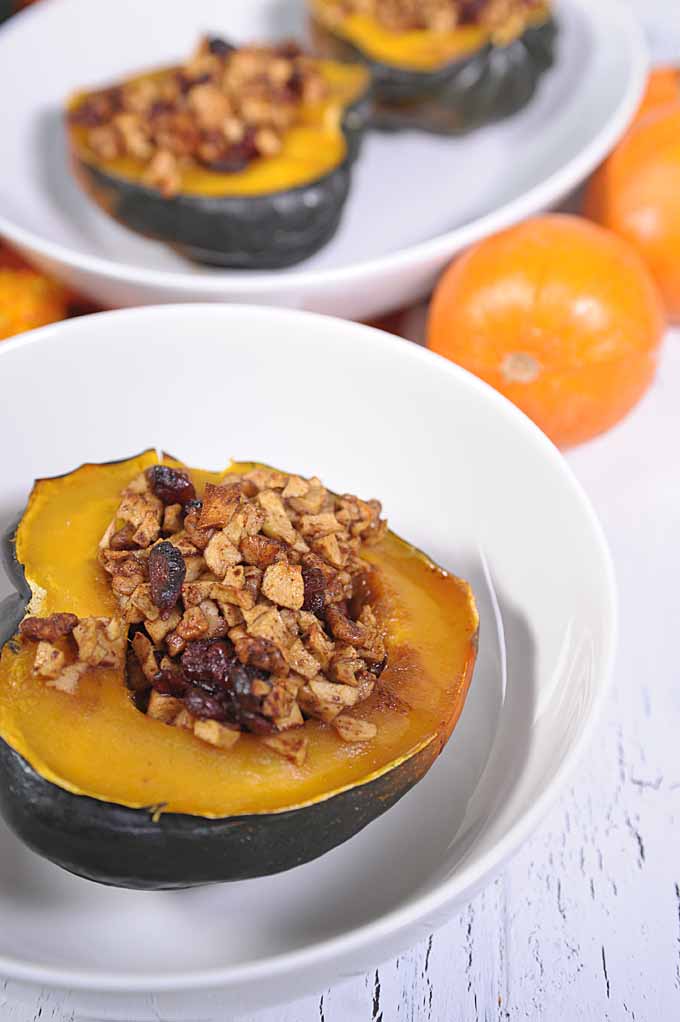 35. Stuffed acorn squash
I make butternut squash and spaghetti squash all the time through the fall and winter but rarely think to make acorn squash. Foodal's cranberry, apple, and walnut stuffed acorn squash packs so much flavor and nutrition into one simple dish and complements turkey and sweet potatoes perfectly.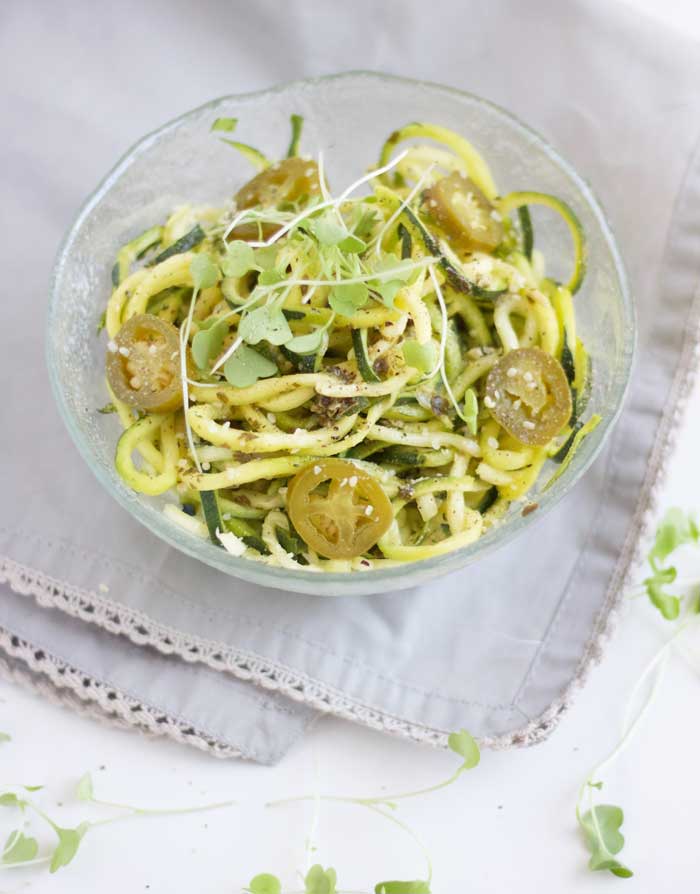 36. Jalapeno pesto zucchini noodles
Nikki's Plate's jalapeno pesto zucchini noodles are so creamy that your Thanksgiving dinner guests will think they're eating some sort of fettuccini alfredo. Jalapeno is the perfect way to take pesto up a notch and give the zucchini tons of flavor.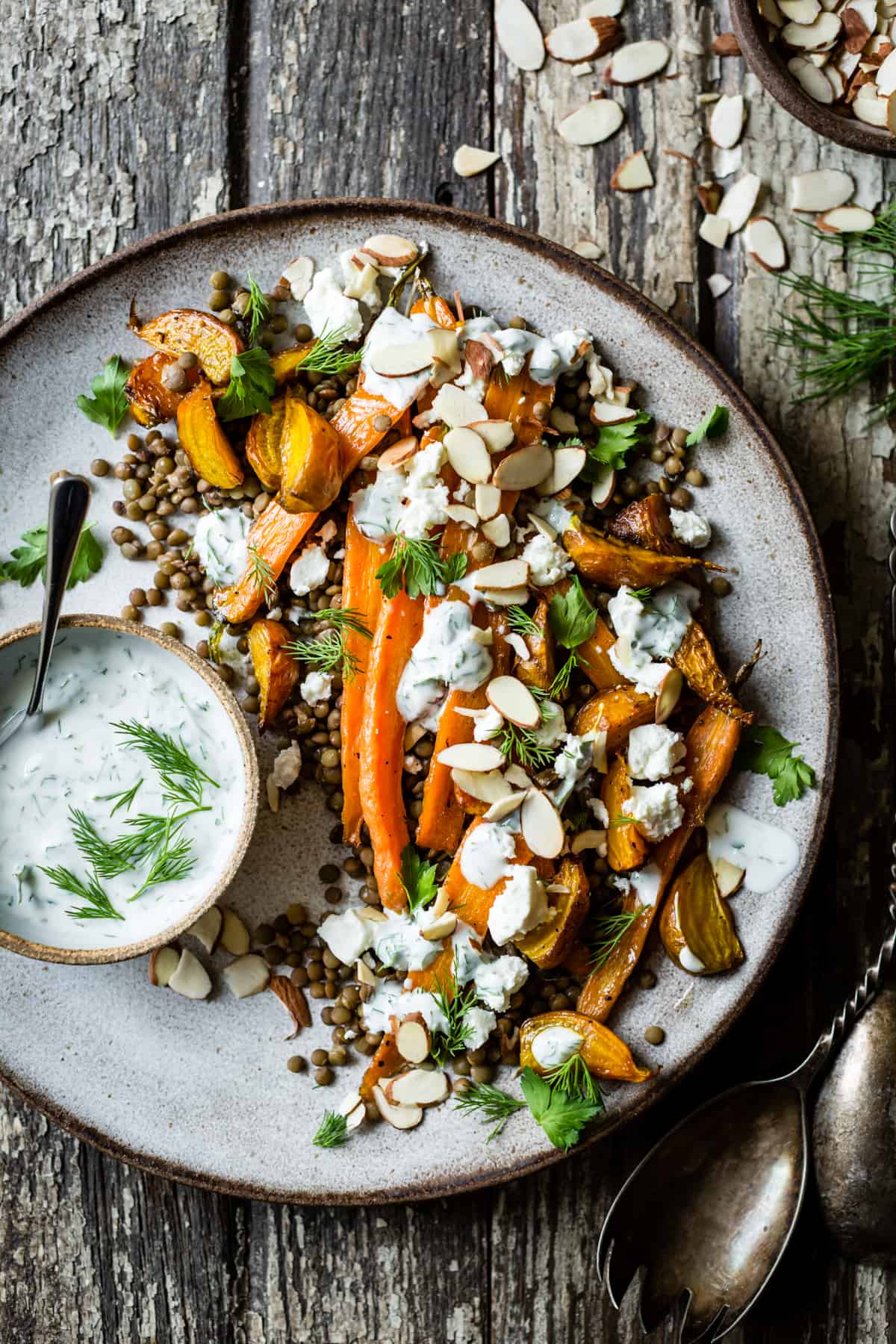 37. Lentil salad
Lentils are a healthy, versatile base ingredient you can use to build salads in any season. I've rounded up a few fall lentil salads that are great for Thanksgiving sides. I love Amanda Lee Lifestyle's lentil salad with tumeric roasted cauliflower, smoky sweet potatoes, and lemon tahini dressing; The Bojon Gourmet's roasted beet and carrot lentil salad with feta, yogurt, and dill (pictured); and Sweet Peas and Saffron's harvest lentil salad with butternut squash, argula, pomegranates, goat cheese, and pumpkin seeds.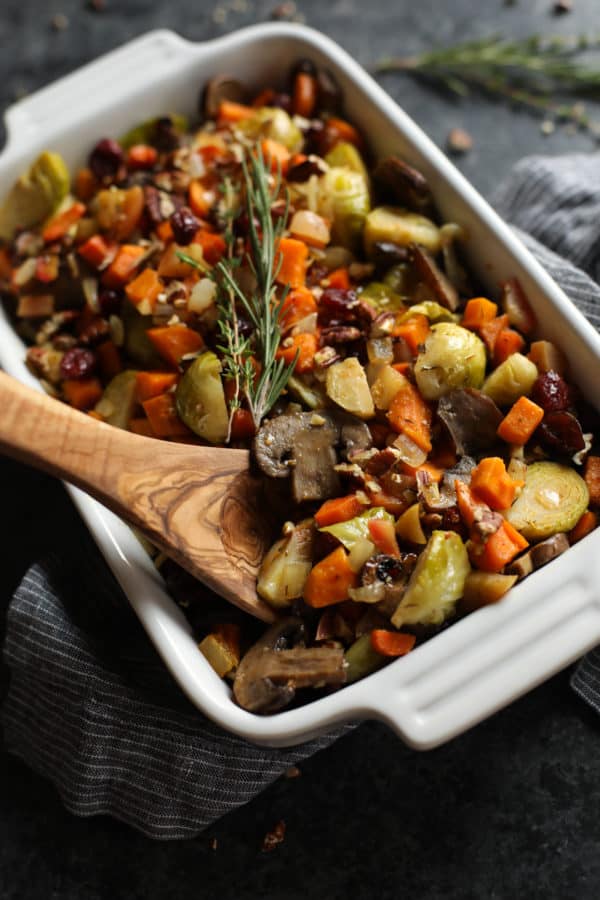 38. Sweet potato unstuffing
The Real Food Dietitian's sweet potato unstuffing is everything you love about stuffing without the carbs. It's packed full of veggies, flavored with garlic and herbs, and then topped with cranberries and pecans.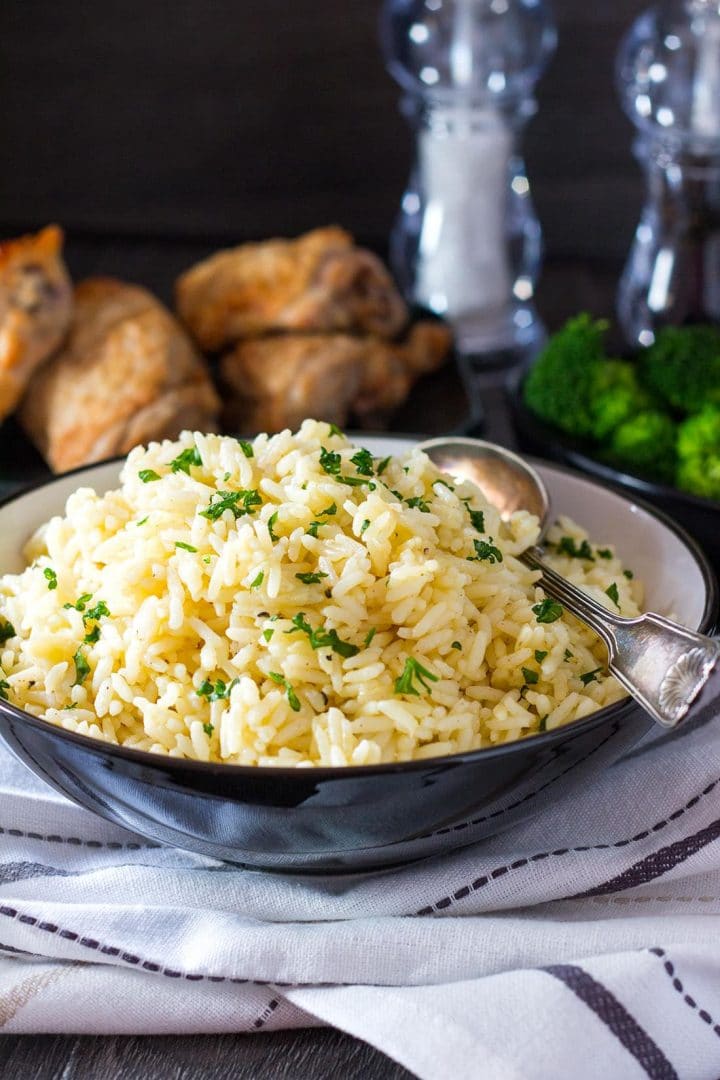 39. Rice pilaf
Rice pilaf (pictured) is an easy versatile side that makes a great addition to the Thanksgiving table. For a holiday menu, I love the idea of a fall-flavored pilaf, such as A Communal Table's baked butternut squash, cranberry, and wild rice pilaf or Ciao Florentina's cranberry wild rice pilaf.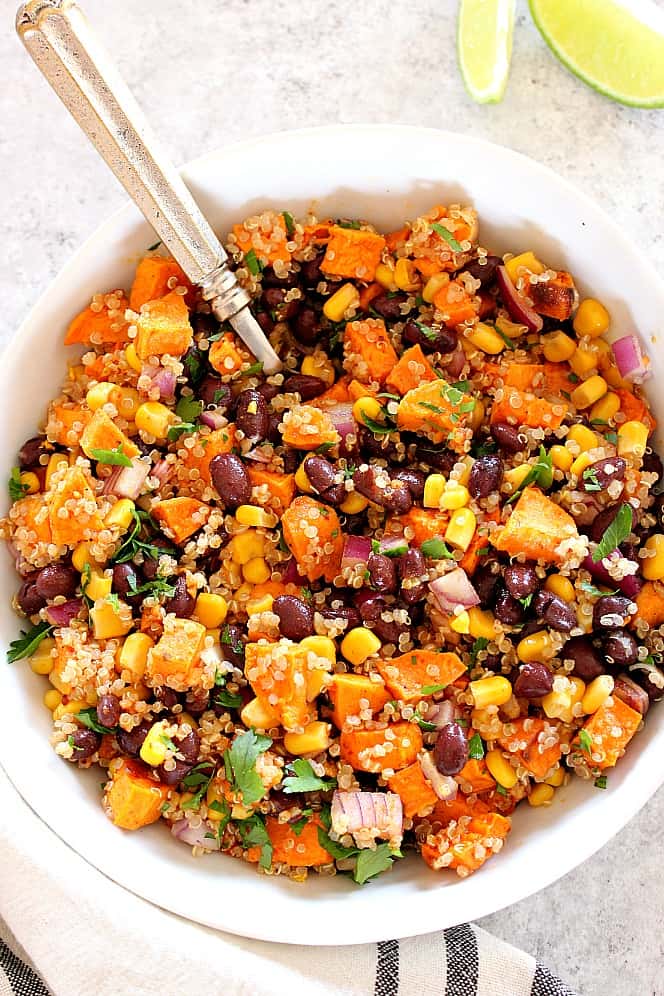 40. Quinoa salad
There are a wealth of autumn-themed quinoa salad recipes that make easy healthy Thanksgiving side dishes. A few of my favorites include Healthy GF Family's autumn quinoa salad with caramelized onions, dried cranberries, and sage; Pinch Me Good's autumn chopped kale salad with quinoa, and Crunchy Creamy Sweet's roasted sweet potato black bean quinoa salad recipe (pictured).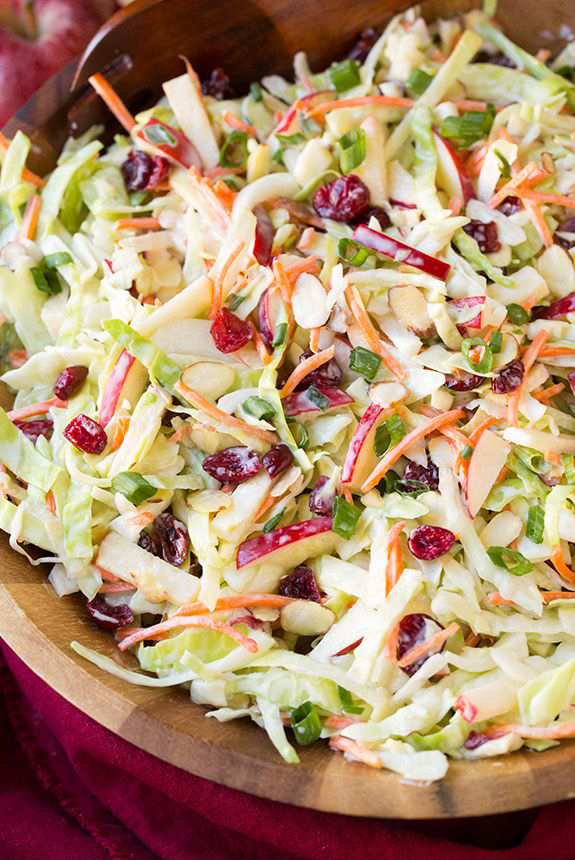 41. Cranberry apple coleslaw
Coleslaw makes for a bit of a random addition to a Thanksgiving feast. However, the addition of cranberries and apples instantly transforms it into a fall dish perfect for the holiday. Food Curation lightens up their cranberry apple coleslaw with Greek yogurt and finishes the dish with almonds for the perfect amount of crunch.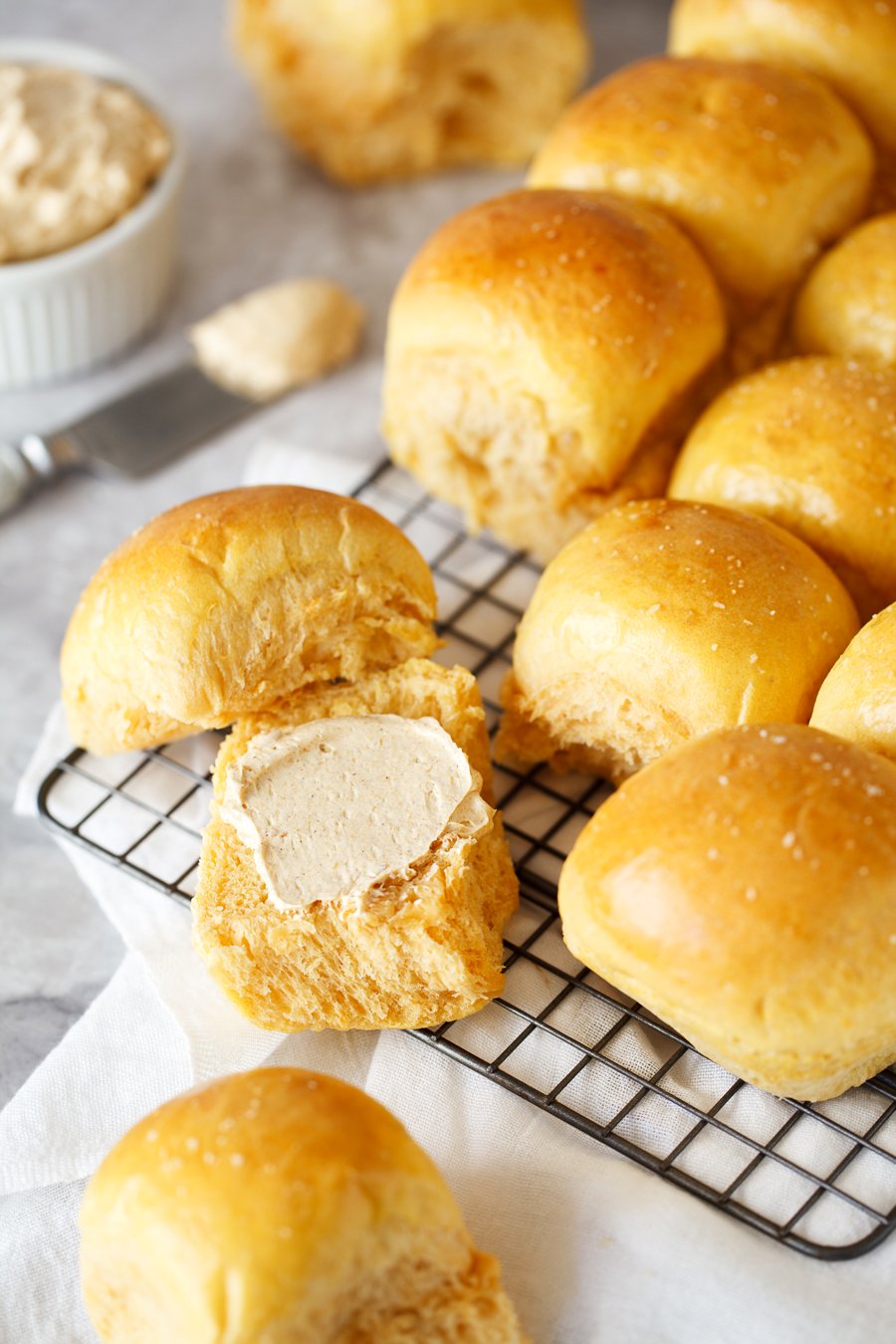 42. Sweet potato or pumpkin dinner rolls
Making dinner rolls with sweet potatoes or pumpkin instantly ups the nutritional content. With the right recipe, I guarantee your family will love the results and never look back. Check out Handle the Heat's sweet potato dinner rolls (pictured), Averie Cook's honey butter pumpkin rolls, and My Sequined Life's garlic and herb pumpkin dinner rolls.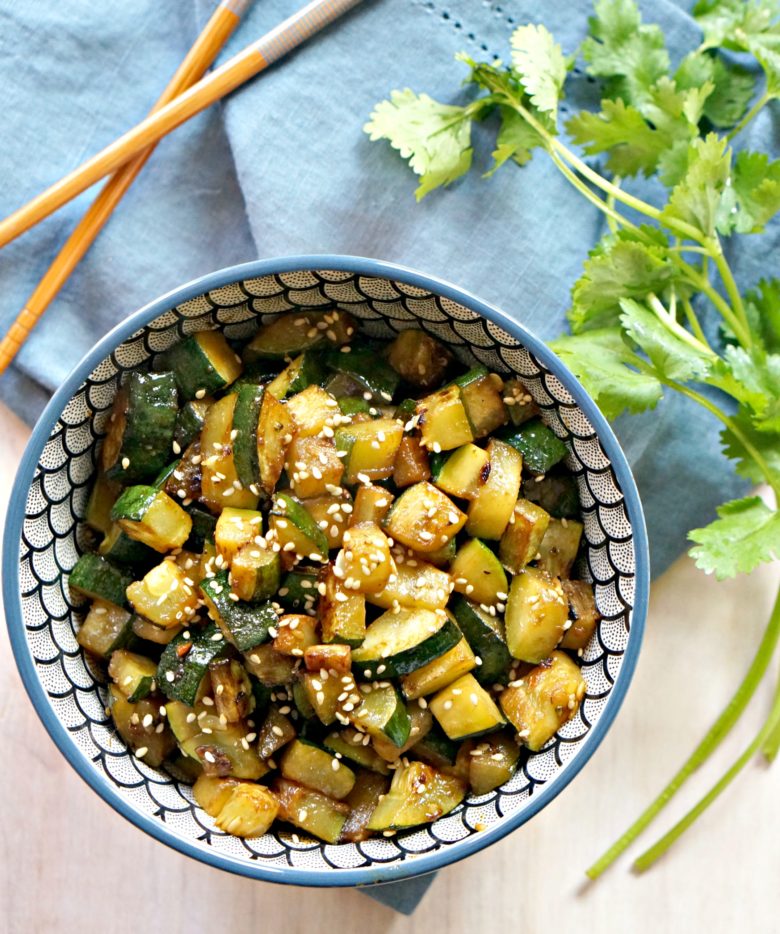 43. Sesame ginger zucchini
Sesame ginger is a tried-and-true flavor combination that works in so many different dishes. A zucchini recipe is no exception. You need just five ingredients to make Forks and Folly's hibachi-style sesame ginger zucchini.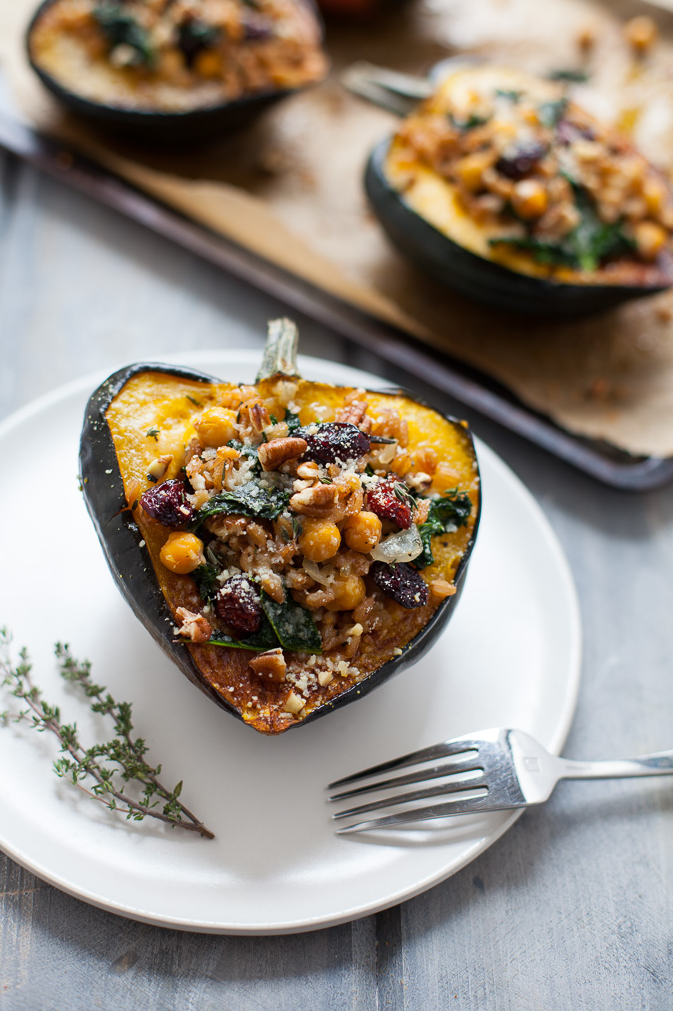 44. Thanksgiving stuffed acorn squash
The Foodie Dietitian's Thanksgiving-stuffed acorn squash is an ideal side dish to make when you have vegetarians attending Thanksgiving dinner. Made with farro, chickpeas, kale, and cranberries, it's so satisfying and filling that the vegetarian diners won't feel like they're missing out on the main course at all. Stuffed acorn squash is an awesome side dish on its own, too.
45. Lentil Shepherd's pie with sweet potatoes and lentils
Written by Vegan's Shepherd's pie with sweet potatoes and lentils is another healthy side dish to serve at Thanksgiving dinner with vegetarians in attendance. It makes a great dish in and of itself and also tastes amazing alongside turkey and cranberry sauce.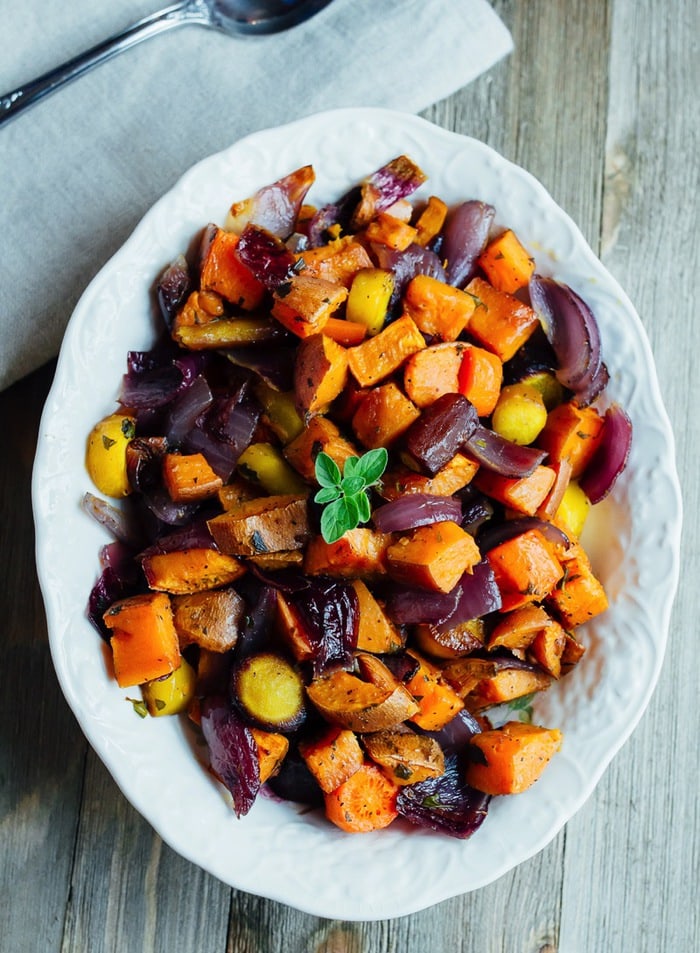 46. Roasted root vegetables
Roasted root vegetables offer warm, comforting flavors perfect for the holiday season. Eating Bird Food's easy roasted root vegetable recipe (pictured) keeps the dish simple and classic. I also love Our Salty Kiten's maple roasted root vegetables with thyme and pecans for Thanksgiving.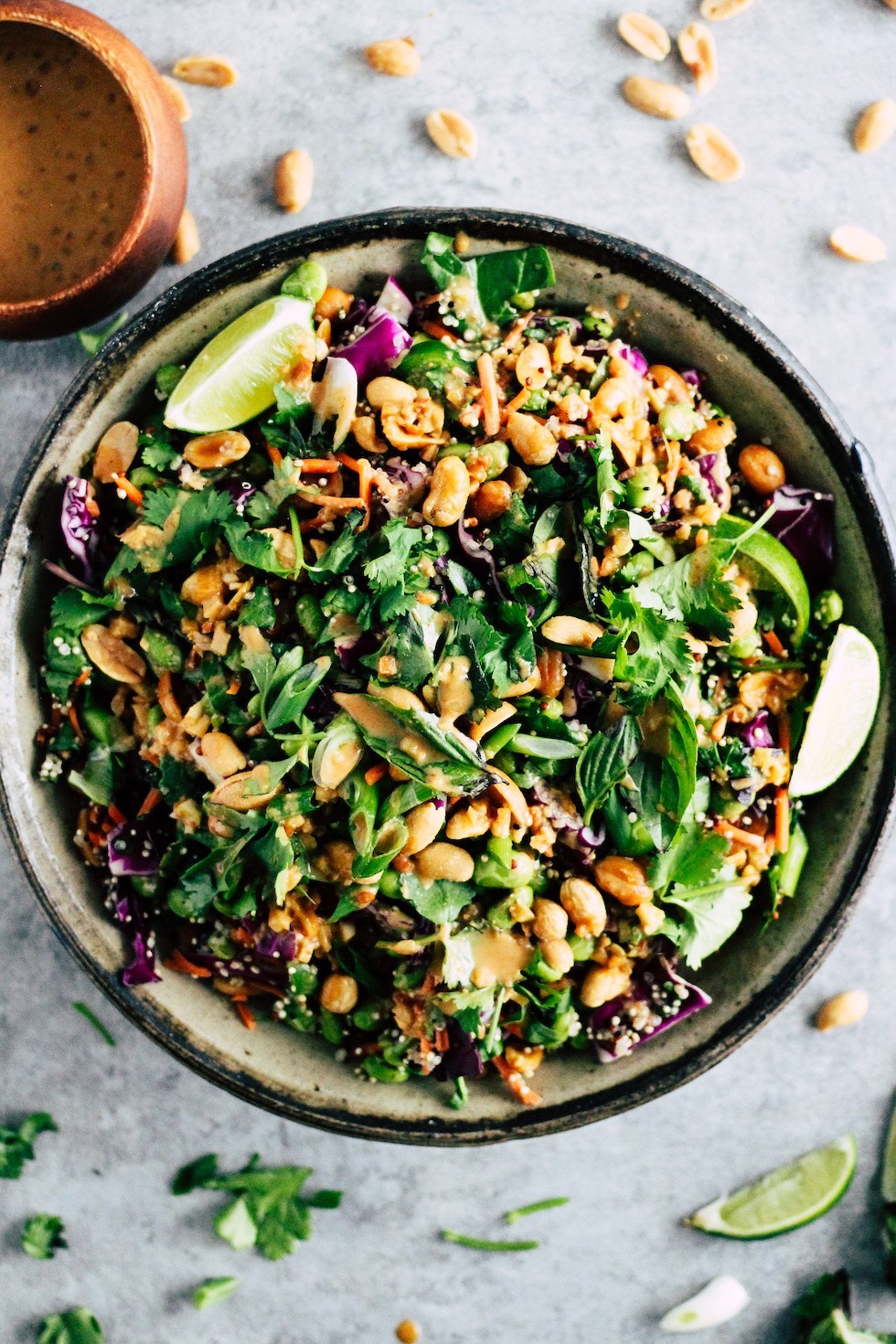 47. Edamame salad
Grateful Grazer's spicy edamame crunch salad (pictured) offers the ideal balance of raw and cooked ingredients, topped with a spicy peanut dressing. Joyful Healthy Eat's autumn kale and Brussels sprouts salad, which includes edamame, is another great option for fall dinners.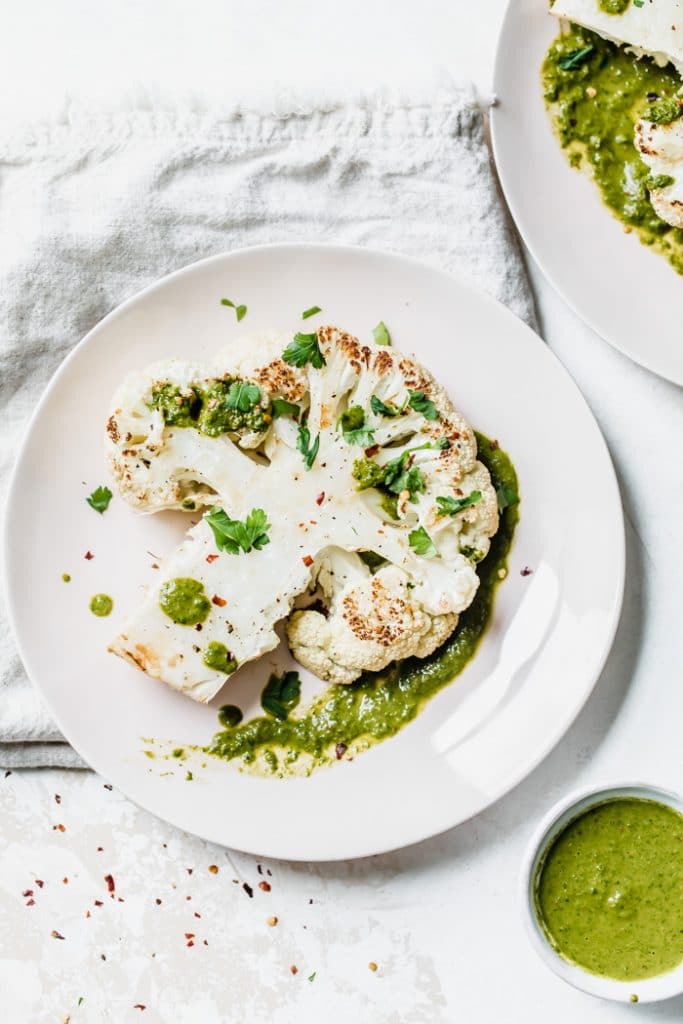 48. Cauliflower steaks
Cauliflower steaks are one of those simple recipes that you didn't know you needed. Now you don't know what you'd do without it. Just a few easy cauliflower steaks recipes for Thanksgiving include The Almond Eater's chimichurri cauliflower steaks (pictured), My Darling Vegan's lemon pepper cauliflower steaks, and Clean Food Crush's cheesy cauliflower mushroom steaks.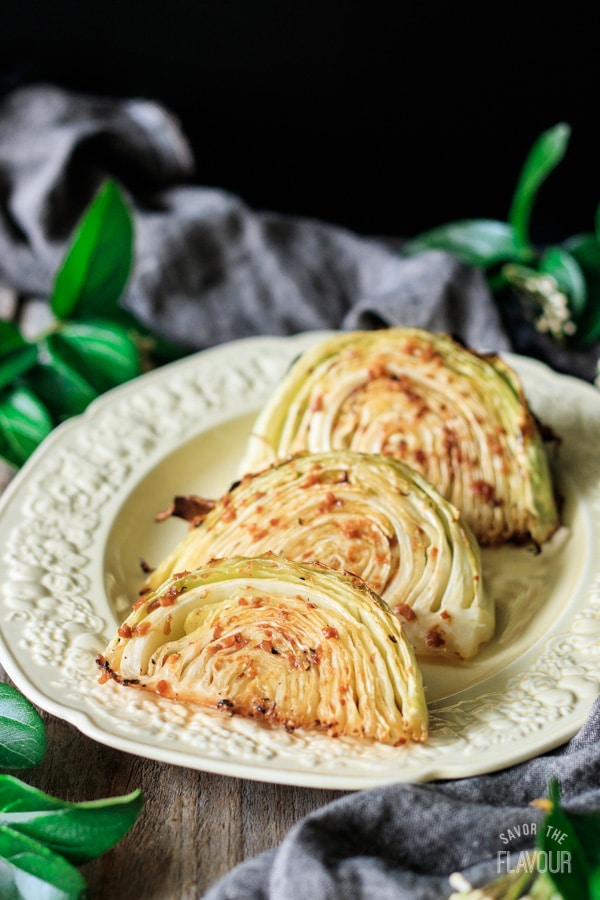 49. Roasted cabbage wedges
Roasted cabbage wedges are another ridiculously easy vegetable side dish that's sure to please everyone at the Thanksgiving recipe. Think about making A Chef's Kitchen's Parmesan roasted cabbage wedges, Savor the Flavour's roasted cabbage wedges with lemon garlic butter (pictured), or Mommy Cooking's roasted cabbage wedges with onion Dijon sauce.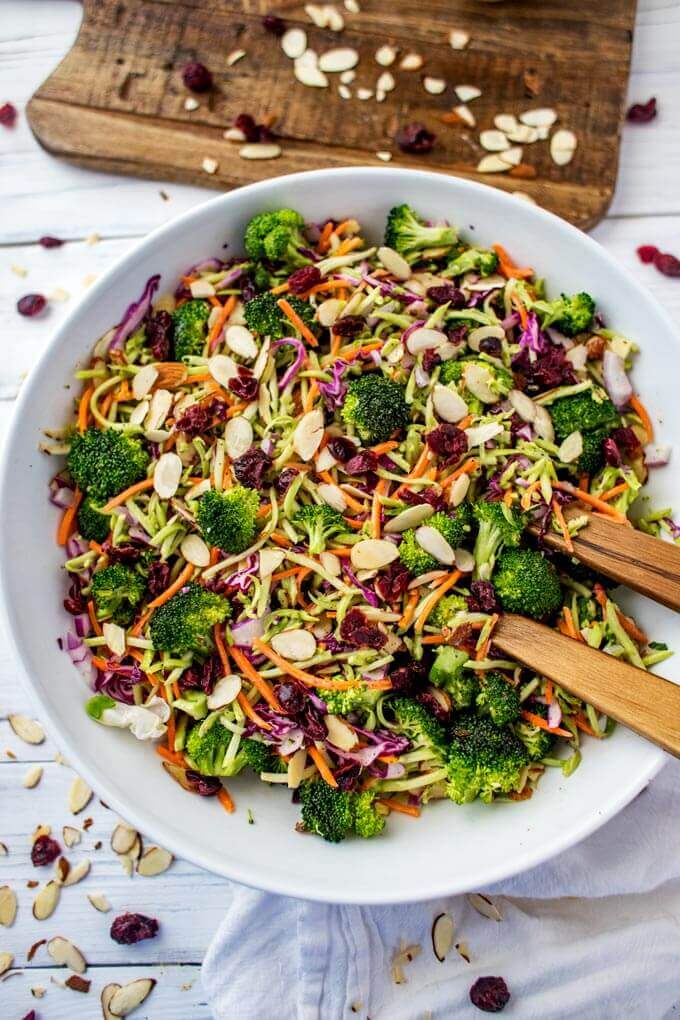 50. Broccoli salad
It's no secret that I love broccoli. But most creamy broccoli salads are pretty gross. Why trash up vegetables like that? So I've opted for a few less traditional healthy broccoli salads for your Thanksgiving dinner: Wendy Polisi's broccoli slaw salad (pictured), She Likes Food's lemony broccoli salad with chickpeas and feta, and The Chunky Chef's cranberry almond broccoli salad.
[Disclaimer: This post contains a few affiliate links. Thanks for your support!]
Did you make any of the healthy Thanksgiving side dishes?

I want to see pictures! Tag #RoseClearfield on Instagram or Twitter or post a photo to my Facebook page. Make sure to tag the recipe creators as well!
Pin this post for easy access to the healthy Thanksgiving side dishes later!