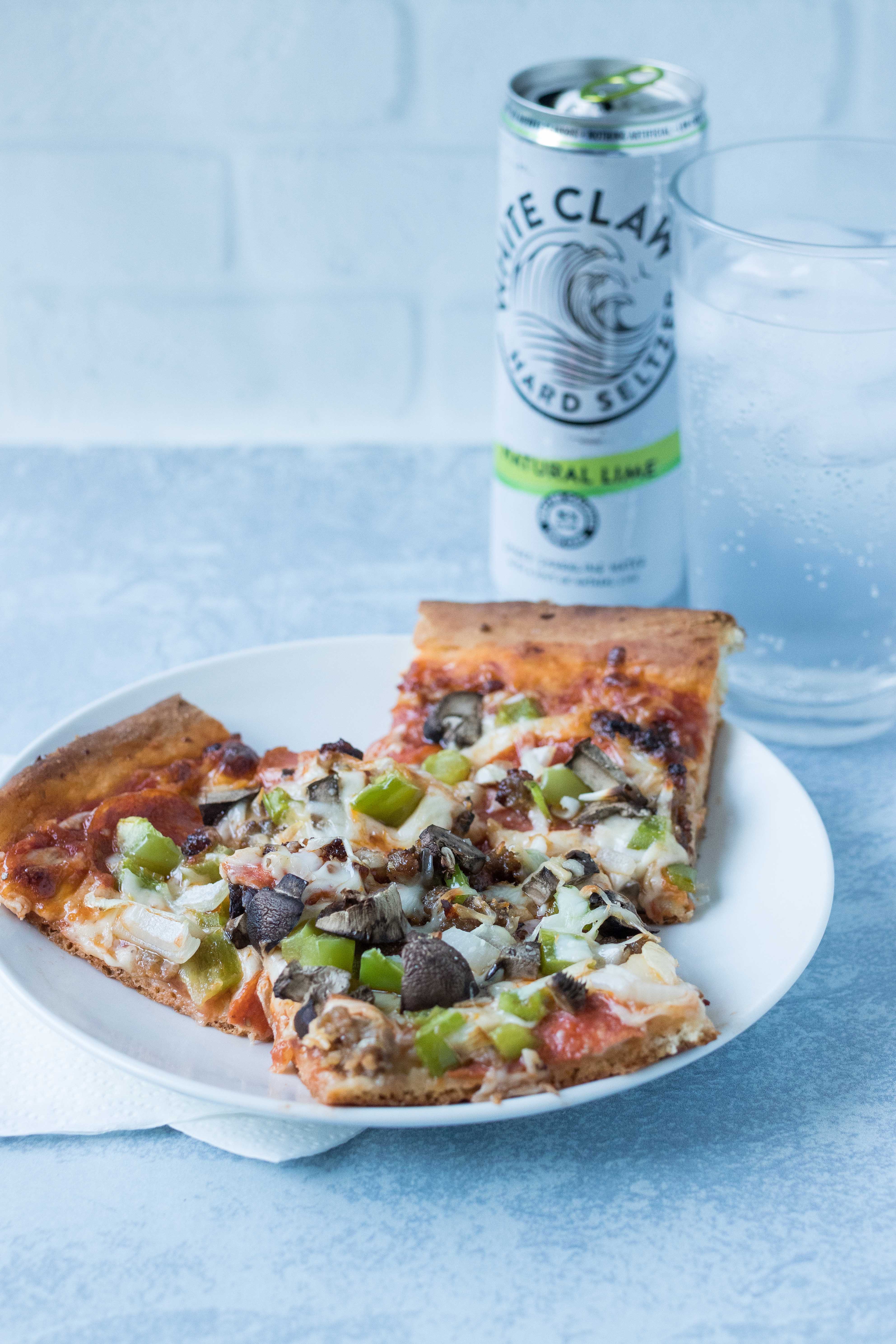 Homemade supreme pizza is the recipe you need to take family movie night up a notch.
Supreme pizza is the toppings combination that makes everyone happy in my house. Jake has to have meat on his pizza. I'm the weirdo who has to have veggies on her pizza (and actually really loves pizza solely with veggie toppings). Enter supreme pizza. Unless I'm making white pizza (I still need to share that recipe here), I always make supreme pizza at home. There isn't even a discussion about it. Of course, when we're ordering pizza, one of them is always supreme, too. Again, without a discussion. Welcome to married life. Predictability can be a good thing.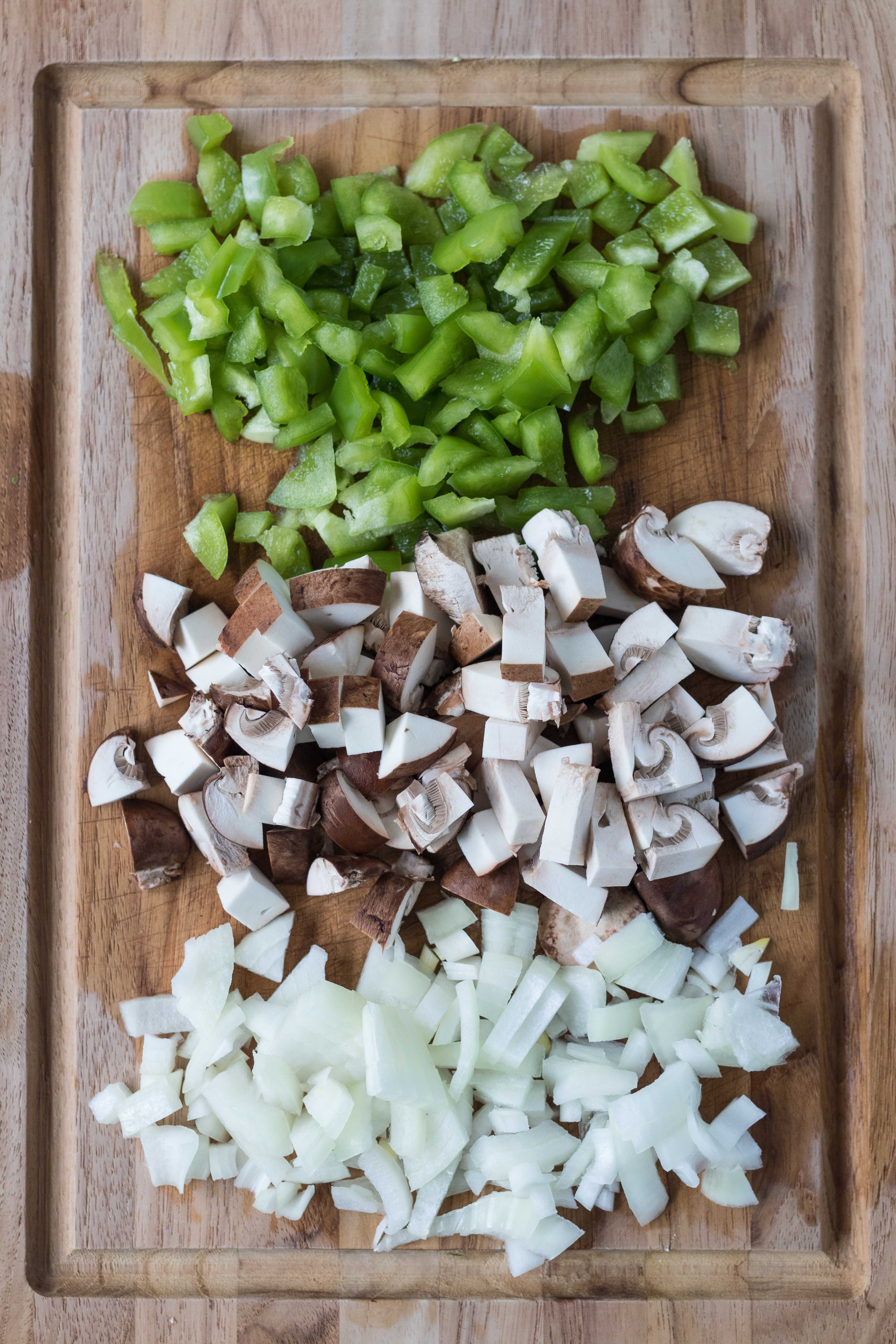 I went with the classic pizza meats – sausage and pepperoni – because why mess with the basics? Mushroom and onion is my all-time favorite pizza topping pairing. So naturally, it's where I gravitated when choosing supreme pizza veggies. Then I added green pepper (or red pepper depending on what we have at any given time), which pairs nicely with the mushroom flavor, so you aren't overwhelmed with mushrooms.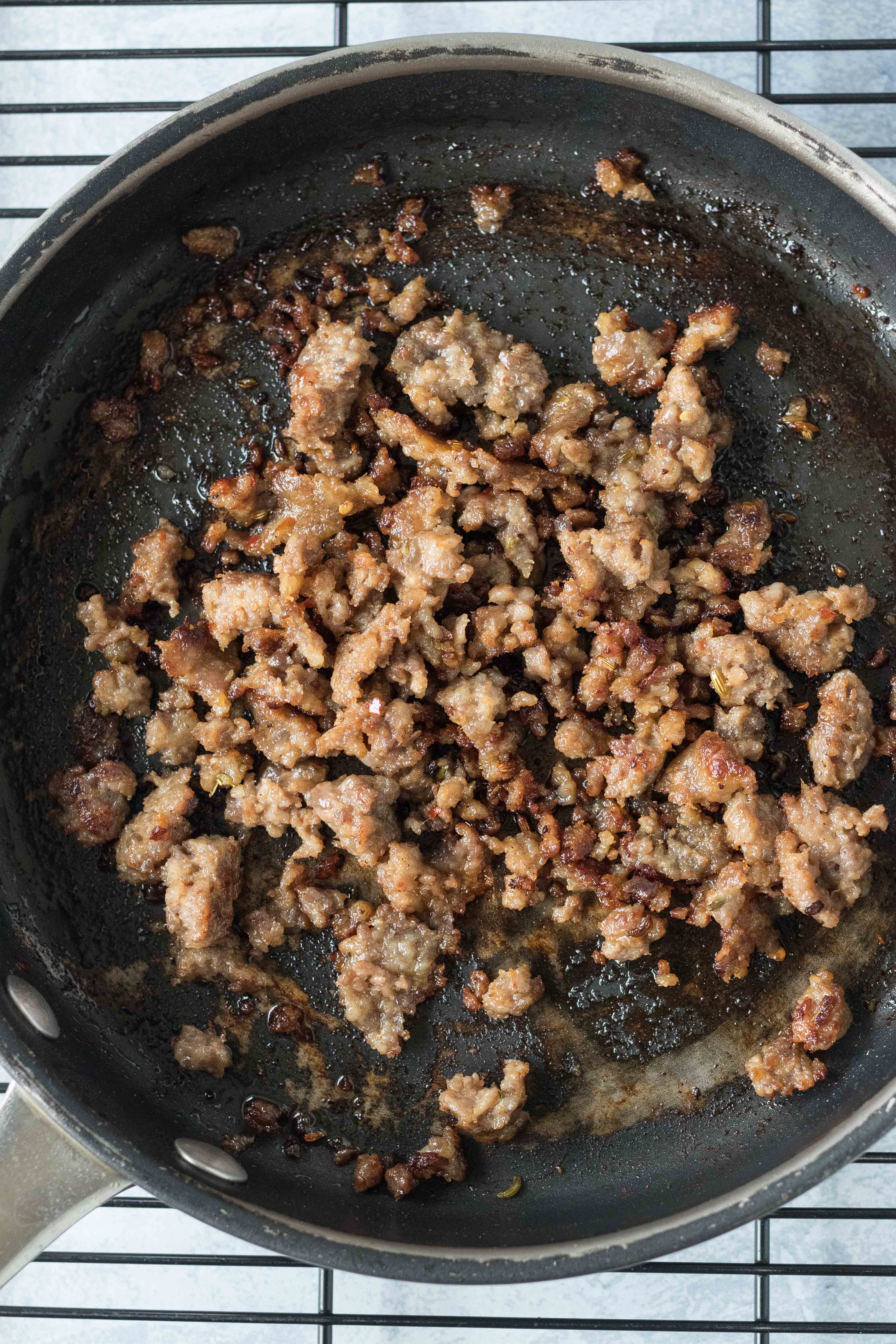 Don't feel limited to these pizza toppings. If you want to switch up the meats, consider Canadian bacon or even chicken. For veggies, banana peppers and black olives are also classic choices. You can even swap out the yellow or white onion for red onion to give it a slightly different flavor kick.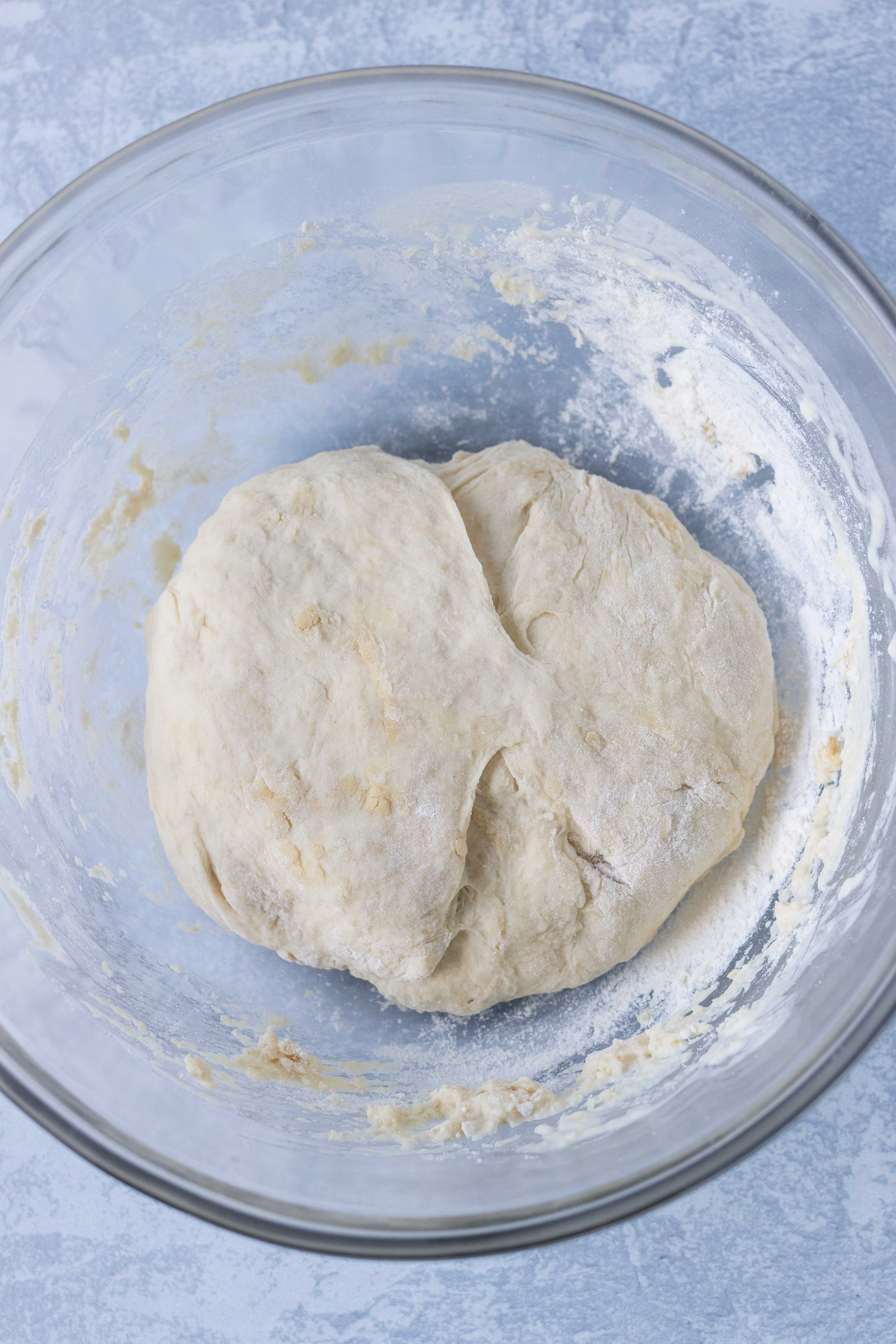 You can use any pizza dough of your choosing. My go-to pizza dough is hot roll mix. I first talked about it here when I shared my pizza calzones. I keep it on hand for a couple different calzone recipes (I still need to share that other calzone recipe as well). I'm linking the mix here, so you know what I'm talking about, but you'll definitely find it at a better price in stores. I like using hot roll mix for pizza dough because it's less time consuming than dough from scratch but fluffier and more flavorful than dough that's frozen or from a tube. I reserve zero judgement for your pizza dough choice. Do what works best for you.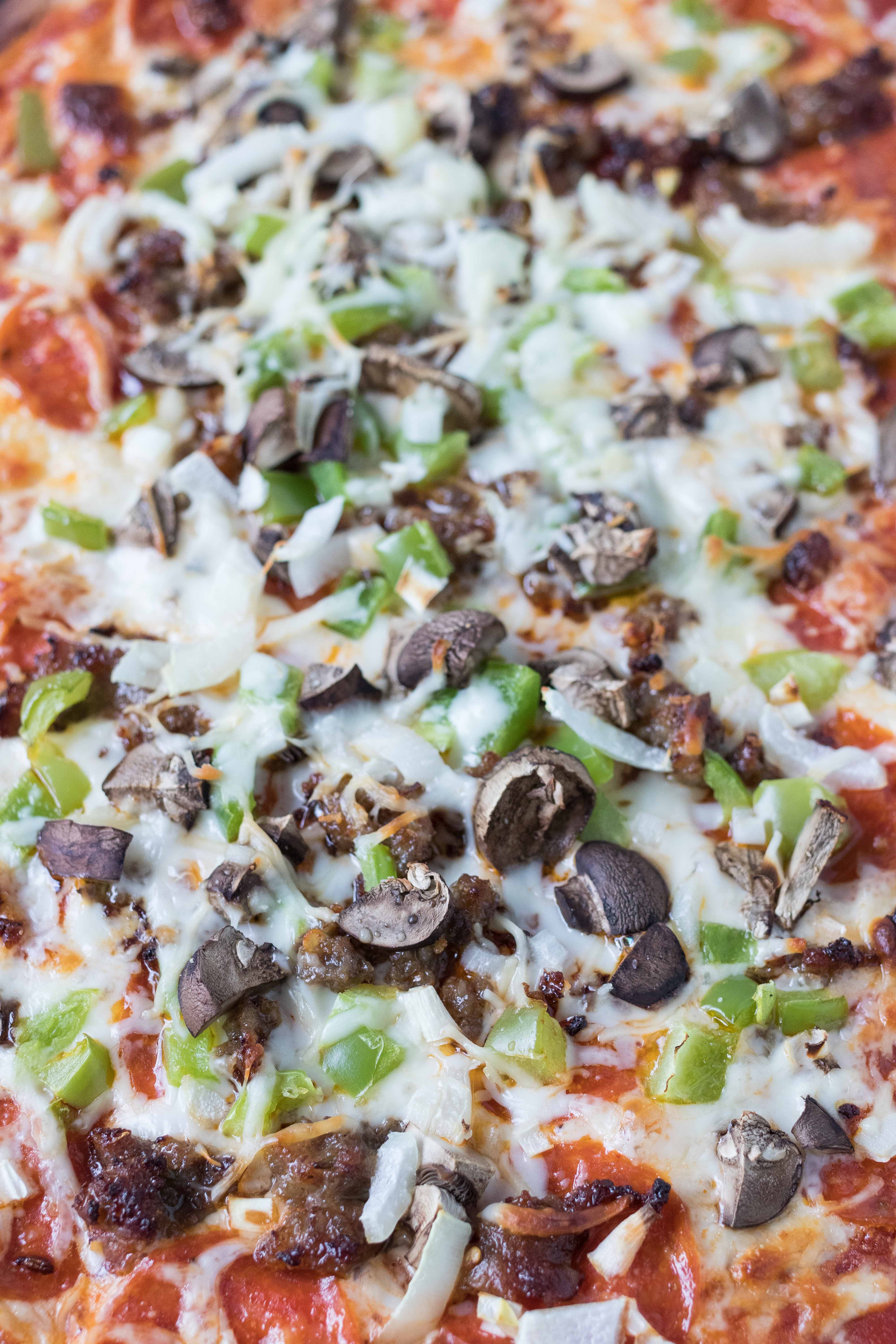 This homemade supreme pizza recipe serves a lot of people. If you have a large group of kids over or you're hosting a birthday party, it's perfect. You may even want to make a double batch. I'm sure that I don't need to state this fact, but pizza also makes fantastic leftovers. It often tastes even better the next day. You're set for another dinner or a few lunches, which is always a plus.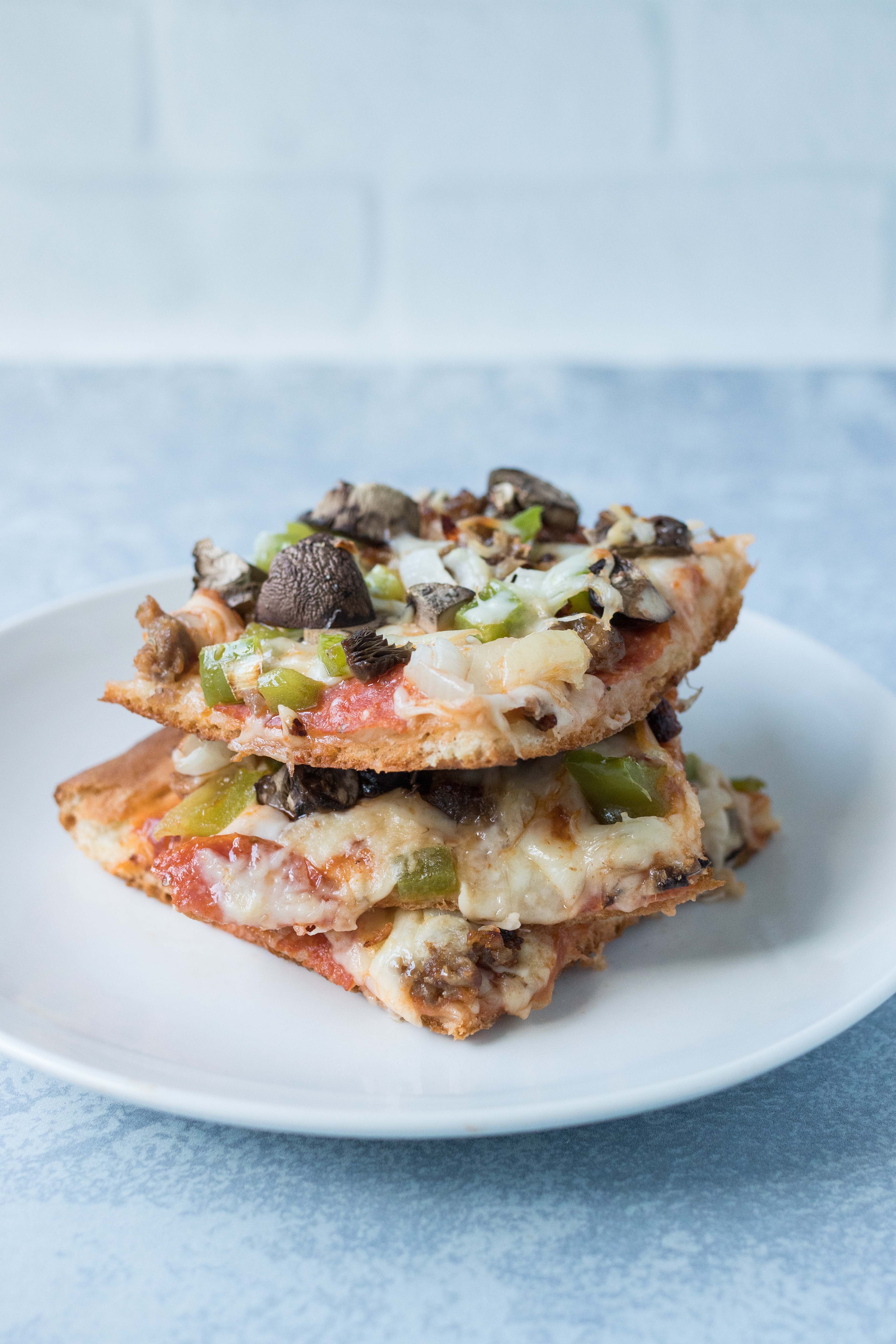 Also, if two supreme pizzas is too much, make the full dough recipe, but then switch up the toppings on one of the pizzas. Keep it all meat or all veggies, or if you're serving little kids or picky eaters, go super basic and make that second one a cheese pizza. You can even do a half cheese and half meat pizza. I have done all of the above, depending on the crowd. There are so many options here.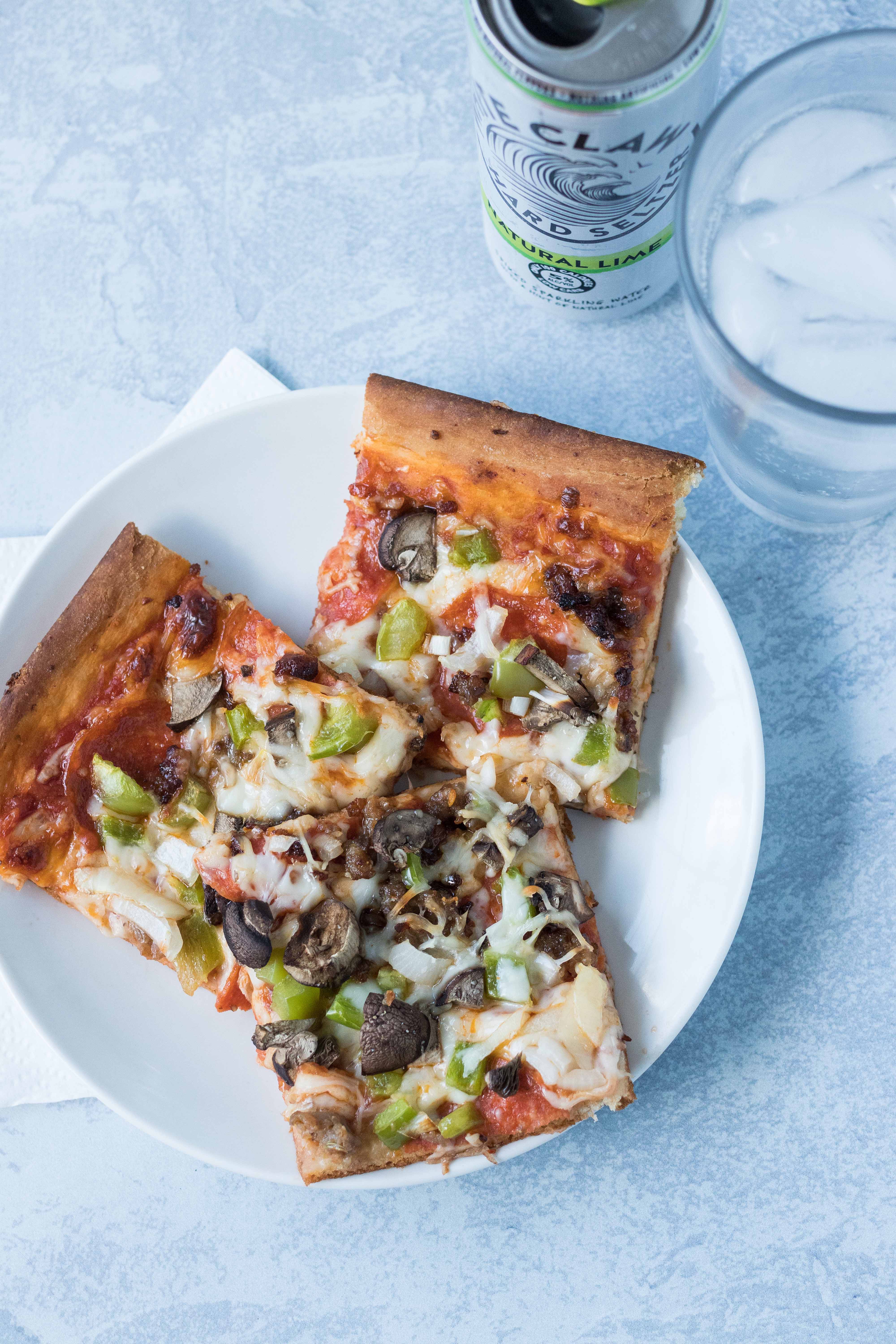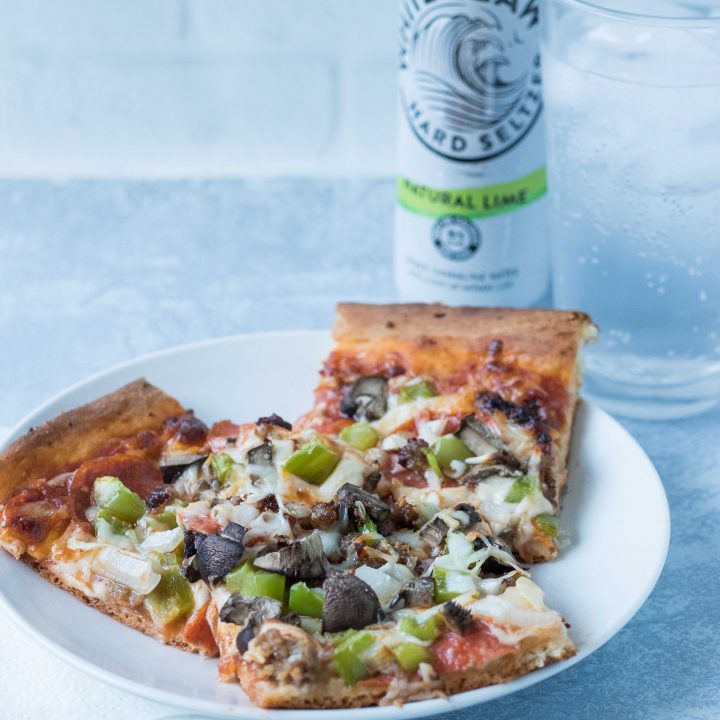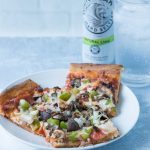 Print Recipe
The Best Homemade Supreme Pizza
Homemade supreme pizza is so delicious and easy to make, perfect for family movie night!
Ingredients
1

package

Pillsbury hot roll mix

1¼

cup

hot water

2

tablespoons

extra virgin olive oil

flour

as needed for the dough

16

oz

tomato sauce

garlic powder

for seasoning the sauce

oregano

for seasoning the sauce

4

cups

mozzarella cheese

shredded

¼

cup

Parmesan cheese

shredded

2-3

links

Italian sausage

casing removed, cooked

2-3

oz

pepperoni slices

4

oz

baby portobello mushrooms

sliced

½

sweet pepper (red or green)

diced

½

yellow or white onion

diced
Instructions
Preheat oven to 425 degrees. Grease two large baking sheets with nonstick cooking spray.

Heat the water in a microwave-safe container in a microwave on high for one minute 10 seconds. Add the flour mixture and yeast for the hot roll mix to a large mixing bowl. Stir well with a wooden spoon. Add the hot water and olive oil. Bring the mixture together with a wooden spoon.

When the dough has formed a ball and is cool enough to handle, transfer it to a flat, floured surface. Kneed the dough for 1-2 minutes, adding more flour as needed. You want the dough to be slightly sticky and not dry.

Divide the dough into two equal portions. Using a rolling pin, roll out each section of dough to fit a large baking sheet. The dough does not have to fit exactly. Folding each piece of dough into quarters, transfer them to the prepared baking sheets.

Poke the dough all over with a fork. Cover with a towel and let rise in a warm place for 15 minutes.

While the dough is rising, dice the vegetables, shred the cheese, and cook the sausage. To cook the sausage, grease a large frying pan with nonstick cooking oil. Remove the sausage casing and break the sausage into chunks as you add it to the pan. Cook over medium heat, continuing to break up the sausage as it cooks. Drain well.

When the dough is ready, spread the tomato sauce evenly over the dough, leaving a border around the edge for the crust. Cover the sauce with an even sprinkling of both garlic powder and oregano. Sprinkle 3 cups of mozzarella cheese and 1/8 cup Parmesan cheese over the sauce.

Layer the pepperoni slices and then cooked sausage. Layer the mushroom, pepper, and onion. Sprinkle the remaining cheeses.

Bake for 18 minutes, rotating halfway through, or until the crust is slightly browned and the cheese is bubbling.

Let sit for a couple of minutes before slicing with a pizza cutter. Serve immediately.
Notes
Refrigerate any homemade supreme pizza leftovers in a sealed container. Leftovers will keep for up to a week and taste great hot or cold.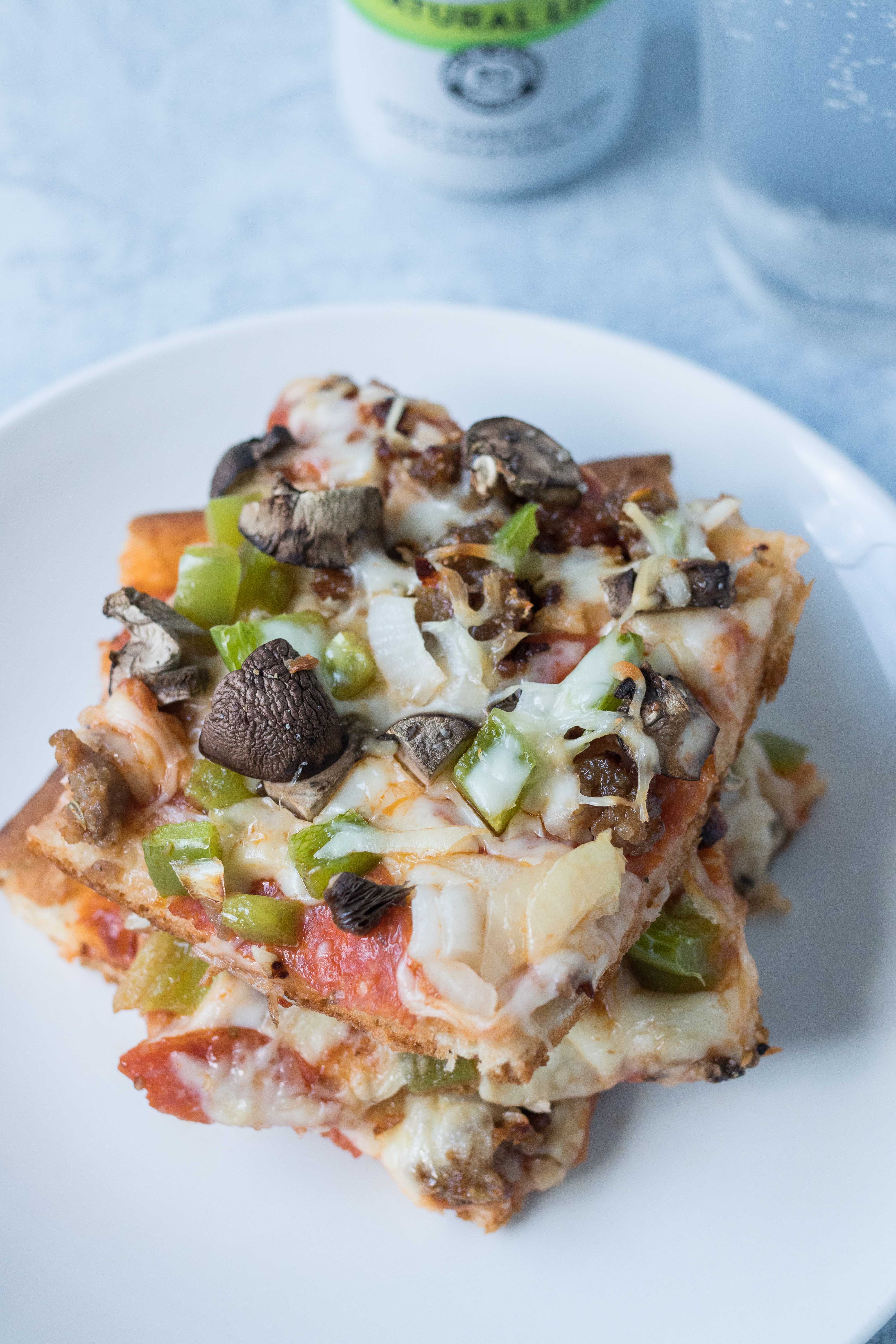 You now have a new easy weeknight dinner recipe that your family will look forward to eating every single month.
Did you make the best homemade supreme pizza recipe?
I want to see it! Tag your pictures #RoseClearfield on Instagram or Twitter or post a picture to my Facebook page.
[Disclaimer: This post contains affiliate links. Thanks for your support!]
More easy dinner recipes: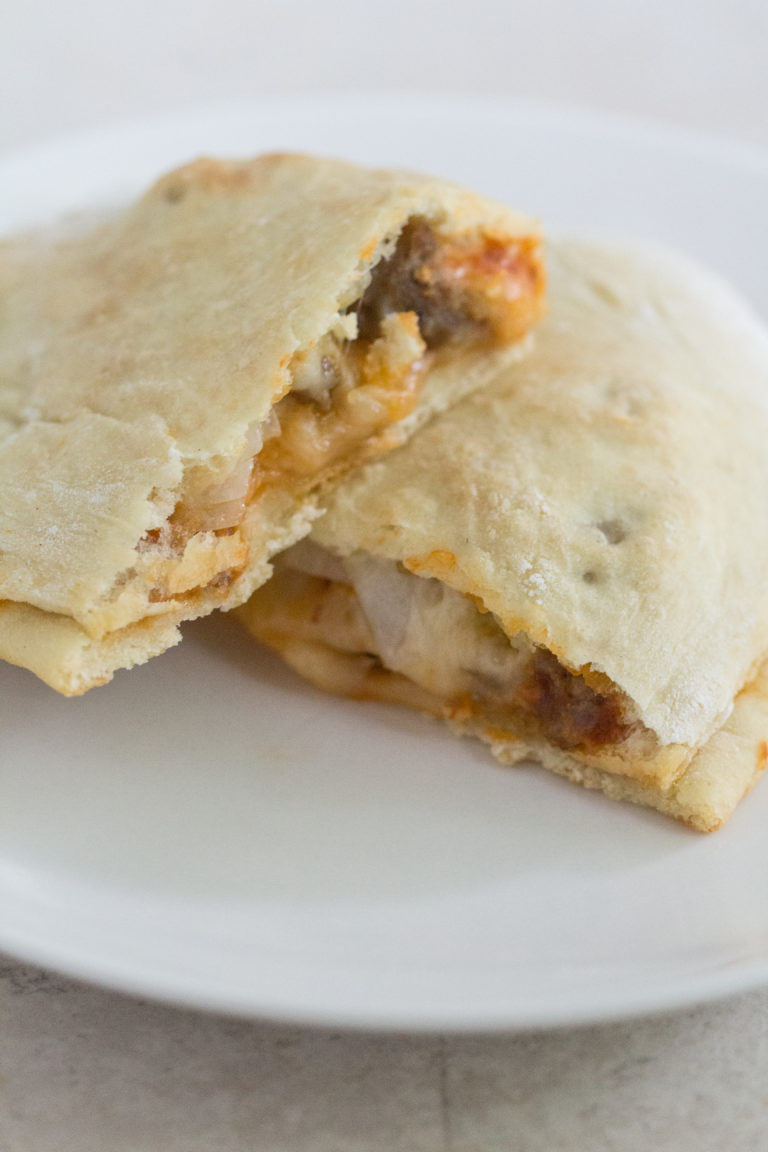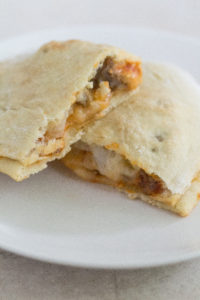 Pizza Calzones with Sausage, Pepperoni, and Onion