Cheesy spinach sausage calzones will quickly become one of your staple weeknight dinners. It's also one of my tried-and-true recipes for getting non-vegetable eaters to consume spinach on a regular basis.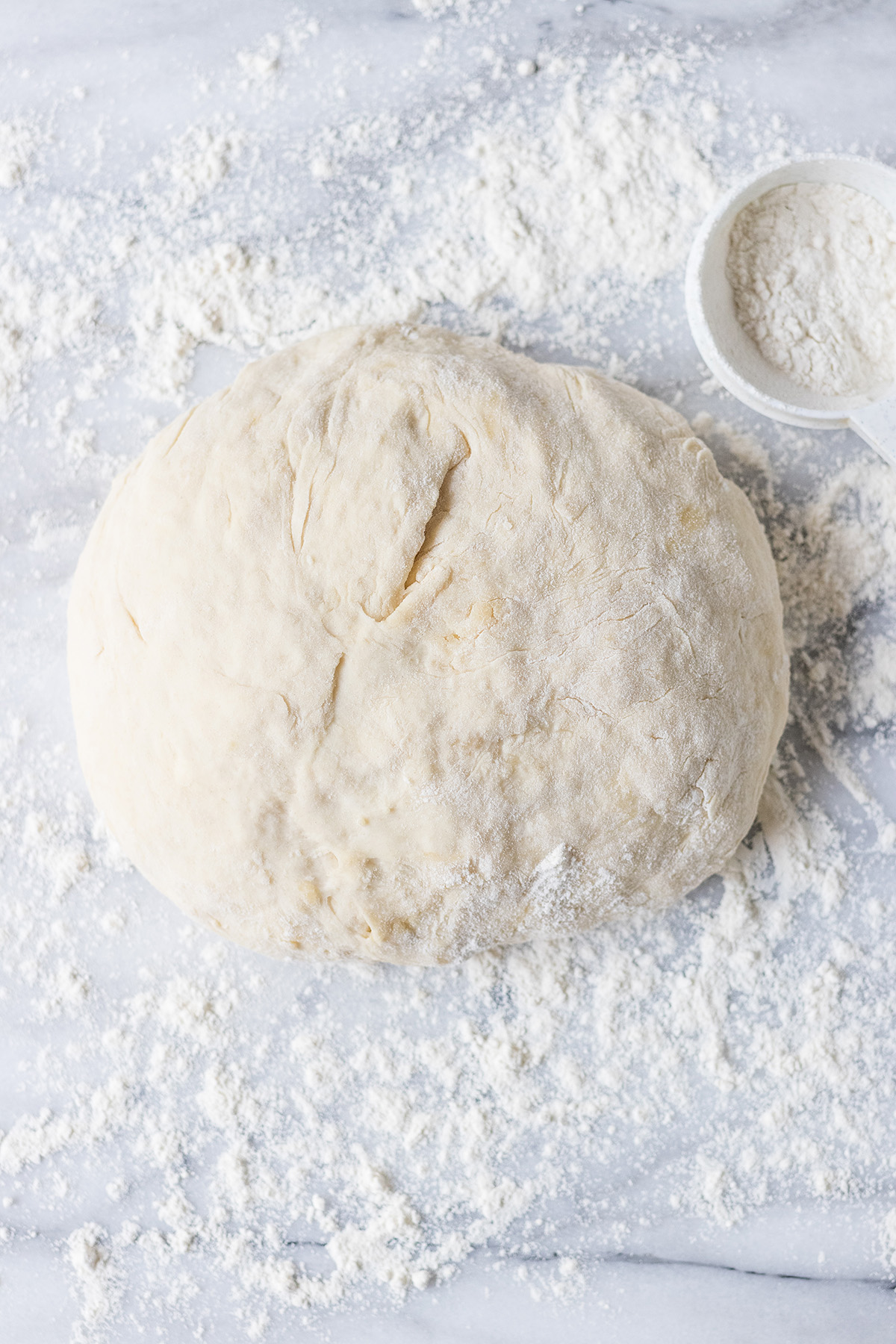 Spinach sausage calzones are one of those obnoxious recipes where I try to tell you my life story before I explain how to make them. I know, I'm way over this trend, too. But it's that recipe for me. It's actually a very old Kraft recipe, not one you'll find anywhere online now. It's one of my husband's absolute favorite recipes and a favorite in general among his immediate family members. My in-laws have been making it far longer than I have. But I make it much more often and frankly, better.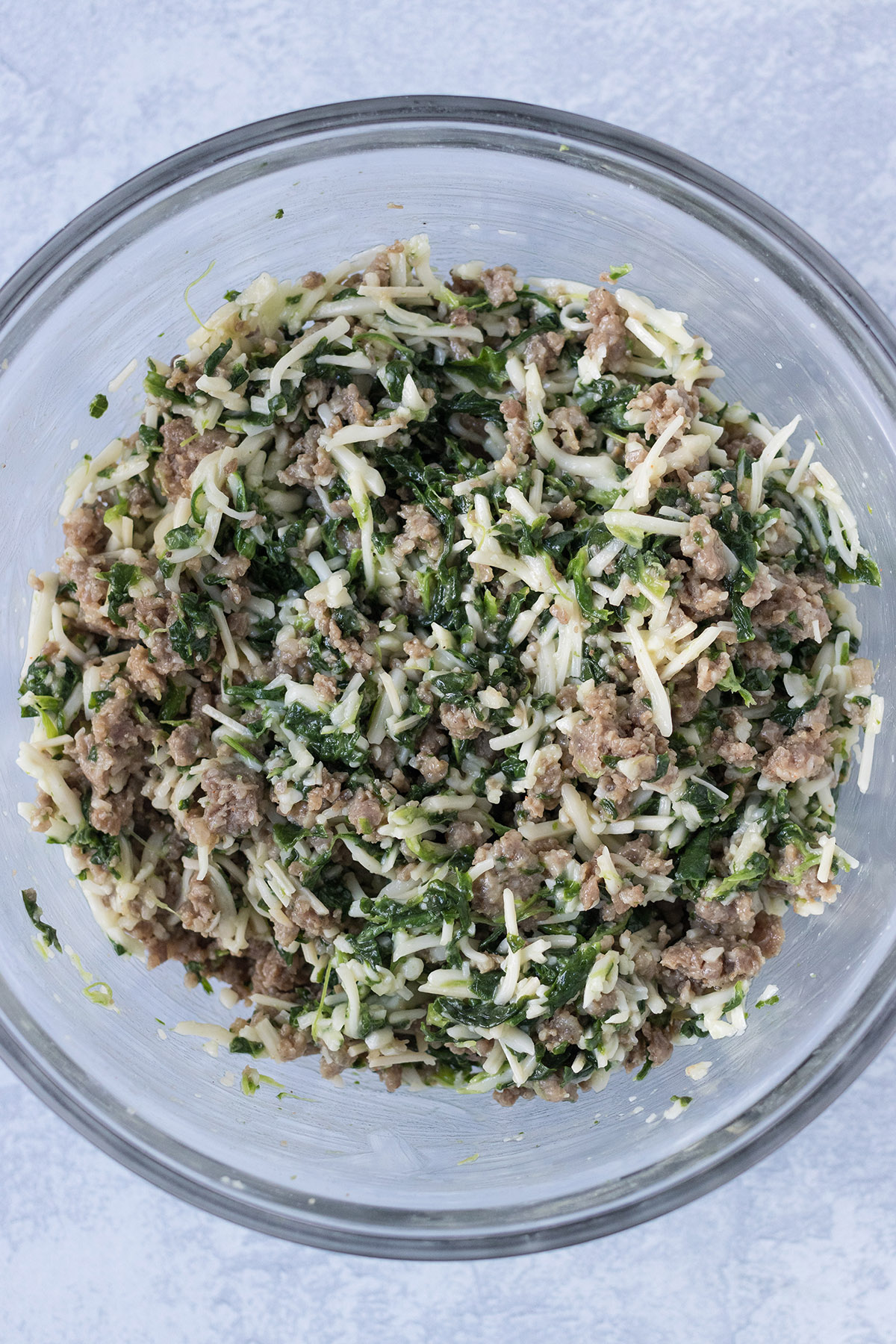 So it's very much become our own family recipe. Spinach sausage calzones are among the very first recipes I made when I got married, actually even right before I got married. I started making them regularly right after I graduated and first had my own apartment. And I've been making them every single month, if not more often, ever since. Four residences in three states and thirteen years later, it's been a constant through our marriage and the many stages of life that have come with it.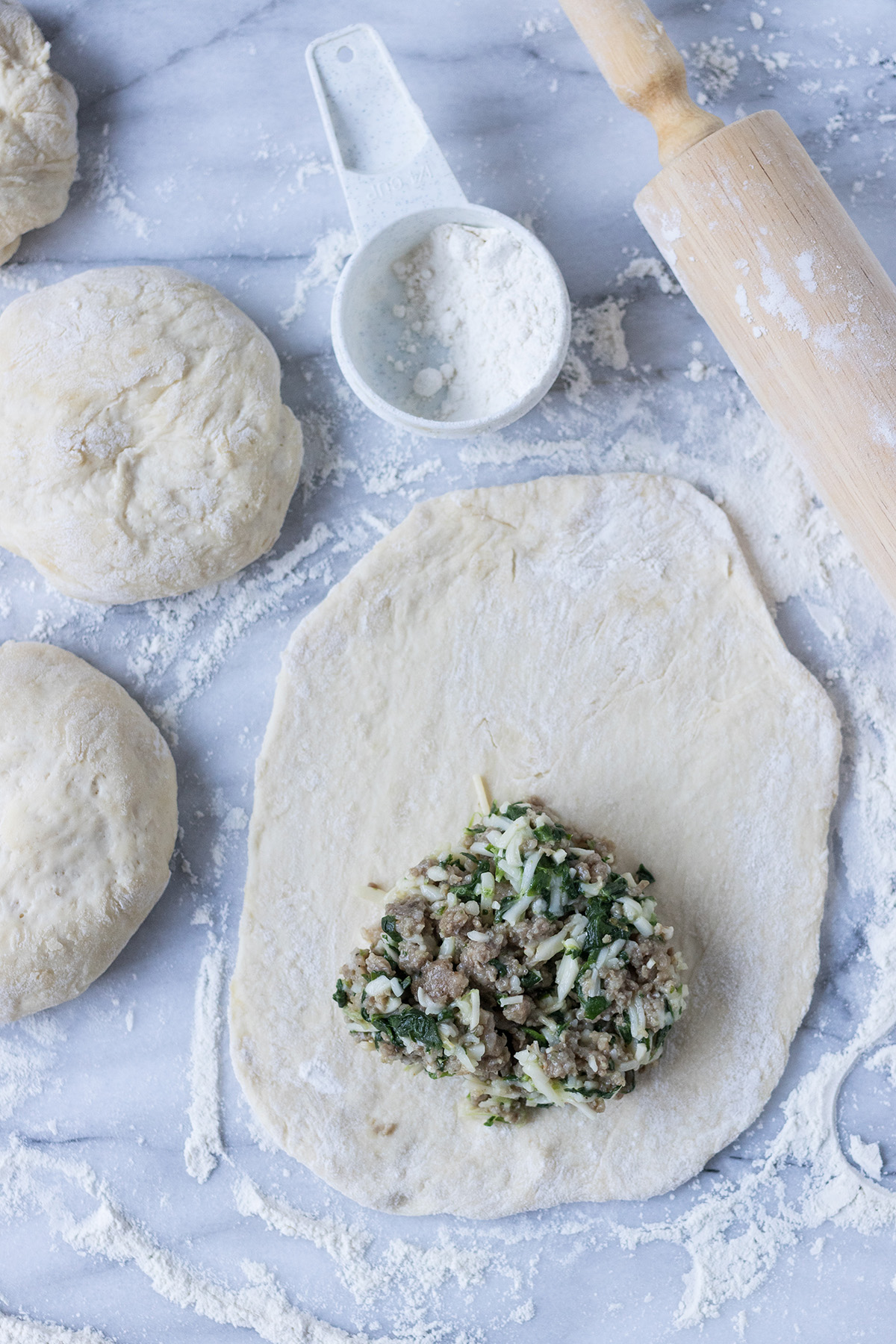 I promise that's the extent of my personal story for this recipe. However, I also share an obnoxious number of tips in the notes section of the printed recipe. For what is really a fairly straightforward dish, it seems a little ridiculous. After making a recipe month after month for a whole decade, I've developed a number of my own tactics to ensure perfection every single time. So I'm laying it all out here for you and make no apologies about it.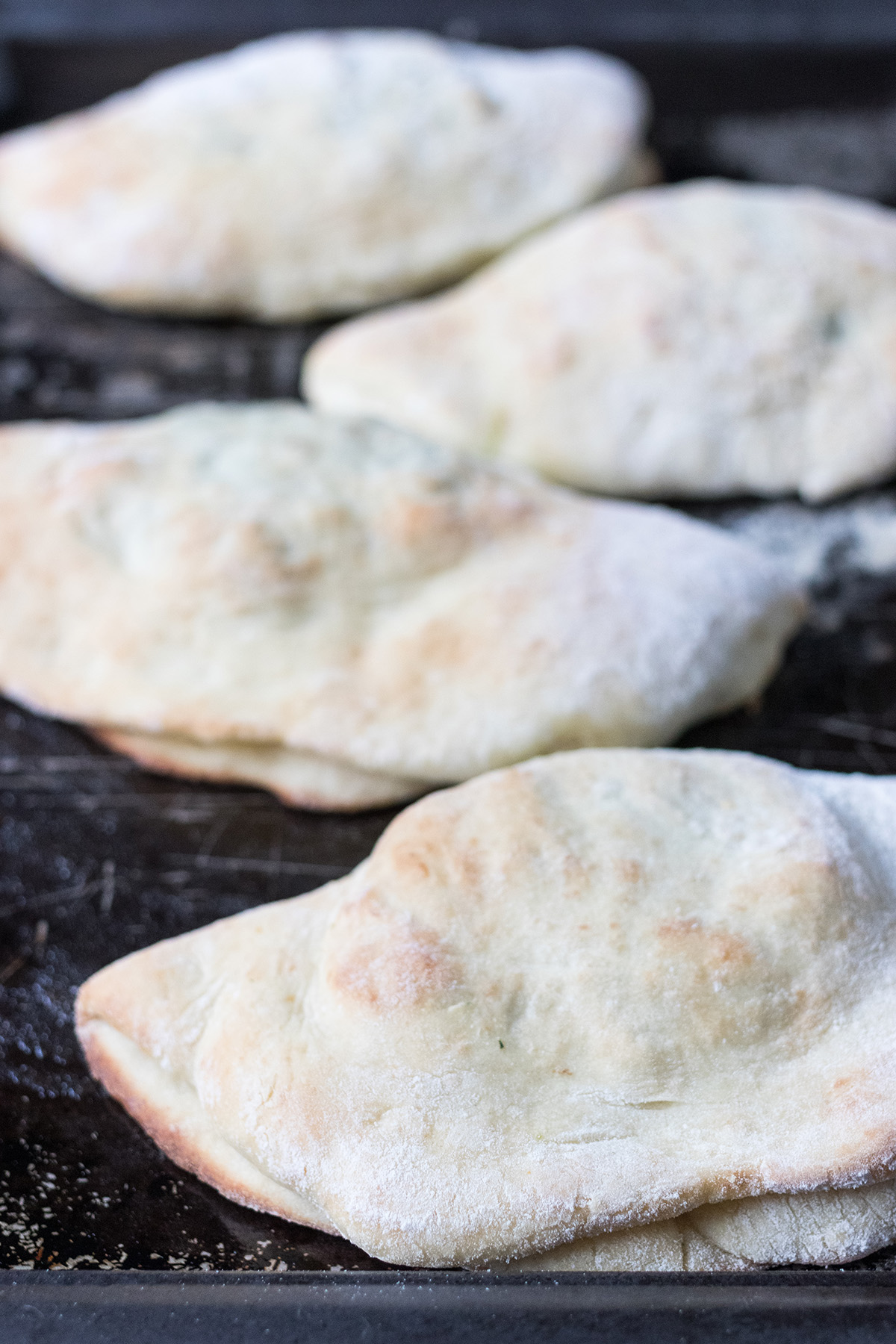 Why are spinach sausage calzones so great? The recipe has a short, simple ingredient list. After making it a few times, you'll have the recipe memorized and can knock out the whole thing on a weeknight after work. I have made these calzones for many people over the years, and I have yet to meet anyone who doesn't like them. You can feed kids and adults alike happily. And you will get even the pickiest vegetable eaters to eat their spinach without question.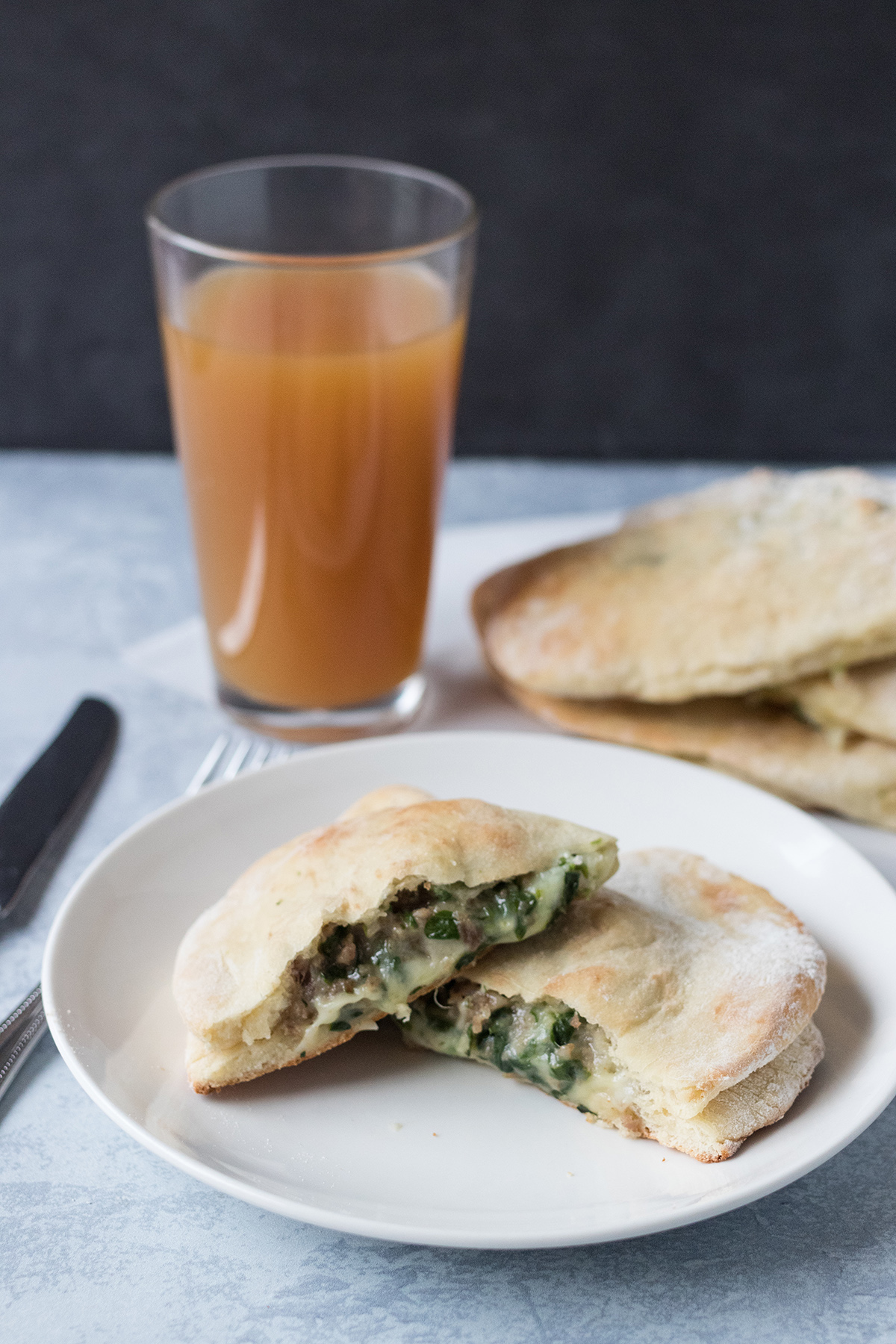 The one caveat to the short recipe list is that two of the ingredients, the hot roll mix and frozen creamed spinach, aren't available in every grocery store. I am very much a shop at one grocery store person and have very few regular recipe exceptions that get me to go elsewhere. Spinach calzones are one of them. Locally in southeast Wisconsin, I have the best luck finding both ingredients at Festival Foods, Sendik's, and Piggly Wiggly.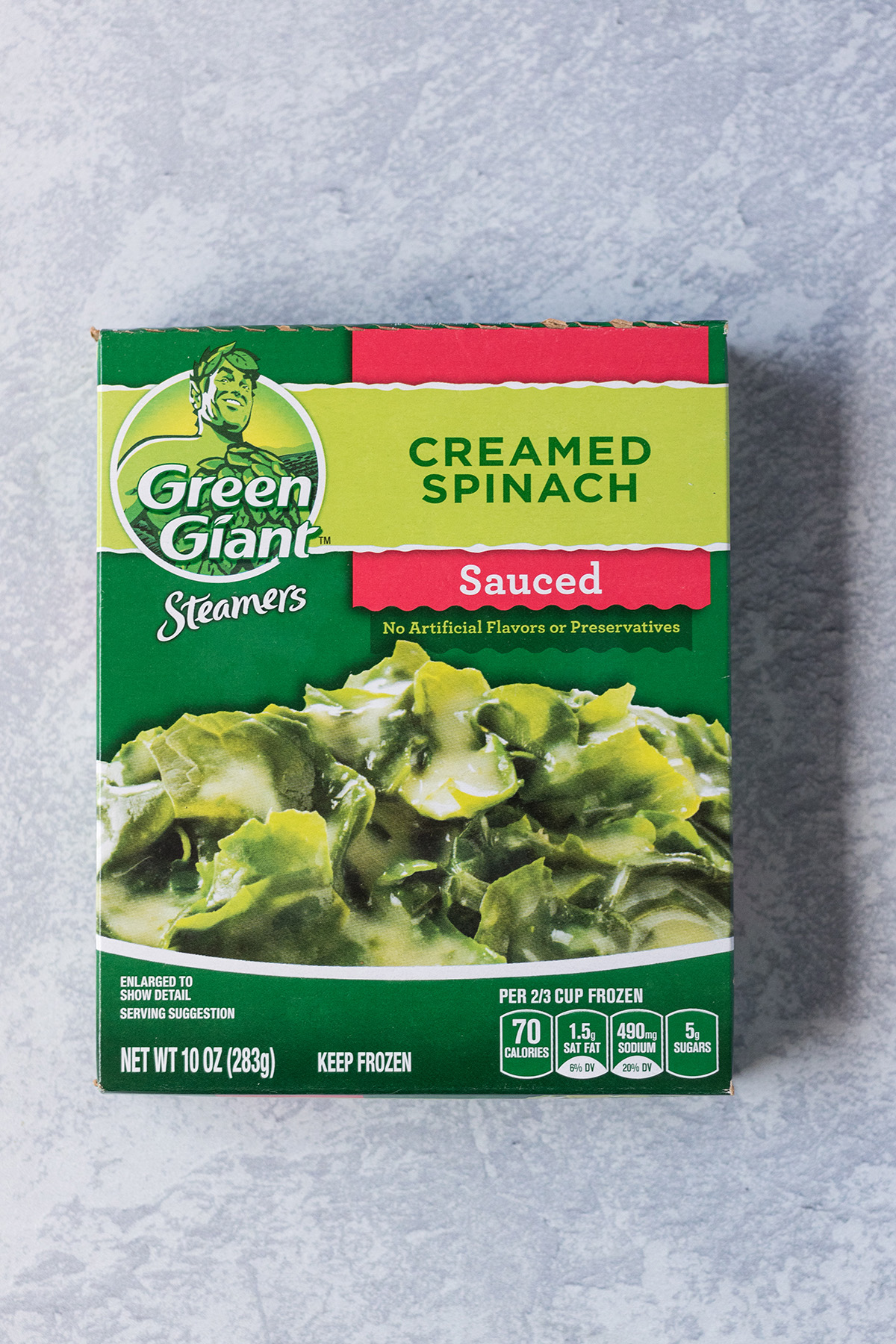 I've linked the hot roll mix above and am sharing a picture of the frozen creamed spinach here to increase your chances of finding said products in the stores. Unfortunately, the hot roll mix price online is terrible. You'll do so much better finding it in stores. The good news is that both of these ingredients keep well, so you can stock up when you do locate them.
I know that the whole dough from scratch element of spinach sausage calzones is a little intimidating. Aside from making rolls twice a year for Thanksgiving and Easter, I'm not a bread from scratch person. So I get it. Hot roll mix is the perfect compromise. I use it for my pizza calzones and supreme pizza, too. It's much better than frozen or refrigerated dough but doesn't require the time or expertise of from-scratch dough. The margin for error is much smaller. You'll quickly grow comfortable with it and know how much flour you need to add and how long to knead the dough.
Finally, I have to mention that the most recent addition to my spinach sausage calzones making routine is the marble pastry slab you see with the dough at the top of this post. After years of making dough right on laminate counters, we moved to our "forever" home, and I went for the pastry slab, so I don't ruin my stone island countertop. Yes, it's a bit of an indulgence. But a marble slab is a game-changer for breads, rolls, and pie crusts. And it also doubles as a beautiful serving platter or large trivet. I have the slab from Crate and Barrel, and as with all their products, I can't recommend it enough. You'll find a comparable model available in multiple sizes on Amazon.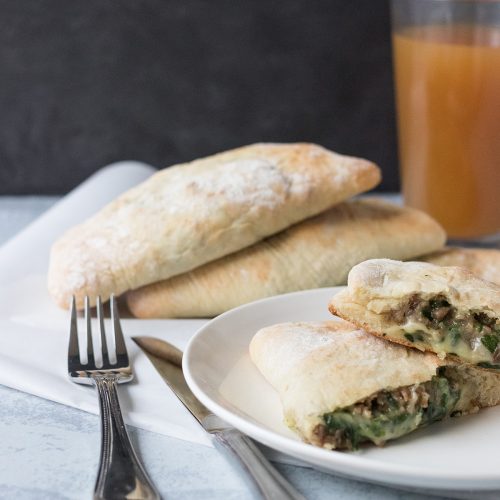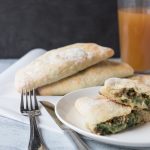 Print Recipe
Cheesy Spinach Sausage Calzones
Easy, kid-friendly calzone recipe perfect for busy weeknights!
Ingredients
Dough:
1

16 oz. box

Pillsbury Hot Roll Mix

1 1/4

cups

hot water

2

tablespoons

extra virgin olive oil

extra flour for the hot roll mix and rolling out the dough
Filling:
1

lb.

Jimmy's Dean premium pork sausage, regular

2

cups

whole milk mozzarella cheese

shredded

1/4

cup

Parmesan cheese

shredded

1

10 oz. package

Green Giant creamed spinach

thawed
Instructions
Preheat the oven to 425 degrees. Grease two baking sheets with nonstick cooking spray. Set aside.

Measure the water into a Pyrex measuring cup or other microwave-safe container. Microwave on high for one minute 10 seconds.

While the water is heating, add the hot roll mix to a large mixing bowl. Combine the flour mixture and yeast packet. Add the olive oil, and give the mixture a couple of stirs.

Add the water to the roll mix. Bright the mixture together with a large wooden spoon until it's cool enough to handle.

Transfer the dough to a pastry slab or other large work surface dusted with flour. Knead it for 2-3 minutes, adding flour as needed.

On a floured surface, divide the dough into eight equal portions. Allow it to rise, uncovered, for 10 minutes.

While the dough is rising, make the calzone filling. Spray a large frying pan with nonstick cooking spray. Break the sausage into chunks. Turn the heat to medium. Cook the sausage, breaking into smaller pieces as it cooks. Drain the meat thoroughly.

While the meat is cooking, add the shredded cheese and thawed spinach to a medium-sized mixing bowl. Combine thoroughly.

When the meat has finished cooking, add it to the cheese and spinach. Combine thoroughly.

On a floured surface, roll out a ball of dough. Add a 1/2 cup of filling to one side of the dough. Fold it over, pinching the edges. Place the newly formed calzone on one of the baking sheets. Repeat this process for the remaining calzones.

Bake for 12-13 minutes, rotating the pans halfway through.

Allow to cool for five minutes before serving.
Notes
The hot roll mix always needs flour during the kneading process. Add enough flour so that the dough comes together smoothly and isn't overly sticky.
My favorite way to drain meat is to fold a single full-size paper towel into quarters, make space for the folded towel in the pan, and place it right in the pan to soak up the grease. Repeat as needed with a second paper towel.
I like to use pre-shredded Parmesan cheese for my calzones. You can also buy a block of fresh Parmesan and shred it. Please don't use the Parmesan that you buy in a can and shake over pasta.
To defrost the spinach, I cut off the plastic wrapping and place the block on a microwave-safe plate. Then I microwave the spinach for two minutes, flipping the block over halfway through. The spinach won't be completely thawed, which is okay. It will mix with the cooked sausage and then get baked, ensuring it will heat through completely.
When I bake the calzones, I place one pan on the bottom rack and one pan on the top shelf. Then I rotate the pans halfway through baking.
When you make the dough on a pastry slab or right on the kitchen countertop, I've found that the best way to scrape up the dough remains is with a spatula. Once you've used a spatula to clean up the majority of the remains, you'll be able to wipe down the work surface with minimal effort.
Store leftover calzones in an air-tight container in the refrigerator for up to one week.
URL: https://www.roseclearfield.com/spinach-sausage-calzones/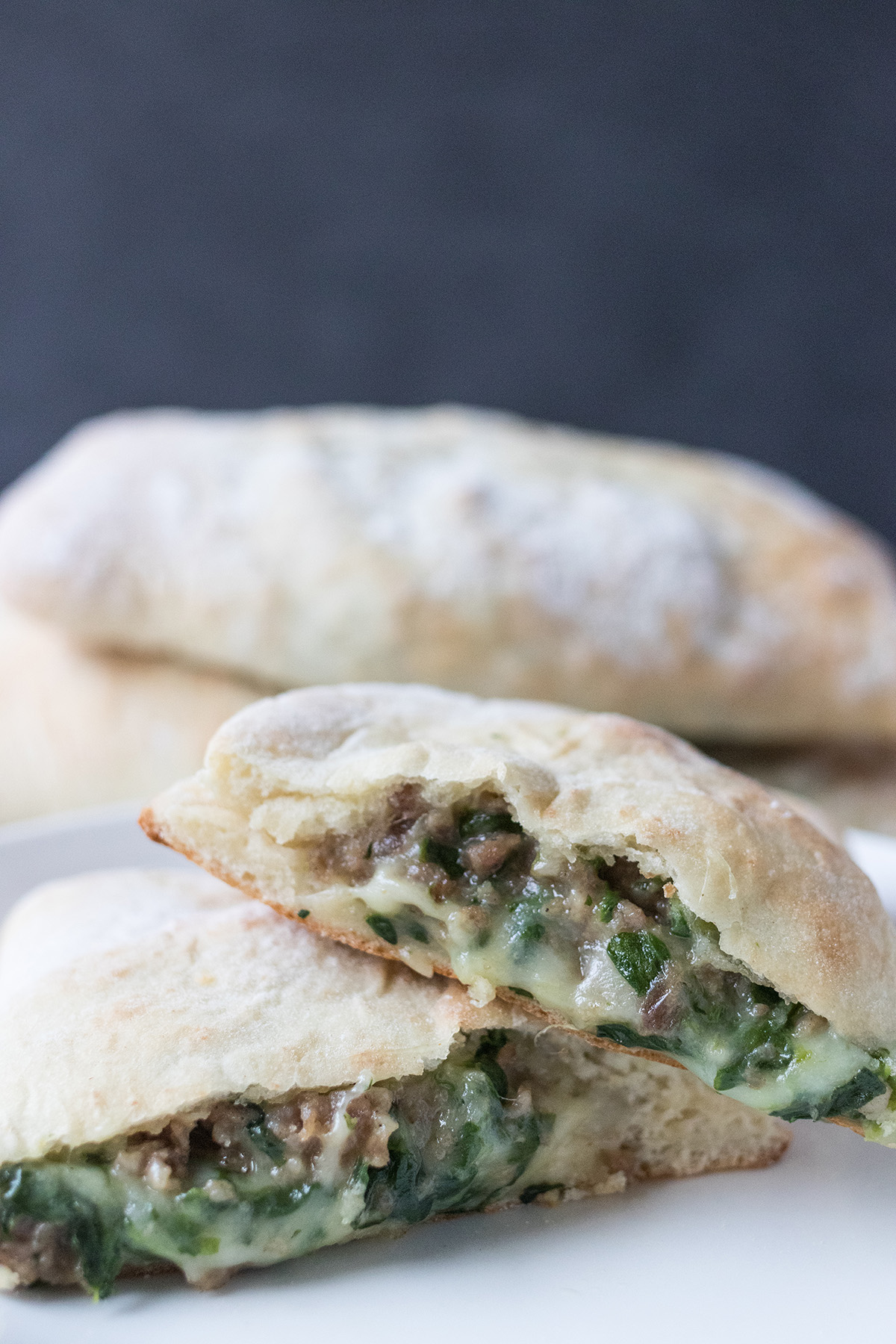 Weeknight dinners will never be the same again.
[Disclaimer: There are a few affiliate links in this post. Thanks for your support!]
Did you make the cheesy spinach sausage calzones?
I want to see them! Tag your images #RoseClearfield on Instagram or Twitter or post a photo to my Facebook page.
Pin this recipe for easy access to the spinach sausage calzones later!