I am prone to dry hands, especially in the winter. While I've always had dry skin, especially my hands, parenthood hasn't helped the situation. Between diaper changes, cleaning, cooking/eating, and washing dishes, I wash my hands almost every hour throughout the day. My hands really take a beating during the coldest months of the year. The past couple of winters, I've had to up my hand skin care routine. Thankfully, I've found a few products that have made a huge difference, and my hands look and feel better than ever. I'm sharing my top 5 favorite products for dry hands and my routine for using said products, which is how I keep my hands in top condition.
Vaseline Intensive Care Lotion Advanced Repair
Vaseline Intensive Care Lotion Advanced Repair has been my go-to lotion for years. Most lotions are greasy and heavily scented, both elements I don't want in a lotion that I use throughout the day. Vaseline Intensive Care goes on so smoothly without a smell and works wonderfully. I keep large pump bottles in both upstairs bathrooms and small bottles in the kitchen and main floor powder room, so it's easily accessible all day.
Target makes a generic version of the Vaseline Intensive Care, which I think is just as good. I buy whichever one is available at Target when I need to stock up on it.
Kopari Coconut Crush Scrub
I'm sure you're tired of me talking about Kopari Coconut Crush Scrub. I featured it in two of my 2018 gift guides and mentioned it in my fall favorites post. I promise that this is the last time I'll be talking about it for a while. I've mentioned this sugar scrub so many times because it's the best. It's been a total game changer for my entire skin care routine, including my hand care. I use it 3-4 times per week in the shower. I do an overall application for my hands and then target any rough areas (knuckles, etc.).
The application is amazing, and when you get in a regular routine with it, the results are long-lasting. My skin feels better and smoother all the time. I know that Kopari products are pricy. But I promise that the sugar scrub is worth every penny.
Weleda Skin Food
I picked up Weleda Skin Food after Jessica mentioned it in one of her recent beauty favorites posts. I had no idea what to expect but figured it was worth a try, as it was December and my hands were already taking a hit in the cold. I've been blown away. Adding the Kopari sugar scrub and Skin Food to my skin care routine this winter has made all the difference. My hands actually look good, not like they're on the verge of a dry, chapped disaster.
I like using Skin Food at night because it has a pretty strong smell. It's good but strong. I do need it during the day occasionally because winter is so tough on my hands. It absorbs pretty quickly, which is nice for day uses. Most of the time a nightly or every other night (alternating with Burt's Bees) is sufficient, which is pretty incredible.
Burt's Bees Almond & Milk Hand Cream
Jake gave me the Burt's Bees Almond & Milk Hand Cream as part of a Burt's Bees hand repair kit for my first Mother's Day because he knows how much I struggle with dry, chapped hands. I love the consistency and smell (the almond makes it smell like cookies!). It's smellier than I want for repeated daytime use but perfect for a final application at night. It's nice and thick without leaving a greasy finish. I alternate the Burt's Bees and Skin Food at night. Both of these products are a little pricy but well worth it because you need such small applications. One 2 oz. container will easily last you all winter.
Burt's Bees Almond & Milk Hand cream is available at Target and in two packs through Amazon.
Vaseline
Finally, when I need intensive spot treatment for rough areas on my hand, I use regular Vaseline. Vaseline lip therapy is the only product I use for my lips, and as such, I'm a big fan of it. In a pinch on the go, I've actually used the tiny lip therapy tubes for hand spot treatment. But I have a regular tub of Vaseline at home for the occasional night treatment. I like to do this right before bed as it is greasy and takes a while to absorb fully. I haven't needed to do a lot of spot treatments this winter, as the other products I'm using are so great. But I use it every once in a while on my knuckles or thumbs.
My winter dry skin care routine
From late fall through mid-spring, I adhere to the following routine using these products for dry hands.
Kopari sugar scrub in the shower every other day.
Vaseline IntensiveCare lotion following showers and as needed during the day after washing hands.
Alternate Burt Bees and Skin food before going to bed.
Vaseline spot treatment as needed before going to bed.
[Disclaimer: I was not sponsored to promote any of the products in this post. The product links are affiliate links. Thanks for your support!]
Pin this post for easy access later!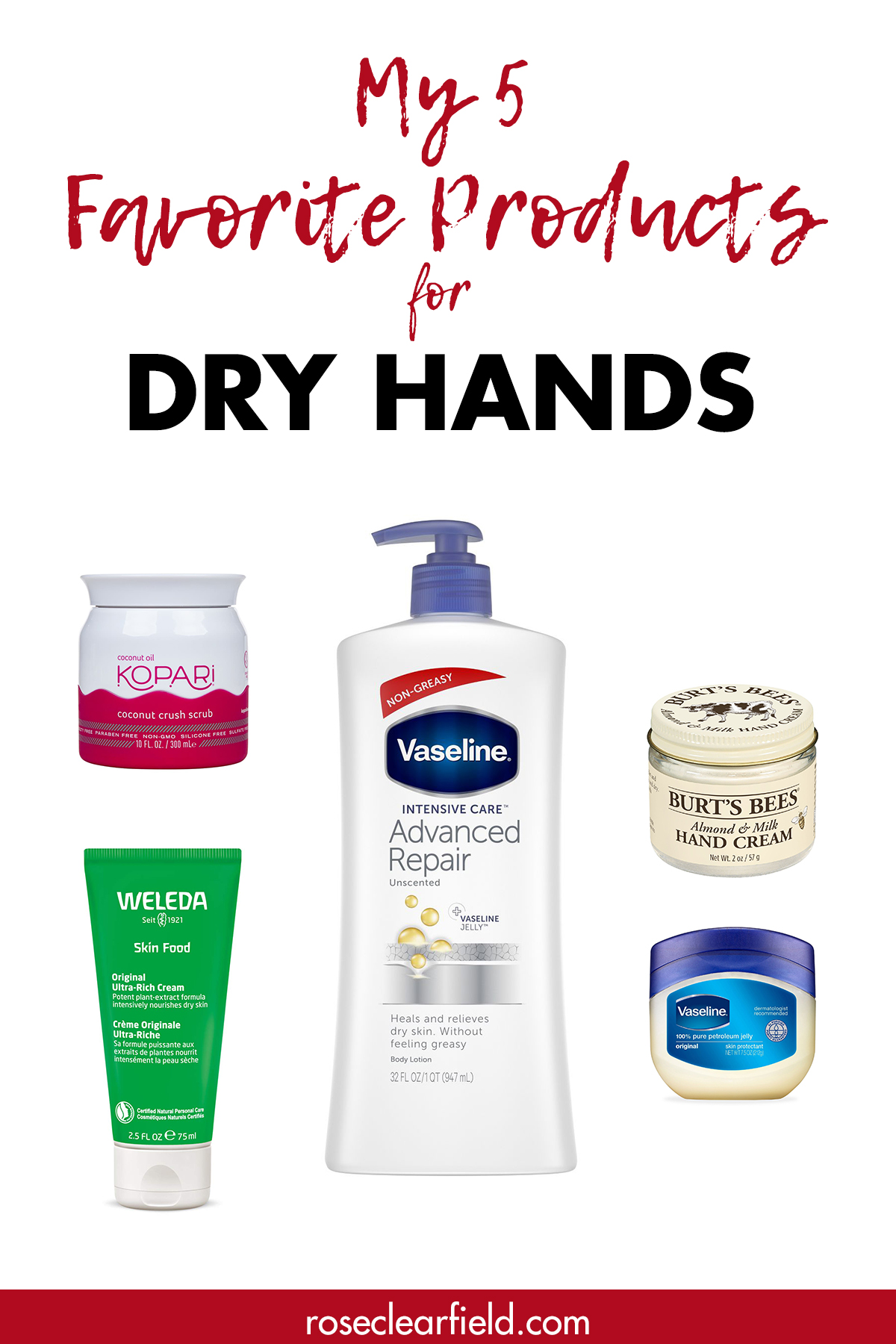 What are your favorite products for dry hands?
I'd love to hear your recommendations! Feel free to leave links in the comments.
More winter resources: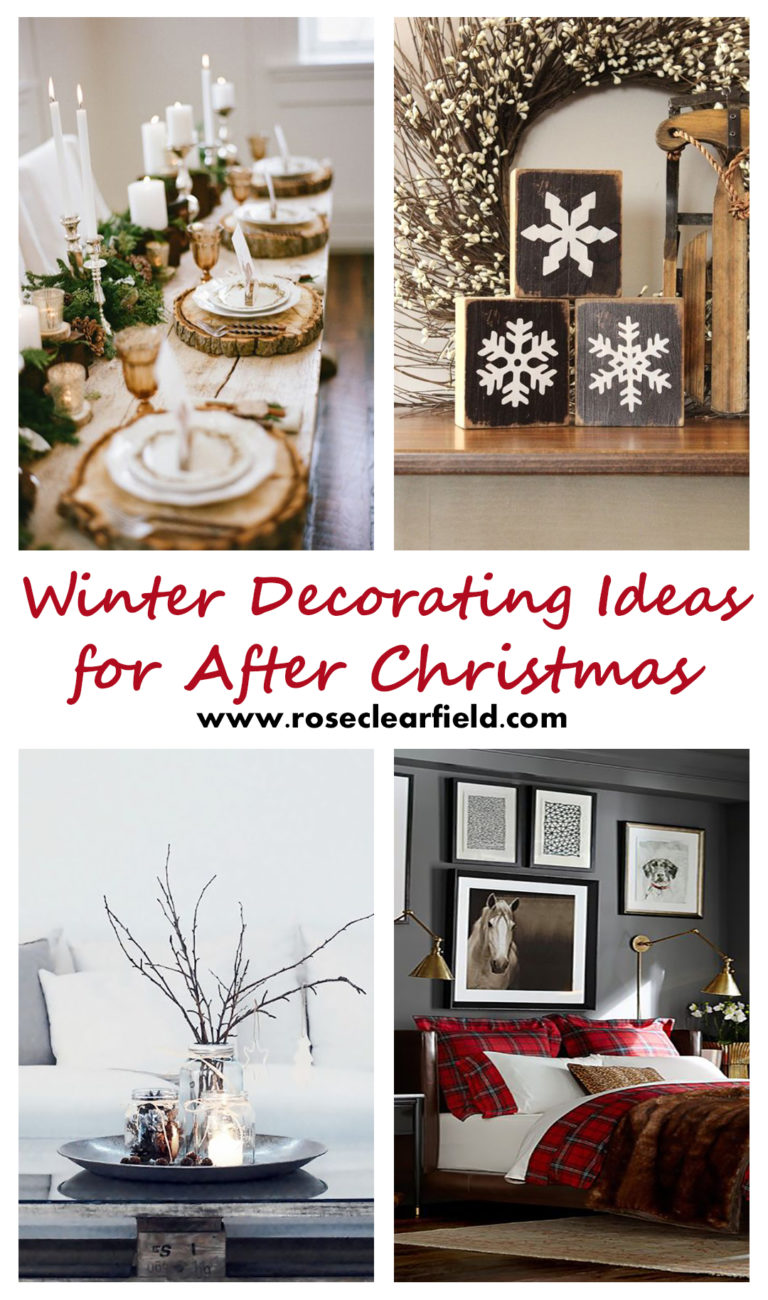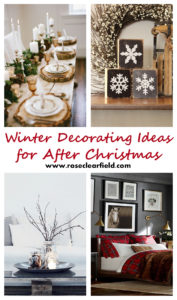 Winter Decorating Ideas for After Christmas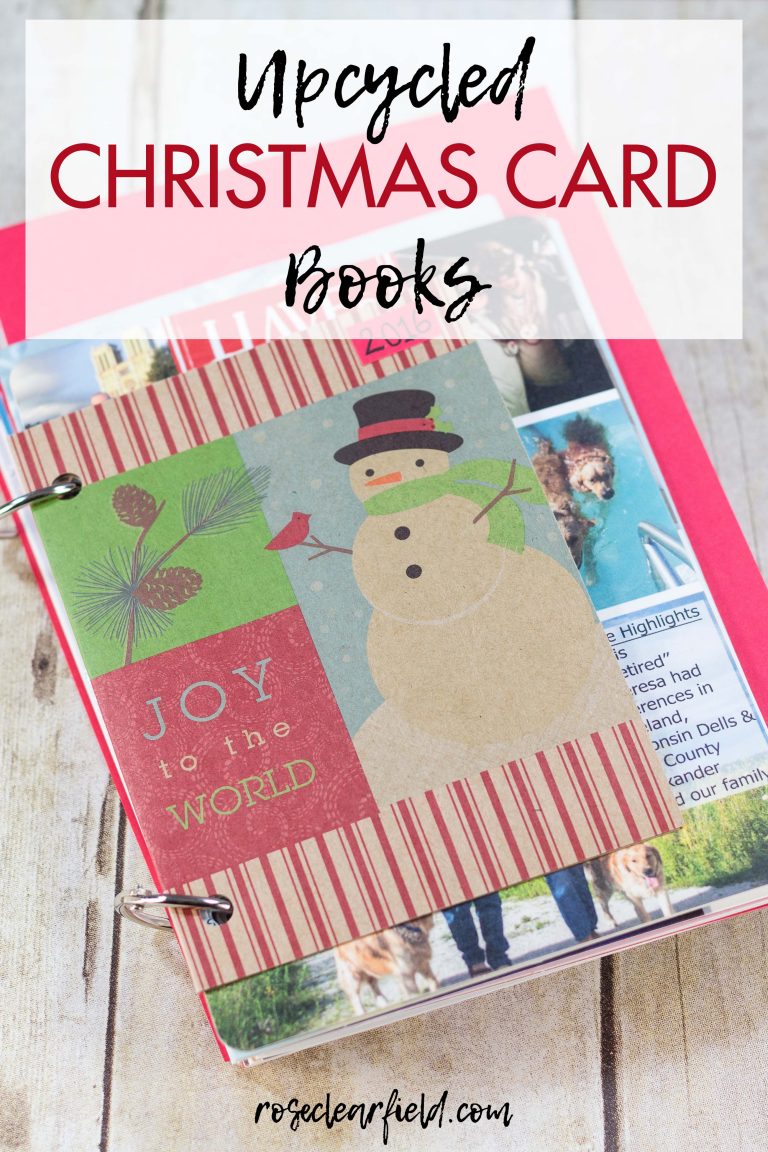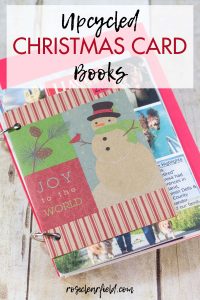 Upcycled Christmas Card Books Tutorial