It's no secret that I love shopping on Etsy. I sent you to Etsy to shop for personalized gifts for Mom. Now I'm sending you there to shop for personalized gift ideas for Dad.
I've been recommending gifts from Etsy for years. Obviously, I headed right to Etsy for personalized gifts for both Mom and Dad. You won't find the selection and quality of personalized gifts that you get on Etsy anywhere else.
I'm featuring the best of the best, including office decor, accessories, kitchenware, hobby-themed items, and luggage. I've included classic gifts for Dad, such as a wallet and a garage sign, as well as more unique but meaningful gift ideas, such as a superhero picture frame and a leather catch-all dish.
You're sure to find gifts that are perfect for the dads in your life for Christmas, Father's Day, and birthdays. Happy shopping!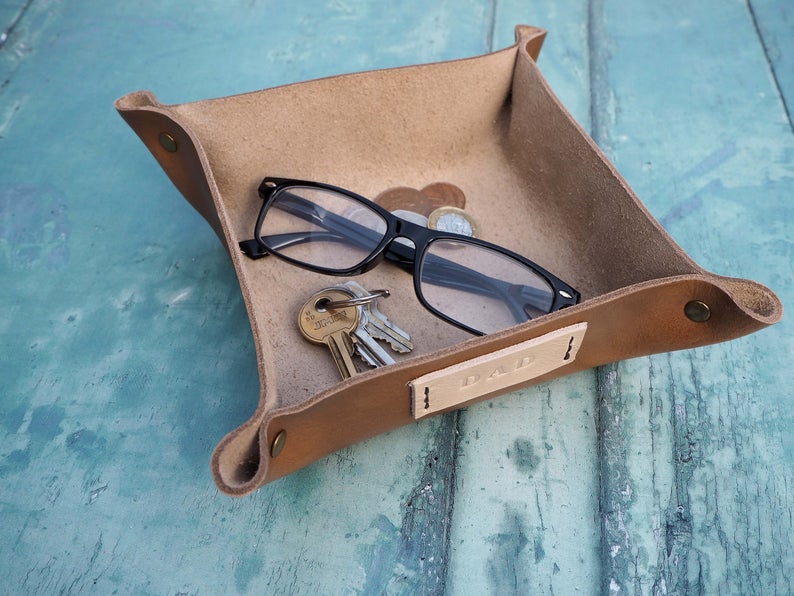 1. Leather catch-all
Gifting Dad OrgillOriginal's leather catch-all is much nicer than nagging him constantly about leaving his keys, glasses, and watch where they're sure to get lost or nabbed by small children. A leather catch-all is perfect for a nightstand, desk, or kitchen countertop.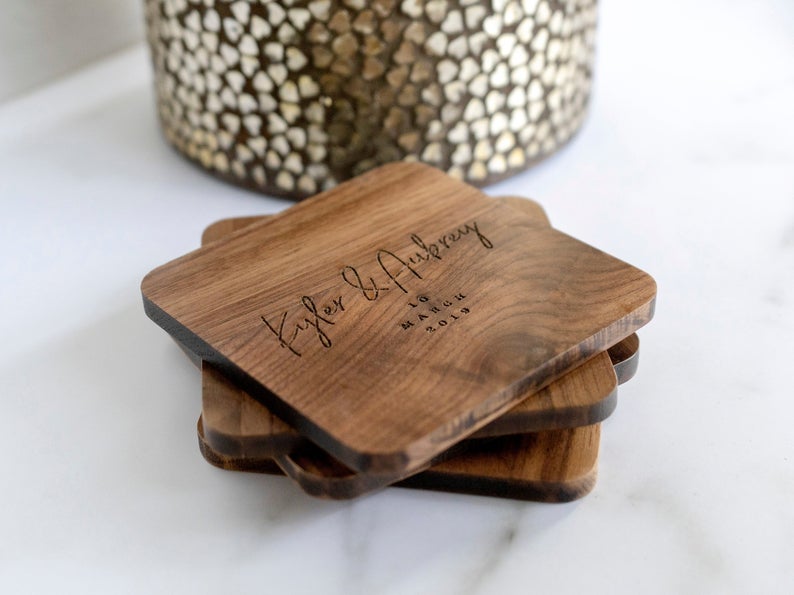 2. Coasters
It never hurts to have an extra set of coasters on hand when you're hosting a holiday dinner or a large gathering of friends. Wood coasters are extremely durable and hold up well under repeated exposure to water. CopperFoxCompany's personalized wooden coasters are available in sets of two or four and with your choice of one of three different kinds of wood.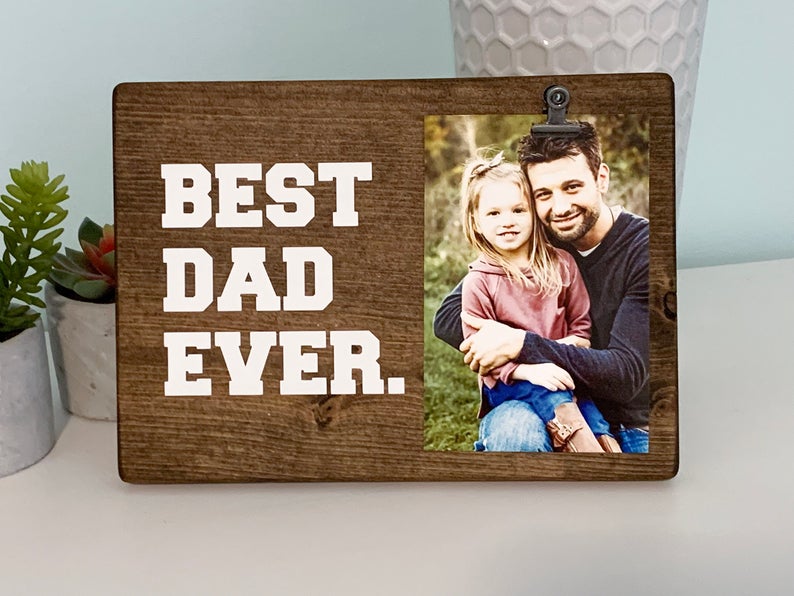 3. Picture frame
Most guys will never take the time to purchase frames and print photos for their desks. But they'll love displaying family photos, especially when the pictures feature their adorable kids. Just two of my favorite wooden photo frame options include FramedGiftCo's Daddy's sidekicks picture frame and OhRosieMyPosie's Best Dad Ever frame (pictured).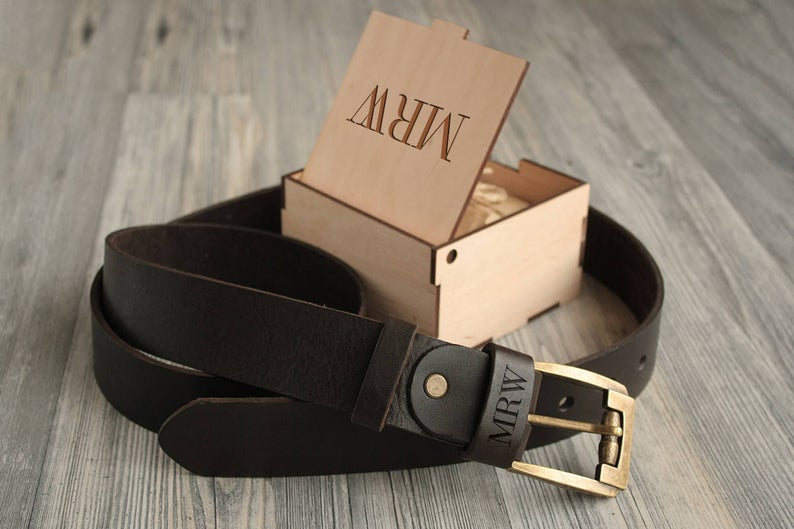 4. Belt
I have talked in other gift guides about how even though neckties remain a popular gift option, belts are more practical and will get worn a lot more often. WoodPresentStudio's custom handmade leather belt is simple and stylish. The monogram adds the perfect subtle detail. The belt is available in three leather colors, three sizes, and 20 font styles.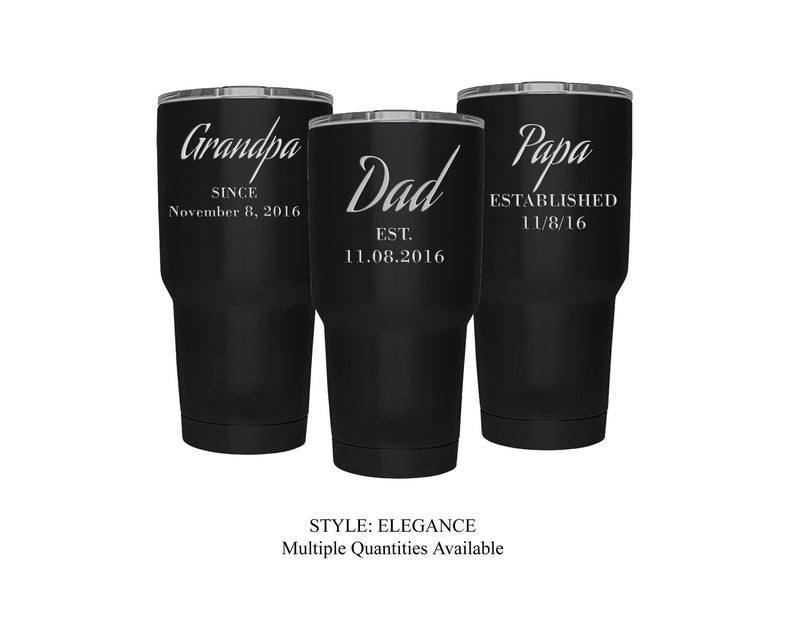 5. Stainless steel tumbler
You can never have too many stainless steel tumblers, especially when you're on the go with your kids all the time. MakeitspecialStudio's black stainless steel tumblers personalized for Dad are just right for the guys in your life. With 10 different font styles available, there's something for everyone.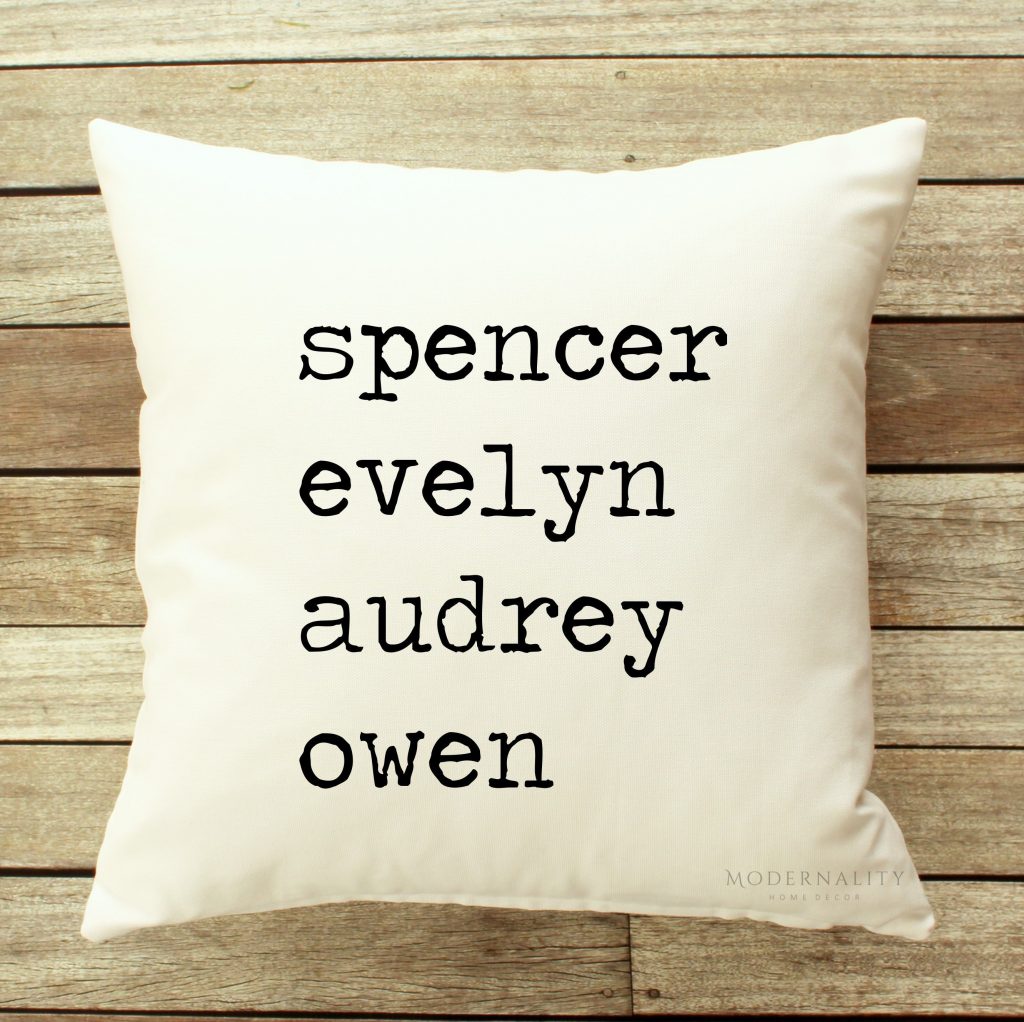 6. Family name pillow
I know that the family name throw pillow is more of a classic Mom gift. But I think it's a sweet idea for a Dad present as well and will look right at home in his study or office. The pictured pillow is from ModeralityHomeDecor. If you love this concept but want to customize the font, check out a similar offering from Qualtry.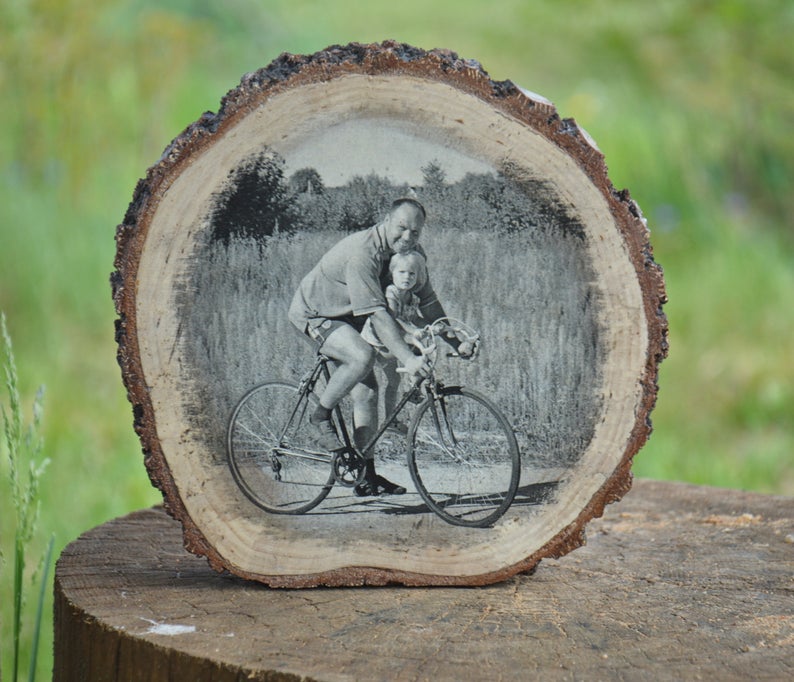 7. Wood slice photo
There's nothing quite like the aesthetic of printing on a genuine tree slice. I especially like this look for a present for Dad, as it's a little manlier than a lot of the custom photo gifts available. WoodenHouse's personalized wood slice photos are beautiful, and they come in multiple sizes.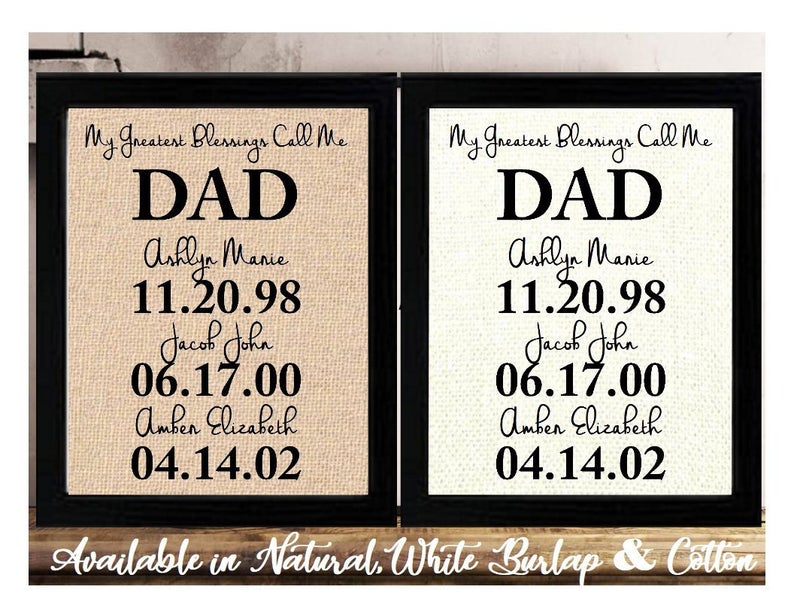 8. Family members wall art
I love that so many Etsy shops have dad versions of the popular family members wall art. BeanTownBurlap's my greatest blessings call me Dad wall art is just perfect for Dad's study, office, or man cave. It's available in burlap and cotton, both of which will give the print a different finish than traditional art paper or canvas.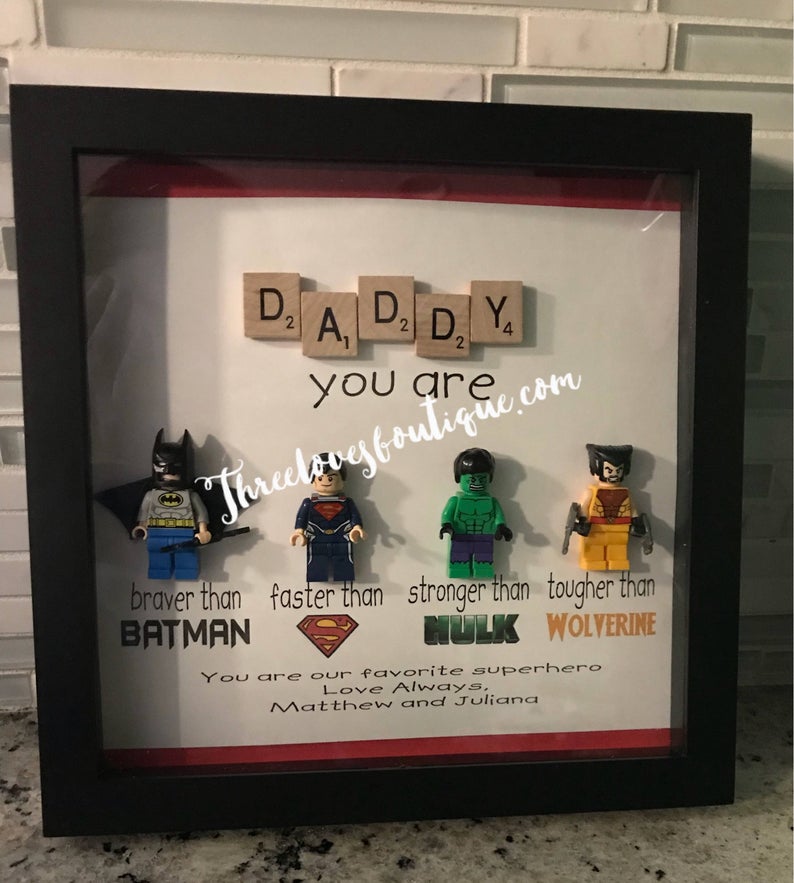 9. Superhero frame
Mythreelovesboutique's Superhero Dad picture frame is one of the cutest dad gifts I've ever seen. She has lots of different superheroes to choose from, and you can customize the entire message.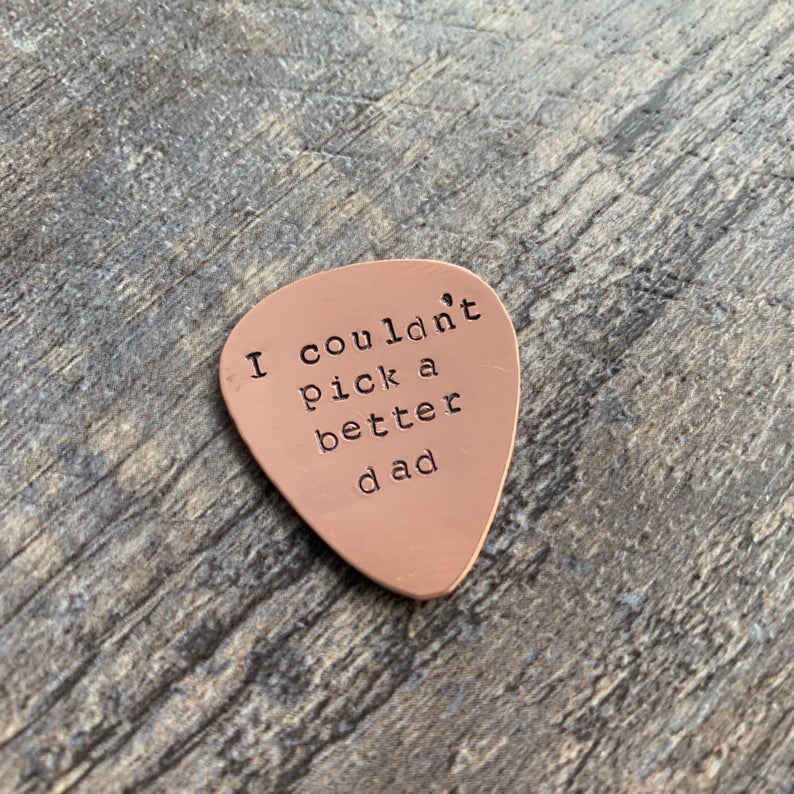 10. Guitar pick
A personalized guitar pick is an awesome gift for guitar playing dads. I chose LaurenElaineDesign's "I couldn't pick a better dad" guitar pick design for this gift guide. She has a nice selection of guitar picks, including a fully customizable guitar pick.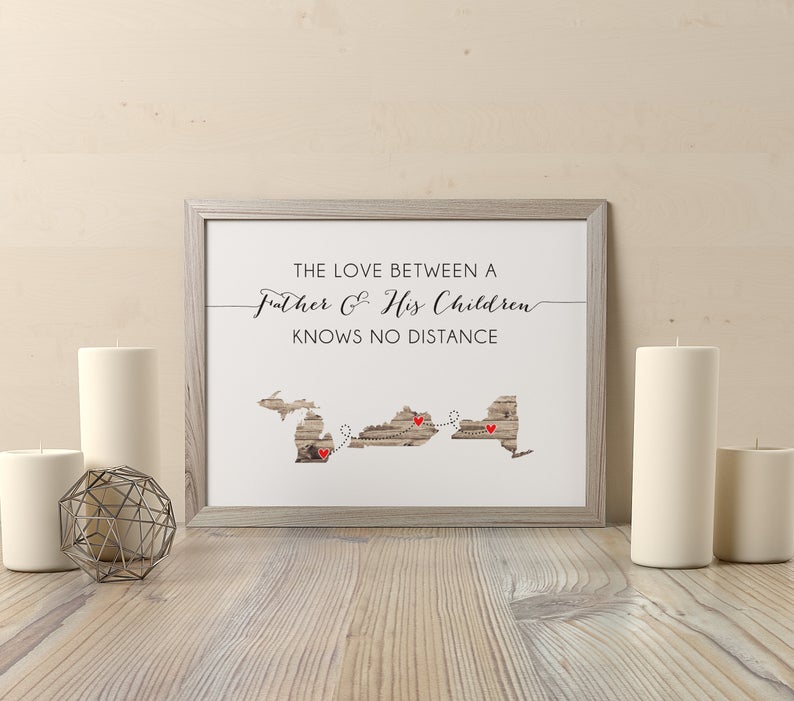 11. Long-distance relationship gift
I had to include at least one long-distance relationship gift for dads who are living far apart from their children. BethKateDesigns' "the love between a father and his children knows no distance" print is beautiful with lovely script and wood detail states. You can order it as a digital download, printed on matte fine art paper, or as a stretched canvas.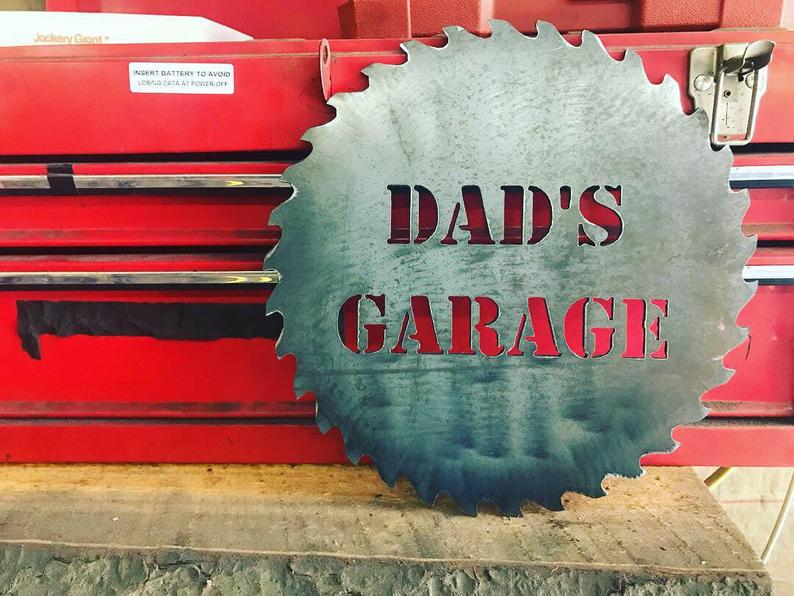 12. Garage sign
For the right dad, a custom garage sign will complete his garage man cave perfectly. I love the look of AmericanAftermarkets's personalized Dad garage sign with the notched edges to mimic a saw blade.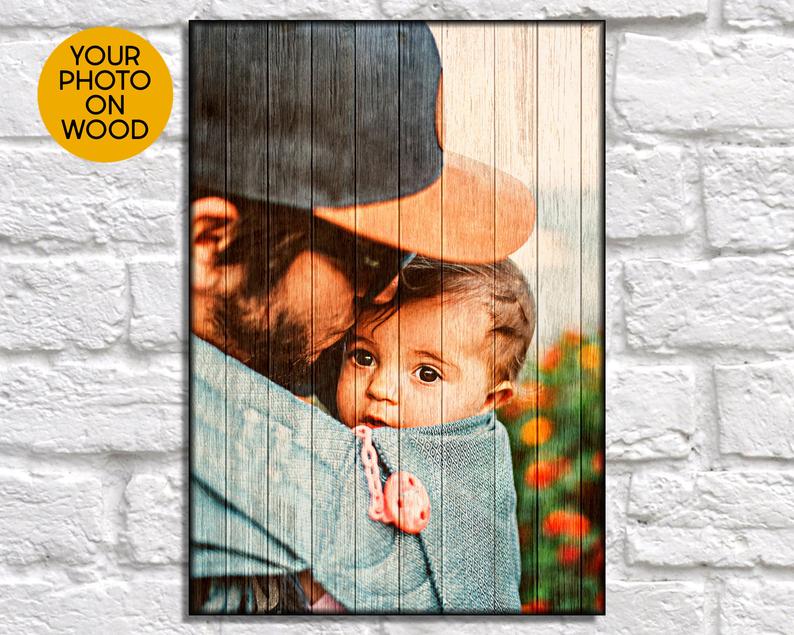 13. Wood photo print
I'm always looking for unique photo gift ideas that haven't been done to death. Woodprintz's custom wood photo fits the bill perfectly. Printing on wood creates a neat aesthetic most people have never seen before. I love that you can add the wood paneling effect if you want.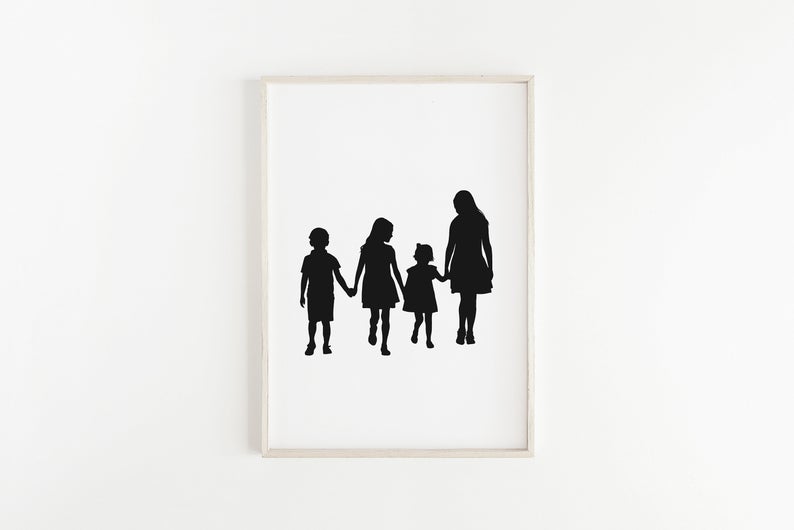 14. Family silhouette
I love OliveandBirch's custom full-body silhouette as a gift for dad, featuring his family, his kids, or dad himself, enjoying a favorite activity, such as golf or surfing. Silhouette art makes a great statement in a family room, man cave, or office.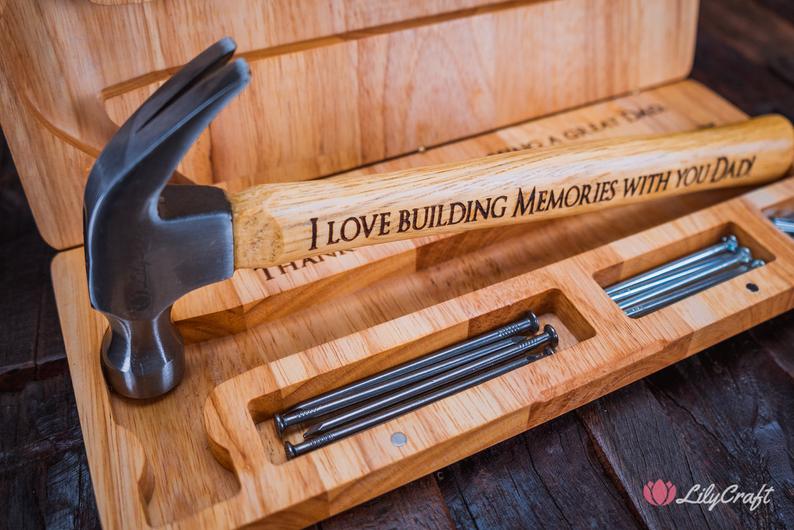 15. Hammer
LilyCraftAu's engraved hammer will put a smile on Dad's face every time he's working on a repair or project for the house. I think that the classic "building" sentiments for a hammer are a little cheesy. But if Dad will love it, go for it. The gift includes an optional wooden box that has room for several sizes of nails and that can also be personalized.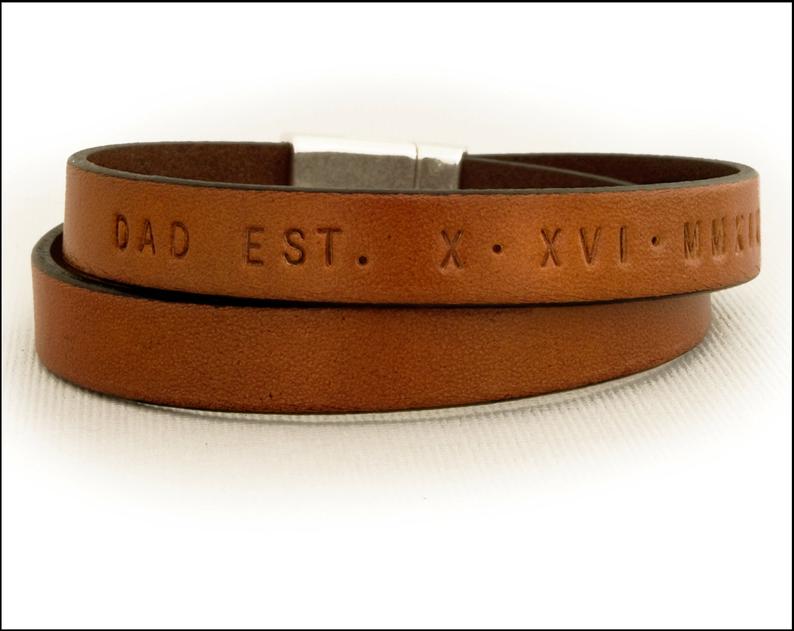 16. Leather bracelet
Leather bracelets aren't a gift that all guys will love, I know. If you are shopping for a dad who wears jewelry, EdgeOfNow's personalized leather bracelet is sure to be a big fit. The design is simple and classic with a lovely block font to spell out names, a message, or a favorite quote. I love that you can customize the leather color as well as the wrist length down to 1/8″ inch.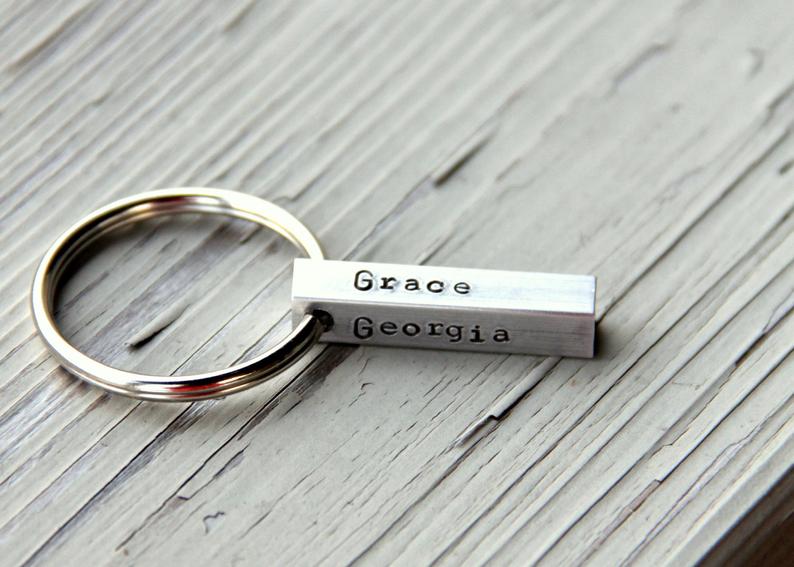 17. Keychain
A keychain is a simple, subtle gift for dads who don't want a showy personalized gift. I love whiteliliedesigns' minimalist metal name keychain for Dad. It fits right in on a keychain without adding any bulk.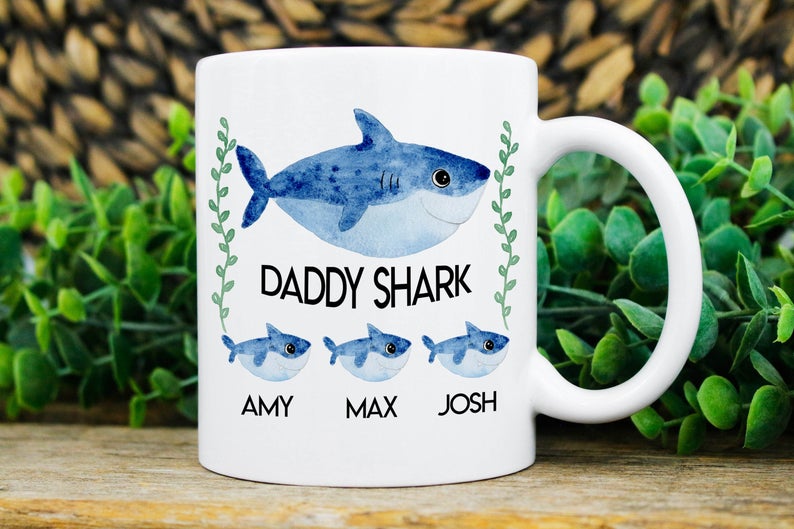 18. "Daddy shark" mug
I know that the whole Mommy shark and Daddy shark thing is a little overplayed. But I really like the design of MugsBeforeDrug's Daddy shark mug and think that it will get a lot more use than a lot of the Daddy shark shirts out there. The shark designs are sweet, and the layout with the baby sharks works really well.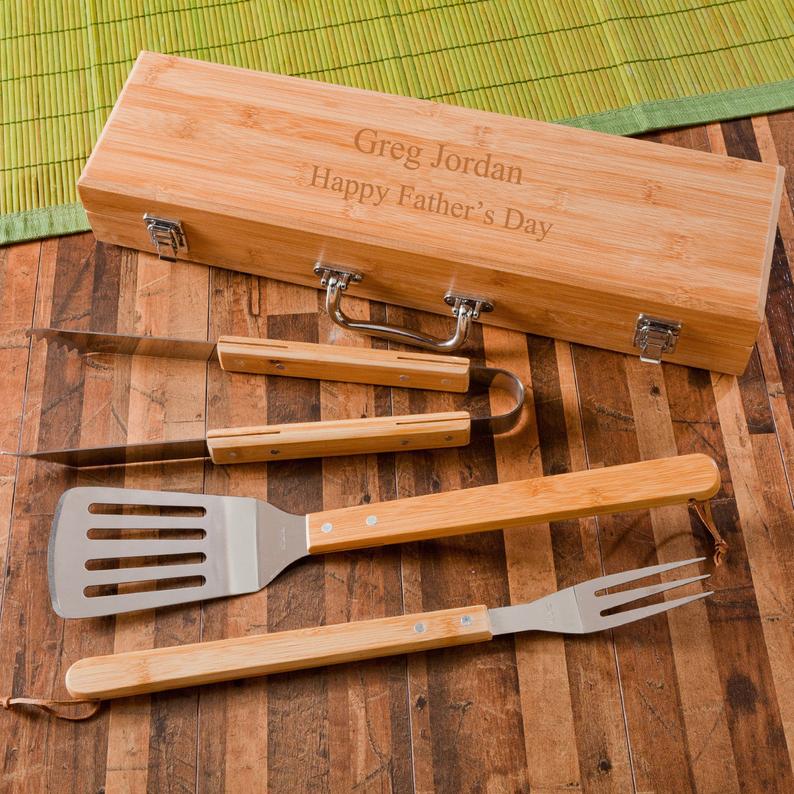 19. Grilling tools
RCPersonalizedGift's barbecue grilling set with case features a beautiful personalized wooden carrying case for high-quality bamboo tongues, fork, and spatula. I love the presentation of the set, and the personalization element adds a nice touch for gift giving.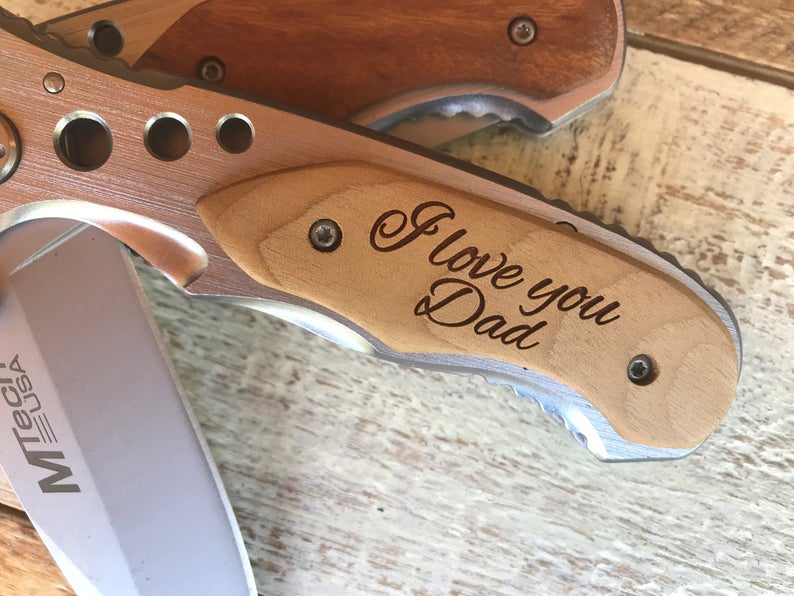 20. Pocket knife
For dads who like to carry a pocket knife, receiving SilverPineEngraving's engraved pocket knife is a meaningful gift. The shop offers a wide range of font choices on silver and black pocket knives. I love the subtle addition of the engraved panel.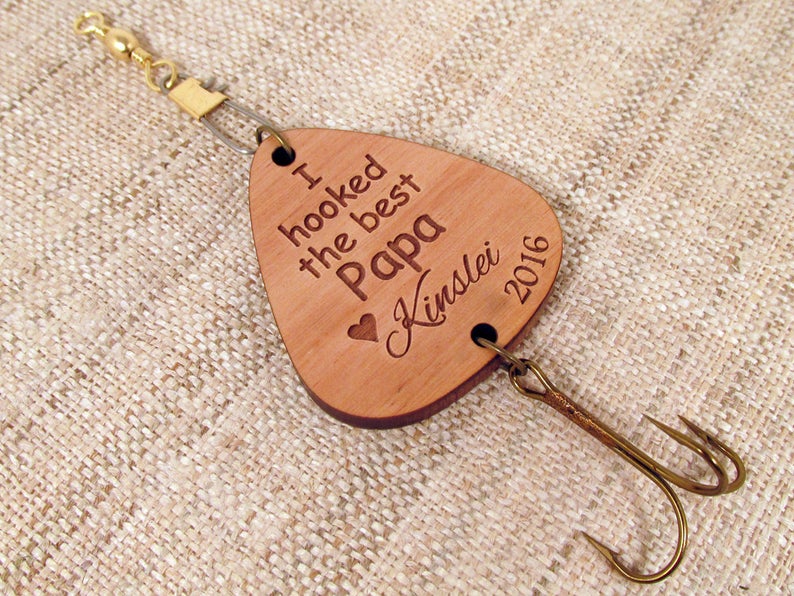 21. Fishing lure
Memoriesforlifesb's personalized fishing lure is the perfect gift for dads who love fishing. You can customize the font and wording any way you like to create a one-of-a-kind birthday, Christmas, or Father's Day gift.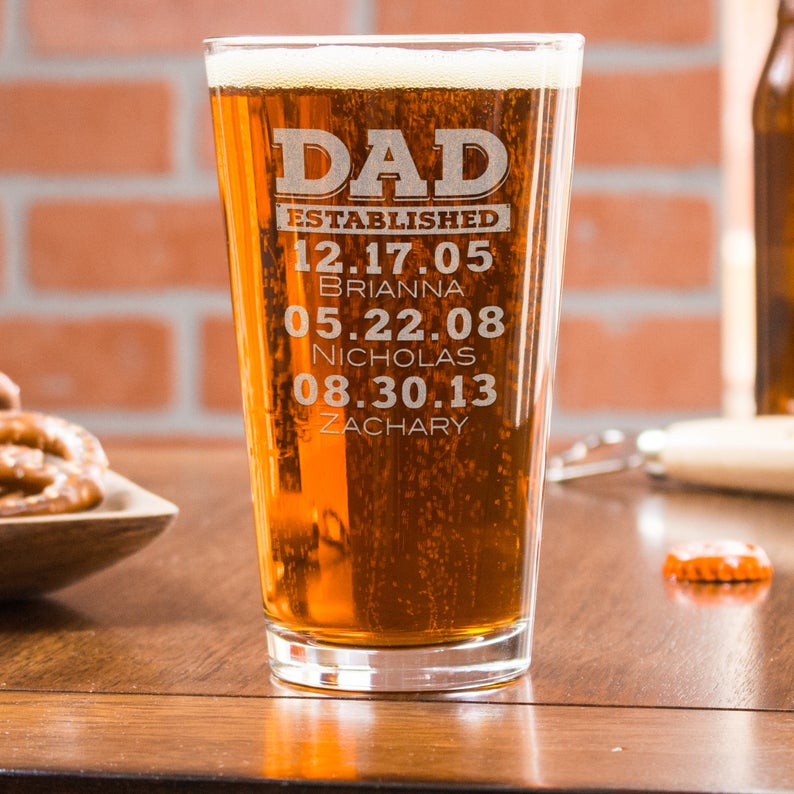 22. Pint glass
I know that beer steins are a more popular gift option. But I think that pint glasses are a lot more versatile. I love EverythingEtchedAZ's pint glass design with "Dad" at the top and the kids' names and birthdays underneath. You see a lot of this type of personalization gift for Mom and not nearly as much for Dad. EverythingEtchedAZ also offers this design on mugs and pilsner glasses.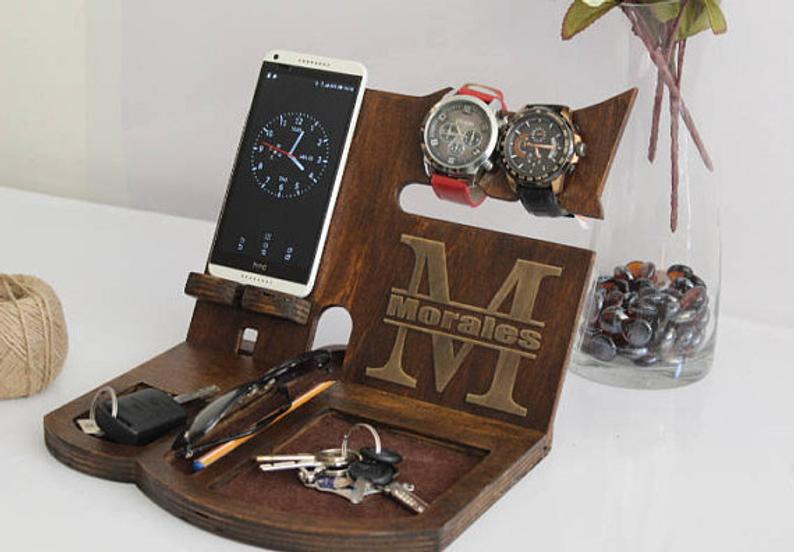 23. Docking station
I love the idea of a docking station. But most docking stations are frankly, pretty ugly. WeddingPuzzleShop's personalized wooden docking station blows them out of the water. It will look right at home on a nightstand, desk, or kitchen counter, adding to the aesthetic beautifully. I love how the docking stand has space for watches, keys, and sunglasses.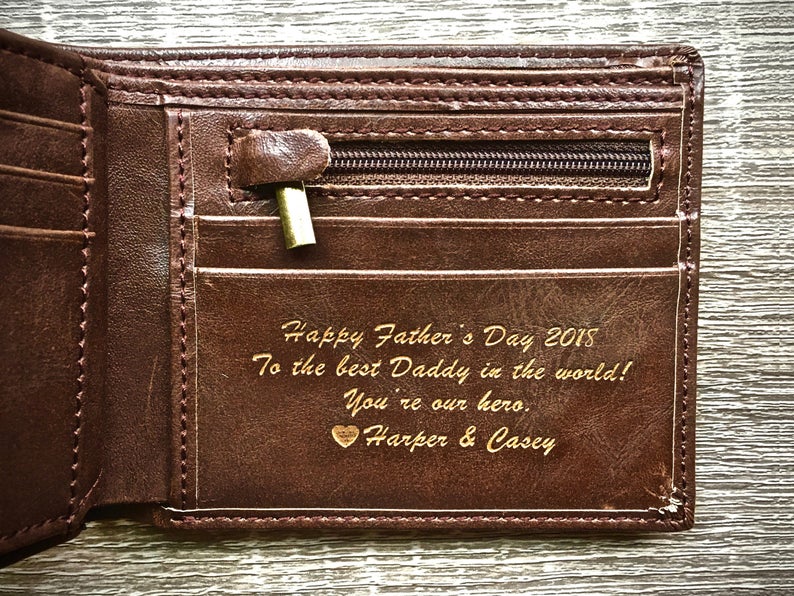 24. Leather wallet
It's hard to go wrong with a leather wallet gift. I love that SwankyBadger's personalized leather wallet features initials on the front and the option to add a custom message on the inside. Every time Dad opens the wallet, he'll see a sweet sentiment from his loved ones.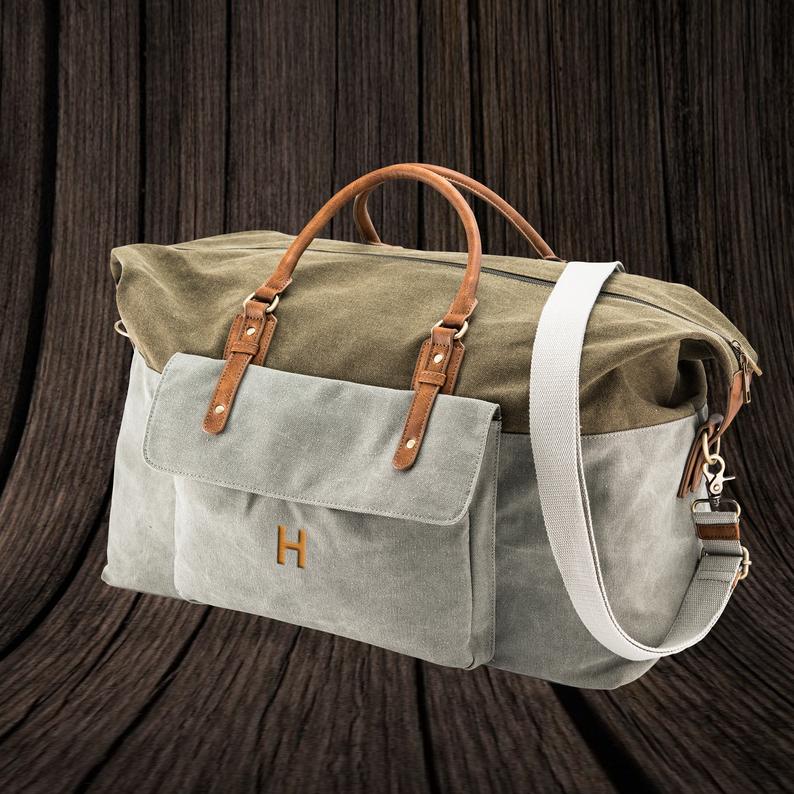 25. Carry-on canvas travel bag
GiftsforGuyCo's personalized carry-on canvas travel bag is so stylish and versatile. While designed with carry-on airplane travel in mind, this bag is a great fit for virtually any weekend trip, flying or otherwise. I love the simple block monogram options with your choice of one or two initials.
[Disclaimer: The product links are affiliate links. I wasn't sponsored by Etsy or any particular shop to promote specific products. Thanks for your support!]
What are your favorite personalized gift ideas for Dad? Are there any items you would add to this list?
I'd love to hear about your favorite Dad gift ideas!
Pin this post for easy access to the personalized gift ideas for Dad resource later!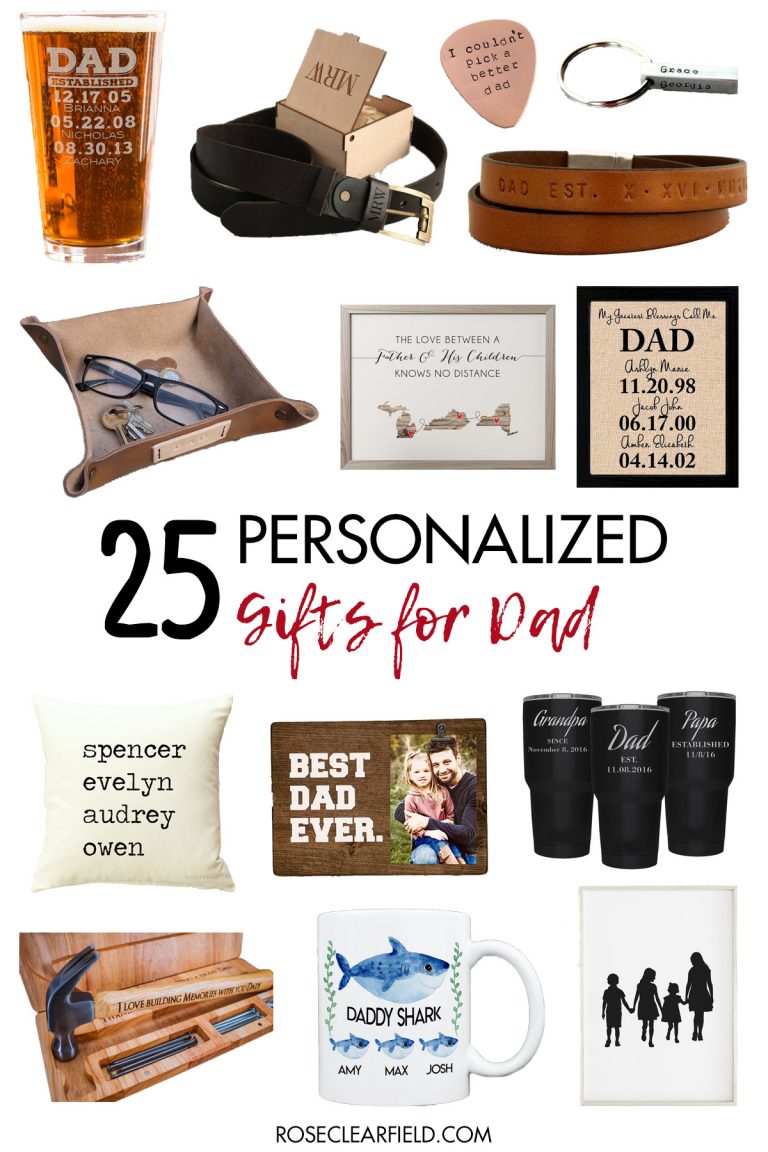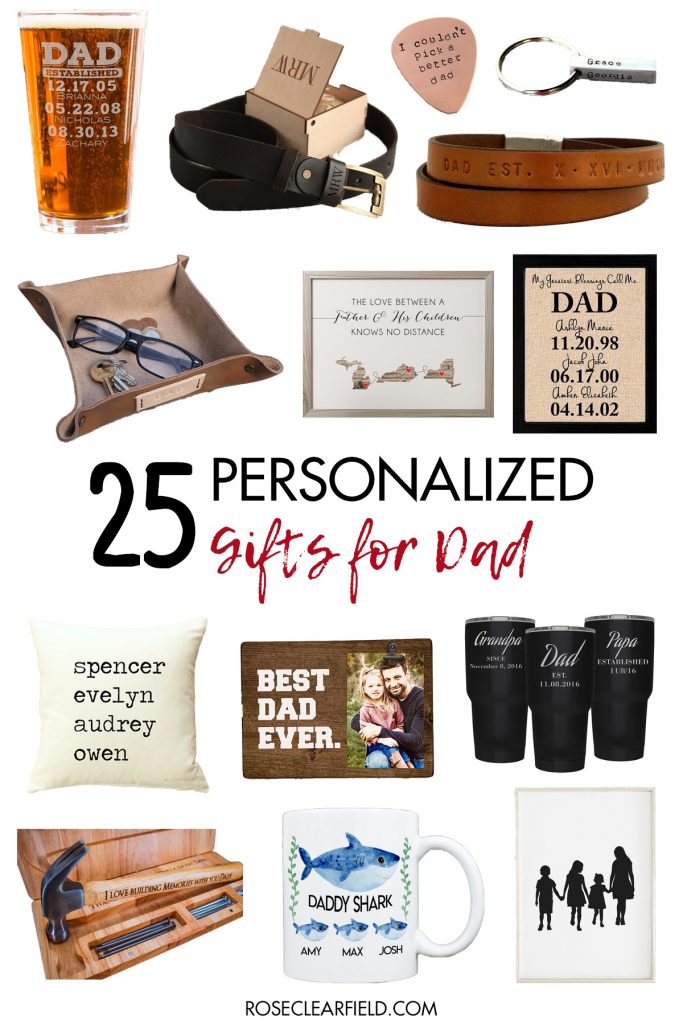 More gift ideas for Dad: