I've rounded up 50 Halloween finger foods for your next Halloween party.
No party is complete without a generous spread of appetizers and desserts. The more finger foods, the better, so people can mingle easily with drinks in hand.
A lot of Halloween party foods are frankly, unnecessarily gross. Who wants to eat something that really looks like human fingers? My other Halloween posts, such as grown-up Halloween inspiration and DIY Halloween mason jars, are a clear indication that I'm not all about the grossiest, creepiest Halloween decor or food. So I've done my best to find some more appetizing Halloween finger foods as well as a wealth of general fall-themed party foods.
1. Spiders on a log
Instead of the traditional ants on a log, for Halloween, you can make spiders on a log. I love this simple twist for the holiday. Chelsea's Messy Apron uses chocolate chips and piped chocolate frosting (pictured above). Spaceships and Laser Beams uses plastic spiders instead.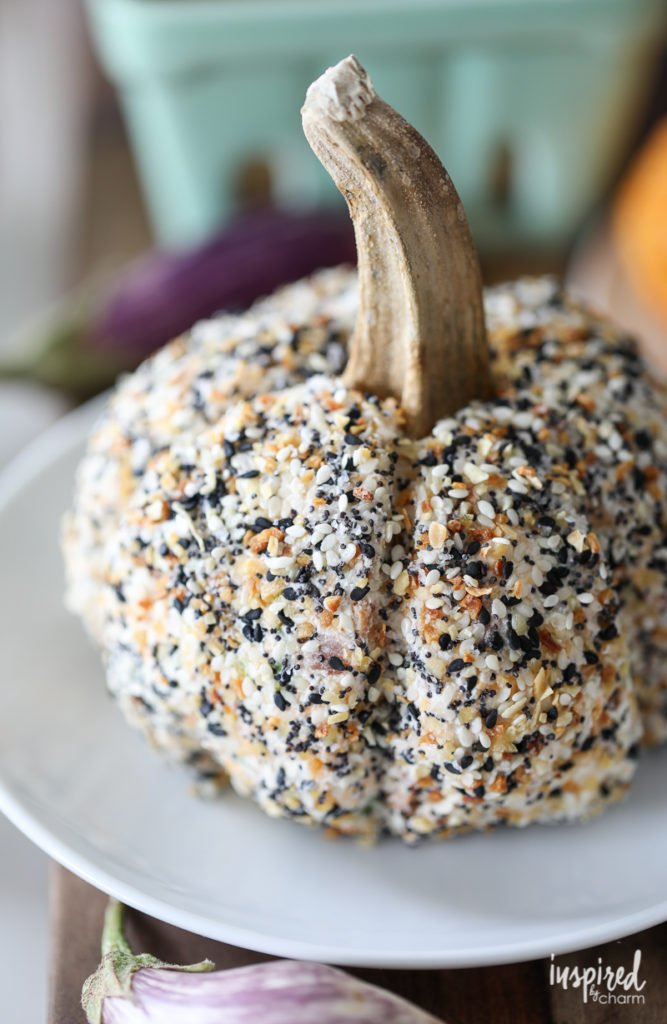 2. Everything bagel seasoned pumpkin cheeseball
An everything seasoned cheeseball is an ideal appetizer any time of year. Inspired by Charm shapes his cheeseball into a pumpkin for fall gatherings. Finishing it off with a real pumpkin stem adds the perfect touch.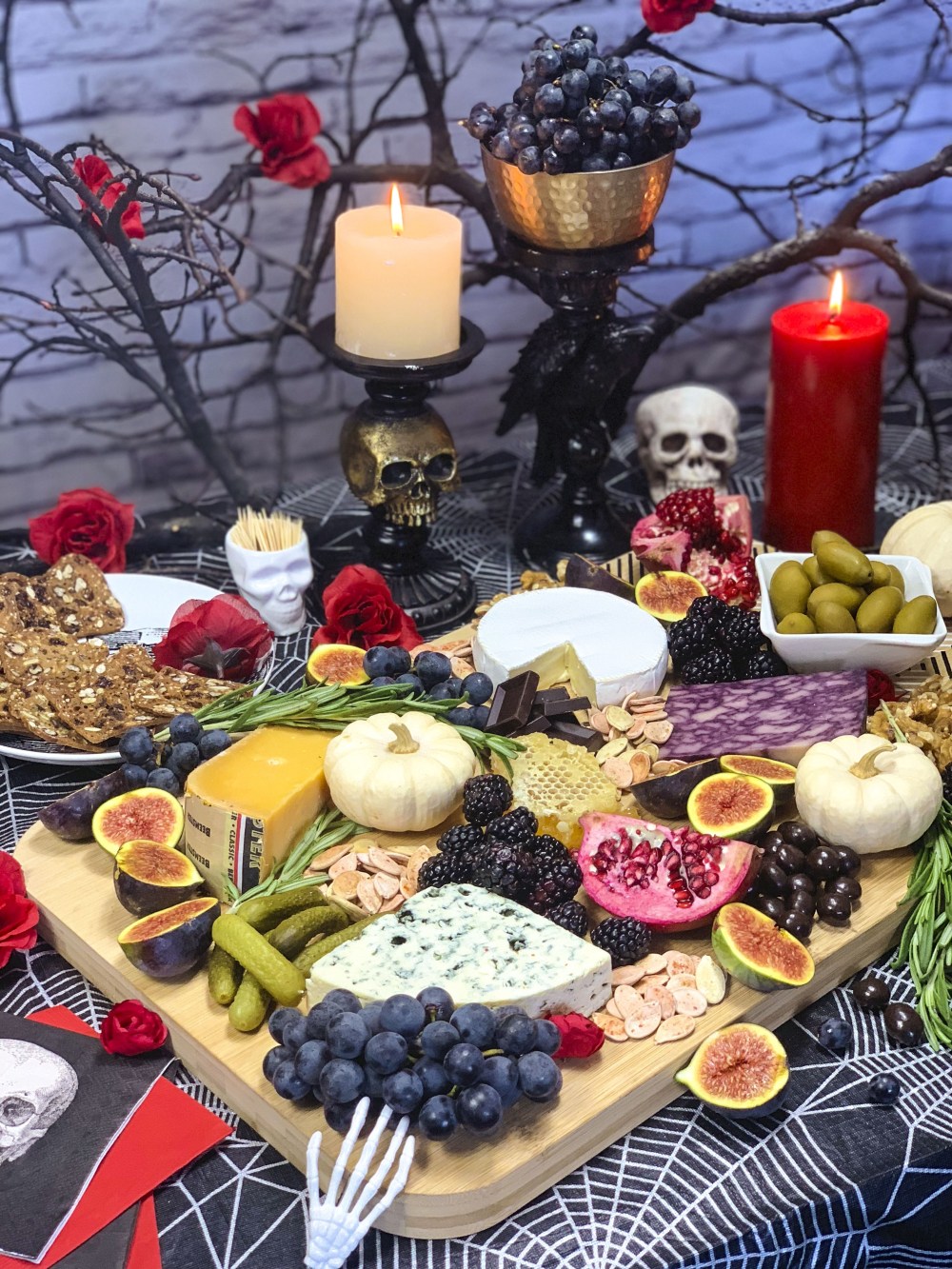 3. Cheese board
Best Day of the Week has an amazing Halloween cheese board spread with just the right amount of spooky aesthetic. The look is suitably creepy without getting gross, just perfect for photo ops at any Halloween party.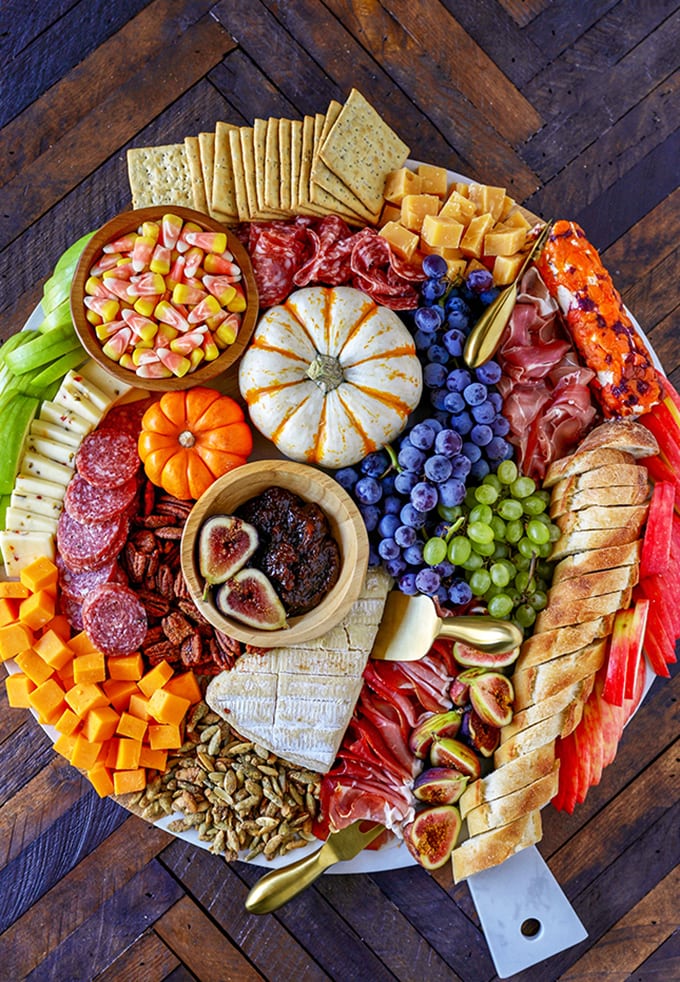 4. Charcuterie board
Number 2 Pencil's fall charcuterie board is absolutely stunning. You're sure to wow your family and friends at your Halloween party with such a beautiful presentation that can serve as a generous appetizer or light dinner.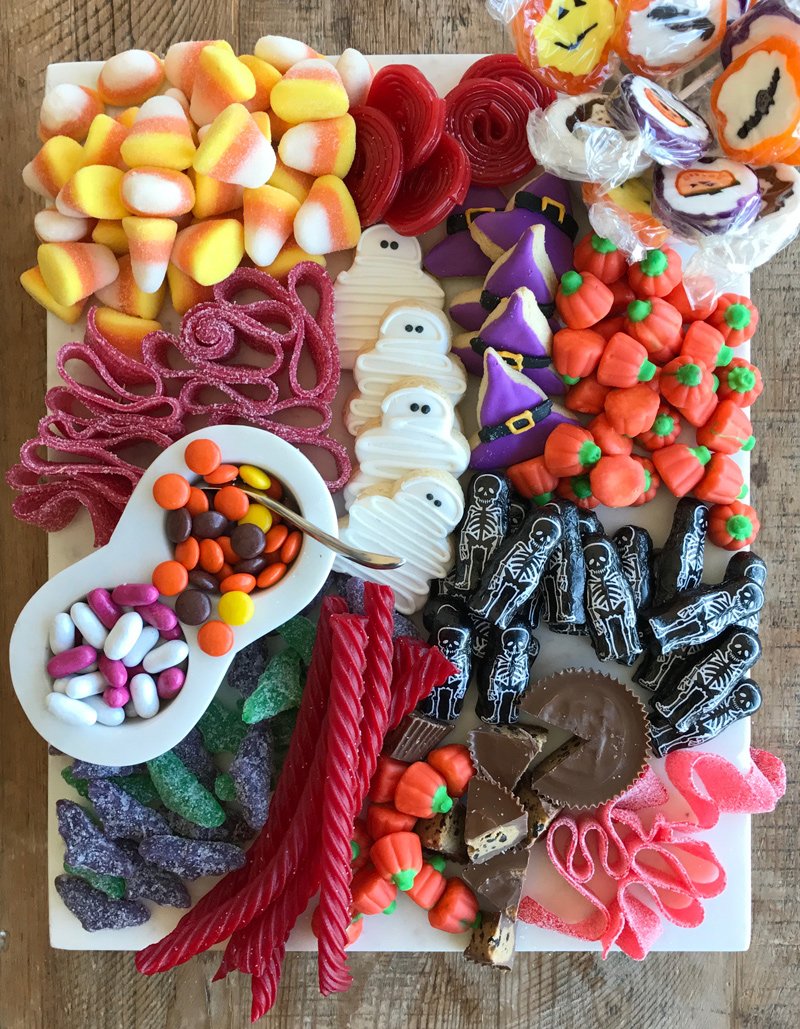 5. Candy board
Creating a candy board in the style of a cheese board is a genius idea for Halloween. Williams Sonoma shares their best tips for selecting and styling candy board items to create a beautiful, delicious selection of sweets. Honestly Yum has a stunning Halloween candy board as well.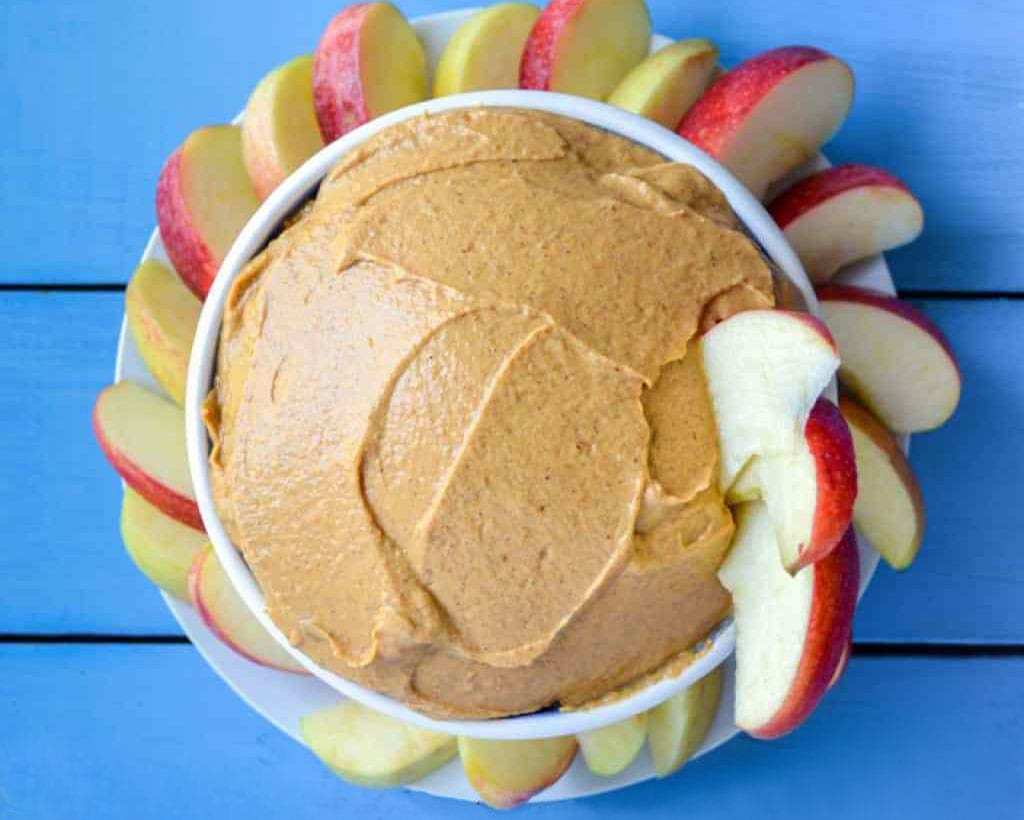 6. Pumpkin pie spice dip
A yogurt-based pumpkie dip is perfect for fruit and Graham crackers. Natasha makes her pumpkin pie spice dip with Greek yogurt.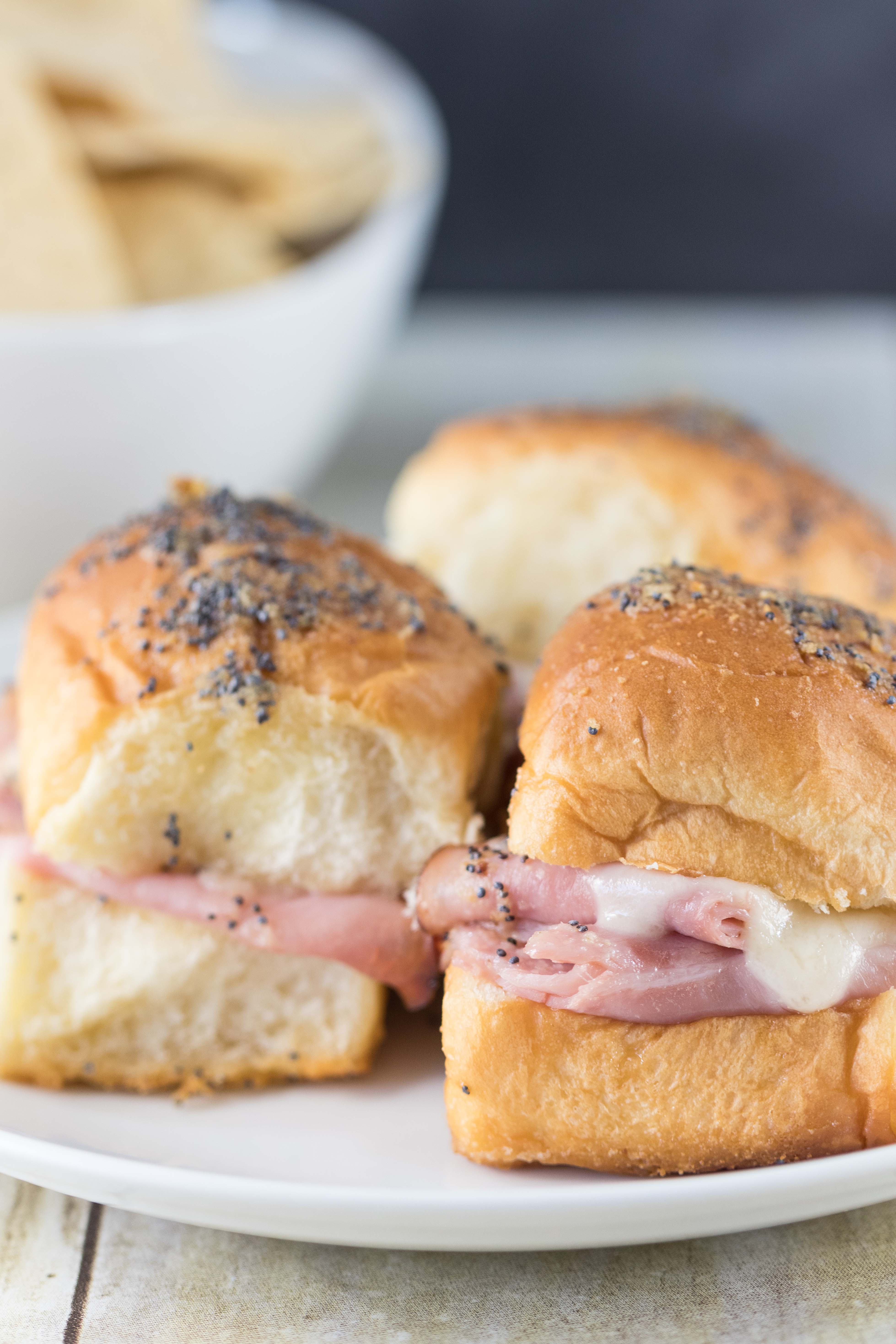 7. Sliders
My go-to slider recipe is the classic Hawaiian roll ham and swiss cheese sliders. They are requested often and always a big hit. If you're looking for a few other slider options, Little Broken's easy barbecue chicken sliders, Melissa's Southern-Style Kitchen's chicken bacon ranch pull-apart rolls, and Host the Toast's French onion beef sliders are all great choices.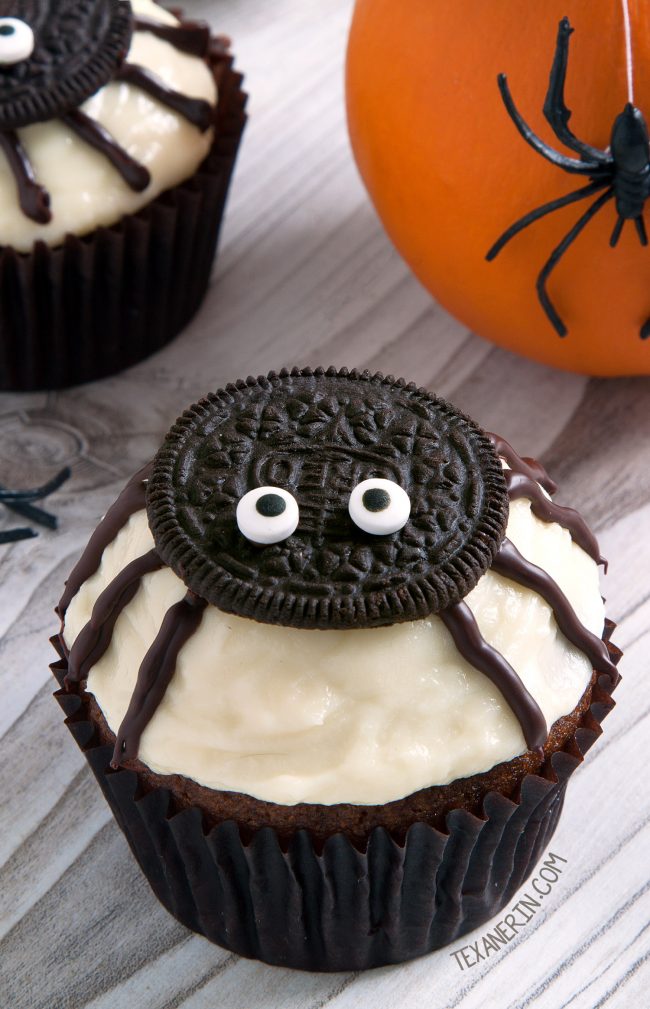 8. Cupcakes
There are a ton of Halloween cupcake recipes. I've chosen a few that are not gross and fairly quick to make, as time-intensive dessert decorating isn't my thing. The featured cupcakes are Texanerin Baking's spider cupcakes. I love Cooking Classy's pumpkin cupcakes with cream cheese frosting and Two Sisters' orange and black brownie cupcakes as well.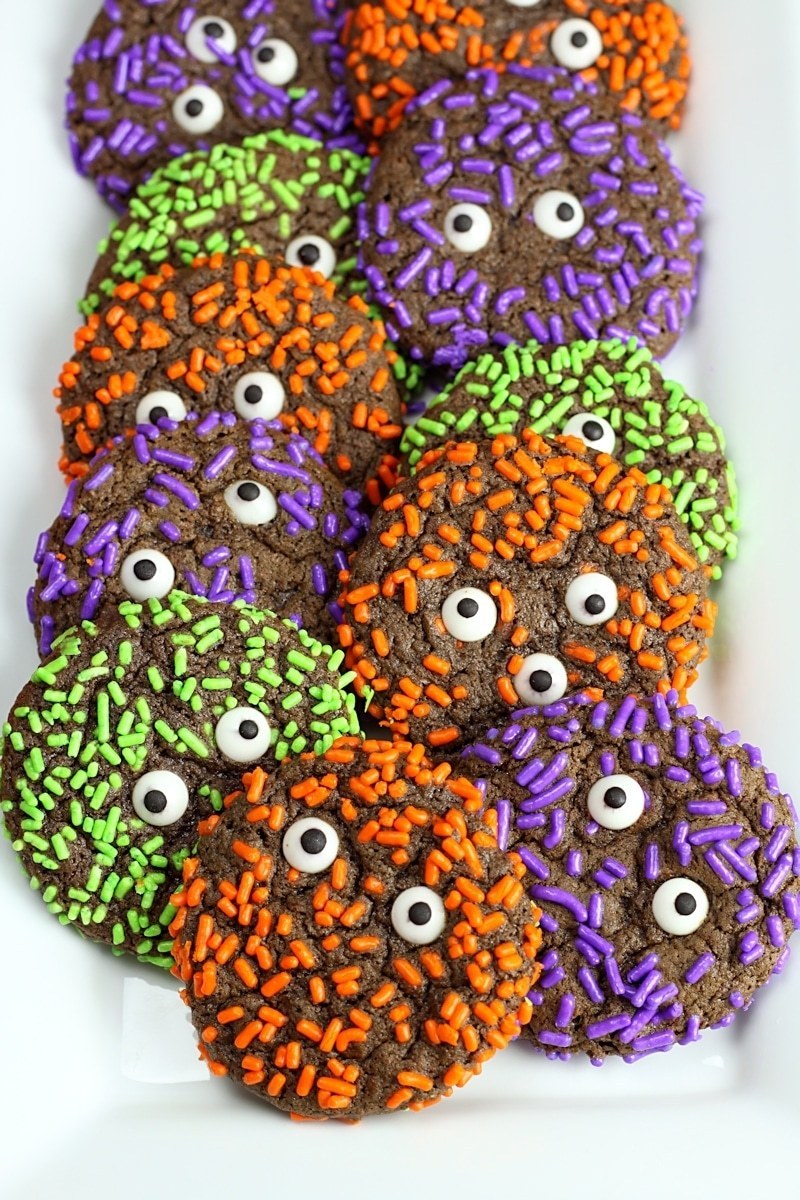 9. Cookies
Similarly, there are tons of Halloween cookie recipes. I love The Toasty Kitchen's chocolate sprinkle monster cookies because they're easy to make and very festive without being gross. Butter with a Side of Bread's ghost Halloween cookies are so cute, too. If you're looking for a more general fall cookie recipe, The Mommy Mouse Clubhouse's pumpkin spice sugar cookies are great.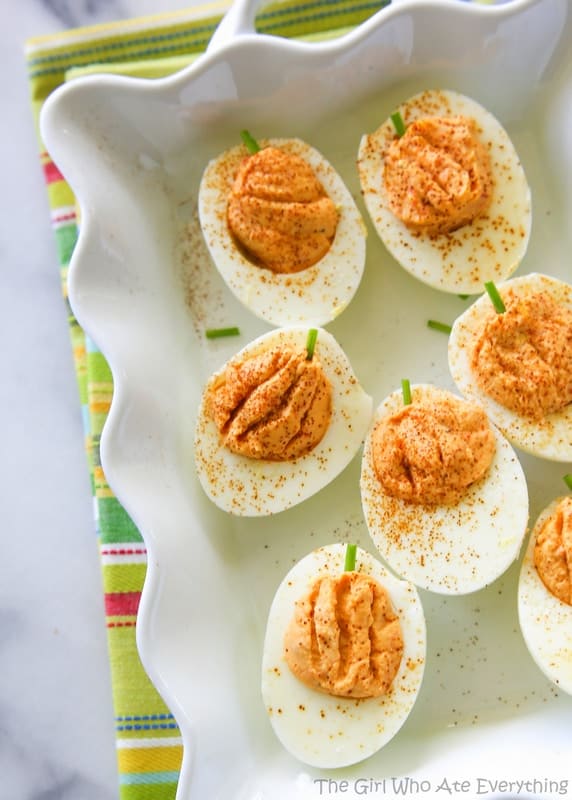 10. Deviled eggs
Deviled eggs are sort of the perfect party finger food and consequently, make great Halloween finger food. I love The Girl Who Ate Everything's roasted red pepper deviled eggs for fall parties. The red peppers turn the yolk filling orange naturally, and then you use chives to turn them into little pumpkins. How Sweet Eat's buffalo bacon and goat cheese deviled eggs feel appropriately fall as well. For a classic deviled egg recipe, head over to Pinch My Salt.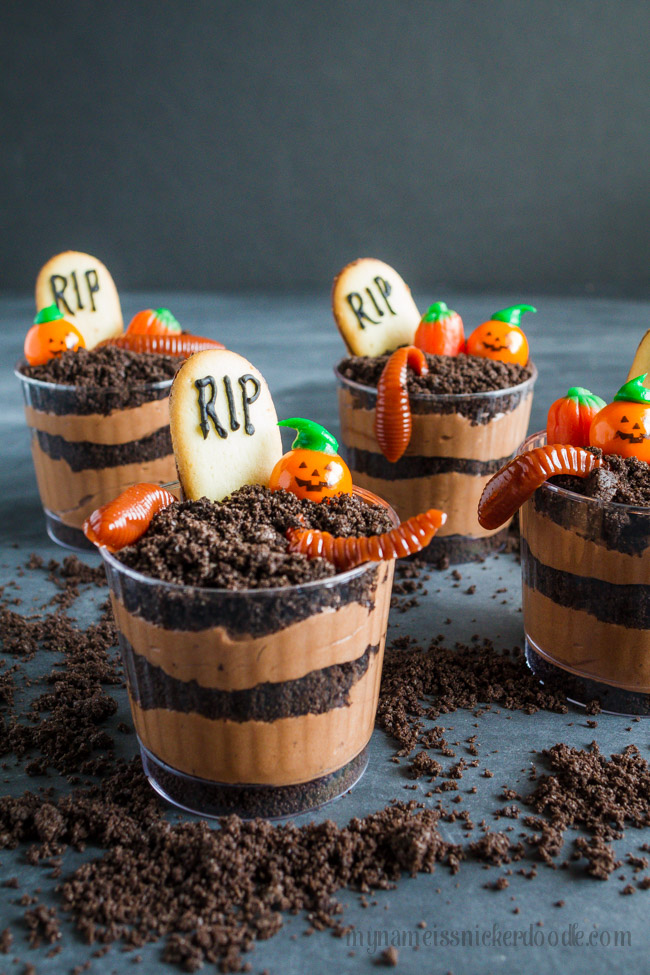 11. Dirt cups
Putting a Halloween twist on traditional dirt cups couldn't be easier. My Name is Snickerdoodle's graveyard pudding cookie cups feature cookie gravestones, jack 'o lantern gumballs, candy corn pumpkins, and gummy worms. I love Sugar, Spice, and Family Life's graveyard cups variation with tiny bones as well.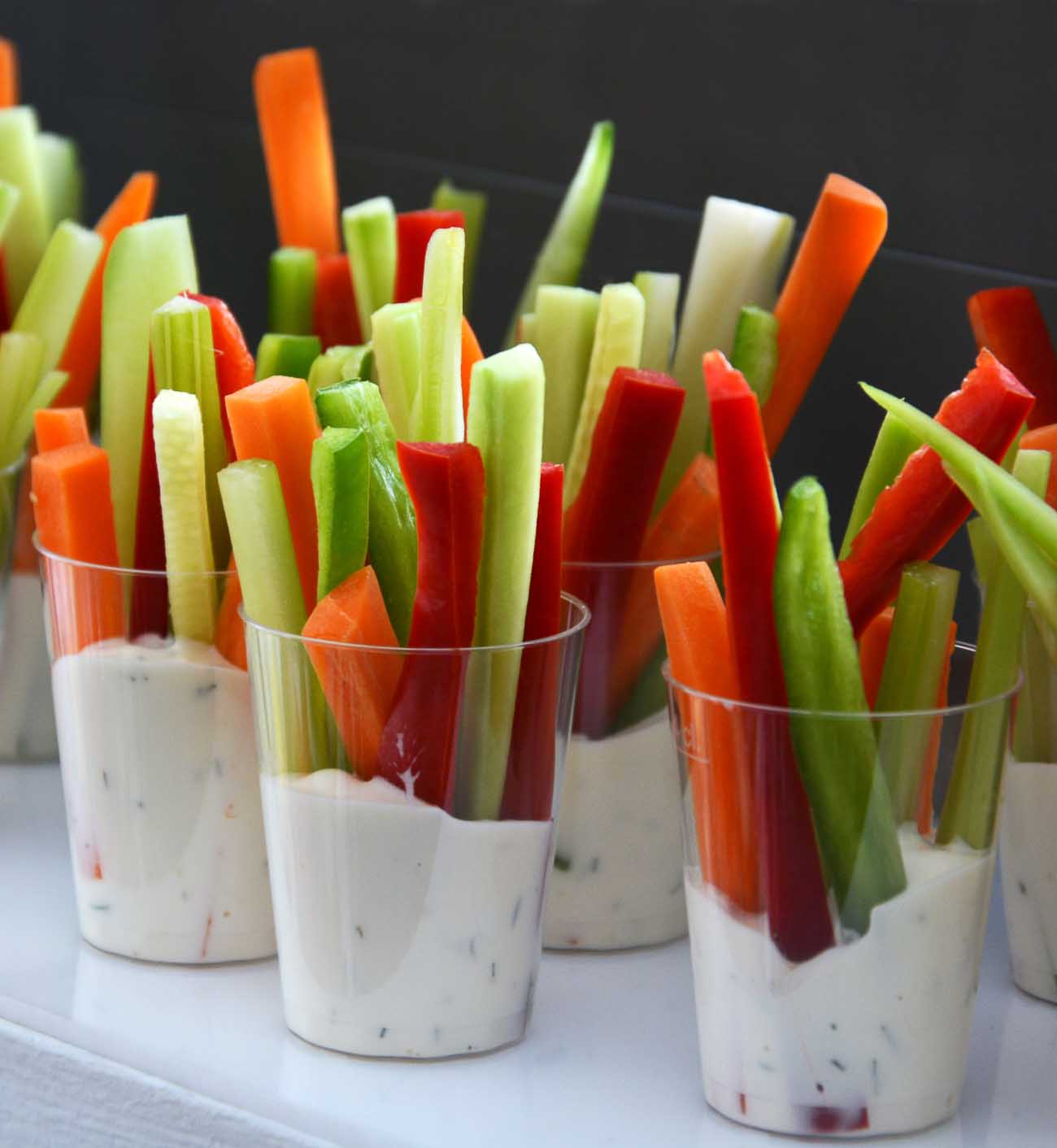 12. Individual veggie and dip cups
Assembling vegetables and dip in individual cups makes for a nice presentation. People can grab their cups and keep moving quickly. Ranch is the classic choice for veggie and dip cups, and one that I never get tired of, but you shouldn't feel limited to this option. Archana's Kitchen shares a homemade low-fat herb dip for her veggie cups while and The View from Great Island shares a homemade green goddess dip.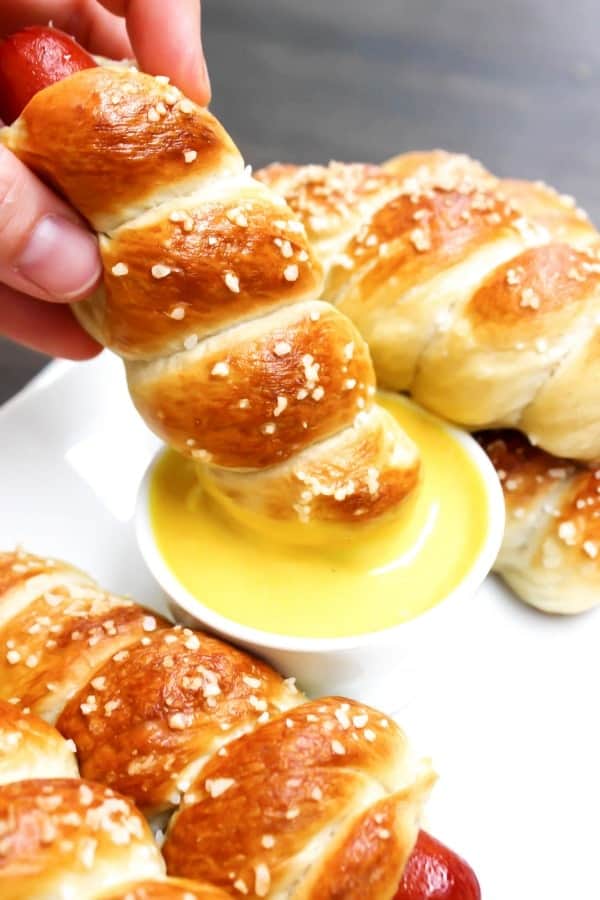 13. Pretzel-wrapped hot dogs
For a dough-wrapped hot dog recipe, I had to go with A Dash of Sanity's pretzel hot dogs because I'm always a sucker for pretzel bread or a pretzel bun. Using frozen dinner rolls for the dough makes them come together so quickly. If you prefer traditional dough-wrapped hot dogs, check out Melanie Cook's pigs in a blanket.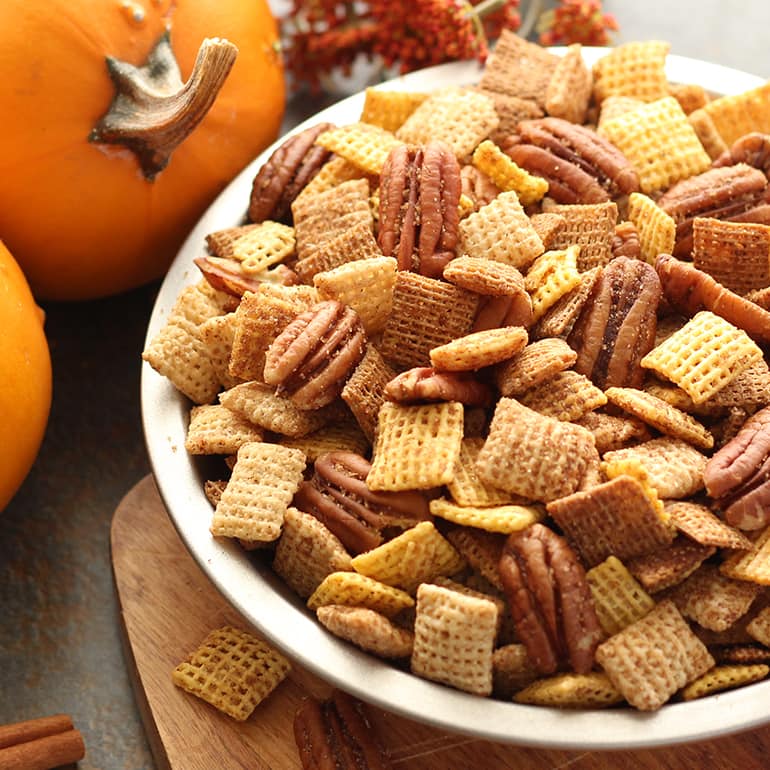 14. Chex mix
Not surprisingly, there are a lot of fall- and Halloween-themed Chex mix recipes, most of which are very sweet. My top pick is chex.com's pumpkin spice Chex mix, which is actually one of the less sweet varieties. If you want a really sweet Chex mix recipe for your Halloween party, consider Mr. B. Cook's fall harvest Chex mix or The Salty Marshmallow's apple maple Chex mix.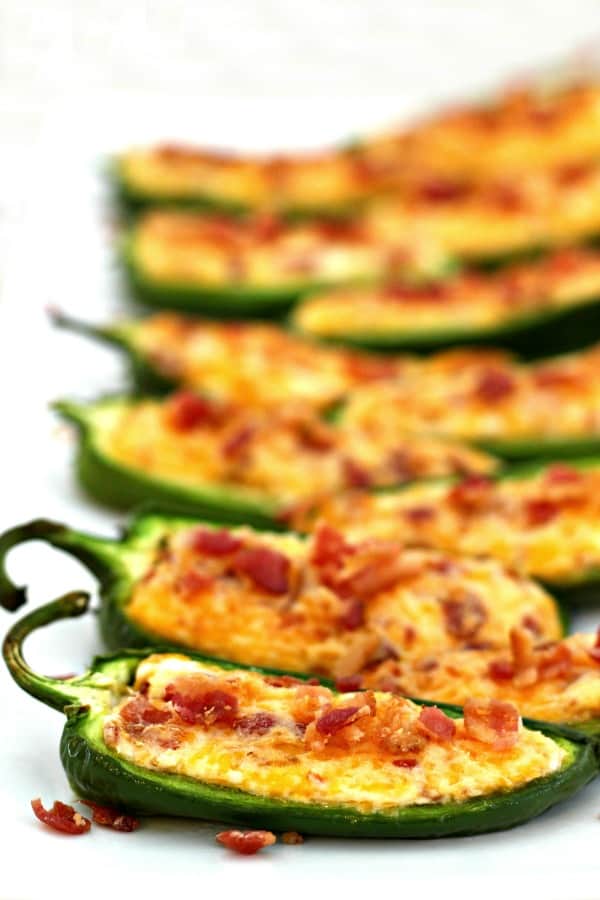 15. Jalapeno poppers
A fall party is always a good excuse to make jalapeno poppers. A Halloween event is no exception. Fun Money Mom has a classic recipe for baked jalapeno poppers with cream cheese, cheddar, and bacon. If you're looking for an easy variation, try The Colbert Clan's bacon-wrapped jalapeno poppers or Yellow Bliss Road's jalapeno popper dip.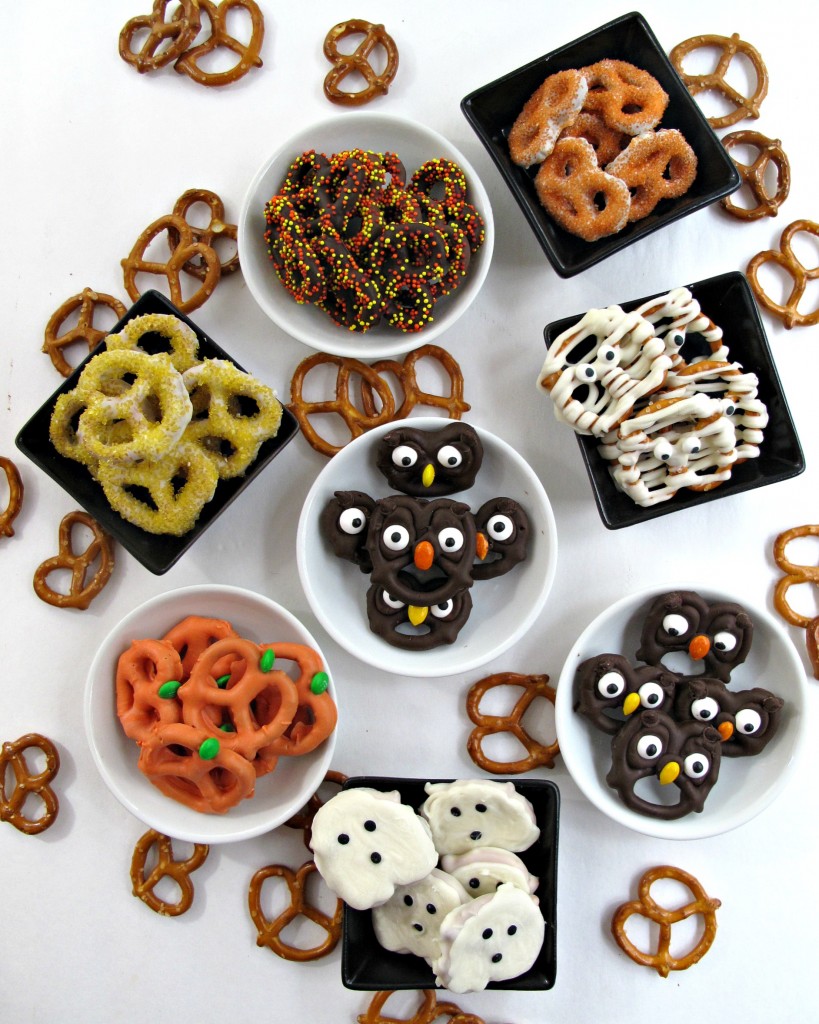 16. Halloween-themed dipped pretzels
I'm a huge sucker for salty-sweet snacks and can never resist chocolate-dipped pretzels. There are a ton of ideas for Halloween-themed pretzels . While pretzel sticks make for a prettier party display, I like the chocolate-pretzel ratio a lot better with pretzel twists.
The Monday Box shares Halloween pretzel twists with directions for owls, ghosts, pumpkins, and mummies. For pretzel twists, you can't go wrong with pumpkin spice chocolate covered pretzels from Crunchy Creamy Sweet. If you prefer pretzel rods, I love the aesthetic of Love Bakes Good Cake's candy-dipped pretzel rods and Hungry Happening's chocolate caramel pretzel monsters.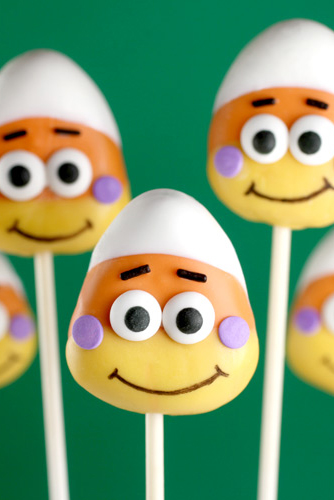 17. Cake pops
I can't share cake pops without mentioning Bakerella who of course, has stunning Halloween cake pops and even a Cake Pops Halloween book. In this post, she has directions for spiders, candy corn, eyeballs, ghosts, and more. Bluprint has a few additional ideas for Halloween cake pops. I love What Should I Make For…'s pumpkin cake pops as well.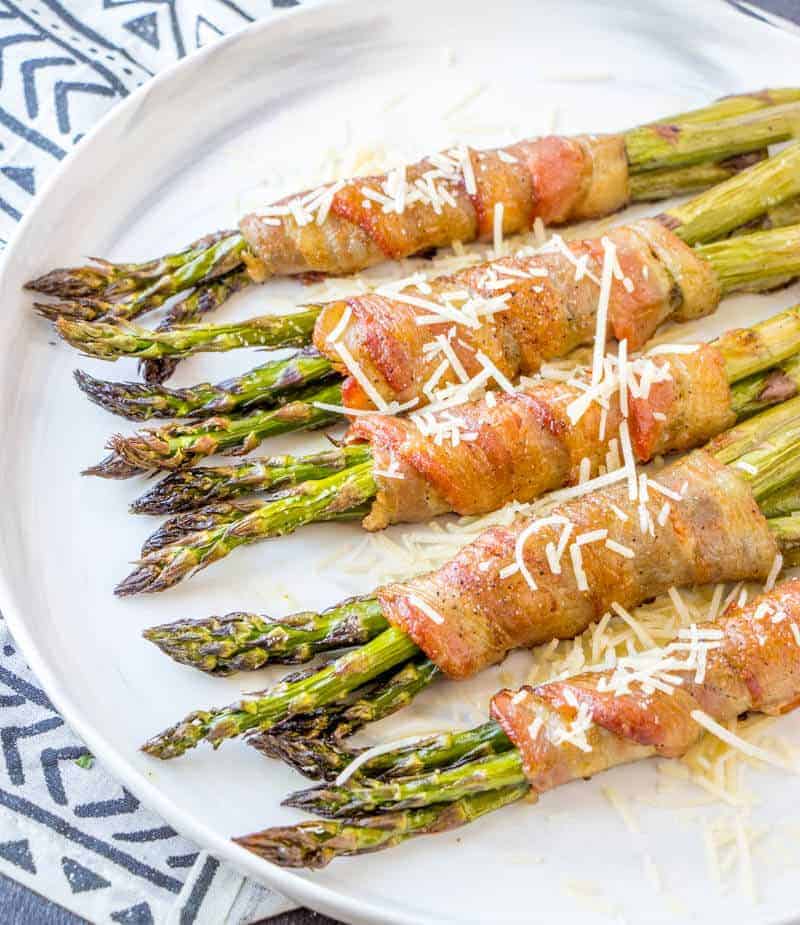 18. Asparagus appetizers
I never get tired of bacon-wrapped asparagus and think that it's a great option for a Halloween party when you can find good asparagus. Get the classic recipe from Toradough Alli. Take the asparagus appetizer game up another notch with Appetizer Addiction's parmesan asparagus pastry twists or Fox and Briar's prosciutto asparagus puff pastry bundles.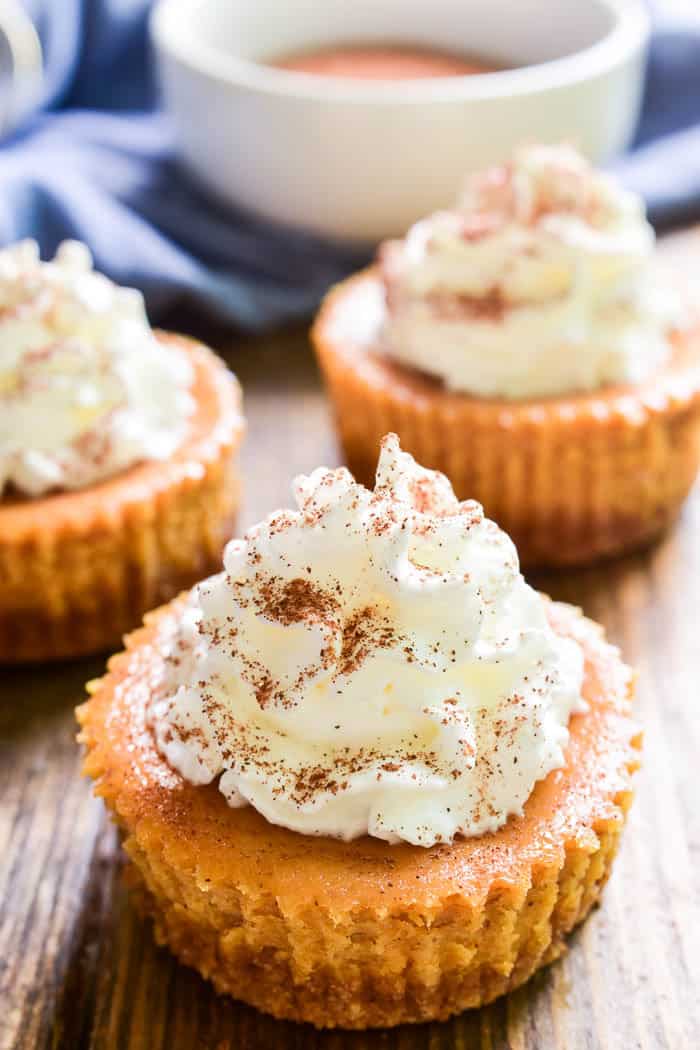 19. Cheesecake bites
For a fall gathering, my top cheesecake bites or mini cheesecake picks are Six Sisters Stuff's mini salted caramel cheesecakes and Lemon Tree Dwelling's mini pumpkin cheesecakes. You can easily transform any mini cheesecake recipe into a Halloween party dessert with Eats Amazing's ghostly mini cheesecake bites idea.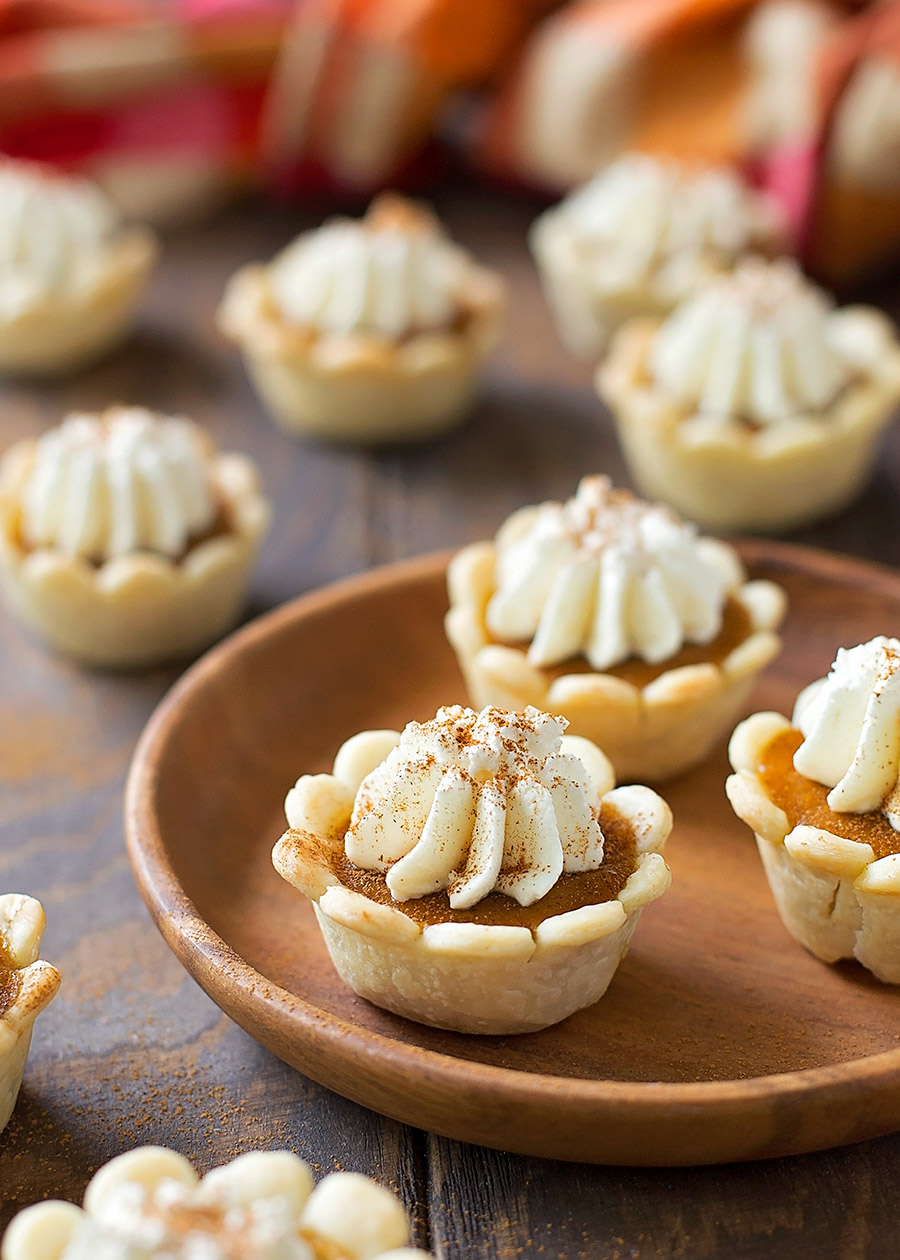 20. Pumpkin pie bites
I love pumpkin pie bites for a party because people can sample one or two bites and still have room for other desserts without filling up on an entire slice of pie. Pumpkin pie is one of those concepts where I don't mess with the classics. I would adapt Libby's famous pumpkin pie into bite-sized portions. If you need more inspiration for pumpkin pie bites, check out Lil' Luna's mini pumpkin pies.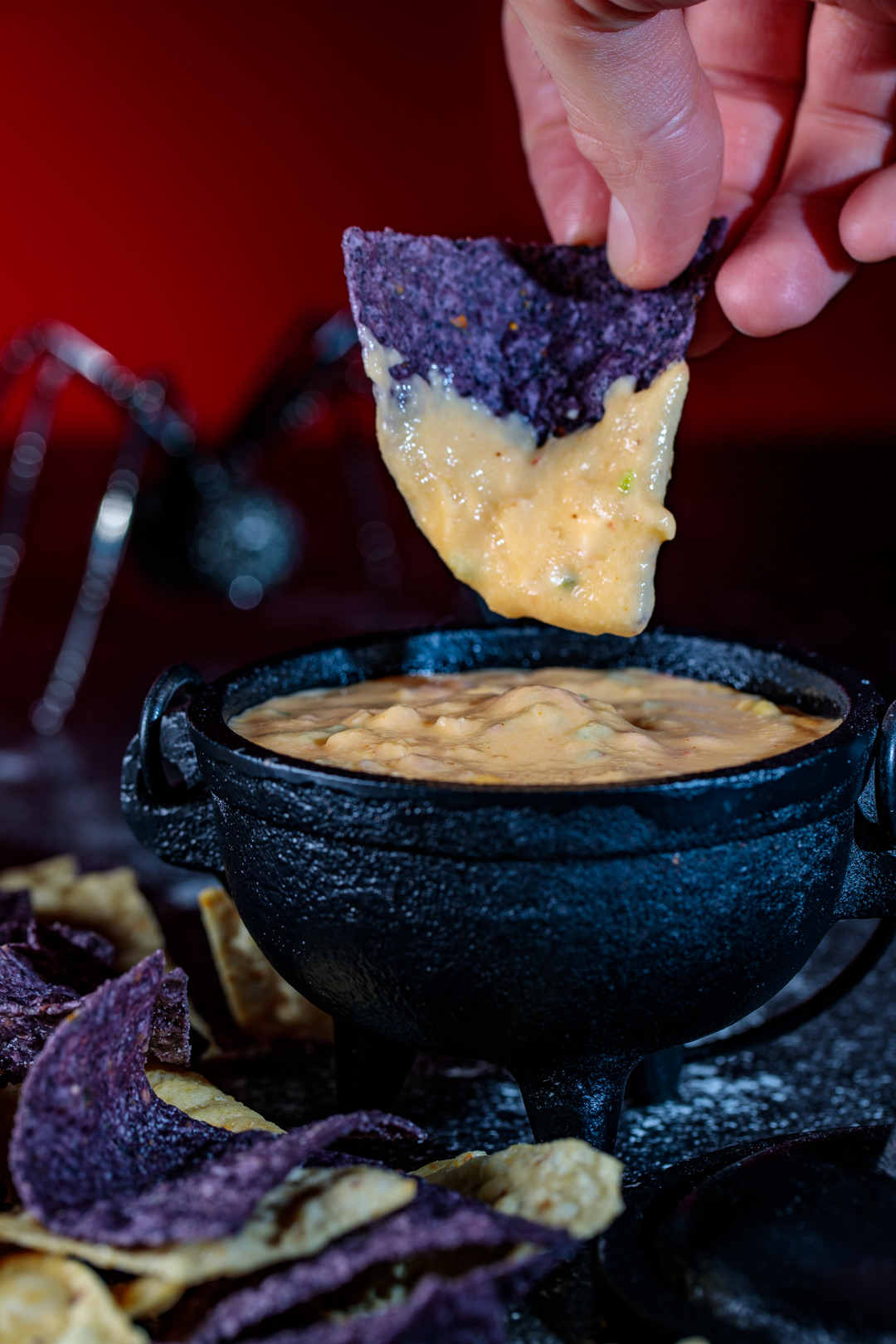 21. Cauldron dip
Having a Halloween party is the perfect excuse to buy Crate and Barrel's large cauldron serving bowl for your favorite dip recipe. (They sell individual cauldron bowls, too!) I'm sharing Southern Fatty's creamy cauldron queso dip here because she has such awesome cauldron photos. Any dip recipe works well. Just a few other options include How Sweet Eat's butternut squash goat cheese dip, Pinch of Yum's caramelized onion dip, and Yellow Bliss Road's hot Mexican corn dip.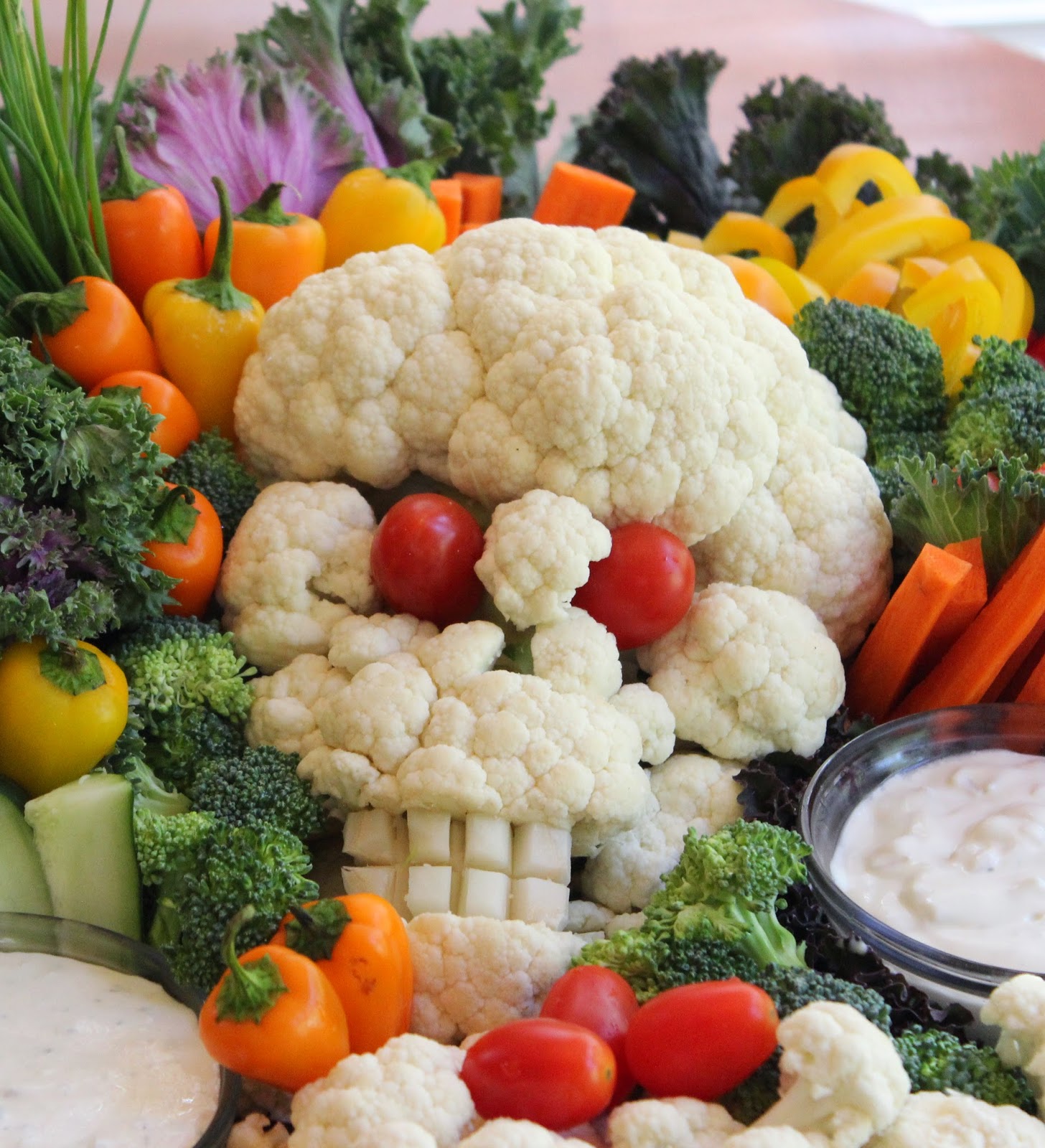 22. Halloween veggie platter
I'm not a fan of the pumpkin throwing up dip veggie platter. Why would you want to eat something that involves vomit even if it's fake? So I've rounded up a few cuter Halloween veggie platter options. I love Raising Jack with Celiac's pumpkin veggie tray, Over the Big Moon's owl veggie tray, and Vegan Mom Blog's cauliflower skull veggie platter.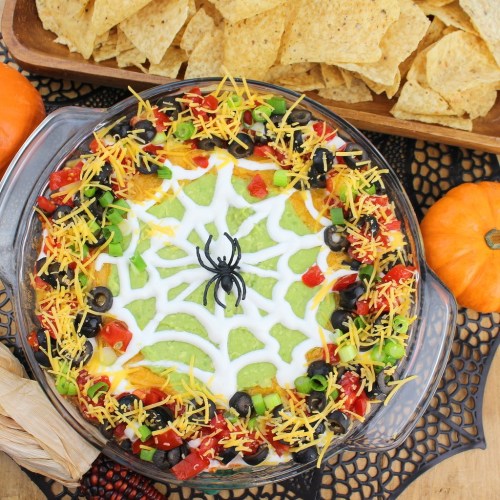 23. Spider web taco dip
Spider web taco dip is such an easy twist on traditional layered taco dip for Halloween parties. Even if you aren't very saavy with cake decorating and other food styling (which believe me, I'm not), spider web taco dip isn't intimdating. I've featured Palatable Pastime's spider web taco dip here. But you can customize this concept with any layered taco dip recipe.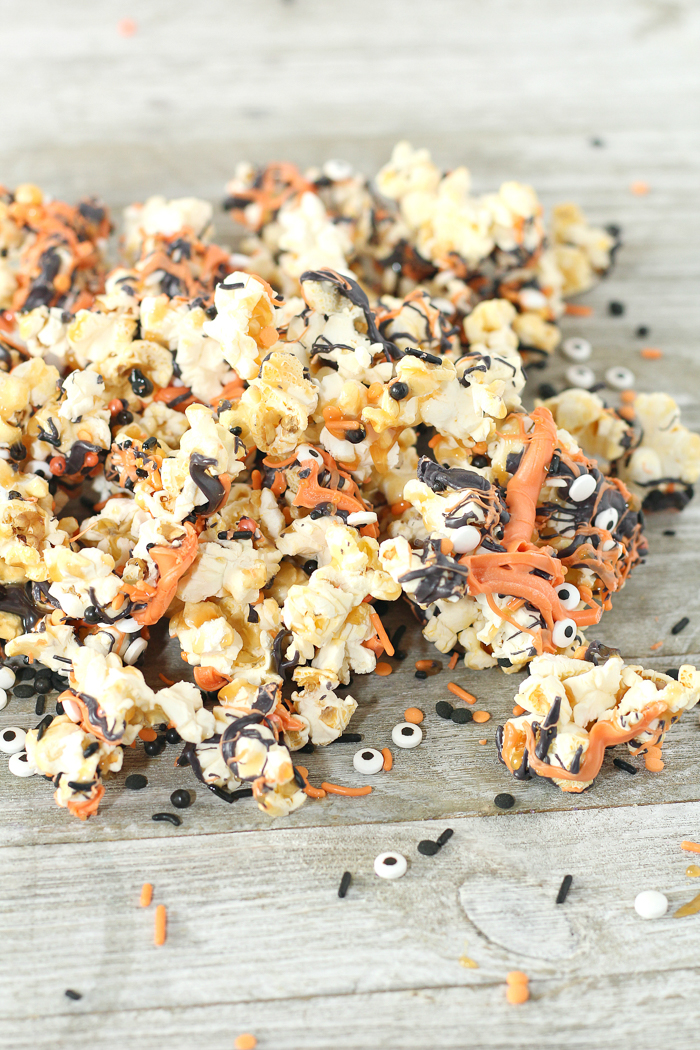 24. Popcorn
Halloween is the perfect excuse to make trashed up sweet popcorn with the add-ins of your chosing. I'm highlighting The Country Chic Cottage's Halloween popcorn, which has candy eyes to give it a spooky hint without being gross. I love Food Fun Family's Halloween candied popcorn and A Pumpkin and a Princess's candy corn monster munch, too.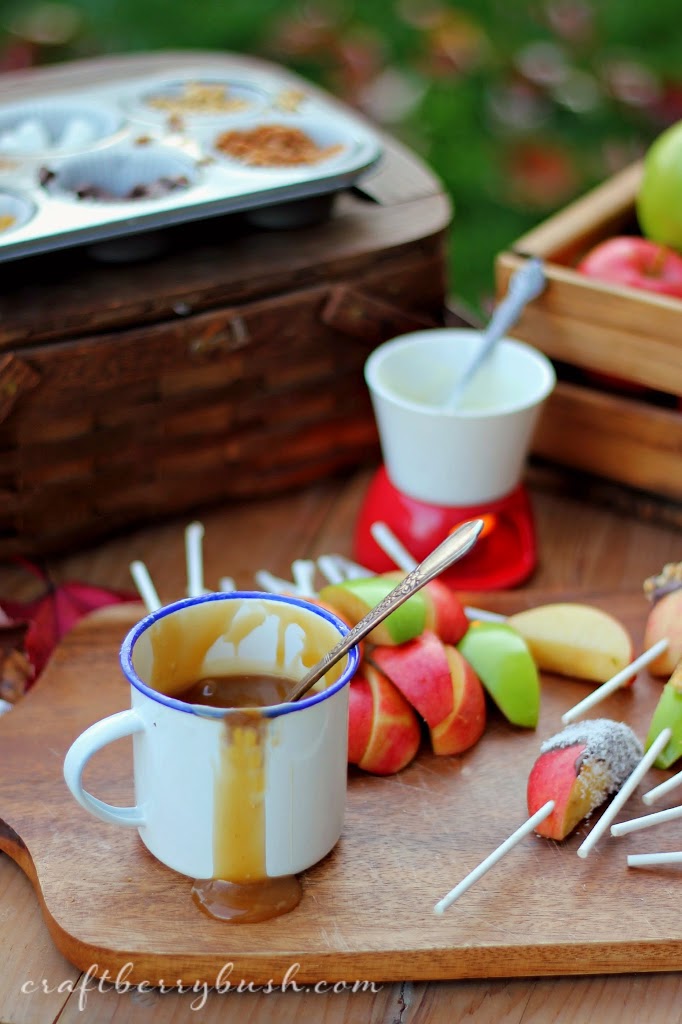 25. Caramel apple slices dipping station
I find full caramel apples to be overkill, which makes a caramel apple slices dipping station a great alternative. You get a few amazing bites of caramel apple without getting overwhelmed. Craftberry Bush outlines everything you need to create a caramel apple slices dipping station at your next Halloween party, including tips for preventing the apples from turning brown and apple topping combinations.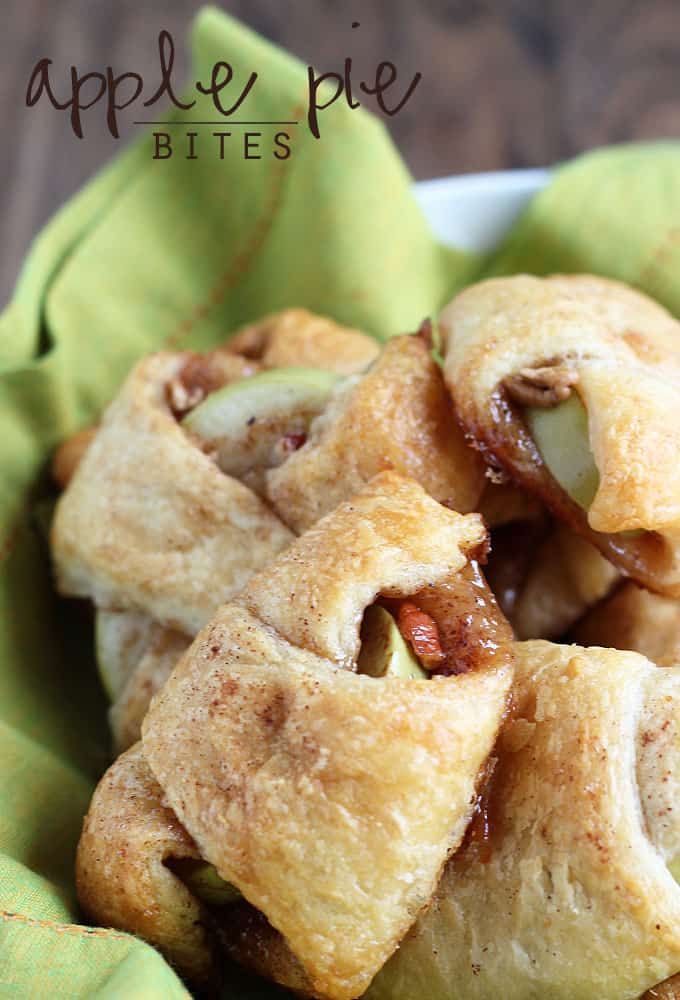 26. Apple pie bites
Apple pie bites could not be easier or more delicious. You get the apple pie taste you love so much without all the work of making a pie from scratch. As with the other mini desserts I've included here, a bites recipe always works well for a party spread. The Blond Cook makes her apple pie bites as simple as possible with refrigerated crescent rolls and apple pie spice.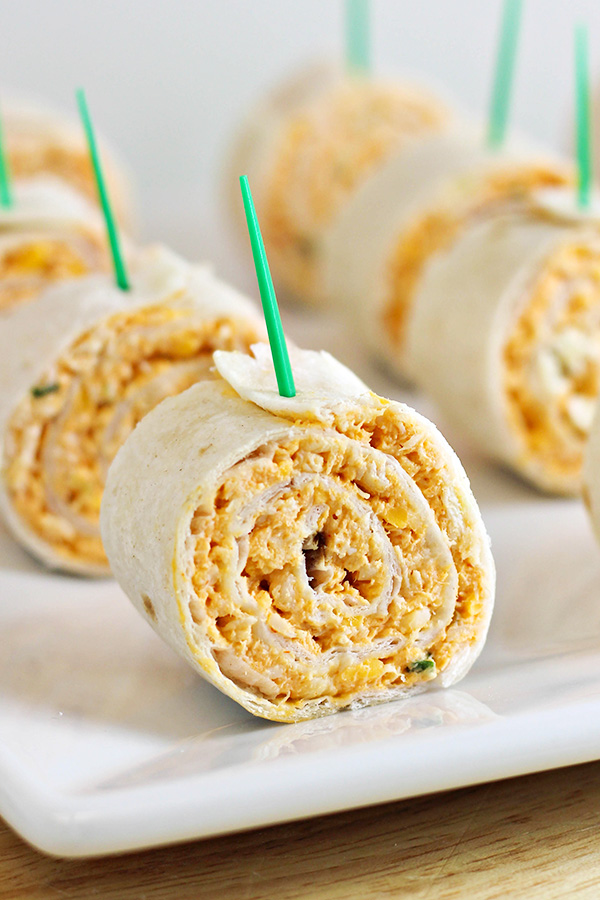 27. Buffalo chicken tortilla pinwheels
When you're over buffalo chicken dip but aren't quite ready to move on from buffalo chicken completely, Home Cooking Memories' buffalo chicken tortilla pinwheels are perfect for your Halloween party or any fall party. I love From Valerie's Kitchen's variation with spinach tortillas.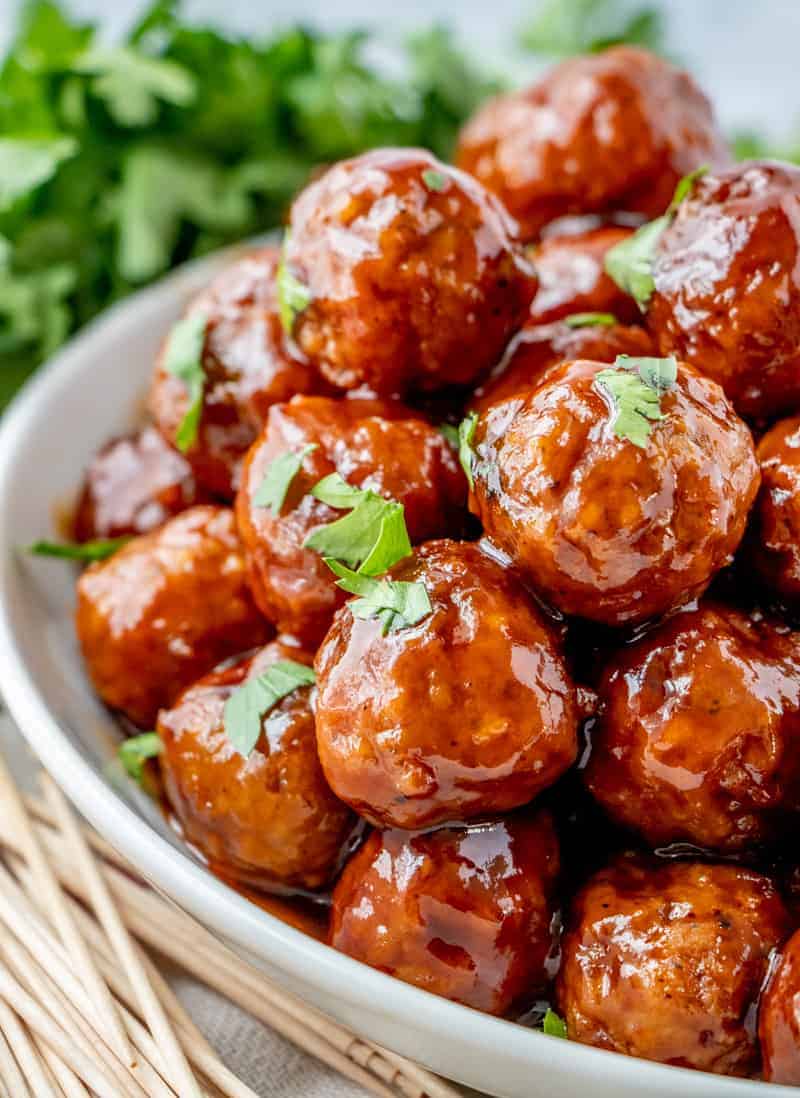 28. Toothpick meatballs
It's hard to go wrong with the classics for a Halloween party, and toothpick meatballs are no exception. I've chosen slow cooker meatball recipes, as they're the most convenient for party food. Check out Tornadough Alli's honey barbecue crockpot meatballs, Life She Lives' crockpot sweet and spicy meatballs, and The Salty Marshmallow's grape jelly meatballs.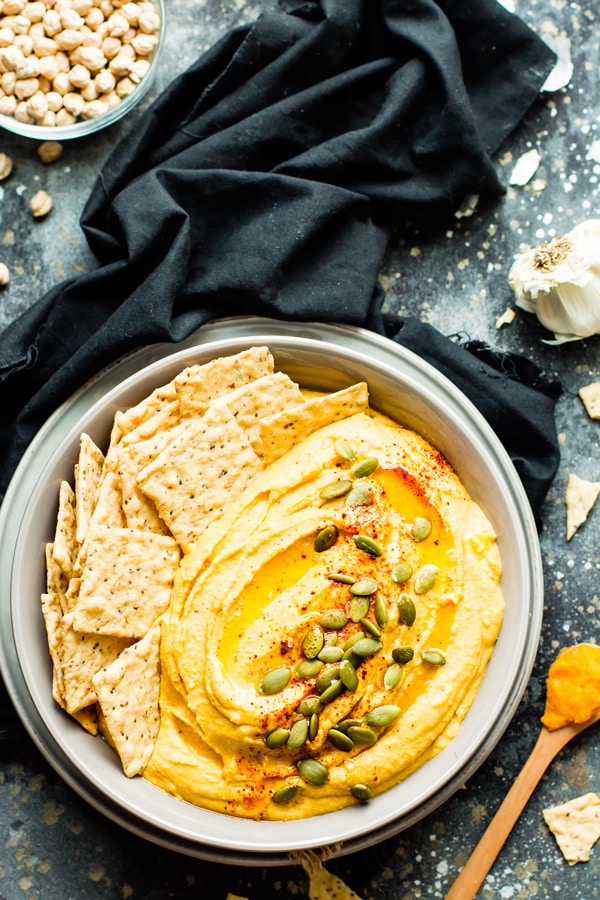 29. Pumpkin hummus
I never get tired of white bean hummus and make it often for parties. But sometimes it's fun to switch up your dips. Pumpkin hummus is perfect for Halloween. Go for Evolving Table's classic savory pumpkin hummus or take your hummus up another level with Rebel Recipes' pumpkin and roast garlic hummus or Host the Toast's smoky chipotle pumpkin hummus.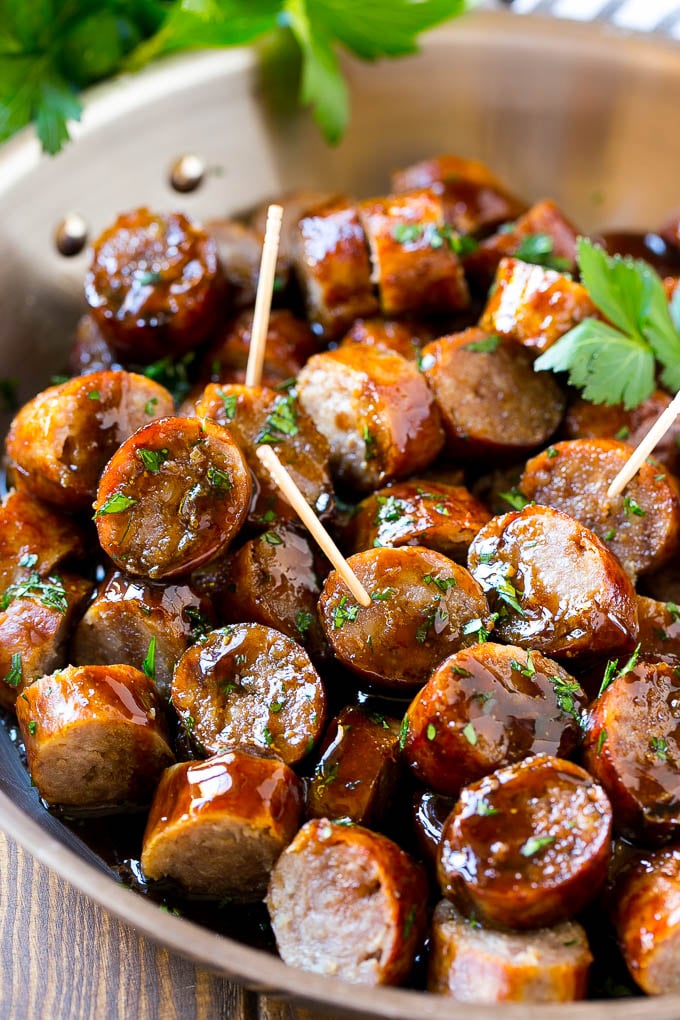 30. Beer brat bites
I live in Wisconsin, so I couldn't write a Halloween finger foods post without including brats. Dinner at the Zoo's beer brat bites are great when you're entertaining in the fall. I also love Kudos Kitchen by Renee's crescent-wrapped bratwurst bites with sauerkraut dipping sauce and Host the Toast's five-ingredient bacon-wrapped bratwurst bites.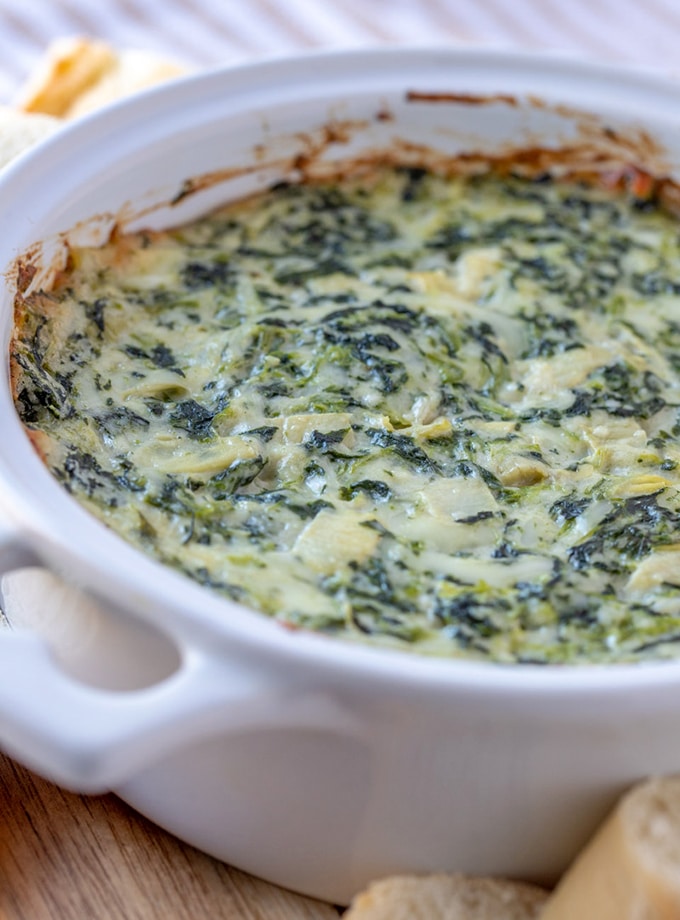 31. Spinach artichoke dip
Spinach artichoke dip is one of those appetizers that instantly transports you back to Applebee's or Olive Garden in the early 2000s. And you unapologetically enjoy it every time because it's so good. Make Onion Rings and Things' cheesy spinach and artichoke dip because there's no need to try to improve this classic appetizer.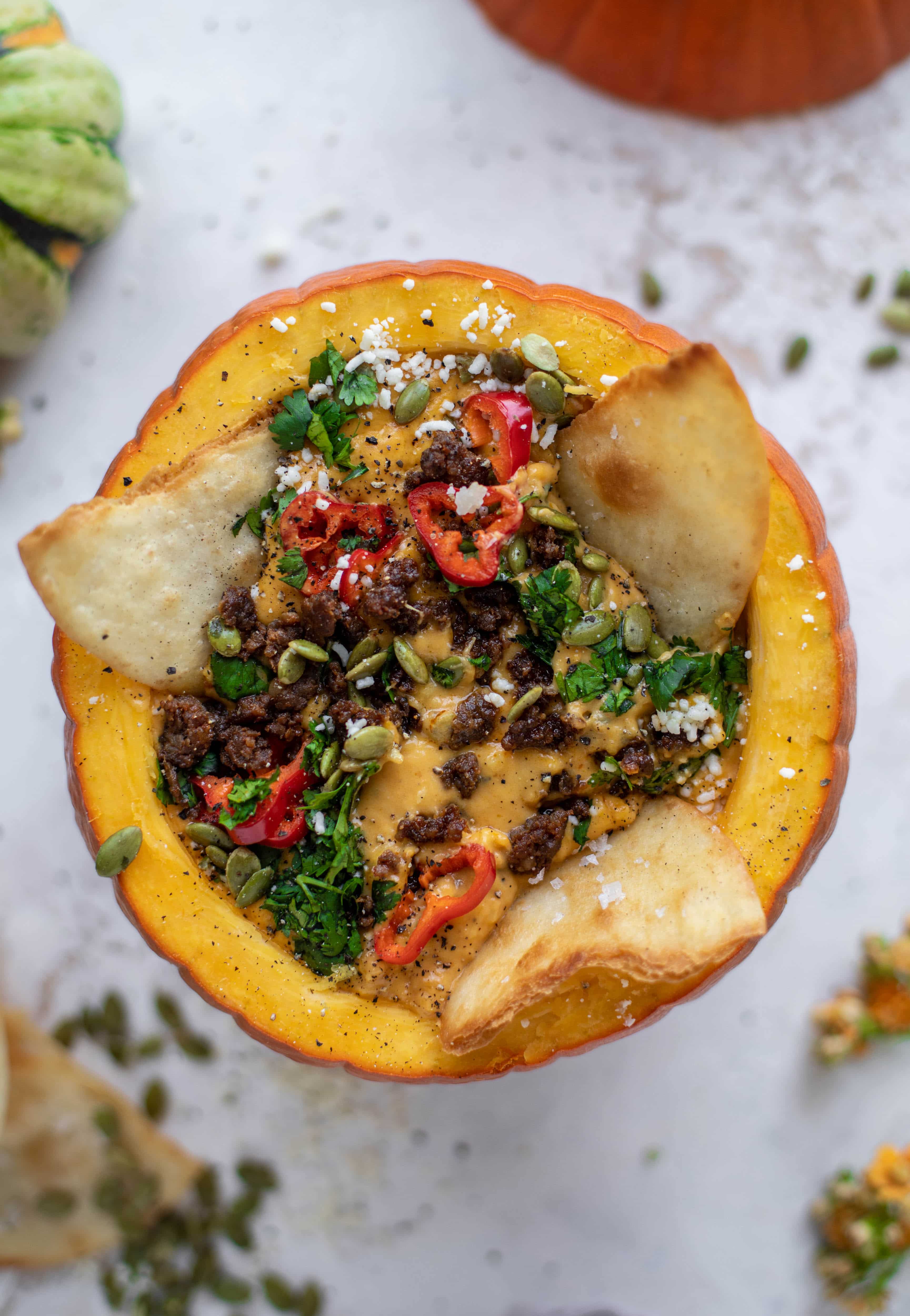 32. Pumpkin queso fundido
I already mentioned How Sweet Eat's butternut squash goat cheese dip under the cauldron dip ideas. But I had to include at least one more of her dips, and I went with pumpkin queso fundido. Of course, you can serve it in a cauldron. However, serving it in a pumpkin is so cute, too.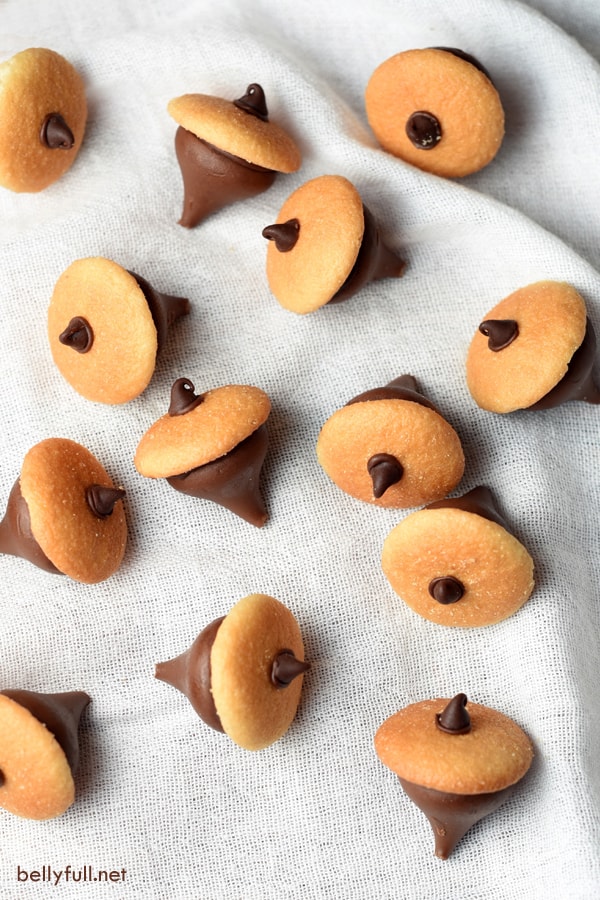 33. Chocolate acorns
Chocolate acorns are one of those fantastically great, ridiculously easy party appetizer ideas that's sure to wow family and friends every time. Grab the recipe from Belly Full. Through Her Looking Glass shares a simple variation for peanut butter chocolate acorns.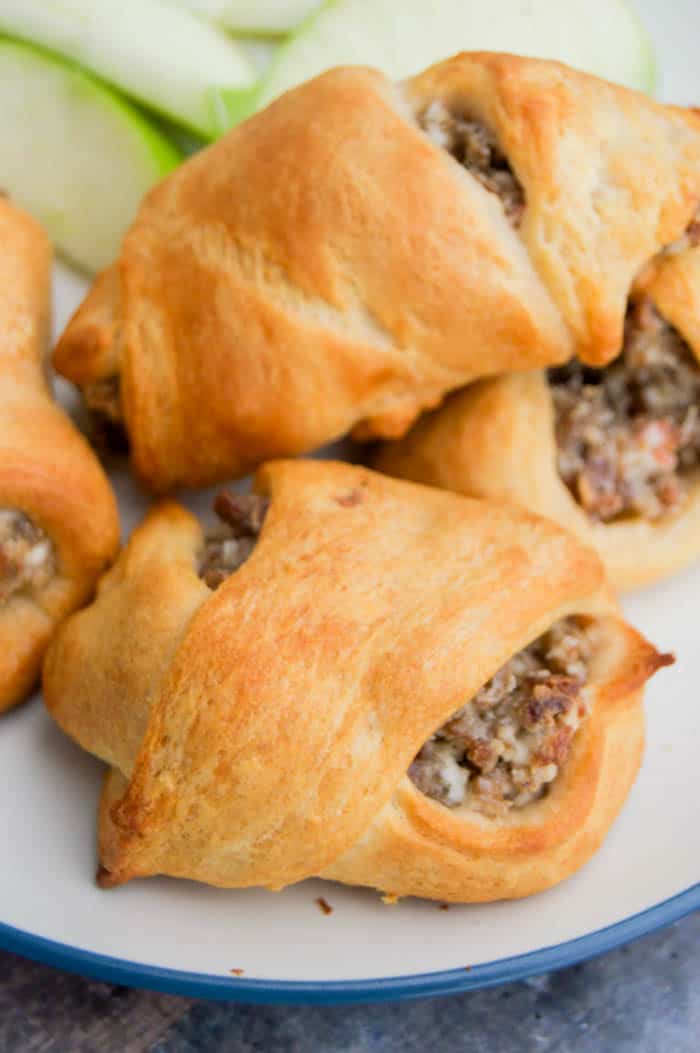 34. Sausage and cream cheese croissants
Sausage and cream cheese croissants are comfort food at its best, packaged into perfect party appetizer-sized servings. The Diary of a Real Housewife makes individual cream cheese sausage crescent roll-ups while The Kitchen is My Playground makes crescent sausage bites, which you bake in a pan and slice into individual servings.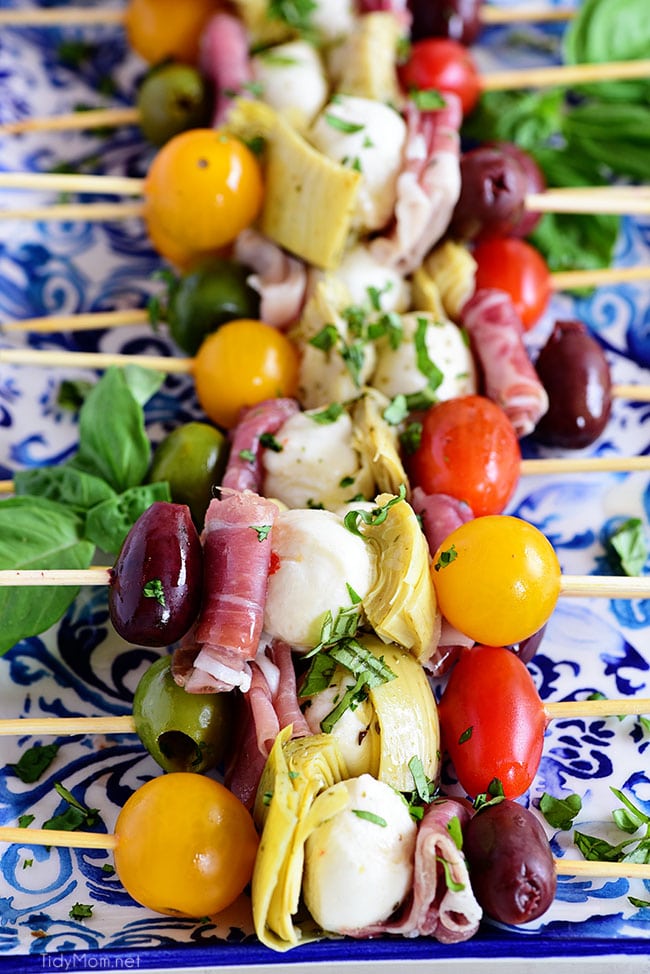 35. Antipasto skewers
Tidy Mom's antipasto skewers are one of my personal favorite appetizer recipes to bring to fall and winter gatherings. They're so colorful and appealing. It's like you get a mini sampler plate, all on one stick.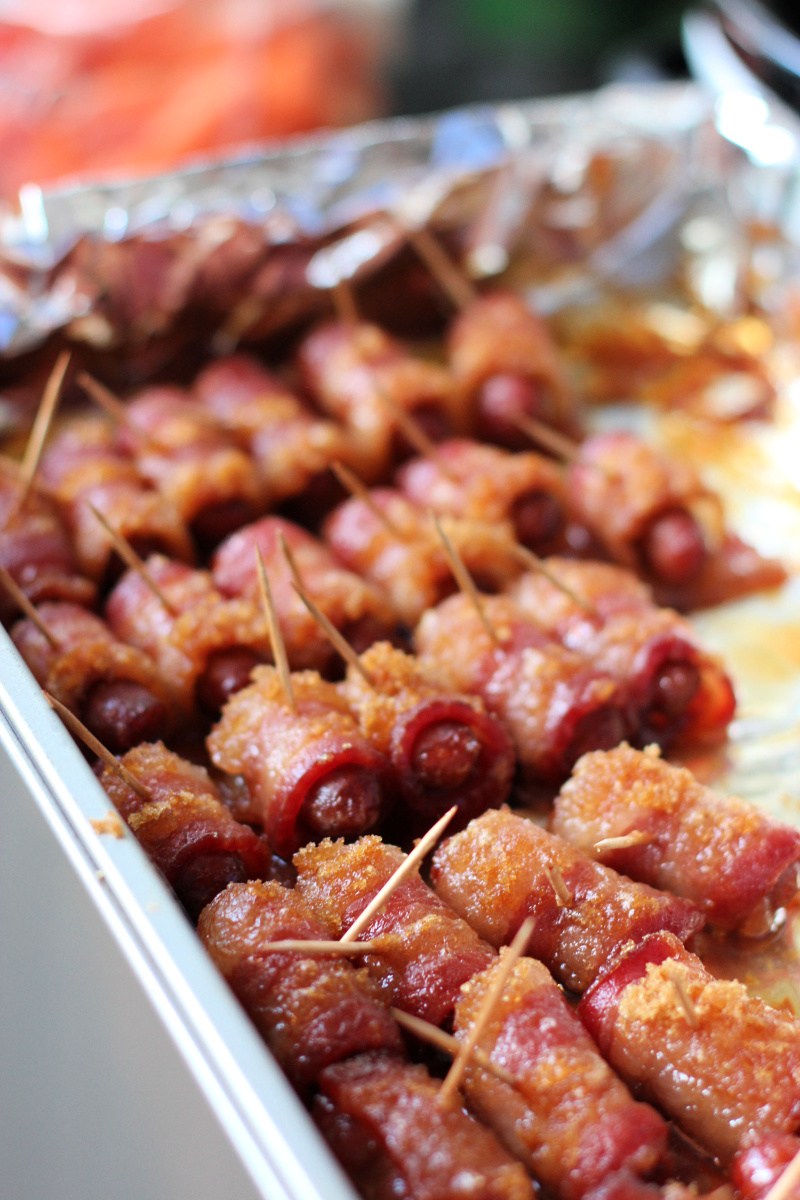 36. Bacon brown sugar smokies
Home Sweet Spena's brown sugar and bacon-wrapped smokies could not be easier or more delicious. You only need three ingredients, and the flavor is unbelievable. I can't get over the sweet-savory combination here.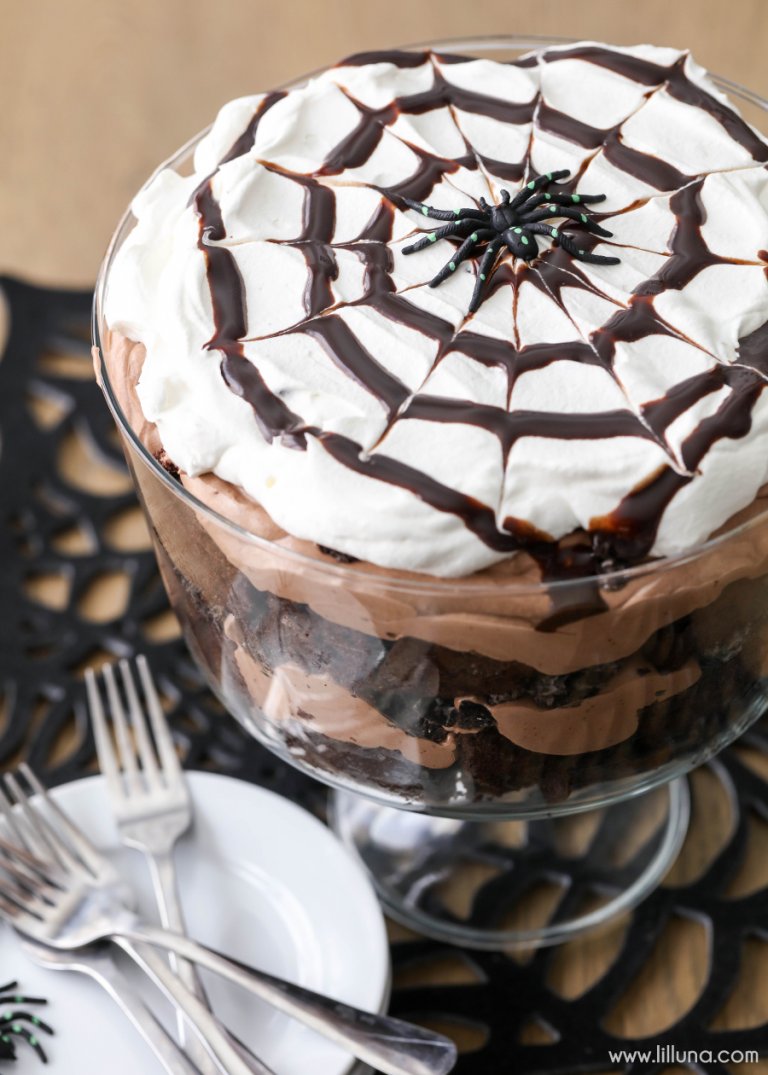 37. Chocolate spider trifle
Similar to the Halloween twist on layered taco dip, Lil' Luna's chocolate spider trifle is an easy way to transform a delicious dessert into a stunning Halloween party recipe. You can use this concept for virtually any trifle recipe that's suited for fall, such as Mom on Timeout's pumpkin cheesecake trifle or How Sweet Eat's maple pumpkin gingersnap tiramisu trifle.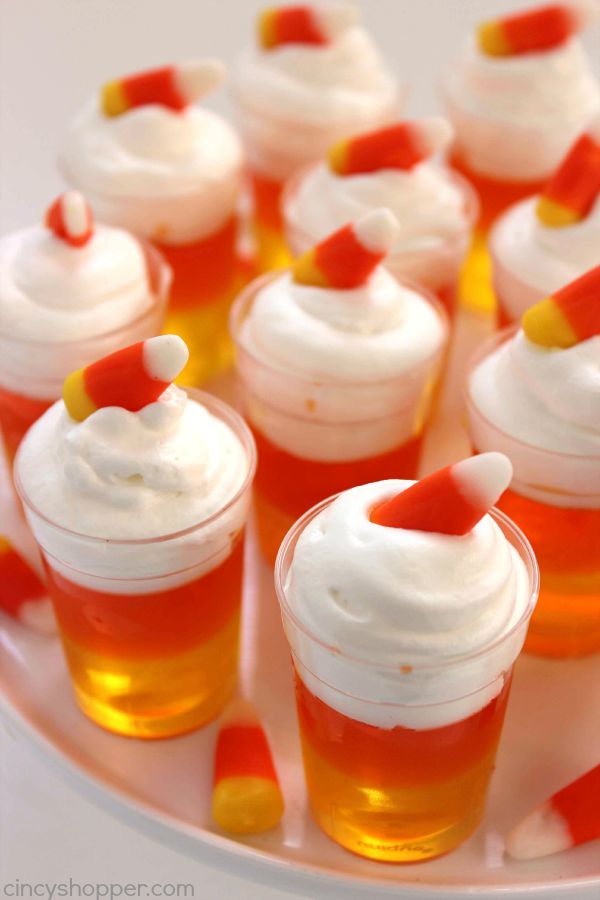 38. Individual candy corn jellos
Cincy Shopper's layered candy corn jellos are so fun and colorful. Frankly, I'd rather eat layered jello with whipped cream than real candy corn any day. You can't go wrong with individual serving desserts for Halloween parties, too.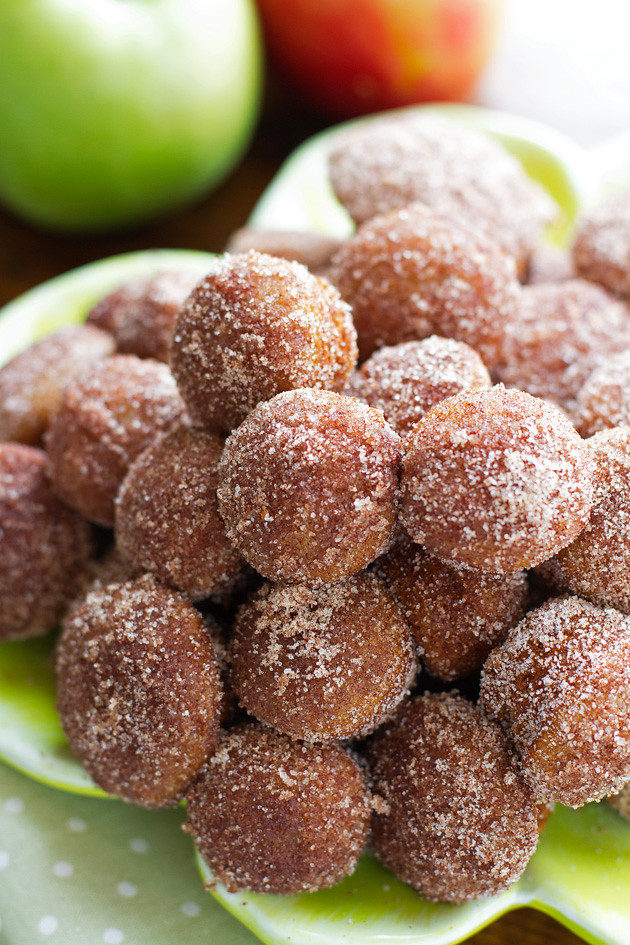 39. Donut holes
I had to share Little Spice Jar's baked apple cider donut holes because apple cider donuts are basically the only donuts I ever want. If you do feel like branching out for your Halloween party, Live Well Bake Often's baked pumpkin donut holes and Delish's acorn donut holes are great options, too.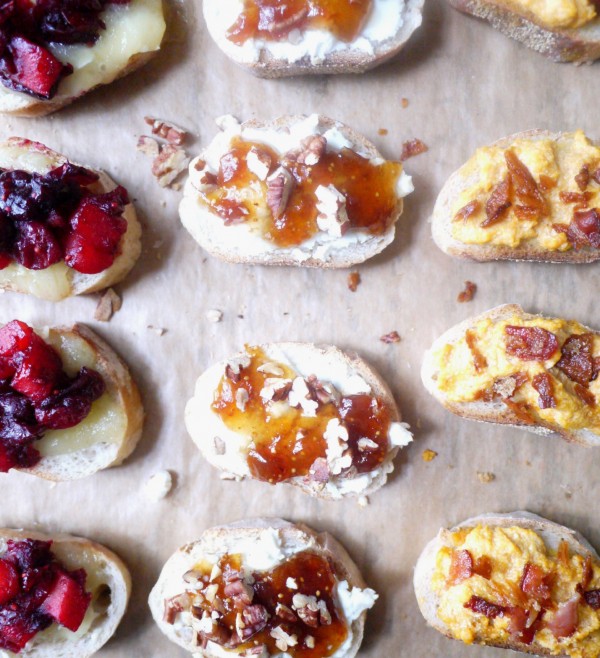 40. Three sweet and savory fall crostinis
I'm dying over Funtober's three sweet and savory fall crostini recipes: fig and goat cheese with toasted pecans, pumpkin ricotta with brown sugar bacon crumbles, and brie with cranberry-apple chutney. These recipes are versatile enough to take you right through the holiday season as well.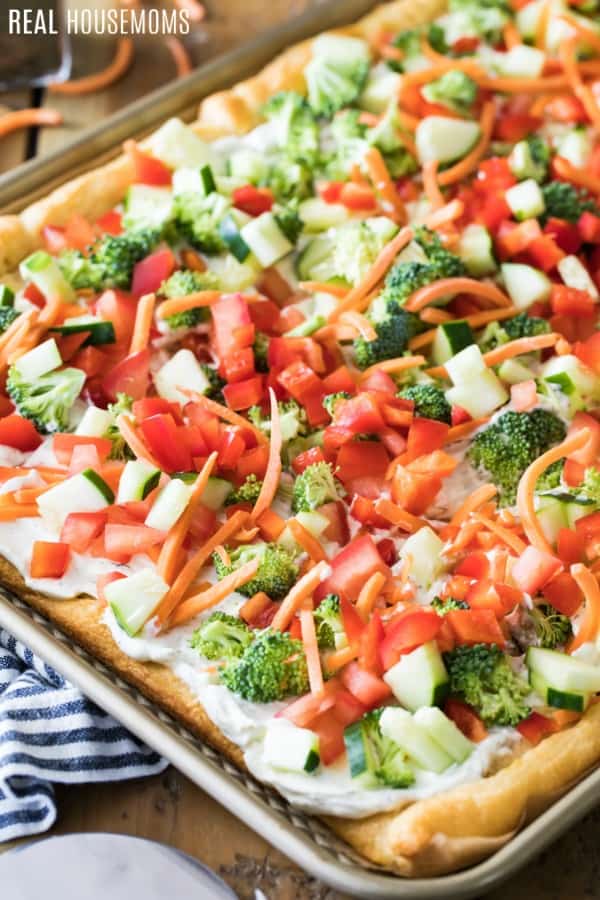 41. Veggie pizza
Crescent roll veggie pizza never goes out of style, right? I hope not because I still love it just as much as I did as a kid. Go old school with Real House Mom's easy veggie pizza. I also love How Sweet Eat's updated veggie pizza with mascarpone and Greek yogurt. You can also switch up the crescent roll pizza concept with Tastes of Lizzy T's taco pizza appetizer.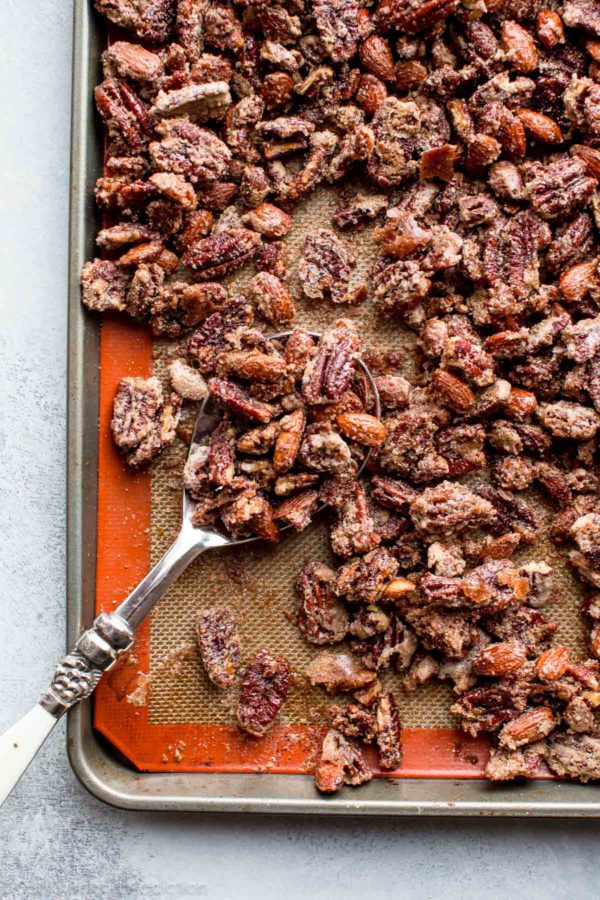 42. Candied nuts
Homemade candied nuts are so easy and make your house smell absolutely amazing. Walnuts or mixed nut combinations are my favorite. Pecans are great, too. Check out Sally's Baking Addiction cinnamon sugar nuts, The Chunky Chef's vanilla cinnamon candied almonds, The Everything Housewife's sweet and spicy candied pecans, and The Kitchen is My Playground's barbecue roasted mixed nuts.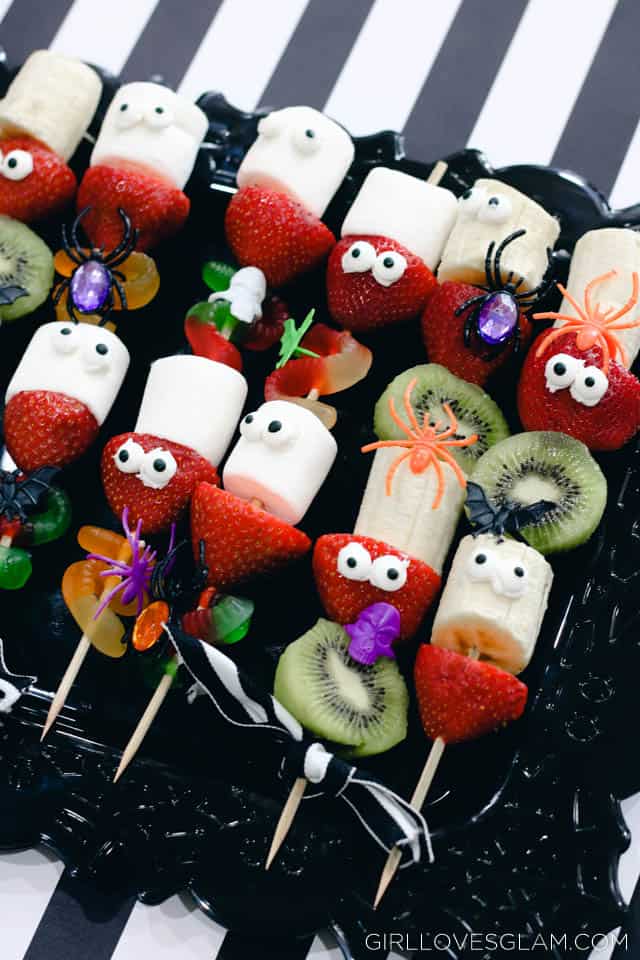 43. Halloween fruit skewers
Girl Love Glam's Halloween fruit skewers are so much fun and so easy to customized based on your personal tastes. I love that she has healthy and non-healthy versions.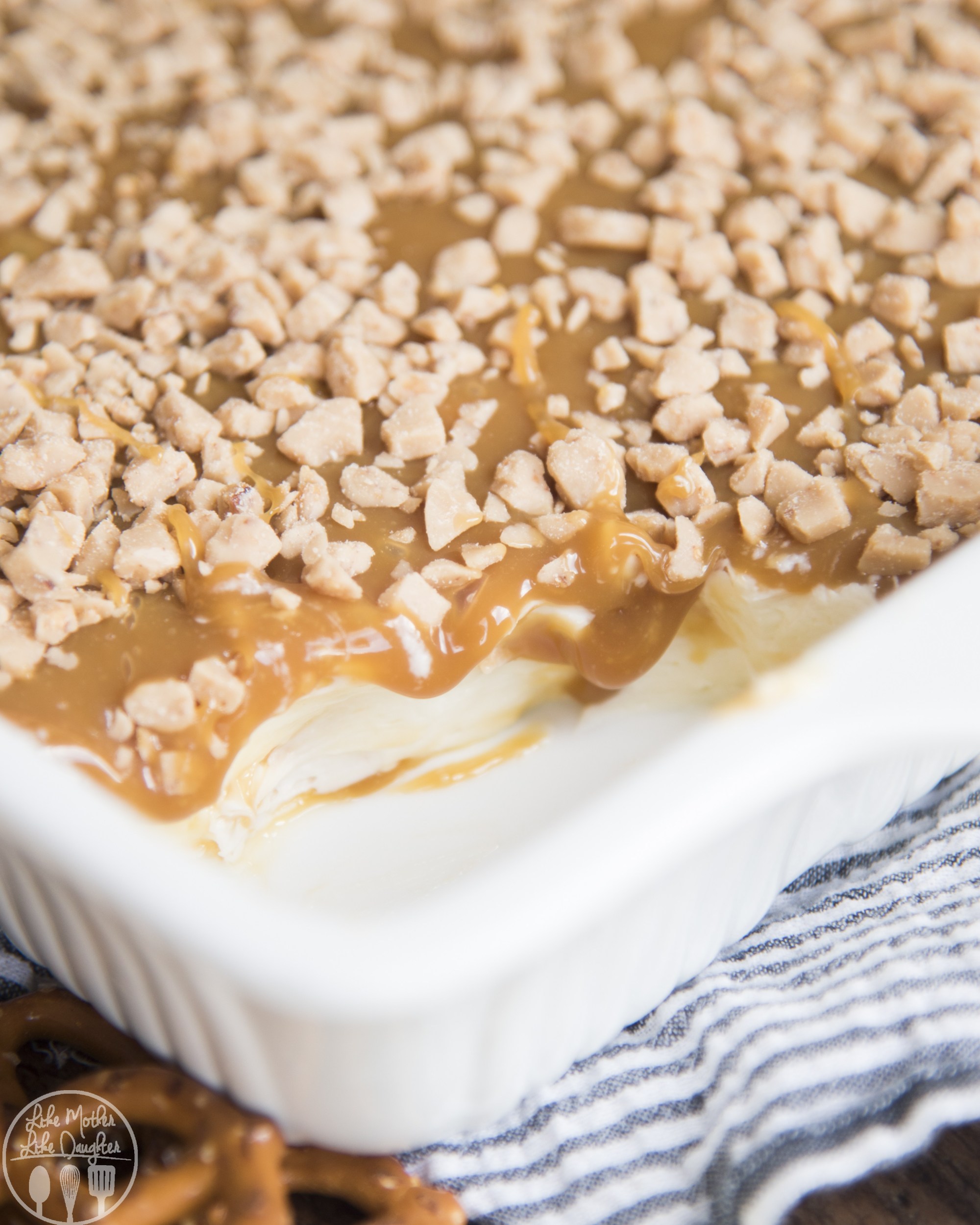 44. Cream cheese caramel apple dip
Like Mother Like Daughter's cream cheese caramel apple dip takes traditional caramel apple dip up a level. I love the combination of creamy cheese and sweet caramel paired with tart fruit.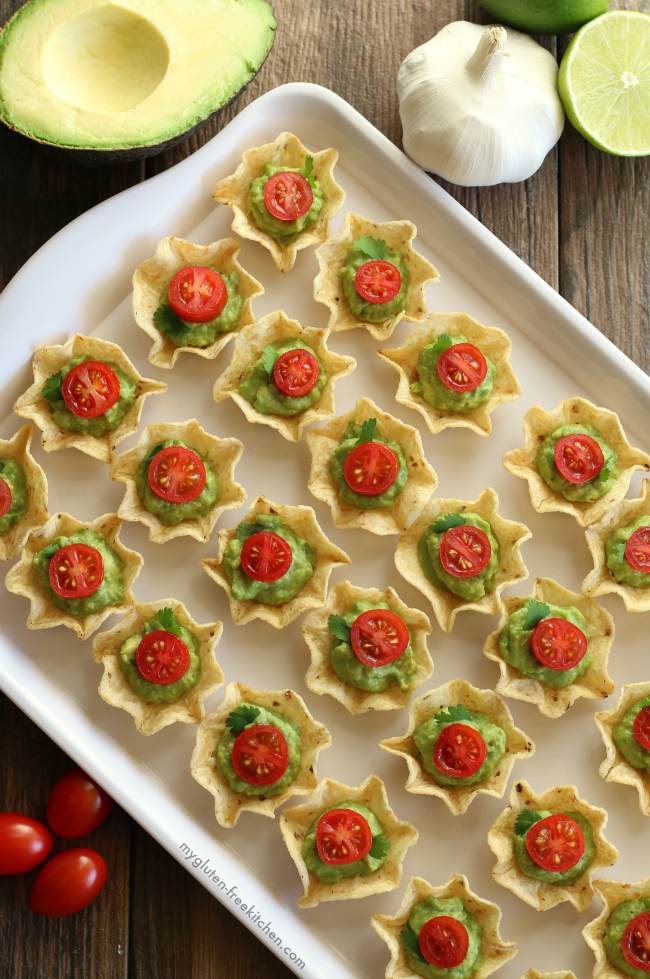 45. Guacamole bites
My Gluten-Free Kitchen's guacamole bites are adorable and sure to get eaten as fast as you can make them. I love her suggestion to add cheese on top. To save time, you can use pre-made guacamole, which is always a good option. If you have the time, think about making it from scratch.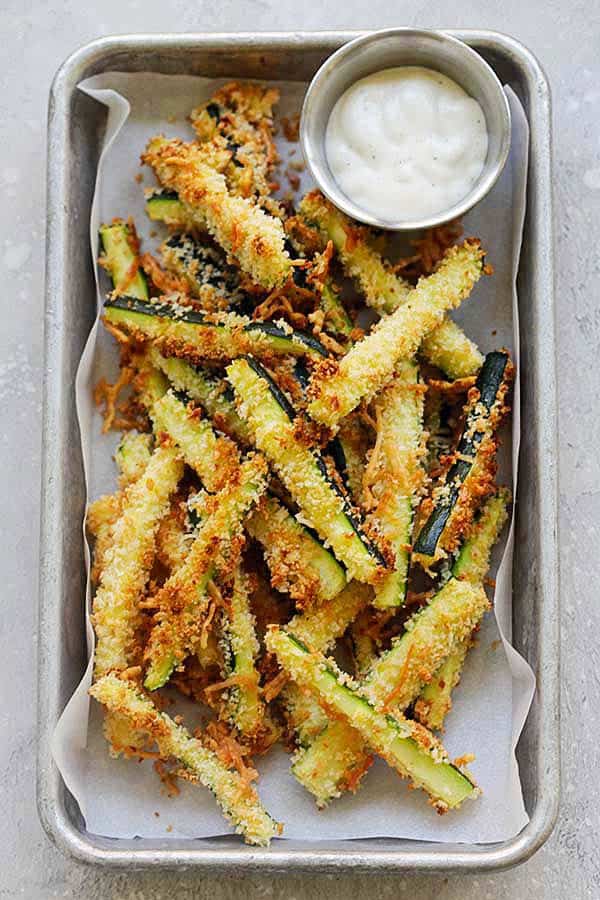 46. Zucchini fries
Rasa Malaysia's Parmesan zucchini fries are an easy, healthy alternative to traditional French fries. When you're ready to take a break from sweet potato fries and have fresh zucchini on hand, make zucchini fries. The bread crumbs and cheese add just the right amount of crunch and flavor.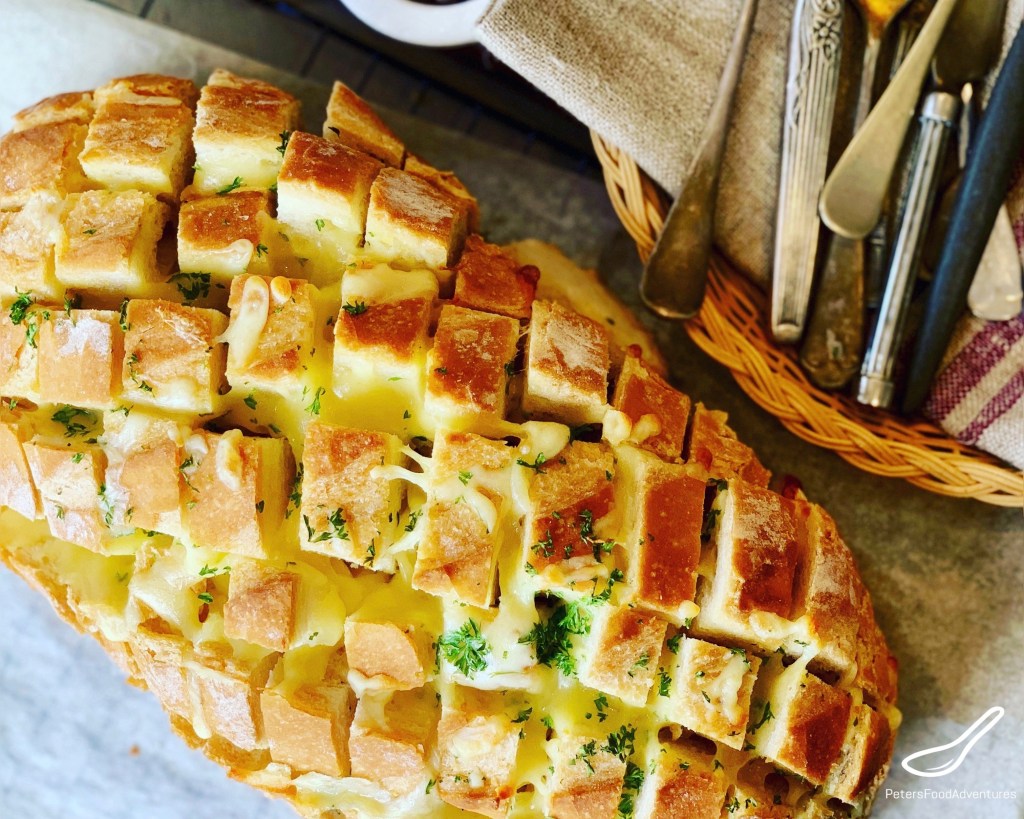 47. Pull apart cheese bread
Pull apart cheese bread is one of those ultimate comfort foods that's always a popular party appetizer. Starting with a full loaf of bread makes the recipe come together quickly and easily. Peter's Food Adventures has a classic cheesy pull-apart bread recipe. I love Carlsbad Craving's cheesy pull apart pesto bread and The Dirty Gryo's bloomin' onion pull apart garlic bread, too.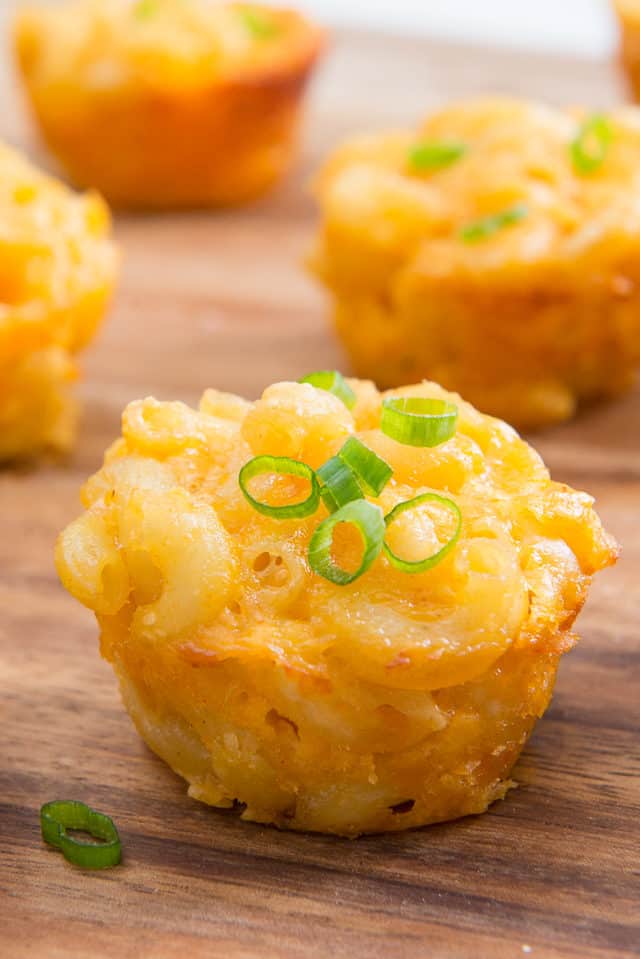 48. Mini mac and cheese bites
Fifteen Spatula's mini mac and cheese cups are everything you love about macaroni and cheese in an easy, finger-food form. As each cup is only a couple of bites, you won't be able to resist eating a few of these ridiculously good appetizers. It's a great excuse to buy the mini muffin pan you've always wanted.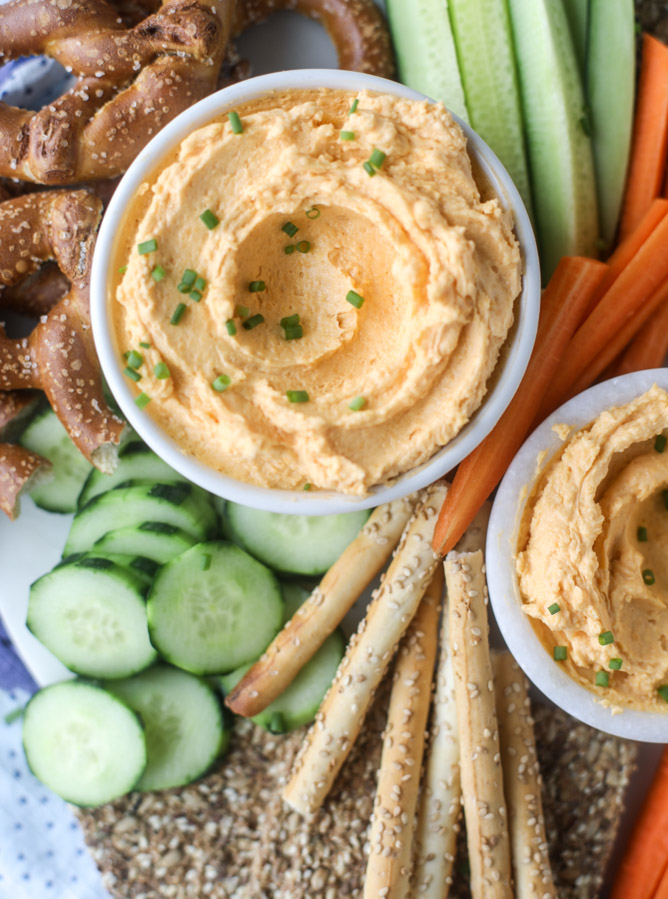 49. Pub cheese
I know, instead of Halloween finger foods, I should have called this post how many How Sweet Eats recipes can I convince you to make for your upcoming Halloween party. I've included an insane number of her recipes here but only because they're the best. Her homemade pub cheese is no exception. You'll be completely spoiled for pub cheese once you've made it from scratch.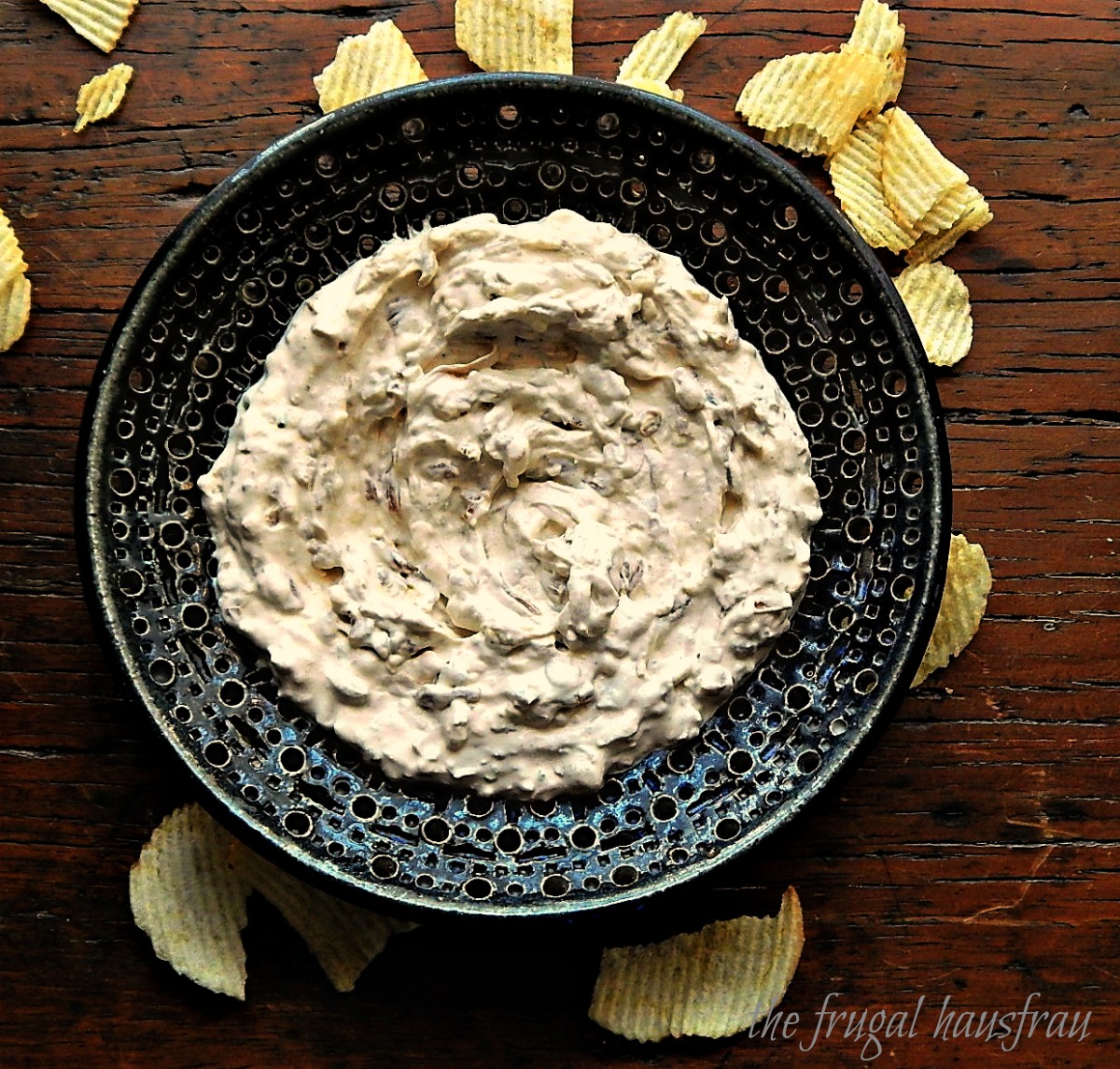 50. French onion dip
Frugal Hausfrau's classic French onion dip is a little time-consuming because when you make French onion dip from scratch, you caramelize the onions. The good news is that you can caramelize them ahead of time, making the dip come together quickly on the day of your Halloween party. From scratch French onion dip is another homemade recipe that will totally spoil you for anything else.
Did you make one of the Halloween finger foods from this post?
I want to see it! Tag your images #RoseClearfield on Instagram or Twitter.
[Disclaimer: There are a few affiliate links in this post. Thanks for your support!]
Pin this post for easy access later!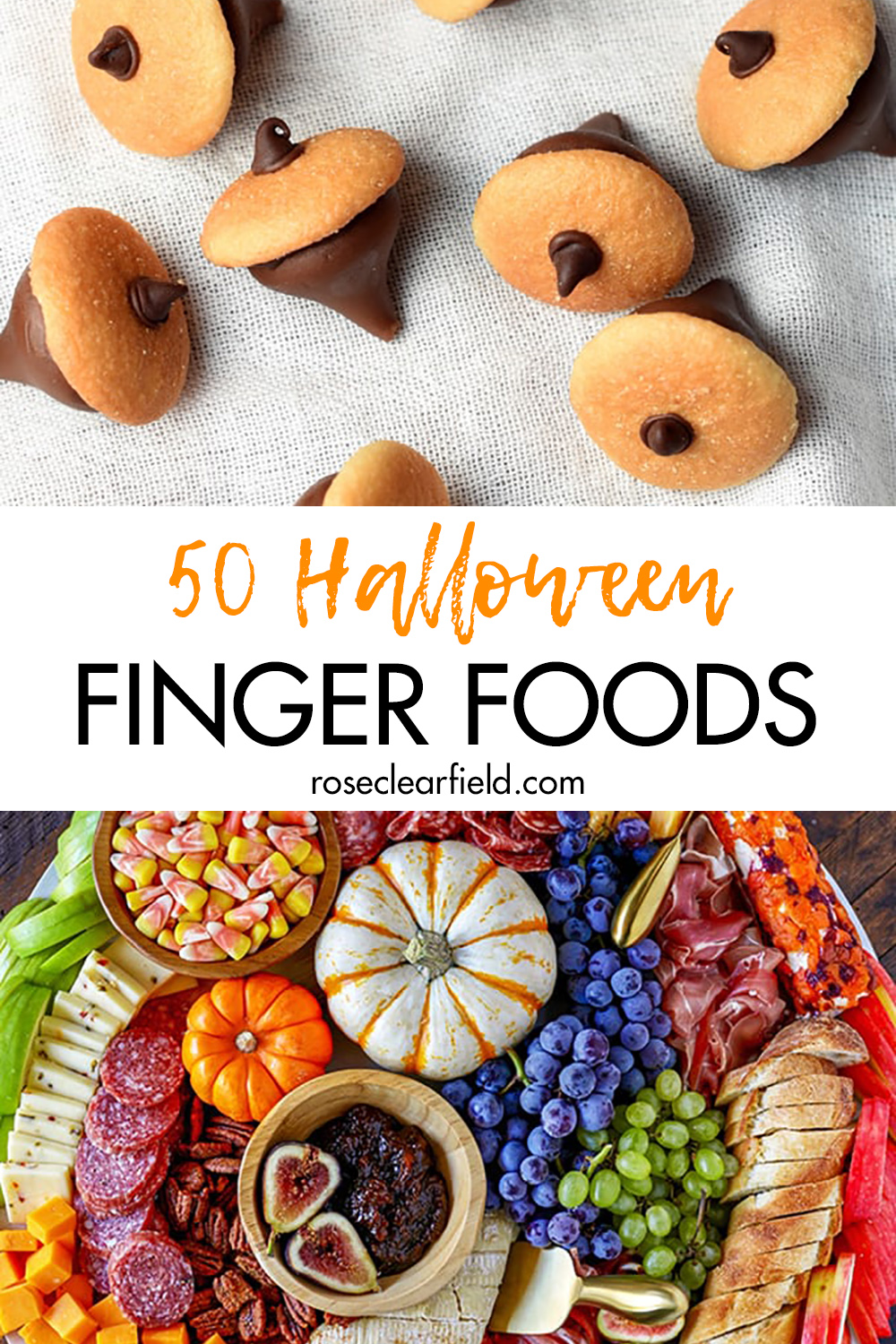 More Halloween resources: