Romantic stay-home Valentine's Day ideas ensure you have an intimate, memorable holiday with your significant other while avoiding the stress and expense of Valentine's Day restaurant "deals."
I love eating out as much as anyone else. As someone who cooks at home for the vast majority of my meals, I love not having to cook on special occasions. But dining out on Valentine's Day has turned into such a crazy affair. Everyone wants to go out to eat on Valentine's Day, including families. Restaurants max out their reservations, there are long lines everywhere, and the holiday specials aren't ever a good deal.
So we skip the stress and stay home. Staying in on Valentine's Day shouldn't be sad or boring. Instead, embrace the opportunity to do something special at home that you wouldn't do on a normal weeknight or even normal weekend. With a little forethought and planning, your romantic stay-home Valentine's Day will quickly turn into an event you look forward to all month.
I've rounded up 40 romantic stay-home Valentine's Day ideas with something for everyone. You can keep it low-key and casual, or you can create an indulgent, formal experience. There are lots of ideas to mix and match, making it a Valentine's Day both you and your significant other will look back on fondly for months to come.
1. Watch a movie
I know, could I kick off my romantic stay-home Valentine's Day list with anything less predictable than a movie? Since my son was born, my husband and I have sat down and watched a movie in its entirety exactly once. So Valentine's Day is definitely a good excuse to curl up under a cozy blanket with your favorite candy and take in a movie you've been dying to watch for ages.
2. Have a Netflix binge
Similarly, since my son was born, I can't say that I've binged watched a show. This Valentine's Day, make time for a new show on your to-watch list and binge a full season. If you're caught up on new shows, use the holiday as an excuse to re-watch an old favorite. I know I'm not the only one who never gets tired of The Office.
3. Play board or card games
Sometimes it's fun to get a big group together for a board game night. And sometimes it's fun to enjoy a board game night with your significant other. Just a few of our favorite games that work well with two players include Sequence, Mexican Train dominoes, Ticket to Ride, Kingdom Builder, and Penny Arcade the Game.
4. Play a question game
A simple question game can be a fun way to get to know your significant other better or get into topics that don't normally come up during daily conversation. Game Alexandria has a huge round-up of questions for couples to get you started writing out your own questions or picking a list to work through together.
Valentine's Day is also the perfect excuse to pick up a new questions game or start that questions game that's been sitting on the shelf for months. I recommend Lover's Communication, Uncommon Questions, or Our Moments: Couples Edition.
5. Have a video game marathon
Fire up the gaming system of your choice, and challenge each other to a few (or a lot) of rounds of a favorite game. Play a brand new game or go retro with an old game on the Super NES Classic. It comes fully loaded with 21 games that you know and love from your childhood.
6. Make a multi-course dinner, complete with a menu
If one or both of you like to cook, I guarantee you'll have just as much fun and spend a lot less money making a multi-course dinner at home than going out to a restaurant. Splurge on foods you wouldn't normally buy, such as lobster tails. Choose a complex dish or component for one of the courses, such as soup from scratch or homemade bearnaise sauce.
A printed menu takes the multi-course dinner up a notch. A hand-lettered chalkboard menu is also a lot of fun and adds a restaurant touch to the occasion.
7. Dress up for dinner
When you're eating dinner at home in your regular clothes or the outfit you wore to work that day, Valentine's Day dinner doesn't feel like anything special. Put on a fancy outfit for your holiday meal. For ladies, make the effort to blow dry your hair, do your makeup, and add a couple of pieces of jewelry or accessories.
8. Make homemade pizza with your favorite toppings
If a multi-course dinner in fancy outfits isn't your style for Valentine's Day, there are lots of other ways you can create a special meal for your at-home holiday celebration. Making pizza from scratch with your favorite toppings is a fun cooking activity. One of our go-to homemade pizzas is supreme pizza. Of course, a Valentine's-themed pizza is perfect for the occasion. I love How Sweet Eat's heart-shaped pepperoni pizza and cheesy white pizza on garlic bread crust (also in the shape of a heart).
9. Have a fondue dinner or dessert
Valentine's Day is the perfect excuse to bust out your fondue pot. I'm personally a big fan of the electric fondue pot, as you can set an exact temperature and keep the pot evenly heated with ease. It's hard to go wrong with cheese fondue. Domestically Speaking's beer cheese fondue and The Gunny Sack's smoked gouda fondue both sound amazing. Serve it alongside bread, pretzel bites, broccoli, Brussels sprouts, cubed ham, baby potatoes, apples, and any other dippers of your choosing.
Of course, dessert fondue is fabulous for Valentine's Day as well. Stick with the classic chocolate fondue or branch out with Dinner, Then Dessert's salted caramel fondue or The Seasoned Mom's champagne white chocolate fondue. For dipping, serve it with cubed pound cake, Nilla wafers, marshmallows, and fresh fruit.
10. Serve breakfast in bed
When Valentine's Day falls on a weekend or you decide to celebrate when you both have a day off of work, surprise your sweetie with breakfast in bed. Fresh pastries with fruit makes for a simple, delicious meal. Served alongside coffee or tea, you're sure to linger as long as possible and soak up every minute of the relaxing morning. Pancakes, waffles, and breakfast sandwiches work well, too.
11. Have an indoor picnic
When you live in a climate that generally has cold weather for Valentine's Day, it'll be months before you can plan an outdoor picnic again. So for the holiday, put together an indoor picnic, right in your living room. As an added bonus, you won't have to worry about bugs, dirt, or wind.
While you don't need to use a dedicated outdoor picnic blanket, it's nice to use a waterproof blanket you can throw in the wash afterward. Grab a few throw pillows to make it extra cozy, and use a lidded picnic basket as a little table.
Put together a killer cheese board and a few simple finger foods such as Foodie Schmoody's pesto tortellini skewers and Little Broken's Greek salad skewers. Then complete the meal with a good bottle of wine and marbled sugar cookies for dessert.
12. Order in for dinner
Take out all of the stress of cooking a meal and order in dinner from your favorite take-out place. Stick to one of the standard pizza or Thai places in your take-out rotation or step up the take-out game and order in something a little fancier for Valentine's Day. Google "best take out ideas for valentine's day in [your city]" to get you started.
13. Mix up cocktails
A homemade cocktail adds a special touch to any stay-in Valentine's Day dinner, take-out or homemade. If you don't make mixed drinks at home very often, the playing field is wide open. If you do make drinks regularly, challenge yourself to try a new drink or different variation from your standard rotation. For Valentine's Day, think about Craft Box Girls' strawberries and cream martinis, The Speckled Plate's framboise champagne cocktails, or The Salty Marshmallow's bourbon cherry crush.
14. Bake and decorate cookies
You don't need to have kids in the house to bake and decorate holiday cookies. If you are staying in with your kids, baking and decorating cookies is a perfect Valentine's night activity. But it makes a great date night activity as well. Grab your heart cookie cutters and make a batch of Bake at 350's perfect cut-out sugar cookies to decorate with frosting and sprinkles.
15. Have a backyard bonfire with s'mores
Unless the weather is absolutely miserable with freezing rain and high winds, Valentine's Day is the perfect excuse to build a backyard bonfire and toast marshmallows for s'mores. If the weather's cold, you'll have that much more reason to snuggle up with your significant other. We love our marshmallow roasting sticks for easy toasting.
16. Splurge on a dessert ordered from a favorite restaurant or bakery
If baking isn't your thing or having a dessert ordered in from your favorite restaurant or bakery sounds absolutely amazing, go for it. As it's a holiday, plan ahead and place a custom order in advance. You can even go for a mailed dessert, cookies or cake from Milk Bar or petits fours or Moose Munch from Harry and David.
17. Have a spa night
Having a spa night at home is really romantic and so much less expensive than getting treatments at a spa, especially on a holiday. Clean up your bathroom and set the mood with candles and soft music. Enjoy a long bath together and a few spa treatments of your choice, such as sugar scrubs and face masks. Finish the evening by trading foot rubs and back massages.
18. Hire a masseuse
If budget allows, take the home spa experience up a notch and hire a masseuse to do couples massages for the evening.
19. Create a romantic bedroom atmosphere
Transform your bedroom into a romantic getaway for the evening with lots of candles, balloons, flowers, and flower petals or heart-shaped paper everywhere. Right before your significant other gets home, switch on the soft music.
20. Take a long bath
Even without a full night of spa treatments, a long bath should definitely be on the agenda for a stay-home Valentine's Day celebration. Add bubble bath or a salt soak. After drying off with the fluffiest towels you have, finish the experience with your favorite moisturizer.
21. Curl up in front of the fire
Nothing is more relaxing or romantic than curling up in front of a roaring fire with a loved one, especially on a cold February night.
22. Plan a trip
If you don't have a vacation booked for the year ahead, start planning the next one. Even if you don't have the time or money for a long trip, think about a local weekend excursion. Getting away from your regular routine and exploring a new place together helps you grow closer and come back to daily home and work life refreshed.
23. Make a relationship scrapbook
If you don't have a relationship scrapbook, it's never too late to start. Don't let the concept of scrapbooking intimidate you. Creating a relationship keepsake box with old photos, letters, ticket stubs, vacation souvenirs, and other memories will prove just as meaningful and will be a lot less time-consuming to create.
24. Look at old photos
I'm sure it's not surprising that I'm crazy about photos. I still print out a ton of photos, especially of family. Valentine's Day and anniversaries are the perfect time to head down memory lane and re-visit some of your favorite trips, holidays, special occasions, and little moments together.
25. Make a photo book from one of your recent trips
As much as I love photos, if you read my goal updates, you know that I'm also notoriously bad about getting them edited in a timely fashion. So if you haven't done anything with your photos from a recent or not so recent trip, no judgment. Valentine's Day is a great excuse to sit down together and make a vacation photo book. Photo books are a lot of work but always worth the effort.
26. Read old cards and letters from one another
I know, most people can't believe that once upon a time (actually not that long ago), my husband and I wrote physical letters to each other. Perhaps even more shockingly, we still have them. I don't pull them out very often. However, it's fun to re-visit those early relationship days every once in a while. I also don't save every single card, but it's nice to save favorites and pull them out now and again, too.
27. Go through your wedding cards or old Christmas cards
I have all of our wedding cards in a simple binder with transparent sleeves, which makes it easy to pull out and revisit on Valentine's Day and our wedding anniversary. I have a whole post about how I save my Christmas cards. While I don't get them out too often these days, I know in years down the line I'll love pulling them out and looking at pictures of my friends' kids when they were little.
28. Make a nostalgic playlist
Nothing sends me straight back to my dating days in college faster than a nostalgic playlist. If you don't have an old mix CD or playlist in your archives, sit down and create one together that you can listen to this Valentine's Day.
29. Write a bucket list
What are your hopes and dreams for the future? Are there places you've always wanted to visit? Create your ultimate bucket list with potential vacation destinations, career plans, family goals, and other must-do-before-I die aspirations for the future. Save it in a place you'll remember, so you can re-visit it periodically.
30. Do Mad Libs
You're never too old for a game of Mad Libs. A few Mad Libs games with your significant other will get you both laughing until you're crying. It's hard to beat classic Best of Mad Libs. For Valentine's Day, I also love Mad Libs in Love, Valentine's Day Mad Libs, and Mad Libs After Dark.
31. Plan a scavenger hunt
Planning a scavenger hunt for Valentine's Day is a once-a-year type activity that you're both sure to enjoy and look back on fondly over the coming months. Take inspiration from the scavenger hunts from The Tiptoe Fairy, Moms & Munchkins, and The Dating Divas.
32. Choose a new hobby to try together
Have you always wanted to improve your painting skills? Are you envious of your friends who send cards with beautiful calligraphy? Choose a hobby to try together that neither one of you is particularly skilled at, so you're on an even playing field. Make sure to pick up any supplies that you'll need in advance, so you can make the most of your time together on Valentine's Day.
33. Make a video
Most likely you take candid videos of each other and fun things that you do together almost every week. It's great to have these little moments captured on video. It's also fun to plan and record a video once in a while that you know you'll want to revisit years later. Talk about your relationship or your plans for the future. You can also make a funny video, such as a spoof of your favorite movie or what you would do if you had your own YouTube channel.
34. Have a nerf gun fight
There's nothing says that your stay-home Valentine's Day has to be serious and romantic. You'll both be surprised at how much you love doing something silly together like having a nerf gun fight. Pick up a couple of new nerf guns and some extra ammo, and declare an all-out nerf war.
35. Challenge each other to a game of horse
Similarly, playing horse in your driveway may seem like an odd Valentine's Day activity. But you'll both have so much fun taking the time out of your normal routine to challenge each other to a couple of games. If the weather allows, it's a great way to kick off or end your Valentine's Day.
36. Go for a walk
I know, going for a walk seems like the most boring idea for a romantic at-home Valentine's Day. But going for a walk with my husband remains one of my favorite activities and something I never get tired of, whether it's an ordinary weekday or a special occasion. Even if it's chilly, you'll enjoy getting out of the house for a bit.
37. Leave surprise love notes around the house
You'll brighten your significant other's entire day by leaving a handful of love notes around the house in places that he/she is sure to find them, such as the bathroom mirror and refrigerator door. Prepare your love notes the night before, so your significant other will wake up to them, or have the notes ready so he/she will find them upon getting home from work.
38. Go stargazing
If you live in an area with limited or no light pollution, curl up with a few warm blankets right in your backyard to watch the stars. If visibility is limited at home, consider venturing a little further afield to find a good spot outside of town to see the stars clearly.
39. Take the day off of work together
When was the last time that you took a day off of work together that wasn't for a vacation or to do something mundane (i.e., meet with your financial advisor)? Valentine's Day is the perfect excuse to plan for a vacation day from work but then stay close to home and do something fun.
40. Plan special gifts for each other
Preparing special gifts for one another takes any at-home date night up a notch. Don't feel like you have to spend a lot of time on a homemade gift, especially if you're not crafty. Picking up a simple item that reminds you of your early dating days or framing an old favorite photo will go a long way toward demonstrating your love for your significant other.
[Disclaimer: There are a few affiliate links in this post. Thanks for your support!]
Tell me about your dream romantic stay-home Valentine's Day!

I'd love to hear about how you and your significant other celebrate the holiday from the comfort of your own home.
Pin this post for easy access to the stay-home Valentine's Day ideas!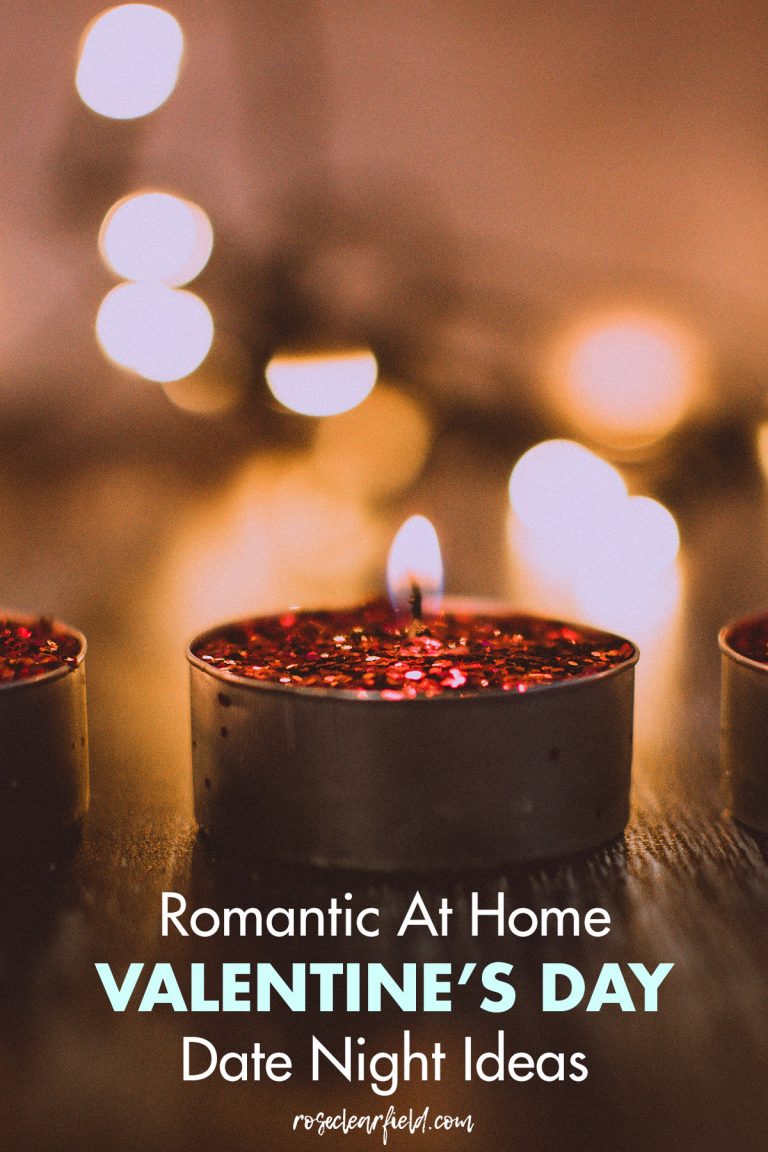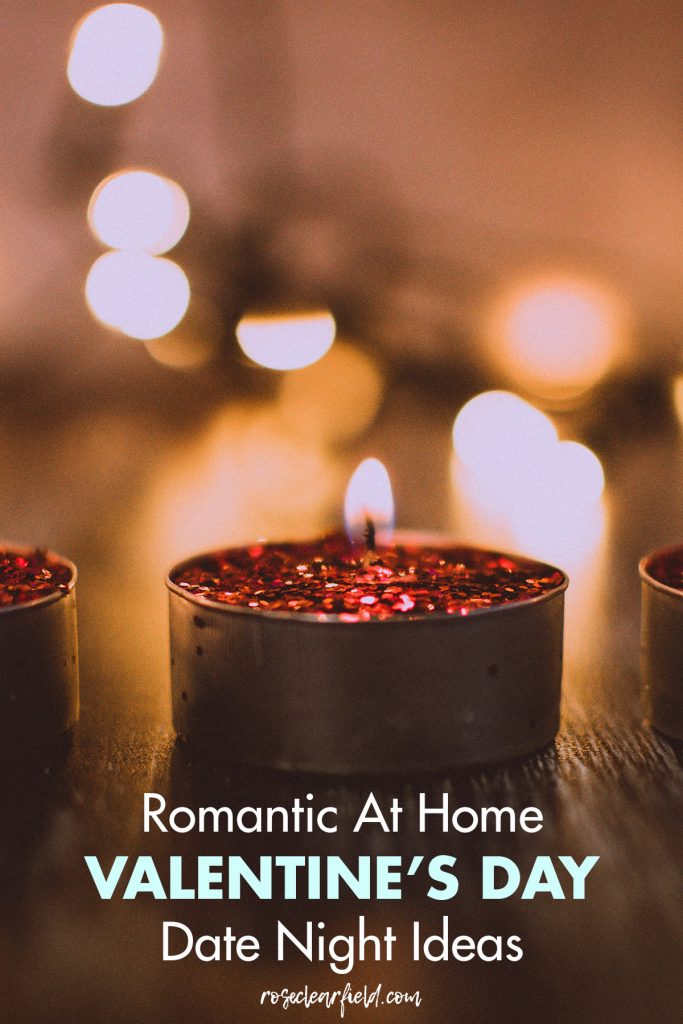 More Valentine's Day resources: