Unique handmade Wisconsin wall art on Etsy is the perfect way to decorate your Wisconsin residence. One-of-a-kind homemade wall decor also makes a great gift for family and friends.
Etsy has literally thousands of wall art listings, which is great but also overwhelming. I've taken out the guesswork for you and rounded up the absolute best that the site has to offer for Wisconsin wall art. There are some classic picks, such as watercolor and typography prints, as well as unique picks that I guarantee you haven't seen anywhere else, such as string art and metal prints. With a wide range of materials, colors, and price points, you're sure to find something that fits your budget and decor style. Happy shopping!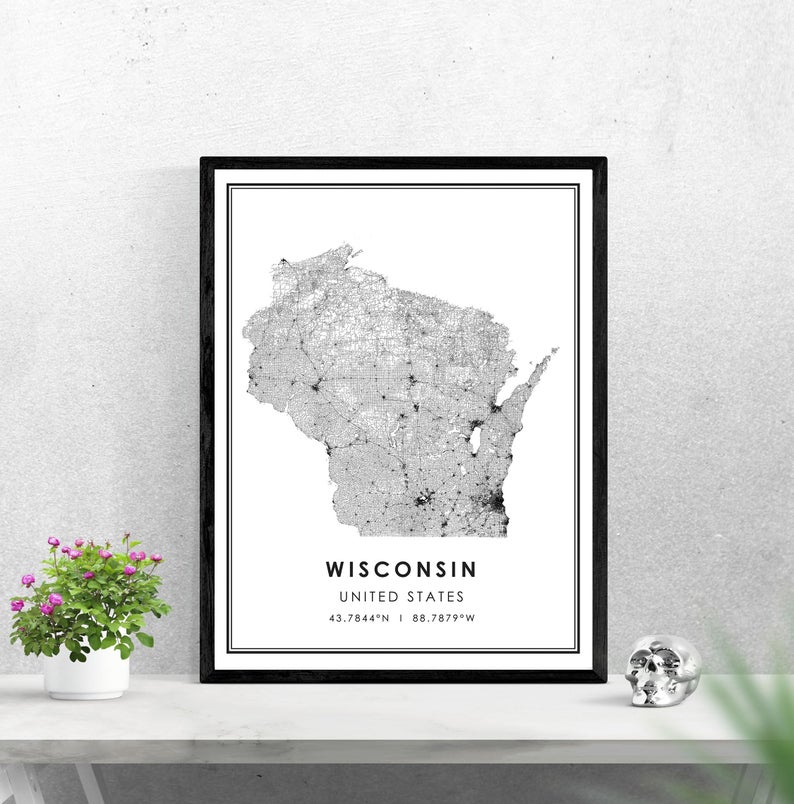 Wisconsin state and city map prints – KDPRINT
I absolutely love the design of KDPrint's Wisconsin state map print. It's incredibly detailed but the aesthetic is also subtle, and the typography fits it perfectly. In addition to the Wisconsin state map print pictured here, KDPRINT offers detailed city maps for nine different Wisconsin cities. All of the maps are available in multiple sizes as posters or canvas prints.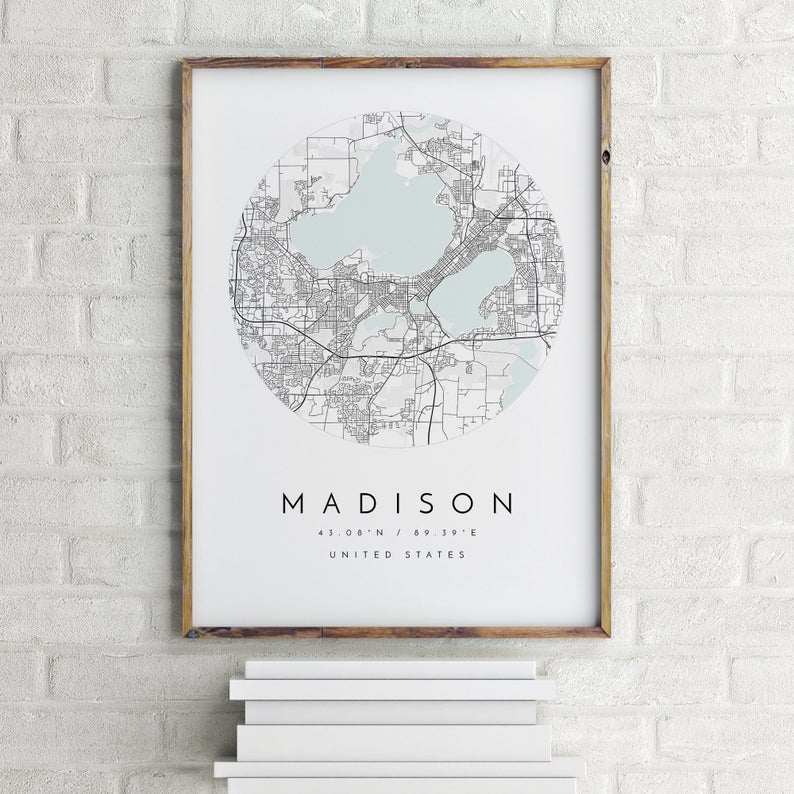 Wisconsin city map prints – mapologist
If you're looking for additional Wisconsin city map prints, I also really love mapologist's Wisconsin selection (pictured: Madison). KDPRINT and mapologist have slightly different offerings, so it's worth checking both shops if you're looking for a specific city. The round design with blue water detail is very pleasing.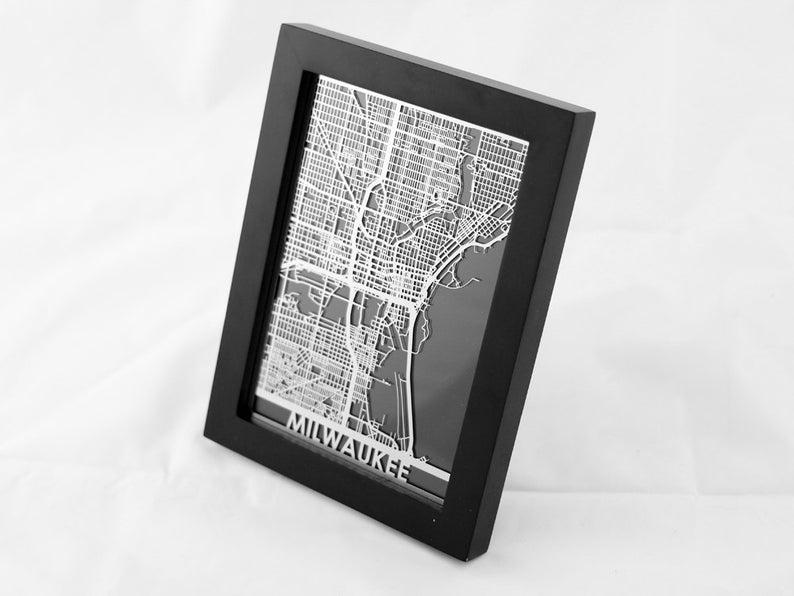 Wisconsin city laser cut stainless steel maps – CutMaps
CutMap's Wisconsin city laser cut stainless steel maps offer an amazing modern aesthetic with beautiful detail. They offer four Milwaukee city maps in various sizes (pictured: Milwaukee 5×7) as well as a Wisconsin state wooden map and Wisconsin state stainless steel Christmas ornament.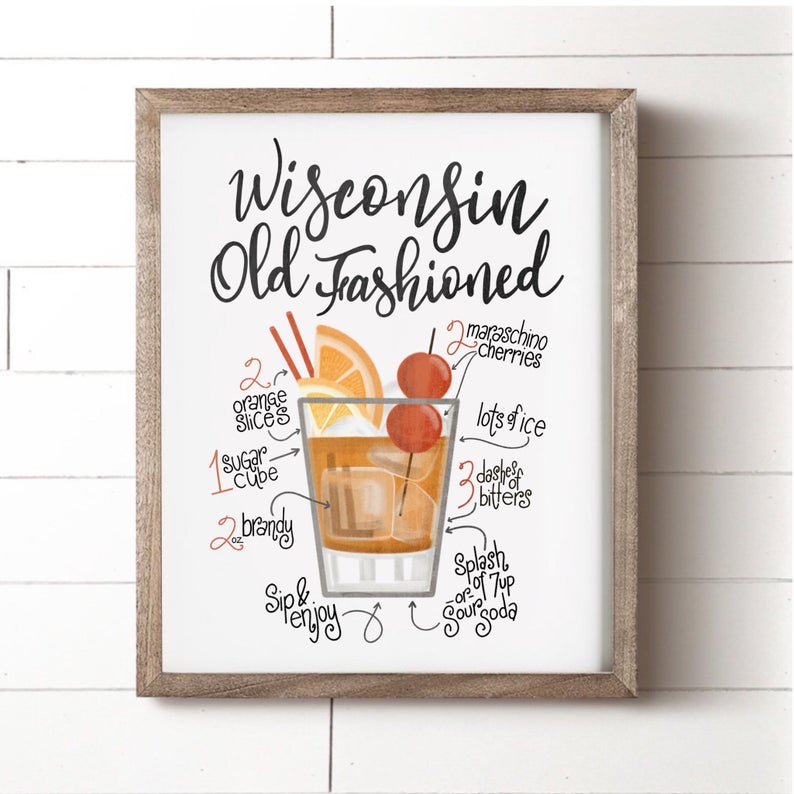 Wisconsin Old Fashioned print – HouseFenway
If you've spent any time in Wisconsin, you know that Wisconsinites take their drinking very seriously. It shouldn't come as a surprise that they have their own version of the Old Fashioned, made with brandy, thanks to the state's strong German heritage. Among other drinks prints, Melissa has a fun Wisconsin Old Fashioned print. She has a handful of other Wisconsin items in her shop as well.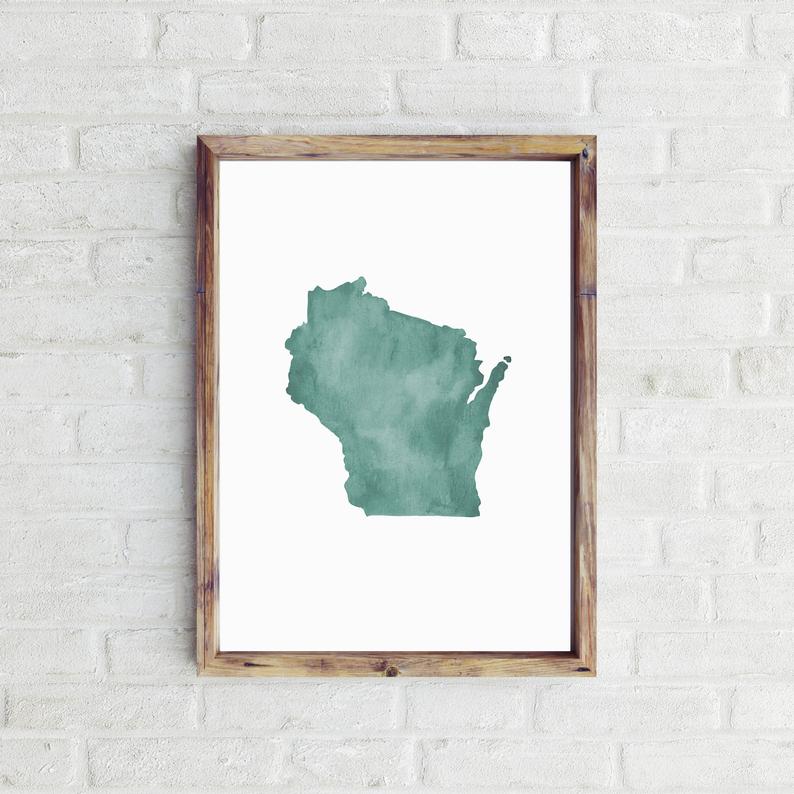 Wisconsin Watercolor Print – Traveldashery
Traveldashery offers two versions of her beautiful Wisconsin watercolor prints: dark teal (pictured) and slate blue. Both versions are available in digital and print formats in multiple sizes with different customization options (i.e., a heart over a specific city).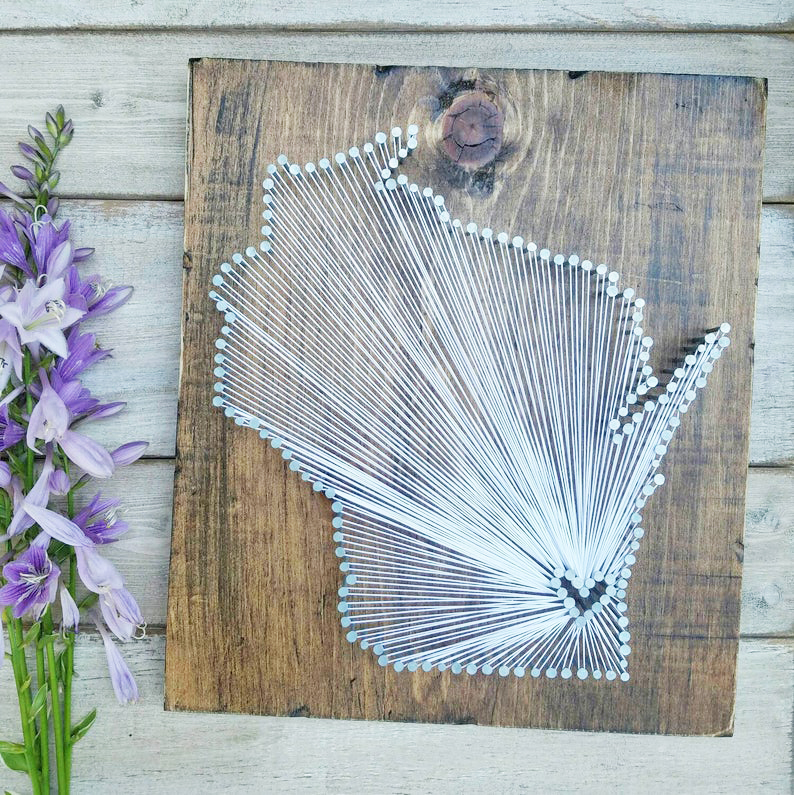 Wisconsin String Art – witheyesunlocked
witheyesunlocked's Wisconsin string art is so simple and beautiful. You can choose between two different wood finishes and add a custom heart location and/or personalized engraving. She also offers a DIY state string art nail kit, which is so neat. I love her Home Sweet Home wooden state signs, too.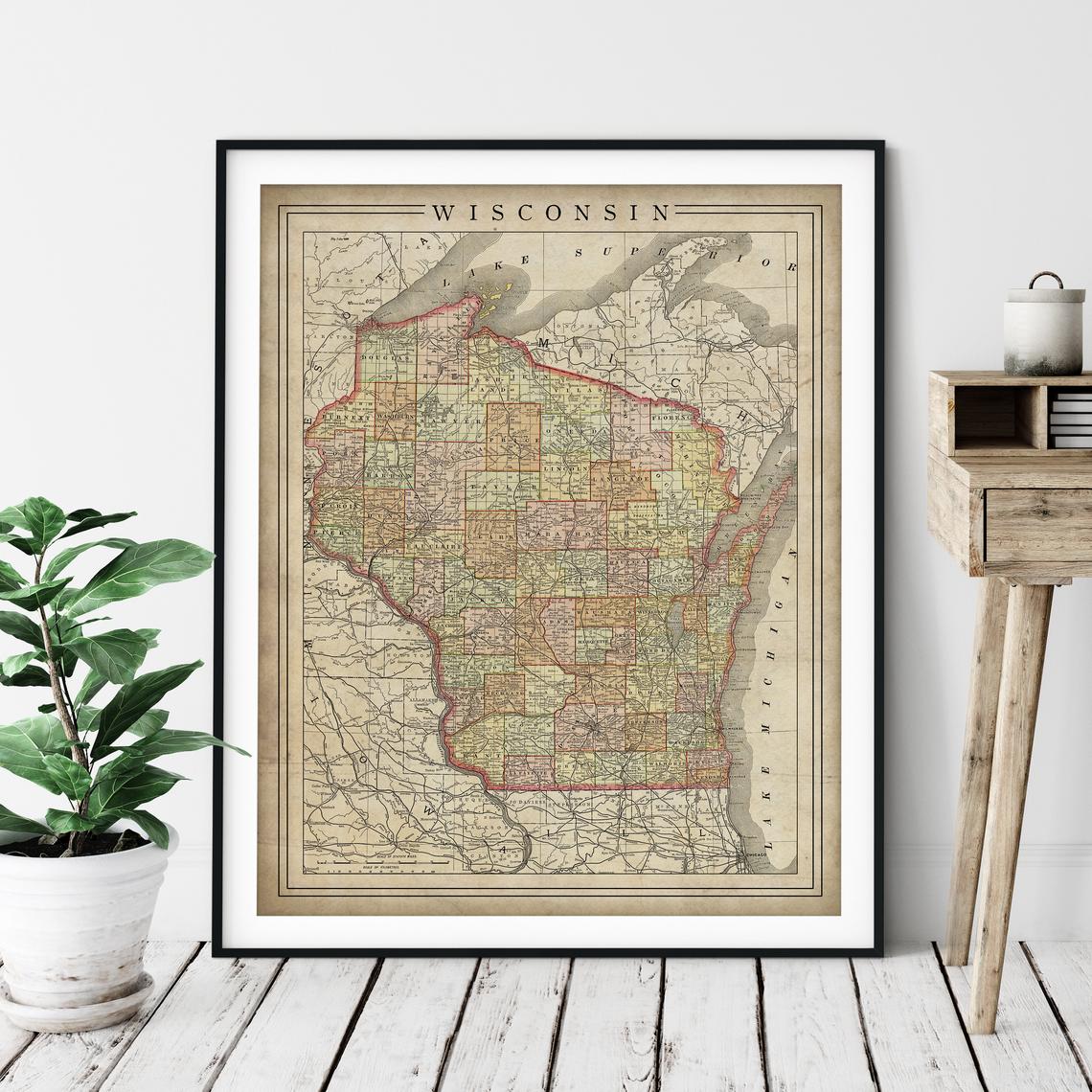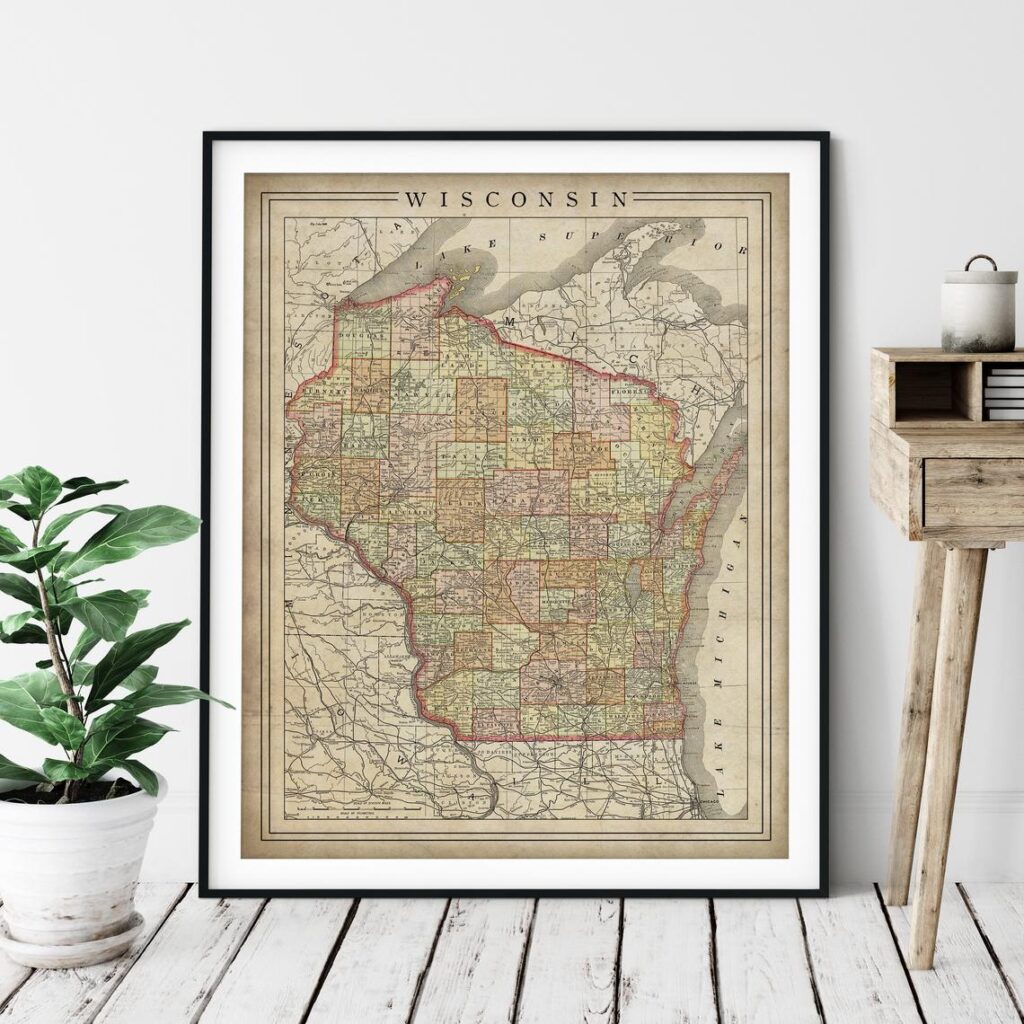 Vintage Style 1897 Wisconsin State Map – FatFrogPrints
Many of you know that I'm a huge vintage book enthusiast. As such, I'm sure it's not a surprise that I'm crazy about FatFrogPrint's vintage style Wisconsin state map. They use authentic vintage maps to create all of their map prints, and the aesthetic is so good. They offer several additional Wisconsin state map prints, including a 1900 railroad map print.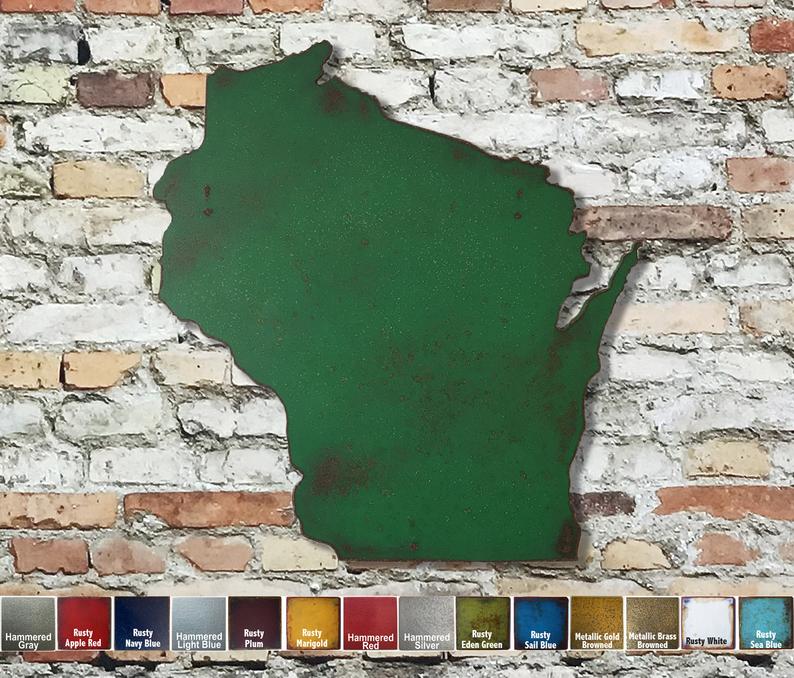 Wisconsin Metal Wall Art – FunctionalSculpture
I absolutely love the patina finish choices for FunctionalSculpture's Wisconsin metal wall art and think that they're really what set this item apart from the crowd. There are over two dozen classic rust patinas to choose from as well as over a dozen metallic and hammered patinas.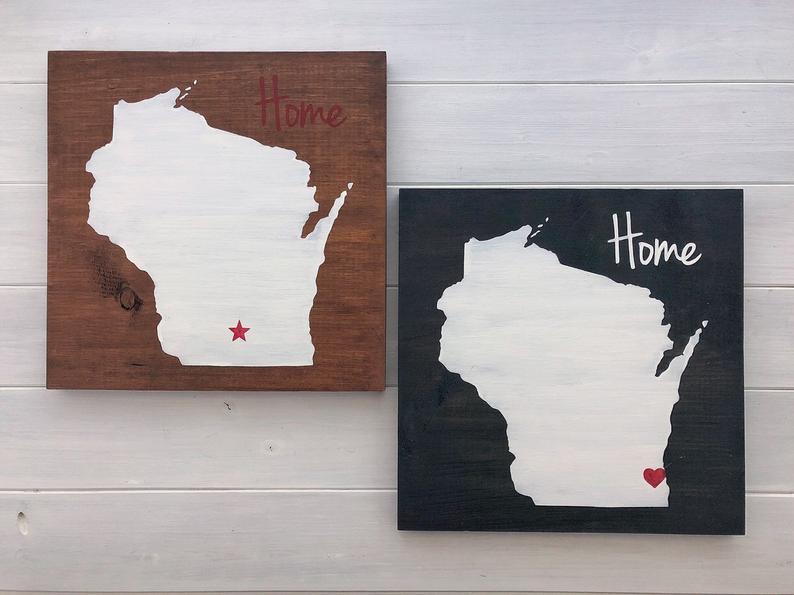 Wisconsin Wood Sign – RusticStrokes
RusticStroke's Wisconsin wood sign is a classic and with good reason. It's hard to beat this timeless aesthetic. With nine wood stains and two dozen paint colors, you'll have no problem finding a combination to match your home decor. You can also add a custom heart or star location.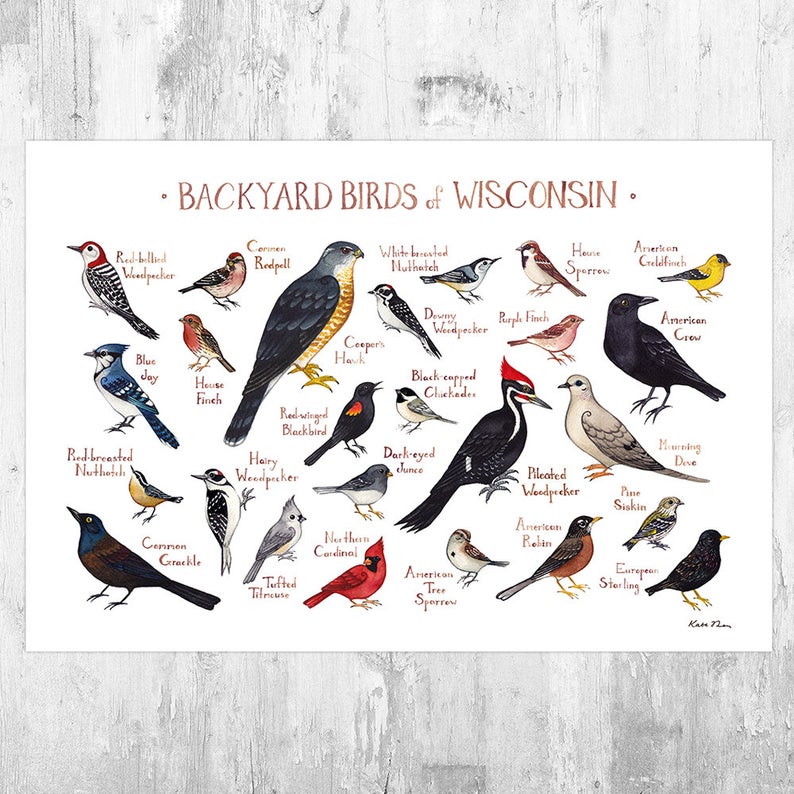 Wisconsin Backyard Birds Field Guide Art Print – KateDolamore
Kate Dolamore turns her original watercolor paintings into one-of-a-kind prints. I love the variety of color in her Wisconsin backyard birds field guide art print. She also has Wisconsin field guide prints for mammals, owls, and butterflies. You'll be hard-pressed to find anything exactly like them, especially of this quality.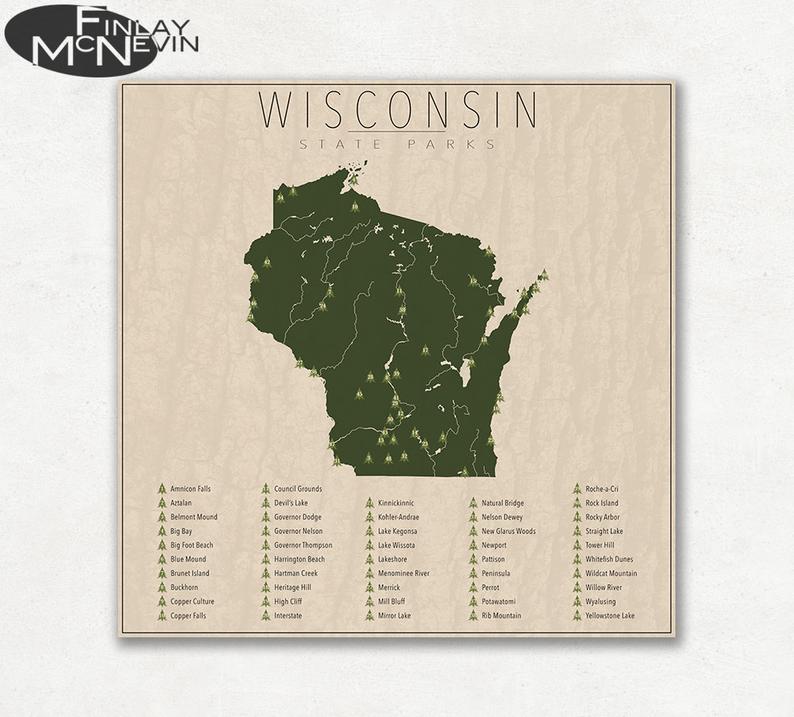 Wisconsin State Parks Map Print – FinlayMcNevin
Finlay McNevin's Wisconsin state parks map print is an ideal choice for outdoor enthusiasts who have visited many of the state parks. I love this type of print for a cabin or lake house, too. This print is also available as a tapestry.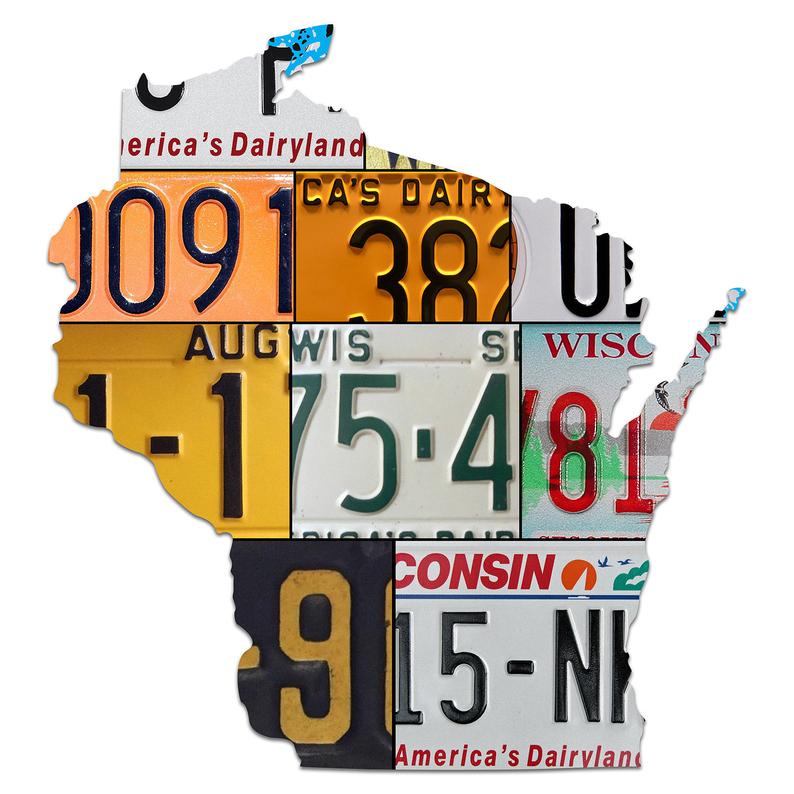 Wisconsin License Plate Aluminum Sign – SurfToSummit
SurfToSummit's Wisconsin license plate metal sign is such a neat take on the map outline idea. I love that each state plate sign is customized with vintage and new license plate images from that state. Please note that the sign is made from a single image and printed on an aluminum composite. It is NOT genuine license plates.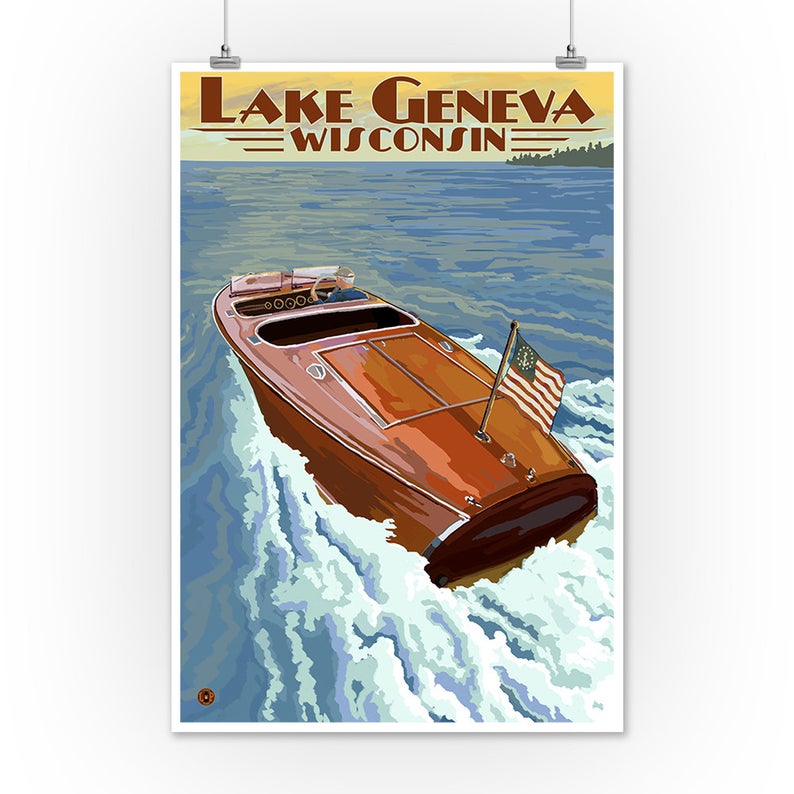 Wisconsin Vintage Travel Poster Print – LanternPressArtwork
Once again, I can't resist a good vintage aesthetic, and LanternPressArtwork's vintage Wisconsin prints are no exception. I'm featuring the Lake Geneva travel poster print here. LanternPressArtwork has an extensive range of Wisconsin travel posters, large-scale postcard prints, and other state-themed art.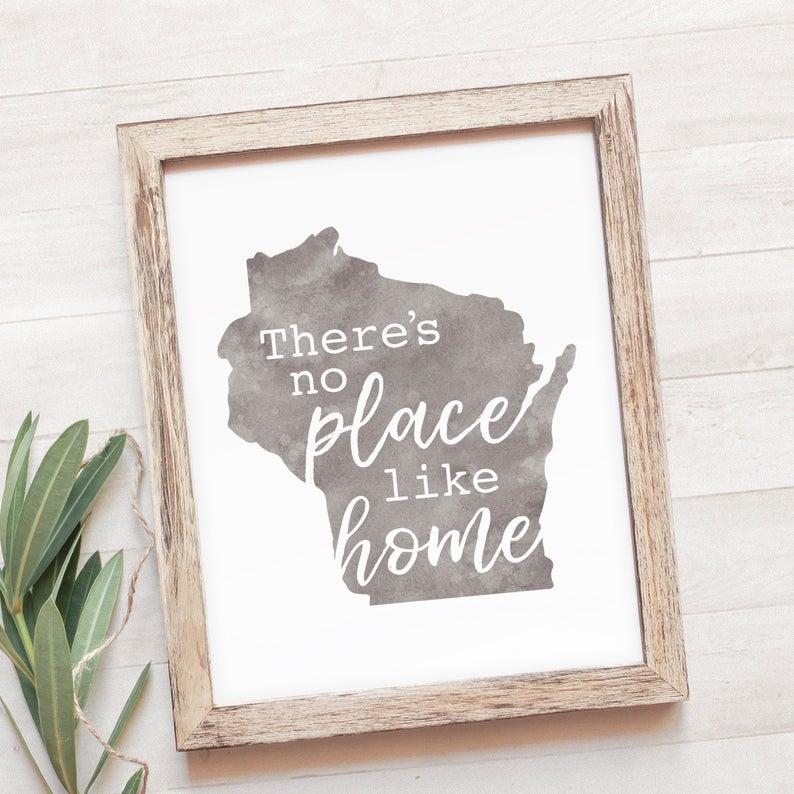 Printable Wisconsin Wall Art – LemonadeDesignStudio
The vast majority of prints and other artwork I'm featuring in this Etsy gift guide is available as physical prints. If you prefer digital files that you print yourself, LemonadeDesignStudio's printable Wisconsin wall art is a great option. Her work is beautiful, and I love the story behind her shop. She offers two other variations on this design.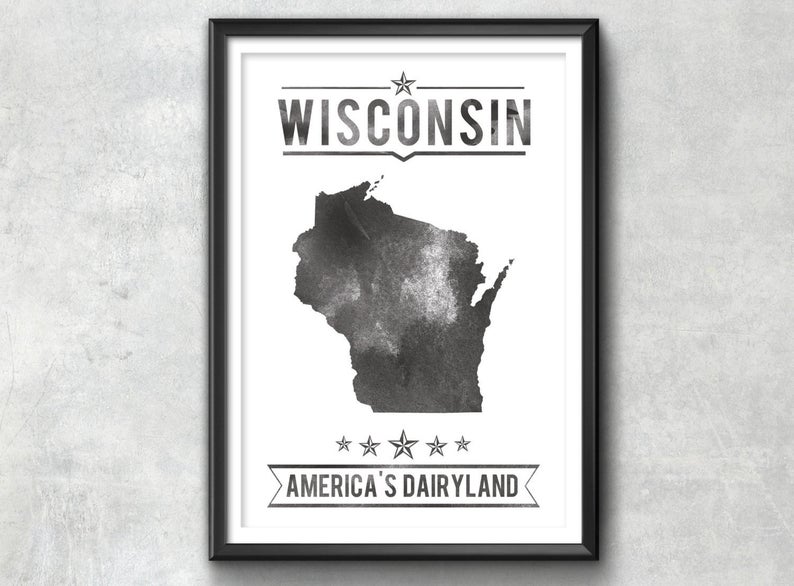 Wisconsin State Typography Print – IdeateCreateStudio
This type of typography print is extremely popular, and frankly, usually pretty poorly done. IdeateCreateStudio's Wisconsin state typography print is top-notch. I love the font choices and the overall design with a slightly worn look that isn't obnoxious or overdone. Every print is available in a nice range of sizes and colors. The shop has a couple of Wisconsin city map prints as well.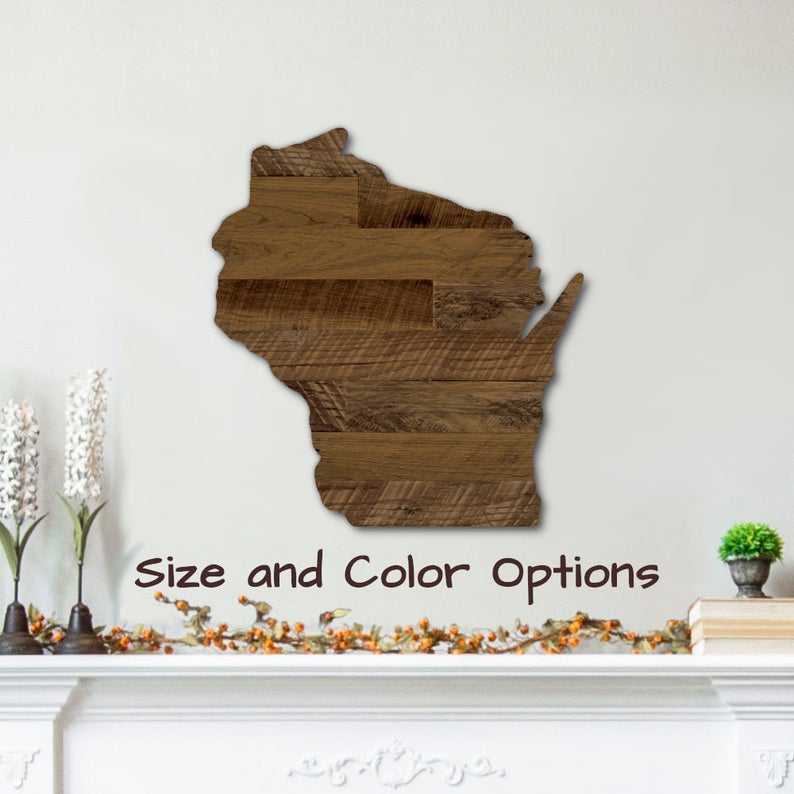 Wisconsin Wooden Pallet State Sign – StreetwoodDesign
The amount of work that StreetwoodDesign puts into turning reclaimed pallets into wooden state signs, including the Wisconsin wooden palette state sign, is incredible. The design work is the highest quality, and every single sign is slightly different. Size and color choices as well as personalization options are available.
[Disclaimer: There are a few affiliate links in this post. Thanks for your support!]
Did you purchase one or more of the Wisconsin wall art prints in this gift guide?

I want to see them! Tag your images #RoseClearfield on Instagram or Twitter or post a photo to my Facebook page. Make sure to tag the Etsy shop owners as well!
Pin this post for easy access to the best Wisconsin wall art on Etsy later!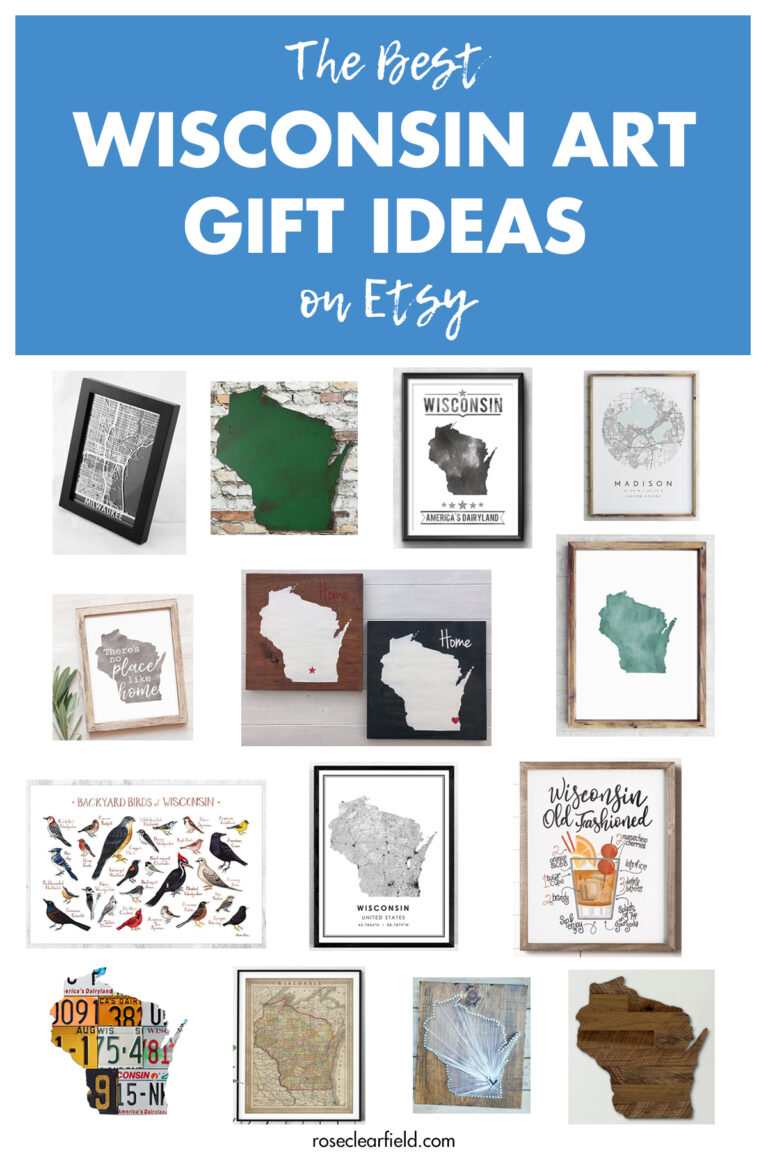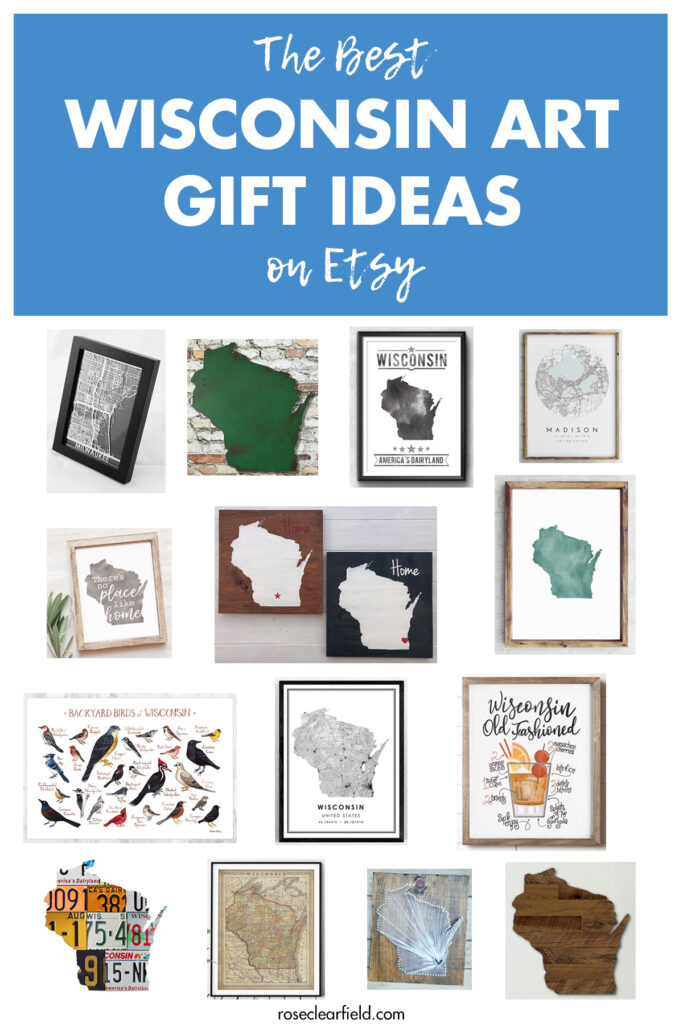 More Etsy gift guides:
Visit the gift guides section of the blog for even more gift ideas for everyone on your list!