Halloween with toddler- and preschool-age children tends to be a more low-key celebration than it is with teenagers and adults. This year, we're all in need of more low-key, at-home holiday fun than ever. Planning Halloween activities for toddlers and preschoolers ensures they'll enjoy celebrating the holiday in a way that's meaningful and age-appropriate.
I've rounded up 25 of my favorite Halloween activities for toddlers and preschoolers. There is something for everyone here. I find that most toddler and young kid activity round-ups are simply long lists of art projects (which is just one reason I created my 40 activities for 18-month-olds post). It's awesome if you have a young child who is crazy about art and will do art projects for hours on end. My preschool-age son does love art but needs other activities to stay entertained over the course of the day. So I've done my best to branch out and includes a range of fine motor and gross motor activities.
Have a wonderful Halloween!
25 Halloween activities for toddlers
1. Blow up balloons and play a toss game
My son is crazy about balloons. Birthdays and holidays are always a good excuse to blow up a few more balloons. A simple toss game is perfect for toddlers and preschoolers. I like Delia Creates' ghost and pumpkin patch balloon activities in her five easy Halloween games for kids post. You can also tape balloons along a fence for kids to run along and bat at, play who can keep their balloon the air for the longest, or create other balloon games of your own.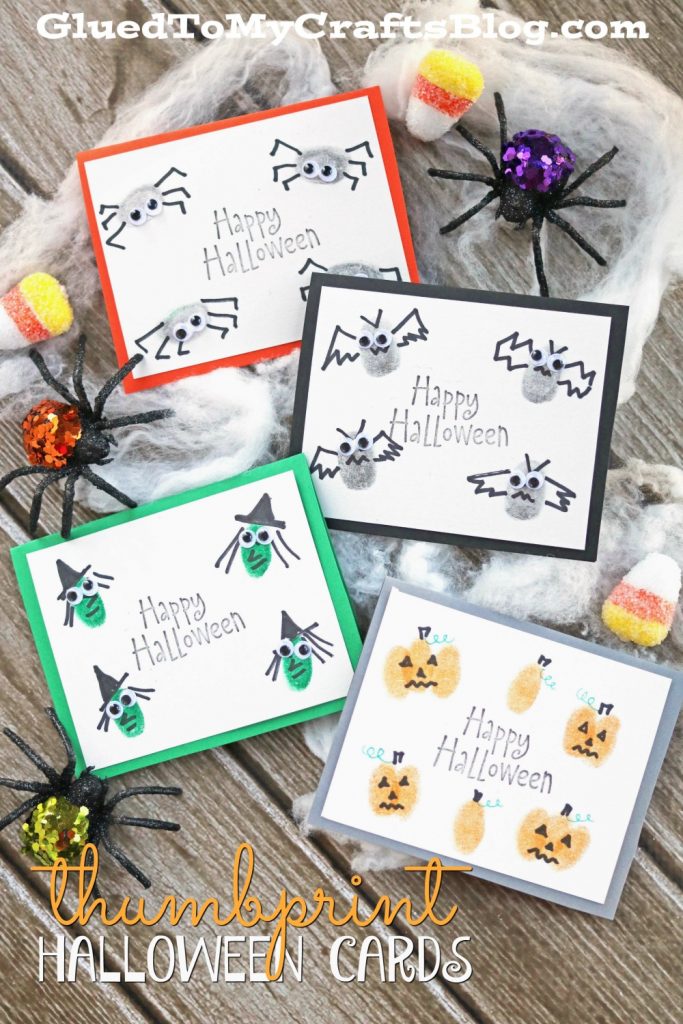 2. Make Halloween cards for family and friends
If your kids are in daycare or preschool, DIY Halloween cards with small candy or toys attached are perfect for distributing to classmates and teachers. It's also fun to make your own cards to send to aunts, uncles, grandparents, and family friends. Your loved ones will enjoy getting the personalized mail so much. Glued to My Crafts' thumbprint Halloween cards (pictured) are so cute and so much fun to make with kids.
3. Bake and decorate Halloween cookies
A holiday is the perfect opportunity to make a special dessert. You can't go wrong with baking and decorating cookies with little kids. Depending on the age and patience level of your kids, you may want to have them help with the entire project. Or you may just want to have them cut out cookies and then decorate the baked cookies. Bake at 350's perfect cut-out sugar cookies are my go-to sugar cookie recipe. Frosting in Halloween colors with Halloween sprinkles and edible eyes is ideal for decorating cookies with your toddlers and preschoolers.
4. Read a few Halloween books
Add a few Halloween books into your regular reading routine during the weeks leading up to the holiday. Just a few popular selections include Too Many Pumpkins by Linda White, The Spooky Wheels on the Bus by J. Elizabeth Mills, The Berenstain Bears Trick or Treat by Stan and Jan Berenstain, The Little Old Lady Who Was Not Afraid of Anything by Linda D. Williams, and Ten Timid Ghosts by Jennifer O'Connell.
5. Learn a few Halloween songs
You'll find great Halloween playlists for kids on any popular music service (i.e., Amazon music) or on Pinterest. Many popular kids' YouTube channels, such as Blippi, also have Halloween episodes with classic, not too spooky songs for kids.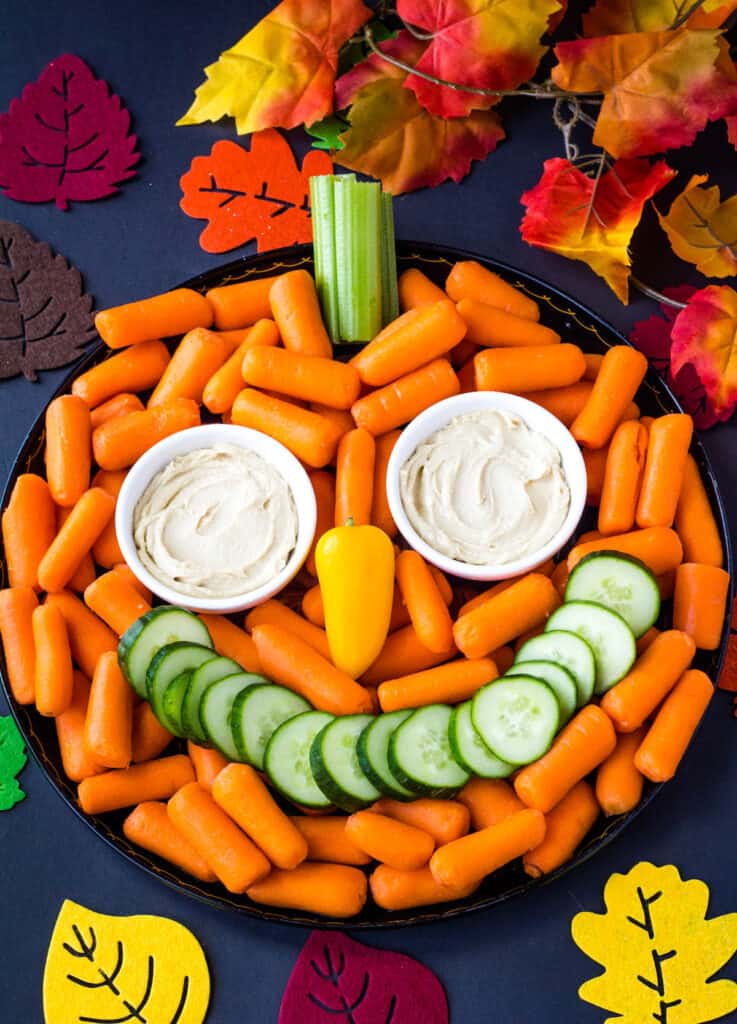 6. Make a Halloween snack
Personally, I find many Halloween party foods and other snacks are just too gross to be appealing. I also know that when kids are already receiving tons of candy and other desserts at holiday parties and while trick or treating, you don't necessarily want to load them up on pure sugar at home. I love Keeping the Peas' pumpkin veggie tray (pictured), The House of Hendrix's Halloween trail mix, Family Fresh Meal's Halloween candy corn fruit cocktail, and Dessert Now, Dinner Later's ghost pretzels.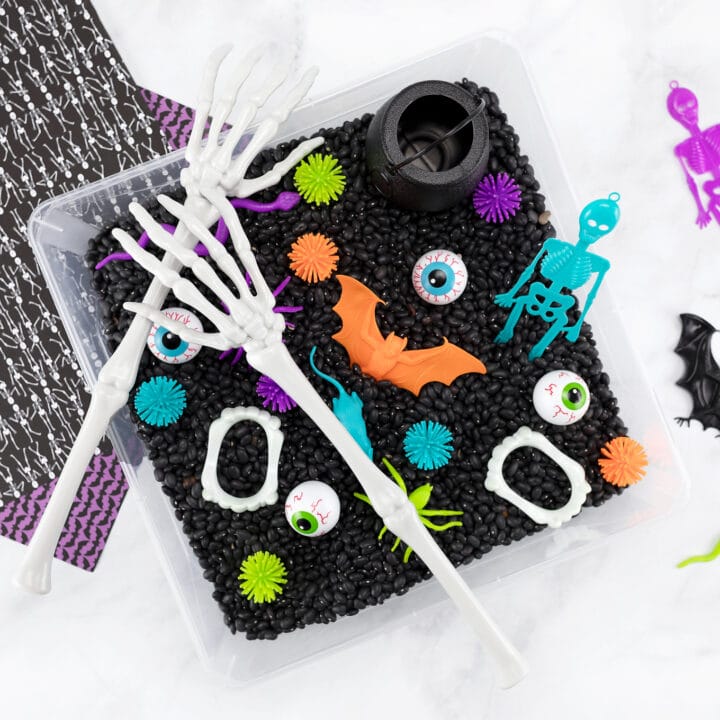 7. Have a Halloween sensory bin
There are so many creative sensory bin ideas, with themes for every season, holiday, and kid obsession imaginable. Picking a new theme is a fun way to mix up sensory activities for both you and your kids. Similar to Halloween snacks, I've found a few bin ideas that are appropriately spooky without being overly gross. Fireflies and Mudpie's Halloween sensory bin (pictured) has a classic aesthetic. Beans for the base works well, and I love the texture that the small squishy balls add. Pre-K Pages' Halloween black bat sensory bin is so cute and extremely low-budget. Happy Toddler Playtime's Halloween sensory bin uses faux spiderweb decor for the base, with lots of little items hidden in it, which is so much fun.
8. Take an outing to a pumpkin patch
An outing to a pumpkin patch is such a classic fall activity that everyone in the family loves. Planning a weekday excursion with little kids is nice because the patch will be less crowded, allowing them to run around and explore more freely. An outing to a pumpkin patch is also a perfect opportunity to create some great fall photos.
9. Paint pumpkins
Bring home a few pumpkins from your pumpkin patch outing or a trip to the local farm stand for pumpkin painting and other craft activities. Small- and medium-sized pumpkins are ideal for toddler and preschooler projects. Give them a few brushes and let them go to town. Tempera paint is always a good choice for kid painting, as it washes out easily. Glow-in-the-dark acrylic paint is also fun for Halloween crafts, including pumpkin painting.
10. Make faces on pumpkins
Another fun, super easy way for toddlers and preschoolers to decorate pumpkins is to make faces on them. Googly eyes and markers allow even young toddlers to add faces independently.
11. Complete a few Halloween coloring pages
Coloring pages are a nice activity option to have on hand for holidays when kids need a fun but quieter task. My friend Natasha has a collection of 25+ free printable Halloween coloring pages. She has a nice range of Halloween subjects, and many of the pictures are simple enough for toddlers and preschoolers to color with minimal frustration.
12. Attend a trunk or treat instead of traditional trick or treating
For many young kids, traditional trick or treating is overwhelming and gets exhausting after a handful of houses, especially when you live in a neighborhood that requires a lot of walking. Trunk or treat often proves less overwhelming and doesn't involve so much walking. Some employers, churches, and organizations have trunk or treat type events indoors, which is also a plus with little kids. Google trunk or treat and your town or city to find local options.
13. Wear coordinating family Halloween costumes
Family Halloween costumes aren't for everyone, I know. I've never been terribly into dressing up for Halloween as an adult. But I have to admit that it's so much fun now that I have a kid. We've done a couple of family costumes, and they've been very well received at parties and during trick or treating. You can find so many fun family Halloween costume ideas from the Wizard of Oz to Little Red Riding Hood to the Sandlot.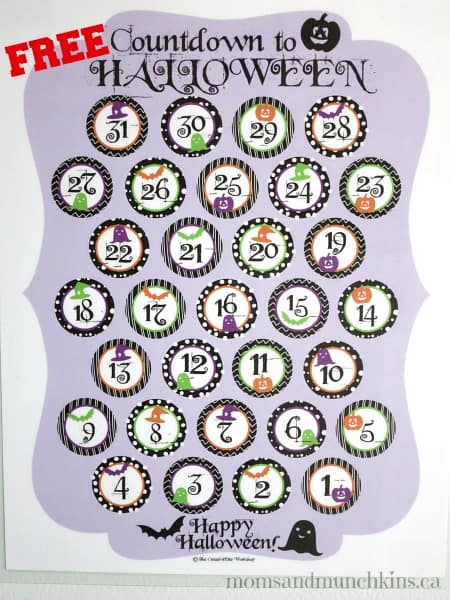 14. Have a Halloween countdown calendar
Having a Halloween countdown calendar for the month of October helps channel the "is it Halloween yet?!" conversation into an educational activity. Moms and Munchkins has a really cute free Halloween countdown calendar (pictured) with printable rounds for making magnets to tick down the days. You can also find a variety of Halloween countdown calendars at a range of price points on Etsy.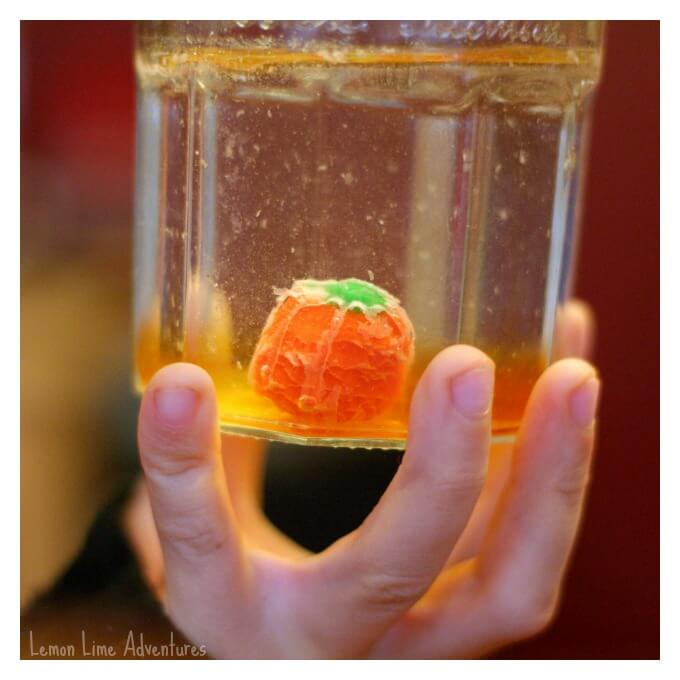 15. Conduct a Halloween-themed science experiment
Little kids get the biggest kick of out of simple experiments. This Halloween, you have to try Lemon Lime Adventures' dissolving candy pumpkins (pictured). I guarantee that you already have everything you need for it except a bag of candy corn or candy pumpkins. It takes almost no time to set up, and the results are so much fun.
If you're up for a slightly more involved science experiment, check out Steamsational's spooky diving ghost experiment. The set up takes a little more time. I recommend doing this the night before or while your kids are napping, so it's all ready to go for them. I promise it will be worth the effort.
16. Do Halloween stamp art
Did you pick up cookie cutters to decorate your own Halloween cookies? You can also use them for Halloween stamp art! Simply dip cookie cutters in paint and stamp the shapes on your paper. For little kid stamping projects, many people also like to make their own stamps. It's easy to carve your own stamp shapes out of a potato or apple half. Mini Halloween stampers are so much fun as well and make a great party favor.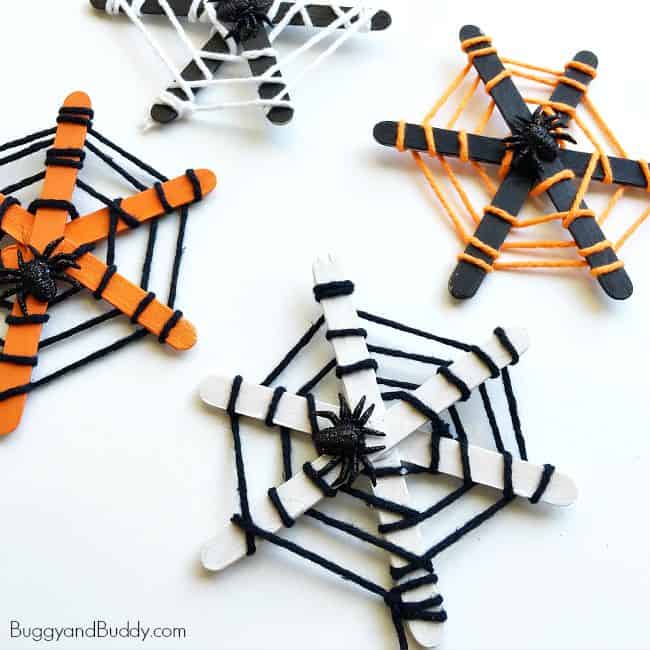 17. Make a Halloween spider/spiderweb craft
There are so many cute Halloween spider and spiderweb craft ideas. For toddlers and preschoolers, I especially love Buggy and Buddy's craft stick and yarn spiderwebs (pictured), How We Learn's mini pumpkin spiders, Creative Family Fun's cardboard tube and pipe cleaner spiders, Making of Mom's craft stick spiders, and Kids' Craft Room's climbing craft stick spiders.
18. Decorate paper pumpkins
For toddlers and preschoolers, I would trace pumpkin outlines on colored cardstock or construction paper and let kids have fun decorating them with stamps and markers or gluing on tissue paper or googly eyes. Save the 3D pumpkin crafts until kids are a little bit older.
19. Make your own Halloween masks
Regardless of whether kids having chosen Halloween costumes with masks, it's still fun to make masks for other characters leading up to Halloween. Little kids have such active imaginations and will get hours of play out of even the simplest homemade masks. I recommend doing a Google or Pinterest search for the specific mask you'd like, such as a cat or Spiderman. I also love It's Always Autumn's print and color masks (pictured) and The Printables Fairy's printable Halloween masks.
20. Play a pumpkin toss game
Set up a carnival-style pumpkin toss game with plastic cauldrons and soft pumpkins. I've linked a couple of Amazon picks here. Most likely you'll be able to find cheaper items at the dollar store, Target, or Michaels in October. I also recommend checking Oriental Trading.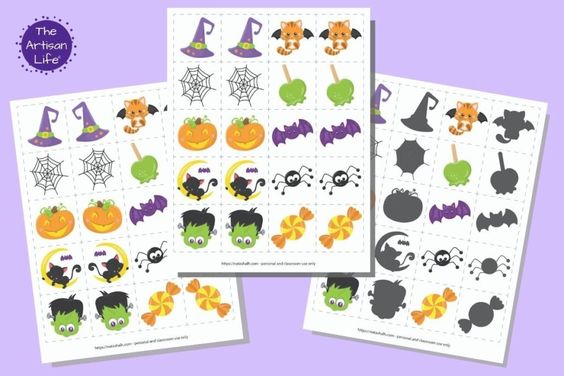 21. Complete a Halloween sorting or matching activity
Simple sorting and matching games help kids work on shapes, colors, numbers, common objects, and much more. Natasha has a set of free printable Halloween matching cards (pictured) with cute Halloween images that are perfect for young children. They work on traditional matching, mirror matching, and shadow matching.
For sorting activities, you can have toddlers or preschoolers use similar matching card games and instruct the kids to sort them into piles instead of simply finding the matches. You can also use muffin tins or other small containers to sort mini pumpkins, cauldrons, witch hats, spiders, etc.
22. Pounding nails or golf tees into a pumpkin
No Time for Flashcards shared a snap on Instagram of this pumpkin nail activity from one of her kid's preschool classes a few years ago. The only items you need are a sturdy kid-friendly mallet and a set of bamboo pounding nails. Golf tees work well, too. If your toddler son is anything like mine, this activity will keep your little ones occupied for an hour.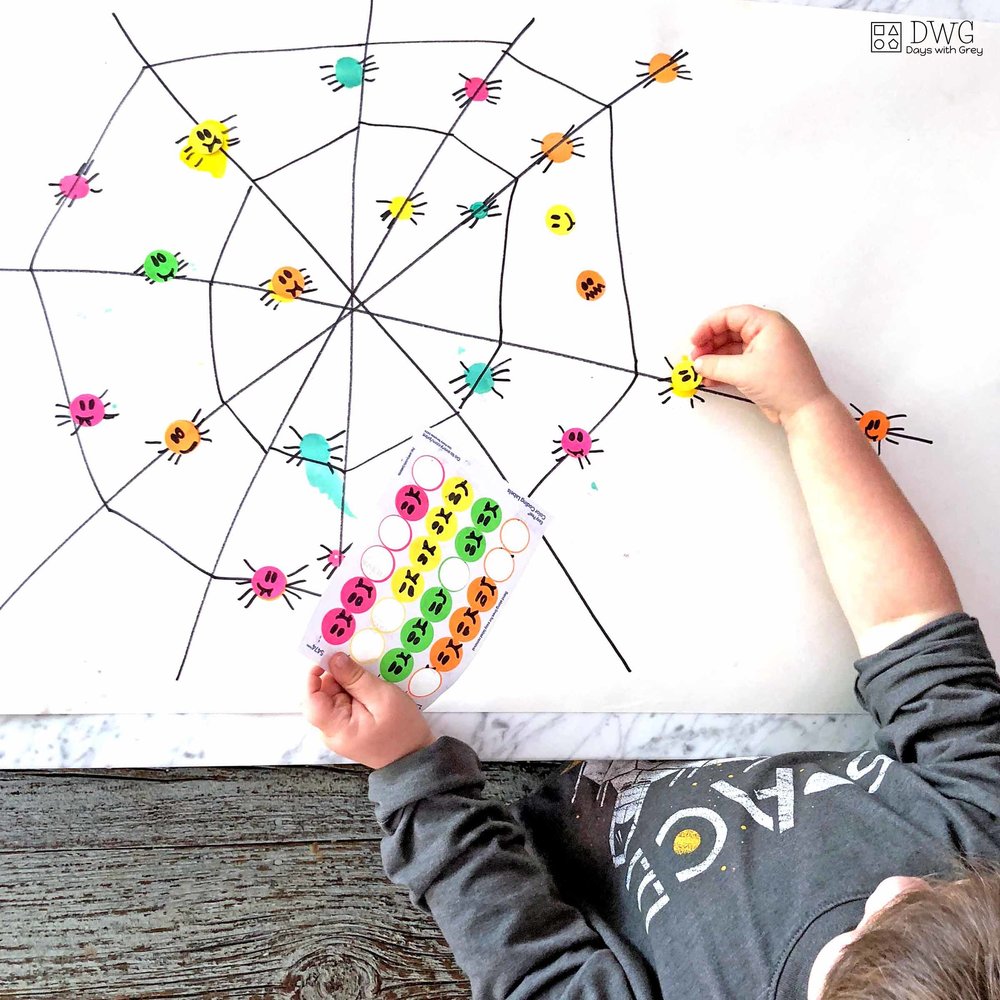 23. Play Halloween spider dots
Halloween spider dots from Days With Grey (pictured) is a super simple fun game that helps young kids work on fine motor skills and color recognition and matching. Dot stickers come in so many fun colors. If your children fill up the spider and aren't ready to be done with the activity, simply draw another spider.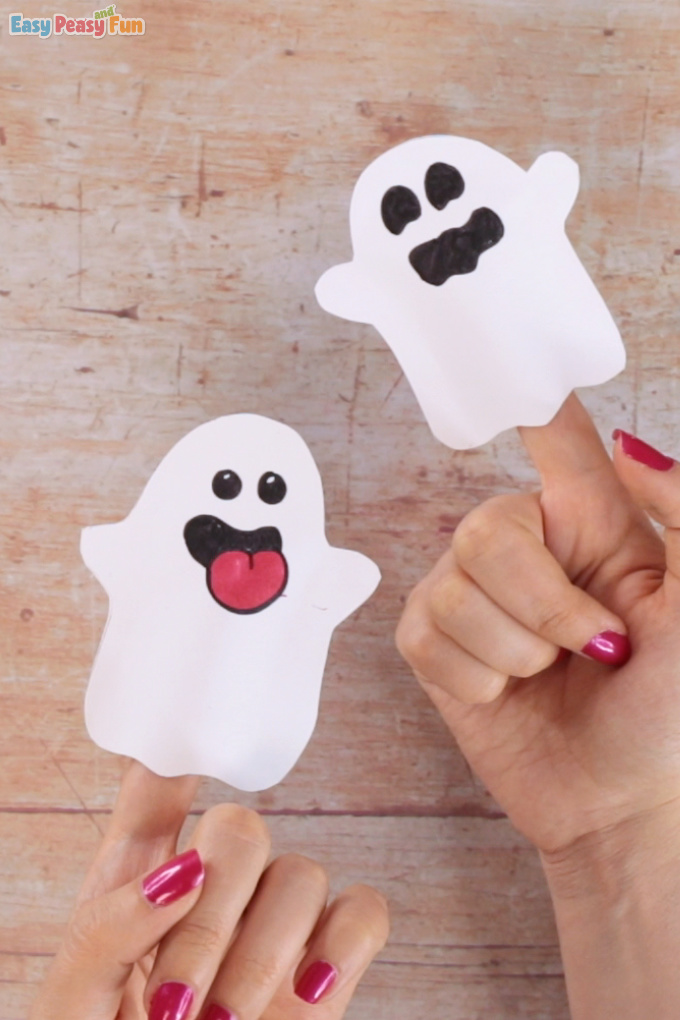 24. Make a Halloween ghost craft
I love Kids Craft Room's paper cup flying ghosts because they're interactive. Kids will love the reward of watching their ghosts fly once they've put them together. Easy Peasy and Fun's ghost paper finger puppets (pictured) are so cute, too, and offer the potential for hours of imaginative play.
25. Set up a spiderweb obstacle course
Mama Smiles has the perfect spiderweb obstacle course for preschool-age kids. I love that you can easily contain it to a small area of the house. Kids will have plenty of fun and a bit of a challenge without it taking over your entire home.
[Disclaimer: There are a few affiliate links in this post. Thanks for your support!]
Did you and your little ones do one or more of the Halloween activities?

I want to see it! Tag your images #RoseClearfield on Instagram or Twitter or post a photo to my Facebook page. Make sure to tag the original source as well!
Pin this post for easy access to the Halloween activities for toddlers and preschoolers resource later!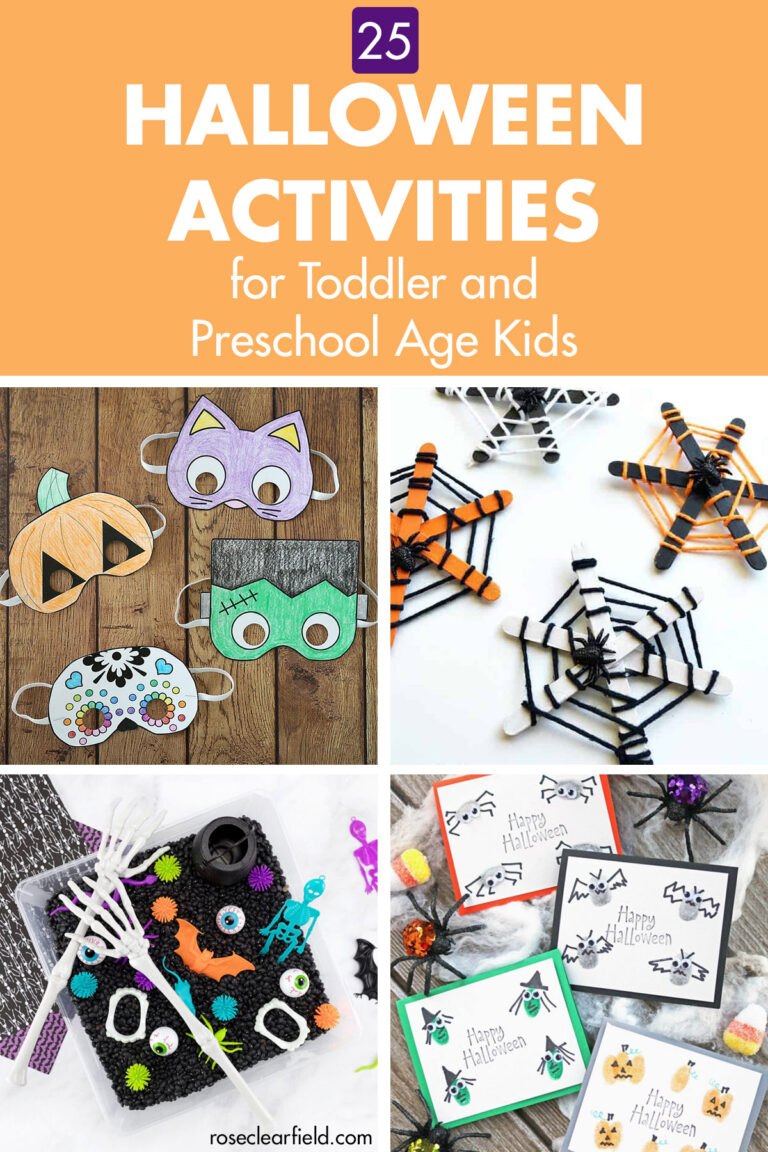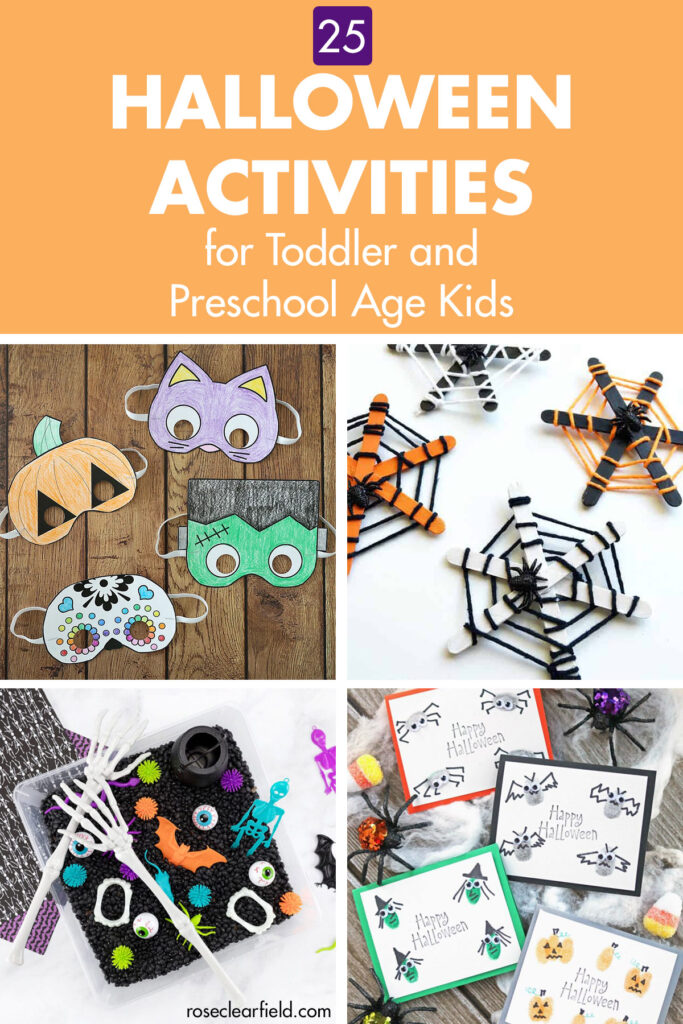 More Halloween resources:
More toddler/preschooler holiday activities: