Easy fall appetizer ideas make autumn entertaining simple and stress-free.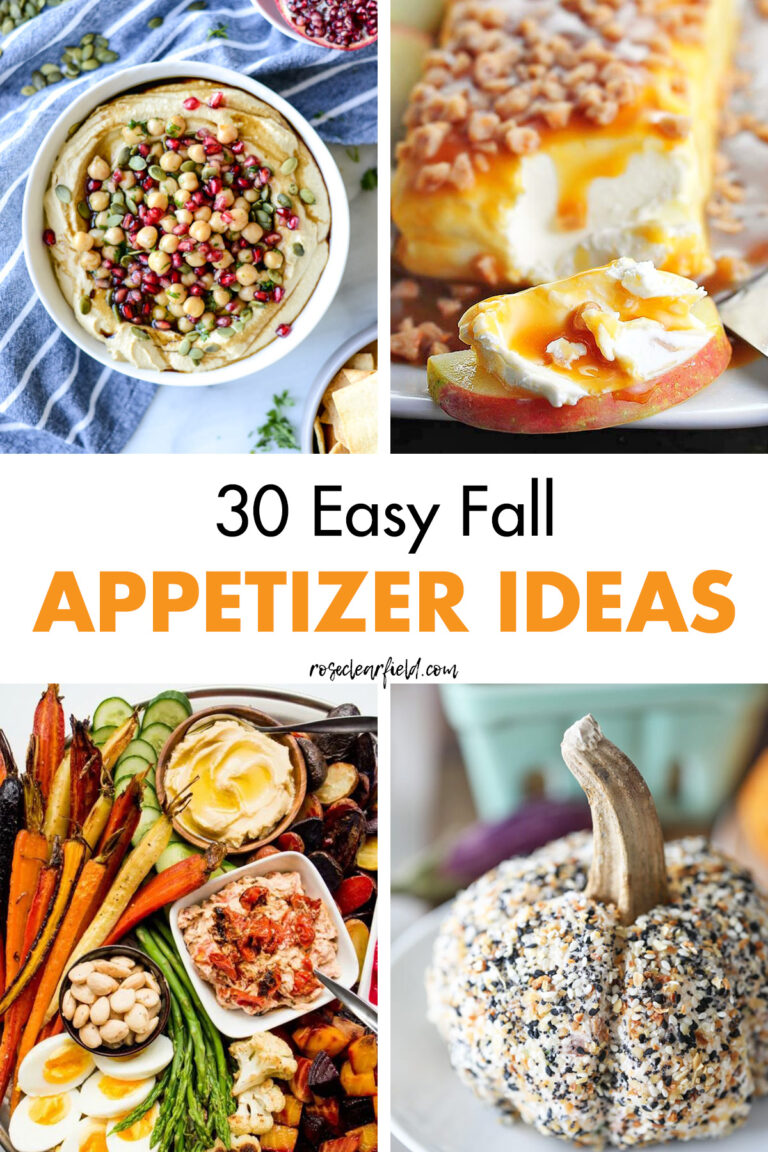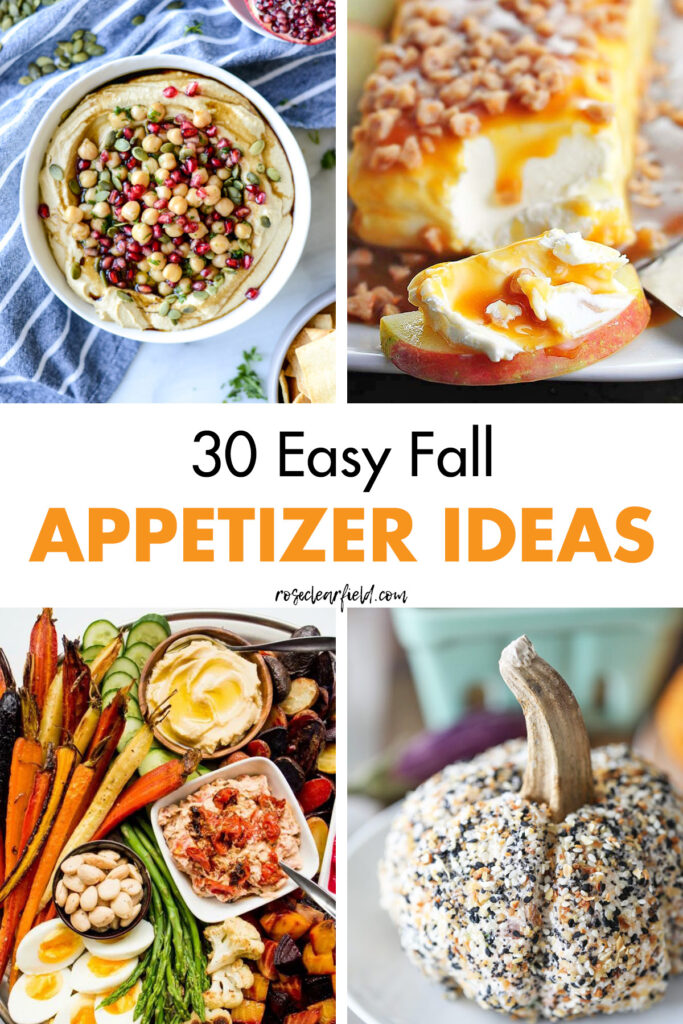 Even when you love hosting family and friends, you don't always love spending hours and hours on the kitchen. Easy fall appetizer recipes ensure that your autumn entertaining goes off without a hitch. I've rounded up all of my favorite fall appetizers and snacks with lots of sweet and savory options. You'll find classic recipes, such as buffalo chicken dip and pumpkin hummus, and more unique dishes, such as beet bruschetta and pecan-stuffed mushrooms. There is something for everyone here. Happy fall and happy entertaining!
Easy fall appetizer ideas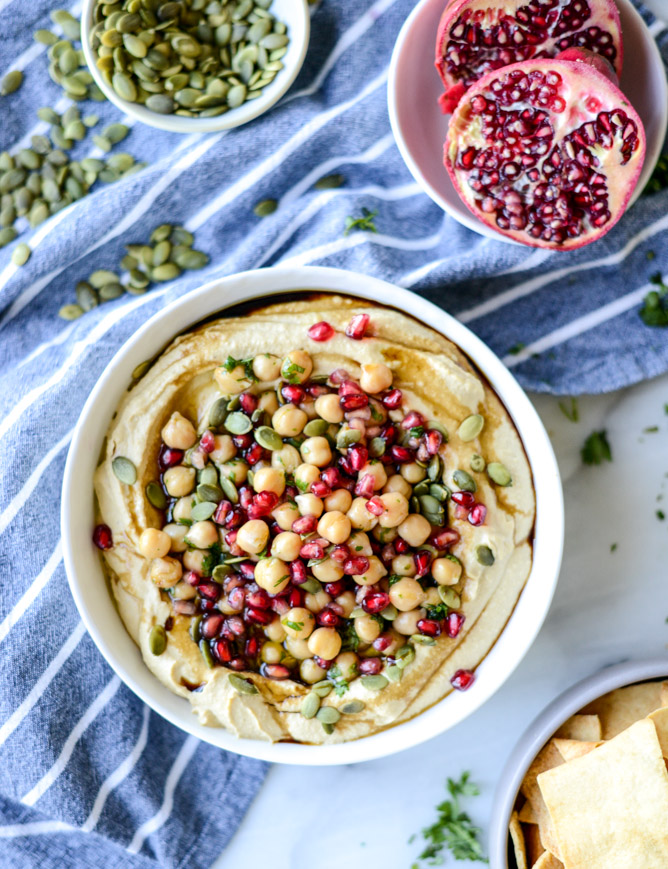 1. Butternut squash hummus
How Sweet Eat's butternut squash hummus is unlike any other hummus you've ever eaten, in the best way possible. The butternut squash gives it a nutty flavor that's so satisfying and addictive. You can roast the squash ahead of time and then the dip will come together quickly right before you have people over.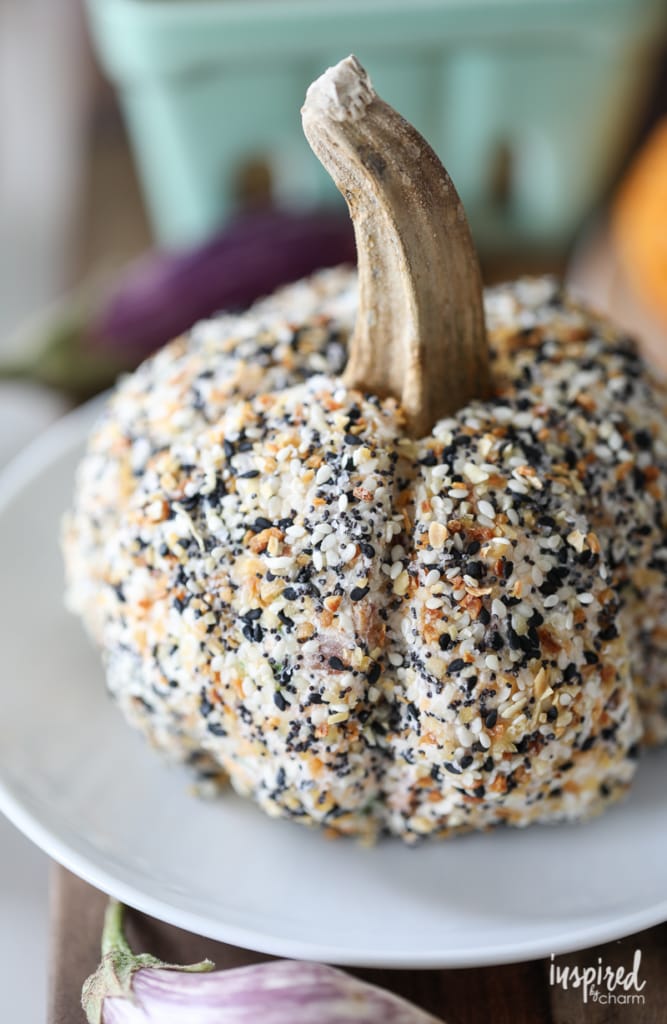 2. Everything bagel cheeseball
The only thing that improves upon the already fantastic cheeseball concept is everything bagel seasoning. Inspired By Charm takes it up another notch by shaping the everything bagel cheeseball into a pumpkin, complete with a real stem, for fall entertaining.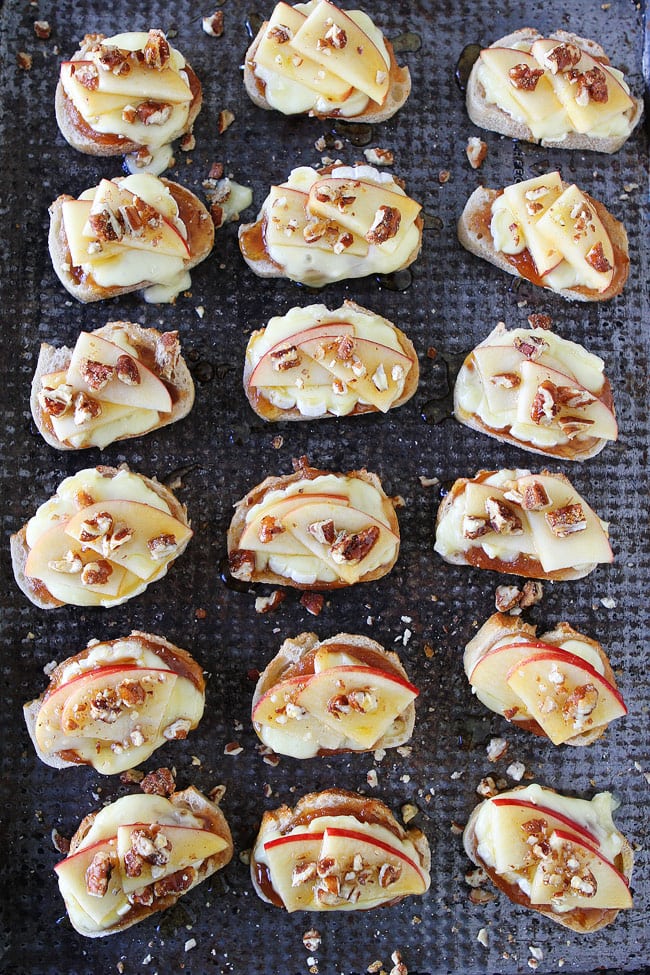 3. Brie, apple, and honey crostini
Sometimes you can't go wrong with the classic appetizers, and Two Peas and Their Pod's brie, apple, and honey crostini is no exception. Every bite is the perfect mix of tart and sweet with lots of crunch.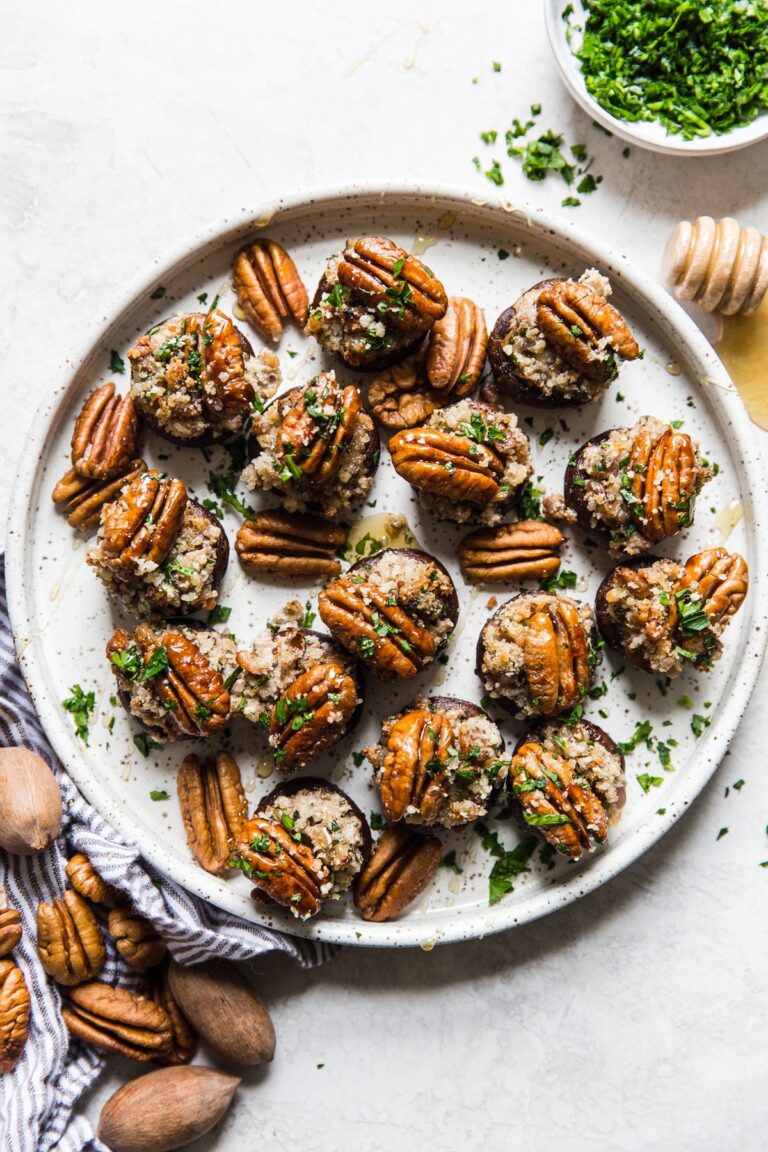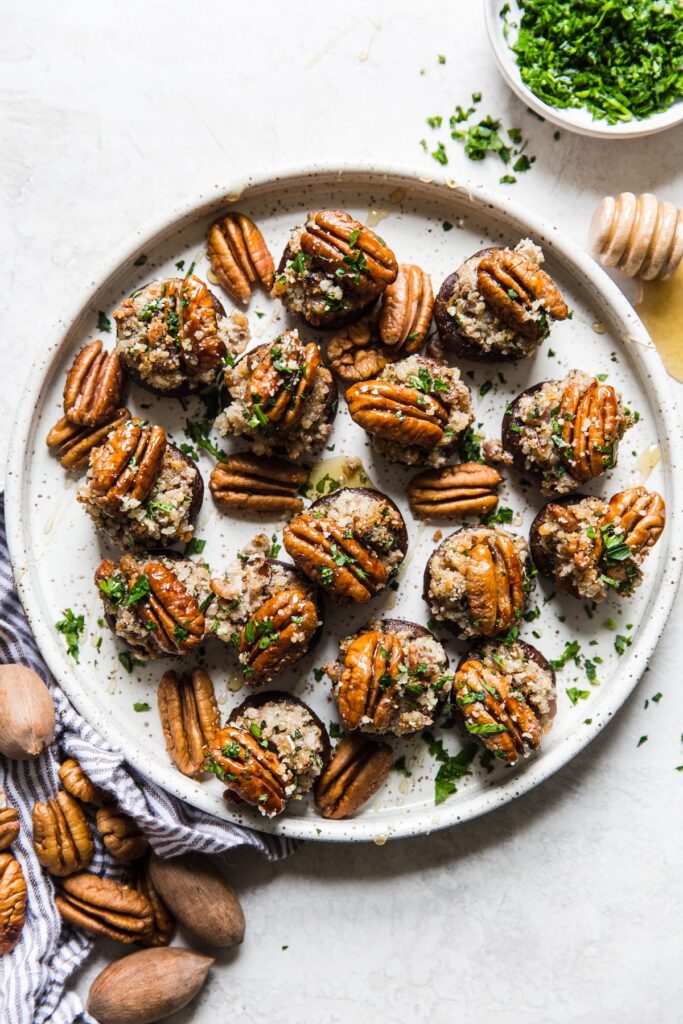 4. Pecan-stuffed mushrooms
The Modern Proper's pecan-stuffed mushrooms look incredibly fancy and come together ridiculously quickly. You're sure to wow everyone at your autumn gathering with this fantastic appetizer. The pecans, goat cheese, and garlic give the mushrooms so much flavor.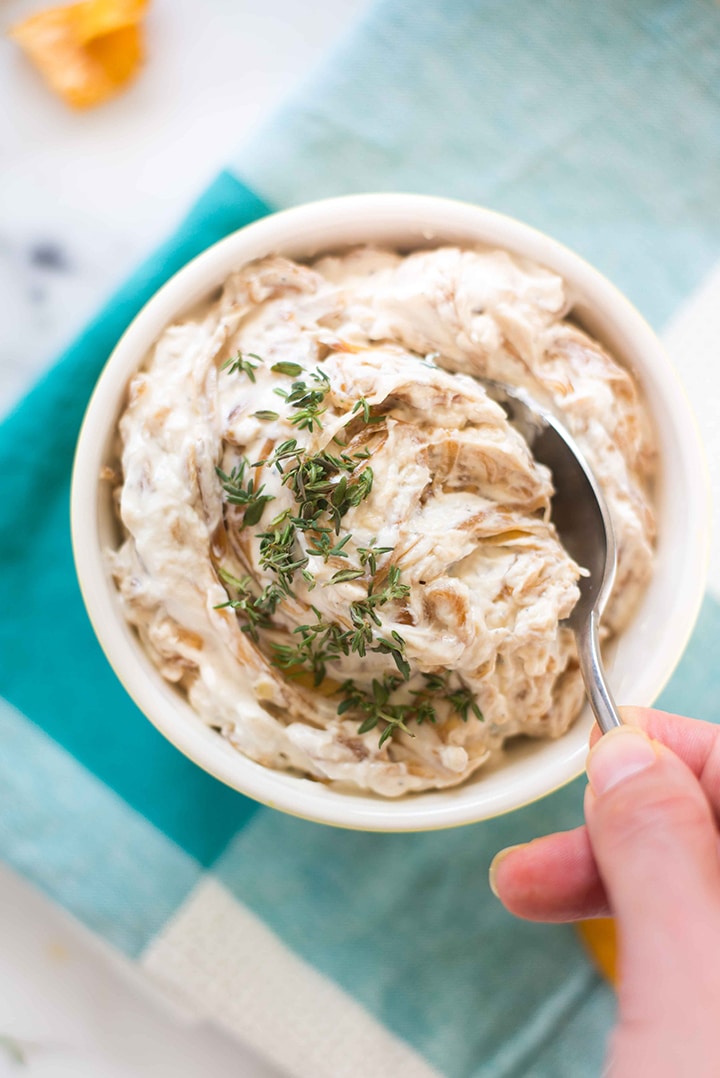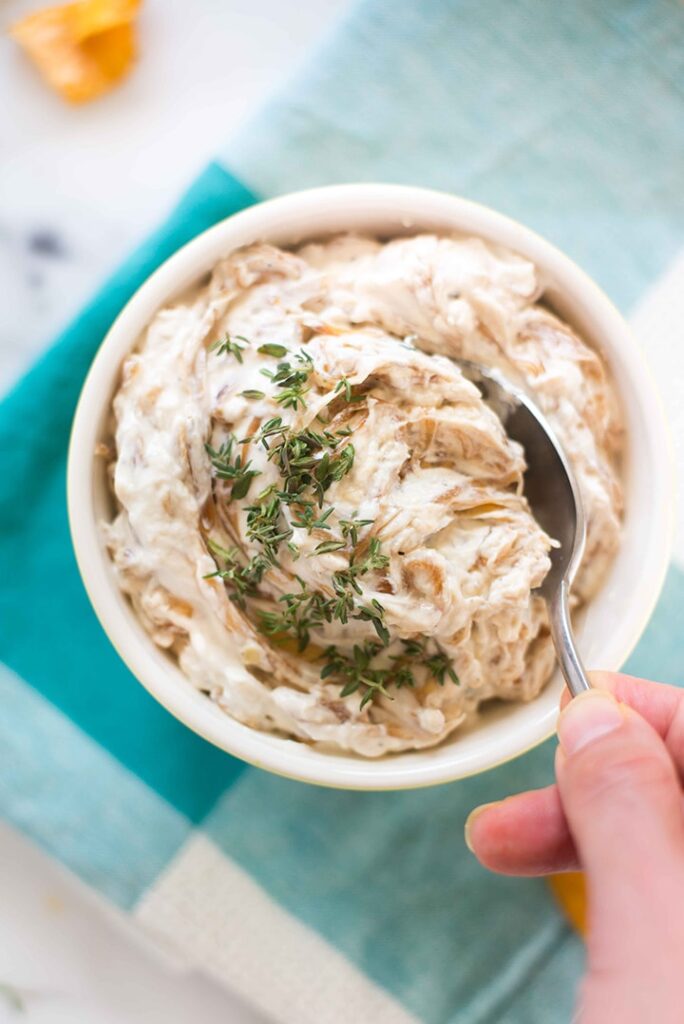 5. Caramelized onion dip
It's worth taking the time to caramelize onions for A Sweet Pea Chef's caramelized onion dip. Once you've tried it, you'll never want to make onion dip any other way. With a plain Greek yogurt base for the dip, you don't have to feel guilty about going back for seconds (and thirds) of this dip.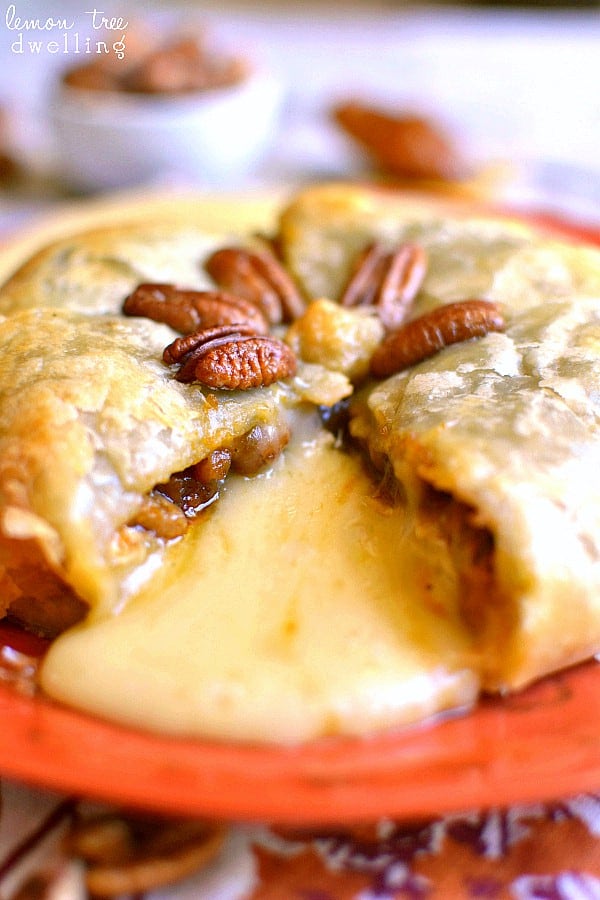 6. Pumpkin pecan baked brie
It wouldn't be a fall party without baked brie. Lemon Tree Dwelling's pumpkin pecan baked brie involves wrapping brie, pumpkin butter, and pecans in puff pastry before baking it. The buttery cheese and spiced pumpkin butter pairing is absolutely incredible.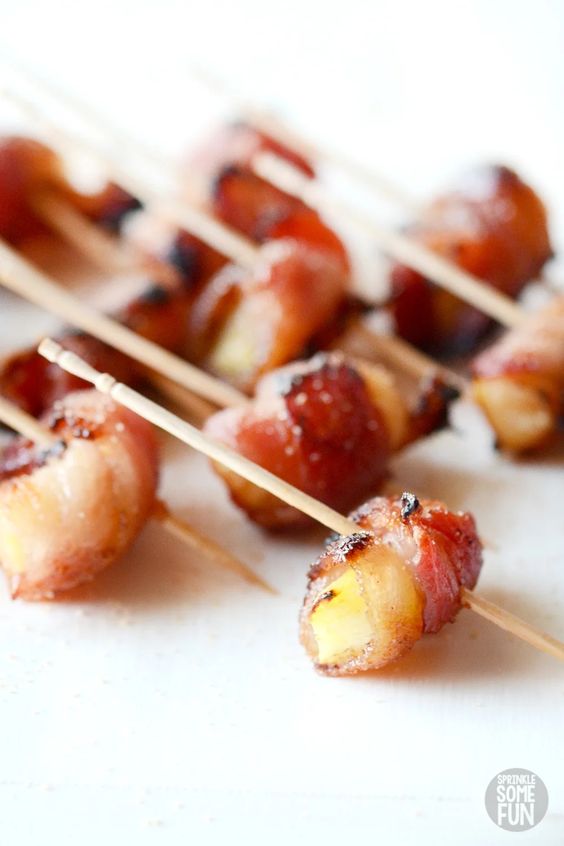 7. Apple cinnamon bacon bites
Sprinkle Some Fun's apple cinnamon bacon bites are sweet with just the right amount of savory, thanks to the bacon, and the right amount of crunch, thanks to the apple. They're the perfect twist on the bacon-wrapped appetizer concept that everyone will want to make for their next party.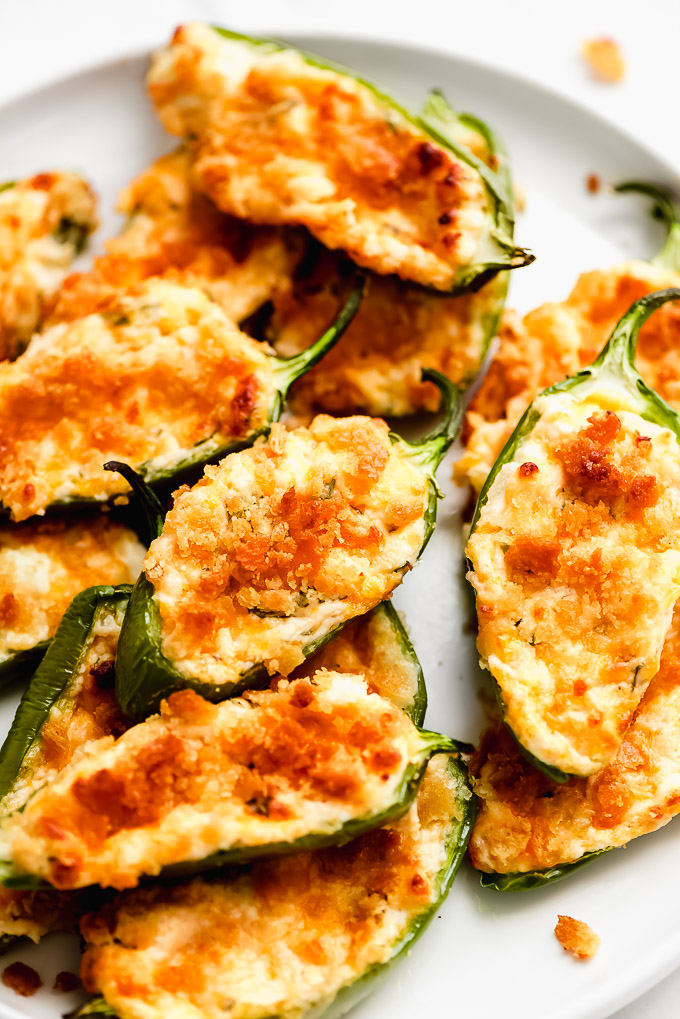 8. Jalapeno poppers
Sometimes you can't go wrong with the classics, and Garnish and Glaze's baked jalapeno poppers are no exception. The spicy peppers are stuffed with a creamy three-cheese filling and finished off with a crispy, buttery Ritz cracker topping.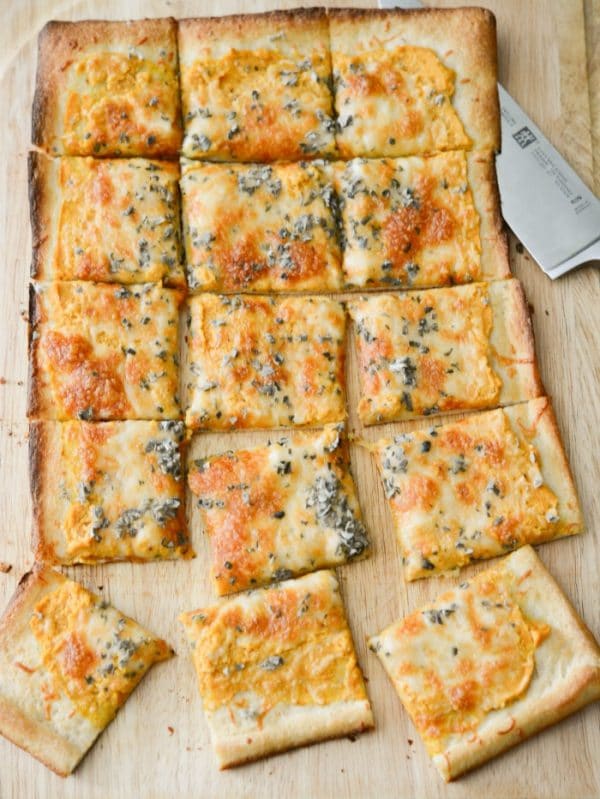 9. Pumpkin ricotta flatbread
There are so many flatbread recipes with cubed or sliced toppings that taste amazing but are impossible to eat. I love Carrie's Experimental Kitchen's pumpkin ricotta flatbread because the fall flavor combination is on point and you don't make a huge mess while eating it.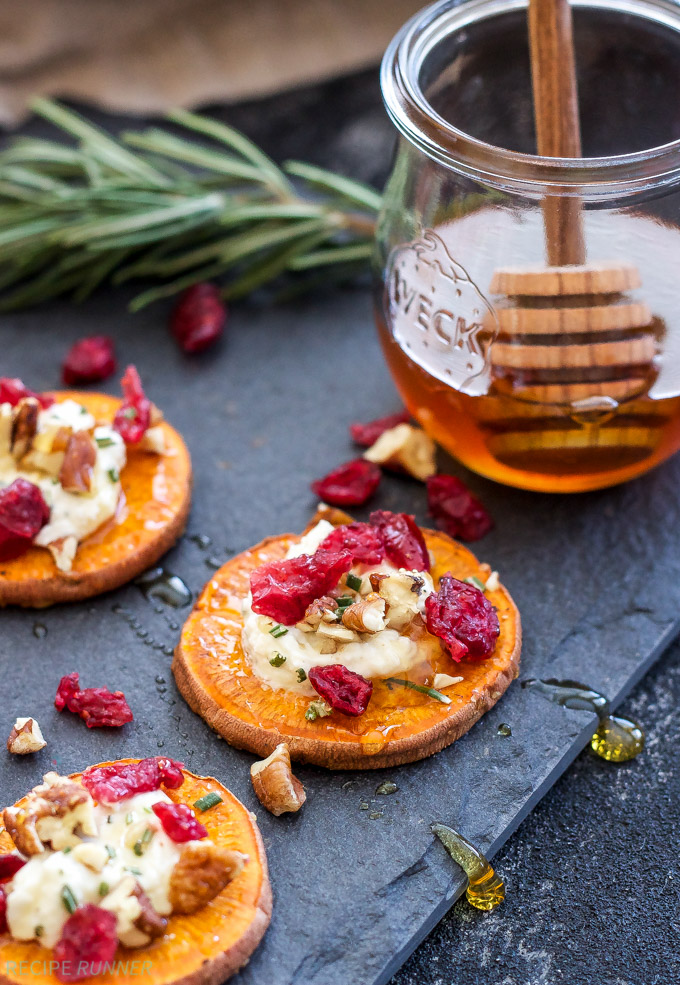 10. Sweet potato bites
Sweet potato slices are the perfect alternative to crackers and chips for creating healthy, bite-size appetizers. Recipe Runner's sweet potato bites are topped with dried cranberries, goat cheese, and pecans, which is perfect for fall. There are endless ways to customize this concept.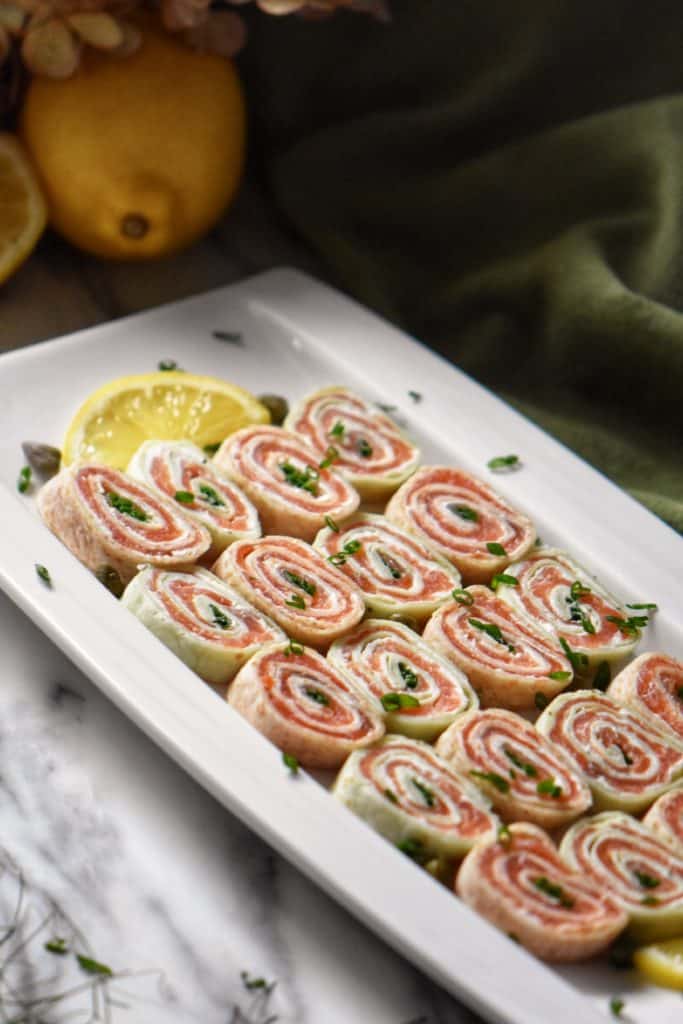 11. Smoked salmon pinwheels
She Loves Biscotti's smoked salmon pinwheels are a fun variation on the tortilla pinwheel concept that people won't have eaten dozens of times but that still come together so easily. Chives and lemon juice elevate the classic smoked salmon and cream cheese pairing perfectly.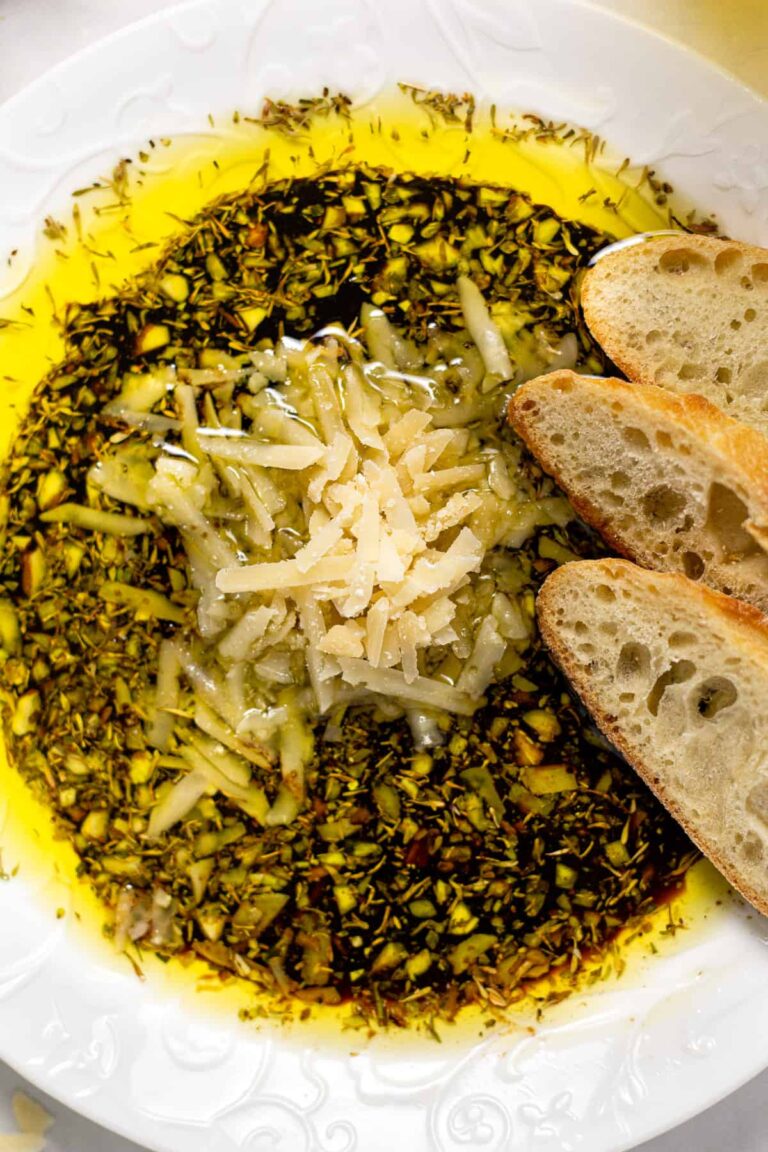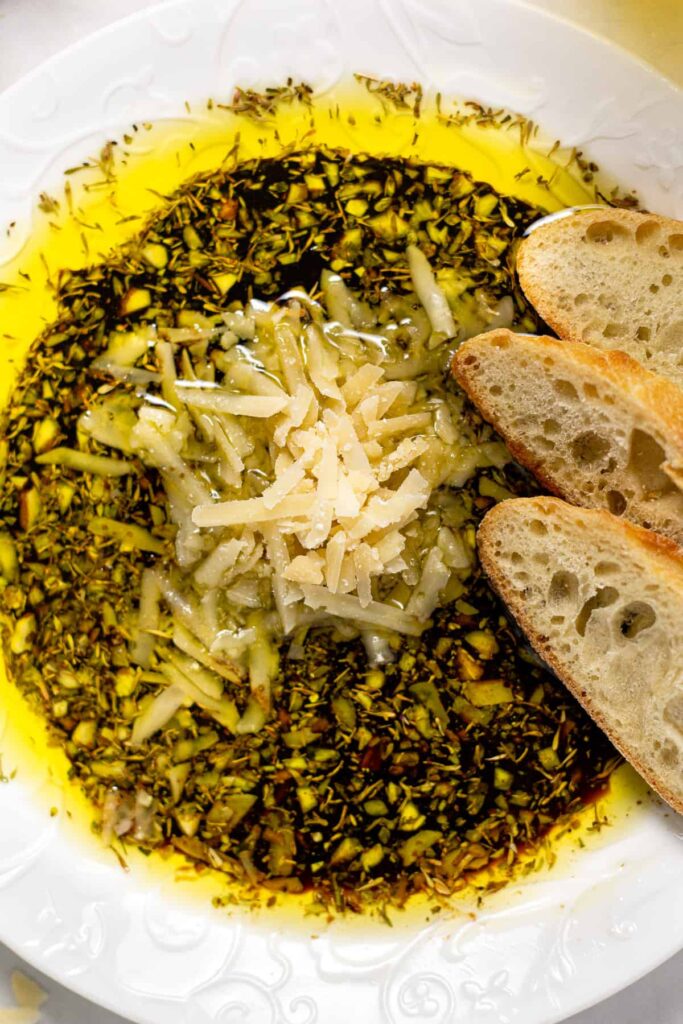 12. Olive oil bread dip
Midwest Foodie's olive oil bread dip is the perfect example of how sometimes you can't improve on the simplest recipes. Having a veggie platter and really good bread with olive oil dip ready when your guests arrive sets the tone for a fabulous evening full of great food.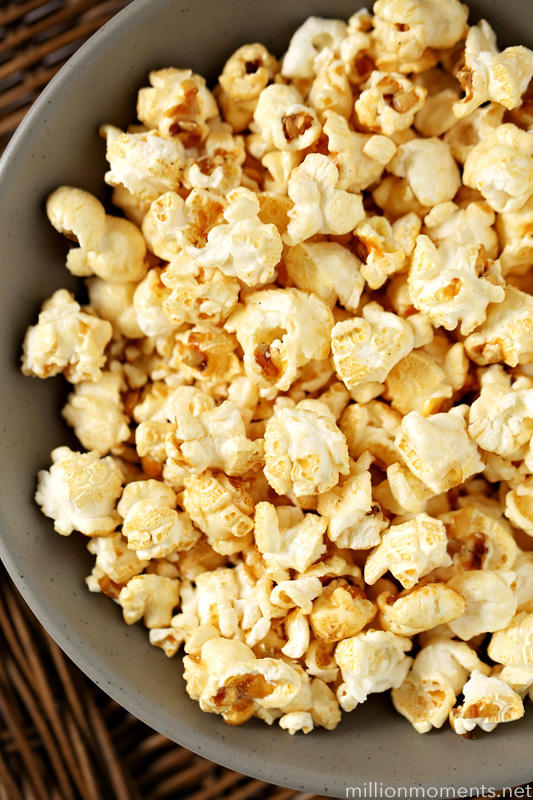 13. Apple pie popcorn
A Million Moment's apple pie popcorn is the easiest, most delicious way to dress up microwave or store bought kettle corn popcorn for fall entertaining and family movie nights. You only need five ingredients to make this completely addictive snack.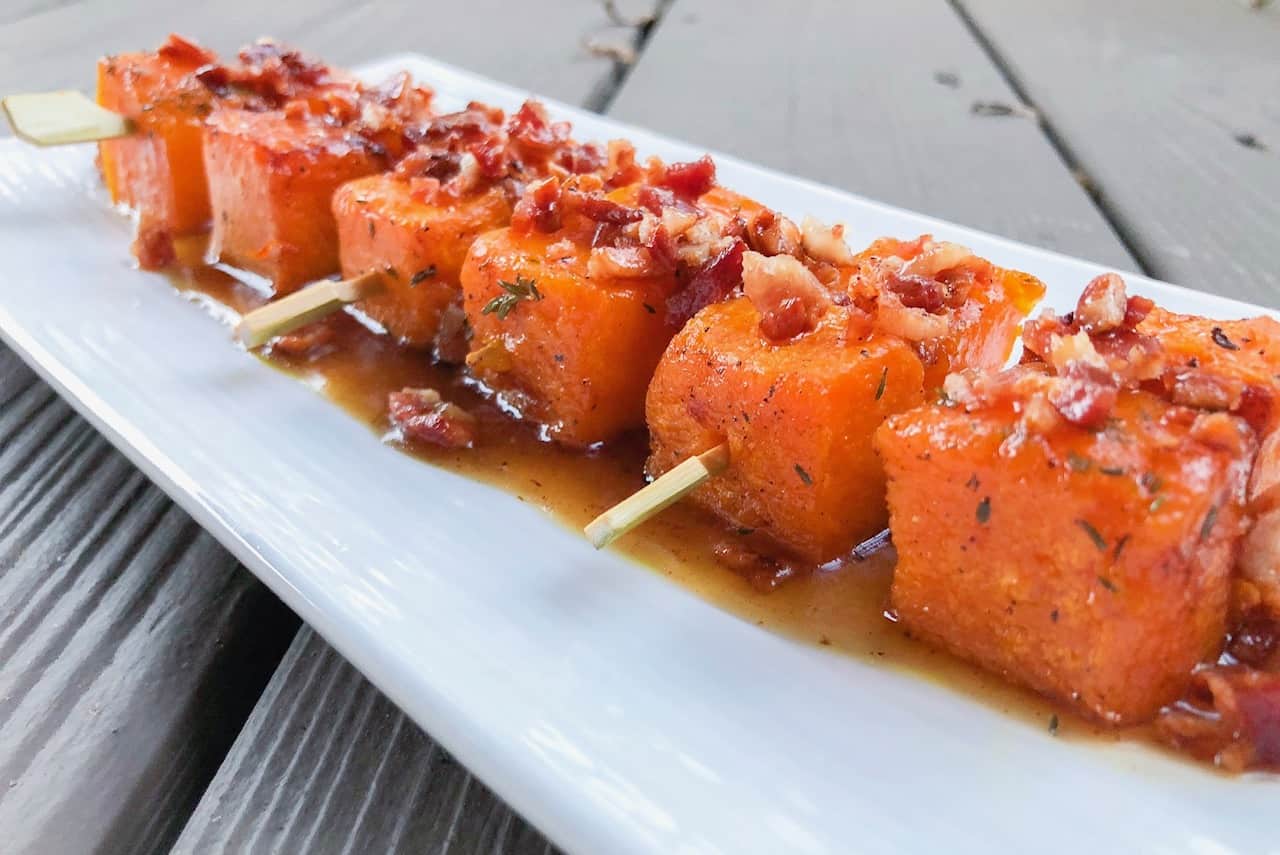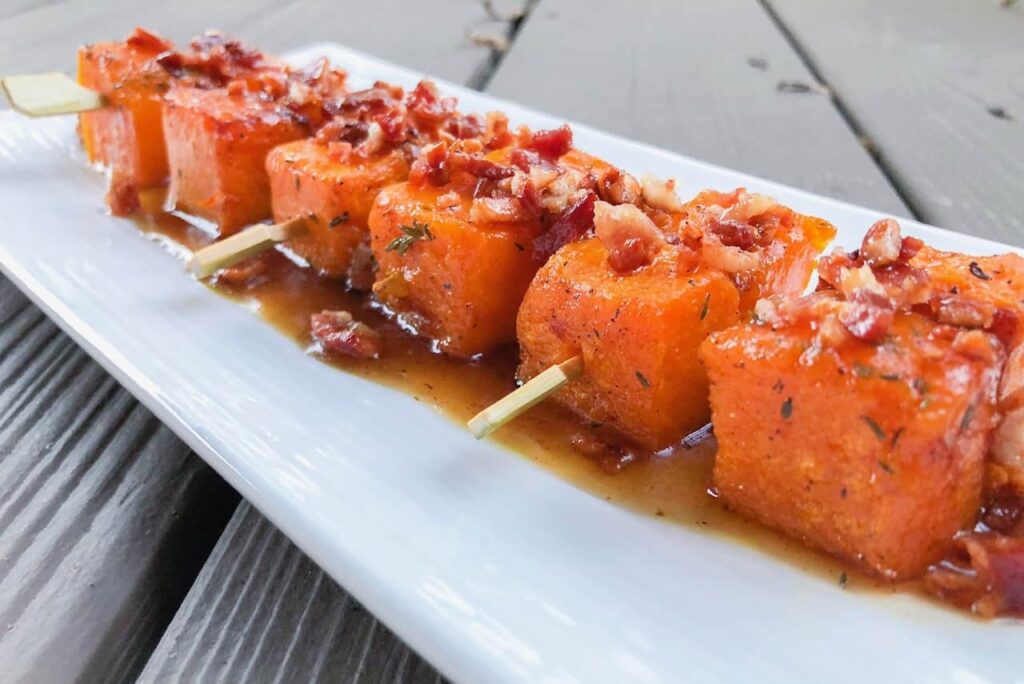 14. Maple bacon butternut squash skewers
Bite Sized Kitchen's maple bacon butternut squash skewers are perfectly sized for party appetizers. They have just the right combination of sweet from the maple syrup and brown sugar and salty from the bacon.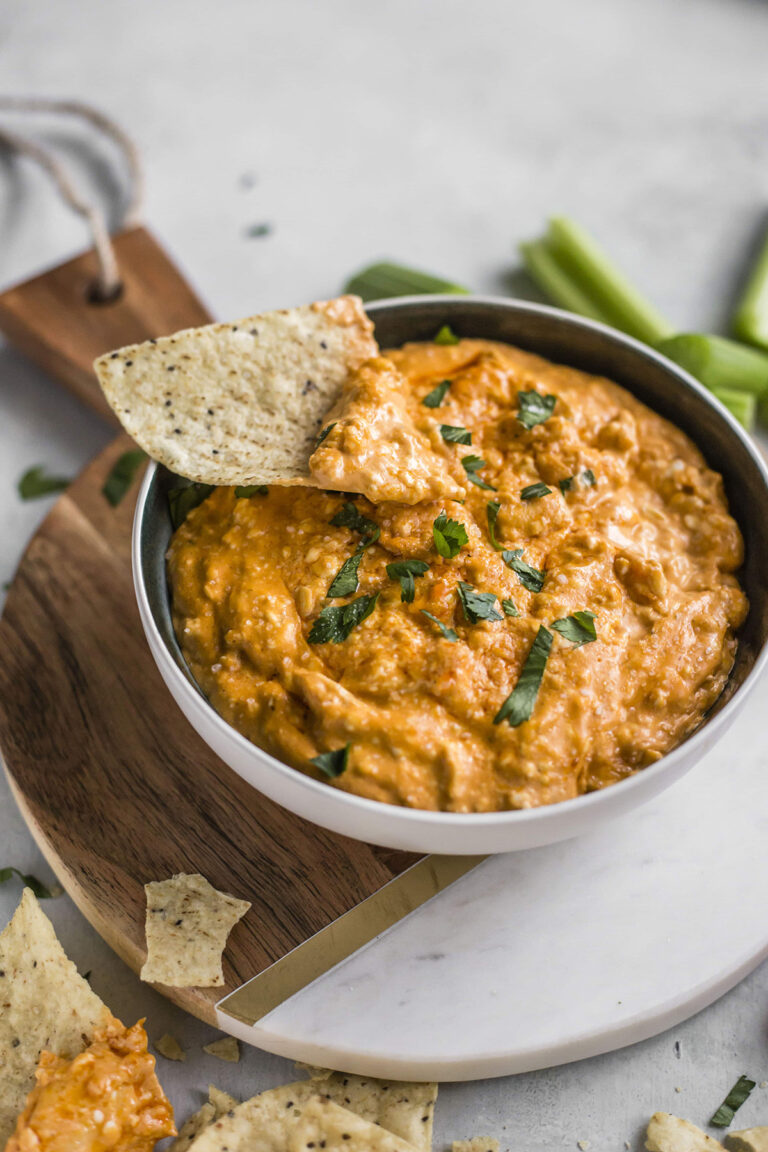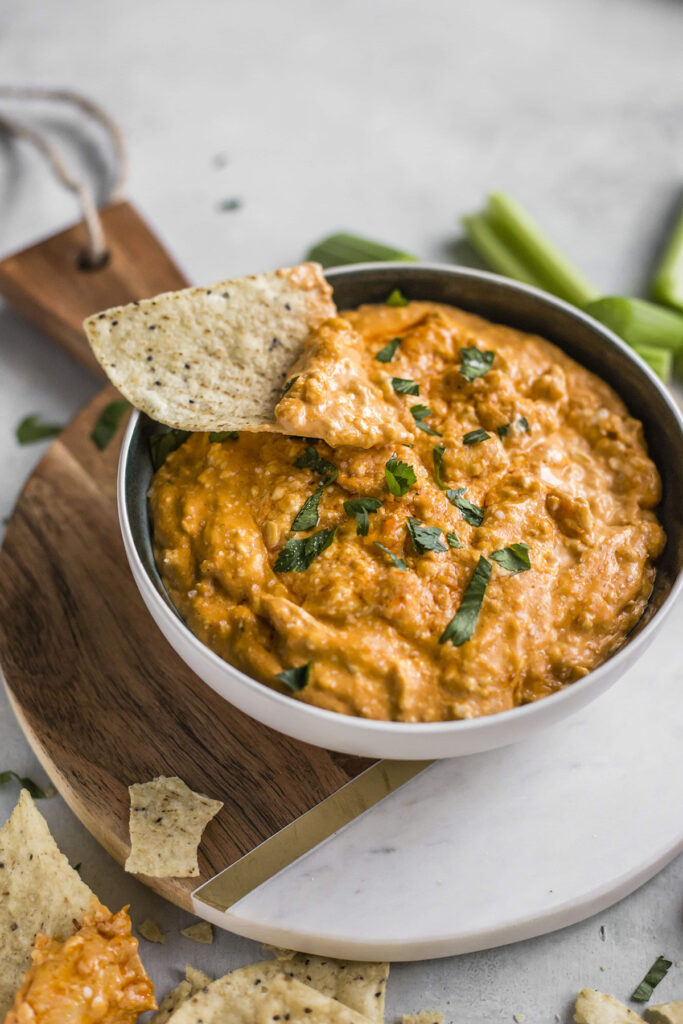 15. Buffalo chicken dip
How Sweet Eat's buffalo chicken dip is another tried-and-true appetizer recipe that everyone looks forward to, especially during the cooler months of the year. The key is to use buffalo wing sauce, not plain hot sauce, and to combine Ranch and blue cheese.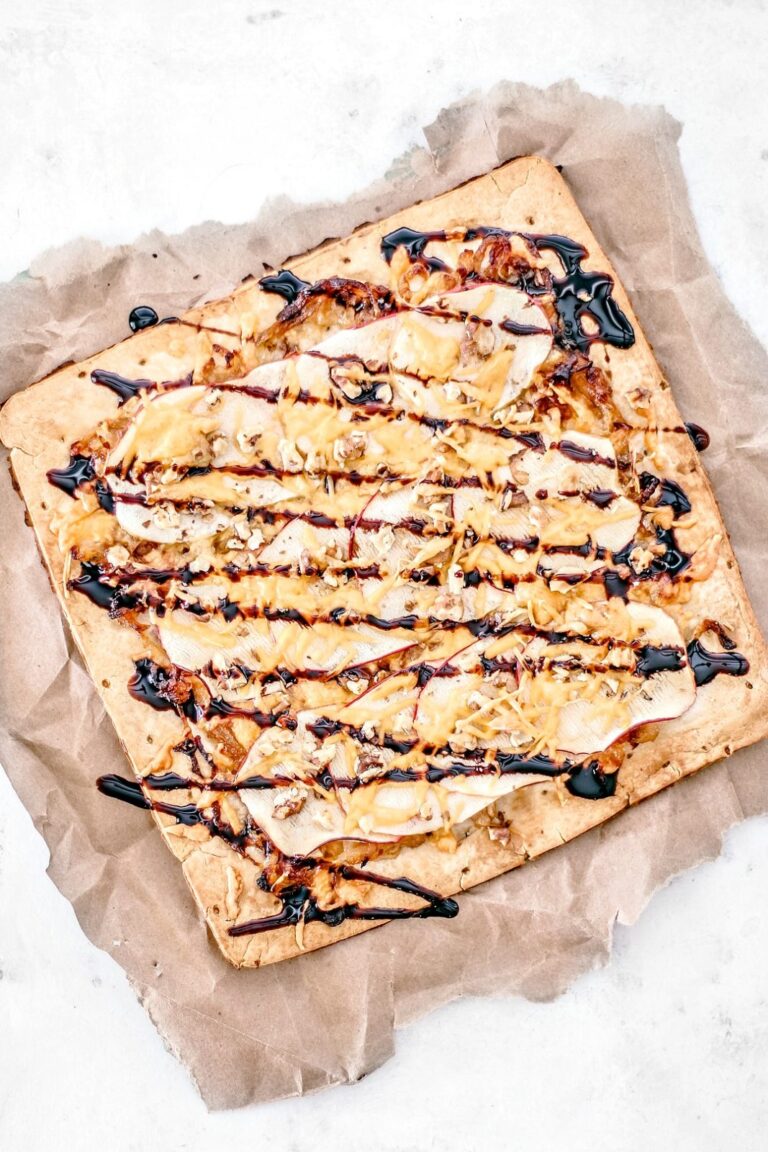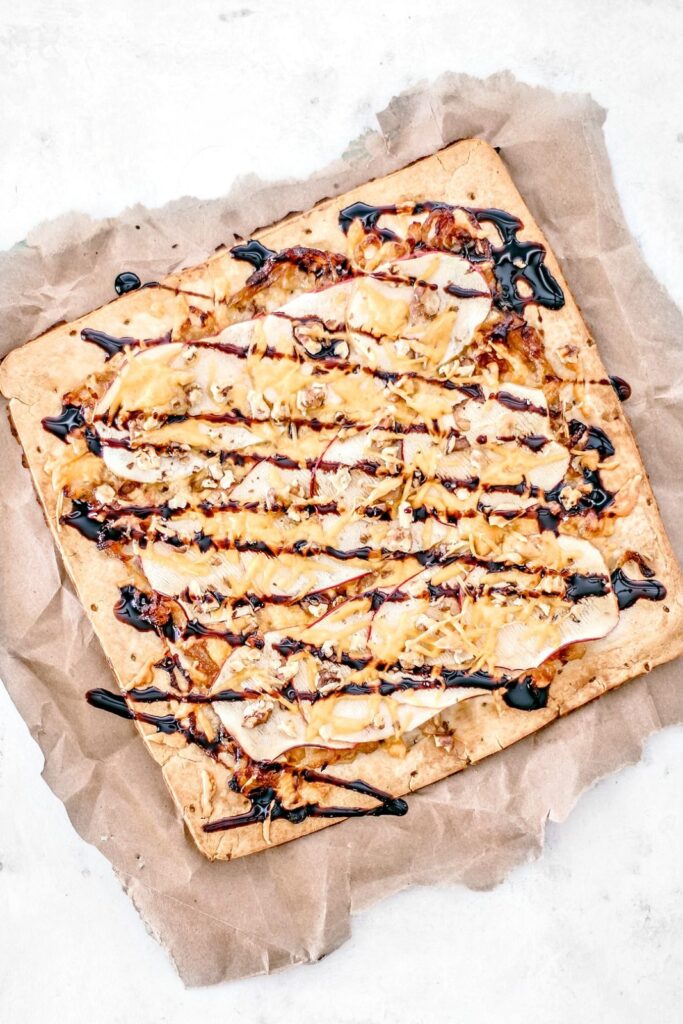 16. Apple cheddar flatbread
Apple and cheddar is such a classic flavor pairing and frankly, one that should be used more often, especially for fall recipes. For Killing Thyme's apple cheddar flatbread, she takes the flavor to the next level with caramelized onions and walnuts.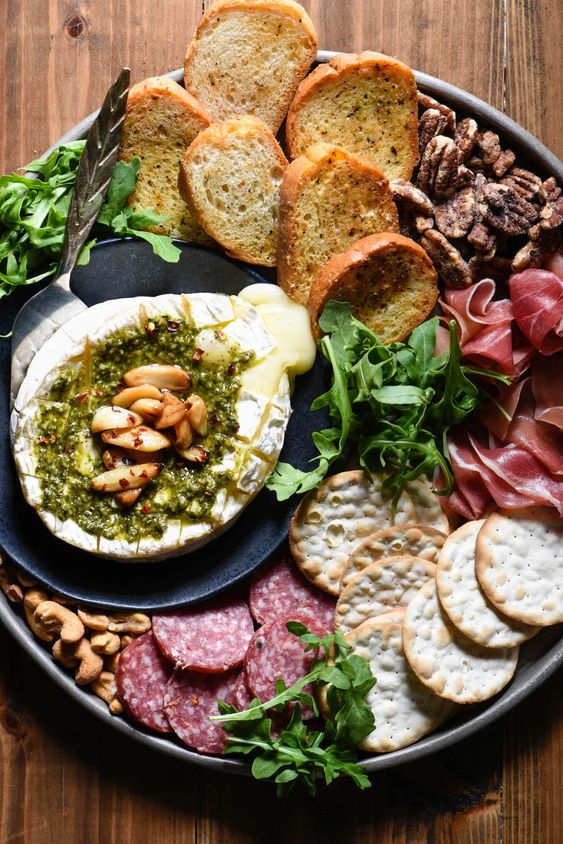 17. Savory baked brie
I wanted to include at least one savory baked brie appetizer. I love the sweet and savory combination that most baked brie dishes offer but know that sometimes you're in the mood for a straight savory dish. Foxes Love Lemon's savory baked brie is ideal with basil pesto and roasted garlic.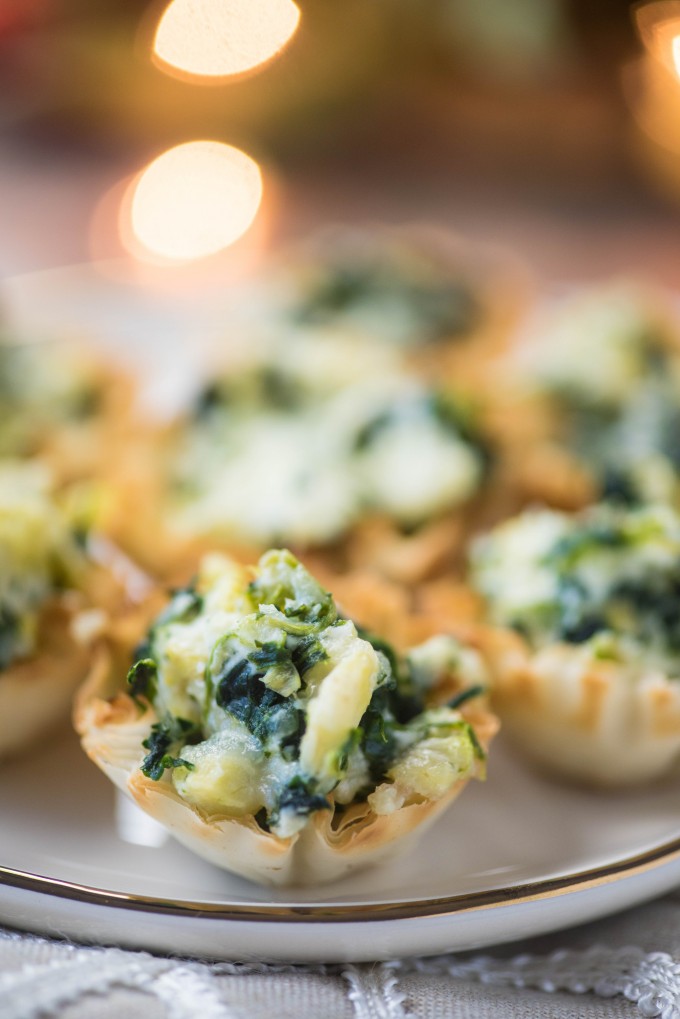 18. Baked spinach artichoke dip cups
For a fall party, I love Go Go Go Gourmet's baked spinach artichoke appetizer phyllo cups. The phyllo cups are so easy and cute and make the appetizer perfectly bite-sized and with just the right amount of crunch.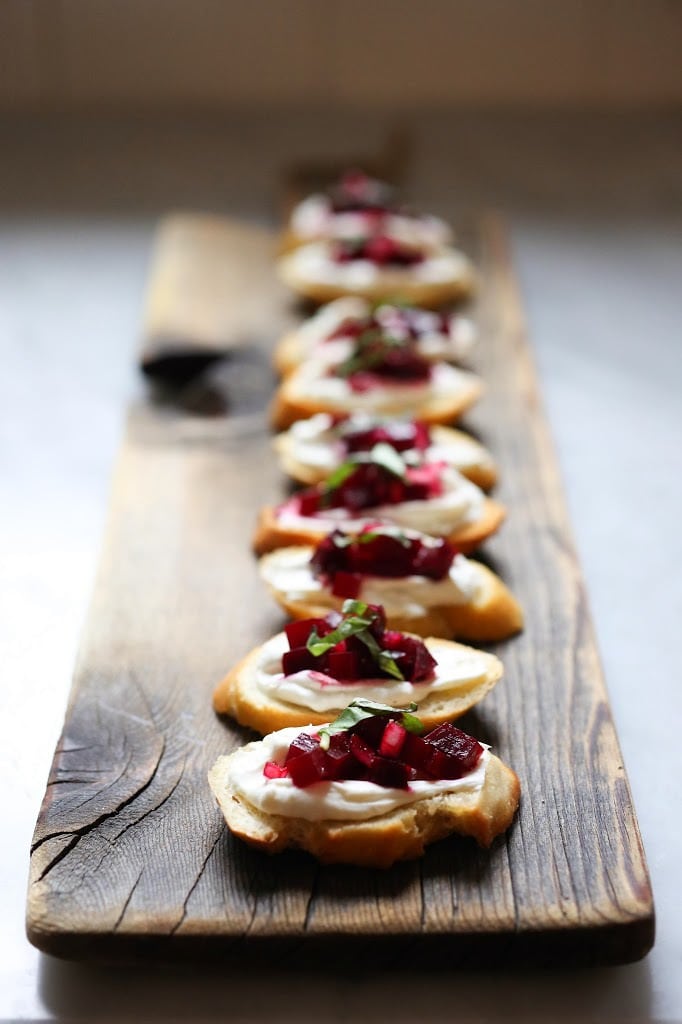 19. Beet bruschetta
Feasting at Home's beet bruschetta with goat cheese and basil is a simple appetizer full of flavor. Beet is unexpected but perfect for autumn and adds such a nice color. You can make the beets ahead of time, and then assemble the bruschetta right before guests arrive.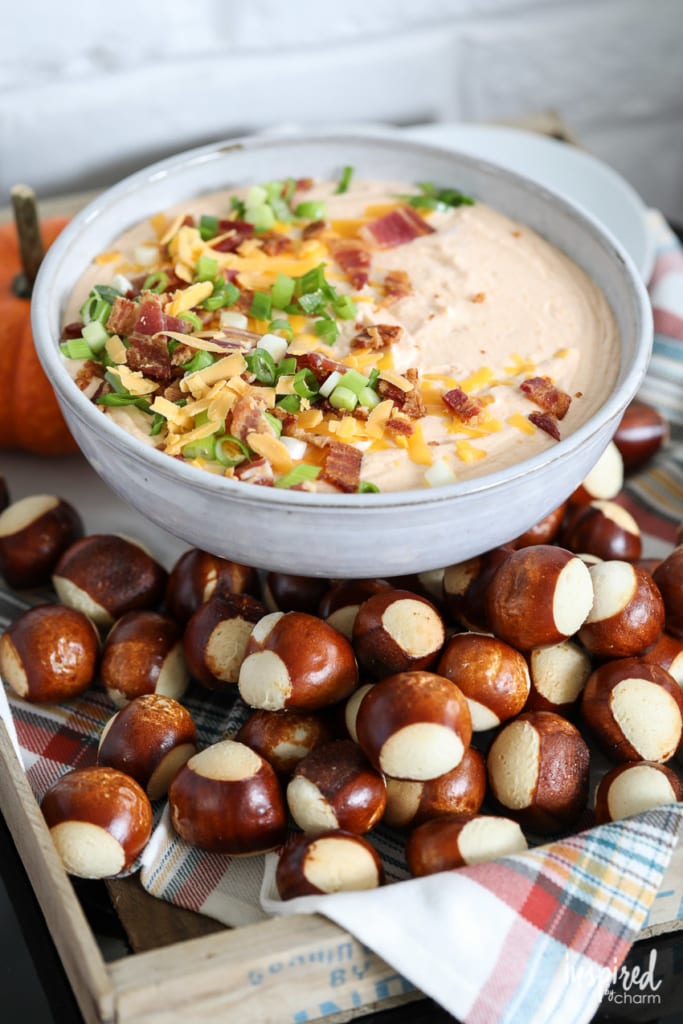 20. Beer cheese dip
Inspired by Charm's beer cheese dip with bacon is the ultimate comfort food for game day parties. Slow cooking the dip gives it such a rich flavor. Soft pretzel bites are the ideal pairing for beer cheese dip, but you can serve it with just about any type of bread, chips, crackers, and veggies.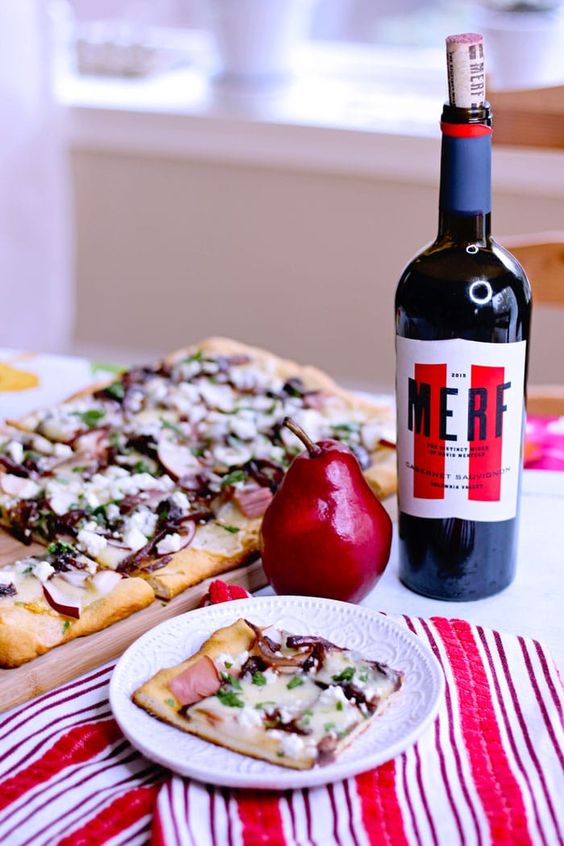 21. Pear and goat cheese pizza
Sip Bite Go's pear and goat cheese pizza won't appeal to everyone, I know. But if you're looking to switch up the more popular apple and cheddar pairing, pear and goat cheese is the way to go. She brings the flavors together with ham, garlic, and caramelized onions.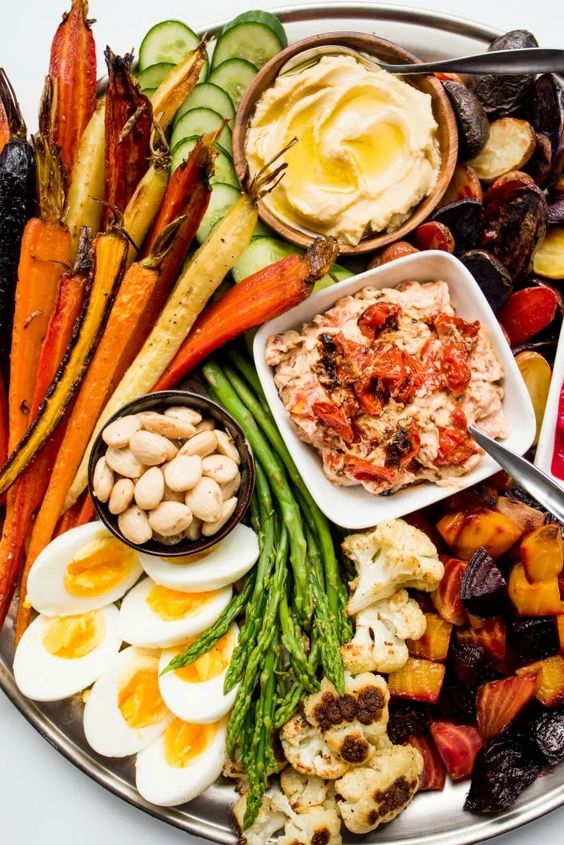 22. Crudite platter
Reluctant Entertainer's roasted veggie crudite platter is an absolute show stopper. I know that it looks like a lot of steps. But you can do almost everything ahead of time and pick and choose exactly what you do and don't want to include. I especially love the mix of veggies to add color to the presentation.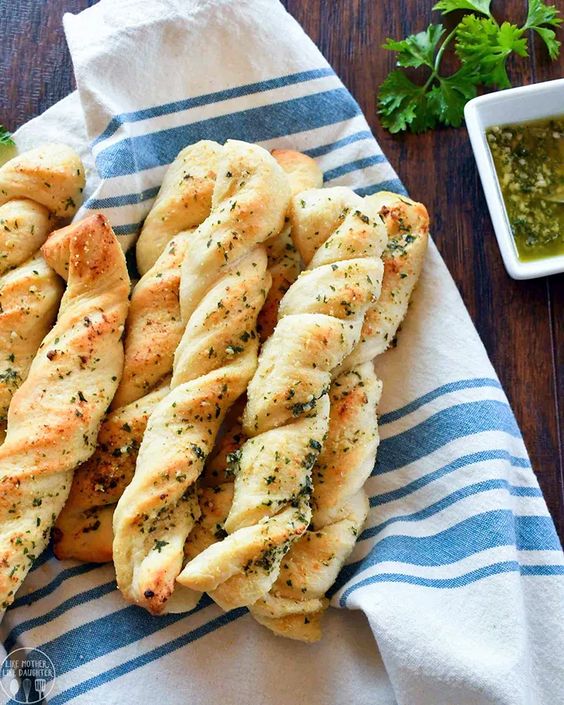 23. Garlic bread sticks
Like Mother Like Daughter's garlic bread sticks are covered in butter and herbs and are the easiest bread sticks you'll ever make.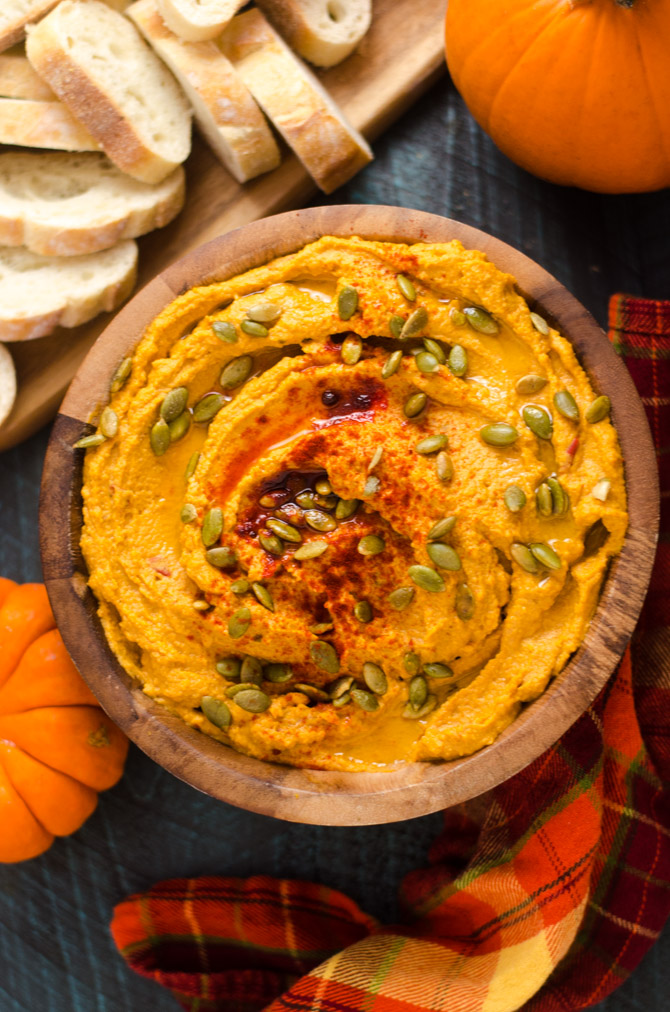 24. Pumpkin hummus
I know, if you're searching for easy fall appetizer ideas, I don't need to tell you twice to make pumpkin hummus, right? Most likely you already have pumpkin hummus on your menu. If you don't, check out Host the Toast's smoky chipotle pumpkin hummus. The pumpkin makes the hummus extra creamy, and the chipotle chiles, cumin, and paprika take the flavor over the top.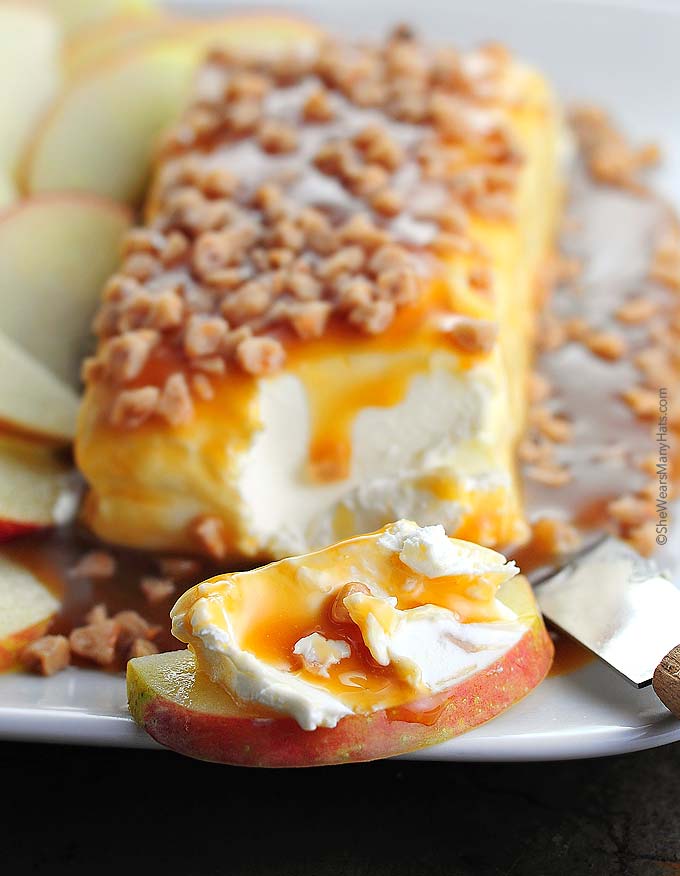 25. Caramel cream cheese spread
She Wears Many Hat's caramel apple cream cheese spread is so good and so ridiculously easy. It's the perfect pairing with sliced apples and pears but tastes good on pretty much anything.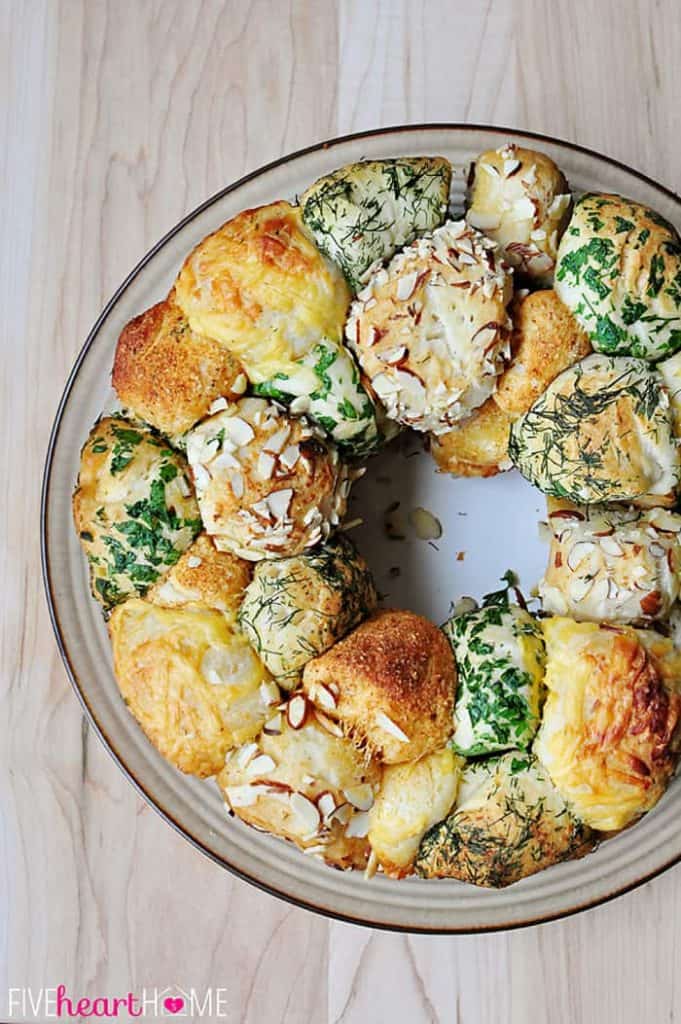 26. Savory monkey bread
Refrigerated biscuits make Five Heart Home's savory monkey bread so quick and simple. She recommends using five different herb and cheese combinations, which makes for such a pretty presentation and nice variety of flavors.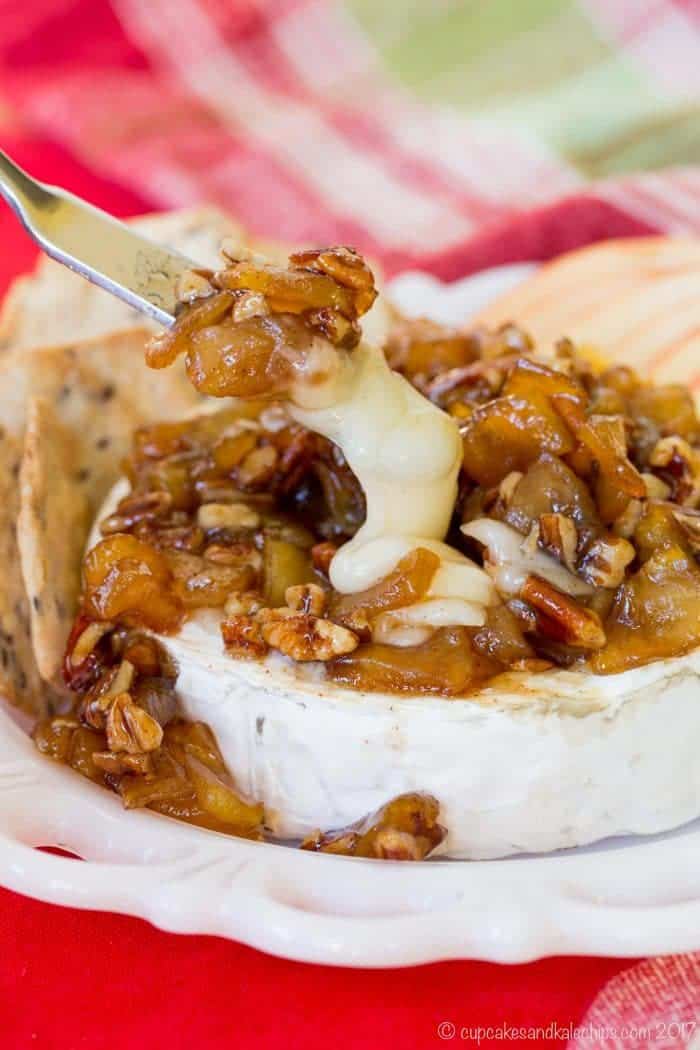 27. Caramelized apple pecan baked brie
If you want another sweet baked brie appetizer option, Cupcakes and Kale Chip's caramelized apple pecan baked brie is a great option. With just six ingredients, it's so easy but is sure to wow everyone at your party.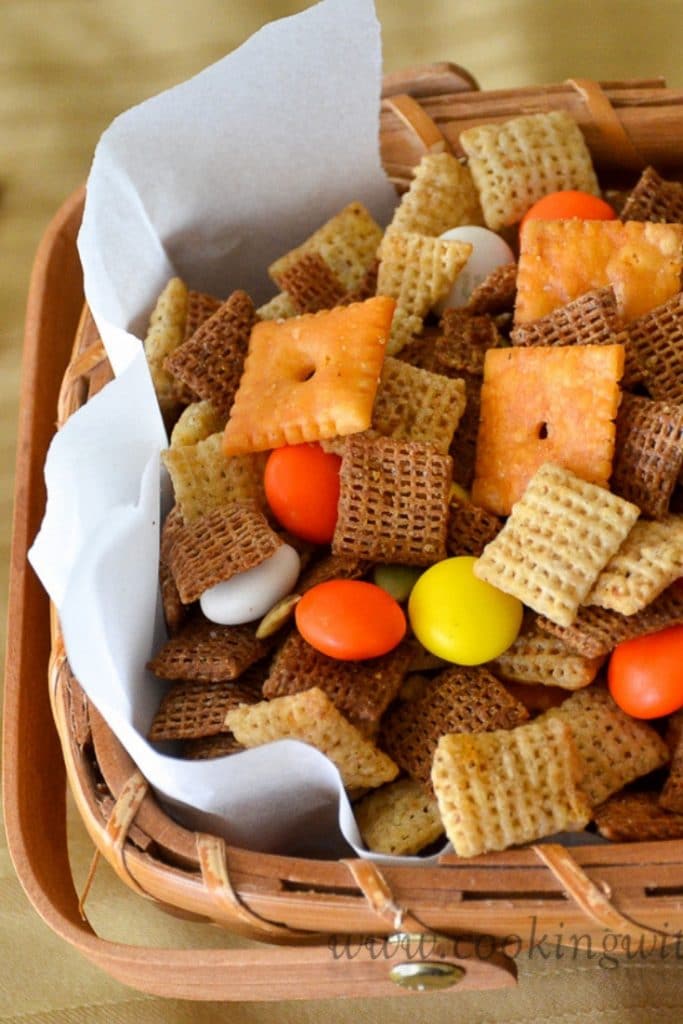 28. Fall harvest Chex mix
In case you didn't get your addictive snack fix in with the apple pie popcorn (see #13), you may need to make a batch (or five) of Cooking With Libby's fall harvest Chex mix, too. The ingredients list sounds crazy, I know. You just have to trust that the flavors all come together perfectly.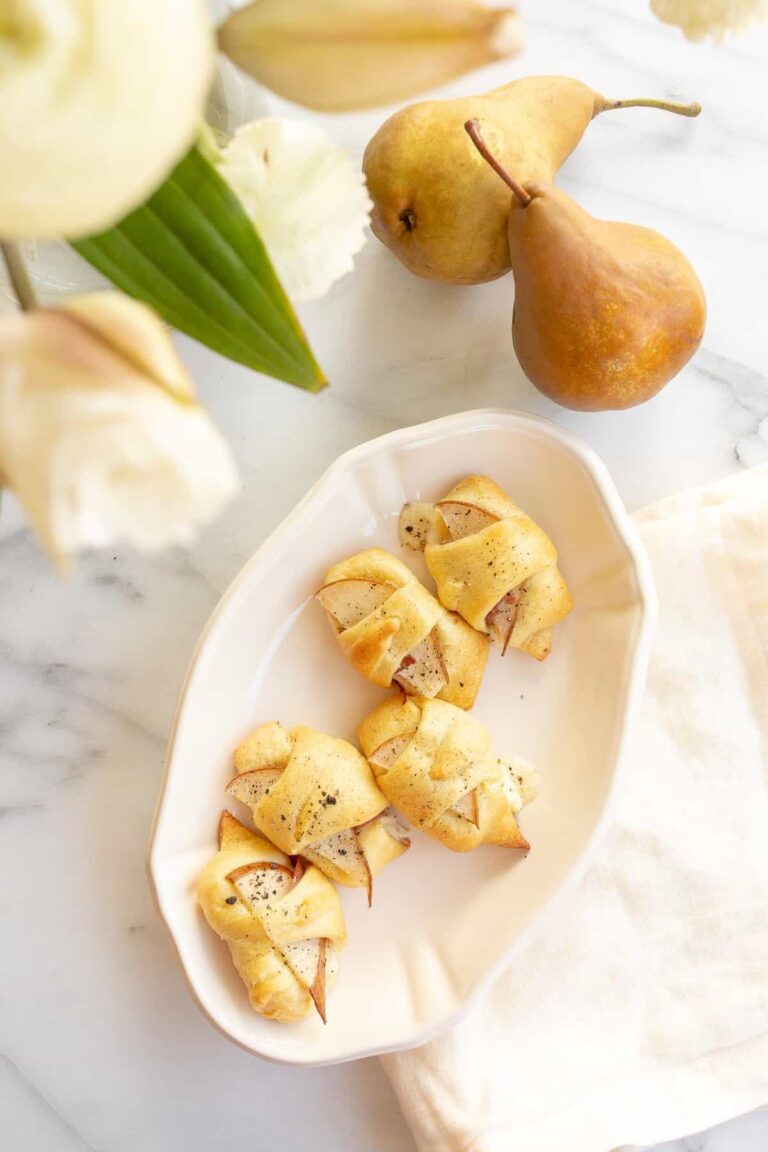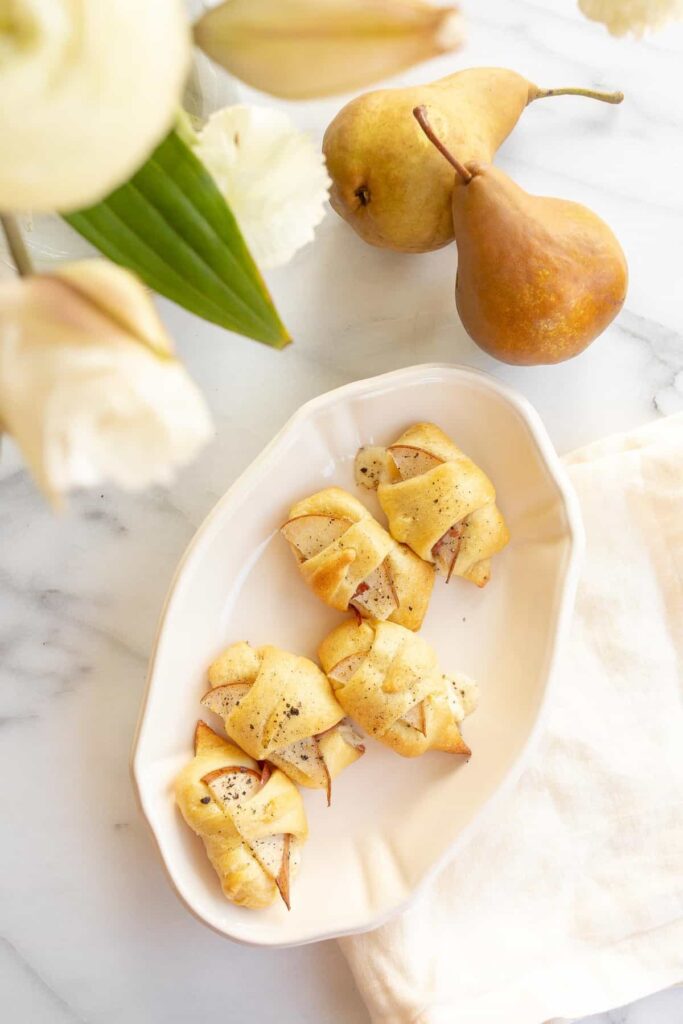 29. Baked crescent roll appetizers
I know, I sound like a broken record talking about all of the amazing sweet and savory combinations for delicious autumn appetizers. But it really does seem to be the quintessential flavor pairing for the fall season. Julie Blanner's baked cheese, pear, and prosciutto crescent roll appetizers feel so fancy but come together so quickly.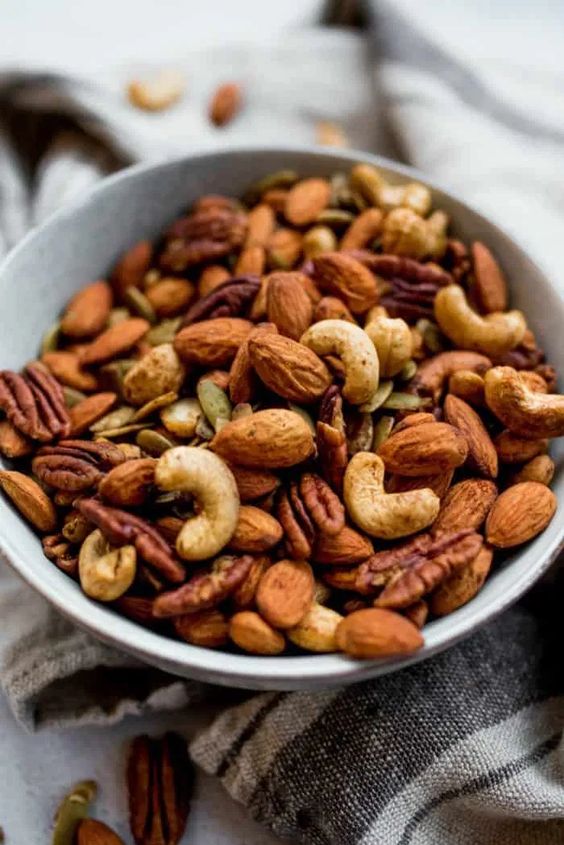 30. Roasted nuts
Reluctant Entertainer's cinnamon orange with vanilla roasted nuts make the perfect addition to any appetizer or dessert spread during the fall or holiday season. They also make a perfect housewarming, holiday, or teacher gift.
Did you make one or more of the easy fall appetizer recipes?

I want to see it! Tag your images #RoseClearfield on Instagram or Twitter or post a photo to my Facebook page. Make sure to tag the recipe creators as well!
Pin this post for easy access to the easy fall appetizer ideas later!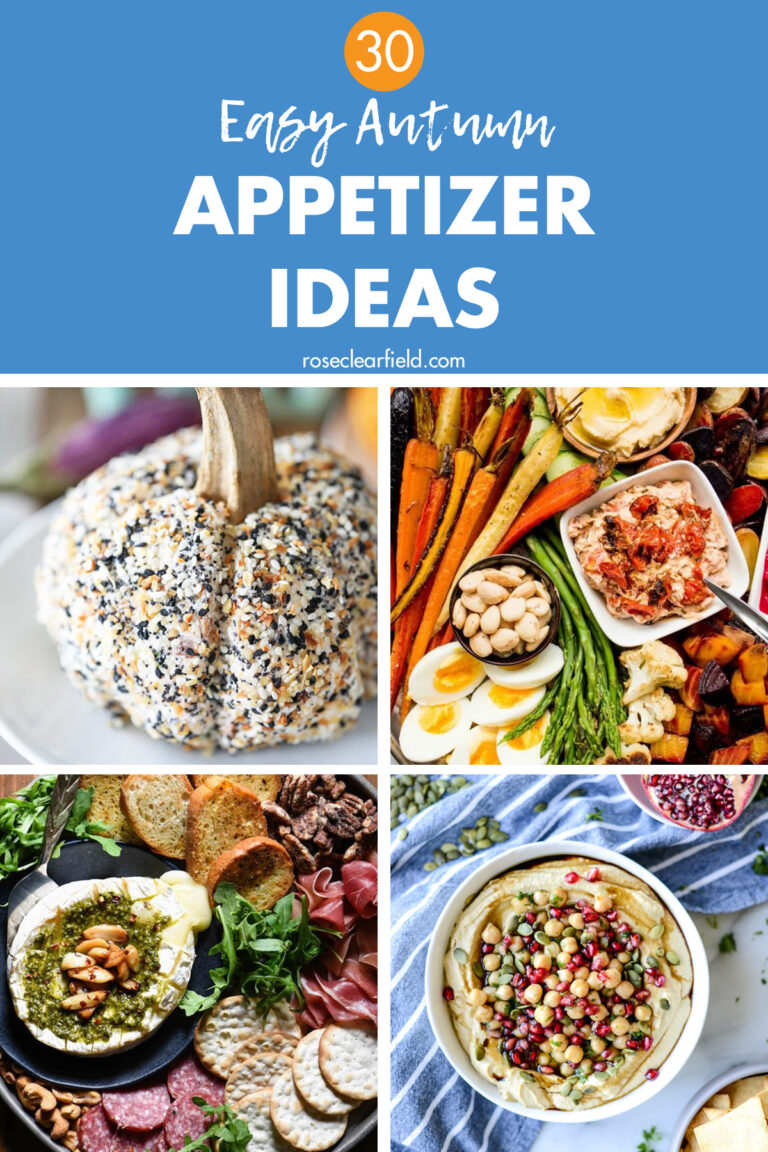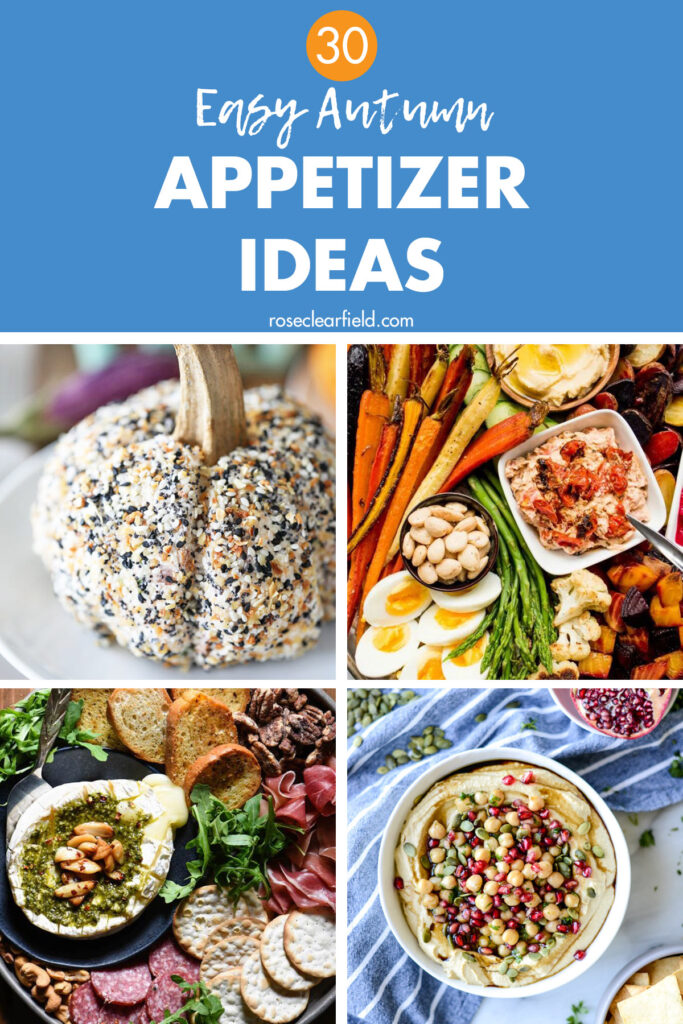 More fall party food inspiration: