The ultimate round-up of Chex mix recipes has you covered for every snack craving as well as any occasion that you need easy party food.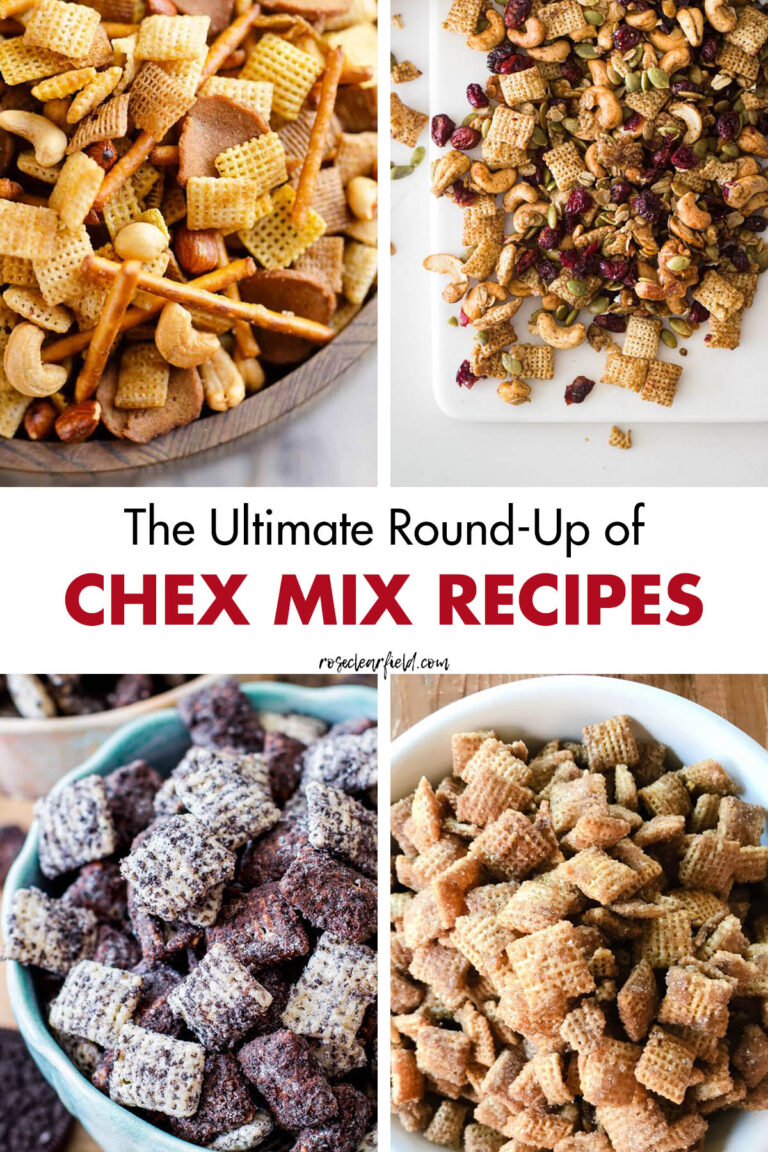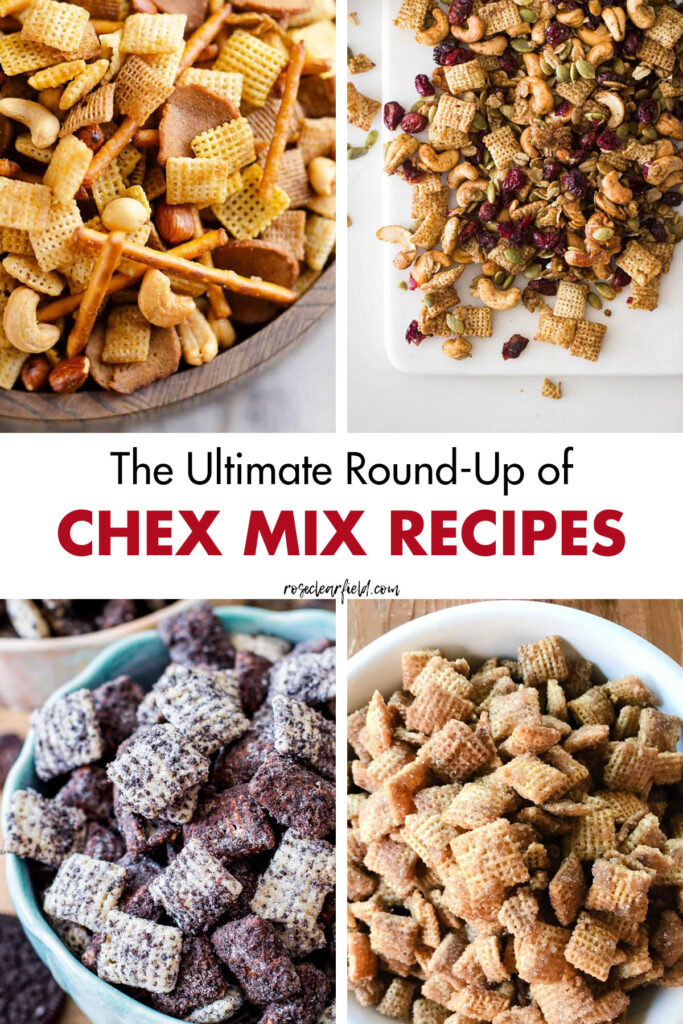 The ultimate round-up of Chex mix recipes includes a mix of more traditional Chex mix recipes with pretzels, crackers, nuts, etc. and muddy buddies or puppy chow recipes, which involve making a sweet coating for Chex cereal. Some recipes are super simple and come together in just 10 or 15 minutes while other recipes are a little more time-consuming and involve time cooking on the stove and/or in the oven.
There are recipes here that work well any time of the year as well as recipes that are geared more toward specific seasons and holidays. You'll always be able to find a snack mix that fits your particular occasion.
Once you become comfortable with making Chex mix, you'll learn what ingredients and combinations you prefer. From there, you can tweak recipes and even make up your own to suit your personal tastes and preferences.
What is the best method for making Chex mix?
The best method for making Chex mix is to bake it in the oven. Baking Chex mix ensures an even crunchy texture that will stay crunchy for several days. You cannot achieve the same results in the microwave. Puppy chow or muddy buddies recipes are no-bake and simply require the microwave to melt the chocolate.
I have not included any Chex mix recipes that call for the slow cooker. You can use a slow cooker to make Chex mix. But it's much messier and doesn't yield as good of results as baking in the oven.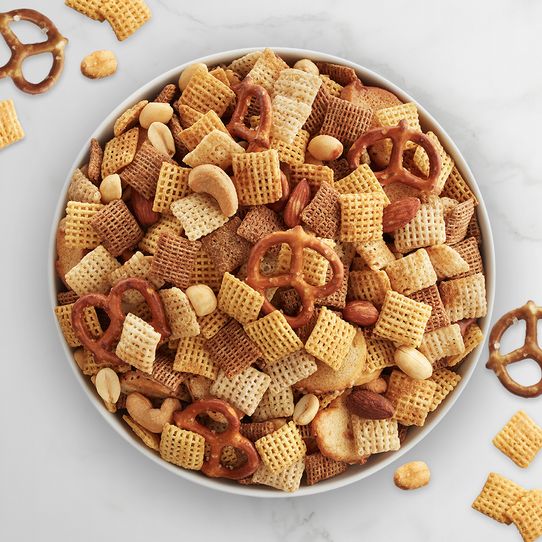 1. Original
You can't go wrong with the original Chex's Chex mix recipe. It's stood the test of time for decades and only takes 15 minutes to make. The original Chex mix is everything you want in a savory snack mix.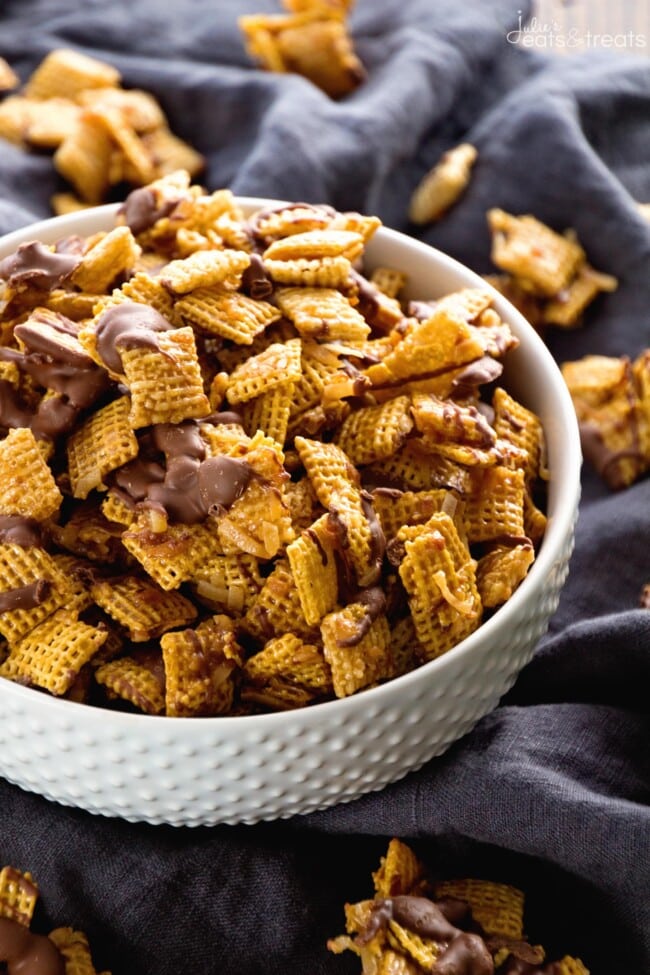 2. Samoa
Julie's Eats and Treats' Samoa Chex mix is an easy snack mix loaded with toasted coconut and chocolate and smothered in caramel. When you're craving the cookies, this snack mix is the next best thing, possibly better because it's even crunchier with a hint of saltiness.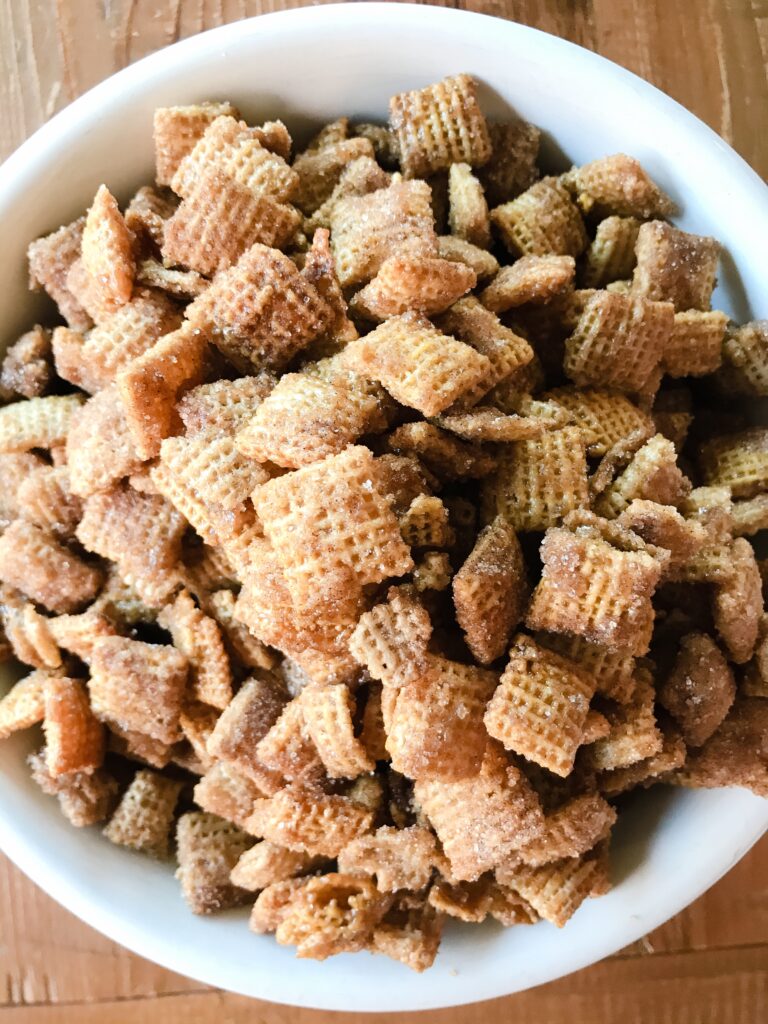 3. Churro
Churros are one of my favorite treats at baseball games and state fairs. I love that people have captured the amazing flavor of churros in a snack mix. 3 Boys and a Dog has a churro puppy chow recipe while Swanky Recipes has a more traditional churro Chex mix recipe with pretzels and several types of cereal, finished with a churro sauce and crumbled topping. Stickers and Stilettos also has a caramel churro Chex mix (pictured).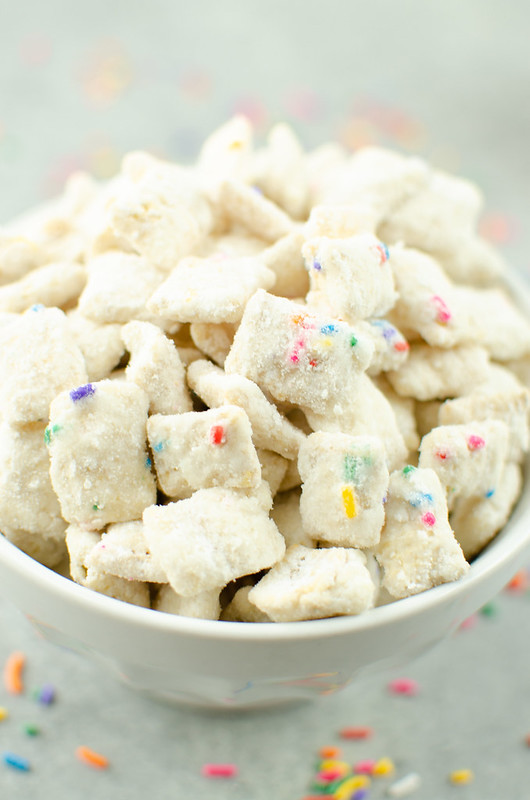 4. Funfetti
Fake Ginger's Funfetti muddy buddies recipe is the ultimate treat for anyone who is a fan of Funfetti cake. The recipe calls for the actual boxed cake mix to ensure you'll get that flavor that you love so much.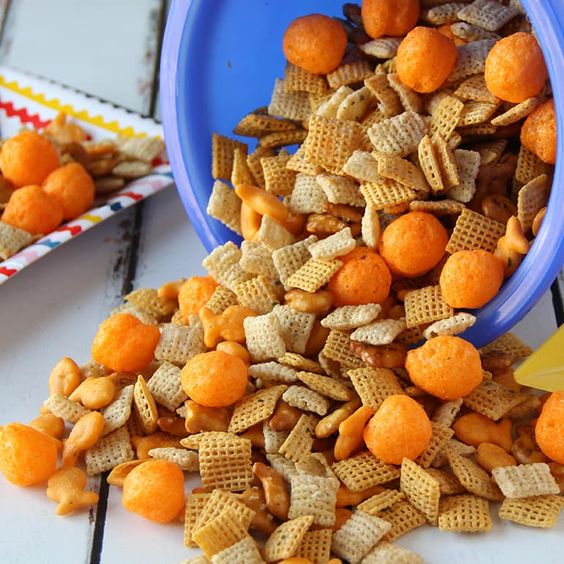 5. Beach ball
How cute is Chex's beach ball Chex mix? It features cheese puffs for the beach balls and is the ultimate summer party food.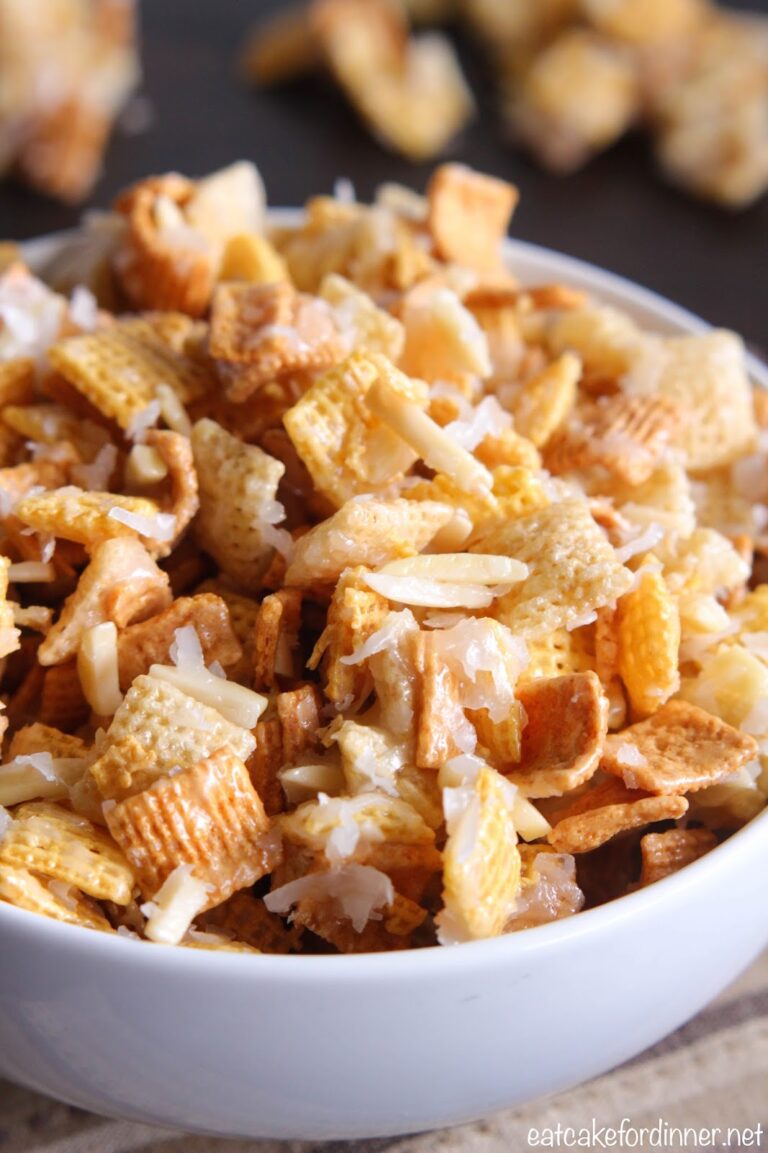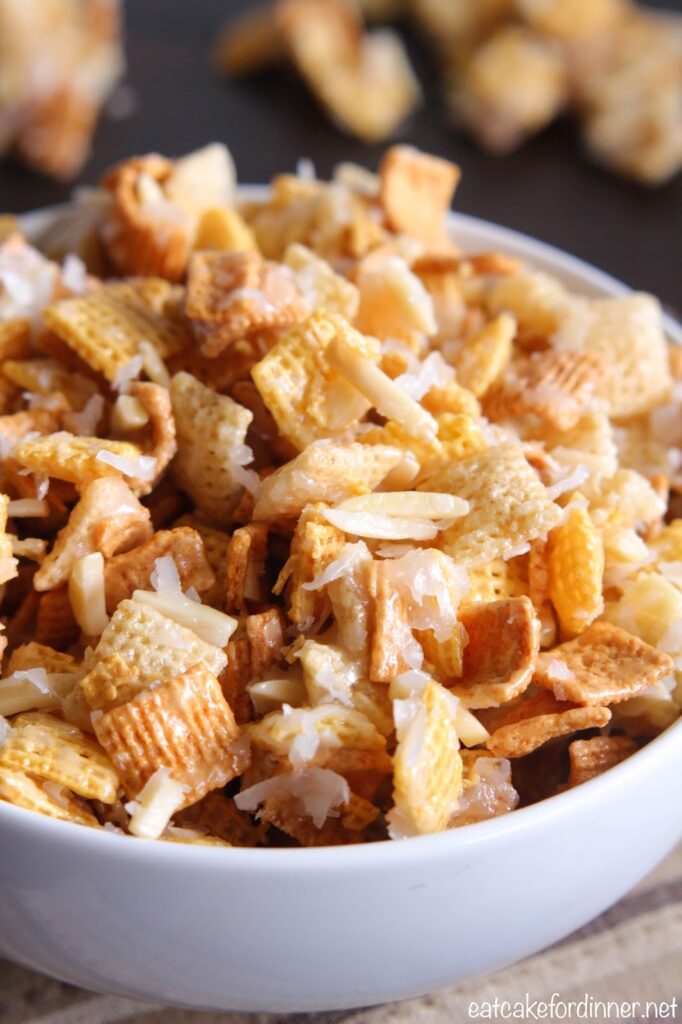 6. Coconut almond
Why isn't almond and coconut a more popular flavor pairing in desserts? Eat Cake for Dinner's mom's coconut almond Chex mix will have you wanting to put almond and coconut together in everything.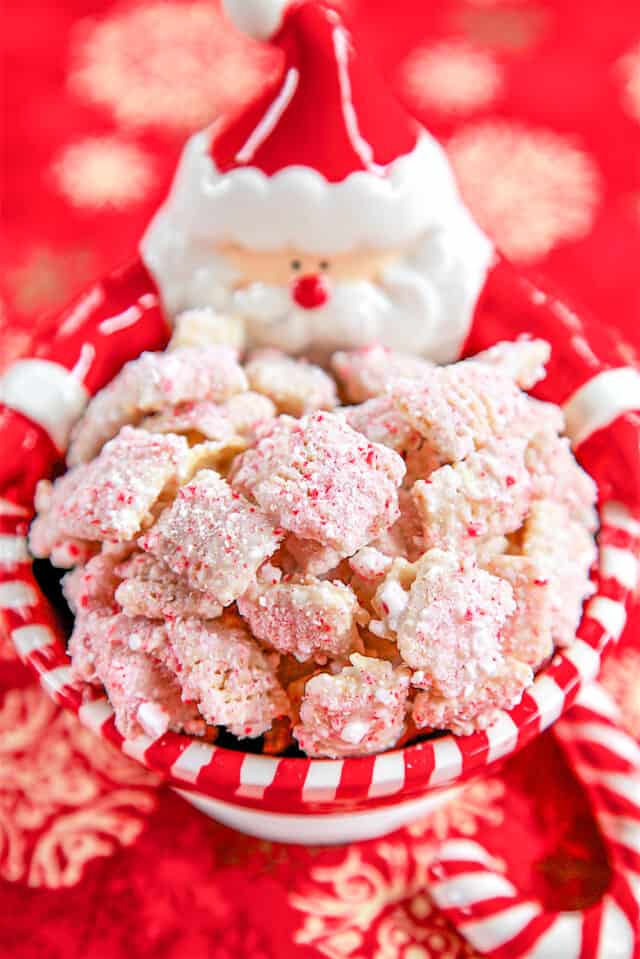 7. Candy cane
Candy cane Chex mix is one of those snacks that you wouldn't want all year round but it makes for an amazing holiday treat. Plain Chicken's white chocolate candy cane Chex mix is just three ingredients and comes together in minutes. The recipe is ideal for Christmas parties and food gifts.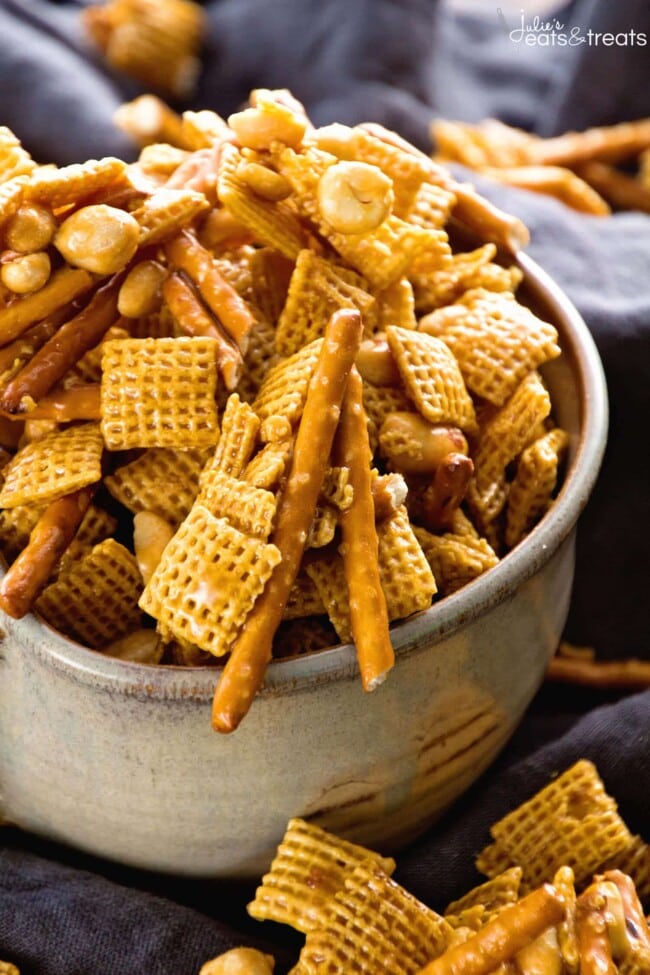 8. Caramel
Julie's Eats and Treats' caramel Chex mix offers the perfect blend of sweet and salty. Chex, pretzels, and peanuts are coated all coated in caramel.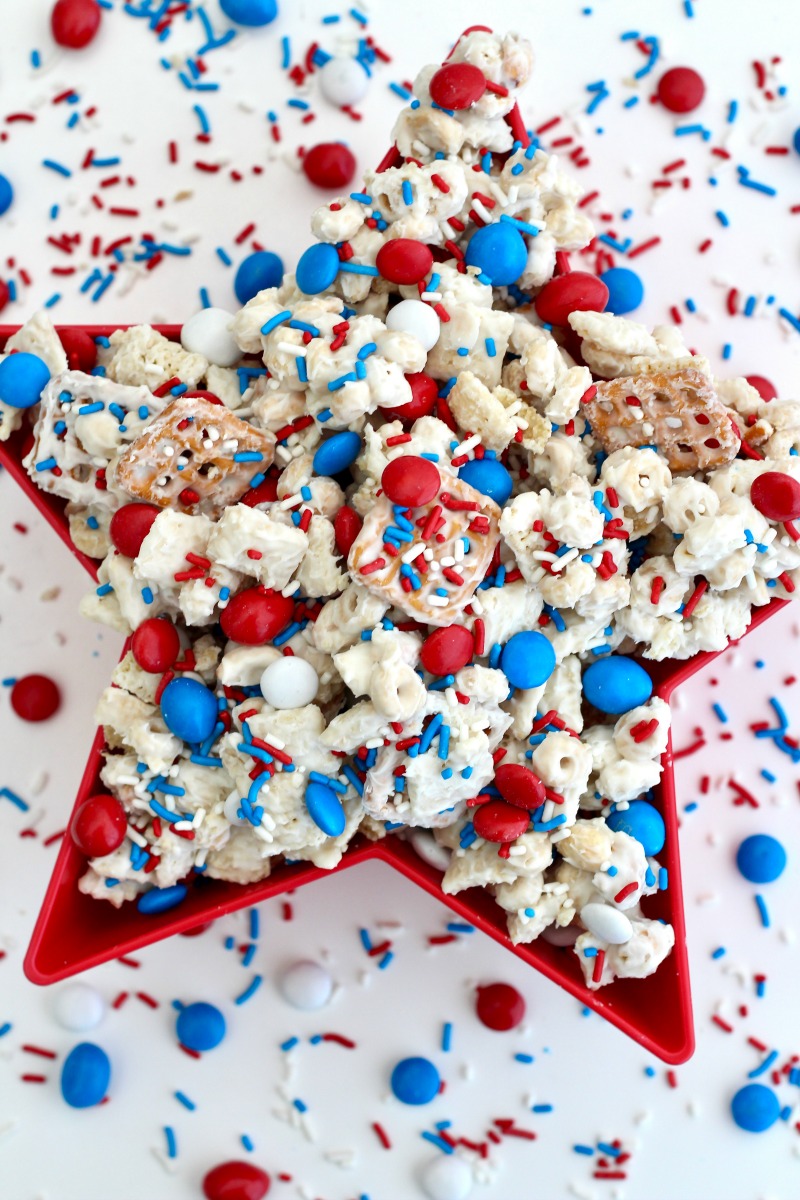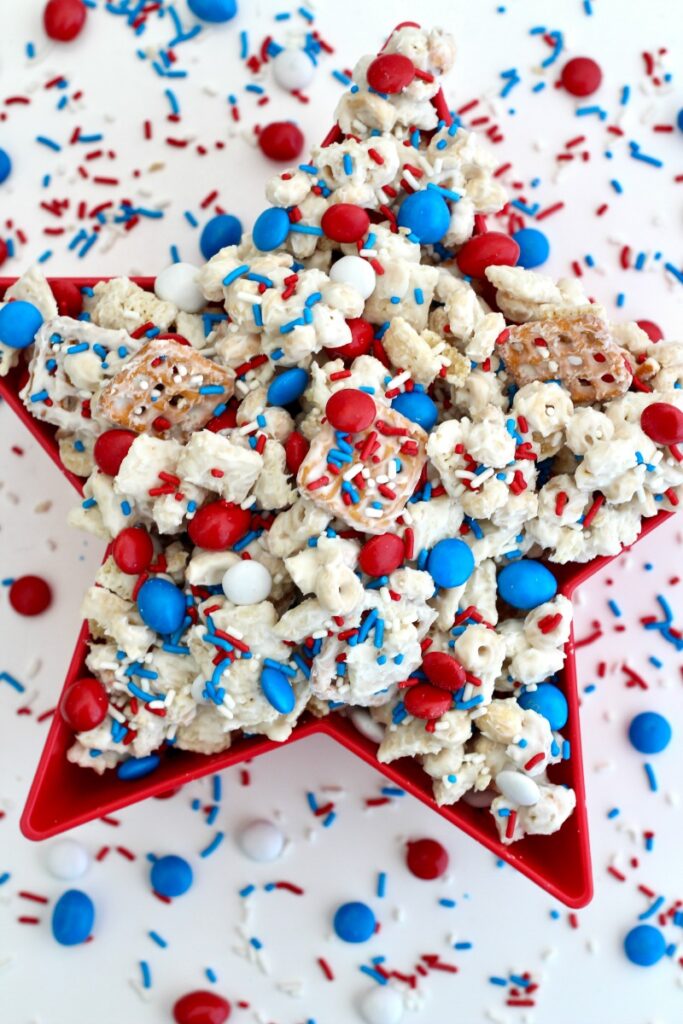 9. Patriotic
Memorial Day or the 4th of July is the perfect excuse to try The Baker Mama's patriotic party mix, which has so much crunch and is so festive.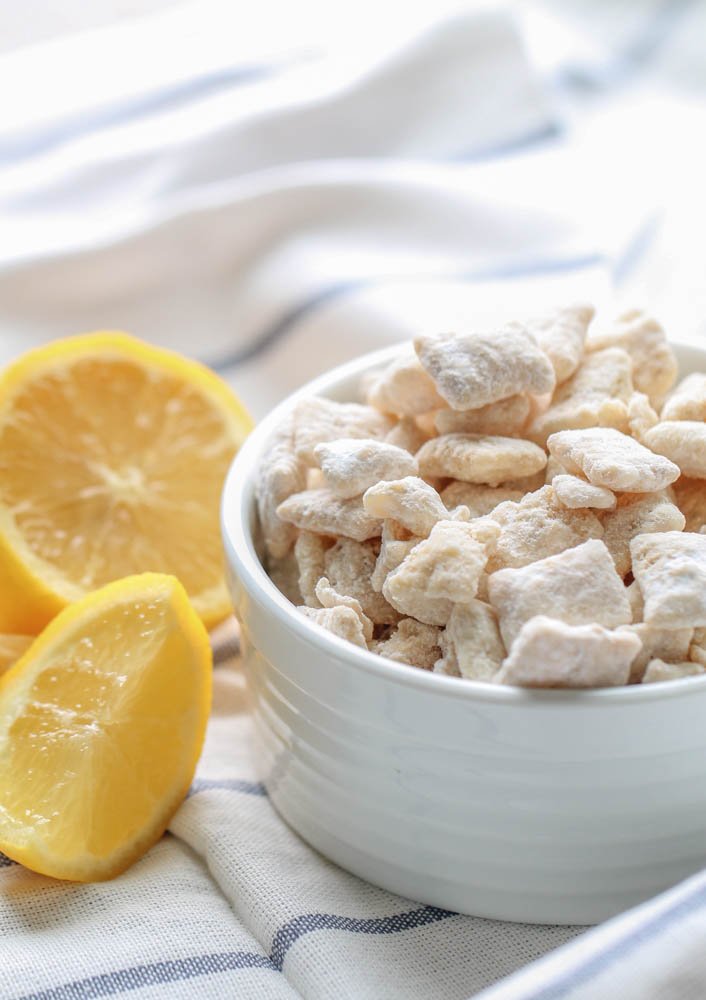 10. Lemon
Six Sisters Stuff's lemon Chex mix is a fun Chex mix recipe for summer. It's your classic muddy buddies recipe but with lemon. No one will expect this flavor but everyone will love it.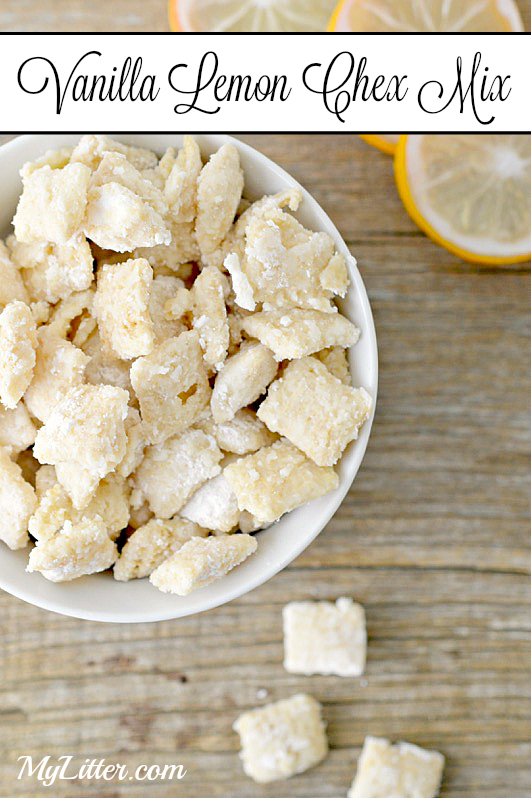 11. Vanilla lemon
My Litter's vanilla lemon Chex mix is the perfect combination of sweet and sour. I love the concept of using vanilla baking chips. I would add a splash of vanilla extract as well.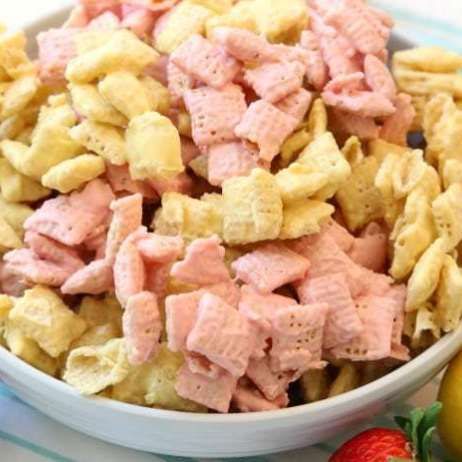 12. Strawberry lemonade
As the lemonade Chex mix recipes are the same as the lemon Chex mix recipes, if you're looking for a different twist on the lemon concept, try Butter With a Side of Bread's strawberry lemonade Chex mix. Boxed Jell-O pudding gives this Chex mix its great strawberry and lemon flavors.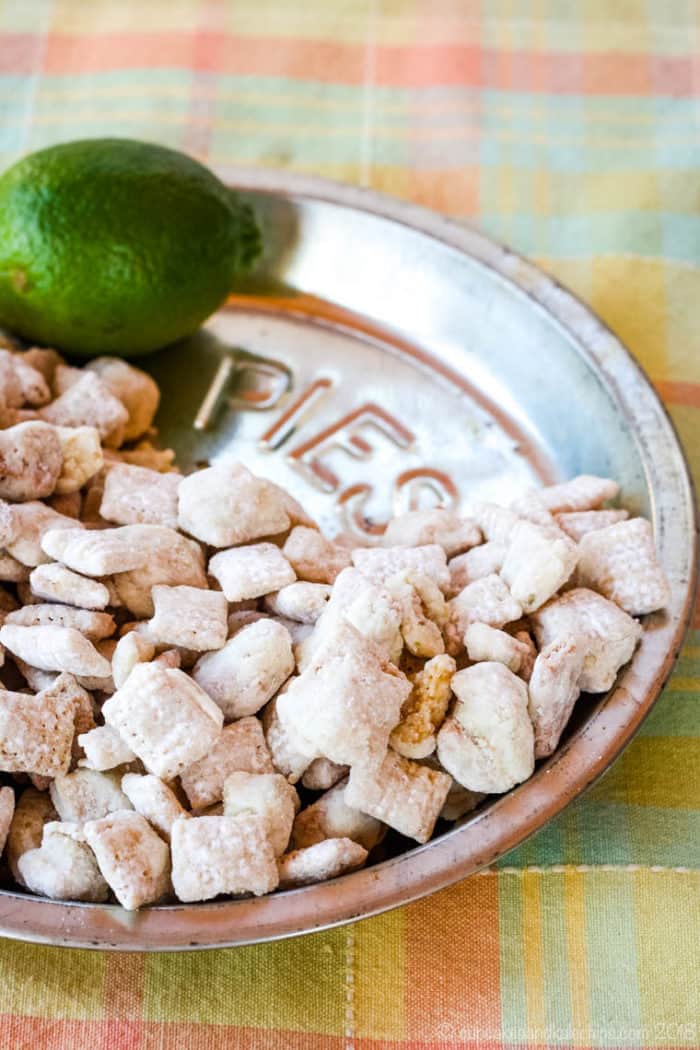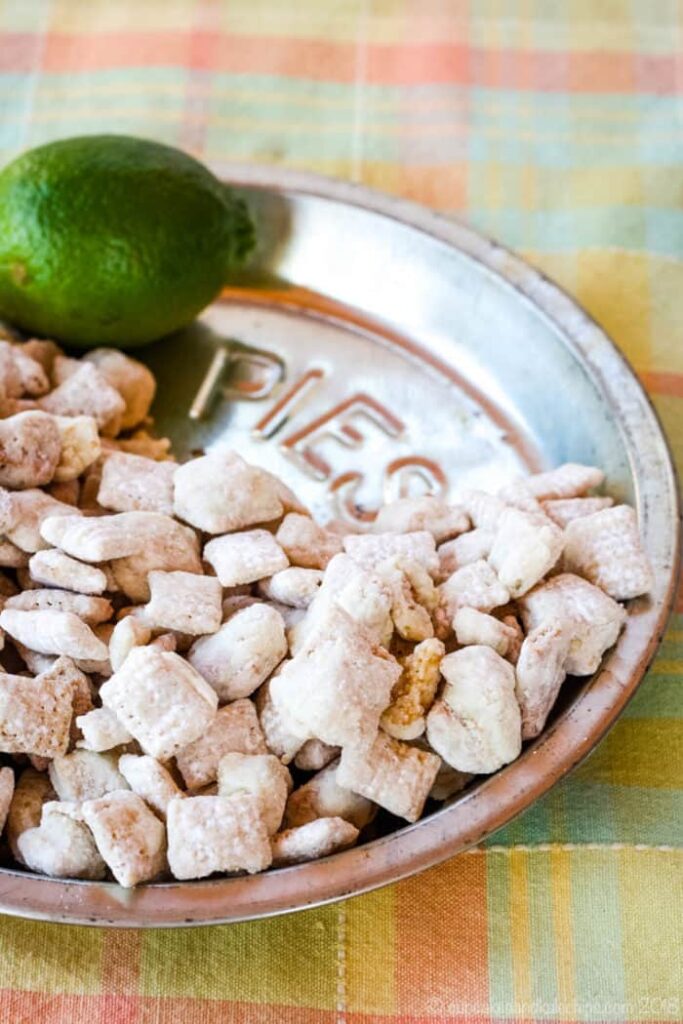 13. Key lime
When you're craving something sweet and not in the mood for chocolate, Cupcakes and Kale Chips' key lime pie muddy buddies are a great alternative to lemon Chex mix. I love that her recipe includes graham crackers, like a pie crust, and both lime juice and lime zest.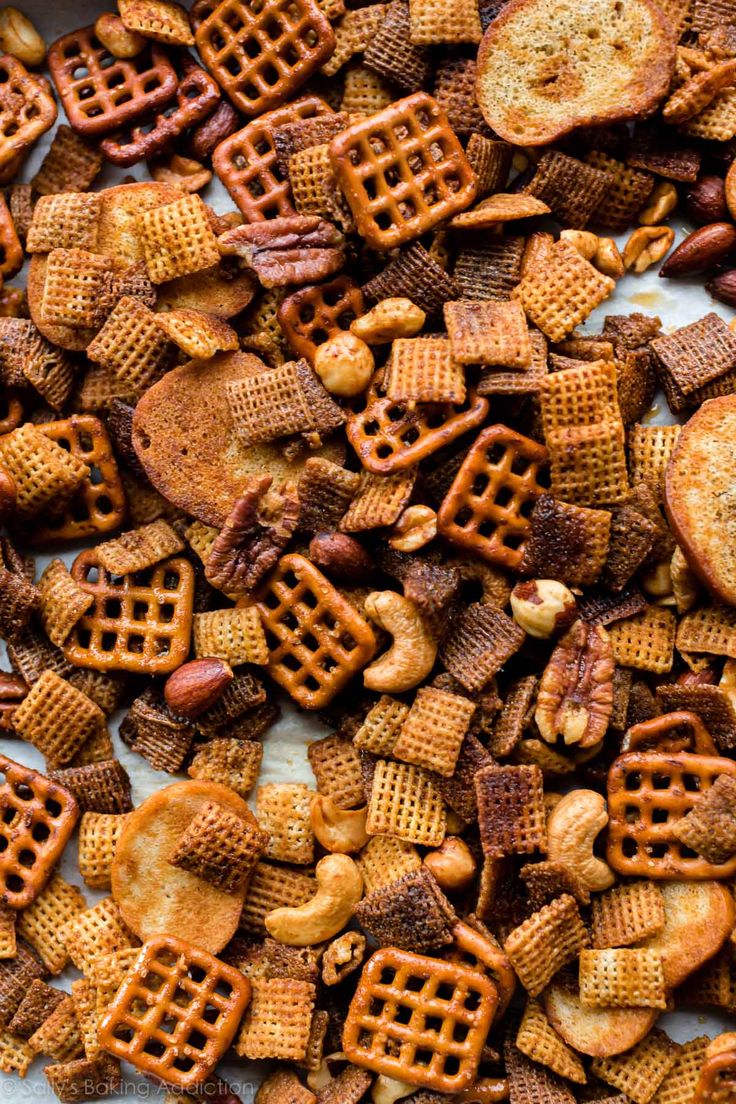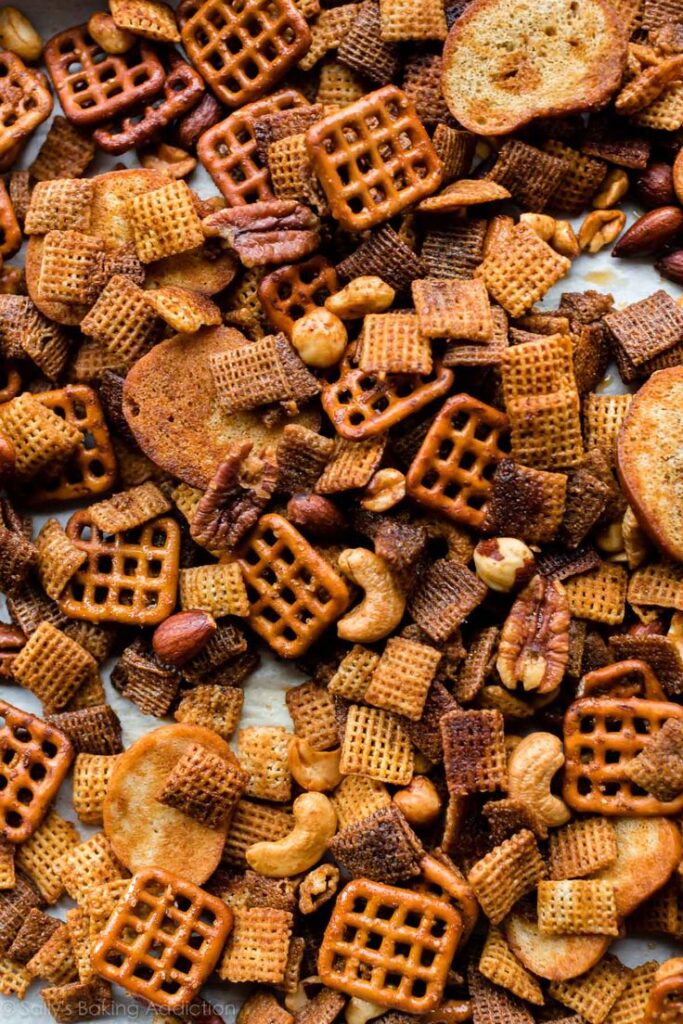 14. Sweet and spicy
When you're ready for a change from sweet and salty snack mixes, make Sally's Baking Addiction's sweet and spicy honey Chex mix. It has an abundance of flavor and texture and comes together quickly and easily. You can amp up the sweet or the spice as you like.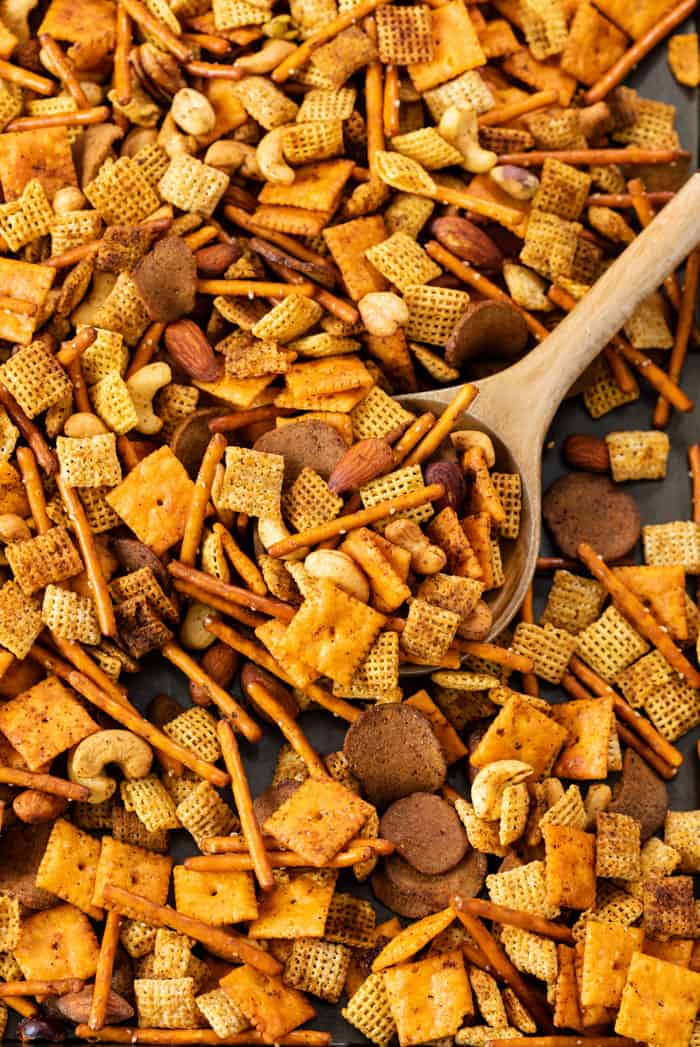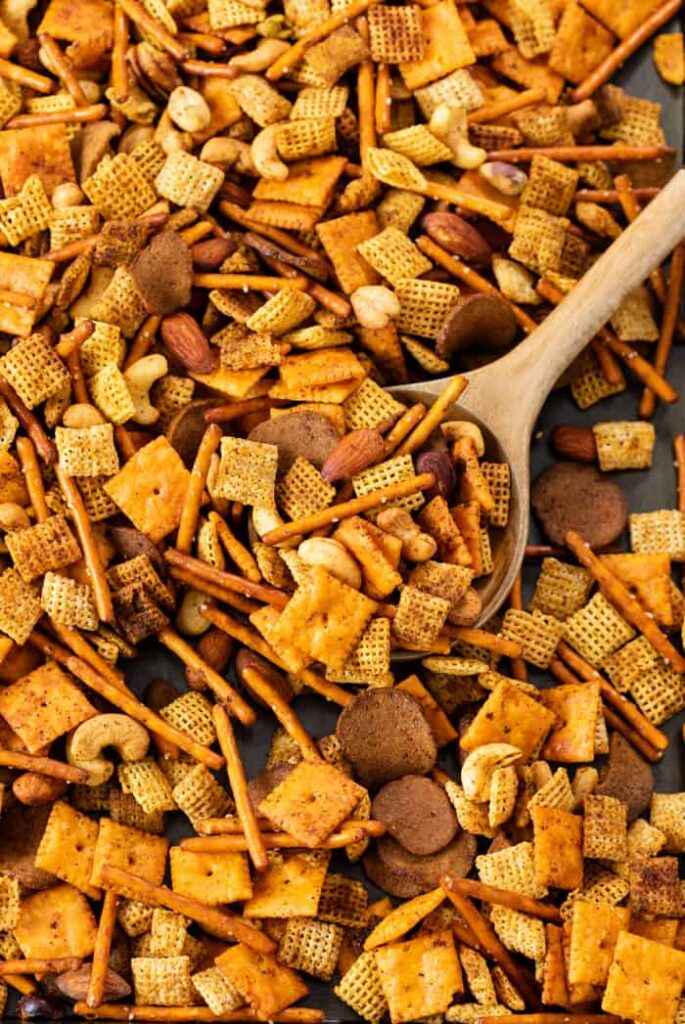 15. Spicy
The Cozy Cook's spicy Chex mix features chili powder, Worcestershire sauce, Tabasco sauce, and garlic powder to give it lots of flavor and just the right amount of kick. I love that the recipe calls for lots of nuts for added depth of flavor.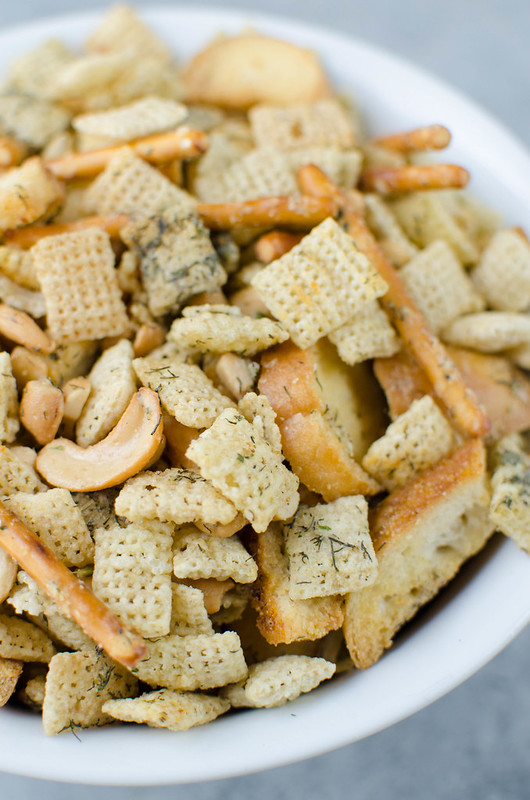 16. Dill pickle
Fake Ginger's dill pickle Chex mix isn't for everyone. But if you really love pickles, you'll go crazy for this snack mix, in which Chex, bagel chips, pretzels, and cashews are coated in a buttery dill pickle and Ranch seasoning.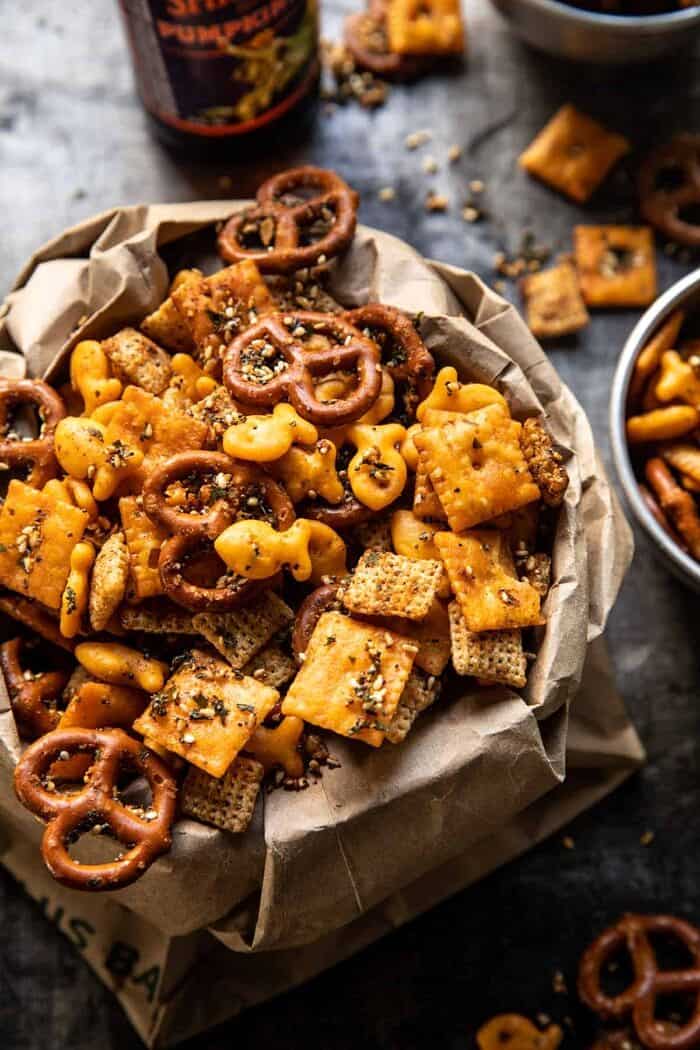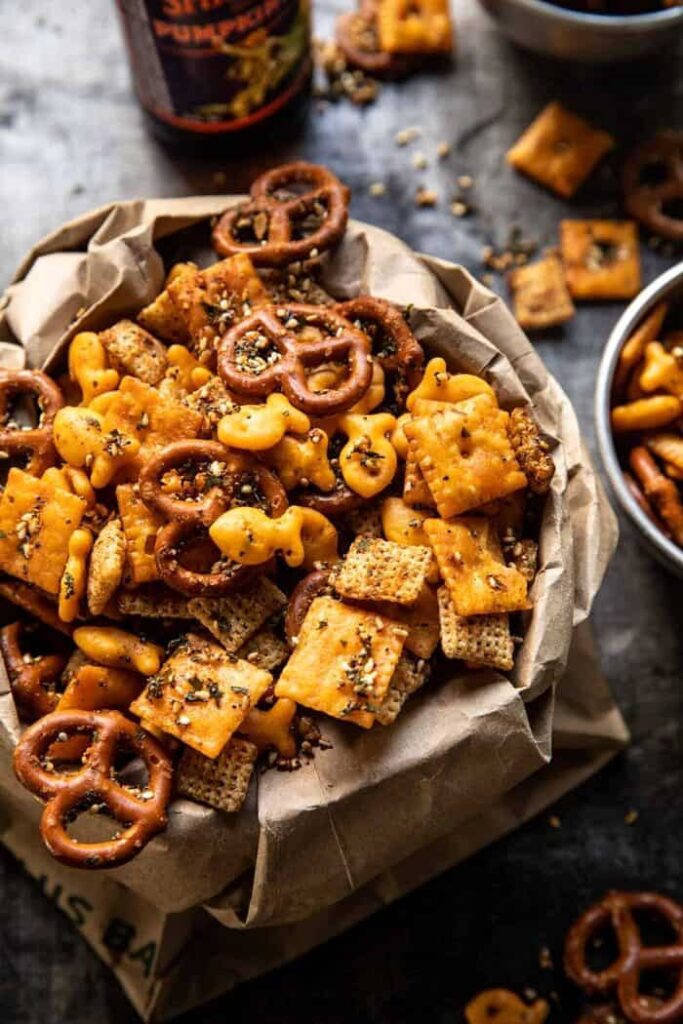 17. Everything Ranch
I know that everything seasoned is way overplayed. But it's just right for Half Baked Harvest's everything Ranch cheese Chex mix. She takes the flavor over the top with everything bagel spice and homemade Ranch seasoning.
18. Parmesan Ranch
Parmesan is another great ingredient to take Ranch up a notch. Super Healthy Kids' Parmesan Ranch Chex mix is the ultimate game-day snack that everyone is sure to love. She has a super cute idea for serving it in football cups.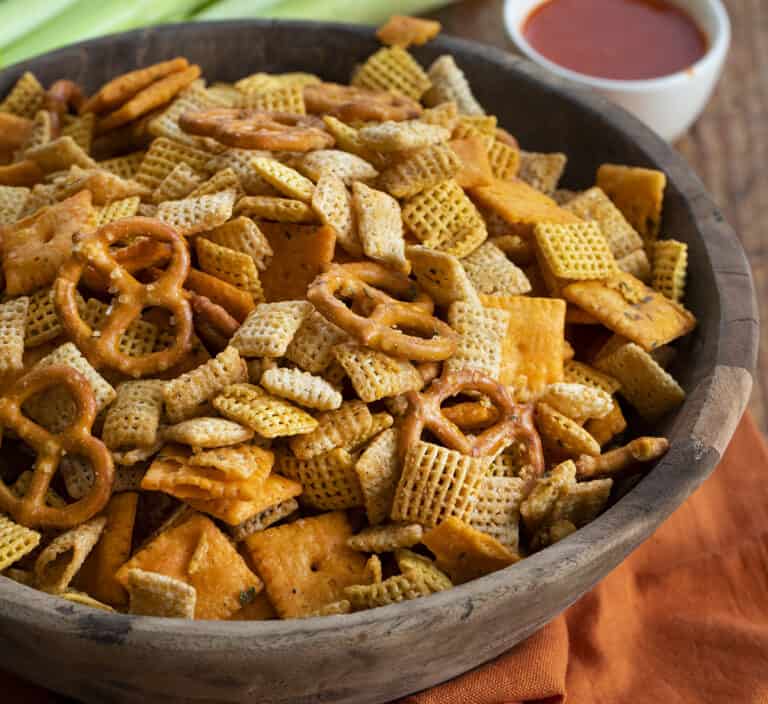 19. Buffalo
I am Homesteader's buffalo Chex mix is another ideal game-day snack. When you need a new buffalo recipe in your rotation, you can't go wrong with a tried-and-true snack mix. In classic form, Ranch balances out the heat from the buffalo sauce perfectly.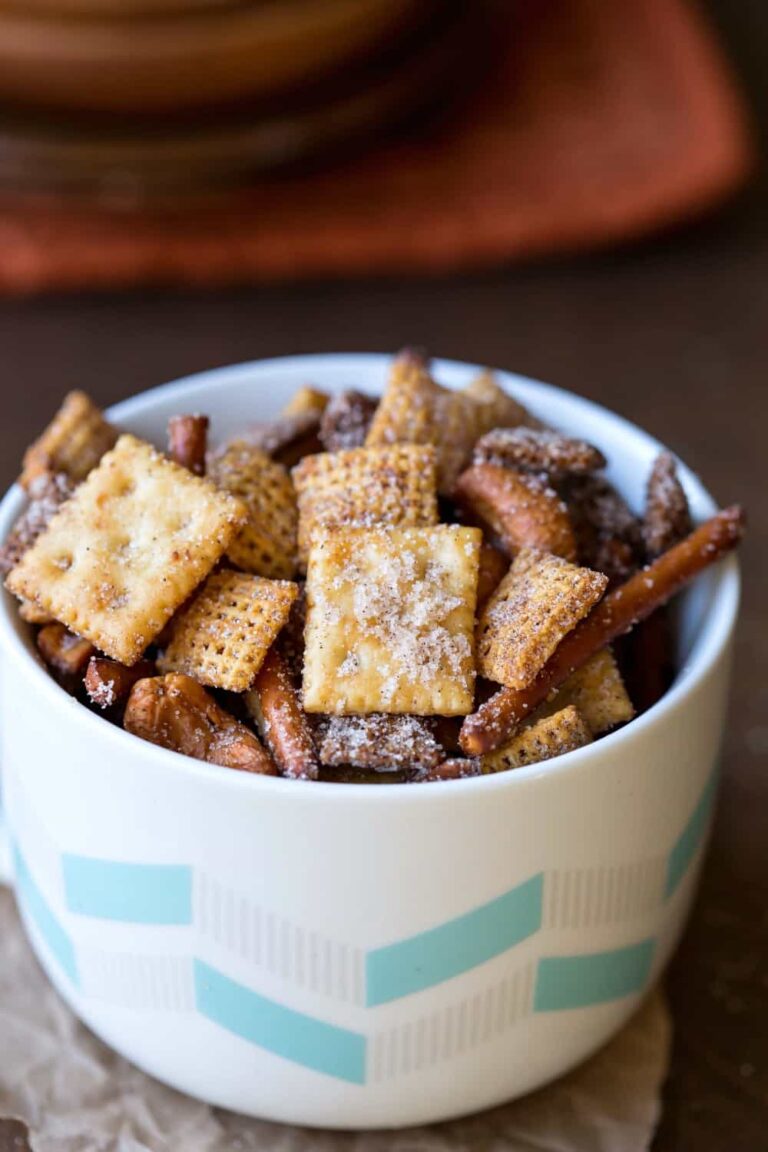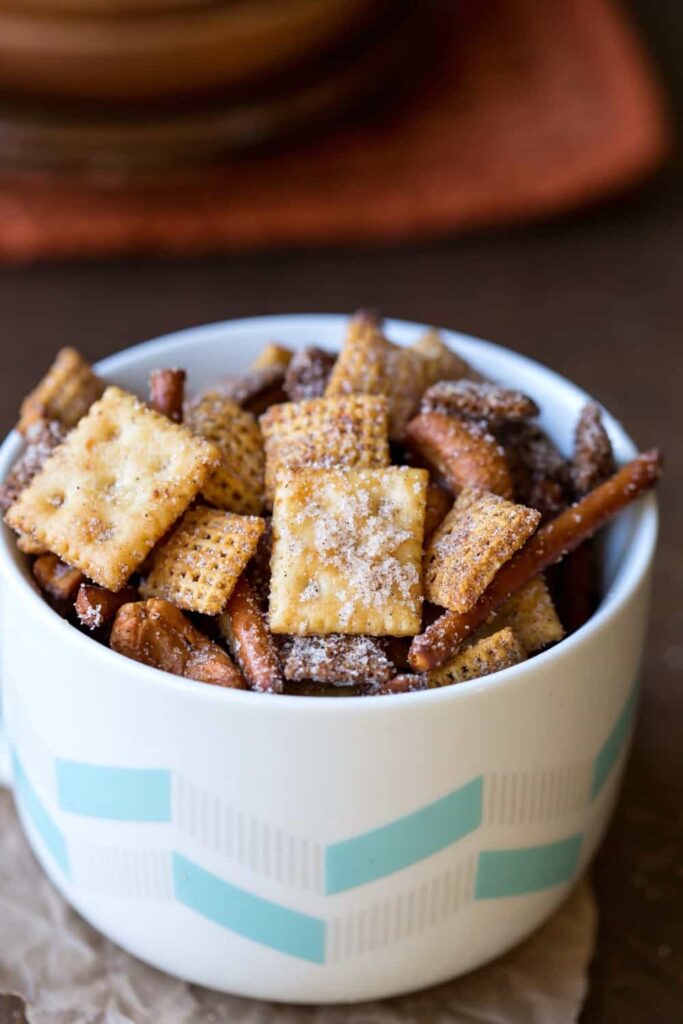 20. Cinnamon sugar
I Heart Eating's cinnamon sugar Chex mix is the ideal snack mix for those of us who are crazy about cinnamon sugar. You get the ultimate combination of sweet and salty in a completely addictive snack mix.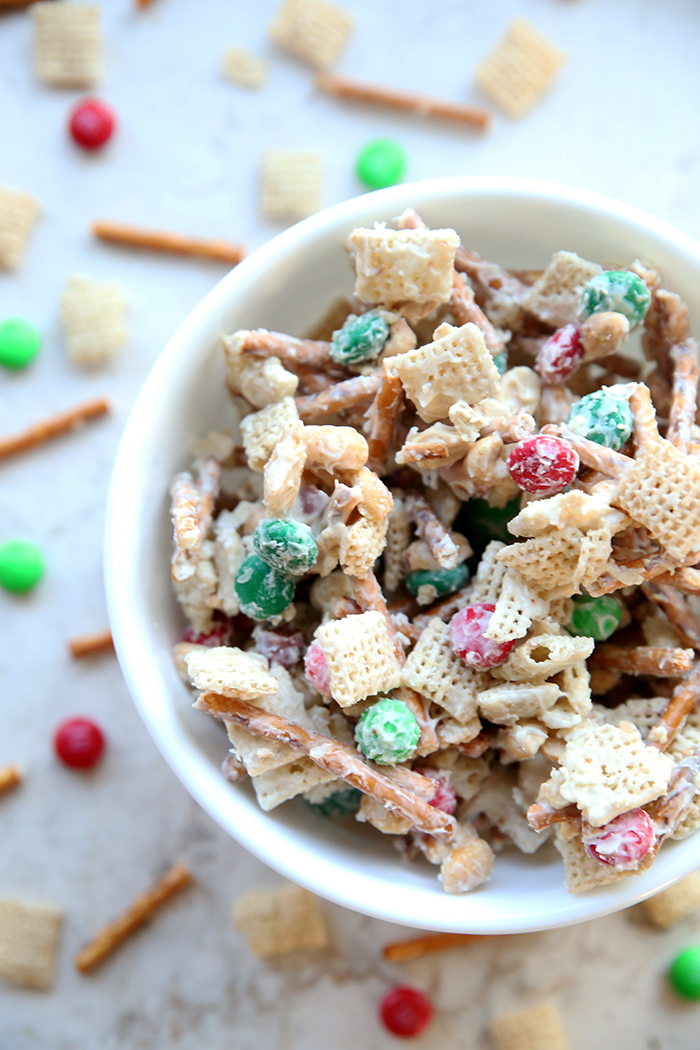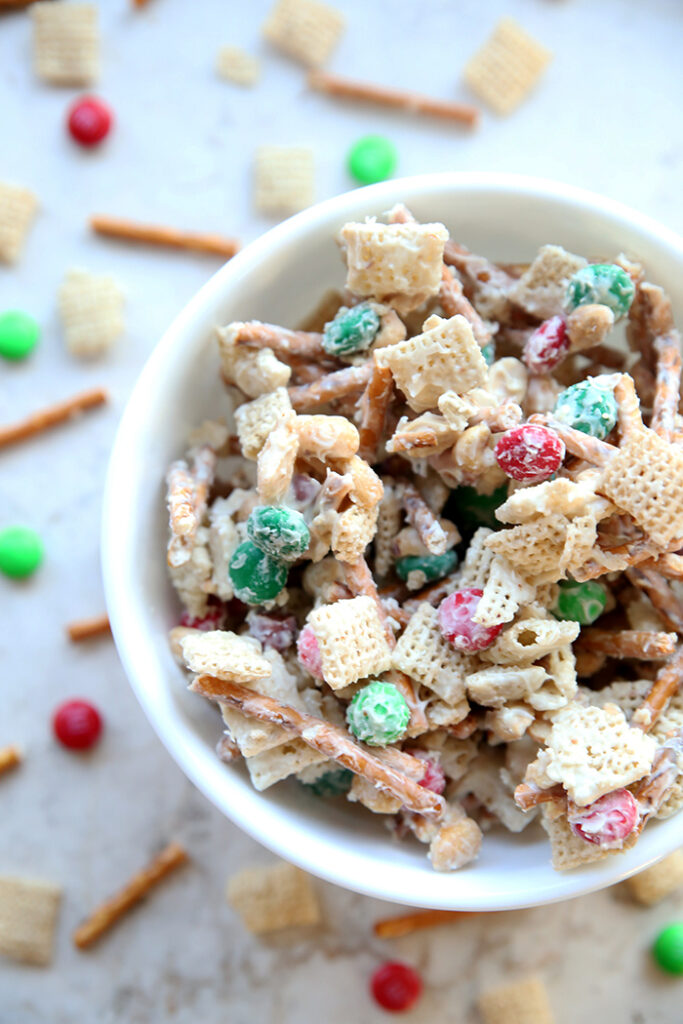 21. Christmas crack
Normally, I don't love using the word "crack" to describe food. But Real Life Dinner's Christmas crack Chex mix is one of those foods that you seriously can't stop eating. Red and green M&Ms make it so festive.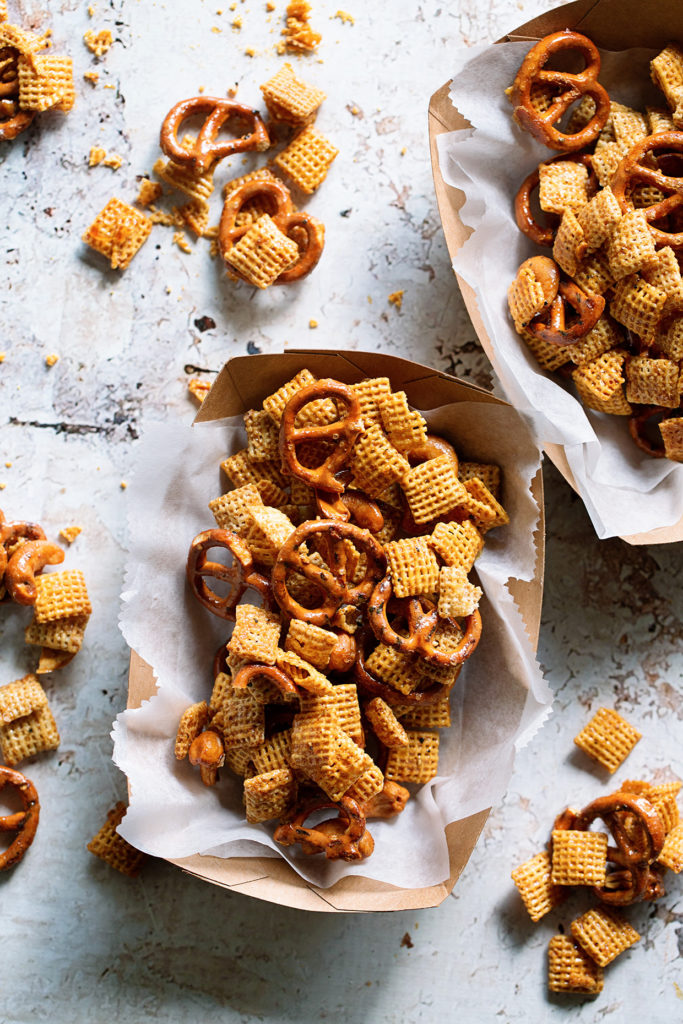 22. Maple bacon
Somehow I only have one Chex mix recipe in this round-up that includes bacon, and this is it. You will love the depth of salty flavor that it adds to Real Food by Dad's sweet and spicy maple bacon Chex mix.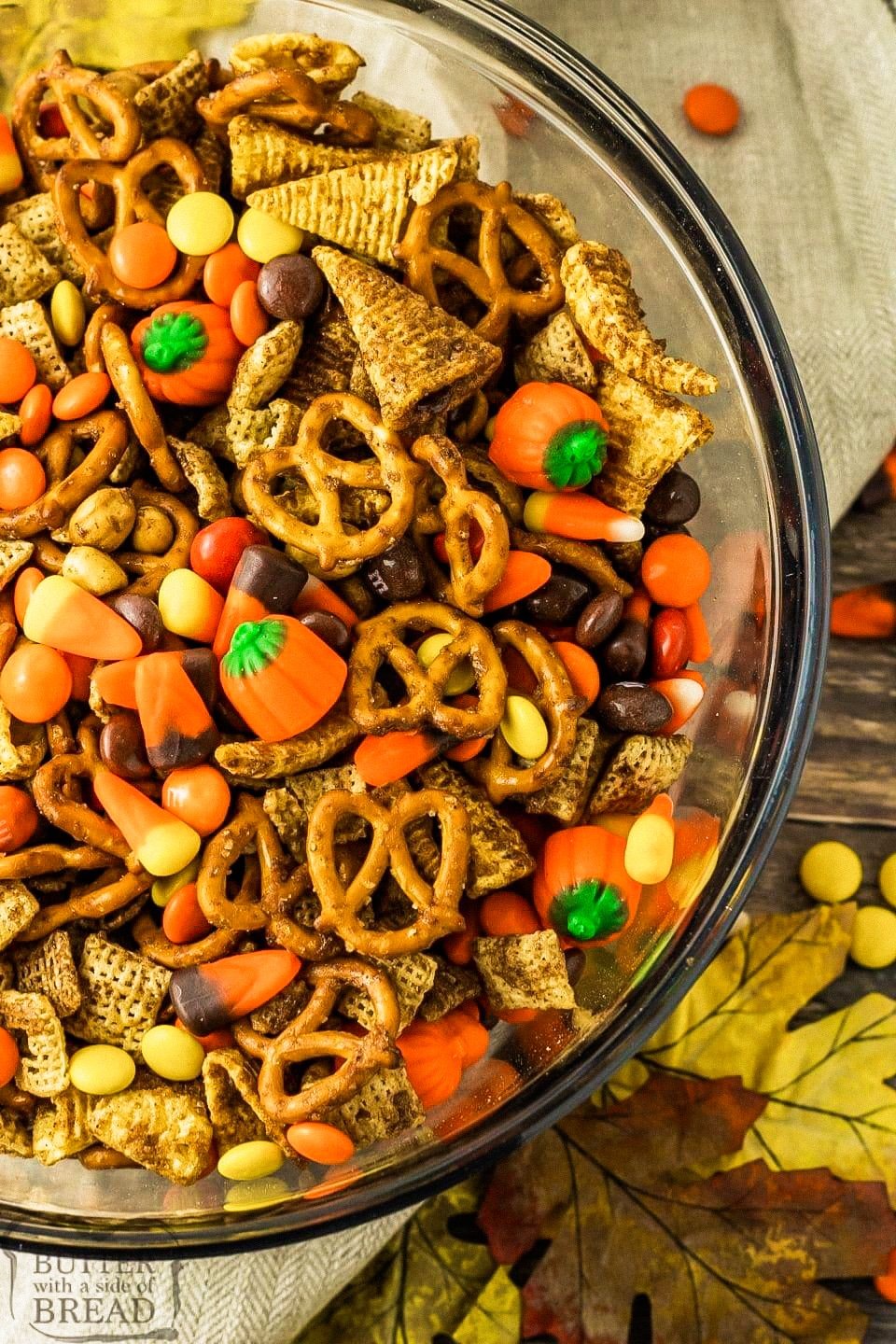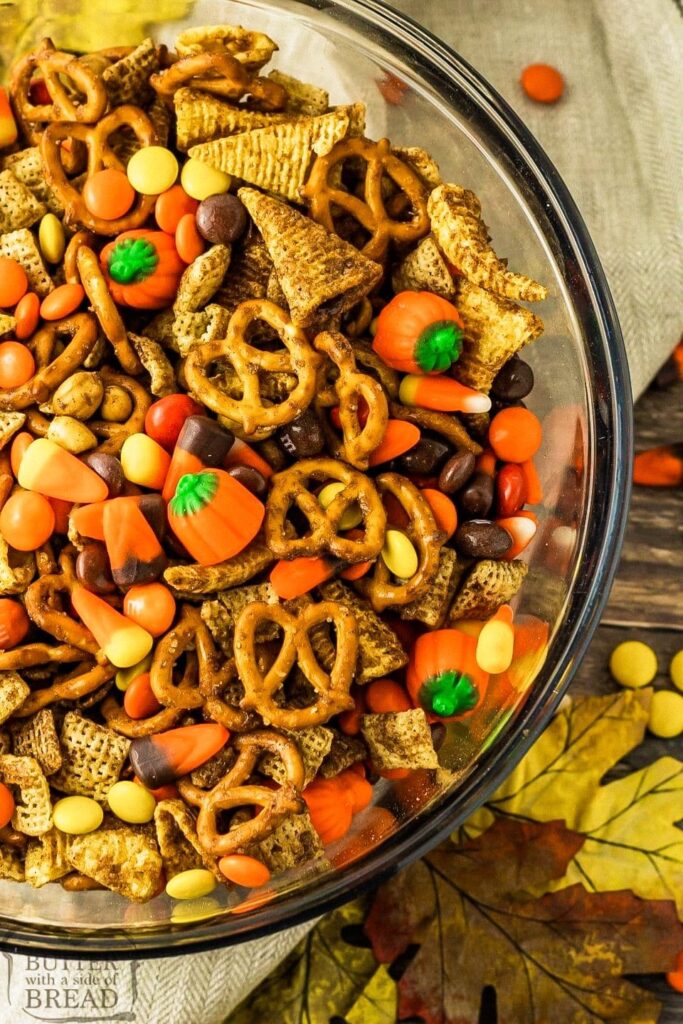 23. Harvest hash
Nothing says fall quite like candy corn. Butter with a Side of Bread's harvest Chex mix is the perfect excuse to pick up an extra bag. Having it as part of a sweet/salty mix helps cut the sweetness a little bit.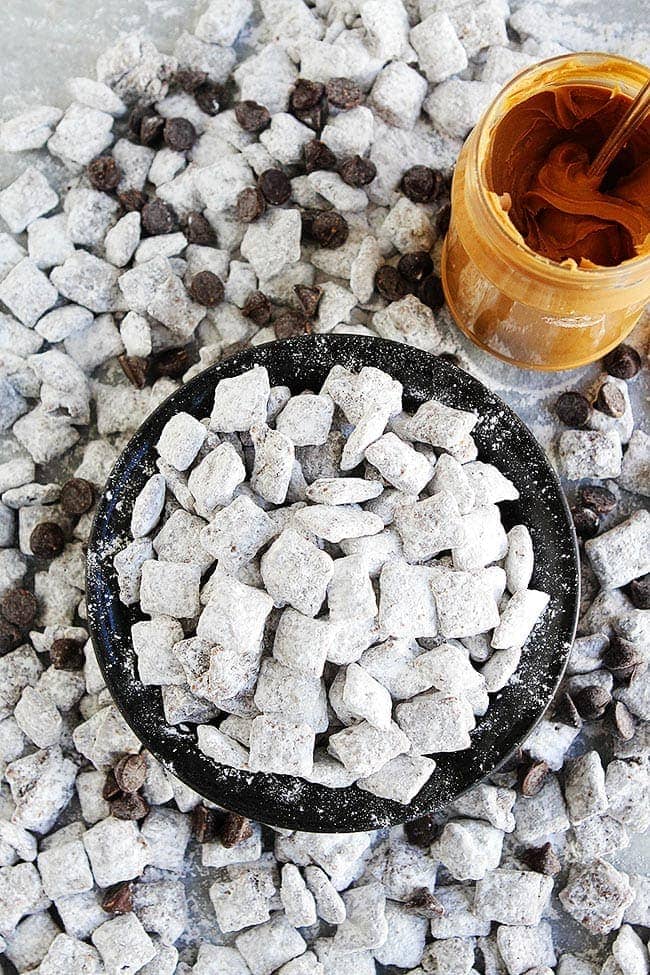 24. Peanut butter
When you need classic party food, go with Two Peas and Their Pod's puppy chow. You can't beat the chocolate and peanut butter combination, and Maria's recipe could not be simpler.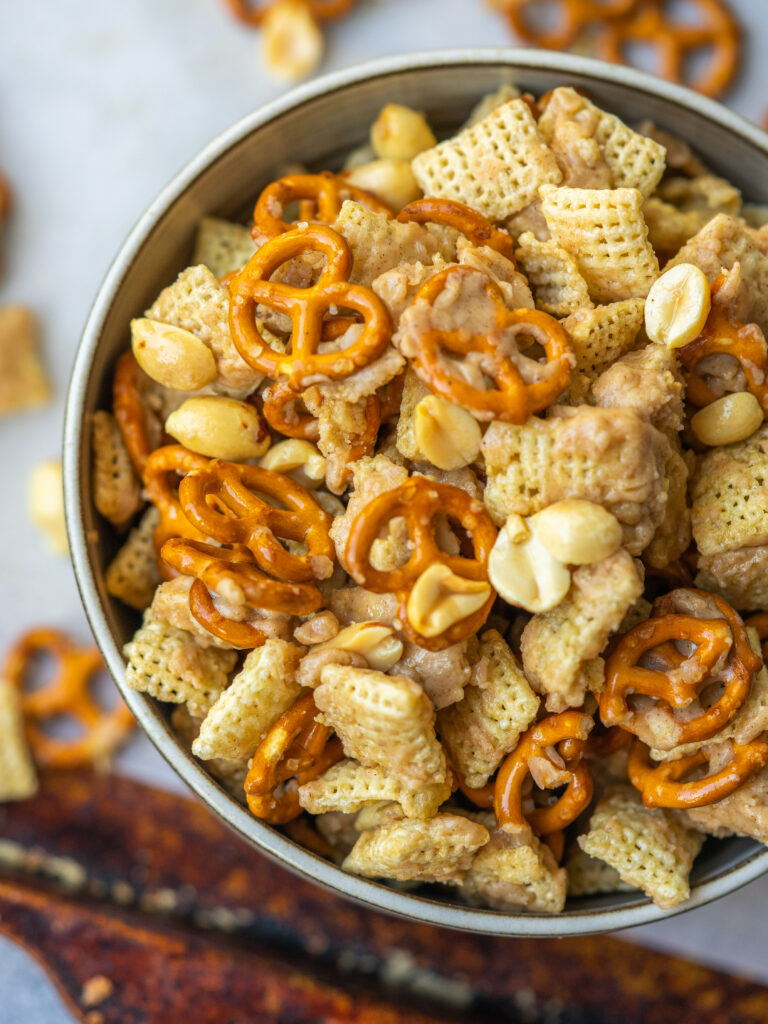 25. Maple cinnamon
Mad About Food's maple cinnamon Chex mix is the perfect snack mix for the fall season. Simply mix your ingredients together, and toss them in a maple white chocolate sauce.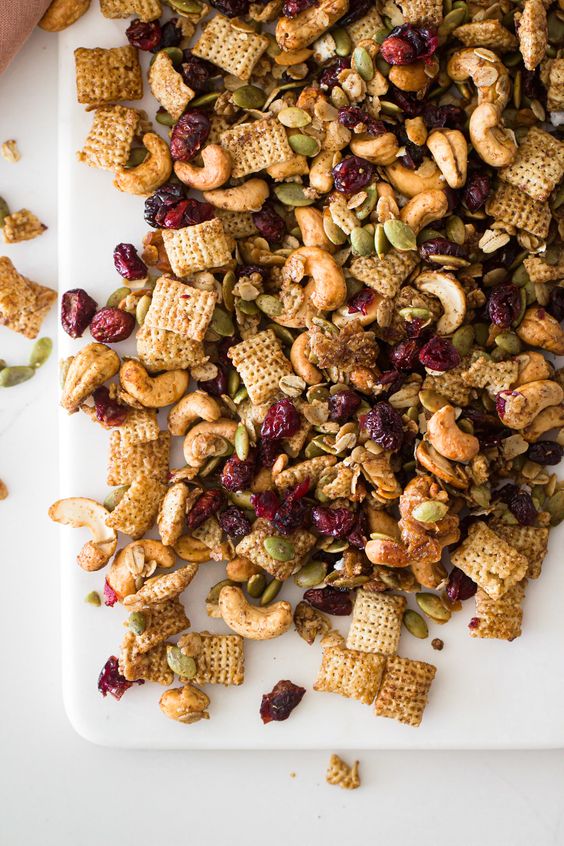 26. Pumpkin spice
Jaylynn Little's pumpkin spice Chex mix brings in wonderful fall flavors with dried cranberries and pumpkin seeds and is so hearty with oats and nuts. You'll find lots of sweeter pumpkin spice snack mix recipes, but I prefer this heartier, less sweet version.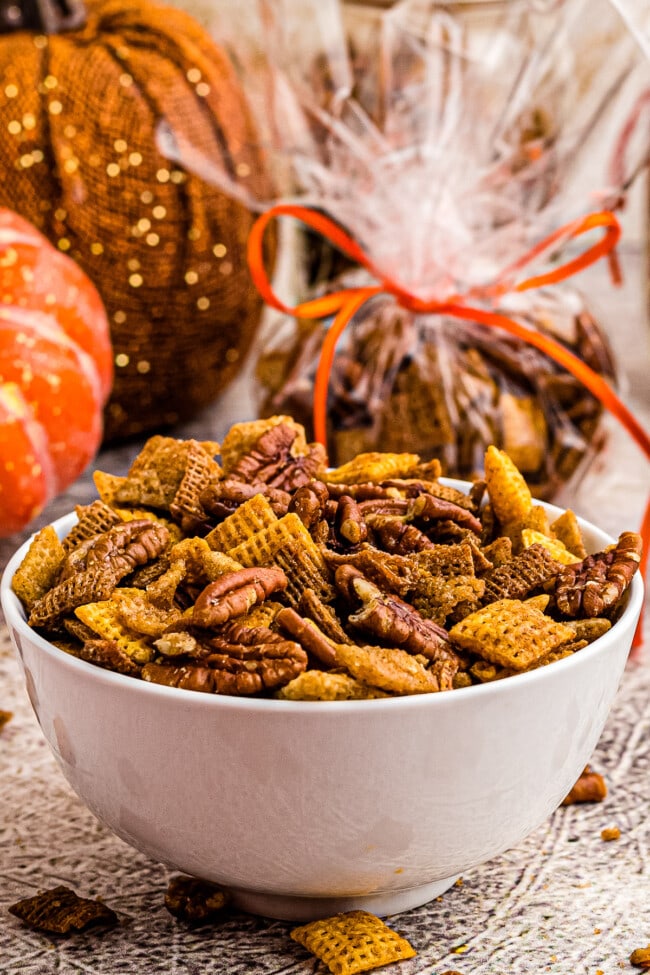 27. Pumpkin
There is an overwhelming abundance of pumpkin spice recipes and not nearly enough pumpkin recipes. While I do love pumpkin spice, I often crave simpler pumpkin recipes, like Julie's Eats and Treats' pumpkin Chex mix more.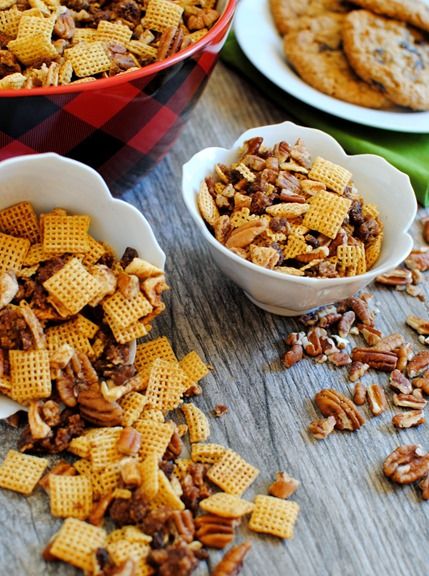 28. Apple pie
I'm also not sure why there are so many fewer apple recipes than pumpkin pie spice recipes. Peanut Butter Fingers' apple pie spice Chex mix is everything that I want during the autumn months. The spices pair wonderfully with the dried apples and oatmeal cookie pieces.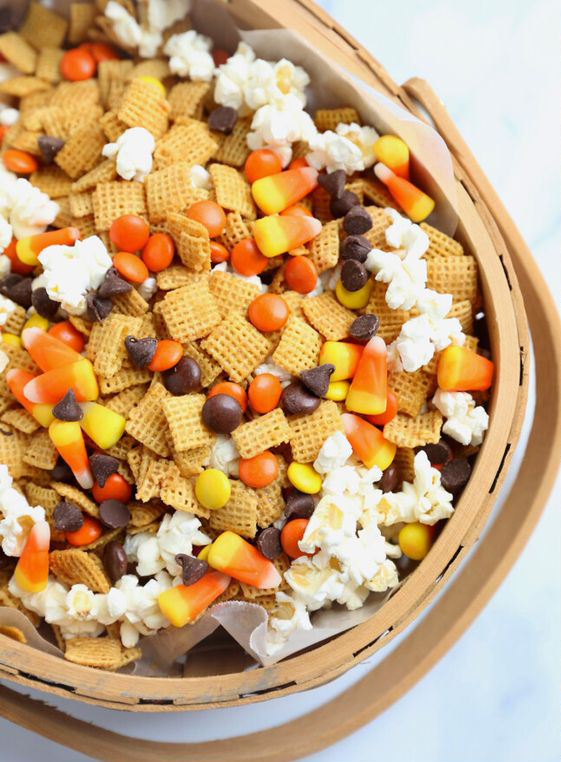 29. Halloween
Of course, a Halloween snack mix is going to feature classic Halloween candy, this time candy corn and Reese's Pieces. I love that It's Always Autumn's Halloween Chex mix has popcorn to balance out the sweet. Popcorn doesn't hold up well for leftovers. But you're unlikely to have much snack mix leftover anyway because it will be so popular.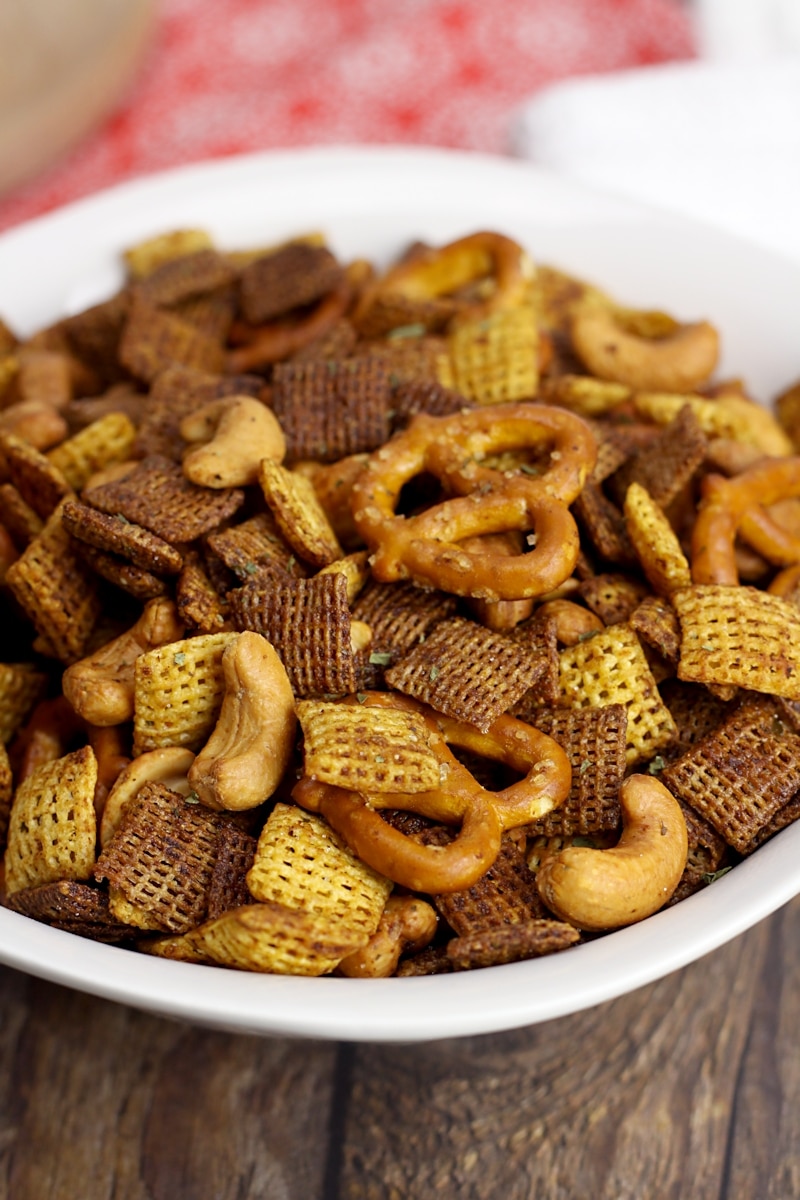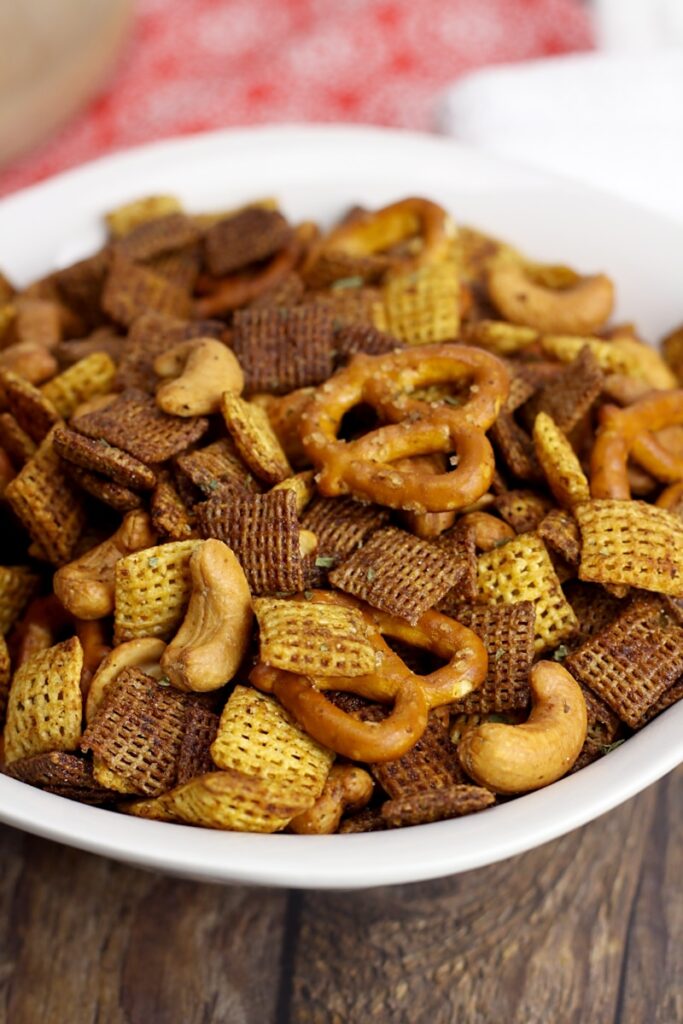 30. Spicy garlic
Having a prominent garlic flavor is a great way to punch up any Chex mix recipe. The Toasty Kitchen's spicy garlic Chex mix is the ultimate savory snack mix with just the right amount of kick.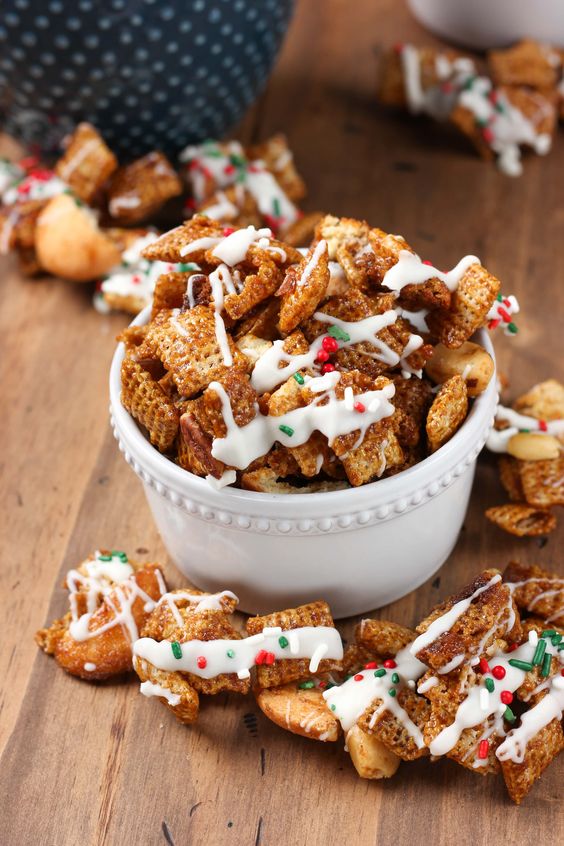 31. Gingerbread
Making a gingerbread Chex mix will quickly become a new holiday tradition. I love Everyday Made Fresh's gingerbread Chex mix. If you'd like a sweeter snack mix, check out A Kitchen Addiction's white chocolate gingerbread Chex mix (pictured).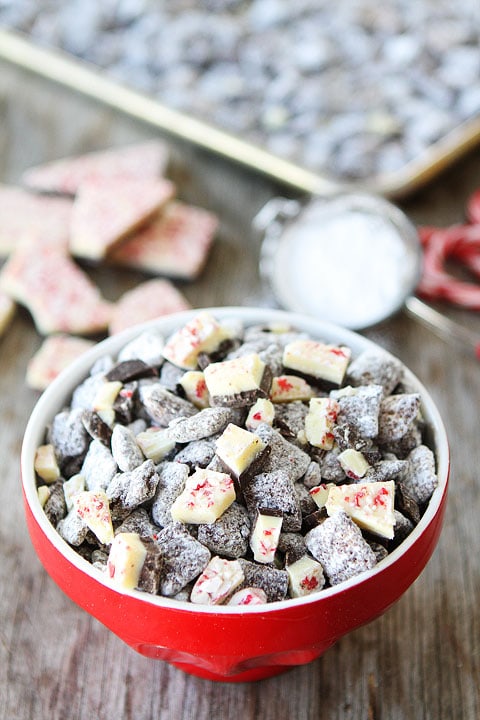 32. Peppermint bark
Elevate your muddy buddies game during the Christmas season with Two Peas and Their Pod's peppermint bark chocolate Chex mix. It includes both peppermint bark and candy canes for a strong peppermint flavor.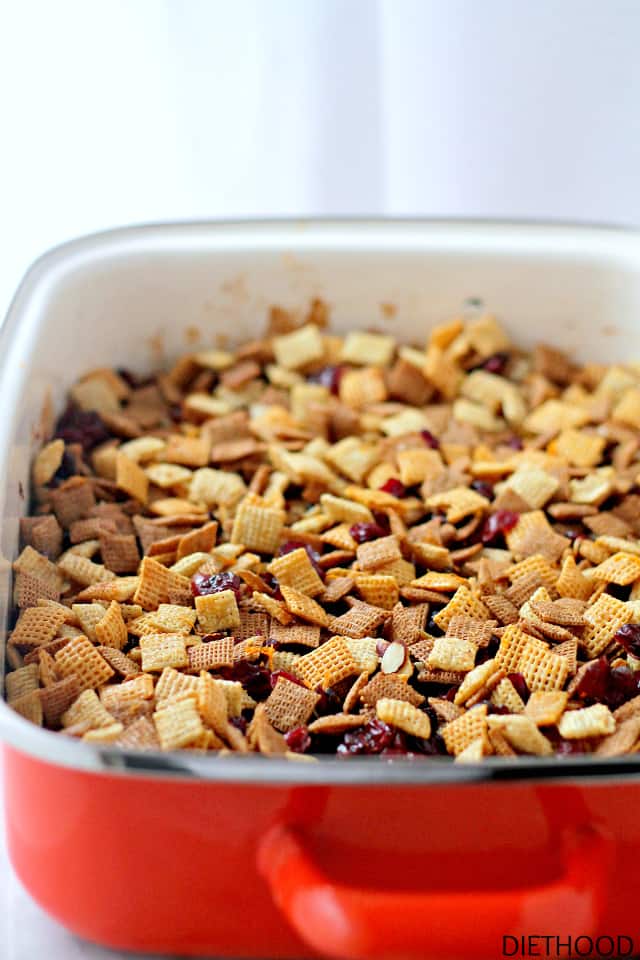 33. Cranberry orange
Cranberry orange is one of my all-time favorite flavor combinations and not something that I would have thought to try in a snack mix. Diethood's orange and cranberry Chex mix is a fun holiday recipe that no one will expect but everyone will love.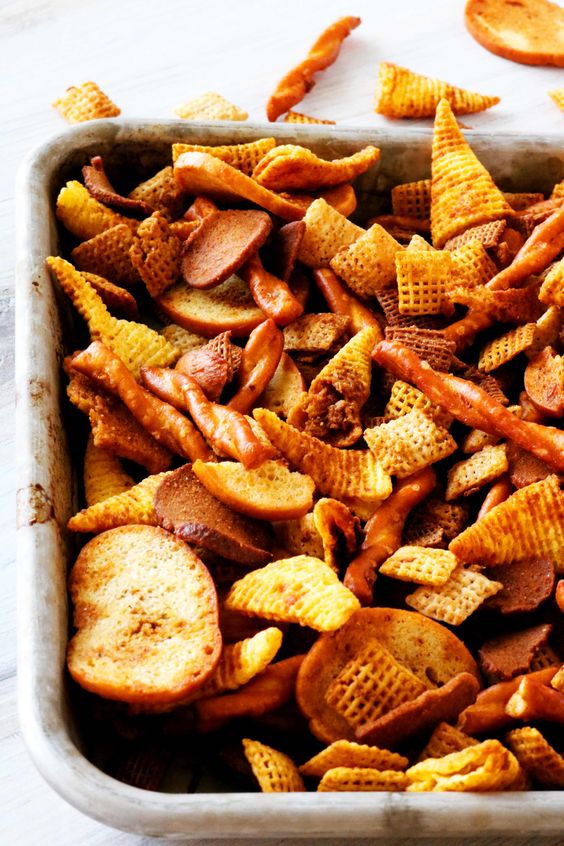 34. Texas trash
The Anthony's Kitchen Texas trash Chex mix is a spicy snack mix seasoned with Creole spices, Worcestershire, hot sauce, and seasoned salt. It also has so much texture thanks to the bagel chips and Bugles.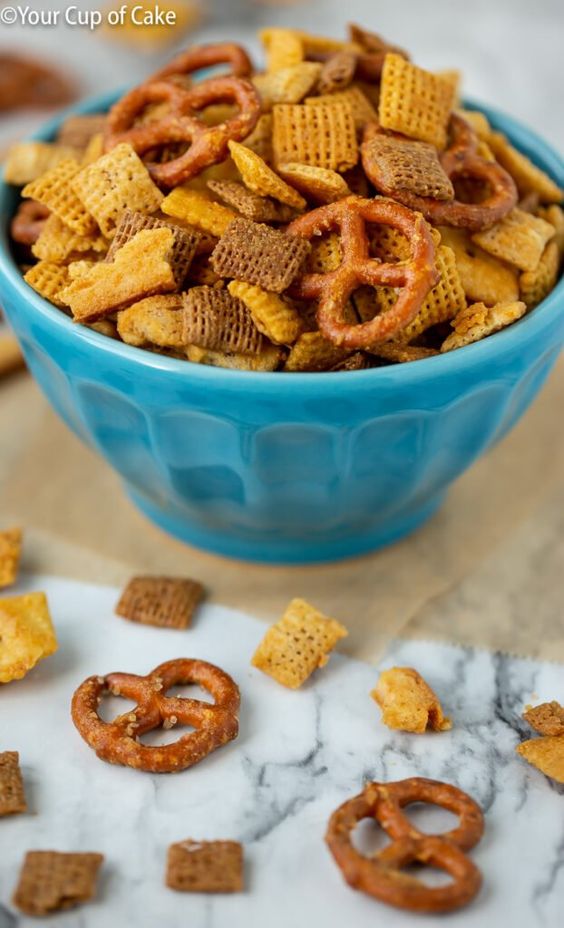 35. Honey mustard
If you're a sucker for any type of honey mustard snack like I am, you'll freak out over Your Cup of Cake's honey mustard Chex mix. Homemade honey mustard is so easy to make and completely elevates this simple snack mix.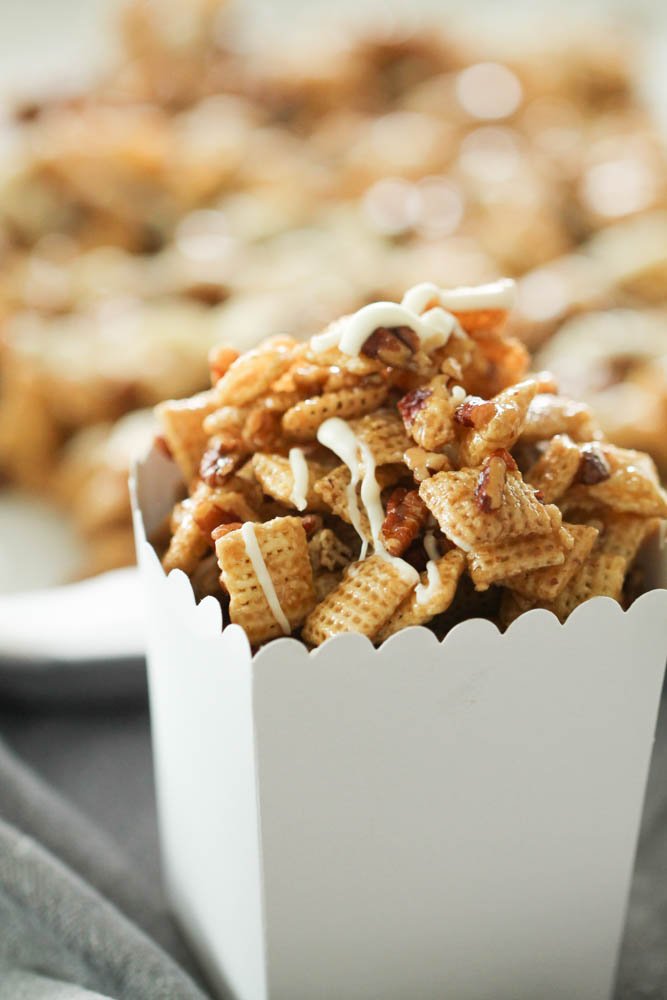 36. Pecan pie
Six Sisters Stuff's pecan pie Chex mix is coated in caramel, topped with pecans, and drizzled with white chocolate. It's everything that you love about pecan pie, and it comes together in just 15 minutes.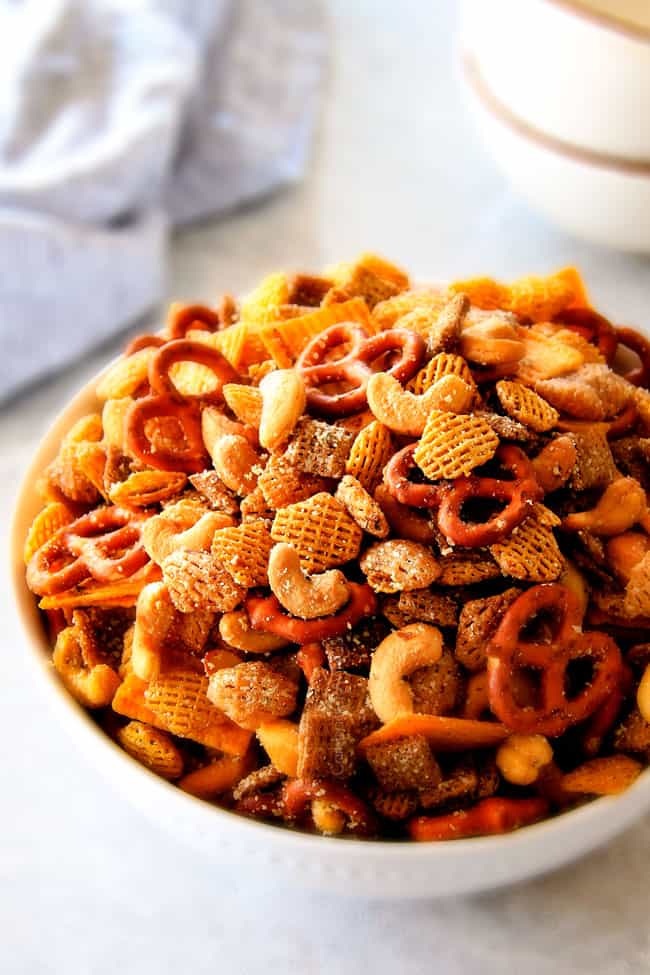 37. Italian Parmesan
Carlsbad Cravings' Italian Parmesan Chex mix features a homemade herb butter sauce for incredible flavor. This Chex mix recipe holds up well, even when it's made ahead of time, which is ideal for entertaining.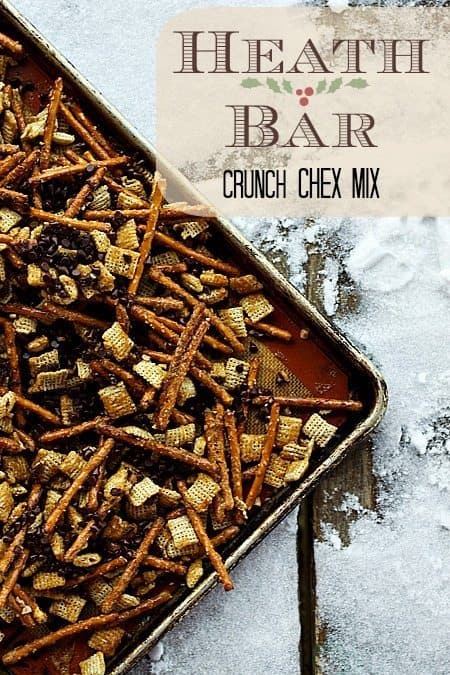 38. Heath Bar
While I would never think of eating a Heath Bar on its own, Heath has long been my go-to add-in for ice cream drinks at places like Dairy Queen. It's the perfect sweet and crunchy component for Foodie with Family's heath bar Chex mix.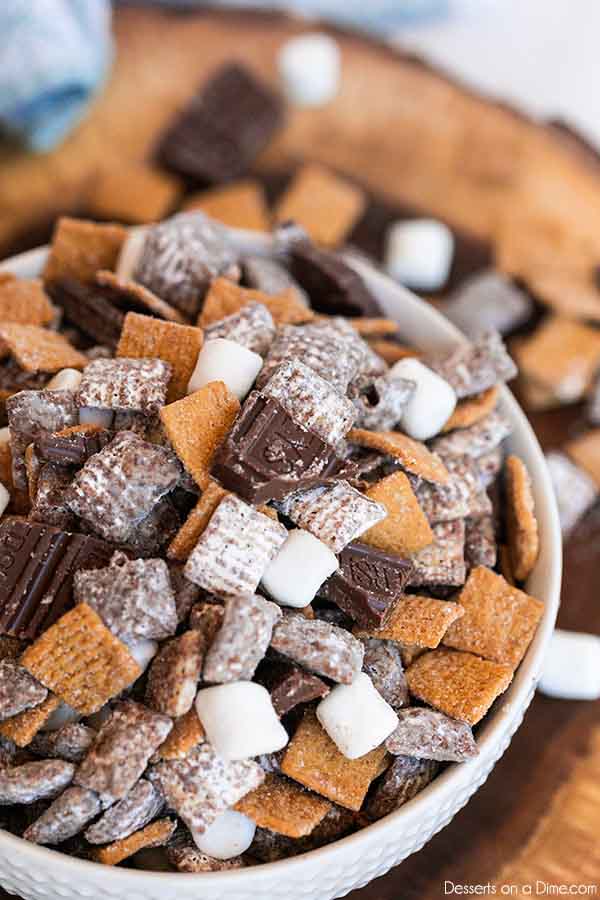 39. S'mores
Desserts on a Dime's s'mores Chex mix is another elevated puppy chow recipe with Golden Grahams, chopped chocolate, and mini marshmallows.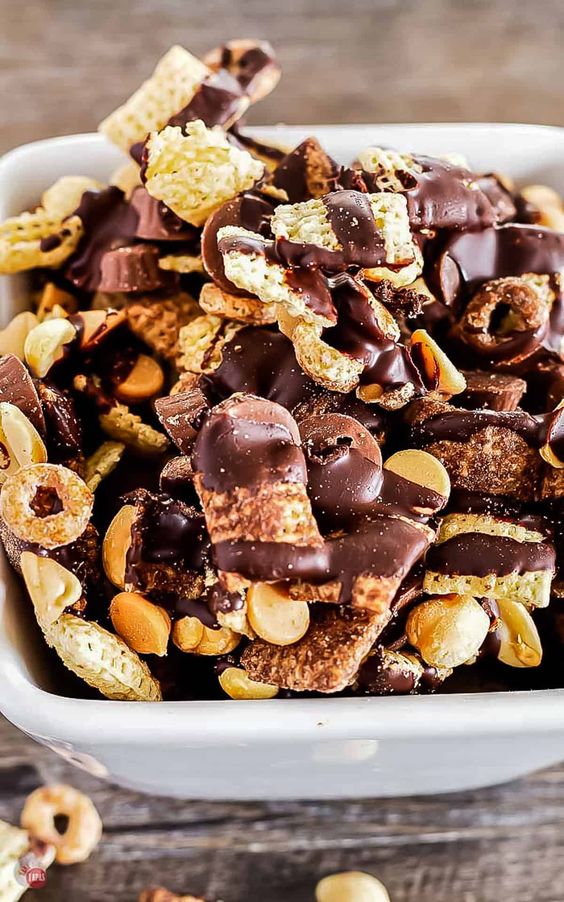 40. Buckeye
Take Two Tapas' buckeye Chex mix has all of the chocolate and peanut butter flavors found in buckeye candy but with less work. You also get so much crunch, making for the most satisfying snack or dessert.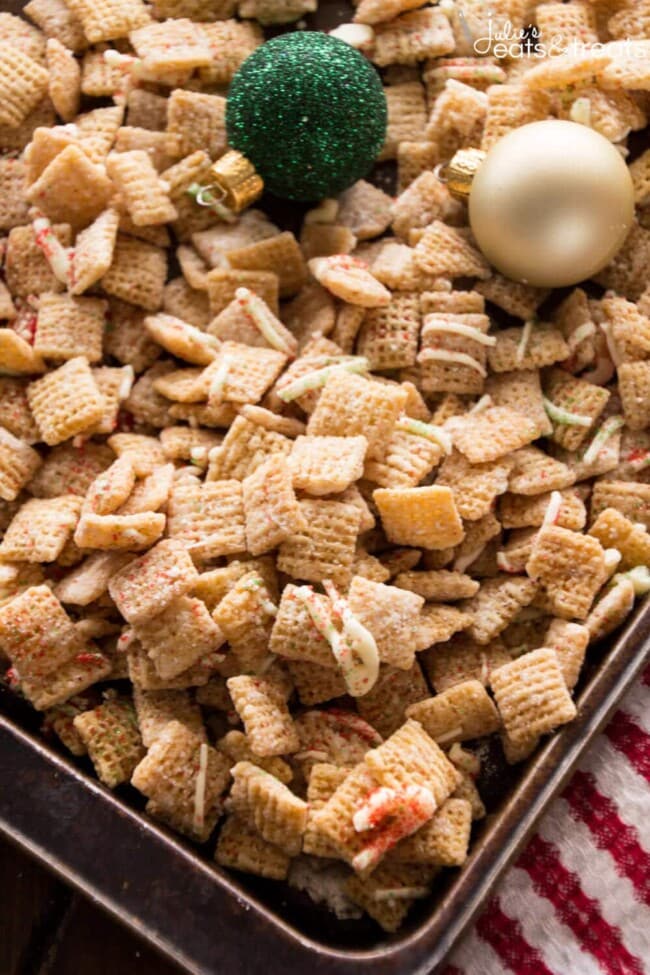 41. Sugar cookie
Julie's Eats and Treats' sugar cookie Chex mix is the perfect treat for anyone who loves sugar cookies but doesn't want to take the time to roll out and decorate cookies. Edible glitter or colored sprinkles make it a fun dessert for a party.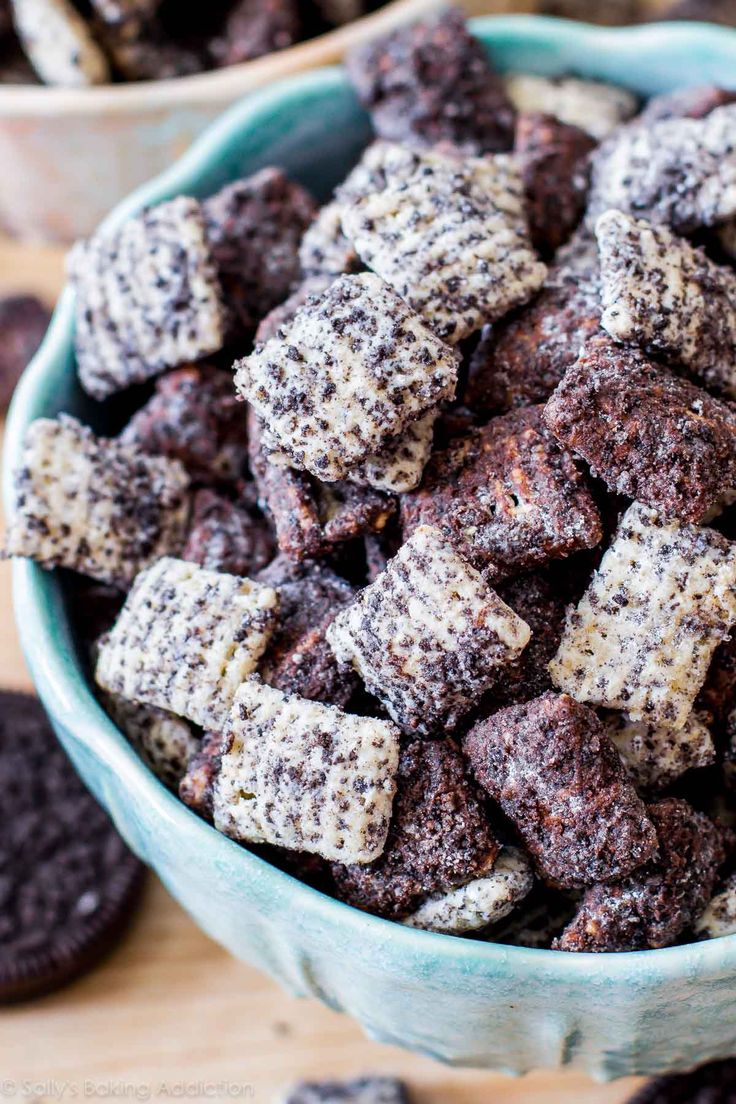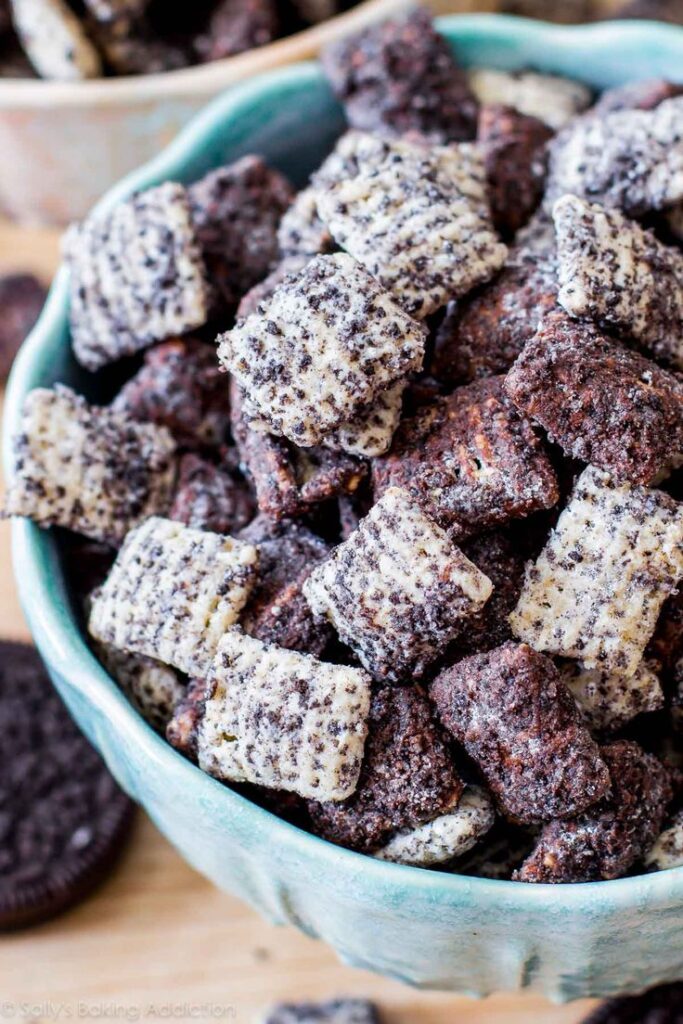 42. Cookies 'n cream
Sally's Baking Addiction's cookies and cream Chex mix is another fantastic, simple variation on puppy chow. She makes separate cookies Chex and cream Chex. Then when you eat it, make sure you get a few of both in each handful. You can crush all of the Oreos, as she does, or leave some in bigger chunks, more like you get in cookies 'n cream ice cream.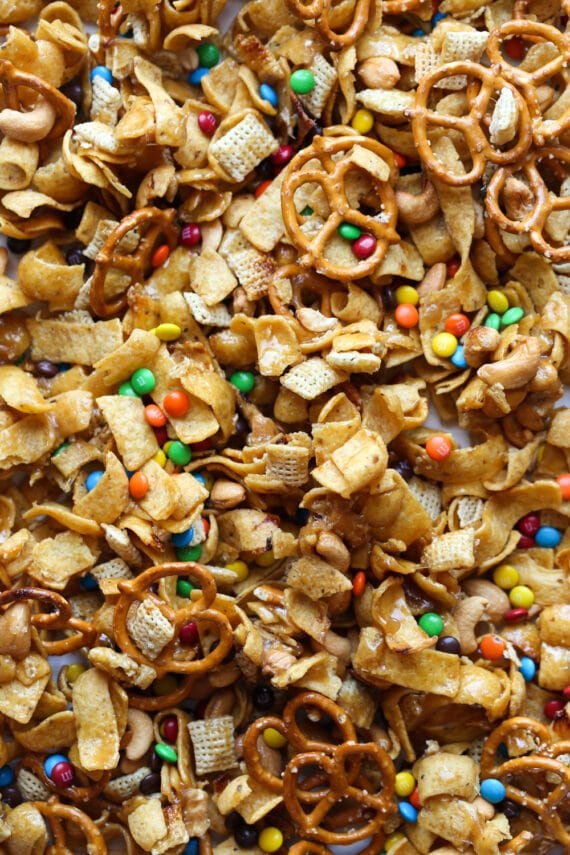 43. Frito
Cookies and Cups' Frito Chex mix takes sweet and salty to a whole new level. You just have to trust that coating Fritos in caramel sauce and then baking them is one of the best things you'll ever do.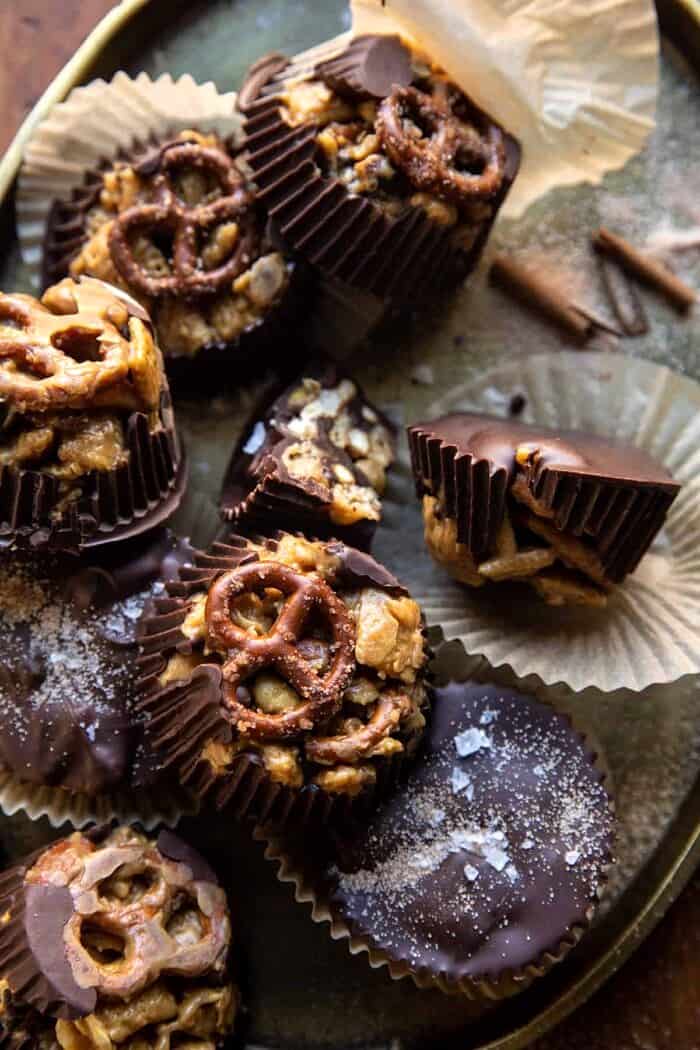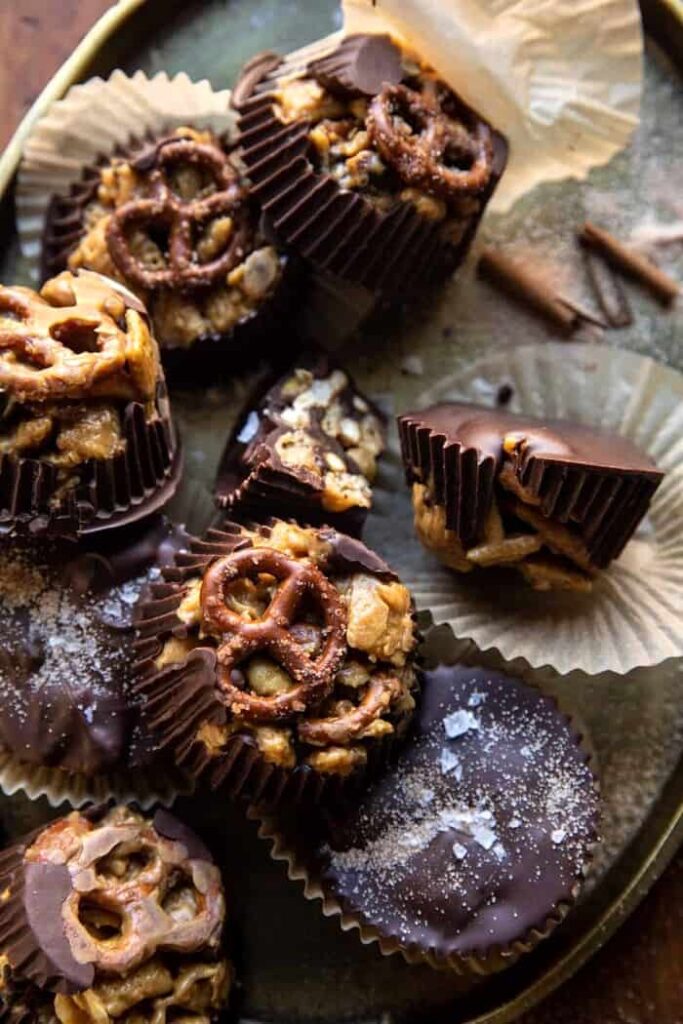 44. Snickerdoodle
Savoring the Good's Snickerdoodle Chex mix has a cinnamon-sugar dusting over melted white chocolate-coated Chex cereal. You can take this snack concept up another notch with Half Baked Harvest's Snickerdoodle peanut butter chocolate Chex mix bars (pictured).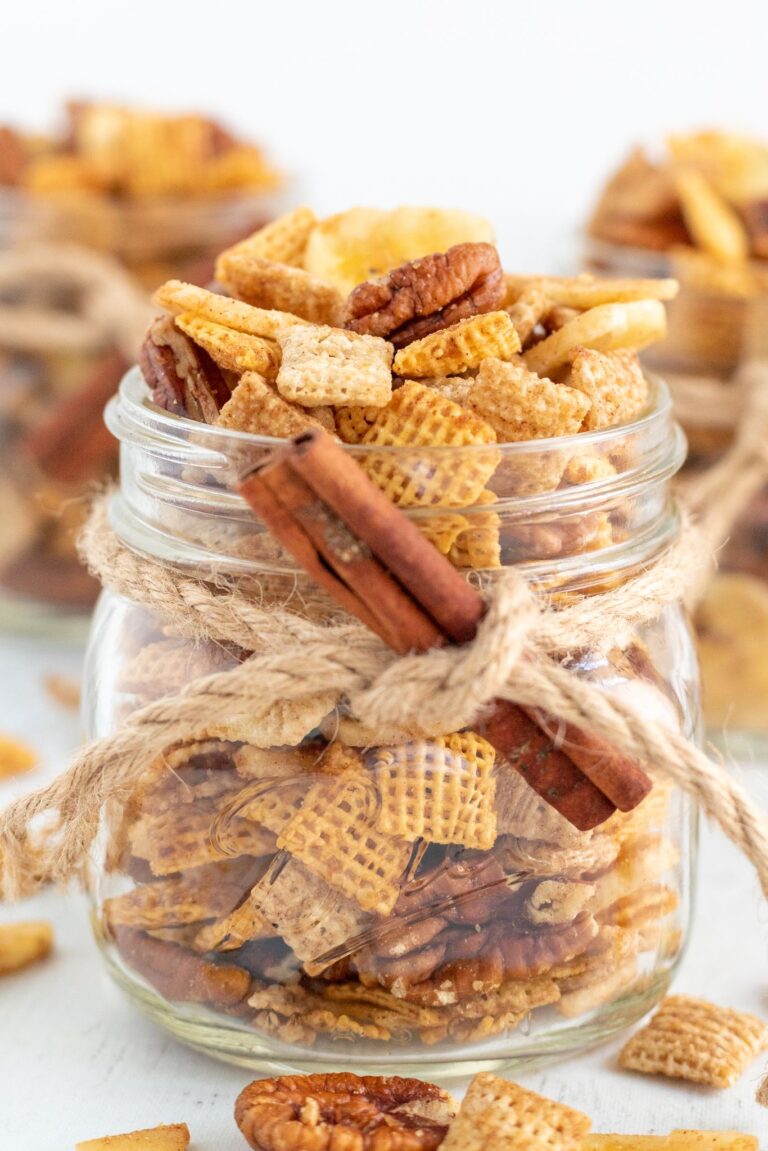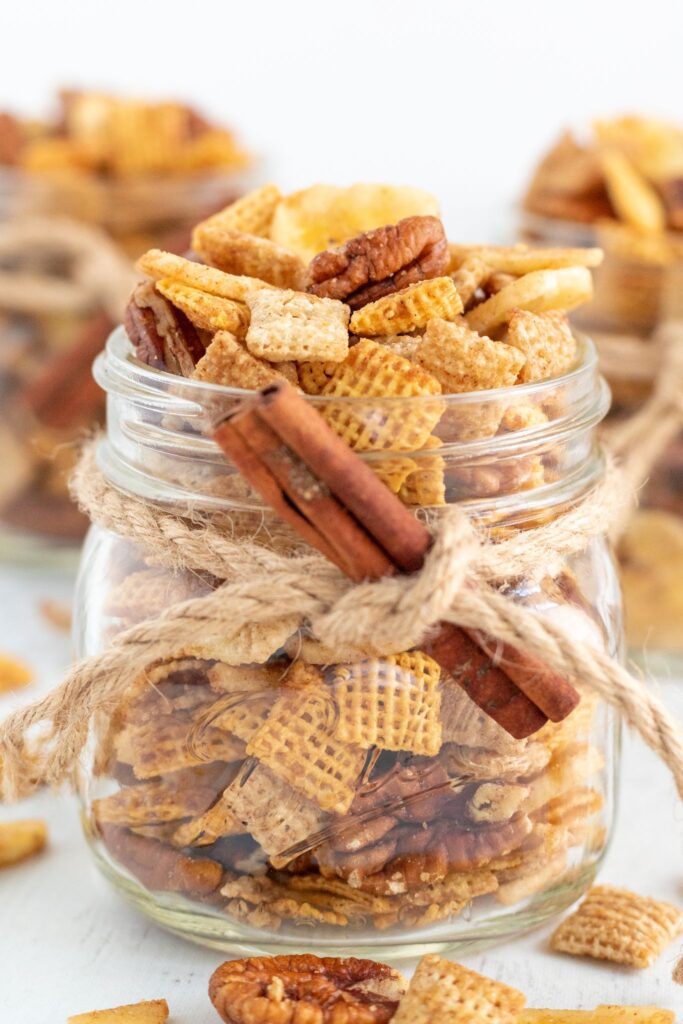 45. Banana foster
Bunny's Warm Oven's banana foster Chex mix has all the flavors of a traditional banana foster dessert, except the vanilla ice cream. Of course, there's no reason that you couldn't top vanilla ice cream with this snack mix, which would make for an amazing creamy/crunchy combination.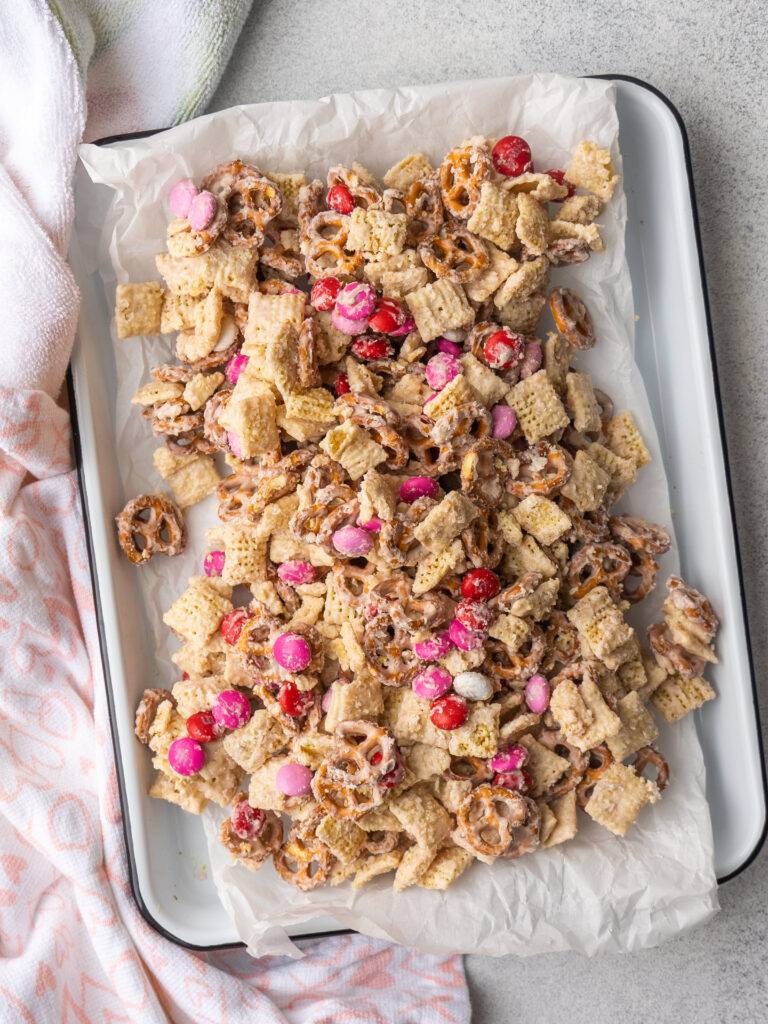 46. Strawberry
Mad About Food's strawberry Chex mix is so pretty and has just the right amount of sweetness. I especially love strawberry Chex mix for Valentine's Day.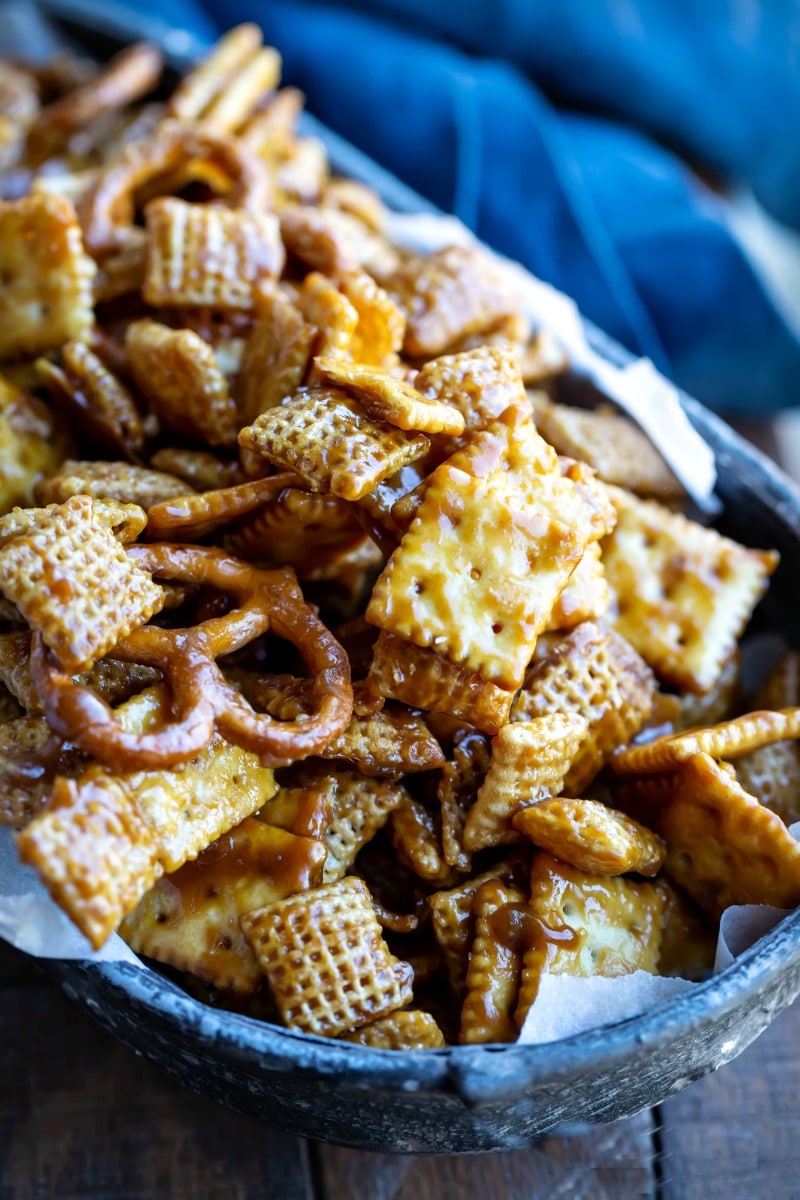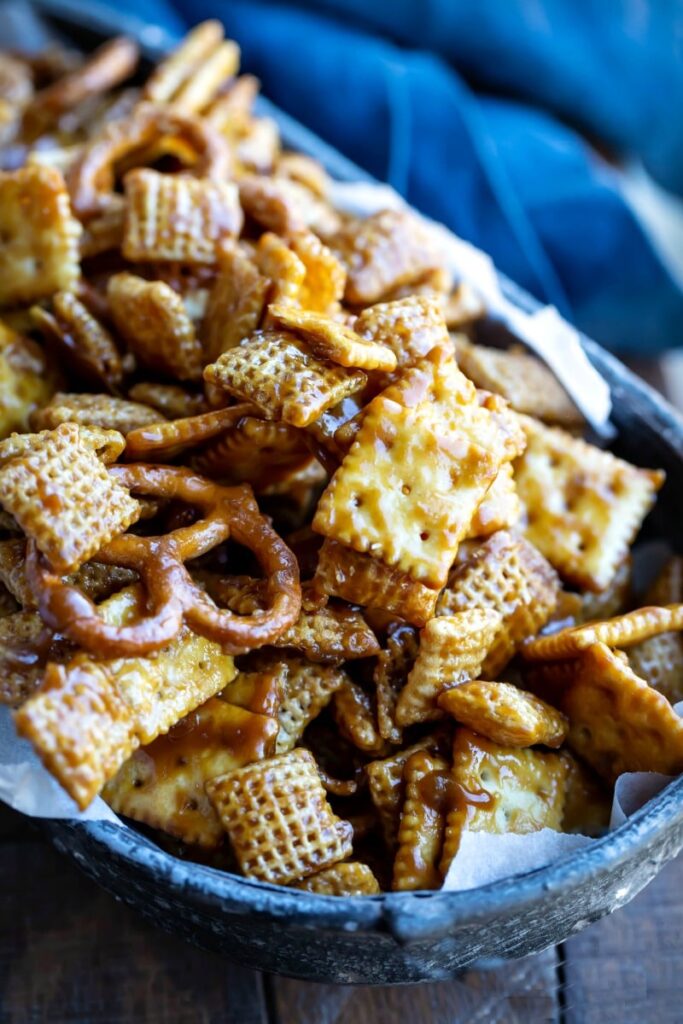 47. Toffee
I Heart Eating's toffee Chex mix is an addictive sweet and salty snack mix coated in a rich brown sugar toffee. It makes an excellent snack or dessert.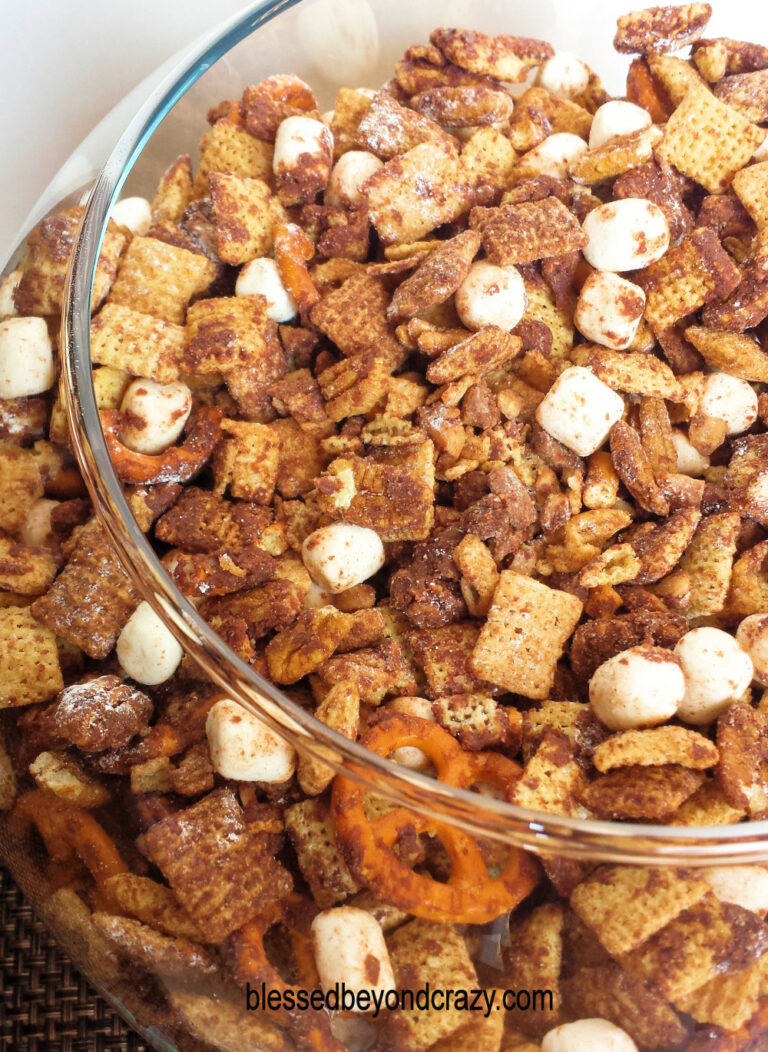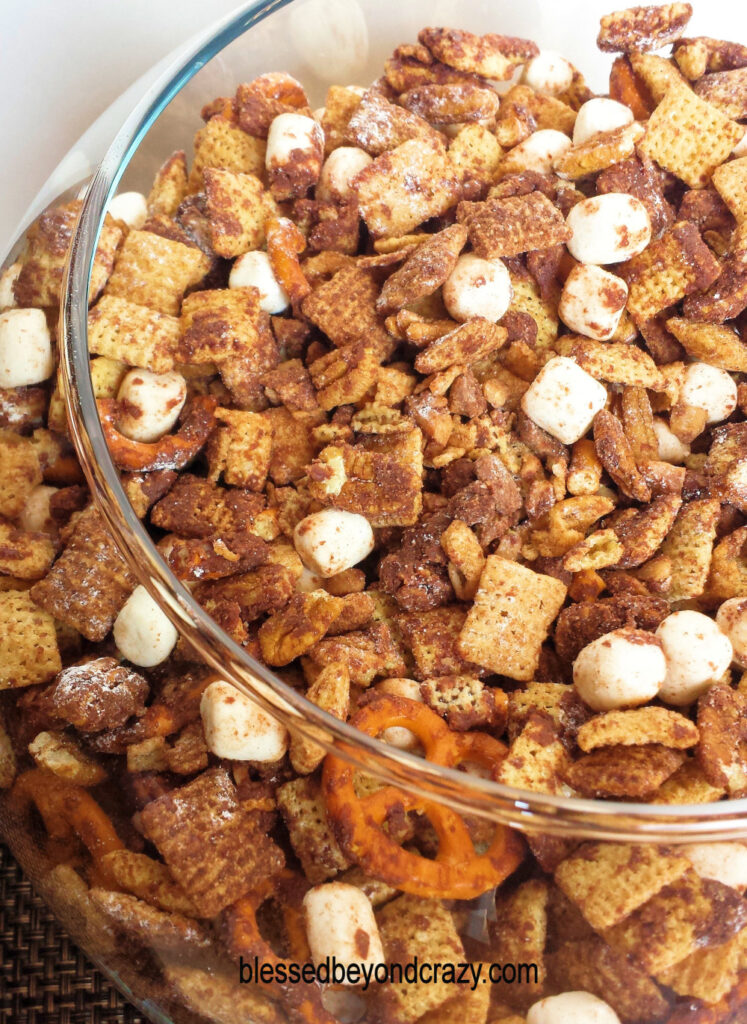 48. Chocolate coffee toffee
You certainly don't need to improve upon toffee Chex mix. But who can complain about adding chocolate and coffee to it? Blessed Beyond Crazy's chocolate coffee toffee Chex mix also has marshmallows, giving it almost a s'mores flavor.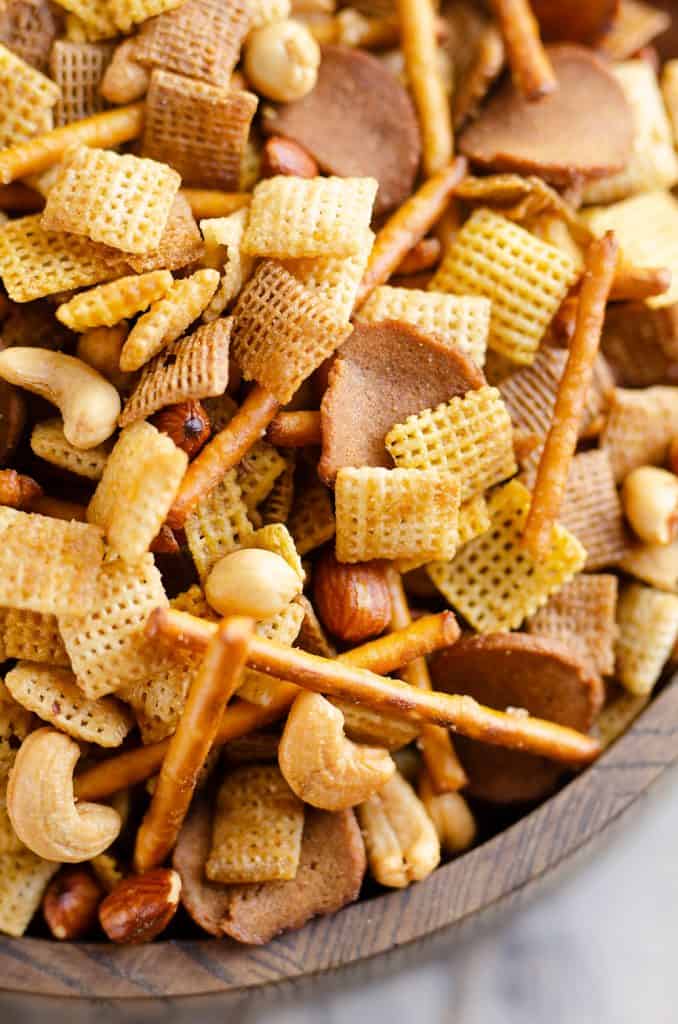 49. Buttery
The Creative Bite's bold and buttery Chex mix takes everything that you love about buttered popcorn and puts it into a snack mix that's loaded with savory flavor.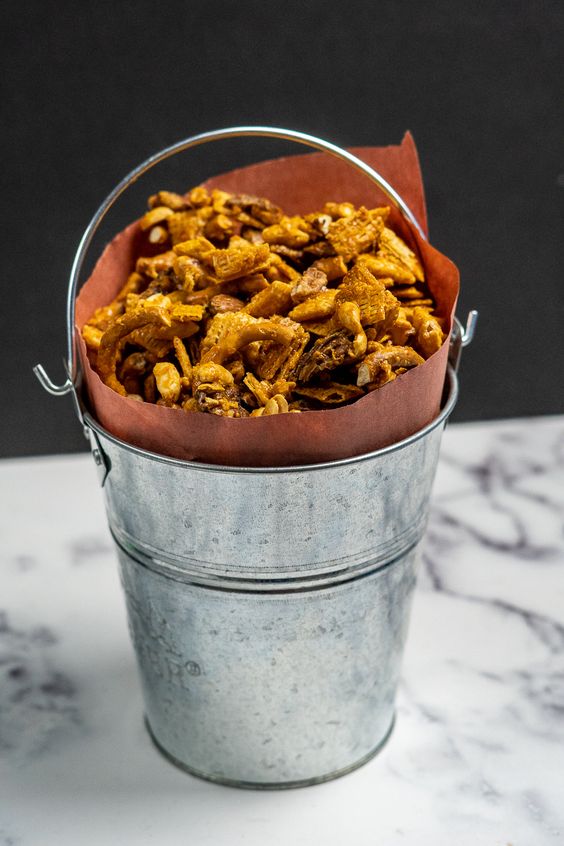 50. Smoky
You may or may not know that I'm a huge fan of our Traeger smoker. I know that using a smoker to make Crave the Good's smoked Chex mix may seem a little extra. But I promise that the flavor that it brings to this snack mix is well worth the effort.
Did you make one of the Chex mix recipes in this post?

I want to see your snack mixes! Tag your posts #RoseClearfield on Instagram or Twitter or post a photo to my Facebook page. Make sure to tag the recipe creator as well!
Pin this post for easy access to the ultimate round-up of Chex mix recipes later!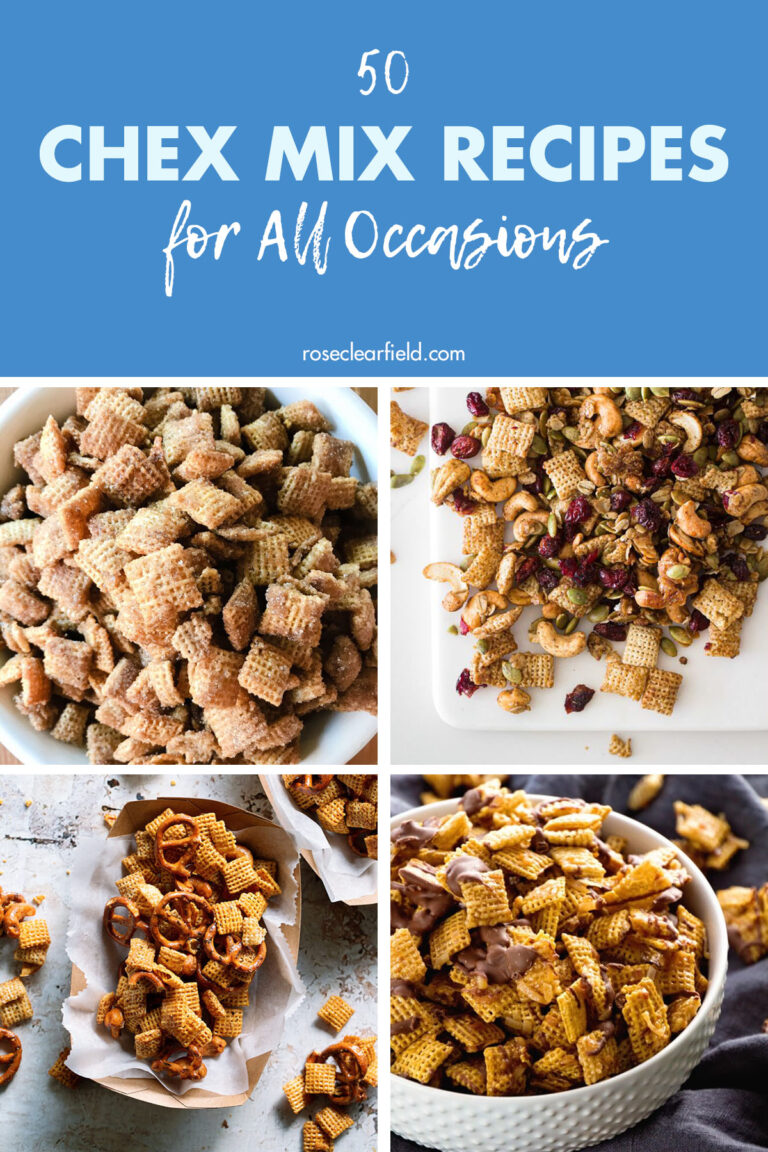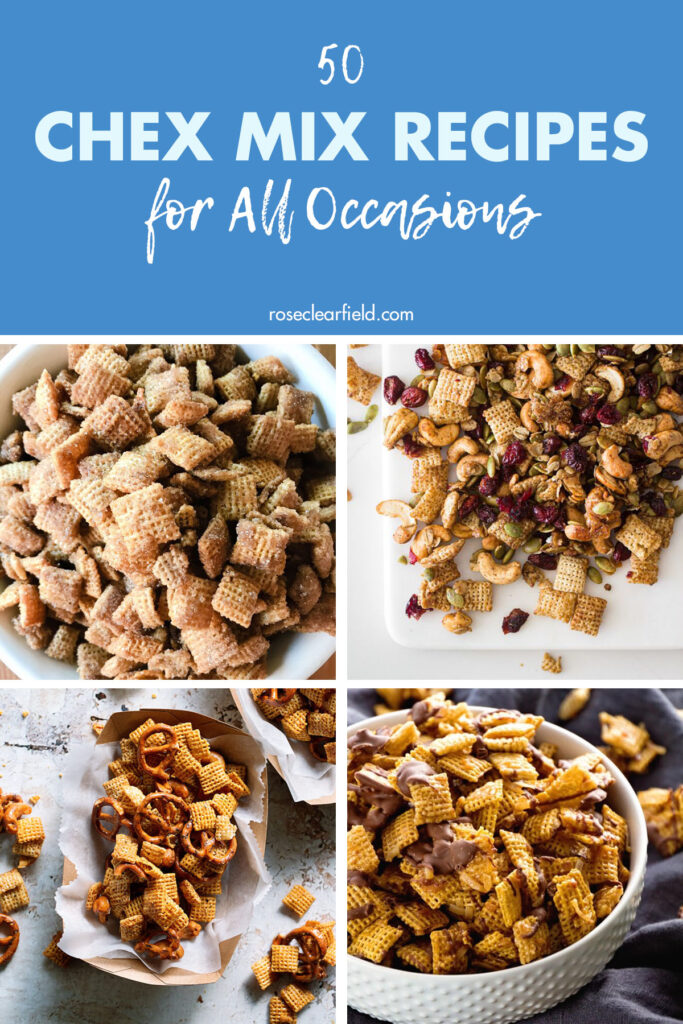 More snack recipe resources: