Many adoptive parents desire to adopt more than one child. When you start thinking about adopting a second child, it's important to make sure that you're as ready as you can be before beginning the process again.
As with any major decision in life, it's unlikely you'll ever feel 100% ready to adopt a second child. At some point, you have to jump in and trust that you'll figure it out as you go. However, it's good to feel confident about your financial and emotional state and to have considered the logistics of the process before you begin.
Before you contact your social worker, think about and prepare yourself for the following aspects of adopting a second child.
Do we want to take the same path for adoption?
There is nothing that says that you have to pursue the same type of adoption for all of your children. Just because you adopted a child through domestic infant adoption doesn't mean you have to adopt subsequent children through domestic infant adoption. It does tend to be simpler (and often less expensive) to pursue a single type of adoption. However, you shouldn't let that hold you back from considering other options.
If you're unsure which type of adoption is best for your family's second adoption, talk to other adoptive parents about their experiences. Adoption support groups and forums can also be great information sources. Learn about the resources in your area and the costs and requirements for associated with different types of adoption.
Do we need to renew our home study or get a new home study?
When you re-enter the adoption waiting pool for subsequent children, it's ideal to have a home study that won't be expiring in the next 30 days, even 60 days if you really want to play it safe. If you're within one or two months of your renewal date, complete the renewal process before entering the pool. Otherwise, you're likely to run into issues.
Depending on when you completed your initial study and whether or not you're switching to a different type of adoption (i.e., moving from private adoption to foster care), you may need a brand new home study. For example, if you adopted your son five years ago and have since moved to another state, most likely you'll need a new home study.
If you're planning to adopt multiple children and don't anticipate moving to a new state, it's significantly less expensive to keep your home study renewed from one year to the next. If you do have an expired home study or are switching course for your second adoption, start working on the home study paperwork as soon as possible to avoid delays.
Are we prepared financially?
I assume that most people reading this post have already adopted a child. As such, I don't need to spend a lot of time explaining that adoption is really expensive. If you've kept your home study active and are staying with the same agency, most likely you'll spend less money on a second adoption, as you don't have to budget for a whole new home study.
However, it's always best to be prepared to spend more than you anticipate. The circumstances of your second adoption may vary significantly from the first. For example, if you travel out of state for an adoption, you'll spend a lot more than you would if your adopted son or daughter is born 20 minutes from home. The more you can save ahead of time, the better you'll be prepared for a range of profile opportunities.
Are we prepared emotionally?
I think one of the toughest parts about gearing up for a second adoption is knowing that you're in for another emotional rollercoaster. I never imagined that adoption would be easy. But I didn't know exactly what it would be like reading profiles, saying no to profiles, saying yes to profiles and then waiting to hear back, getting chosen, and getting to know a birth mom and her family.
Now I do know that you get emotionally invested over and over again, even when you know you'll say no to a profile. As your adopted children grow up, the rollercoaster effect calms down a bit. But you'll still have high highs and low lows over the years.
Even when there are a lot fewer unknowns, at least as far as the emotions component goes, it still doesn't get easier. I don't share this to discourage families from adopting a second child. I share it because it's important to prepare yourself.
Do we have the necessary resources?
As a parent, you know that raising even one child takes a lot of time and money. Adding another child to your family means more expenses and splitting your time further. If your first child has significant disabilities or other conditions that require substantial time and money, you may not feel comfortable taking on a second child. Everyone has different limits. It's important to be honest with yourself about what you're prepared to handle.
Adopting a second child also requires more space. If you're in a small two-bedroom apartment or house, think about whether your current living situation makes sense for growing your family. You certainly don't need a large house to raise a family. However, it's nice to have adequate living and bedroom space.
Do we have a sufficient amount of pictures for a new profile book?
I'm sure that the amount of family pictures you have on hand seems like a funny consideration for adopting a second child. As you've already created one profile book, you know that most of us underestimate how many pictures we have that we'd like to use for a profile book. It's one thing to take a lot of cell phone snaps of your kids. It's another thing to choose pictures that you think best represent your family for a mom making an adoption plan.
If you find yourself lacking in recent high-quality family photos, make a point of taking pictures at upcoming family gatherings. Be sure to hand your camera off once in a while, so you're in a few of the shots. Depending on your time frame, you may want to schedule a professional family shoot. It certainly isn't a requirement to use professional pictures. But it's nice to have at least a handful of high-quality shots of you and your spouse with your kids.
Additional profile book resources:
–10 Things NOT to Include in an Adoption Profile
–How to Make Your Adoption Profile Unique
–What Birth Moms Look for in Adoption Profiles
Are we prepared to face a lot of unknowns and uncertainty again?
Even with an adoption under your belt and the confidence that it brings in repeating the process, there is still so much out of your control. Most likely your second adoption will look very different from your first one. From the timeline to the circumstances surrounding the birth to the bonding experience with the baby, it's impossible to know exactly how it will go the second time around. You must be willing to remain open and be flexible throughout the process.
Are we prepared to have a potentially different experience with attachment/bonding, openness with the birth family, etc.?
On a similar note, there may be aspects of your first adoption that you are or aren't hoping to repeat with a second adoption, which are out of your control. For example, we have a close open adoption relationship with my son's birth mom and her family. We do hope to have a semi-open or open adoption with subsequent adopted children's birth families. Obviously, we only have so much control over this dynamic.
While there is a good chance will have some level of openness with a second adoption, it's unlikely that will be the close relationship we have with my son's family. It's hard not to worry about this discrepancy and how it will affect our children's experiences growing up as adoptees. You just have to pray it will work out the way it's supposed to work out.
How will we prepare our first child for the addition of a new baby?
Talking to children about growing your family through adoption doesn't follow the same natural path that growing your family through birth does. There are a few simple ways to work adoption into your conversations and daily life while you wait to match.
Have your child help you prepare a nursery. Getting a bedroom ready is a great way to spend some of your time during the wait. It also ensures that you have as much ready as possible when you do get that call. Have your child help with the process and talk about how you'll use the space with a new baby.
Ask your child if he/she would like to have a new baby brother or baby sister. Most toddlers and preschoolers love babies. They're happy to talk all day about how much they would love a baby of their own.
Talk about your child's adoption story. Re-telling your child's adoption story will help prepare them for what will happen when you adopt a second child.
Care for baby dolls and stuffed animals. Again, many young children are drawn to babies. They often have a good instinct for how to feed, carry, and rock babies and how to put them to sleep. Practicing these skills will familiarize them with some of the things that will happen when there's a new baby in the house.
Obviously, this situation will look different if you're adopting an older child. Tailor your discussions and activities accordingly.
How will we tell family and friends that we're trying to adopt again?
Talking to family and friends about adoption is tough. I completely understand why couples don't want to talk about it. Many people ask weird and offensive questions, and just keep saying, "How's it going?!" as though you adopted three more kids and forgot to tell anyone.
I also completely understand why couples do want to talk about it. Adopting is a big part of your life, and it feels wrong not to talk about it. Telling loved ones that you're in the waiting pool allows them to encourage, support, and pray for you. Obviously, this can be very beneficial.
There is no single solution that works for everyone. You can also decide who you do and don't want to tell. Additionally, you can wait until there's a natural opening in a conversation to share information, instead of feeling like you have to bring it up all the time.
If applicable, what will the logistics look like for traveling for a second adoption?
When you're fostering or you're adopting through a local agency, you may not have to travel or you'll only be traveling an hour or two for your adoption. In most other adoption scenarios, you'll likely be traveling. Typically, you'll be traveling out of the state or out of the country, which means spending anywhere from 2-4 weeks away from home.
When you're adopting a second child, there are a lot of logistics to consider that weren't part of the equation the first time around. If your first child is young, it may be simplest to have the child travel with you or to bring a family member along to help out. If your first child is older, it may be preferable to have him/her stay behind with family or friends, so he/she doesn't miss school, lessons, extracurriculars, etc.
You don't need to have a full travel plan worked out months in advance. But it will be helpful to talk through the logistics, and if necessary, talk to family and friends about maybe needing some help when the time comes.
Can I love a second child?
One worry that many biological and adoptive parents alike have is whether or not they'll be able to love a second child as much as they love a first child. While I know so many people who have faced this worry, I have yet to meet anyone whose fear was actually confirmed. No matter how much you love your first child, you will always have more room in your heart for a second child.
As always, fellow adoptive parents, I'd love your input on this topic!
What did you take into consideration when adopting a second child?
Pin this post for easy access to this adopting a second child resource later!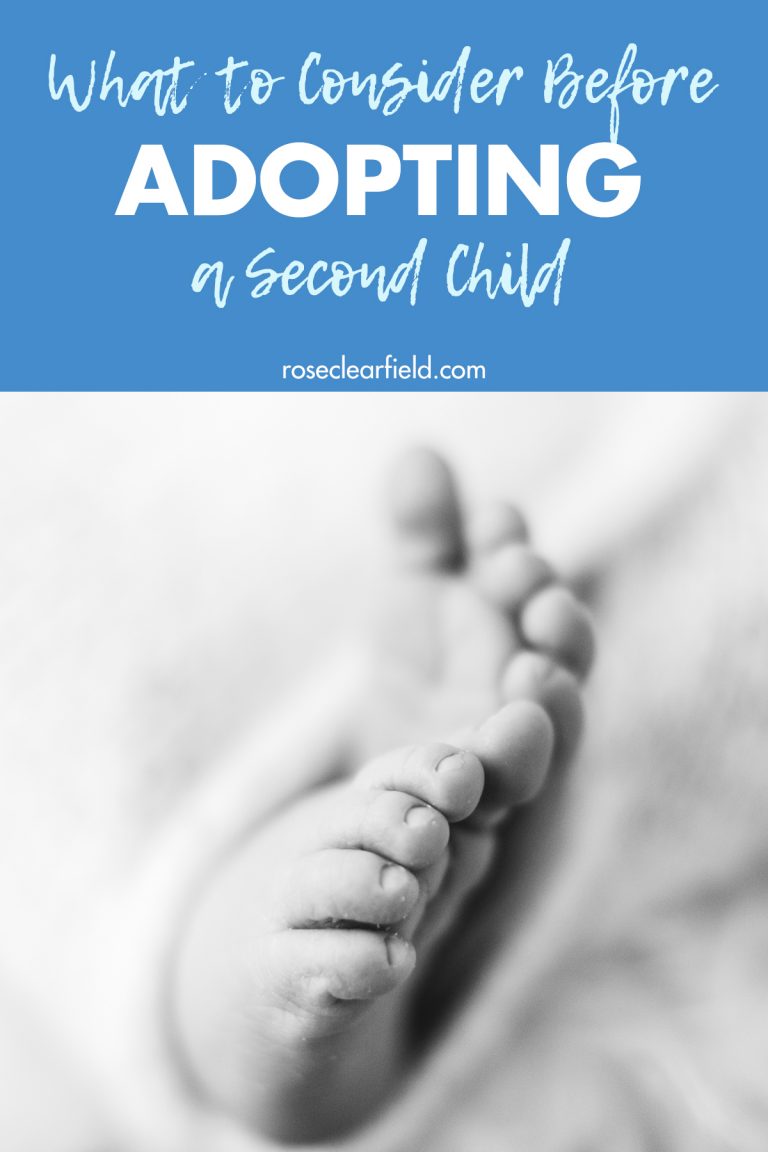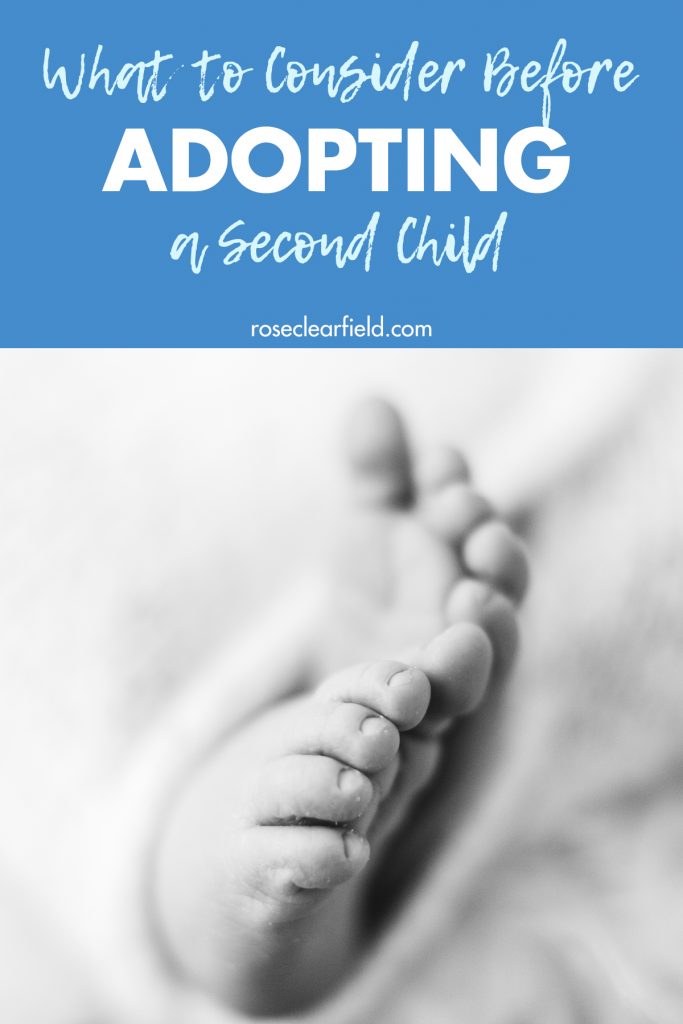 More adoption resources:
Visit the Adoption section of the blog for more details about our adoption story and for even more adoption resources, including open adoption and waiting to adopt resources.