Valentine's Day is the perfect excuse to make a few delicious, colorful drinks. As I'm not a big drinker, I put together a round-up of non-alcoholic drinks for Valentine's Day.
As winter drags on into February, a refreshing pink drink or glass of punch is a welcome change of pace. Making your own holiday drinks is ideal for stay-home Valentine's Day dates, small family dinners, and other low-key gatherings.
For someone who technically is a drinker, I'm about the biggest lightweight there is and tend to opt for non-alcoholic drinks at restaurants and social gatherings. I'm sure that this is not a surprise, given that I already have non-alcoholic drink round-ups for St. Patrick's Day, Easter, and Thanksgiving.
I also like to present non-alcoholic drink recipes as an option when you know you'll be serving non-drinkers, pregnant ladies, and/or kids at social gatherings. Classic party punch, sparkling lemonade, or virgin strawberry daiquiris will fit in perfectly in a drinks spread that includes beer, wine, and cocktails.
I've included a range of cold and hot drinks. There are punch recipes, mocktail versions of popular cocktails, and classic drinks that taste great with or without alcohol, such as hot chocolate and lemonade. You're sure to find something that fits your taste preferences.
Happy Valentine's Day!
Non-alcoholic drinks for Valentine's Day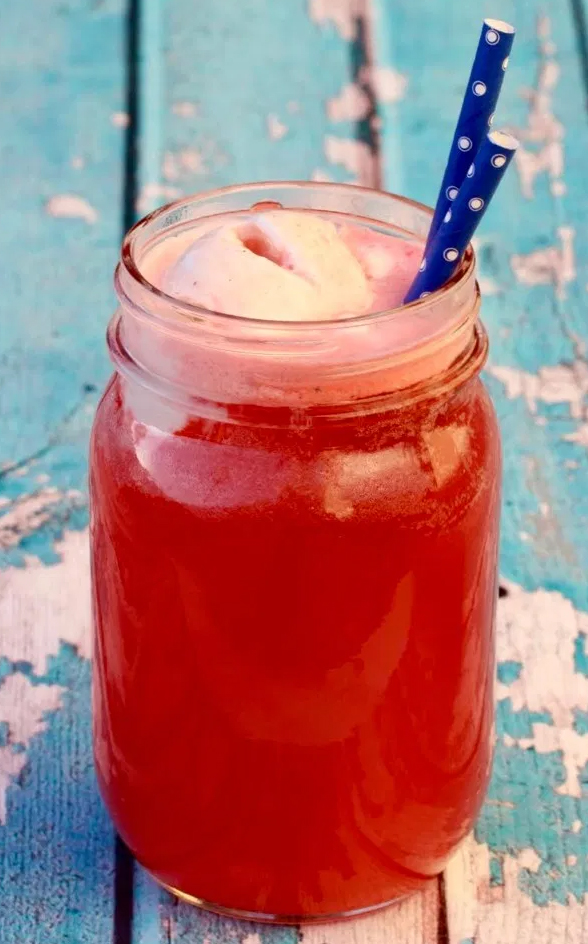 1. Hawaiian punch
Neverending Journey's Hawaiian punch is ridiculously easy and delicious. With just four ingredients, it comes together so quickly and has the perfect creamy, sweet consistency with just a little bit of fizz from the soda.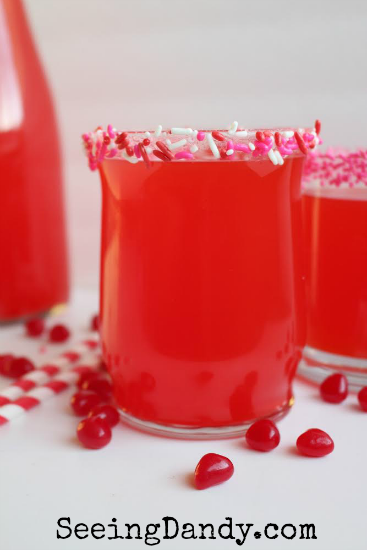 2. Red hots punch
Seeing Dandy's red hots punch has the perfect kick of cinnamon, thanks to the melted candy red hots. I love that the punch doesn't have any added sugar beyond what's used to make the red hots simple syrup, which means that it isn't as sweet as many punch recipes.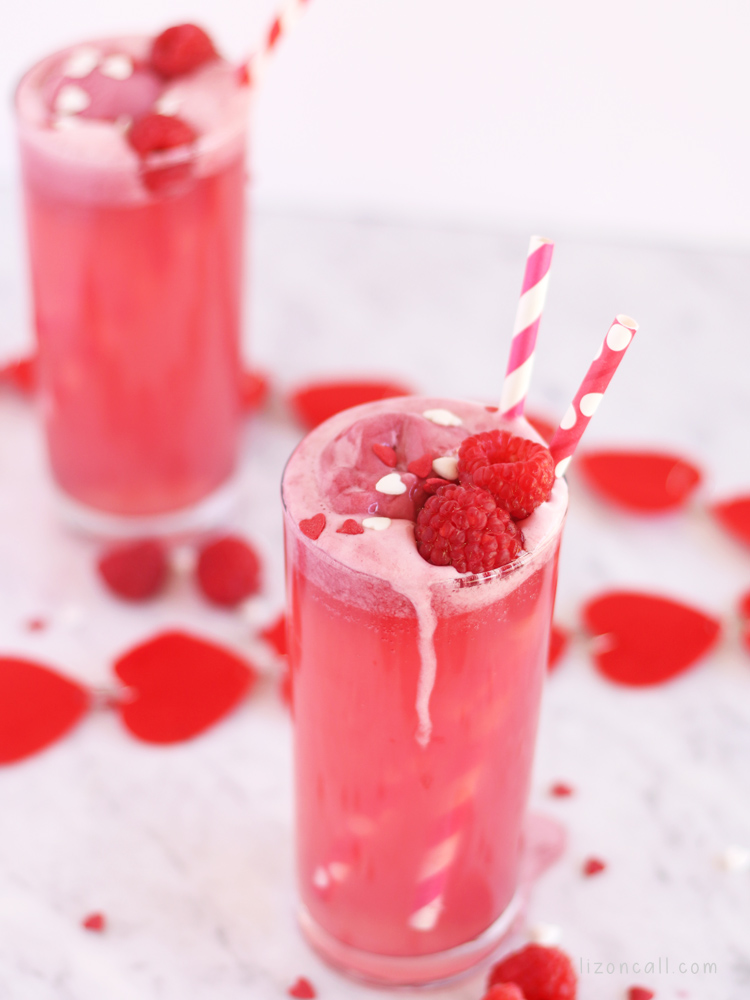 3. Raspberry lemonade sherbet punch
Sherbet punch is a classic recipe that you can tweak for any occasion. I love Liz on Call's raspberry lemonade sherbet punch for Valentine's Day. The way she serves it with candy hearts and fresh raspberries is so sweet. There are numerous options for customizing this concept, depending on your tastes and the available ingredients.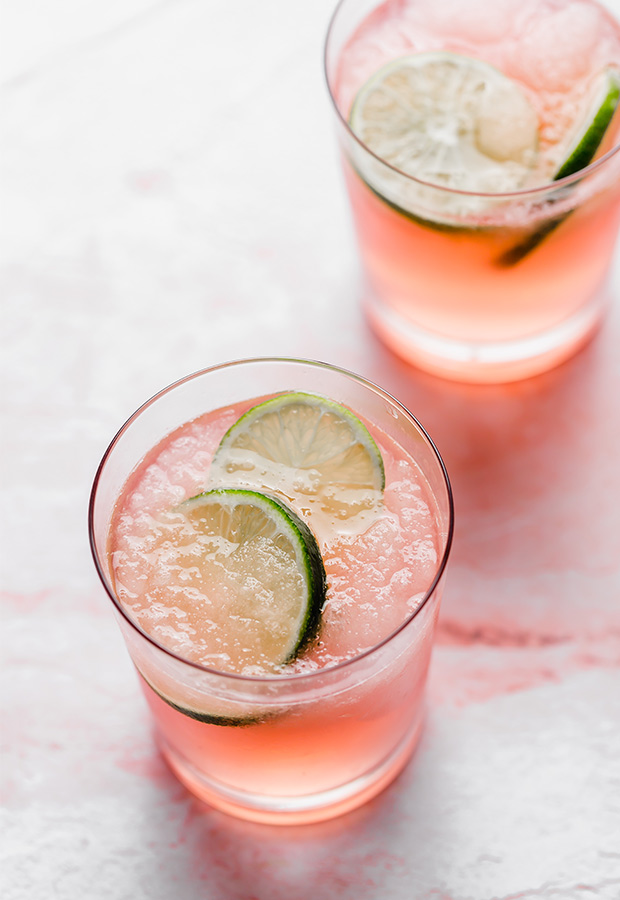 4. Limeade slush punch
Salt and Baker's limeade slush punch has a great balance of sweet and tart with just the right amount of fizz from the soda. The cherry 7Up gives it the perfect pink color for Valentine's Day. Served ice cold, it's so refreshing.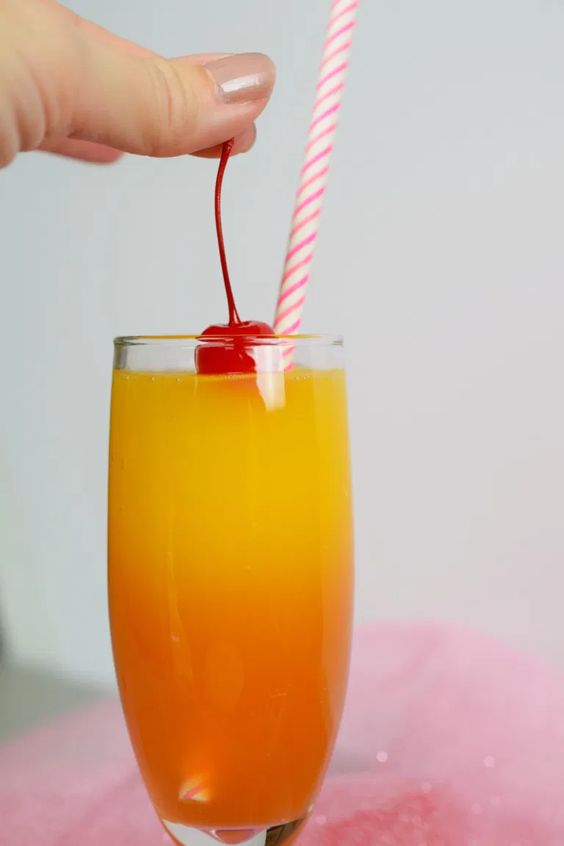 5. Sweetheart sunrise
Who Needs a Cape?'s sweetheart sunrise is a non-alcoholic tequila sunrise. With just three ingredients, it's so easy to make and a drink that the whole family will enjoy with breakfast or brunch to kick off Valentine's Day.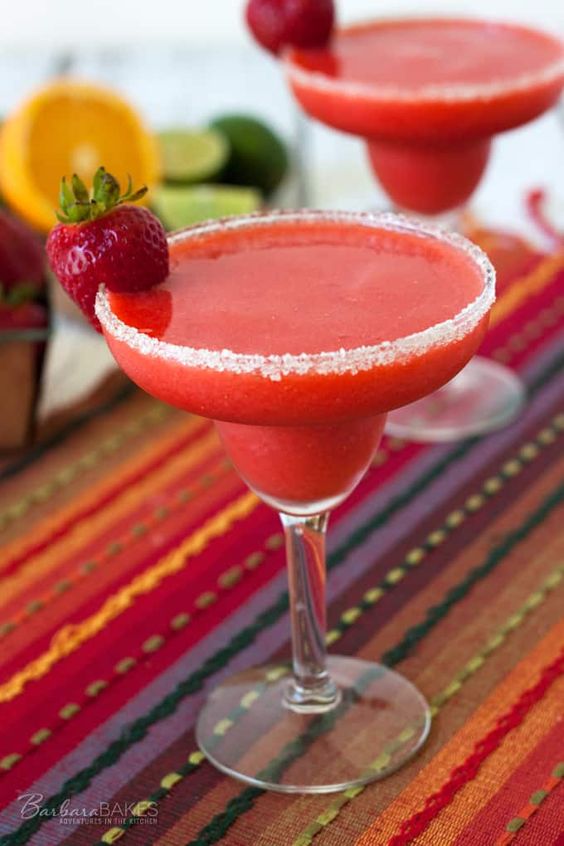 6. Non-alcoholic strawberry margarita
Barbara Bakes' frozen virgin strawberry margarita has all of the fruity flavor that you love in a strawberry margarita without any alcohol. Don't forget the sugar rim and strawberry garnish.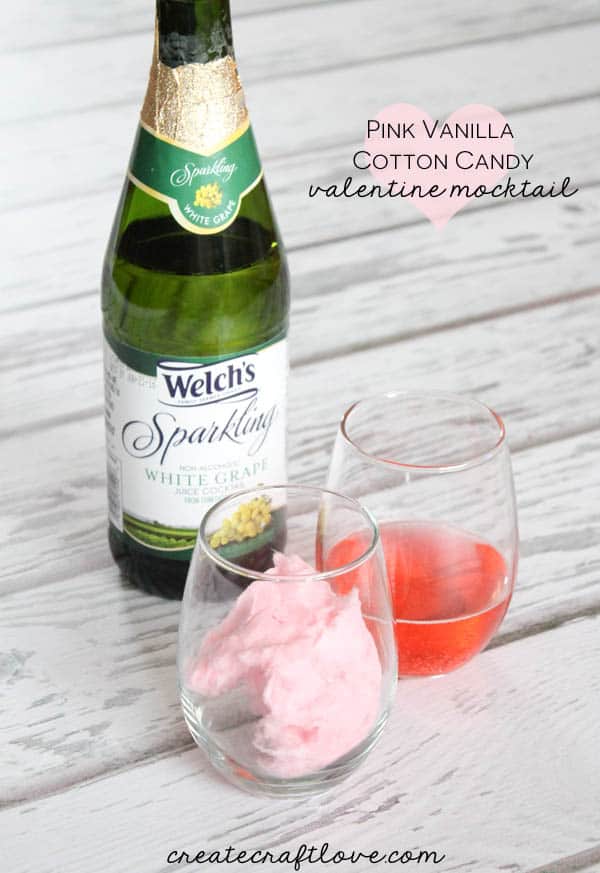 7. Pink vanilla cotton candy mocktail
Create Craft Love's pink vanilla cotton candy mocktail is made with just two ingredients and has the prettiest red and pink shades for Valentine's Day. It's a fun drink to make for any holiday or special occasion that you're celebrating with kids.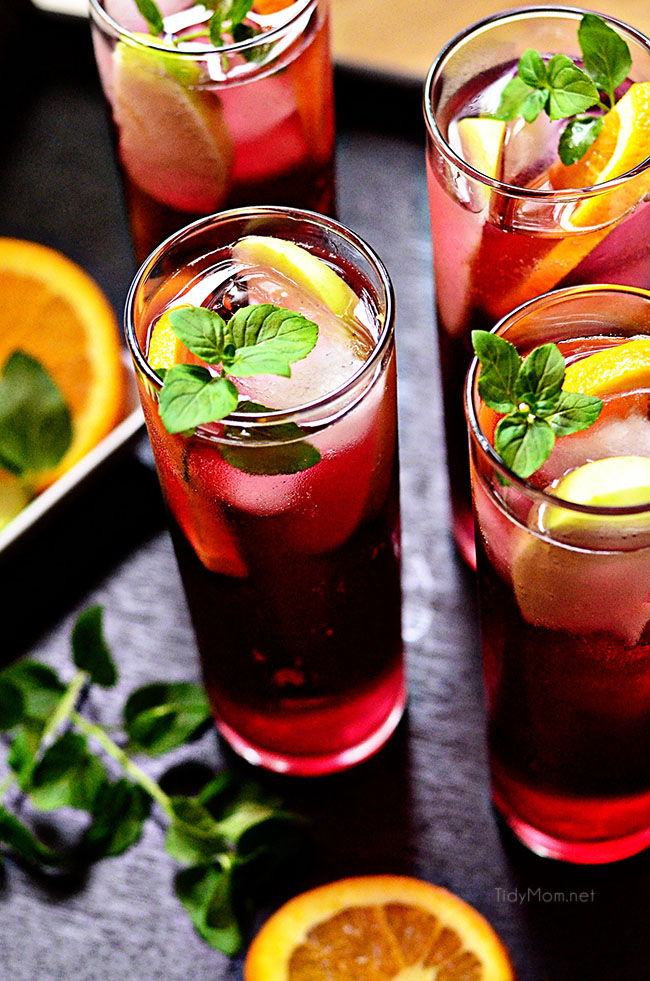 8. Pomegranate spritzers
Tidy Mom's apple pomegranate spritzers are simple and refreshing and perfect for virtually every occasion. Apple and orange slices and mint sprigs make the prettiest garnishes for these lovely red drinks.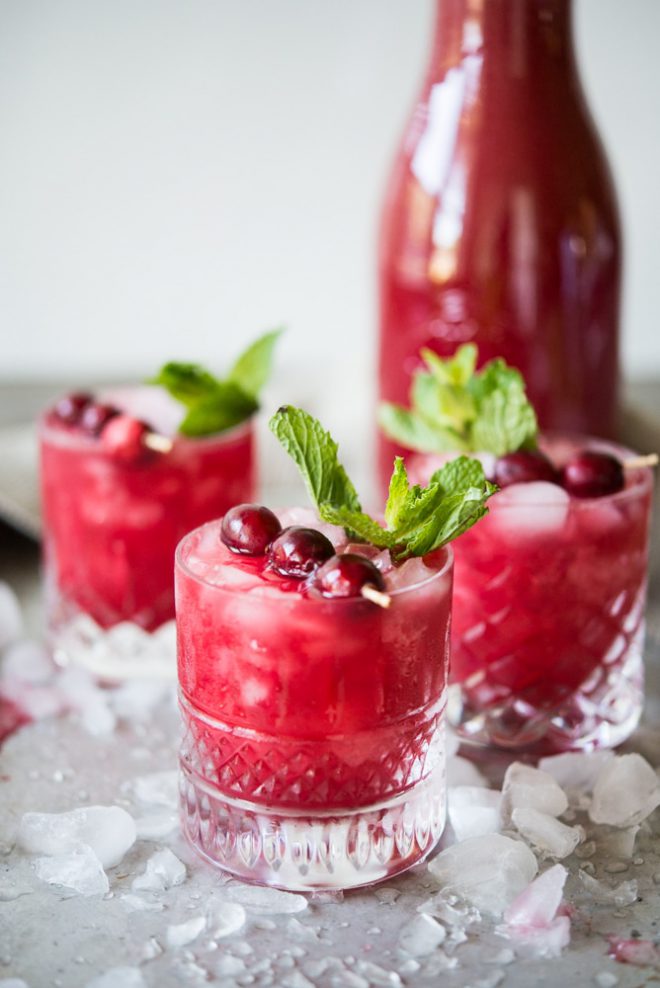 9. Cranberry agua fresca
I chose Fed and Fit's cranberry agua fresca for Valentine's Day because cranberries are more readily available in February than a lot of popular agua fresca fruits (i.e., watermelon, peach). Of course, you can't beat the color for Valentine's Day, too. Her recipe includes five easy variations, three of which are non-alcoholic.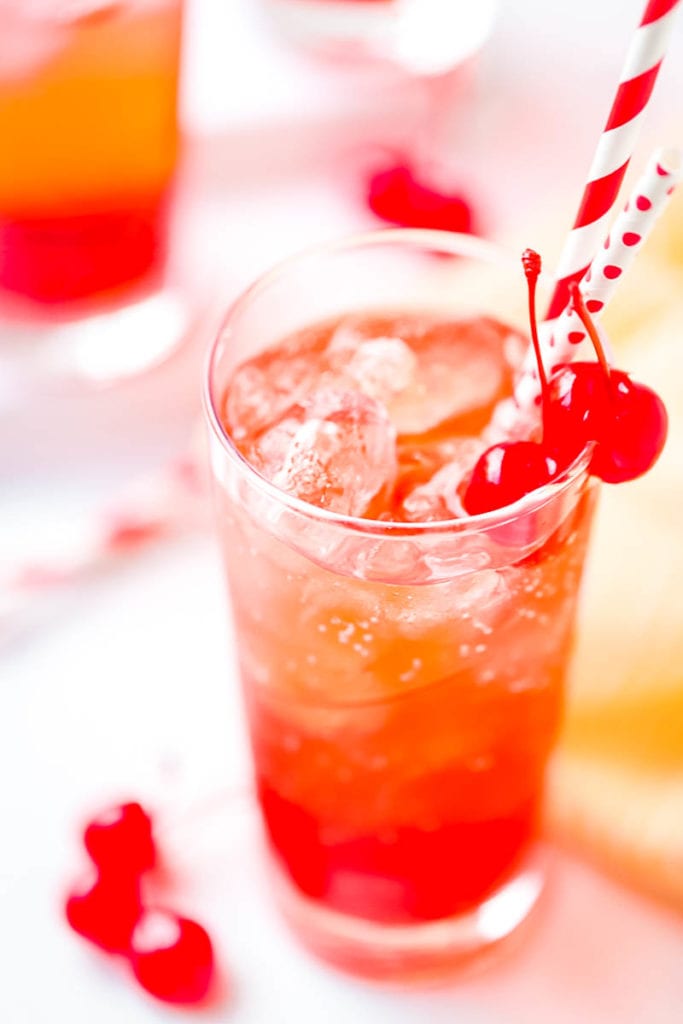 10. Shirley temples
Sometimes you can't go wrong with the classic non-alcoholic drinks, and Julie's Eats and Treats' Shirley temple is no exception. You can't improve on this tried-and-true virgin drink that kids and adults alike always enjoy.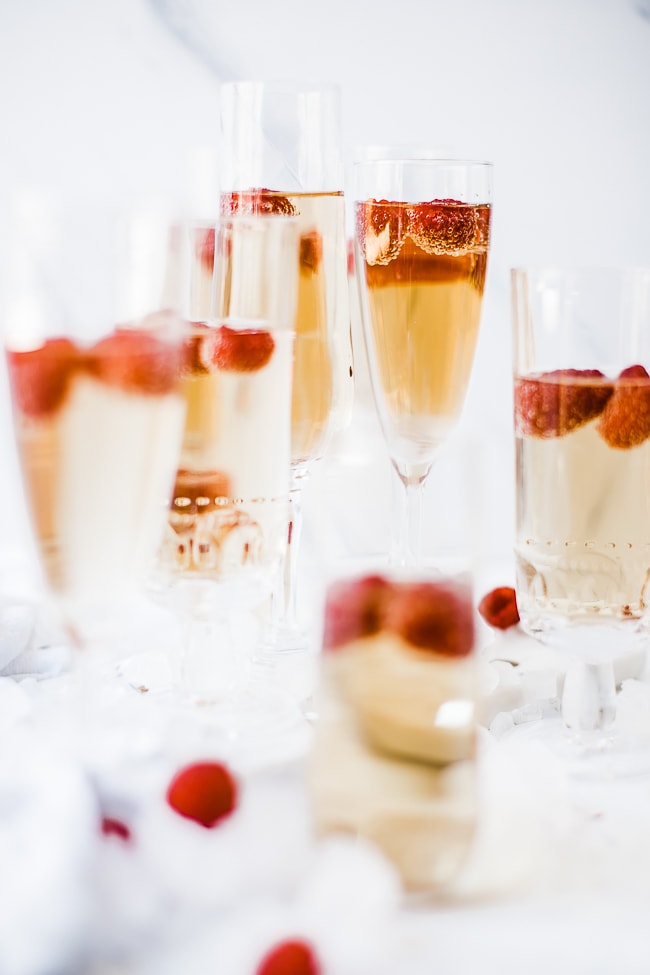 11. Mock champagne
No one will feel left out on any holiday or special occasion when they're drinking one of Oh So Delicioso's mock champagne. It couldn't be easier, still gives you the bubbles that you love with champagne, and has fresh tart raspberries for garnish.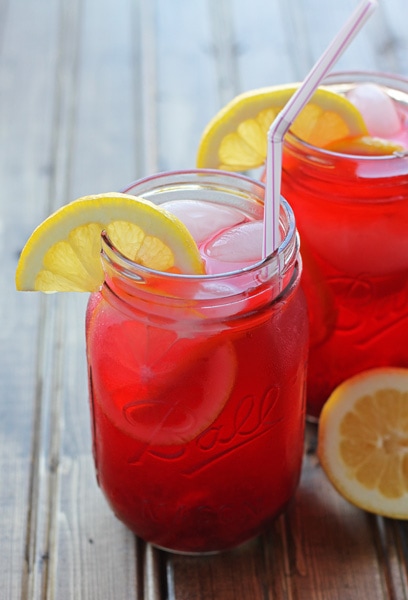 12. Cherry lemonade
Dessert for Two's cherry lemonade recipe is especially perfect for Valentine's Day because it's intended for just two people. It will take you less than 10 minutes to whip up this special drink for you and your significant other. If you can't find fresh cherries for Valentine's Day, frozen cherries work well, too.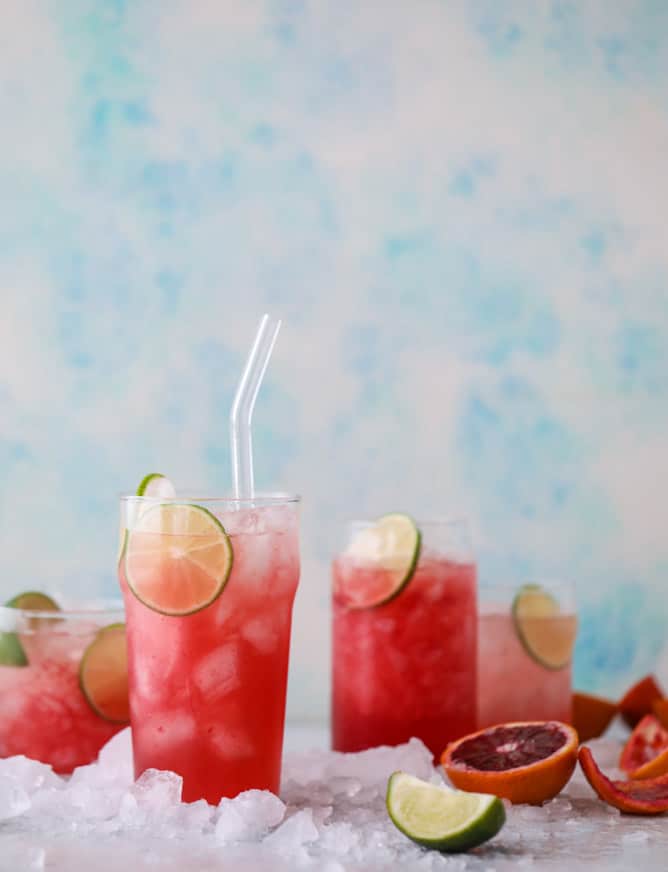 13. Blood orange cooler
If you can find blood oranges for Valentine's Day, you have to make How Sweet Eat's blood orange cooler. It's so simple and refreshing. Blood oranges have such a short season. You have to take full advantage of it before they're gone again.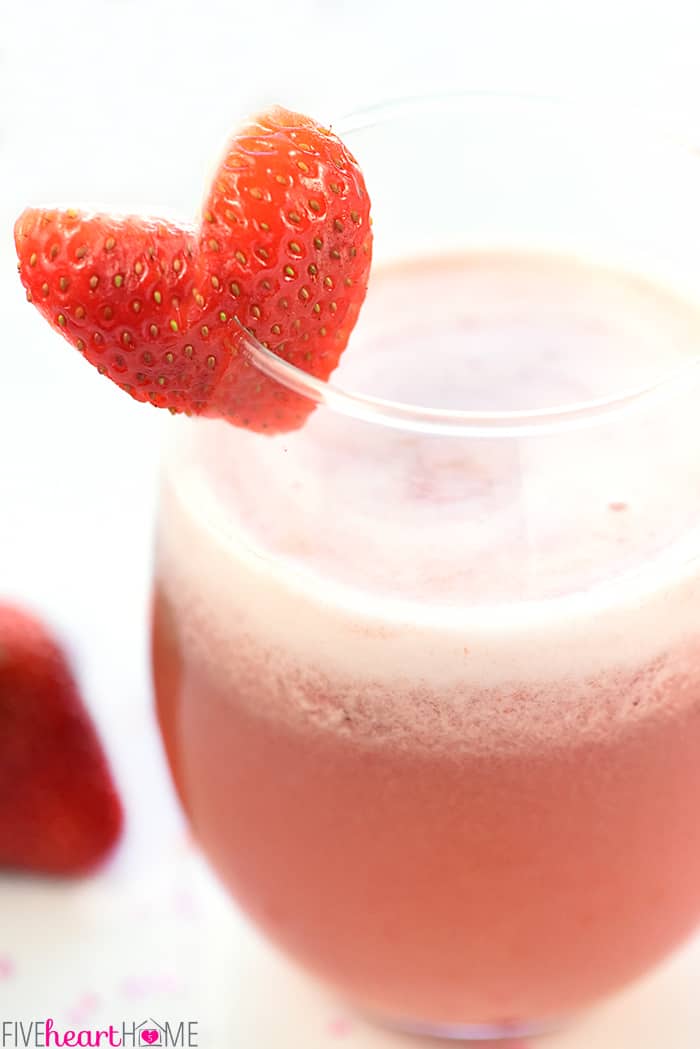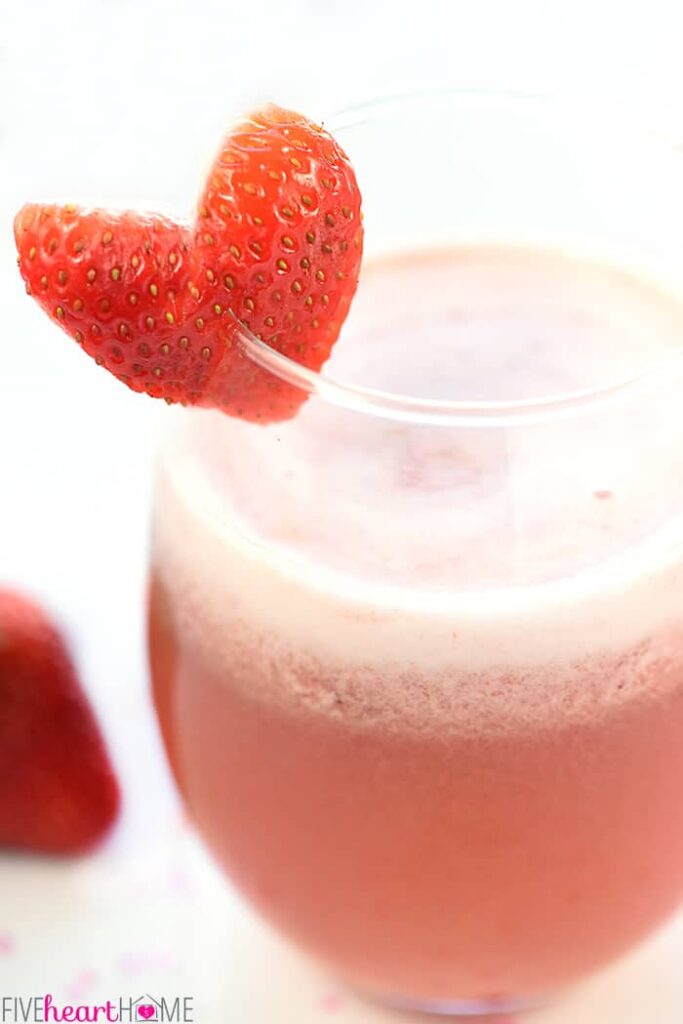 14, Sparkling strawberry floats
Five Heart Home's sparkling strawberry floats are like root beer floats except with fruity sorbet and clear, sparkling soda. There are so many ways you can switch up the flavor pairings here to make this drink your own.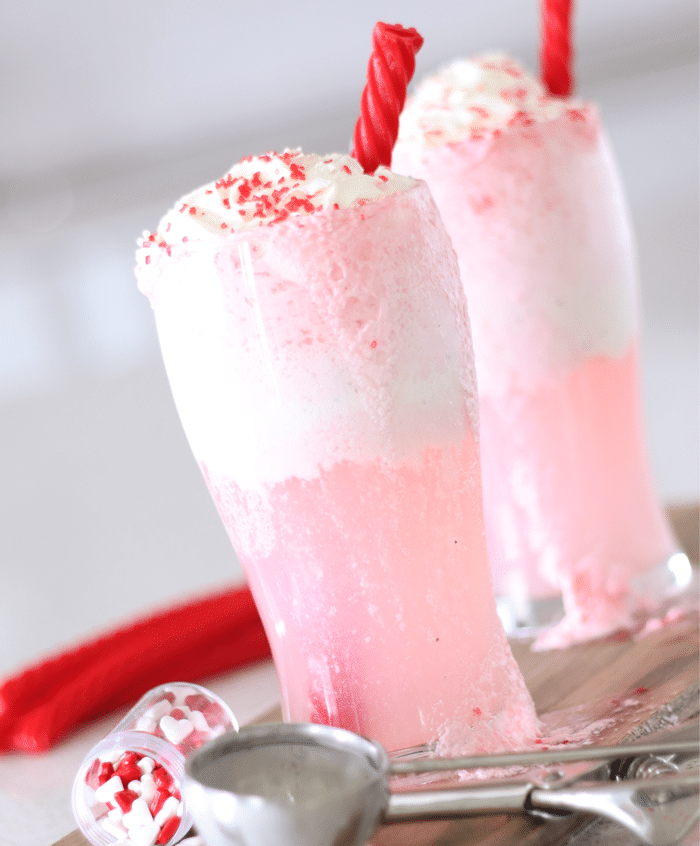 15. Cupid floats
If you need another variation on the classic root beer float for Valentine's Day, make Somewhat Simple's cupid floats. There's no reason that you have to be a kid to enjoy a good ice cream drink. Using licorice candy for the straws is such a cute touch.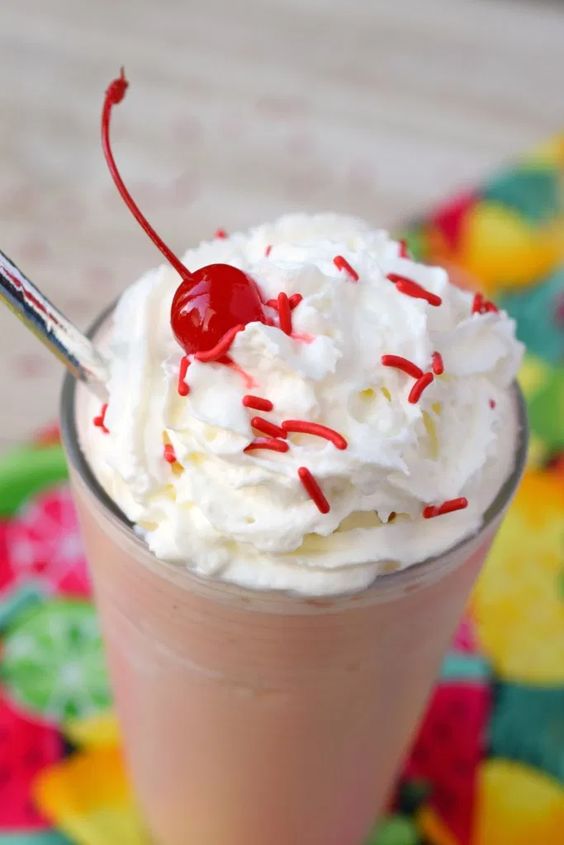 16. Cherry vanilla java frappe
If you're like me and drink iced coffee all year round, Who Needs a Cape?'s cherry vanilla java frappe is right up your alley for Valentine's Day. It's the perfect drink to mix up your coffee routine and comes together so quickly with just a few simple ingredients.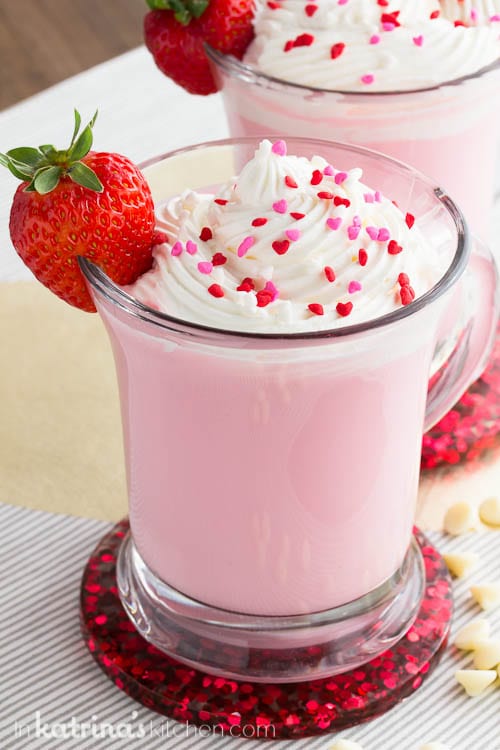 17. Strawberry white hot chocolate
Using white chocolate for fruity hot chocolate gives it the prettiest color. In Katrina's Kitchen's strawberry white hot chocolate isn't too rich and is topped with fresh whipped cream, which is a must.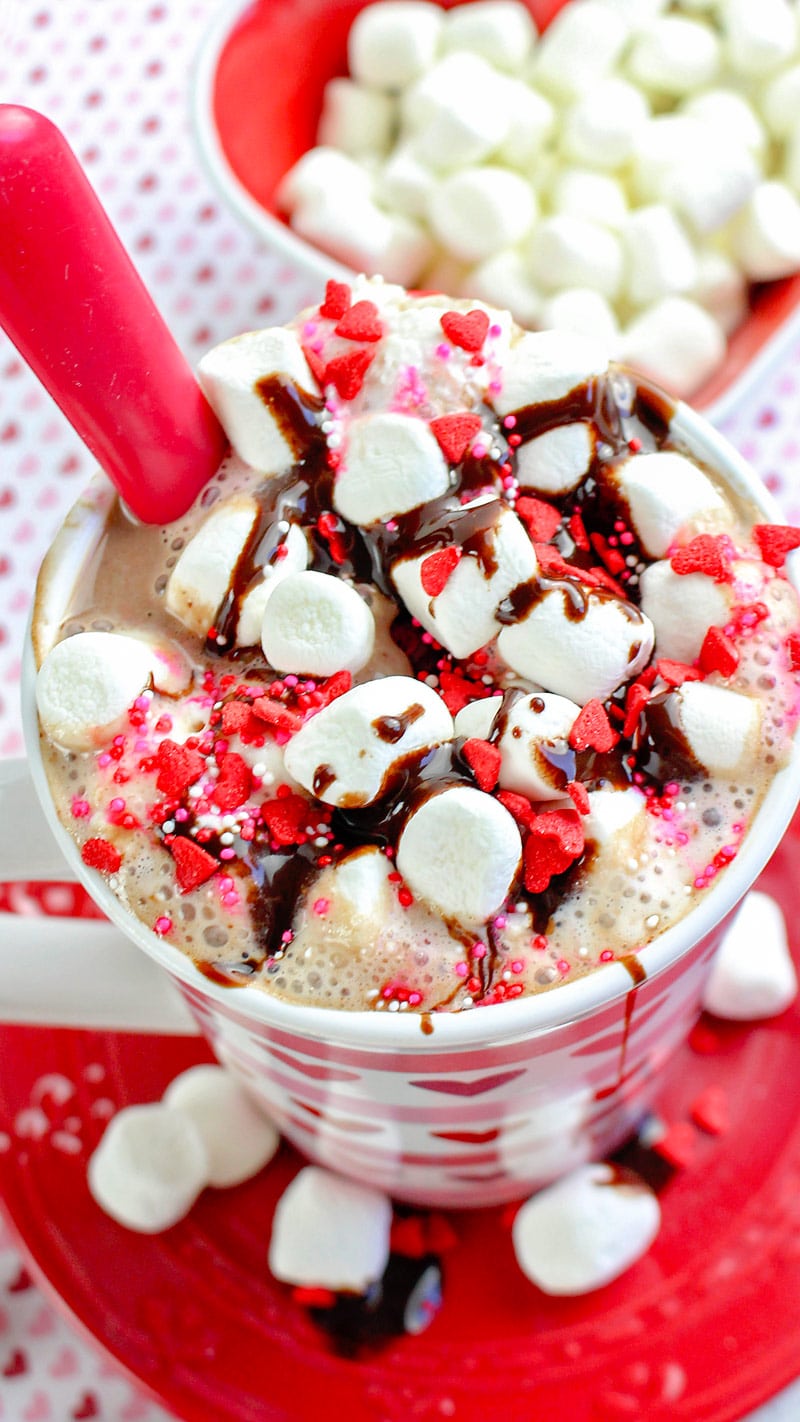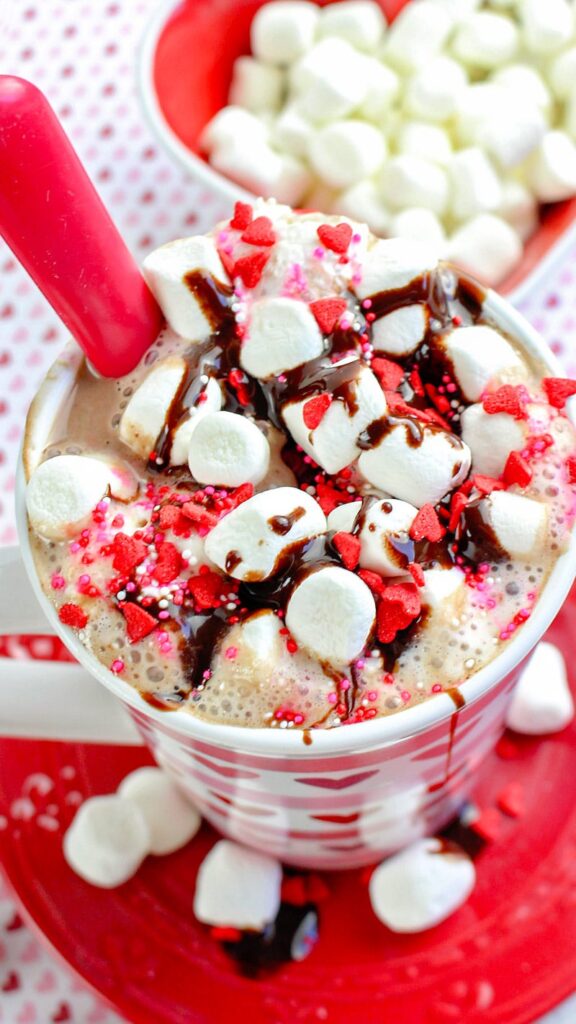 18. Raspberry hot cocoa
Scattered Thoughts of a Crafty Mom's raspberry hot cocoa simmers for a couple of hours in the slow cooker, making it a great option when you're hosting a small group. Prep whipped cream, chocolate topping, mini marshmallows, and sprinkles right before serving.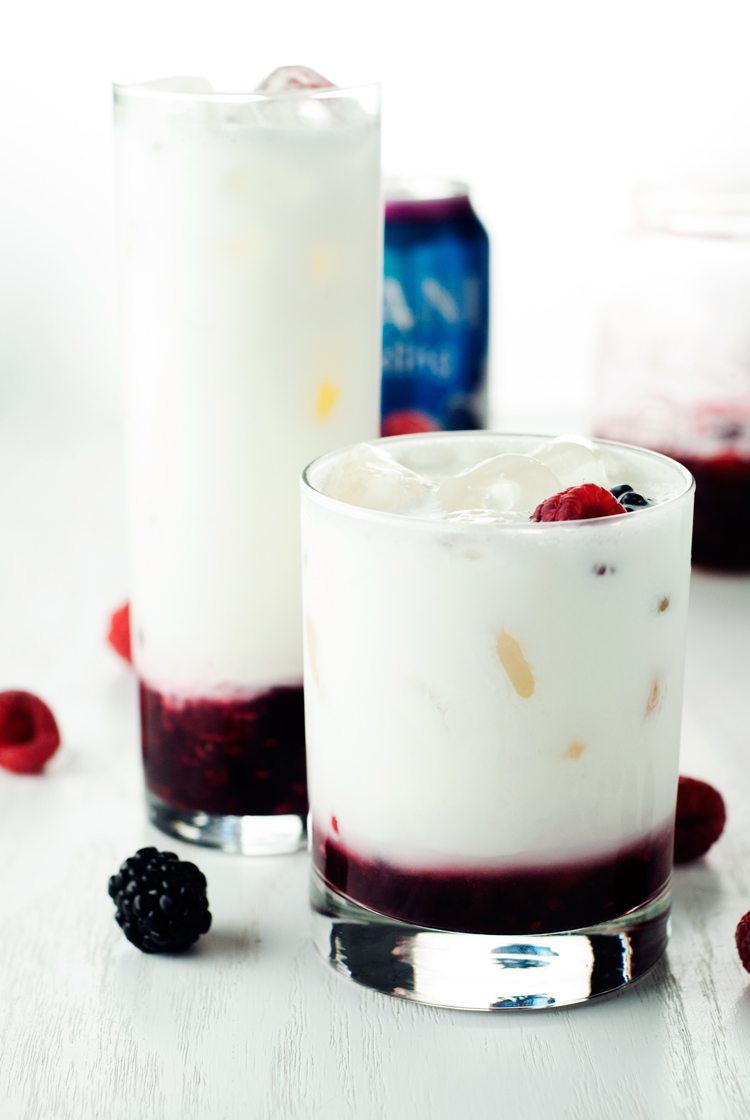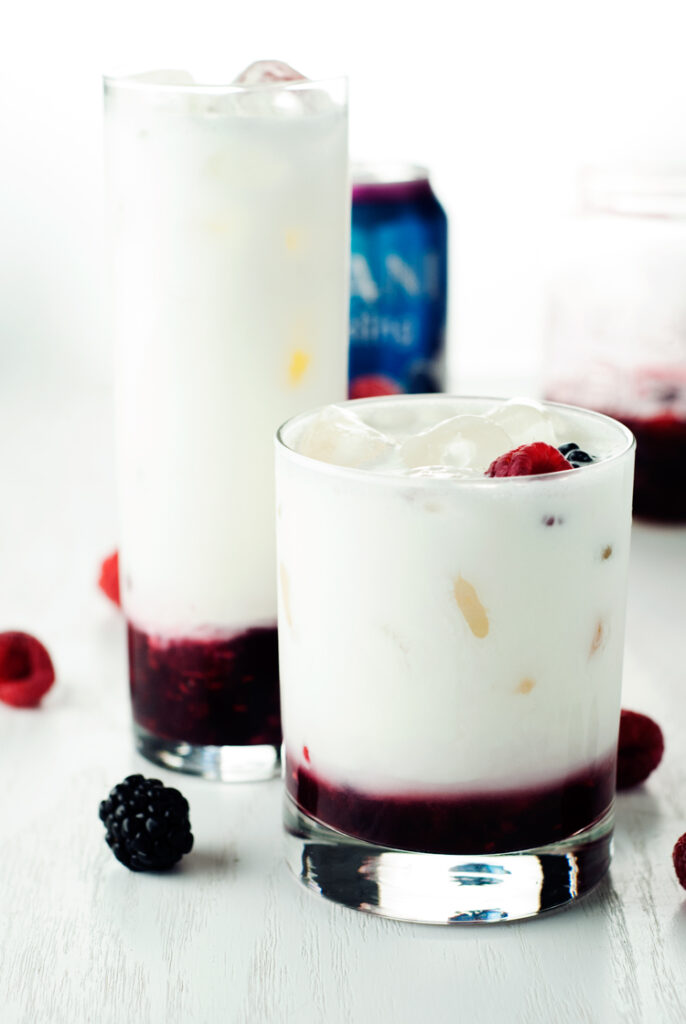 19. Berry Italian cream soda
Italian cream soda is so easy to make it home and is a delicious treat for special occasions. I love A Simple Pantry's berry Italian cream soda for Valentine's Day, especially because this recipe serves two people. You can prep the berry syrup ahead of time, so it comes together quickly when you're ready to enjoy the sodas.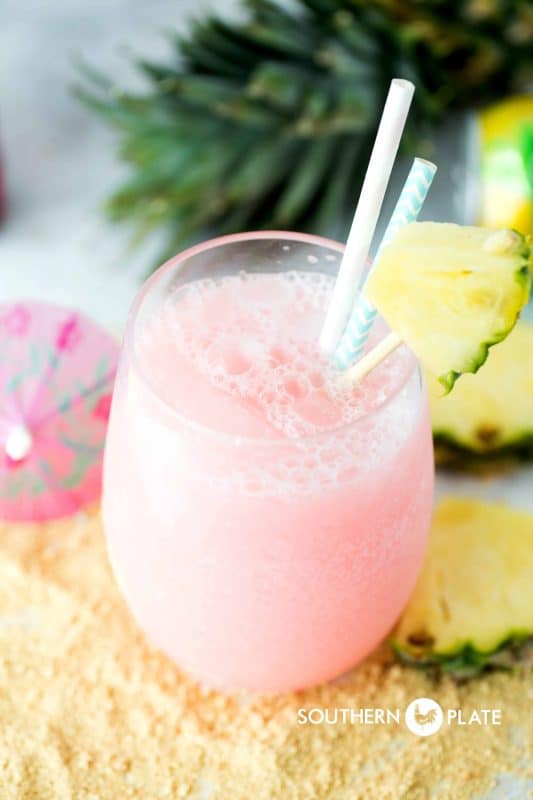 20. Tropical pink
Southern Plate's tropical pink will transport you right to the beach destination you're dreaming of in the middle of February. Even when you're not at the beach, you can still enjoy a refreshing fizzy tropical drink while you plan your next vacation.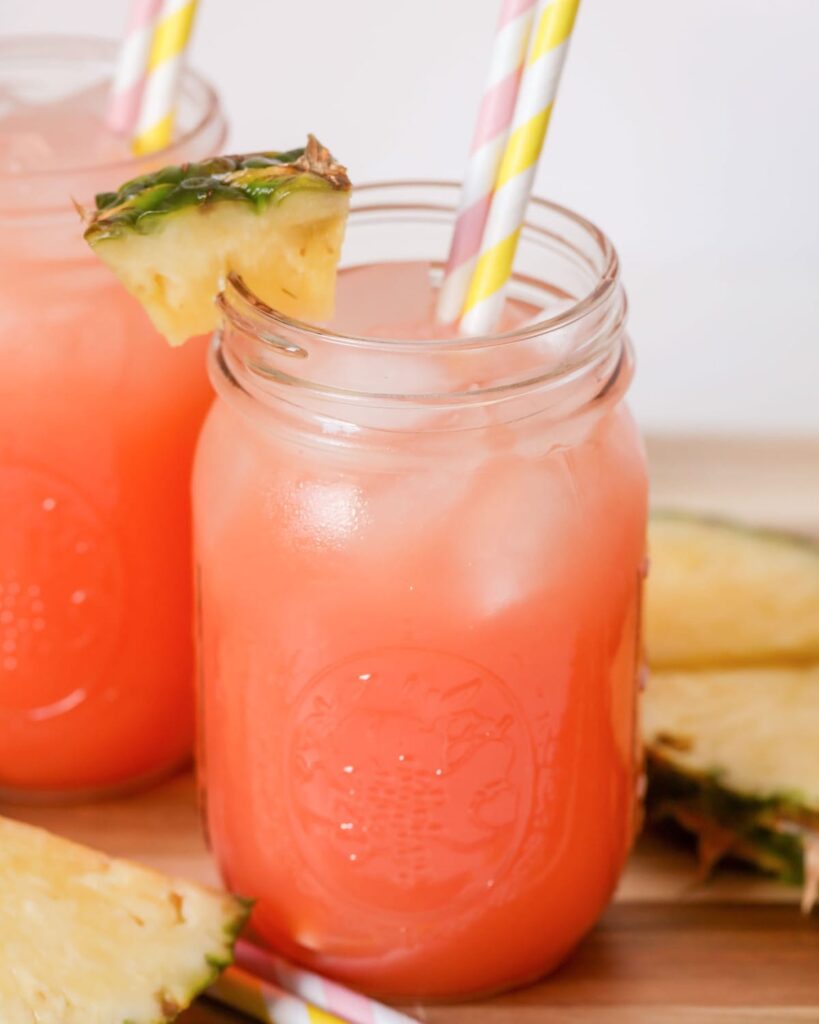 21. Pink pineapple lemonade soda
Lil' Luna's pink pineapple lemonade soda is a no-fail punch recipe for serving a large group of people. She has lots of tips for ensuring this easy delicious drink turns out perfectly every single time.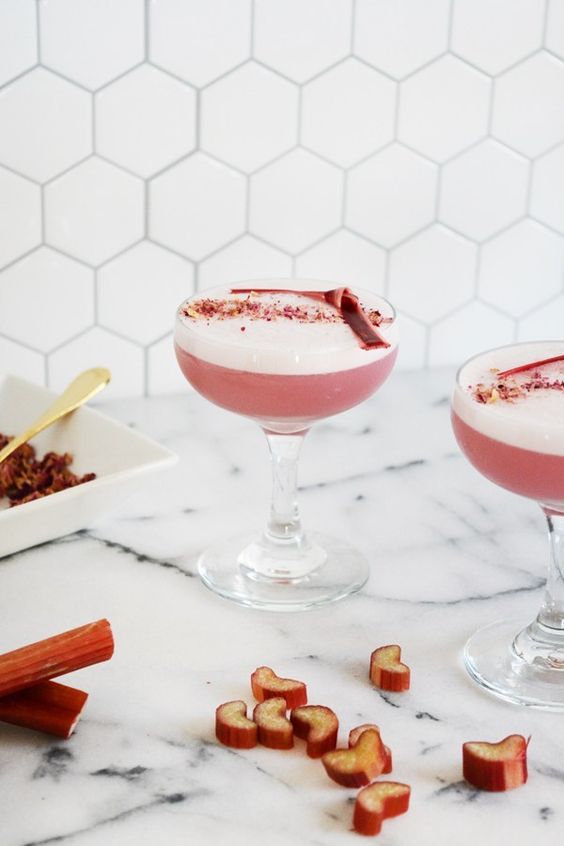 22. Rhubarb rose fizz mocktail
Oleander and Palm's rhubarb rose fizz mocktail is the prettiest rhubarb drink you've ever seen. You won't miss the alcohol at all in this expertly prepared cocktail.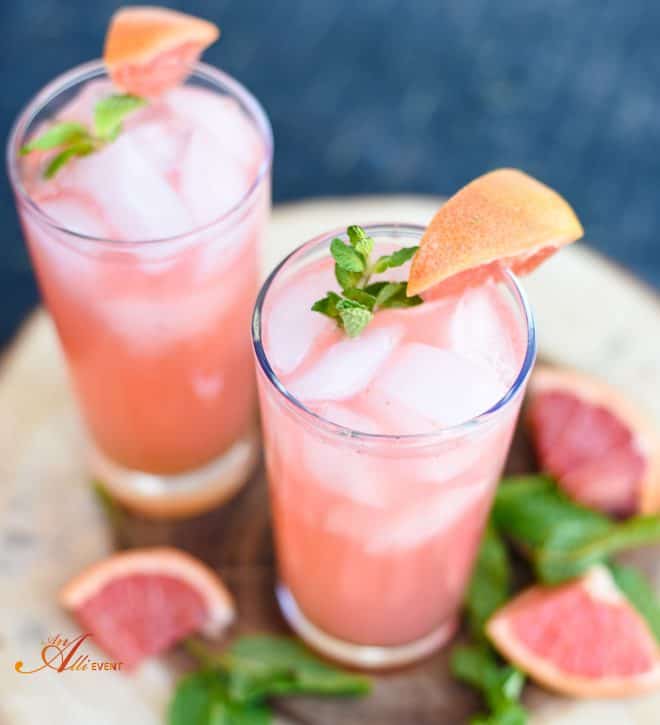 23. Virgin pink grapefruit mojito
I love An Alli Event's twist on the classic mojito with a virgin pink grapefruit mojito. I know that I sound like a broken record, but it's another ideal recipe for Valentine's Day, as it serves two and is a beautiful pink color.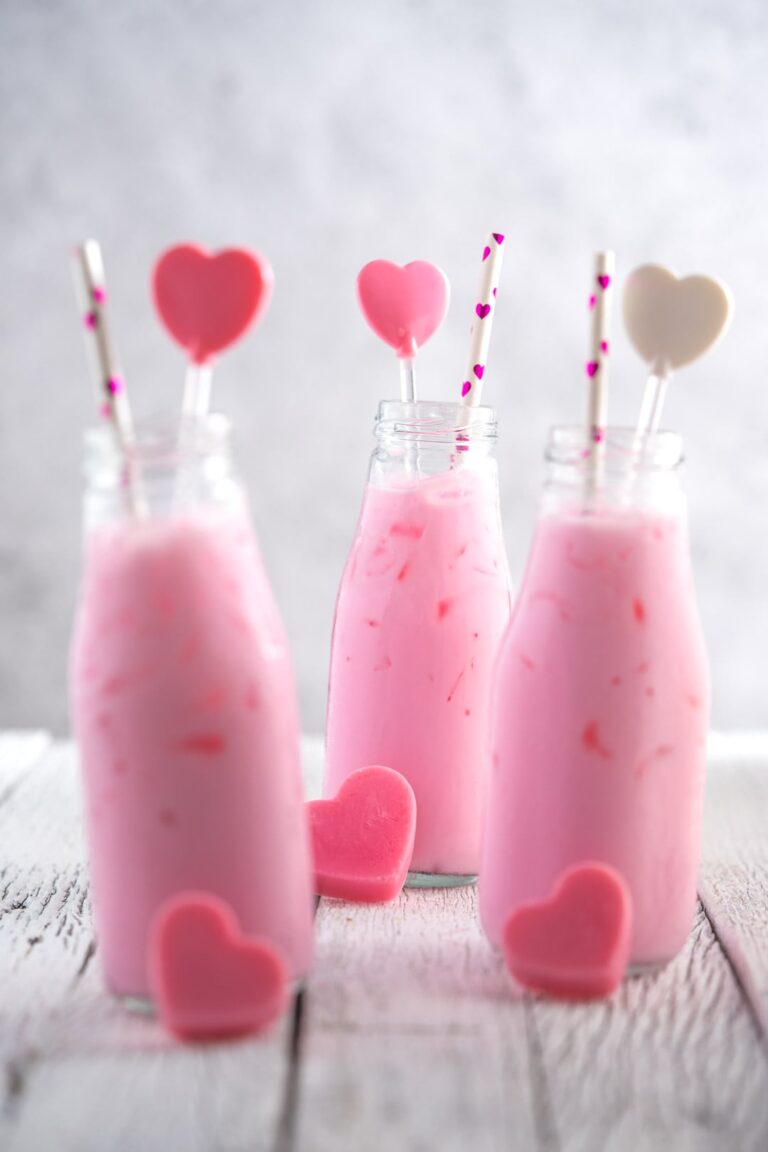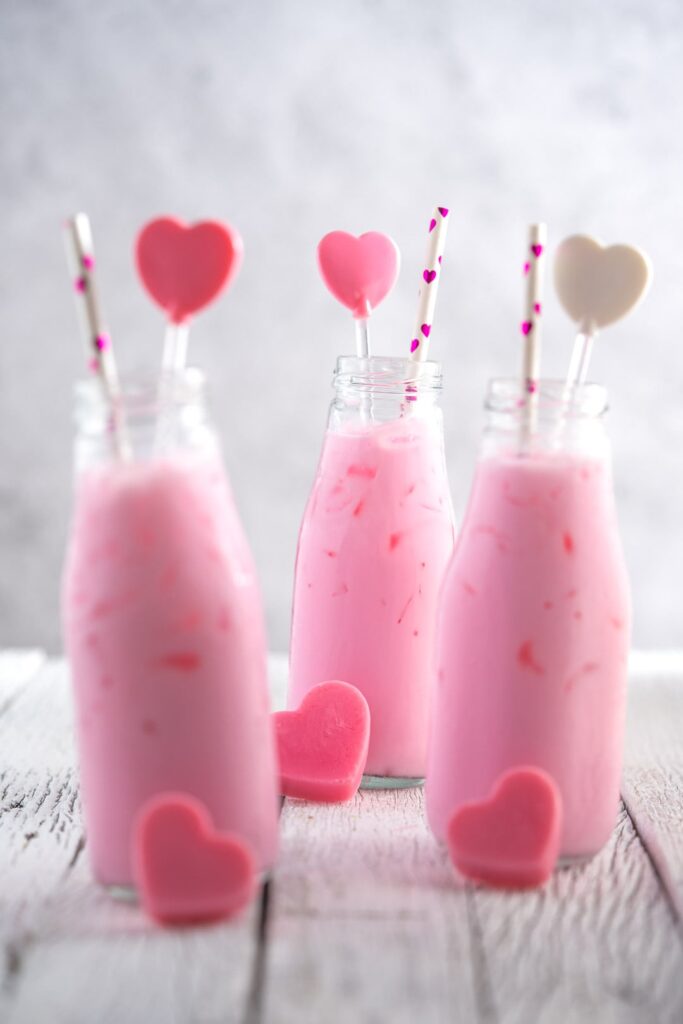 24. Thai pink milk
Pick up some sala flavored syrup, so you can make Cooking with Nart's nom yen (Thai pink milk) at home any time you have Thai takeout or just need a sweet drink fix.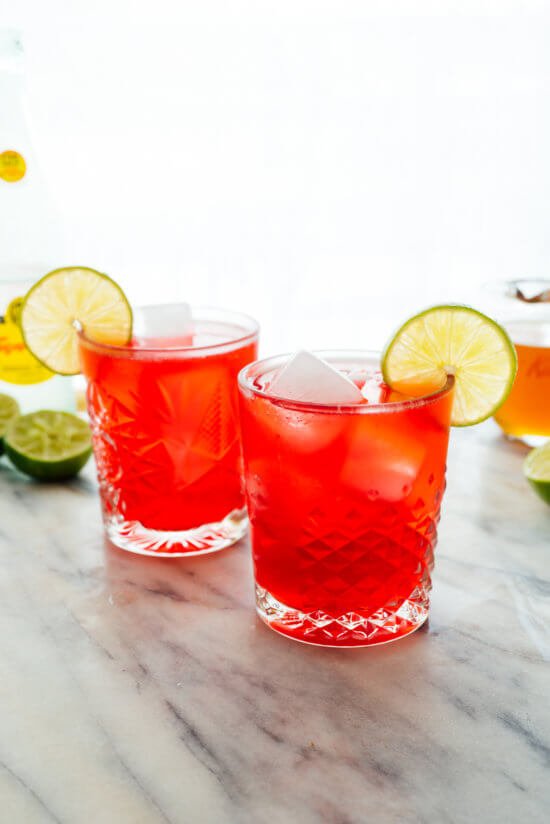 25. Hibiscus mocktail
Hibiscus tea is delicious and has the loveliest natural shade of red. It's the perfect base for Cookie and Kate's hibiscus mocktail, which also features lime, honey simple syrup, and club soda.
[Disclaimer: There are a few affiliate links in this post. Thanks for your support!]
Did you make one or more of the non-alcoholic drinks for Valentine's Day?

I want to see it! Tag your images #RoseClearfield on Instagram or Twitter or post a photo to my Facebook page. Make sure to tag the recipe creator as well!
Pin this post for easy access to the non-alcoholic drinks for Valentine's Day round-up later!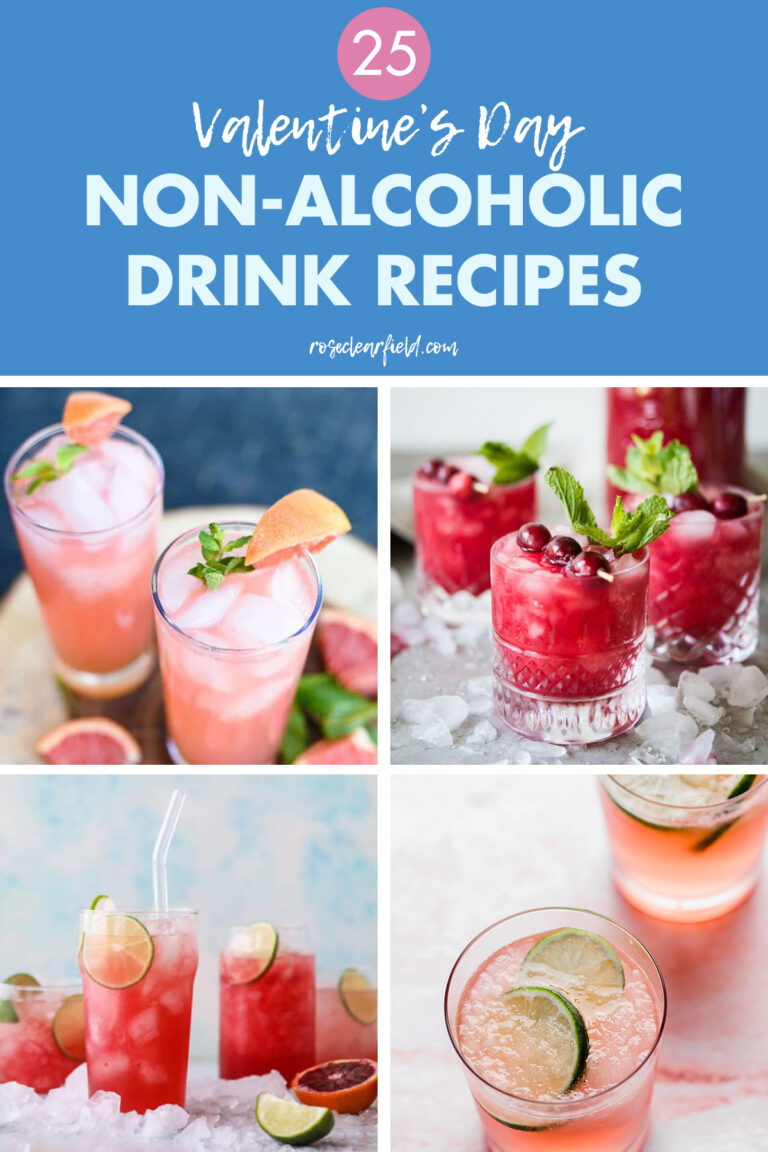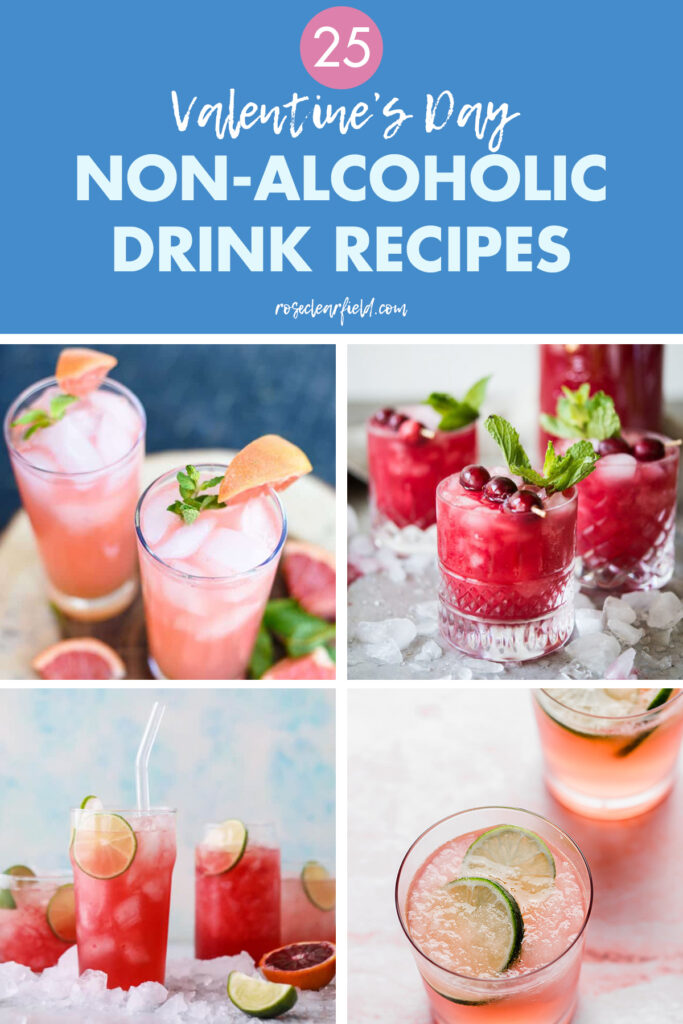 More non-alcoholic holiday drink round-ups:
More Valentine's Day resources: