So many of us are spending more time than usual at home right now. Having a list of things to do while you're stuck at home this winter is important for protecting your mental health and maintaining a nice balance of relaxation and productivity.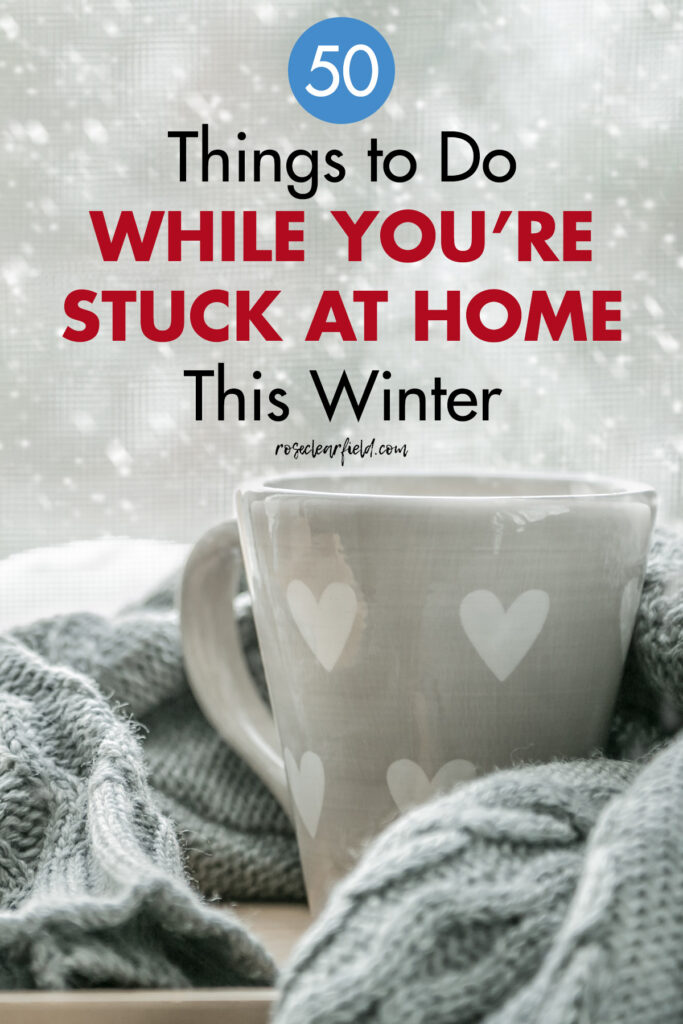 I've done my best to include a variety of activities in this list of things to do while you're stuck at home this winter. I could easily have created a list that was nothing but leisure activities or that was just a long list of cleaning chores. If you'd like to tackle more cleaning, go for it. I have deep cleaning checklists for the kitchen, bathroom, living room, and bedroom that will give you plenty to do over the coming months. However, I know that most of us will cope better at this time with a few bigger cleaning/organizing projects among more fun pursuits.
1. Make a new music mix
As someone who spent years making mix tapes and CDs, nothing makes me happy quite like a new music mix. A well-curated mix is so much better than even the best streaming station.
2. Read a book
Take advantage of the extra time inside to read a book that's been on your list for ages. I have a post with my all-time favorite books. If you're having trouble focusing on a print book, try an audiobook! It's the perfect thing to listen to while you're cleaning or putting away laundry.
3. Do a simple DIY project
I stress simple for those of you who don't do a lot of DIY projects. Just a few of my favorites include a Scrabble tile picture frame, a faux greenery wreath, and birthday cards. If you want a more involved project, sew Valentine's Day ornaments for the upcoming holiday.
4. Clean out your closet
Over the course of a few days, go through every closet rack and drawer containing clothes. Throw out anything that is worn beyond repair. Make a pile of clothes in good condition that you no longer wear to donate. If items need to be fixed, add that to your to-do list. If your bedroom closet is too overwhelming or just not a high priority, pick another closet like the linen closet or medicine cabinet.
5. Get a sourdough starter
It's not too late to hop on the sourdough trend! There are more sourdough resources and recipes than ever before. Even if making bread is intimidating, there are so many other recipes that use starter or discard. If you don't know someone with starter who can give you some, I recommend ordering sourdough starter from King Arthur or a similar place instead of starting it completely from scratch. My favorite sourdough discard recipe so far is crackers. You can use starter or discard to make everything from pizza dough to pasta to cinnamon rolls.
6. Make a new recipe
Going through a season of a lot of time at home without eating in restaurants doesn't make me very creative in the kitchen. I know I'm not alone. Resist the urge to order takeout one more time and try a new recipe. Of course, my go-to for recipes is always How Sweet Eats. A few easy recipes to try for winter include lemon pasta, slow cooker chicken and dumplings, and winter citrus butter salmon.
7. Change the furnace filter
Changing the furnace filter regularly is so important for maintaining good air quality in your home. Thomas & Gailbraith has a great resource on how often you should change your furnace filter. If you don't remember when you last changed your filter, make it a priority this winter. Then set notifications in your calendar, so you keep replacing it on a set schedule.
8. Enroll in an online class
I know that most of us are burned out on Zoom and can't imagine voluntarily spending more time on the platform right now. I encourage you to choose a class that's strictly for pleasure, such as baking, or a class that doesn't involve Zoom. For example, Alisa Burke has been offering online art classes for over a decade now. You can work at your own pace and will have access to the materials indefinitely.
9. Learn a new skill
An extended period at home is the perfect opportunity to work on a new skill. From knitting to photography to playing the piano, there are so many skill sets you can work on from the comfort of your own house. Start small, setting aside 10-15 minutes a day. Then challenge yourself to increase that time slightly.
10. Switch up your living room decor
Rotating in even a few new decor items periodically throughout the year keeps your home fresh and inviting. January and February can be challenging decorating months, as it's not always easy to find winter decor ideas that aren't Christmas-y. Check out winter decorating ideas for after Christmas and post-Christmas winter mantel inspiration to get you started.
11. Buy new slippers
New slippers make every day at home more enjoyable. Your toes will stay warm, and your feet will be happy, even when you stand on hard floors for long periods of time. You can't go wrong with moccasin slippers. Target has several colors available.
12. Replace your bed pillows
Most likely you've replaced your sheets and pillowcases within the last couple of years. But I bet that most of you can't remember when you last replaced your pillows. Be honest about what sort of pillows you like best, and invest in high-quality pillows. It isn't worth saving a few dollars if you won't sleep well.
13. Make Christmas card books
After years of saving my cards, I started turning them into Christmas card books. The books don't take up much space and are so much fun to look through year after year.
14, Clean up your hard drive
HP has a great post that takes you through seven simple steps to clean up your hard drive. You'll free up a lot of space, and your hard drive will be much more organized.
15. Clean up your phone files
Cleaning up your phone regularly is even more important, as phones have much less storage space than computers. Komando has a detailed article that takes you through exactly what you need to do to clean up your phone. It also has advice for cleaning the exterior of your phone.
16. Send Valentine's in the mail
There is nothing like getting cards and other fun surprises via snail mail. Make your own Valentine's or purchase Valentine's from one of your favorite Etsy shops.
17. Plan a summer or fall vacation
Getting a start on your plans for a summer or fall vacation will make you less depressed about the current cold weather. By January, many popular vacation destinations are already getting booked up for the summer. At a minimum, choose your dates, book your lodging, and if necessary, start looking at flights.
18. Plan your summer garden
Working on your summer garden will also help you beat the winter blues. Winter is the perfect time to start drawing up plans, ordering seeds, and making a timeline for when you'll start certain plants inside.
19. Prepare a compost bin
Winter is an ideal time to purchase or build compost bins and get started with composting. You can even set up a small bin right in your kitchen. By the time you're into the next growing season, you'll have a nice pile of compost going already for your garden. [Source]
20. Get a few indoor plants
Indoor plants provide a pop of green as well as a wealth of health benefits, which is much needed in the winter. If you're new to indoor houseplants, choose plants that are low-maintenance. HGTV has a great low-maintenance houseplants resource to get you started.
21. Switch up your social media routine
I don't think that I need to spend a lot of time explaining that social media can stress out all of us, these days more than ever it seems. Quit following as many accounts as possible, and unfollow anyone else that you just need a little break from or don't want to offend. Find new accounts to follow that will get you excited about browsing on social media again. Or take a break from social media completely, and find other ways to unwind on your phone, such as playing games.
22. Buy some new puzzles
If you haven't already jumped on the puzzle trend the past couple of years or did a few puzzles early on but haven't lately, the winter months are the perfect time for puzzles. Choose subjects that are appealing to you. Stay away from anything that will be too tedious or frustrating.
23. Buy some new board games
Winter is also the ideal time to try a few new board games. Choose games that will be enjoyable for the number of people in your household and the ages of your kids.
24. Give yourself a pedicure
Even when no one else can see your feet, I guarantee that you'll enjoy a fresh pedicure. Buy a new sugar scrub to up your at-home pedicure experience. I still haven't gotten over the Essie Couture polishes. My favorite color is Stitch by Stitch.
25. Clean out your pantry
Over time, even the most organized pantries can get cluttered and full of old items. One shelf at a time, take out every item. Discard anything old or expired. Reorganize everything you're keeping. If you're in need of pantry organizers, this is a good time to invest in a few.
26. Take a long bath
A long bath is one of those cheap luxuries in life that so few of us really enjoy very often. Get some bubble bath, light a candle, and settle in with a good book or TV show or simply enjoy the silence for a few minutes.
27. Test your smoke and carbon monoxide detectors
I guarantee you that if we didn't have an active home study, I would have no idea when we'd last tested any of our detectors. You should have one smoke detector and one carbon monoxide detector on every level of your home. You should also have one smoke detector in every bedroom. Buy any needed detectors and install them. Then test the existing detectors. Replace batteries and detectors as needed.
28. Wipe down doorknobs and other high-touch areas
There has never been a better time to get in the habit of wiping down high-touch areas of your home. Wipe them down at least once or twice a week. Disinfecting wipes make this task so quick and easy.
29. Switch out the photos in your frames
Go through your phone or hard drive and pick out a selection of recent favorite photos to print.
30. Buy new kitchen towels
Kitchen towels are inexpensive and provide a fun pop of color or seasonal touch in a kitchen. My favorite place to get kitchen towels in Crate and Barrel.
31. Stock up on tea
Having a nice selection of tea gives you something to look forward to every day. Choose a time to enjoy a daily cup, and make it part of your routine.
32. Make a special coffee drink for yourself at home
Taking your coffee game up a notch at home also gives you something to look forward to each day, even when you're not leaving the house. There are tons coffee recipes online, such as How Sweet Eats' iced raspberry lattes and Half Baked Harvest's vanilla bean iced coffee, to help you create amazing drinks in your own kitchen.
33. Set up a hot chocolate bar
There's nothing cozier in the winter than a hot chocolate bar. Set out your favorite mugs and include a few special treats, such as marshmallows, candy canes, and chocolate chips.
34. Buy a new mug
During hot drink season, you'll love having a new mug in your rotation. The Wheat Field on Etsy has some of my favorite mugs right now.
35. Find ways to drink more water
It's important to keep drinking water all winter long, especially when you live in a climate that's dry in the winter. Keep lemons in the fridge, so you can add a slice to your cup or water bottle. Buying a new cup, such as the Ello glass tumbler, or a fruit infuser water bottle can also be motivating to drink more water.
36. Clean your windows
Starring through dingy windows all winter long will make you depressed without even knowing why. Whenever possible, wash both the inside and the outside of the windows.
37. Download Duolingo
Spending a lot of time at home these past couple of years has significantly contributed to my 700+ day Duolingo streak. It's free, and a single lesson or review only takes five to 10 minutes.
38. Up your skincare routine
Adding one or two more steps to your skincare routine is another easy five to 10 minute time commitment that will make a big difference. My two most recent additions are Dr. Dennis Gross Daily Peels and Sunday Riley Good Genes. I highly recommend both of them. A face mask is another great option.
39. Catch up on magazines
Enjoy an hour or two on the couch with your favorite drink going through the stack of magazines that's always accumulating in your entryway or kitchen.
40. Watch a few movies
Revisit a few old favorite movies or watch a few new movies that have been on your list.
41. Find a new YouTube channel to follow
I don't think that I need to spend a lot of time explaining that there are YouTube channels out there for virtually every interest imaginable. If you're just looking for something light and funny to watch at the end of the day, I always recommend MXR Plays and Screen Rant.
42. Shop from local businesses online
With more businesses than ever offering online shopping, you can still support local businesses, even when you aren't going to many stores.
43. Get a start on your taxes
I'm sure that many people are skipping right over this idea. But taking the time to collect your documents and gather any other necessary information now will be much appreciated when you can leave your house again and don't want to set aside a weekend for taxes.
44. Air out your house
I know that it sounds crazy to air out your house in the winter. But when everything is closed up all the time is when the air often smells the stalest. Cracking the windows for even 15 minutes any time it's above freezing will offer some improvement.
45. Buy a few new candles or make a stovetop potpourri
For those times when you don't want to open a window, a good candle or batch of stovetop potpourri will make all the difference. I love the WoodWick candles, which crackle when they burn and are available in lots of not overly sweet scents. How Sweet Eats has a great stovetop potpourri recipe.
46. Make a to-do list for the warmer months ahead
Daydreaming about your favorite warm weather activities can help you get through the cold months. Start keeping a list of everything you want to do when the weather is nice.
47. Replace your worst pairs of underwear and socks
Sort through your underwear and socks. Throw out the six or so worst pairs of each and replace them. You'll appreciate the difference every single day.
48. Invest in a new kitchen appliance
When you're cooking the majority of your meals, getting a new kitchen appliance can be motivating to keep cooking healthy food. Be honest with yourself about what you'll use the most.
49. Spoil your pets
Why have pets if you don't spoil them a little? I'm not even sure how this routine started. But sometime during the spring 2020 quarantine, I started doing what we now call a "wet food snack" for the cats in the afternoon. They look forward to it so much.
50. Make time to get outside every day
Even when it's freezing cold, spending 10 or 15 minutes taking a walk will do wonders for your mental health.
[Disclaimer: There are a few affiliate links in this post. Thanks for your support!]
Which things to do while you're stuck at home this winter are helping you stay sane?

I'd love to hear about how you're coping during quarantine! Tag your photos and videos #RoseClearfield on Instagram and Twitter or post them to my Facebook page.
Pin this post for easy access to the things to do while you're stuck at home this winter resource later!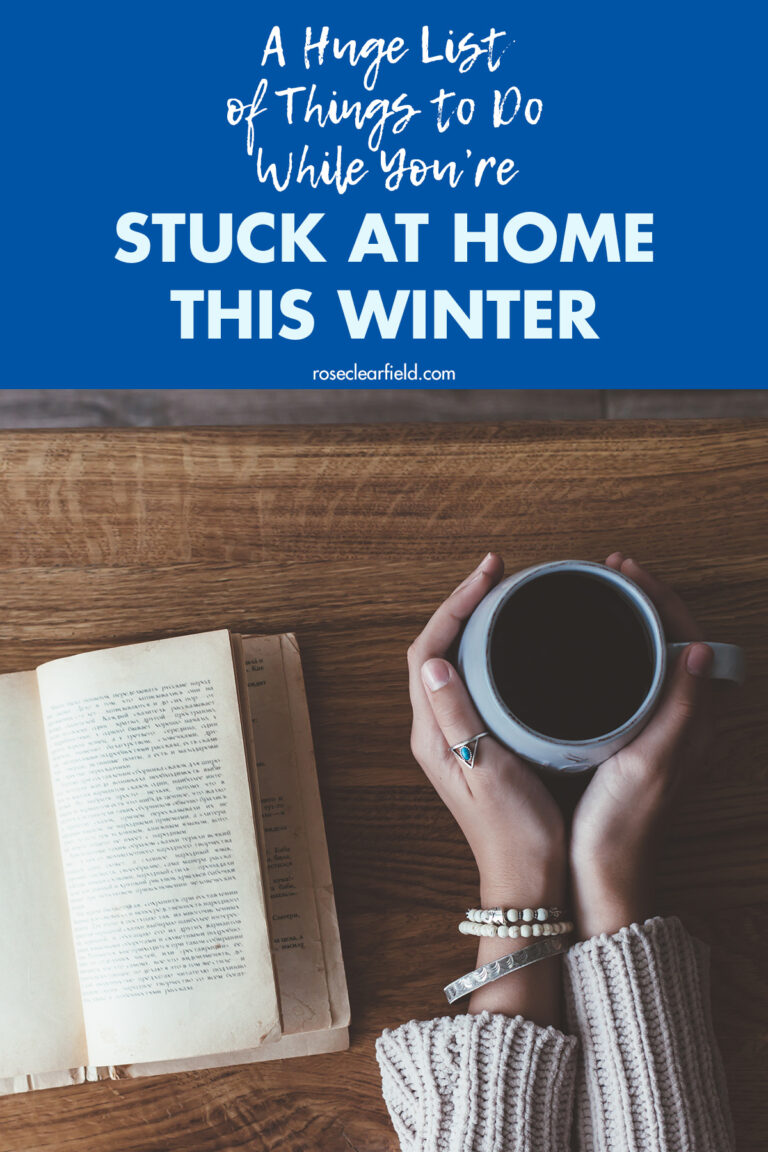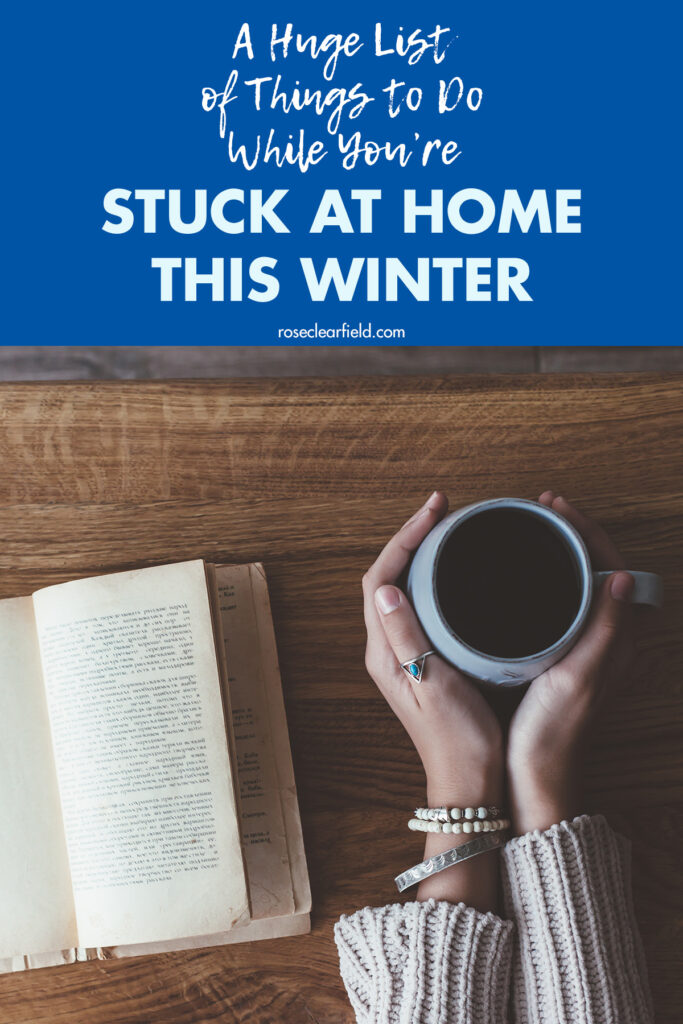 More resources to keep boredom at bay this winter: