Vintage travel journal pages are an ideal find for travel enthusiasts. They're perfect for art/junk journals and endless DIY projects.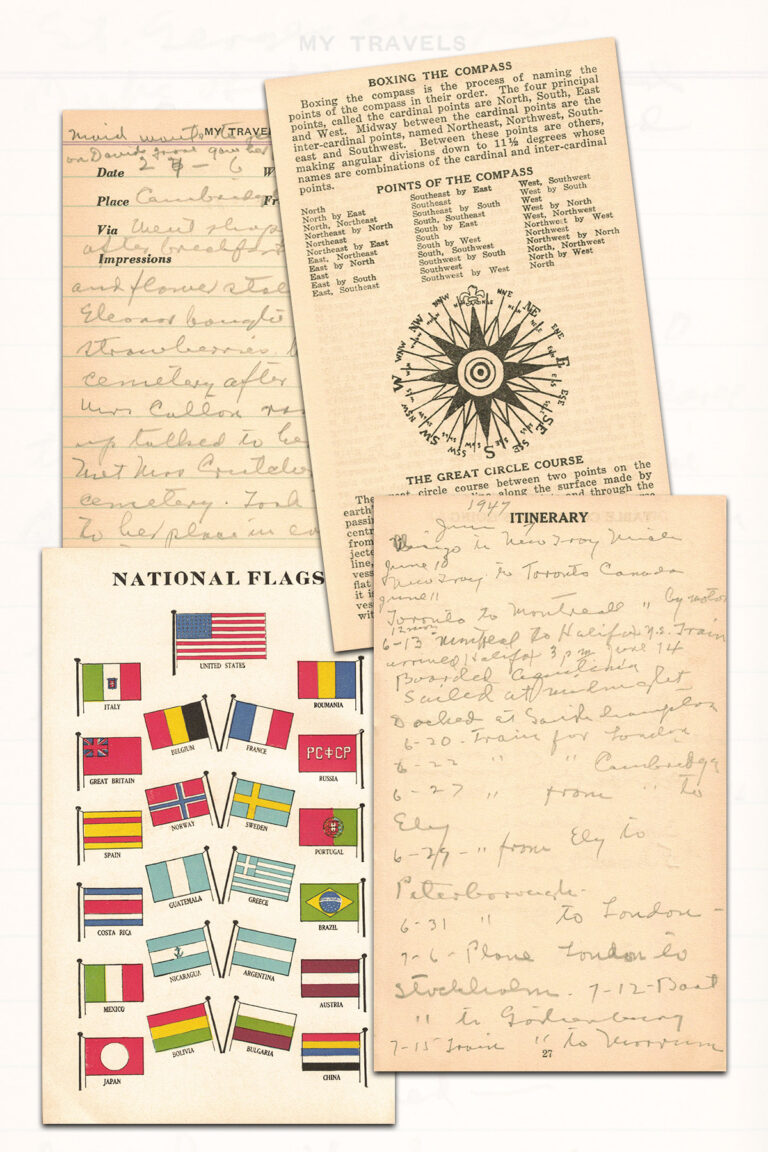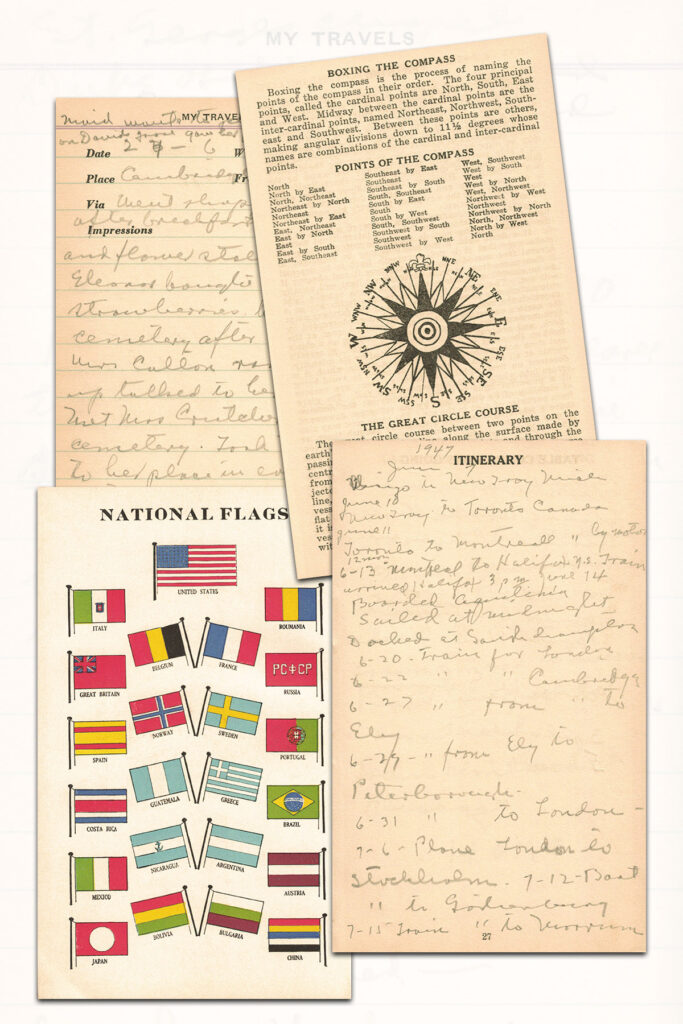 A physical travel journal has quickly become an item of the past. In the age of social media, the vast majority of people record all of their travels digitally. While there is no question that phones make it easy to document travel, there is still nothing quite like a physical record.
I'm not sure of the exact age of the vintage travel log that I'm featuring in this post. Based on similar items that I've found online, most likely it's from the late 1930s or early 1940s. The only date with a year in the journal is 1947.
I love that this travel journal is so comprehensive. In addition to a wealth of blank travel log pages, it includes a cash account section, an address book, pages with assorted flags, pages for documenting certain elements of travel (i.e., hotels, restaurants, churches), and an extensive section entitled "progress of navigation" with pages on everything from types of ships to longitude and latitude to distances between different cities.
While I have not made every single page in the travel log available, I am offering more than 50 pages, one of my largest book collections to date. I'm also offering sets of ATC size cards and journal tags that I created with pages from the travel journal. Enjoy!
How to use vintage book pages
When you're looking for old book pages, generally, you already know how you're going to use them. If you're searching for inspiration or simply want a few additional ideas for your new vintage printables, consider one or more of the following projects.
DIY wall art. One of the most popular uses for antique book pages to create one-of-a-kind wall decor. Old book pages are particularly fitting for libraries, classrooms, nurseries, and kids' bedrooms. But there are so many ways to use book pages. Book pages look great on their own and can be overlaid with text and/or PNGs or transparent background images.
Greeting cards. You can use vintage book pages as backgrounds and decorative elements for virtually any type of greeting card.
Glass or bottle cap magnets, using the technique that I refined for my sheet music magnets tutorial.
Pendant necklaces. Simply swap the magnets for pendant bails to create necklaces.
Tile coasters. I created a tutorial for vintage sheet music botanical coasters, which works with any type of paper. Coasters are another project that is ideal for text and/or image overlays.
Christmas ornaments. Modify my sheet music ornaments tutorial to create whimsical gifts for the travel enthusiasts in your life. Christmas ornaments also make a great item to sell online and/or at craft fairs.
Art journals and other mixed media projects. Old book pages are an often sought after material for art/junk journals and other kinds of mixed media art. Book pages are gorgeous on their own and can be layered with ink, paint, stamps, and more.
Scrapbooking. Antique book pages make perfect backgrounds and decorative elements for both physical and digital scrapbooks. They're also ideal for DIY scrapbook embellishments.
About the vintage travel journal pages
You may use the vintage travel log pages as well as ATC cards and journal tags for as many personal projects as you'd like, which includes classroom use. You may also use them for limited runs of commercial projects (5,000 items or less). Commercial use DOES NOT include made-to-order sites, such as RedBubble and Society6. Commercial items must be flat, finished products (i.e., not Photoshop files) consisting of your own original content. You are not authorized to sell the vintage travel pages, ATC cards, and journal tags, either as individual items or as part of larger collections.
Finally, please don't distribute the download files. If family, friends, or co-workers would like their own travel journal pages, ATC cards, and/or journal tags, please send them a link to this post, where they can download their own files. Thank you!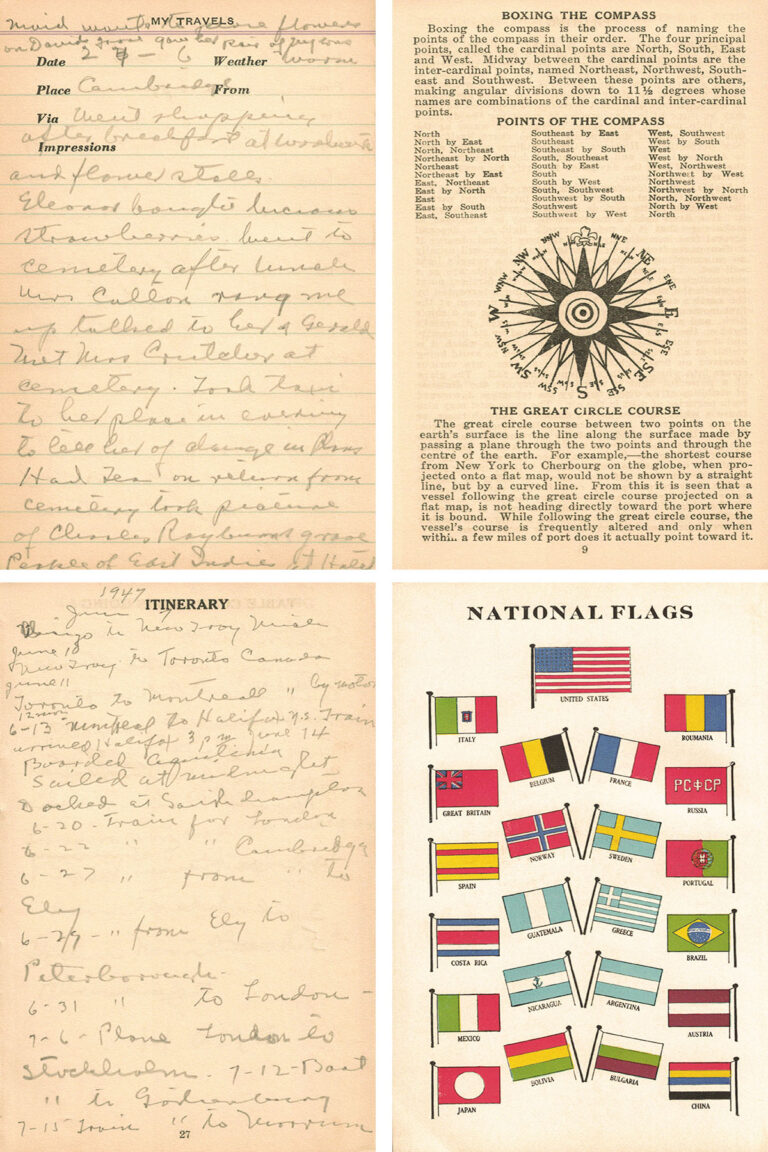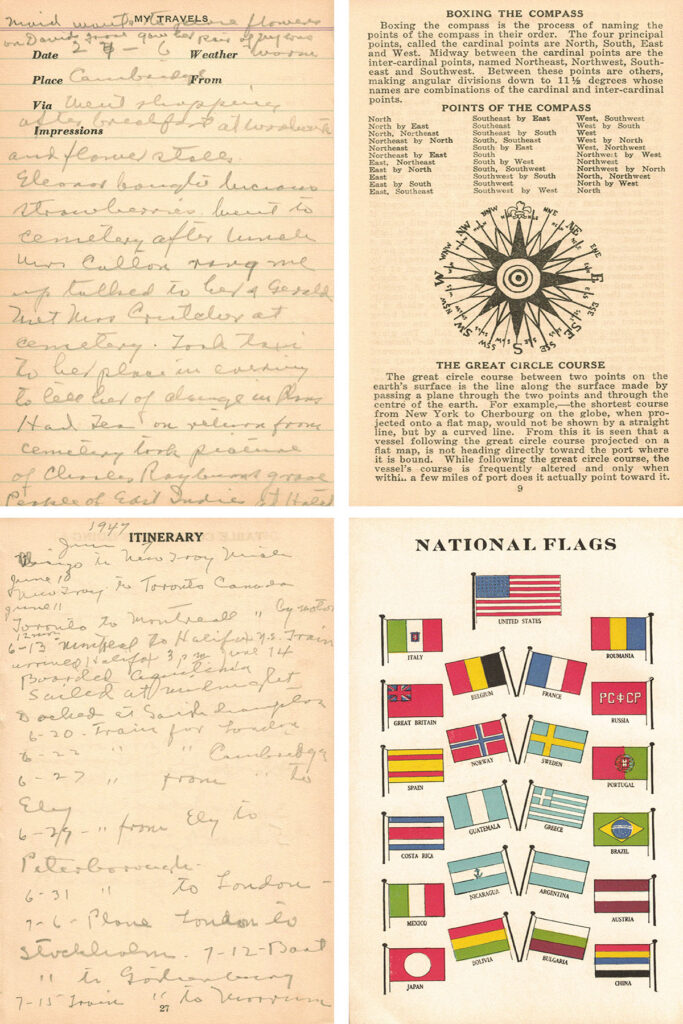 Full travel journal pages
I'm offering over 50 full pages from the vintage travel log. All of the pages are 2300 x 3760 pixels with 300 dpi resolution. The pages include the following:
Inside cover
"This book belongs to" page
Blank and completed cash account pages
Places visited pages for cathedrals, cafes, and hotels
Itinerary page
Going and returning pages, the latter of which is fully completed and includes a captain's signature
Companions going and returning pages
Seven full-color pages with funnels and house flags, national flags, and pilot flags
12 "progress of navigation" pages, which cover a wide range of topics from types of ships to latitude and longitude to velocity of sound to travel distances between cities
20 completed travel log pages
A blank travel log page
I've split the travel journal pages into seven ZIP folders to give you large files in an easy-to-download formula.
[1 – Vintage Travel Journal Full Pages]
[2 – Vintage Travel Journal Full Pages]
[3 – Vintage Travel Journal Full Pages]
[4 – Vintage Travel Journal Full Pages]
[5 – Vintage Travel Journal Full Pages]
[6 – Vintage Travel Journal Full Pages]
[7 – Vintage Travel Journal Full Pages]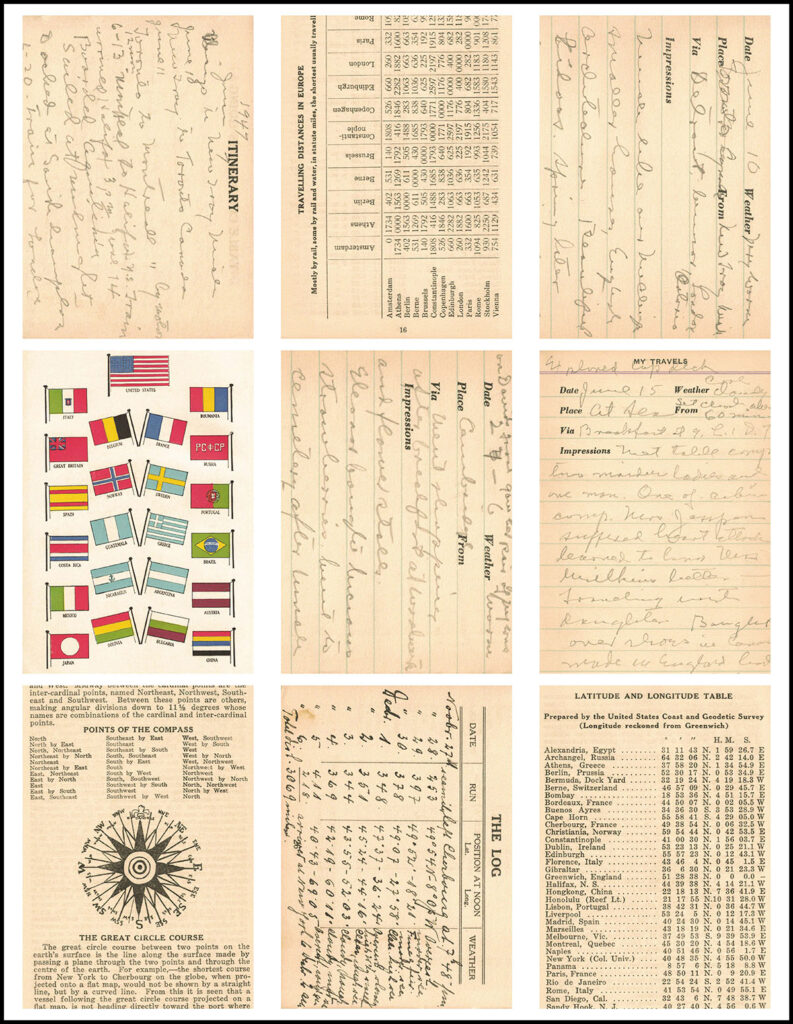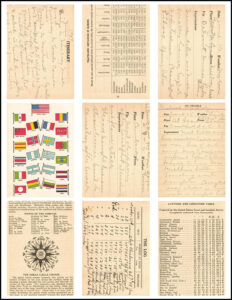 ATC-size digital collage sheet
I've created nine ATC size cards from the vintage travel journal. For easy printing, I've made them available on one 8.5″ x 11″ page.
Please note: It gets confusing having tons of white space in blog posts. Consequently, I added a black outline around the preview image for the 8.5″ x 11″ page. The digital collage sheet download I'm offering below doesn't have a black border.
[Vintage Travel Journal – ATC-Size Digital Collage Sheet]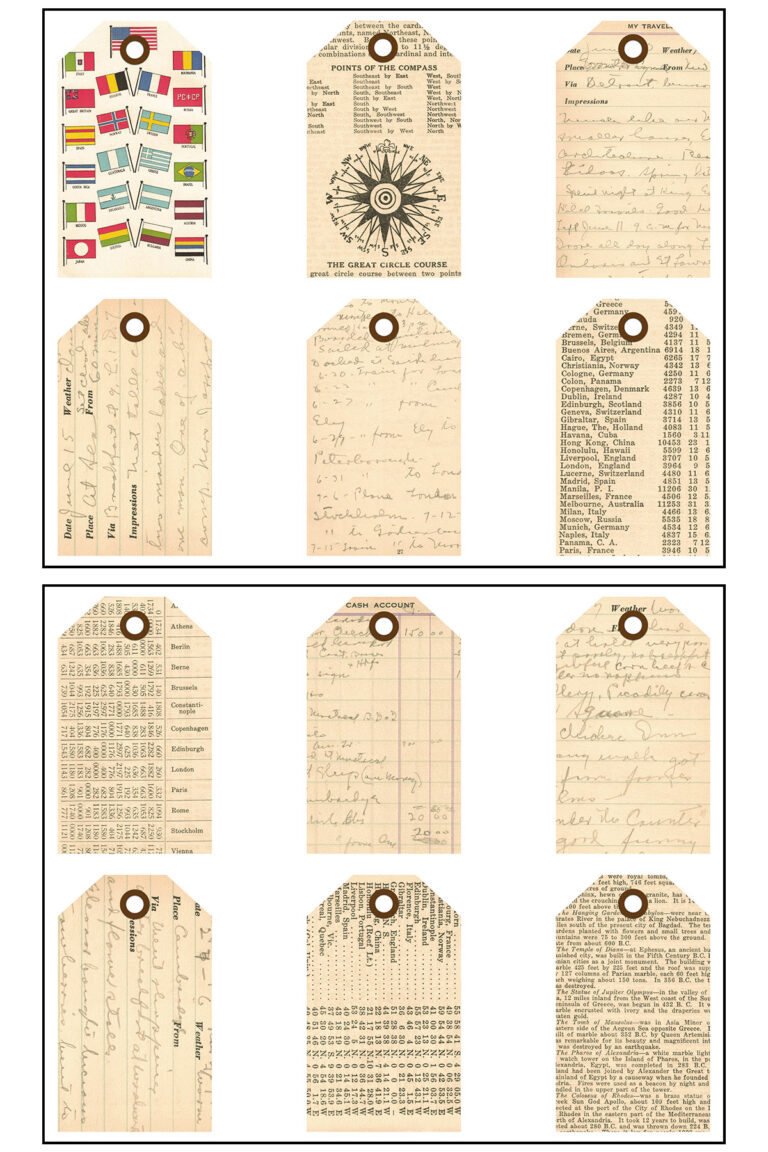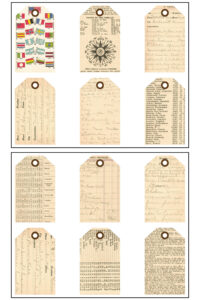 Journal tags
I've created 12 journal tags from the travel log. Journal tags make an awesome addition to art/junk journals and scrapbooks. They're also great for endless DIY projects. Each tag measures 2.5″ x 4.2″ (750 x 1250 pixels). The journal tags ZIP folder has two 8.5″ x 11″ pages for straightforward at-home printing.
Please note: Again, I've added black outlines around the preview pages above. The pages included in the download below don't have black borders.
[Vintage Travel Journal – Journal Tag 8.5″ x 11″ Pages]
Extracting and downloading the full ZIP folders
I've created ZIP folders for all of the travel log pages that I offer in this post. Zipped folders allow me to provide high-resolution files for clear, vivid printing and to protect said files against potential theft. Extracting and downloading the ZIP folders from Google Drive is a fairly simple process. Please note that it does take a little time to download each folder in full.
When you click on the download link, select the Open with ZIP Extractor option at the top of the page.
The folder will open in a new window. The files will download.
Once the files have downloaded, click Extract Now.
When the files have extracted and uploaded, click View Extracted Files.
Double click on the folder.
To download, select the files you'd like to download. Click the three horizontal dots More Actions button. Choose Download.
I recommend moving your downloaded files out of your downloads folder and into your main photos folder. I also recommend creating a backup copy of the files on an external hard drive or cloud storage drive. Keep your files in a folder called "Vintage Travel Journal Pages" or something similar, so you're able to find them again easily.
Now you're ready to use your new vintage printables for home decor and a wide array of craft projects!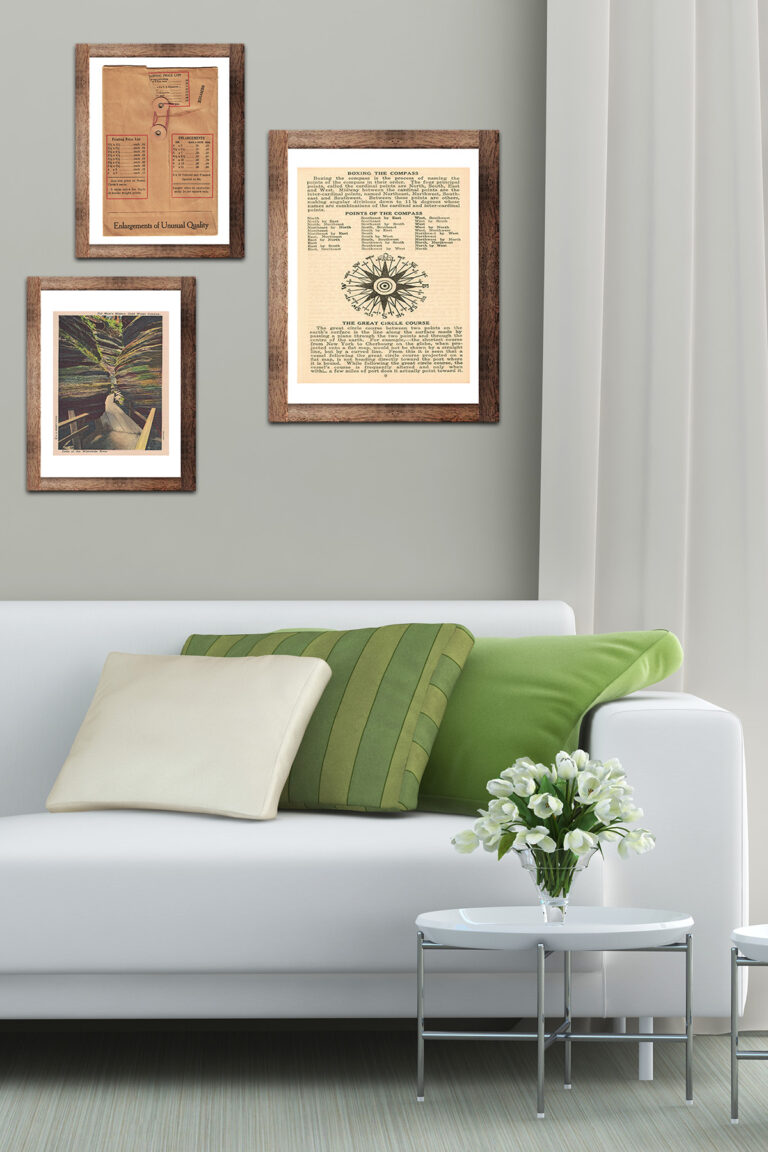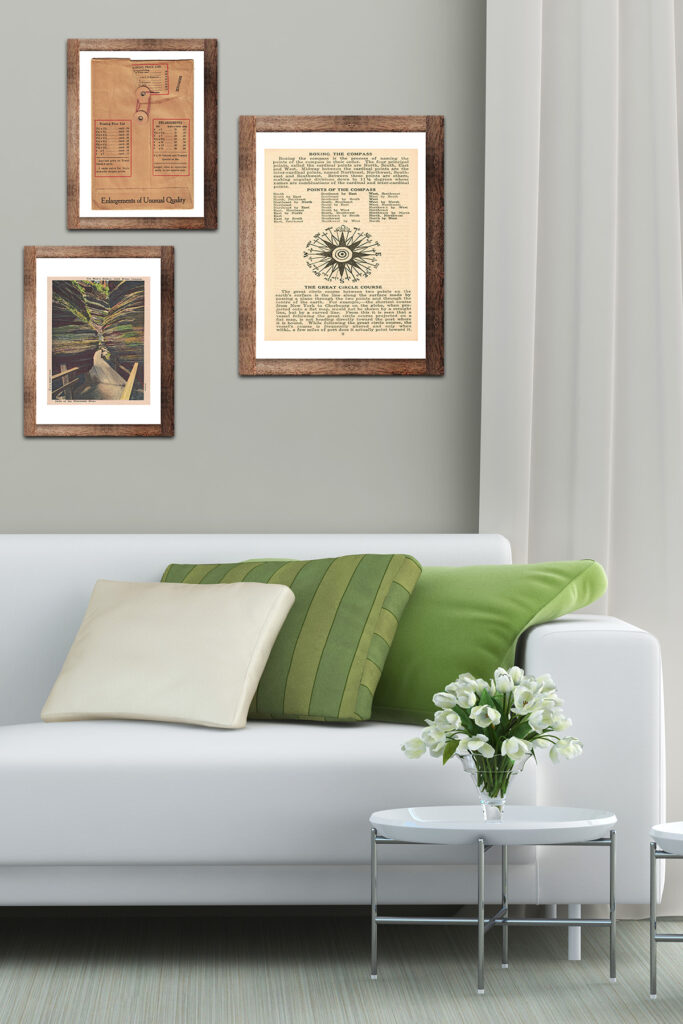 Printing vintage book pages
When you use old book pages to make your own wall art and other home decor, my personal recommendation for at-home printer paper is Finestra Art Paper. I always select Finestra for my own projects because the paper features an acid-free matte surface that drinks the ink quickly, producing beautiful, vibrant images. I prefer the results that Finestra produces over regular printer paper, card stock, and presentation paper.
Finestra does not sponsor me to promote their product. It's the product that I love and come back to time and time again after years of creating wall decor for blog posts and personal projects.
For all other DIY and journaling projects, I recommend white card stock. When you're using antique book pages for scrapbook embellishments, greeting cards, and mixed media art, it's not as important that the images are really vivid. When you're creating projects that involve several coats of diamond glaze or Mod Podge, such as pendant necklaces, glass magnets, or tile coasters, you won't be able to tell any difference in the finish of the paper you've used. Consequently, it makes sense to use card stock, which is less expensive than art paper and still extremely durable and high-quality.
[Disclaimer: There are a few affiliate links in this post. Thanks for your support!]
Pin this post for easy access to the vintage travel journal pages later!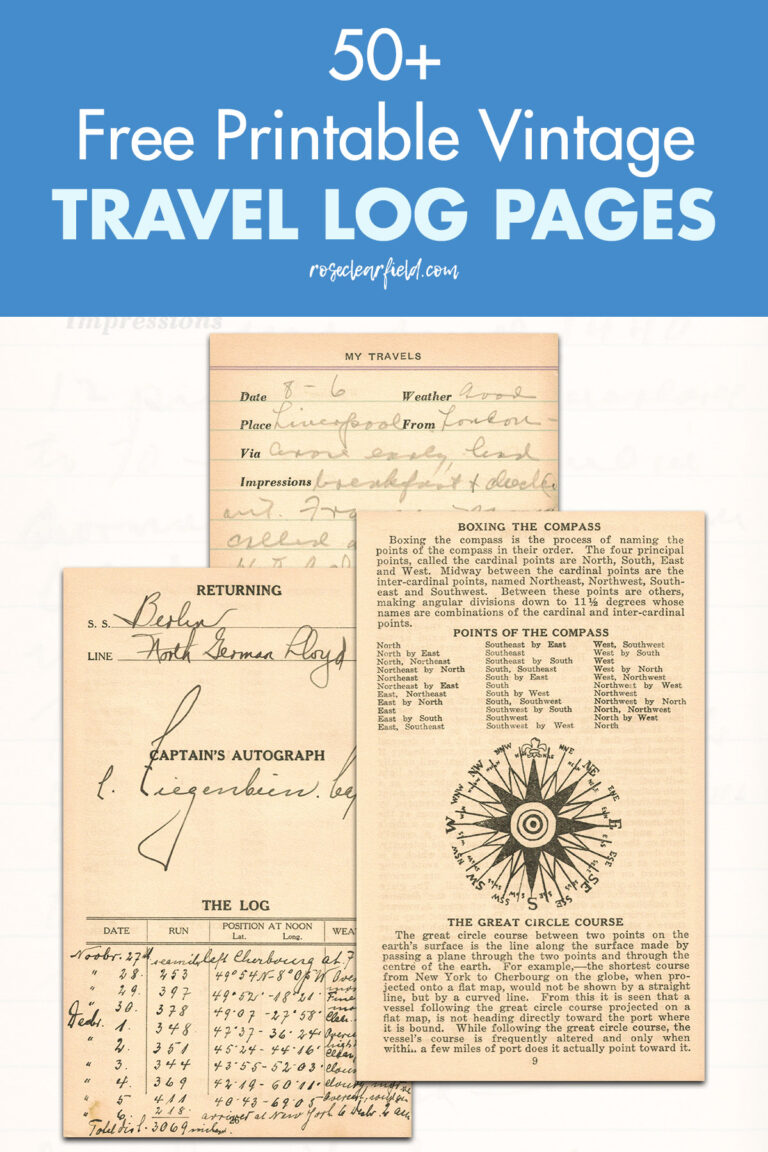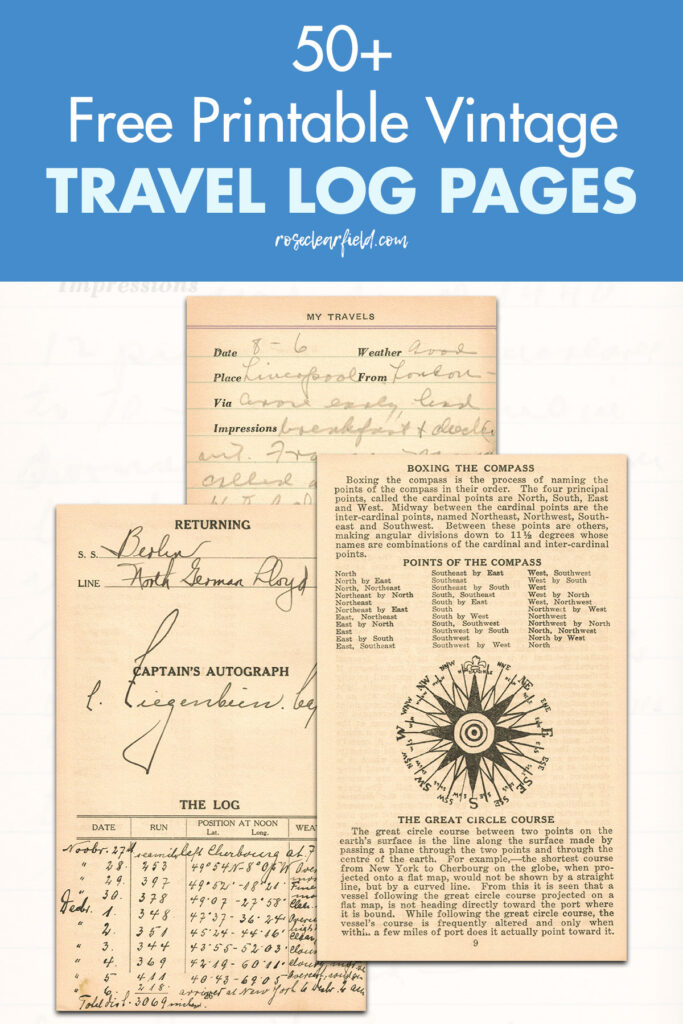 Are you using the vintage travel journal pages for wall art or other DIY projects?

I want to see what you've made! Tag your images #RoseClearfield on Instagram or Twitter or post a photo to my Facebook page.
More free vintage book page printables:
Head to the free printables section of the blog for even more vintage book page printables as well as additional vintage printables, including lots of sheet music and postcards.