McGuffey's Second Eclectic Reader is a classic vintage textbook with beautiful book pages, perfect for nursery and classroom decor. Old textbook pages are also perfect for art/junk journals and numerous DIY projects.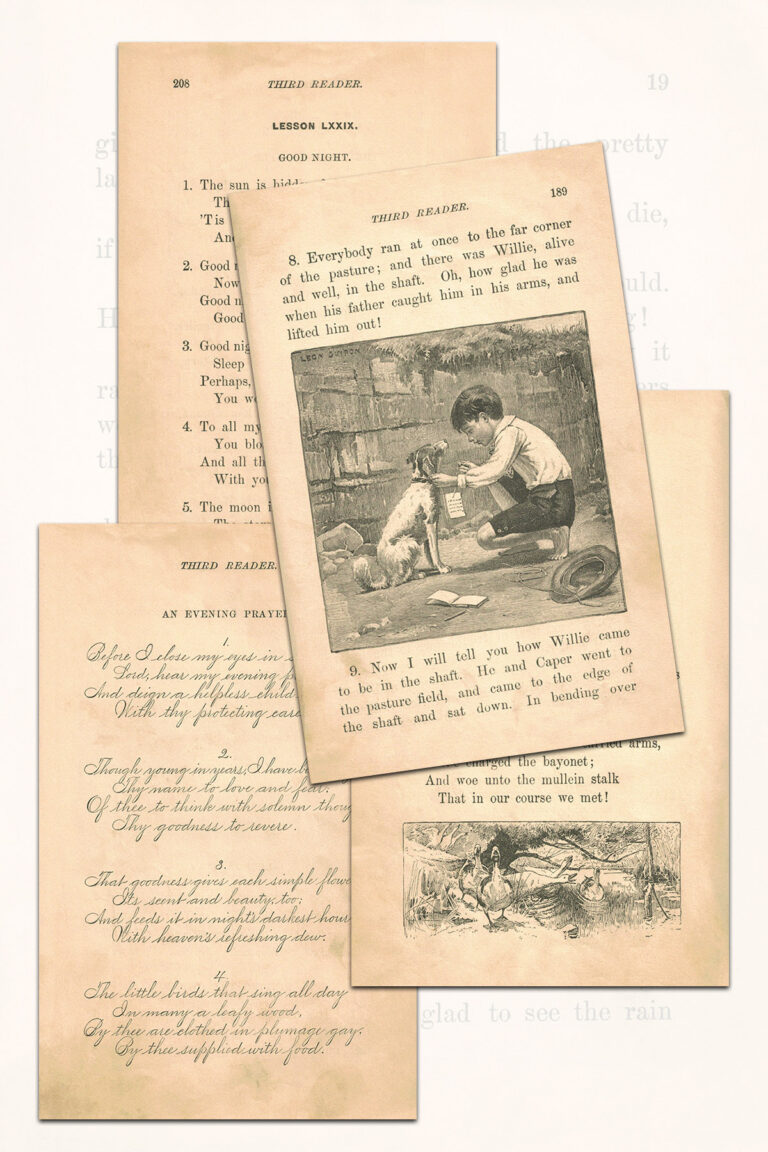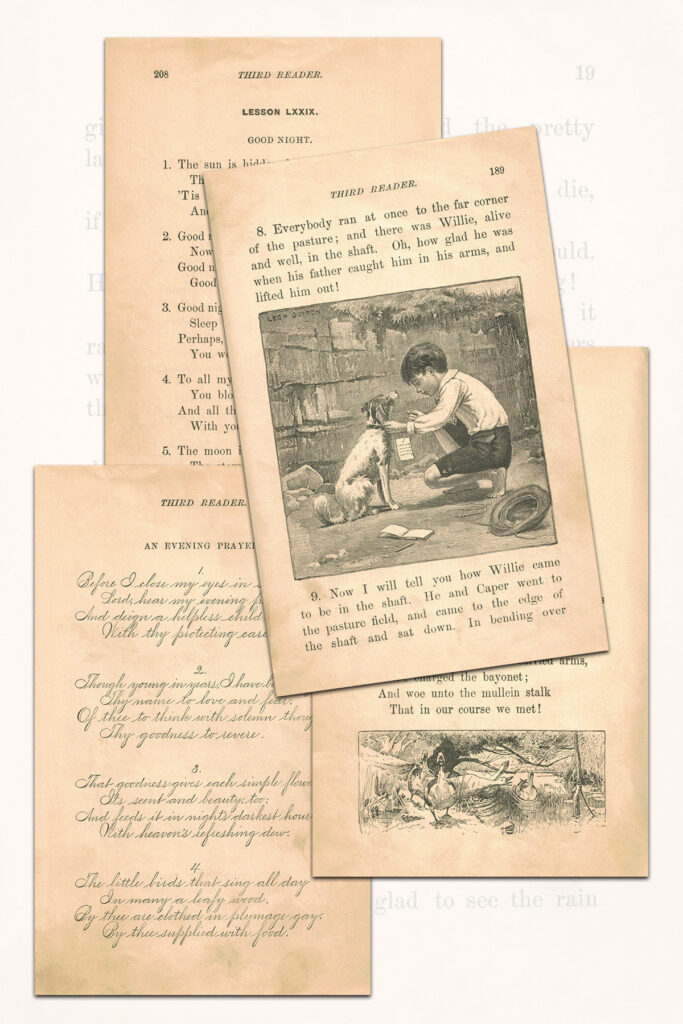 Vintage textbook pages have a unique charm that you simply don't find in modern textbooks. The fonts, layouts, and illustrations are unlike anything available today. Antique book pages are ideal for one-of-a-kind wall art. They also work well for endless craft projects, including but not limited to, art/junk journals, home decor, greeting cards, scrapbooks, decoupage, and Christmas ornaments.
Many readers already know that I love the aesthetic of antique book pages, including dictionaries and hymn books. I've released quite a few additional book page sets as well, including a French primer, an algebra textbook, a Latin textbook, dessert recipes, and Christmas cookies. I'm so excited to bring you another collection of vintage book pages today, this time from McGuffey's Second Eclectic Reader.
The McGuffey's Second Eclectic Reader edition that I'm using for these printables is copyright 1879. McGuffey Readers are a series of graded primers intended for grade levels one through six. The number of McGuffey Readers sold between 1836 and 1960 (roughly 120 million) rivals the sales of the Bible and Webster's Dictionary during this time period. McGuffey Readers were widely used in United States schools during this time period. Modern versions are still used for homeschooling curriculum. You can learn more about the McGuffey Readers on Wikipedia.
Currently, I own the second, third, fourth, and fifth eclectic readers, so look forward to more free printables from this series in the future.
I'm providing 20 full pages from McGuffey's Second Eclectic Reader. I'm also offering sets of ATC size cards and journal tags that I created with the reader pages. Enjoy!
How to use vintage book pages
When you're searching for antique book pages, most of the time, you already have a plan for them. If you're looking for inspiration or simply want a few more ideas for your new book page printables, think about one or more of the following projects.
DIY wall decor. One of the most common ways to use old book pages is to make whimsical wall art. Vintage reader pages are especially fitting for classrooms, libraries, nurseries, and kids' bedrooms. But there are so many additional possibilities for these pages. You can use them as is or overlay them with text and/or PNGs or transparent background images.
Greeting cards. You can use vintage book pages as backgrounds and decorative elements for an extensive array of greeting cards.
Pendant necklaces, using the technique that I honed for my sheet music pendant necklaces tutorial.
Glass or bottle cap magnets, using the above tutorial to make magnets instead of necklaces.
Tile coasters. The method that I developed for my vintage sheet music botanical coasters can be applied to any antique papers. Coasters are another project that lends itself well to text and/or image overlays.
Christmas ornaments. Antique book pages are beautiful components for Christmas ornaments for your own tree, to give as gifts, and to sell online and/or at craft fairs.
Art journals and other mixed media projects. Vintage book pages are a popular material for art/junk journals and other types of mixed media art. They are beautiful on their own or layered with paint, ink, stamps, and more.
Scrapbooking. Old book pages make ideal backgrounds as well as decorative elements for both digital and physical scrapbooks. They're also great for DIY scrapbook embellishments.
About the McGuffey's Second Eclectic Reader pages
You may use the vintage book pages as well as ATC cards and journal tags for as many personal projects as you'd like, which includes classroom use. You may also use them for limited runs of commercial projects (5,000 items or less). Commercial use DOES NOT include made-to-order sites, such as Society6 and CafePress. Commercial items must be flat, finished products (i.e., not Adobe Illustrator files) consisting of your own original content. You are not authorized to sell the McGuffey's Reader pages, ATC cards, and journal tags, either as individual items or as part of larger collections.
Finally, please don't distribute the download files. If friends, family, or co-workers are interested in their own book pages, ATC cards, or journal tags, please provide them with a link to this post, where they can download their own files. Thank you!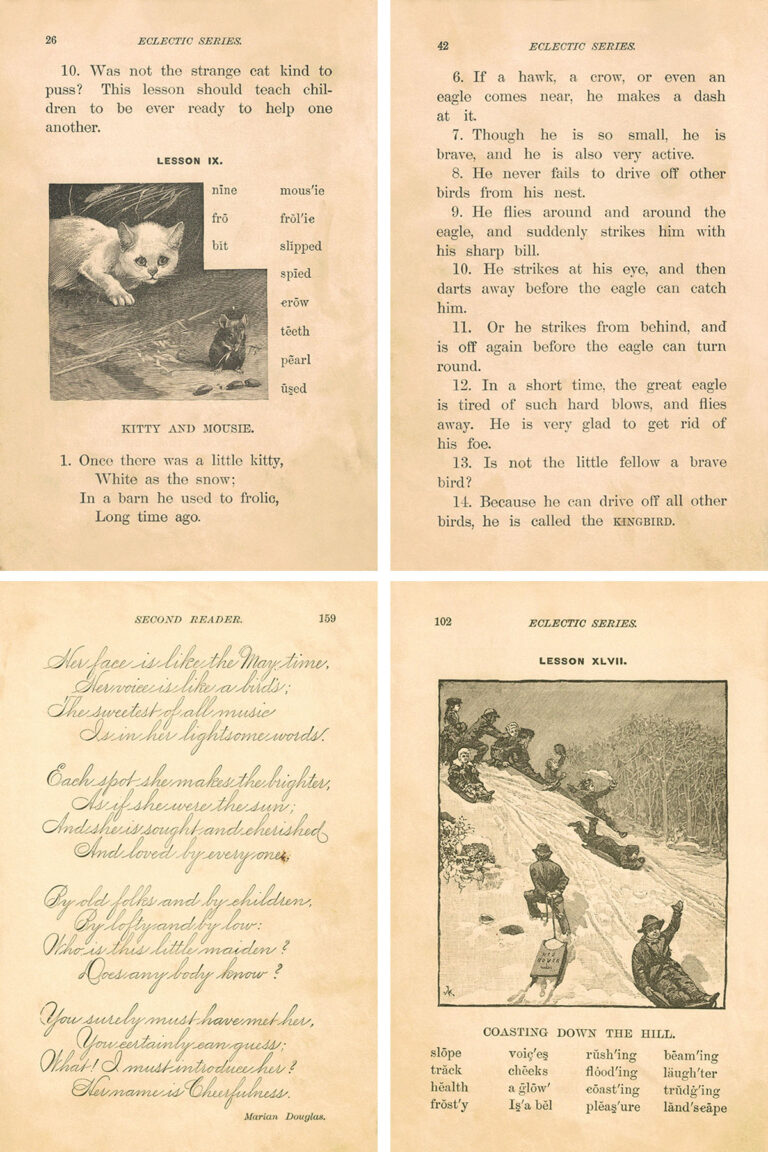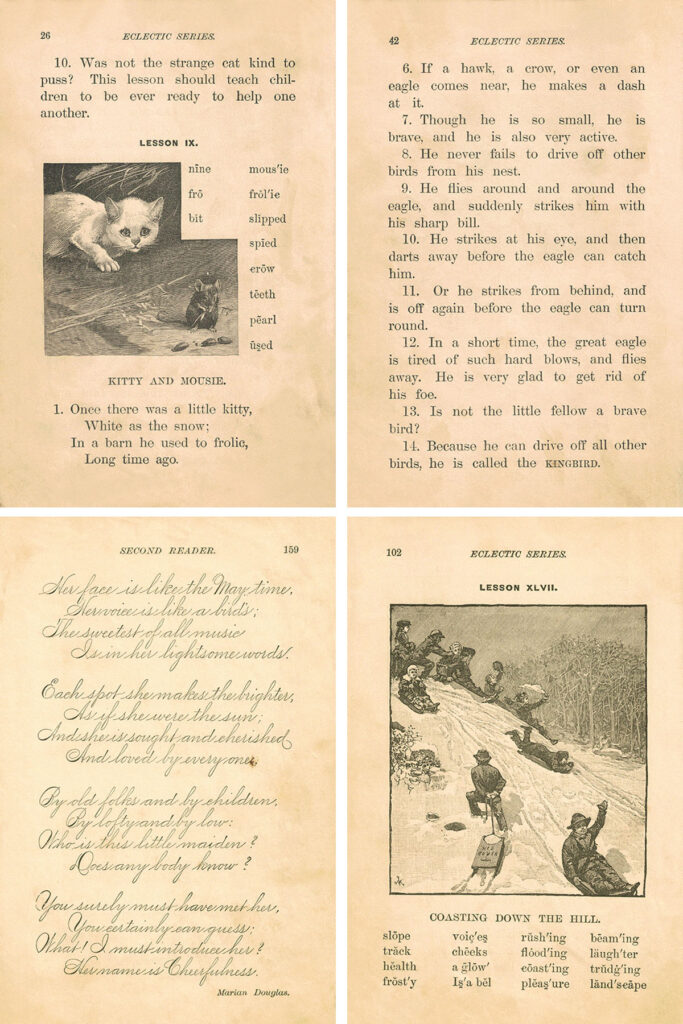 Full book pages
I'm offering 20 full pages from McGuffey's Second Eclectic Reader. All of the pages are 2760 x 4070 pixels with 300 dpi resolution. The set includes a mix of full-text pages and pages with illustrations. There are vocabulary lists, letters, poems, sentences, and short passages with lots of beautiful hand-drawn illustrations.
I've split the full book pages into four ZIP folders to give you large files in an easy-to-download format.
[1 – McGuffey's Second Eclectic Reader Full Pages]
[2 – McGuffey's Second Eclectic Reader Full Pages]
[3 – McGuffey's Second Eclectic Reader Full Pages]
[4 – McGuffey's Second Eclectic Reader Full Pages]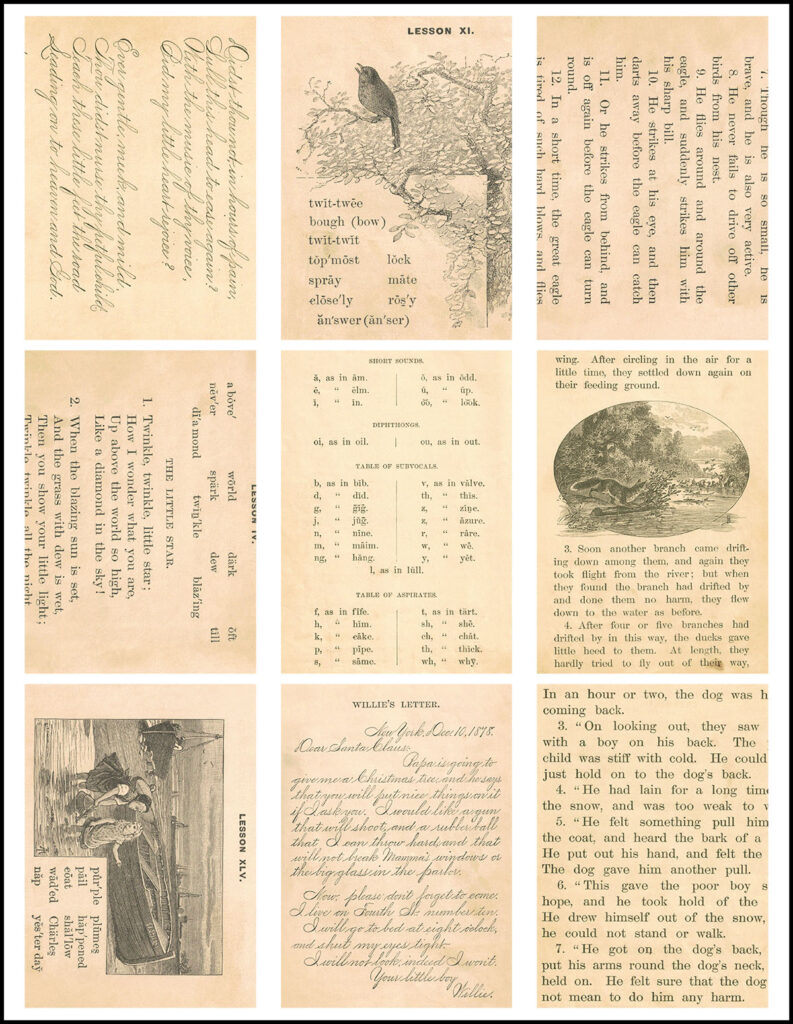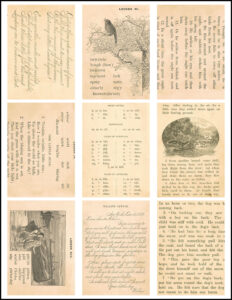 ATC-size digital collage sheet
I've created nine ATC size cards from the McGuffey's Second Eclectic Reader book pages collection. I've made them available on a single 8.5″ x 11″ page for easy printing.
Please note: It gets confusing having lots of white space in blog post images, which is why I added a black outline around the preview image for the 8.5″ x 11″ page. The digital collage sheet download below doesn't have a black border.
[McGuffey's Second Eclectic Reader – ATC-Size Digital Collage Sheet]
Journal tags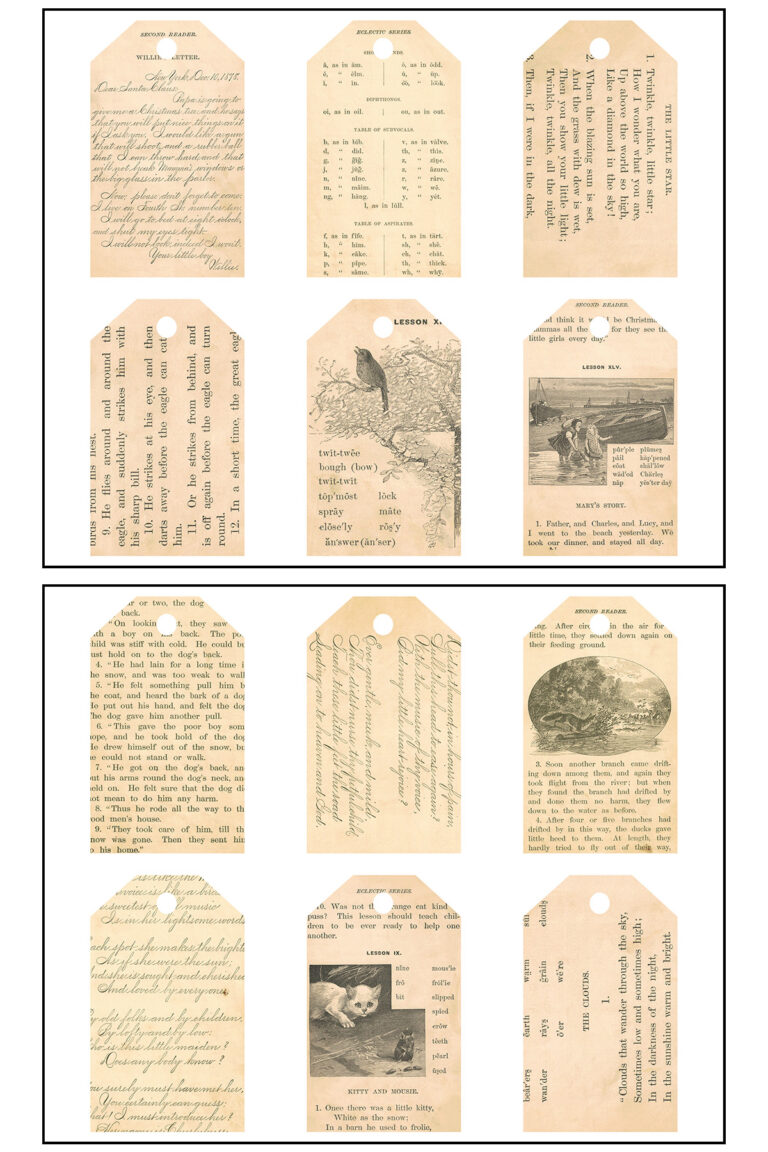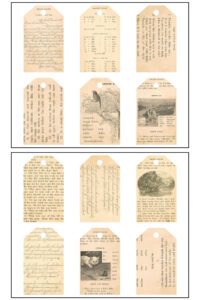 I've created 12 journal tags from the McGuffey's Reader pages. In addition to art/junk journals and scrapbooks, they're ideal for numerous craft projects. Each tag measures 2.5″ x 4.2″ (750 x 1250 pixels). The journal tags ZIP folder contains two 8.5″ x 11″ pages for easy printing.
Please note: Again, the above preview image has black outlines around the pages. The 8.5″ x 11″ page downloads below don't have black borders.
[McGuffey's Second Eclectic Reader – Journal Tag 8.5″ x 11″ Pages]
Extracting and downloading the full ZIP folders
I've created ZIP folders for all of the vintage book pages content that I feature in this post. Zipped folders enable me to provide high-resolution files for crisp, vibrant printing and to protect said files against potential theft. Extracting and downloading the ZIP folders from Google Drive is pretty straightforward. Please note that it does take a little time to download each folder in full, especially the book page sets.
When you click on the download link, select the Open with ZIP Extractor option at the top of the page.
The folder will open in a new window. The files will download.
Once the files have downloaded, click Extract Now.
When the files have extracted and uploaded, click View Extracted Files.
Double click on the folder.
To download, select the files you'd like to download. Click the three horizontal dots More Actions button. Choose Download.
I recommend moving your downloaded files out of your downloads folder and into your main photos folder. I also suggest creating a second copy of the files on an external hard drive or cloud storage drive. Keep your files in a folder titled "McGuffey's Second Eclectic Reader Pages" or something similar, so you're able to find them again with ease.
Now you're ready to use your new vintage printables for wall art and numerous DIY projects!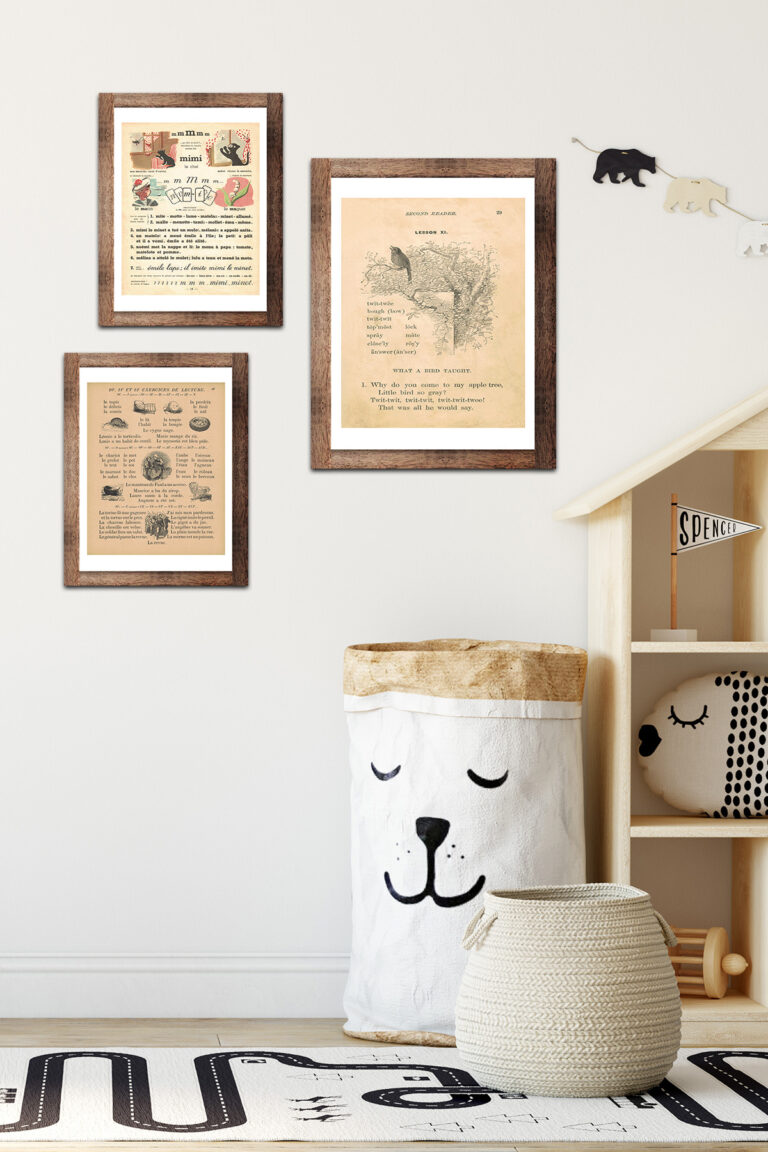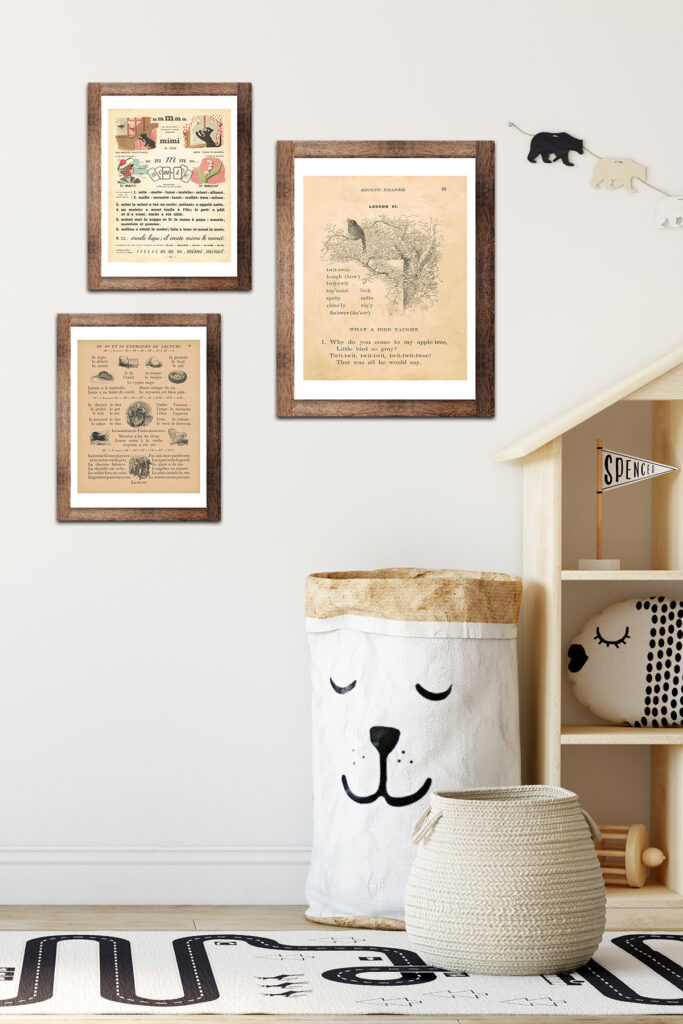 Printing vintage book pages
When you use antique book pages to create unique wall art and other home decor, my personal go-to paper for home printing is Finestra Art Paper. I always choose Finestra because the paper has an acid-free, matte surface that dries ink quickly, producing crisp, vivid images. I prefer the results that Finestra offers over regular printer paper, presentation paper, and card stock.
Finestra does not sponsor me to promote their product. It's the product that I love and choose over and over again after years of creating art for blog posts and for my own home's decor.
For all other DIY and journaling projects, my paper choice is white card stock. When you're using old book pages for scrapbook embellishments, greeting cards, and mixed media art, it's not as important that the images are really vibrant. When you're making projects that involve multiple coats of Mod Podge or diamond glaze, such as glass magnets, tile coasters, and pendant necklaces, you won't be able to tell the difference in the finish of the paper you've used. As such, it makes sense to go with card stock, which is less expensive and still very durable and high-quality.
[Disclaimer: There are a few affiliate links in this post. Thanks for your support!]
Pin this post for easy access to the McGuffey's Second Eclectic Reader pages later!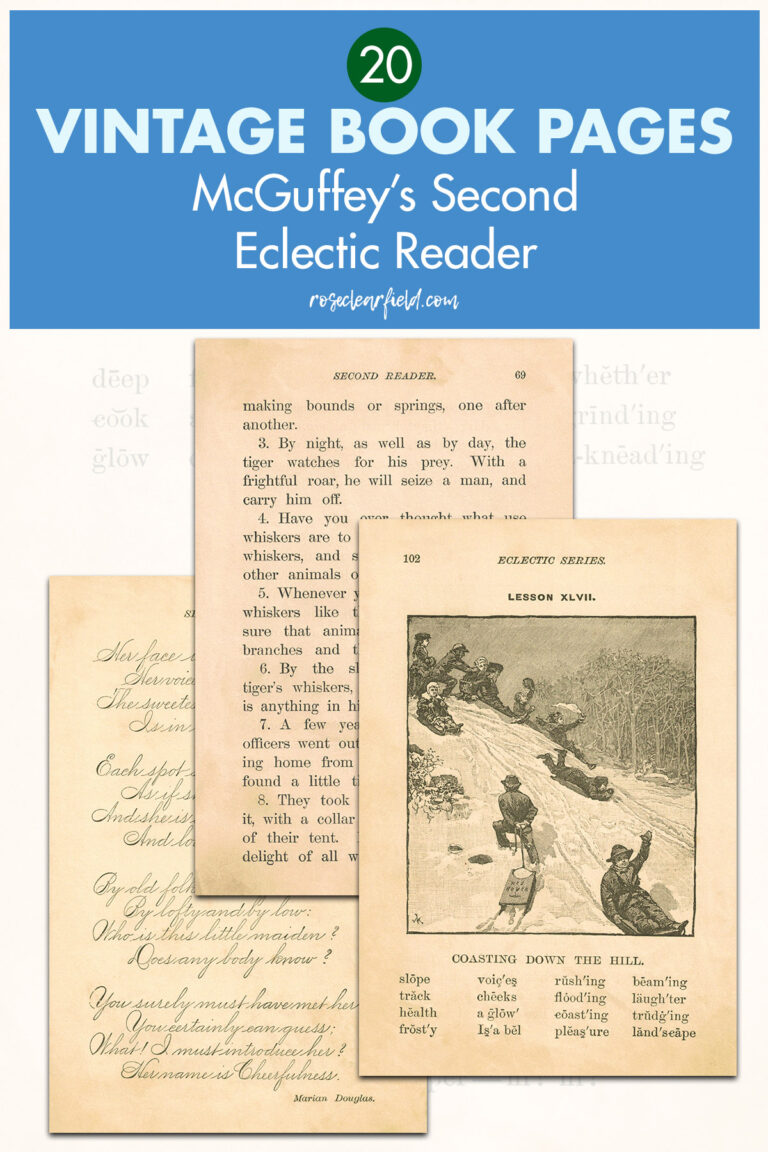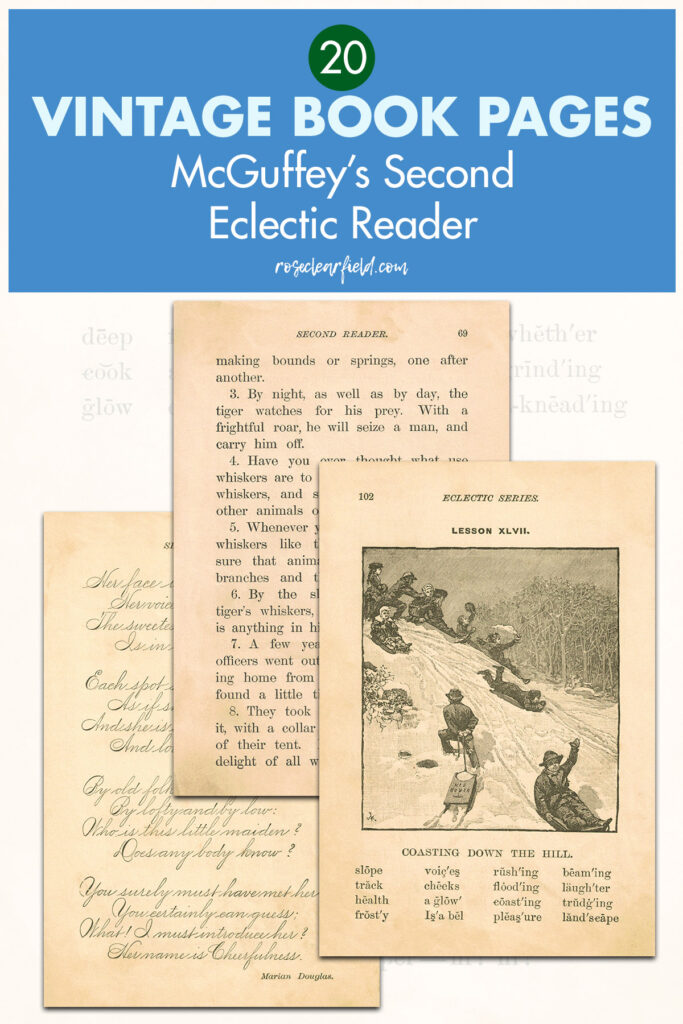 Are you using the McGuffey's Reader pages for wall decor or craft projects?

I want to see what you created! Tag your images #RoseClearfield on Instagram or Twitter or post a photo to my Facebook page.
More free vintage book page printables:
Head to the free printables section of the blog for additional vintage book page printables as well as other vintage printables, including lots of sheet music and postcards.