Upcycled Oui yogurt jar faux succulents are an easy home decor project that don't come with the maintenance of real plants.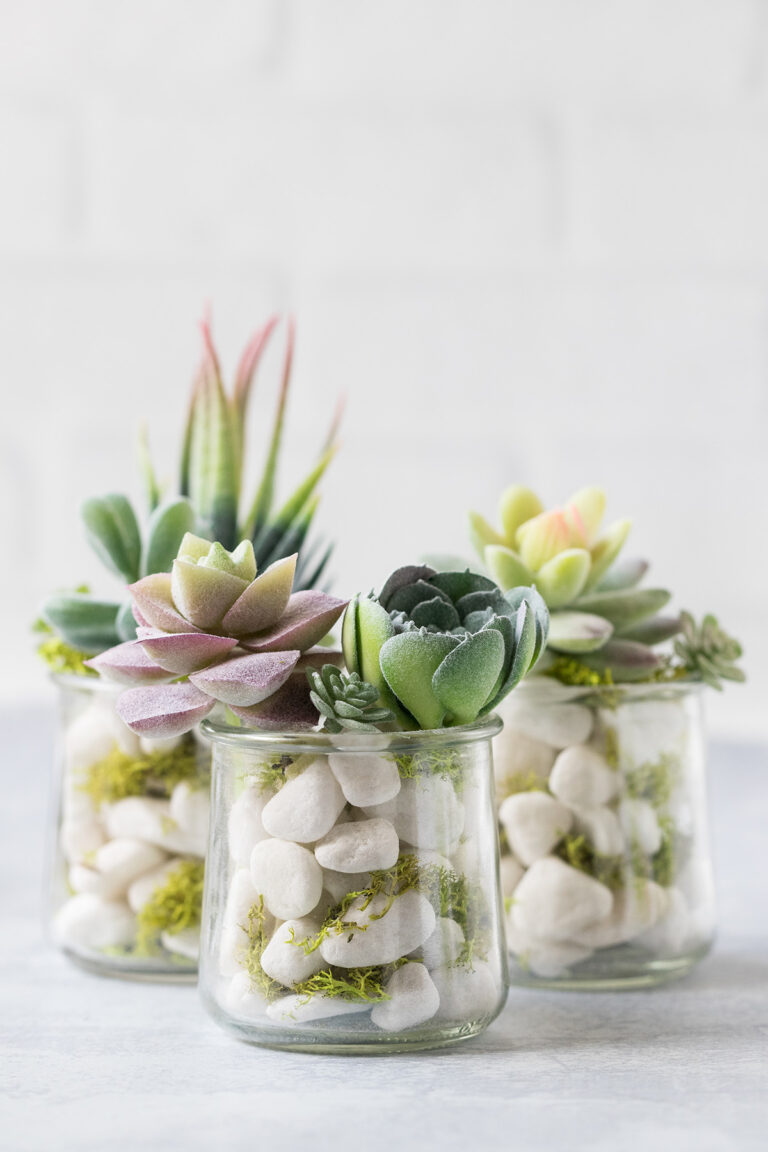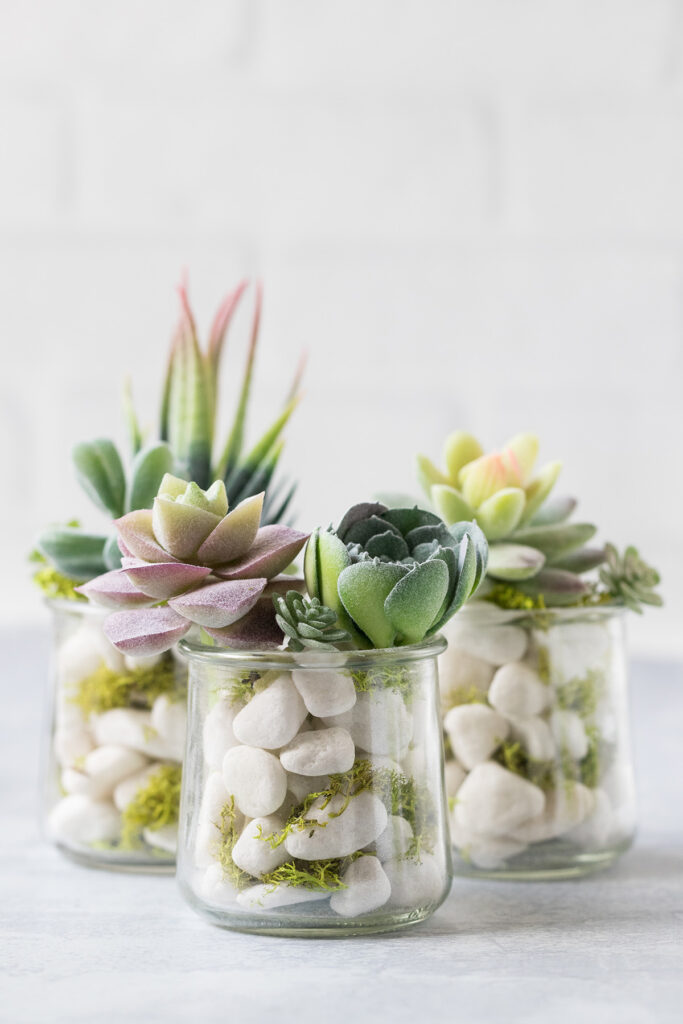 You may or may not know that I don't have a good track record with keeping houseplants alive. And so many people already have tutorials for real succulent planters using Oui yogurt jars. So here we are with upcycled Oui yogurt jar faux succulents.
Earlier this year I shared tutorials for sheet music votives and pastel vases, both using Oui yogurt jars. I'm excited to bring you another upcycled glass jar DIY project. If there are other crafts you'd like to see using Oui jars, please let me know! I still have a large stash of jars and am planning to release more Oui yogurt jar tutorials in the future.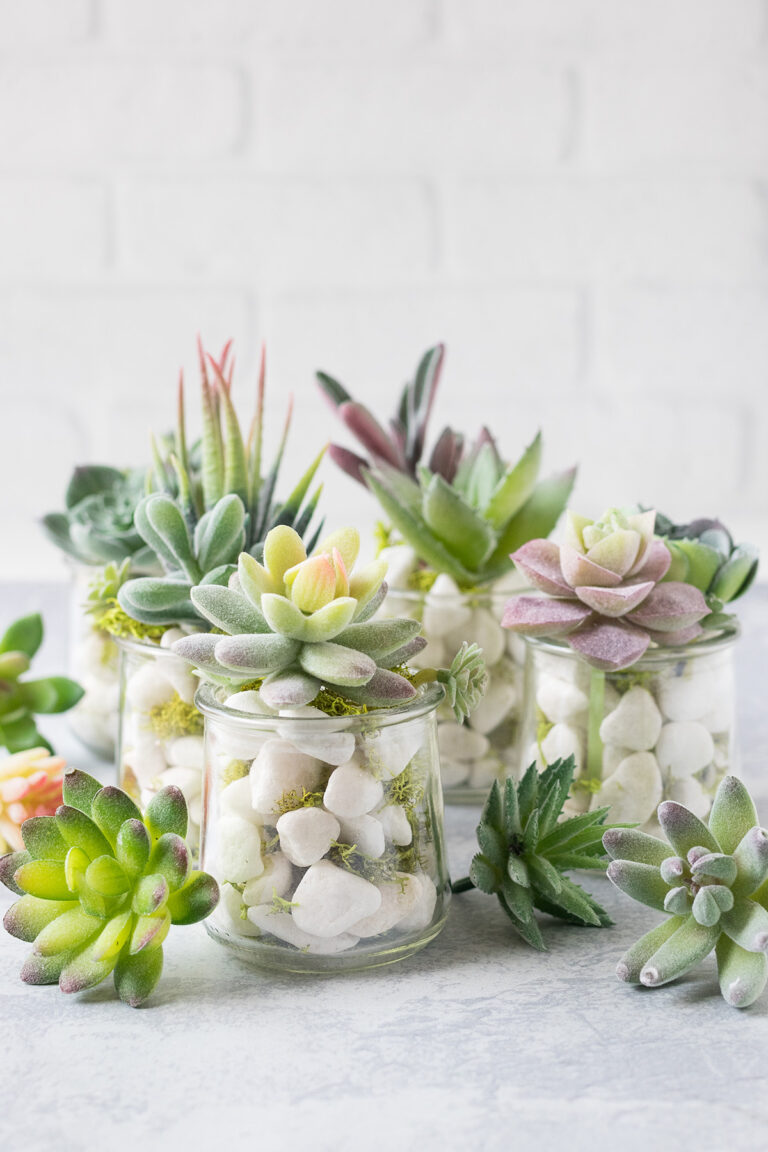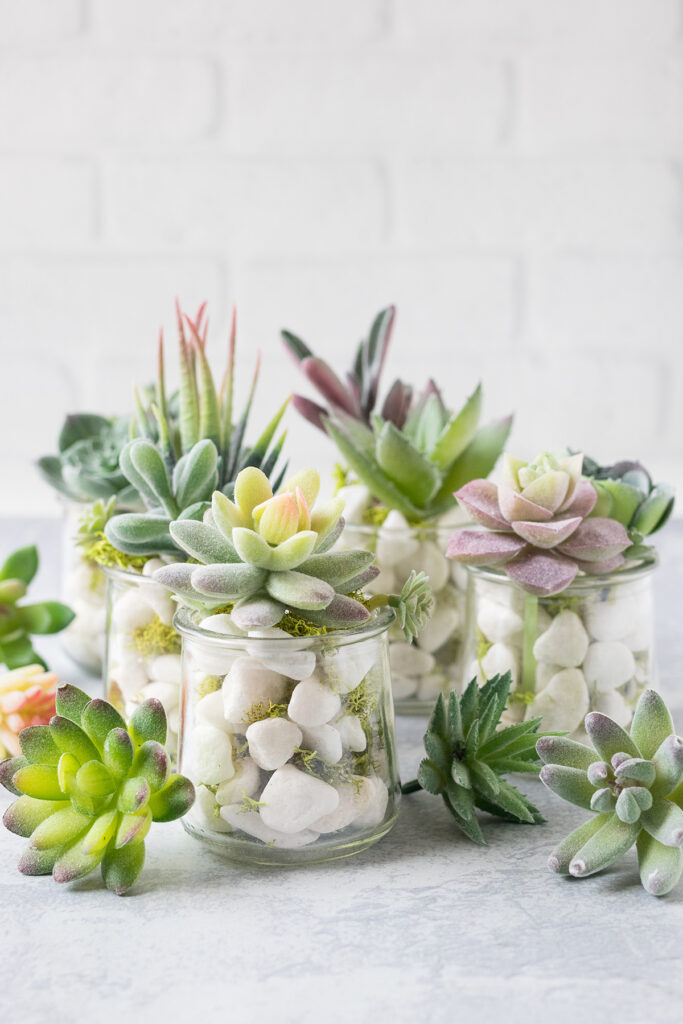 You only need a few supplies to make these whimsical faux succulent planters. The project will come together quickly in a single afternoon. You can easily switch up the plants and/or rock color as you like. You can also add decoration to the jars, such as twine. Truly make it your own!
Oui yogurt jar faux succulents are the perfect gift idea. They're such an easy small present to make for teachers, as housewarming gifts, and much more. I also love faux succulent planters as centerpieces for baby showers and bridal showers and even weddings.
Happy crafting!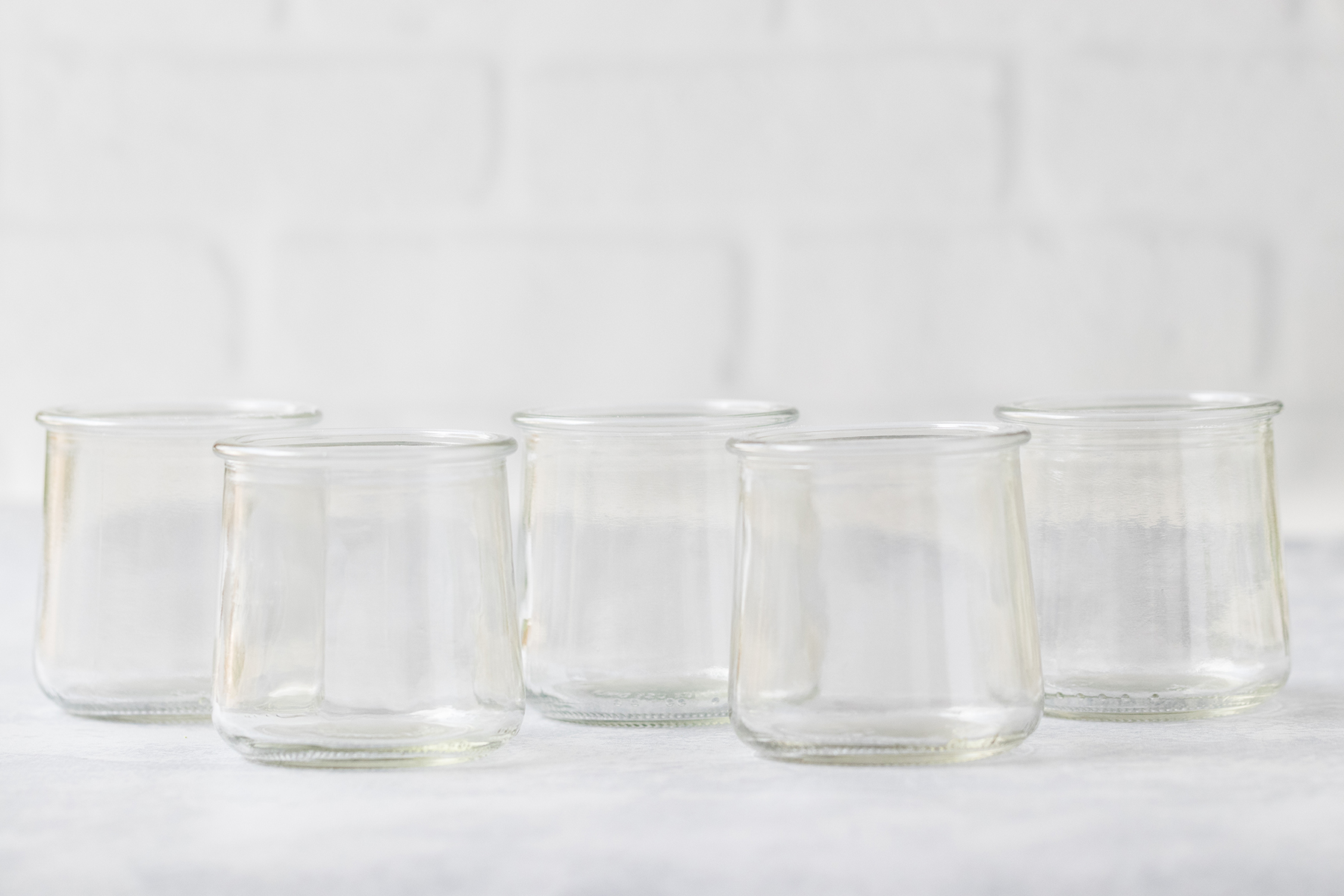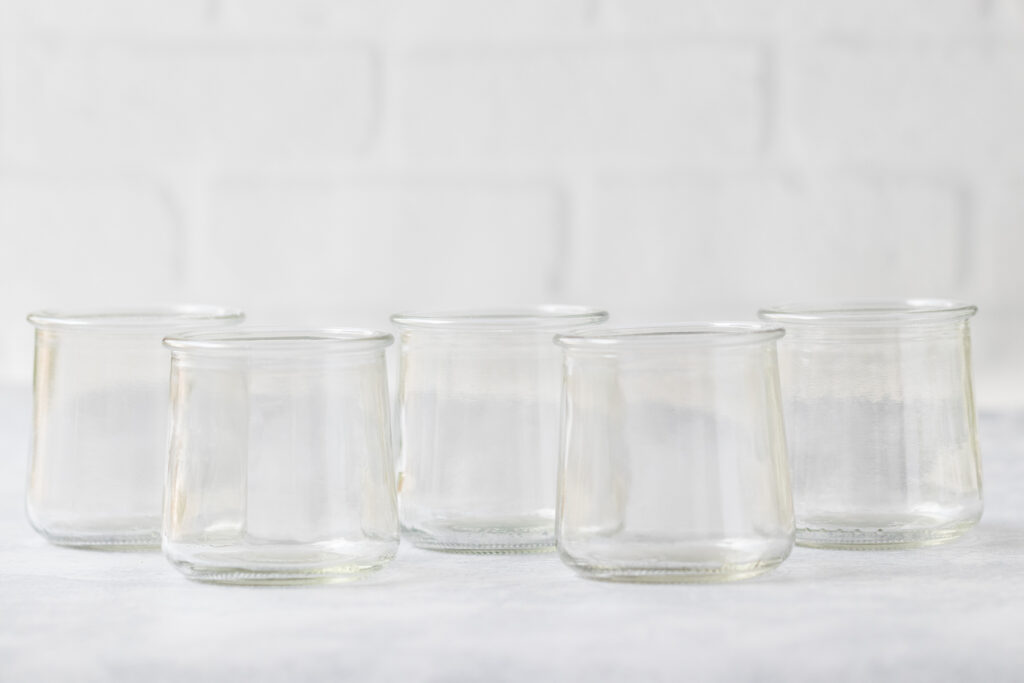 How to clean Oui yogurt jars
Oui yogurt jar labels are so easy to remove. A label always comes off in a single piece and doesn't leave behind much sticky residue.
I use Goo Gone spray gel, which is my favorite Goo Gone, to remove the residue. The spray bottle makes it so easy to apply a thin, even layer. As Goo Gone is greasy, then I use a couple of squirts of my favorite dish soap to remove the Goo Gone and clean the jar.
Allow the jars to dry completely before starting your planters.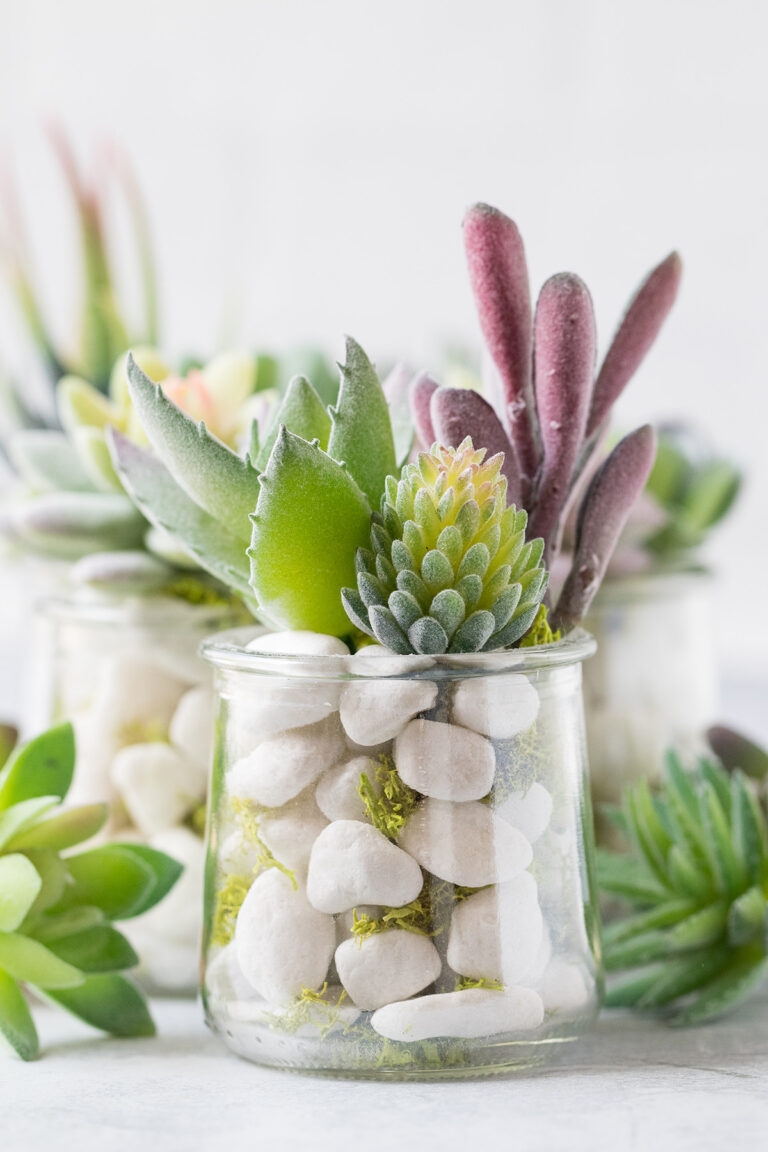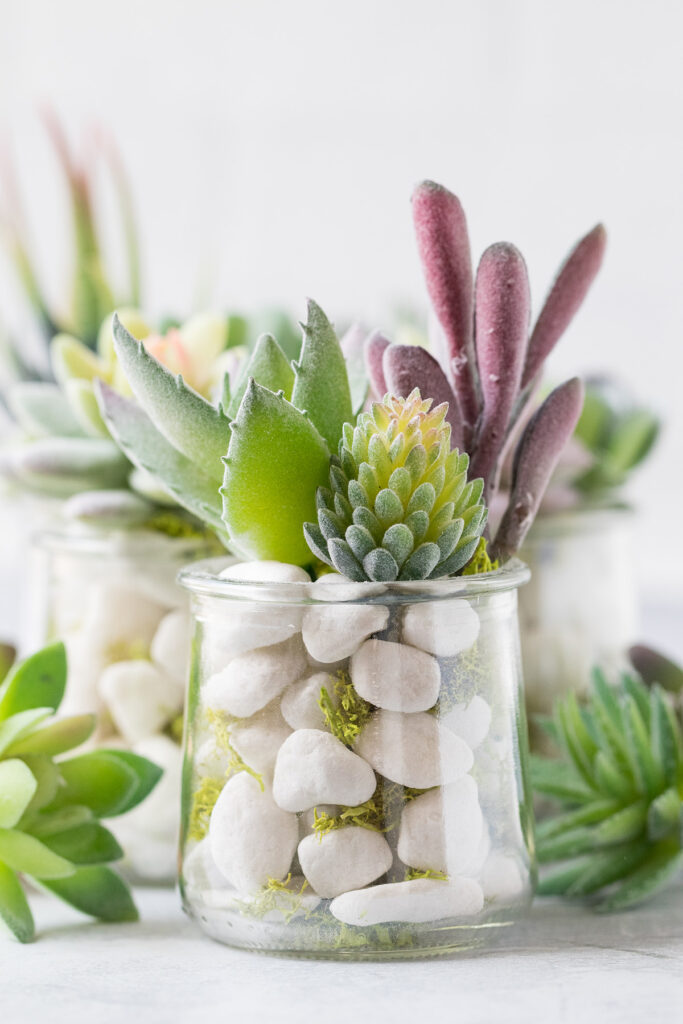 Supplies for upcycled Oui yogurt jar faux succulents
Oui yogurt jars, as many as you'd like to use, clean and dry
White marble rocks. The 40 oz. size is just right for five Oui jars. Any white rocks or similar stones will work well.
Reindeer moss or other faux moss. I'm using the chartreuse color, as that's what was currently available at my local store.
Faux succulents. I'm linking the exact set that I used. I love the aesthetic and variety so much. You can also look for faux succulents in any store with a silk floral department, such as Michaels.
(Optional) Wooden tray for displaying your new planters. I'm linking the exact one that I'm using. I love the dark wood aesthetic of this tray and that it holds five Oui jars perfectly. I link a couple more options below.
Additional tray options
MyGift vintage aesthetic gray wood tray with metal handles. This wood candle holder is similar to the one above but in a lovely vintage-inspired weathered gray and with a slightly different handle design. It's a very similar size and as such, will also fit five Oui yogurt jars.
TERRA HOME wood decorative tray. This wood tray is slightly smaller, most likely a better fit for three Oui yogurt jars, and includes three metal plates, which would work nicely with the glass jars.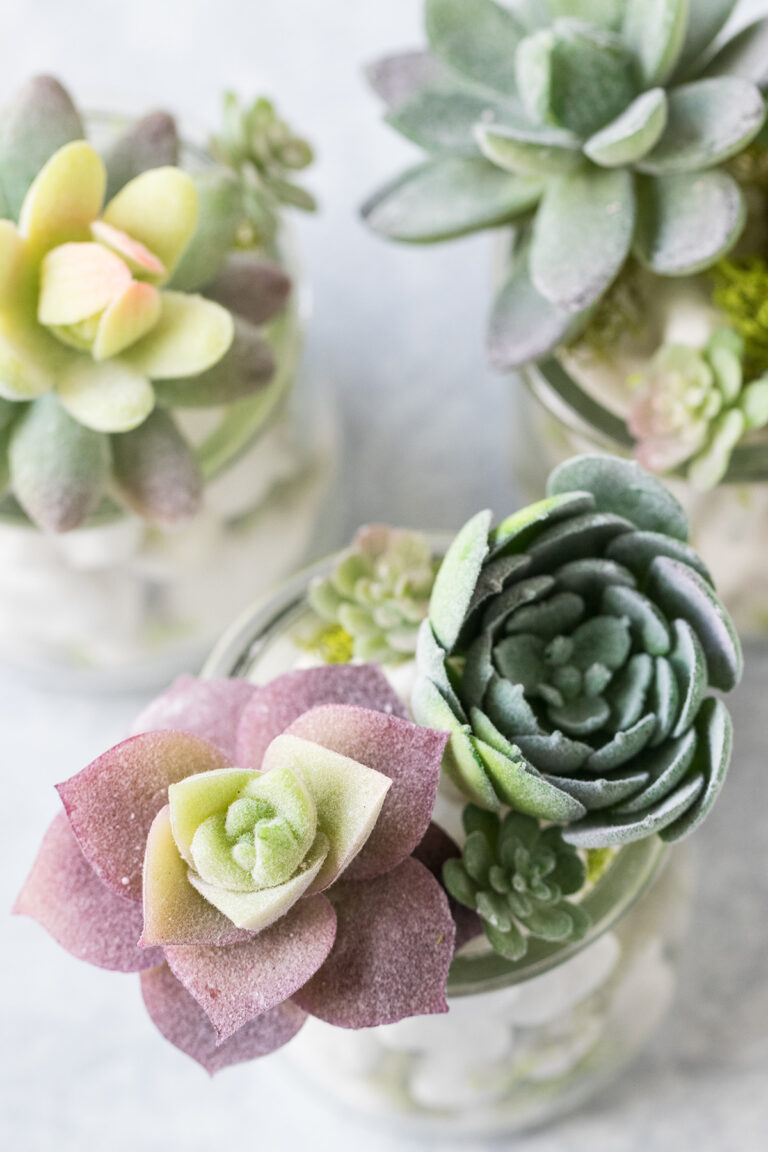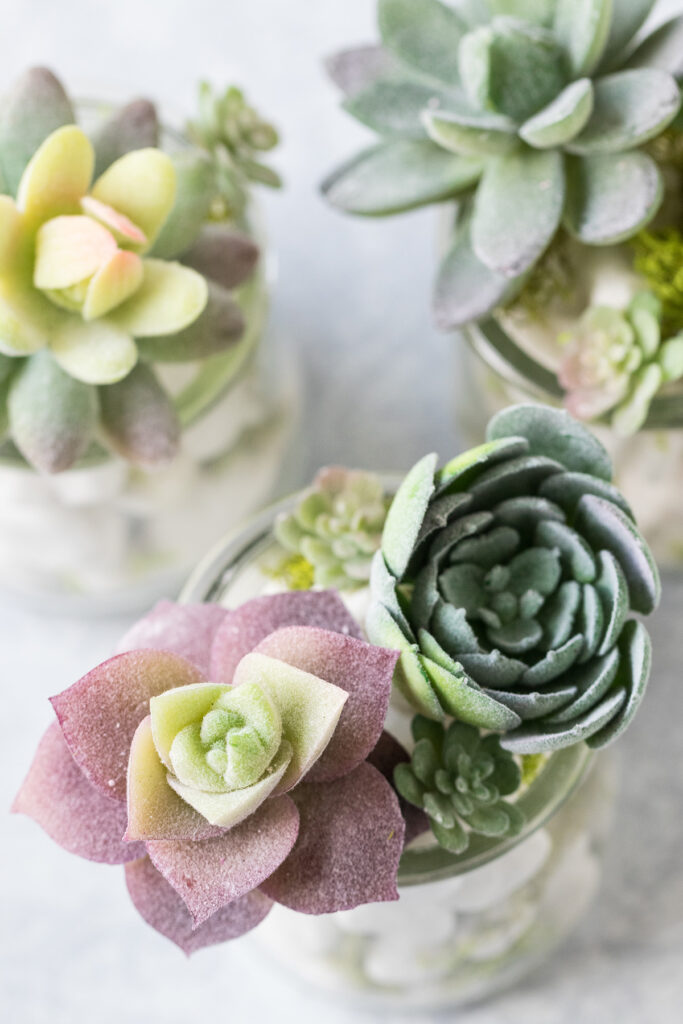 Instructions for upcycled Oui yogurt jar faux succulents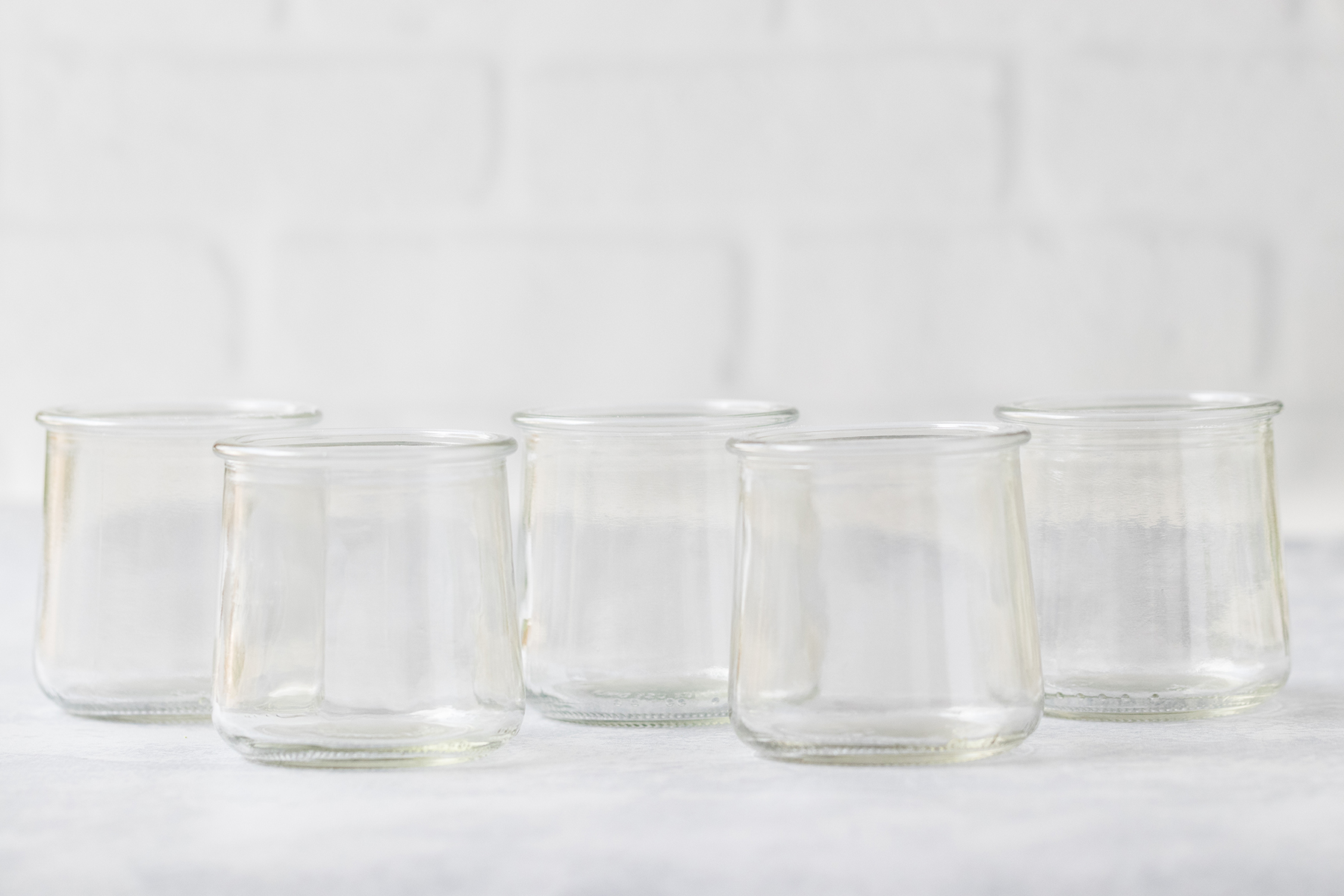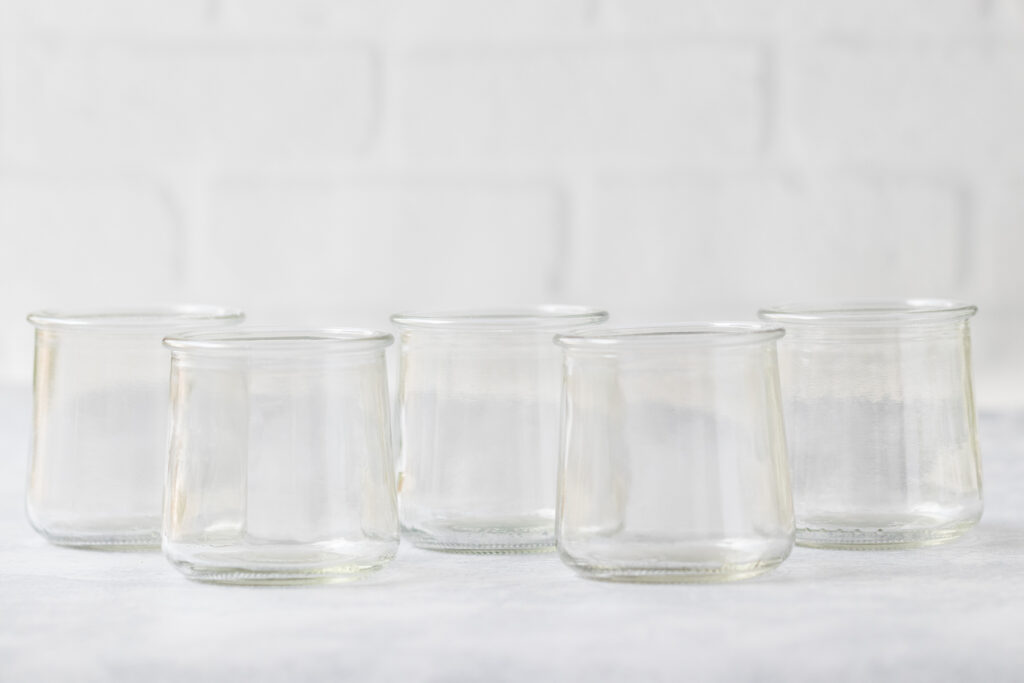 Put a small amount of rubbing alcohol on a paper towel. Rub down your jars to remove oil and other residue. Allow them to dry completely.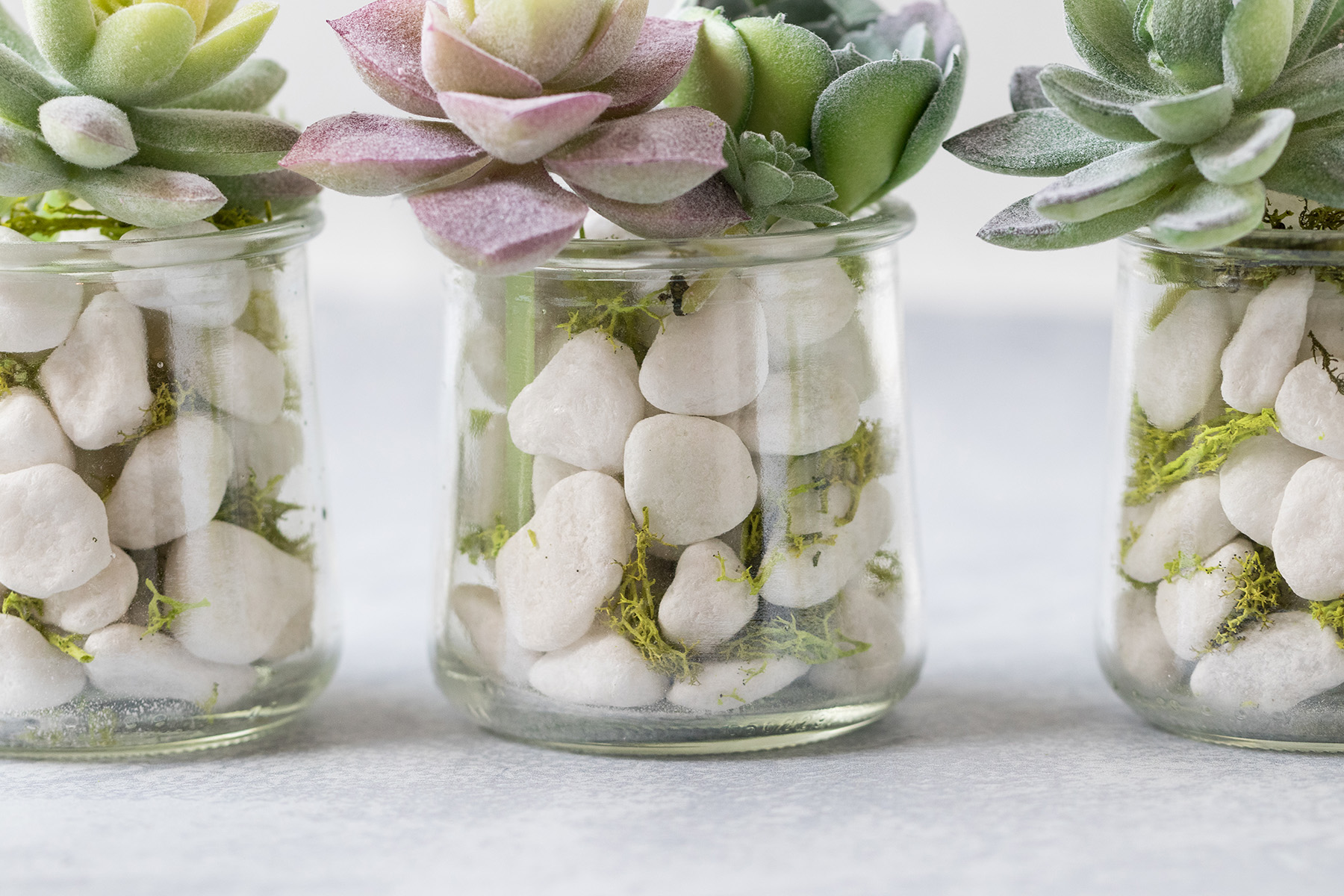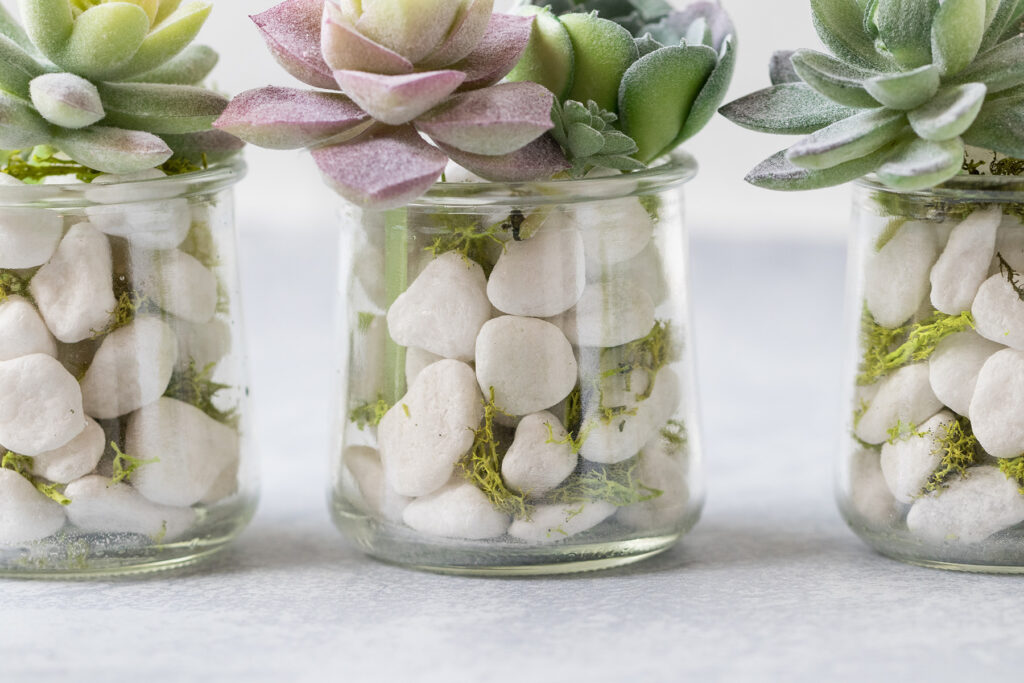 Cover the bottoms of your jars with rocks. Add a little layer of moss. I broke up the moss into small pieces, removing any sticks and darker elements.
Repeat with two more layers of rocks and moss for three layers of each total.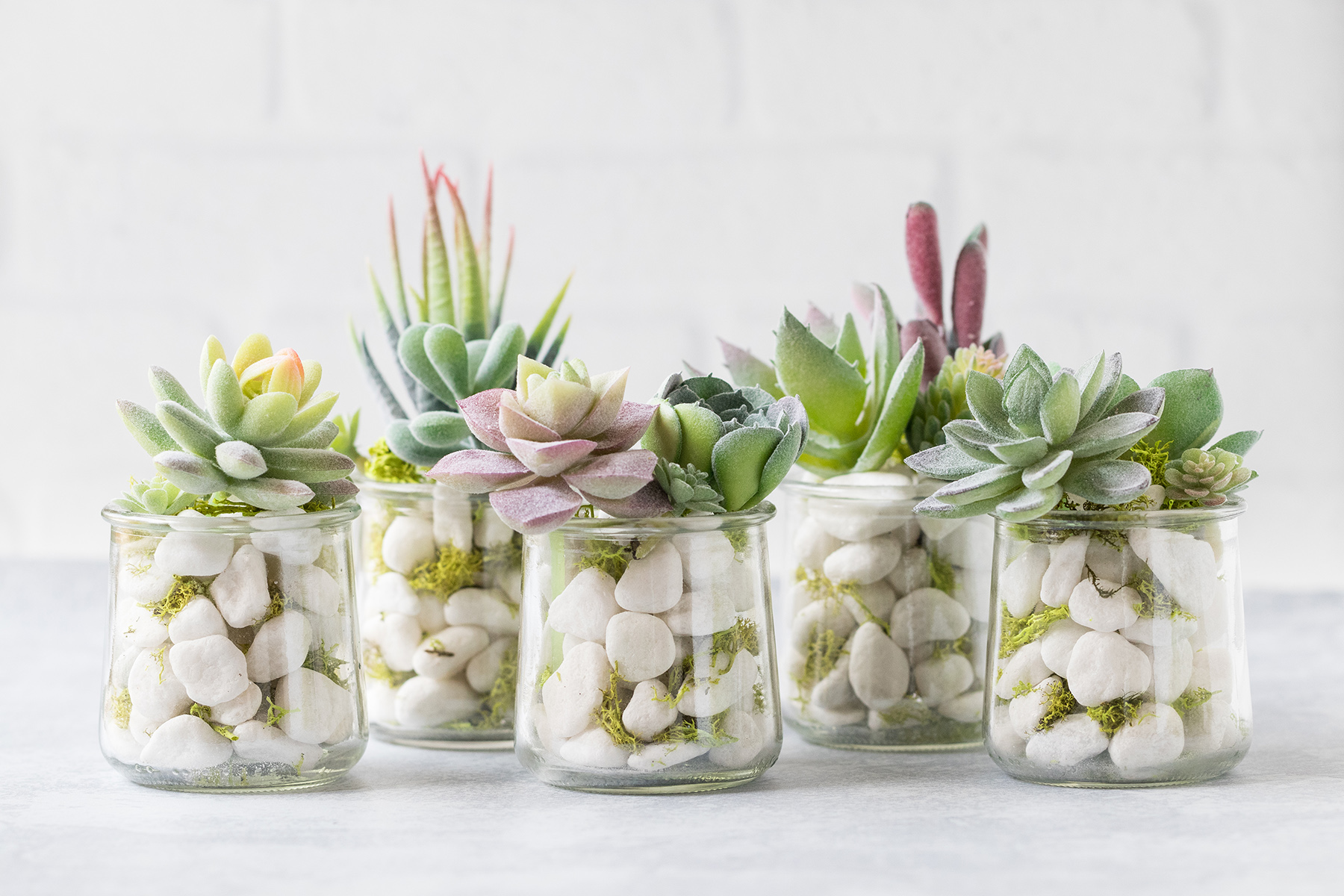 Arrange your succulents in your vases. I used one to three larger succulents in each vase. The set I purchased included one piece with lots of little succulents. I cut them up and distributed them among the vases to fill out the larger succulents. I used scissors for this task, which worked great. You don't need wire cutters or anything more heavy-duty.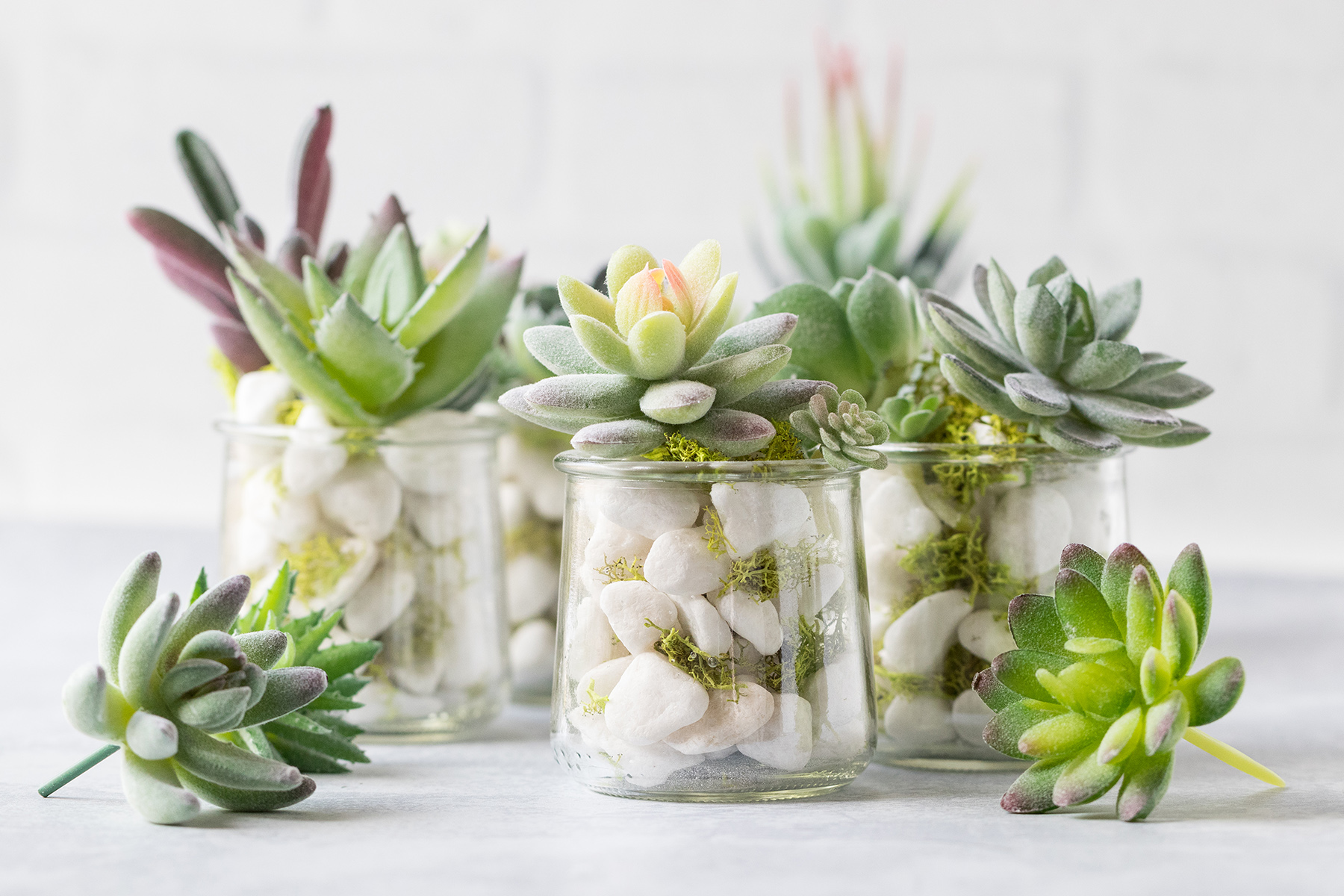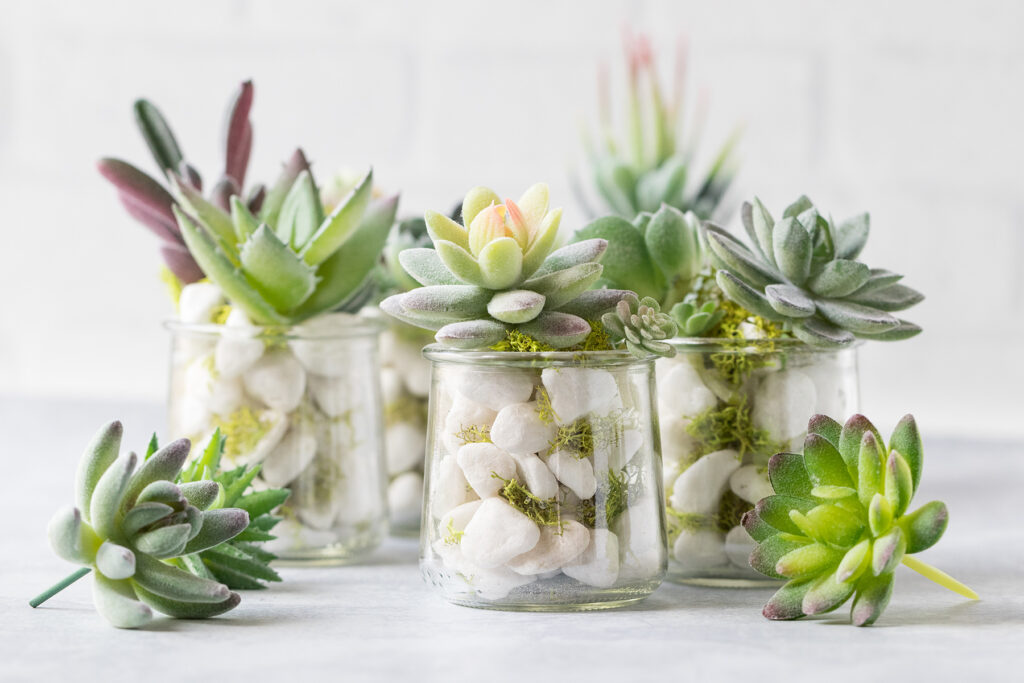 Your new succulents are ready to display in your home!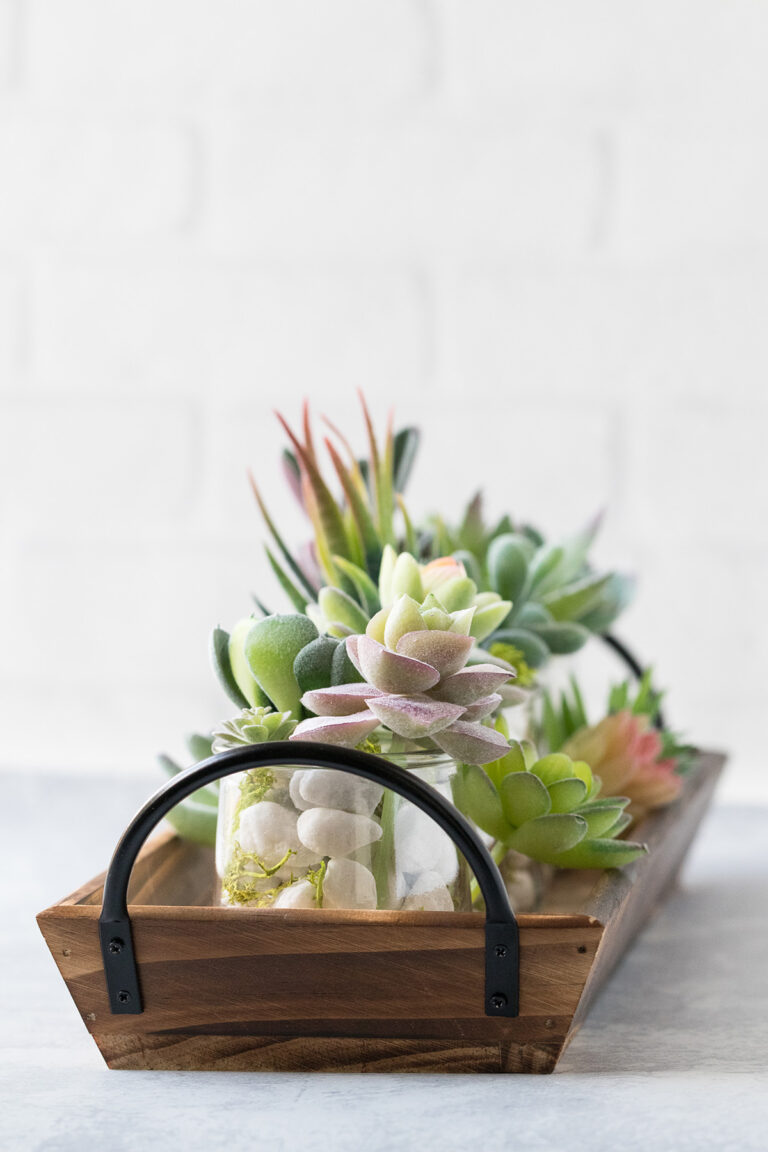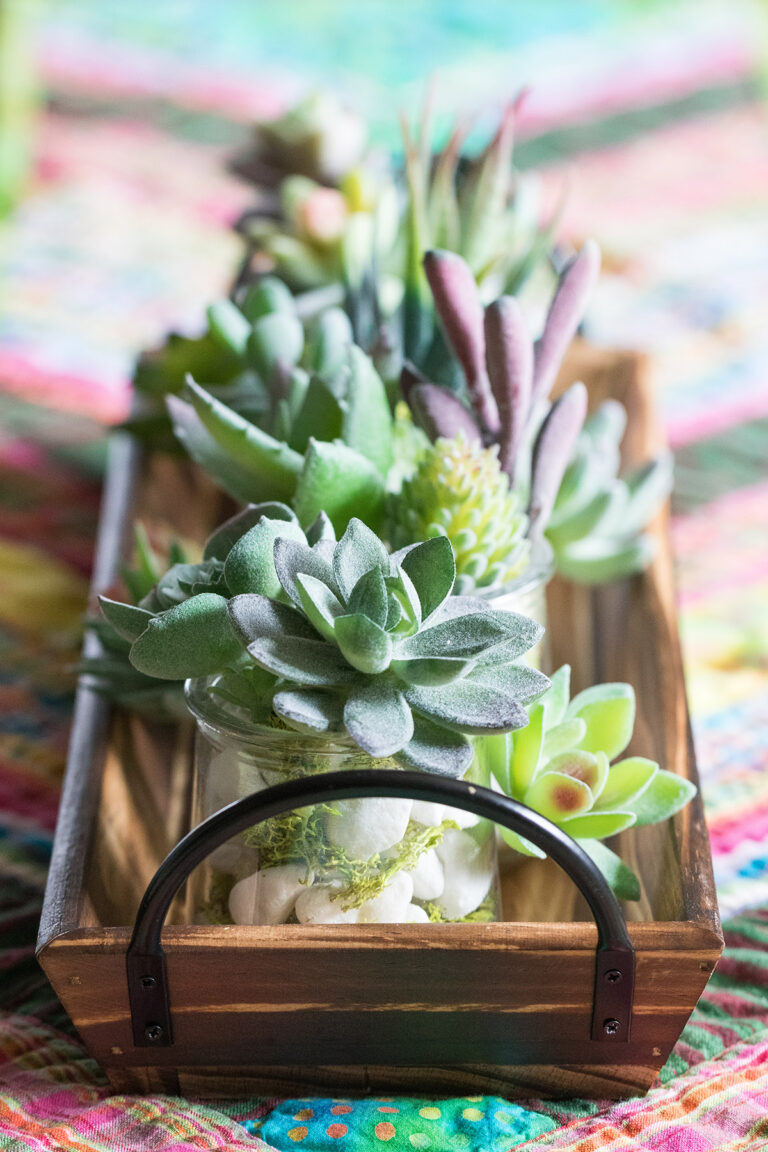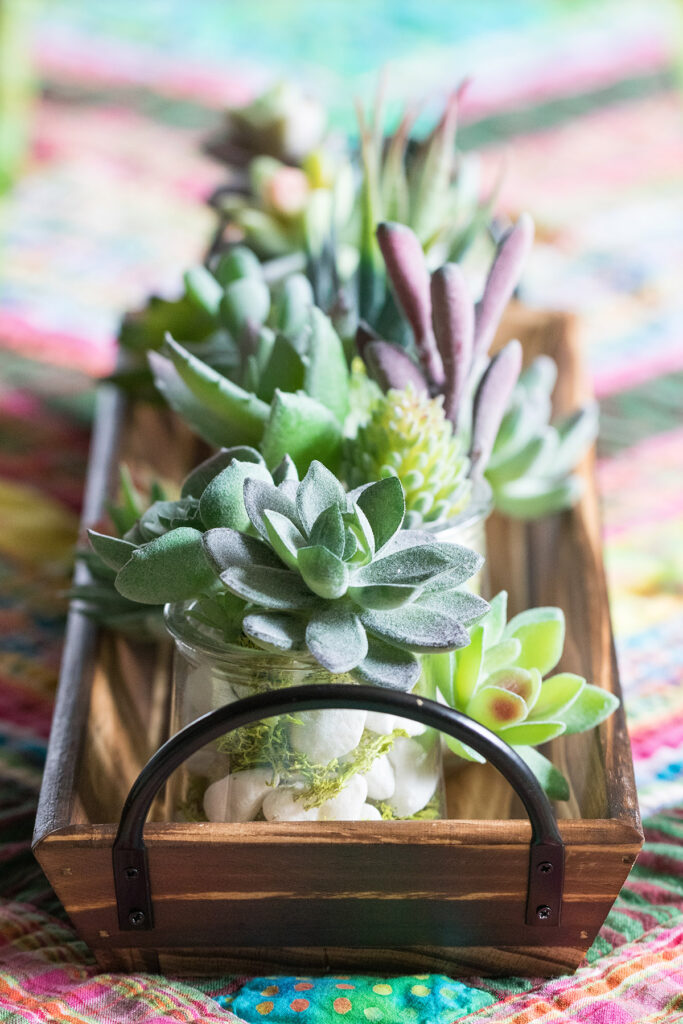 If you like, you can style them on a wooden tray. This step is completely optional and just what I chose to do for this particular project.
I want to make the faux succulents but don't have any Oui jars. Where can I get them? Will other small glass jars work?
You can always find listings for Oui yogurt jars on eBay and Etsy. If you belong to any local buy/sell or freecycle groups, I would check there as well. If you don't see any jars listed, you can put in your own request in these groups.
Other small glass jars work well, too. For example, small mason jars are a good option.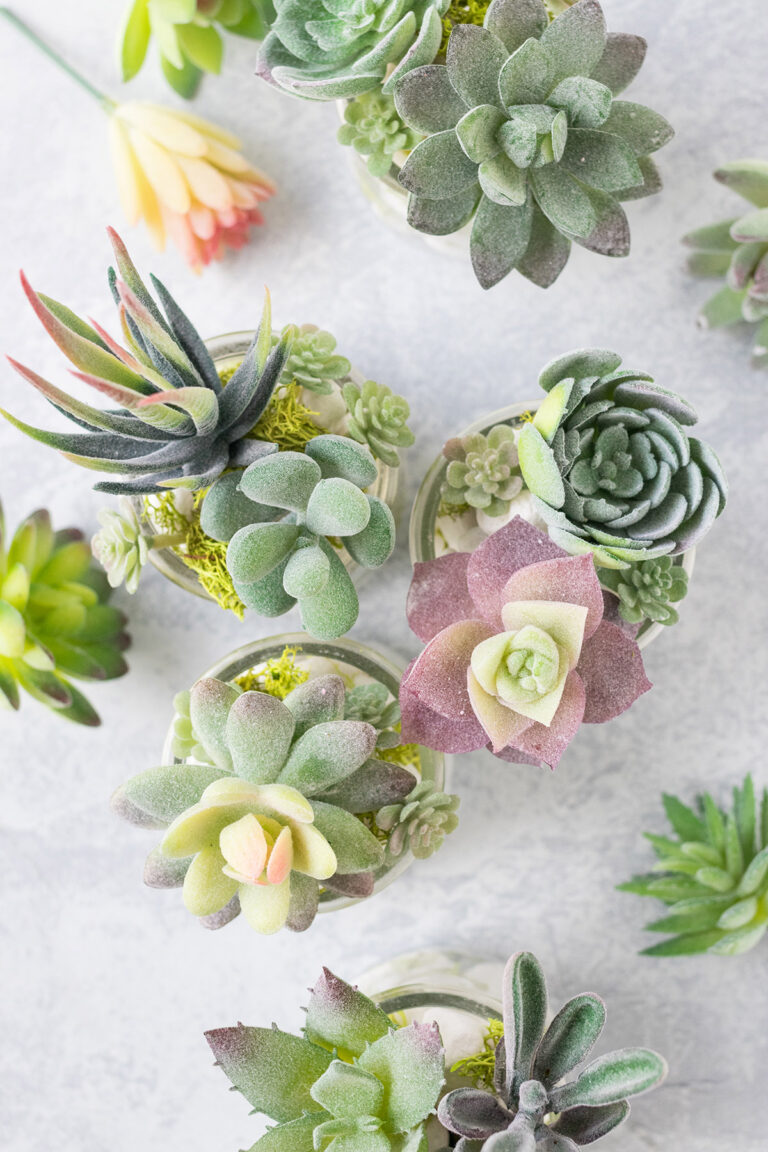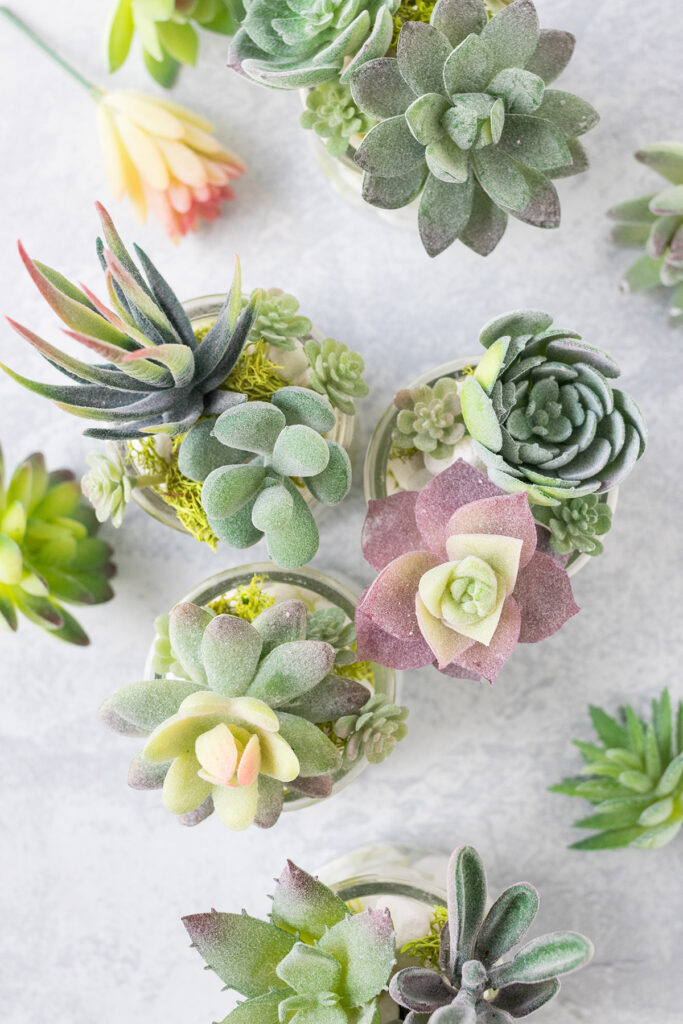 [Disclaimer: There are a few affiliate links in this post. Thanks for your support!]
Did you make the Oui yogurt jar faux succulents?

I want to see them! Tag your images #RoseClearfield on Instagram or Twitter or post a photo to my Facebook page.
Pin this post for easy access to the upcycled Oui yogurt jar faux succulents later!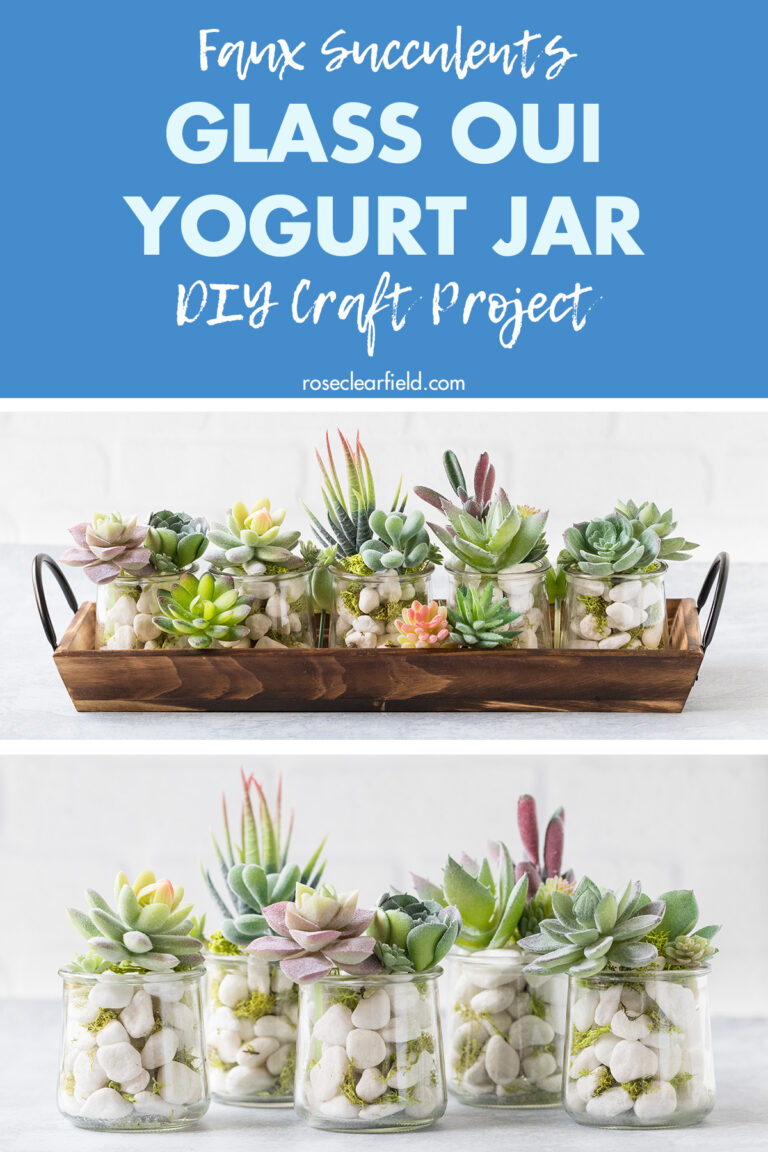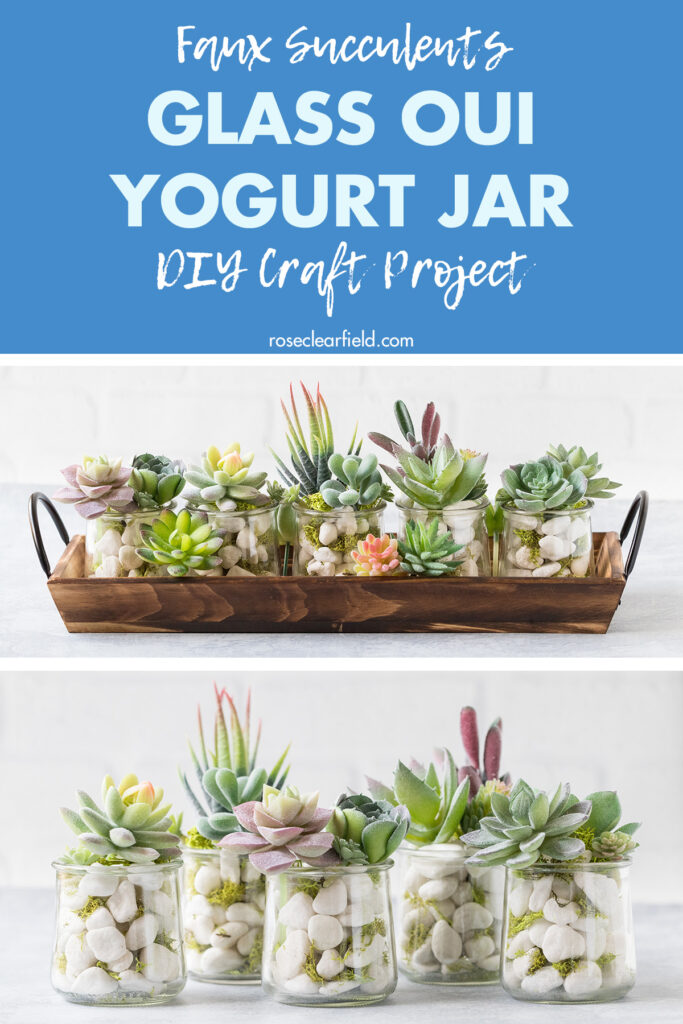 Are you looking for other DIY projects that involve faux greenery? I also have a tutorial for a faux greenery wreath!
Other DIY home decor projects: