Upcycled Oui yogurt jar sheet music votives are an easy craft project to make on any budget and add a beautiful touch to holiday decor, parties, and much more.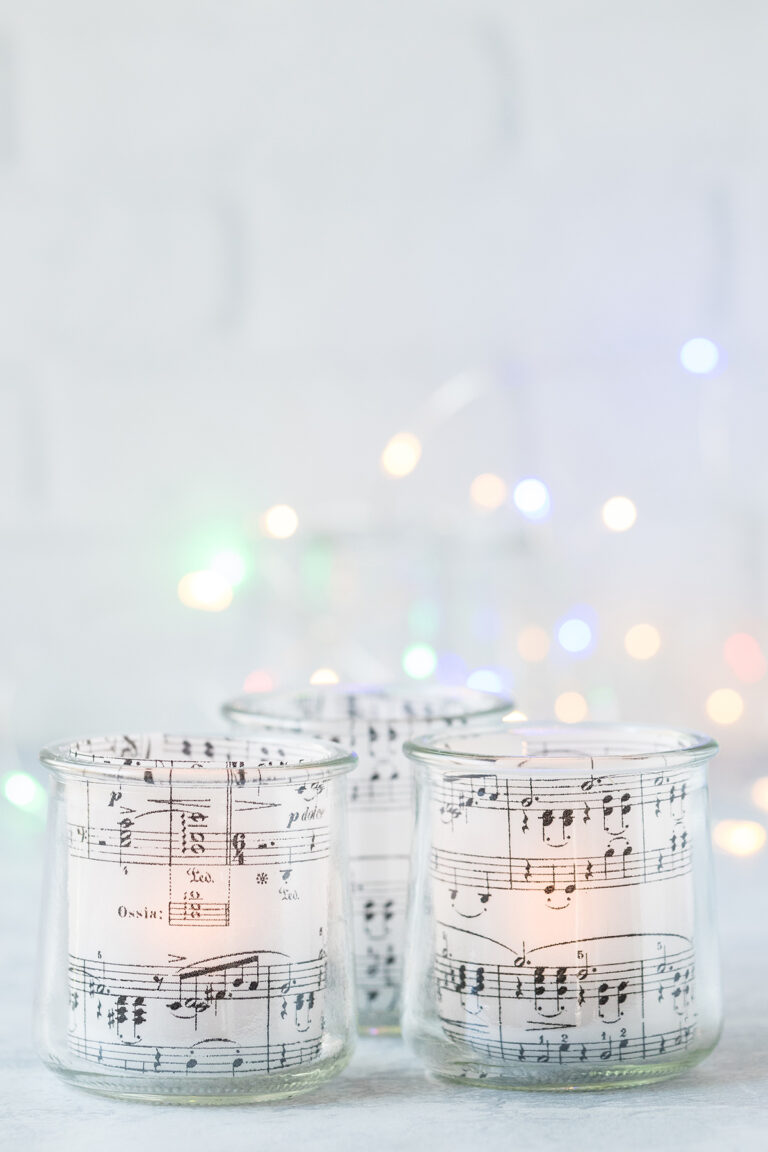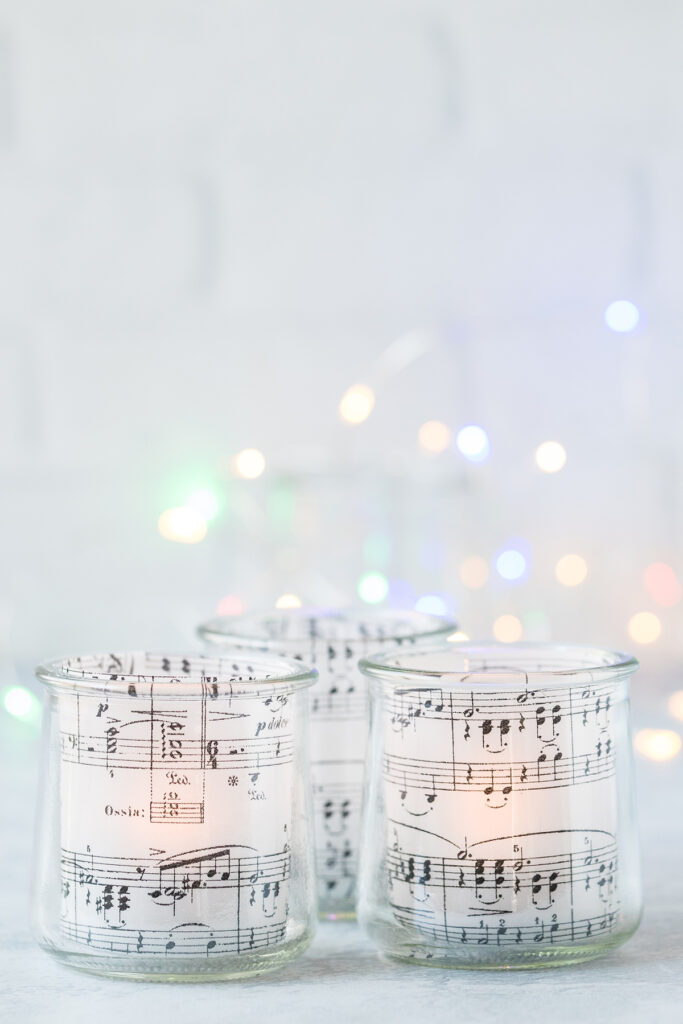 Upcycled Oui yogurt jar sheet music votives are such a versatile DIY project. You can use literally any sheet music available to fit a specific occasion. I absolutely love this concept for centerpieces at weddings, baby showers, and bridal showers as well as other large parties, such as milestone birthdays and retirement parties.
I'm sharing a few examples for holidays and birthdays as well as examples using favorite hymns. There are so many possibilities beyond that as well. I'd love to see what other people do with this concept.
After the instructions for the Oui yogurt jar sheet music votives, I provide details about exactly how I created the vellum inserts for specific songs in this post, so you can repeat this process with the music of your choosing. I also answer a number of questions about the materials I used and other aspects of this DIY project to ensure you have the highest level of success possible. If there's anything else you'd like to know, don't hesitate to ask!
Happy crafting!
How to clean Oui yogurt jars
As with any food container that you're using for crafts, you want to make sure the jars are fully clean and dry before starting your project. The good news is that the Oui yogurt jar labels peel off easily all at once and don't leave behind a lot of residue, making the cleaning process quick and easy.
Pull off the labels. Oui yogurt labels are so easy to remove. A label always comes off as a single piece.
Remove the remaining residue. Give the jar a couple of sprays of Goo Gone. You don't need a lot. The spray container works so well, providing even distribution of just the right amount of product.
Scrub throughly with soap and hot water. The Goo Gone will leave the outside of the jar a little greasy. Wash the inside and outside thoroughly with hot water and your favorite dish soap.
Allow to dry completely. I place my jars in the dish drainer and collect them the next day.
Some people finish their glass jars with a little rubbing alcohol to remove any oils. This is especially important if you're going to paint the jars. I haven't found it to be necessary for this project. But you certainly can.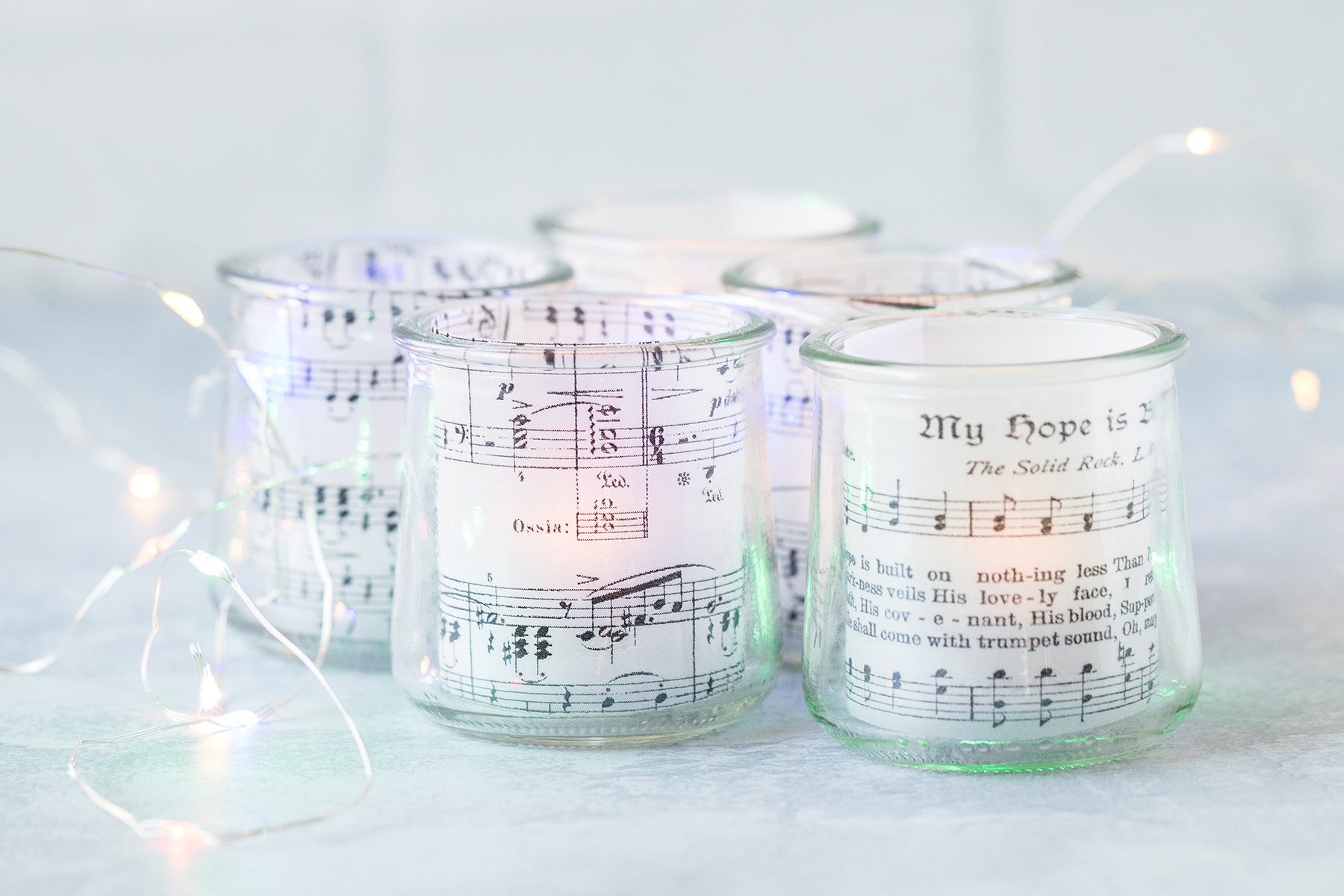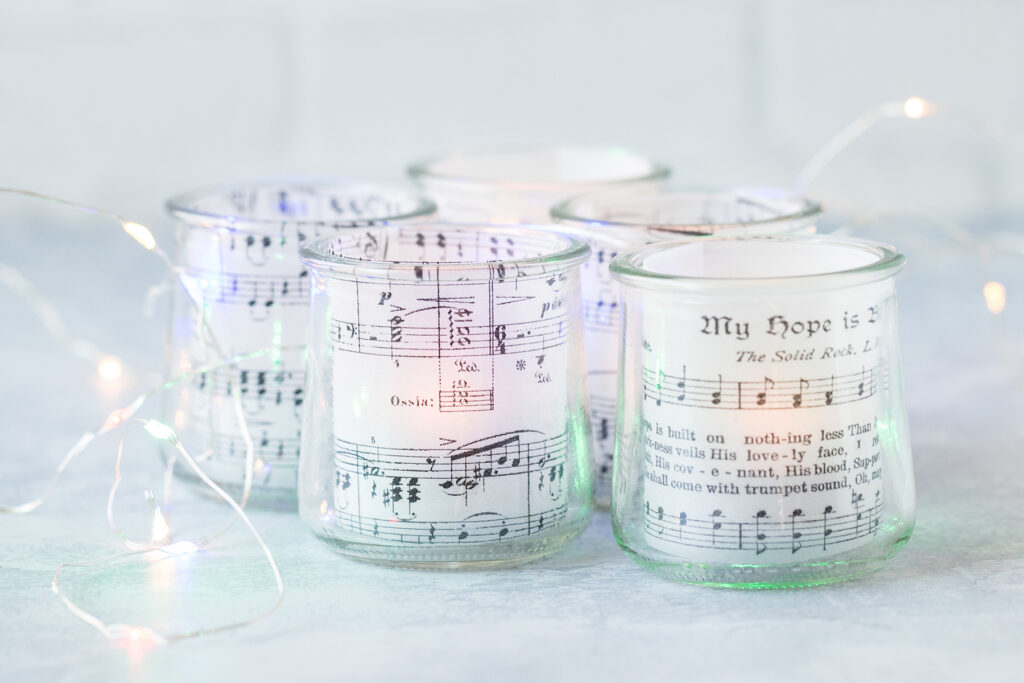 Supplies for Oui yogurt jar sheet music votives
Oui yogurt jars, as many as you need for your specific use, cleaned and dry
Digital sheet music, see resources below
I know that I sound like a broken record talking about the Chopin piano sheet music source. But I've used it over and over again for numerous DIY projects over the past decade. There is so much music available, and the aesthetic is so good. All Piano Scores offers royalty-free sheet music from several dozen composers, if you want to branch out from Chopin.
I've also created a resource for you with the additional sheet music I use in this post, vintage backgrounds removed and formatted for Oui jars. You get a selection of hymns, patriotic songs, and Christmas carols. I also have a version of happy birthday. It makes the printing process so easy and saves you the trouble of printing whole songs on vellum just for titles and single lines of music.
>> [Oui Yogurt Jar Votives Sheet Music PDF] <<
Instructions for Oui yogurt jars sheet music votives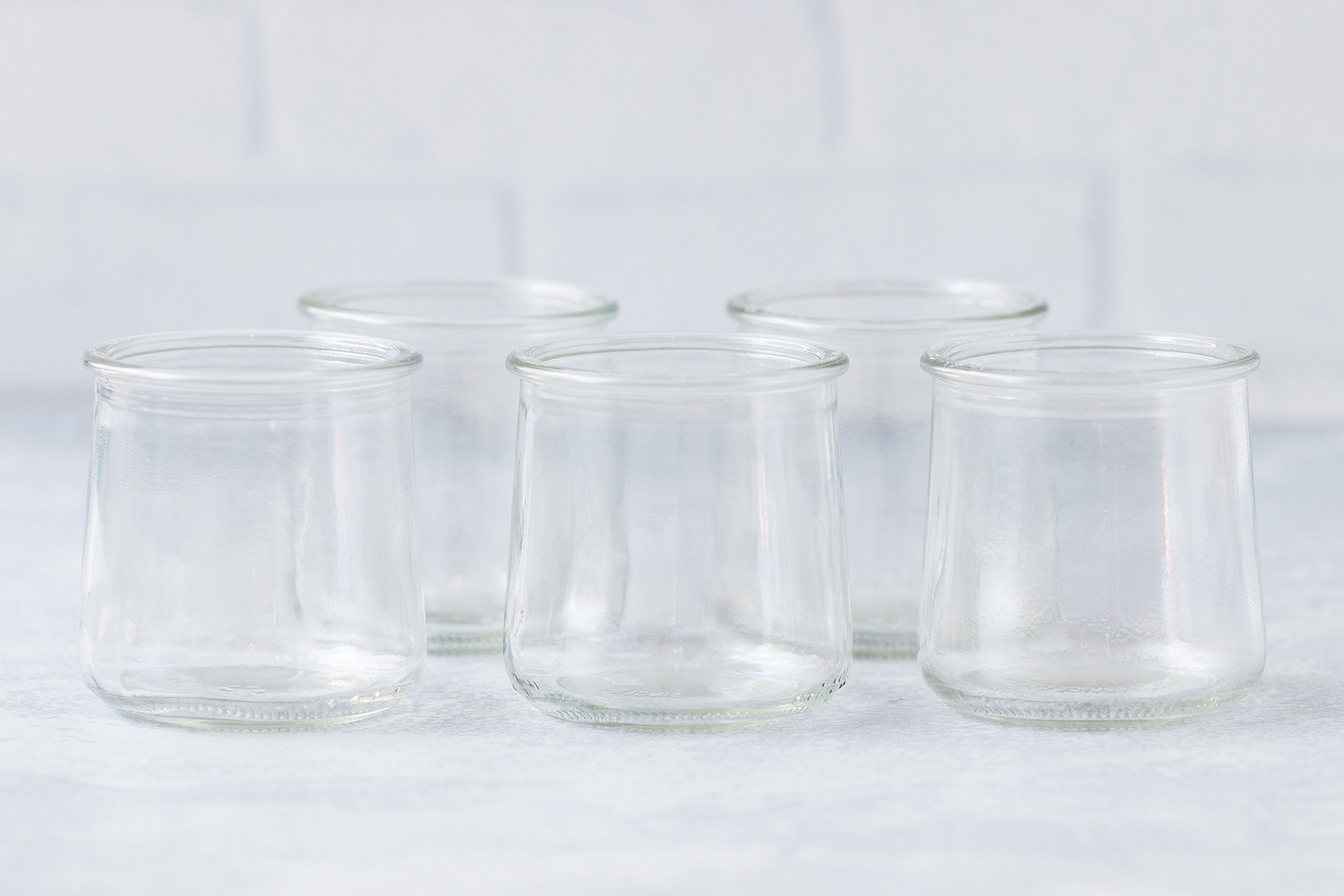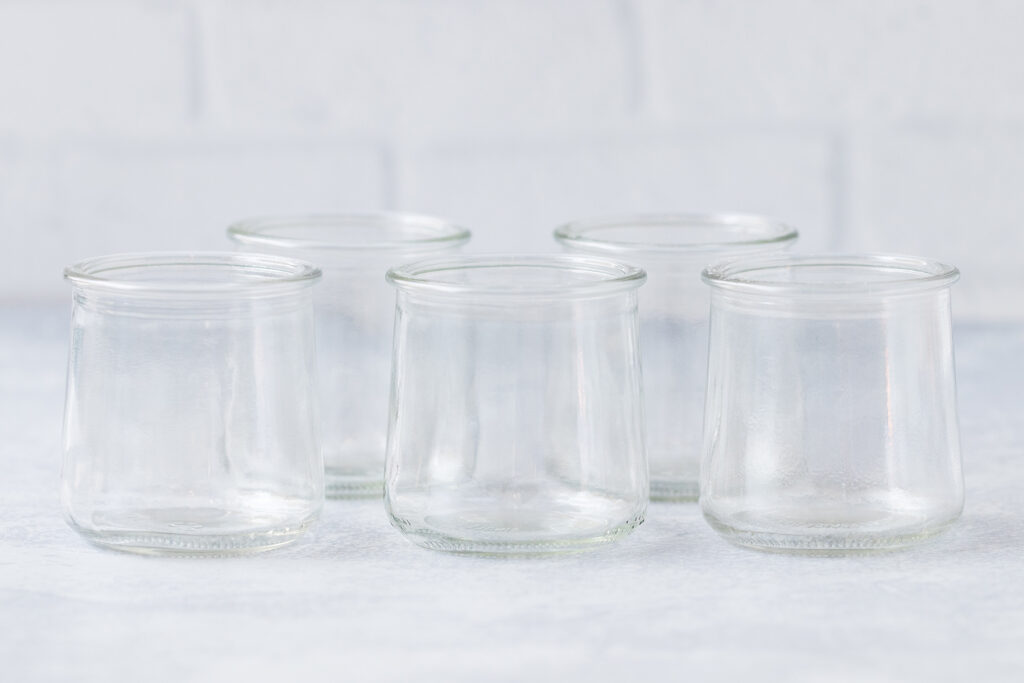 Collect your clean, dry Oui yogurt jars or other glass containers.
Load vellum paper into your printer.
Open the digital sheet music of your choosing. Again, I have resources linked above. I have additional resources linked below in the examples. You can also use any other sheet music of your choosing.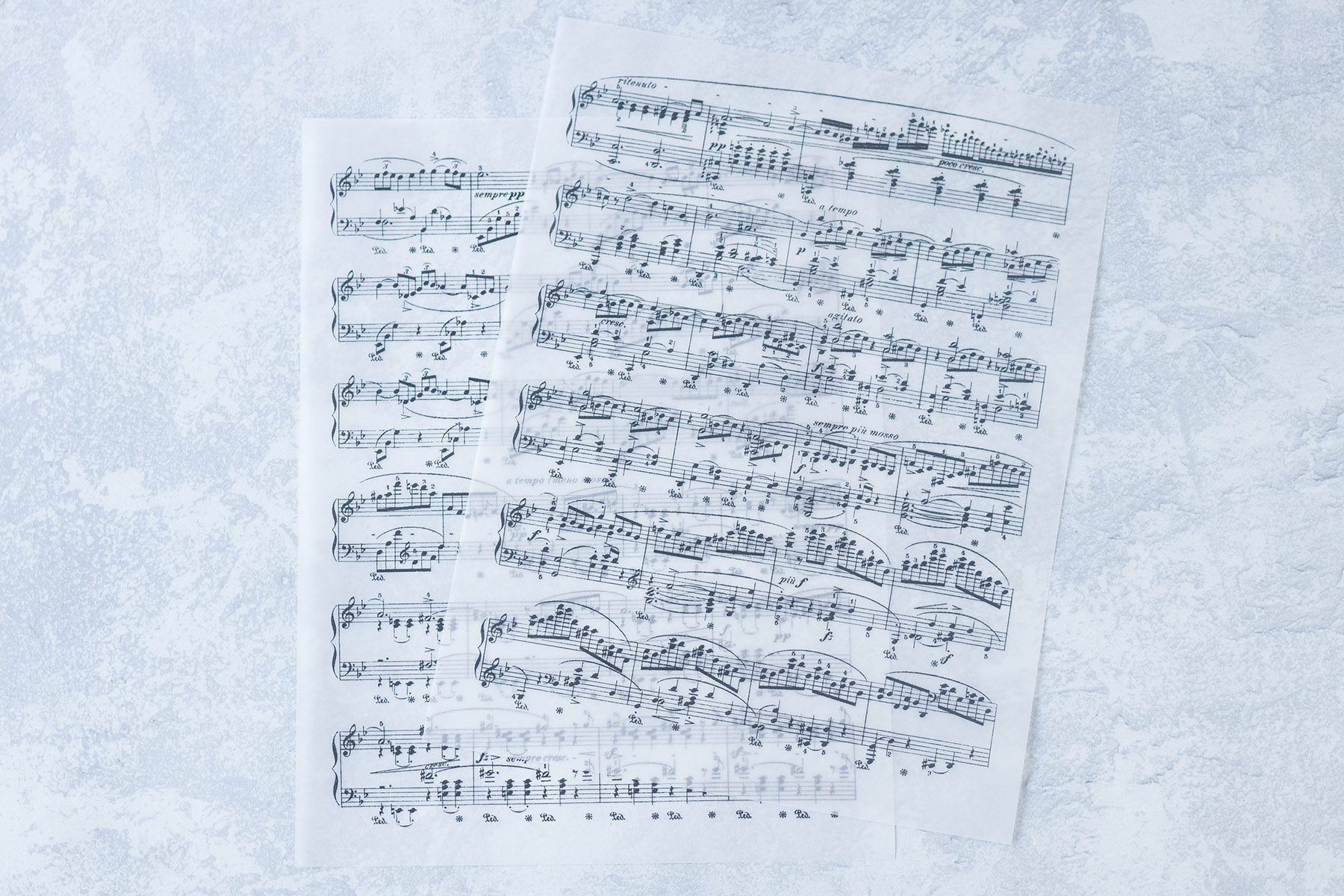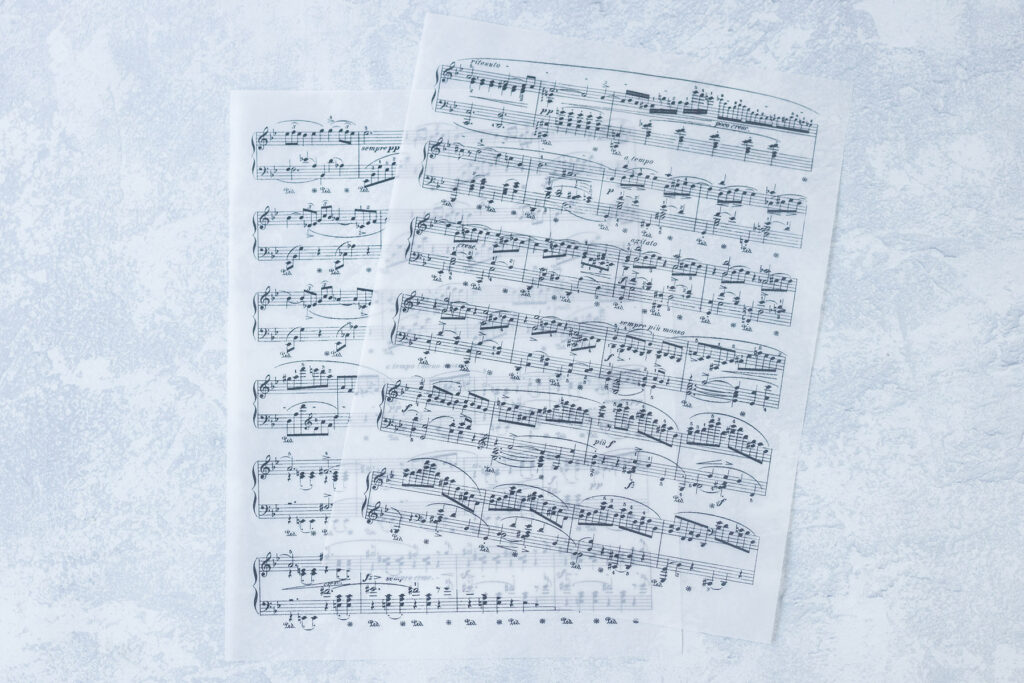 Print the sheet music on the vellum. I'm showing you an example here with full music pages from the Chopin site.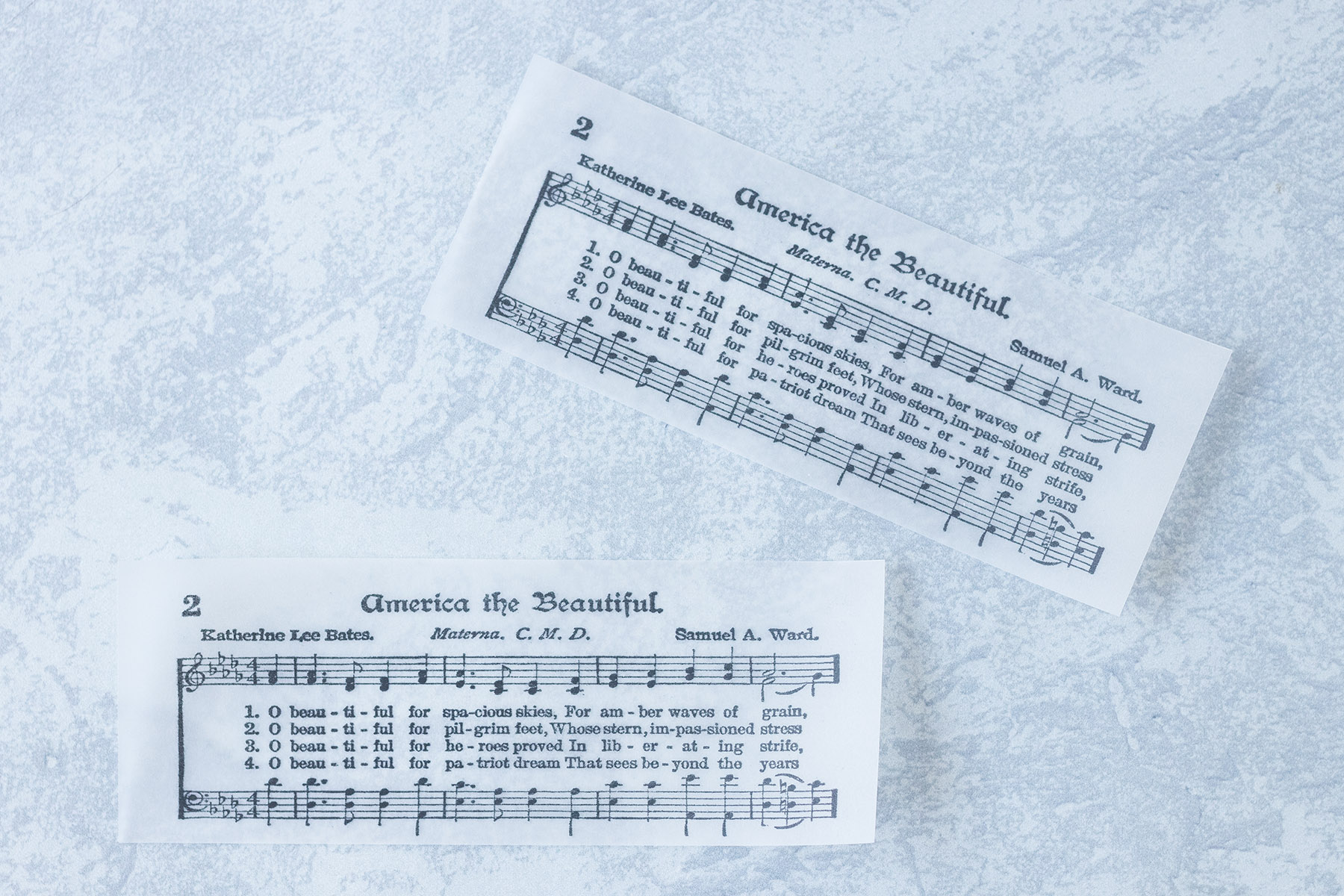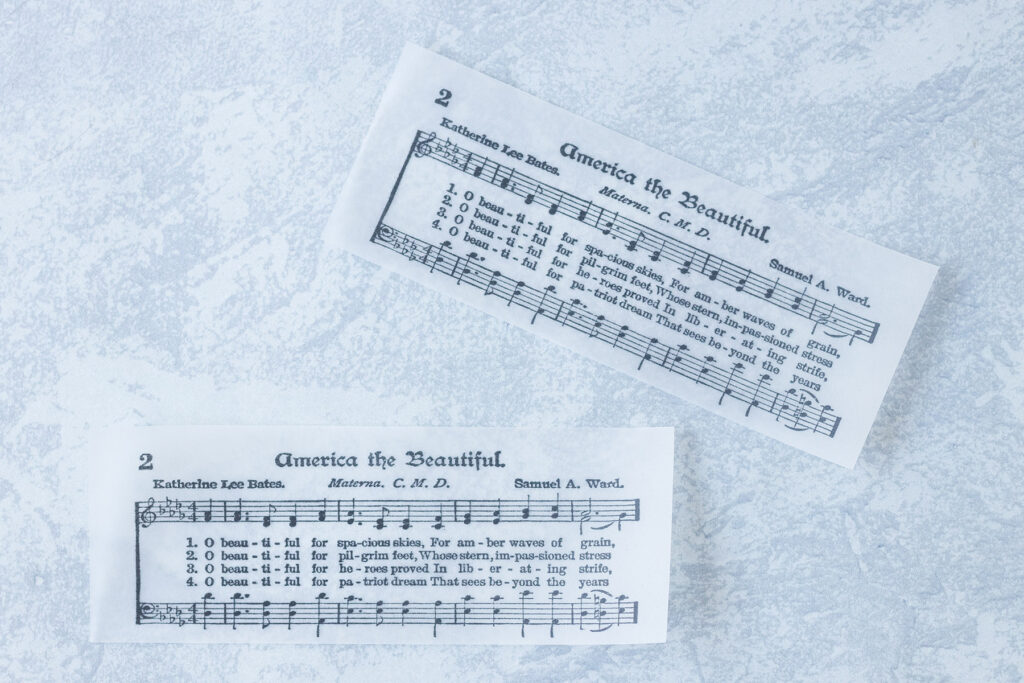 Use a paper trimmer to trim the vellum to size for your jars. I recommend the following dimensions for the following jars.
Oui yogurt: 6 5/8″ x 2 1/2″
Beech-Nut: 2 3/4″ x 5 1/8″
Gerber: 5 1/8″ x 3 3/8″
If you find it's easier to make pencil marks to show where you'll cut like I do, draw them just outside of these dimensions, so you can cut them off. You can also use a Hi-Polymer white eraser, which gets rid of pencil marks much more effectively than a regular pencil eraser.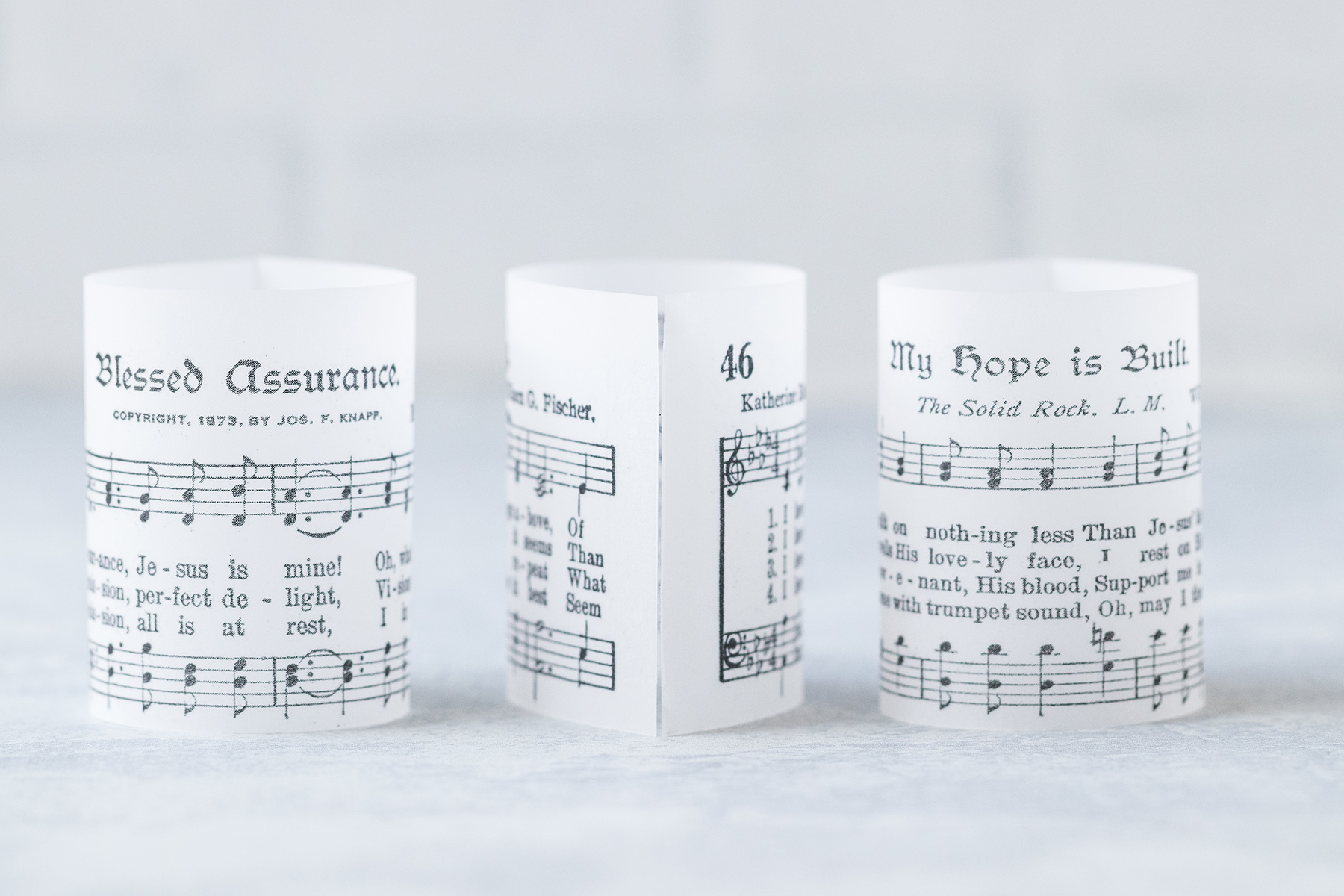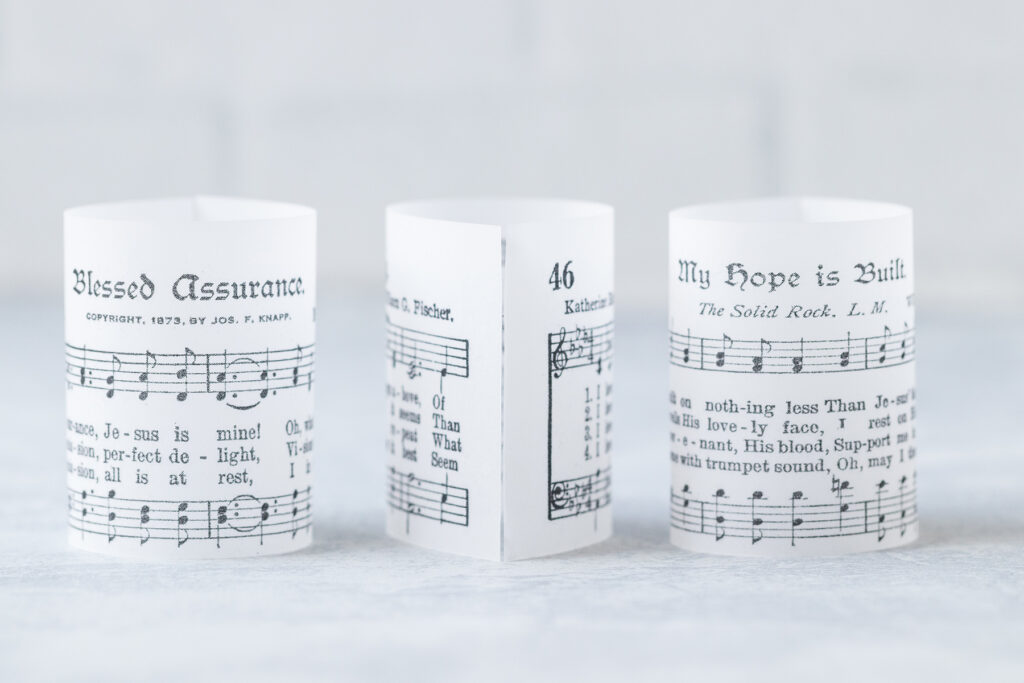 Take a piece of transparent tape roughly the size of the vellum. It doesn't need to be exact. Attach it to one end of the vellum on the backside with half of the tape still showing. Bring the vellum around and attach it to the remaining tape. You want to edges of the vellum to line up as closely as possible. The tape should be on the inside of the vellum with the printed sheet music on the outside.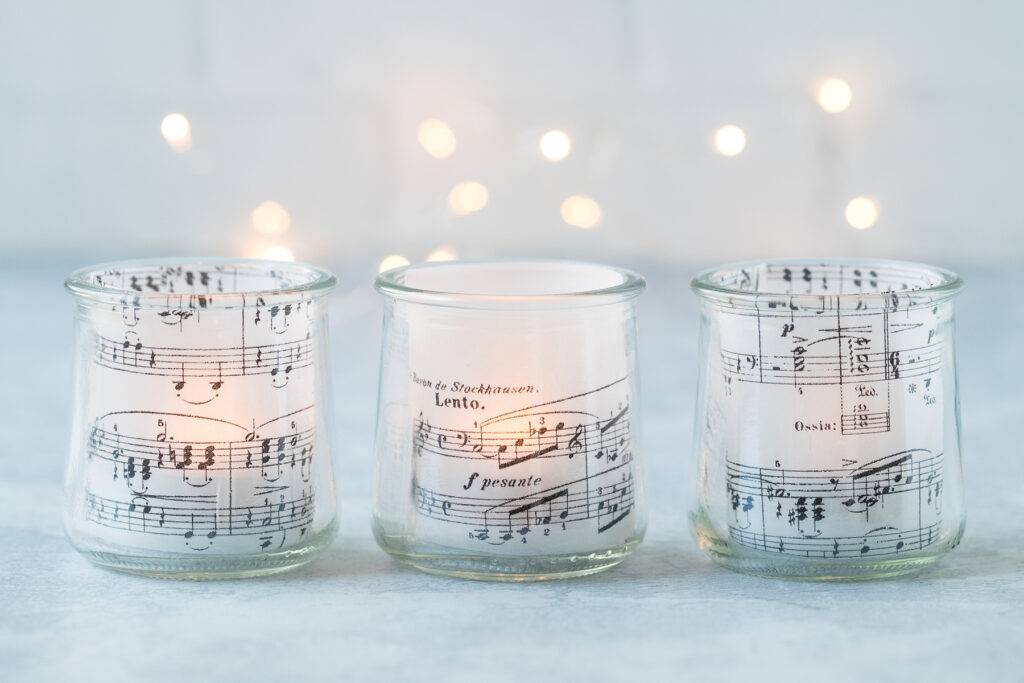 Fit the vellum inside the glass jar. Add your tea light.
Enjoy your new sheet music votive!
Other examples
I've created multiple sets of votives to show you just a few possibilities for your own projects. Again, all of the music is available in the PDF I created. I also link the original sources below.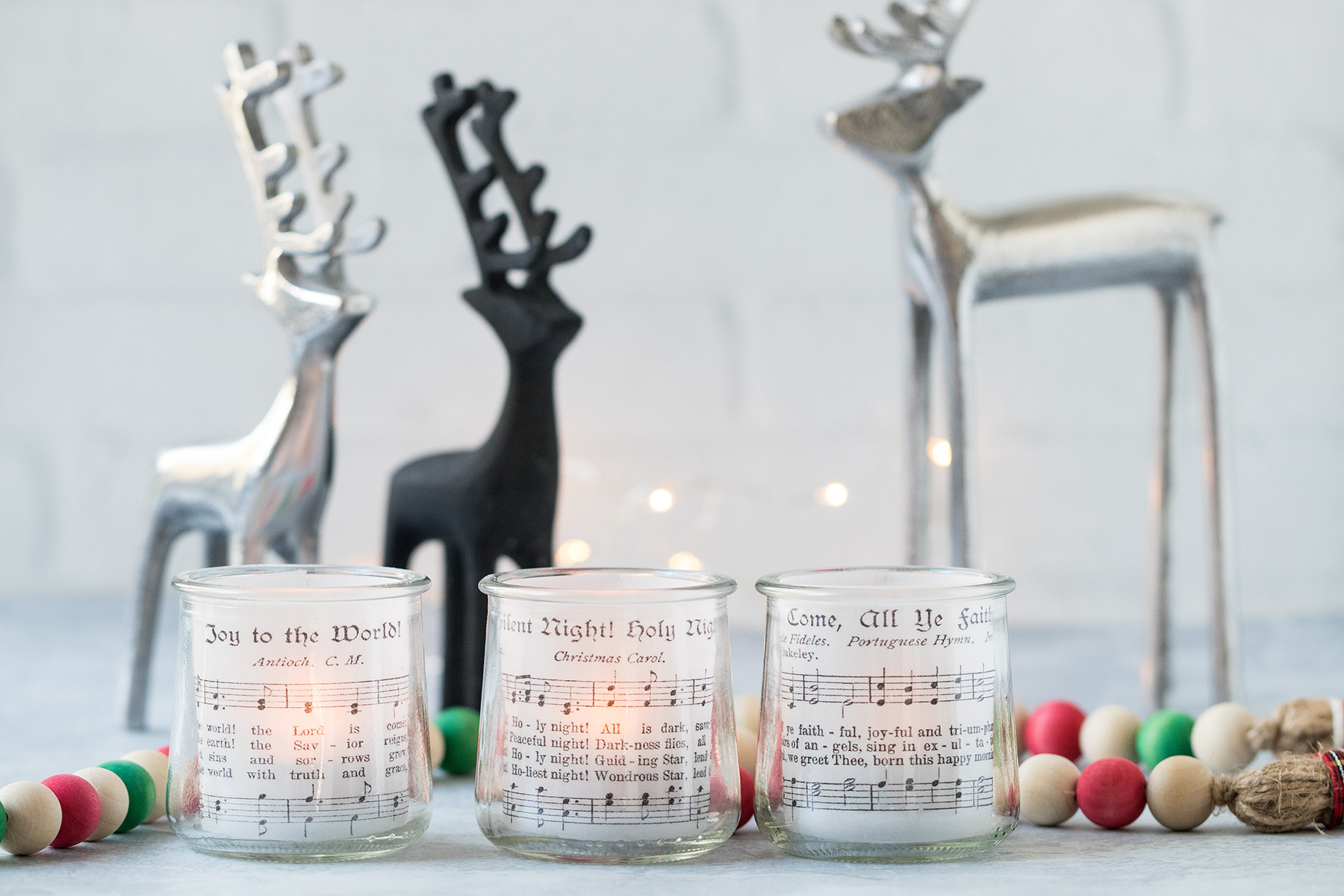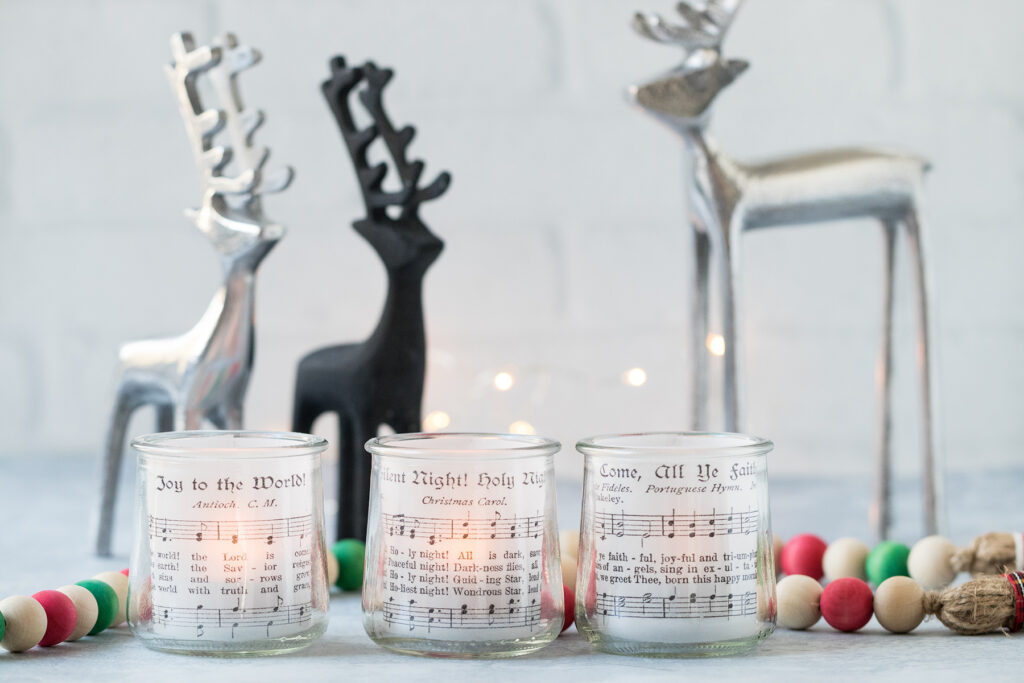 Christmas
Of course, this project is ideal for Christmas. I love it for an entryway, mantel, dining table, etc. and for entertaining, such as on a party food table. I used Silent Night, Joy to the World, and O Come All Ye Faithful from my vintage Christmas hymns collection.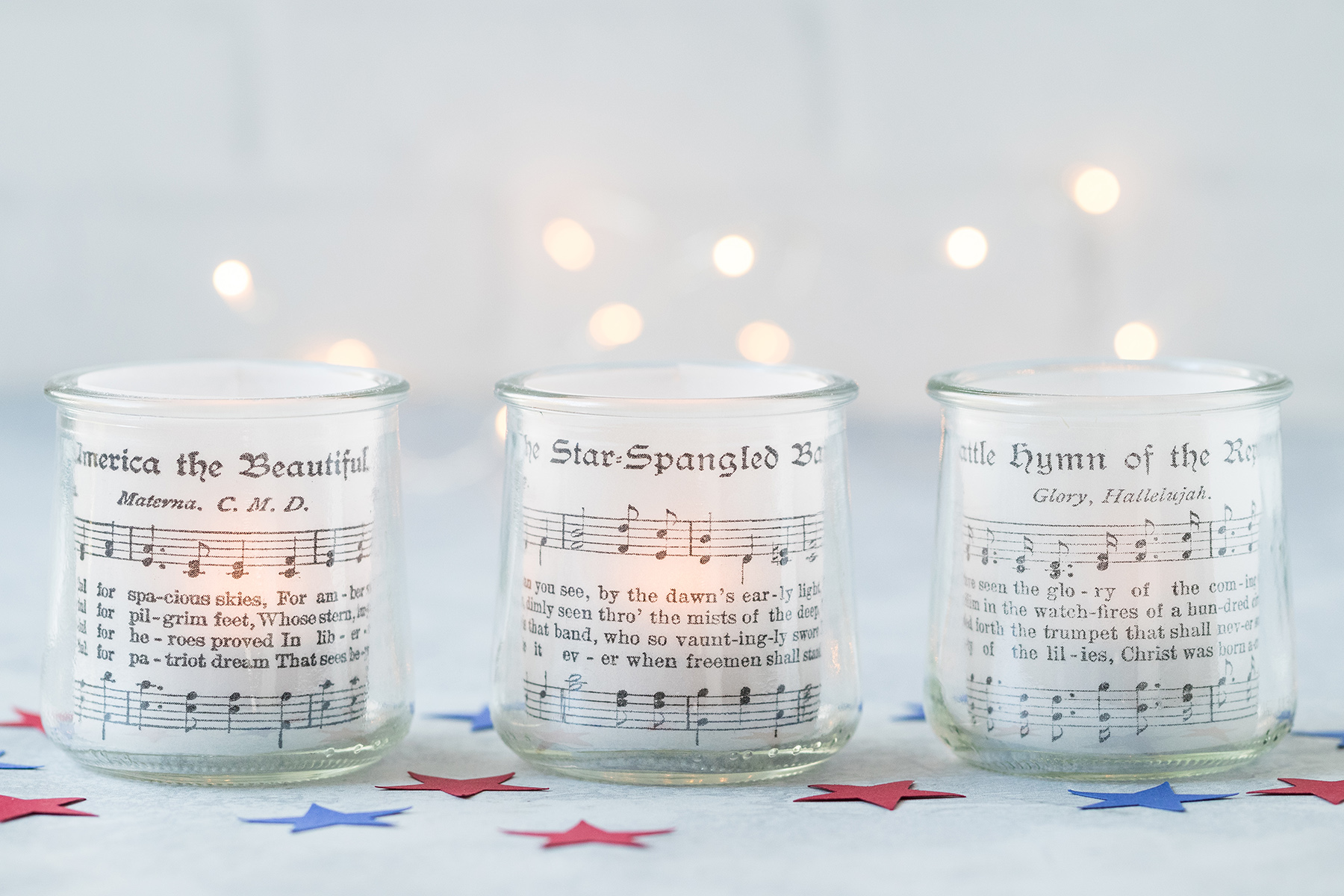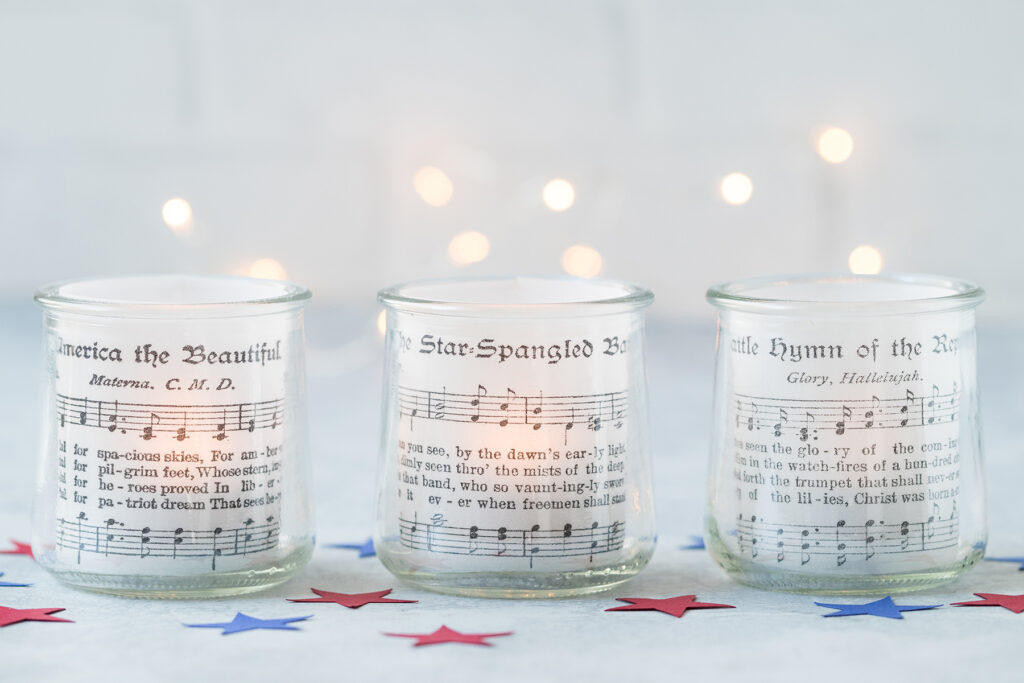 4th of July
You can create votives for numerous other occasions as well. I also made a vintage hymn set for the 4th of July. The Star-Spangled Banner, America the Beautiful, and Battle Hymn of the Republic are from my vintage patriotic hymns collection.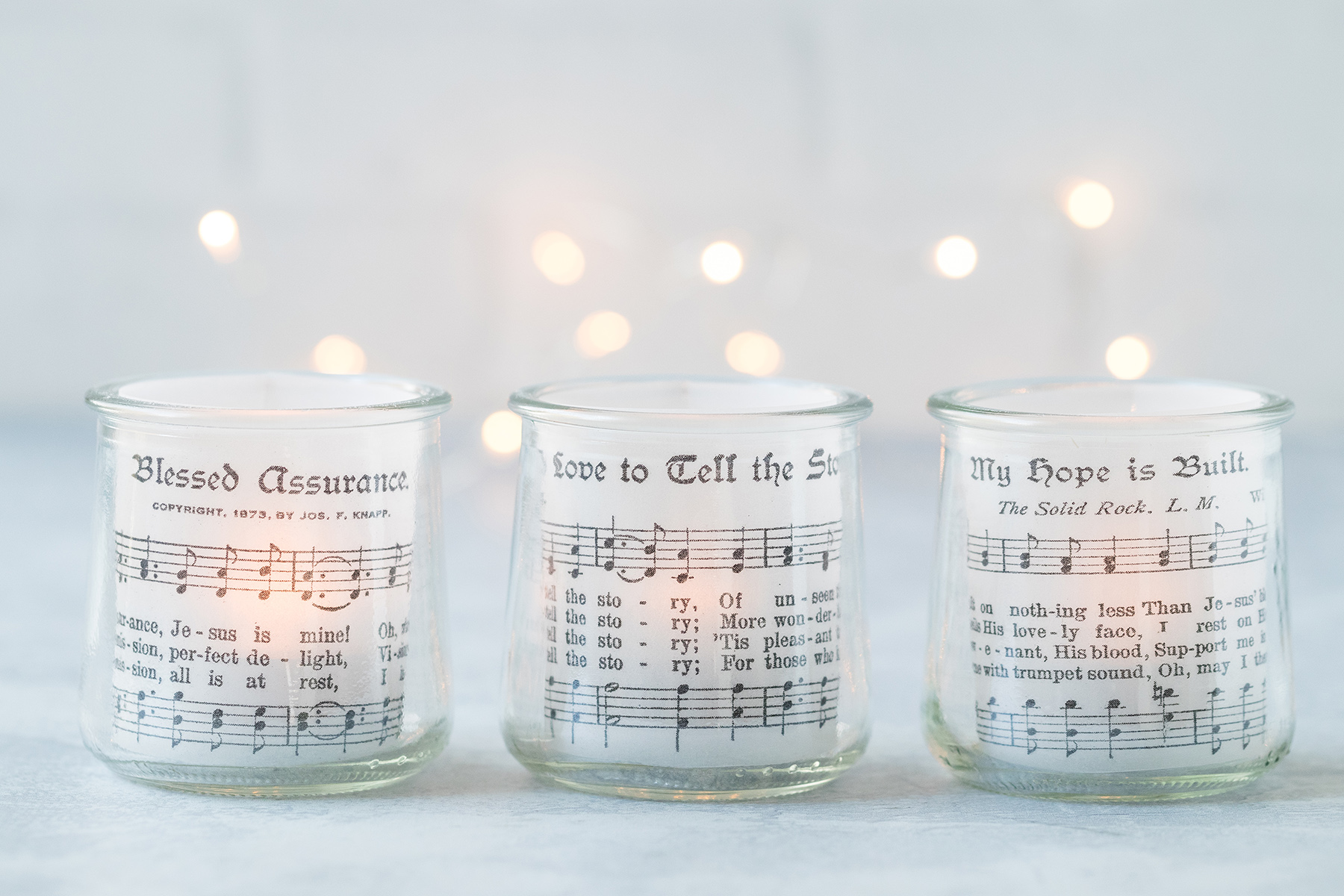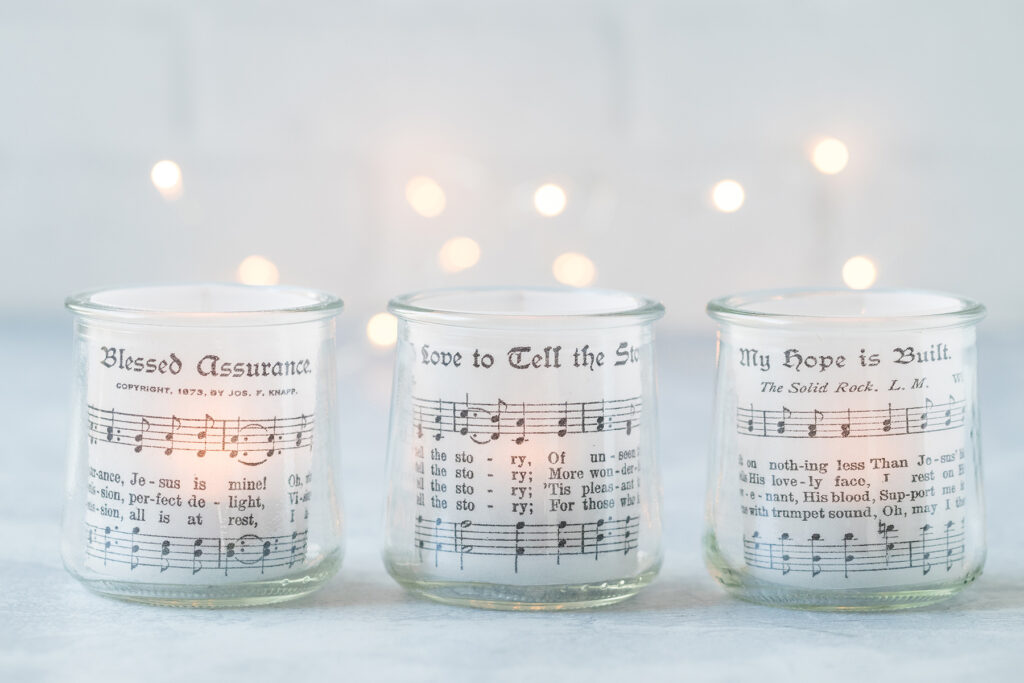 Hymns
As my original vintage hymn collection remains my most popular sheet music collection on the blog, I had to create a few examples with hymns. I'm featuring Blessed Assurance, I Love to Tell the Story, and My Hope is Built on Nothing Less.
I love using hymns as general home decor and as gifts for anyone with a favorite hymn.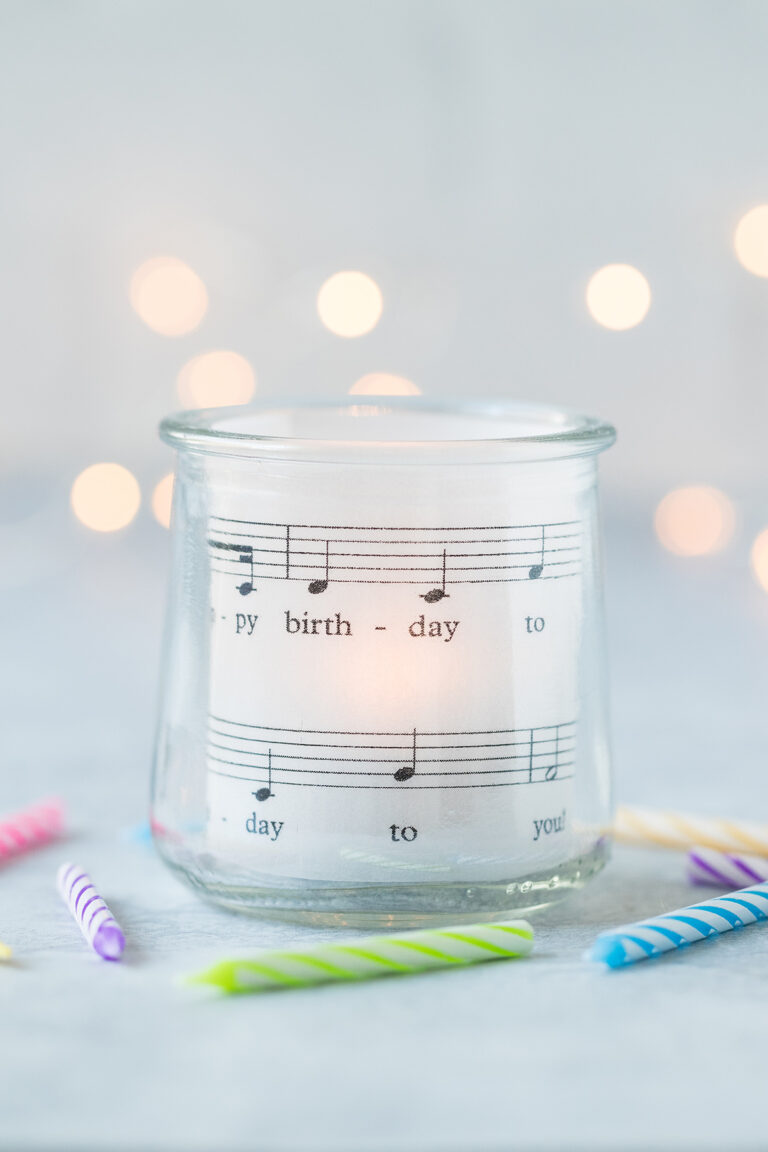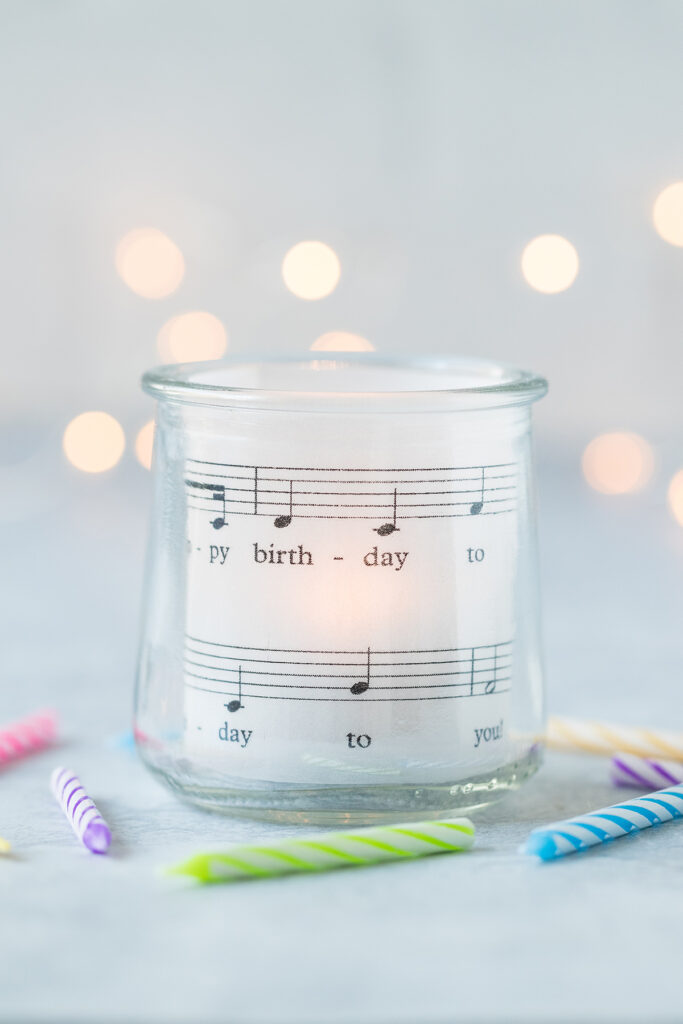 Birthday
I think that a sheet music votive is a cute idea for a birthday. It makes a fun extra gift for the recipient. I also love this sort of idea as a centerpiece for a larger birthday party.
Here is the original source for the Happy Birthday sheet music. I include the version I use in my PDF resource for this post.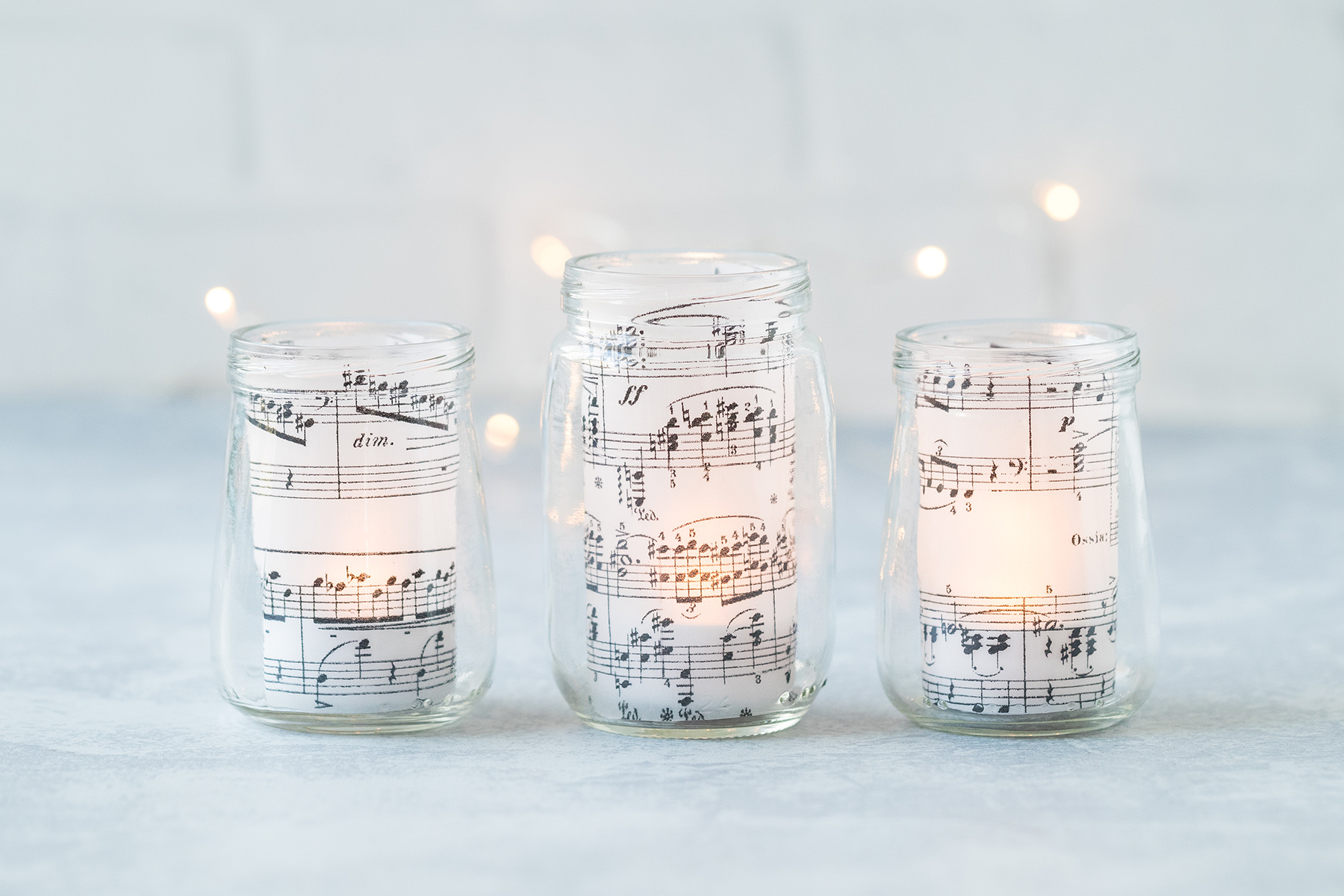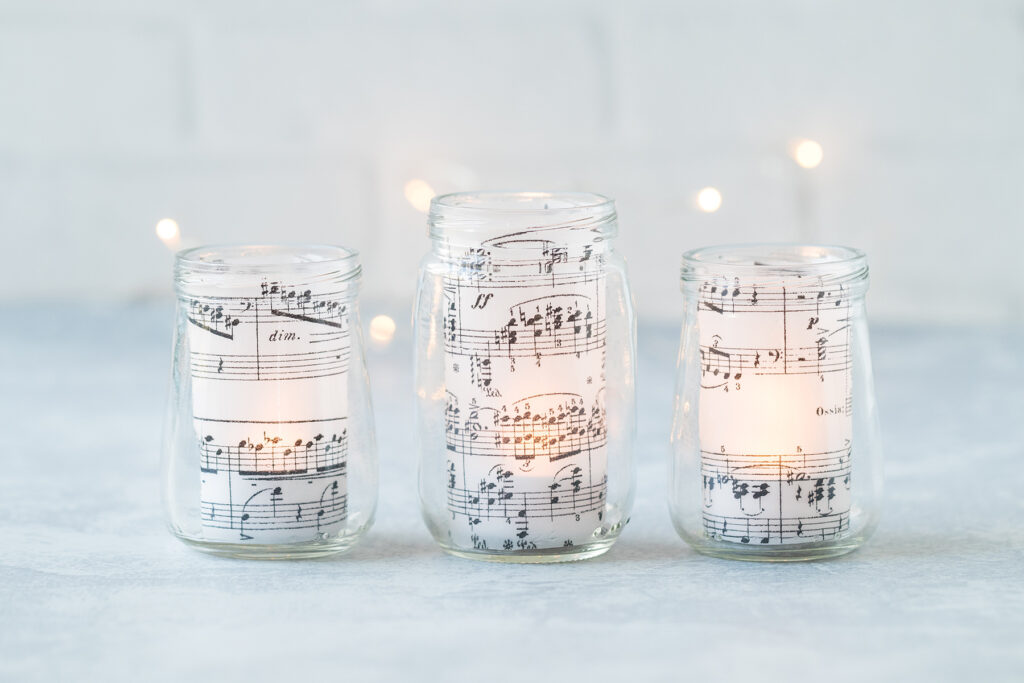 Other jars
People love crafting with Oui yogurt jars because they're beautiful and readily available if you eat the yogurt. But this project will work with lots of other types of small glass jars.
I'm also knee-deep in baby food jars right now, as my daughter Olivia is not eating a lot of regular food yet. So I'm sharing an example with two Beech-Nut jars and one Gerber jar. Small mason jars and other types of glass jars of this size would work well, too.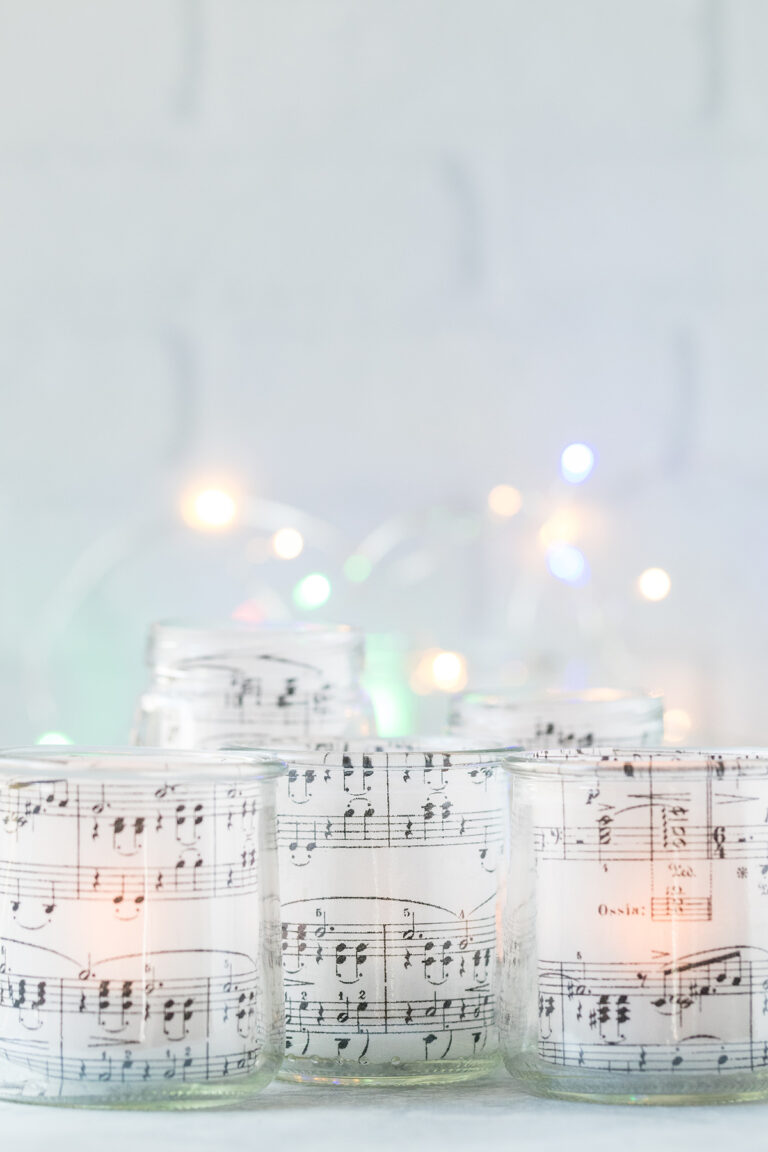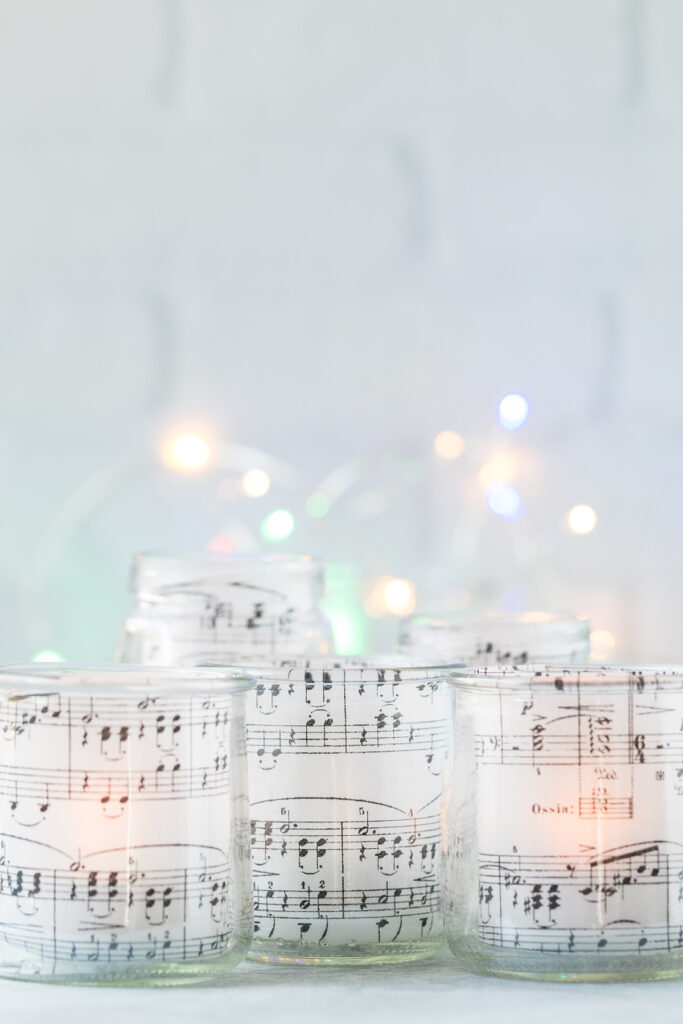 I want to make the sheet music votives but don't have any Oui jars. Where can I get them? Will other small glass jars work?
You can always find listings for Oui yogurt jars on eBay and Etsy. If you're part of any local freecycle or buy/sell groups, I would check there as well. You can also put out your own request in these groups if there aren't any jars listed.
Other small jars work well, too. I share an example with two different sizes of baby food jars in this post. I think small mason jars would be a good option as well.
How do you format your vintage sheet music for printing on vellum?
Please note that if you're using sheet music with a white background, you can print it as is without removing the background, which is what I did for the Chopin music. I only removed the backgrounds for the vintage titles.
I will walk you through my process of removing the vintage backgrounds from sheet music for optimal printing. This way you can use other vintage sheet music from my site and other resources for votives.
Open your sheet music.
Under the settings, put in beige at 30%.
You can tweak the percentage if you're not happy with the final result.
Save the new version.
Use PNG 2 JPG to convert the PNG to a JPG. If you're using Photoshop for the final editing steps, you can also open the PNG in Photoshop and save it as a JPG. Whichever photo editing program you're using, open the JPG and use it for the final steps.
From there, you can crop the music, so you only have to print exactly what you'll use. Then convert it to black and white. I think black works best for this project, but you can experiment with color if you like. Save the final version as a JPG.
I open the finished sheet music in Word and adjust the dimensions for the Oui votive or whichever glass container I'm using. Then you can complete this process again with additional sheet music titles to get multiple songs on a single page. Print your finished sheet music on vellum.
Do I have to format vintage sheet music to use it for votives as you described above?
You don't. You can print full sheets as is and experiment with trimming them manually. I like the stripped-away black and white version for this project and also wanted to print multiple songs on single sheets of vellum. I walk you through this process above if you'd like to do the same. Don't feel limited to it.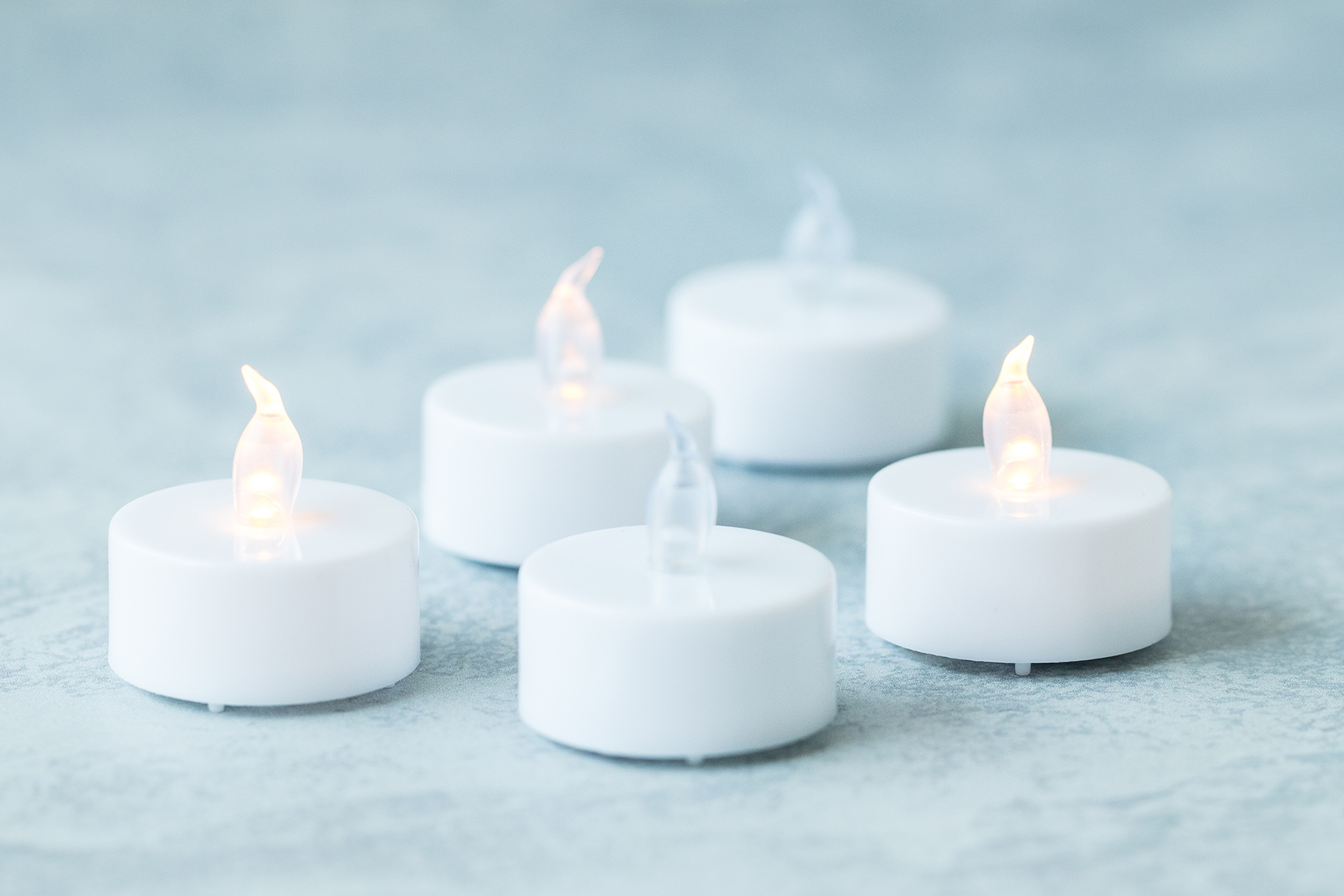 Can I use real tea lights?
Vellum doesn't burn nearly as quickly or easily as regular paper. [Source] However, as the vellum is inside the glass jars, it still poses a safety risk. Additionally, as the jars are so small, it's tricky to light a flame, especially with the vellum in place.
LED battery tea lights are readily available and so easy to use. They flicker, giving them a realistic glow, especially behind the vellum.
Can I use the vellum sheet music on the outside of the jars?
Due to the shape of the Oui yogurt jars, it's impossible to wrap any sort of paper or vellum around the outside without it warping. I created the vellum wraps to fit inside to avoid this issue.
Do I have to use vellum?
Regular printer paper does work, too, especially in a pinch. But vellum is more transparent.
Do I need to use transparent tape?
Other tapes that work well include regular Scotch tape and packing tape. They are more visible than the transparent tape that I used for the votives this post and linked in the materials section.
Do I need to use a special printer for this project?
Any basic inkjet or laser printer will work just fine for printing the vellum. As you're printing black music, you don't even need a color printer. I use a black ink-only laser printer for the vast majority of my printing. It has always worked well with vellum, including for this project.
Can I make Oui yogurt jar votives with other designs?
Absolutely! You shouldn't feel limited to sheet music. There is virtually no end to the possibilities for this project. You can use book pages, graphics, words/phrases, even single letters/numbers, etc. I would love to see what other people do with this concept!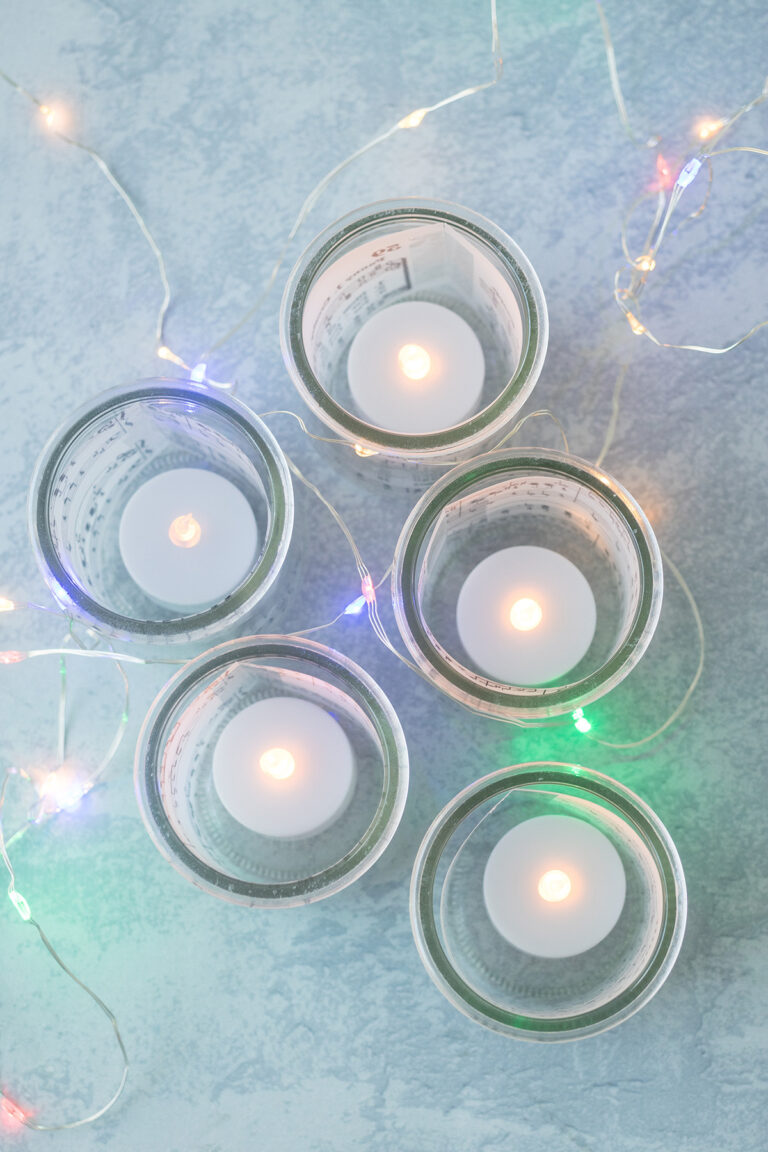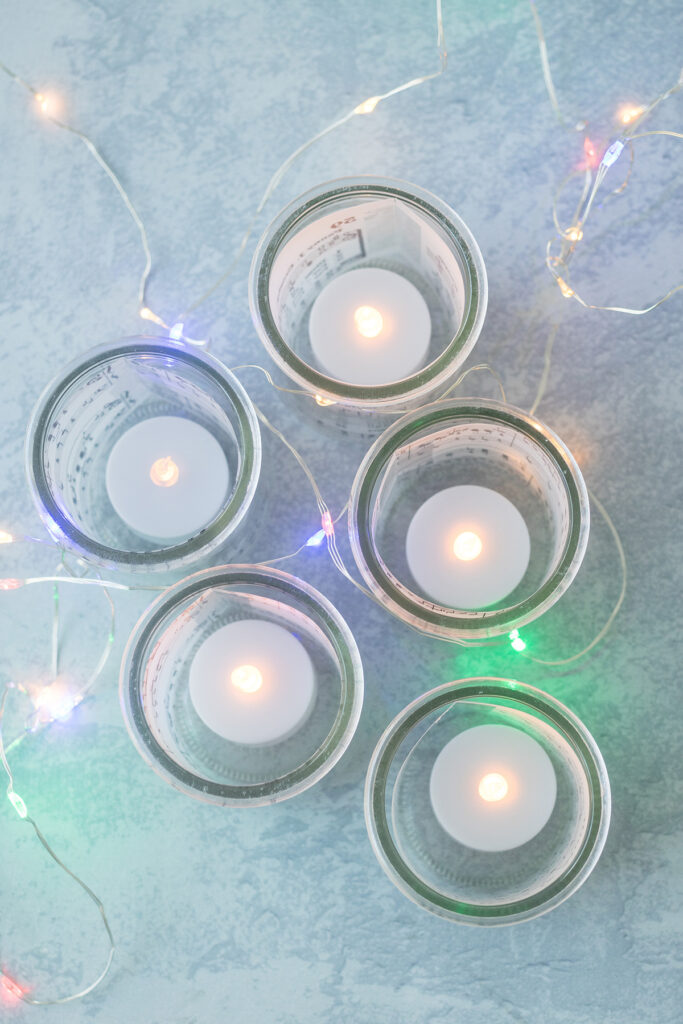 [Disclaimer: There are a few affiliate links in this post. Thanks for your support!]
Did you make the Oui yogurt jar sheet music votives?

I want to see them! Tag your images #RoseClearfield on Instagram or Twitter or post a photo to my Facebook page.
Pin this post for easy access to the Oui yogurt jar sheet music votives tutorial later!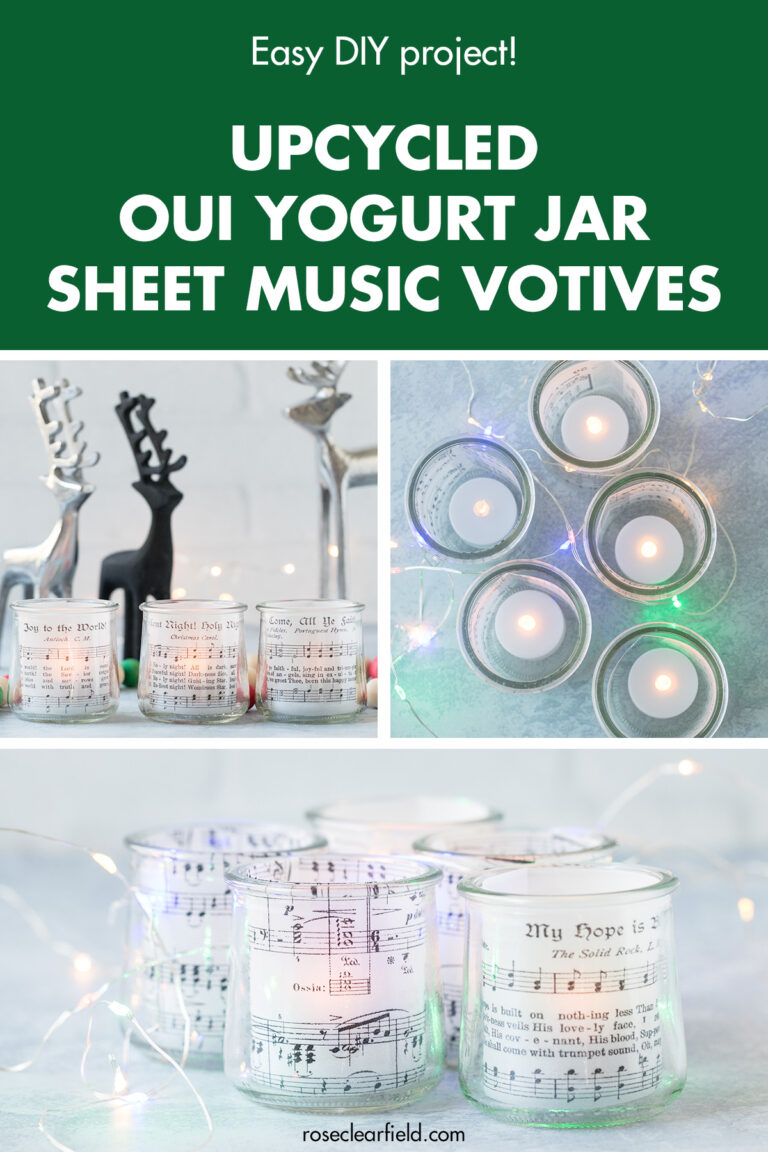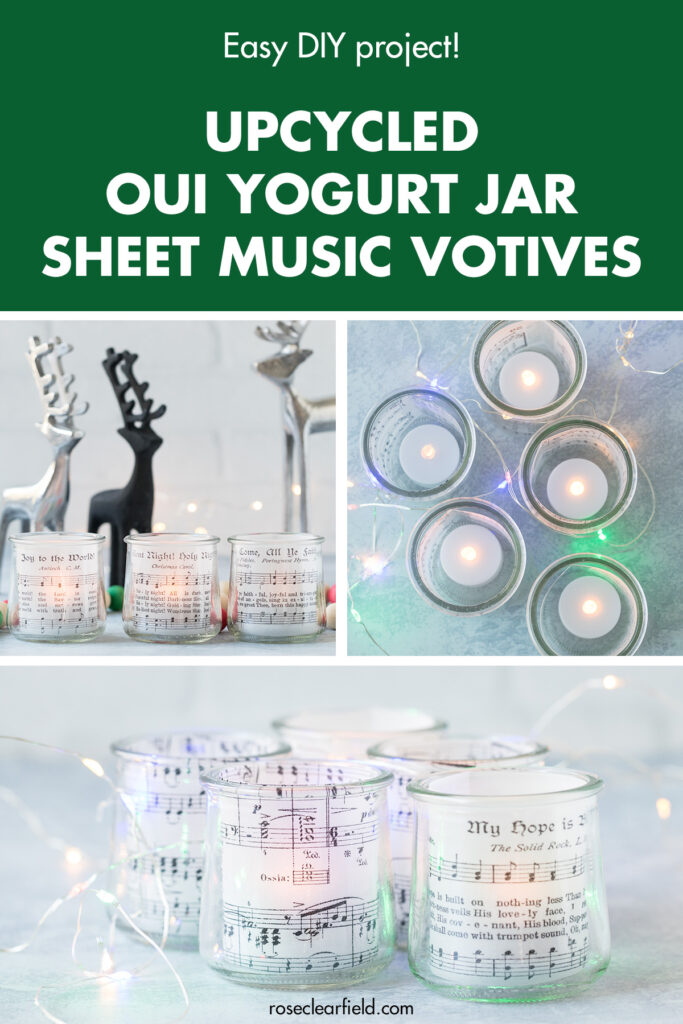 More easy DIY projects: