We had such a good time on last year's vacation on Lake Delton with young kids that we took a very similar trip this summer. It's been an ideal way to enjoy the Wisconsin Dells with a lot less noise and crowds.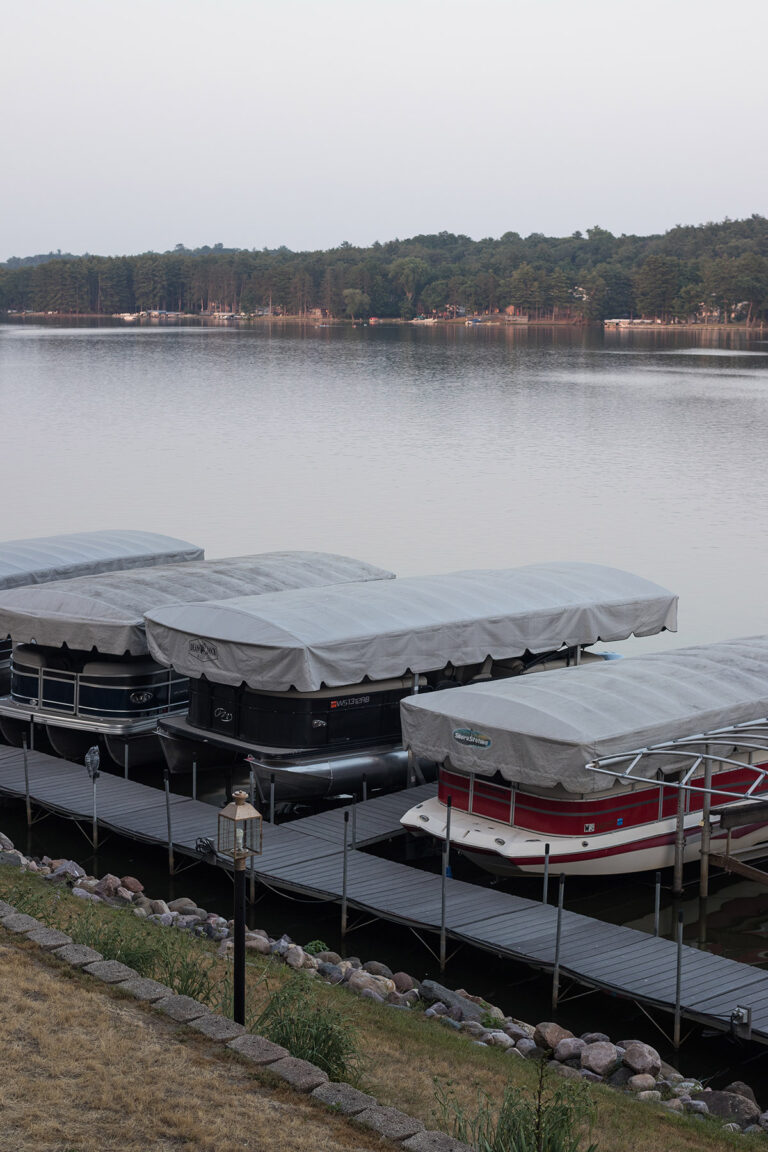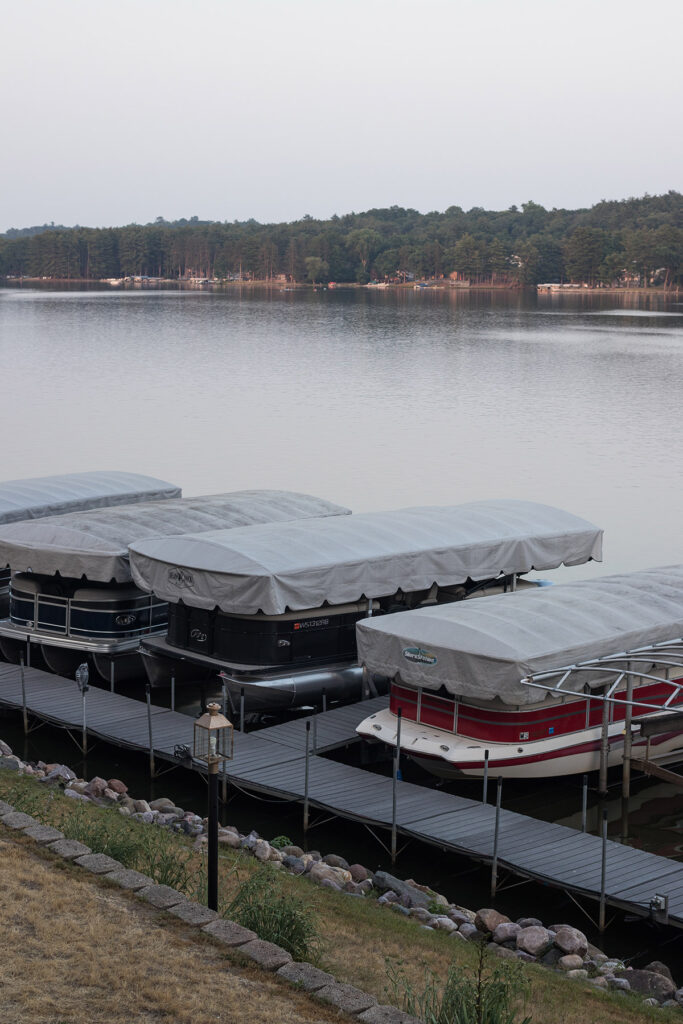 After last year's fun vacation on Lake Delton with young kids, we took a very similar trip this summer. We stayed at the exact same Airbnb and enjoyed multiple favorite familiar restaurants and activities with a few new places in the mix. I wanted to talk about the pros of having a repeat vacation experience as well as highlight the new restaurants and activities from this year's trip.
If you've been following my blog for any length of time, you know that the Wisconsin Dells is one of our favorite vacation destinations. With the exception of the two-year 2020 and 2021 break, for the past decade and a half, I've been every year or every other year. Now that we have kids, our plan is to keep the Wisconsin Dells as an annual trip.
I have a comprehensive post about taking a Wisconsin Dells vacation with toddlers, in which I cover many of the attractions and restaurants in this post in more detail as well as water park recommendations, a packing list, and more. I also have posts with 53 things to do in the Wisconsin Dells and how to plan a Wisconsin Dells vacation on a budget with even more resources for taking amazing trips in this gorgeous area of the Midwest.
With all of that being said, this is still the first time that we stayed at exactly the same place two years in a row and re-visited so many of the same activities with our kids. As a kid and even a 20-something adult, the idea of taking the same vacation over and over again didn't appeal to me at all. Now as a newly 40-something adult with multiple kids, I finally understand the appeal.
While it isn't the only kind of vacation I want to take, it does have a lot of pros. The ease of planning a very similar trip to a prior trip and the minimal stress of navigating an area you already know goes a long way toward having a relaxing vacation. Tommy enjoyed the condo complex's beach and pool so much last year. It meant a lot to get to revisit them with him this year.
We won't necessarily stay at this exact condo for every single Dells trip going forward. At some point, we may decide that we've outgrown the size of this condo. We may simply decide that we're ready to switch up our routine, which may include staying at a resort or cabin for some or all of the trip. However, we've created such a strong base of Dells' trip experiences that planning future vacations will remain pretty straightforward and stress-free.
In my first vacation on Lake Delton with young kids post, I have a whole section about the factors to consider when renting a condo on Lake Delton. It includes cost, sleeping arrangements, kitchen access, on-site washer/dryer, beach/pool access, and proximity to Wisconsin Dells attractions. As our kids were just one year older, all of these factors were extremely similar for this year's trip. I felt that much more confident that we were making the right choice by staying in the same condo. I won't rehash all of those factors here. If you're thinking about Lake Delton or a similar area off of the main Dells strip, I encourage you to head over to that post.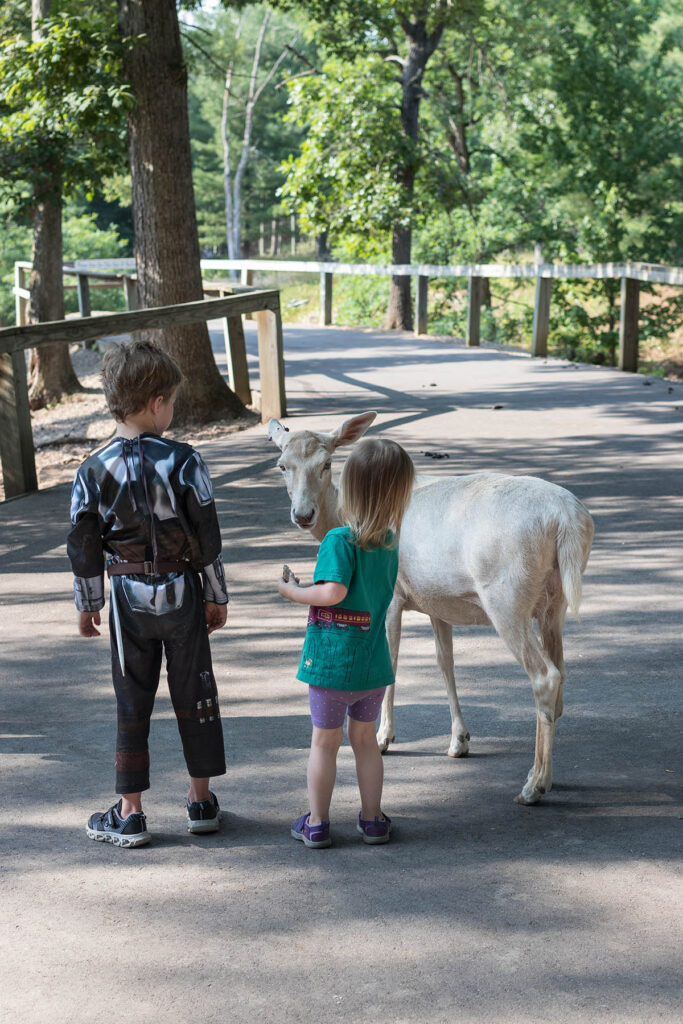 What we did
As we planned our itinerary for our Dells trip, we made sure that we had a mix of new and familiar activities. We also alternated bigger activity days with more low-key days to keep everyone well-rested and healthy.
Tommy Bartlett Exploratory
This year was the first time that Jake and I had ever been to the Tommy Bartlett Exploratory. Tommy was old enough to get a lot out of it, and the girls, especially Olivia, enjoyed it, too. The Tommy Bartlett Exploratory features more than 175 interactive activities, including a giant lever to lift a 5,000-lb. car off the ground, a high wire skycycle, and the only place on Earth where you can experience an authentic Russian Space Station MIR core module up close and personal. While I wouldn't make the Tommy Bartlett Exploratory an annual activity, it's definitely worth visiting and would be worth revisiting every few years.
Wisconsin Deer Park
The Wisconsin Deer Park is right in the heart of the Dells and never disappoints. The park is home to more than 100 deer and other wildlife. You can pet and feed the deer and observe lots of other animals, from chickens and goats to elk and buffalo. The park offers unrivaled opportunities for animal interactions as well as lots of great photos. Thus far, Olivia has been our most fearless animal feeder and loves walking right up to the deer with her food.
Mid-Continent Railway Museum
My in-laws gave us a gift certificate to the Mid-Continent Railway Museum for Christmas. So, we switched it up from the Riverside & Great Northern Railway, which we also love. The Mid-Continent Railway Museum was another brand-new to us destination for this trip. The museum offers coach train rides on 1915-area trains, which was a great experience. They have an extremely impressive collection of restored train cars, many of which date back to this era. The museum also offers locomotive rides, dining trains, and a number of special events, such as rail car tours and autumn color trains.
The Riverside & Great Northern Railway is definitely geared more toward younger kids and still a destination that I highly recommend. The Mid-Continent Railway Museum is geared toward older kids and adult train enthusiasts. But it was nice to change up our train experience. All of us really enjoyed walking amongst the restored train cars to finish out our visit to the museum.
Shrine of Our Lady of Guadalupe
The Shrine of Our Lady of Guadalupe is a destination that Jake and I have wanted to visit our entire time in Wisconsin. We finally made it a priority this year. La Crosse is about an hour and a half from the Wisconsin Dells, making it an easy day trip. The shrine grounds feature a votive candle chapel, shrine church, memorial to the unborn, walking stations of the cross, rosary walk, and pilgrim center, which is home to a cafe, gift shop, and bookstore. The entire 70-acre property is gorgeous, with beautiful, Spanish-influenced architecture and lots of hilly, tree-lined paths. I encourage you to check out their daily schedule as well as their special events calendar before planning your visit.
Knuckleheads
This year we made one excursion to Knuckleheads as part of a dinner at Buffalo Phil's and one excursion on its own. Tommy and Olivia were still only able to do a handful of arcade games and rides, but they enjoyed the ones that they did. They both got the most out of the giant bouncy pillow. We played enough games that Tommy was able to get a few small prizes. Besides jumping on the pillow, that's all he really wanted.
Knuckleheads also features a trampoline park, bowling, mini golf, virtual reality attraction, and indoor amusement park rides.
Circus World
Circus World is one of the most underrated attractions in the Wisconsin Dells. It's just 20 minutes from the main strip. The big top show is well worth the price of admission alone. It features animals (including elephants!), acrobatics, clowns, and any number of other impressive stunts, such as a Guinness World Record-holding unicycle rider. Their rotation of other shows changes periodically. Over the years, we've seen musical demonstrations, magic shows, smaller acrobatic acts, and motorcycle stunts.
Circus World has a carousel and offers animal rides, including elephant rides, before and after the big top shows. Their entrance building features an extensive exhibit about the history of the Ringling Brothers. The restored circus wagon collection is so impressive. It has to be among the biggest in the world. You can easily spend an hour exploring the wagons.
My other top picks in the Wisconsin Dells for kids under five are Country Bumpkin Farm Market and Timbavati Wildlife Park. If you want to spend more time at the beach or enjoy other outdoor activities (i.e., hiking, kayaking), it's definitely worth spending a half-day or full day at Devil's Lake State Park.
This year the one thing that Tommy wanted to do more than anything else on our trip was swim in the pool. Most days Jake and I each took him swimming once. Neither of us had ever swam so much on a vacation.
Tommy is an excellent swimmer. We haven't done nearly enough fun swimming with him in the last few years. It was so much fun to see him in his element, swimming with so much confidence and enjoyment.
We did spend some time at our condo complex's beach, too. As the girls still nap every day, we had lots of time to relax in the condo as well.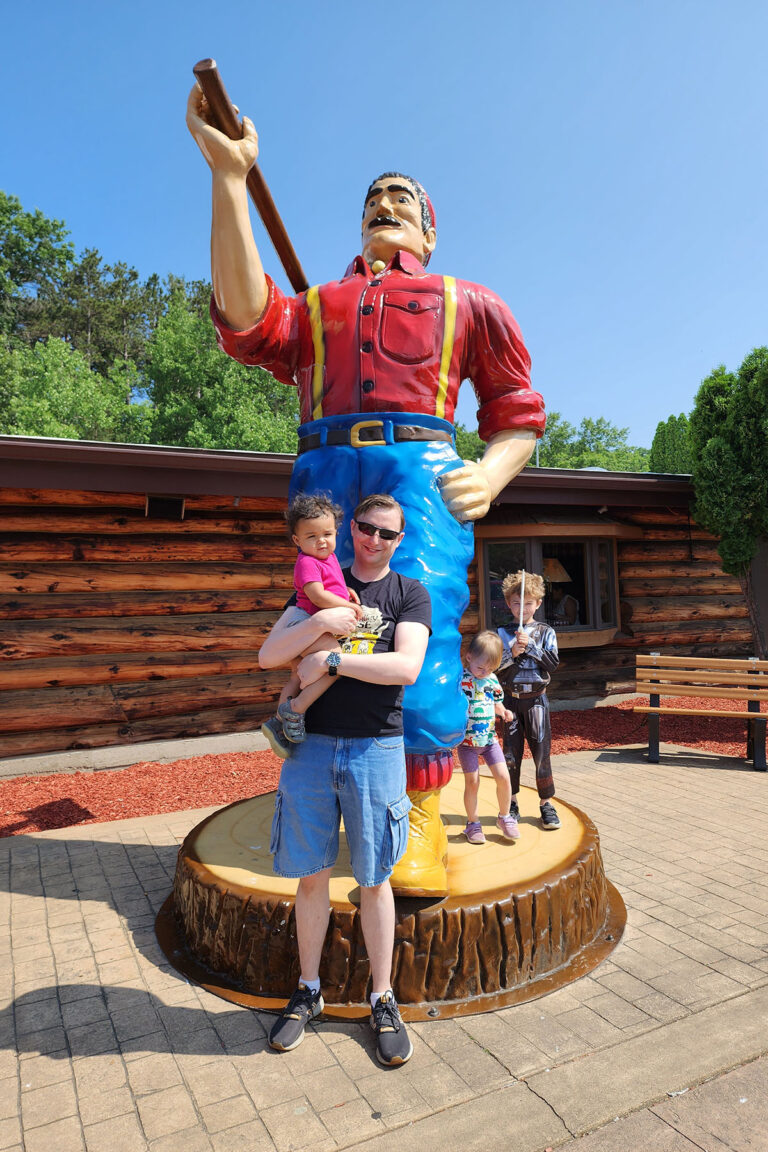 Where we ate
Pizza Pub
Over the last couple of years, Pizza Pub has become our favorite pizza restaurant in the Wisconsin Dells. Their thin-crust pizza is among the best I've eaten anywhere, and the toppings are always good. Pizza Pub has an extensive menu beyond pizza. We've only sampled a few of the items, but they've all been good. The takeout experience has been great, with short wait times and friendly staff. Pizza Pub has a very nice, very large dine-in area as well, with outdoor seating and an extensive salad bar, which I'm sure we'll do as our kids get older.
Paul Bunyan's
A trip to the Wisconsin Dells wouldn't be complete without at least one breakfast at Paul Bunyan's Cook Shanty. It's one of the few dine-in meals that we do on this trip. Everyone enjoys it and eats well. Their donuts are some of the best I've had anywhere, and all of their breakfast food is good. There are always lots of big groups with kids of all ages dining at Paul Bunyan's. You'll never be the only loud family.
Buffalo Phil's
Similarly, a trip to the Wisconsin Dells wouldn't be the same without dinner at Buffalo Phil's. The past couple of years, it's been the only place where we ate dinner out with the kids. Tommy enjoyed the Lego displays so much. Olivia loves trains right now and never tired of seeing them run while we ate. Buffalo Phil's is another restaurant frequented by large groups with lots of kids. You'll never be the lone crazy, loud family.
Brat House Grill
The Brat House Grill was new to us on this Wisconsin Dells trip and didn't disappoint. In addition to the great brats, I really enjoyed the entree salad. Everyone in our family found items in the appetizer sampler that they liked. Unfortunately, the German menu items haven't been available this summer. But everything that we did have was very good.
Lake City Social
We did takeout from Lake City Social for our remaining dinners in the Wisconsin Dells this year. It's very close to where we've stayed the last couple of years and has a large menu with multiple options that Jake and I like. Lake City Social also has a popular happy hour and extensive drink menu if you're into that sort of thing.
Carr Valley Cheese
Of course, no Clearfield family vacation to the Wisconsin Dells is complete without a stop at Carr Valley Cheese. I'm fully aware that shopping for cheese on vacation is about the most Wisconsin thing ever. Carr Valley Cheese carries numerous original cheeses that are simply amazing and unlike anything we've found elsewhere. They always offer samples in their stores. Carr Valley also carries cheese spreads, specialty butters, meats, jams and jellies, olive oils, honey, maple syrup, crackers, and more.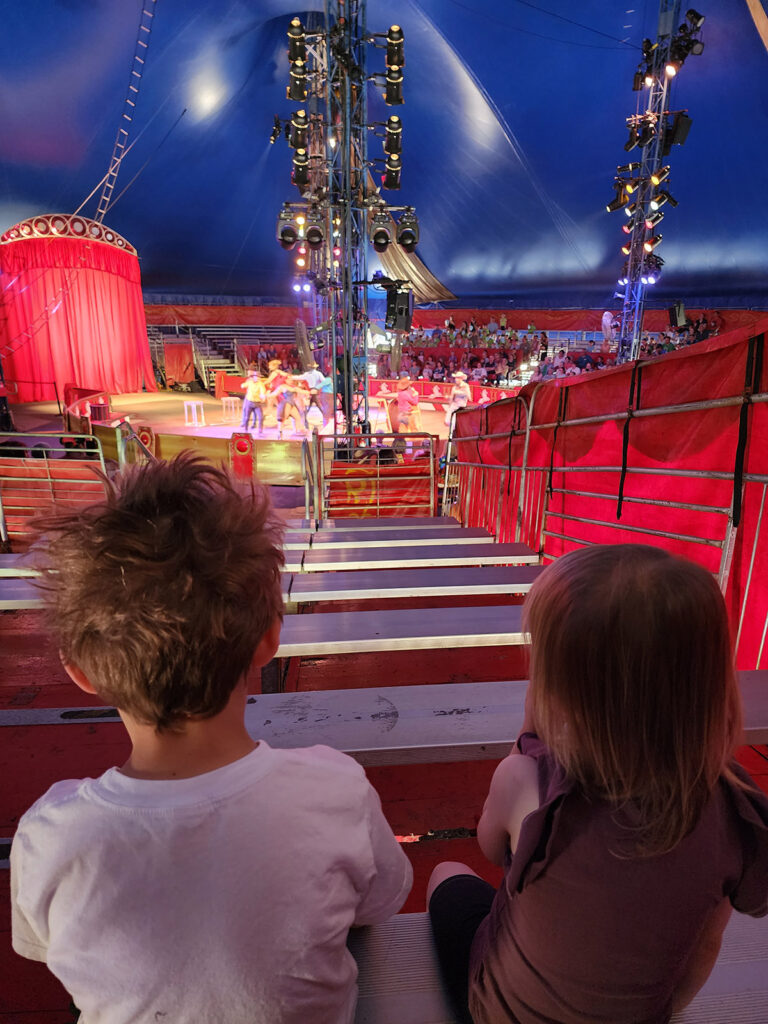 Overall thoughts
We had a great experience staying in the same Lake Delton Airbnb condo for the second year in a row and having a very similar vacation. It was wonderful knowing what to expect with the condo ahead of time and made the entire planning and packing process straightforward with minimal stress.
At some point, most likely, we'll want a condo/cabin rental or resort suite with one more bedroom and a little more living space. But I have yet to find another complex in the area with both a pool and beach access. We love so many things about the entire setup, such as that the complex is so quiet, even with lots of families staying there, and that we're still just a few minutes' drive from the heart of the Wisconsin Dells. So, at this point, we're planning to keep staying there for at least one or two more years.
Our biggest challenge with traveling with multiple young children this year was the girls' sleep. Tommy remains a champion sleeper both at home and on the go. Olivia and Genevieve slept better on this Dells trip than they did on last year's trip. But it still took them considerably longer to settle for both naps and at night than it does at home. They also both woke up at least once most nights, which almost never happens at home anymore (I shouldn't stay that too loudly).
Getting everyone going to various activities wasn't as time-consuming and stressful as last year. I was better prepared. With both girls a year older, packing for toddlers on the go was a lot simpler than packing for babies (for me, anyway). As I mentioned previously, we also alternated our busiest days with more low-key days, which kept everyone well-rested. I know that it's often tempting to pack in as much as possible on vacation. But I highly recommend building in ample relaxation time, especially with young kids.
I'm still not in a hurry to take my whole family to Disney World or Europe. But it's definitely been worth it for us to take smaller-scale vacations and other little trips, such as our Iowa wedding trip this spring, while our kids are small. The change of scenery has been good for all of us. My girls won't remember these trips. However, Tommy is old enough to have trip memories now, which is so much fun. When traveling with little ones, prepare as much as possible in advance, and keep your expectations realistic.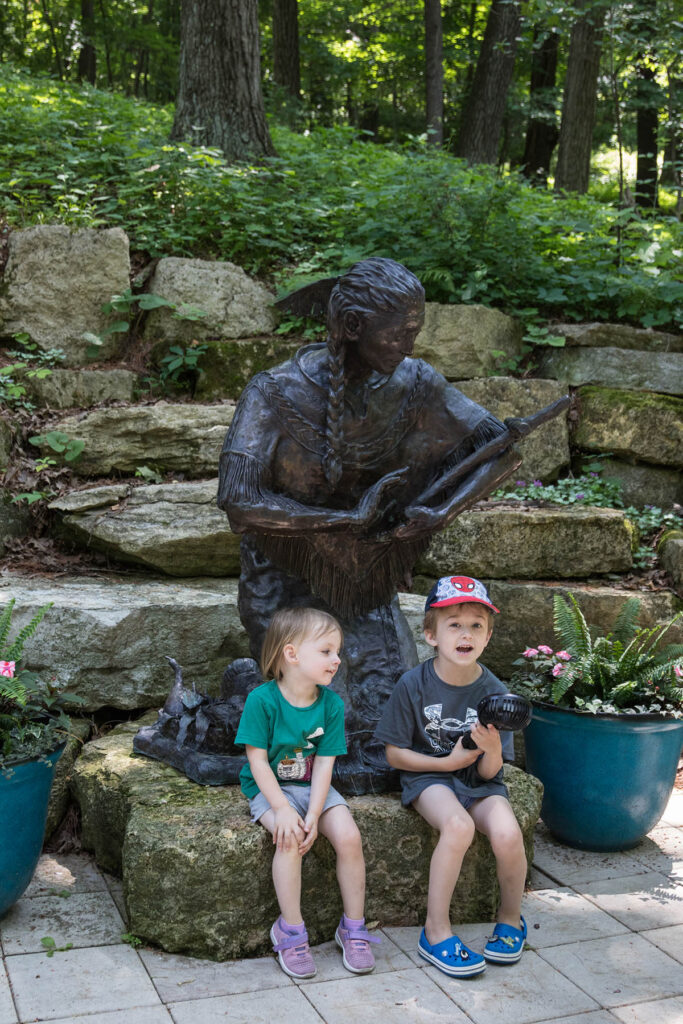 If you've taken a Wisconsin Dells vacation on Lake Delton with young kids, I'd love to hear about your experience!
Read all about our previous Lake Delton stay, which includes a detailed section on factors to consider when renting this type of vacation property!
More Wisconsin Dells vacation resources!