Free printable vintage advertising postcards are fantastic antique paper ephemera for art/junk journals, home decor, and a wealth of DIY projects!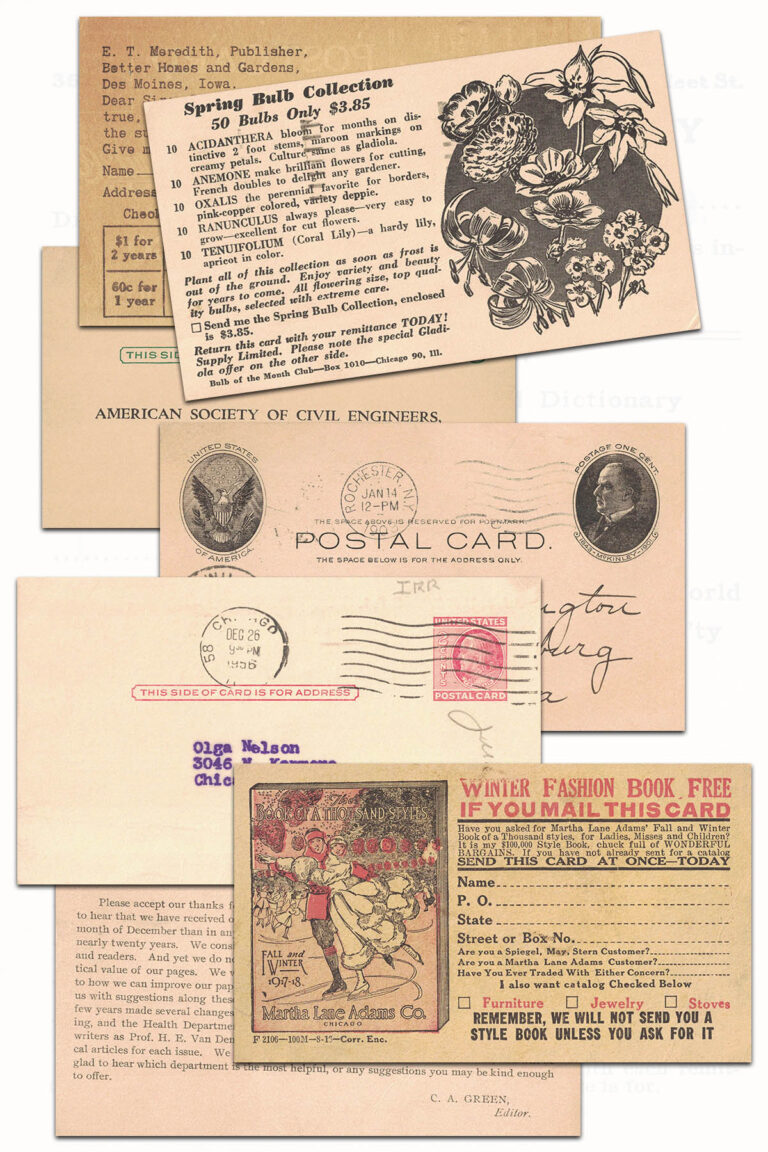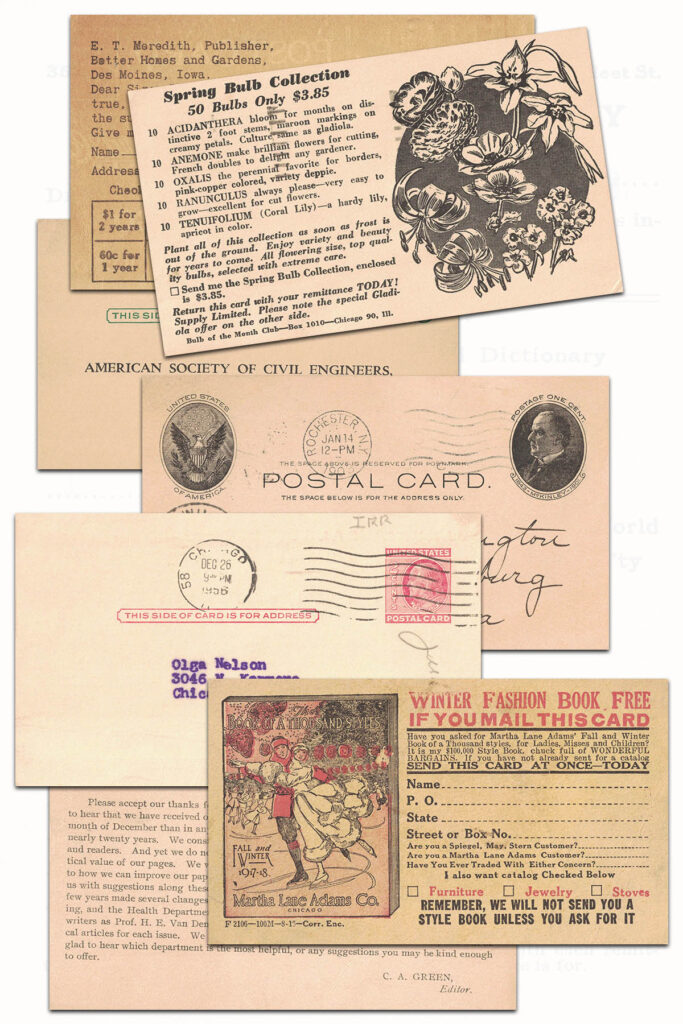 For more than 100 years, companies have used postcards to reach out to customers about sales, new products, mailing lists, subscription opportunities, requests to update contact information, and much more. I've rounded up an extensive collection of 34 advertising postcards that offer a wonderful aged paper aesthetic as well as fonts and graphics that you won't find on modern offerings. Antique postcards make great decor on their own and are perfect layering pieces in journals, scrapbooks, craft projects, and more.
The vintage advertising postcards collection includes cards from the American Society of Civil Engineers, Better Homes and Gardens, Eastman Kodak, Funk & Wagnalls, Southeastern Life Insurance, The Chicago Tribute, United States Pencil Co, and many more. There is a wide variety of subject matter and a nice mix of unused and postmarked cards. Most of the postcards are from the late 1880s through 1940s with a handful of postcards from the 1950s and 1960s.
About the free printable vintage advertising postcards
You may use the antique advertising postcards for as many personal projects as you like, which includes classroom use. You may also use them for limited commercial project runs (5,000 items or less), both physical and digital. Commercial use DOES NOT include made-to-order sites, such as Society6 and Zazzle. Commercial digital items must be flat, finished projects (i.e., not Photoshop files) consisting of your original content. You are not authorized to sell any of the postcards as is, either individually or as part of larger collections.
Finally, please don't send any of the postcard files directly to family, friends, or co-workers. If you know anyone who is interested in their own advertising postcards, please send them a link to this post where they can download the postcards themselves. Your support allows me to continue to offer free printables. Thank you!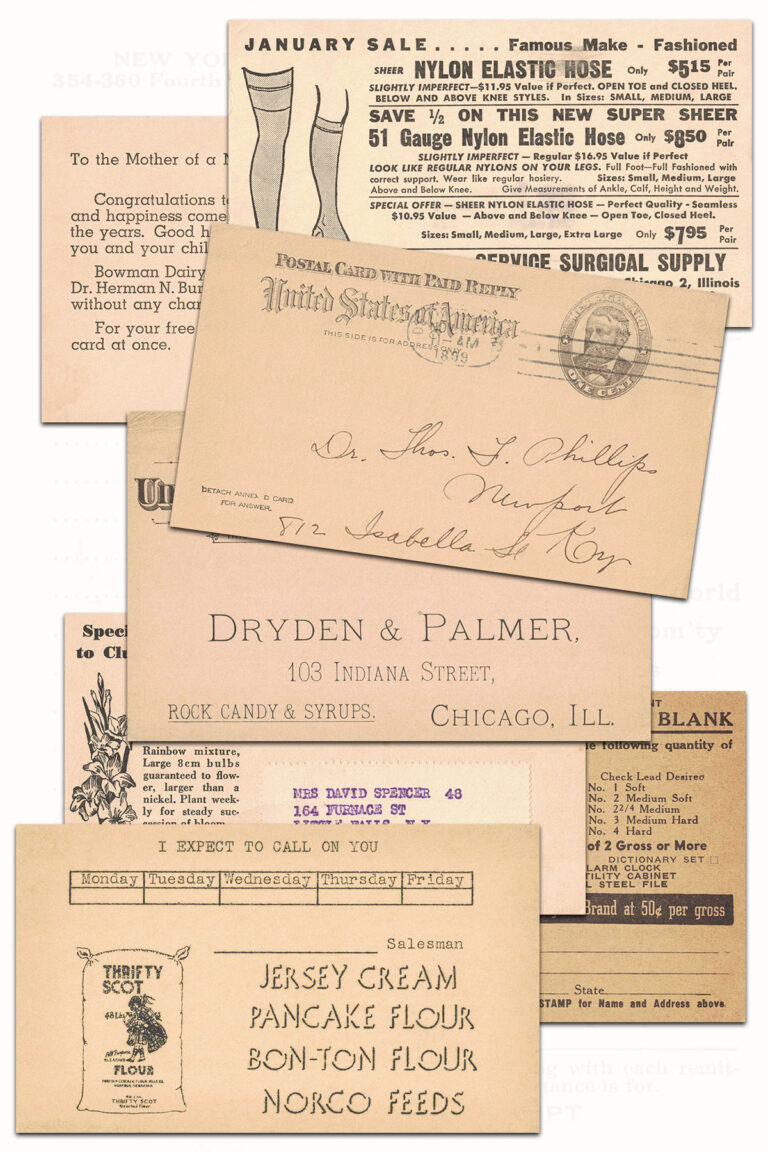 Vintage advertising postcards downloads
The postcards vary in size. Each one is approximately 3200 x 2000 pixels. I've made the front and back of each postcard available in this collection. All of the postcard images are 300 dpi JPG format to ensure the highest print quality possible.
I've split up the advertising postcards into multiple ZIP folders for easier downloading. Please note that it does take a little time for each folder to download in full. I have a link with instructions for downloading the ZIP folders right after the download links.
[1 – Vintage Advertising Postcards]
[2 – Vintage Advertising Postcards]
[3 – Vintage Advertising Postcards]
[4 – Vintage Advertising Postcards]
I explain how to download and extract ZIP folders in my vintage dictionary pages post. This link takes you to the exact directions that you need.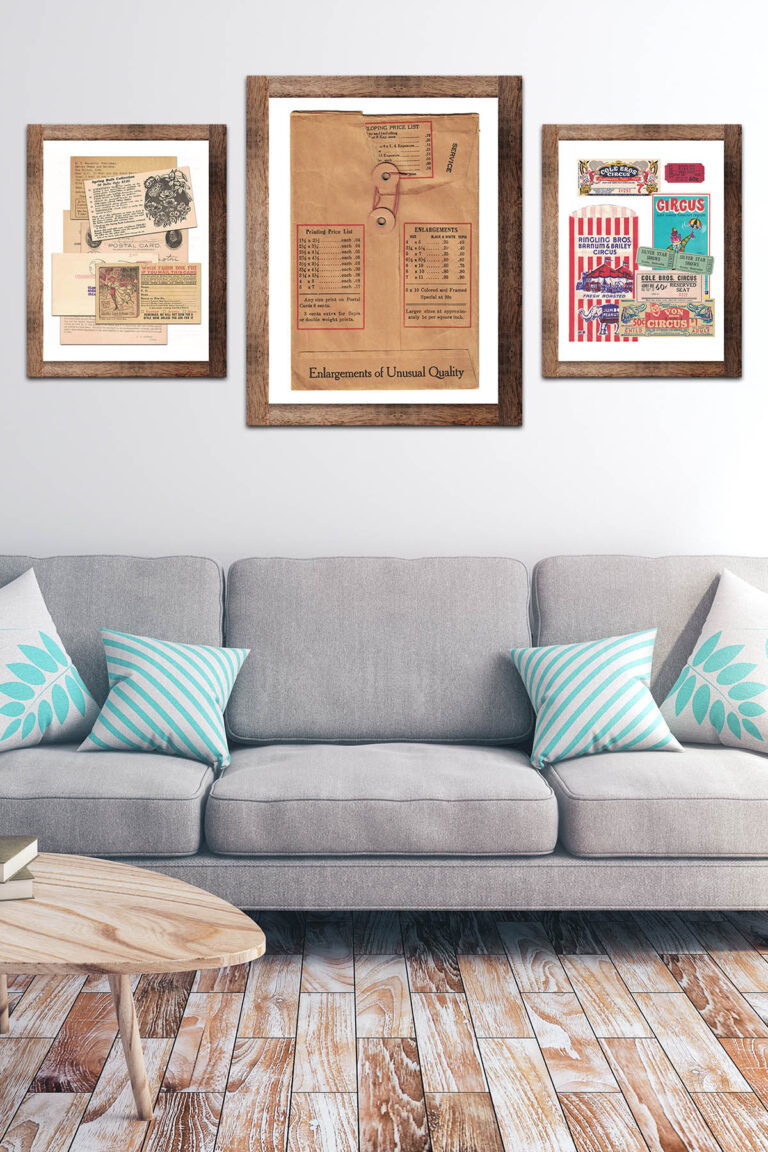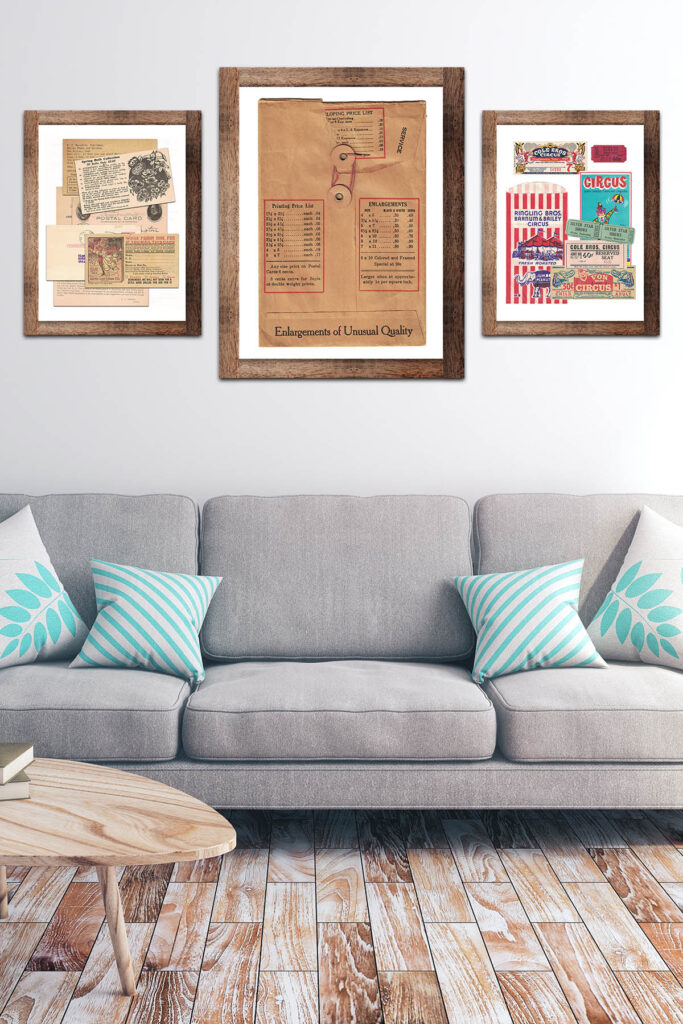 What to make with vintage advertising postcards
There are so many possibilities for DIY projects involving antique postcards, including, but not limited to, art/junk journals, digital and physical scrapbooks, greeting cards, and holiday ornaments. I'm highlighting just a few of the projects on my blog that lend themselves especially well to this collection of vintage advertising postcards.
[Disclaimer: There are a few affiliate links in this post. Thanks for your support!]
Are you using the free printable vintage advertising postcards for art/junk journals or other projects?

I'd love to see what you made! Tag your photos #RoseClearfield on Instagram or Twitter or post a photo to my Facebook page.
Pin this post for easy access to the free printable vintage advertising postcards later!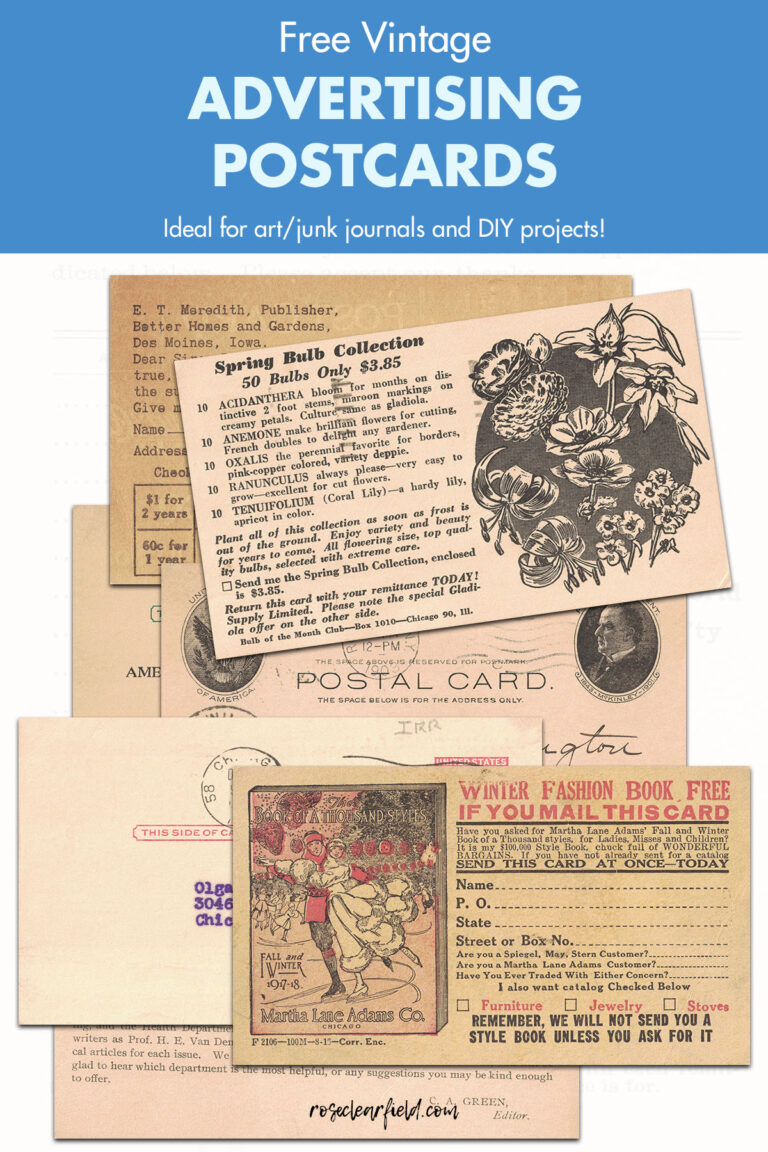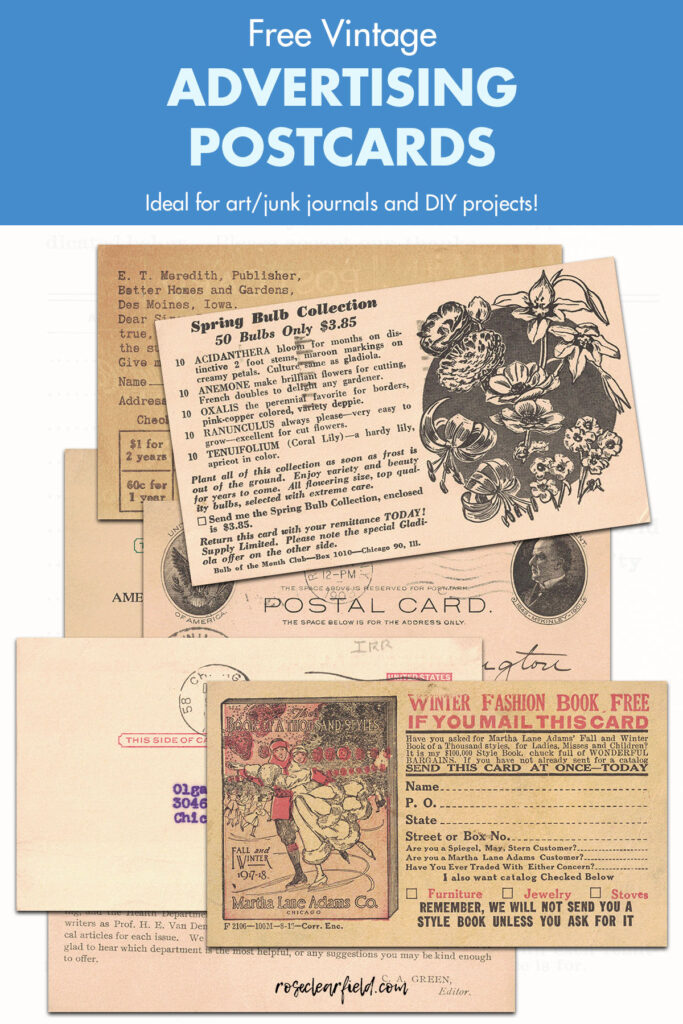 More vintage postcard collections:
I have more postcard collections for different holidays as well as specific locations (i.e., St. Augustine, Florida) and themes (i.e., beach) in the vintage area of my free printables section.