Valentine's Day is one of the most fun holidays to celebrate with little kids. It's right up there with Christmas and Halloween. Valentine's Day activities for toddlers and preschoolers will help you make the most of the holiday.
I've rounded up 25 of my favorite Valentine's Day activities for toddlers and preschoolers, with something for everyone. I find that many toddler and little kid activity round-up posts are just long lists of art projects. (It's one reason that I created my 40 activities for 18-month-olds resource). It's great if you have a young child who loves art and will stay occupied trying new projects for hours on end. My preschool-age son does enjoy art but needs other activities to stay engaged over the course of the day. So I've done my best to branch out and include a range of fine motor and gross motor activities.
Have a great Valentine's Day!
Valentine's Day activities for toddlers
1. Blow up balloons and play a toss game
If you've read any of my other toddler holiday activity posts, you know that balloons are one of my son's all-time favorite things and that I blow up a few new ones whenever he needs something to mix up the routine. A holiday is always a good excuse to play balloon games with toddlers and preschoolers. A simple toss game never fails. You can also do something basic like tape them to a fence or wall and let kids bat at them as they run by.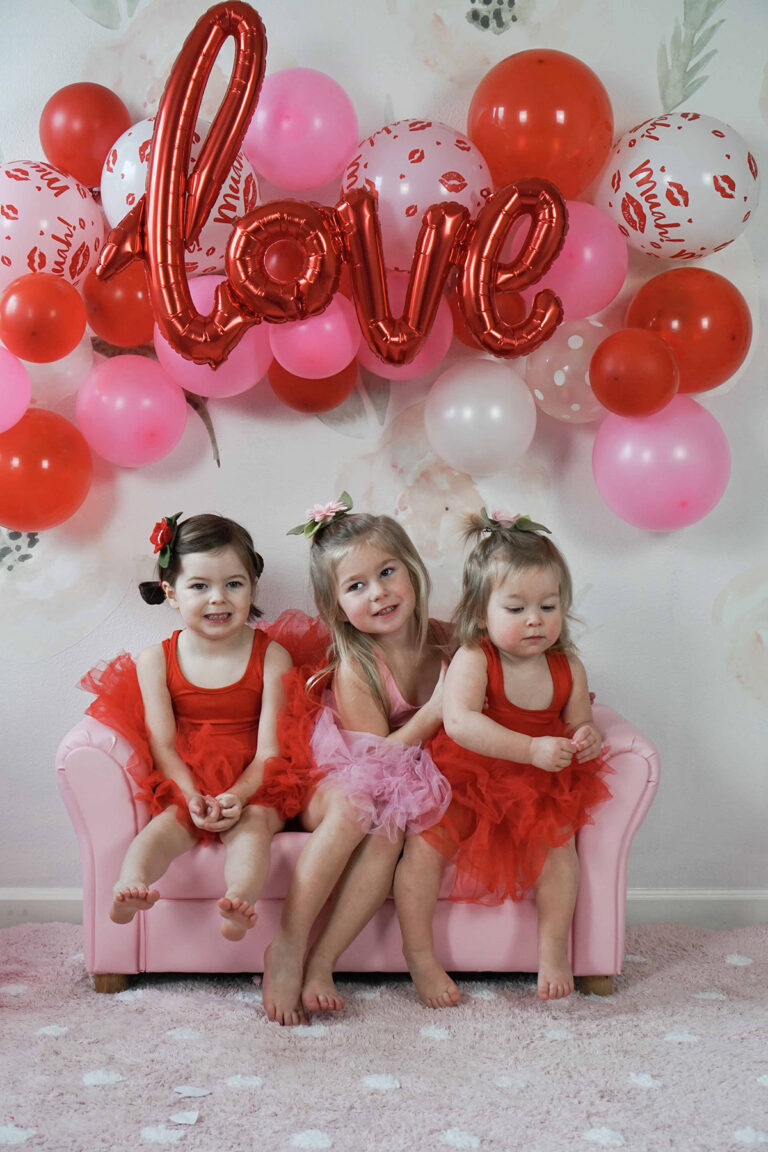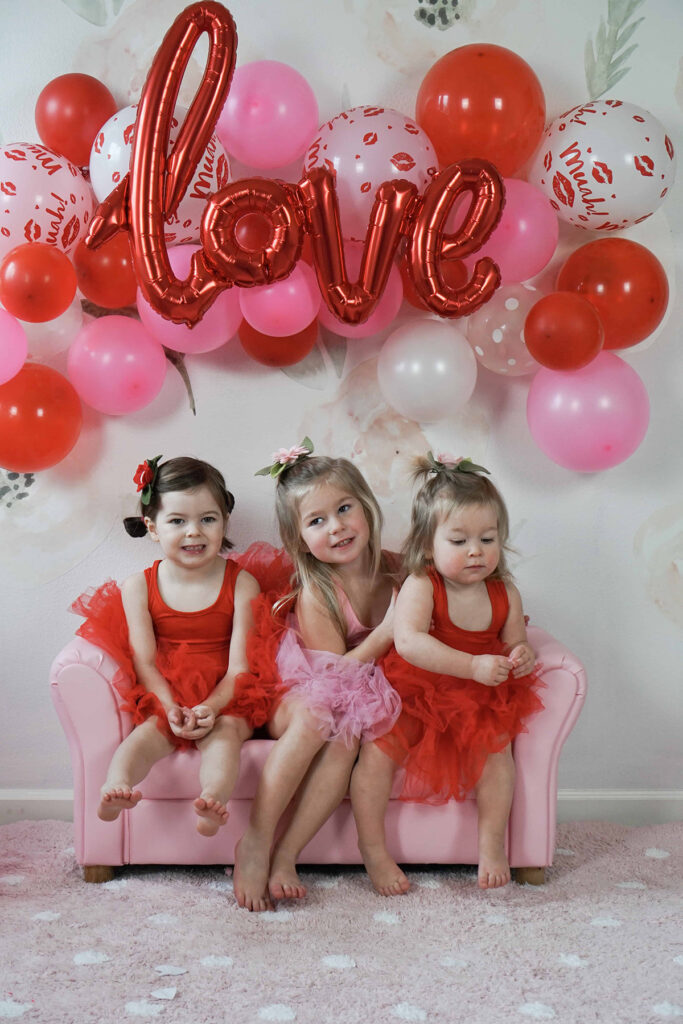 Balloons make an adorable prop or background for holiday photos, too. How cute is this balloon display in Arin Solange's post about throwing a toddler Valentine's Day party?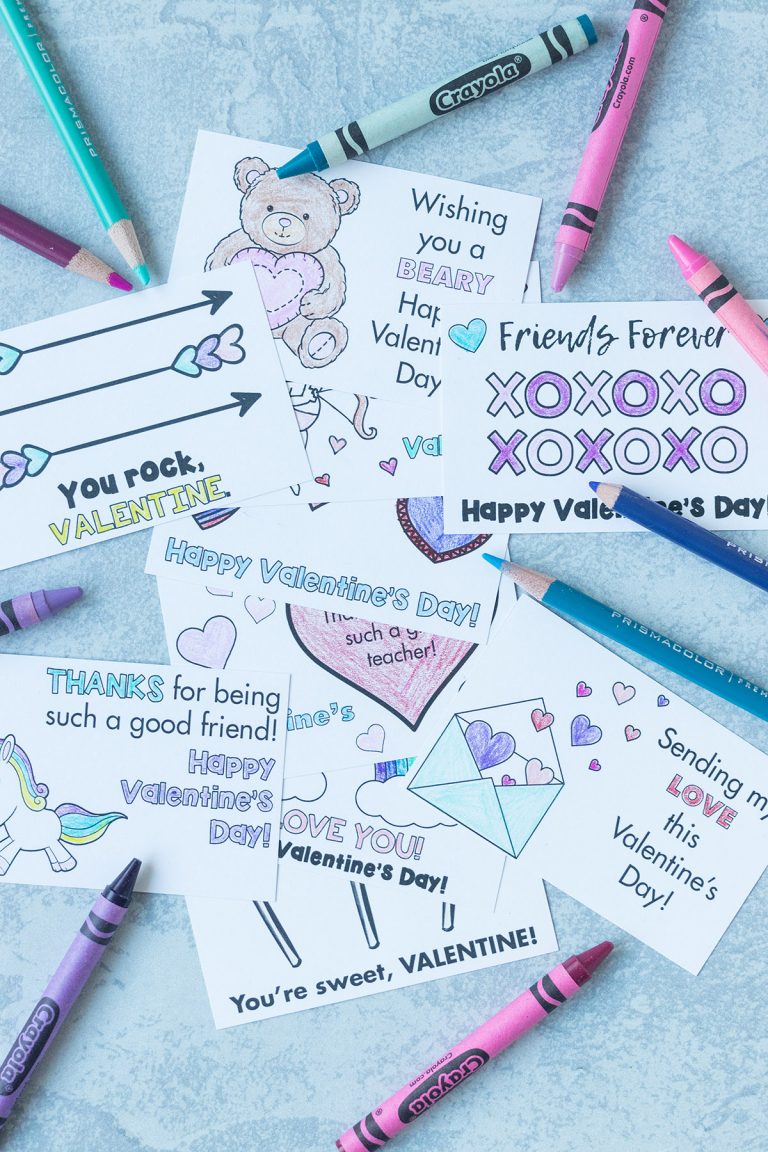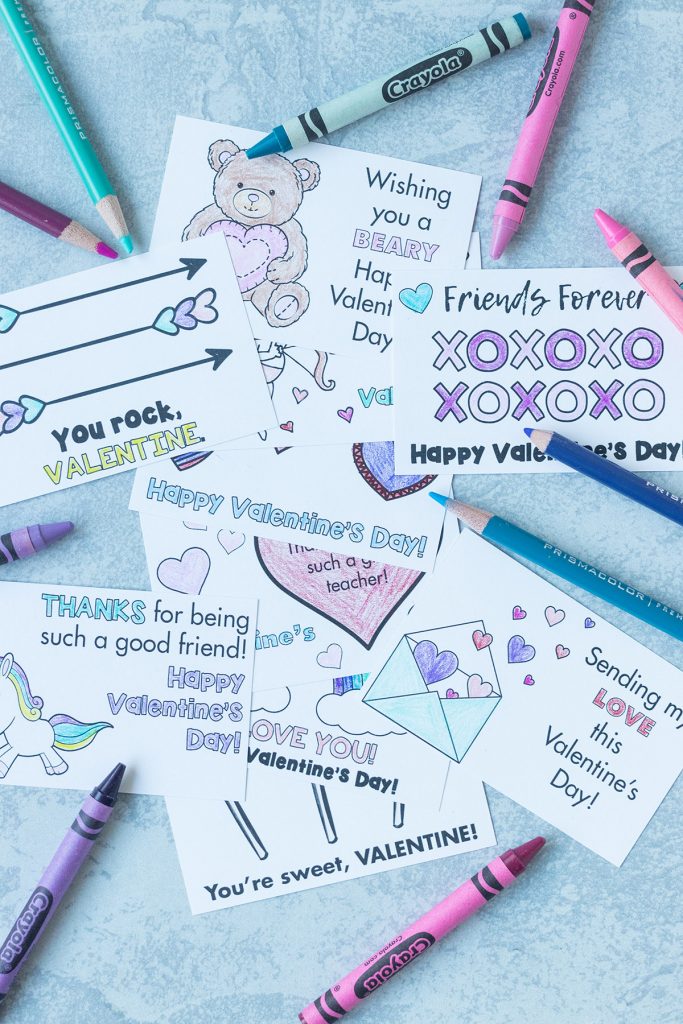 2. Make Valentine's Day cards for classmates and/or to send to family and friends
If your toddler or preschooler is in a daycare or preschool program, most likely you're already planning to pass out Valentine's Day cards. For crafty little ones, it may be fun to make your own cards. If you aren't doing a classroom or neighborhood party or are simply looking for more excuses to make cards, create a batch to send to aunts, uncles, grandparents, and other loved ones. They will enjoy getting a homemade note in the mail so much.
I love printable Valentines to color for toddlers and preschoolers. You can cut out the Valentines ahead of time and then let them color them and decorate the envelopes. It's a fun way to make your own Valentines without being quite as overwhelming as doing the whole thing from scratch.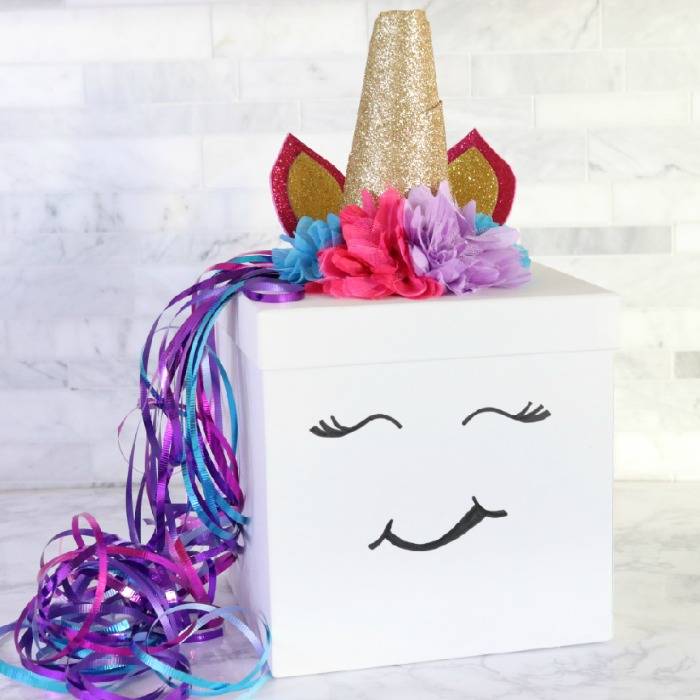 3. Make your own Valentine's Day card boxes
Making your own Valentine's Day card boxes for school or just because is a fun way to add to the excitement of collecting Valentines from friends. You can customize my sheet music Valentine card box with any kind of paper or theme of your choosing. There are so many creative Valentine's Day card box ideas for kids. I love Passion for Saving's unicorn Valentine's box (pictured), Where the Smiles Have Been's Valentine's Day train box, Suzy Sitcom's old-fashioned camper Valentine's Day box, and Natural Beach Living's Valentine's Day robot box.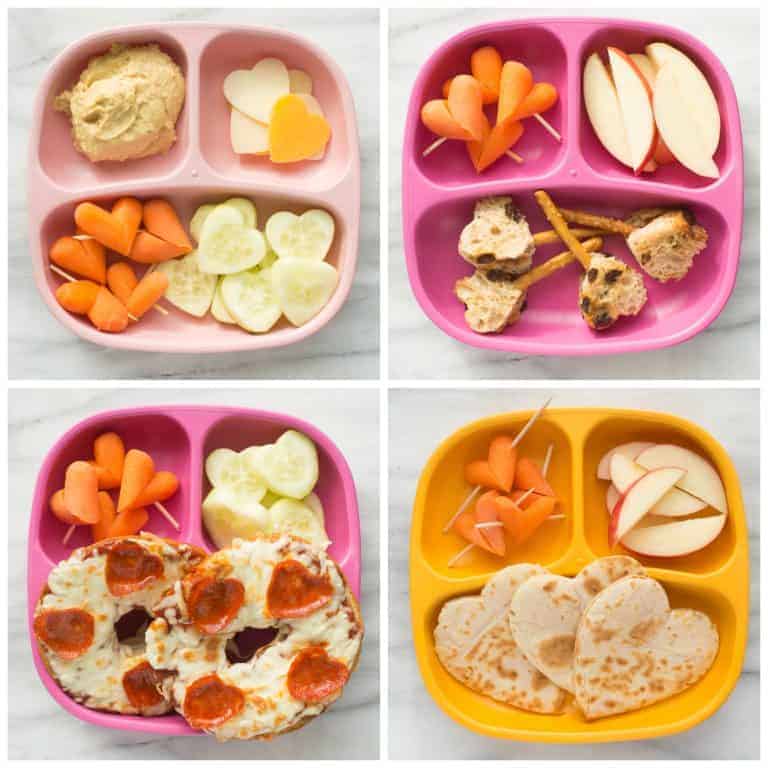 4. Have a Valentine's Day-themed snack
For your Valentine's Day snack, get Valentine's Day placemats and coloring materials ready ahead of time that kids can complete while they enjoy their holiday food. For a healthier snack, I love Meaningful Eat's heart-themed take on classic kids' snacks (pictured), Joy in the Commonplace's Valentine's Day charcuterie board, and Living Well Mom's easy Valentine's Day trifle. Most Valentine's Day snack mix recipes are loaded with so much sugar, much more so than many snack mix recipes. I like Living Well Mom's no-bake Valentine's Day Chex mix, which has a Chex and peanut butter base. If your kids will eat them, I think that nuts would be a great addition to the mix.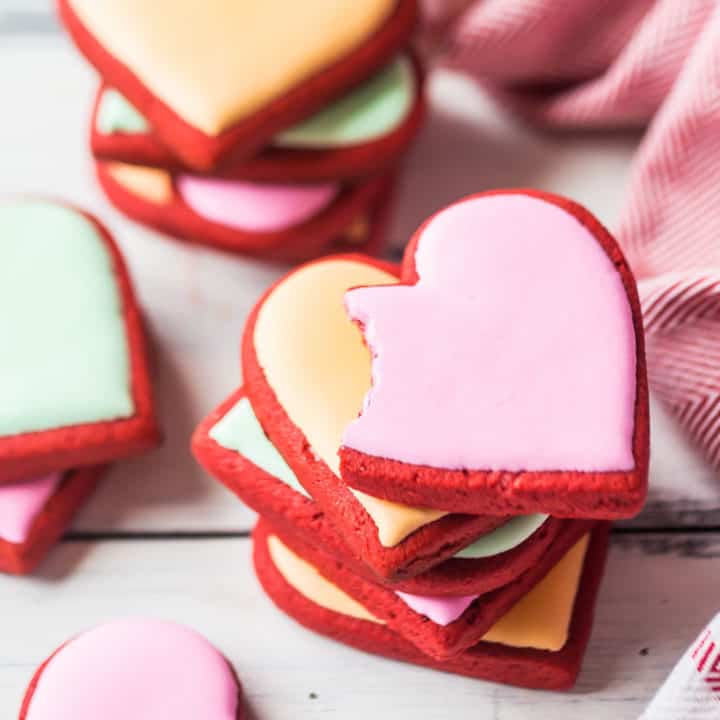 5. Bake and decorate Valentine's Day cookies
Baking and decorating cookies is a winner activity for any holiday with little kids. Valentine's Day is no exception. Bake at 350's perfect cut-out sugar cookies are the only sugar cookie recipe to make. They're so delicious and ensure great cookie cutter cuts every time. Pair them with If You Get a Blonde a Kitchen's buttercream frosting. Food coloring in Valentine's Day colors and sprinkles are the perfect finishing touch. If you want another option for decorating Valentine's Day cookies, I also love Baking a Moment's red velvet sugar cookies (pictured), which have a hint of cocoa and are finished with a cream cheese frosting.
If you're looking for additional Valentine's Day cookie recipes to make with kids, check out Baked By Rachel's marbled sugar cookies, Inside Bru Crew Life's strawberry truffle kiss cookies, and Kleinworth & Co's Valentine chocolate chip cookies.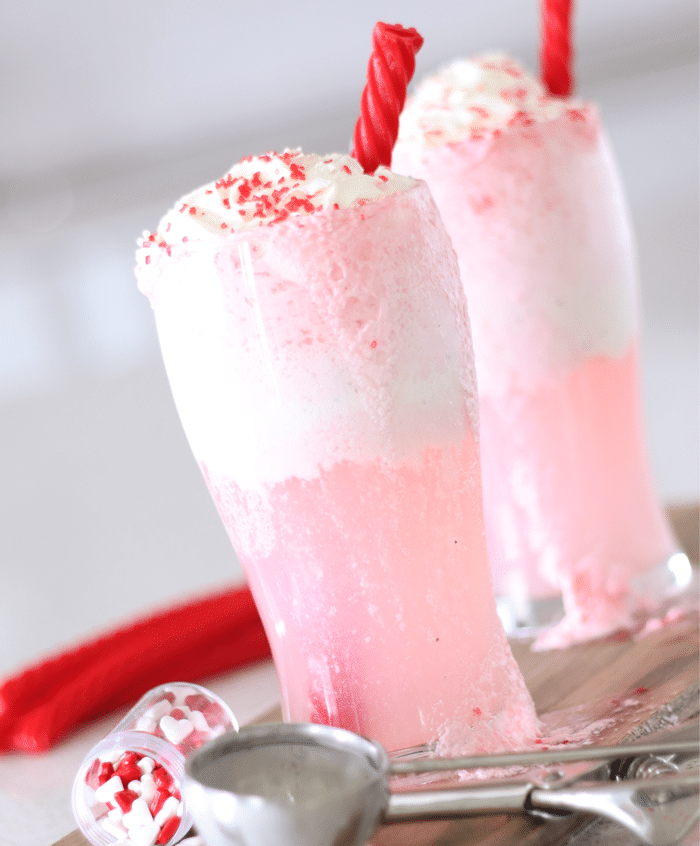 6. Make a special Valentine's Day drink
I have an entire round-up of non-alcoholic drinks for Valentine's Day. For kids, I especially like Neverending Journey's Hawaiian punch, Create Craft Love's pink vanilla cotton candy mocktail, Julie's Eat's and Treats' Shirley temples, and Somewhat Simple's cupid floats (pictured).
7. Read a few Valentine's Day books
The weeks leading up to a holiday, create a small display of holiday-themed books for kids to grab during read-aloud time or on their own. Rotating books regularly keeps kids more engaged, as they're excited to pull out "new" books for the upcoming holiday or current season. Just a few great Valentine's Day books for kids include:
I also love I Spy With My Little Eye Valentine's Day with toddlers and preschoolers. They'll enjoy pulling this book out over and over again and finding something new every time. It's a perfect book to bring in the car or to restaurants and other places where you need a quieter activity.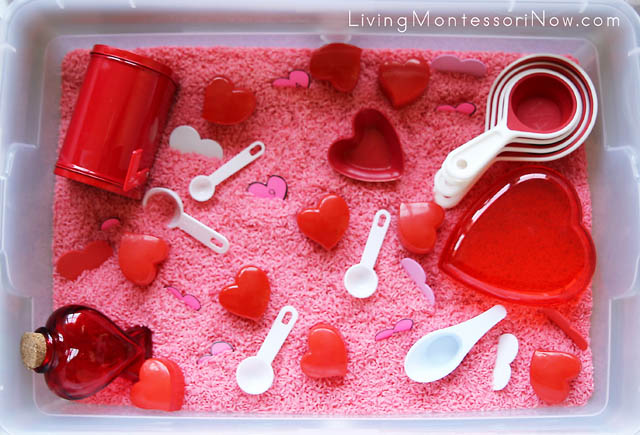 8. Have a Valentine's Day sensory bin
There are sensory bins themed for every season and holiday. Valentine's Day is no exception. Most Valentine's Day-themed bins are a variation on Living Montessori Now's Valentine's Day sensory bin (pictured), which features dyed rice with measuring spoons and cups, heart cookie cutters, and small heart toys. I love that she included a small mailbox as well. My son is crazy about toy mailboxes and plays with them often.
I also love The OT Toolbox's Valentine's Day sensory bin, which featured dyed shredded paper for another fun (and ridiculously affordable) sensory experience, and Happy Toddler Playtime's Valentine's Day dinosaur sensory bin, for any parent whose kids just can't get enough of dinosaurs, even on Valentine's Day.
9. Complete a few Valentine's Day coloring pages
Coloring pages are an easy no-prep, screen-free activity to keep kids entertained for a few minutes. In a classroom, coloring pages are a great activity to have ready when kids come into school for the day. At home, coloring pages are perfect when toddlers or preschoolers need an activity to wind down before dinner or bedtime. Grab free Valentine's Day coloring pages from The Artisan Life, Homemade Gifts Made Easy, and Projects for Preschoolers.
10. Make heart-shaped sun catchers
Sun catchers are a simple fun craft project for kids that add a cheerful touch to any window, especially during the winter months. I love Little Hiccup's heart sun catchers for Valentine's Day (pictured). Kids up through elementary school will love making and displaying their own sun catches and seeing the colors and shapes that they create.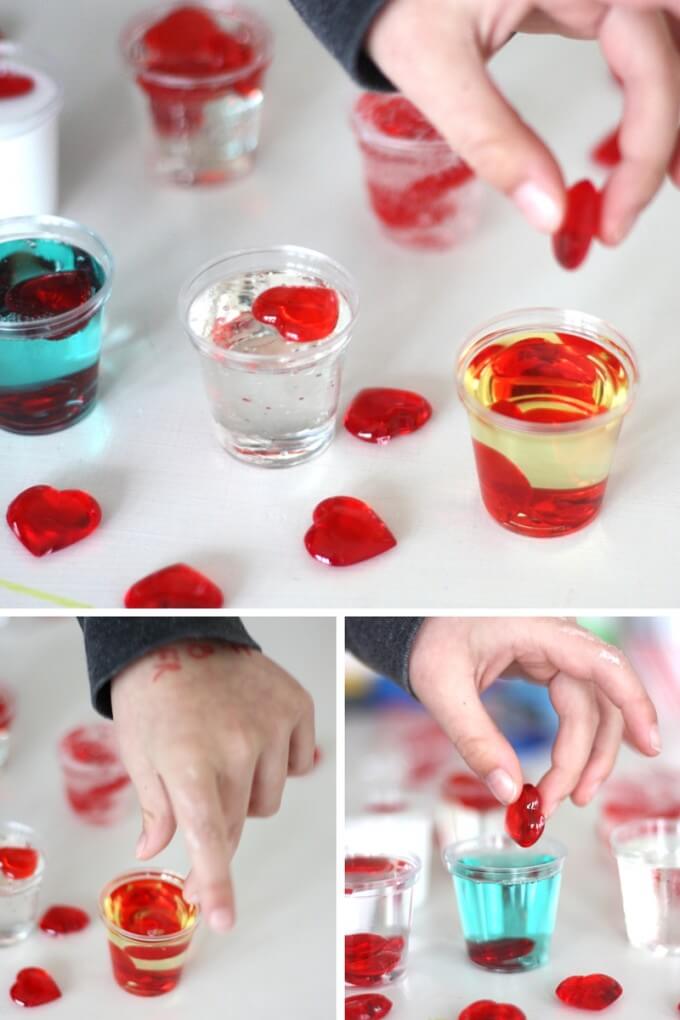 11. Conduct a Valentine's Day science experiment
Little kids get a ton of enjoyment out of very simple science experiments. There are so many fun ways to learn about science right at home using basic kitchen ingredients that you already own. For Valentine's Day, I love Little Bins for Little Hands' simple viscosity experiment (pictured); Sugar, Spice, and Glitter's fizzy baking soda hearts; and Natural Beach Living's Valentine's Day volcano science experiment. Natural Beach Living even has cute printables, so you can package up the volcano ingredients for friends and give them out on Valentine's Day. This is such a nice non-candy Valentine idea that hasn't been done a zillion times already.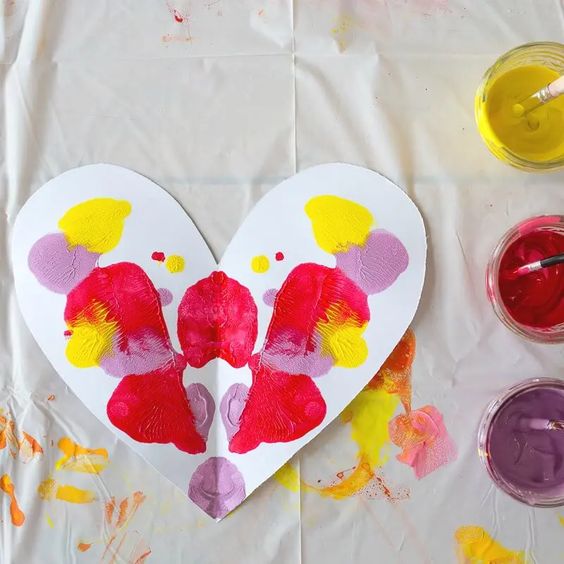 12. Make a heart-themed craft
There is no limit to the number of heart-themed crafts that you can make for Valentine's Day. For toddlers and preschoolers, I love Easy Peasy and Fun's yarn-wrapped hearts, Natural Beach Living's marbled shaving cream hearts, The Artful Parent's heart symmetry painting (pictured), and Crafts on Sea's mosaic hearts. All of these heart crafts are so easy and quick and don't make a huge mess.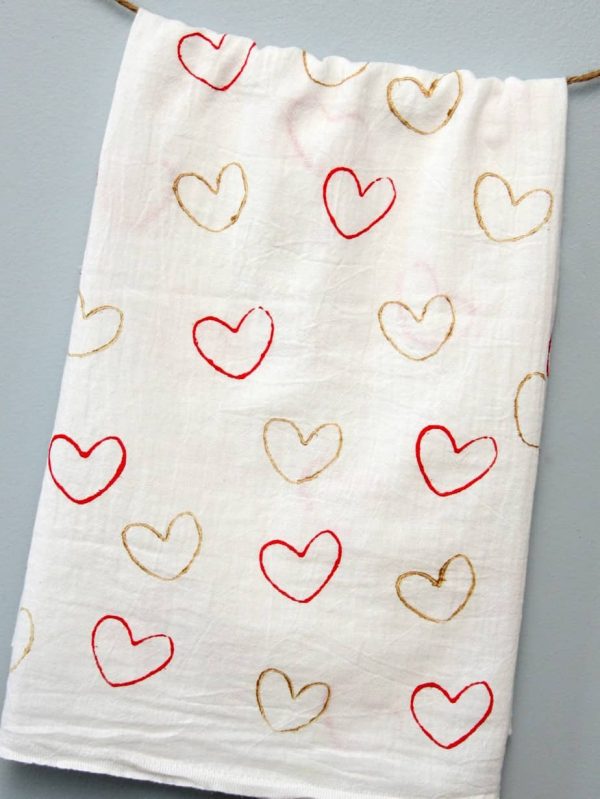 13. Do heart-themed stamp art
Making your own heart stamps is an easy fun way to explore heart shapes with different materials for Valentine's Day. Just a few simple ideas for heart stamps include cookie cutters, pipe cleaners formed into hearts, toilet paper or paper towel tubes formed into hearts, and cork with craft foam hearts. In addition to creating basic art on paper, use your new stamps to make greeting cards, wrapping paper, tea towels (pictured), and much more. For most stamp art, tempera paint or other washable paint works well. For tea towels and other fabric projects, use fabric paint.
If you're looking to add a few new heart stamps to your stamp collection, one of my all-time favorite stamp shops on Etsy is norajane. She has a nice selection of heart stamps.
14. Complete a Valentine's Day sorting or matching activity
Sorting and matching activities help young children work on basic categorization skills. You can print out a sorting or matching activity, such as The Artisan Life's Valentine's Day matching game or have kids sort Valentine's Day-themed items, such as candy hearts or red and pink mini pom poms. I love having toddlers or preschoolers use tongs to sort their items into mini muffin tins or silicone heart molds. Parenting Chaos and This Little Home of Mine have more details about designing pom pom tong activities for little kids.
15. Make blooming hearts
Entertain Your Toddler's blooming hearts "experiment" is a perfect toddler and preschooler activity. It's so easy and inexpensive to set up, and the kids will be endlessly entertained by the results, hopefully for minutes on end. There are lots of simple ways to create variations for the experiment, such as the size of the hearts and the height from which you drop them.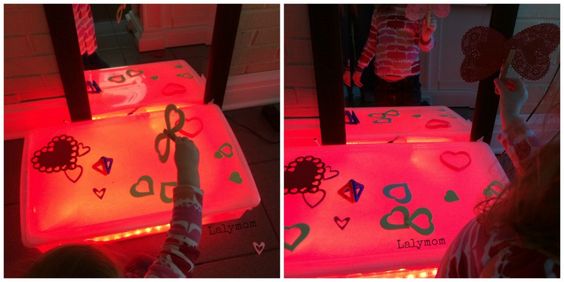 16. Have a Valentine's Day light table
A light table is such a fun sensory experience for kids of all ages. You can purchase a light table or make your own table. Lalymom (pictured) and And Next Comes both have great round-ups of Valentine's Day-themed light table activities that are perfect for toddlers and preschoolers.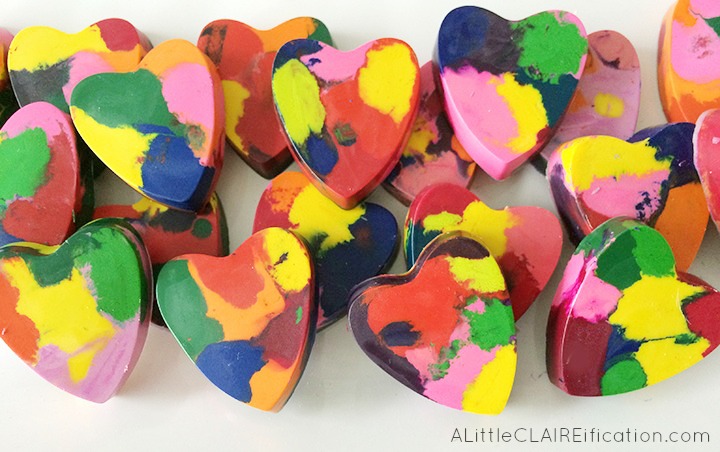 17. Make crayon hearts
Heart-shaped silicone molds are a classic for Valentine's Day and offer so much potential for creative holiday fun. The ever popular heart-shaped rainbow crayons activity is always fun with kids. It's the best way to use up tiny pieces of crayon and makes a nice addition to your kids' Valentines. Among other projects, you can also use silicone molds to make ice cubes, candies, and bath bombs.
18. Play musical hearts
No Time for Flashcard's musical hearts is like musical chairs except you stop on a paper heart and then you have to do the action written on the heart, such as jump on one foot or fly around the room. It takes very little prep and is a great way to keep kids active even when you're stuck indoors on a cold February day.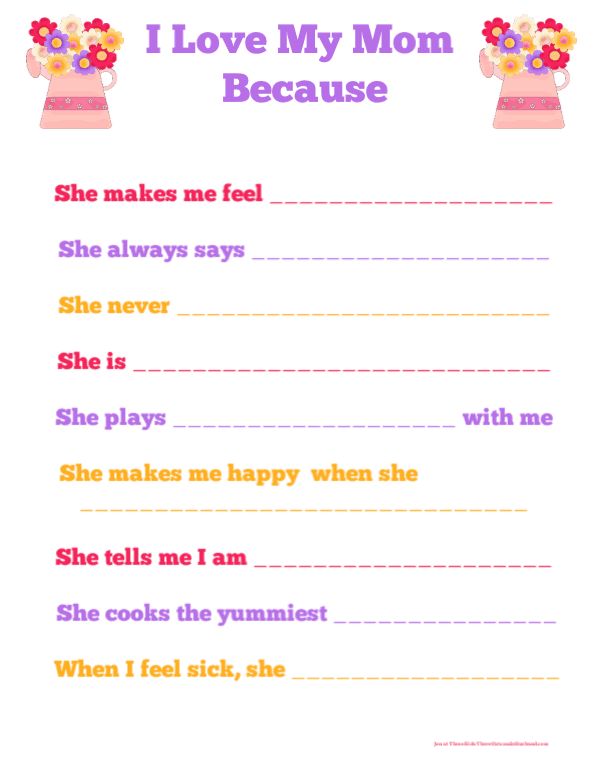 19. Fill out a why I love Mom or why I love Dad questionnaire
Receiving a questionnaire filled out by your toddler- or preschool-age child is one of those moments that you live for as a parent (I do anyway). The answers are priceless, and you'll smile pulling it out again year after year. Of course, you can do this type of questionnaire for Mother's Day or Father's Day, but I love it for Valentine's Day, too. Grab free why I love my mom printables from Teachers Pay Teachers (yes, it's free!) and Three Kids, Three Cats, and a Husband (pictured) Unfortunately, there are a lot more mom resources than dad resources. But you can easily tweak the mom printables for dad.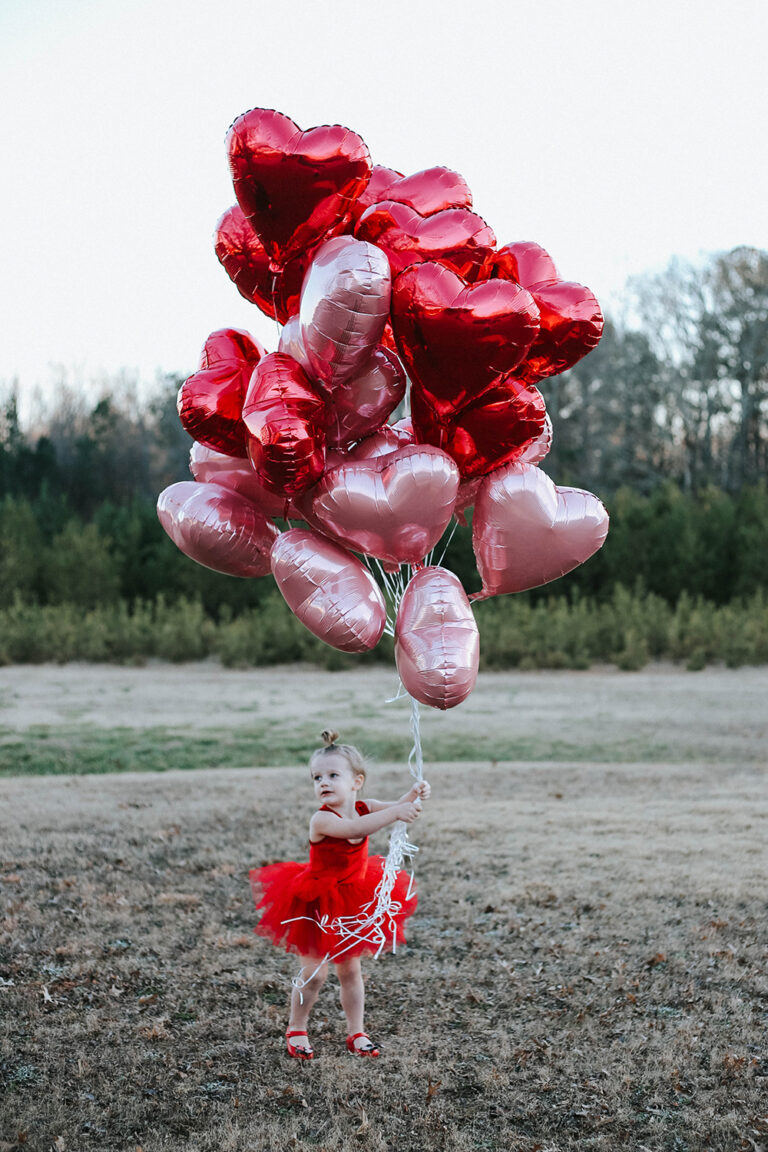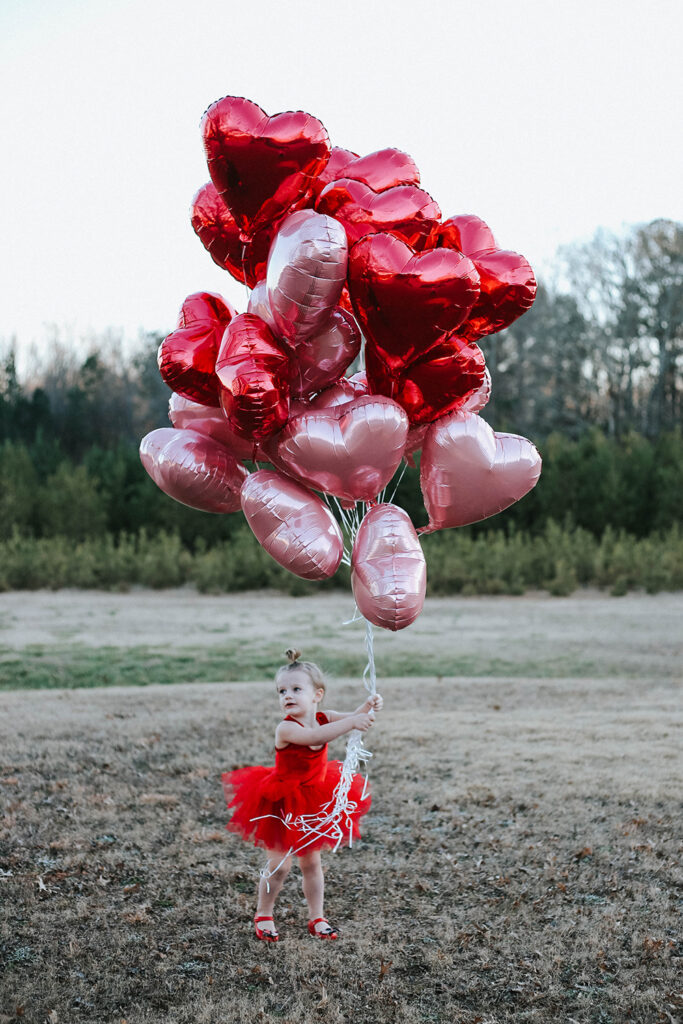 20. Have a Valentine's Day photo shoot
Creating holiday photo shoots with young kids is a fun way to look back on these memories for years to come. Holiday photos also make a great gift for grandparents! Remember the balloon backdrop from #1? It's perfect for your Valentine's Day photos. Grab free printable Valentine's Day photo props from Growing Play and Just Homemaking. So many photographers offer mini Valentine's Day shoots for clients now. You'll find lots of inspiration for backdrops, outfits, additional props, and more for your at-home photo sessions on Pinterest.
The above photos is from Chanel Moving Forward's adorable Valentine's Day shoot from a few years ago. Brit + Co also has a great round-up of adorable kid photo shoot ideas for Valentine's Day.
21. Play a jumping hearts game
The Inspired Treehouse's jumping hearts game is an ideal way to channel kids' energy and work on gross motor skills with a game that they'll thoroughly enjoy. She has lots of simple variations to keep the game interesting and engaging and to cater it to different ages.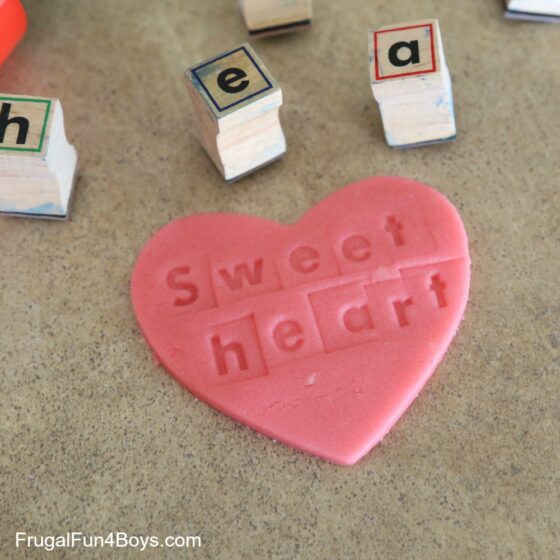 22. Do a Valentine's Day play doh activity
Valentine's Day is the perfect excuse to make a batch of sparkly play doh in red or pink. Play bakery and make heart cookies with cookie cutters. Frugal Fun 4 Boys' conversation heart play doh activity (pictured) is so much fun for Valentine's Day, too. Large block letter stamps are ideal for little kids and can be used for numerous educational activities and craft projects.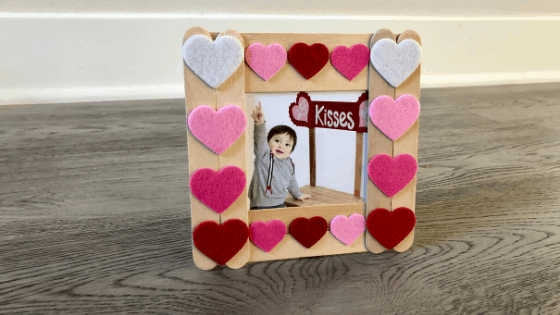 23. Decorate picture frames
Blank wooden picture frames offer so much potential for DIY projects. For Valentine's Day with toddlers or preschoolers, I love simple frame projects, like the pictured heart frame from Mom Brite, which comes together quickly and easily with felt heart stickers. Decorated picture frames are the perfect way to frame your Valentine's Day shoot pictures and make a great gift for loved ones.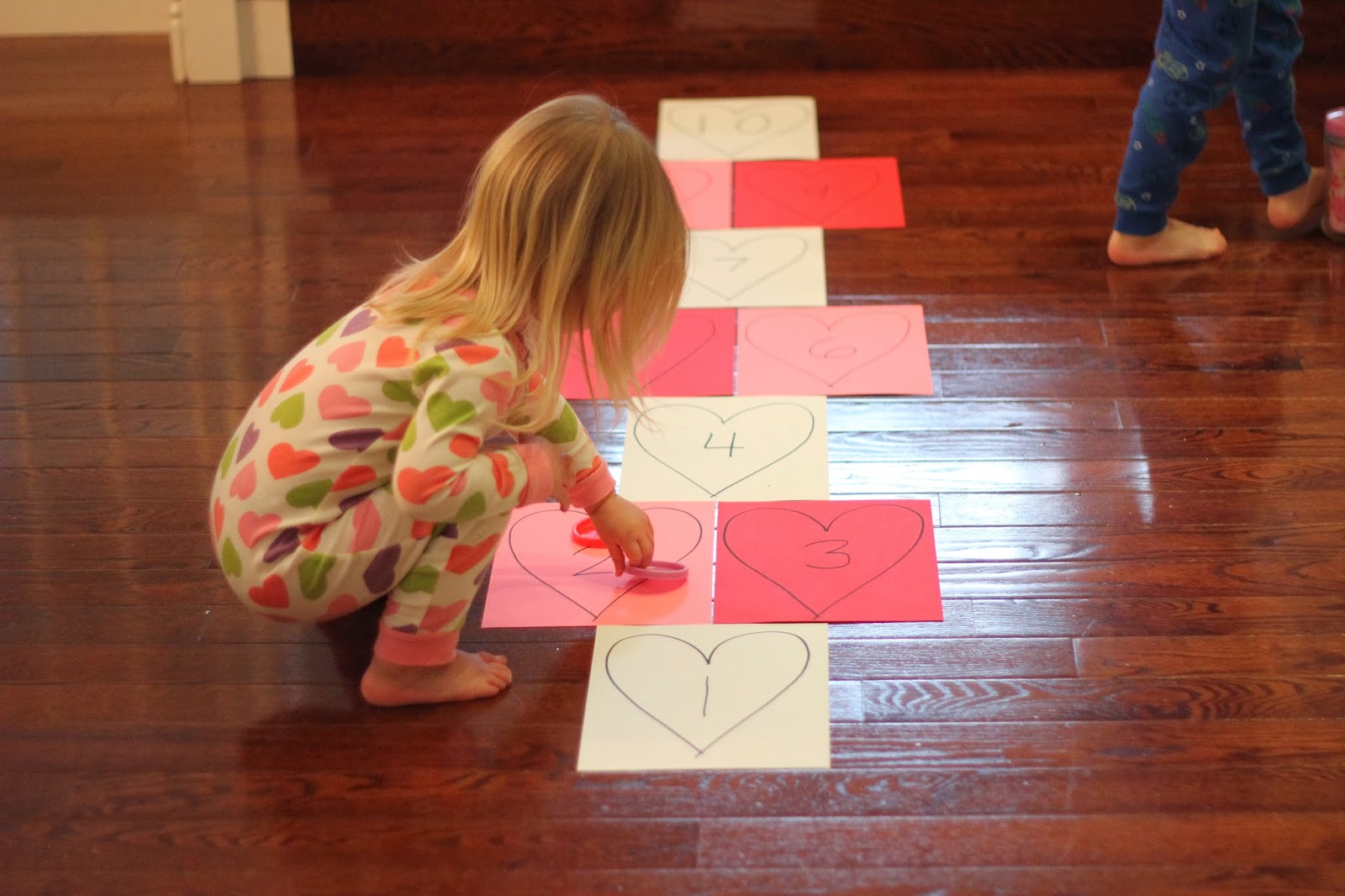 24. Play heart hop scotch
Heart hop scotch simply involves using hearts for the hop scotch numbers, instead of the traditional squares, and is another great way to burn off a little energy. When the weather is cold, rainy, or snowy, make heart numbers on construction paper, as demonstrated on Toddler Approved (pictured). If the weather allows, head outside and draw a chalk heart hopscotch on the sidewalk or driveway.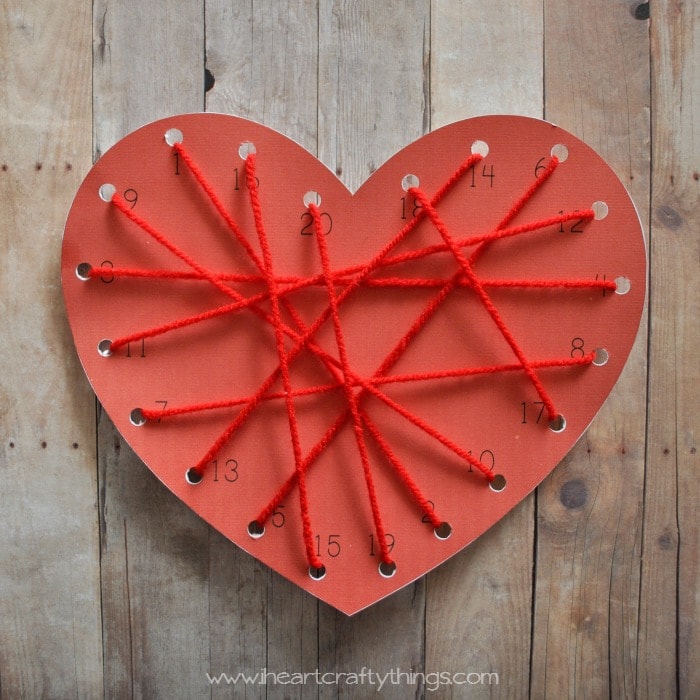 25. Do a heart lacing activity
A lacing activity is great for working on fine motor skills. There are lots of heart lacing printables that make this activity so easy. It works well with yarn or a thick twine. For toddlers, a simple punched heart is great. Grab the free template from Early Learning Ideas. For preschoolers, you can incorporate counting into the lacing activity. I Heart Crafty Things (pictured) has several numbered heart printables to work on counting 1-10 and 1-20.
[Disclaimer: There are a few affiliate links in this post. Thanks for your support!]
Did you and your little ones do one or more of the Valentine's Day activities?

I want to see it! Tag your images #RoseClearfield on Instagram or Twitter or post a photo to my Facebook page.
Pin this post for easy access to the Valentine's Day activities for toddlers and preschoolers resource later!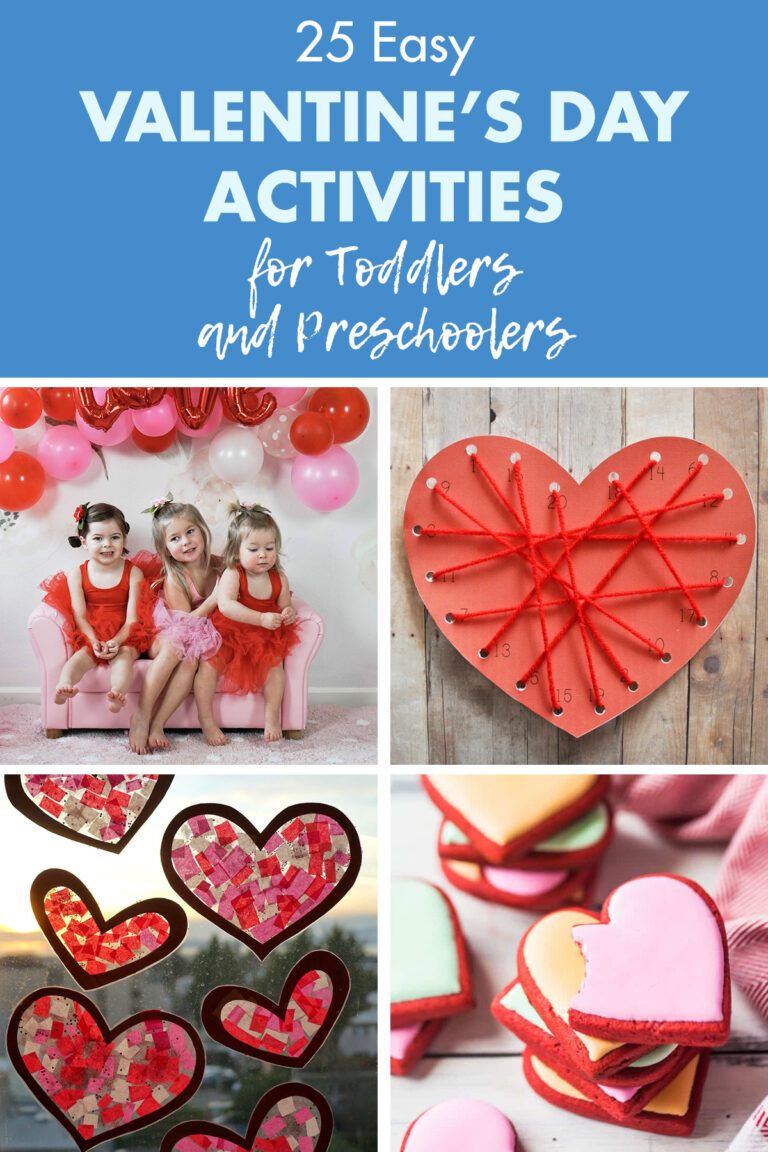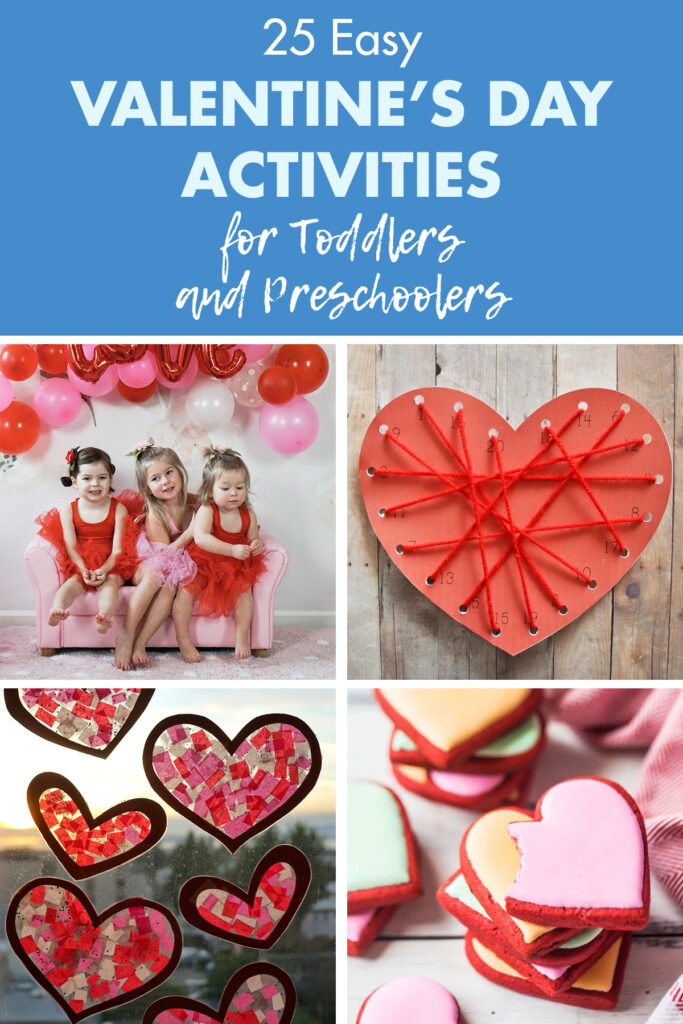 More Valentine's Day resources:
More toddler/preschooler holiday activities: