Free printable vintage The Great Gatsby book pages make beautiful wall art and are ideal for numerous DIY projects!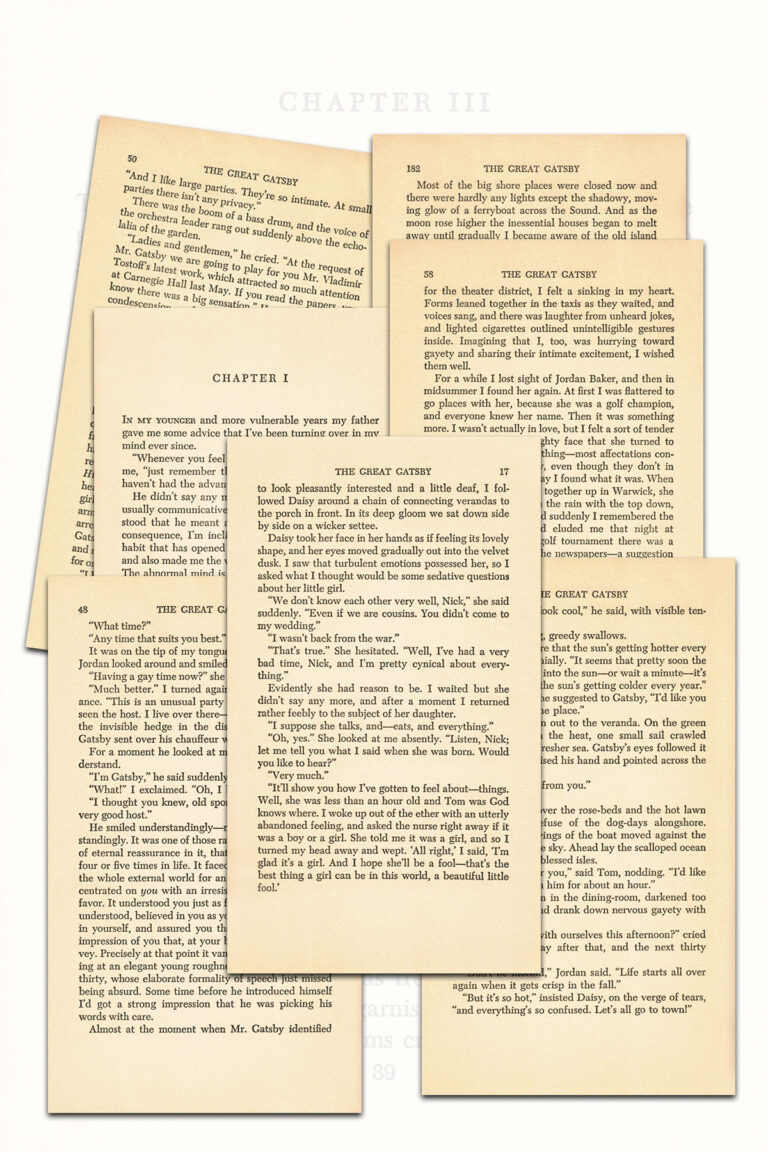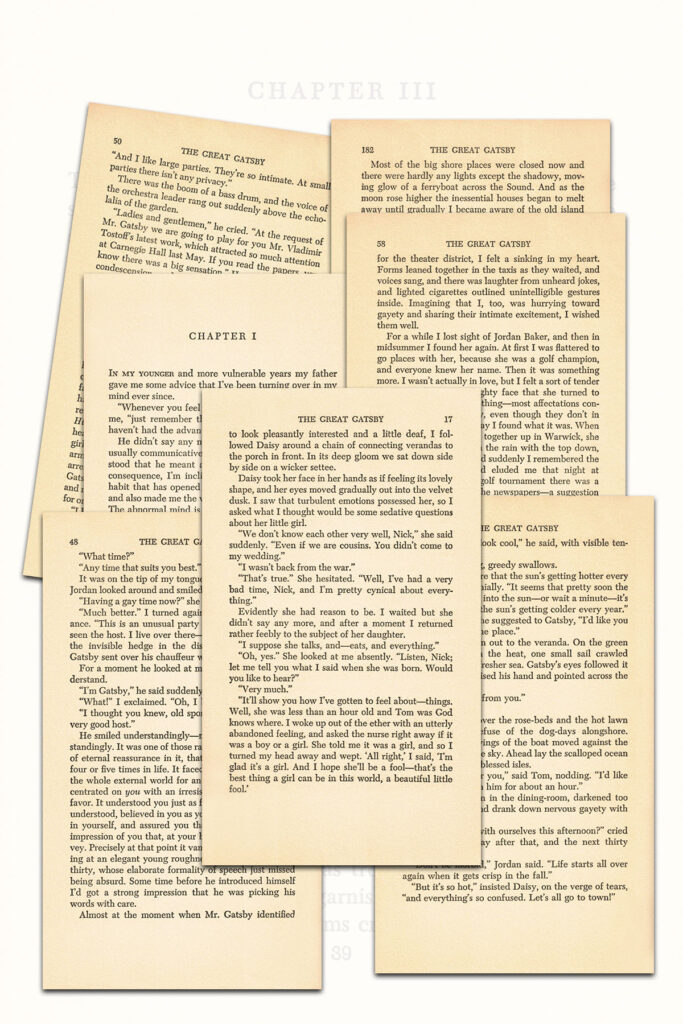 As soon as I learned that the novel The Great Gatsby by F. Scott Fitzgerald was entering the public domain at the end of 2020, I was so excited to pick up a vintage copy and create printable book pages. The Great Gatsby is by far my favorite classic novel, truly one of those timeless, amazingly well-written books that I think everyone should read at least once.
The Great Gatsby is the first novel that I'm offering as a free printables set, though certainly not the last. My other vintage book page collections include dessert cookbook pages and illustrations, travel journal pages, Fairy Soap fairy tale pages and illustrations, and French children's language book pages. I add new printable collections to my blog frequently. If there's a novel or other book you'd like to see here, please let me know!
I'm offering 15 full pages from a 1953 edition of The Great Gatsby, all of which feature famous quotes from the novel. I have the complete list of popular quotations featured in these pages below. I'm also offering ATC cards and journal tags that I made from the book pages, again, all of which highlight the quotes. Enjoy!
How to use vintage book pages
When you're looking for antique book pages, generally, you already know how you're going to use them. If you need some inspiration or simply looking for more ideas for your new book page printables, consider one or more of the following projects.
DIY wall decor. One of the most popular ways to use vintage book pages is to create one-of-a-kind wall art. Antique novel pages are ideal for homes, classrooms, and libraries. However, there's no limit to the ways you can use old book pages to make wall art. The pages can be displayed as is or overlaid with text and/or PNGs or transparent background images.
Glass or bottle cap magnets, using the technique that I honed for my sheet music magnets tutorial.
Pendant necklaces, using the technique outlined in the above magnets tutorial but with pendant bails instead of magnets.
Greeting cards. Old book pages are ideal for greeting card backgrounds and decorative elements.
Tile coasters. I have a vintage sheet music botanical coasters tutorial, which works well with any kind of vintage paper, including book pages. Coasters are another craft project that lends itself beautifully to text and/or image overlays.
Christmas ornaments. The Great Gatsby pages are ideal for making literary-themed Christmas ornaments. You can create them for your own tree, to give as gifts, and to sell at craft fairs and on Etsy.
Scrapbooking. Antique book pages make perfect backgrounds and decorative components for both physical and digital scrapbooks. They're also great for DIY scrapbook embellishments.
Art journals and other mixed media projects. Vintage book pages are a highly sought-after material for art/junk journals and other mixed media art. They're beautiful on their own and can be layered with paint, stamps, ink, and more.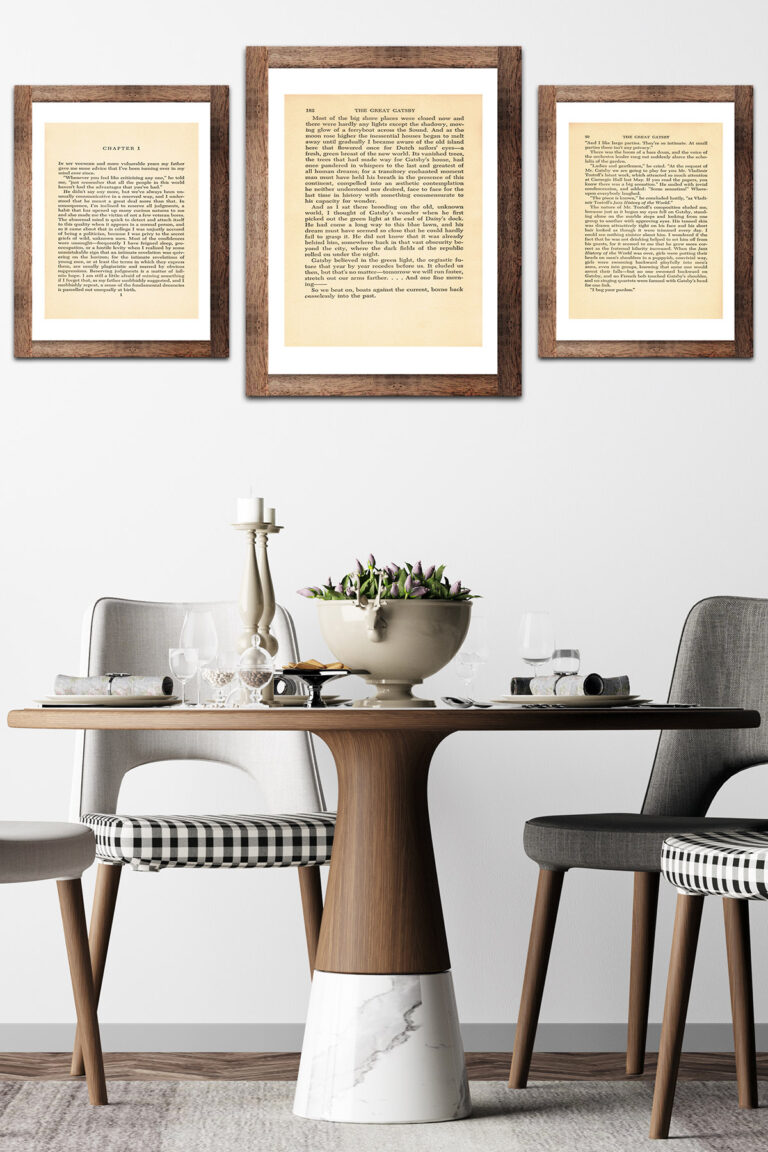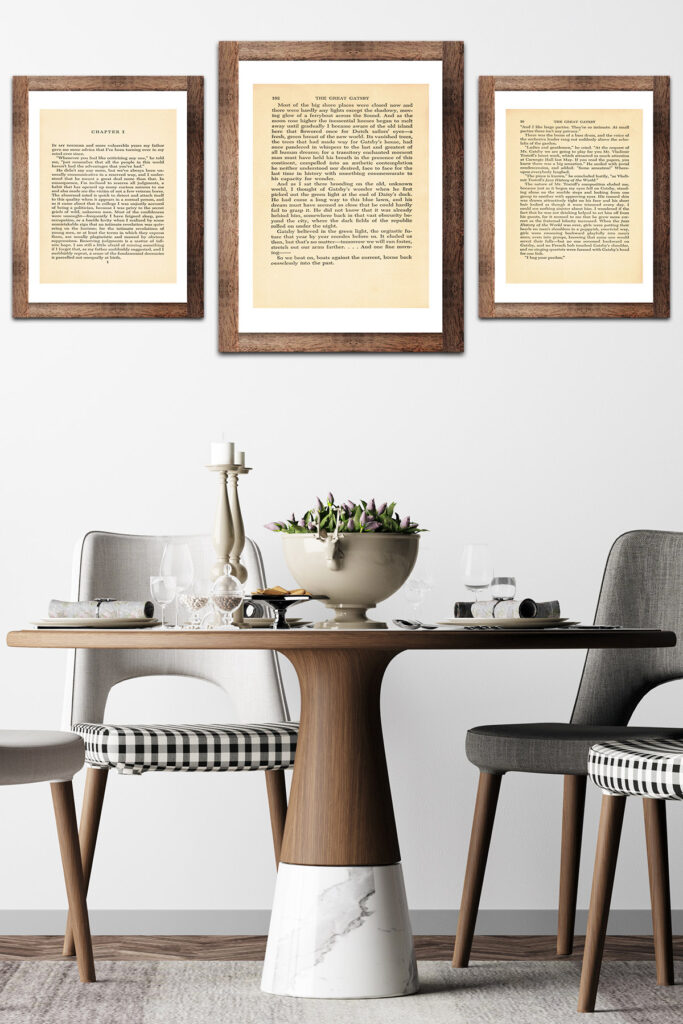 About the vintage The Great Gatsby book pages
As The Great Gatsby is in the public domain, you may use the vintage book pages, ATC cards, and journal tags for personal projects and commercial projects without attribution. You're not authorized to sell the book pages, ATC cards, or journal tags exactly as they are available in this post, either as individual items or as part of larger collections. You must create original content, both physical and digital, to sell it.
Additionally, please don't distribute the download files. If family, friends, or co-workers are interested in their own book pages, ATC cards, or journal tags, please send them a link to this post, where they can download their own files. Thank you!
The Great Gatsby quotations
I'm offering pages from The Great Gatsby featuring the following famous quotes. In the 3rd full pages download links below, I have a PDF that includes these quotations with corresponding page numbers.
"Whenever you feel like criticizing anyone, just remember that all the people in this world haven't had the advantages that you've had."
"Reserving judgments is a matter of infinite hope."
"And so with the sunshine and the great bursts of leaves growing on the trees—just as things grow in fast movies—I had that familiar conviction that life was beginning over again with the summer."
"That's the best thing a girl can be in this world, a beautiful little fool."
"I was within and without, simultaneously enchanted and repelled by the inexhaustible 40 The Great Gatsby variety of life."
"In his blue gardens, men and girls came and went like moths among the whisperings and the champagne and the stars."
"It was one of those rare smiles with a quality of eternal reassurance in it, that you may come across four or five times in life."
"I like large parties. They're so intimate. At small parties, there isn't any privacy."
"I wasn't actually in love, but I felt a sort of tender curiosity."
"There are only the pursued, the pursuing, the busy, and the tired."
"The exhilarating ripple of her voice was a wild tonic in the rain."
"No amount of fire or freshness can challenge what a man will store up in his ghostly heart."
"Life starts all over again when it gets crisp in the fall."
"There is no confusion like the confusion of a simple mind."
"Let us learn to show our friendship for a man when he is alive and not after he is dead."
"Gatsby believed in the green light, the orgastic future that year by year recedes before us. It eluded us then, but that's no matter—tomorrow we will run faster, stretch out our arms farther."
"So we beat on, boats against the current, borne back ceaselessly into the past."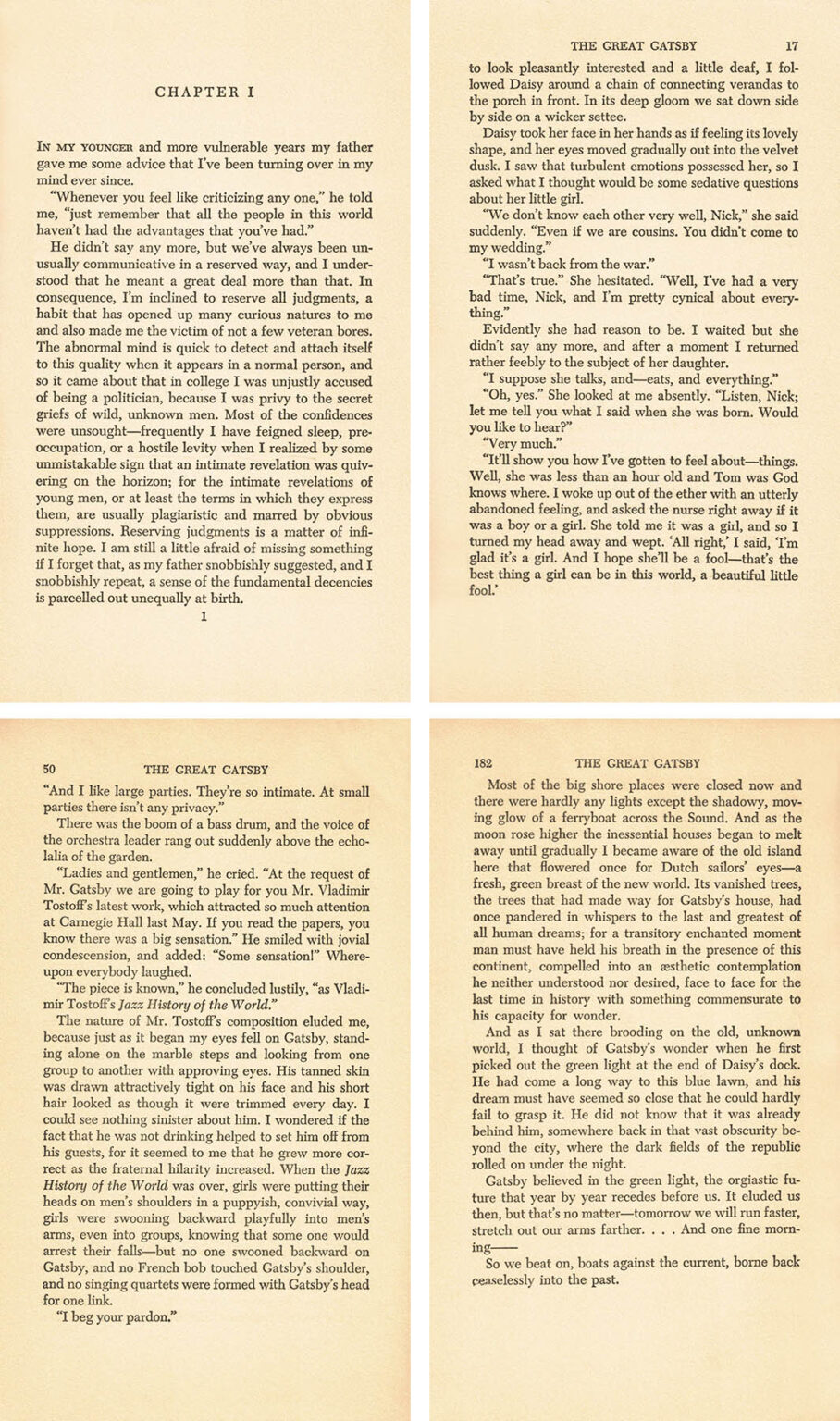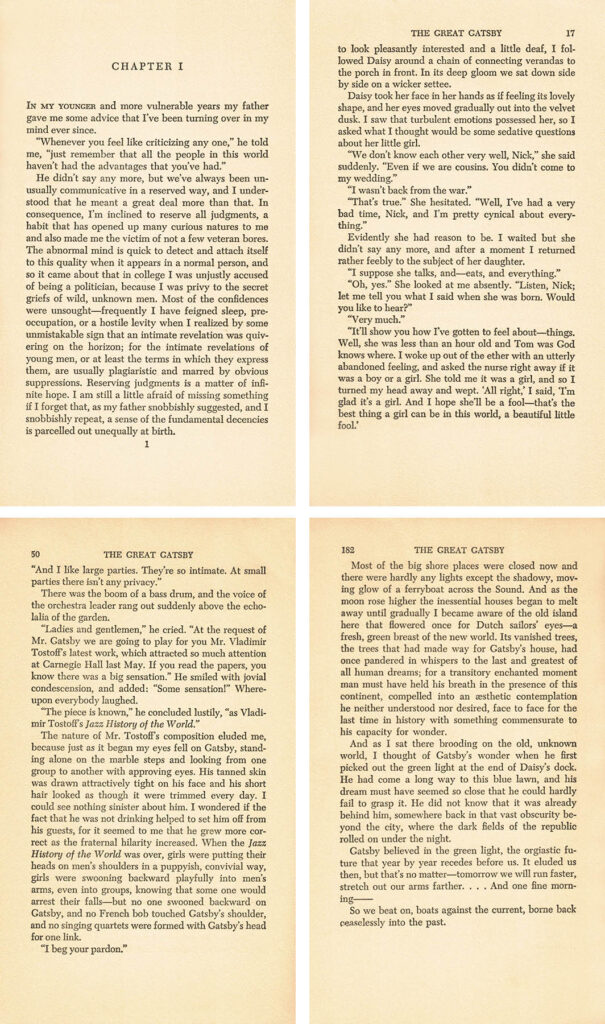 The Great Gatsby full book pages
I'm offering 15 full pages from The Great Gatsby, all of which include famous quotations from the novel. The third folder contains the previously mentioned PDF with all of the quotes and their corresponding page numbers.
All of the book pages are 2700 x 4265 pixels with 300 dpi resolution. I've split the pages into three ZIP folders to give you large files in an easy-to-download format.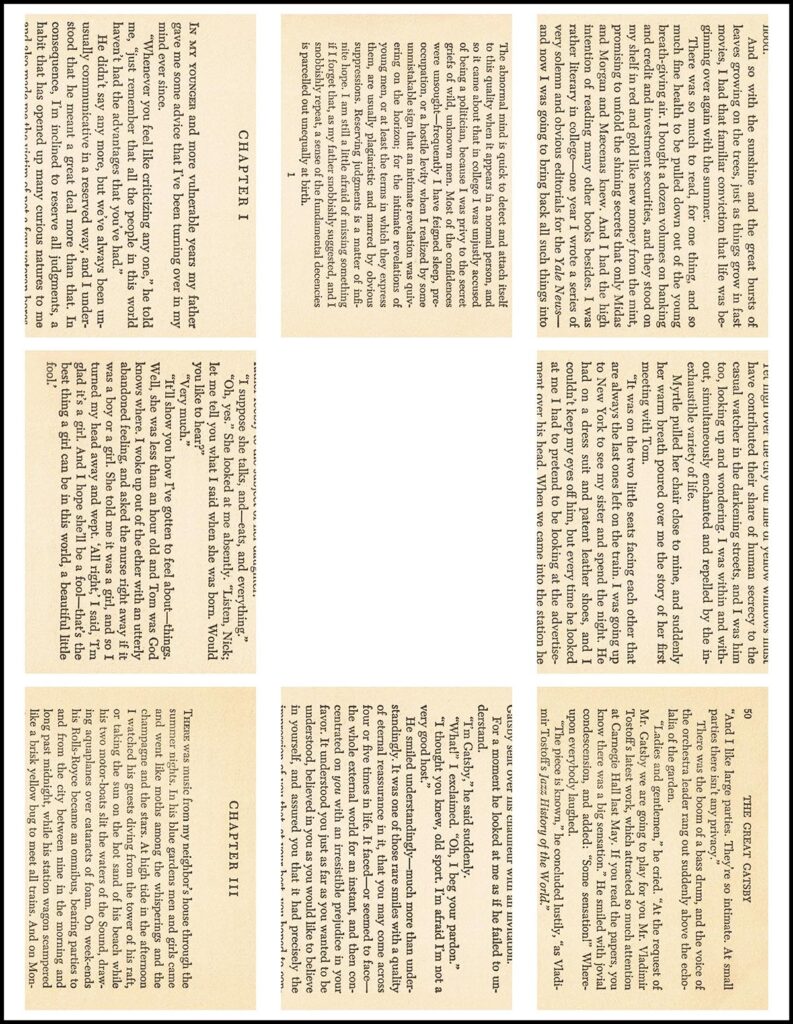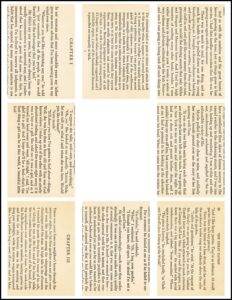 ATC-size digital collage sheet
I've created 16 ATC cards from the vintage The Great Gatsby book pages collection. I'm providing them on two 8.5″ x 11″ pages for easy printing.
Please note: It gets confusing having a lot of white space in blog post images, which is why I added a black outline around the preview image for one of the 8.5″ x 11″ pages. The digital collage sheets downloads below don't have a black border.
[The Great Gatsby – ATC-Size Digital Collage Sheets]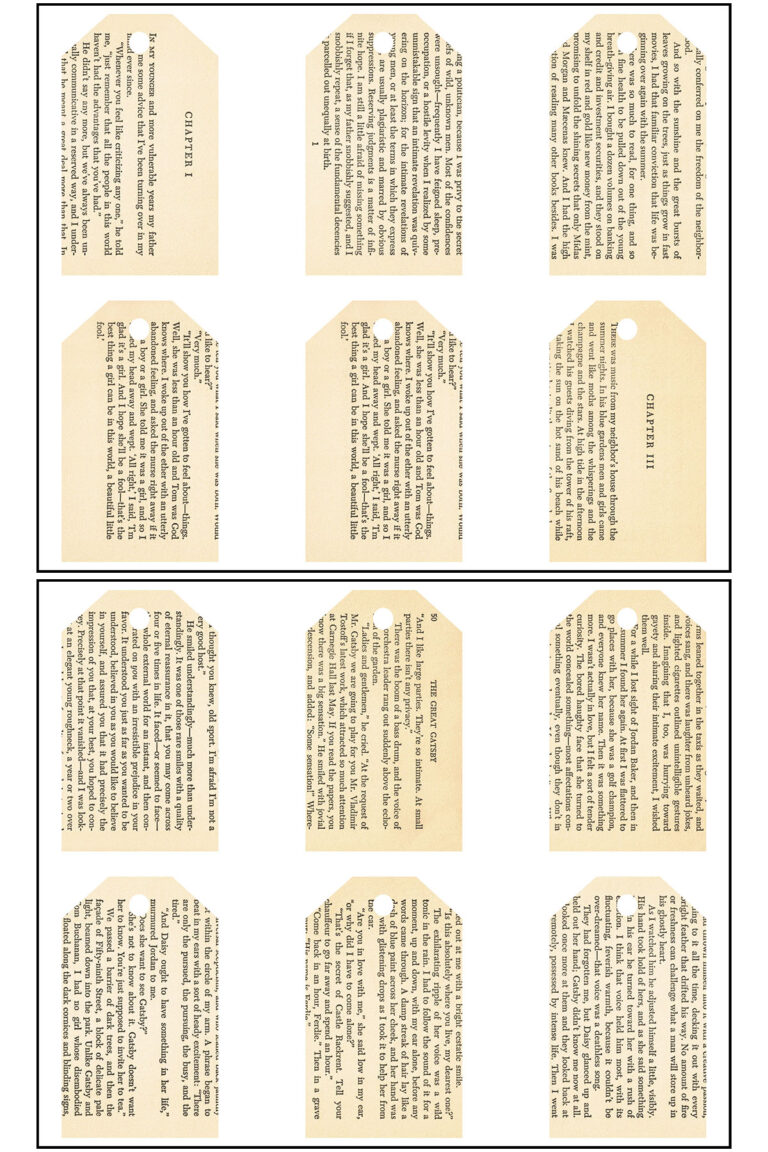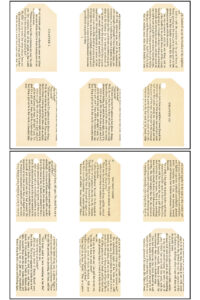 Journal tags
I've created 16 journal tags from the vintage The Great Gatsby book pages set. In addition to art/junk journals and scrapbooks, they're perfect for endless DIY projects. Each tag measures 2.5″ x 4.2″ (750 x 1250 pixels). The journal tags ZIP folder has three 8.5″ x 11″ pages for easy printing. Two of the three pages are pictured in the preview image above.
Please note: Again, the above preview image has black outlines around the pages. The 8.5″ x 11″ pages in the download below don't have black borders.
[The Great Gatsby – Journal Tags 8.5″ x 11″ Pages]
Extracting and downloading the full ZIP folders
I've created ZIP folders for all of the antique book pages content that I include in this post. Zipped folders allow me to offer high-resolution files for crisp, vivid printing and to protect those files against potential theft. Extracting and downloading the ZIP folders from Google Drive is pretty simple. Please note that it does take a little time for each folder to download in full, particularly the book page sets.
When you click on the download link, select the Open with ZIP Extractor option at the top of the page.
The folder will open in a new window. The files will download.
Once the files have downloaded, click Extract Now.
When the files have extracted and uploaded, click View Extracted Files.
Double click the folder.
To download, select the files you'd like to download. Click the three horizontal dots More Actions button. Choose Download.
I highly recommend moving your downloaded files out of your downloads folder and into your main photos folder. I also suggest creating a backup copy of the files on an external hard drive or cloud storage drive. Label your folder "The Great Gatsby Book Pages" or something similar, so you'll be able to find them again easily in the future.
Now you're reading to use your antique book page printables for wall art and numerous craft projects!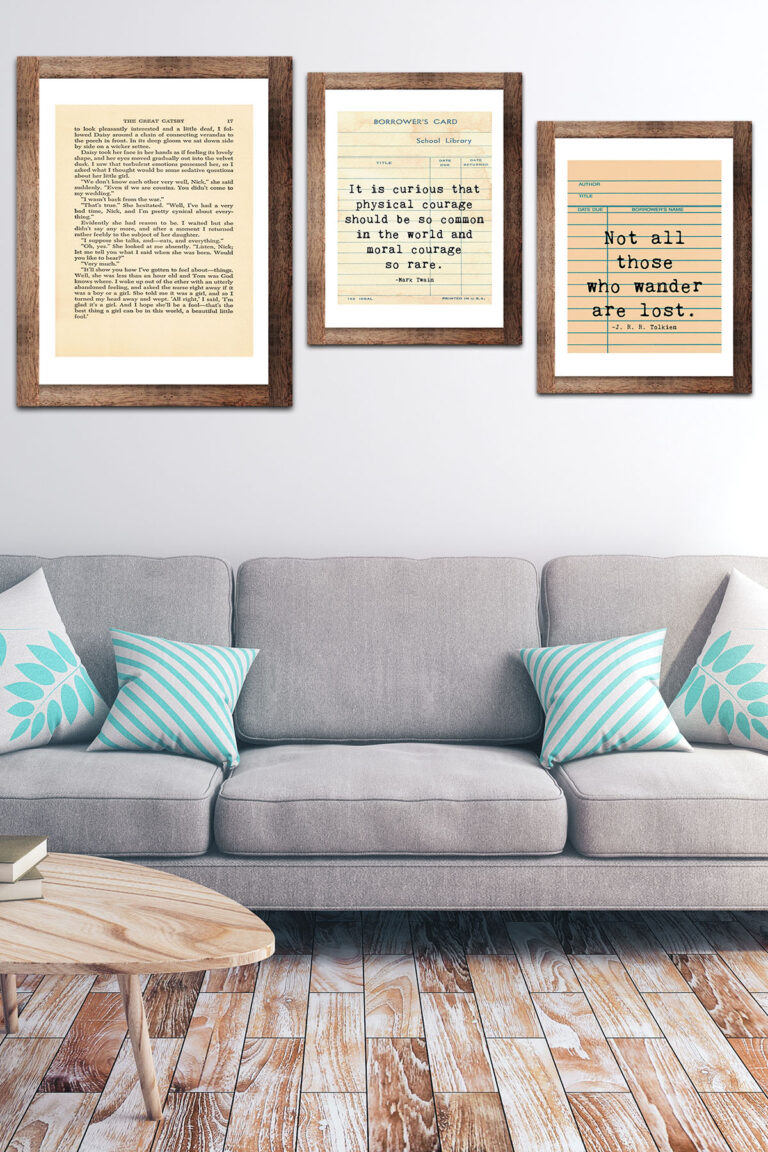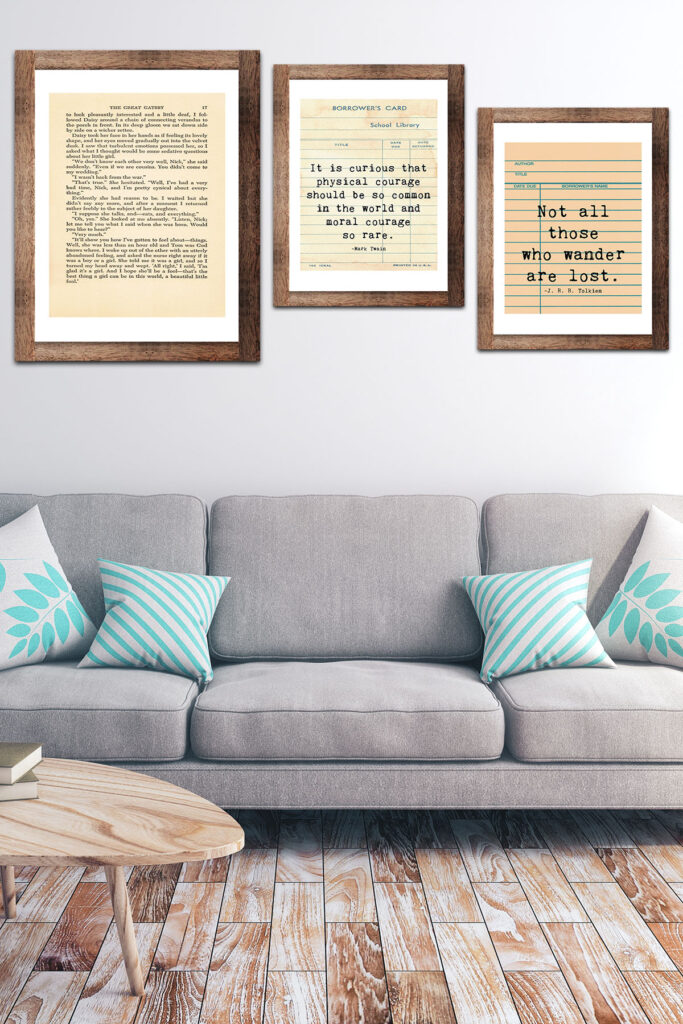 Printing old book pages
When you use vintage book pages to create one-of-a-kind wall art and other home decor, my top pick for home printing is Finestra Art Paper. I love Finestra papers because they feature an acid-free, matte surface that dries ink quickly, producing crisp, vibrant text and images. For framed wall art, I prefer Finestra over regular printer paper, card stock, and presentation paper.
Aside from basic affiliate earnings, I don't receive any compensation from Finestra for mentioning their products. I've been using Finestra to make wall decor for blog posts and for my own home for years, and I'm always happy with the results.
For all crafting and art/junk journal projects, I use white card stock. When you're printing antique book pages for greeting cards, mixed media art, and scrapbook embellishments, it's not as important that the images are really vivid. When you're making any type of project that involves multiple coats of diamond glaze or Mod Podge, such as tile coasters, pendant necklaces, or glass magnets, you won't be able to tell any difference in the finish of the paper you used. As such, card stock is a good choice because it's high-quality and very durable while not as expensive as art paper.
[Disclaimer: There are a few affiliate links in this post. Thanks for your support!]
Pin this post for easy access to the vintage The Great Gatsby book pages later!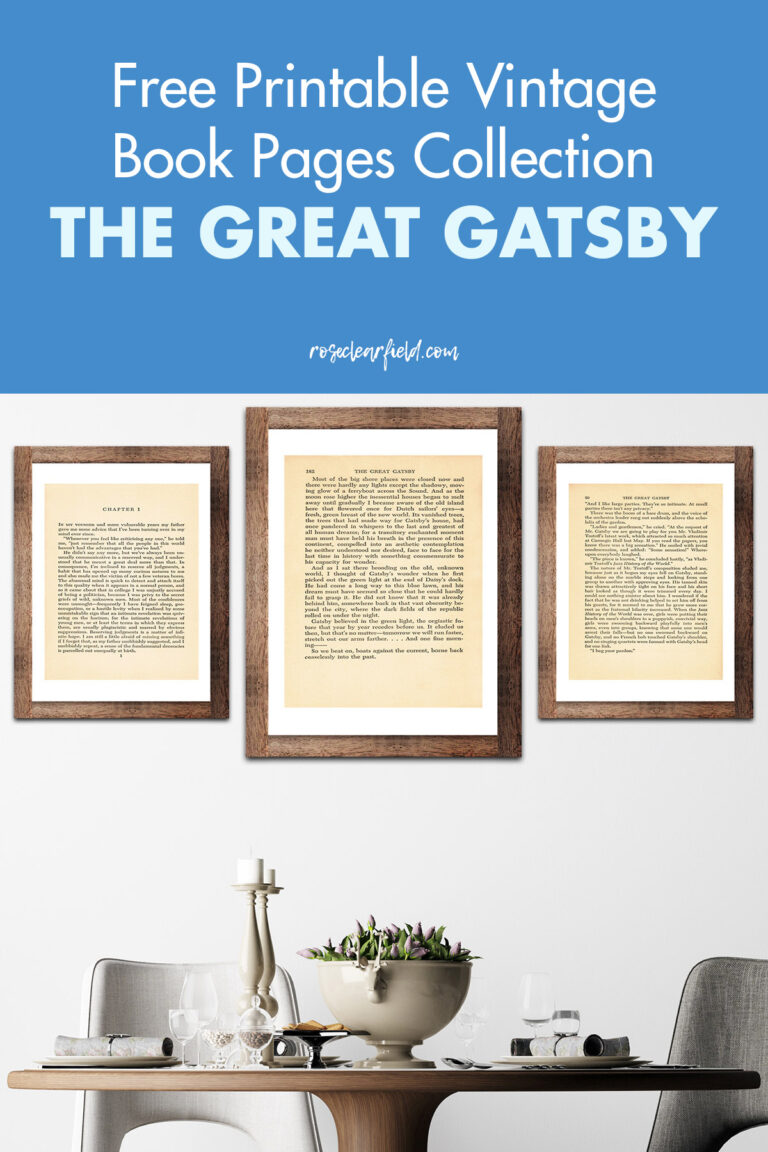 Are you using The Great Gatsby book pages for wall art or DIY projects?

I want to see what you've made! Tag your images #RoseClearfield on Instagram or Twitter or post a photo to my Facebook page.
More free printable vintage book pages: