Free printable vintage Home for Christmas book pages make lovely wall art and are a great addition to art/junk journals and numerous holiday DIY projects!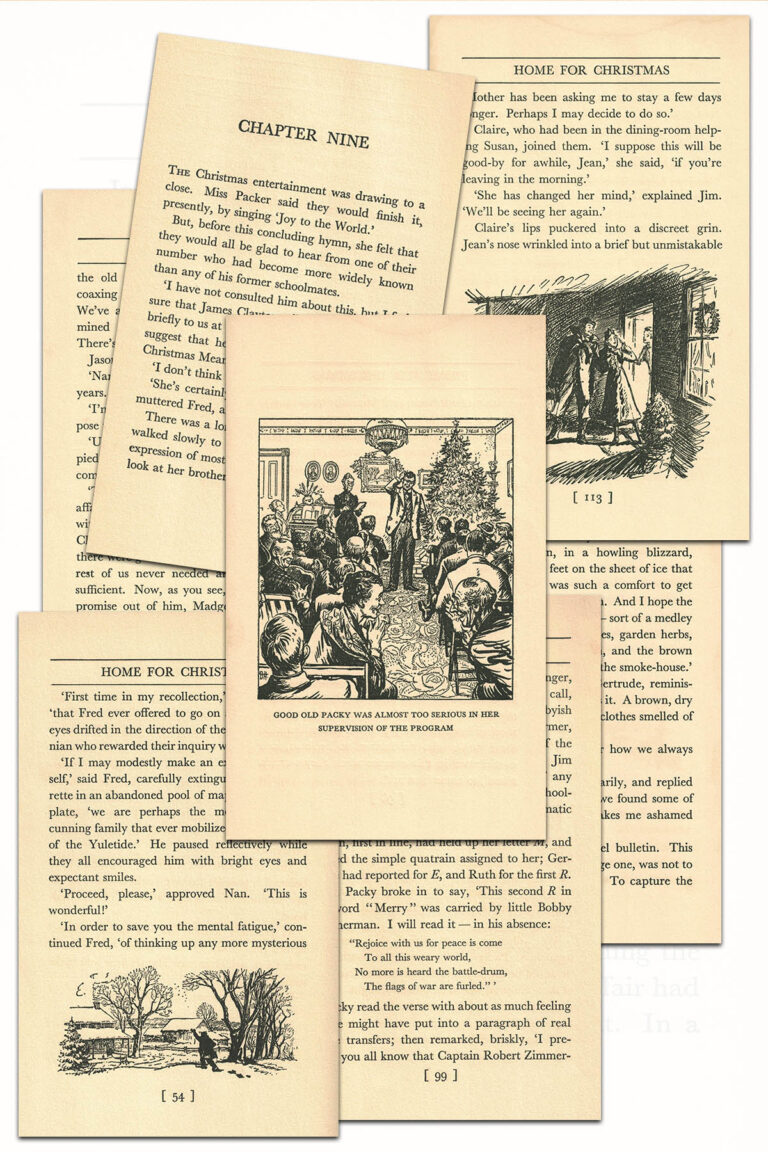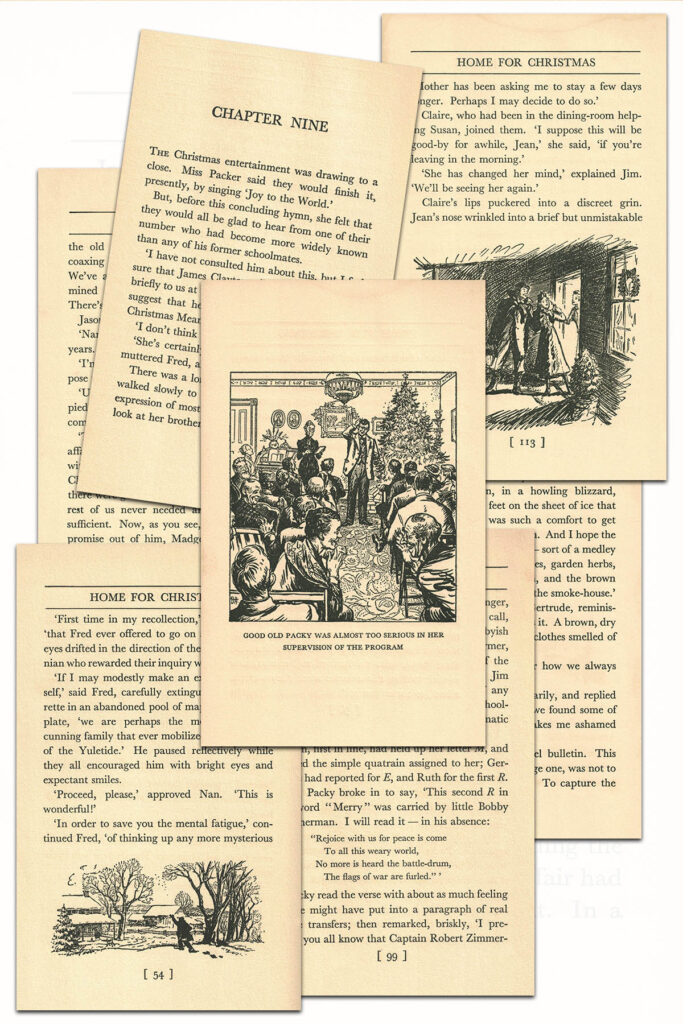 Home for Christmas by Lloyd C. Douglas is a charming holiday novel about the Clayton family. The children in the family are all grown now with children of their own. The grown children's plan for Christmas is to return to their childhood home and recreate their childhood Christmases. Although their family still owns the home, none of them have lived in it for many years. The Clayton kids' grand holiday plan includes food, period clothing, activities, decorations, and the general lively banter that they all enjoyed once upon a time when they would gather during the holiday season.
Home for Christmas is a lovely holiday story that would make a sweet Hallmark movie. It's fun getting to know each character throughout the short book and watching the siblings enjoy time together once again.
Home for Christmas is copyright 1935. Modern reprint versions are readily available online. You can also find a small selection of vintage copies.
In this post, I'm offering 24 free printable full book pages from Home for Christmas. 12 pages are full-text pages, and 12 pages have illustrations. The illustrations range in size from about one-eighth to three-quarters of a full page. All of the illustrations are charming black-and-white sketches. Enjoy!
How to use vintage Home for Christmas book pages
Most likely, when you're searching for vintage Christmas ephemera, you already know how you'll use your book pages. If you need a little inspiration or simply want a few more ideas for your printables, consider one or more of the following options.
Wall art and other home decor. Antique book pages make lovely wall art all on their own. You can also overlay them with Christmas carol lyrics, Bible passages, and other holiday messages. Old book pages are a great material for a wide range of home decor projects, such as tile coasters, decoupage, and votive candles.
Greeting cards. Vintage book pages are ideal for backgrounds and decorative elements in all sorts of homemade greeting cards. They're perfect for general family Christmas cards as well as other holiday cards, such as teacher thank you cards.
Christmas ornaments. Design Christmas ornaments for your own tree, to give as gifts, or to sell online and/or at craft fairs.
Art/junk journals. Antique book pages are a great layering material for endless art and junk journal spreads involving stamps, ink, paint, and more.
Scrapbooks. Include old book pages in your digital and physical scrapbook layouts. They're also great components for DIY scrapbook embellishments.
About the Home for Christmas book pages
You may download and print the vintage book pages as many times as you like for personal use, which includes classroom use. You may use the book pages for limited runs (5,000 items or less) of physical items to sell. Physical item use DOES NOT include made-to-order sites, such as Zazzle and Redbubble.
You may also use the book pages for limited runs (5,000 items or less) of digital items to sell. Digital items must be flat, finished pieces (i.e., not Adobe Illustrator files). The items you sell must be original content that uses the images. You may not sell the images on their own either individually or as part of larger collections.
Finally, please don't send the Home for Christmas book page download files directly. If family, friends, or co-workers are interested in their own vintage book pages, please provide them with a link to this post so that they can download their own files. Your support allows me to keep offering free printables. Thank you!
Please note: The low-resolution preview images in this post are purely intended for preview purposes. They are great for sharing on social media. They are not suitable for printing. The download links offer access to high-resolution versions of all of the book pages.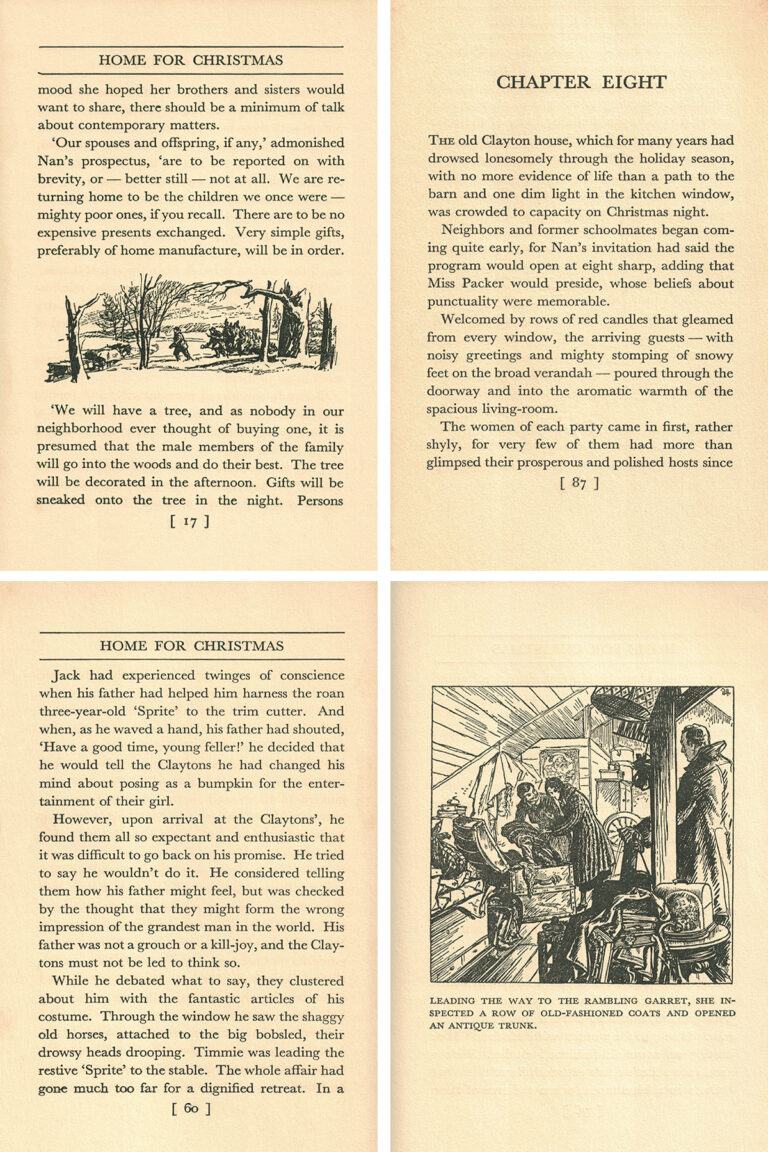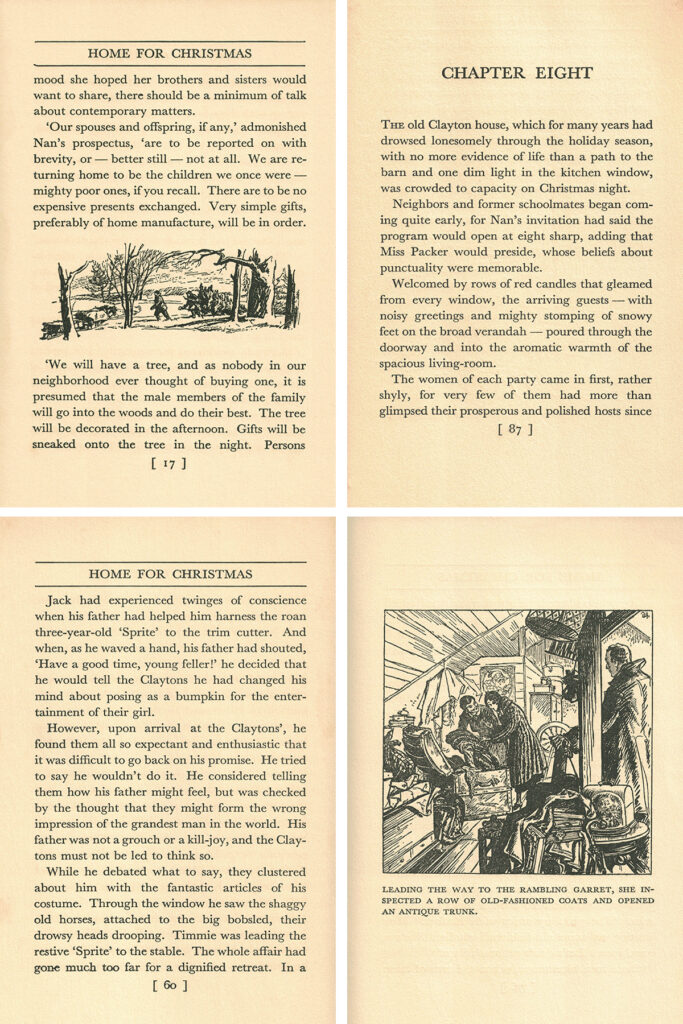 Free printable vintage Home for Christmas book page downloads
There are 24 book pages total in the vintage Home for Christmas book pages collection. 12 pages are full-text pages. 12 pages contain detailed black-and-white illustrations. Each page measures 2590 x 4250 pixels. The pages are in 300 dpi JPG format to give you the highest resolution possible.
I've split the book pages into two ZIP folders for easier downloading. Please note that it does take some time for each folder to download in full.
[Home for Christmas – Full-Text Pages]
[Home for Christmas – Illustration Pages]
I explain how to download and extract the ZIP folders in my vintage dictionary pages post. This link takes you to the specific directions you need.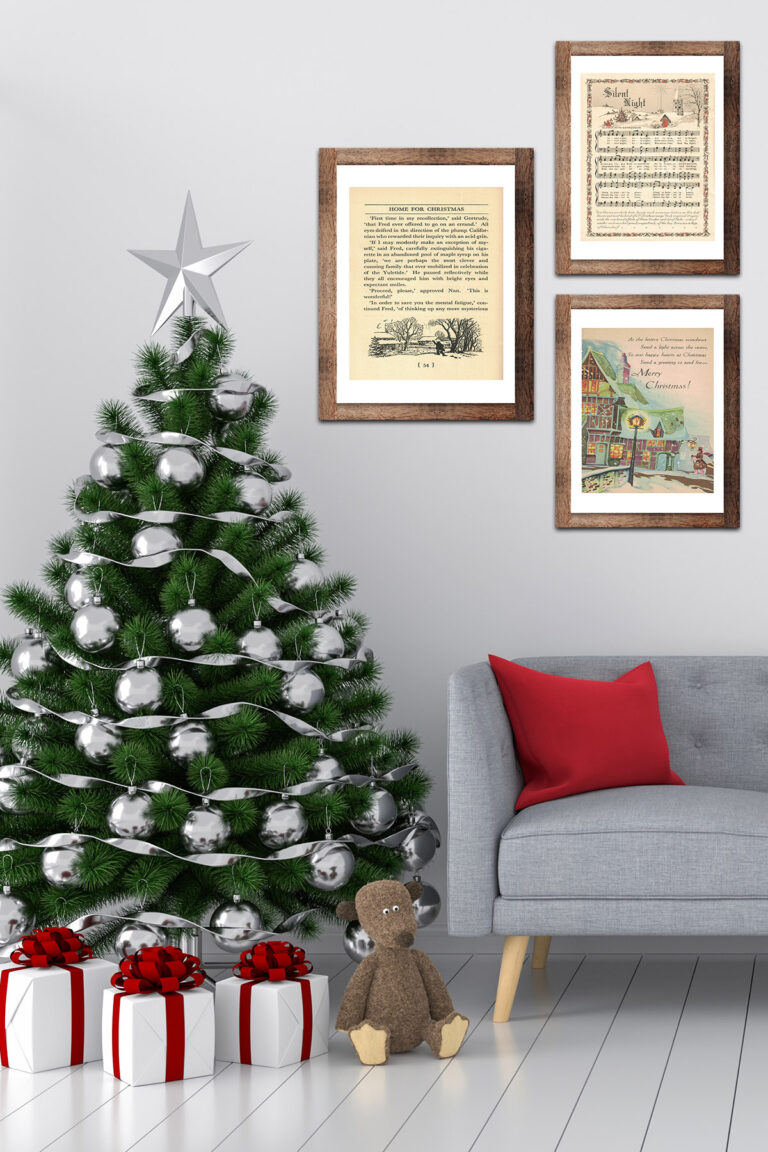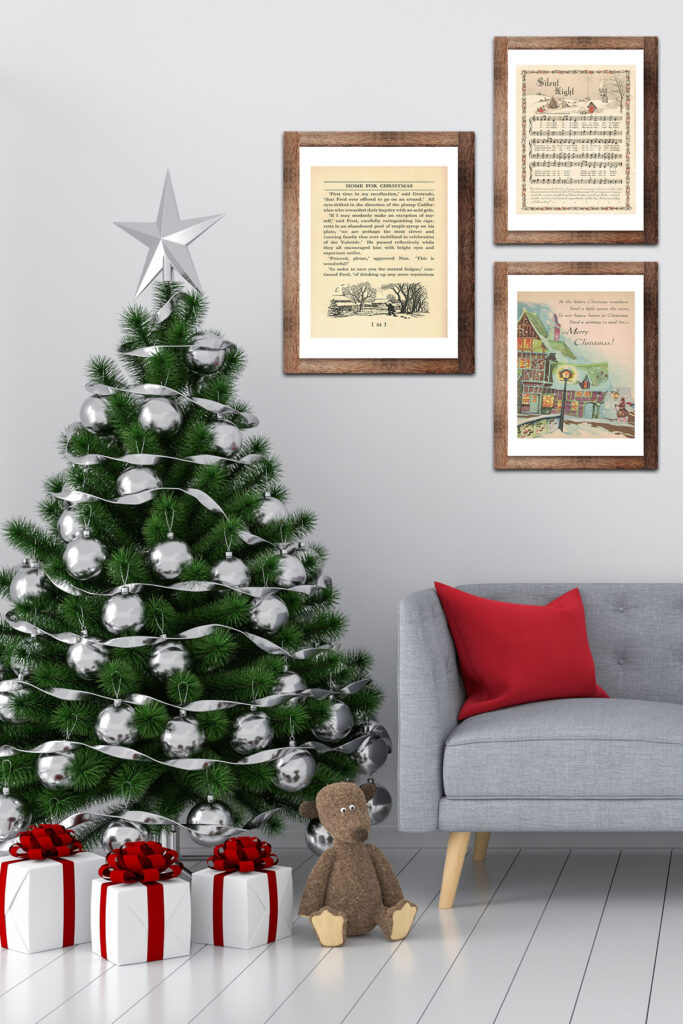 Printing the vintage Home for Christmas book pages
When you use antique book pages to make your own wall art and other home decor, I highly recommend Finestra Art Paper for at-home printing. Finestra Art Paper features an acid-free, matte surface, which dries ink quickly, producing crisp, vivid images. Personally, I prefer the aesthetic that Finestra offers over the look that you get with regular printer paper, card stock, or presentation paper.
Besides basic affiliate commissions, Finestra doesn't provide me with any sponsorship or endorsement for mentioning their products. I found their art paper through my own research and have always been happy with the results that it's offered through many years of creating decor for my own home as well as for blog posts.
When you use old book pages for DIY projects, I recommend white card stock. It's not as important that the images are as vibrant for mixed media art, greeting cards, and scrapbook embellishments. When you're creating projects that involve several coats of Mod Podge or diamond glaze, such as glass magnets, pendant necklaces, and tile coasters, you won't be able to tell any difference in the finish of the paper. As such, card stock is a great choice because it's less expensive than art paper but still high-quality and very durable.
[Disclaimer: There are a few affiliate links in this post. Thanks for your support!]
Did you use the vintage Home for Christmas book pages for wall art or holiday projects?

I want to see what you've made! Tag your images #RoseClearfield on Instagram or Twitter or post a photo to my Facebook page.
Pin this post for easy access to the free printable vintage Home for Christmas book pages later!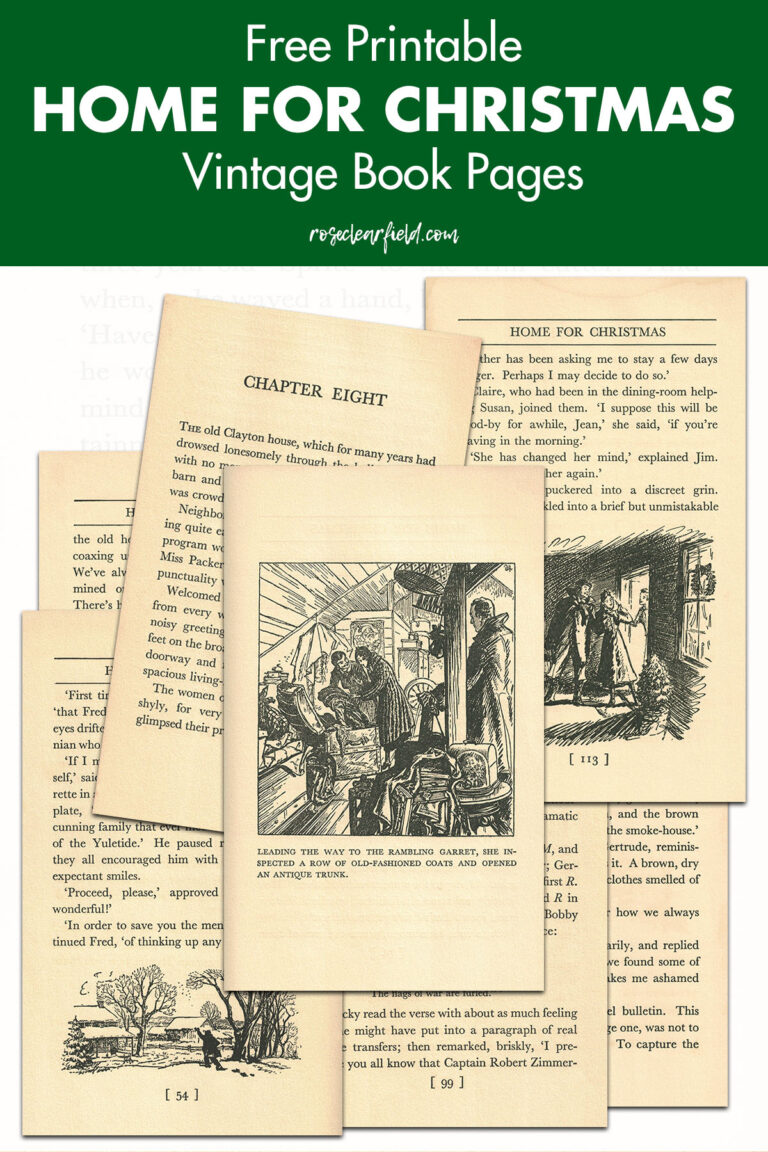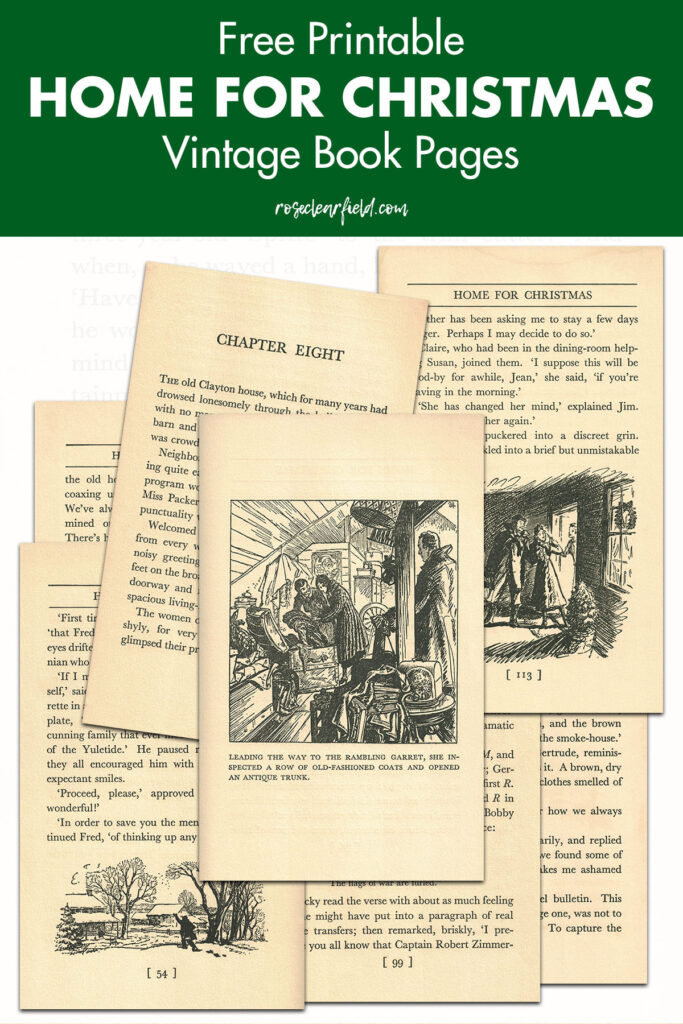 More free vintage Christmas printables: