Vintage beginner piano Christmas carols have all the charm you expect with antique sheet music, including whimsical hand-drawn illustrations.
It's no secret that I'm crazy about the aesthetic of sheet music in general, especially vintage sheet music. I've even made my own antique sheet music. However, there's nothing quite like genuine sheet music. I've released a number of vintage hymn collections, including my most popular general collection as well as sets for Easter, baptisms, prayer, and patriotic/memorial occasions.
The vintage beginner piano Christmas carols book I'm featuring in this post is from 1945. It has a lucky 13 Christmas carols, each with a charming hand-drawn illustration. The book also includes a lovely cover page and final images page and several pages covering general music and piano basics, all of which I've made available here.
I've created free printables for the 13 carols, which include a nice mix of popular sacred and secular Christmas songs. Each page measures 6160 x 4850 pixels in high-resolution 300-dpi, which is ideal for 8×10 framing and numerous DIY projects. I've made all of the pages available in both JPG and PDF formats. Enjoy!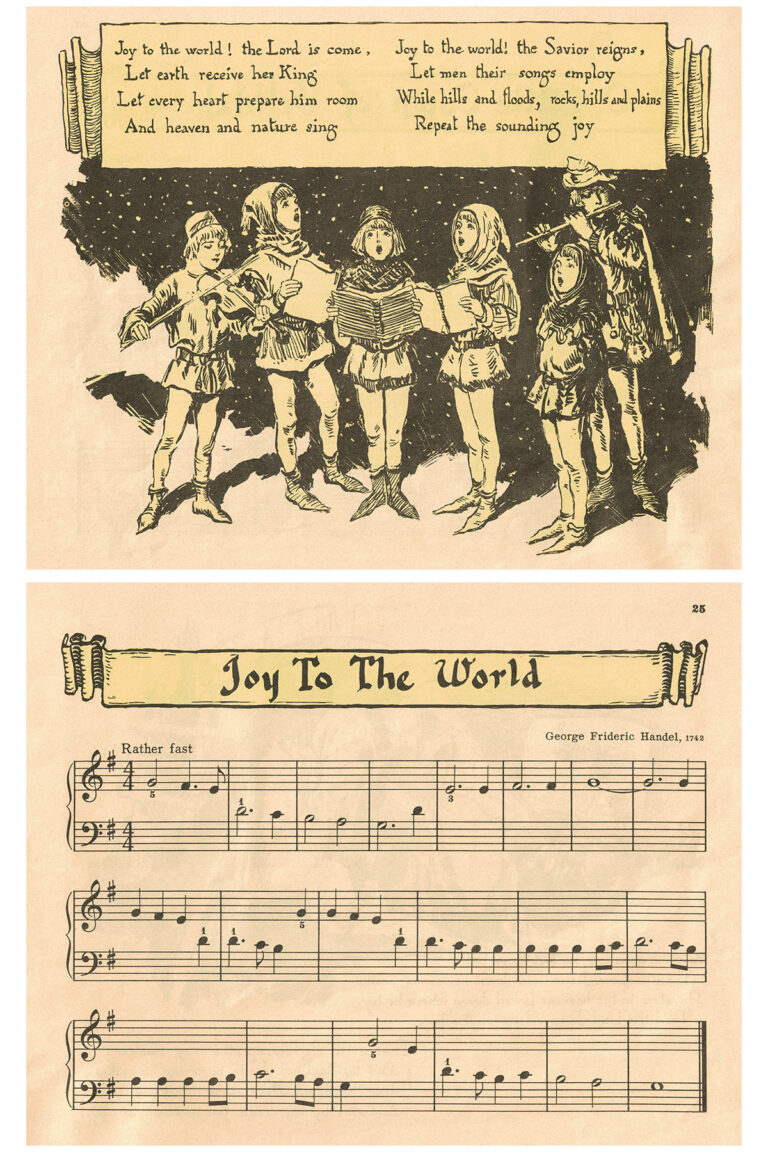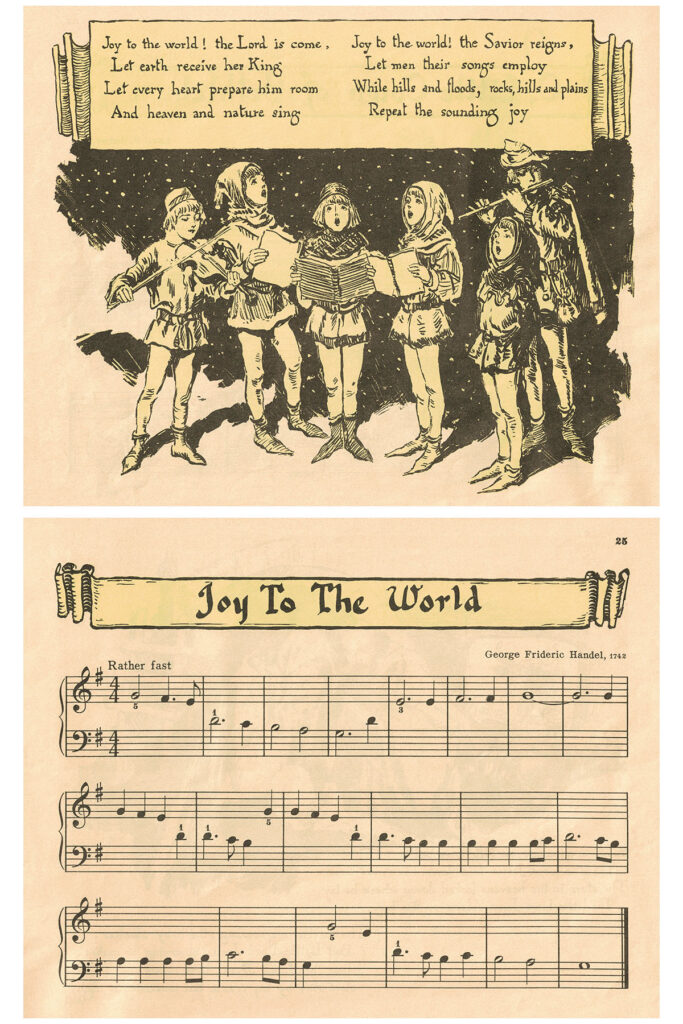 About the free printable vintage beginner piano Christmas carols
Available formats
I've made each of the pages in the beginner piano Christmas carols collection available in two formats: JPG and PDF. I know that many readers have arrived here looking for Christmas sheet music to print and play with their students or their own children. Most likely PDF format is preferable.
I also know that many readers have arrived at this post in search of vintage Christmas printables that they can use for scrapbooks/journals, greeting cards, holiday ornaments, and other craft projects. Most likely you'll want JPG format for DIY projects, as the file sizes are larger and provide more creative control.
Usage
You may use the vintage Christmas sheet music and illustrations for as many personal projects as you like. This includes classroom and church use with classes and choirs. It also includes use with individual piano students. Please do not abuse this privilege. Running a couple of dozen copies for your own students or classes is fine. Running hundreds of copies for every student in the district is not okay.
You may also use the sheet music and illustrations for limited commercial runs (5,000 items or less) of digital and physical items. Physical items DOES NOT include made to order sites, such as Zazzle and Society6. Digital items must be finished flat items (i.e., not Photoshop or Adobe Illustrator files), using the images as part of your own original content.
You are not authorized to sell the sheet music or illustration files by themselves or as part of larger collections. The physical and digital content you're creating to sell must be original.
Finally, please don't distribute the download files to friends, family, or co-workers. If people you know would like their own Christmas piano music and illustrations, please send them a link to this post, so they can download their own files. Thank you!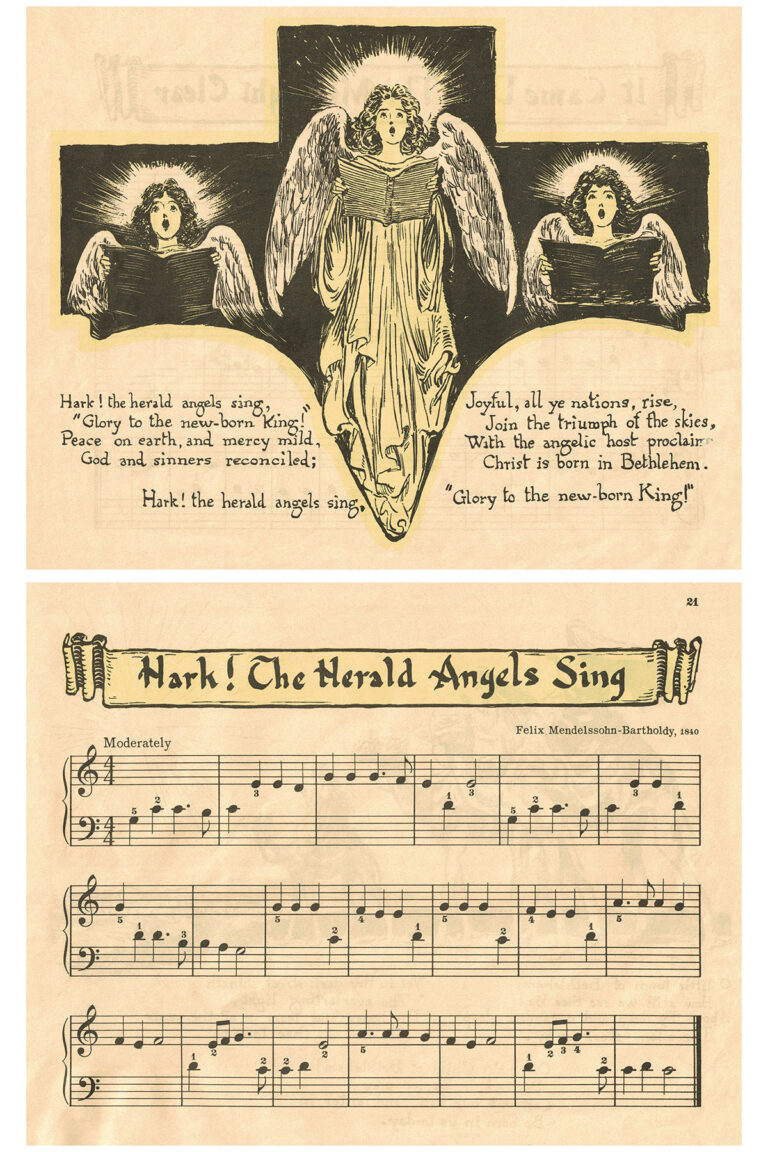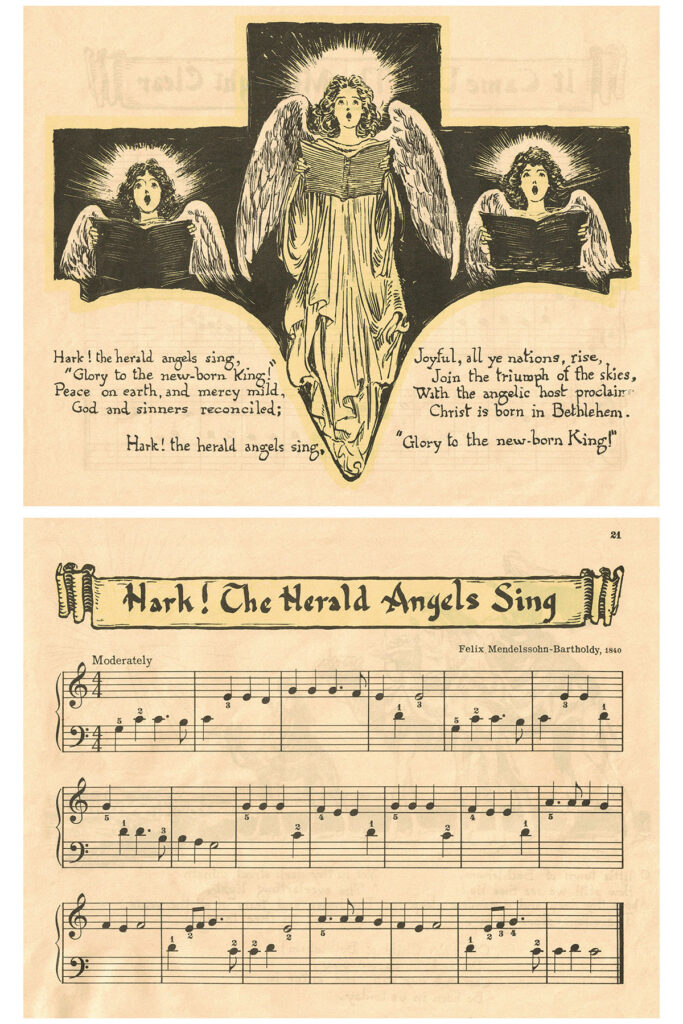 Free printable vintage beginner piano Christmas carols
Please note: I've made all of the beginner piano Christmas carols available in JPG and PDF format. Each folder for a specific piece of music includes the sheet music AND accompanying illustration. You can also download the full sets of sheet music and illustrations at the end of this section. I've split both of the full sets into two folders each to make the download process go a little more smoothly.
[Vintage Beginner Piano Christmas Carols – Full Set of Sheet Music – JPG – Part 1 | JPG – Part 2 | PDF – Part 1 | PDF – Part 2]
[Vintage Beginner Piano Christmas Carols – Full Set of Illustrations – JPG – Part 1 | Part 2 | PDF – Part 1 | PDF – Part 2]
Additional pages
In addition to the sheet music and illustrations, there are a few other pages from the beginner Christmas carols book that I wanted to include for you.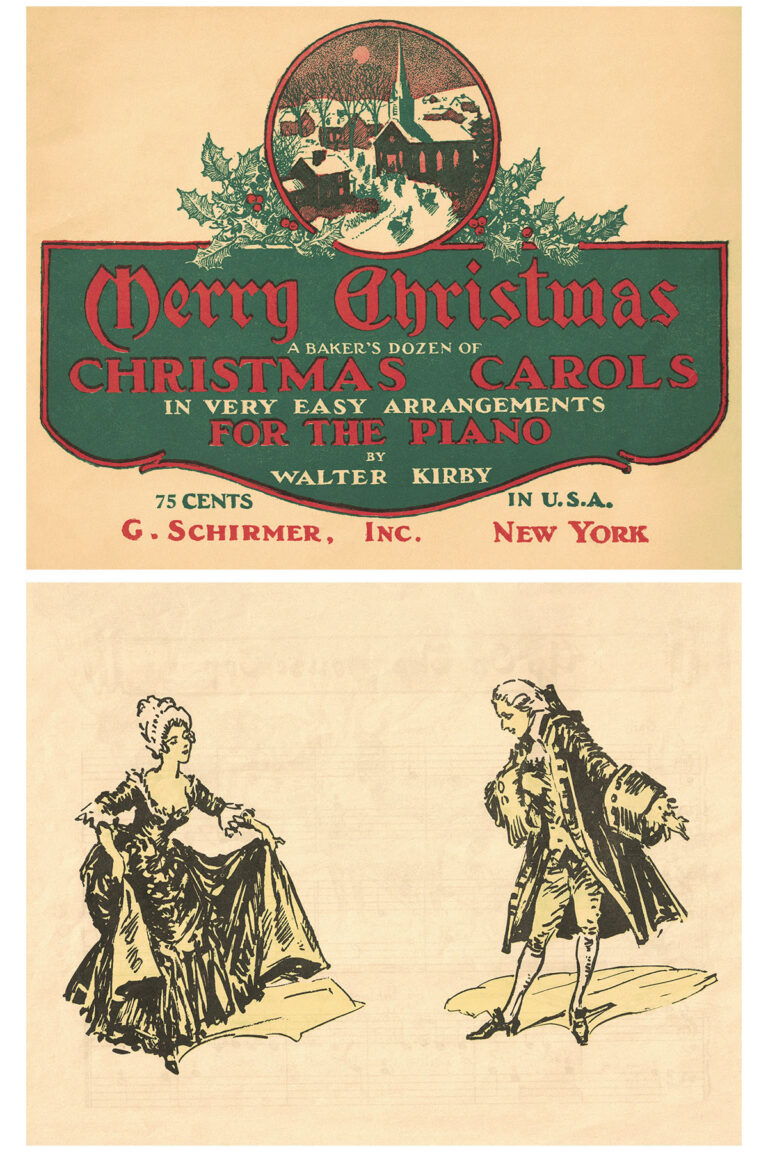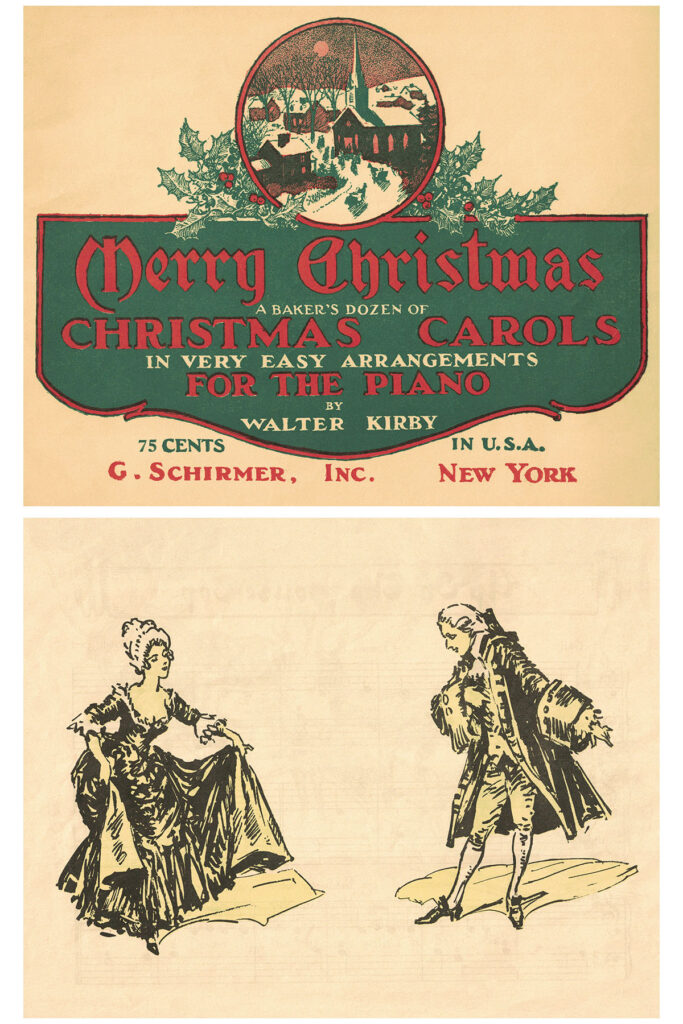 Covers and final image
I love the font, layout, and illustrations for the piano book exterior and interior covers. The book also includes a final page with an illustration of a man and a woman dancing that doesn't go with any particular song.
[Vintage Beginner Piano Christmas Carols – Cover and Final Image – JPG | PDF]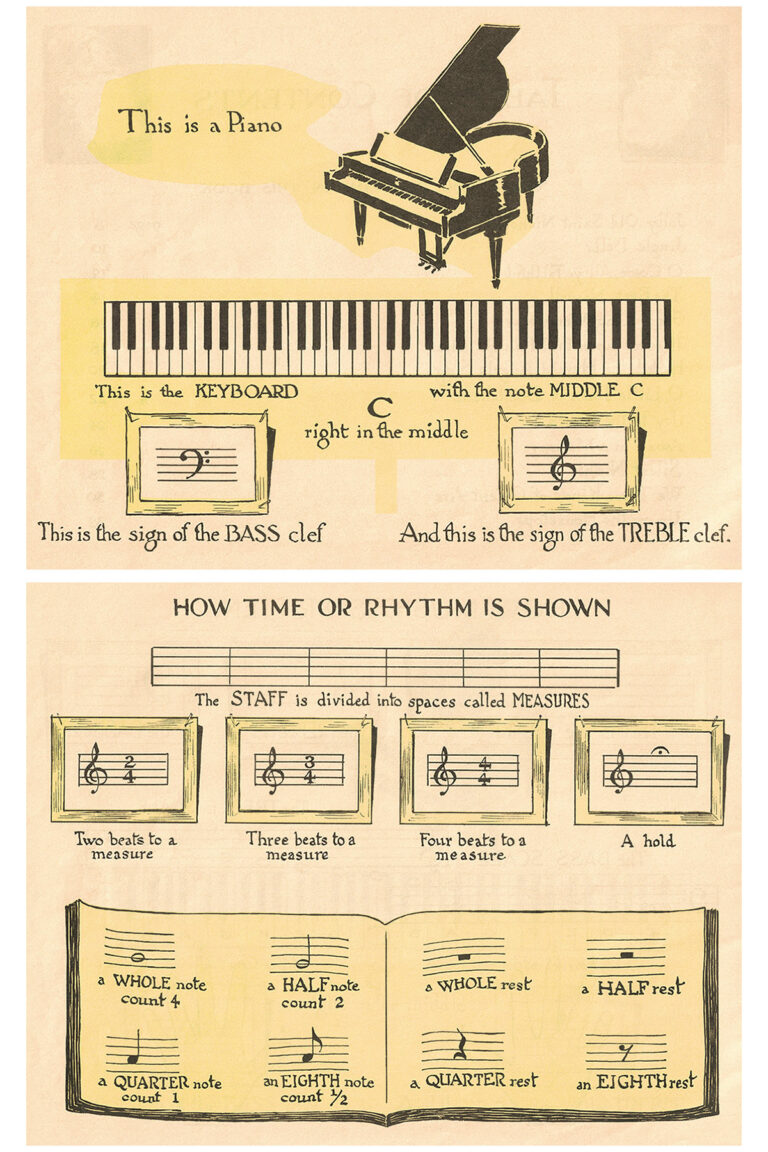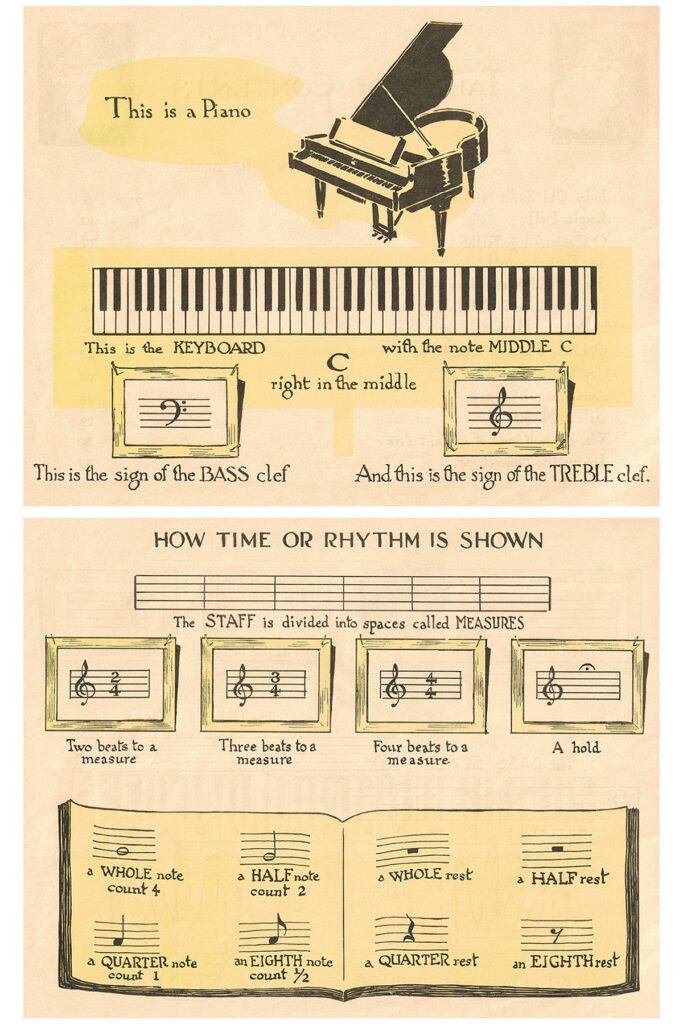 Music basics
As with many beginner instrument books, this collection includes a few pages that cover music basics, such as the treble and base clefs, sharps and flats, and how time or rhythm is shown. There are also a few elements that are specific to playing the piano, such as where middle C is on the keyboard and which numbers are used for which fingers in piano sheet music.
[Vintage Beginner Piano Christmas Carols – Music Basics – JPG | PDF]
Extracting and downloading the full ZIP folders
I've created ZIP folders for all of the JPG versions and the larger sets of PDF versions of the vintage beginner piano Christmas carols and illustrations. Zipped folders allow me to provide high-resolution images and to protect the files from potential theft. Extracting and downloading the ZIP folders from Google Drive is pretty straightforward. Please note that it may take a little time to get each folder downloaded completely, especially the larger folders.
When you click on the download link, select the Open with ZIP Extractor option at the top of the page.
The folder will open in a new window. The files will download.
Once the files have downloaded, click Extract Now.
When the files have extracted and uploaded, click View Extracted Files.
Double click on the folder.
To download, select the files you want to download. Click the three horizontal dots More Actions button. Choose Download.
Follow the prompts on the download screen.
I strongly suggest moving your downloaded files out of your downloads folder and into your main photos folder. I also recommend creating a second copy on an external hard drive or cloud storage drive. Keep your files in a folder labeled "Vintage Beginner Piano Christmas Carols" or something similar, so you're able to find them easily.
Now you're ready to print your new sheet music and illustrations for holiday home decor and craft projects!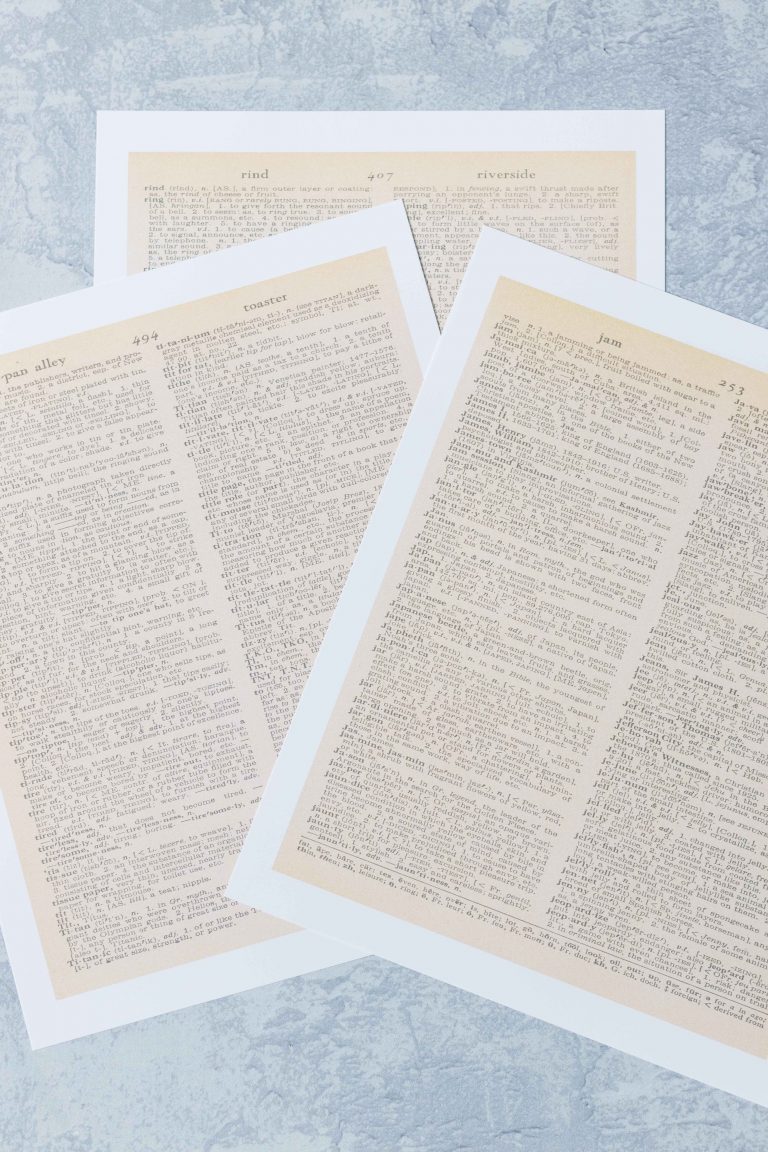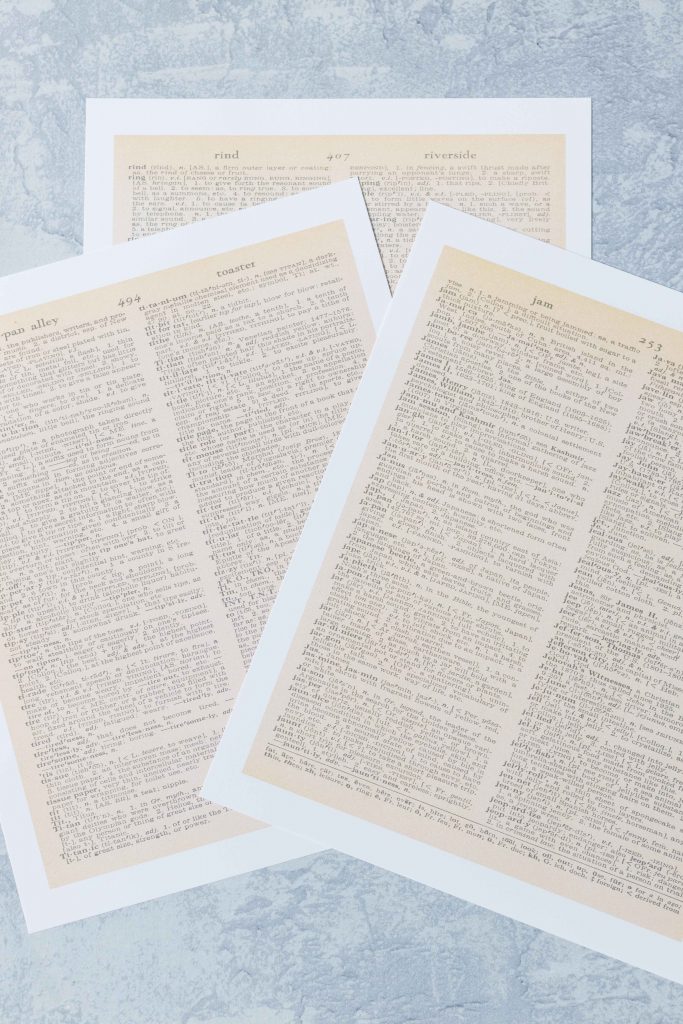 Printable vintage sheet music and illustrations
When you use antique book pages and illustrations to create one-of-a-kind wall art, my personal recommendation for at-home printing is Finestra Art Paper. I used Finestra paper to print the vintage dictionary pages pictured above. The paper has an acid-free, matte surface that dries ink quickly to produce crisp, vivid images. Regular printer paper, card stock, and presentation paper do work. However, they don't produce results that are quite as nice. It's worth spending a little extra to get the right paper for the job, creating beautiful holiday home decor with a professional finish.
For all other journal and DIY projects, I use white card stock. When you're including sheet music elements and illustrations in greeting cards, scrapbook embellishments, mixed media art, and other holiday projects, it's not important that the pages are so vibrant. For tile coasters, pendant necklaces, and magnets, you won't be able to tell any difference under multiple coasts of diamond glaze or Mod Podge.
[Disclaimer: There are a few affiliate links in this post. Thanks for your support!]
Are you using the vintage beginner piano Christmas carols for home decor or DIY projects?

I want to see your pics! Tag your images #RoseClearfield on Instagram or Twitter or post a photo to my Facebook page.
Pin this post for easy access to the free printable vintage beginner piano Christmas carols later!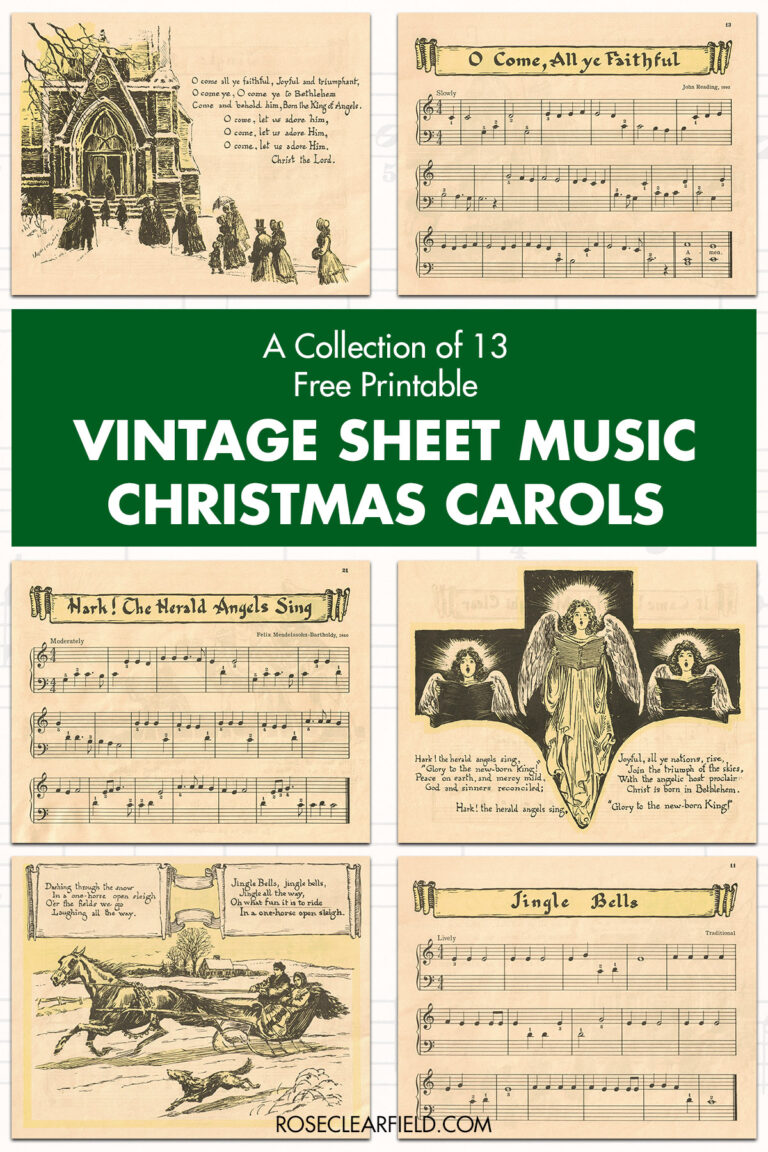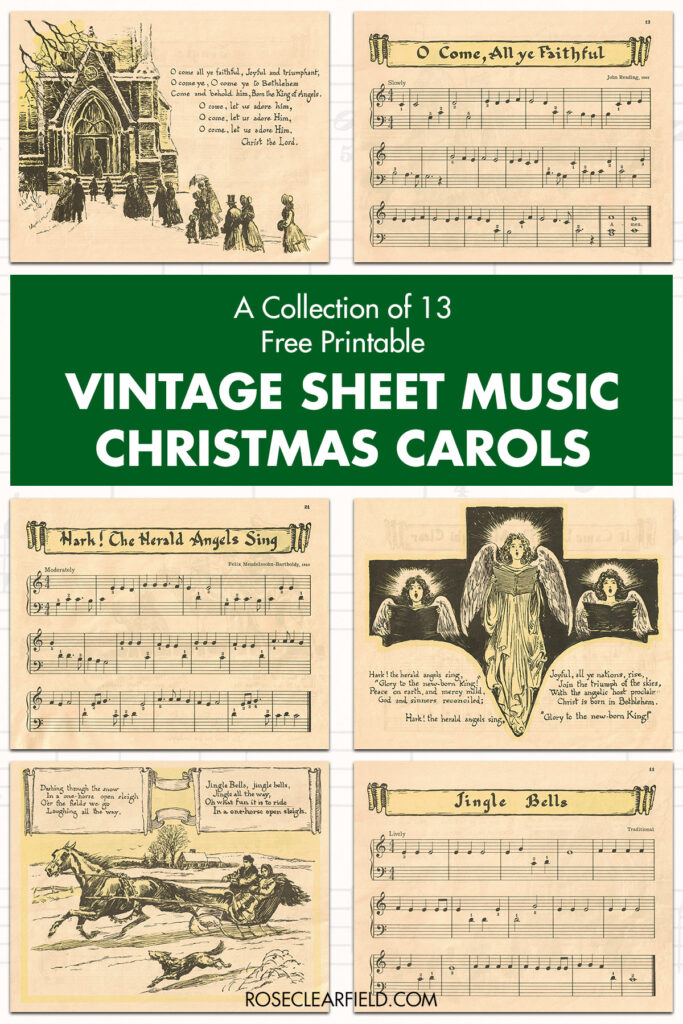 More free Christmas printables:
Head to the free printables section of the blog for additional sheet music printables as well as lots more seasonal and holiday printables!