Free printable fall recipe cards are perfect for autumn bridal showers and gift giving.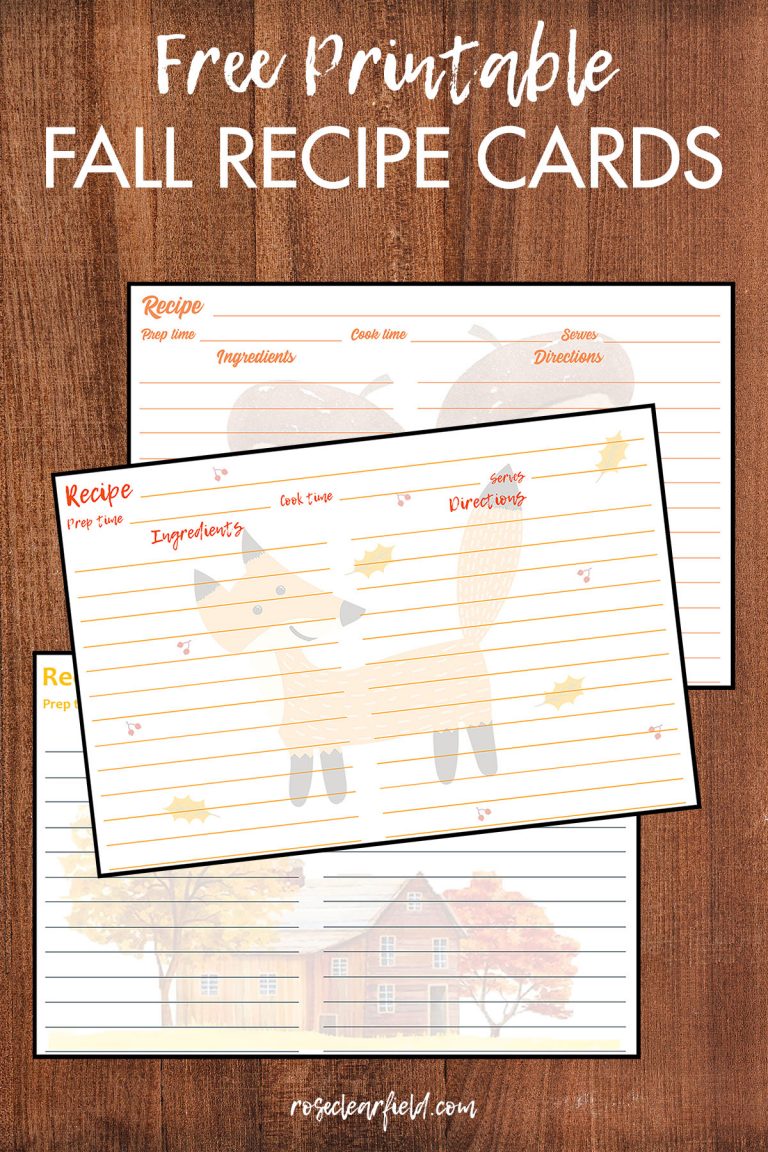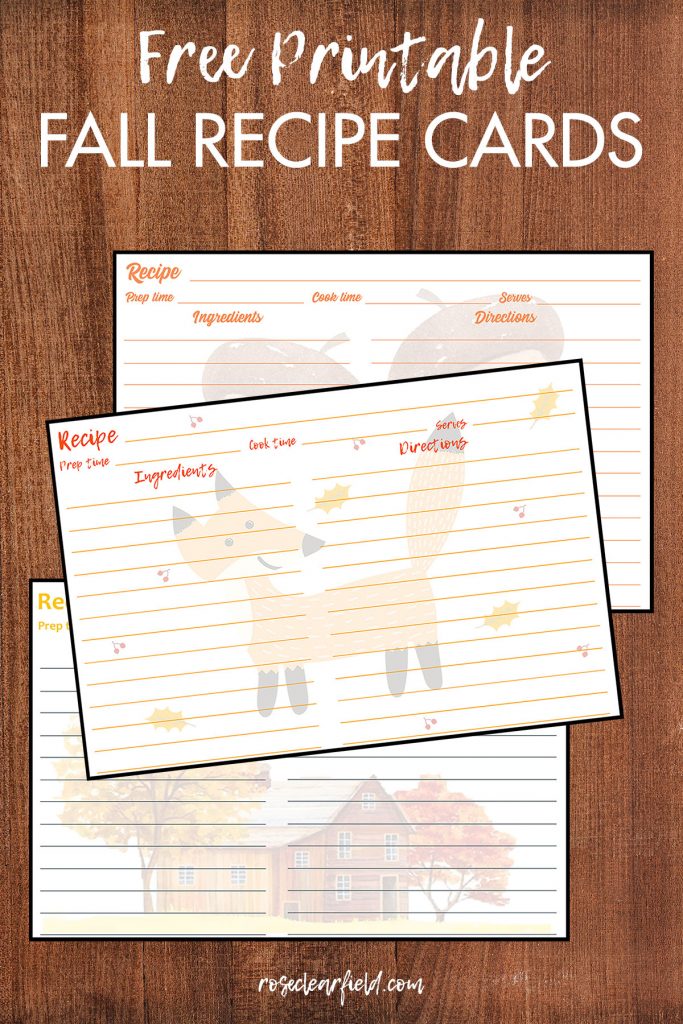 Recipe cards make a great gift for all sorts of occasions, including but not limited to, bridal showers, baby showers, weddings, Christmas, Mother's Day, and birthdays. I've created 12 free printable fall recipe card designs for all of your autumn showers and other gift giving needs.
How can I use the free printable fall recipe cards?
For autumn baby or bridal showers. Most likely you've arrived at this post because you're planning a woodland or other fall-themed baby or bridal shower. Creating a collection of recipe cards is a perfect shower activity that makes a wonderful gift for the mom- or bride-to-be. Include recipe cards in the invitations, so guests come prepared with recipes.
As part of a Christmas, Mother's Day, or birthday gift. There are numerous other occasions where you may create a recipe gift for a loved one, including Christmas, Mother's Day, and birthdays.
As part of a food gift. When you're bringing someone homemade food after they've had a baby or are recovering from surgery, it may be nice to provide the recipe. Including the recipe on a custom recipe card adds a personal touch to the gesture.
For a dinner club or potluck dinner. Similarly, when you're bringing a dish you know will be a huge hit for a dinner club or potluck, it's good to be prepared with extra copies of the recipe.
To document your own fall recipes. I'll be honest: one reason I post original recipes on this blog is to create a record for myself. It's crazy how easy it is to lose track of recipes or forget how you made a dish, even when it's one that you love. Having lovely autumn recipe cards on hand will help motivate you to keep writing down your recipes.
About the free printable fall recipe cards
The free printable fall recipe cards are for personal use only. You may print them as many times as you like for showers, gifts, and other personal uses. Please don't distribute the files. If family and friends are interested in their own autumn recipe cards, please direct them to this post. Thank you!
I've included black borders on the preview images, as it gets confusing having so much white space. The recipe cards don't have black borders. Please don't save the preview files and attempt to print with them. They are low-resolution and not formatted properly for printing. Use the download files to ensure your recipe cards are properly formatted for 3×5 or 4×6 cards.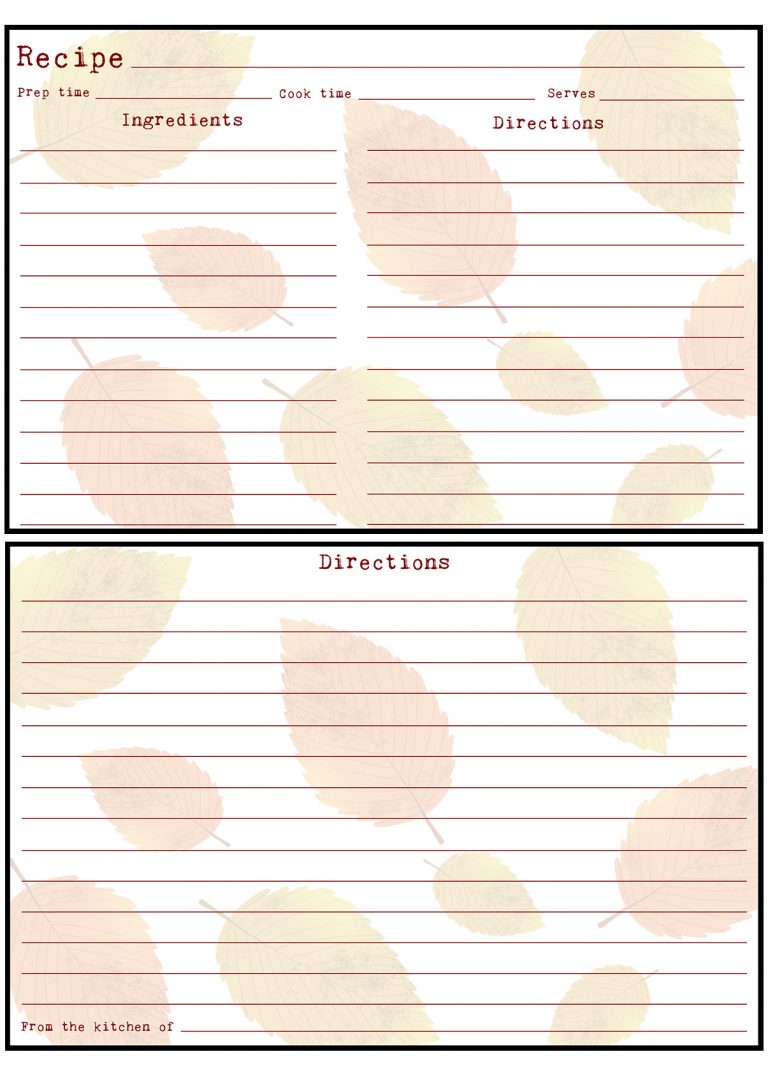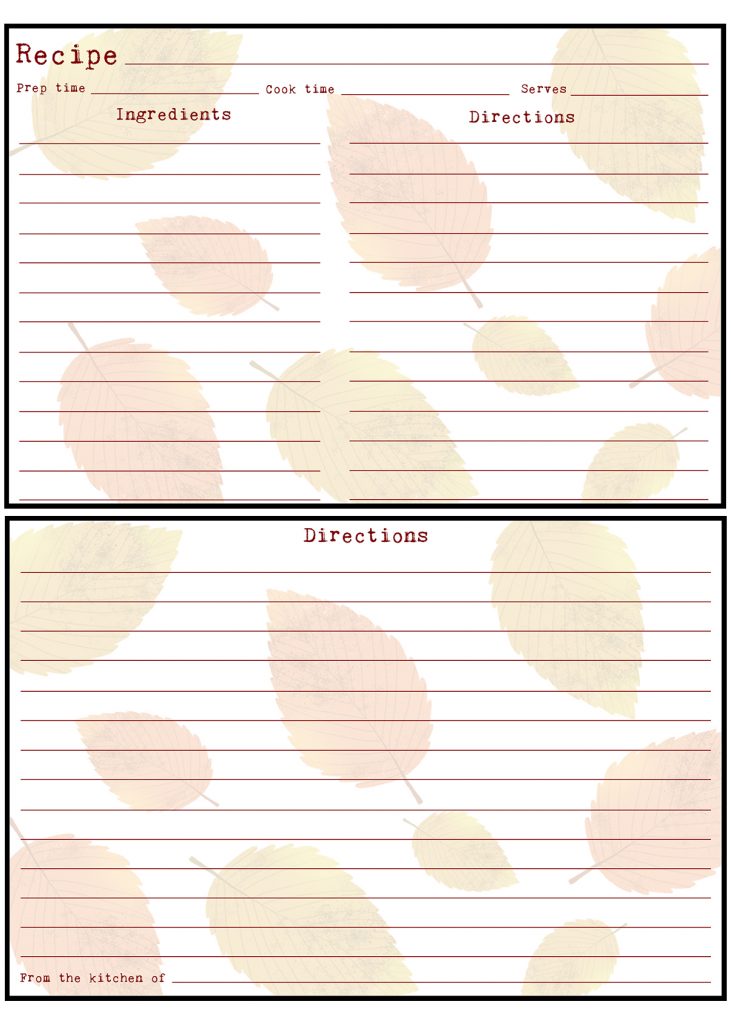 Leaves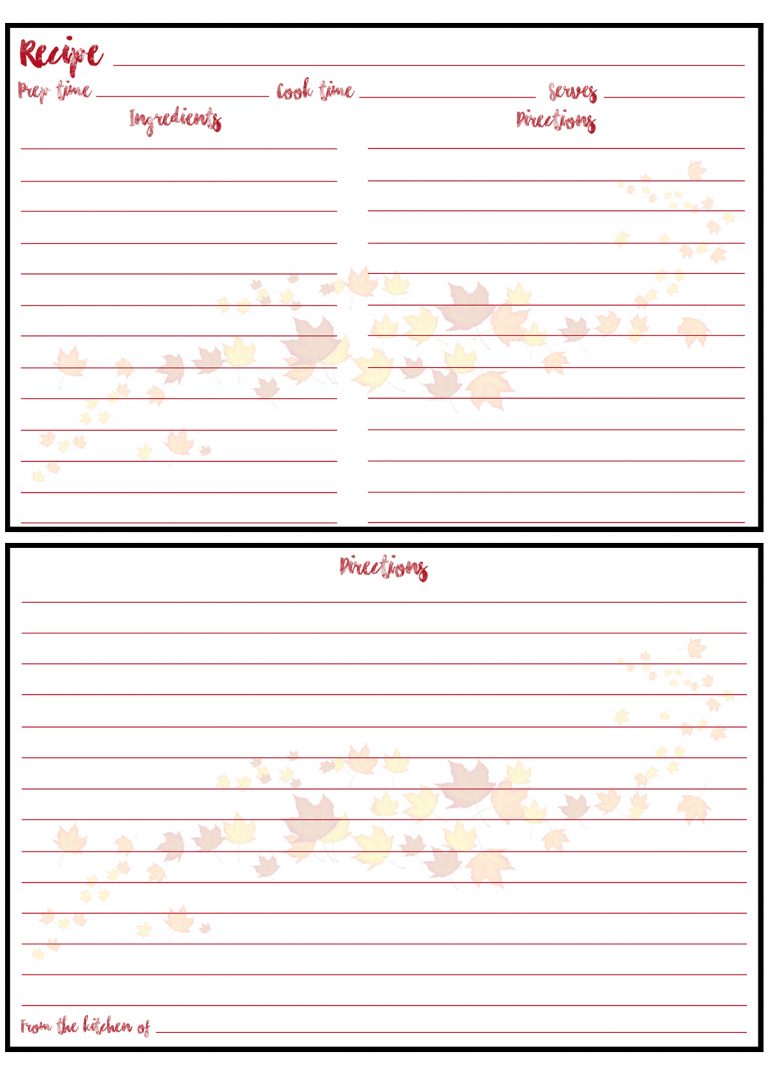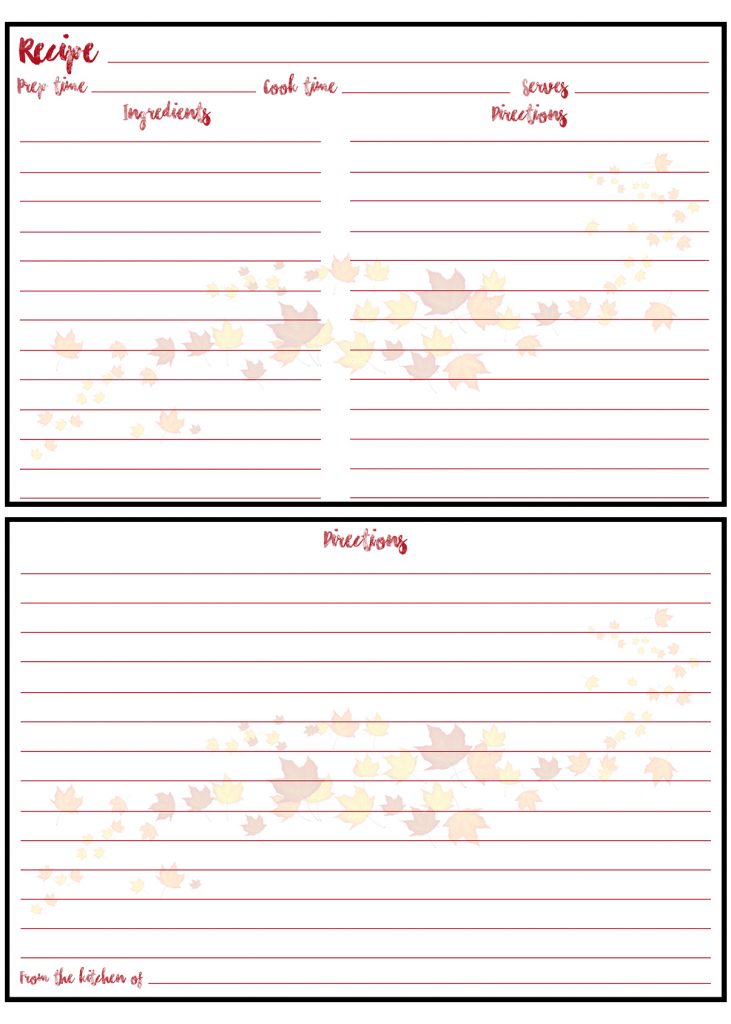 Scattered leaves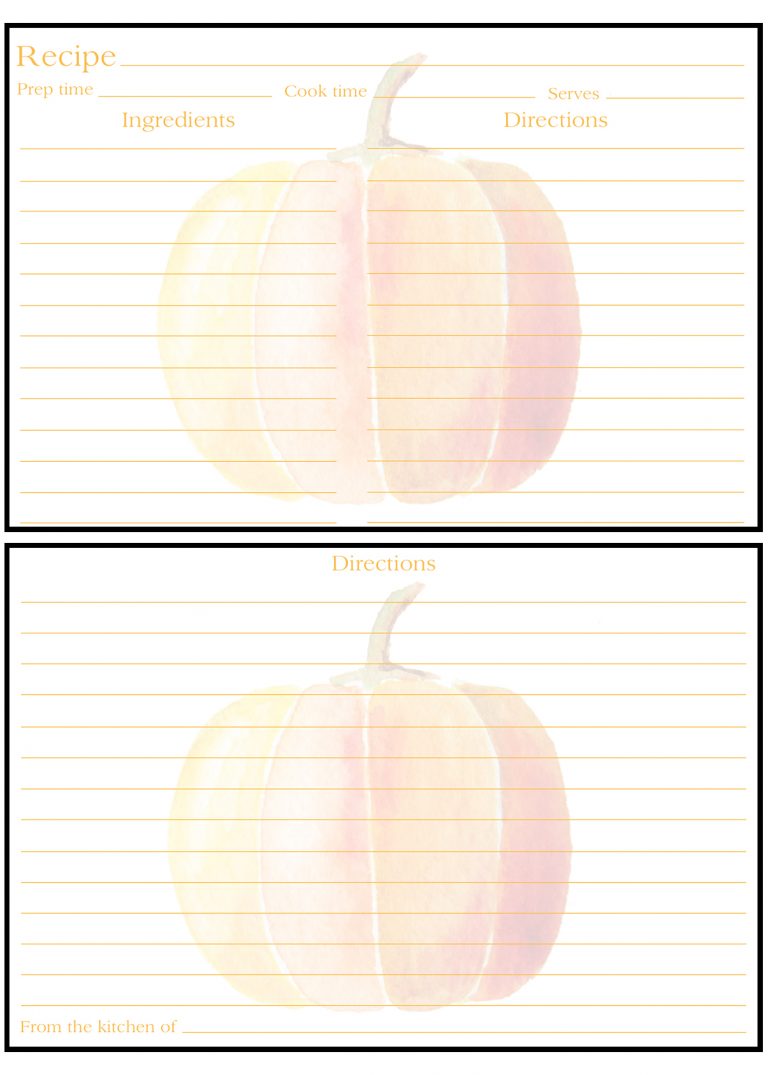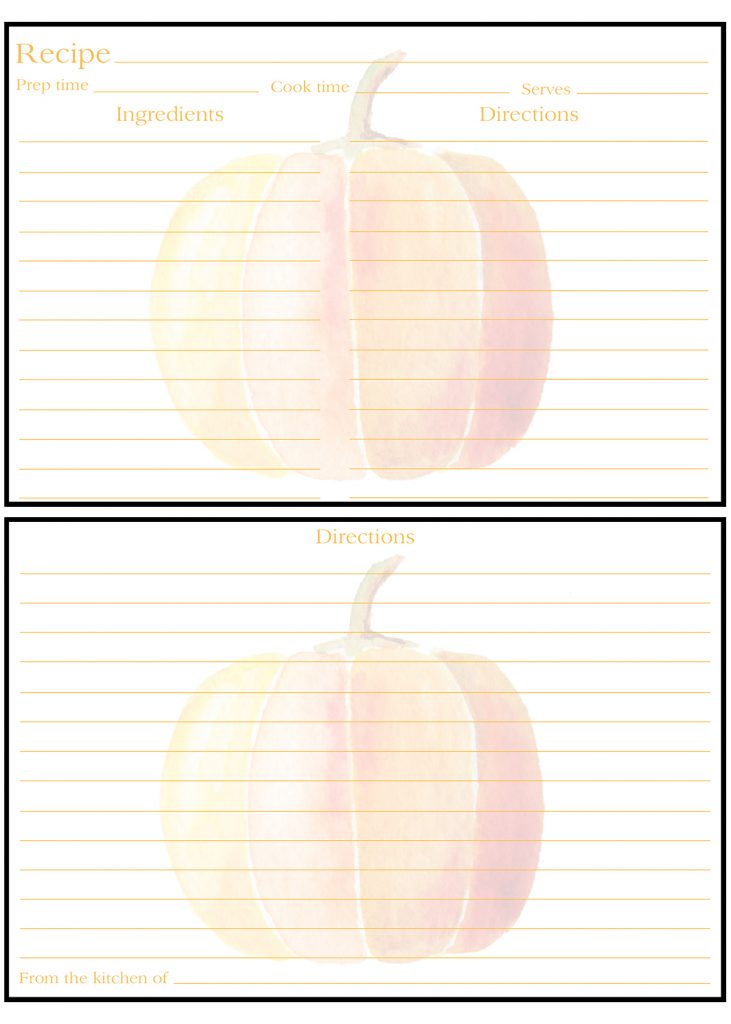 Pumpkin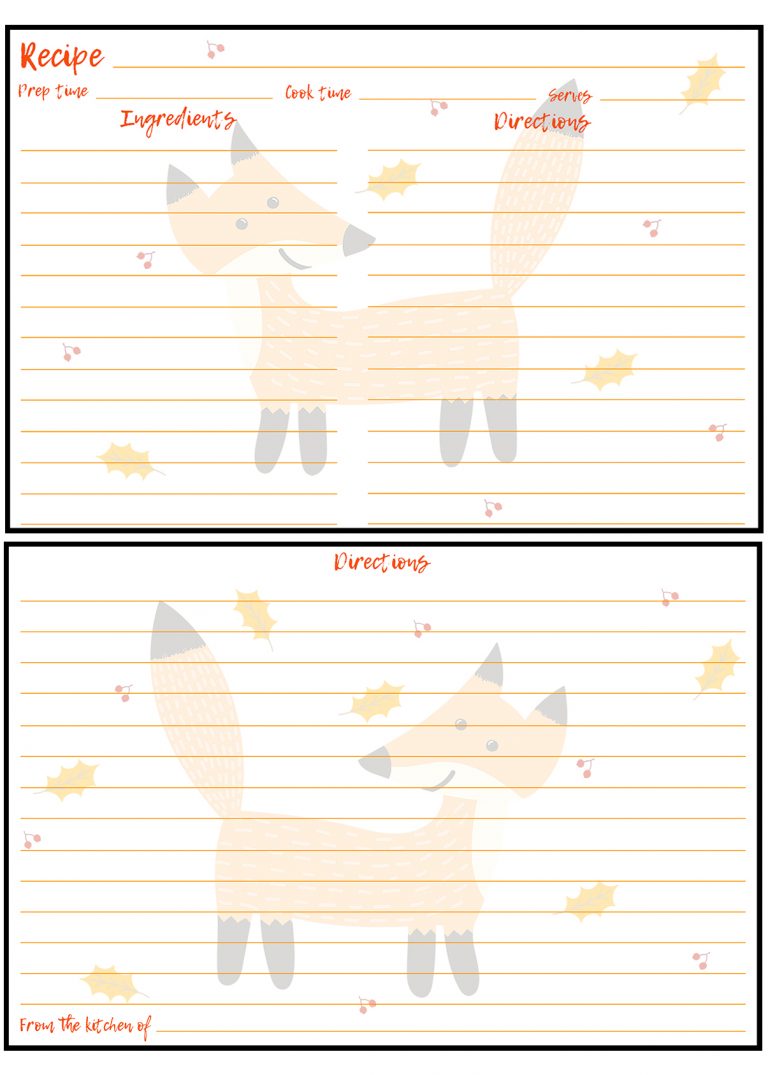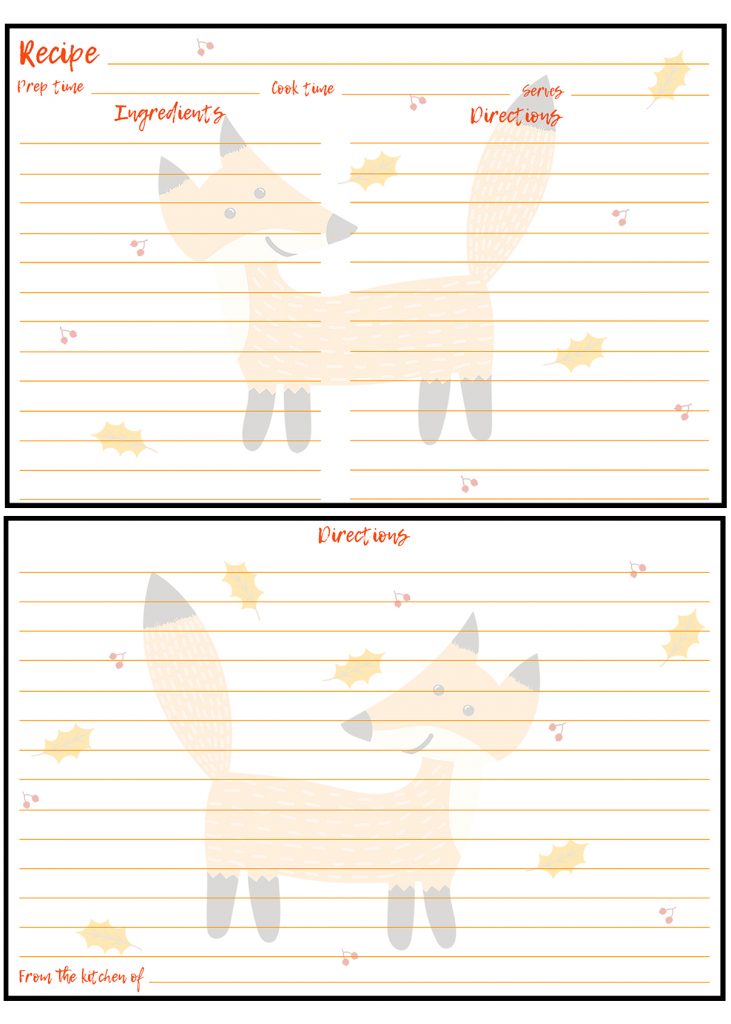 Fox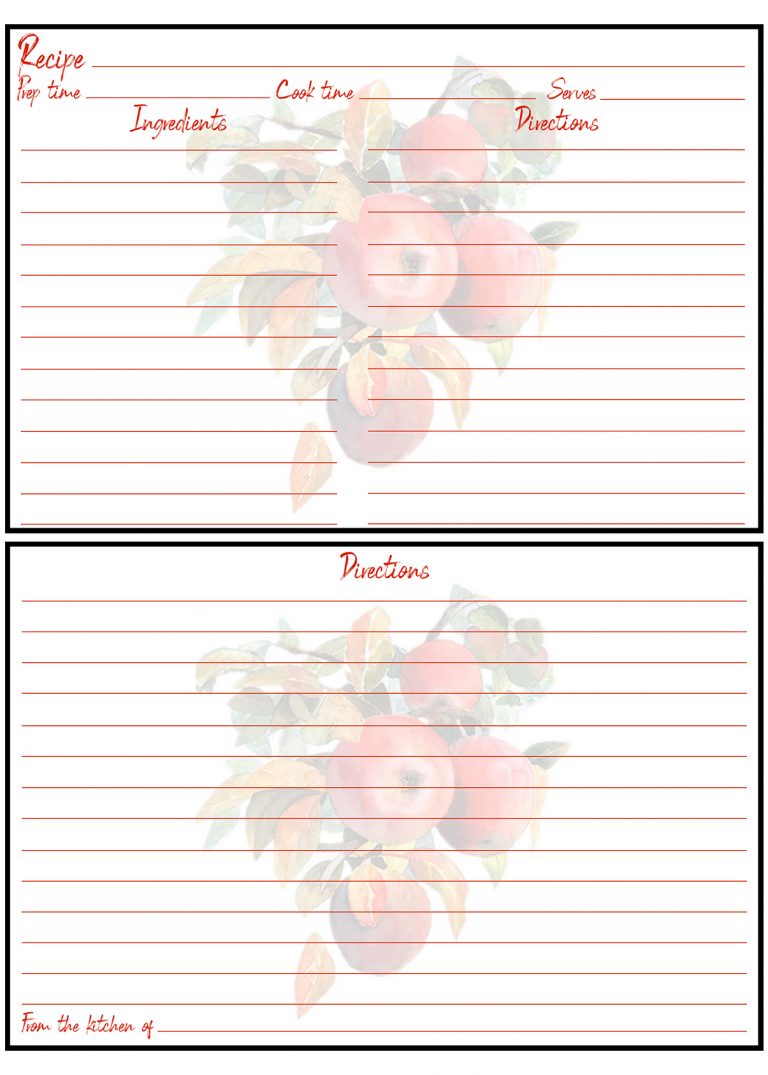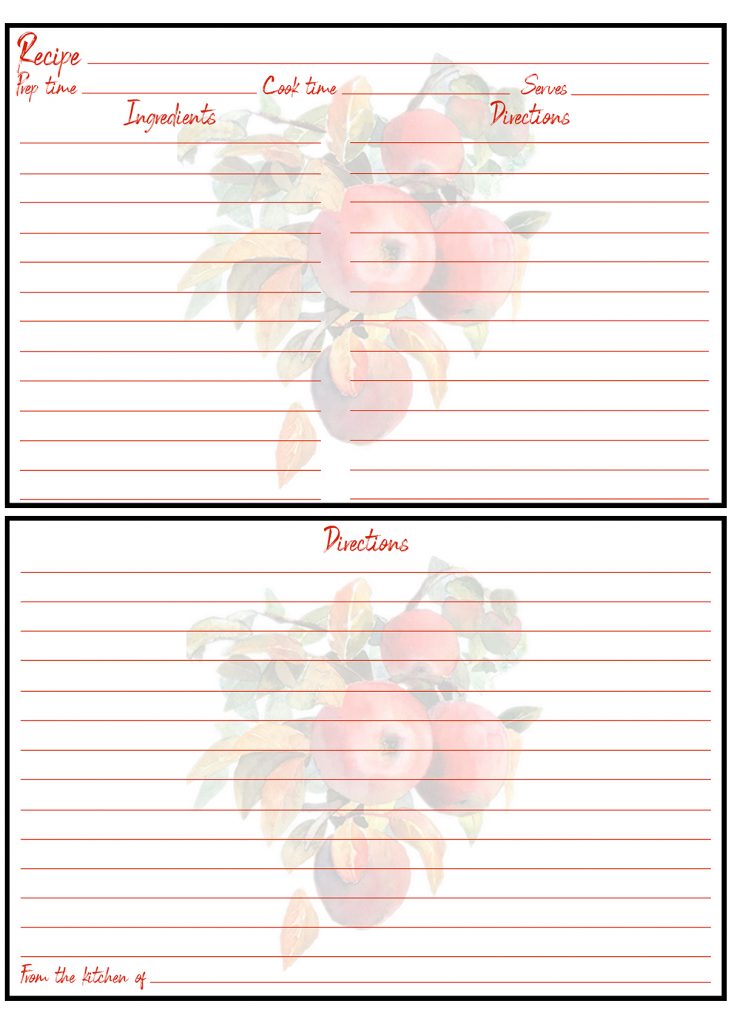 Apples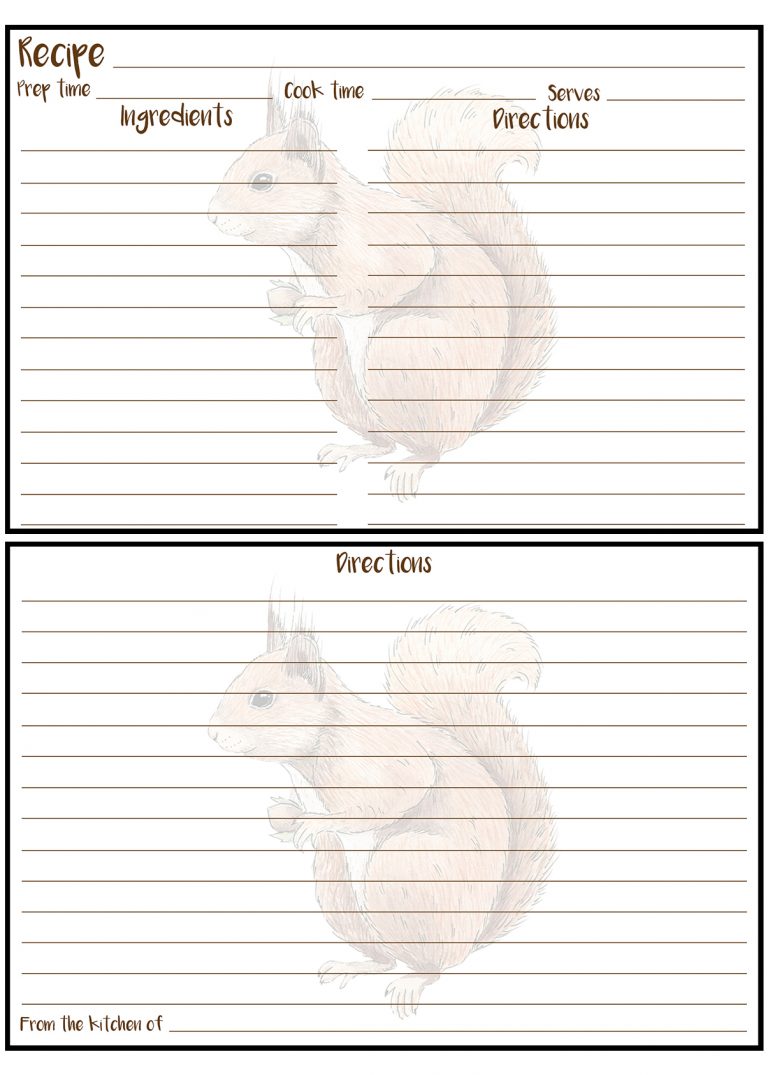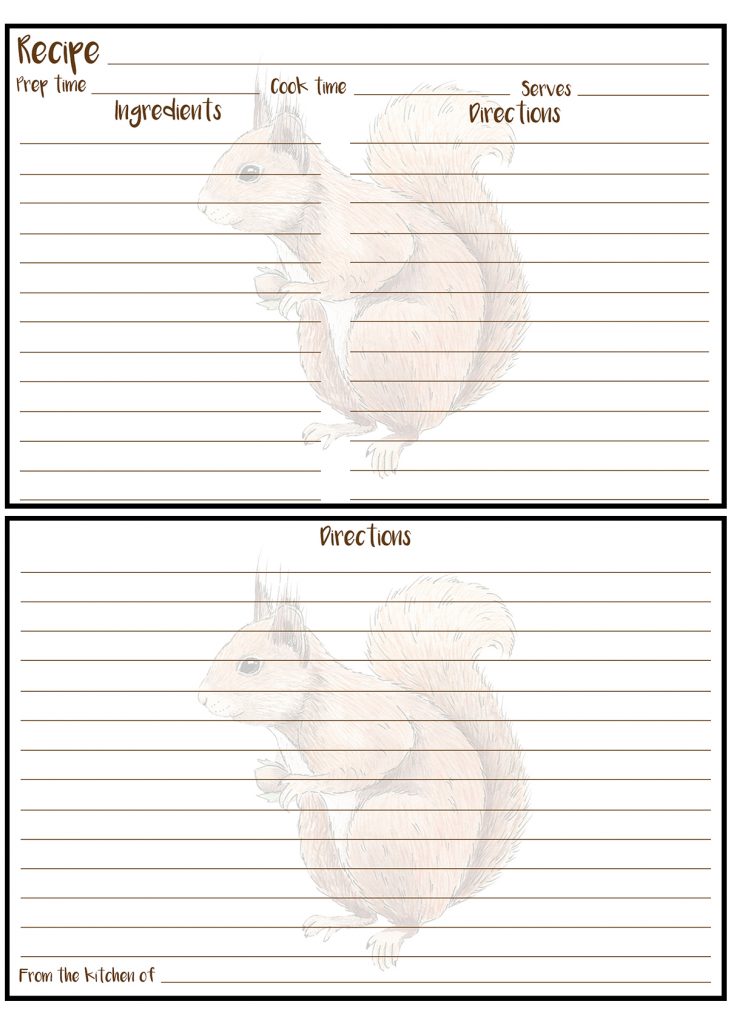 Squirrel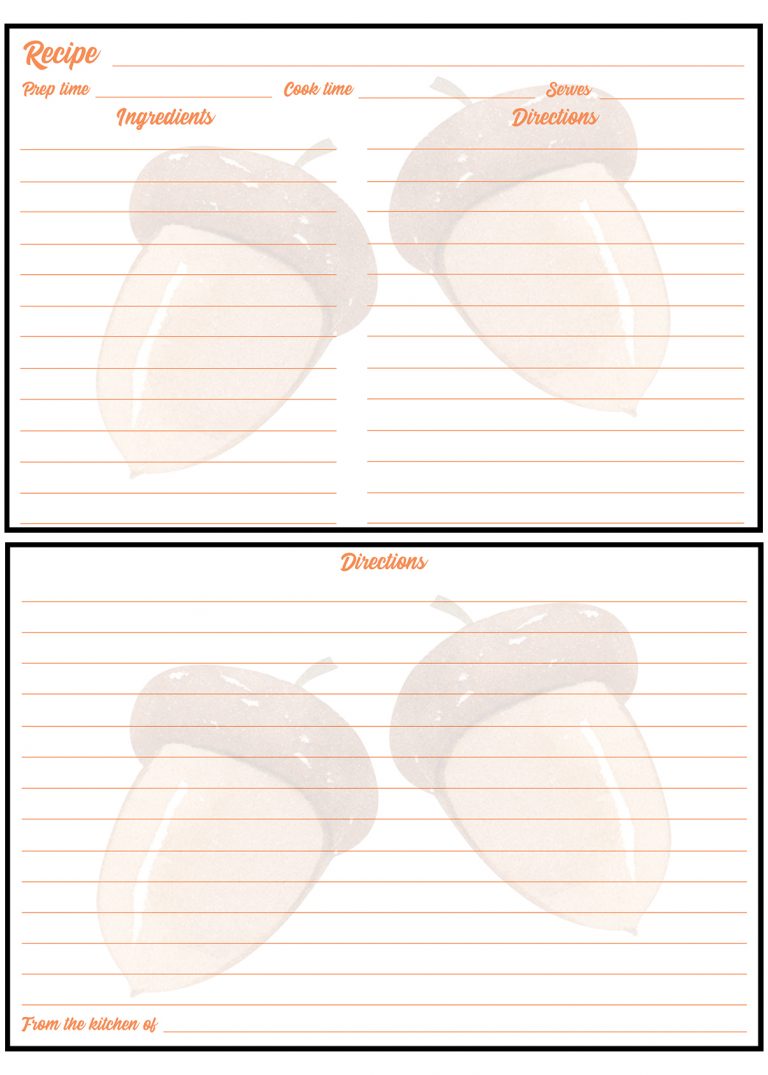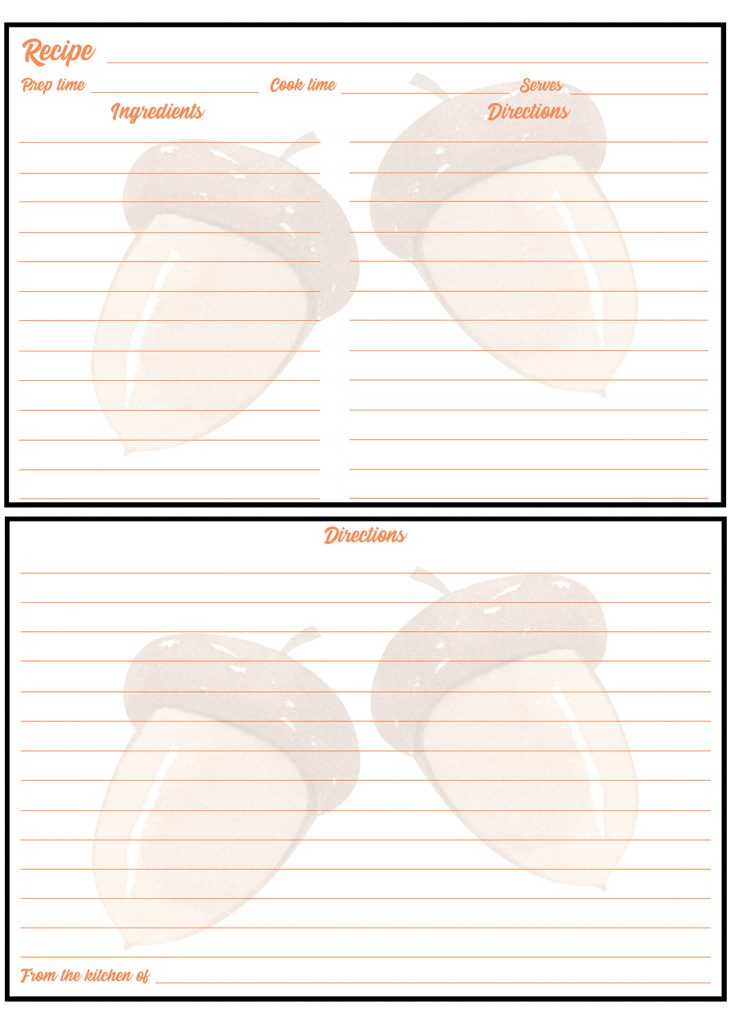 Acorns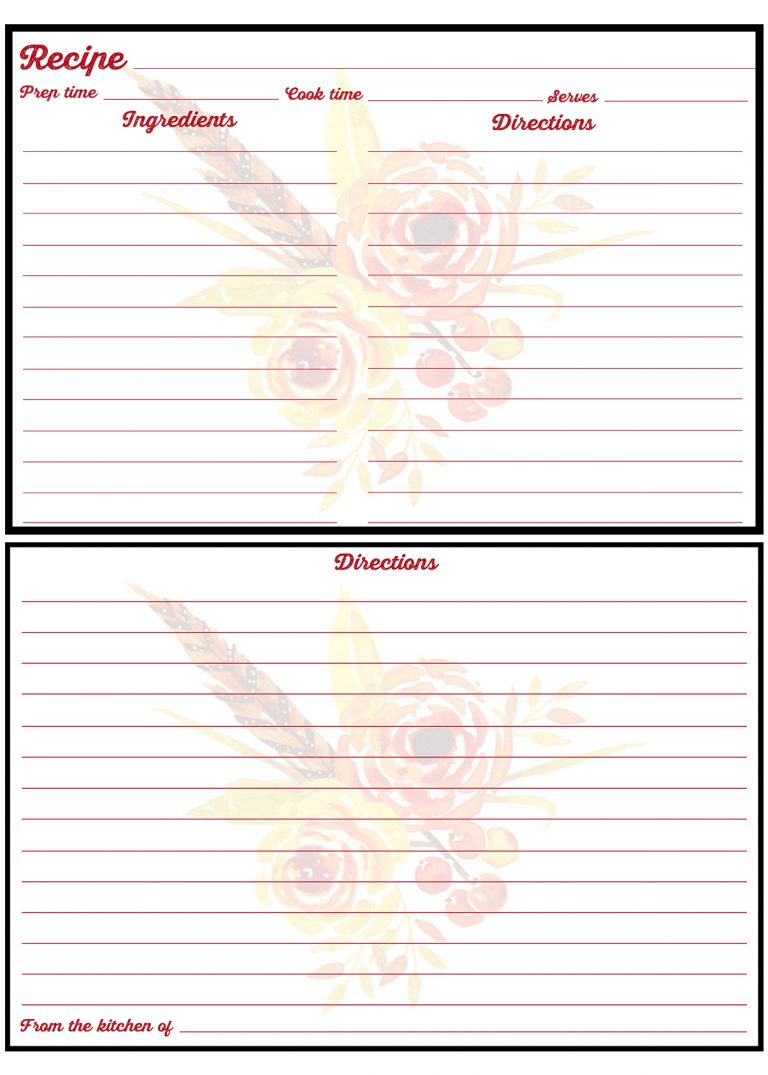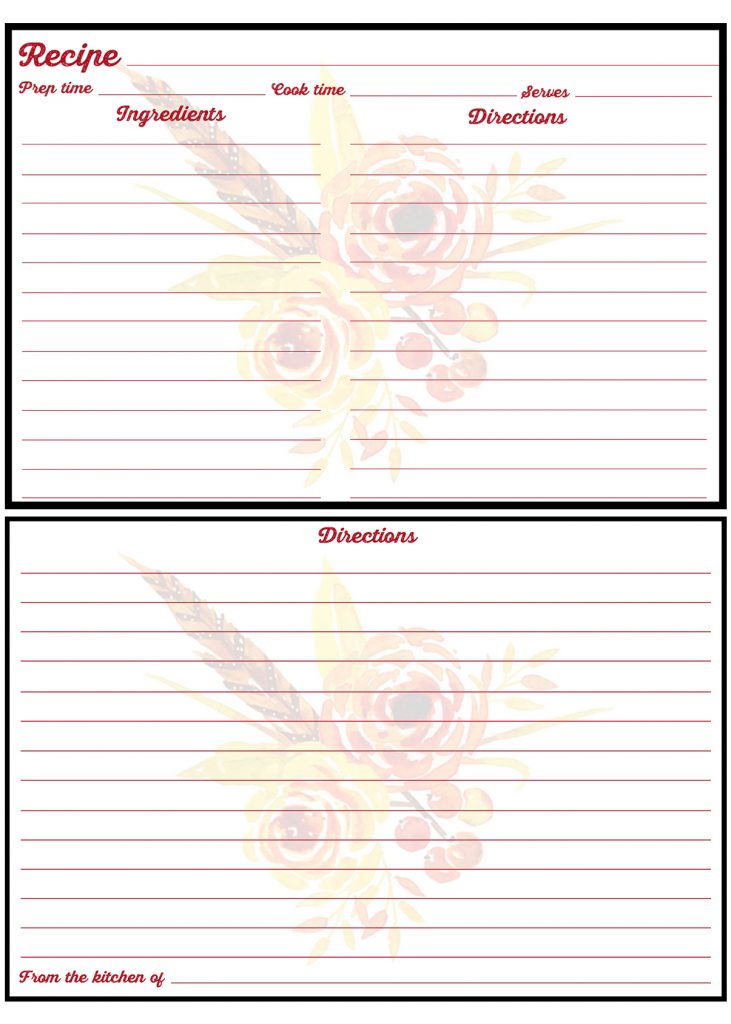 Bouquet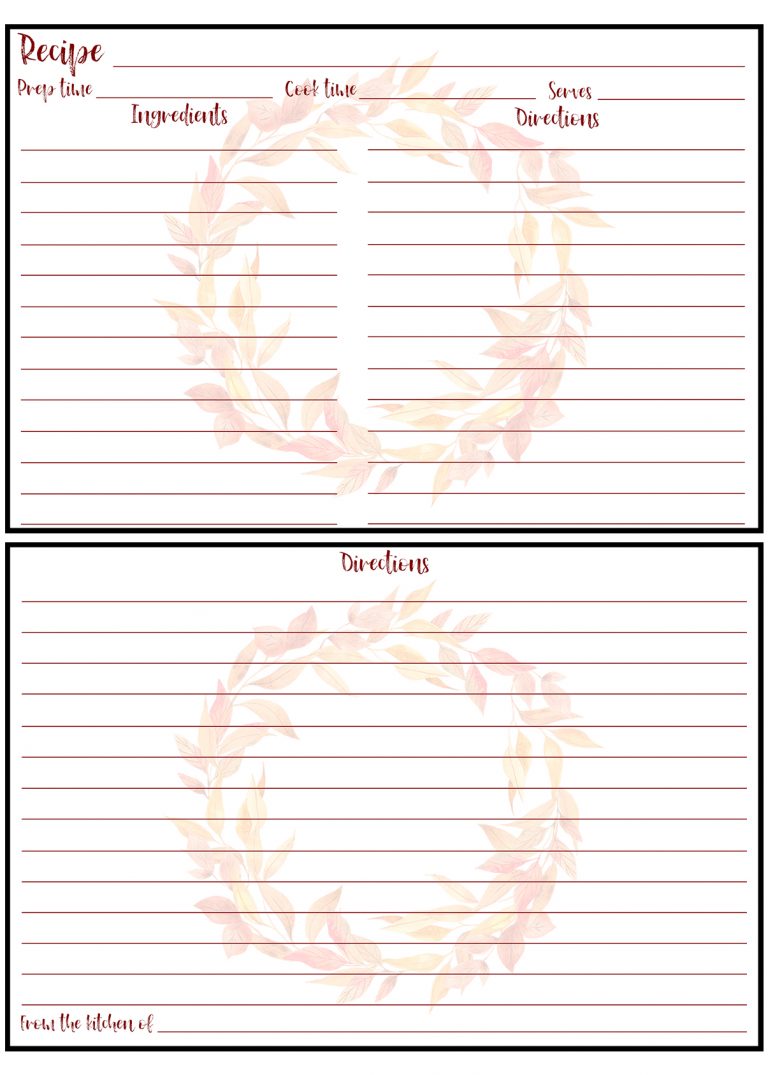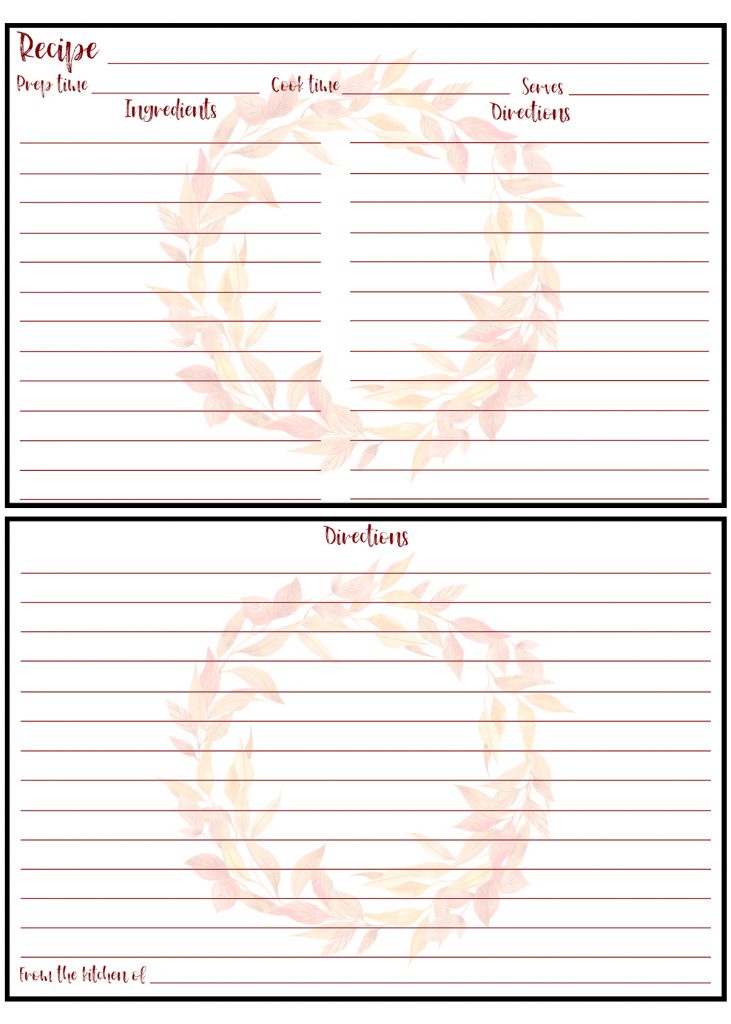 Wreath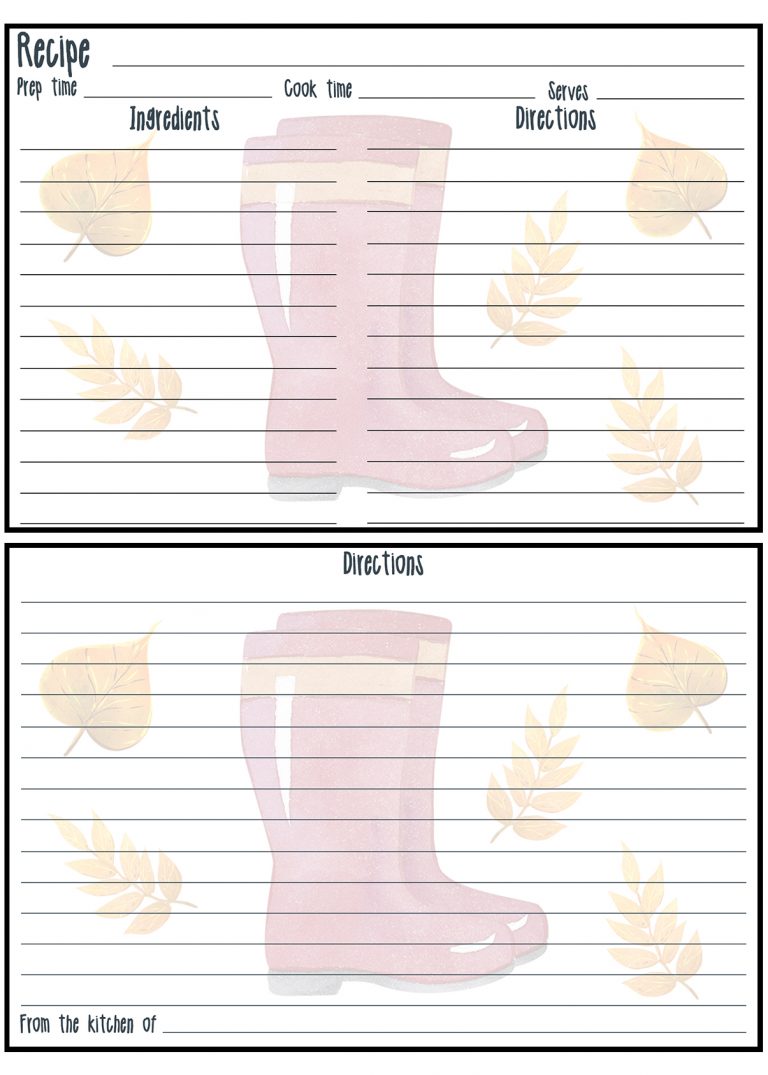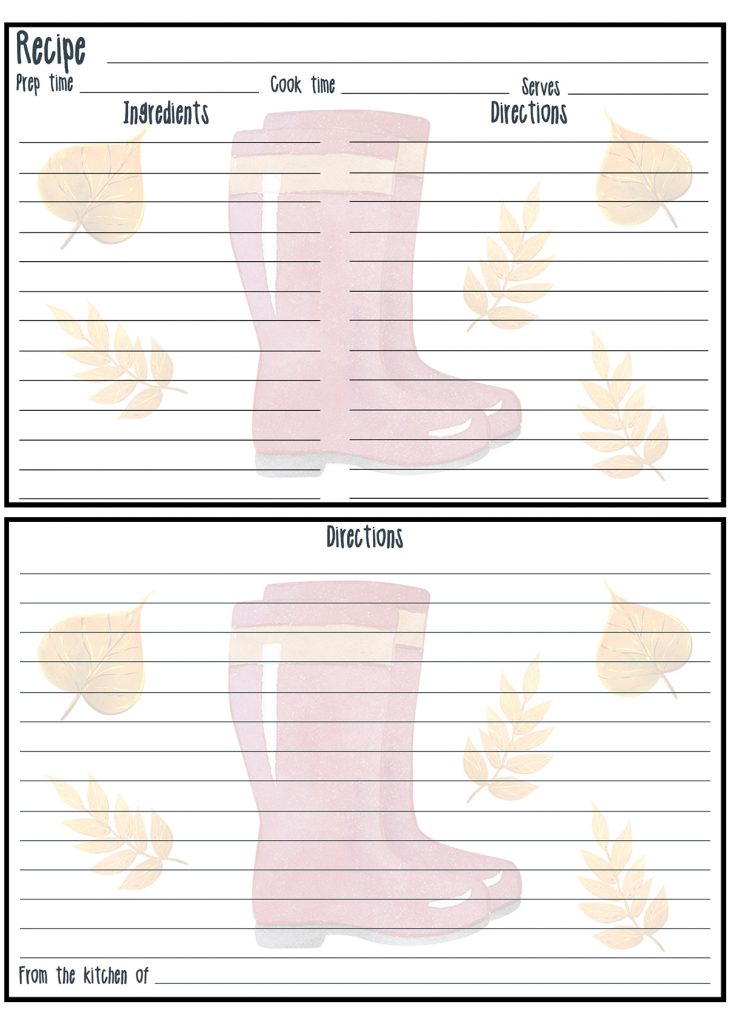 Rubber boots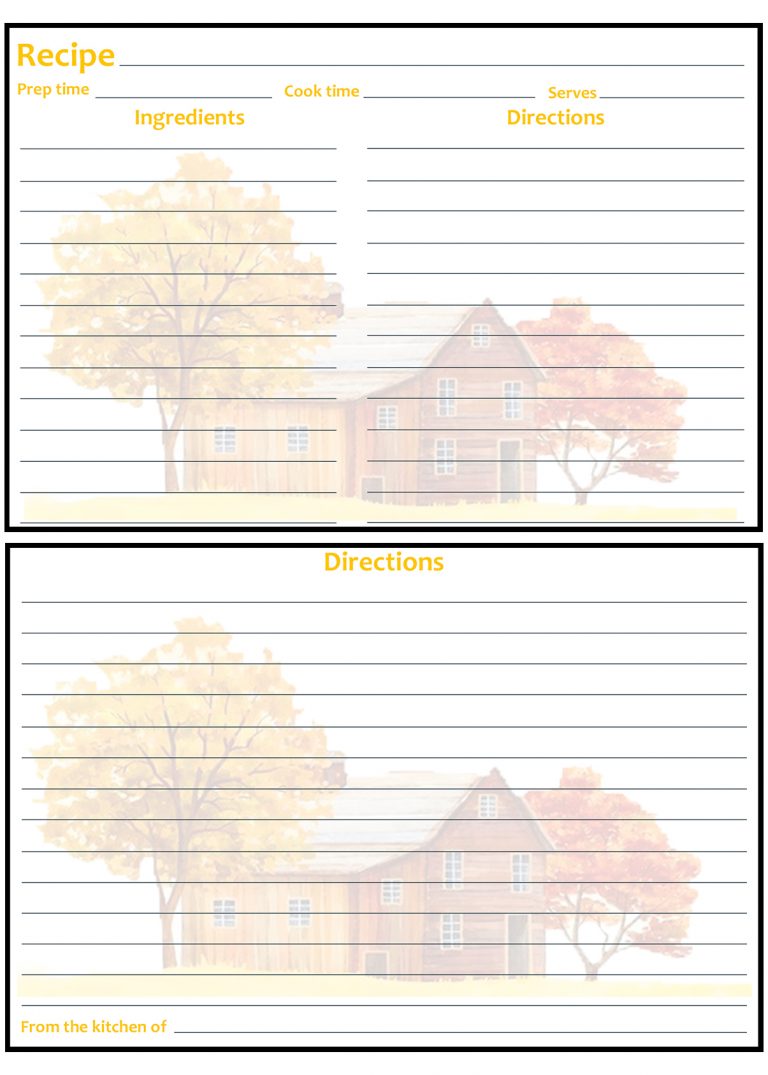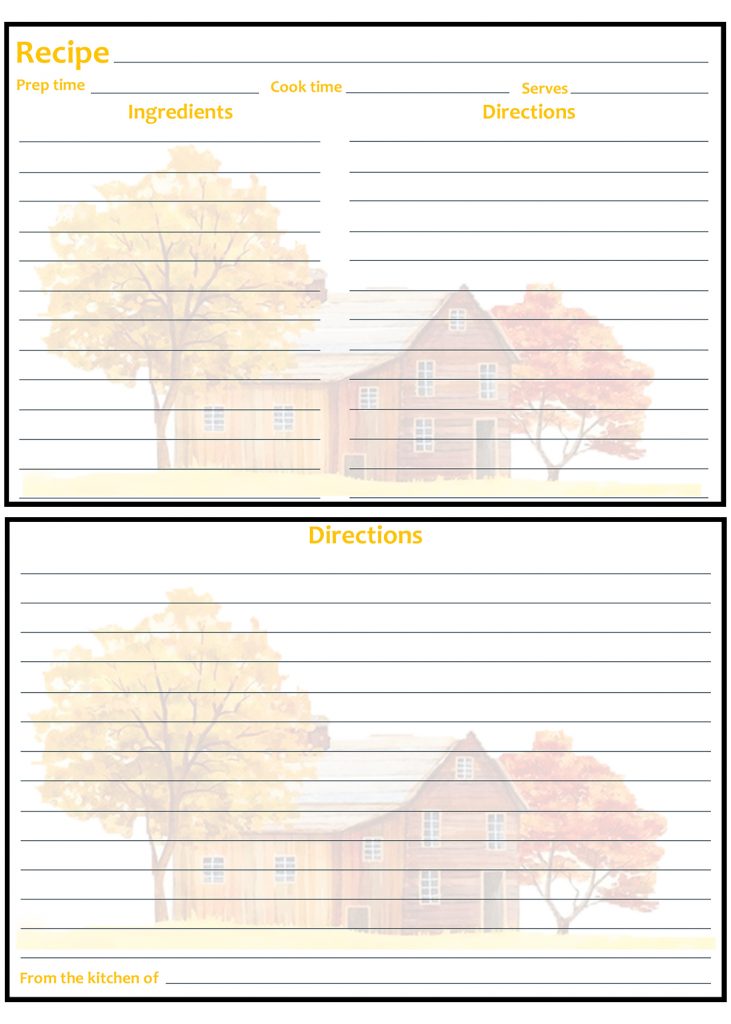 Trees with Farmhouse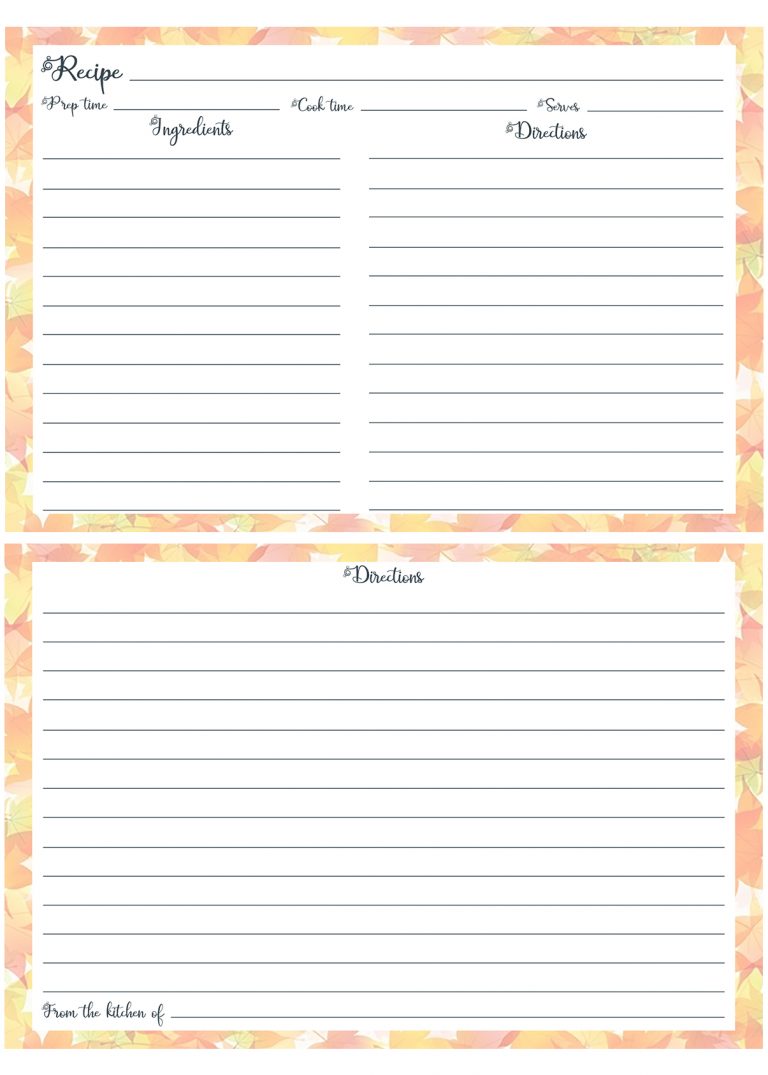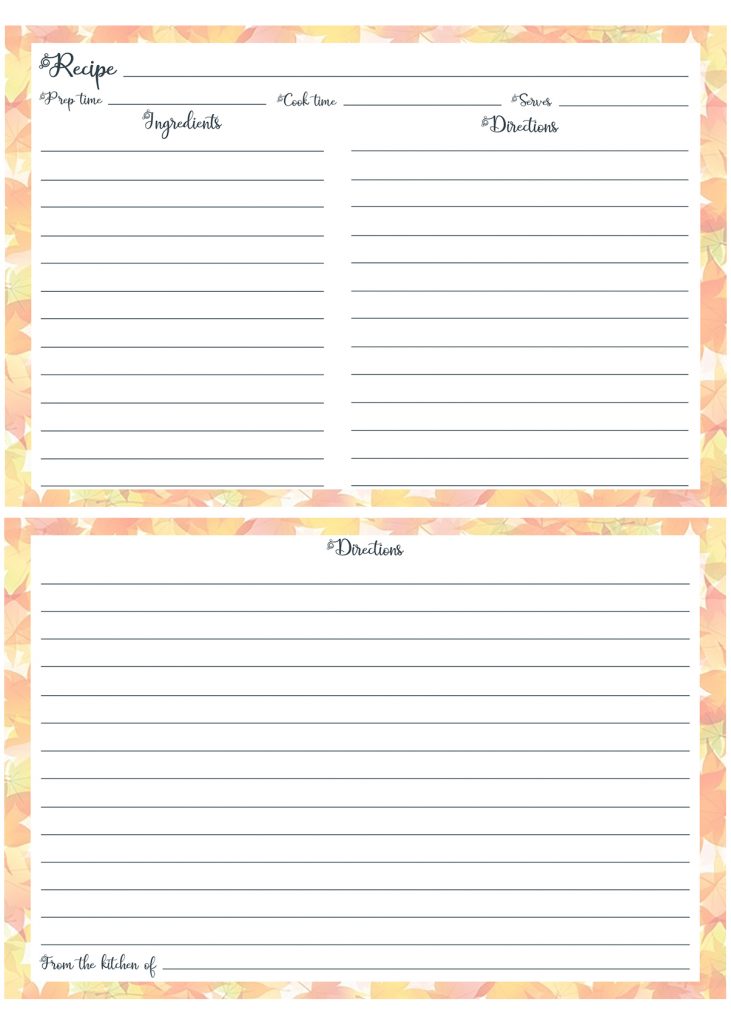 Leaf Border
Get all of the free printable fall recipe cards at once!

>> [Fall Recipe Cards – Full Set – 3×5] <<

>> [Fall Recipe Cards – Full Set – 4×6] <<

Grab the entire set of autumn recipe cards in the size of your choosing, all in one convenient folder!
I explain how to extract and download the ZIP folder in my free vintage dictionary page printables post. The link will take you right to those directions.
Printing the fall recipe cards
Most recipe card boxes are designed for 3×5 or 4×6 cards. The sizing makes it really easy to print your own cards because you can use any blank 3×5 or 4×6 index cards. Make sure to purchase blank, not lined, cards. You can find 100-card packs of index cards at any big box store or big box office supply store. I'm including purchase links here if you'd like to order large quantities online.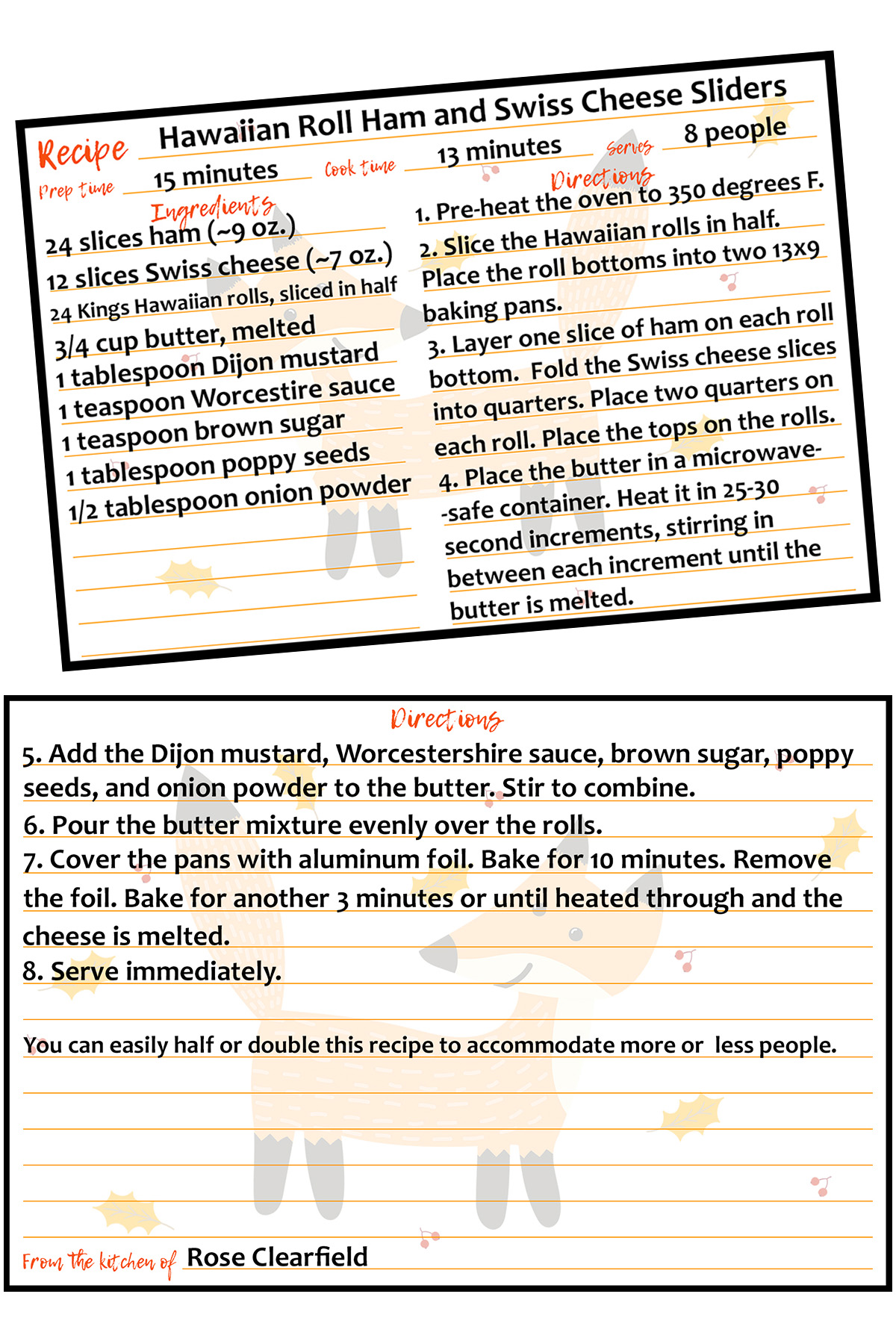 I imagine that most people using the free printable fall recipe cards will print out their cards and then fill in the recipes by hand. There's nothing quite like a handwritten recipe.
However, I also love the flexibility that printable templates offer to fill in the recipe on the computer. You can customize the font, color, and spacing exactly the way you like. You can even send the completed cards electronically, making it easy to share recipes in a beautiful, easy printable form with family and friends anywhere in the country or even the world.
Recommended recipes for the cards
Just a few of my favorite recipes that are perfect for autumn recipe cards!
Complete your recipe gift with a recipe box!
Are you interested in a customized box?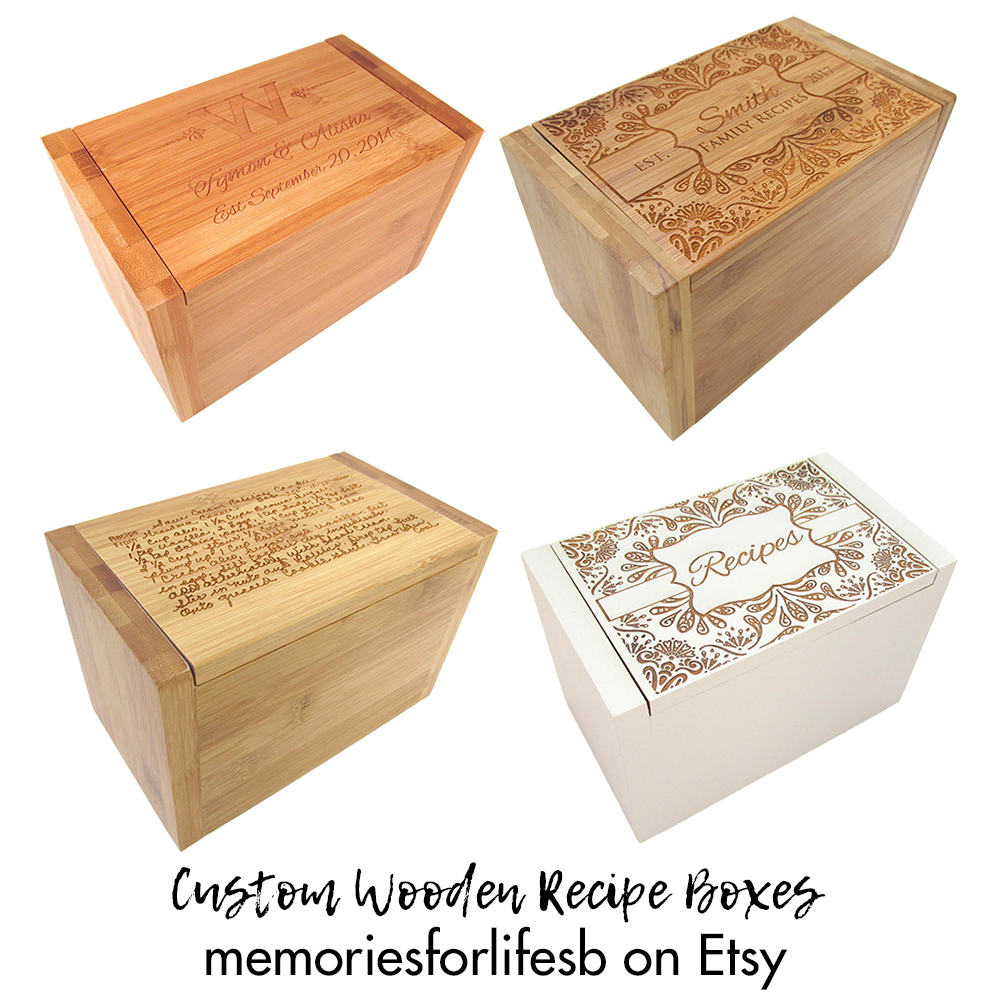 My friend Edi of memoriesforlifesb offers a range of personalized, engraved wooden recipe boxes. Her products are high-quality and make amazing gifts. If you don't see exactly what you're looking for, don't hesitate to contact her.
[Disclaimer: There are a few affiliate links in this post. Thanks for your support!]
Are you using the free printable fall recipe cards?

I'd love to see them! Tag your images #RoseClearfield on Instagram or Twitter or post a photo to my Facebook page.
Pin this post for easy access later!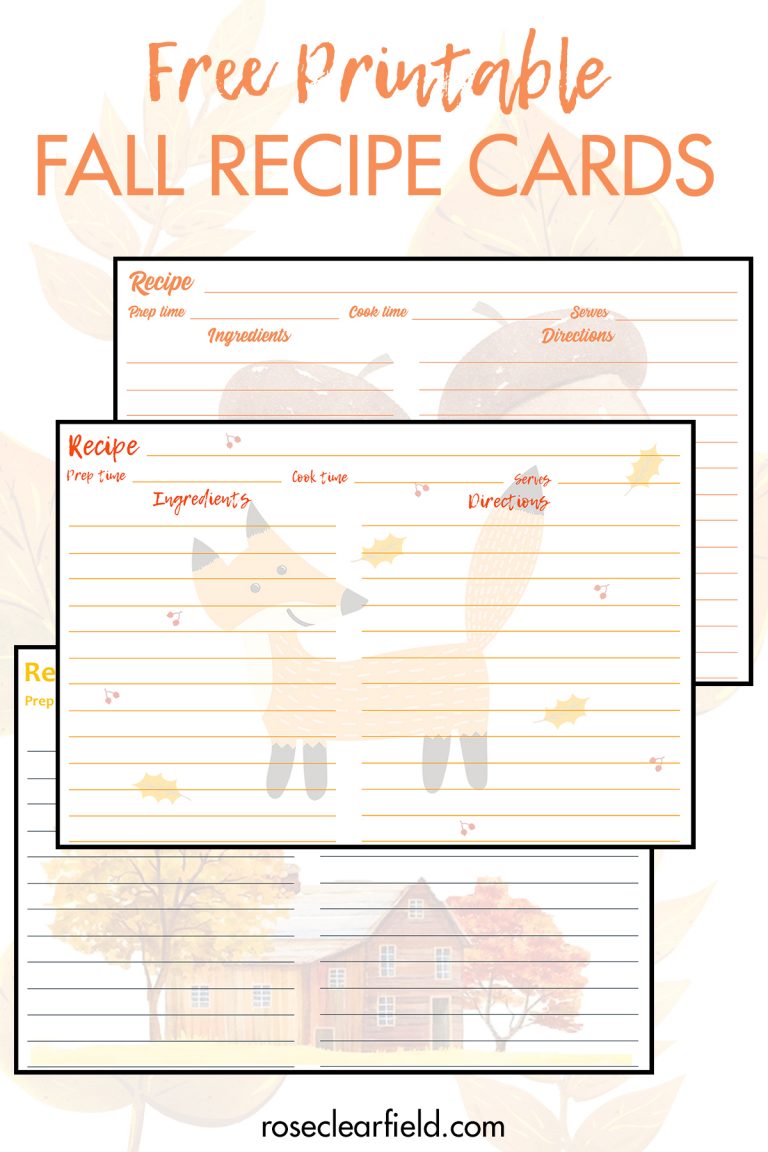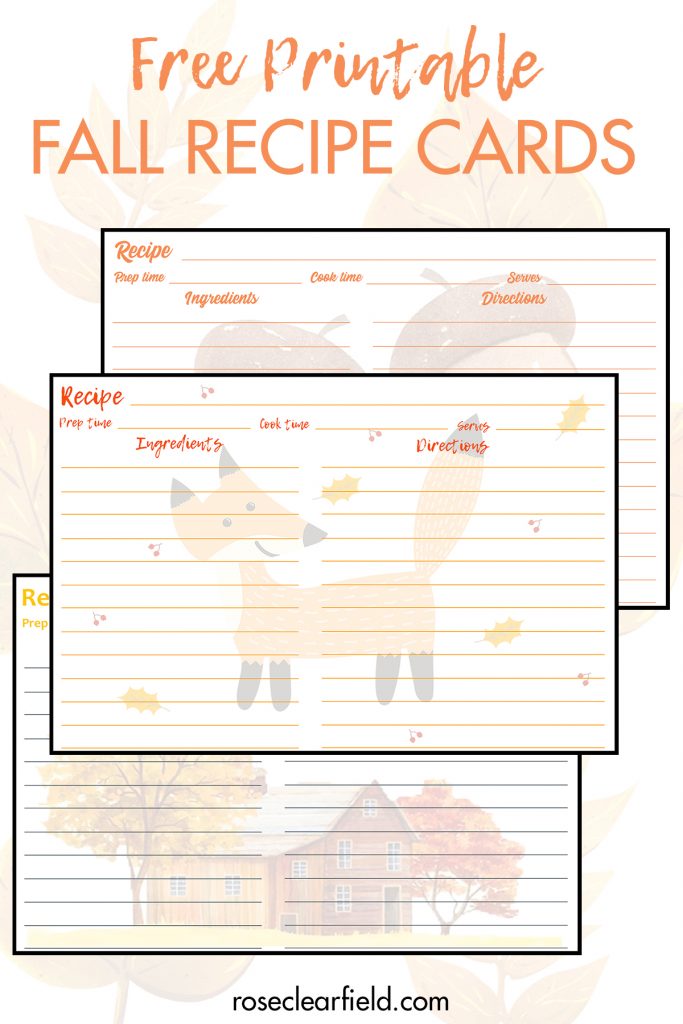 More free fall printables: