Free printable vintage gospel hymns are ideal for one-of-a-kind wall decor, choir books, bulletin inserts, and numerous DIY projects.
I've had such a positive response to my vintage hymn collections that I'm rolling out another one, this time vintage gospel hymns. This collection includes a staggering 46 hymns from a gospel hymns consolidated book copyright 1886. The fonts and layouts for these hymns are stunning, unlike anything produced today. The collection includes quite a few well-known hymns still in regular rotation today, including It Is Well With My Soul; Holy, Holy! Lord God Almighty!; Onward, Christian Soldiers; What a Friend We Have in Jesus; Old Hundred; I Know That My Redeemer Lives; and Tell Me the Old Old Story, as well as a number of lesser-known hymns.
If you're looking for additional hymn selections, my original vintage hymns set includes 30 hymns from three different hymn books. I also have hymn collections for Christmas, Easter, and baptisms as well as hymns about mothers and prayer and finally, a set of patriotic hymns. I will continue to roll out new hymn collections over the coming months. If there's anything you'd like to see here, please don't hesitate to ask.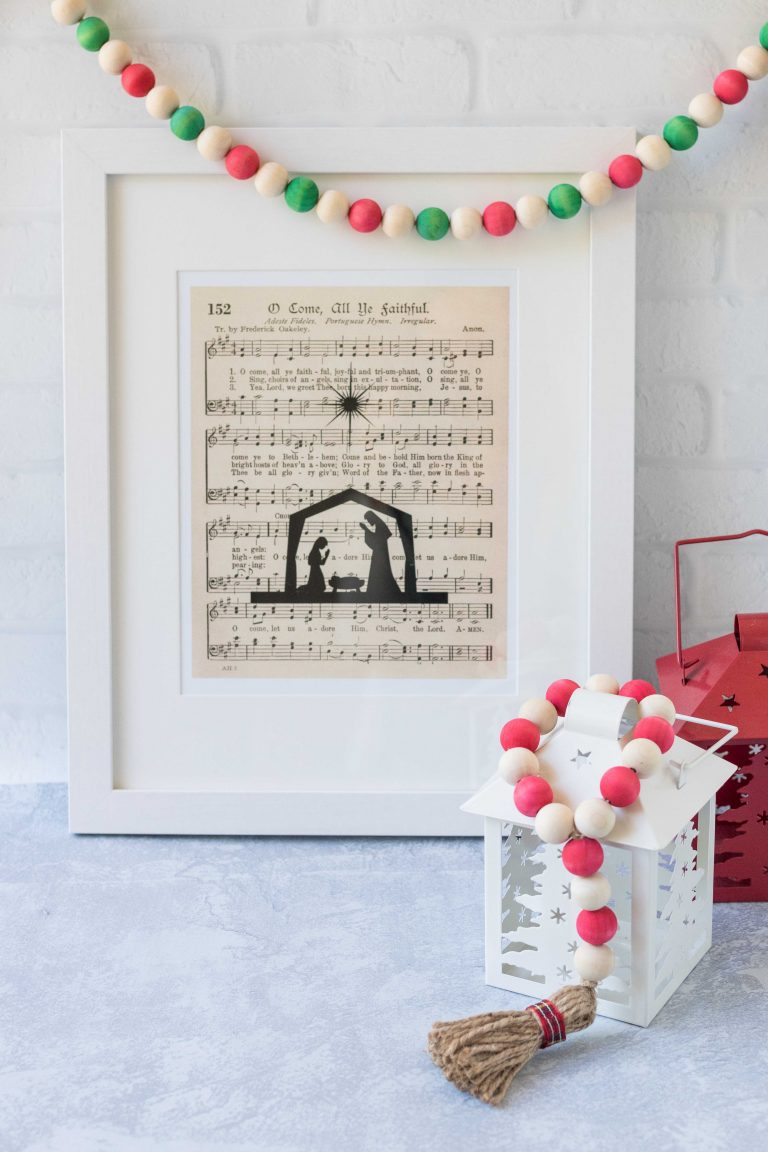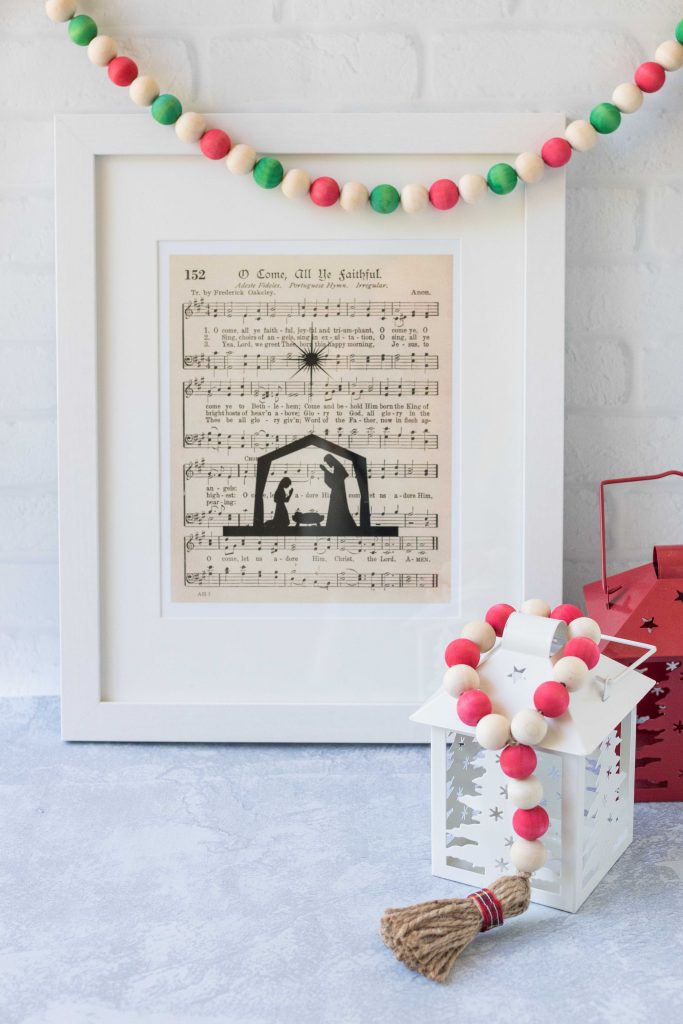 How to use free printable vintage sheet music
Most likely if you're searching for free printable hymns, you already have an idea in mind for them. I'm sharing a few of my favorite sheet music projects to give you additional inspiration for your new vintage printables.
Wall art. One of the most popular ways to use antique book pages, sheet music or otherwise, is to create handmade wall decor, such as my DIY Easter sheet music wall decor. Vintage hymns make gorgeous wall art on their own or overlaid with text and/or images, such as scripture verses, prayers, and seasonal/holiday messages.
Choir books. There is a ton of free new sheet music available online that works perfectly for choir books, caroling books, and church bulletin inserts. However, there is nothing quite like the aesthetic of vintage hymns.
Tile coasters, using the method I cover in my vintage sheet music botanical coasters post. This is another perfect project to use sheet music as is or overlay it with images or text.
Home decor. Beyond wall decor and tile coasters, there are so many possibilities for making vintage gospel hymns sheet music decor pieces, such as decoupaged mason jars, decorated votive candles, and Christmas ornaments.
Greeting cards. Antique hymns create an ideal background for all types of greeting cards, including but not limited to, religious Christmas cards, thank you notes, sympathy cards, and wedding cards.
Gift tags. Old hymns are also a beautiful background for homemade holiday and birthday gift tags.
Glass or bottle cap magnets, using my technique for sheet music glass magnets.
Prayer/spiritual journals, art/junk journals, and mixed media projects. Layer vintage sheet music with paint, stamps, ink, and more to create unique journaling pages and mixed media projects.
Scrapbooking. Vintage music creates whimsical backgrounds for both physical and digital scrapbooks. Antique hymns are also great for DIY scrapbook embellishments.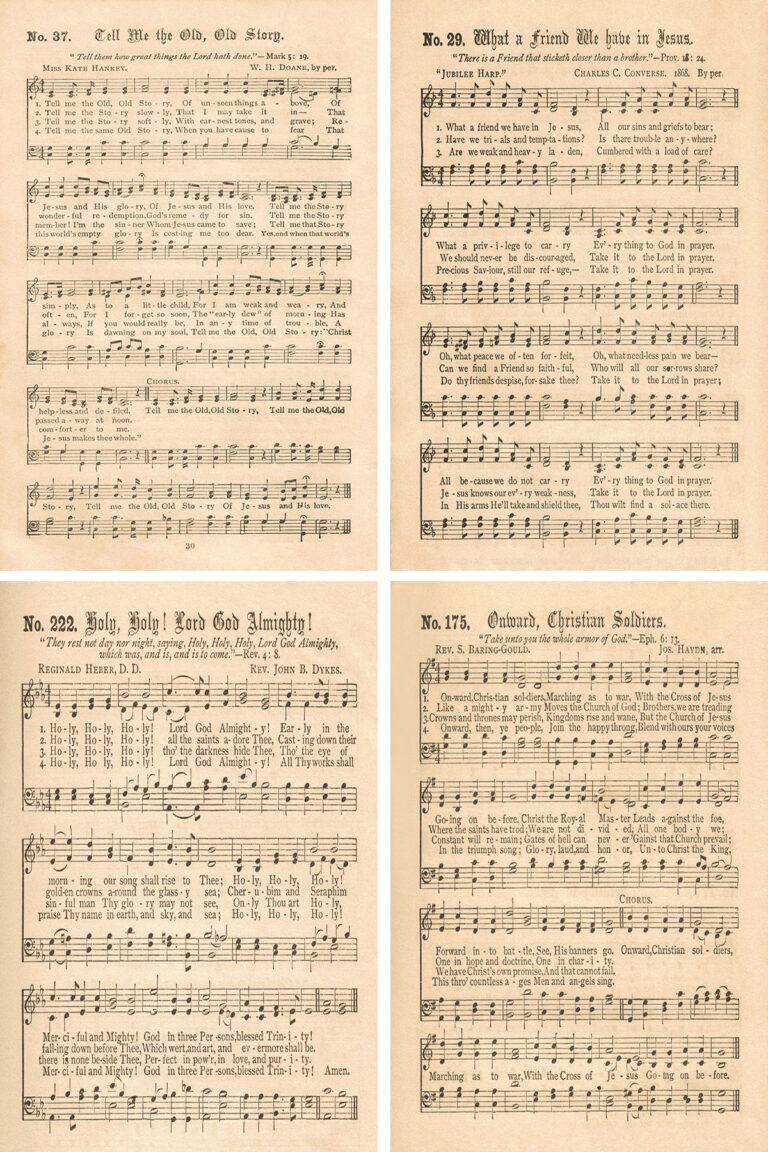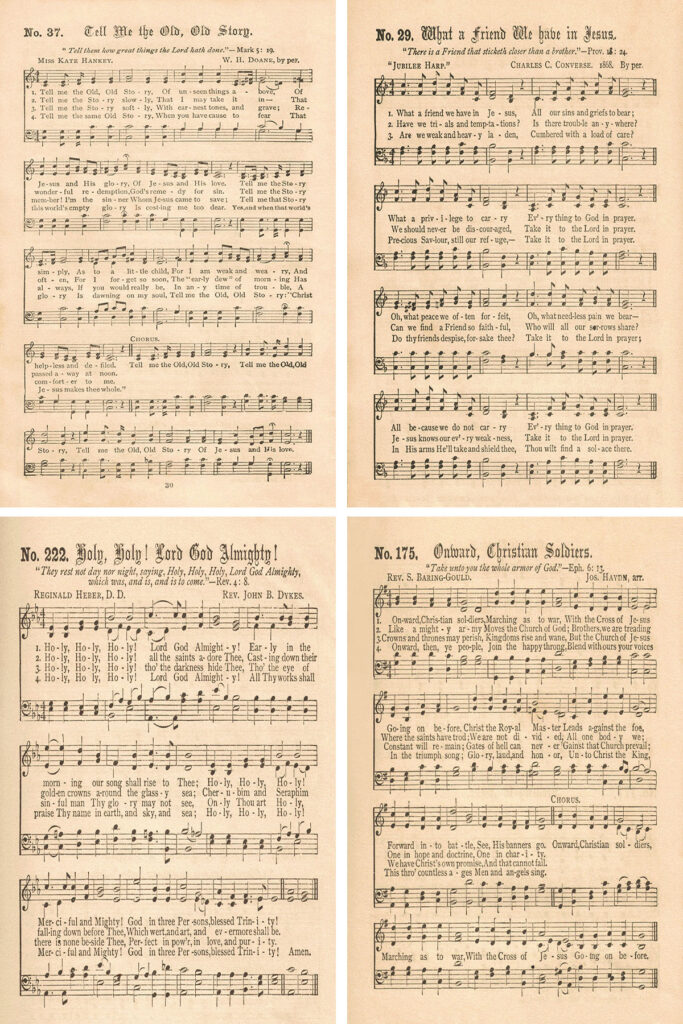 About the free printable gospel hymns
I've created PDF and JPG versions of all of the vintage gospel hymns. I know that many people are searching for printable sheet music in PDF form. I know that many readers have also arrived at this post in search of sheet music that they can use for craft projects and most likely prefer JPG format.
You may download and print the vintage hymns as many times as you like for personal use, which includes school and church use for Sunday school, choirs, etc. You may use the sheet music for limited runs (5,000 items or less) of handmade physical items to sell (i.e., tile coasters, mixed media art, pillows). This DOES NOT include made to order sites, such as Society6 and CafePress. You are not authorized to sell the sheet music itself as prints, only the items you create with them.
You may use the sheet music for limited runs (5,000 items or less) of handmade digital items as well. The sale of the download files themselves is not authorized, either as single items or as part of larger collections. In order to sell digital items, you must create original content using the images and must sell it as a flat, finished product (i.e., not Adobe Illustrator files).
Finally, please don't distribute the download files. If family, friends, or co-workers would like vintage gospel hymns, please send them a link to this post, so they can download their own files. Thank you!
The low-resolution preview images in this post are solely intended for preview purposes. They're perfect for sharing on social media. They are not intended for printing. Please use the download links to ensure you're getting the high-resolution formats.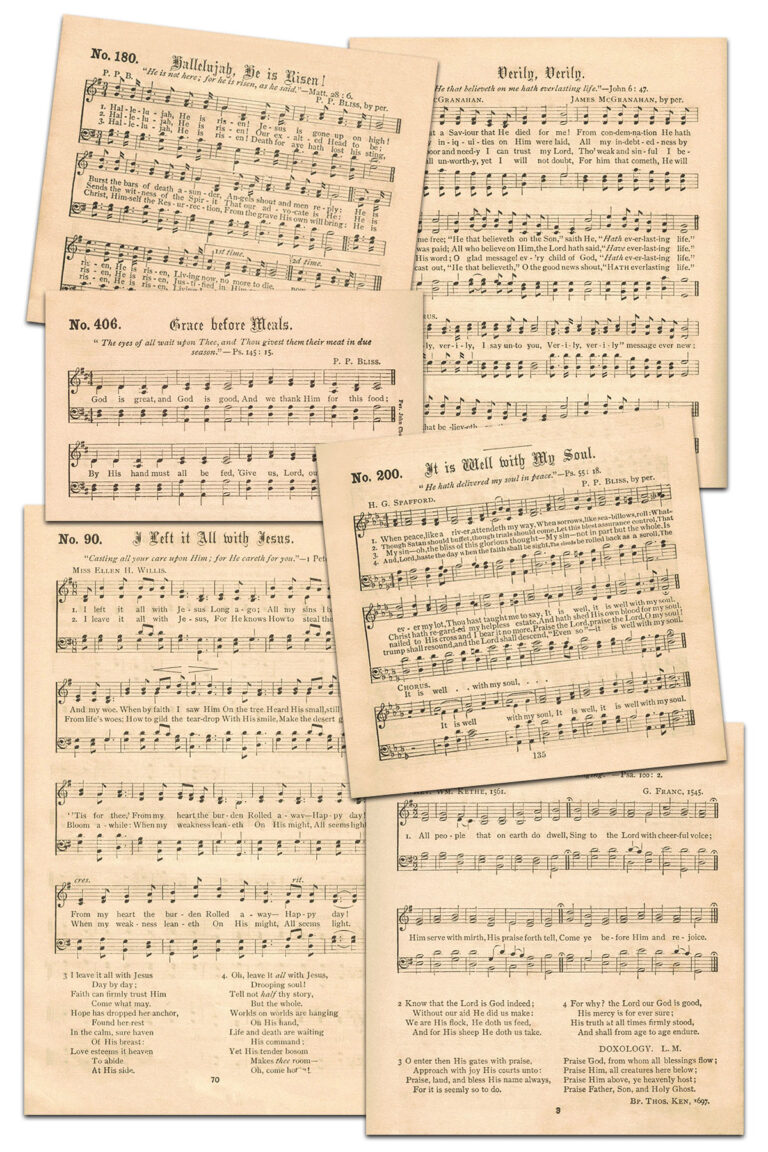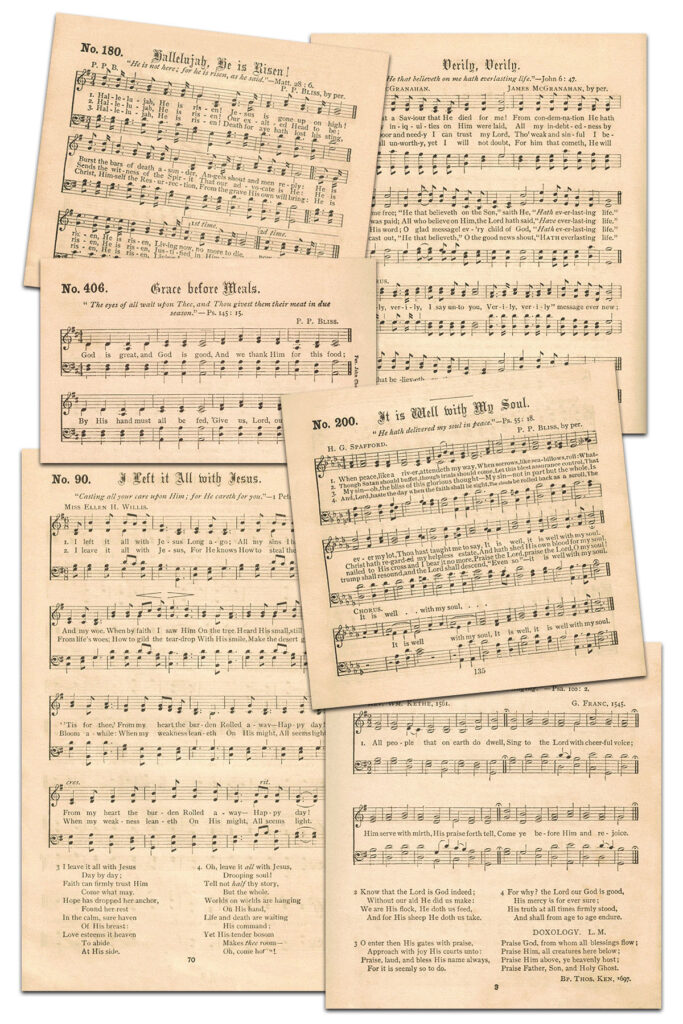 Free printable vintage gospel hymns
Download the complete set of vintage gospel hymns in JPG or PDF form!
I've broken the full set into several folders for easier downloading.
JPG
[Vintage Gospel Hymns – JPG Versions – #1]
[Vintage Gospel Hymns – JPG Versions – #2]
[Vintage Gospel Hymns – JPG Versions – #3]
[Vintage Gospel Hymns – JPG Versions – #4]
PDF
[Vintage Gospel Hymns -PDF Versions – #1]
[Vintage Gospel Hymns – PDF Versions – #2]
[Vintage Gospel Hymns – PDF Versions – #3]
[Vintage Gospel Hymns – PDF Versions – #4]
I explain how to extract and download the ZIP folders in Google Drive in my vintage dictionary pages post. The link takes you to the exact directions that you need.
What to make with free printable vintage hymns:
I want to see how you're using the vintage gospel hymns!

Show me your wall art, choir books, and DIY projects! Tag your images #RoseClearfield on Instagram or Twitter or post a photo to my Facebook page.
Pin this post for easy access to the antique gospel hymns collection later!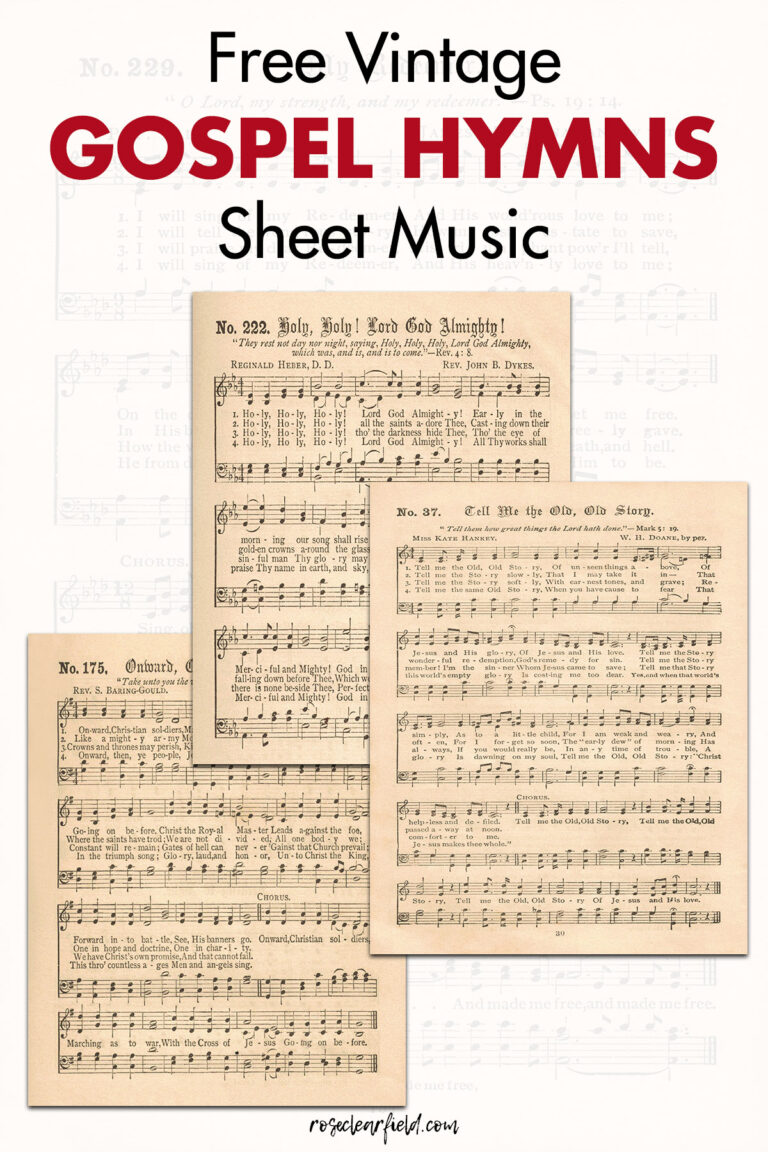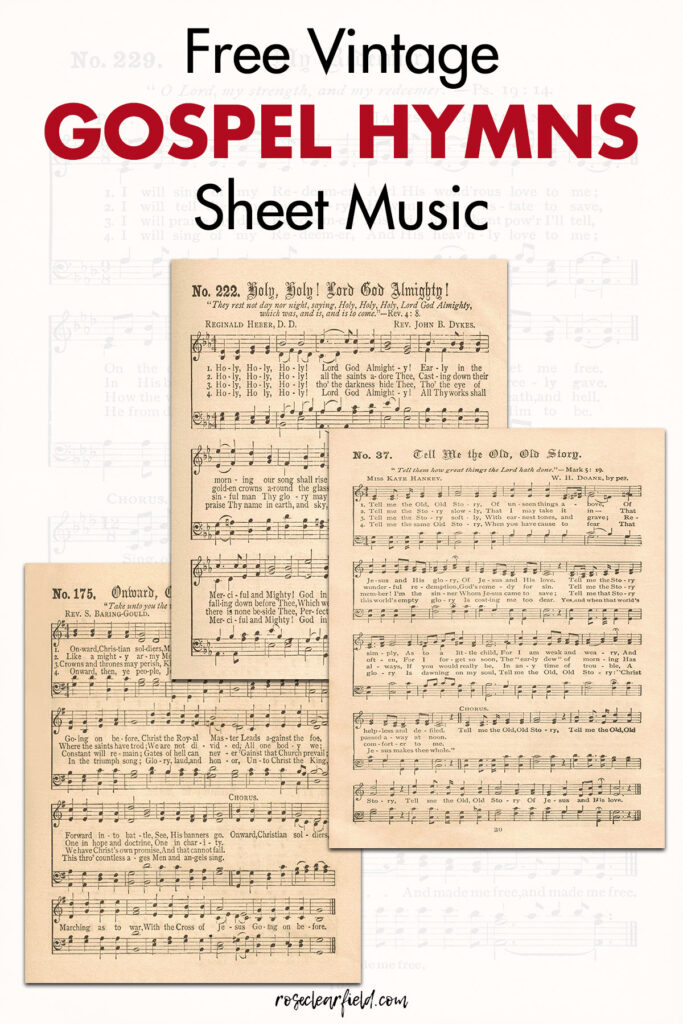 More free printable hymn collections:
Visit the free printables section of the blog for even more vintage sheet music as well as other vintage printables.