Free printable vintage hymns of Thanksgiving are ideal for Masses and church services during the Thanksgiving season as well as custom wall art and an extensive variety of DIY projects.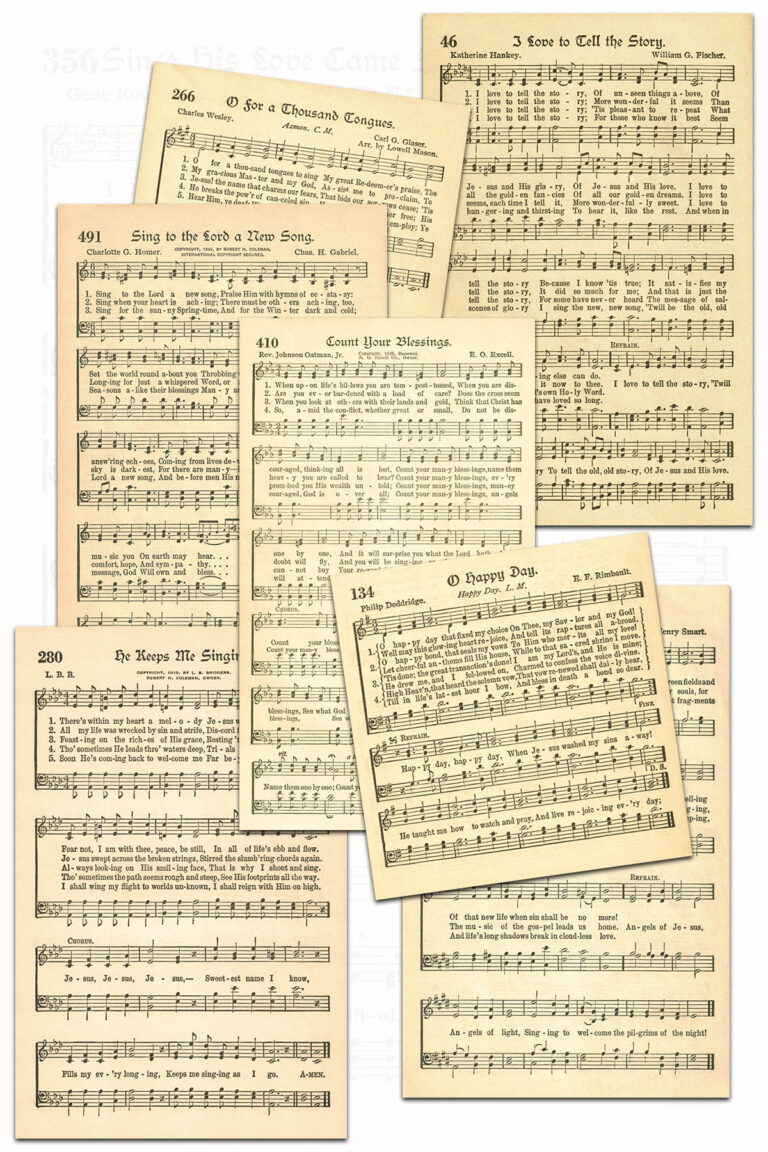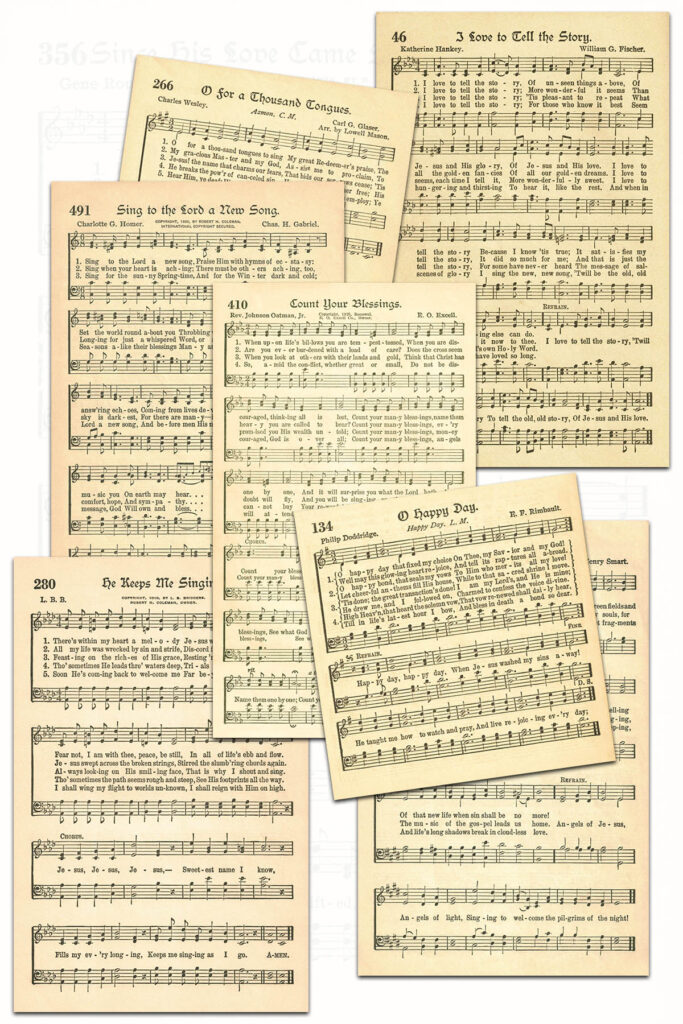 I've had such a positive response to my vintage hymn collections that I'm releasing another one, this time vintage hymns of Thanksgiving. This collection includes 32 hymns from one of the most popular hymn books in my vintage collection. The title font in this hymn book is stunning and quite unique, even among antique hymn books. The collection includes quite a few well-known hymns still in regular rotation today, including Count Your Blessings, He Keeps Me Singing, I Love to Tell the Story, May Jesus Christ Be Praised (When Morning Gilds the Skies), O For a Thousand Tongues to Sing, and O Happy Day, as well as a number of lesser-known hymns.
If you're looking for additional hymn selections, my original vintage hymns set includes 30 hymns from three different hymn books. I also have a collection of gospel hymns; hymn collections for Christmas, Easter, and baptisms; hymns about mothers and prayer; and a set of patriotic hymns. Finally, if you love displaying old hymns as wall decor, you may be interested in my vintage hymns with script titles or vintage Christmas hymns with script titles. I will continue to roll out more hymn sets and other vintage music collections over the coming months. If there's anything you'd like to see here, please let me know!
How to use free printable vintage sheet music
Most likely if you're searching for free printable vintage hymns of Thanksgiving, you already know how you're going to use them. If you're looking for further inspiration, think about one or more of the following projects.
Beyond Mass and church service materials and wall art, there are numerous possibilities for DIY projects using vintage hymns, including the following options.
About the free printable vintage hymns of Thanksgiving
I've created JPG and PDF versions of all of the hymns of Thanksgiving. I know that many people have arrived at this post looking for high-resolution sheet music that they can use for craft projects and most likely prefer JPG format. I also get quite a few requests for sheet music in PDF format and like to offer this option as well.
You may download and print the vintage hymns as many times as you like for personal use, which includes classroom and church use for Sunday school, choirs, and more. You may use the sheet music for limited runs (5,000 items or less) of handmade physical items to sell. This DOES NOT include made-to-order sites, such as Redbubble and Society6. You are not authorized to sell the sheet music as-is as prints, only the items that you create with it.
You may also use the vintage sheet music for limited runs (5,000 items or less) or handmade digital items. In order to sell digital items, you must create original content using the items and sell it as a flat, finished product (i.e., not Photoshop files). You are not authorized to sell the files themselves, either as single items or as part of larger collections.
Finally, please don't distribute the download files. If friends, family, or co-workers are interested in vintage hymns of Thanksgiving, please provide them with a link to this post, where they can download their own files. Your support allows me to continue to offer free vintage printables. Thank you!
The low-resolution preview images in this post are solely intended for preview purposes. They're great for sharing on social media. They're not intended for printing. Please use the download links to ensure you're getting the high-resolution formats of the hymns.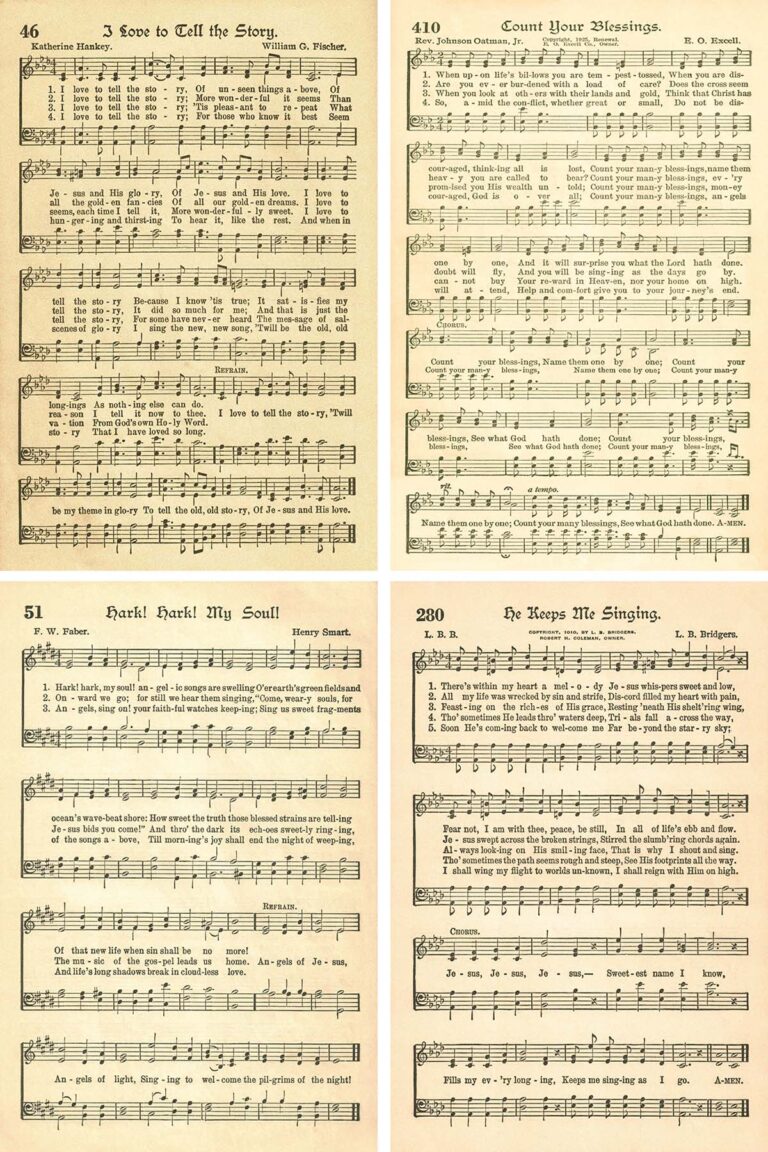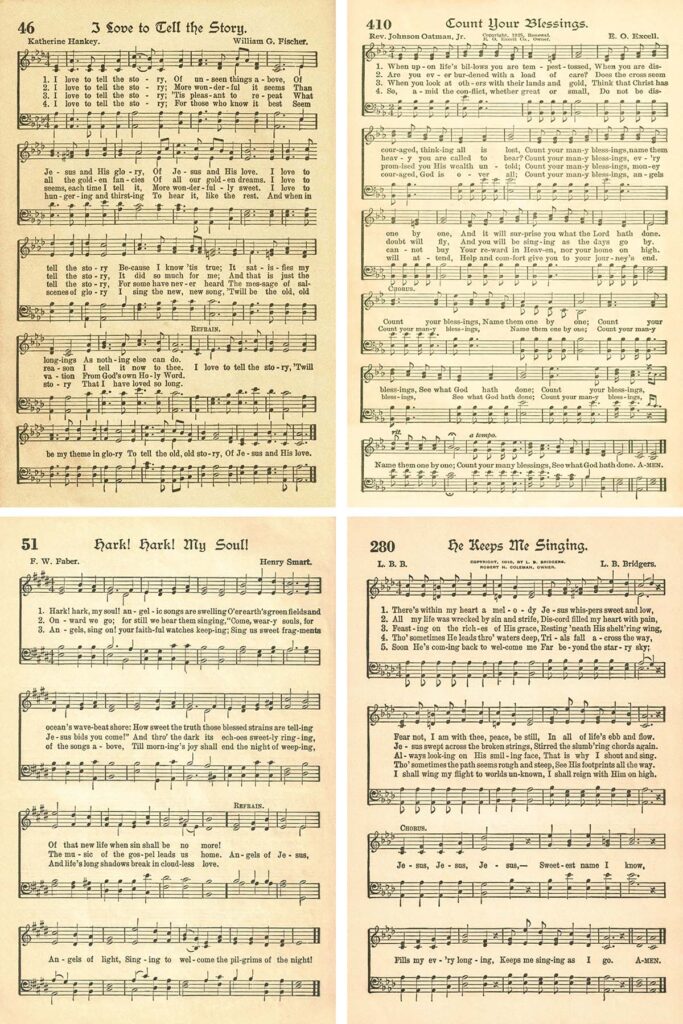 Free printable vintage hymns of Thanksgiving
Download the full set of hymns of Thanksgiving in JPG or PDF form!

>> [Hymns of Thanksgiving Full Set – JPG Versions] <<

>> [Hymns of Thanksgiving Full Set – PDF Versions] <<

32 vintage hymns of Thanksgiving in one convenient download.
I explain how to extract and download the ZIP folders in Google Drive in my vintage dictionary pages post. The link takes you to the exact directions that you need. You only need to unzip the full set of JPG versions. The other file downloads don't require unzipping.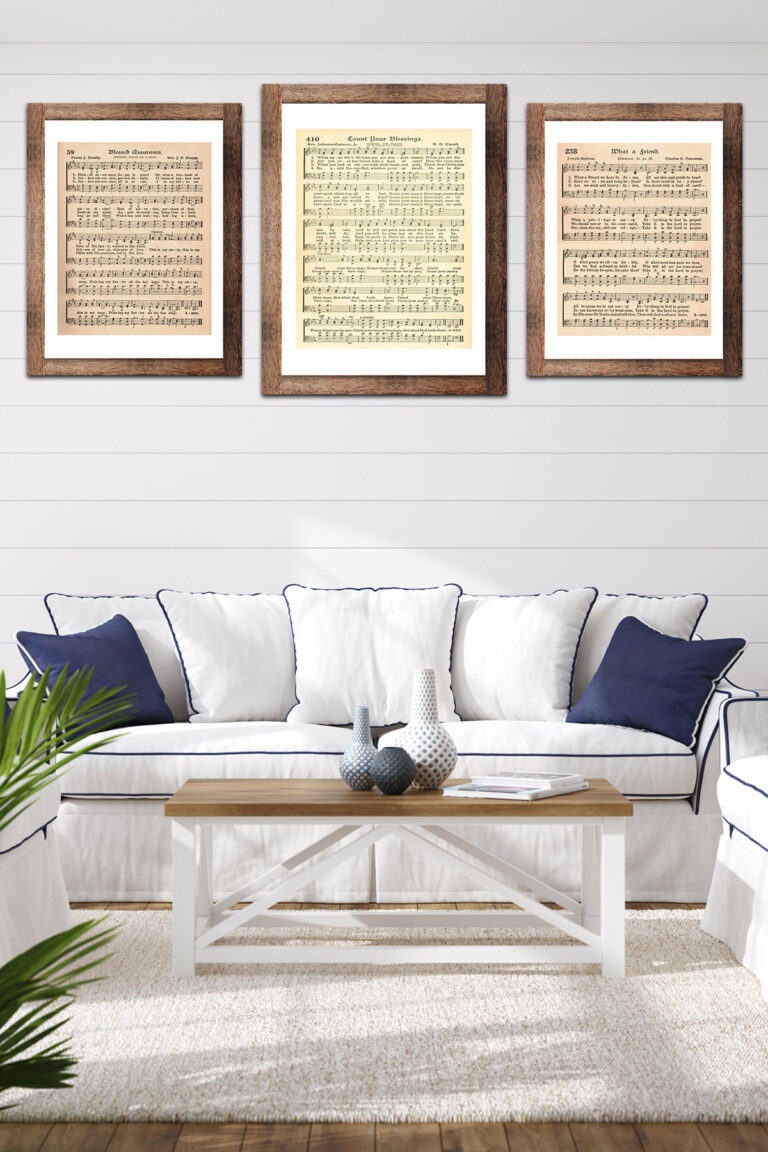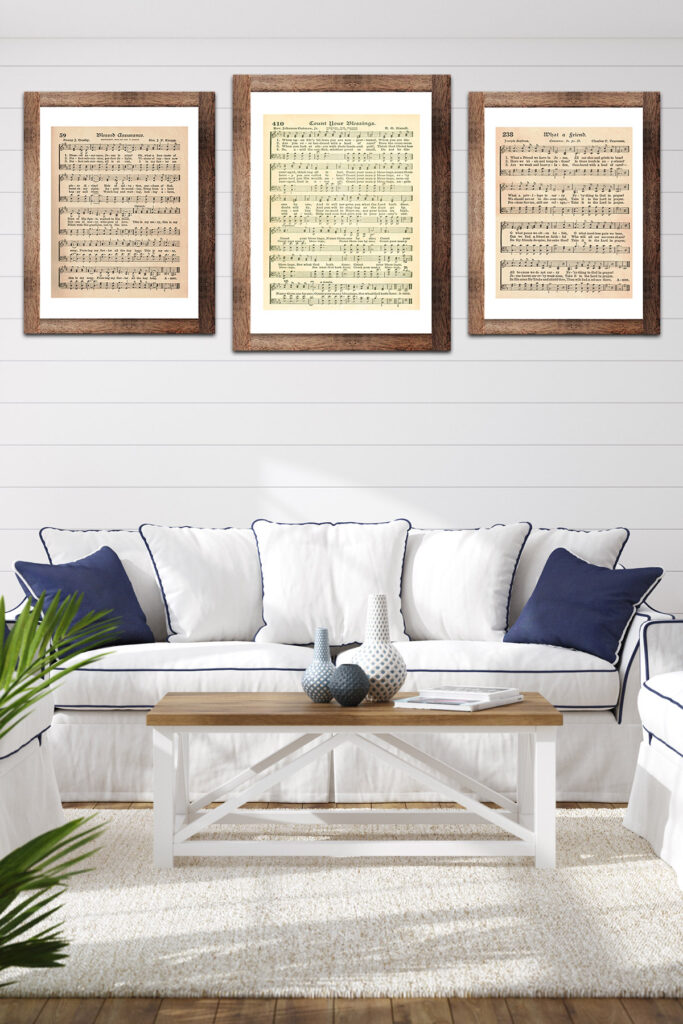 Printing vintage sheet music for wall art and DIY projects
For wall decor and other home projects, my personal at-home printing recommendation is Finestra Art Paper. I found Finestra products through my own research. Beyond basic affiliate commissions, I don't receive any compensation for recommending them. I've been using Finestra for blog projects and personal decor for my own home for years because it has such a nice acid-free, matte surface. Finestra Paper dries ink quickly, producing clear, vivid images. I think that it's worth spending a little extra money on this paper for the results that it produces over regular printer paper, card stock, and presentation paper.
For craft projects, my printing recommendation is white card stock. When you're creating vintage music components for mixed media art, greeting cards, and scrapbook embellishments, it's not as important that the images are so vibrant. When you're making DIY projects with multiple Mod Podge or diamond glaze coats, such as tile coasters, pendant necklaces, and magnets, you won't be able to tell any difference in the finish of the paper. As such, card stock is an ideal choice because it has a lower price point than fine art paper and is still very durable and high quality.
What to make with free printable vintage hymns of Thanksgiving:
[Disclaimer: There are a few affiliate links in this post. Thanks for your support!]
Pin this post for easy access to the free printable vintage hymns of Thanksgiving later!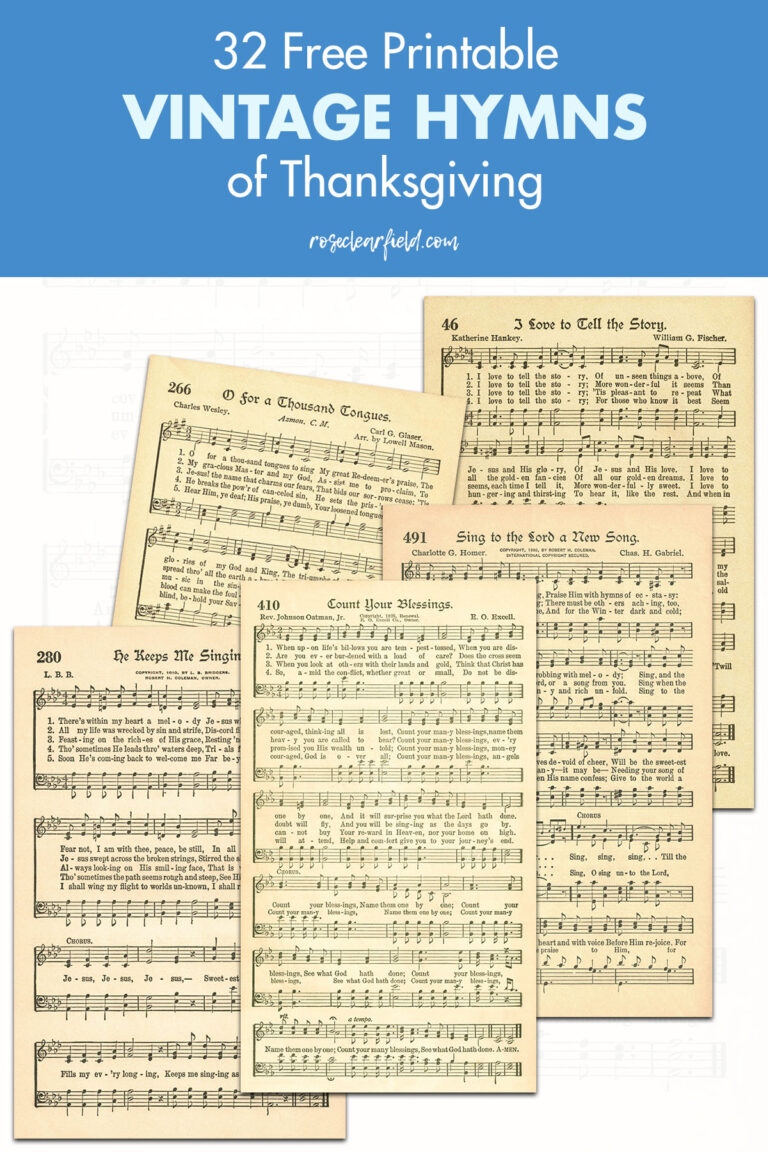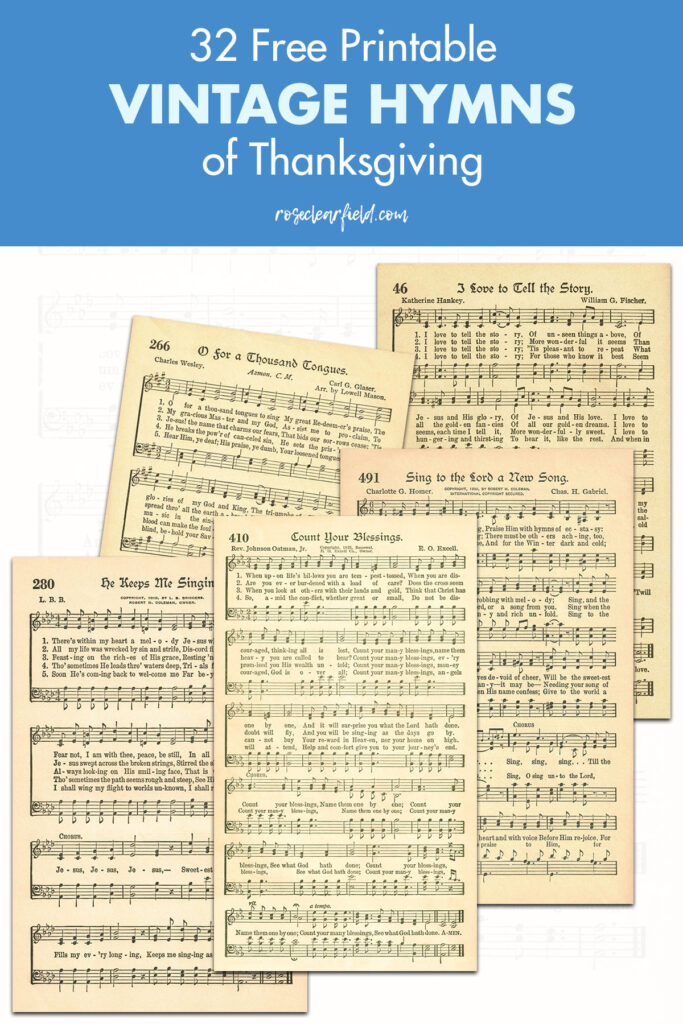 More free vintage hymn collections: